God grant me the serenity to accept the things I cannot change, courage to change the things I can, and wisdom to know the difference. #wordstoliveby
Hello 2021!
I always love typing up these year in review posts. Recalling all that's happened in the last 365 days and putting all the memories and happenings in permanent words to remember and reflect on. However this past year has been unlike any other. Before I share all the highlights of the year, it doesn't feel right without talking about the craziness that has been this year. 2020 has been many things for so many of us; devastating, enlightening, terrifying, encouraging and frustrating – to name a few. Many sacrifices made by so many people on so many levels. But I truly believe beyond the storm is a rainbow. I'm hopeful the worst is behind us and an end is in sight.
When the stay at home order was put into place, I handled it the only way I know how – by keeping busy. I worked, cooked and recipe developed almost every single day. In the beginning I thought I would "take time off" to spend this unexpected time with my family. Haileigh was home from college, Malloree home from high school and Pat was on call and working from home for his job – therefore I wanted to be off with them. We would go for walks and watched just about everything on Netflix and played board games or cards. I even bought air drying clay, paints and puzzles. That only lasted so long before I got restless and started cooking in overdrive.
This year I blogged 146 new recipes and updated over 35 recipes with new photography.
Simply Scratch has continued to be a blessing. I'm so grateful to continue to work and do it from the safety of my home, especially this past year. With the unfortunate closing of restaurants, people had to cook from home more. I'm humbled to see Simply Scratch recipes grace a lot of kitchen tables this year and always love seeing what you make when you tag me on social media.
Since I was little and able to walk, I've loved food. Whether it be playing with plastic food at my strawberry shortcake particleboard kitchen, pulling up the step stool to watch my mom cook or tuning into PBS to watch Frugal Gourmet or Yan Can Cook (and Bob Ross, let's be real). Since 2010 there hasn't been a day that goes by that I don't feel completely blessed to have this as my literal dream job. But this year, I felt this even more so.
Here are 25 Favorite Recipes of 2020:
Sheet Pan Teriyaki Chicken and Cauliflower Rice: Thin strips of chicken and lots of different veggies are tossed with teriyaki sauce and sesame oil and roasted with cauliflower rice. Making this one easy and EPIC sheet pan dinner.
Homemade Air Fryer French Fries: Easy and made with a fraction of the fat and calories. Russet potatoes are sliced, tossed with olive oil, salt and pepper and fried in your counter top air-fryer until golden and crispy!
Korean BBQ Beef Bowls and Spicy Korean Vegetable Slaw: Lean ground beef is cooked with onions, garlic and fresh ginger and simmers in a homemade Korean bbq sauce. Served with rice, spicy Korean slaw and a fried egg on top.
White Bean Chicken Poblano Stew: A one-pot stew consisting of tender shredded chicken, white beans and poblanos. Healthy, hearty and perfect any night of the week. Serves 6 to 8 or can be portioned into containers, popped into your freezer and saved for later.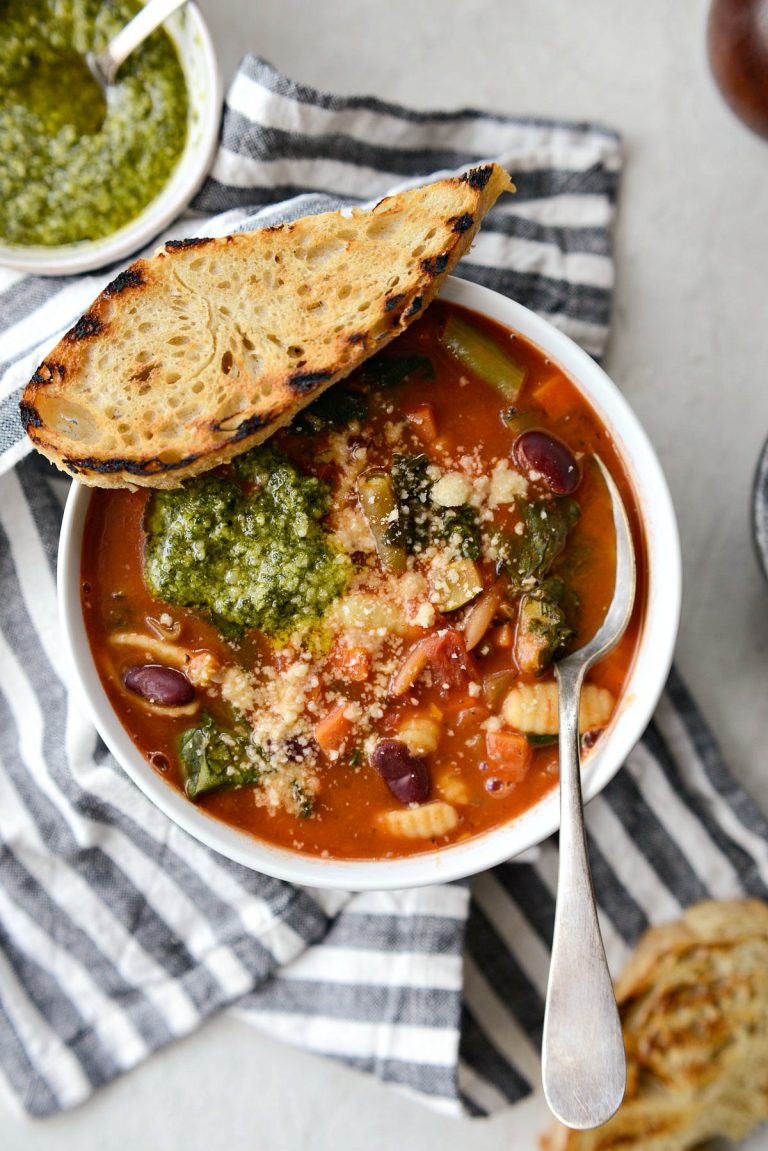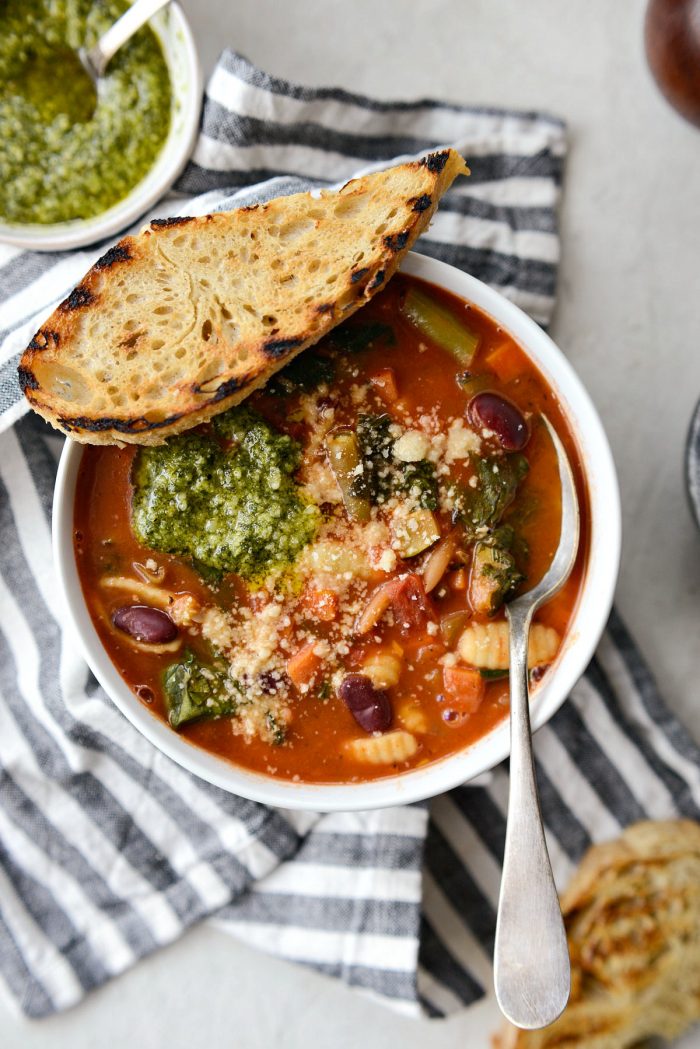 Classic Minestrone Soup: Loaded with vegetables, beans, pasta and flavorful tomato broth. Serve with a spoonful of homemade basil pesto, parmesan cheese and grilled bread.
Air Fryer Everything Bagels: Made with greek yogurt (no yeast!) so they're healthy without sacrificing any flavor. Studded with sunflower seeds and topped with homemade everything seasoning, these bagels are incredible! Yields 4 in about 45 minutes.
No-Knead Rye Bread: Easy and delicious. Simply combine the ingredients the day before and let time do its magic. And because this bread is baked in a hot dutch oven it develops the most delicious crust. Recipe yields 1 loaf or about 12 slices.
Beef Street Tacos: Simple yet so flavorful. Finely minced skirt steak is cooked with onions and stuffed into toasted corn shells and topped with white onion and lots of cilantro. Serves 6 in about 30 minutes.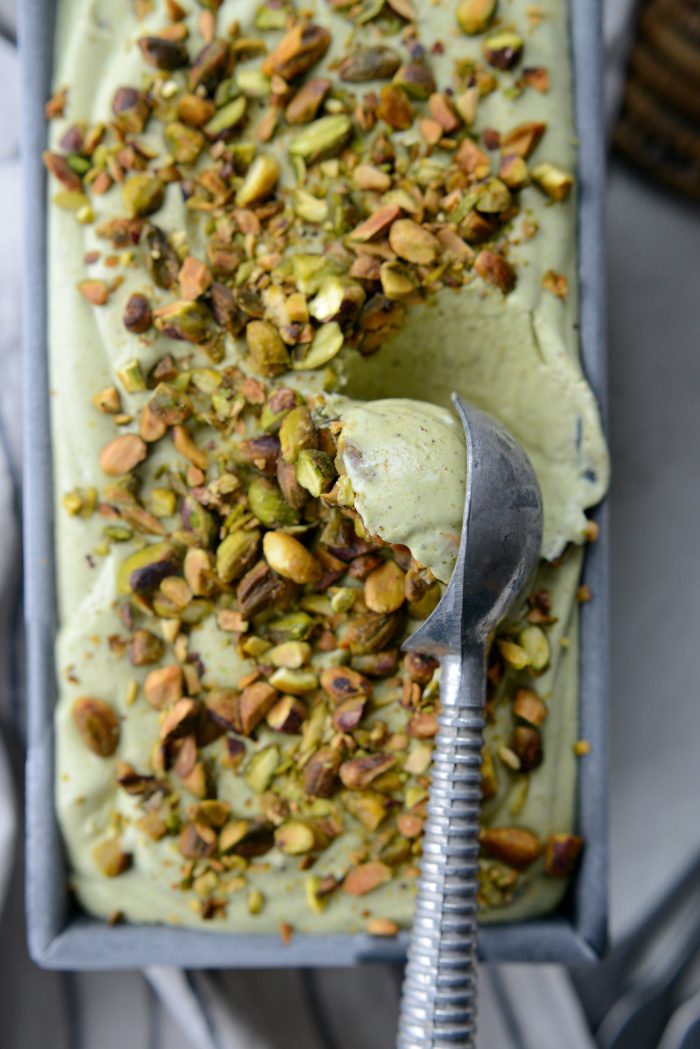 No-Churn Pistachio Ice Cream: Lusciously creamy and nutty. In this recipe, whipped cream and sweetened condensed milk is combined with pistachio butter and vanilla for a simple, delicious ice cream.
Small Batch Lasagna: Saucy, cheesy and easy to throw together. Oven-ready noodles are stacked between 4 layers of meat sauce, mozzarella and creamy ricotta. Will serve 6.
Honey Barbecue Sausage Sheet Pan Dinner: Potatoes roast with turkey smoked sausage, green beans and onions in a simple honey barbecue sauce. Smoky, sticky and sweet and serves 4 in 35 minutes!
Brown Butter Chocolate Chip Blondies: Sweet, chewy and packed with lots of flavor. What makes these blondies extra special is browning the butter beforehand. It adds a delicious and subtle nuttiness. Yields 16 squares.
Grilled Peach and Sweet Potato Arugula Salad: Loaded with lots of goodies like grilled peaches, roasted sweet potatoes, fresh tomatoes, goat cheese and pistachios. All of this sits on a bed of peppery baby arugula and is drizzled with my house balsamic vinaigrette. Yields 4 generous salads.
Summer Tomato Caprese Salad Recipe: Garden tomatoes are sliced and topped with fresh mozzarella, basil and drizzled with olive oil and balsamic glaze. Flakey sea salt and freshly ground black pepper add to the flavor while lending bits of texture.
Smoked Pork Shoulder: In this post you'll get our favorite way to brine, rub, smoke and serve this incredibly tender and deliciously smoky pulled pork.
Dutch Apple Fritter Bread: Moist, flavorful and loaded with tender apples, brown sugar and cinnamon. Served with a delicious yogurt glaze drizzled over top.
Easy Brioche Dinner Rolls: Tender, rich and slightly sweet. A simple recipe that yields a batch of soft and delicious dinner rolls. Perfect for either a cozy weeknight meal or holiday dinner. This recipe makes 12 dinner rolls.
Homemade San Marzano Marinara: Sautéed onions and garlic simmer with San Marzano Tomatoes and wine for hours and is finished off with a plethora of fresh herbs. This recipe yields 10 cups of sauce and includes freezing/thawing instructions.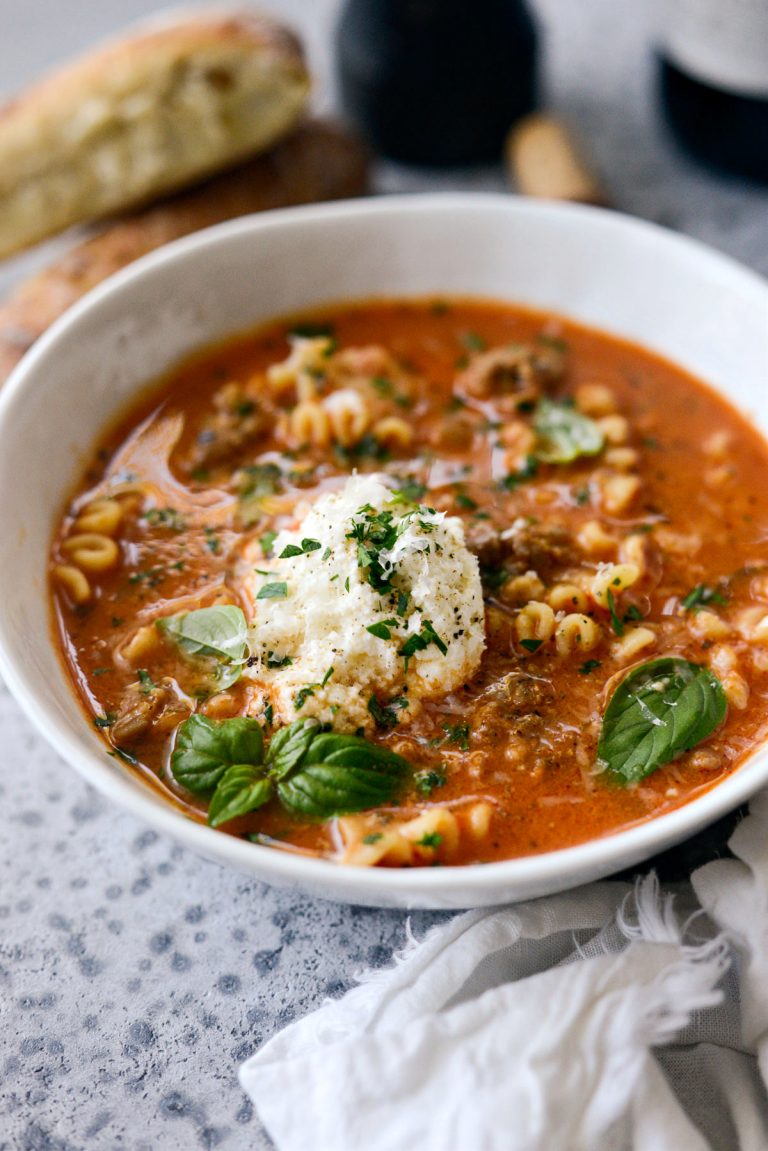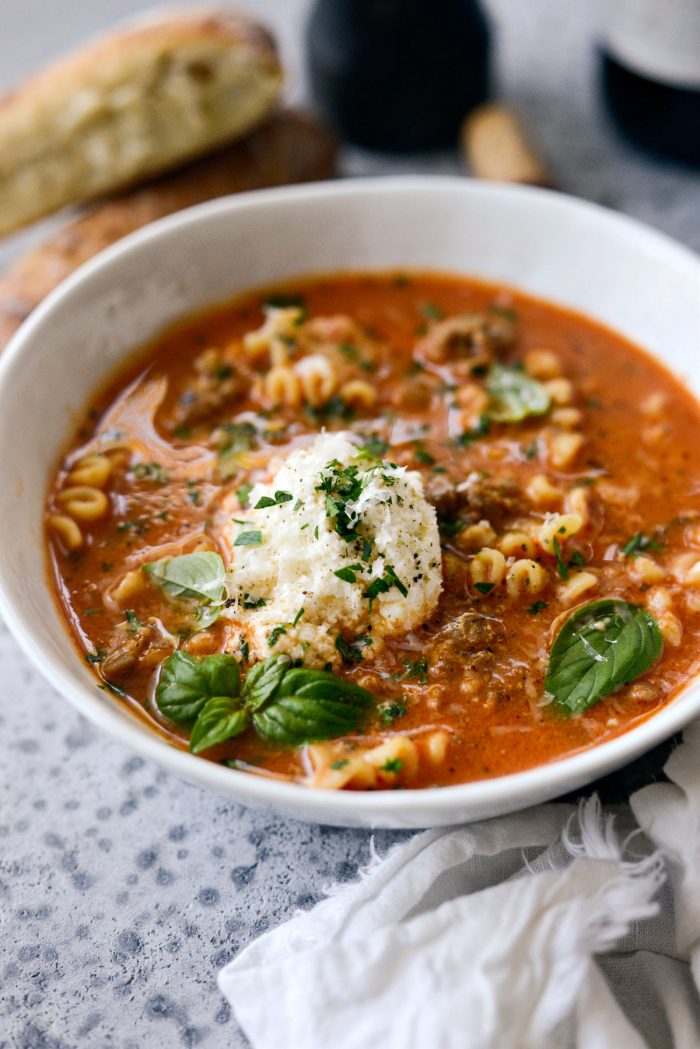 Lasagna Soup: Everything you love about lasagna, like Italian sausage, ricotta and marinara in one comforting bowl of soup! Serve with torn bread or breadsticks. This recipes serves 6 to 8.
Salted Caramel Espresso Hazelnut Cookies: Sweet, salty and nutty with some espresso chocolate chip flair! Even more delicious served with a glass of ice cold milk. Recipe yields 3 dozen which makes this great for sharing.
Halloween Candy Cookie Bars: Homemade cookie dough mixed with chocolate and peanut butter candies are baked and then pressed with all your favorite candy bars – and spooky eyes! Yields 18 bars.
Make Ahead Turkey Gravy: Turkey wings, vegetables and herbs roast in the oven before cooking with wine and stock, creating a delicious base to this extremely flavorful homemade gravy. Can be made a few weeks in advance and froze or as little 3 to 4 days and keep refrigerated. Yields 4 cups.
Ancient Grain Arugula Salad: A copycat version of Panera Bread's Ancient Grain Arugula Salad; grilled chicken, cooked grains, fresh grapes and apples top arugula and is drizzled with a simple cider vinaigrette. Serves 4.
Christmas Morning Mimosa: A cranberry and pomegranate cocktail spiked with grand marnier, cinnamon simple syrup topped off with Prosecco and served in sugar-rimmed champagne glasses. Serves 8 (depending on glasses and serving sizes).
Winter Farro Salad with Fried Shallots: Cooked farro is tossed with green apple, dried cranberries, baby arugula and toasted walnuts. Dressed in a honey dijon dressing and topped with crispy fried shallots. This recipe will serve 8-10.
___________________________________________________________________________
Looking back, I definitely think we made the most of the craptastic year. After a while, the girls had a little cabin fever but Pat and I are homebodies, so didn't mind it too much. I joked that I have been practicing for this issued stay at home order for years. 😂 As I mentioned earlier, I cooked (alot), read and organized our house from top to bottom. I still have bags to donate but most of the clutter is gone and 2020 is to thank for that.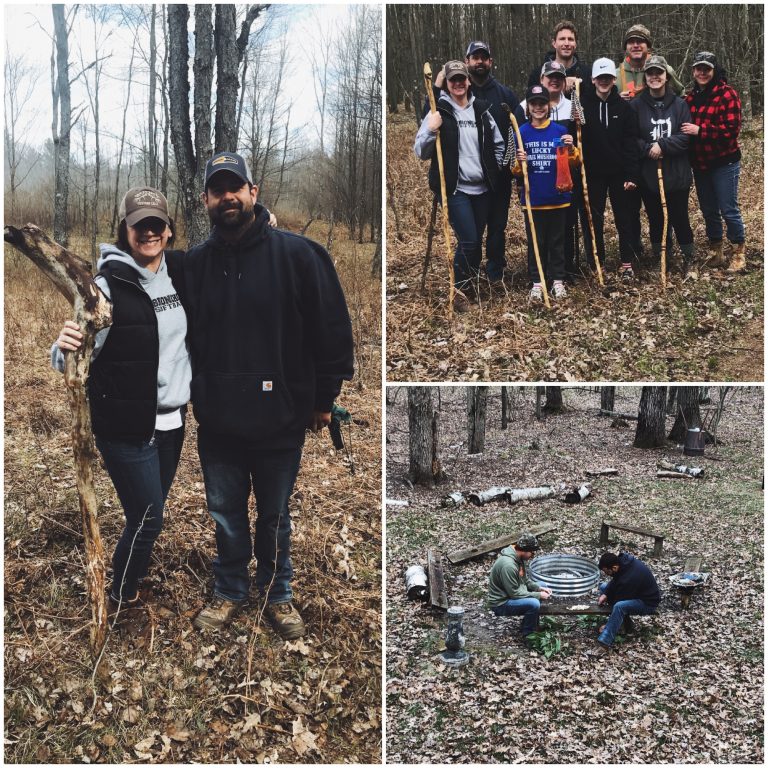 Pat and I went up north quite a bit. We did our annual morel mushroom weekend with a few close friends. Unfortunately there was an unexpected frost the day or two before (thanks crappy Michigan weather) and all the mushrooms perished. We may have found 5? I'm not sure. But the rest of the time we played games, ate some amazing food and relaxed with a few adult beverages. After months without seeing anyone, it was perfect.
Earlier this year, Pat and I bought a smoker. Best purchase ever. So far we've smoked a few pork butts, brisket and I tried a smoked queso (the queso needs some work😂). There's a lot more things we plan to smoke in 2021 and I can't wait. Stay tuned.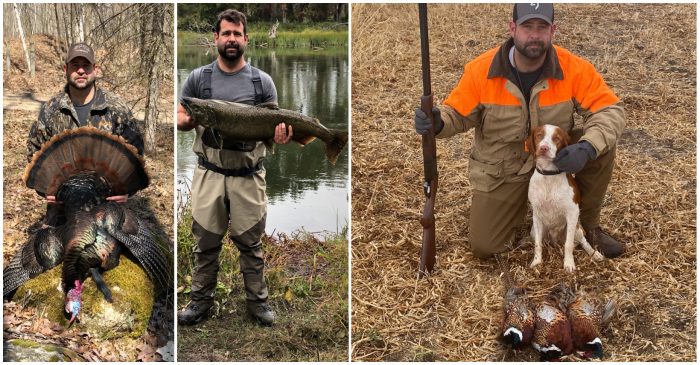 Pat had a great year! He golfed a bunch and did a lot of hunting. In spring, he shot a gorgeous 21 pound turkey. Early fall he caught a couple Chinook (king) salmon – to which I made this salmon chowder with. Then in October he took Finn to South Dakota for our pups first pheasant hunt. He did amazing! Pat even said it was a trip of a lifetime. For him, it was a year full of outdoorsy things.
I spent most my year in leggings and hoodies with no make up on and my hair up in a topknot. Because where was I going? I also collected a few more plants and spent majority of the summer on the lake. I refinished a few pieces of furniture but nothing major like the last few years. In September I turned 40 and by December Pat and I ordered a treadmill and a dumbbell set. Something about turning 4o (during a global pandemic no less) has kicked me into gear and I've been running, lifting and toning just about every day since we got them. Funny how that is.
Speaking of turning 40. For my fortieth Pat had planned us a long weekend trip to Las Vegas that we sadly had to postpone due to the obvious circumstances. Instead, in July, he booked us rooms at 3 different casinos in Michigan – a casino crawl of sorts.
It was the first time I went anywhere besides the grocery store in months.
On our way to the second casino in Traverse City, we took M22 all the way up the coast of Lake Michigan. As we passed through, we talked about places we'd get a summer home (daydreaming!) and stopped at a few places for pictures on the way. We love to gamble, but we both agree that road trip was the best part. On day three we went to the UP and drove the Mackinac Bridge (a first time for both of us!) and we stayed in a casino in St. Ignace which is on Lake Superior. On our last night we walked the shoreline, I collected some driftwood and we watched the sun set. Later we hit a couple of jackpots which made the trip even that more incredible.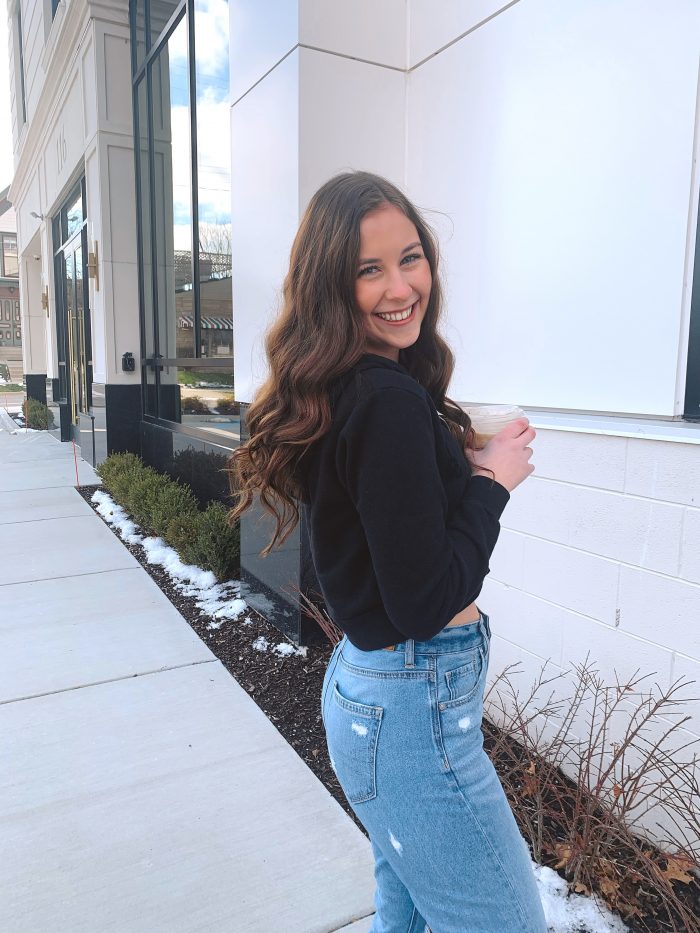 Haileigh finished her first year of college (whoot-whoot!) making the president's list! She works hard at everything she does and to finish out her first year with this achievement is incredible. Late August, she began her sophomore year. Most of her classes were online but she was able to move into her dorm with her roommates. It was a sliver of normalcy to which she was grateful for. She met new friends and made the most of it.
Right before she left for college, she went brunette and oh-my-goodness! Right when I thought she couldn't be more beautiful!! Now her blue eyes pop even more so and she jokes that now she looks related to all of us. 😂
She's been home since the Wednesday before Thanksgiving and has been cashiering full time. She's excited to back up to college mid January and finish out the school year.
The highlight of Malloree's year was when she got her braces off in February. A process that started in 2016 with expanders and many many orthodontist appointments. It seemed like the moment they took her braces off she grew up 5 years. Her confidence grew too. I'm so happy she loves her new smile.
A week later, she hopped on an airplane with her varsity dance team and flew down to Florida for a DTU dance competition. This team made it through prelims and onto finals and placed 10th in varsity jazz and 11th in varsity pom! They work so hard and this is such an accomplishment for these talented girls.
In October she turned 16 and a month later got her license.
The week before Christmas, Malloree was driving to get herself Dunkin Donuts. A drive she's made dozens of times. Before she left, I looked out side and it was barely starting to snow, so I thought she would be good to go with this short drive. On her way home, before she took a sip of her iced vanilla latte or a bite of her glazed doughnut, she hit black ice and lost control of the car. Mal went in a ditch and flipped the car onto nearby logs that would eventually milled for mulch.
Thankfully she is absolutely fine.
I've driven with Mal tons of times and I know she's a confident and safe driver. However, if I had known the roads were bad, I'd never had let her go. I have so much mom guilt when I think back. I had no idea that just 10 minutes away, there was more snow and that the temperature dropped and roads were icy. I was watching her on the Life 360 app and noticed she was going off into an area that during the summer is a farmers market, and yet it showed she was going zero miles an hour. I was so confused, but her best friend lives near there so instead of thinking the worst (14 years in a level 1 trauma center will do it to you) I thought she pulled over to make a phone call or something. Then my phone rang in my hand and it was her. She was crying and told me she was upside down but okay. Every parents nightmare. There was a father and daughter that stopped, called 911 and stayed with her until paramedics arrived – bless them. And because she had my car, I had no way to get to her fast because Pat was at work. Haileigh came home from work, she picked me up and we went straight there. Luckily her best friend and her mom went to be with Mal as well and stayed with her until we got there.
It was the best worst day – if that makes sense.
Once my car was right side up, I had to get the insurance and registration out of the glove box. Air bags on both sides went off, glass and coffee was literally everywhere and I noticed her doughnut wedged in the frame of the door. A week later, we had to go to the tow yard to get the plate off the car along with any of our belongings. The doughnut was still there in the exact spot and in pretty good condition still. Needless to say, my car is totaled – which is fine. Cars can be replaced, our daughter cannot be. We thank the universe everyday that she came out of that accident uninjured.
We all realize that day could've ended way differently. Not many parents are as lucky to have their child walk away from an accident like that. I think we all hugged her a million times since then.
Finn probably had the best year out of all of us. Clueless of what was going on in the world (lucky!) he lived is best life in 2020. He went on lots of walks, turned 1 in July and was spoiled with ice cream. He played hours of catch and posed for lots and lots of photos. Honestly he was the brightest spot of the year. He makes things fun, had us constantly laughing and smiling with his silly faces and shenanigans. I seriously can't imagine our family without him.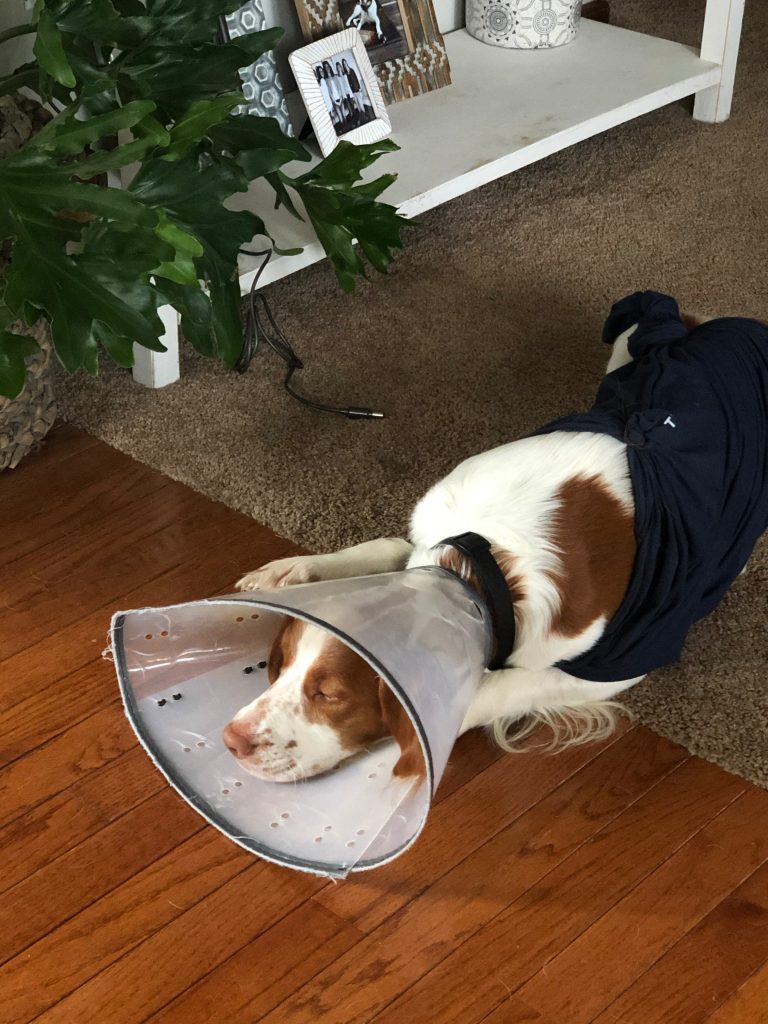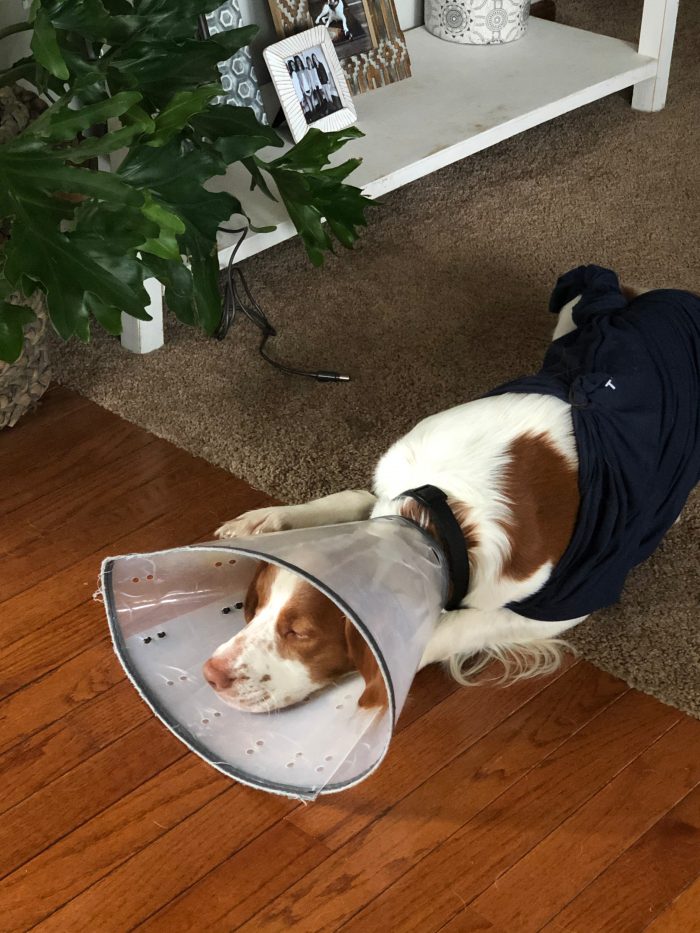 Not even being brushed by a porcupine kept him from being the best dog ever. A little minor surgery removing 20-some quills and he handled it like a champ – however he didn't know what to do when wearing cone of shame. When one of us put it on him, it was like we pressed pause – he wouldn't move. Eventually he'd just lay down. It was hilarious. FYI the ace bandage didn't last, but since he looked so cute I had to take a pic.
This was taken by Pat, 2 weeks later in South Dakota. I love this shot.
Well what a year it's been. Not the one we expected, however I can only hope that 2021 is better – it has to be right?
If I learned anything thing this last year, is that there's no way to predict the future, life is precious and to always make the most out of any situation.
To all of you that visit, cook or bake a recipe and leave a comment or send me an email – I so deeply appreciate you. Over the past 10 years a lot of you have become friends and to me that is what this blog is all about. Without each and every one of you, this blog simply wouldn't be and I so thankful for your years of continued support.
I'm looking forward to this new year and all the delicious food!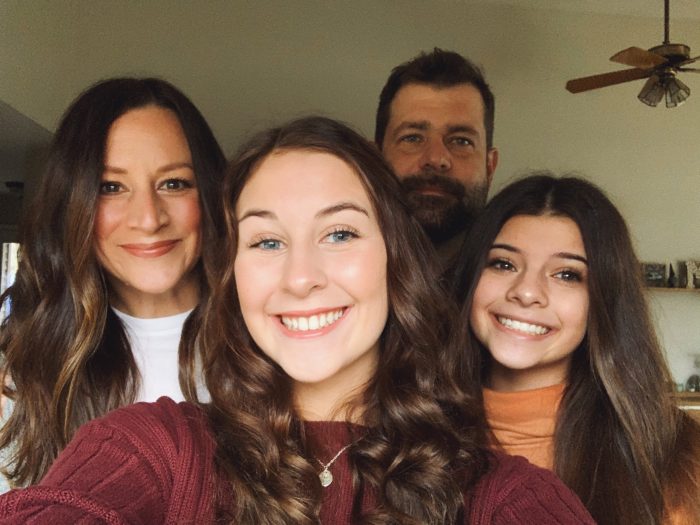 From my family, to you and yours – we wish for you all to have an healthy 2021 and hope that it brings you peace, love, joy and laughter.
WANT TO READ MY PAST YEAR IN REVIEW POSTS? HERE ARE THE LAST 9 YEARS.
This post may contain affiliate links.
Buy the Cookbook: Simply Scratch : 120 Wholesome Homemade Recipes Made Easy Now available on Amazon »
THANK YOU in advance for your support!