Save yourself a bunch of time with this Make Ahead Turkey Gravy! Turkey wings, vegetables and herbs roast in the oven before cooking with wine and stock, creating a delicious base to this extremely flavorful homemade gravy. Can be made a few weeks in advance and froze or as little 3 to 4 days and keep refrigerated. Yields 4 cups.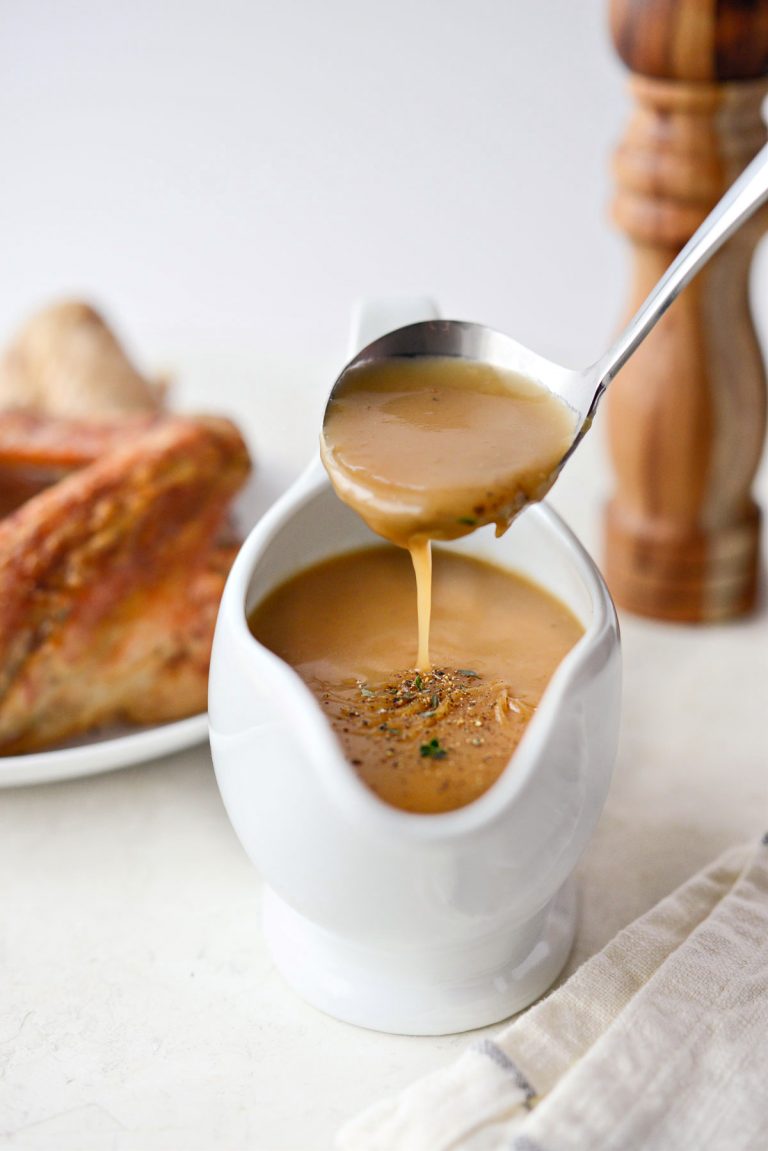 Meet the best gravy I've ever made.
Last week my sister Kelly sent me a snapchat of her making gravy. She said she was making it in advance for Thanksgiving. Me being me, I immediately responded asking for the recipe. My sister then sent over a recipe she saw on TikTok, and after watching it and seeing how easy it is, I had to make it and share it with you.
I didn't change the recipe all that much, but I did change a few minor things.
However, the base of the gravy is the same. It starts by roasting a bunch of vegetables, thyme and turkey wings before adding a little white wine and broth. This is then gradually poured into a roux and the gravy simmers until thickened.
To Make This Make Ahead Turkey Gravy You Will Need:
olive oil
yellow onions
celery
carrots
garlic
thyme
kosher salt
black pepper
turkey wings
dry white wine
turkey stock
unsalted butter
wondra instant flour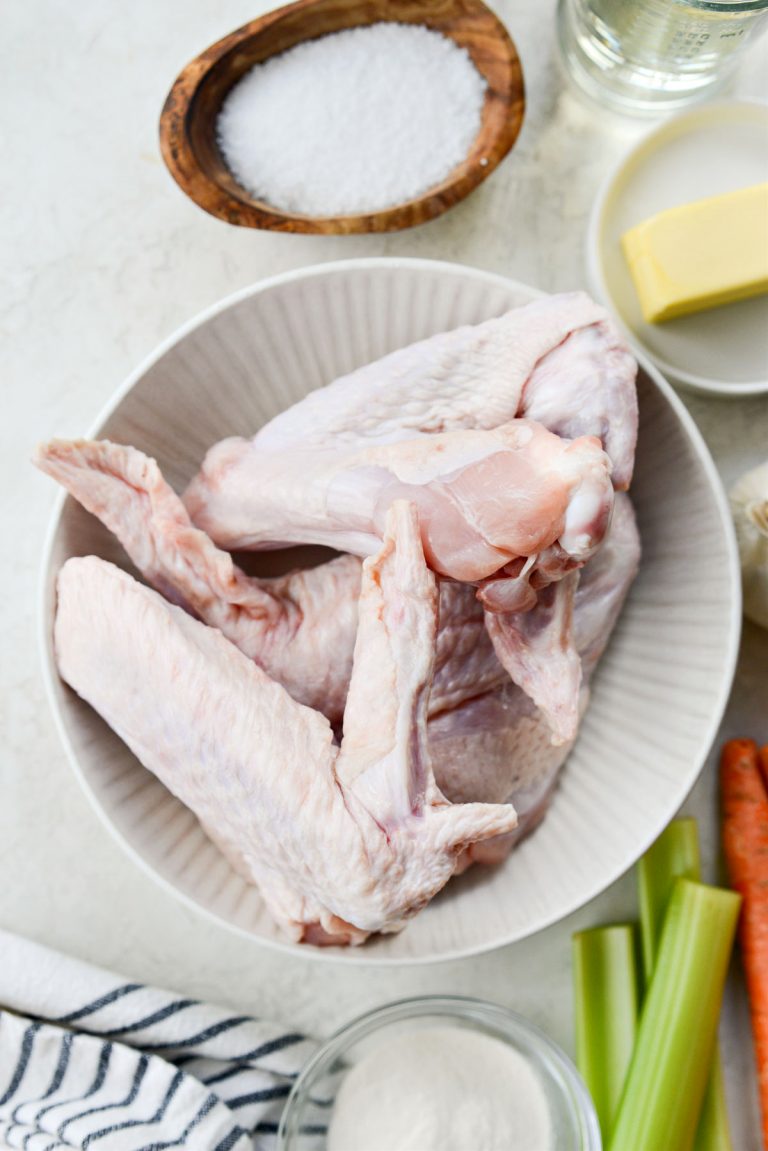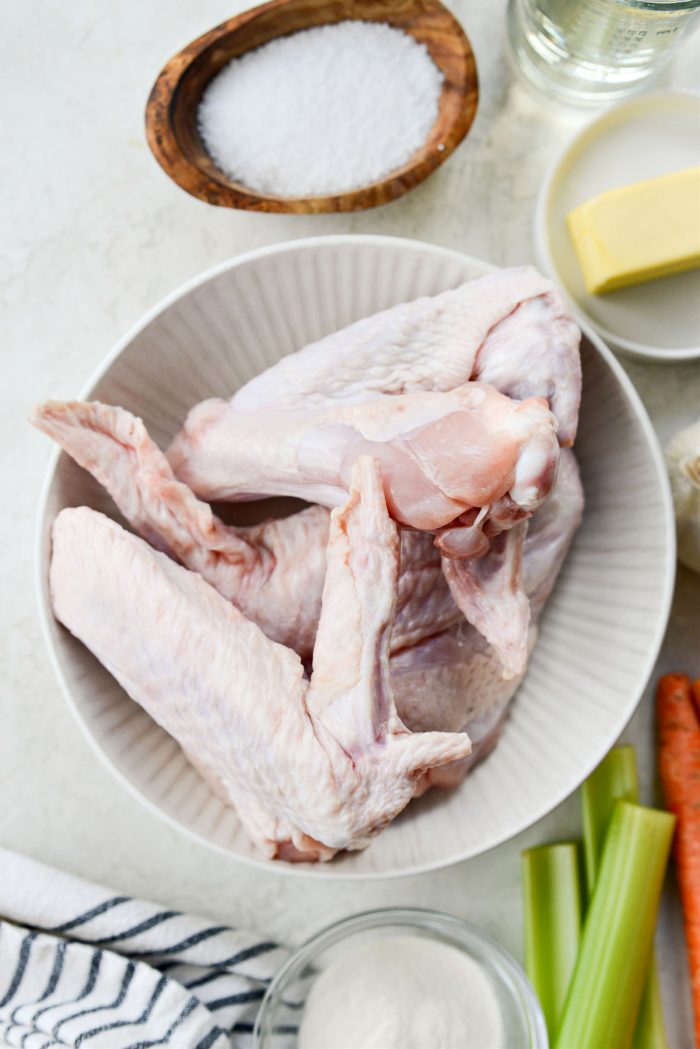 This time of year you can find turkey wings at your grocery store and one package usually contains 3 wings. They are either located in the refrigerated meat or freezer sections.
If frozen, thaw completely (should take few days) in your fridge before making this recipe.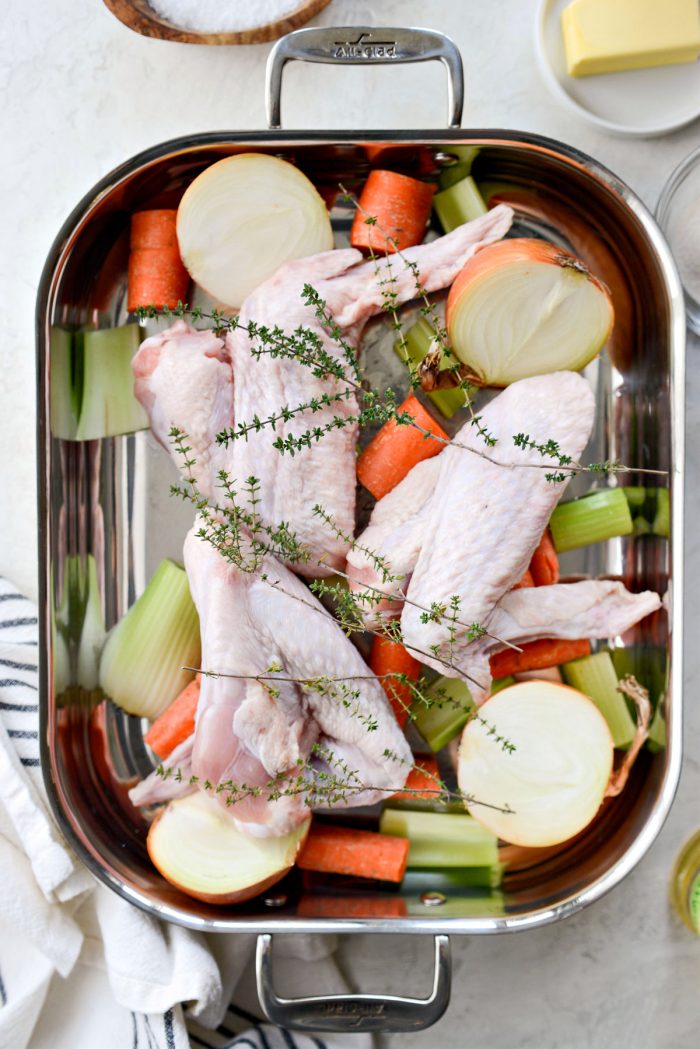 Preheat your oven to 400°. Drizzle a little olive oil into a roasting pan. Then add in 2 halved yellow onions, 3 roughly chopped celery stalks, 2 large roughly chopped carrots, 1 head of garlic – cut in half horizontally, 3 turkey wings and 5 to 6 sprigs of fresh thyme.
Lastly, drizzle with more olive oil and season with a few generous pinches kosher salt and freshly ground black pepper. Roast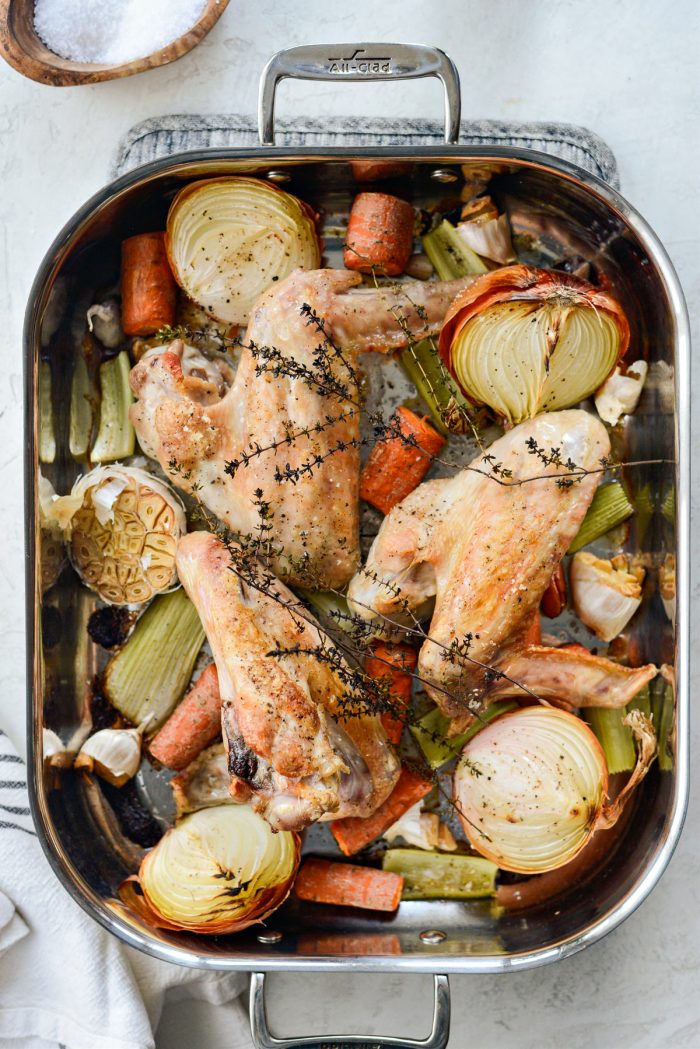 Roast on the middle rack of your preheated oven for 1 hour.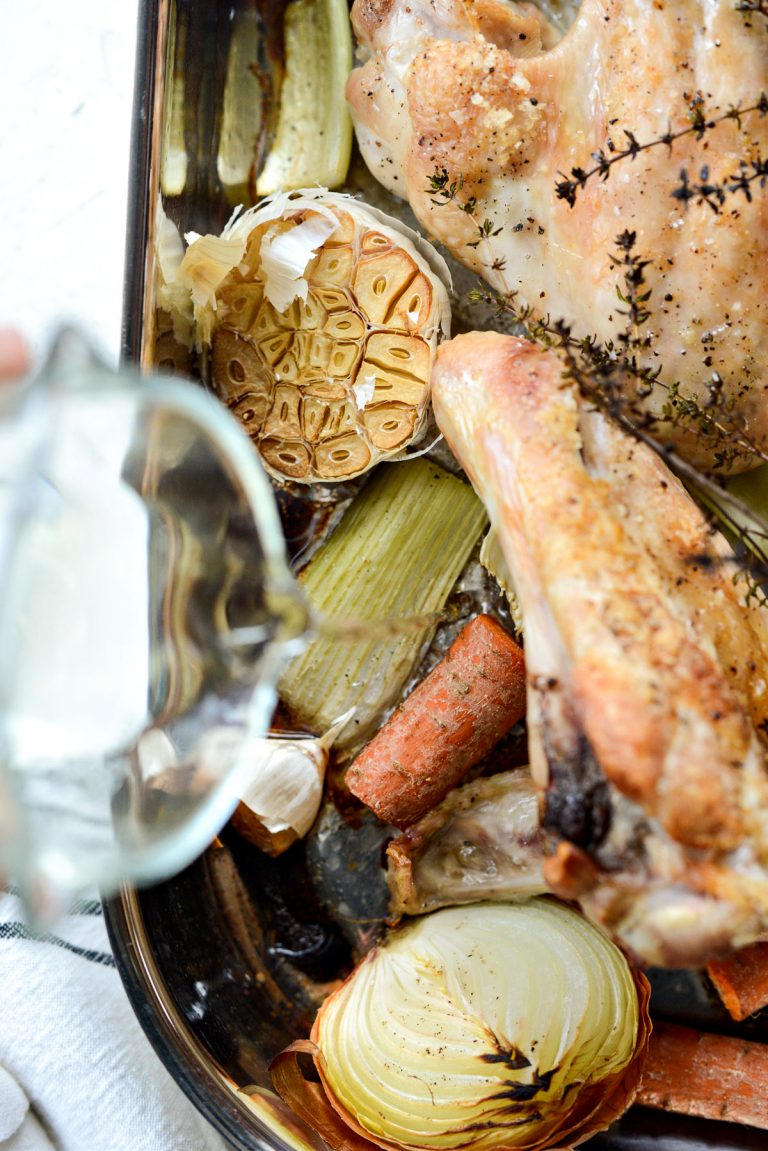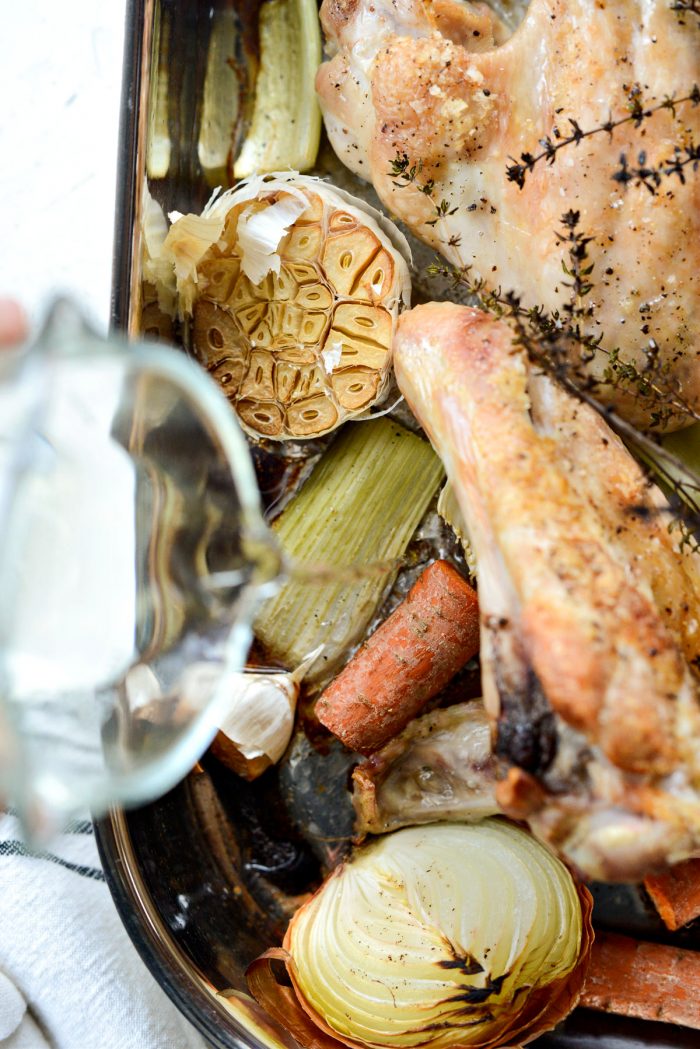 Remove the roasting pan from the oven and deglaze with 1/2 cup dry white wine. I used a sauvignon blanc that I like to drink.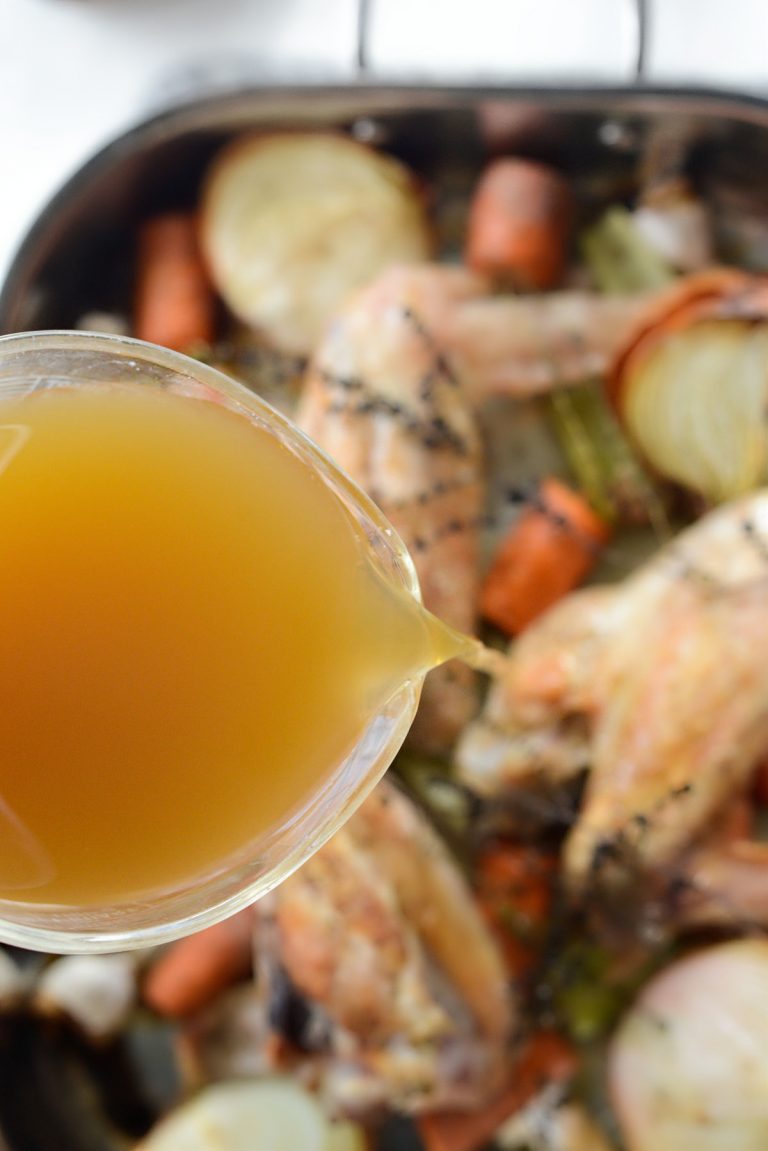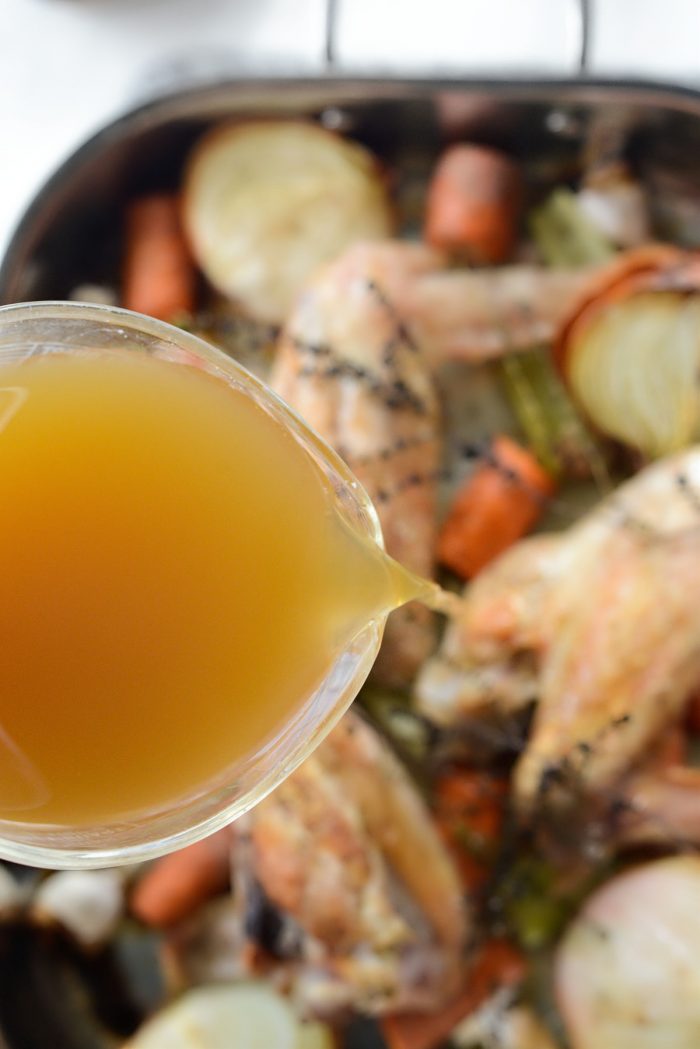 After that, pour in 6 cups turkey stock. Quality store bought is fine or maybe you have this homemade version on hand?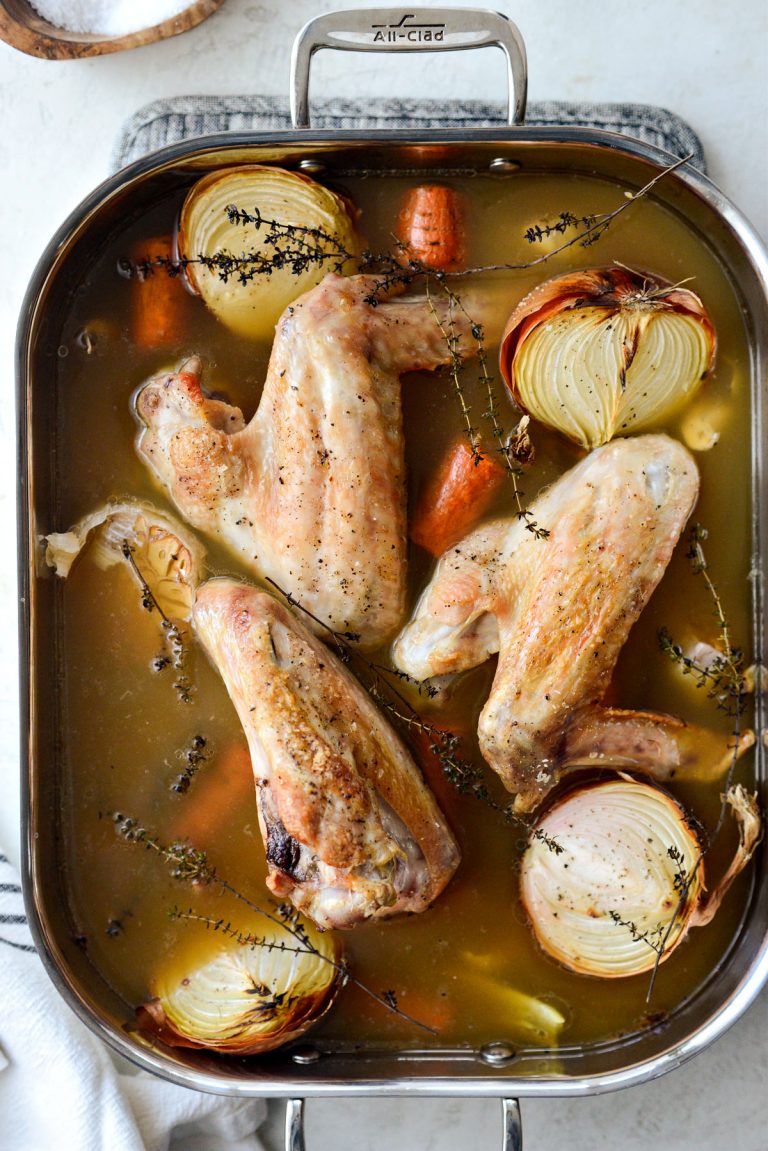 Return the pan back to the oven for an additional 45 minutes. It should have reduced by almost half.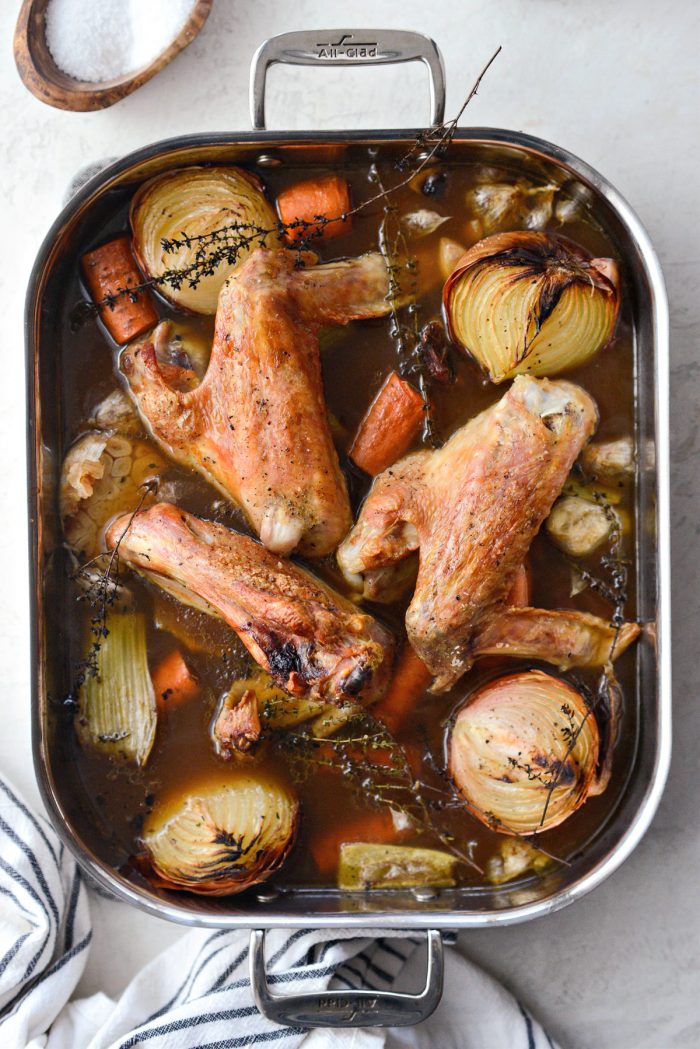 Smells like thanksgiving!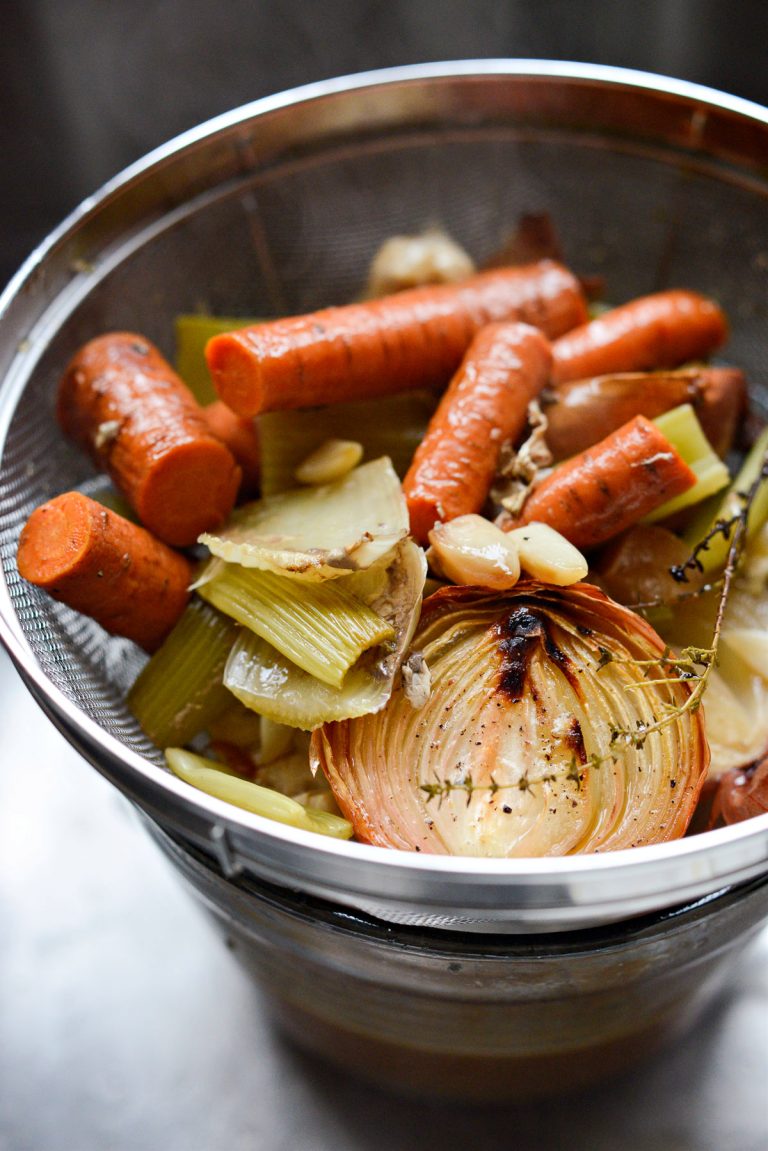 Use tongs to transfer the turkey wings to a carving board. Feel free to pick of the meat and use in soup or discard. Place a mesh sieve into a large bowl. Pour the cooking liquids and all the vegetables through the sieve.
Press on the vegetables with a metal or wooden spoon to extract any and all of their juices.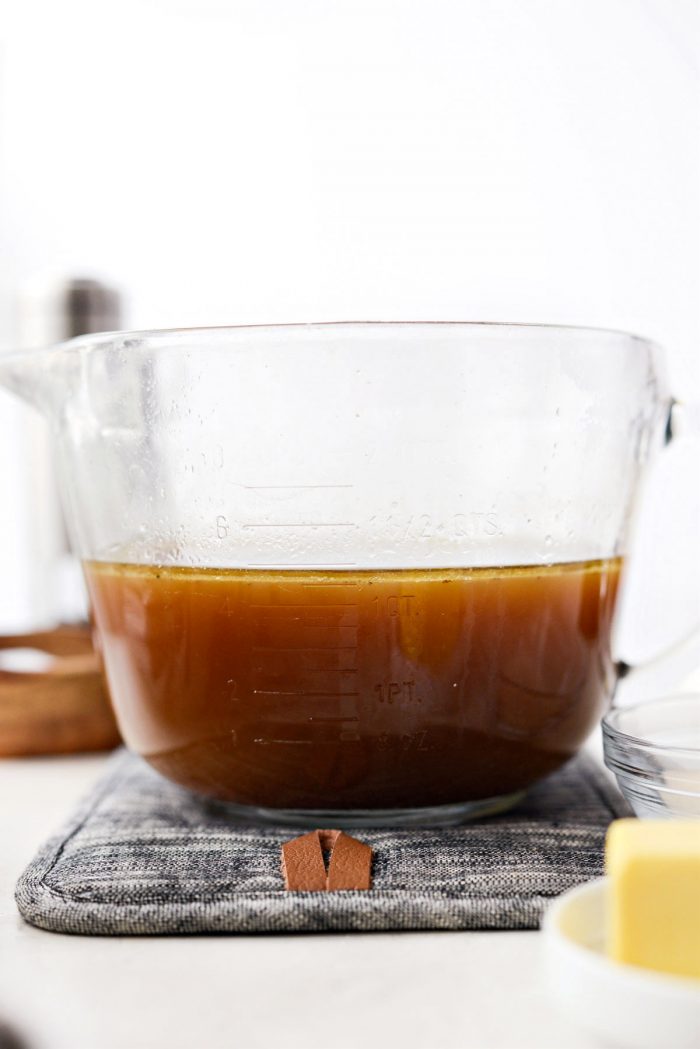 This right here is liquid gold.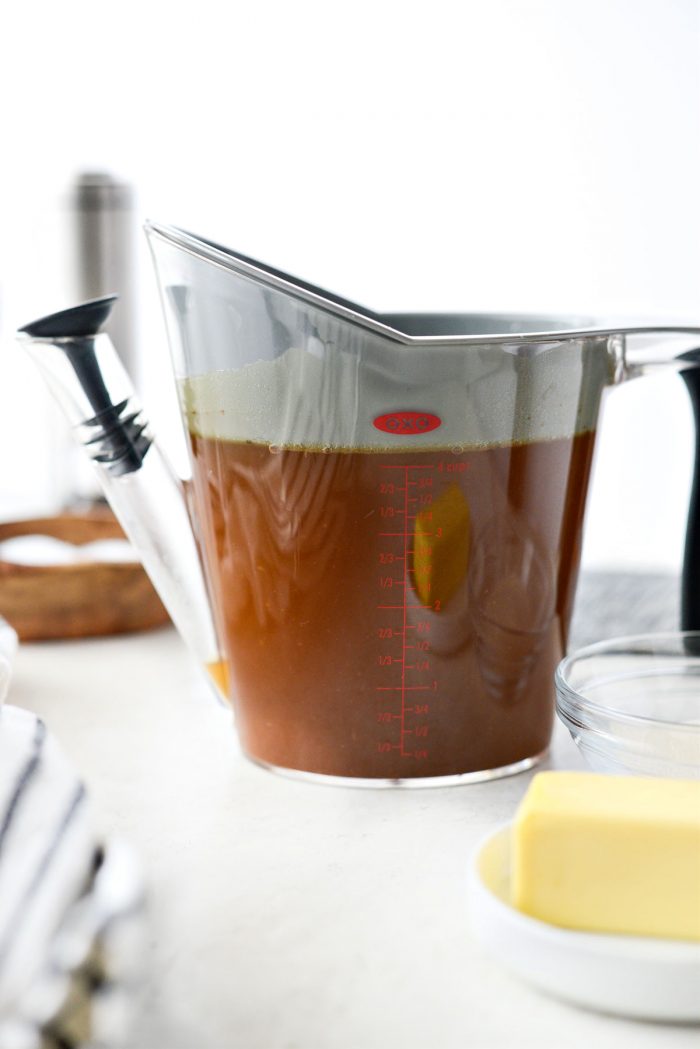 Pour the liquids into your fat separate and allow the fat to rise to the top. Pull the stopper out so the liquids come up the spout (and the fat will stay at the top).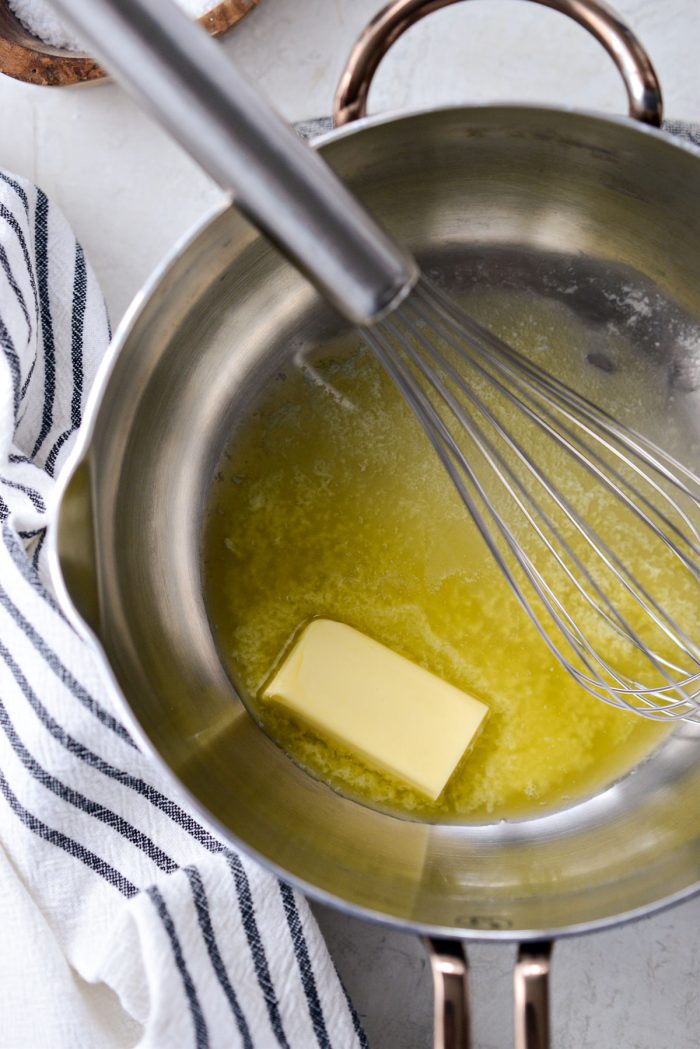 Meanwhile, in a sauce pan, melt 4 tablespoon unsalted butter.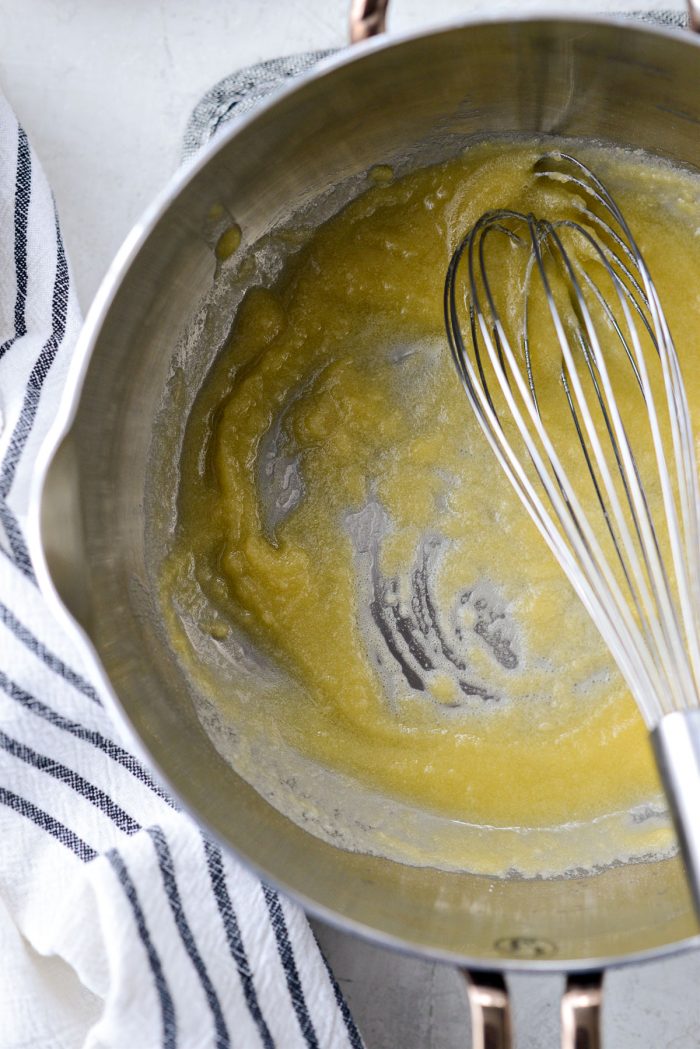 Whisk in 6 tablespoons of Wondra flour.
What is Wondra Flour?
Wondra is an instant flour. It's a low-protein flour that has been precooked and dried. This ultra fine flour dissolves instantly which helps keep sauces and gravies lump free. It can also be used as pastry flour or to bread meat, fish and vegetables for a crisp exterior when pan-fried.
Once dissolved, slowly pour in the turkey stock.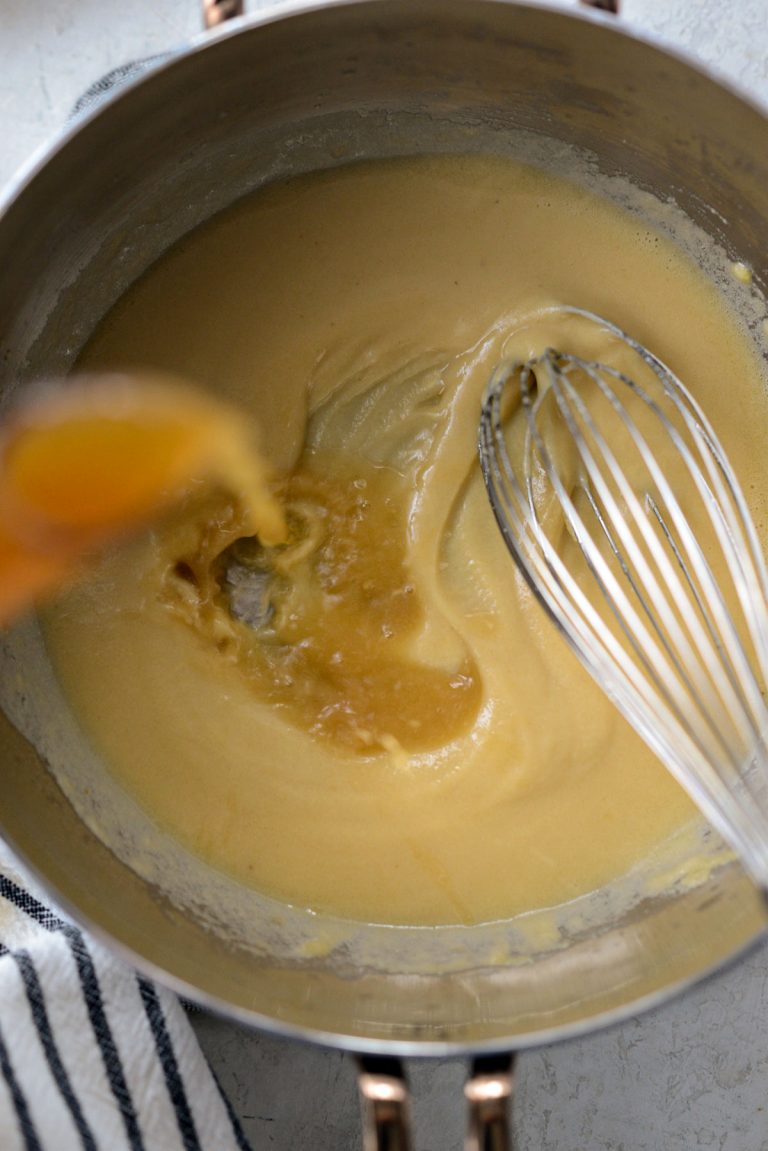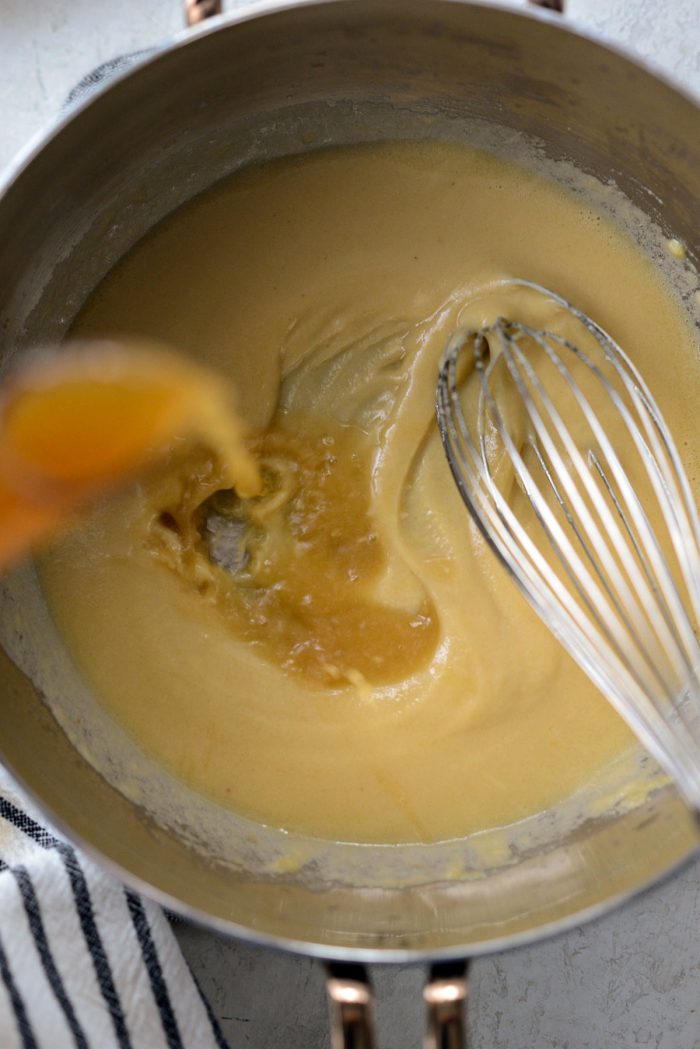 Continue whisking while pouring in all that liquid gold.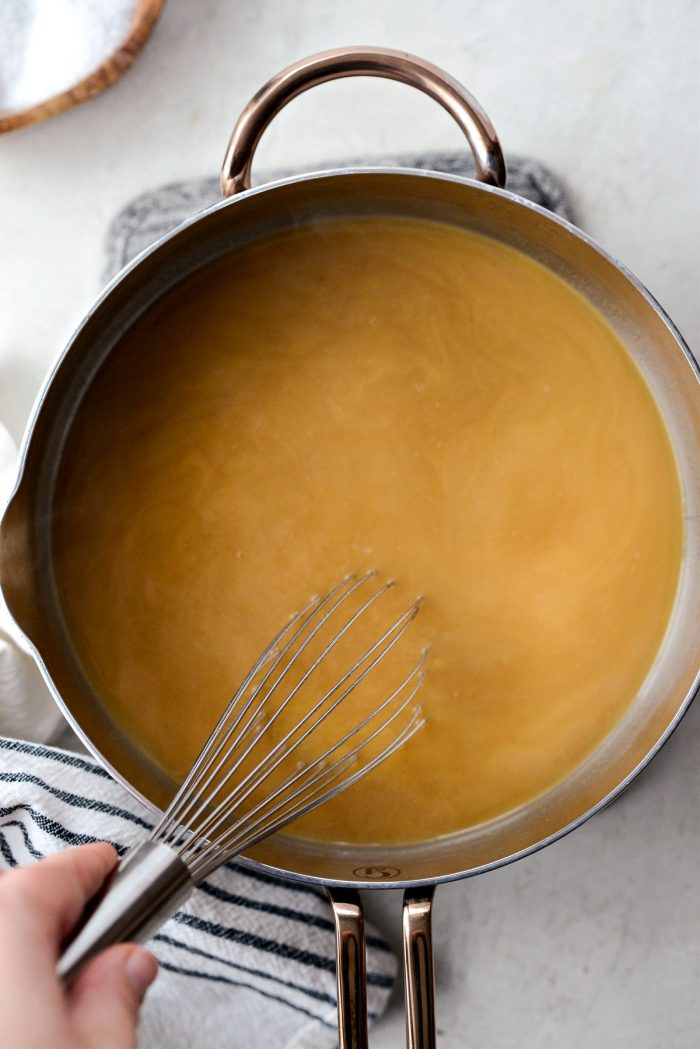 Bring to a simmer over medium heat then reduce to medium-low and continue whisking while the gravy simmers.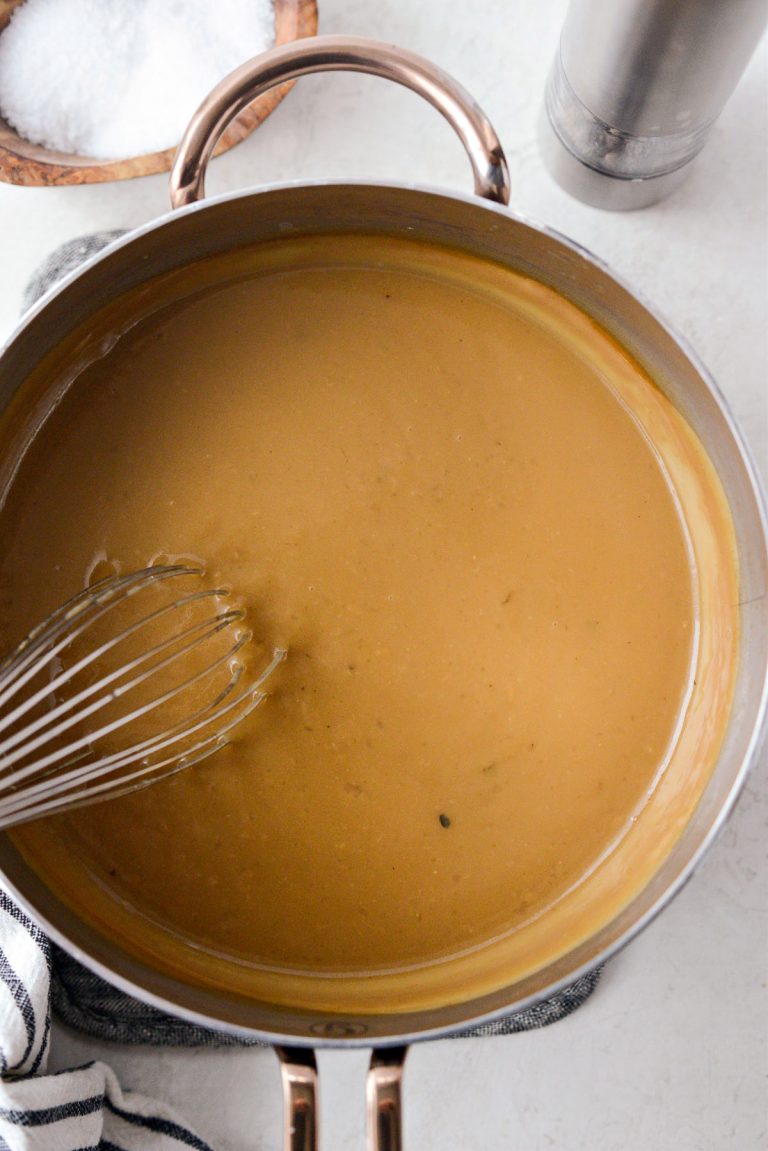 This could take 45 to 1 hour. Or if you're like me and don't want to wait that long, after about 30 minutes, make a cornstarch slurry and whisk it in. For a thinner gravy, whisk 2 tablespoons cornstarch with 2 tablespoons water. And for a thicker gravy (what we like!) I use 3 tablespoons of each.
Taste and season with more salt and pepper, if desired.
Once thickened, cool completely before storing.
Make this as early as a month in advance and freeze – thaw before reheating. Or prepare this make ahead gravy 3 to 4 days in advance and keep it refrigerated in an air-tight container.
The day of, add the gravy to a sauce pan and reheat on low until hot. If the gravy is too thick once reheated, add a few splashes of turkey stock or low-sodium chicken broth to thin it out.
Pro tip:
While the gravy is warming, I fill the gravy boat with very HOT water. Then when it's time to serve the meal, I empty the gravy boat and quickly wipe it out before filling it with the gravy. This will keep it nice and warm.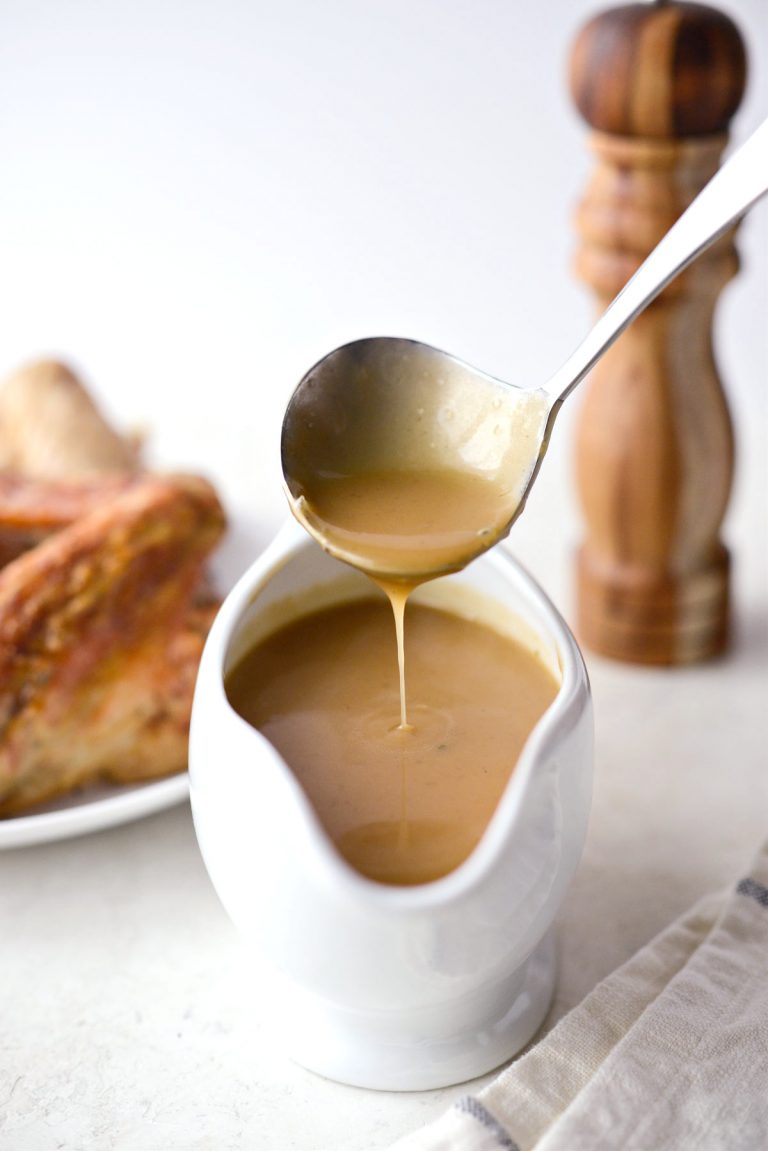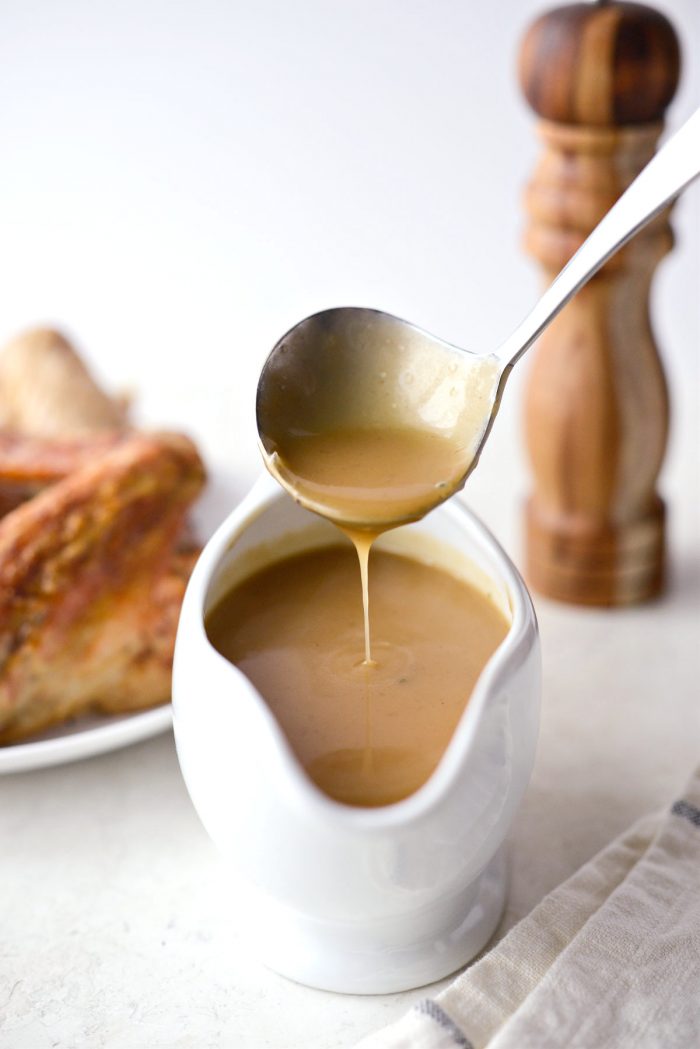 Enjoy! And if you give this Make Ahead Turkey Gravy recipe a try, let me know! Snap a photo and tag me on twitter or instagram!
This post may contain affiliate links.
Buy the Cookbook: Simply Scratch : 120 Wholesome Homemade Recipes Made Easy Now available on Amazon »
THANK YOU in advance for your support!