Grilled Peach and Sweet Potato Arugula Salad! Loaded with lots of goodies like grilled peaches, roasted sweet potatoes, fresh tomatoes, goat cheese and pistachios. All of this sits on a bed of peppery baby arugula and is drizzled with my house balsamic vinaigrette. Yields 4 generous salads.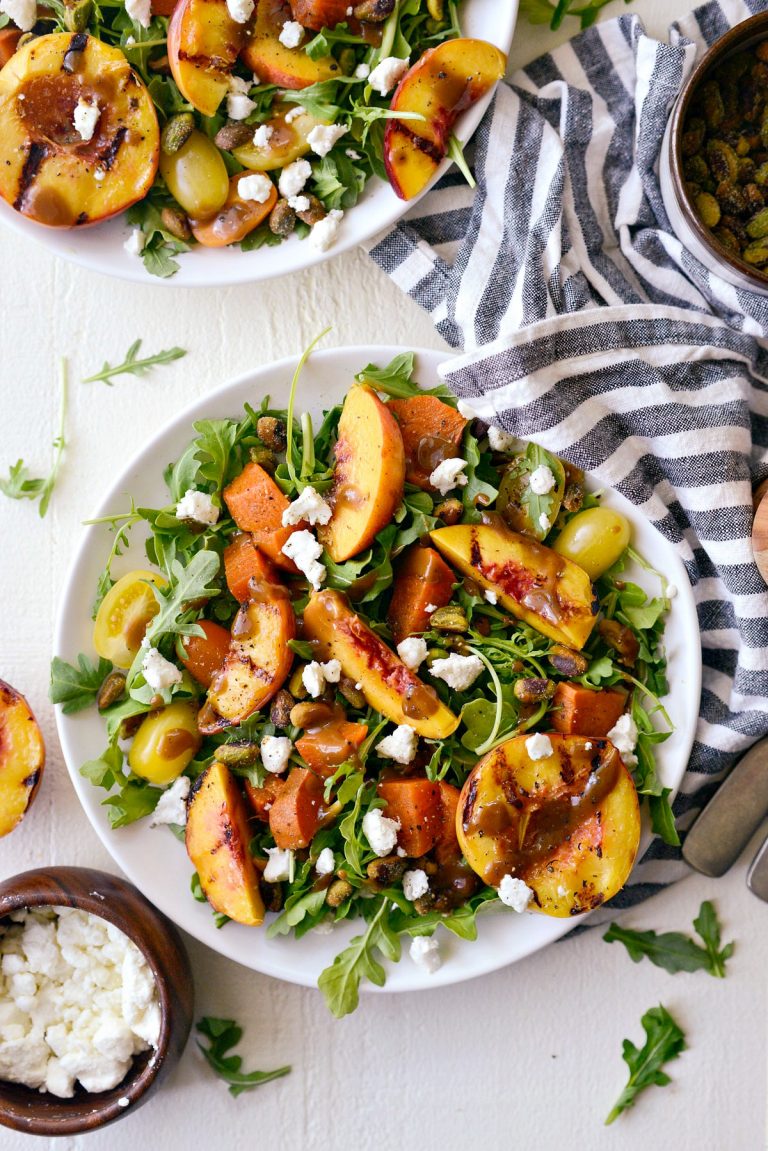 Hello, dream salad!
This salad was originally found and then unfound on Pinterest.
First, let's back up. Most of us use Pinterest to pin recipes, crafts etc. we want to try or are inspired by, right? Well for years I've had this exact salad pinned and tucked away with other salad recipes. Every now and again I'd stumble back to it and looked at it longingly. Until last week, when I was finally was going to make it for lunch with my girls. I knew I needed to run to the store for peaches, so the morning of I click on the pinned image to go to the blog and get the rest of the ingredients , poof! the website was no longer and therefore recipe was gone.
I had waited too long I guess.
So I did what any normal person would do and zoomed up on the photo and deciphered what precisely was in this salad. I also took it as a sign that not only should I make this salad but blog the recipe as well. And friends, I'm so glad I did. The combination of peaches, roasted sweet potatoes and goat cheese is beyond delicious and something you must try asap.
And what a gorgeous salad too. The oranges, yellows and pops of red is stunning against the arugula and contrasts with the white of the goat cheese crumbles. *swoon*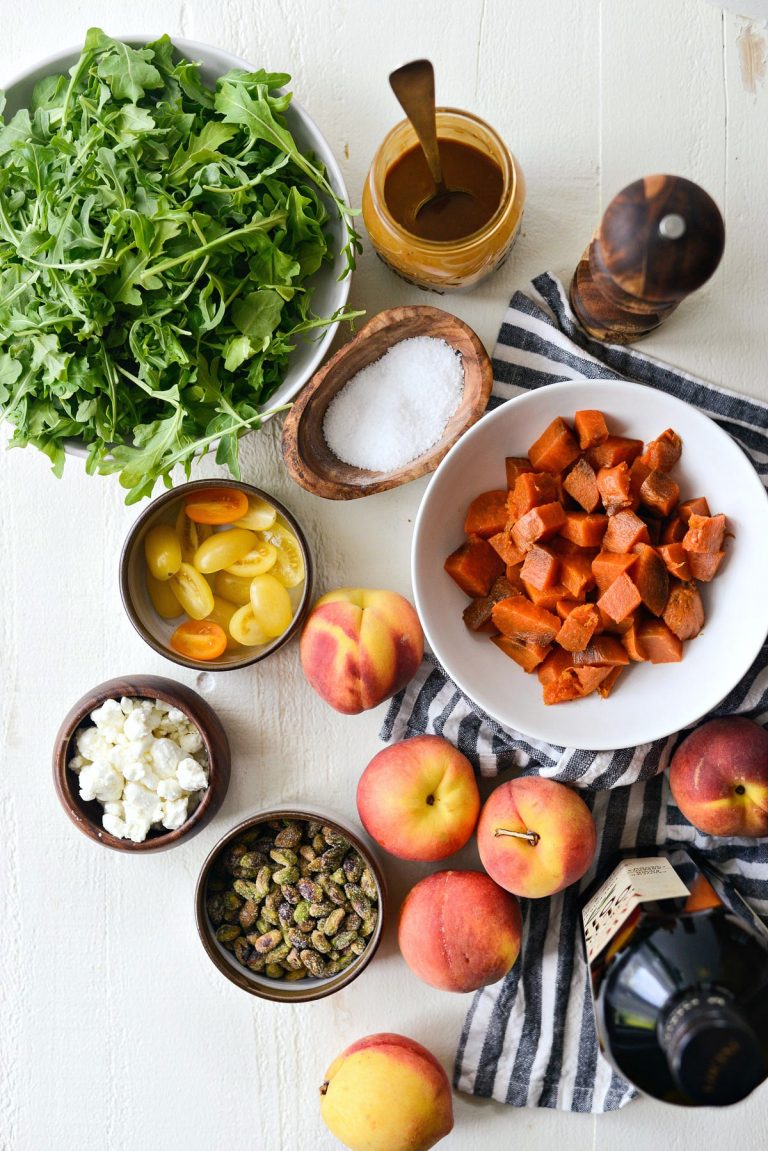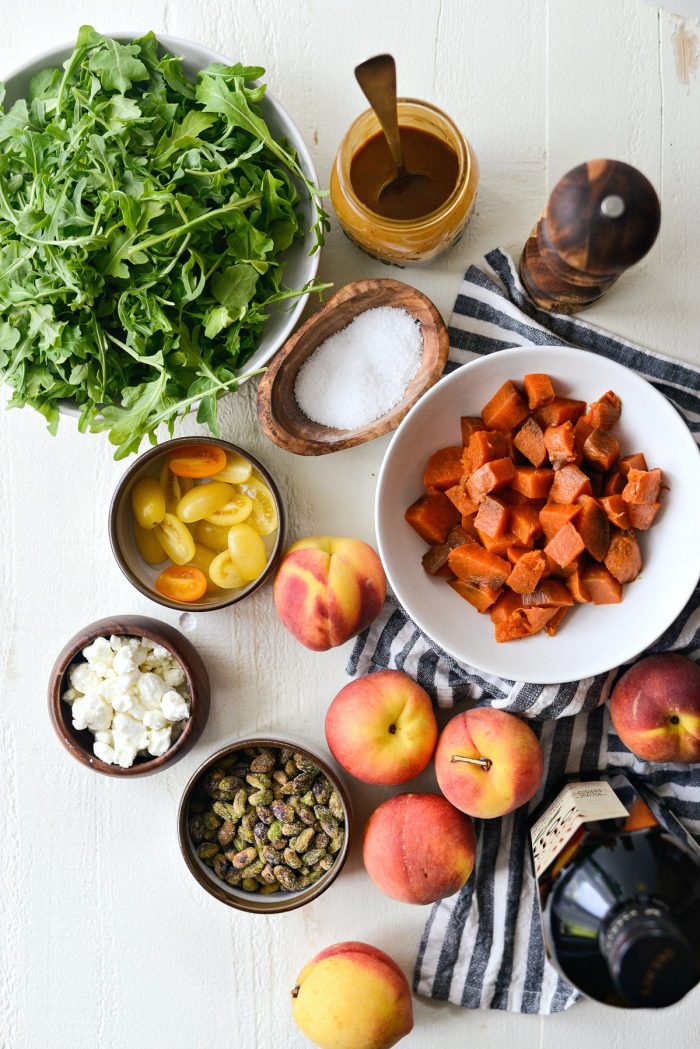 To Make This Grilled Peach and Sweet Potato Salad You Will Need:
roasted sweet potatoes
fresh ripe peaches
olive oil
argula
tomatoes
pistachios (shelled)
goat cheese crumbles
freshly ground black pepper
I whole roasted sweet potatoes earlier in the week (lucky me!) so I already had them on hand. So I just peeled them and diced them into 1-inch cubes. This was 2 medium sweet potatoes or roughly 2 cups. However, you can dice up a few sweet potatoes and roast them at 400° for around 20 minutes.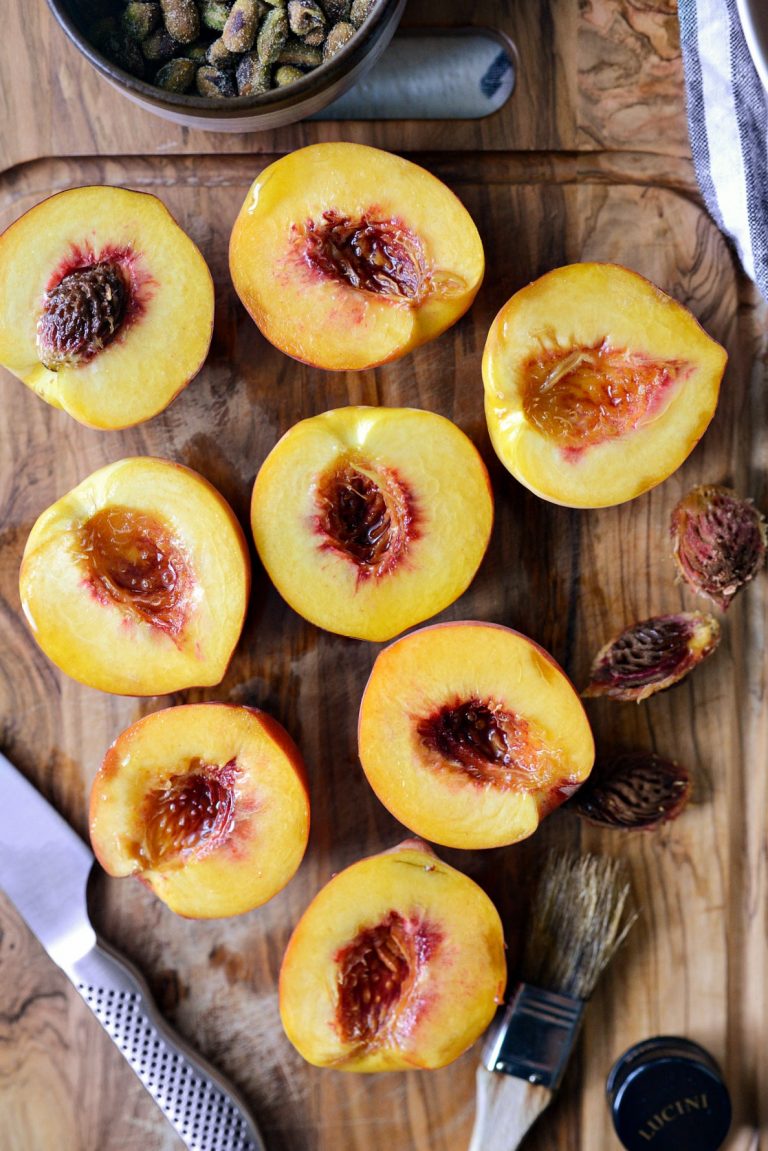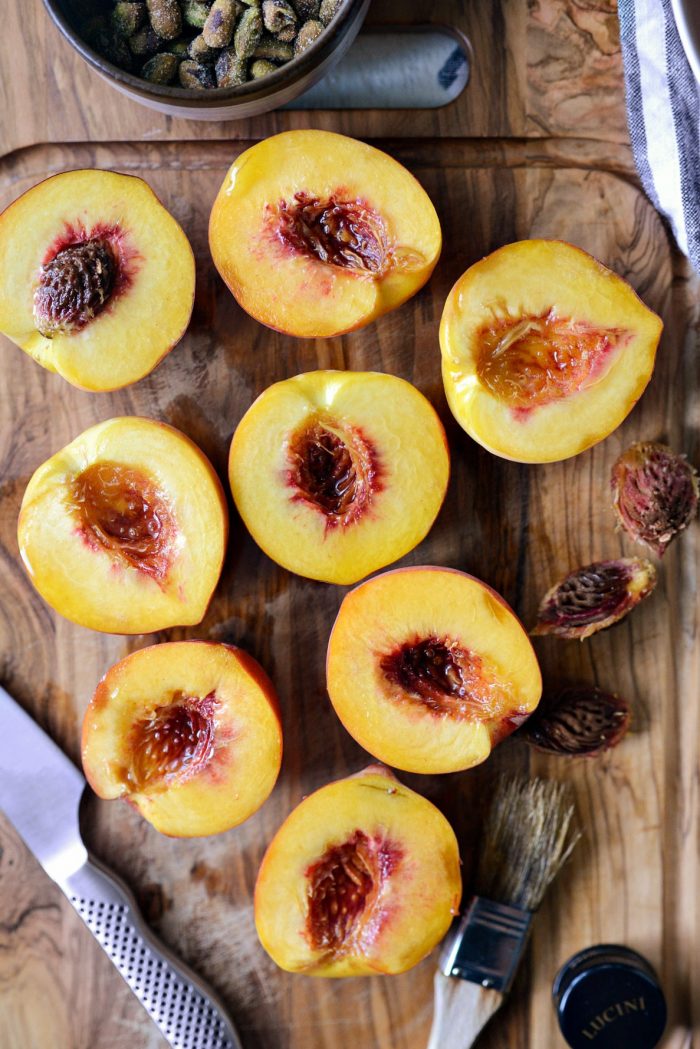 Next dip some paper towel in a little olive oil and grease your grill grates. Preheat your grill to 450 to 500°. Meanwhile cut the peaches in half along the seam. Twist and pop out the pit. Brush the cut side with olive oil.
I figured 1 whole peach per salad.
Once your grill has preheated, place the cut side down onto the grill grates and grill for 3 to 4 minutes or until grill marks form.
Keep in mind your peaches should be ripe yet not completely mush.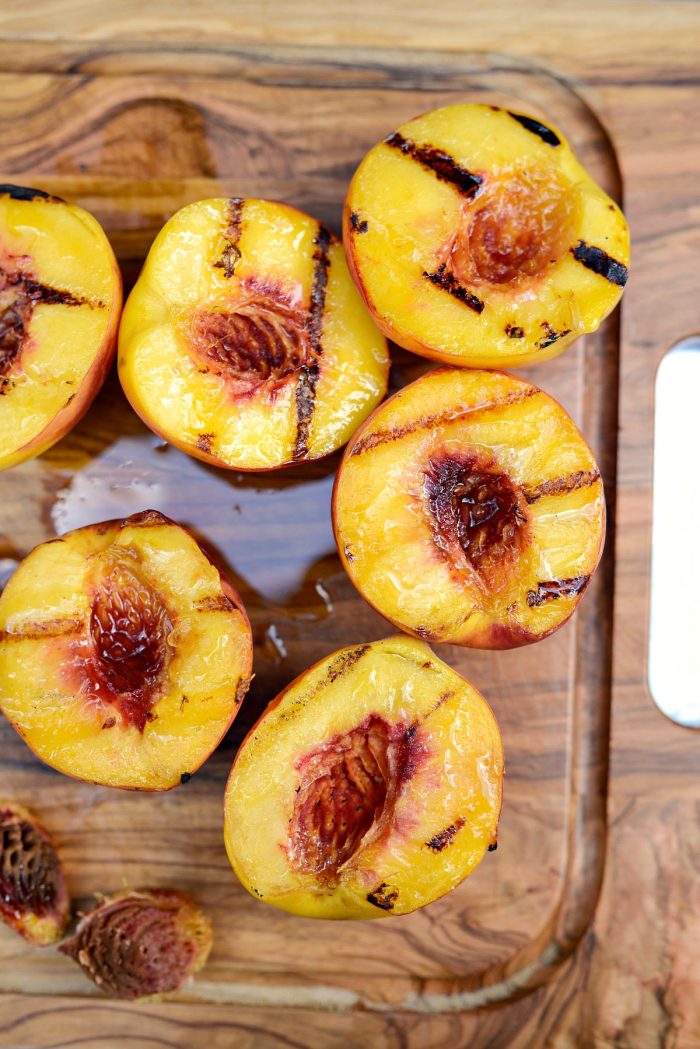 Transfer the grilled peaches to a cutting board and cut into wedges.
Divide 5 ounces of baby arugula among 4 plates. Top each with roasted sweet potatoes, sliced grilled peaches, tomatoes, goat cheese and pistachios. Lastly drizzle with this house balsamic vinaigrette and season with lots of freshly ground black pepper.
Sweet, tangy, peppery and delicious. So simple and delicious, I could eat this for lunch every single day of my life.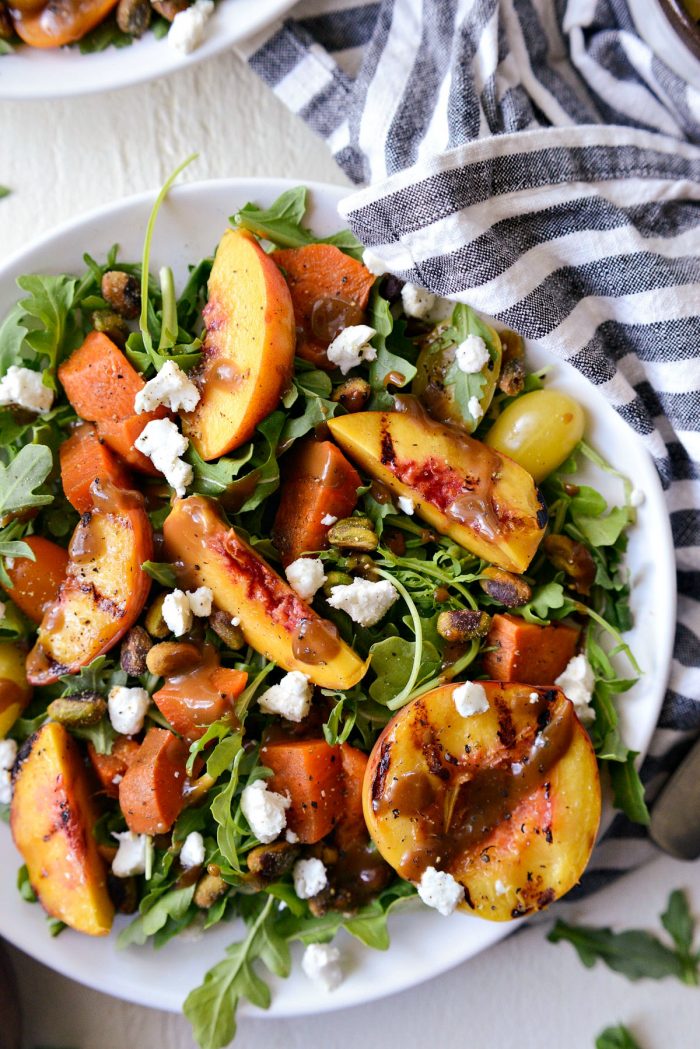 Enjoy! And if you give this Grilled Peach and Sweet Potato Arugula Salad recipe a try, let me know! Snap a photo and tag me on twitter or instagram!
This post may contain affiliate links.
Buy the Cookbook: Simply Scratch : 120 Wholesome Homemade Recipes Made Easy Now available on Amazon »
THANK YOU in advance for your support!