Easy Air Fryer Everything Bagels are made with greek yogurt (no yeast!) so they're healthy without sacrificing any flavor. Studded with sunflower seeds and topped with homemade everything seasoning, these bagels are incredible! Yields 4 in about 45 minutes.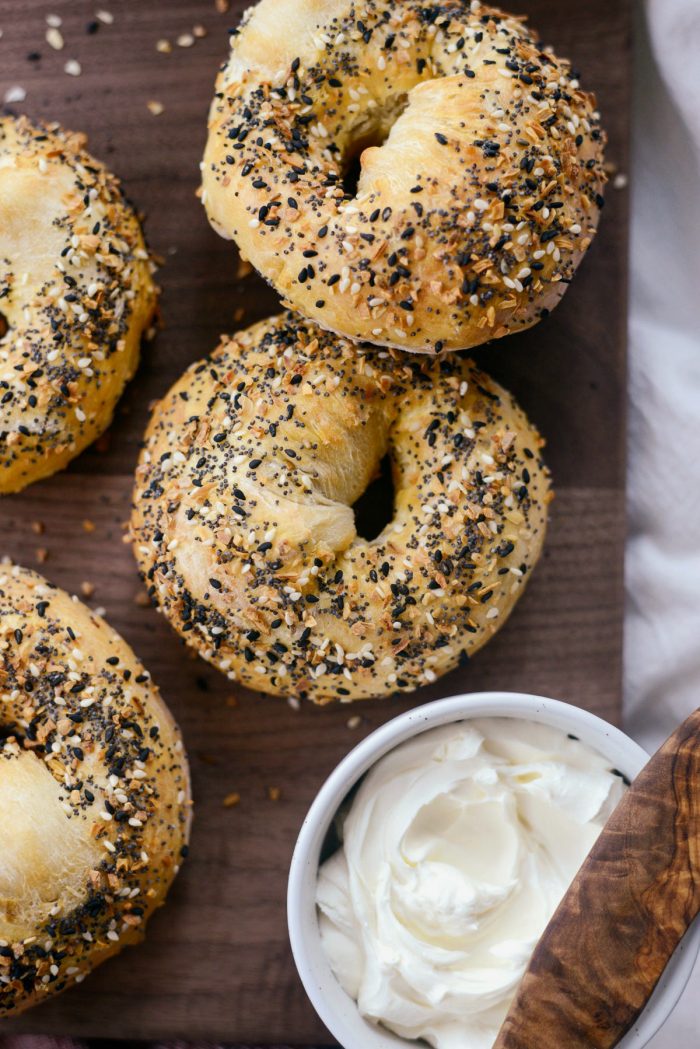 If you're stuck at home and out of bagels. I hope you have some plain greek yogurt and baking powder on hand because you can whip up delicious homemade bagels without the use of yeast in minutes. Using the base recipe from my greek yogurt pizza dough, these bagels are just as easy to throw together and a fraction of the calories as traditional bagels.
I love everything bagels, and if I had to pick, they're probably my favorite. Bonus points if they have sunflower seed studded through out. So when developing this recipe, I made sure to use them because I love the added texture especially when toasted and spread with cream cheese.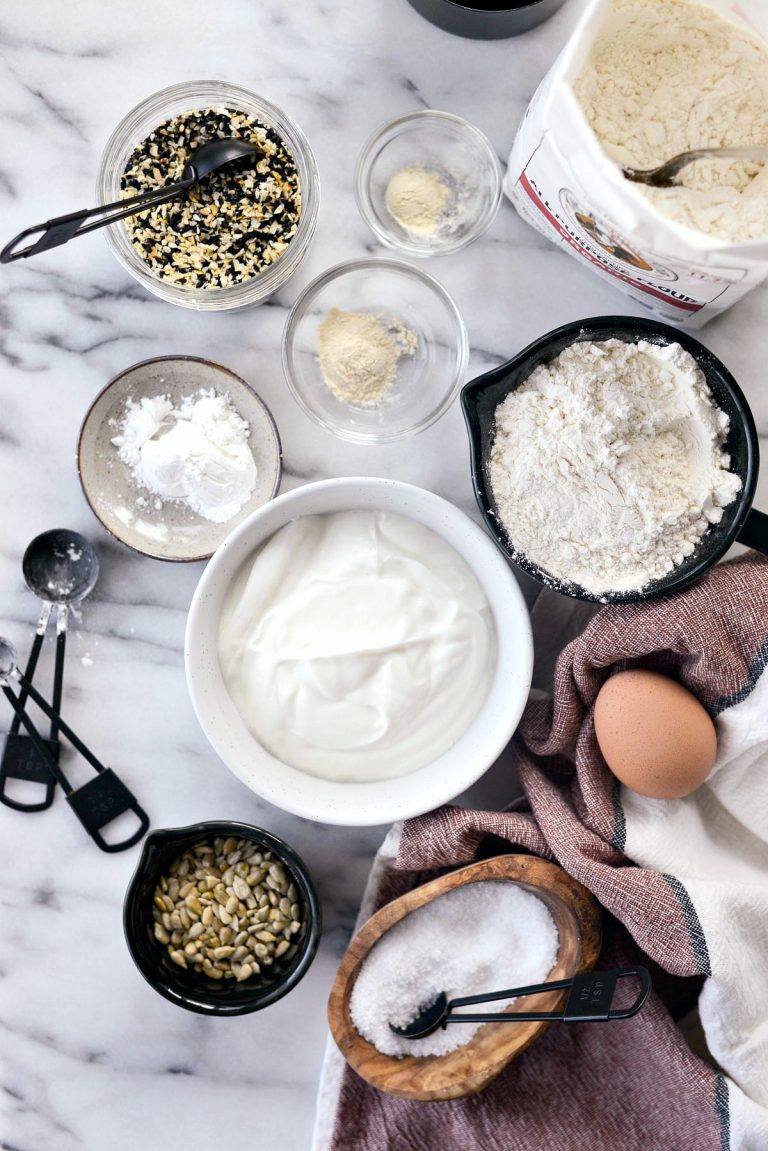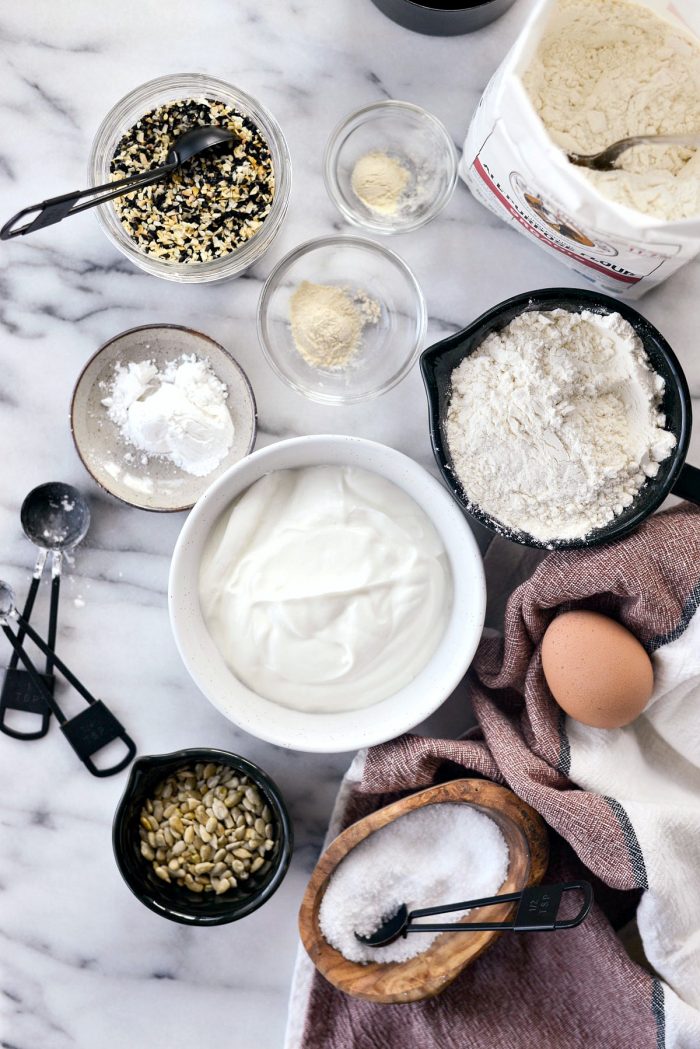 To Make These Air Fryer Everything Bagels You Will Need:
unbleached all-purpose flour
baking powder
kosher salt
onion powder
garlic powder
sunflower seeds (shelled)
plain nonfat greek yogurt
egg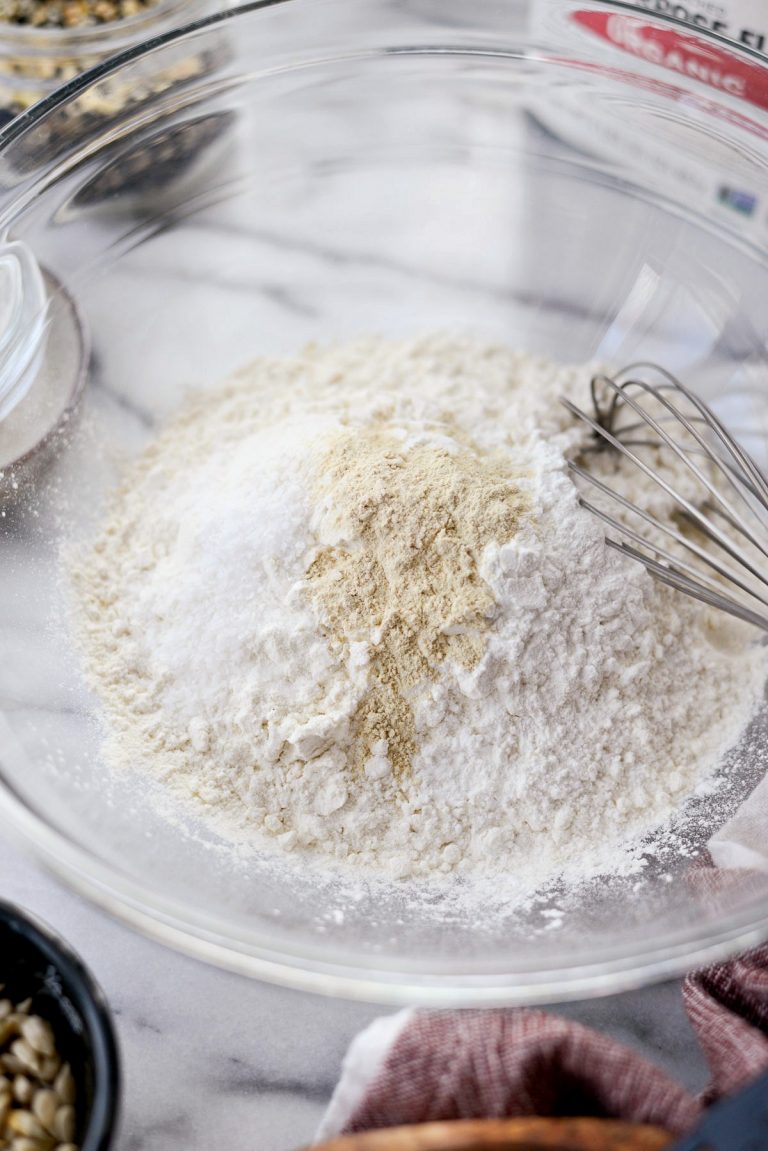 In a large mixing bowl, measure and add: 1 cup unbleached all-purpose flour, 2-1/4 teaspoons baking powder, 1/2 teaspoon kosher salt, 1/2 teaspoon onion powder, 1/4 teaspoon garlic powder.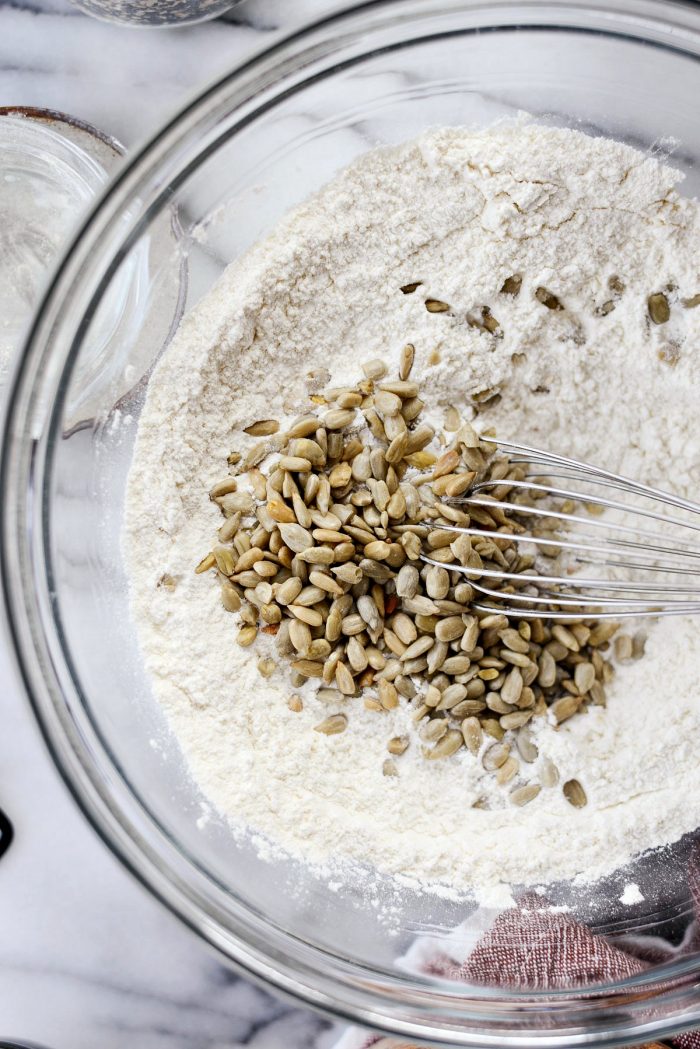 Whisk to combine and then add in 3 tablespoons shelled unsalted sunflower seeds.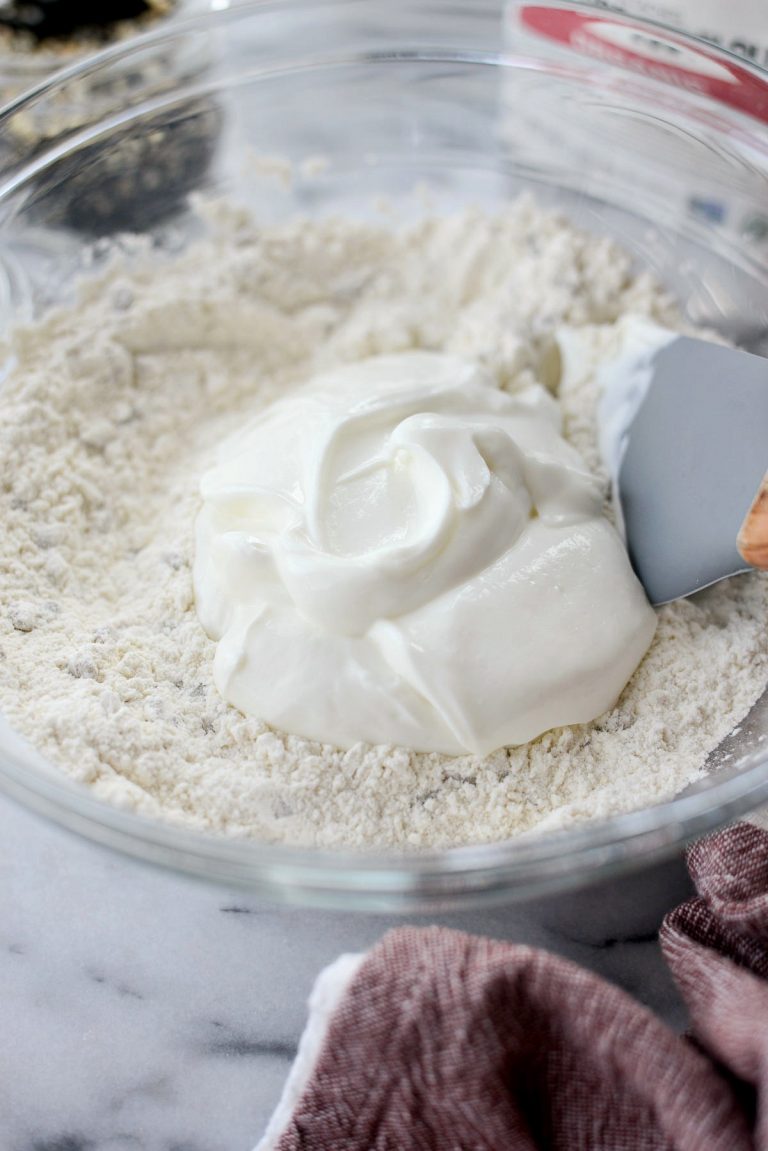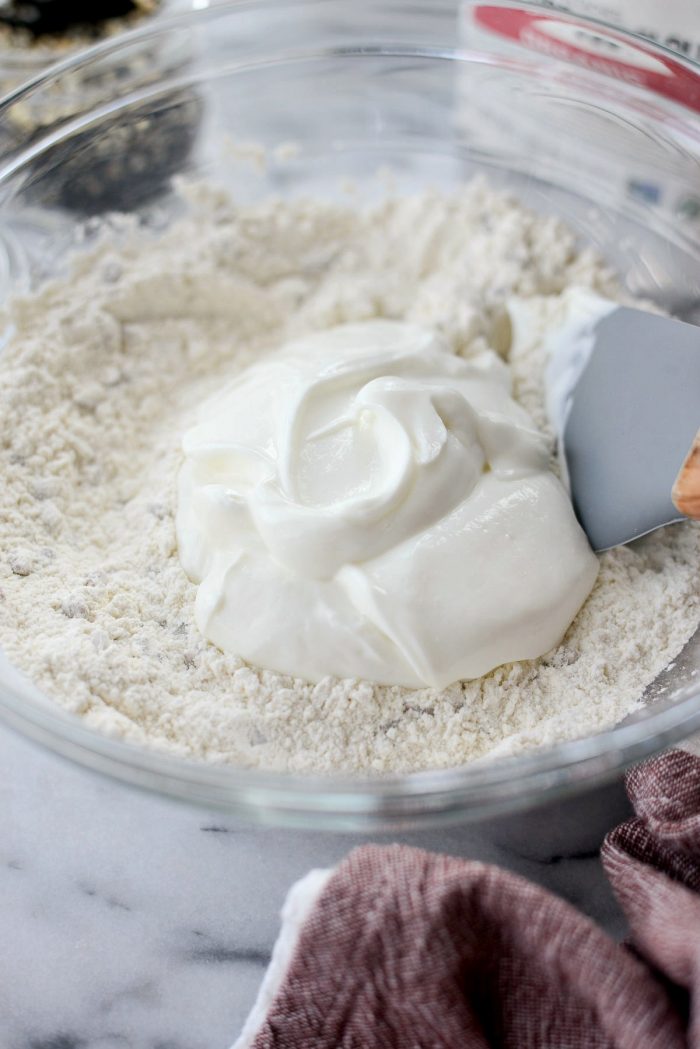 Stir once before adding in 1 cup plain nonfat greek yogurt.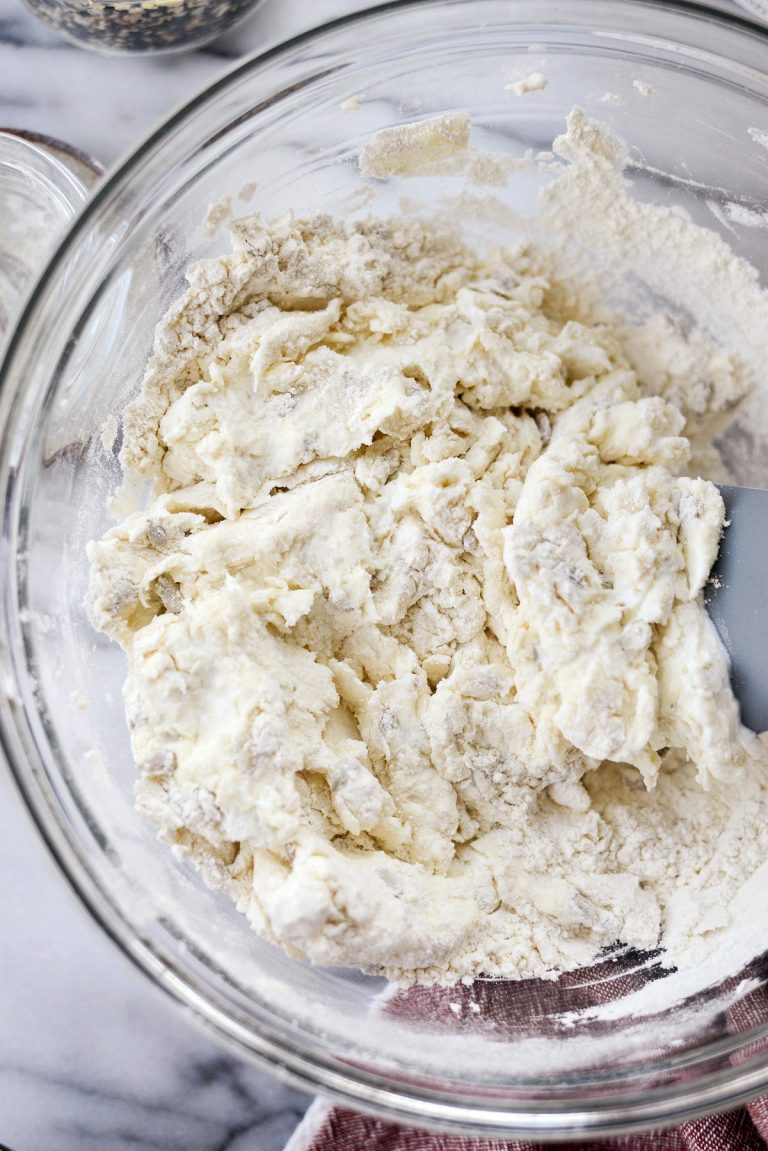 Using a spatula, mix until combined.
And shape into a ball.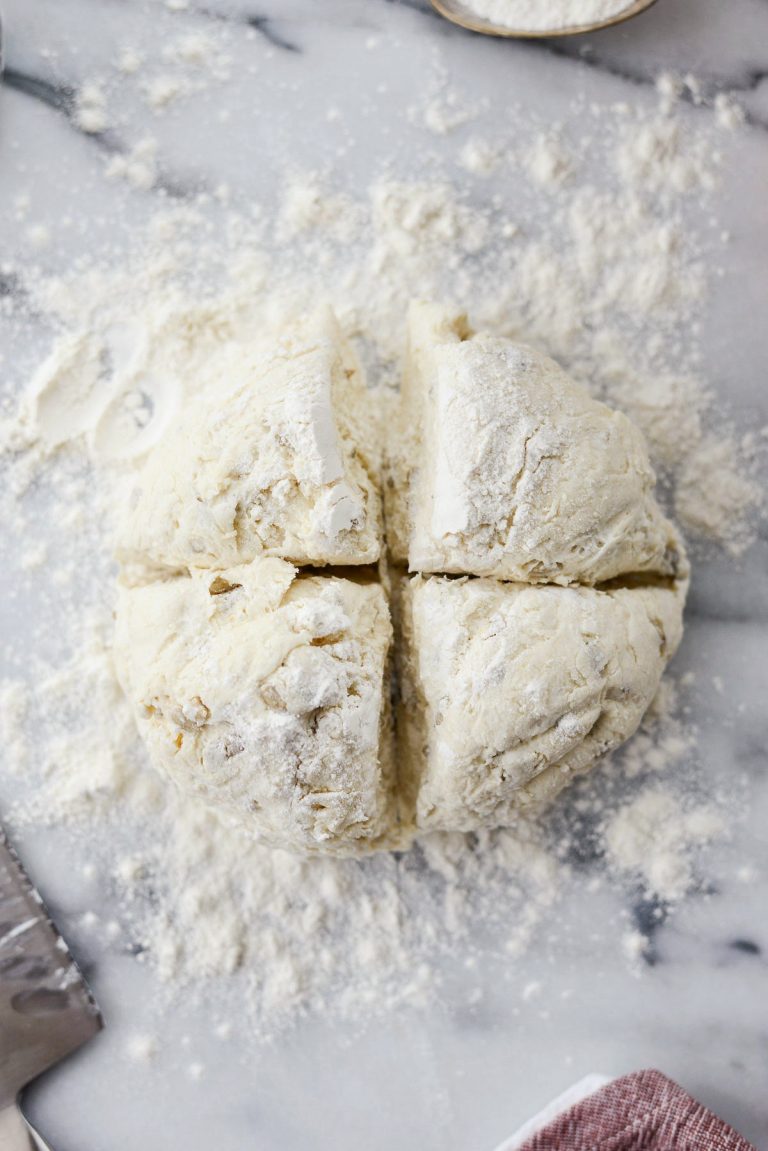 Turn the dough out onto a floured surface. Use a knife and cut the dough into 4 equal sized pieces.
Shape into a 10-inch rope.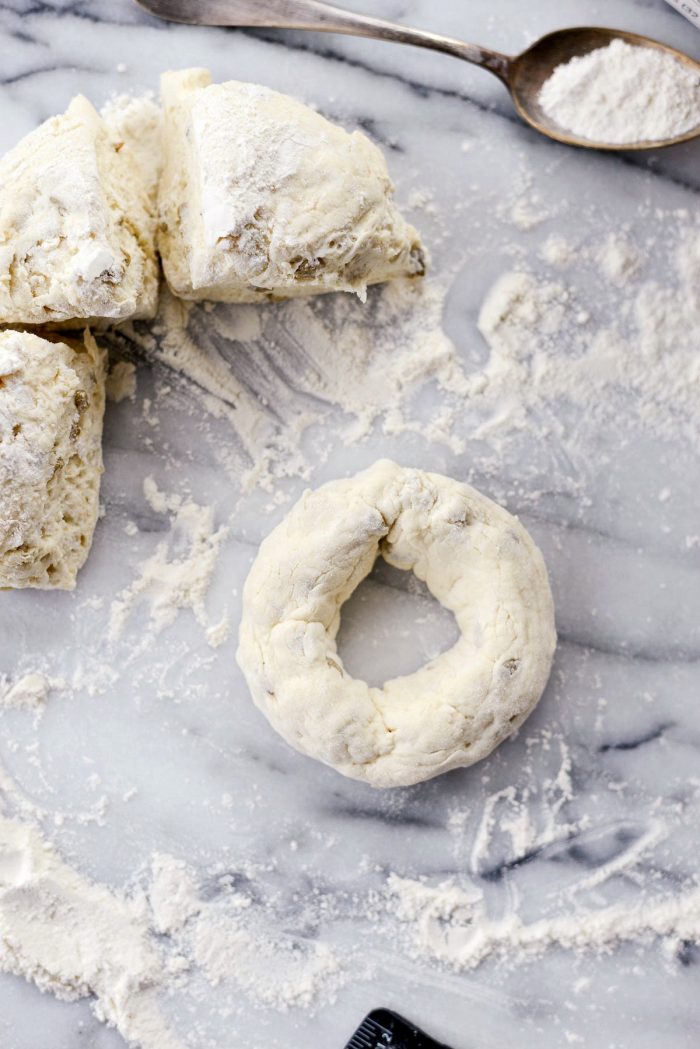 Connect the two ends, pinching well to secure.
Repeat with the remaining pieces of dough.
Place each bagel onto parchment that has been sprinkled with everything seasoning. Gently press the dough into the seasoning so it will stick to the bottom. I've given good thought to these bagels, and we cannot have boring bagel bottoms.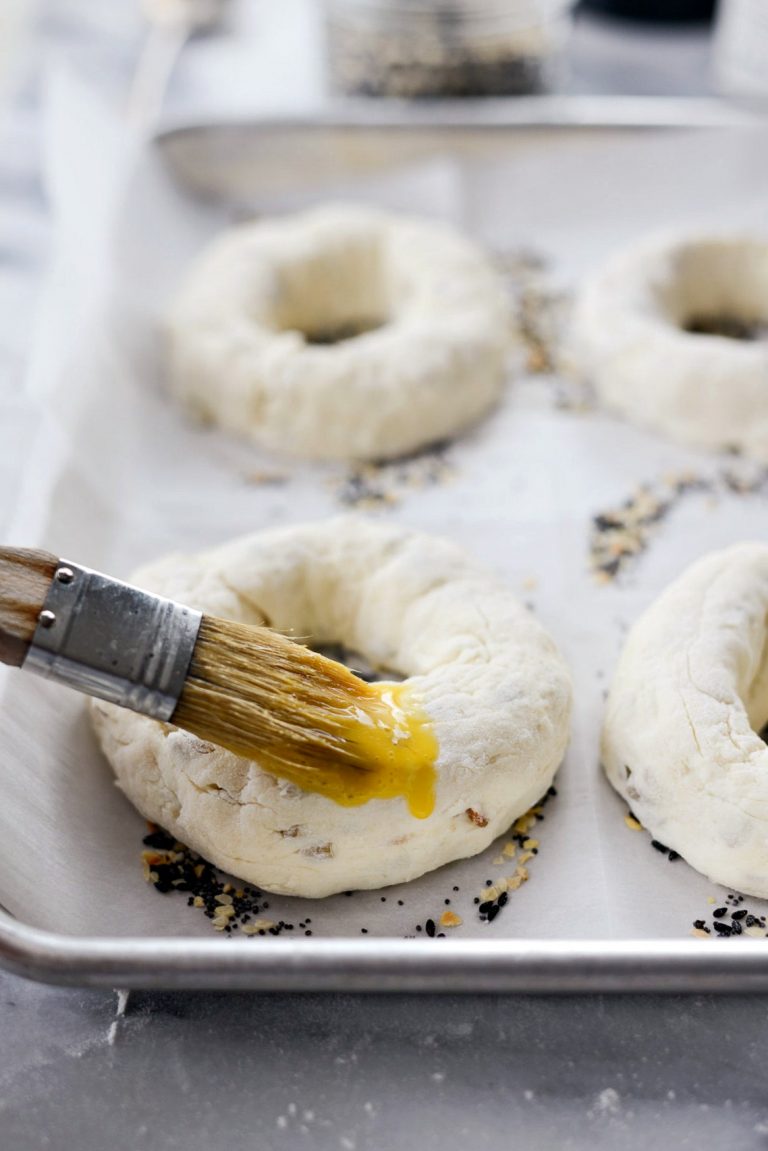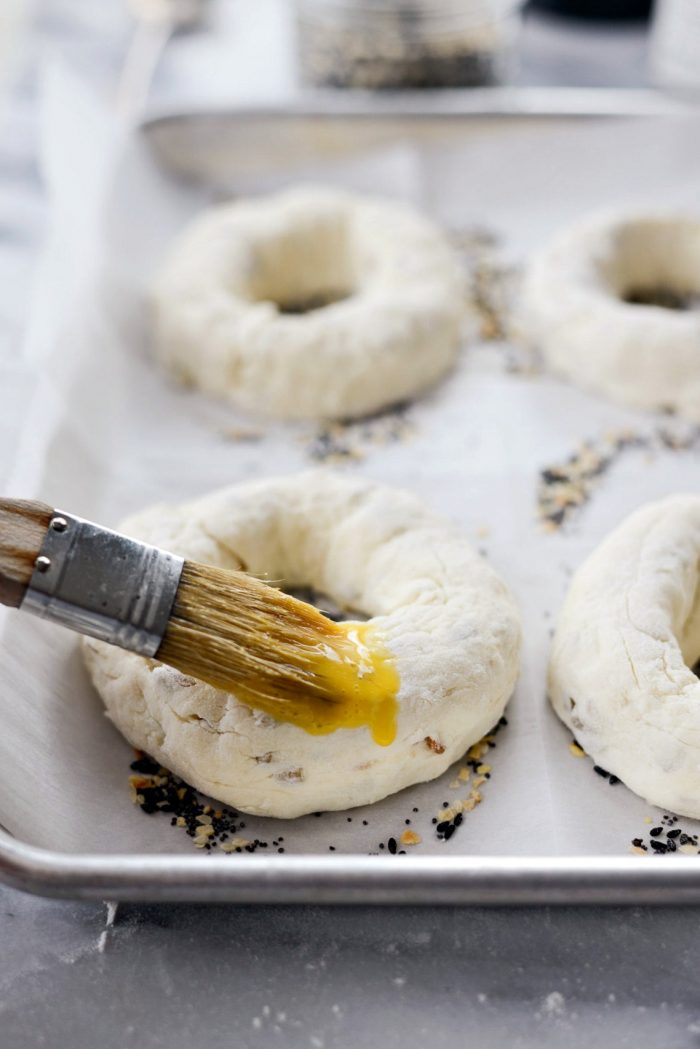 Brush the tops of each bagel with an egg wash – 1 beaten egg plus a splash of water.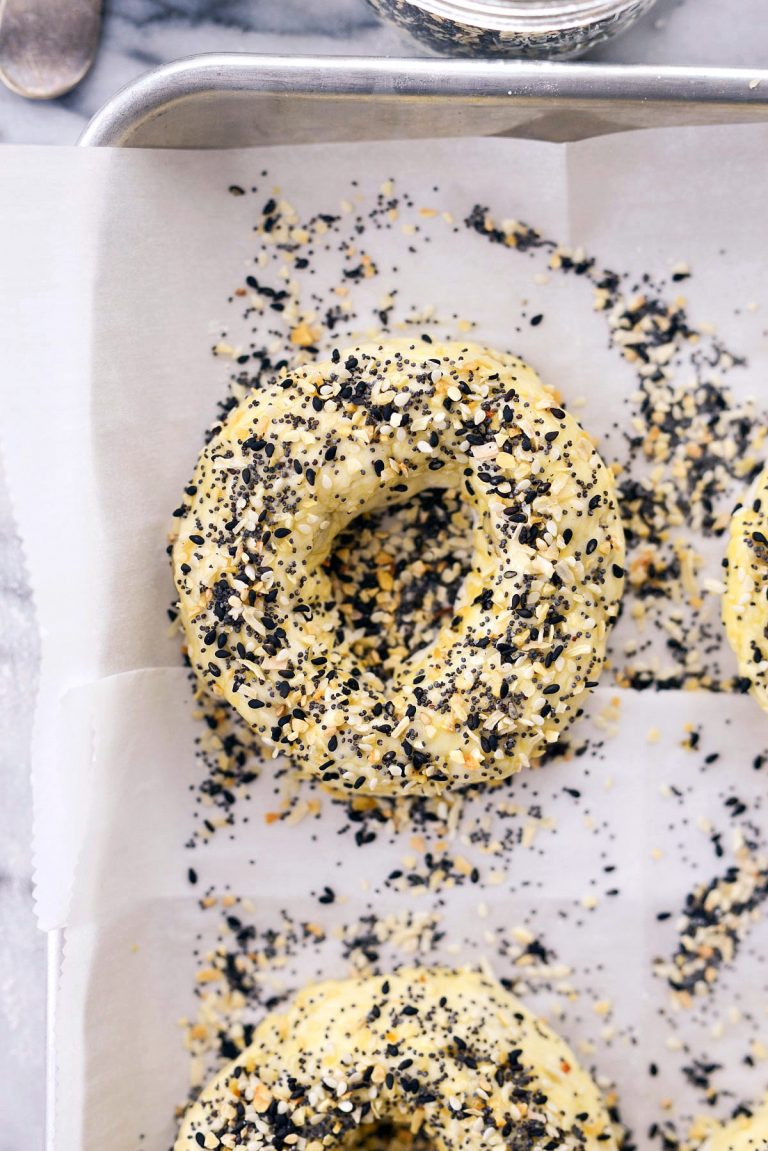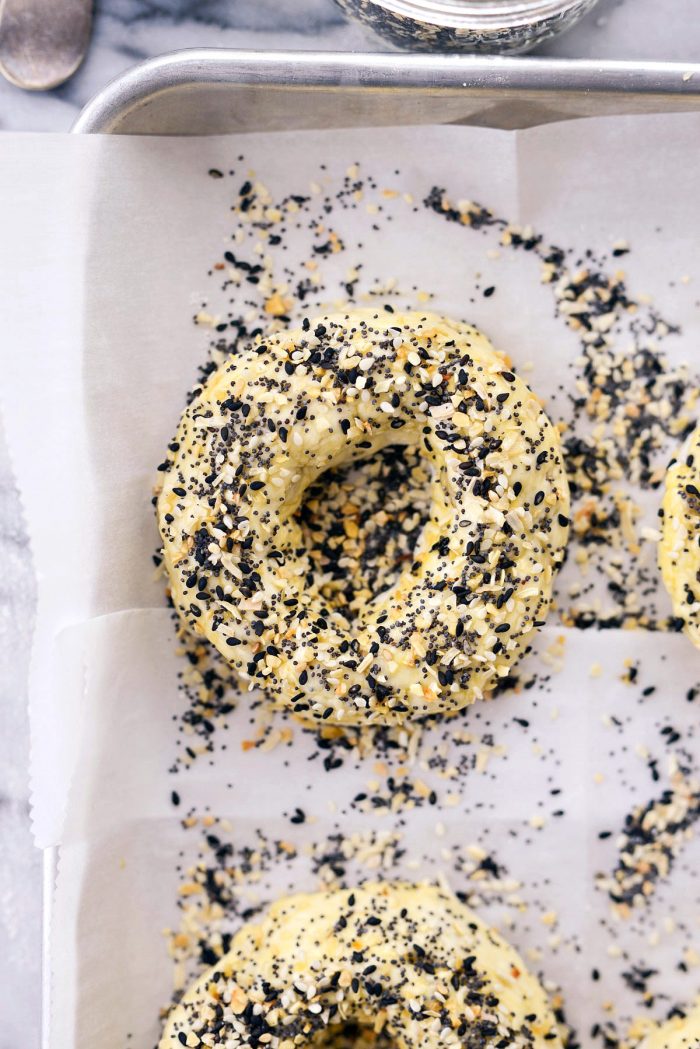 Lastly, sprinkle generously with everything seasoning. Meanwhile, preheat your air fryer to 300°.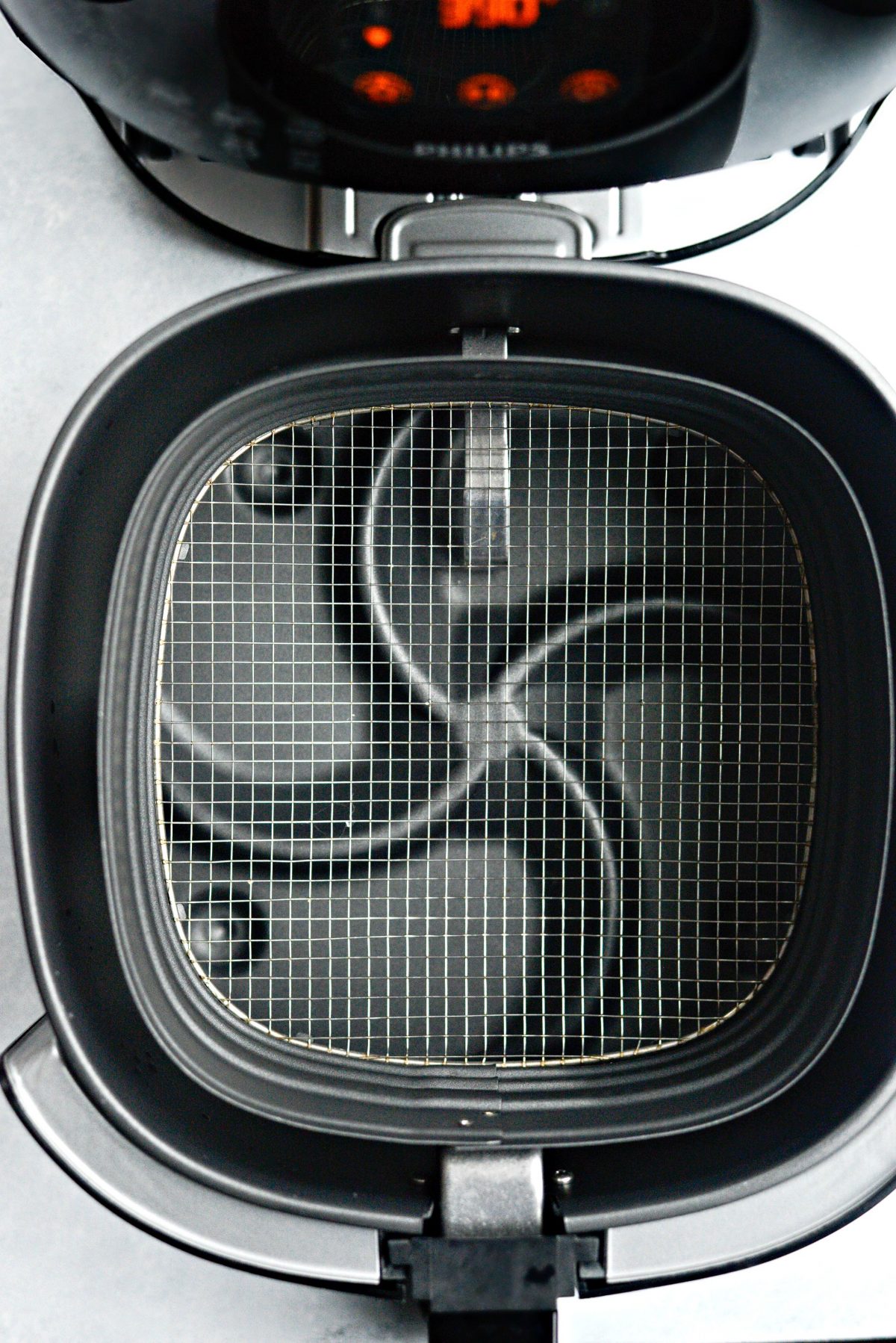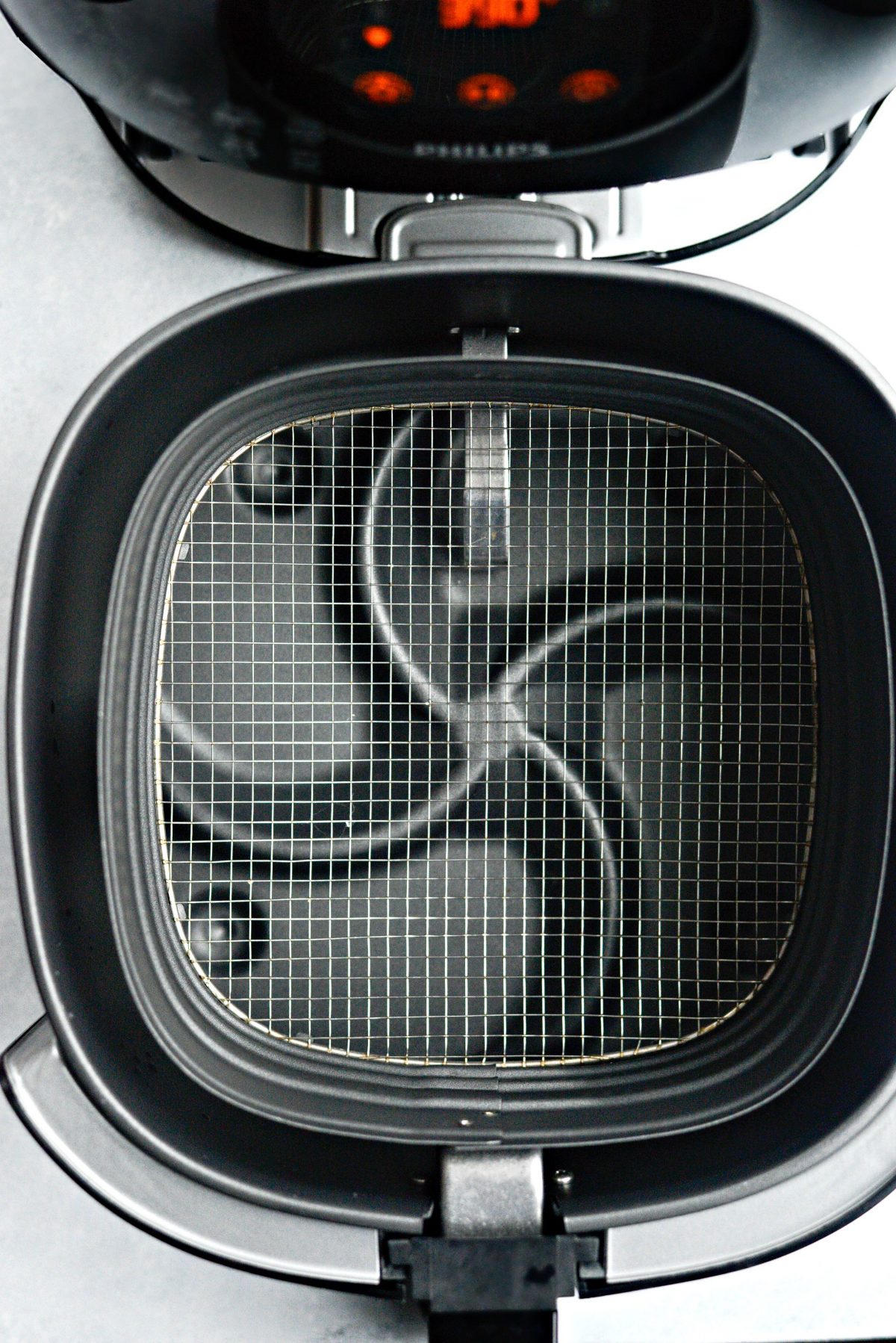 What Is Air Frying?
An air fryer is a counter top appliance that requires less oil (anything from a few spritz to 1 tablespoon) yet produces crispy food that rivals most deep fried foods. By using circulating hot air, it moves at a high speed so the food tends to cook in a fraction of the time.
There are a bunch of different makes and models of air fryers. My husband did the research (as he's known to do) and found this air fryer [affiliate] to be one of the best. But do your research and purchase one that fits your lifestyle.
How is Air Frying Healthier?
Air frying is healthier because only a thin layer of oil coats the food and when the hot air comes in contact it will crisp. Saving you a ton of fat and calories (without sacrificing any flavor!) because food is not being submerged in a vat of hot oil.
For more Air Fryer recipes, click here for my growing collection.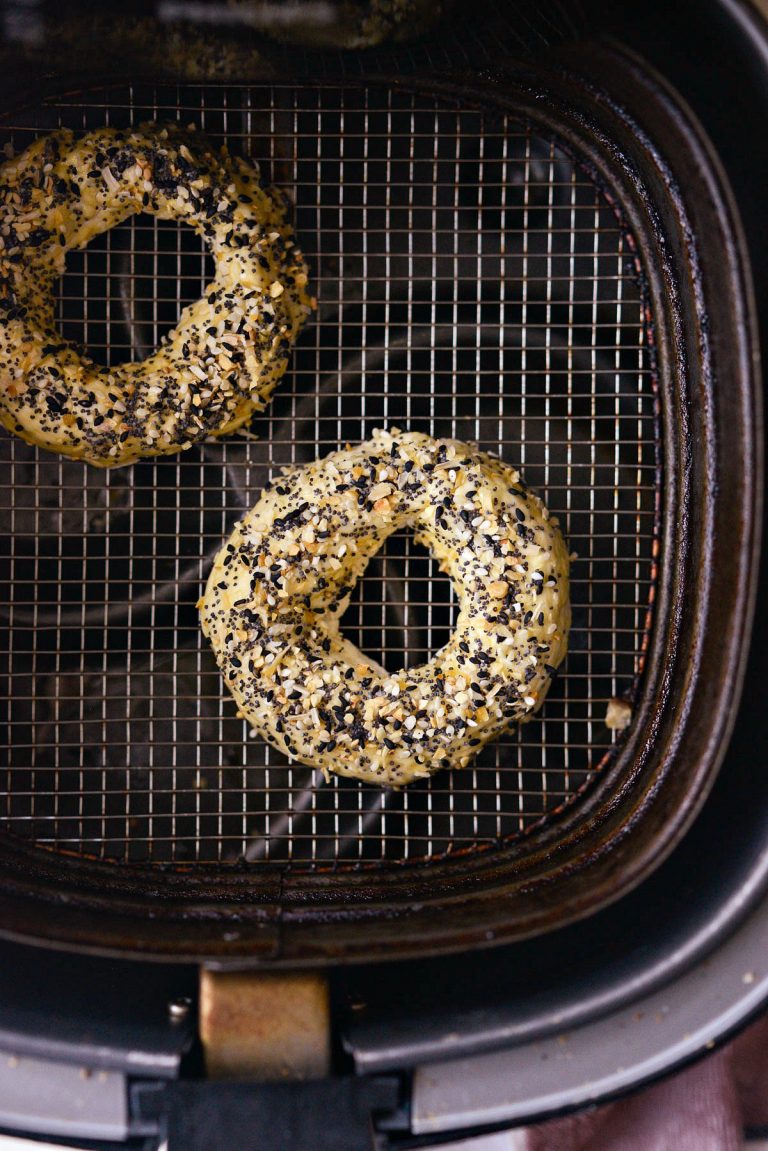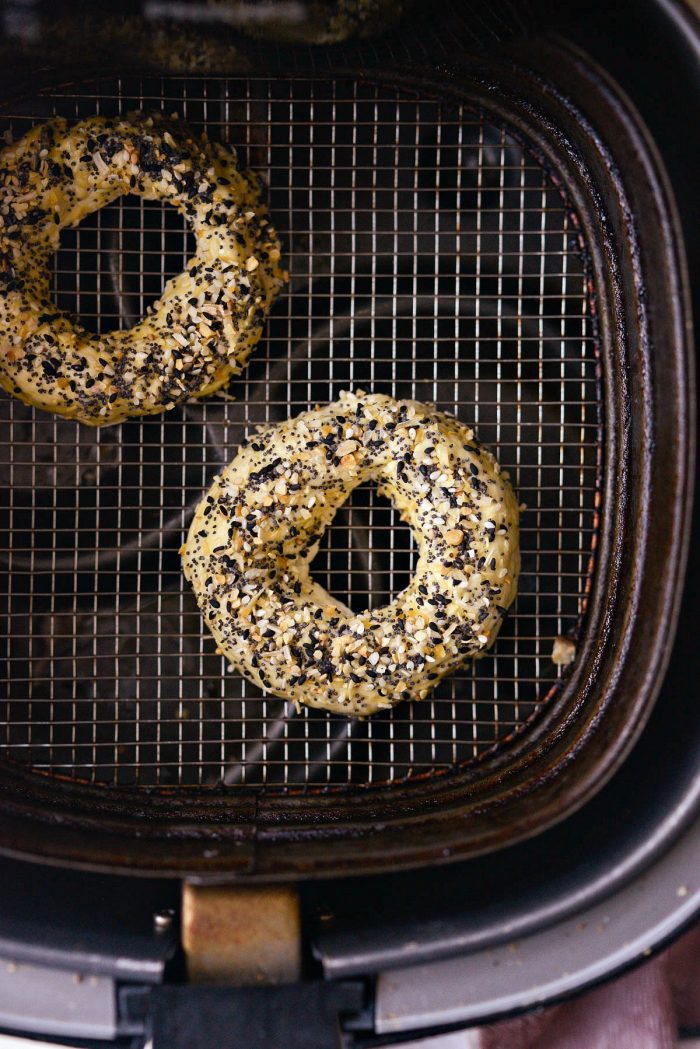 Depending on the size of your air fryer, work in batches of 2 and air fry for 12 to 15 minutes.
Or until golden brown.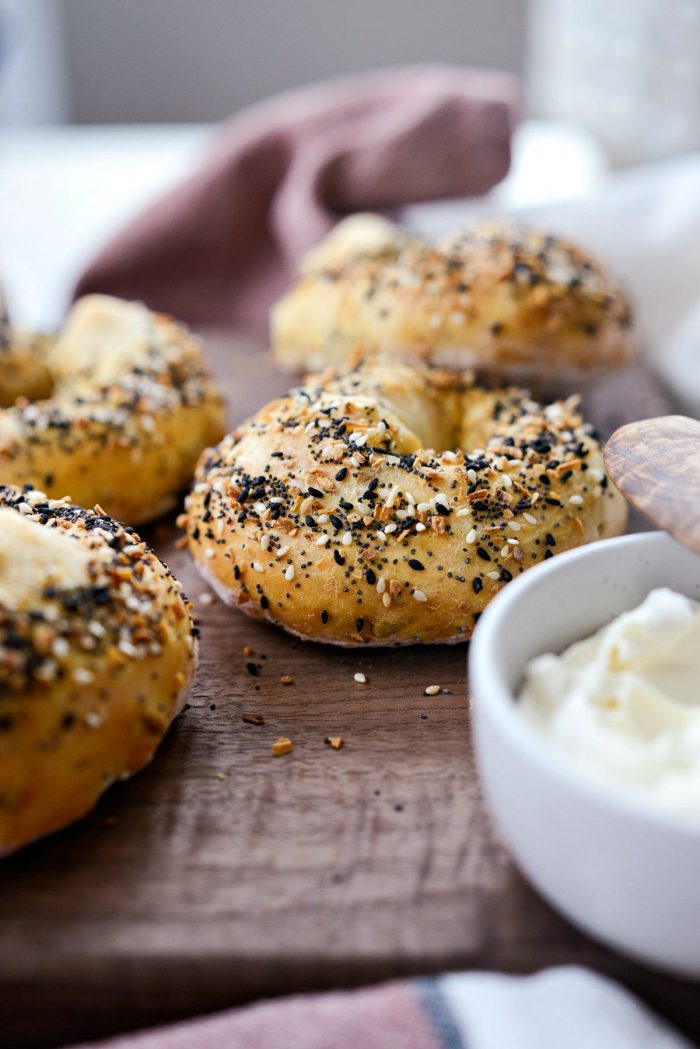 That's it my friends! These air fryer everything bagels are easy, healthier than regular bagels and SO incredible delicious.
Look how seedy!!
How To Toast Bagels In The Air Fryer:
After slicing the bagel in half horizontally, lightly spray the cut side with olive oil spray. Preheat your air fryer to 360° and toast for 2 to 3 minutes. Swipe with some cream cheese and sit back and enjoy!
Check out my Greek Yogurt Pizza Dough Click Here!
Enjoy! And if you give this Air Fryer Everything Bagels recipe a try, let me know! Snap a photo and tag me on twitter or instagram!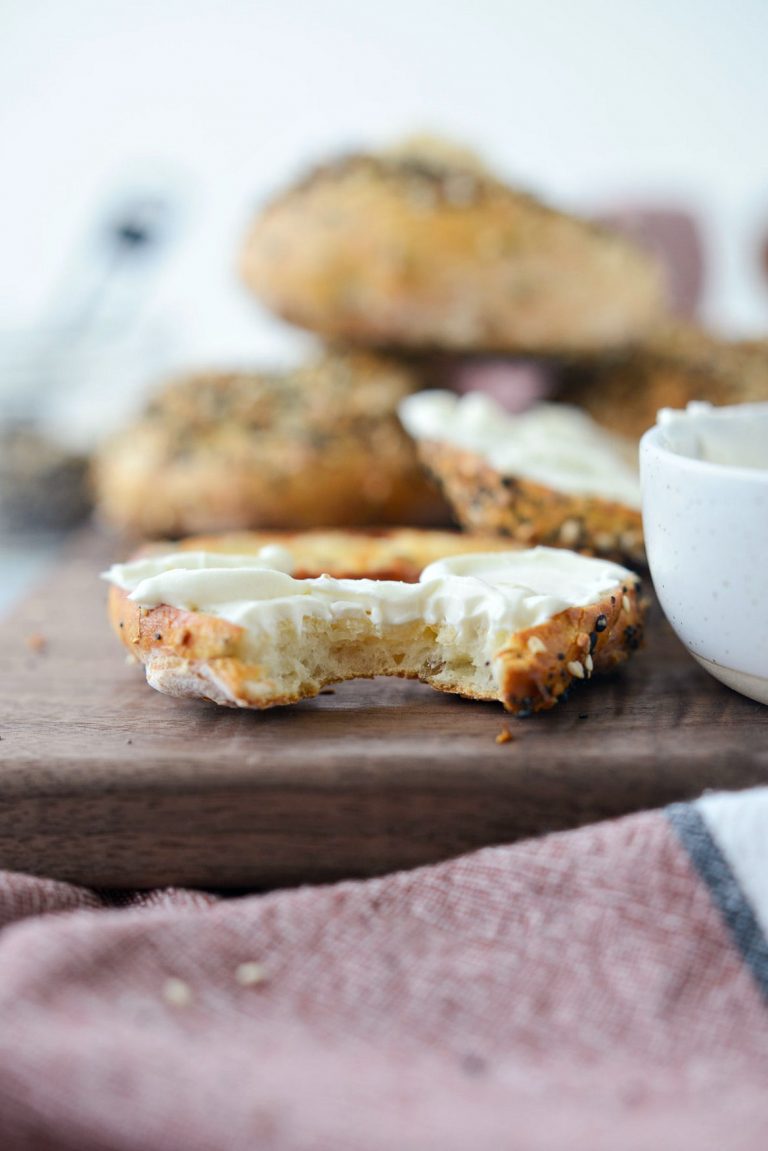 This post may contain affiliate links.
Buy the Cookbook: Simply Scratch : 120 Wholesome Homemade Recipes Made Easy Now available on Amazon »
THANK YOU in advance for your support!