A Classic Minestrone Soup loaded with vegetables, beans, pasta and flavorful tomato broth. Serve with a spoonful of basil pesto, parmesan and grilled bread.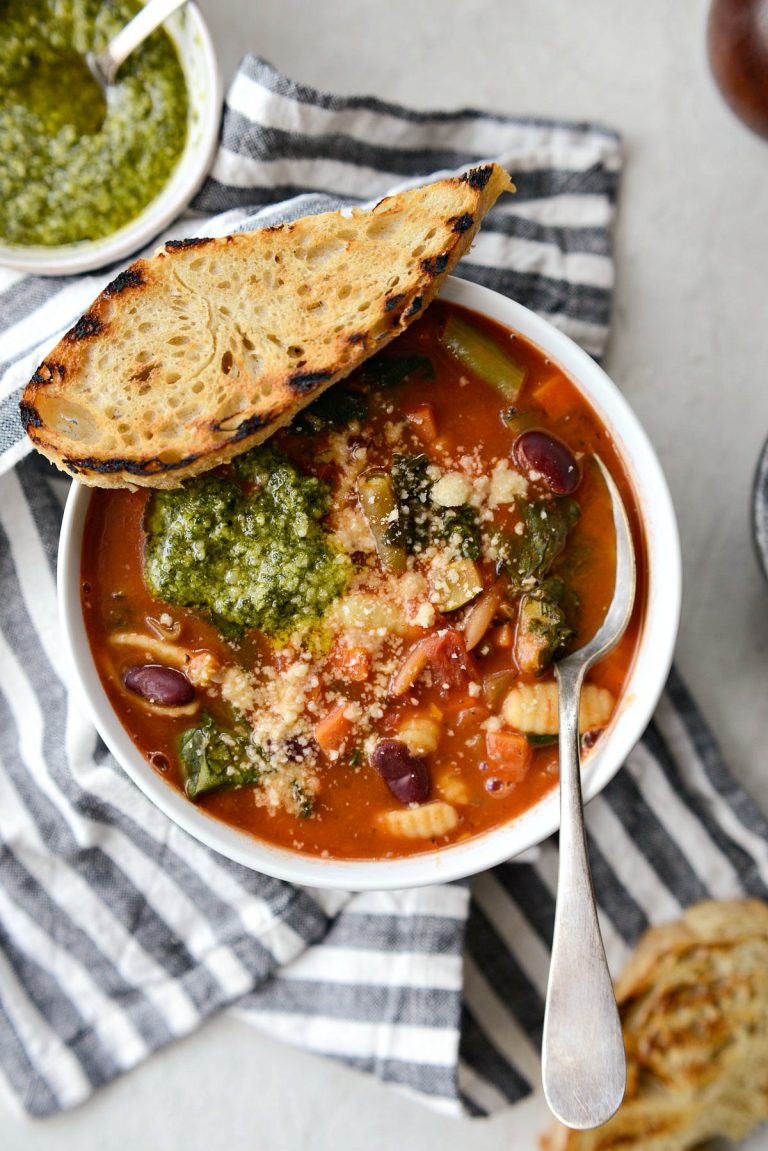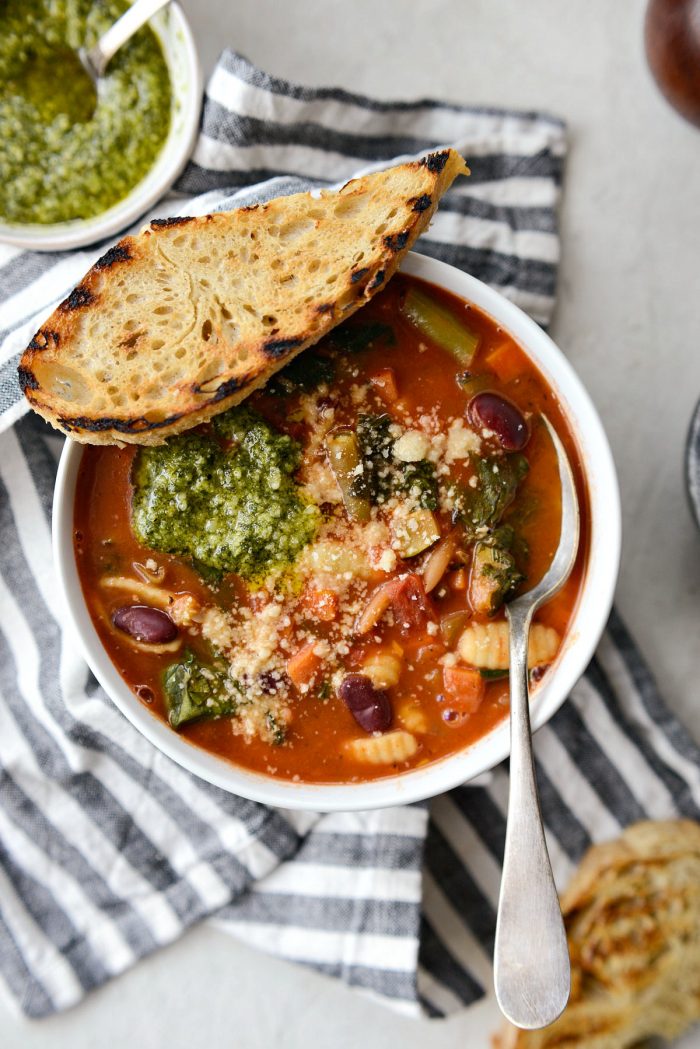 It's like every week I'm posting a new soup or stew recipe! However, if I'm being honest, minestrone is at the top of my favorite soups list. If I'm at a local coney and it's on the menu, it's my go-to. All those vegetables and occasional pasta swimming in a light and flavorful tomato broth. Minestrone is healthy and hearty and so comforting.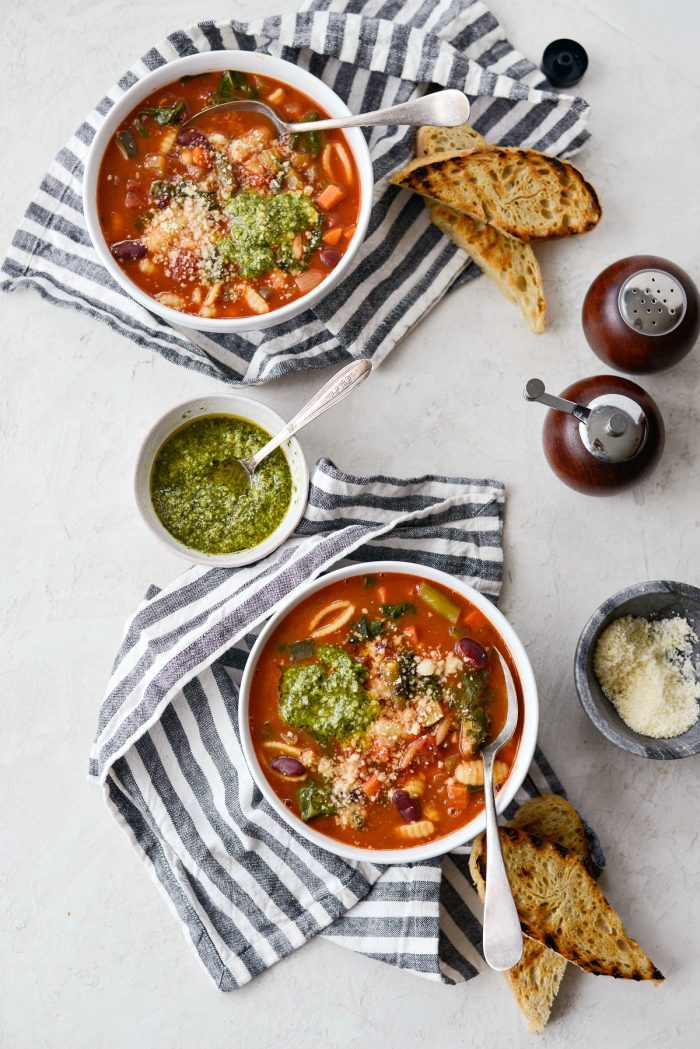 How to make the perfect pot of minestrone soup:
In my opinion, there needs to be a perfect balance of vegetables to pasta to broth. Every spoonful should have little bit of everything yet be slightly different from the one before it. And it should be topped with basil pesto! It adds this fresh herbaceous layer that only makes it more delicious.
I have made this soup quite a few times until I got it just right. Before it either had not enough veggies or there was not enough broth. It's been a process. With that said don't be too surprised when you review the ingredients as it does look like a long list. And I promise you, most of all the work is really all in the prepping but after all that, this soup does come together quite easily and in about an hour.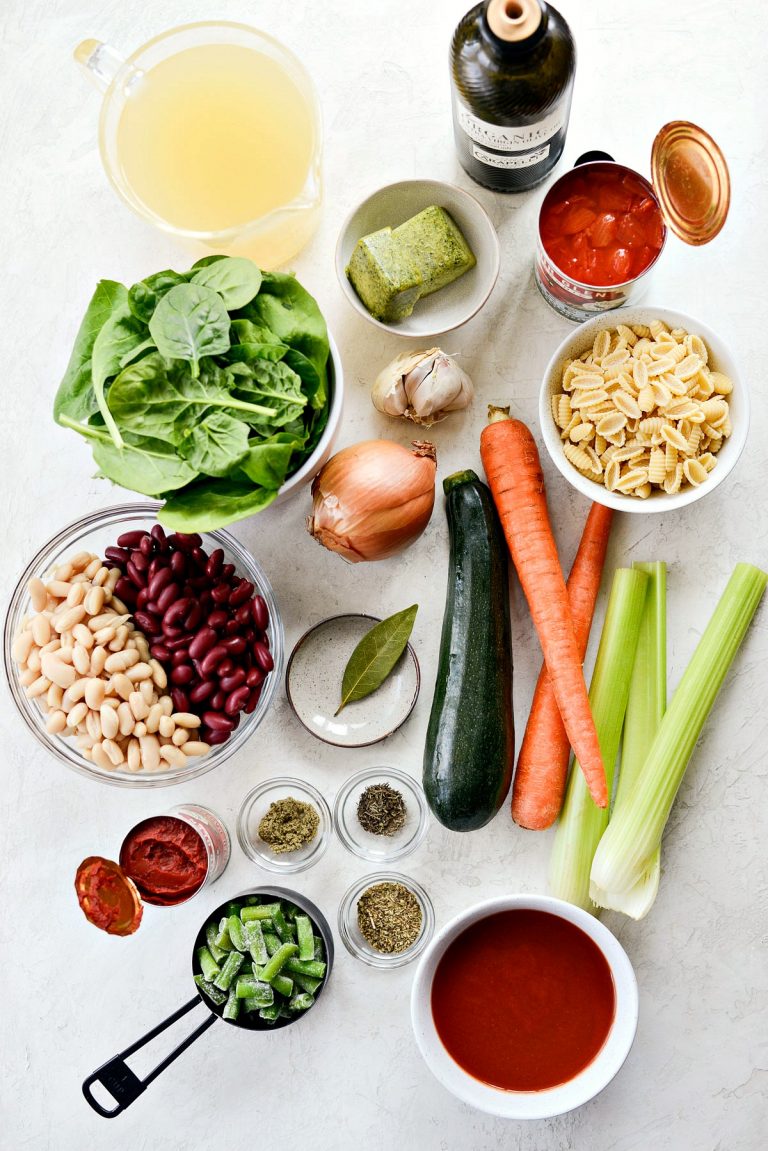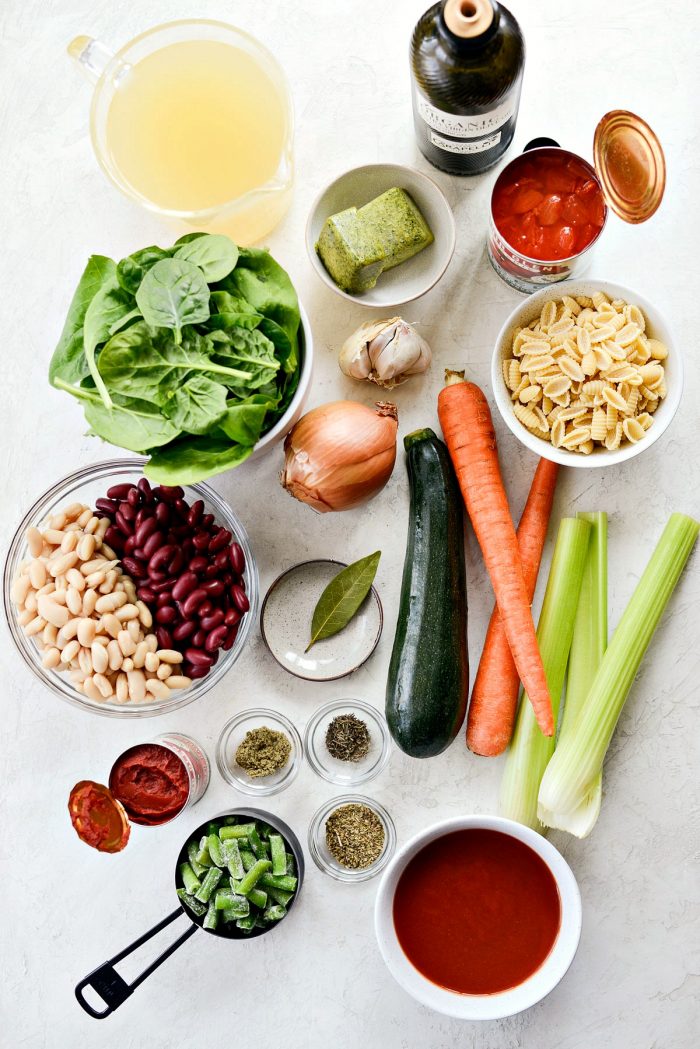 To Make This Classic Minestrone Soup recipe You will Need:
olive oil
celery – short stalks
carrots
zucchini
yellow onion
garlic
kosher salt
tomato paste
rubbed sage
dried thyme
tomato sauce
diced tomatoes (canned)
low-sodium chicken broth or vegetable broth for vegetarian
cannellini beans (canned)
dark red kidney beans (canned)
cut green beans (frozen – no need to thaw)
dried short pasta (like cavatelli or orecchiette)
fresh spinach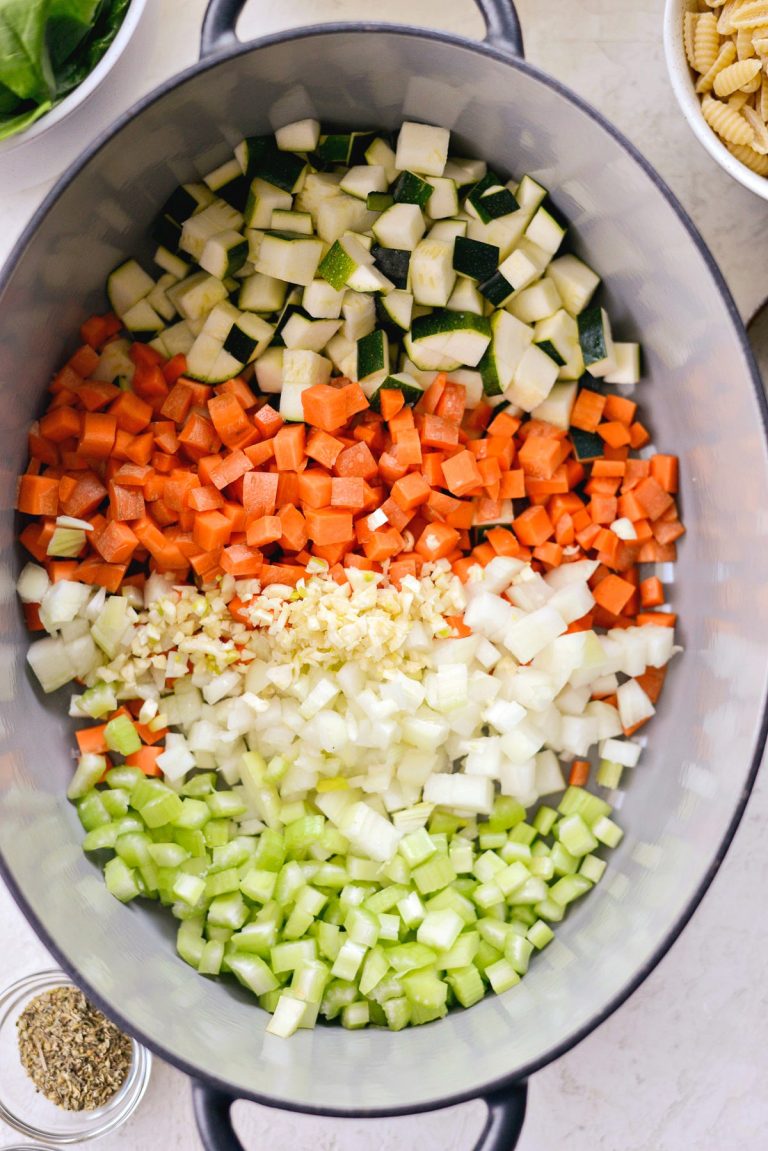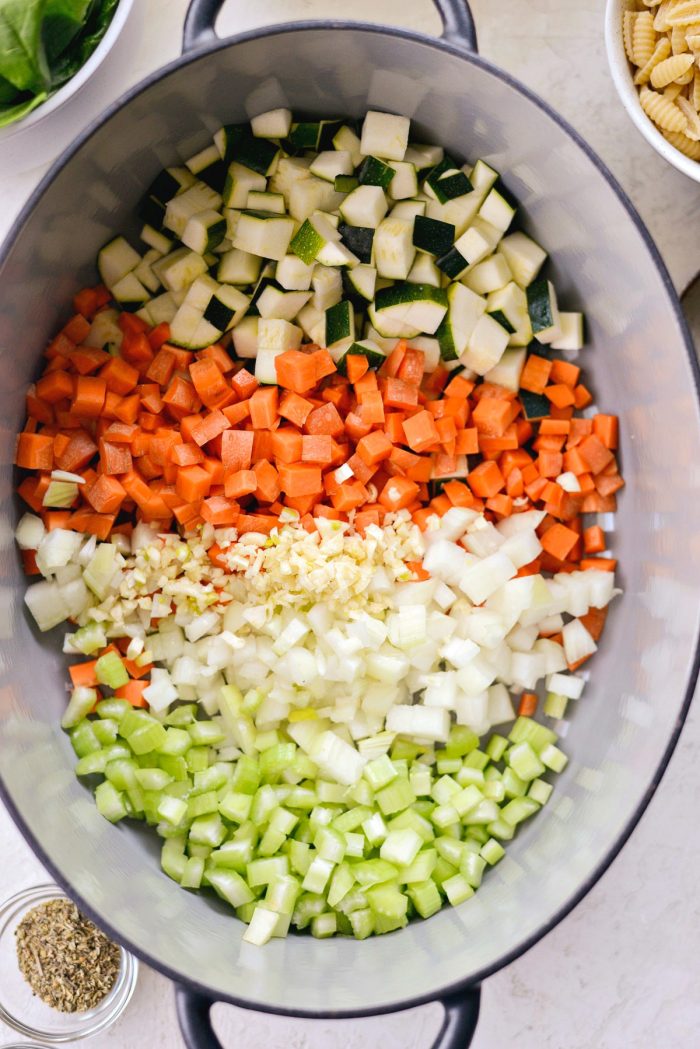 Add 2 teaspoons olive oil to a large dutch oven, then add 3 diced (short) celery stalks, 2 diced carrots, 1 medium diced yellow onion, 1 diced zucchini and 4 cloves minced fresh garlic with a generous pinch of kosher salt.
Stir, cover and cook for 10 to 15 minutes or until the vegetables are soft.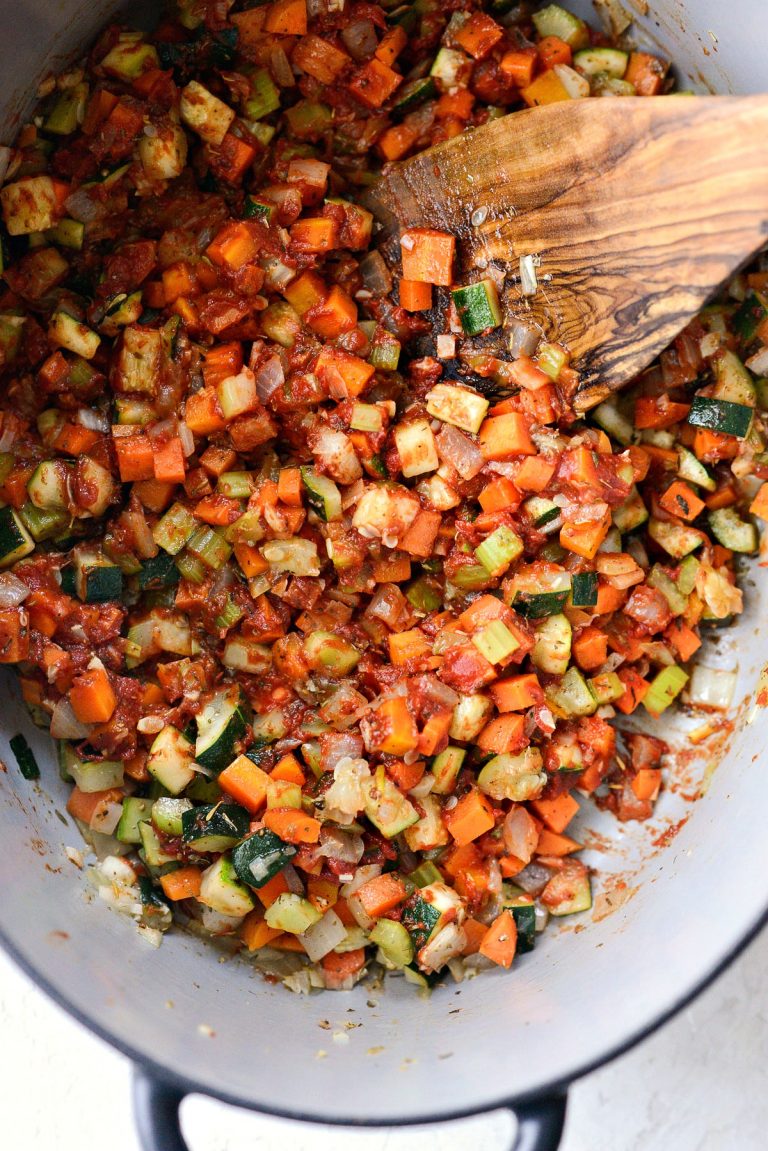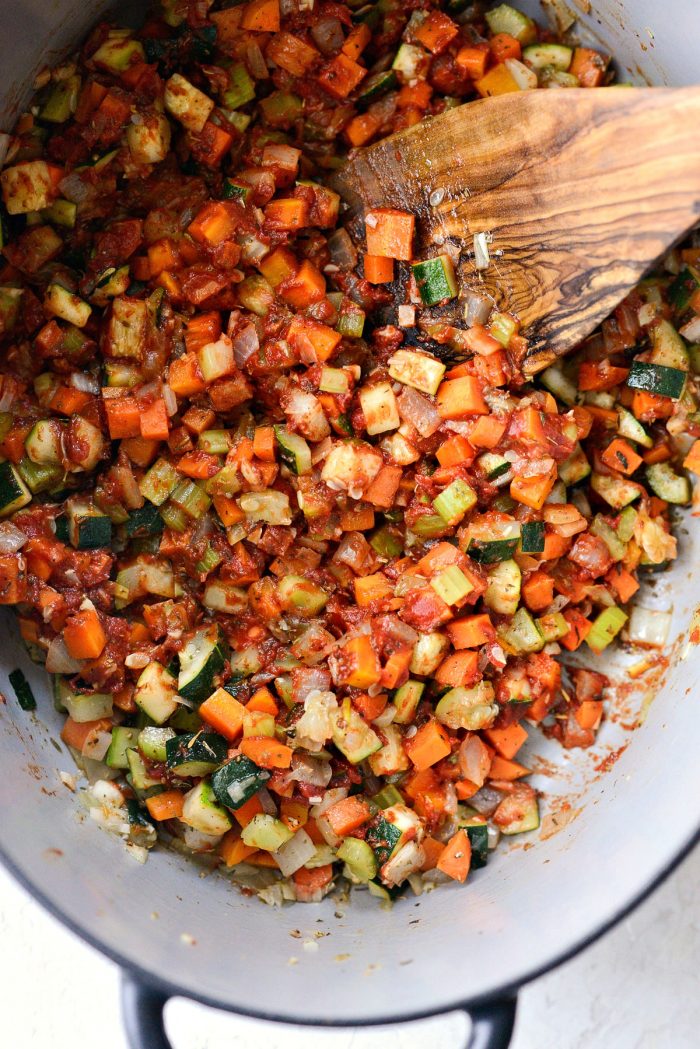 Next add in 1 (6 ounce) can tomato paste with 1 tablespoon italian seasoning, 1/2 teaspoon dried thyme and 1/2 teaspoon rubbed sage. Stir and cook 1 minute.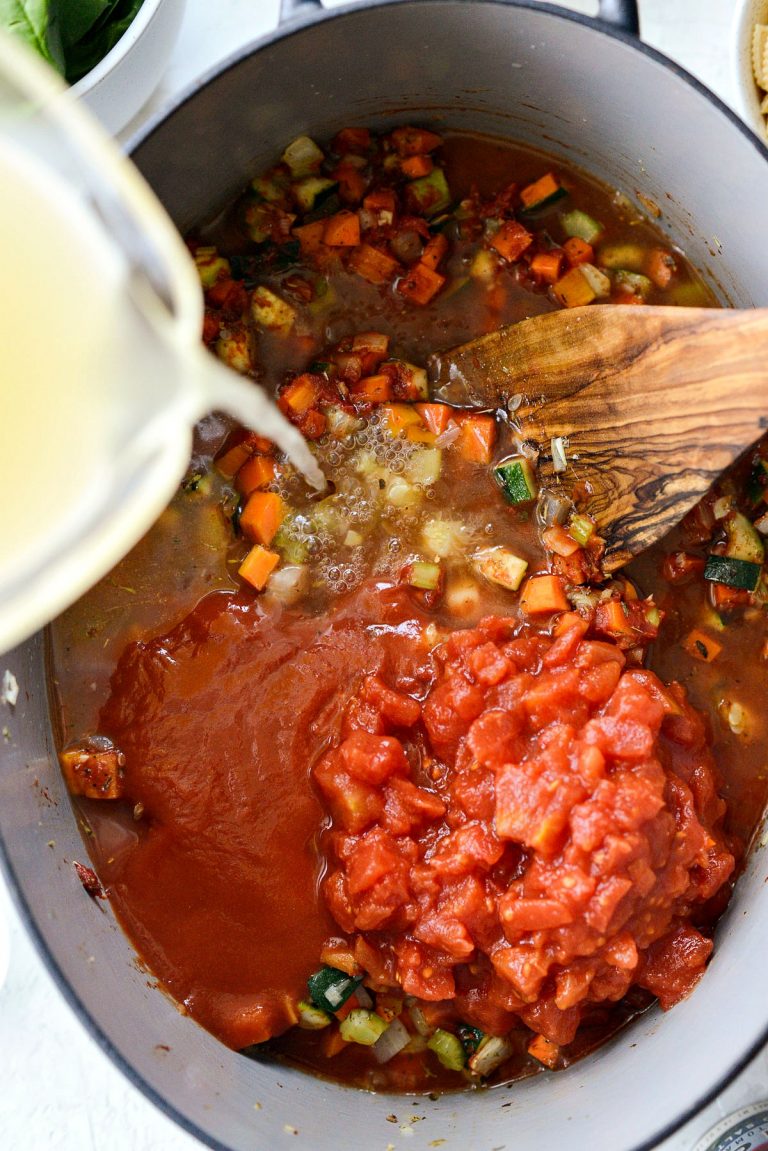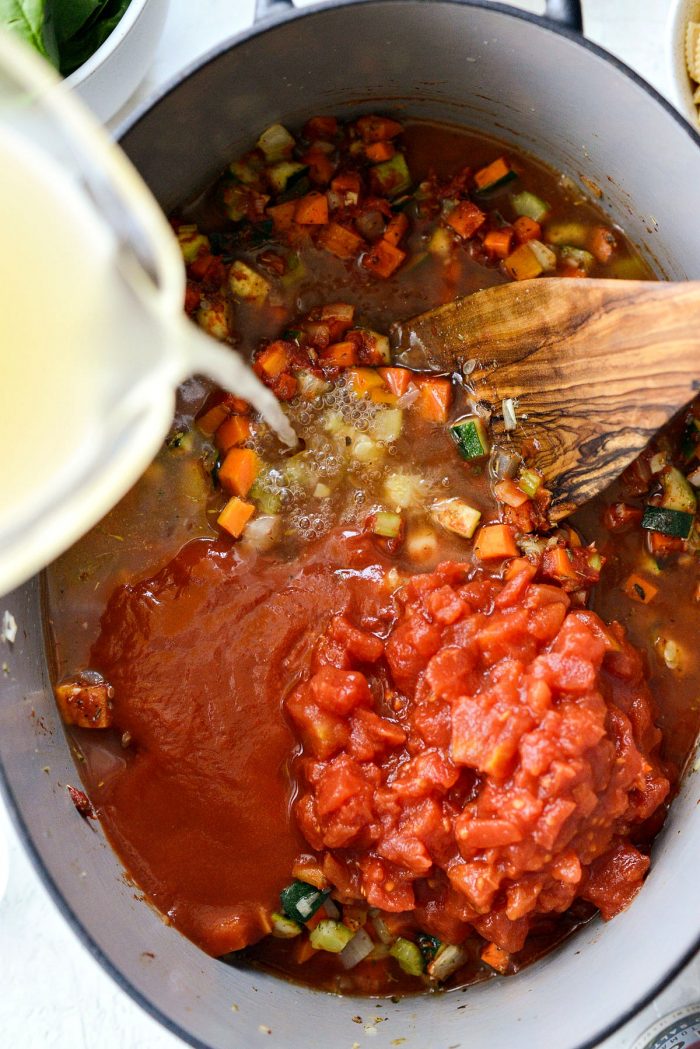 Then add in 1 (8 ounce) can tomato sauce, 1 (15 ounce) can diced tomatoes and 2 quarts (8 cups) low-sodium chicken broth.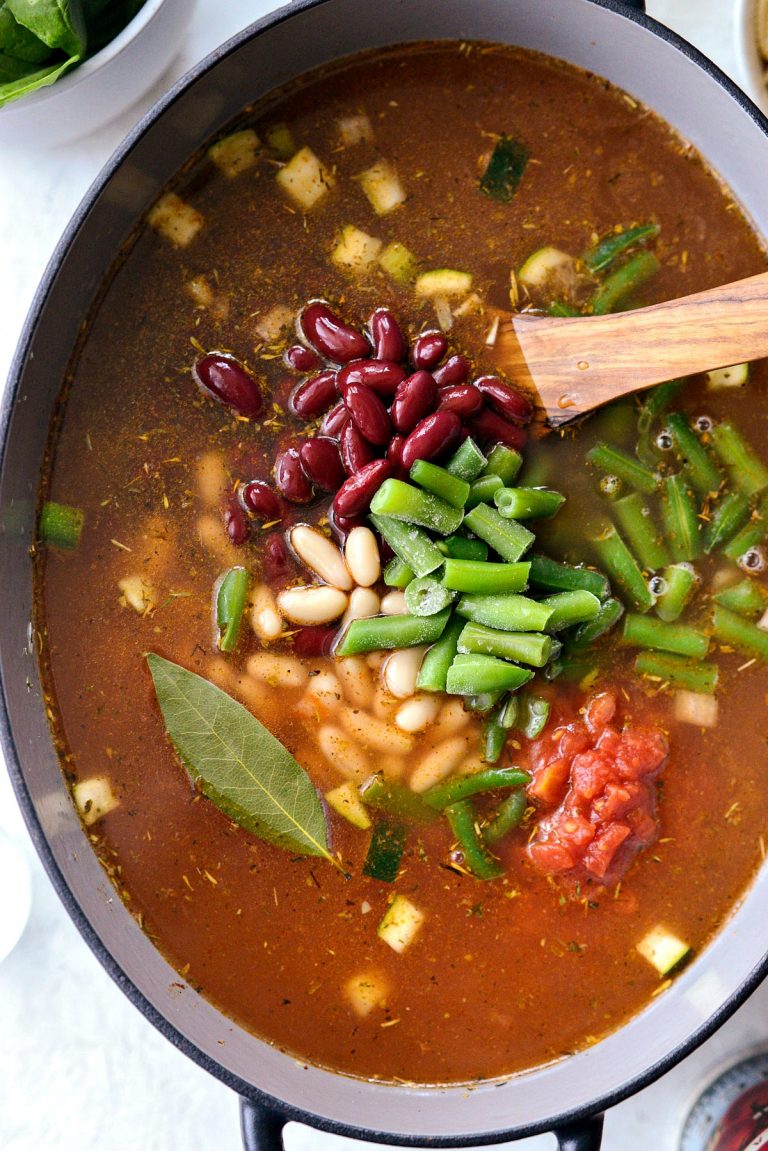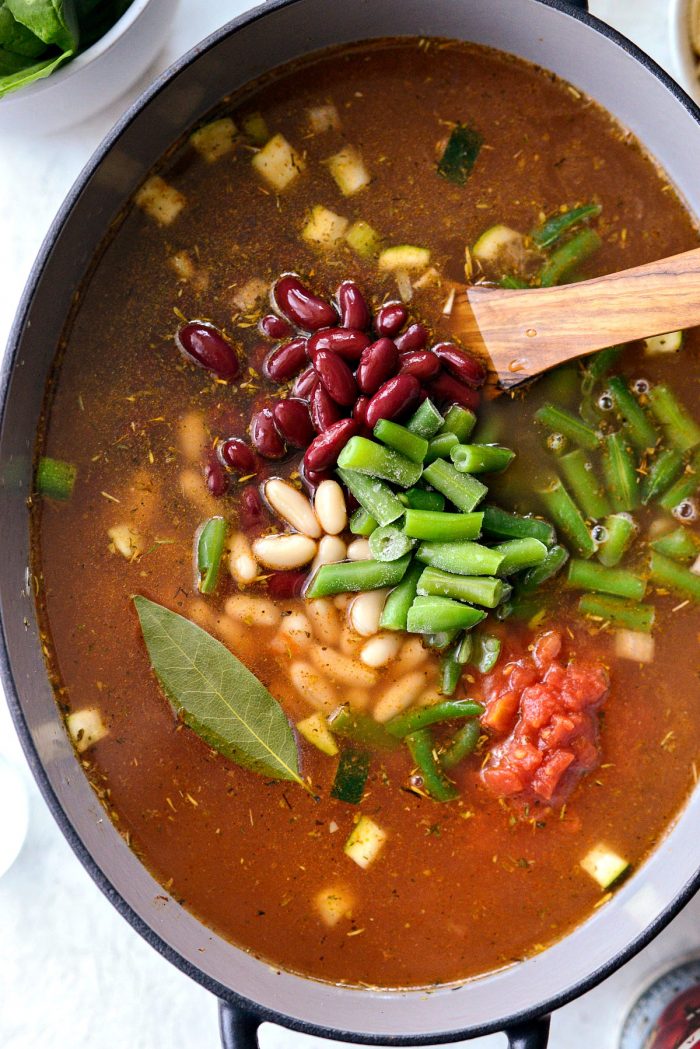 Lastly, add in 1 (15 ounce) can each of drained and rinsed red kidney beans and cannellini beans, 2 cups (frozen) diced green beans and 1 bay leaf.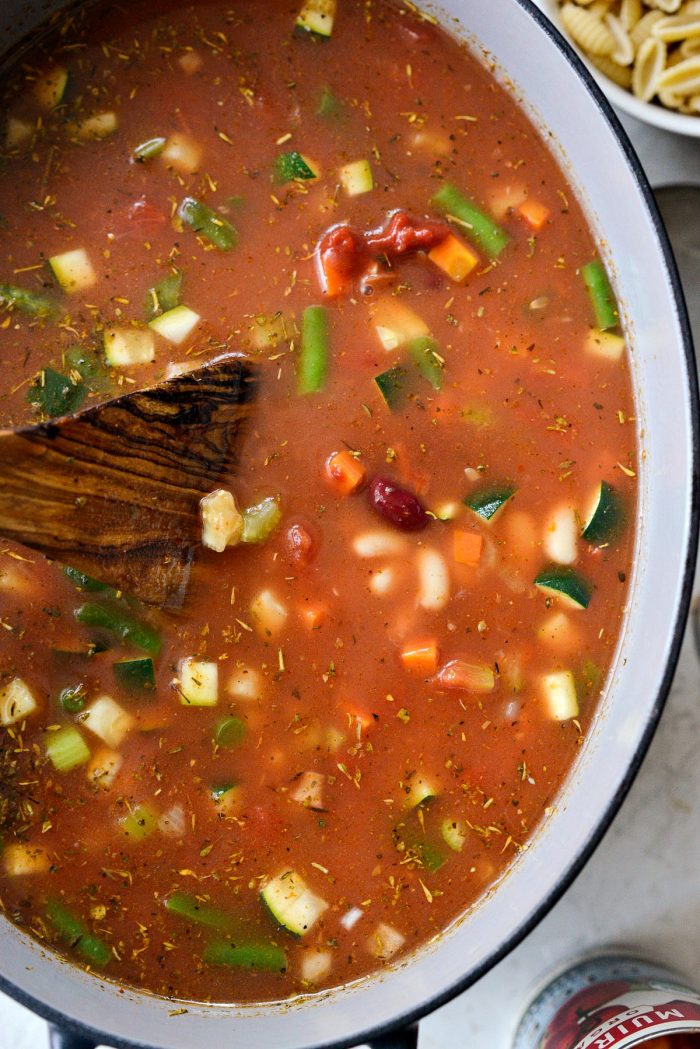 Stir well to combine, cover and increase the heat to high and bring to a boil.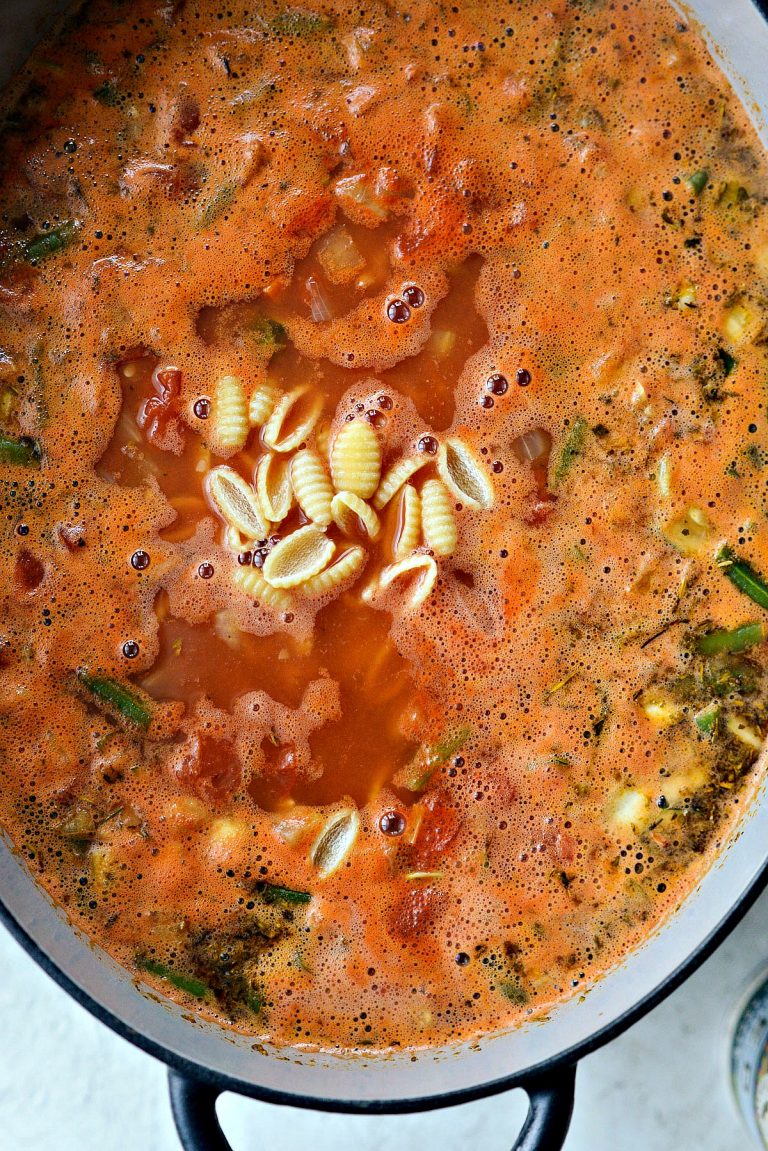 Once boiling, reduce the heat to simmer and add in 6 ounces short pasta, like cavatelli or orecchiette.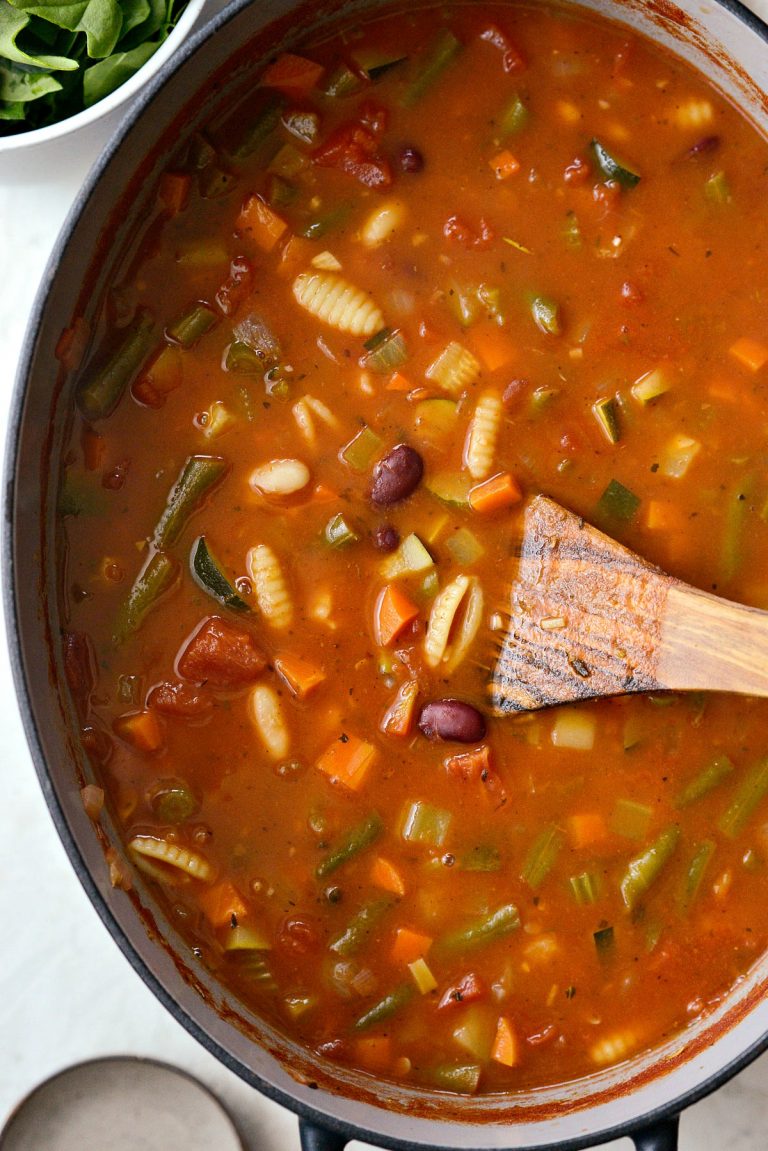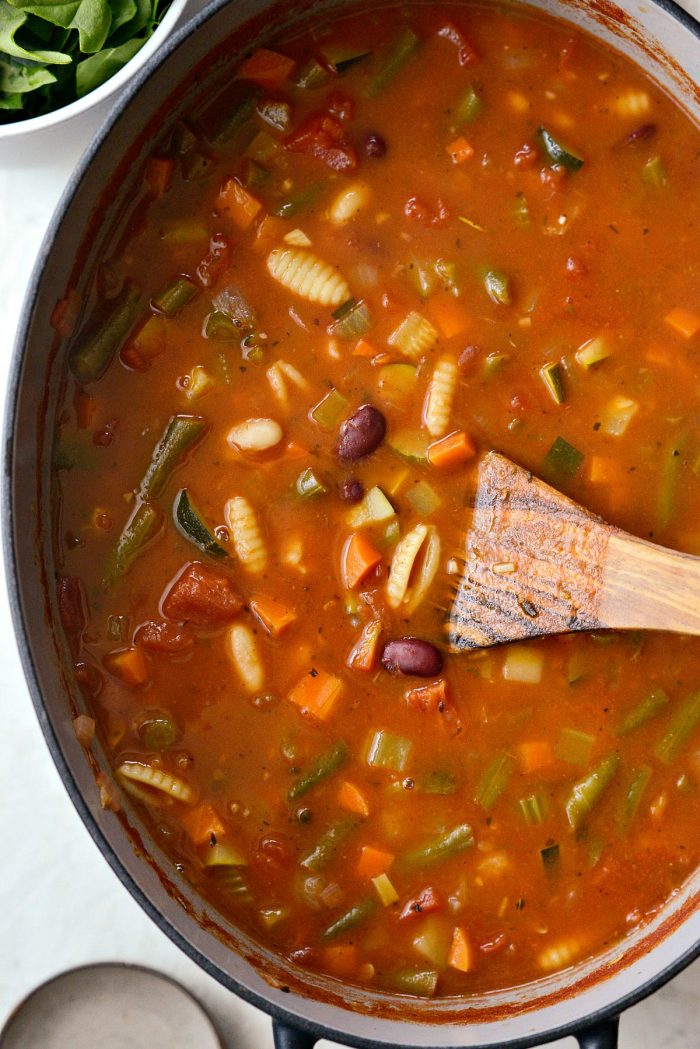 Simmer the soup with the lid askew for 30 minutes, stir occasionally, making sure the pasta doesn't stick to the bottom of the pot.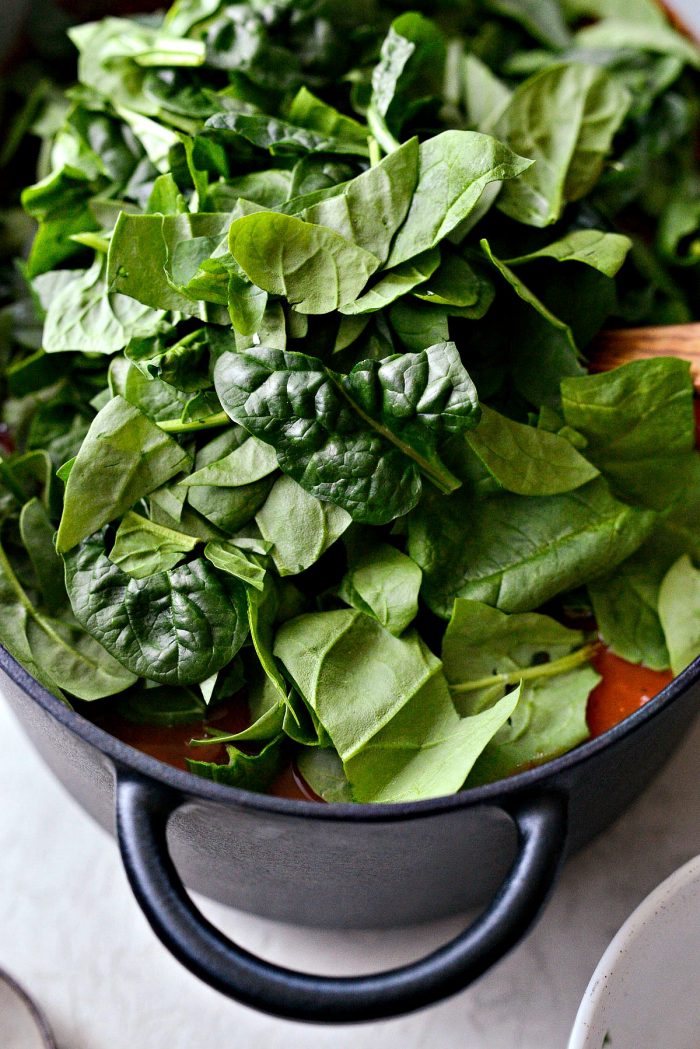 When the pasta is cooked, chop up 3 generous handfuls of spinach (remove and discard stems) and add that into the pot of soup.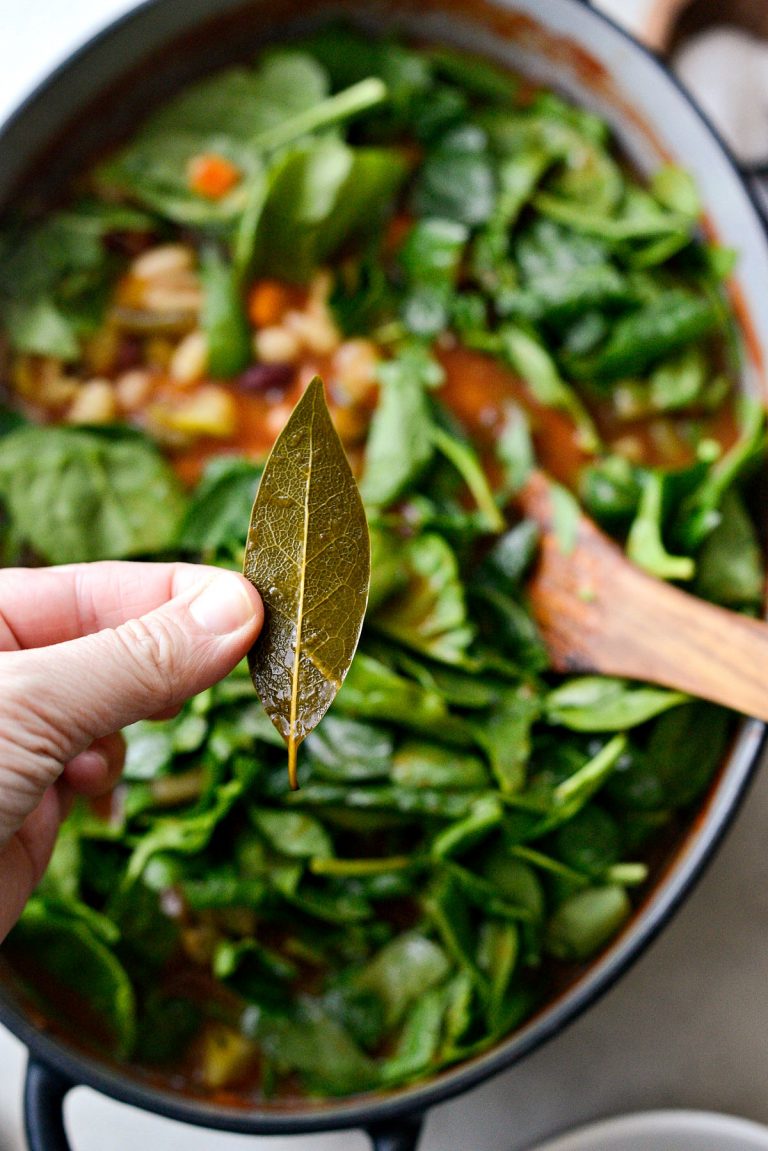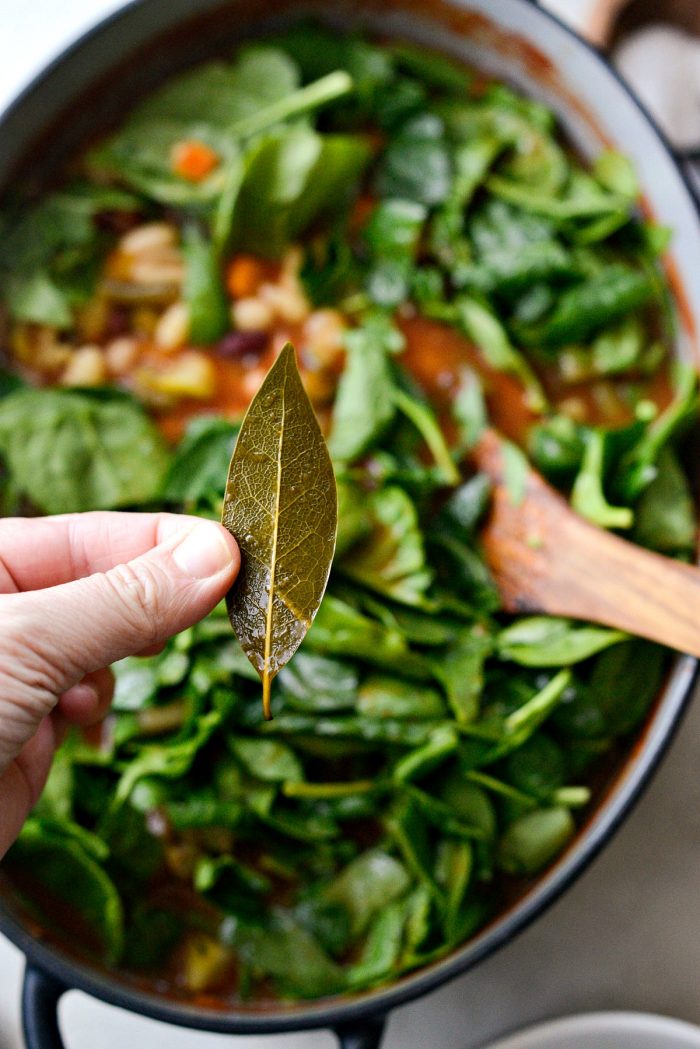 The hot soup will almost instantly wilt the spinach. Also, remember to remove and discard the bay leaf.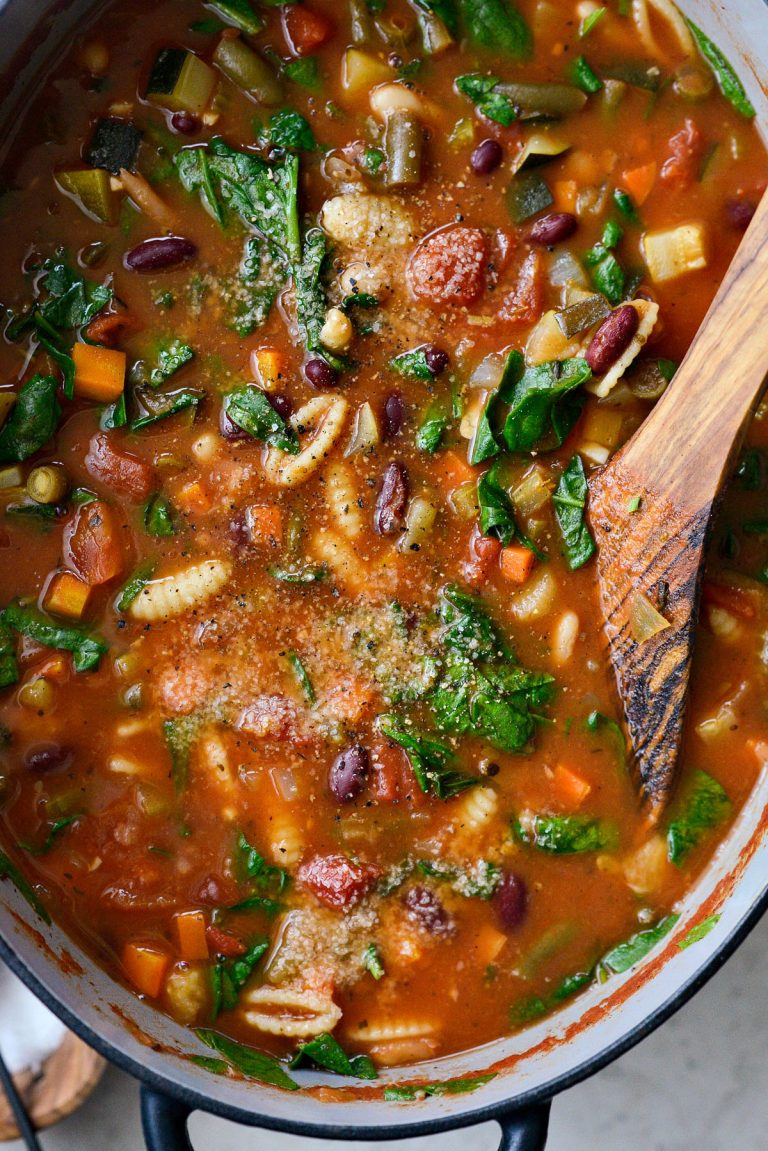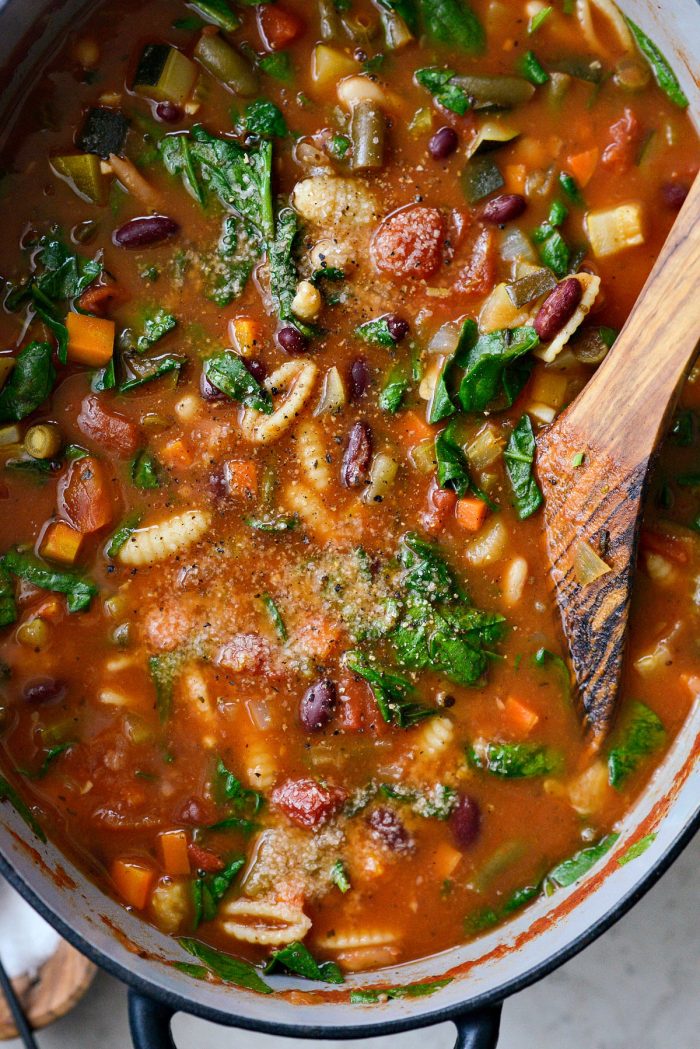 Once the spinach has wilted, season with 1-1/2 to 2 teaspoons kosher salt and lots of freshly ground black pepper – more or less to taste.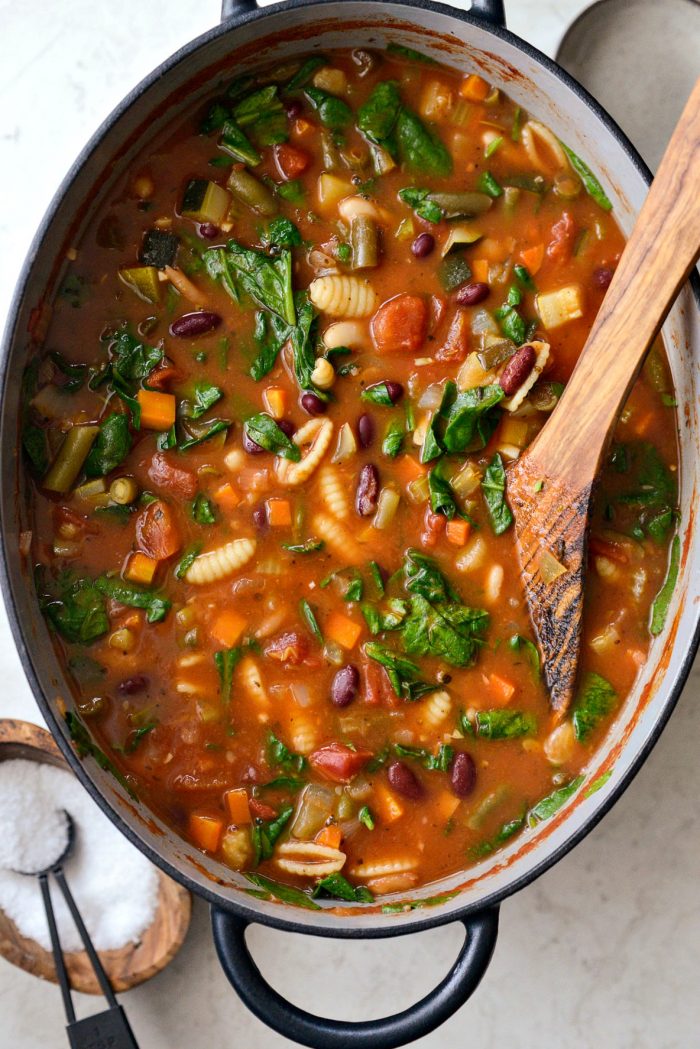 Now this colorful classic minestrone soup is ready to be served.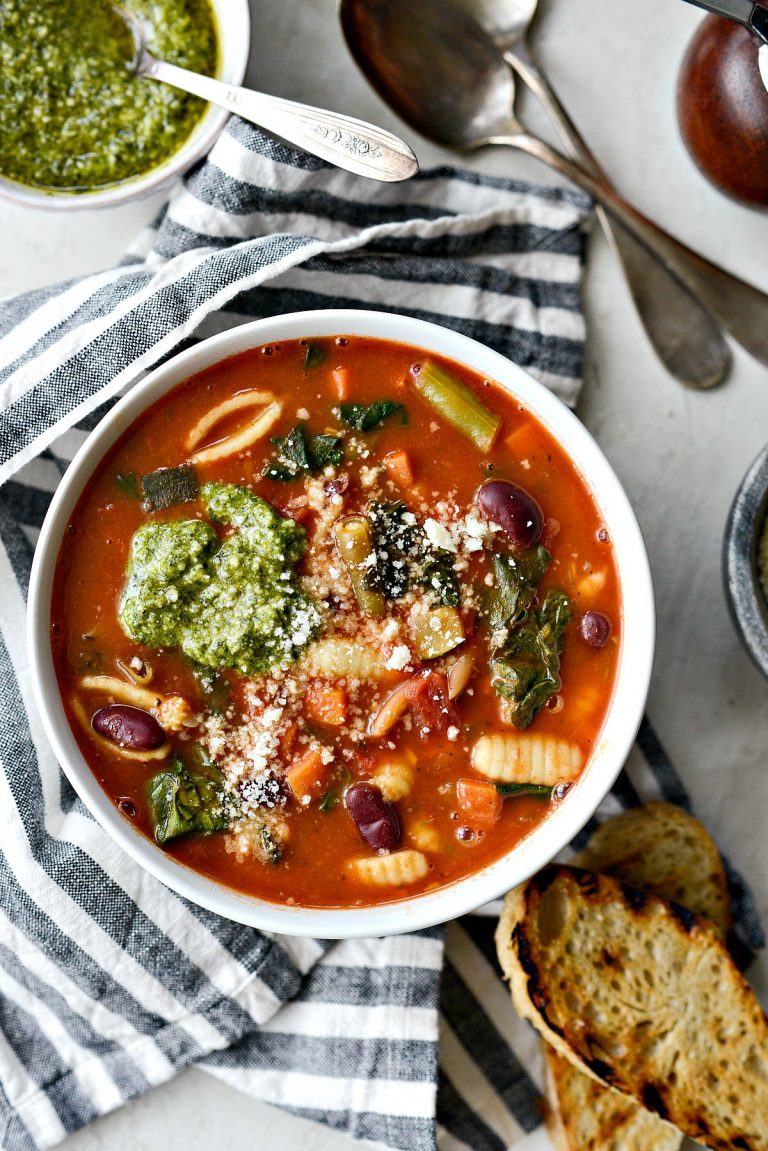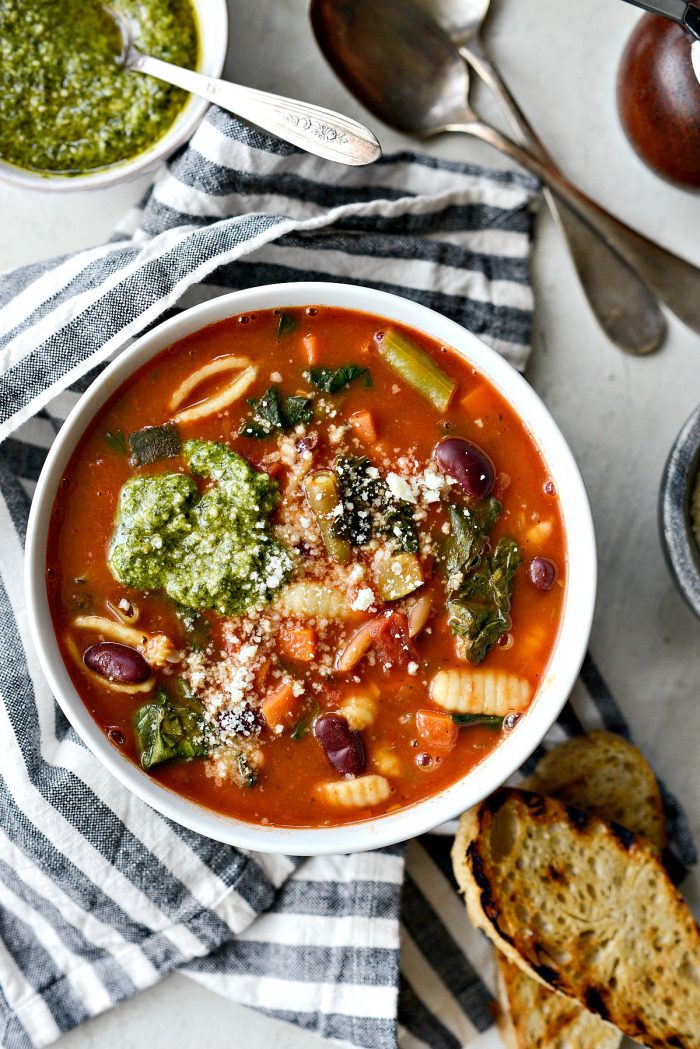 Ladle soup into wide shallow bowls and top with a dollop of basil pesto and some freshly grated parmesan cheese.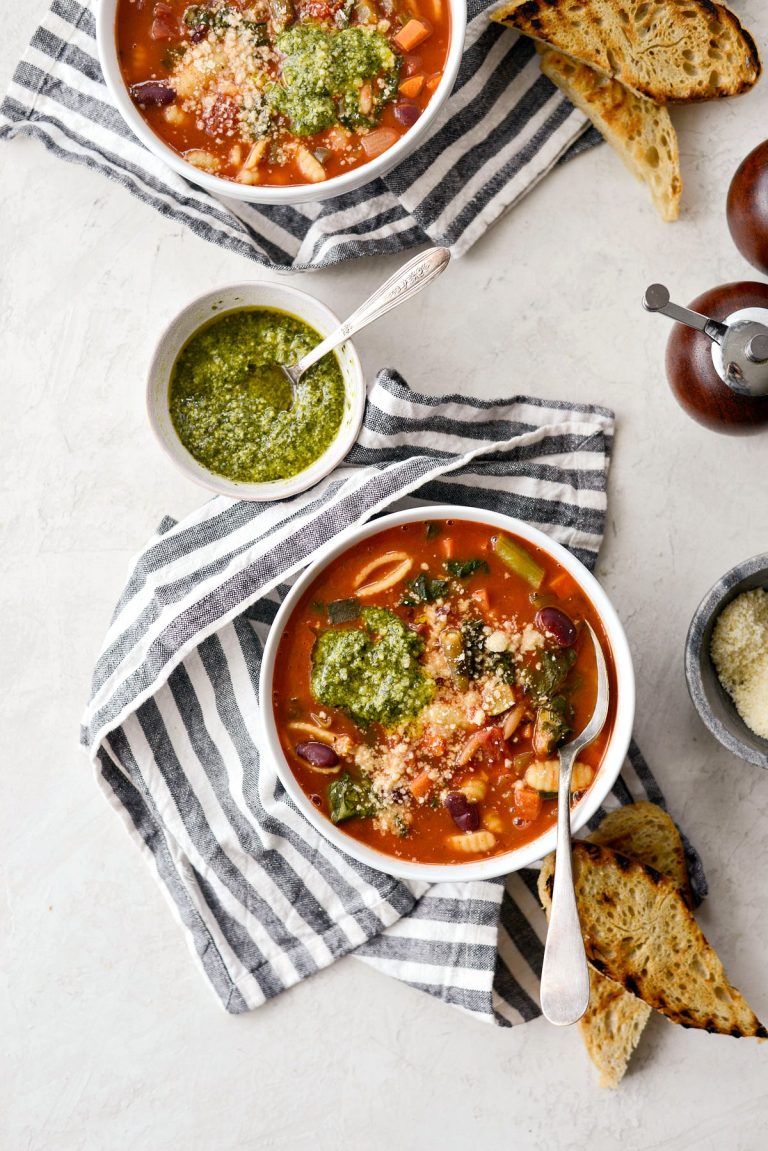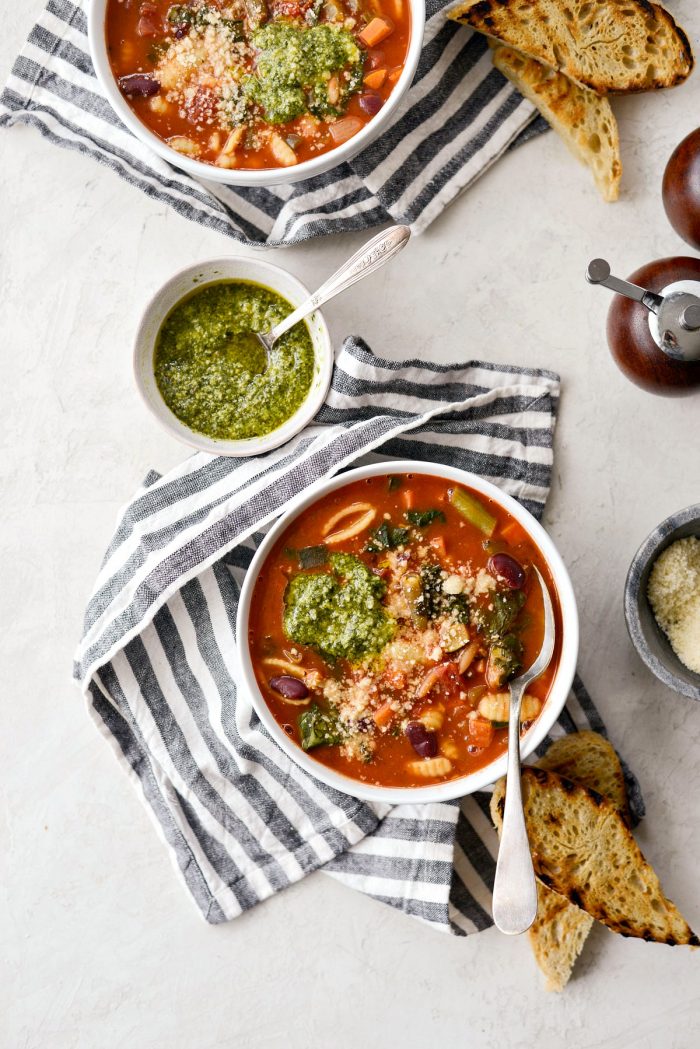 Last summer I made a batch of basil pesto and froze it in ice cube trays. I pulled out a few cubes at the beginning of making the soup (for those making this soup at home, do this a few hours in advance) and they were thawed in a few hours.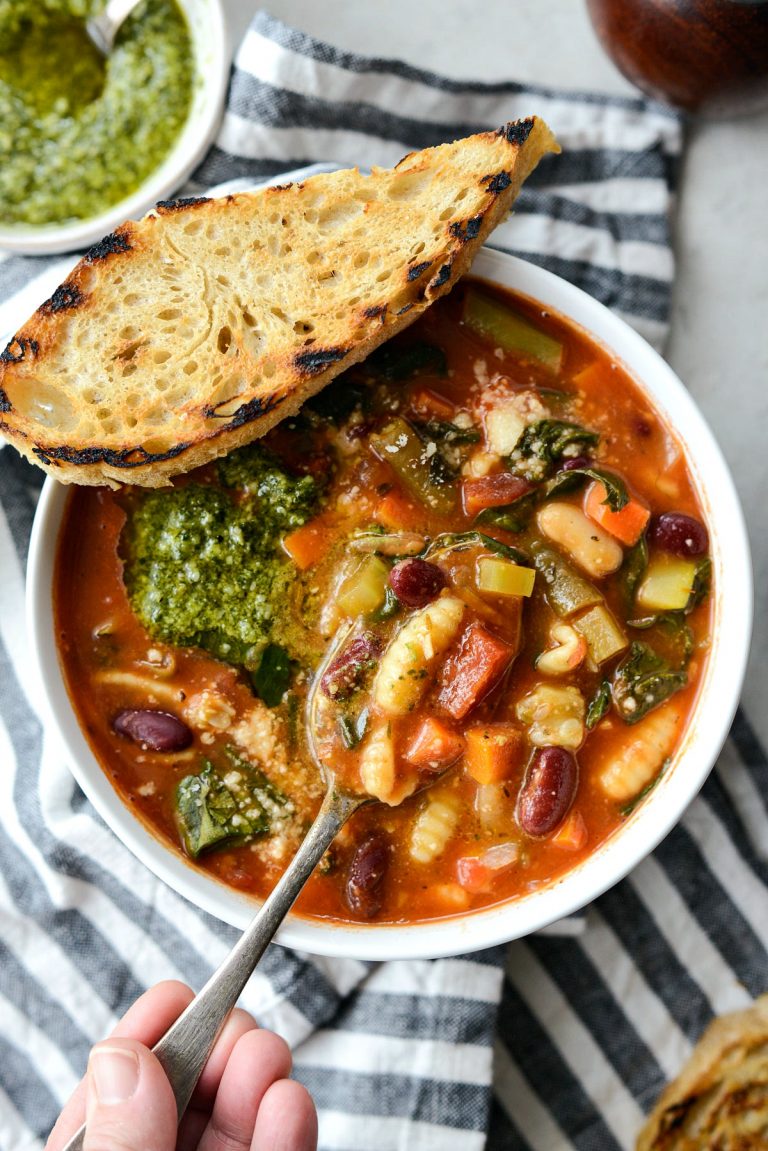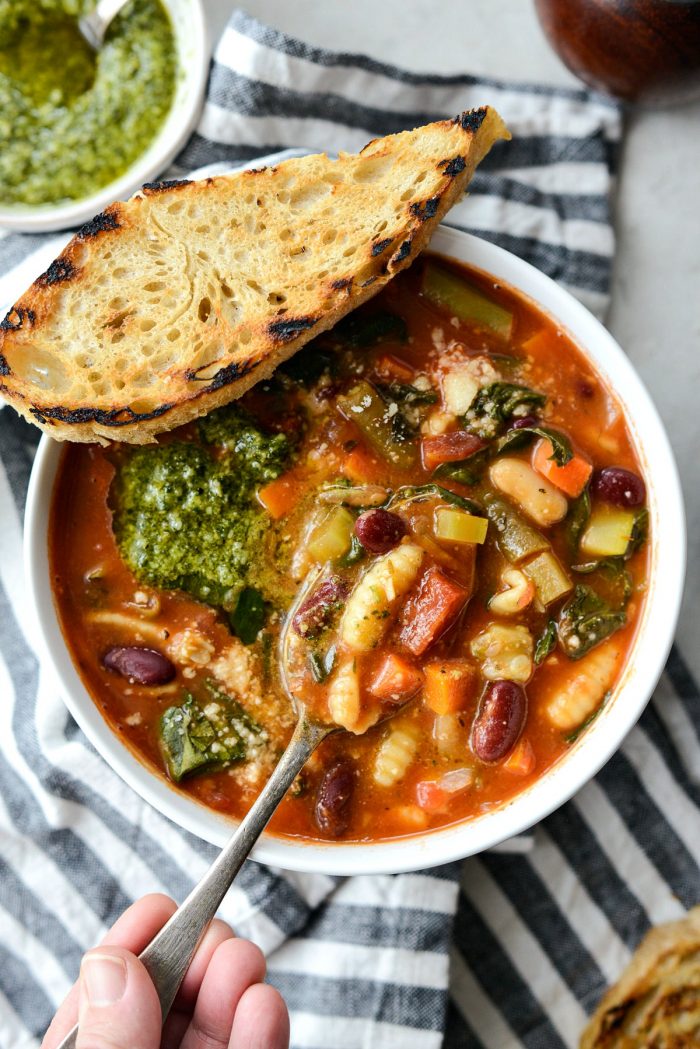 I love this soup because it's SO flavorful and like I mentioned before, it's hearty and loaded with beans, vegetables and pasta. The basil pesto adds a fresh punch to this soup that is incredible.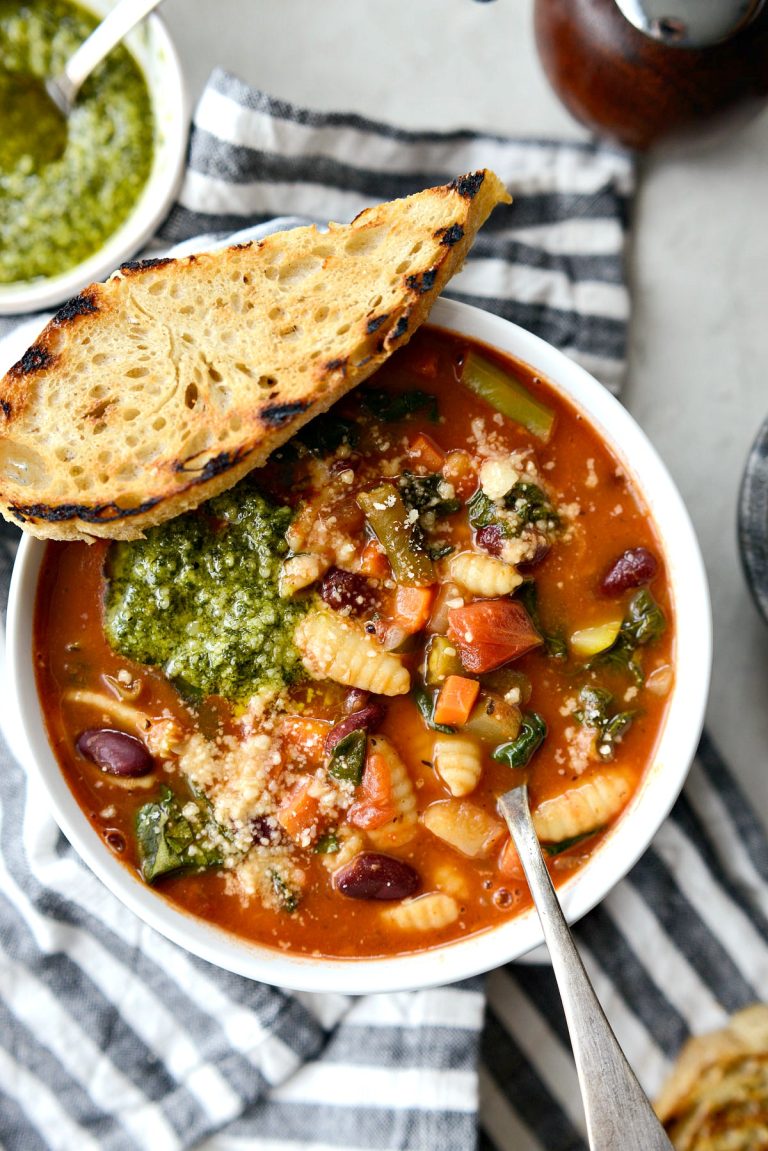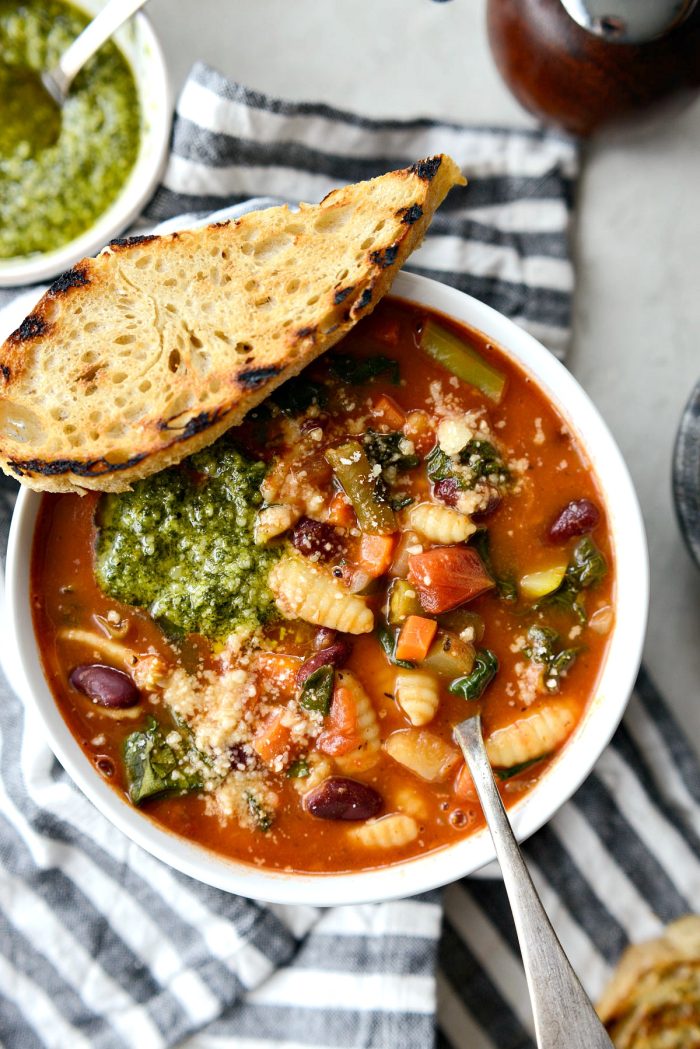 Equally incredible is a piece of grilled ciabatta.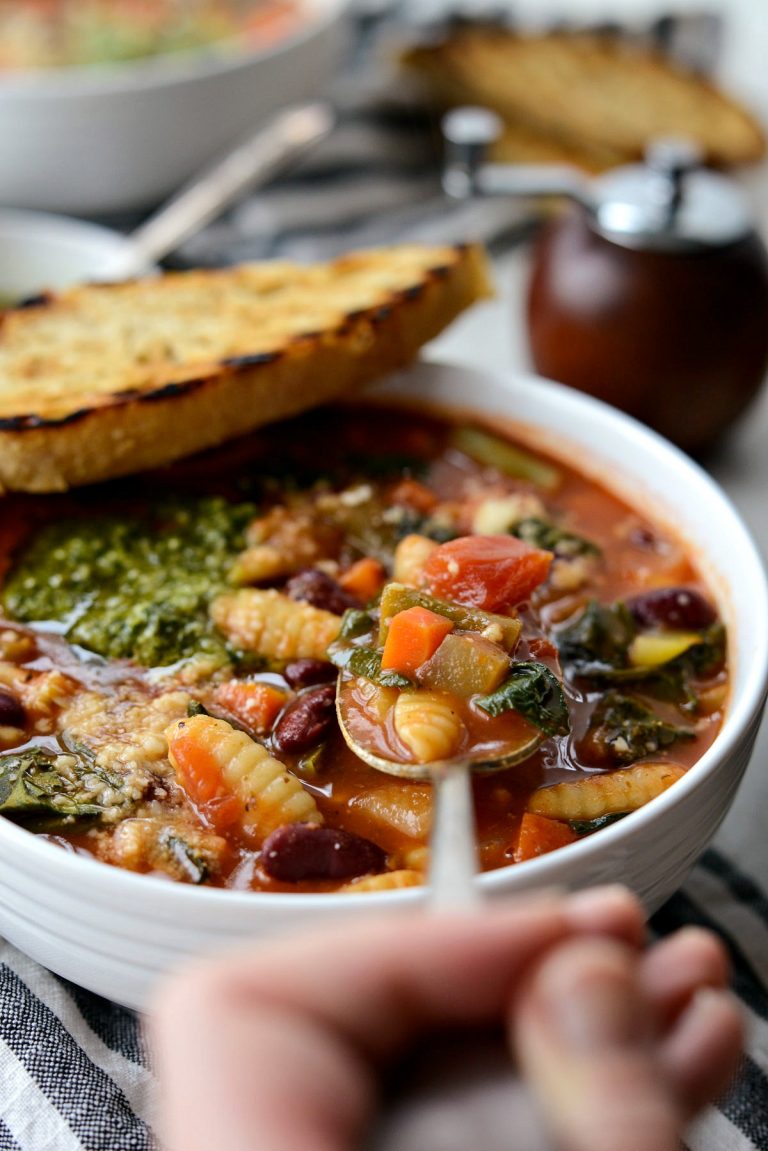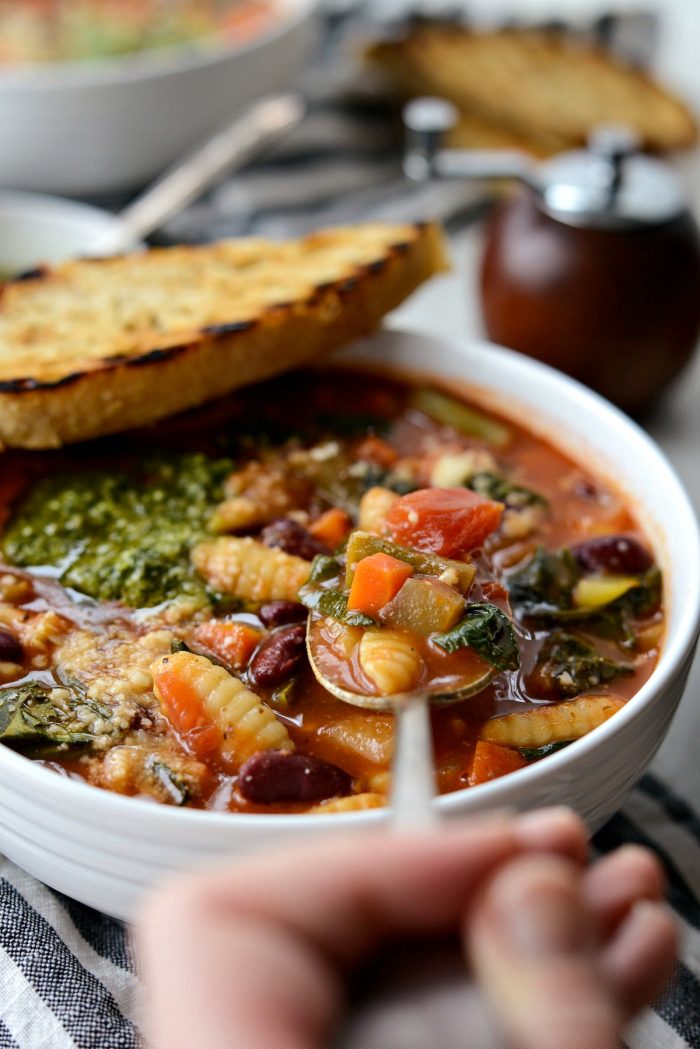 Enjoy! And if you give this Classic Minestrone Soup recipe a try, let me know! Snap a photo and tag me on twitter or instagram!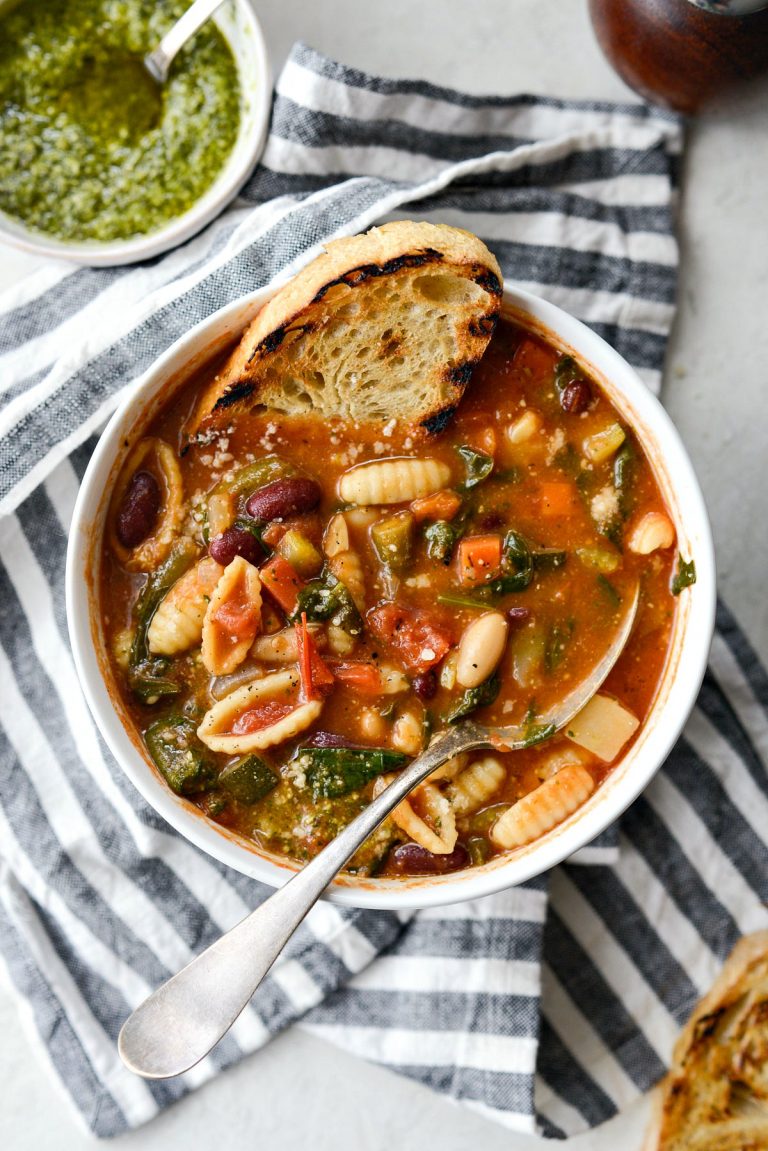 This post may contain affiliate links.
Buy the Cookbook: Simply Scratch : 120 Wholesome Homemade Recipes Made Easy Now available on Amazon »
THANK YOU in advance for your support!