Homemade Air Fried French Fries are easy and made with a fraction of the fat and calories. Russet potatoes are sliced, tossed with olive oil, salt and pepper and fried in your counter top air-fryer until golden and crispy!
If you're looking for a reason to get an air fryer, I have two words for you: French. Fries. These fresh fries are made lighter and healthier in the air fryer, and I can promise you that equally as addictive as their deep-fried counterpart.
In this recipe, russet potatoes are cut into typical French fry shape, sprayed with olive oil and seasoned with salt and pepper or any other seasoning you desire. Then off to the air fryer and in under 20 minutes, you'll have deliciously crispy fries ready to dip in ketchup.
For someone who refuses to deep fry, the air-fryer is a godsend. I've made all sorts of things in that magical machine and I'm only getting started.
To Make These Homemade Air Fryer French Fries You Will Need:
russet potatoes
olive oil spray
kosher salt
freshly ground black pepper
and/or any other seasonings like; garlic powder, cayenne, all-purpose seasoning salt or old bay.
Scrub 1 to 1-1/2 pound russet potatoes and pat dry with a kitchen towel. Slice the potato into 1/4-inch thick slices.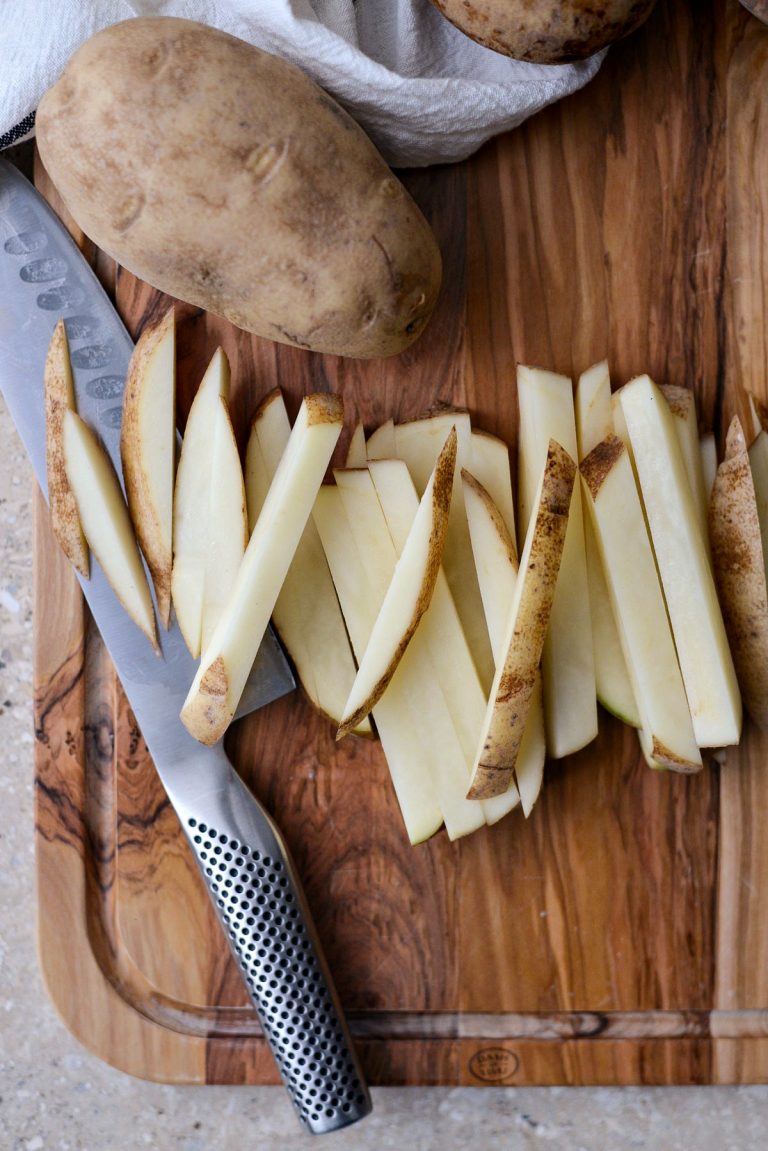 Then cut each slice into 1/4-inch sticks or fries.
Add the potatoes to a large mixing bowl and mist with olive oil spray until evenly coated. Season with a few pinches kosher salt and freshly ground black pepper.
Finally, preheat your air fryer to 360°.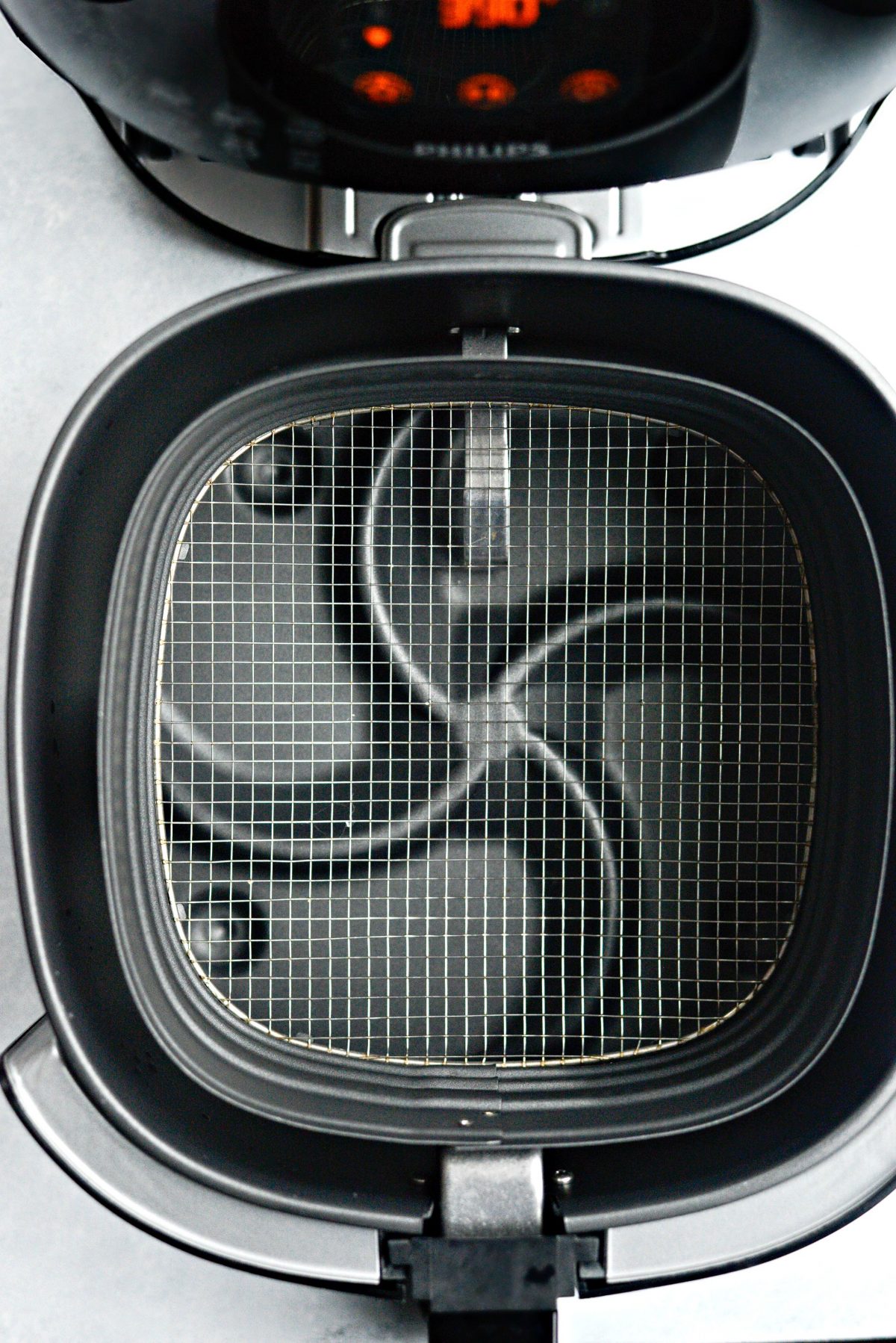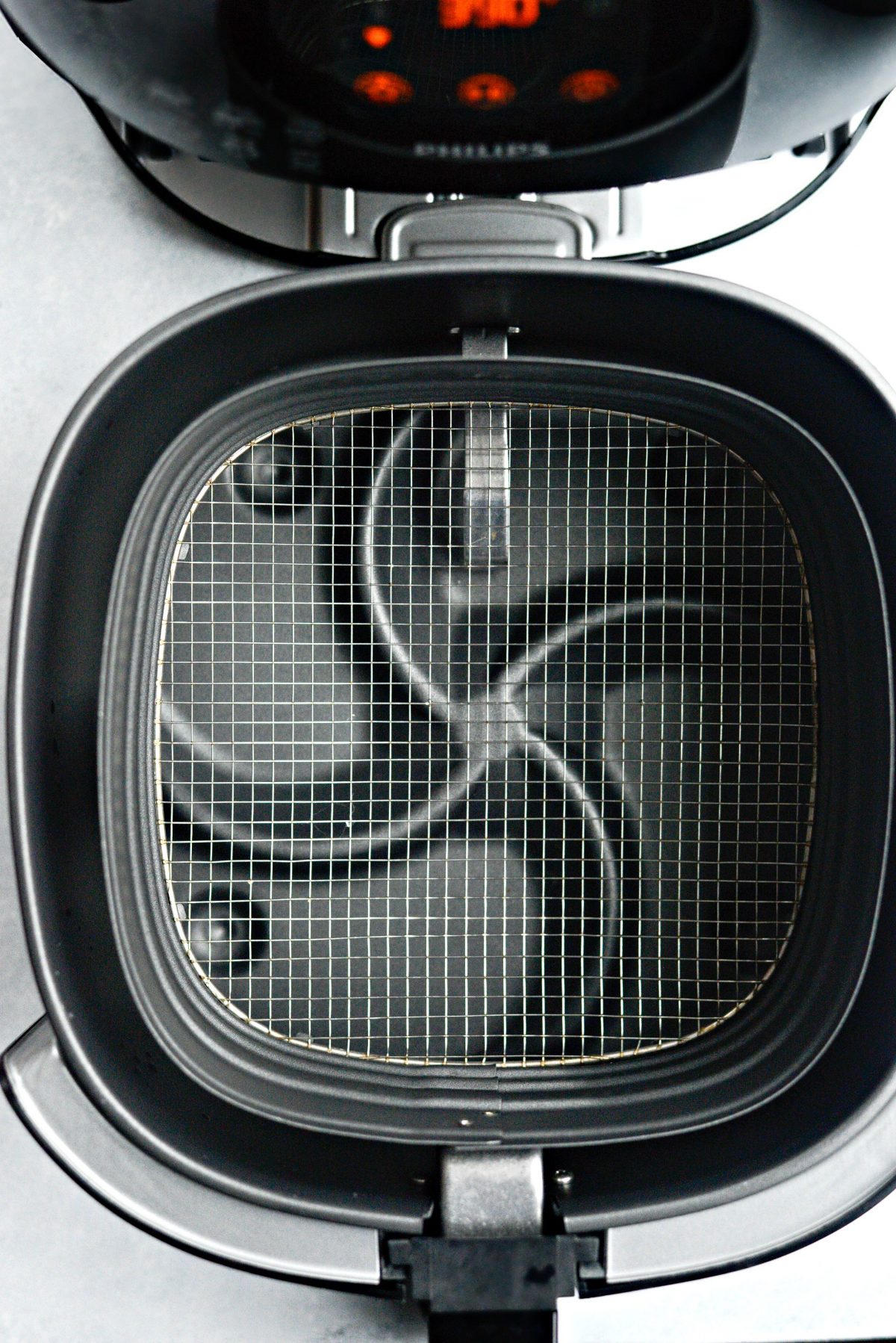 What Is Air Frying?
An air fryer is a counter top appliance that requires less oil (anything from a few spritz to 1 tablespoon) yet produces crispy food that rivals most deep fried foods. By using circulating hot air, it moves at a high speed so the food tends to cook in a fraction of the time.
There are a bunch of different makes and models of air fryers. My husband did the research (as he's known to do) and found this air fryer [affiliate] to be one of the best. But do your research and purchase one that fits your lifestyle.
How is Air Frying Healthier?
Air frying is healthier because only a thin layer of oil coats the food and when the hot air comes in contact it will crisp. Saving you a ton of fat and calories (without sacrificing any flavor!) because food is not being submerged in a vat of hot oil.
For more Air Fryer recipes, click here for my growing collection.
Once preheated, add the potatoes in somewhat of an even layer in the basket of your air fryer and air fry for 9 minutes.
After the 9 minutes, shake the fries and air fry for another 6 to 9 minutes, depending on how done you want the exterior of your fries. I like the 6 to 7 mark.
Note that the smaller fries will be done before the bigger ones so remove those to avoid burning. When the fries are done, transfer them to a wire rack and repeat with any remaining potatoes.
Before serving, add the fries back into the air fry and reheat for 2 minutes or until hot. If you're wondering why there's so many fries, I made a triple batch 🙊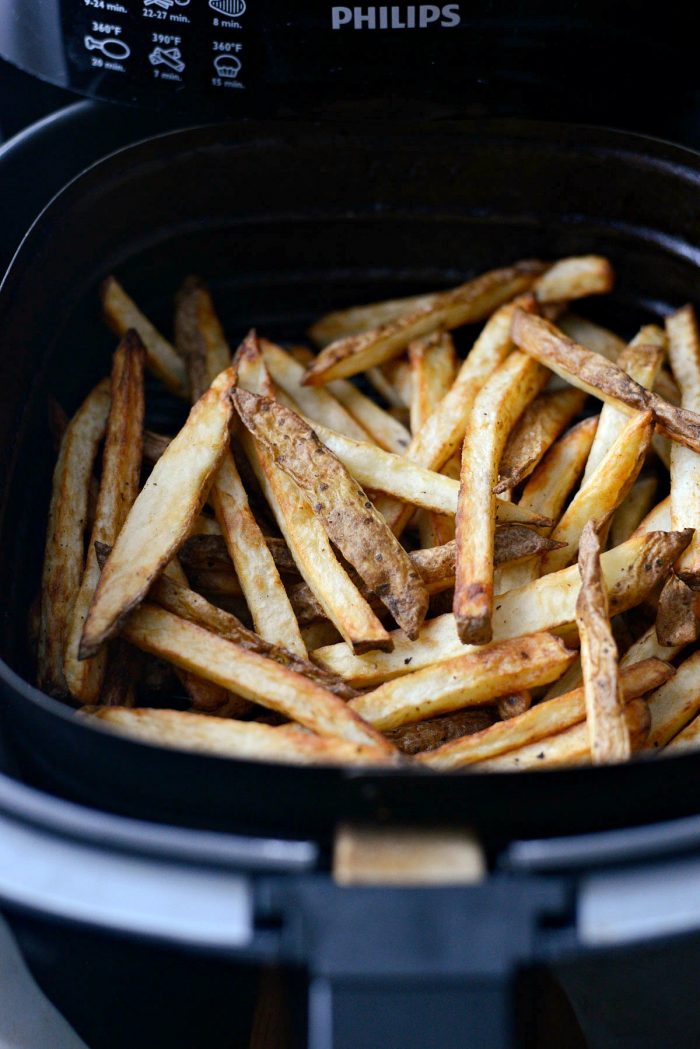 There's a restaurant chain in Michigan and I think there's one in Ohio and Indiana, but it's called Bagger Dave's and besides having the best burgers and chipotle sauce, they also make really good fries… at least in my opinion they do. And these homemade air fryer French fries tastes JUST like them!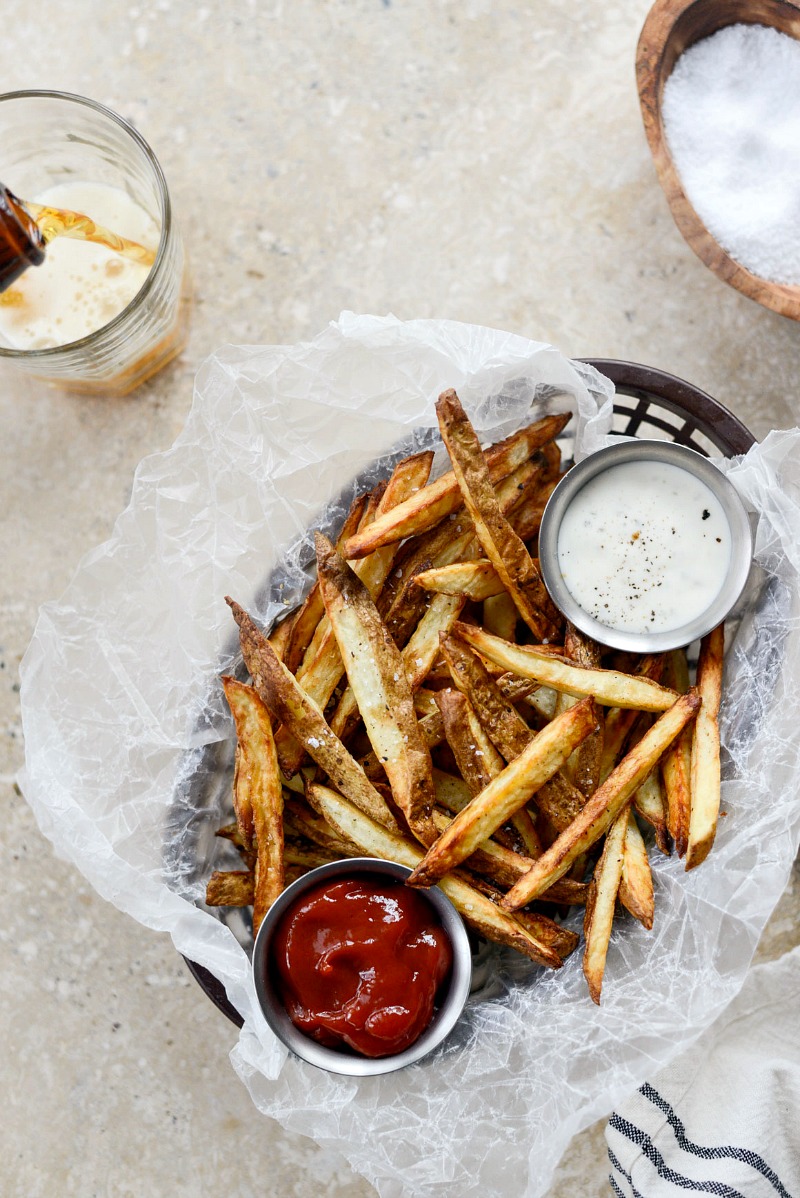 Crispy and so good!
There's good reason why I make a triple batch. These go fast!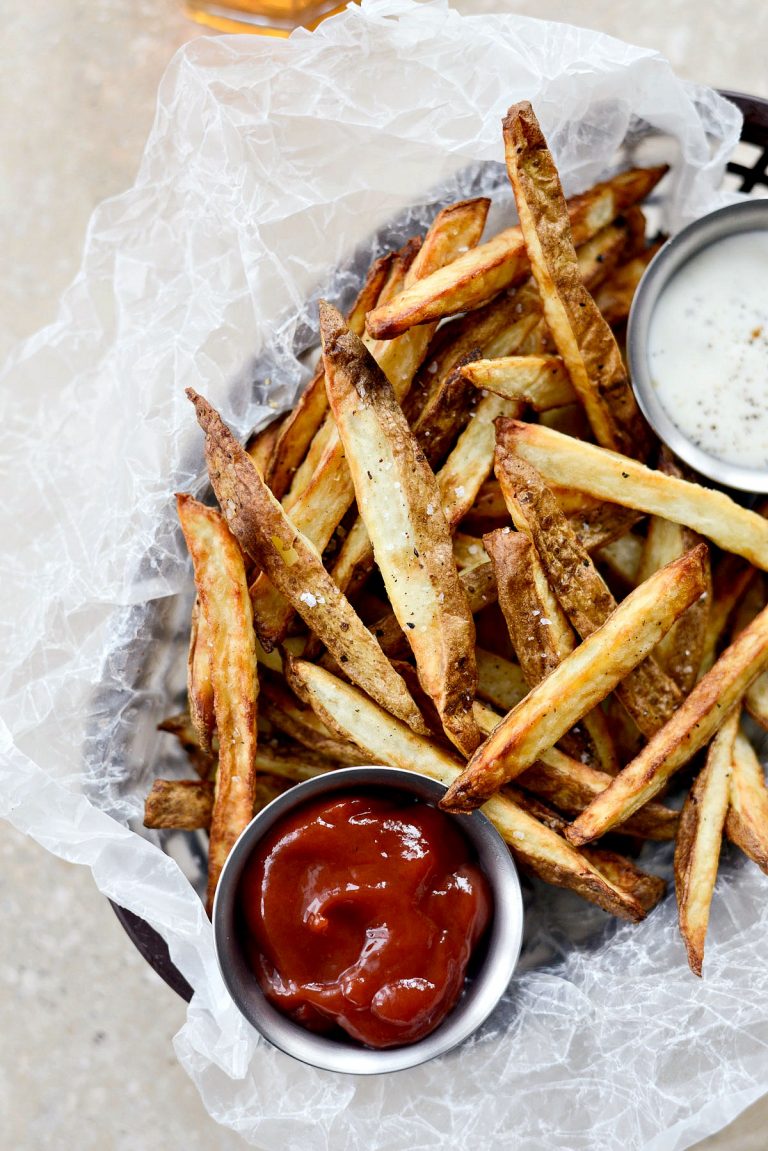 Enjoy! And if you give this Homemade Air Fryer French Fries recipe a try, let me know! Snap a photo and tag me on twitter or instagram!
This post may contain affiliate links.
Buy the Cookbook: Simply Scratch : 120 Wholesome Homemade Recipes Made Easy Now available on Amazon »
THANK YOU in advance for your support!