In this copycat Panera Ancient Grain Arugula Salad; grilled chicken, cooked grains, fresh grapes and apples top arugula and is drizzled with a simple cider vinaigrette. Serves 4.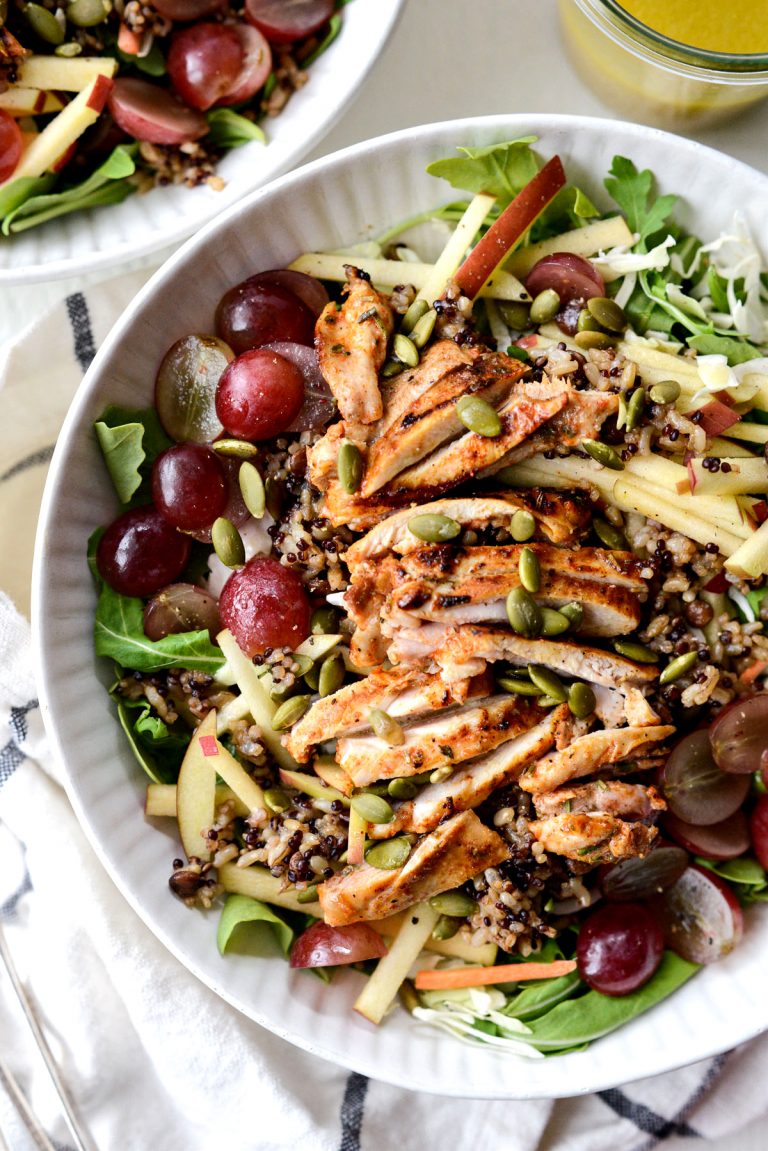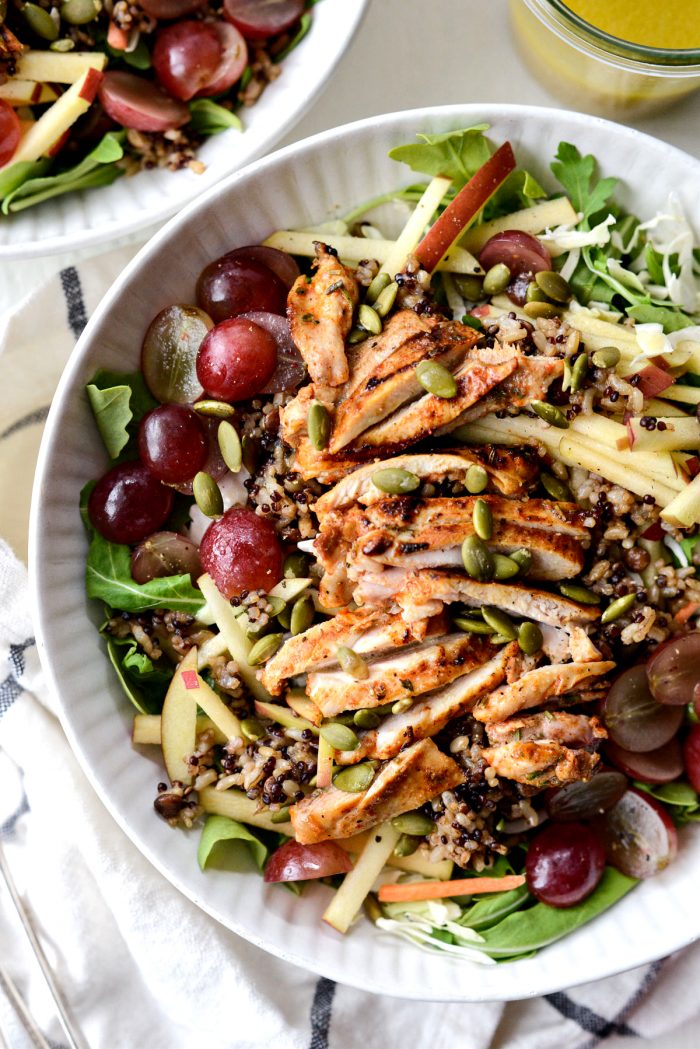 Why do food places retire their BEST menu items?
This is what I ask myself every time my favorite things are removed from a menu. Taco Bell did it years ago with their chili cheese burritos and most recently with their crispy potato soft tacos. Panera also removed THE BEST salad (in my opinion).. ancient grain arugula salad with chicken.
I would order that salad with a cup of autumn squash soup once a week while Malloree played middle school volleyball. It was my absolute go-to favorite! Panera perfection. Until they discontinued it. Never to be served again.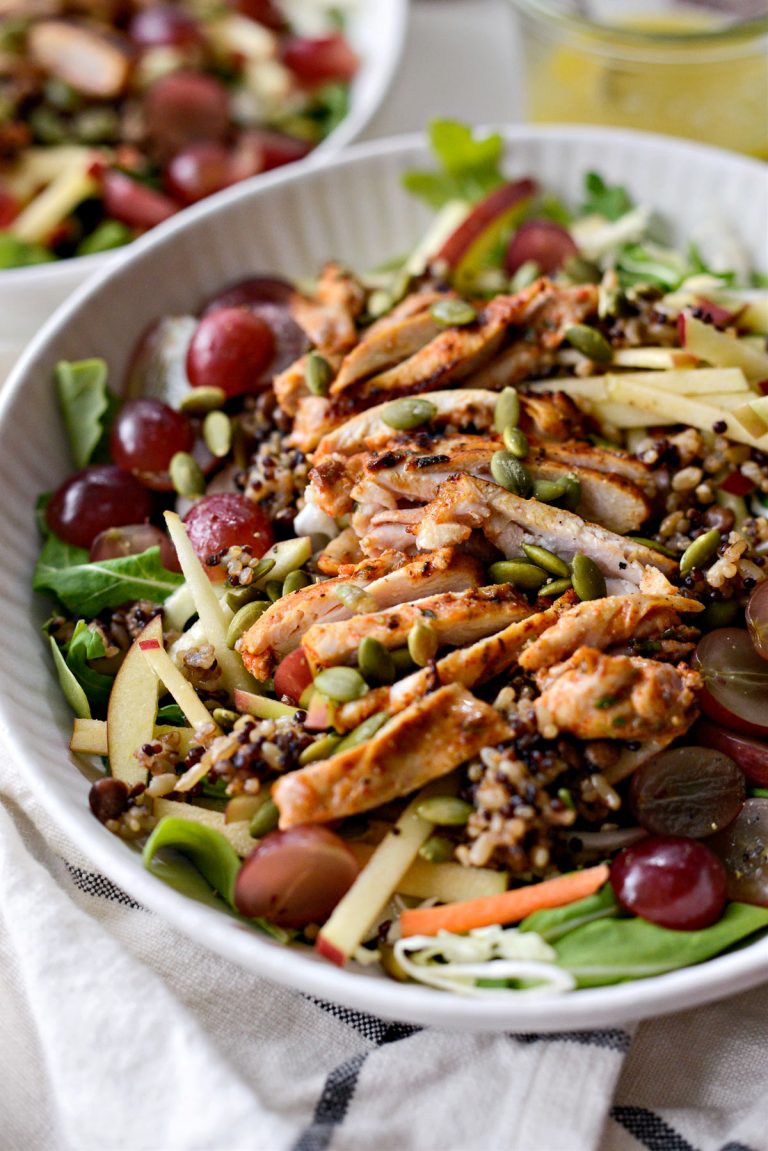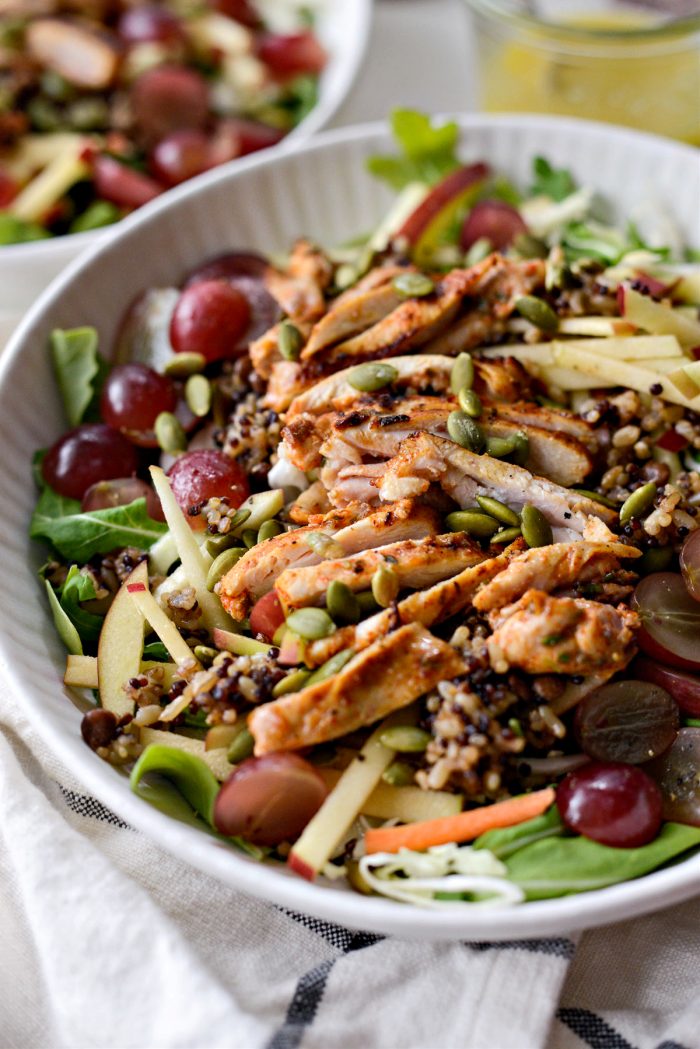 So what's a girl to do but make it herself?
To Make This Ancient Grain Arugula Salad You Will Need:
for the dressing:
garlic powder
onion powder
kosher salt
apple cider vinegar
white balsamic vinegar
apple cider
dijon mustard
honey
for the salad:
lemon juice
garlic
sage
rosemary
thyme
paprika
olive oil
boneless skinless chicken thighs
arugula
coleslaw
cooked grains (quinoa, brown rice and lentils)
apples (like fuji or honeycrisp)
grapes
toasted pepitas
In a jar add the 1/4 teaspoon each of garlic powder and onion powder, a generous pinch of kosher and 1 tablespoon each apple cider vinegar and white balsamic. Whisk to combine.
Pro tip: adding the vinegar to the salt will help dissolve and flavor the dressing more efficiently.
Then add 1/4 cup apple cider, 1 heaping teaspoon Dijon, 1 teaspoon honey and 2 tablespoons olive oil. Whisk or secure the lid and shake until combined. You may have to stir it again before pouring over your salad. Set aside.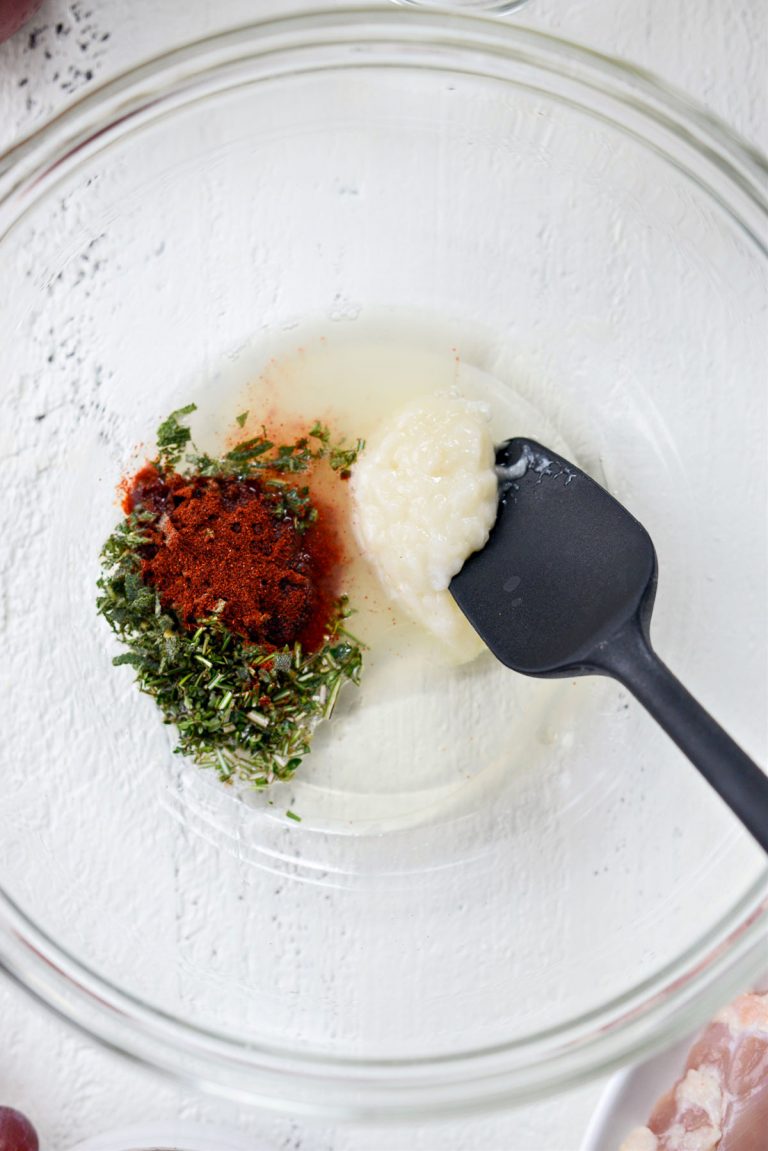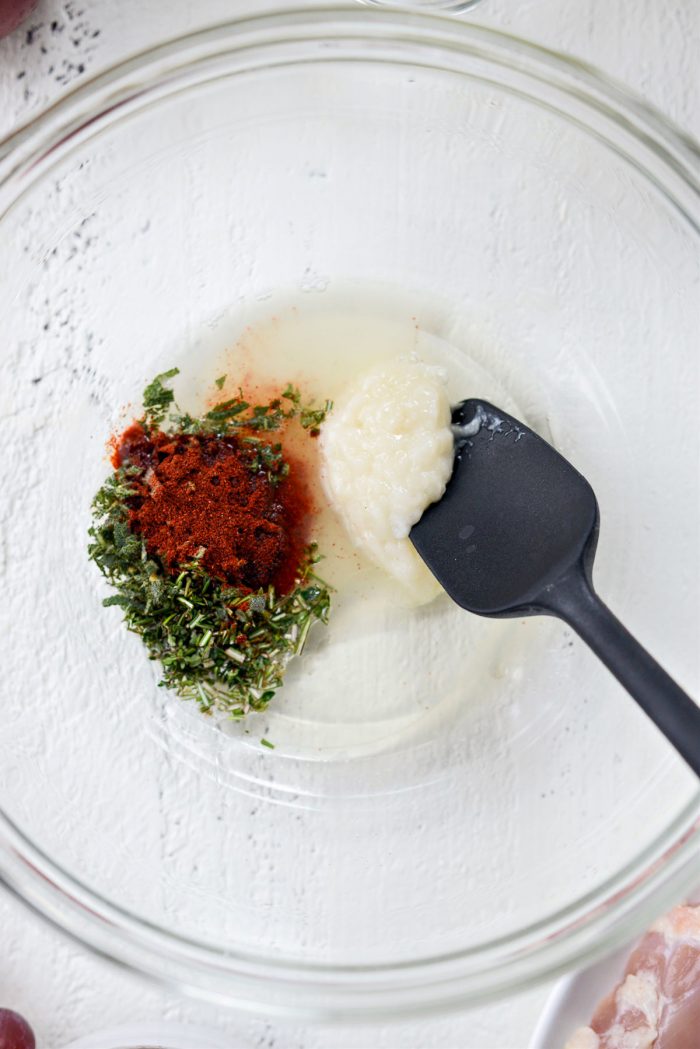 Moving on to the chicken. In a mixing bowl, measure and add 1/2 tablespoon minced fresh rosemary and thyme, 1 tablespoon minced sage, 1 tablespoon grated garlic (I use the chunky garlic that comes in the tube – so fast!), 1/2 a teaspoon of paprika, juice of 1 small lemon (about 2 tablespoons) and 1 tablespoon olive oil.
Mix well to combine.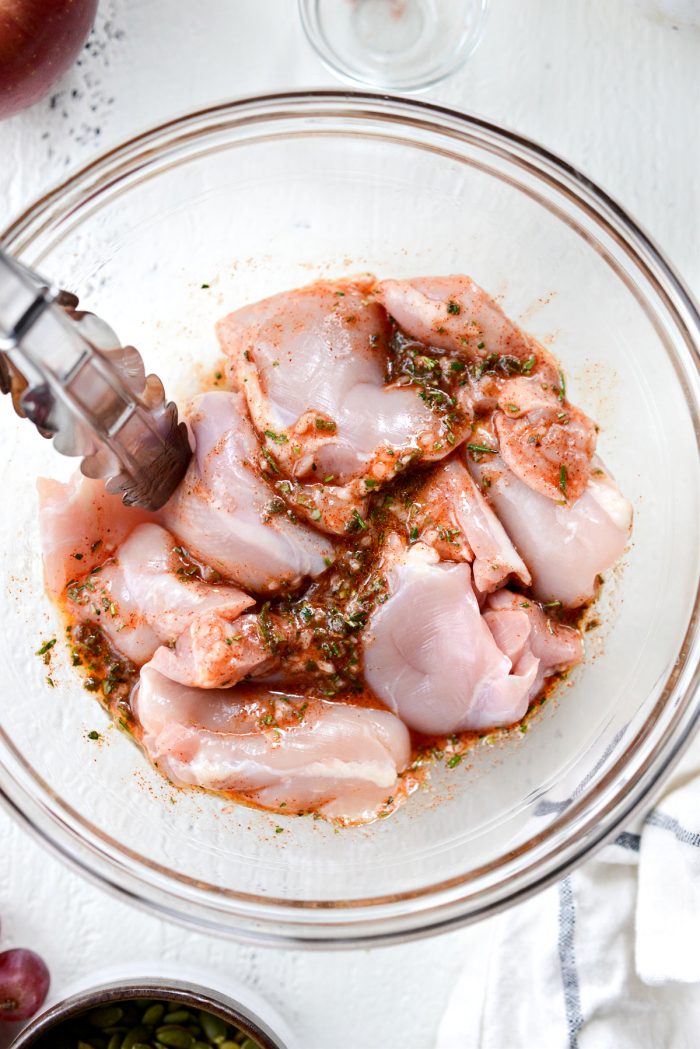 Add 1 pound (give or take) of boneless, skinless chicken thighs or thin-cut chicken breasts to the bowl.
Toss well to coat.
Let marinade while your preheat your grill pan over medium heat.
Spray the grill pan with olive oil spray and season the chicken with kosher salt and freshly ground black pepper.
Grill the chicken 4 to 6 minutes a side or until the chicken is fully cooked. I use a instant read thermometer to check and make sure the internal temperature is at least 165°.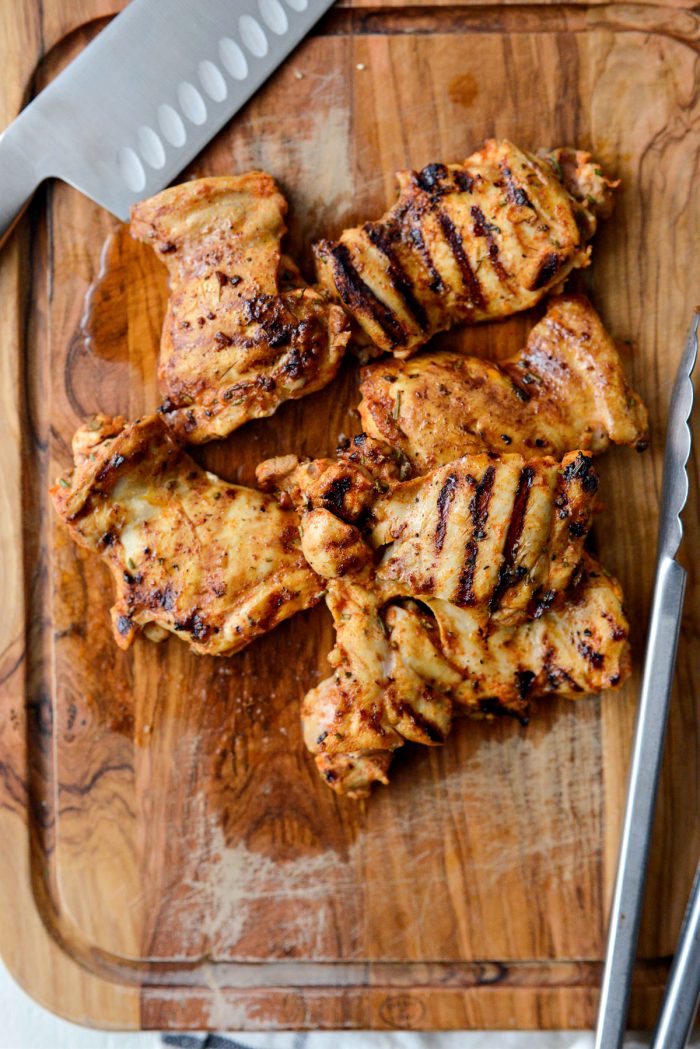 Transfer the chicken to a cutting board and repeat with the remaining chicken thighs. Let rest for about 5 minutes before thinly slicing.
Divide arugula, slaw, grains, apples and grapes almond deep bowls or plates. TruRoots makes little 8-1/2 ounce pouches of quick cooking grains, which is what I used (TruRoots olive oil and sea salt quinoa, brown rice and lentil). The pouches really come in handy for recipes like this. #notsponsored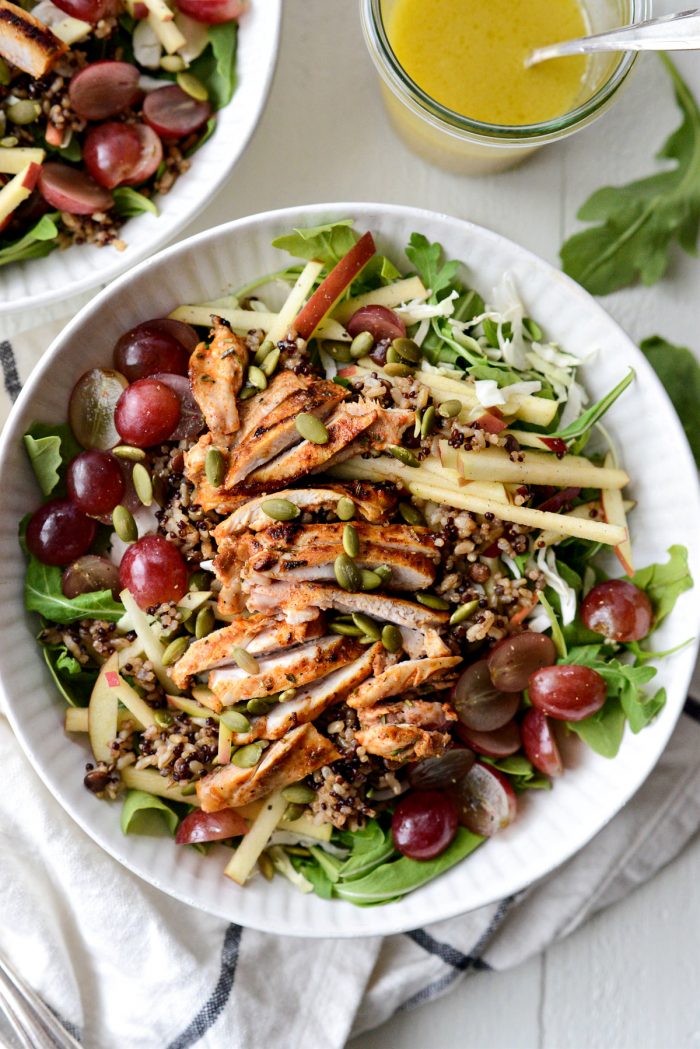 Top with sliced grilled chicken and toasted pepitas. I toast the pepitas in a dry skillet over medium to medium-low heat until golden and fragrant.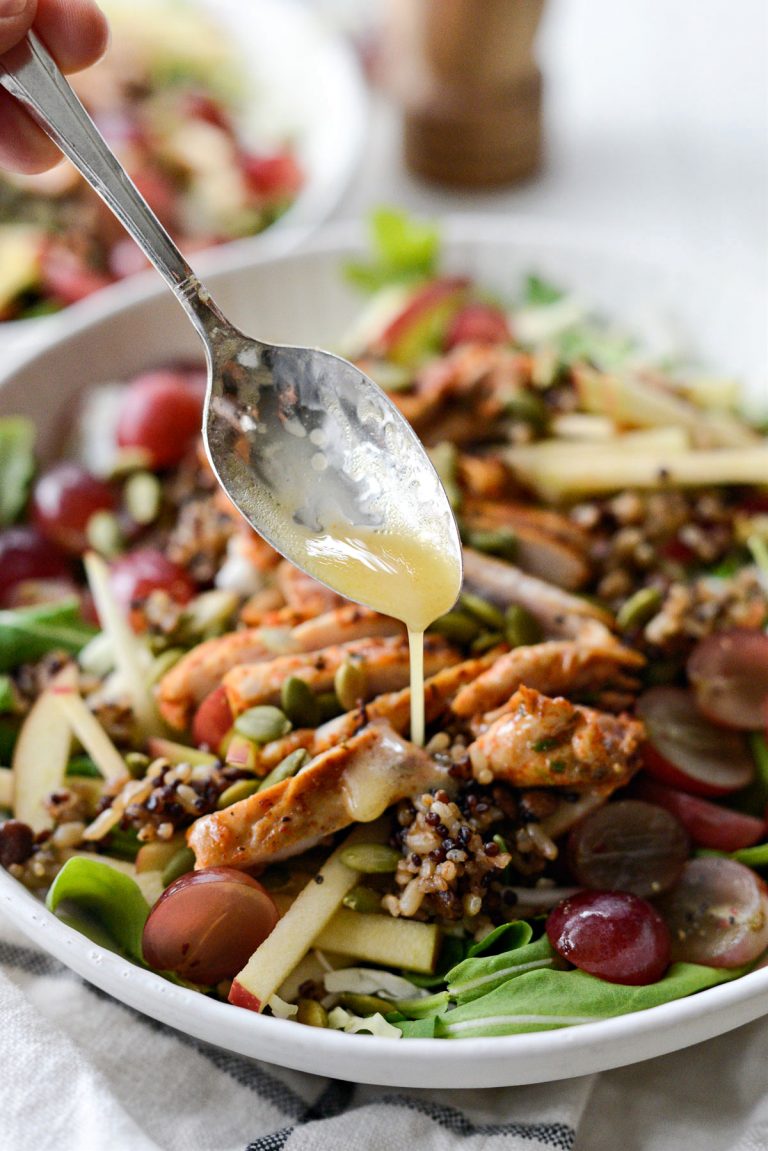 Drizzle with 1 to 2 tablespoons of the dressing.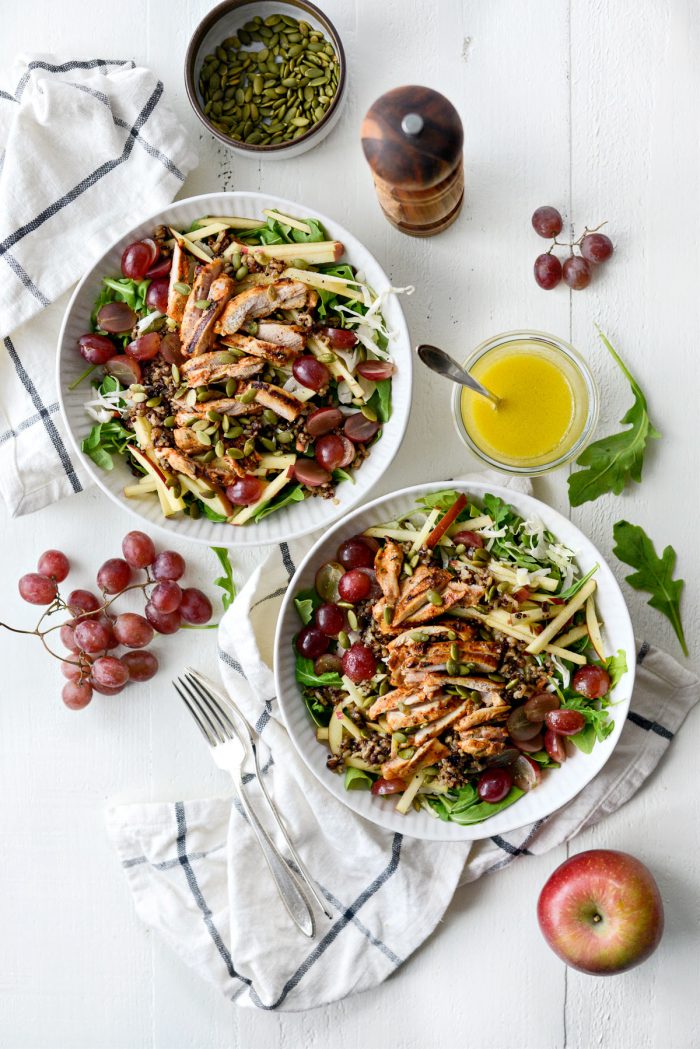 And serve.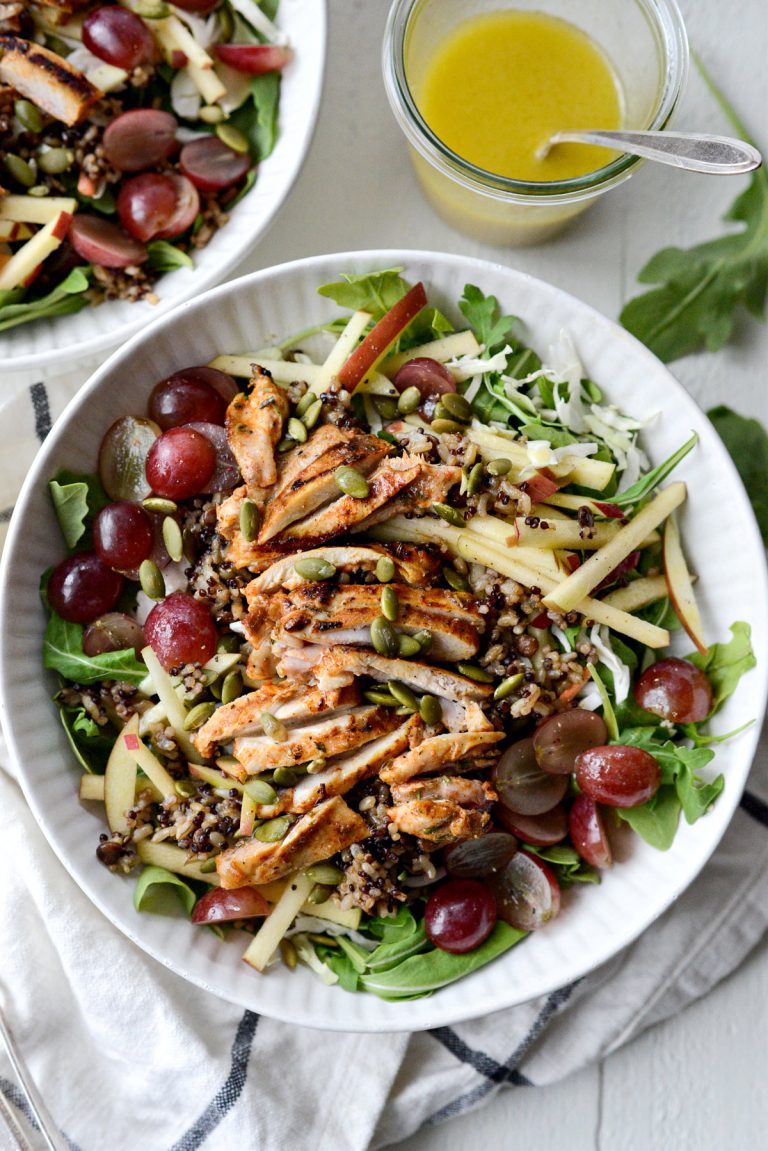 Season with extra black pepper if desired.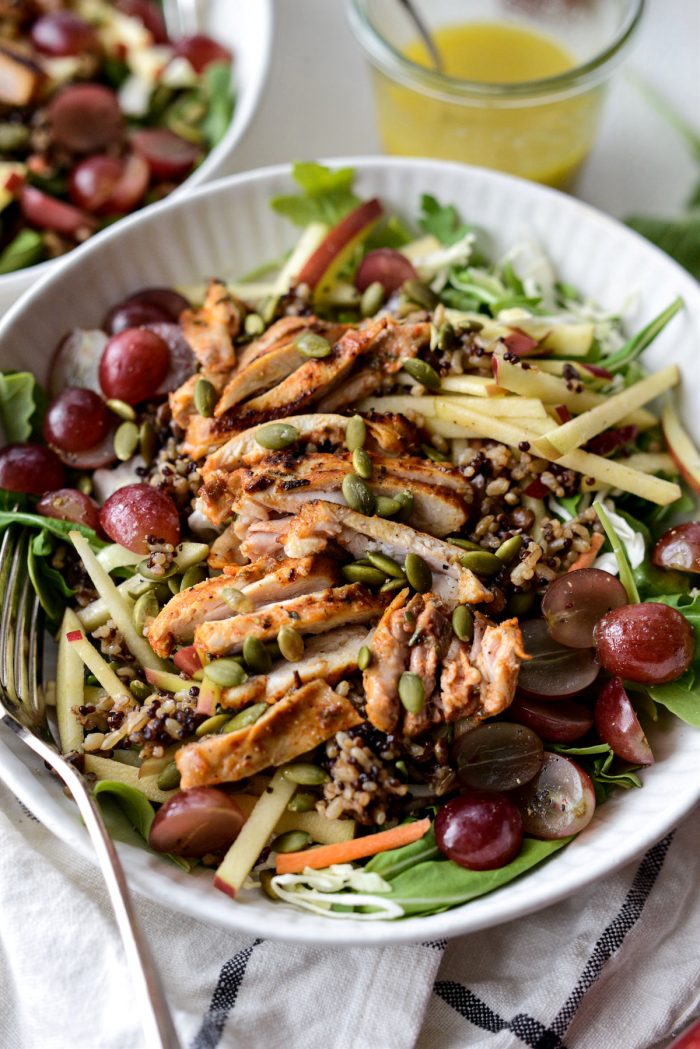 Fresh, crisp and so flavorful and so much better than Panera. Sorry, Panera. I still love you tho. I ate this salad all weekend and let me just tell you, it's even BETTER topped with crumbled goat cheese!
Click Here For More Panera Copycat recipes!
Enjoy! And if you give this Ancient Grain Arugula Salad recipe a try, let me know! Snap a photo and tag me on twitter or instagram!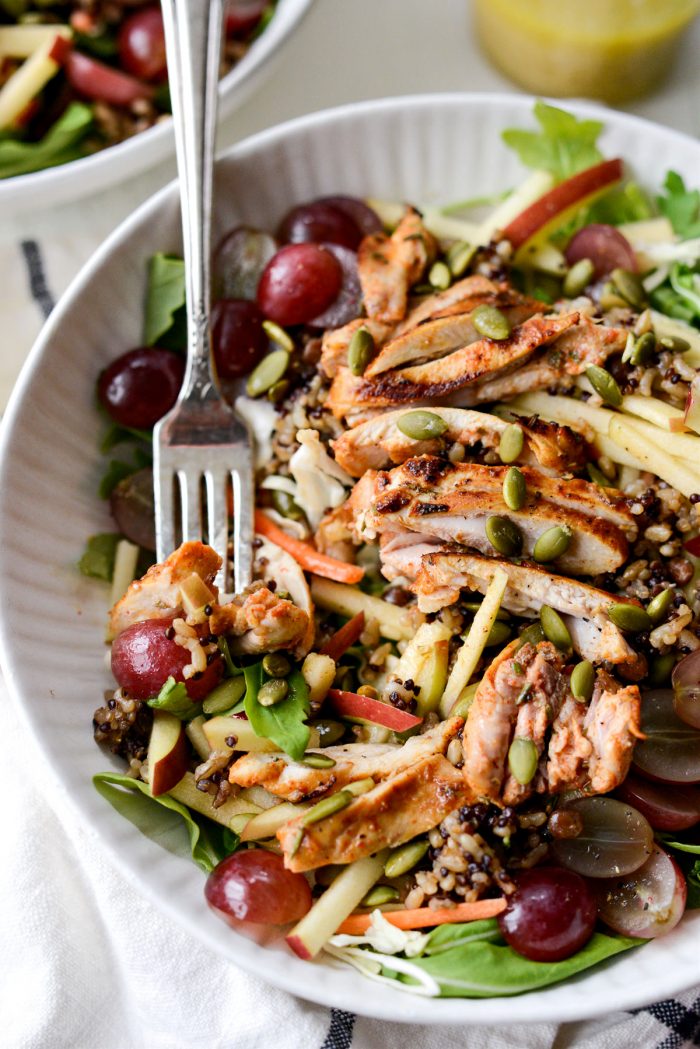 This post may contain affiliate links.
Buy the Cookbook: Simply Scratch : 120 Wholesome Homemade Recipes Made Easy Now available on Amazon »
THANK YOU in advance for your support!