In this Sheet Pan Teriyaki Chicken and Cauliflower Rice recipe, thin strips of chicken and lots of different veggies are tossed with teriyaki sauce and sesame oil and roasted with cauliflower rice. Making this one easy and EPIC sheet pan dinner.
Happy New Year, friends! Meet my first (of many, maybe?) sheet pan dinners of 2020! It's January and aren't we all trying to detox 2019 out of our system? Just me? cool. Okay so I first made this last year and fell.in.love. It's so simple, healthy and yes… made on one 18×13 rimmed metal baking sheet, for your convenience.
Wanting to eat more veggies? This cauliflower bowl is your bff.
I first found this recipe on WW and found their measurements a wee off for my liking. Other than that, I love the ease of this recipe. The flavors are perfection and I can eat a huge bowl and not feel guilty.
To Make This Sheet Pan Chicken Teriyaki and Cauliflower Rice You Will Need:
thin cut chicken breasts
teriyaki sauce (homemade or store-bought – no judgements)
toasted sesame oil
broccoli florets
sugar snap peas
matchstick carrots
red bell pepper
cauliflower rice or pearls
garlic
kosher salt
green onions, for serving
Sriracha or sambal oelek, for serving
toasted sesame seeds, for serving
One way you can make this recipe easier is to either pre-prep all the veggies in advance or by purchasing pre-chopped and washed broccoli florets, already riced cauliflower, matchstick carrots (I always have this on hand for salads) and stringless sugar snap peas. Otherwise, you'll want to remove the string if buying from a bulk bin.
Start by sliding an empty rimmed metal baking sheet onto the middle rack of your oven. Then preheat to 400°.
In a mixing bowl, add 1-1/4 pounds thin-cut chicken breasts that have been sliced thin, 3 tablespoons teriyaki sauce and 1-1/2 teaspoons toasted sesame seeds. Toss well to combine and set off to the side.
If you are purchasing teriyaki sauce, look for one that is thick and not thin and supper runny. I've linked my recipe above and in the recipe printable if you want to make one from scratch.
Next in a large mixing bowl, add 10 ounces broccoli florets, 8 ounces sugar snap peas, 1 cup matchstick carrots and 1 small red bell pepper that has been seeded and sliced.
Pour in 1 tablespoon of toasted sesame oil and toss well to combine.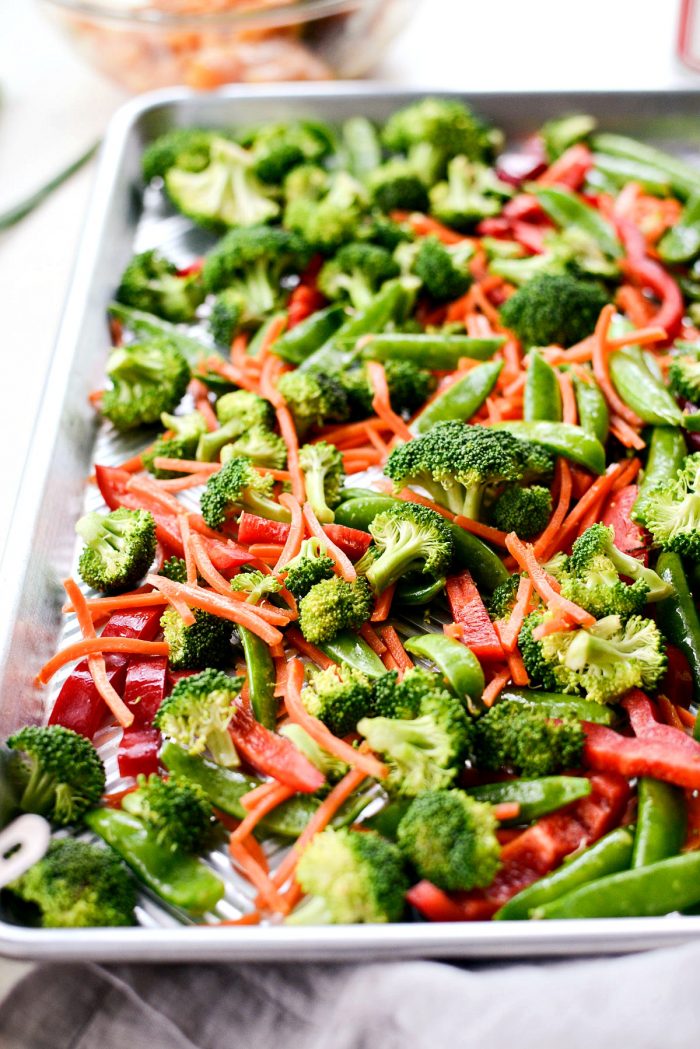 Once the pan (and oven) are preheated, use oven mitts to remove the hot pan and immediately spray it with olive oil and dump the entire bowl of veggies onto the pan.
They should sizzle.
Use tongs to drop the teriyaki chicken over top of the veggies and immediately slide the pan back into the oven for 15 minutes.
Meanwhile, in the same bowl that the vegetables were just in, add 24 ounces of cauliflower rice, 2 to 3 cloves of garlic and the remaining 1-1/2 teaspoons toasted sesame oil.
Once the chicken and vegetables have baked, toss the garlicky cauliflower rice with the chicken and vegetables, sprinkle with a few pinches of kosher salt and return the pan back to the oven for 8 to 10 minutes.
Lastly, when the cauliflower rice has cooked, drizzle the entire pan with the remaining 3 tablespoons of teriyaki sauce. Preheat your broiler to high and use oven mitts to move the oven rack to the highest position. Broil for 1 to 2 minutes.
Watch carefully to avoid burning.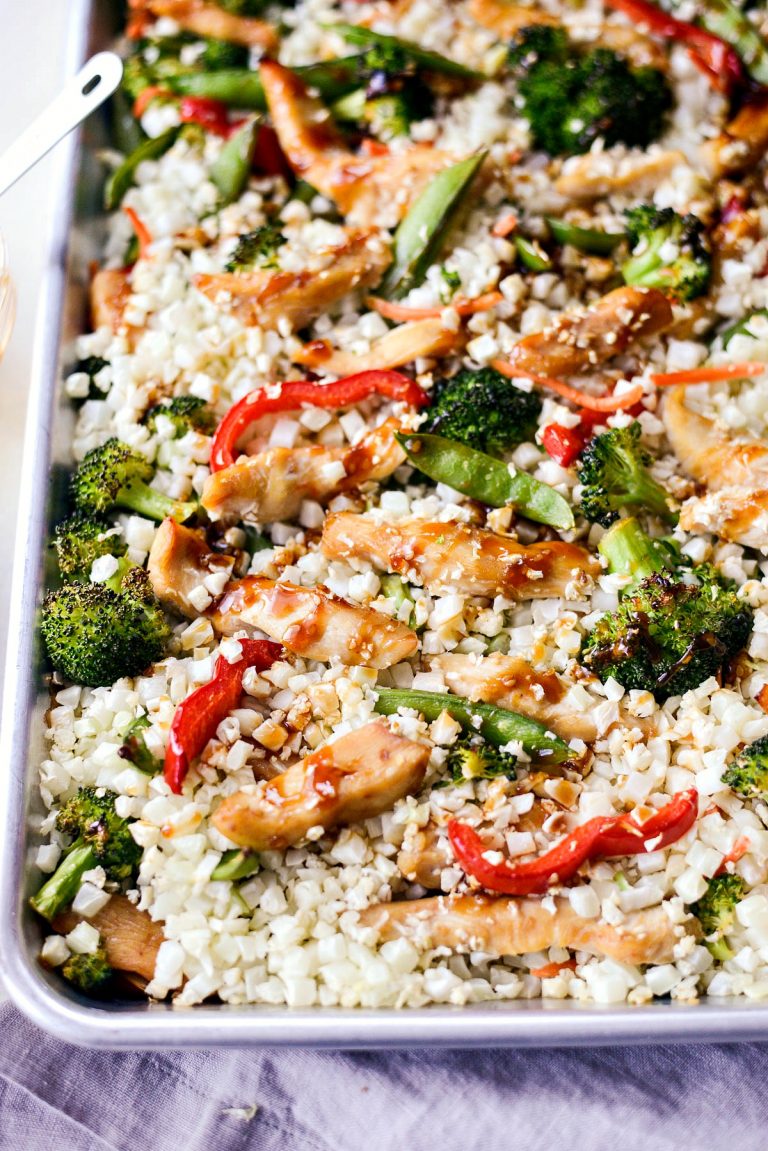 That's it! Juices from the teriyaki chicken and the vegetables will collect in the bottom of the pan, so I always give it a toss before serving.
Serve 2 to 2-1/2 cups of this colorful sheet pan teriyaki chicken and cauliflower rice and top it with green onions, toasted sesame seeds and sriracha if you like things spicy. I've also squeezed a wedge of lime over top.
Something to keep in mind is that this recipe is suppose to light and healthy. A satisfying meal you can feel good about (hence the small amount of teriyaki sauce). However if you want to add more teriyaki sauce for more saucy recipe, be my guest.
Enjoy! And if you give this Sheet Pan Teriyaki Chicken and Cauliflower Rice recipe a try, let me know! Snap a photo and tag me on twitter or instagram!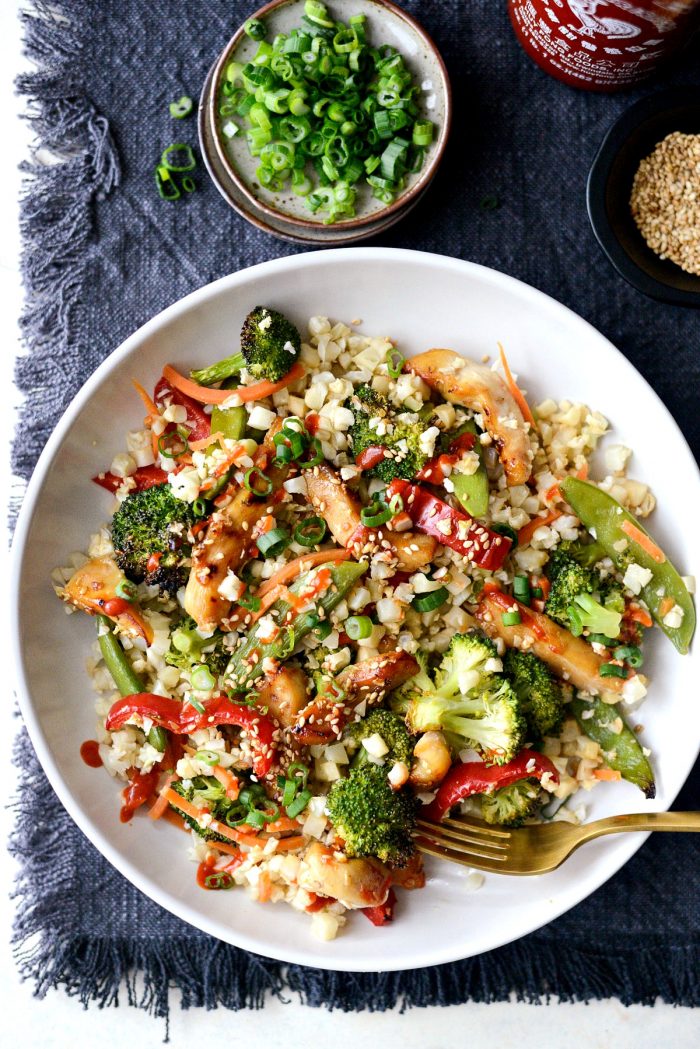 This post may contain affiliate links.
Buy the Cookbook: Simply Scratch : 120 Wholesome Homemade Recipes Made Easy Now available on Amazon »
THANK YOU in advance for your support!