"It's your outlook on life that counts. If you take yourself lightly and don't take yourself too seriously, pretty soon you can find the humor in our everyday lives. And sometimes it can be a lifesaver." – Betty White
Hello 2022!
This makes my Twelfth year in review post! Incase you're new here (welcome!), in the beginning of every new year, I recap the last 365 days and pile it all into a very long, very wordy and overly photographed post. It's fun to look back at these posts and remember the milestones, triumphs and the trials and tribulations of life. A lot of things have happened over the years and I'm glad I have these posts so I can keep track of it all – it's sort of a yearly chronological journal.
This year was pretty low-key chill. Mostly Pat and I did quite a bit of projects in and around our home – which are my favorite things to do! We also went on a few local get aways by ourselves and with our close friends. It definitely was a little better than the year before. And I can't wait to tell you all about it.
But First, Food.
I've said it once and I'll say it again, I love my job.
I first started this food blog as a creative outlet, I had no idea I could turn it into a full-time business. I love everything about the process. From writing and testing recipes, to shooting and editing the photos. And of course, there's the eating of the food – which obviously is the BEST part. This year I blogged 127 new recipes and updated 20+ older recipes with new photos and/or more concise instructions. Definitely not as much as I did the year prior, but I was and am still working behind the scenes on a few other things. Still a successful year to say the least!
Bellow are a few of favorites from 2021. Normally, us bloggers turn to Google Analytics to find out the years most popular posts. But I like to share both the popular and our personal favorites. Because Google knows a lot, but it doesn't know everything.
Focaccia Pizza Supreme is just that, homemade focaccia is topped with pizza sauce, three different meats and cheeses and a plethora of our favorite veggie toppings! A deep dish pizza that is packed with flavor, texture and lots of cheese. Serves 8.
Morning Glory Muffins are wholesome and filled with a lot of nutritious goodness! Great for grabbing breakfast on the go, packing in lunch boxes or enjoying as a sweet treat after dinner. Freezer friendly too! Yields 21 muffins.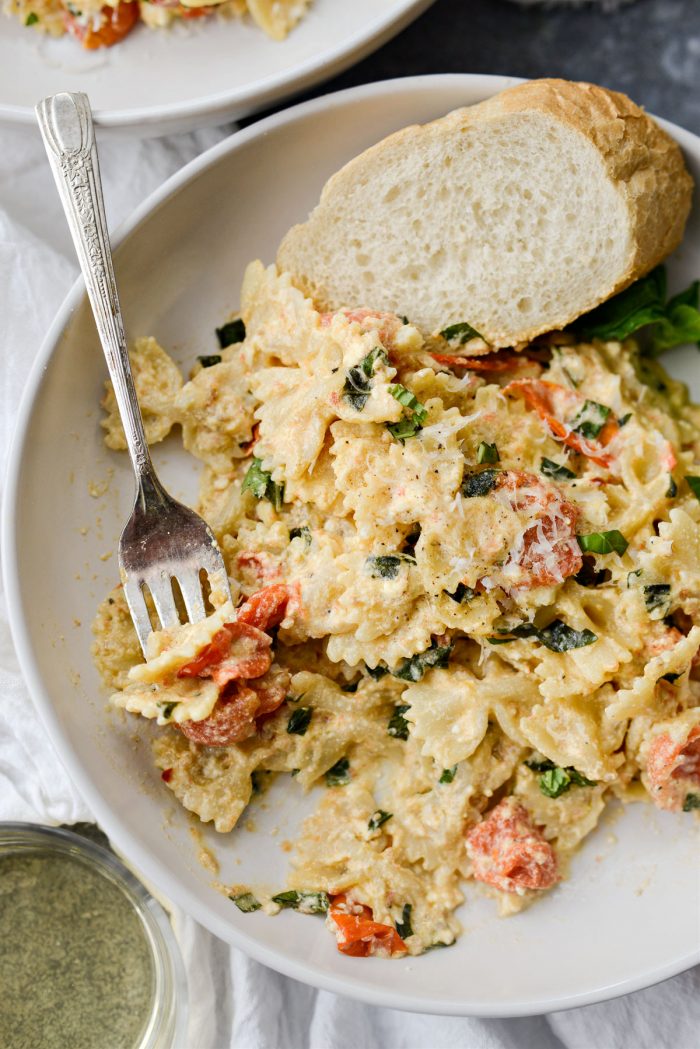 Inspired by the recipe that's so popular it created a feta shortage in Finland! One Pan Lemony Orecchiette with Sausage and Broccolini is a simple yet an incredibly delicious meatless pasta dish. In it, Cherry tomatoes and a block of feta cheese are baked and mixed with fresh garlic, hot cooked pasta and fresh basil for a luxurious cream dish. This is a pasta dish anyone can make as it's pretty much effortless and foolproof. Serves 4 to 6 in under an hour.
One Pan Lemony Orecchiette with Sausage and Broccolini is a light and fresh salad. Spring greens topped with juicy strawberries, crumbled goat cheese, sliced avocado, grilled chicken and candied pecans before being drizzled with a simple raspberry walnut vinaigrette. This recipe serves 4 individual entree salads.
These Carrot Cake Cupcakes are moist and incredibly flavorful. A classic carrot cake recipe jazzed up with 6 different spices, coconut oil and vanilla extract. And if that wasn't enough, they are finished with a simple brown butter cream cheese frosting! This recipe yields 12 cupcakes.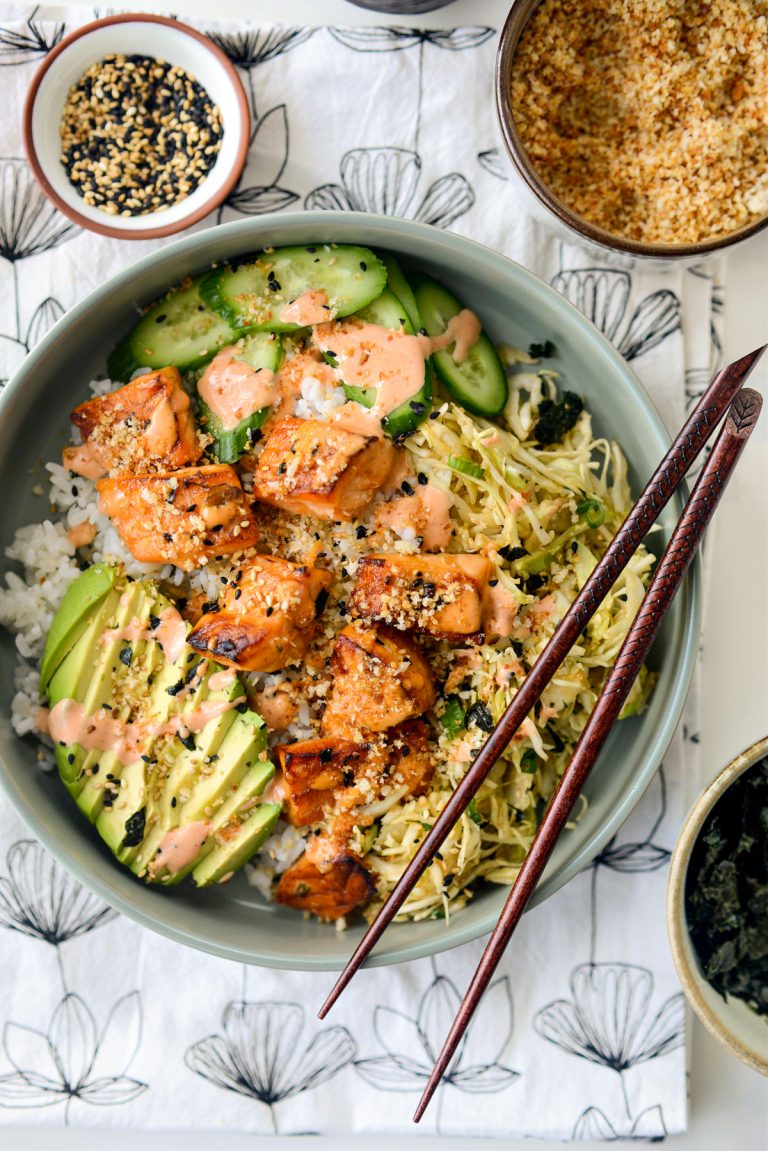 This Spicy Salmon Maki Bowl is sushi inspired and has everything we all love deconstructed into a fabulous, healthy and wholesome bowl. Sushi rice, a zippy cabbage slaw, sliced avocado, cool crisp cucumbers and broiled marinated salmon. Sprinkled with crushed nori, sesame seeds, a crunchy panko topping and drizzled with an incredible spicy mayo. This recipe serves 4 and is also great for meal prep!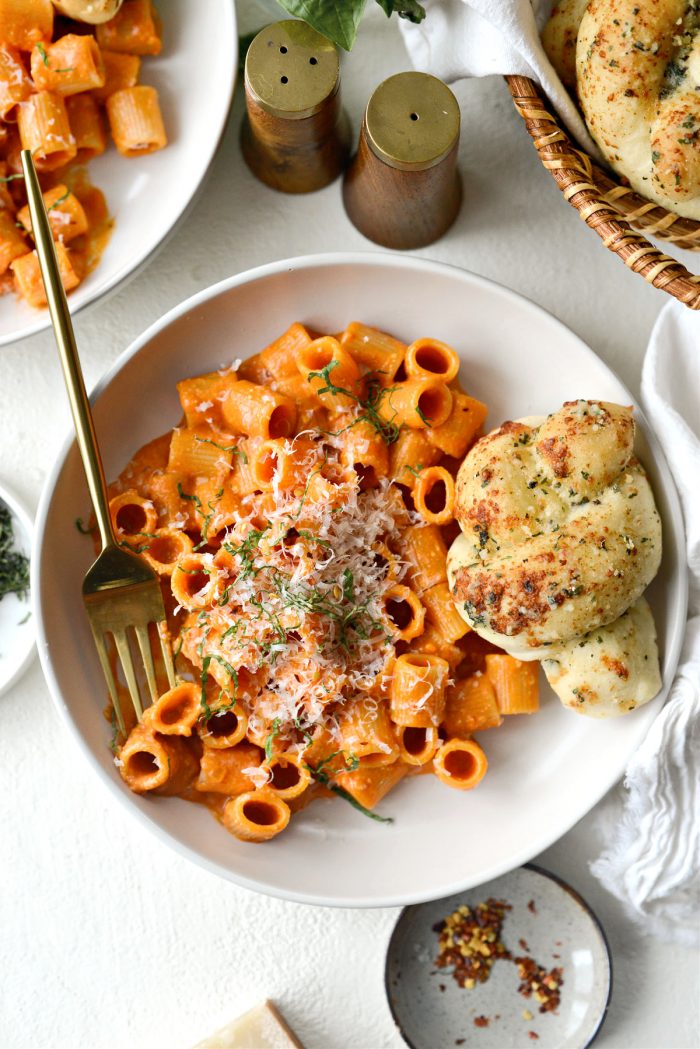 Spicy Pasta alla Vodka is a lusciously creamy and cheesy tomato sauce spiked with vodka and with a delicious spicy kick. This recipe serves 2 generous portions or 4 smaller servings.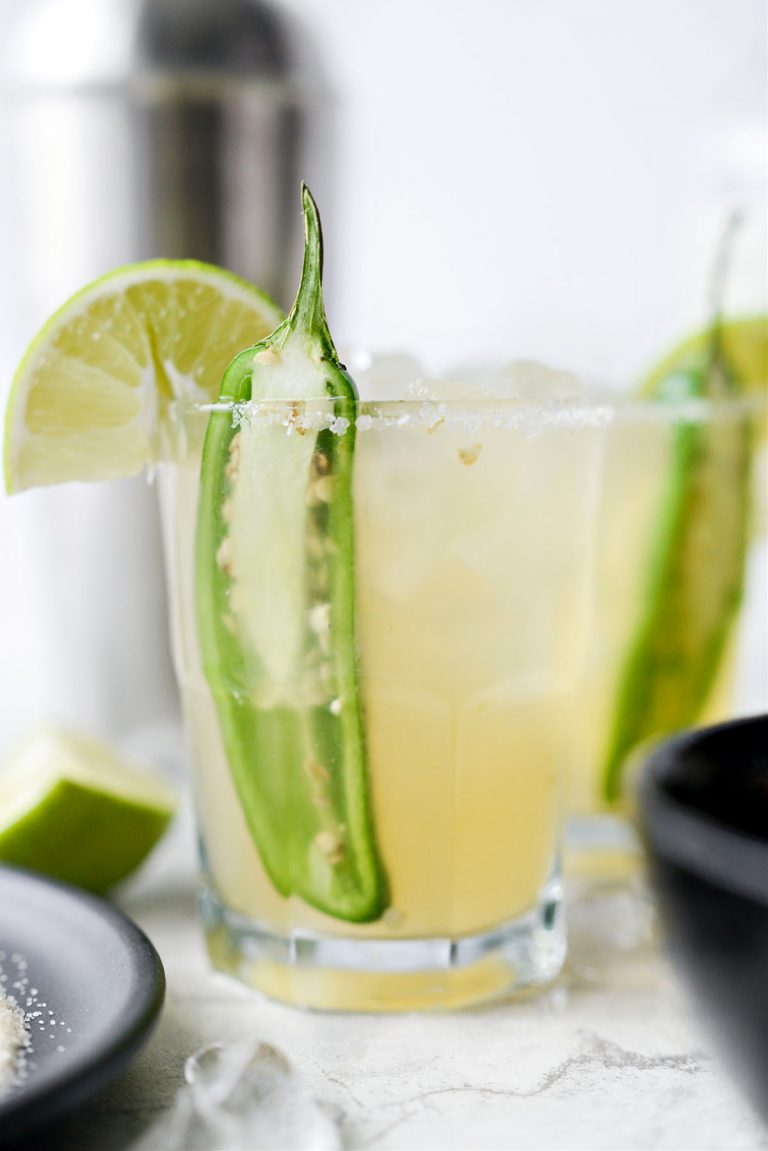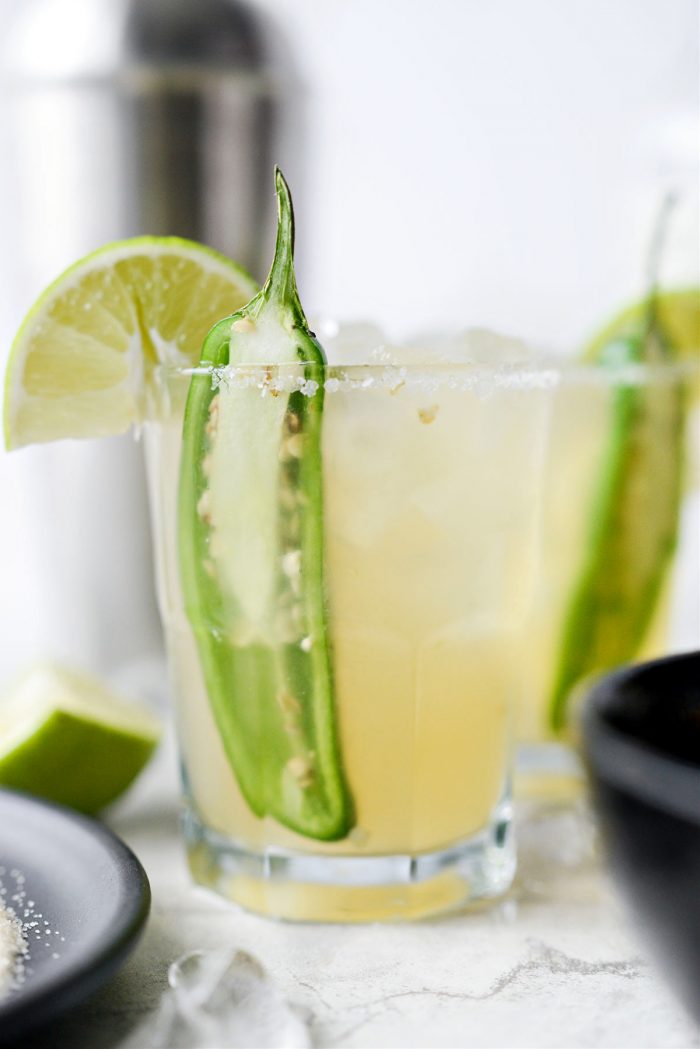 Celebrate Cinco de Mayo with Spicy Jalapeño Margarita! I make mine by muddling fresh jalapeño and shaking it with tequila, cointreau, lime juice and vanilla syrup! This recipe serves 2 but can easily be doubled.
Pesto Pasta Salad is simple, light and a delicious crowd-pleasing side dish! Cooked pasta, roasted asparagus, sweet cherry tomatoes, fresh pearl mozzarella and toasted pine nuts tossed in a homemade basil pesto.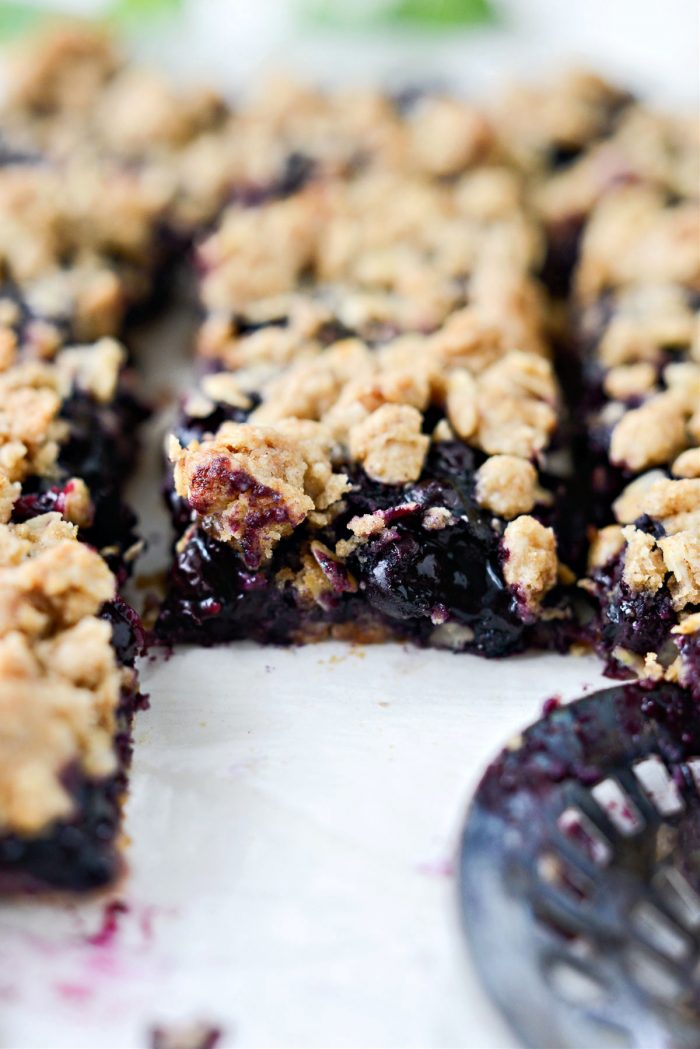 Blueberry Oatmeal Crumble Pie Bars are so easy and delicious! A simple jammy maple sweetened blueberry filling is sandwiched between two layers of a buttery oatmeal crumb mixture. Yields 9 to 16 – depending on how you cut it.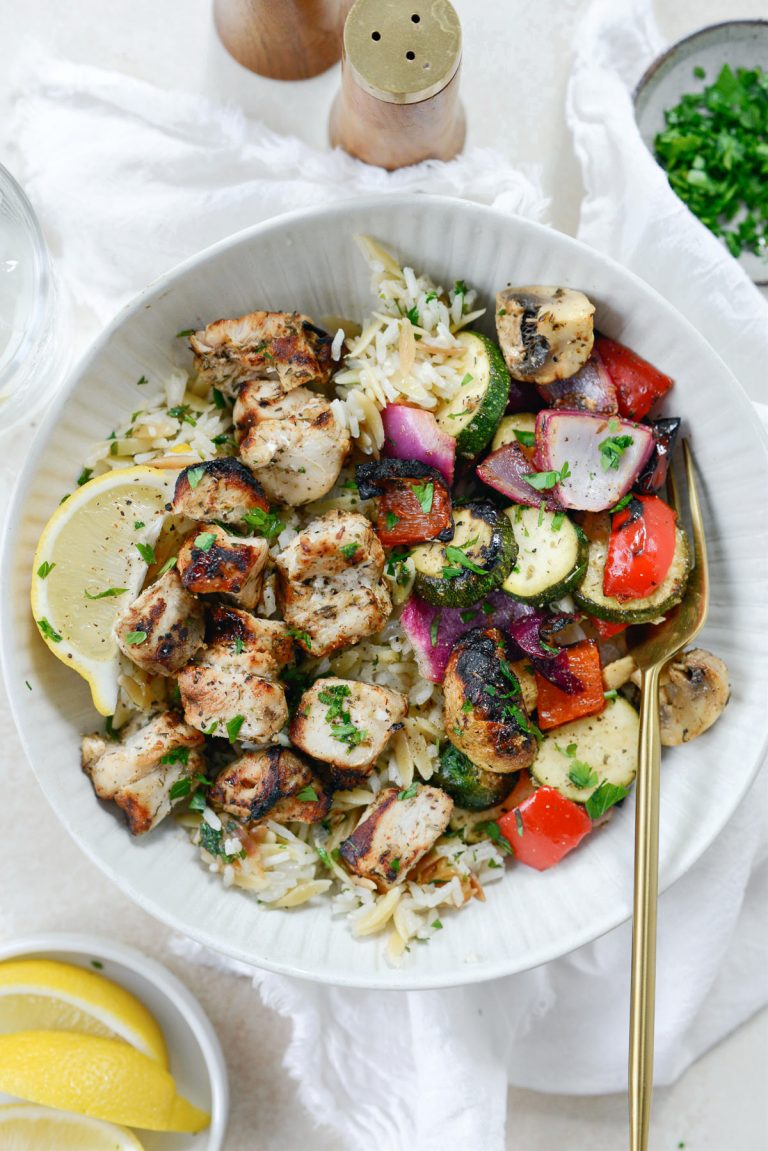 ThisChicken Souvlaki recipe is so EASY! A simple Greek marinade is divided among cubed chicken breasts and a mix of veggies. The chicken is then threaded on to metal skewers and grill along side the vegetables which cook in a metal grill basket. Serve with Greek Lemon Rice Pilaf for a deliciously healthy and satisfying meal! Serves 4.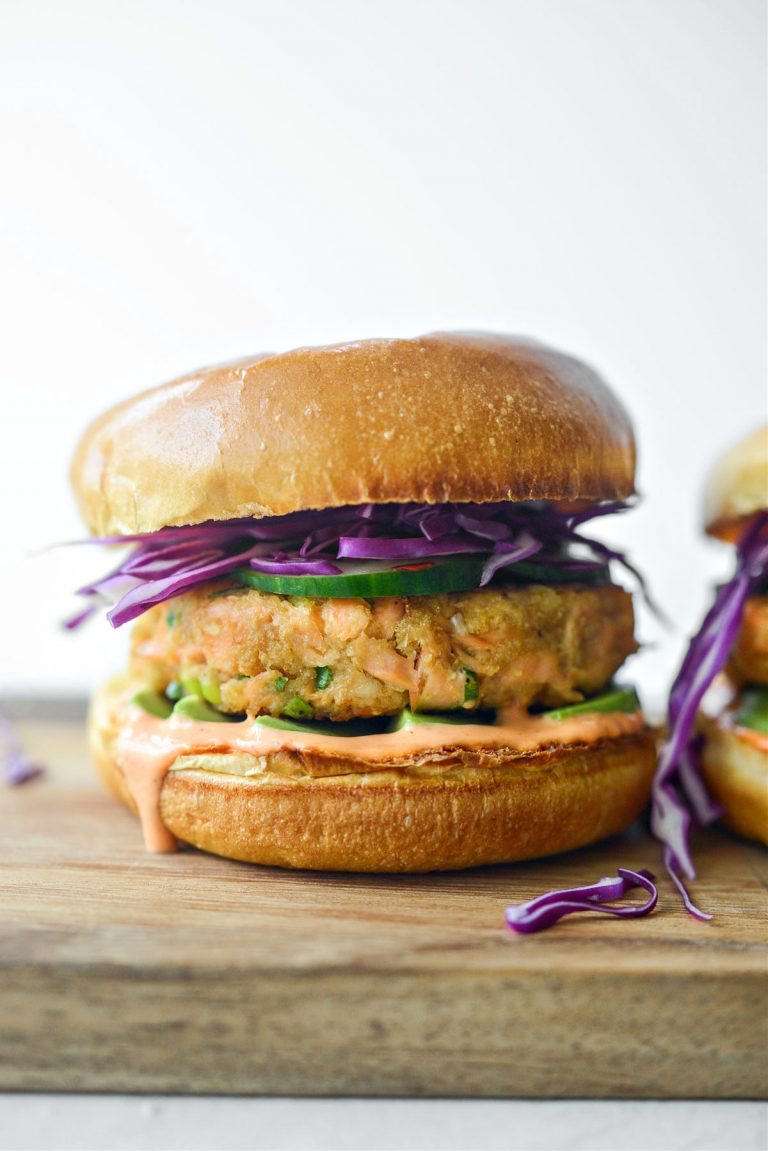 Spicy Salmon BurgersSpicy Salmon Burgers are simple and loaded with flavor. A ginger, garlic salmon burger topped with pickled cucumber, spicy mayo, avocado and shredded cabbage sandwiched between a toasted brioche bun. This recipe serves 4.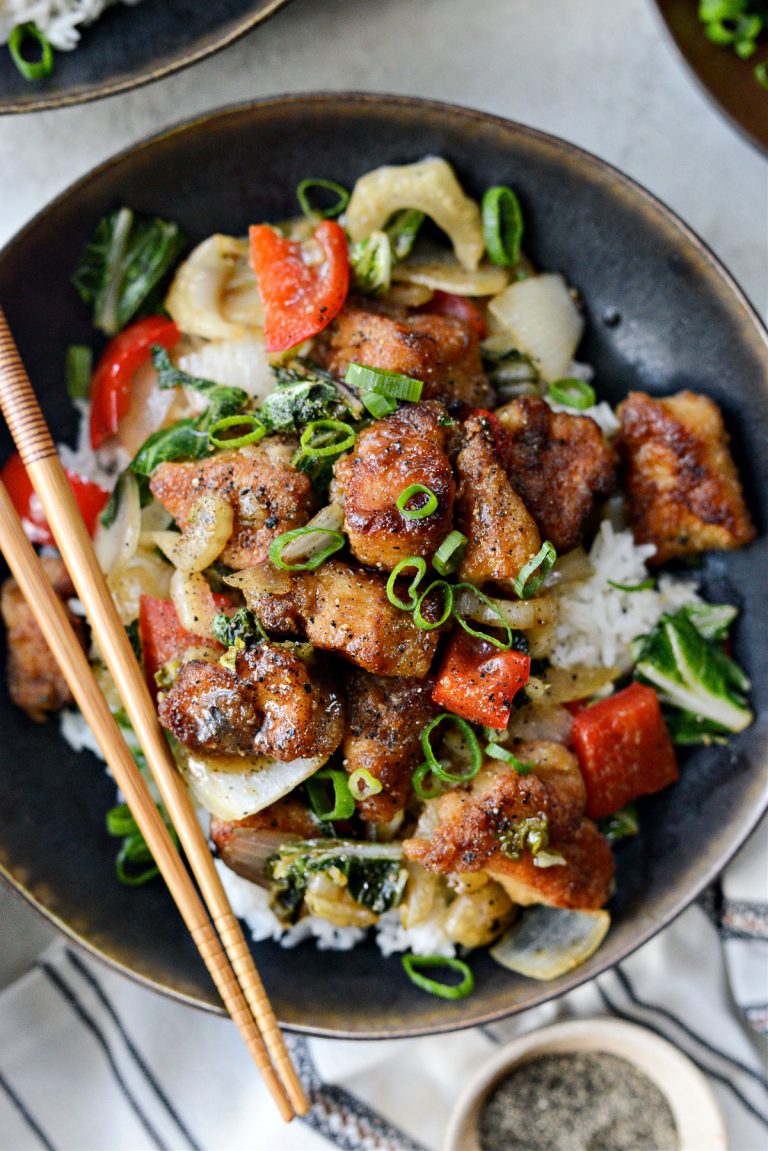 Black Pepper Chicken Stir-FryBlack Pepper Chicken Stir-Fry is a simple, sweet and peppery dish. Loaded with tender pieces of chicken, vegetables and is served over rice, it's not only healthy but super easy too. This recipe yields 4 generous entree portions.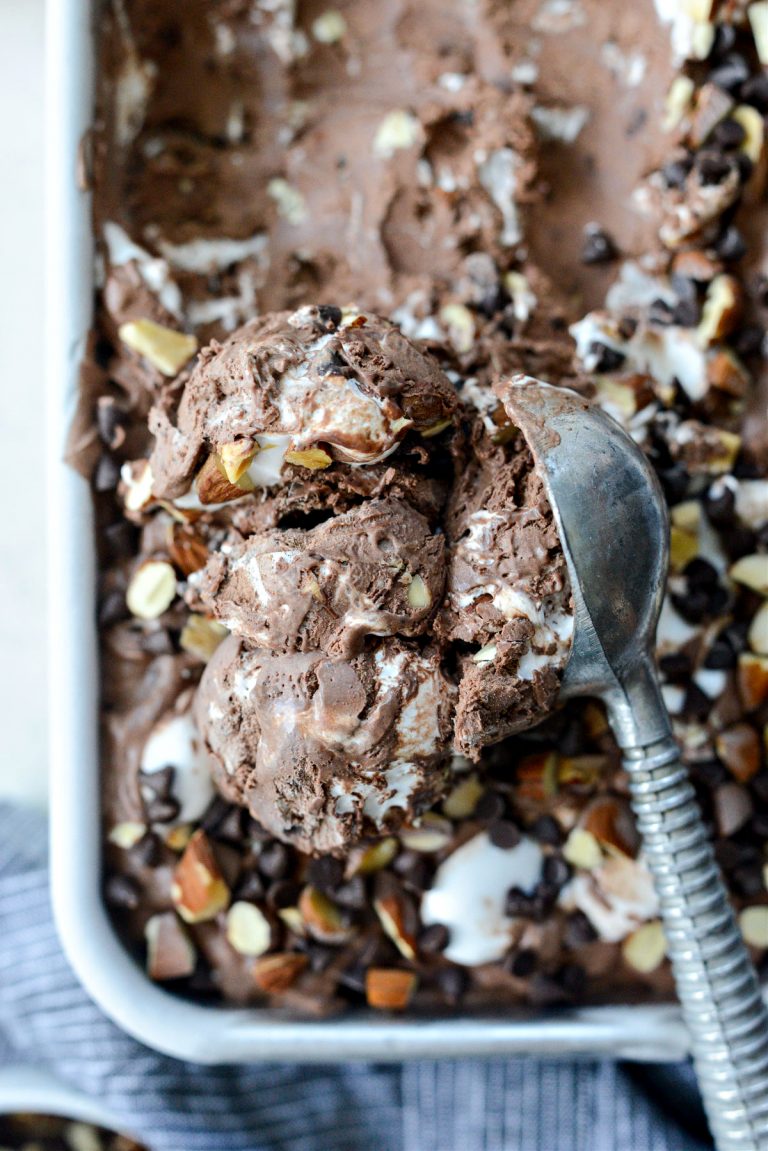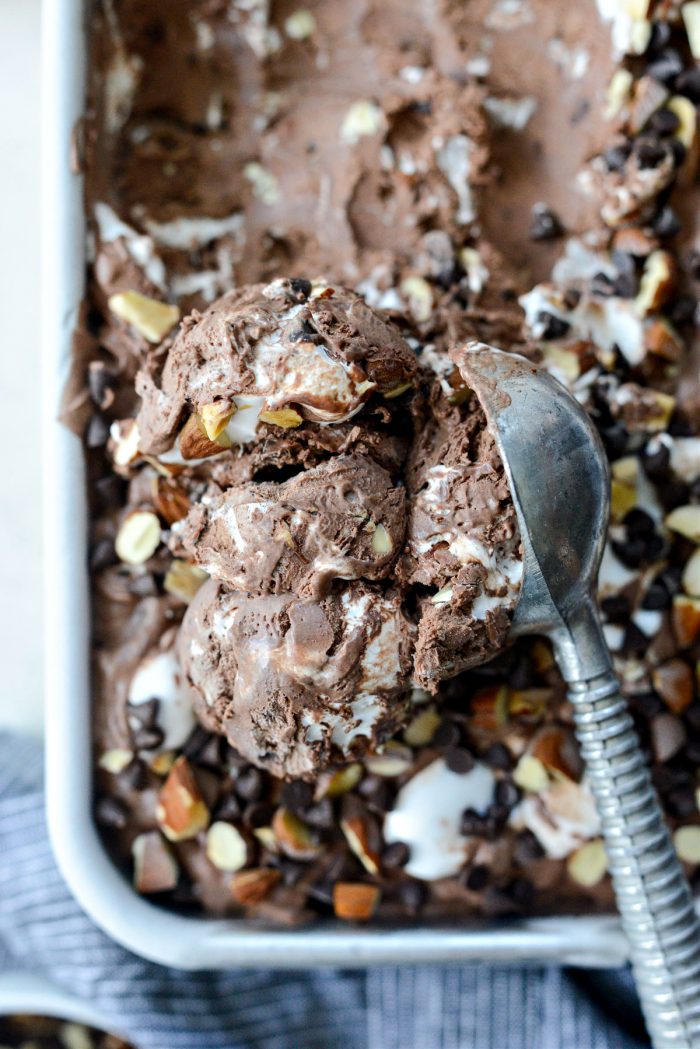 No-Churn Heavenly Hash Ice Cream is chocolatey, nutty and absolutely incredible! A rich and chocolatey ice cream studded with roasted almonds, mini chocolate chips and creamy marshmallow ribbons throughout.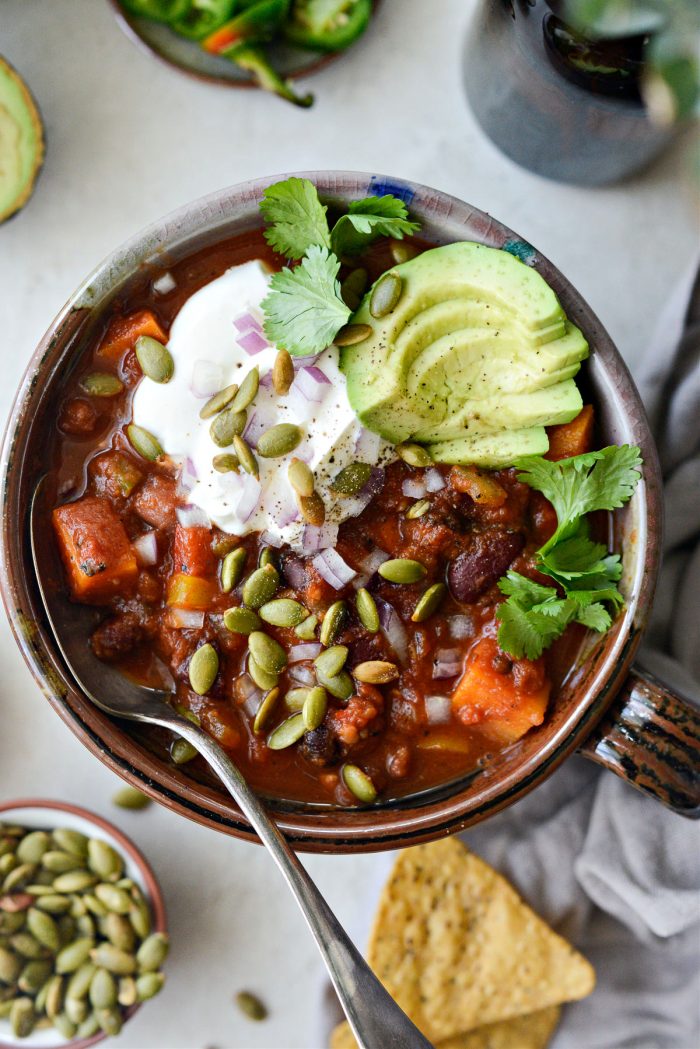 Vegetarian Pumpkin Chili is loaded with flavorful spices, colorful veggies and beans. Sautéed onions, peppers, jalapeño and sweet potatoes are seasoned with a blend of warm spices and simmer in a pumpkin and fire-roasted tomato sauce. This meatless chili recipe will serve 10 generous 1 cup portions.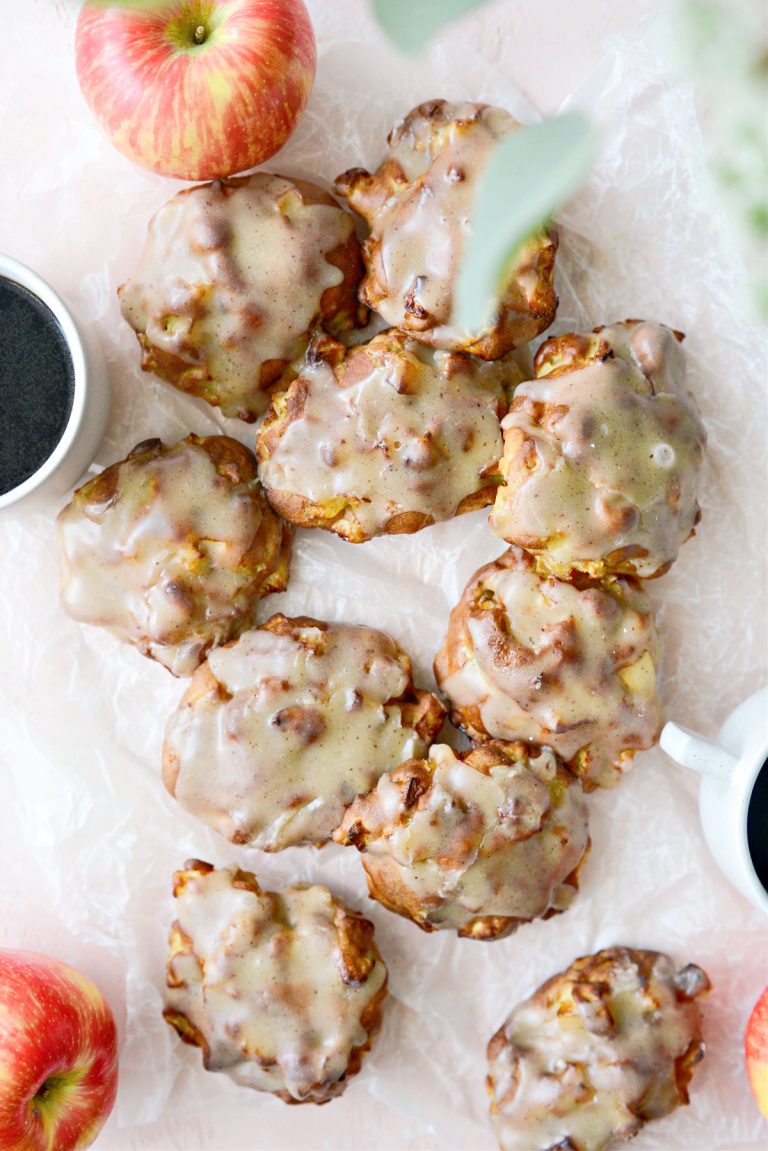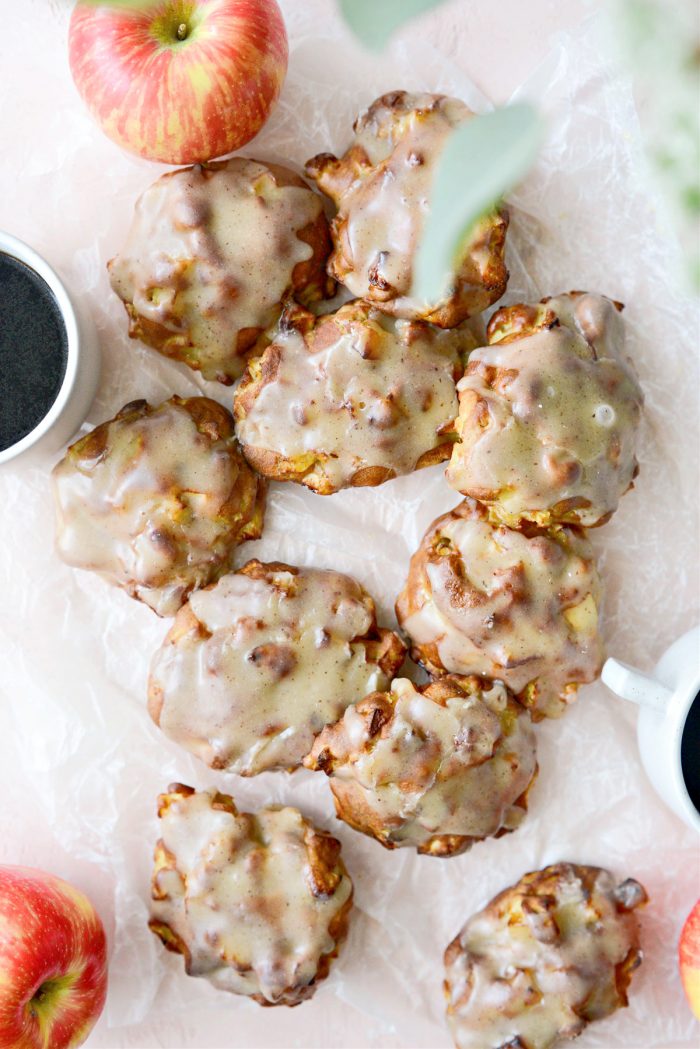 Air Fryer Apple Fritters are simple, delicious and a fall must! A cinnamon spiced fritter studded with tender honeycrisp and granny smith apples are finished with an incredible brown butter glaze. This recipe makes 10 apple fritters.
Cinnamon Roasted Hot Honey Sweet Potatoes is a quick, impressive and incredibly delicious side dish. Tender sweet potatoes in a sticky, sweet cinnamon and subtly spicy glaze. Yields 6 servings in about 40 minutes.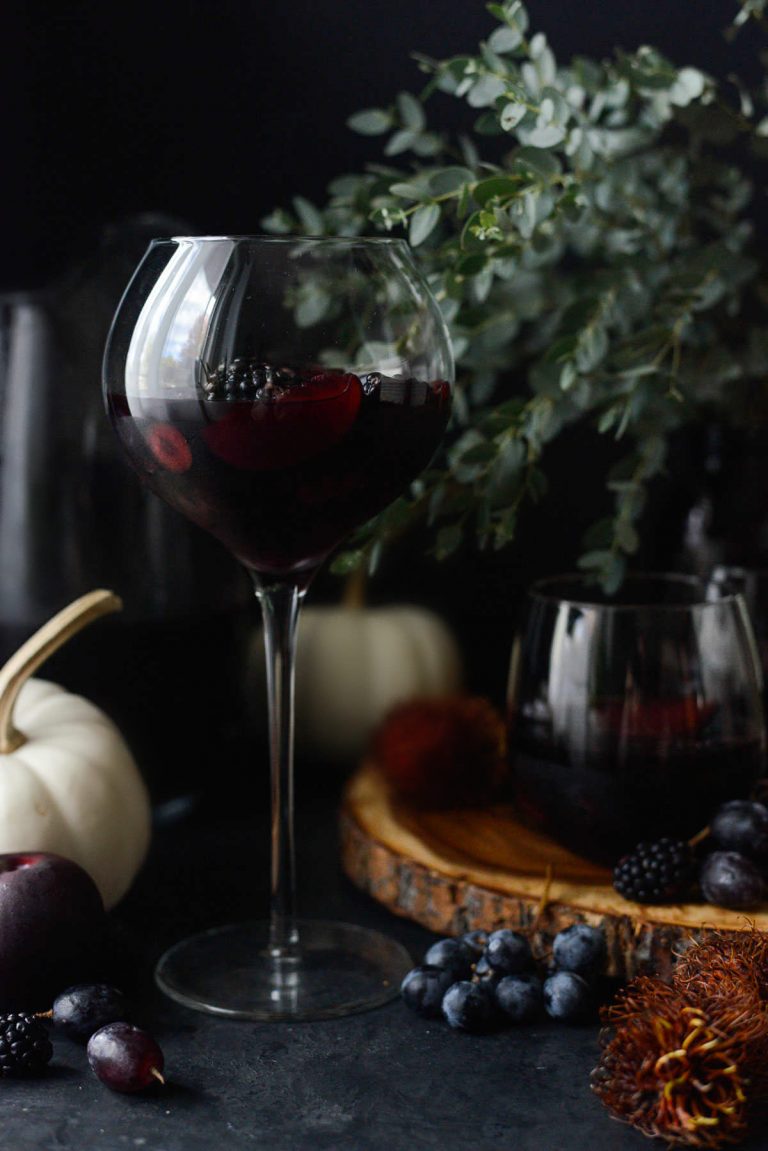 Black Magic SangriaBlack Magic Sangria is a dark, moody and bold alcoholic beverage. Sliced black plums, blackberries and grapes soak in dark red wine that's combined with vanilla brandy and sweetened with a brown sugar simple syrup.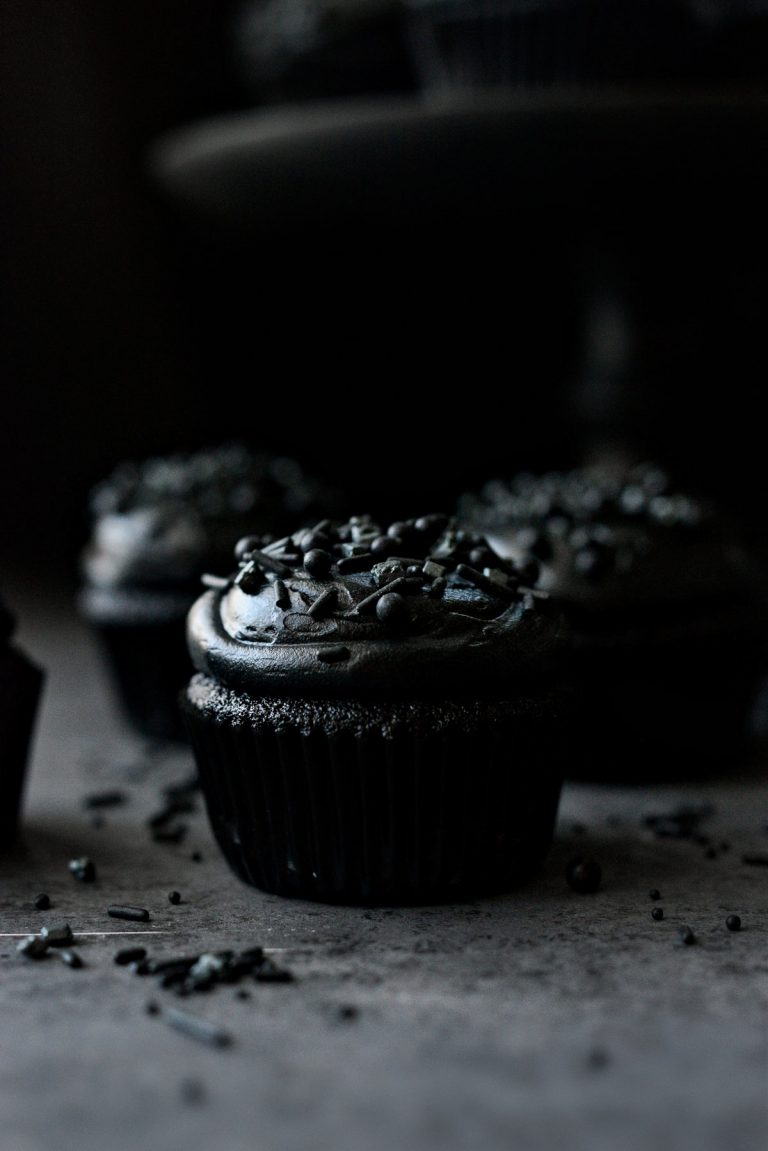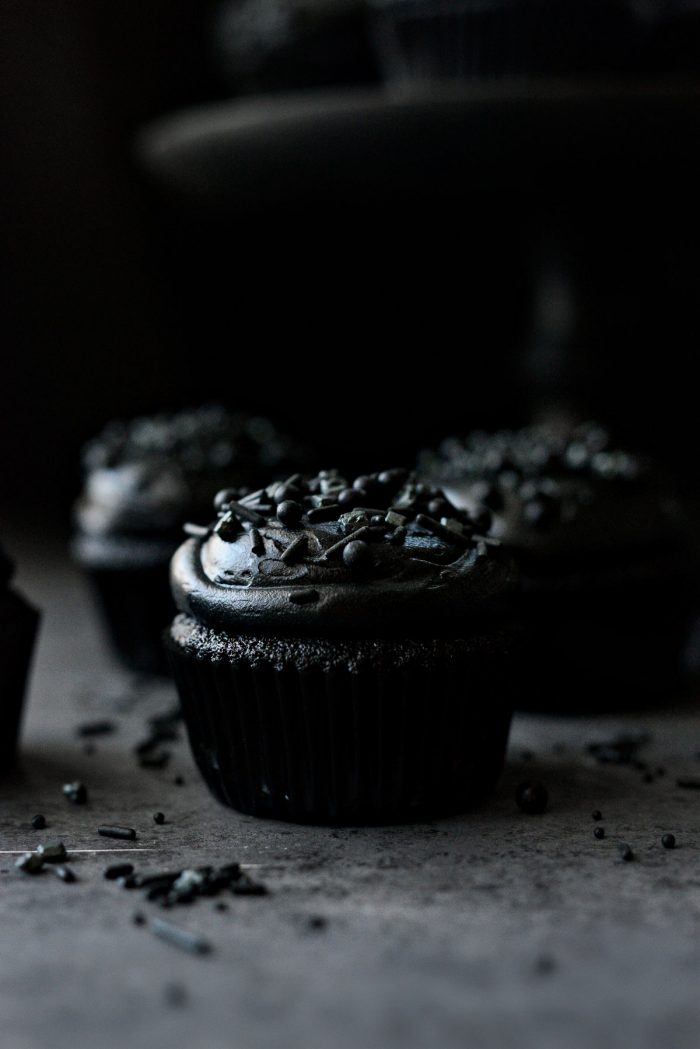 Black Velvet Cupcakes! A light and tangy buttermilk cake with a hint of black cocoa is frosted with a rich and decadent black cream cheese frosting. This recipe yields 24 cupcakes.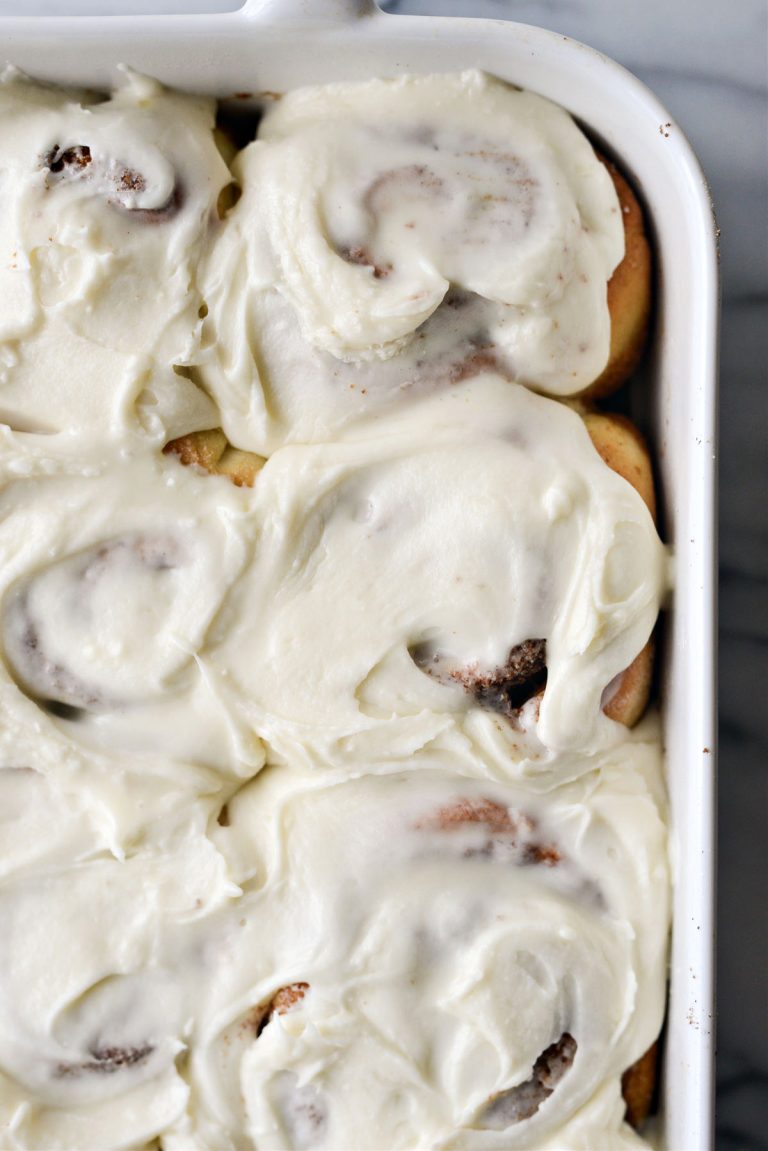 Homemade Cinnamon Rolls are a delicious and decadent sweet treat. In this recipe, a simple sweet yeasted dough is spread with softened butter, sprinkled with cinnamon sugar and rolled before being sliced and baked until golden perfection. Once baked, they are then topped with a generous amount of homemade cream cheese icing. This recipes yields 12 large cinnamon rolls.
Mel's Cheesy Potatoes is a classic side dish our family loves. A creamy and cheesy potato casserole topped with buttery crushed cornflakes, baked until golden and bubbly. This recipe will serve 10 to 12.
Pumpkin Pecan Pie Brownies are a rich and decadent treat! Moist pumpkin swirled fudgy brownies topped with a sticky-sweet pecan pie topping. Yields 9 incredible squares.
Creamy Tomato Parmesan Tortellini Soup is a simple one-pot soup with cheese tortellini, crushed tomatoes, parmesan cheese, spinach and fresh basil. Serves 6 generous (1-1/2 cups) servings.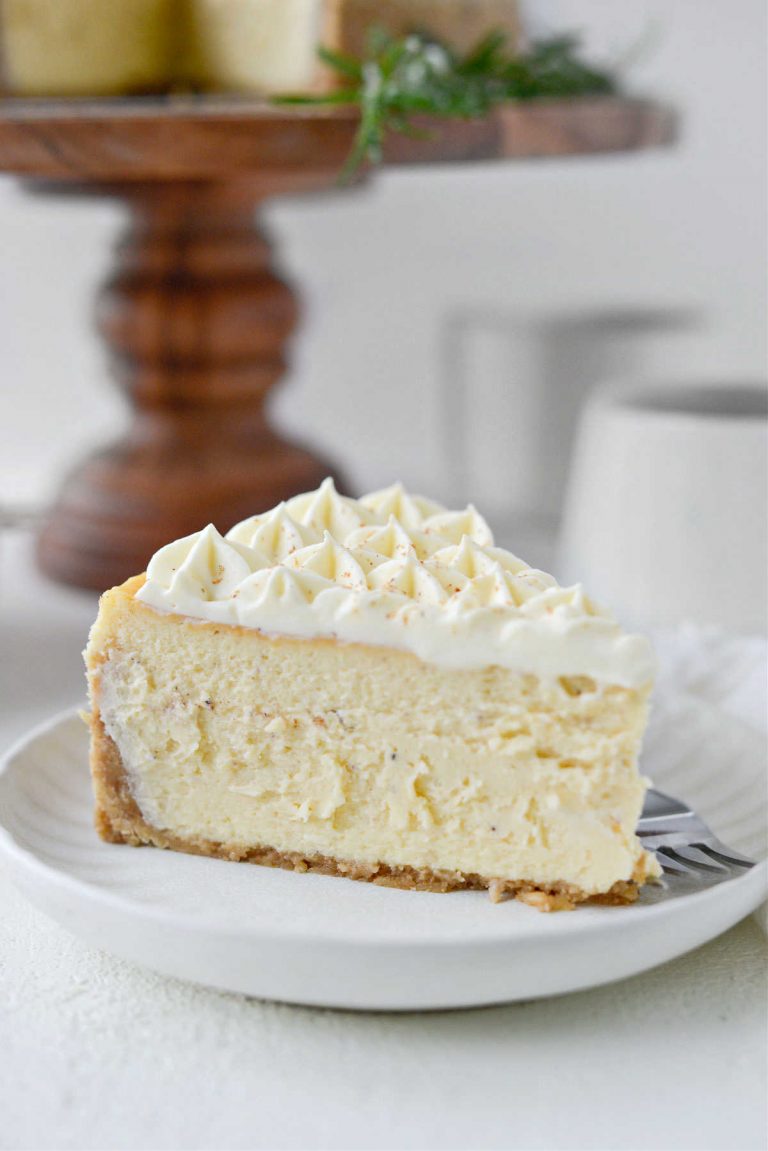 Eggnog Cheesecake is the perfect holiday dessert! A nutmeg spiced vanilla wafer cookie crust with a rich and decadent eggnog cheesecake filling is topped with eggnog whipped cream and dusted with fresh nutmeg. Serves 12 to 16 people.
Jalapeño Popper Dip is a spicy baked appetizer consisting of cream cheese, jalapeño peppers, sharp cheddar and Monterey jack cheese sprinkled with a crispy jalapeño topping. Baked until warm and golden and serve with your favorite corn chips. This recipe will serve 10.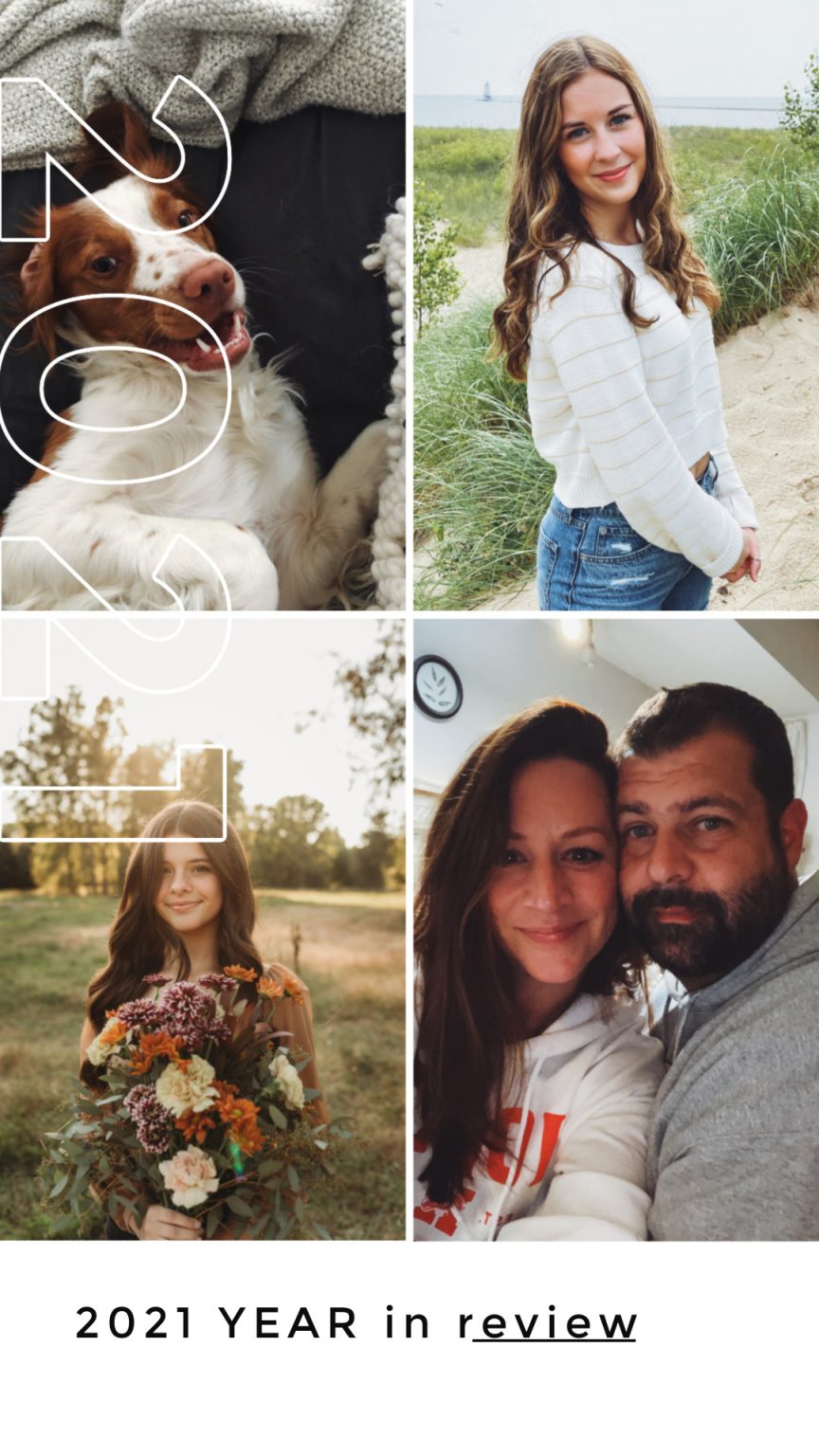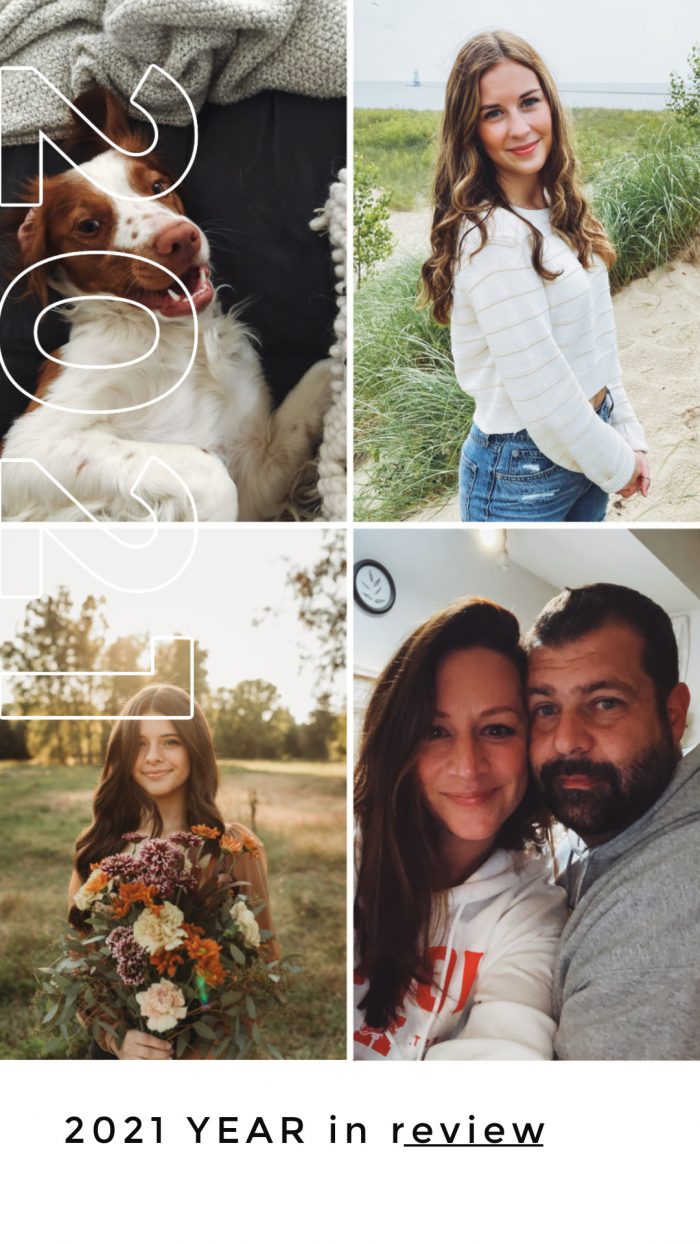 We really tackled some projects in the spring and summer months. Most we did together and some on our own. Either way, we both had a lot of things we wanted done before Malloree's graduation party the following summer.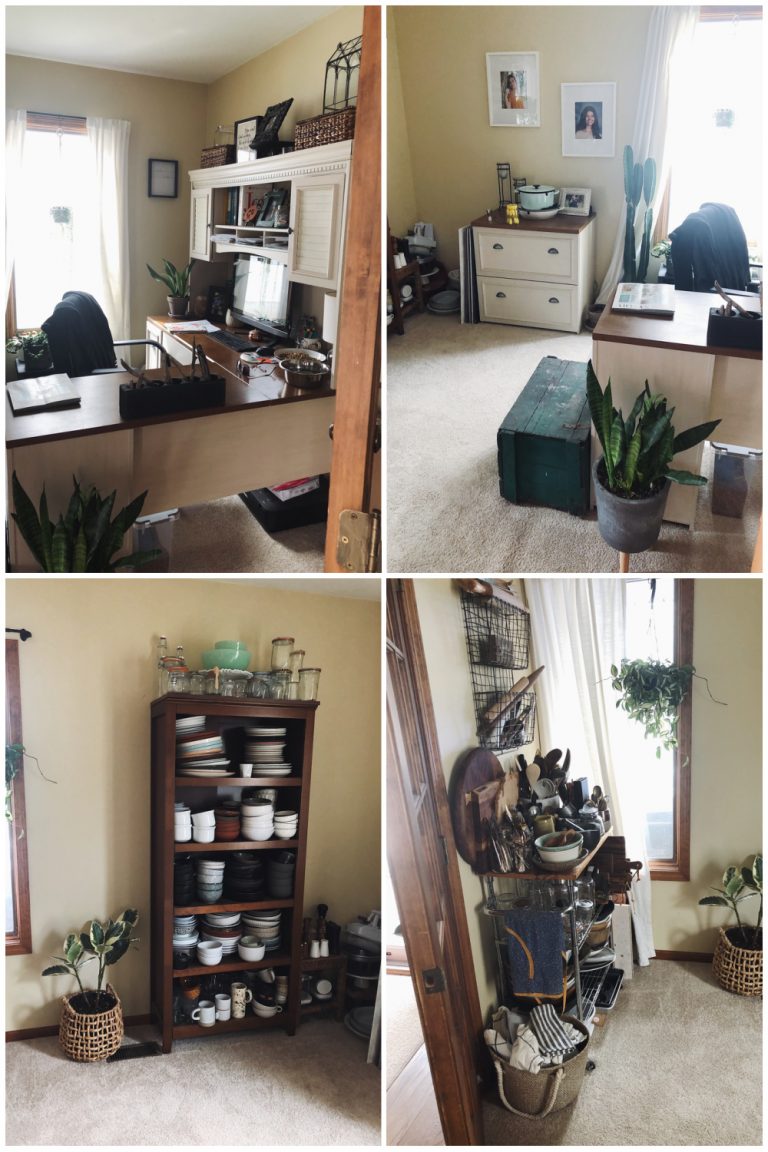 In early spring I remodeled my office. This was something I've been wanting to do for years. Pat left to go turkey hunting three weekends in a row, so I planned it out and tackled this BIG project while he was out of town. As you can see, my office was cluttered with all my blogging dishes and mismatch office furniture. I went through every single thing in this room and either pitched it or donated to The Salvation Army. Thankfully, I did have Pat's help taking apart the furniture, which was definitely needed.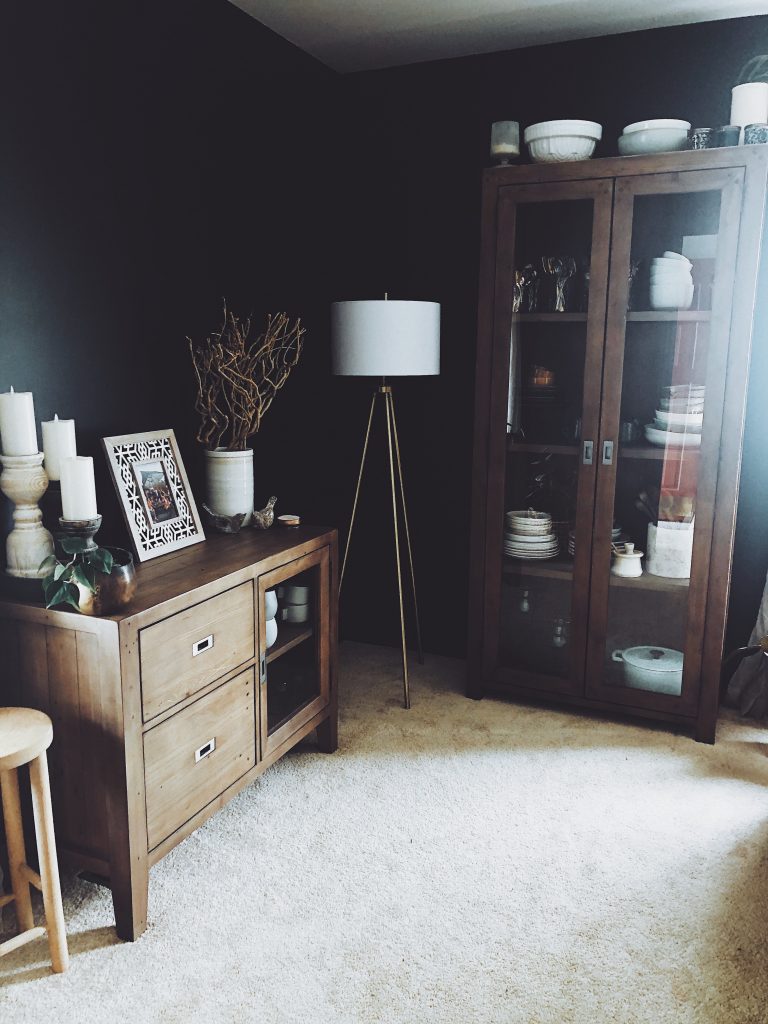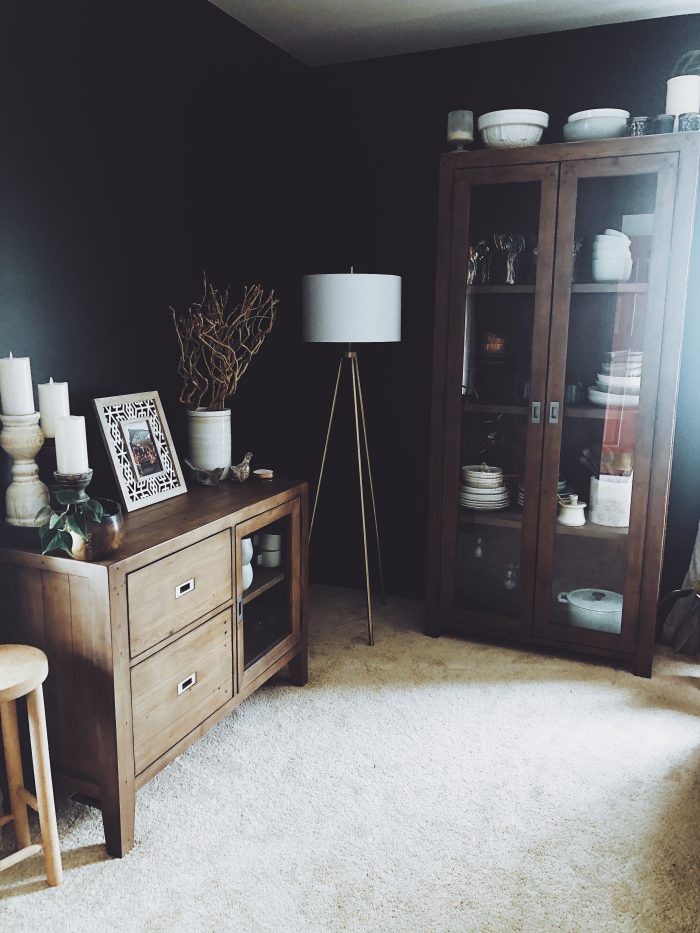 Once the room was cleared out, I painted the walls and all the trim in "caviar" which is a Sherwin Williams color, but sine we like Valspar paint, we had them color match it at Lowes. Once the furniture was delivered, I only added back a few of my favorite dishes, pots and plants etc. The rest of my props are on floor to ceiling shelving Pat built for me in a storage room in our basement.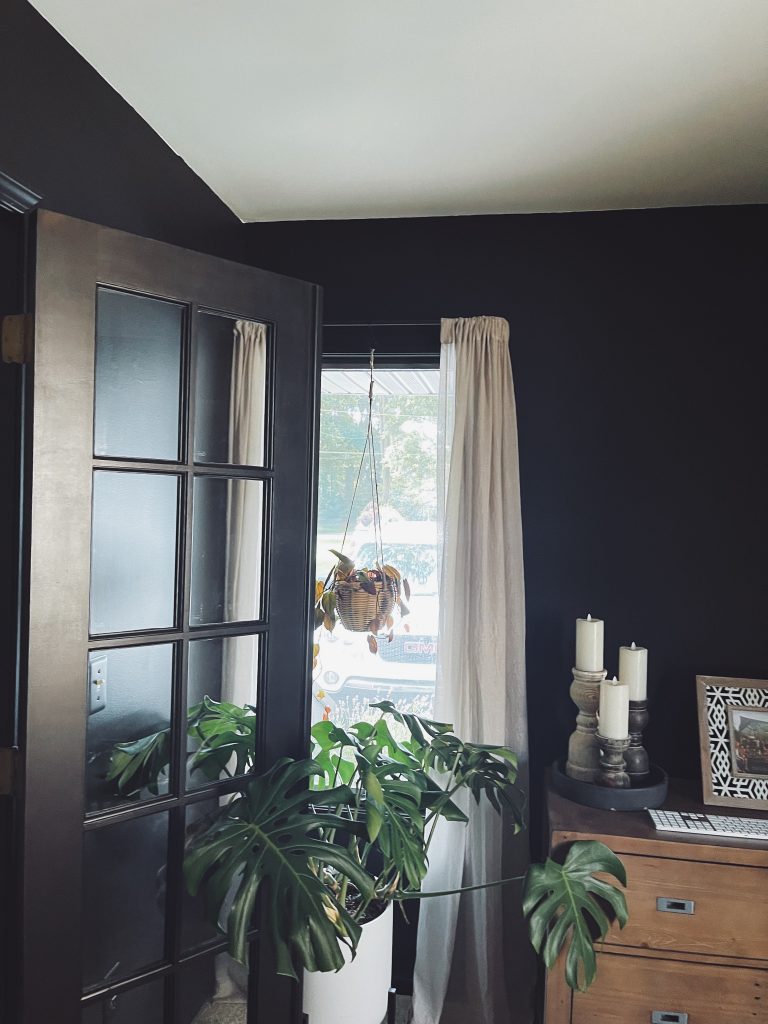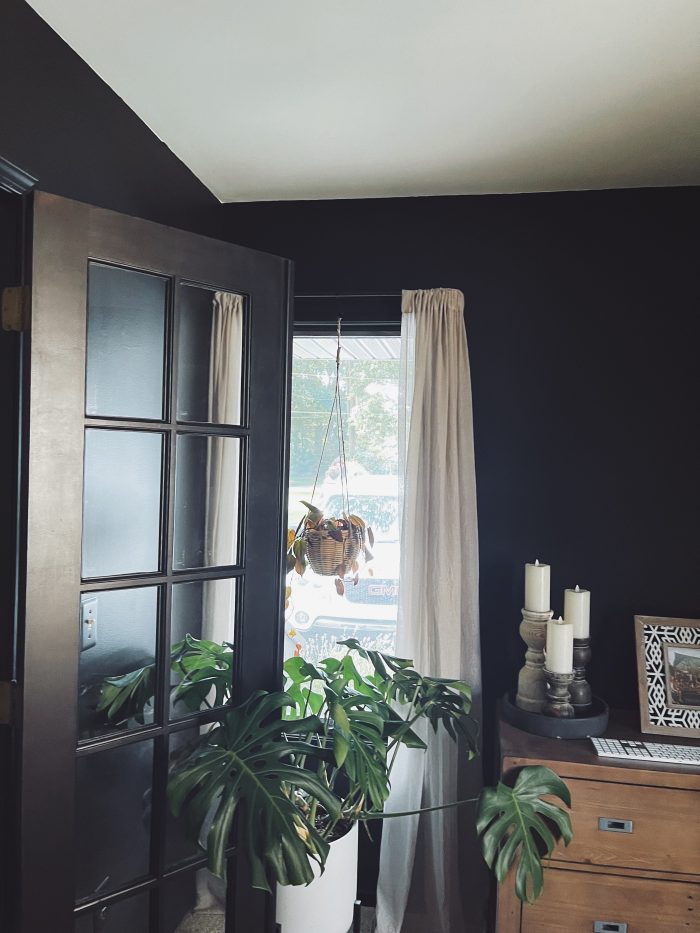 I also painted the French doors to match the walls. This took weeks to do but so worth it! Since I took all of these, I have rearranged a few things, hung stuff on the wall. However, I'm still waiting to find something to put on the wall behind my desk. But I love this cozy space so much!
On Pat's to-do list was to update our shed. Obviously it's seen better days.
Pat re-shingled the roof, built new doors and together we painted it on the hottest day of summer. Naturally.
Pat wanted to get this done before our new driveway was put in. Again, this is something that was well overdue.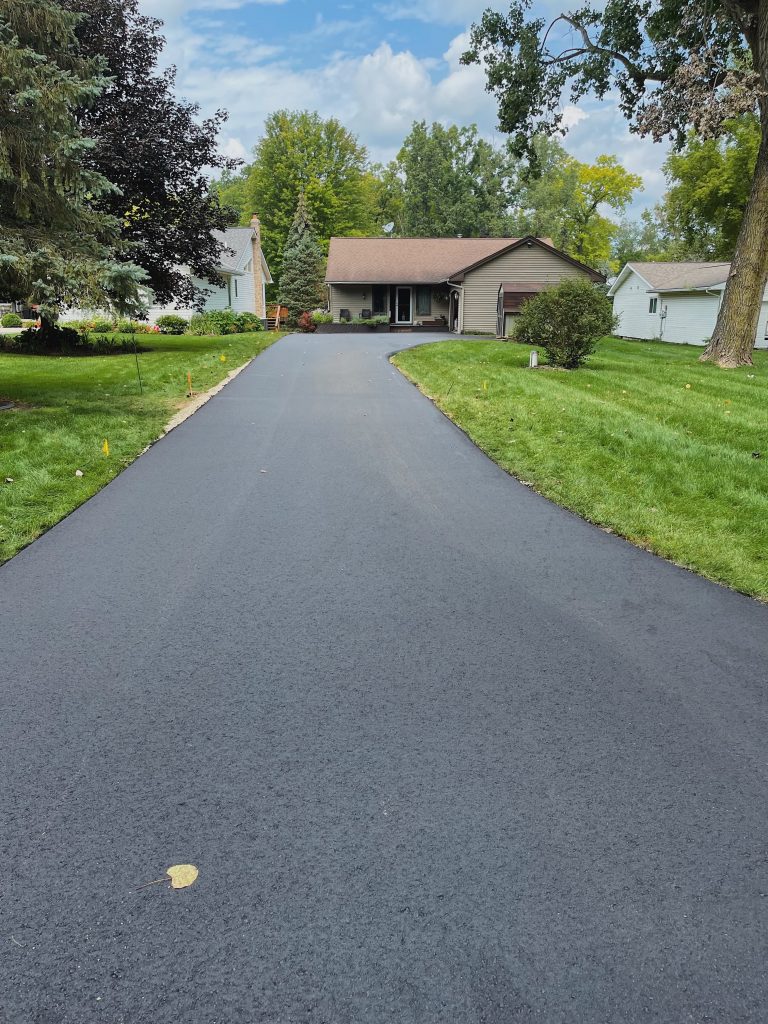 We had them widen it, extend it to the shed (goodbye pavers!) and they ran Finn's invisible fence underneath it. It's SO nice and smooth to drive on!
Over Fourth of July weekend, I ripped out what felt like a thousand tiger lilies from this one section of our flower beds. I could kick myself for not taking a real before shot. This whole area was so over grown and a major eyesore.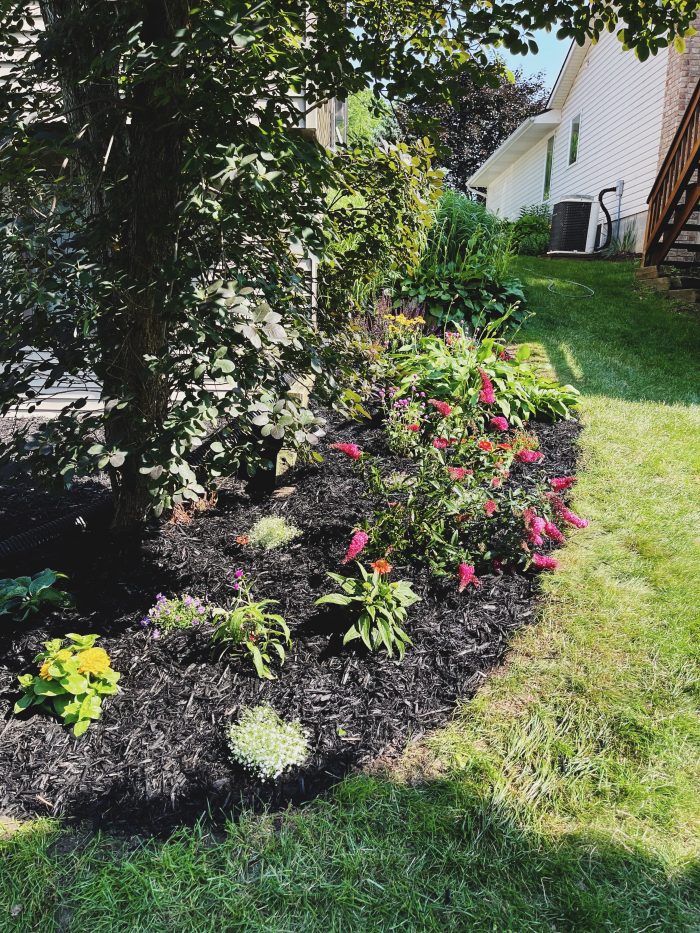 Then I sprinted to Bordine's nursery and and picked up an array of colorful flowers to plant. After that, Pat and I laid down 32 bags of mulch. As a girl who never liked weeding, I've grown to love it. Gardening is like cooking, fun while also being therapeutic.
Haileigh finished sophomore year with incredible grades and then worked all summer long cashiering before moving into her first apartment up at school. Her roommates (friends!) are the same from her first two years in the dorms at CMU. This fall she loaded up her classes with 18 credits and made the presidents list! H also started a clinical as a writing coach to elementary students. She went into the classroom twice a week helping students writing processes, strategies and revisions.
While not in class, she hangs with her roommates and neighbors doing college things like football games and parties.
You know, living her best life.
Malloree ended her junior year and began her final year as a senior in high school! And with that, sadly I was the beginning of lot of lasts. For example, she performed at her last football game, went to her last homecoming and performed in her last parade with her dance team. It's bittersweet for sure. After high school, Malloree plans to go to college and become a dental hygienist.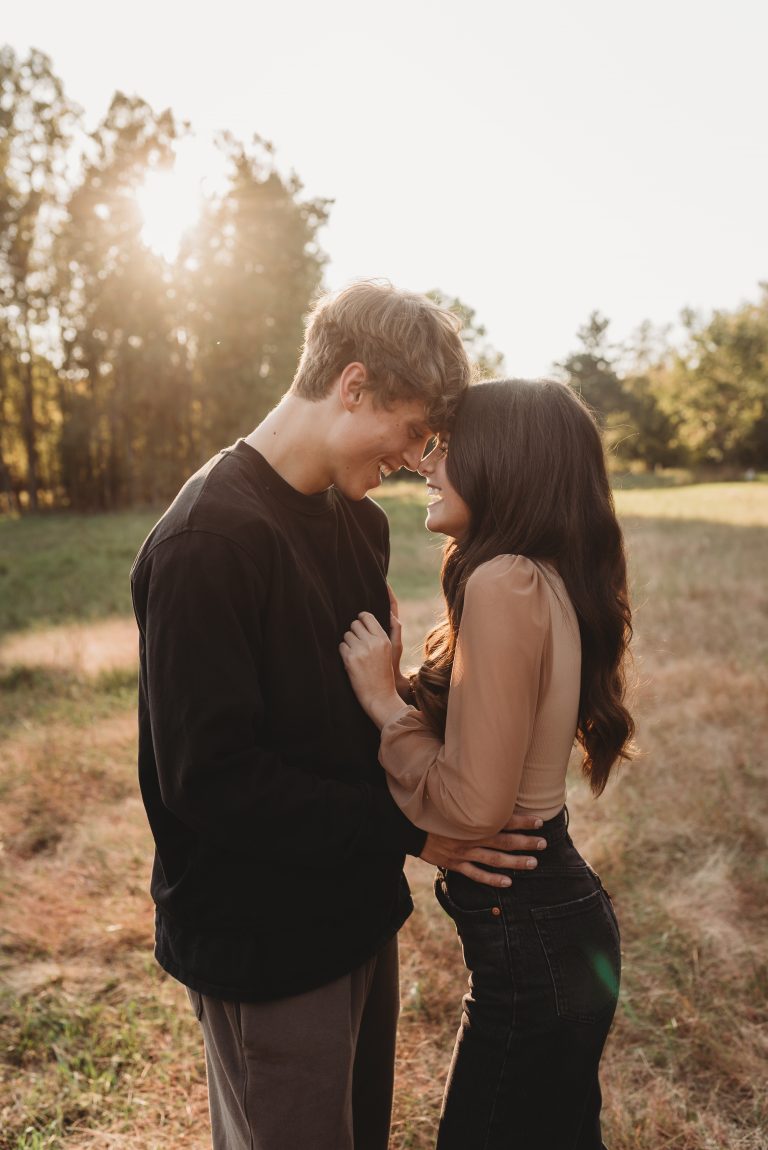 When she's not dancing or getting coffee with friends, she spends quality time with her boyfriend Caleb. I swear they have the best dates. From a helicopter ride over Detroit to attending Michigan football games. He recently took Mal skiing for her first time! Caleb even surprised her at her fall senior photoshoot. I swear, these two are inseparable.
Over the summer her sister, best friend Kylee (my daughter from another mother) and I took off to the west side of the mitten. Where Lauren (of Lauren Elaine Photography) met us to take some amazing senior photos. We spent the remainder of our trip eating, shopping and watching sunsets. It was the best girls trip!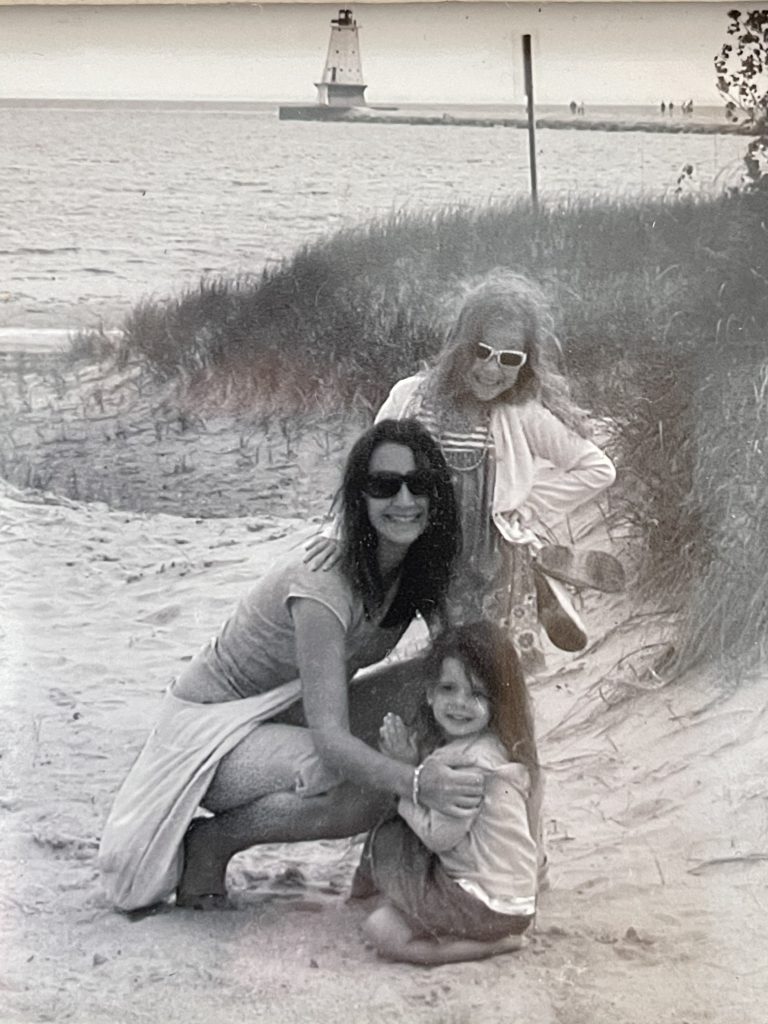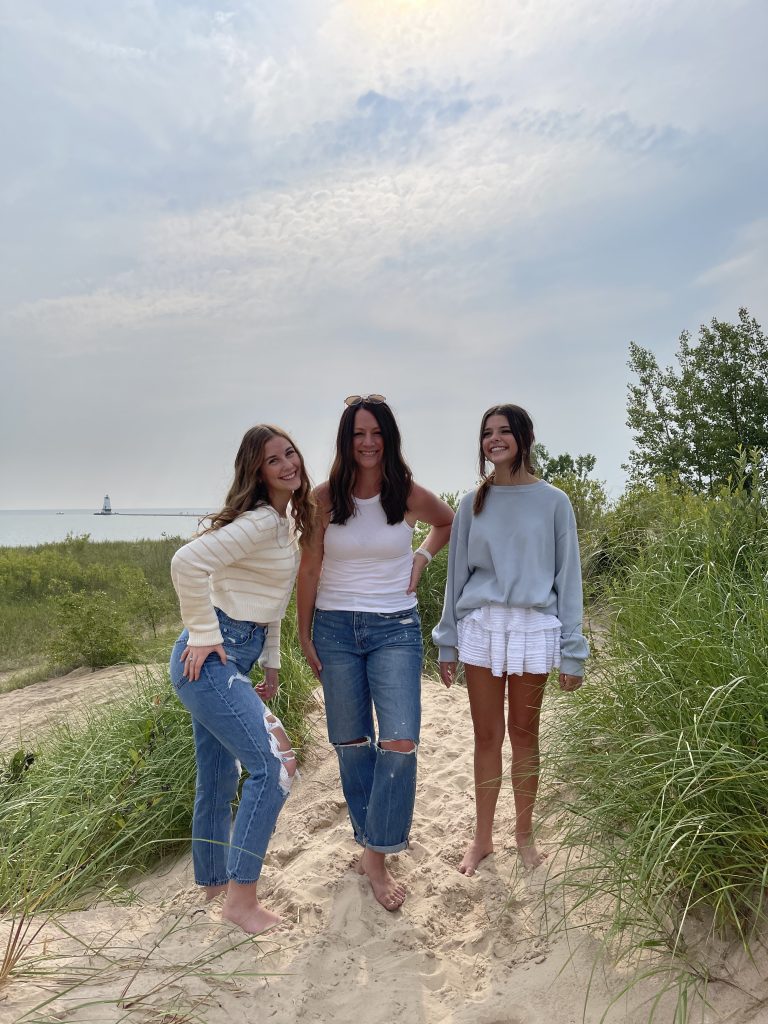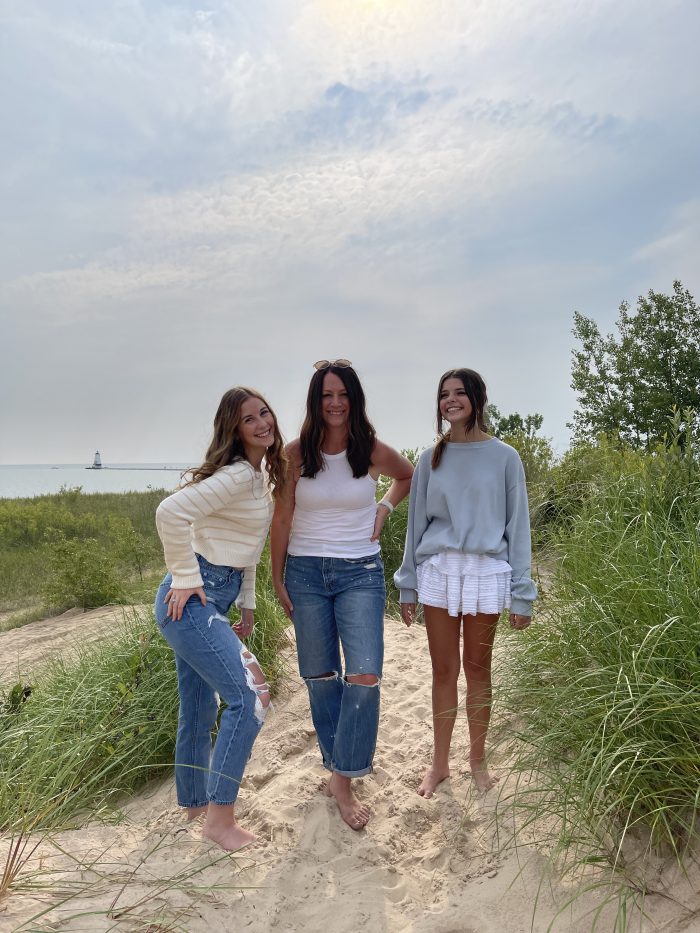 When the girls were little we visited Lake Michigan every summer. So we tried to recreate a photo from memory. Needless to say, it's not exact but still makes me laugh.❤️
I think we all can agree on Finn being the brightest and most fun part of our lives.
He the sweetest boy makes us laugh with one of his many silly faces. He has such a personality, LOVES to play fetch and is the absolute best snuggler.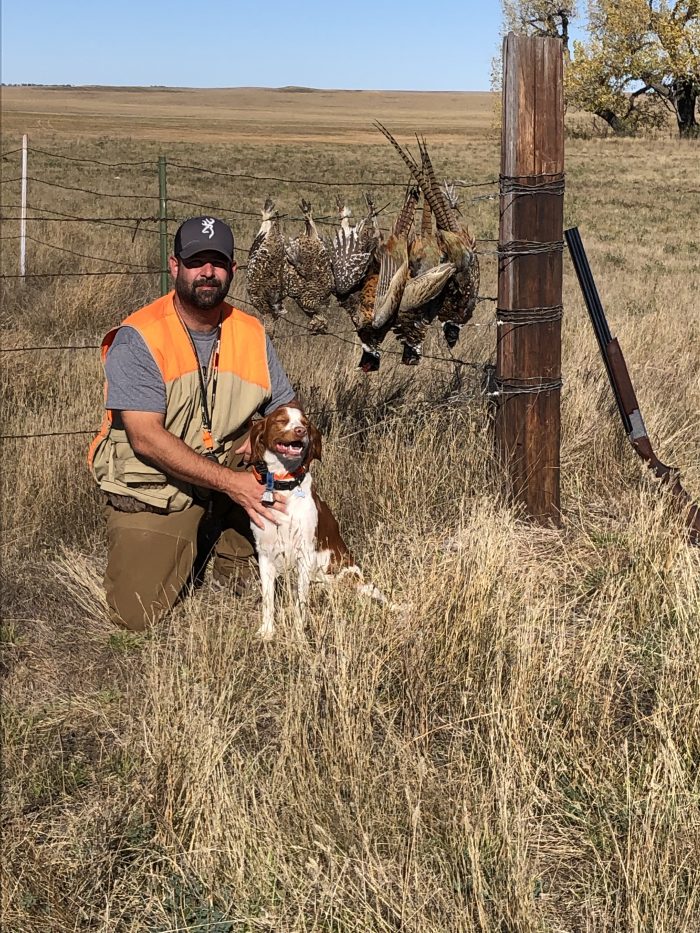 This summer Finn had a rogue porcupine quill removed from his shoulder (an injury from the previous year) and that didn't slow him down. A month later he was running fields and putting up pheasants for Pat in South Dakota.
The highlight of our summer (and quite possible our whole year) was when we went up to our good friends, Mike and Heidi's place near Charlevoix for a long relaxing weekend. We ate the best food, played spaseball (yes, that's spelled right 😜), enjoyed drinks by a fire every night and even saw a meteor shower. On the second to last day, we went on a hike and even though Pat stepped wrong and fractured his ankle, it was such a good time! That evening, he still managed to go out to dinner, walk downtown Charlevoix and get ice cream. What a guy.
When I look back at the last year, I honestly feel we made the most out of those 365 days. From fun plans to quiet moments, we really try to soak up these special times with our friends and family.
With that said, from my family, to you and yours – we wish for you all to have an healthy 2022 and hope that it brings you peace, love, joy and laughter.
WANT TO READ MY PAST YEAR IN REVIEW POSTS? HERE ARE THE LAST 11 YEARS.
This post may contain affiliate links.
Buy the Cookbook: Simply Scratch : 120 Wholesome Homemade Recipes Made Easy Now available on Amazon »
THANK YOU in advance for your support!