Today I could totally go for these slow cooker pork chops and mashed potatoes. And that herb gravy is just the icing on the chop.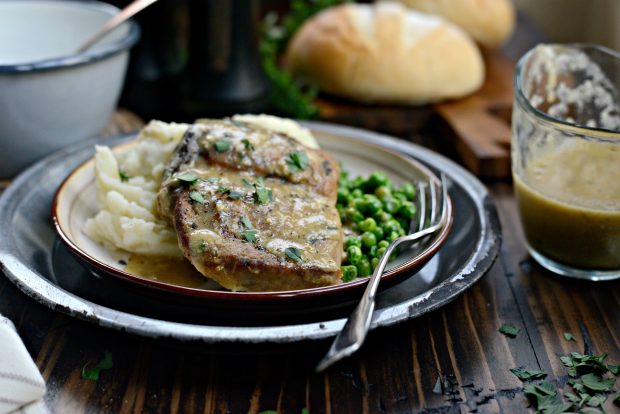 I just was out of town in Utah with a bunch of lovely, talented and kick-butt bloggers for a relaxing, inspirational and food-loaded weekend. Needles to say, I'm exhausted (and full). So I know today I will be turning to my slow cooker for making dinner. Do you feel the same after you travel? I'm like pretty close to falling over. Thank goodness somebody invented the slow cooker. amiright?
See! I  wasn't lying that I was stepping up my slow cooker game. Yes, I'm becoming one with my S-C and I brought the goods with this pork chop dinner. It's so good that my high schooler brought leftovers to school to eat at lunch the next day. MY HIGH SCHOOLER!!
If you're ready for melt in your mouth pork (like you don't need a knife it's that tender) and a flavorful gravy THIS is your jam!
Easy. (check)
Cozy and comforting. (check check)
All you need is mashed potatoes. And peas. AND (of course) rolls!!!