What do you think Santa would say if I was to leave him a plate of coal cookies?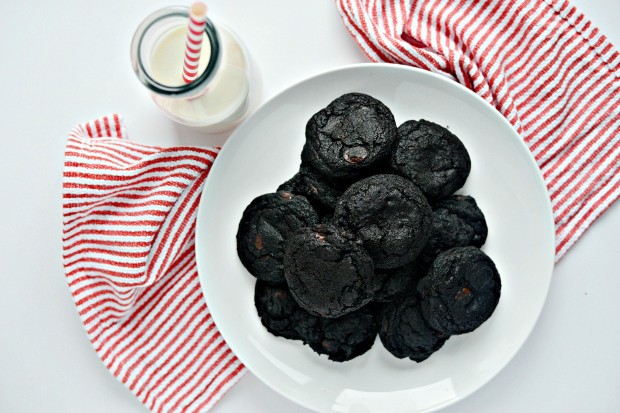 Does he have a sense of humor? Ya think he'd get out one good ho-ho-ho, take a bite (falls in love) and then poof! he drops an iPad for me under the tree!! Yeah-no-probably-doubtful.
Seriously though you guys these cookies are all kinds of fun. Like a boatload more fun than getting real coal in your stocking but not as fun as silly putty, Essie's and a Teen Bop magazine. What?
Okay, so they're so extremely black they almost look inedible. Because they look just. like. coal. But taste a gazillion times better… because, um chocolate! They bake up pretty quickly because hot oven+cookie dough = little spread. And I didn't want thin cookies… ya know?
Minus that chocolate chip in the top cookie… I think I achieved a coalicious looking cookie. Yeah I said it. To get these coal cookies so black I just burnt the heck out of them. Jussst kidddding! If you want to see the magic unfold before your very eyes you'll need to start scrolling.
Let's do this.