Roasted bananas, semi-sweet chocolate chunks, walnut streusel– baked into 24 mini muffins. They are like tiny gifts of deliciousness that are the perfectly bite size.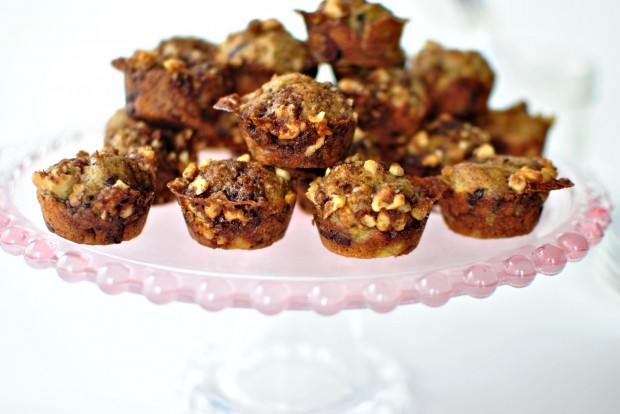 Speaking of gifts, *wink-wink* Mother's Day is around the corner. Do you brunch it? Lunch it? or text it? Well every Mother's Day I take my Mom to breakfast/brunch at one of our favorite restaurants. We talk, eat and sip coffee. I love it. My Mom is a nurse and has been for a little over 25 years (maybe longer?) and she makes a difference everyday she shows up to work. She started as a nurse in the ER, years later in the CCU and now in post op care. She's one heck of a nurse and I'm so proud of her.
All over the world mothers make differences. Whether you stay at home or work full time, moms are life changers. You all rock.
Supporting the Fair Trade organization is something I hold near and dear to my heart. So obviously when my friends over there at Fair Trade USA contacted me about creating a scrumptious brunch recipe featuring Fair Trade ingredients for their FIRST ever Mother's Day virtual brunch… how could I say no? This is my second year participating and I love to shine the spotlight on all the mother's who work the farms that bring us so many fabulous Fair Trade items. Whether they harvest cocoa, tea, flowers etc. all of these woman have one thing in common, they're hard-working, dedicated mothers that all work toward the building their communities. It's a beautiful thing.
I have plenty of Fair Trade items in my pantry already, but to help me out a little more they shipped me a big fat box of even more amazing things inside… and one lucky reader will win the very same box! More on that below the printable recipe.
First though… let's get baking.