Besides being ridiculously delicious, what I love most about this Tomato Bruschetta Panzanella is that it can be whipped up in just under 30 minutes. Toasted pieces of bread are tossed with locally grown tomatoes that have quickly marinated in basil, garlic, olive oil and balsamic vinegar. Serve as is or with just about anything.
This has been a big year in the McNamara household. For one, Haileigh has her drivers permit. Gah! It feels weird to even type that let alone imagine her getting in a car and driving to school, her friends houses or a job –which she will be getting asap! But we've been working hard getting her supervised hours in and she's halfway there with over 15 of her 30 hours. She is extremely determined to knock out these hours, she'll even wake up with me when I need to run to the store. Yesterday she woke up at 8 am with me and we headed to my favorite market for the ingredients to make this tomato bruschetta panzanella.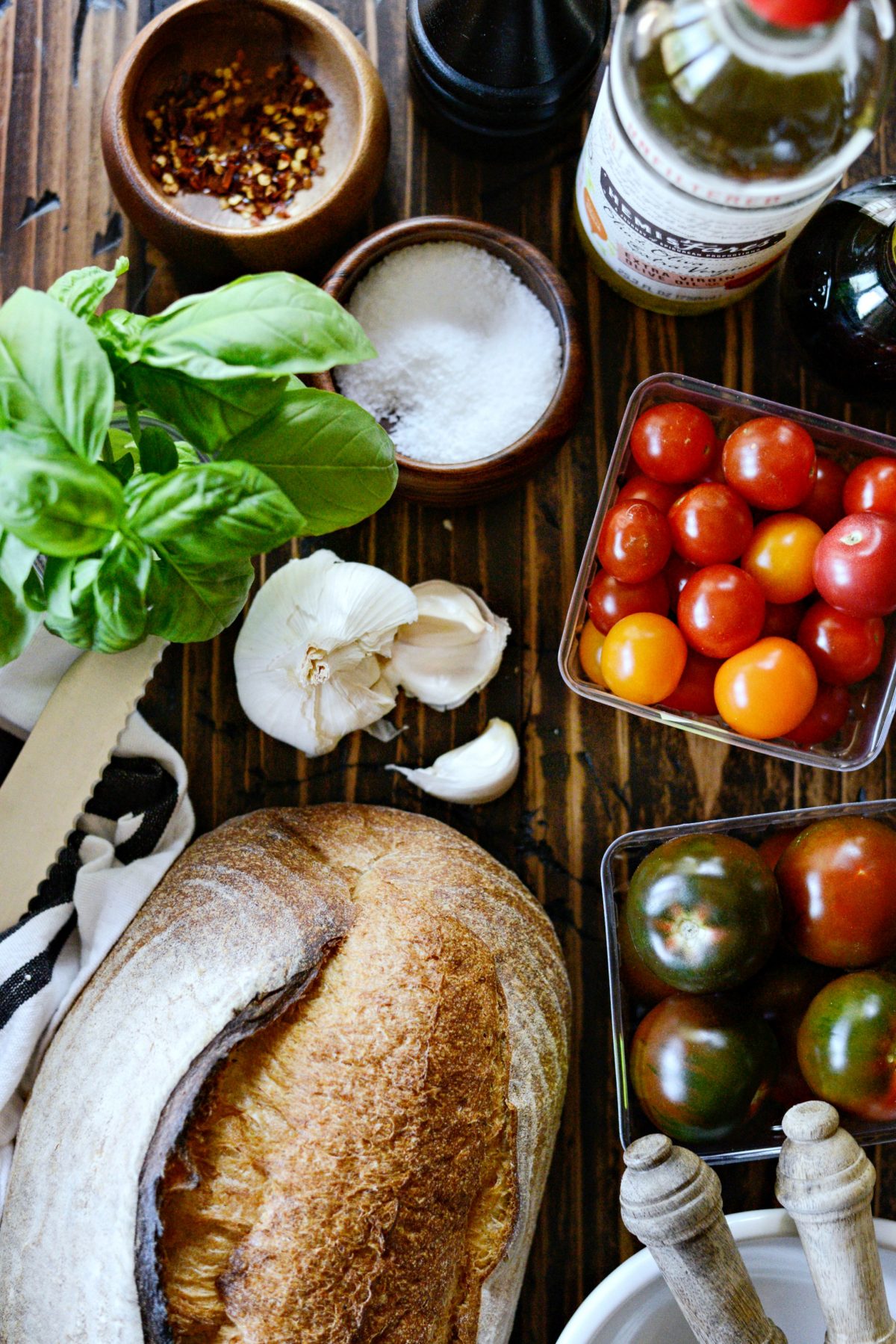 A lot of the stuff most of us already on hand; olive oil, balsamic vinegar, basil and garlic. So we only stopped in for tomatoes and a crusty loaf of locally baked bread. This time of year the market I go to always has produce from local farms in Michigan. So I picked up a couple pints of tomatoes; one pint of some kind of heirloom and a pint that had a mix of both cherry and sungolds.
If there's a way I can bruschetta something, believe me I will do it. Bruschetta Chicken — did it. Dessert Bruschetta — done. Bruschetta Pizza — did that too. The other day I was laying awake in bed thinking about, you guessed it, bruschetta and how delicious it would be as a panzanella salad. I keep a notebook by my bed for these sort of moments, so I can quickly jot it down and try to fall asleep. And that is how this tomato bruschetta panzanella recipe was born.