Hello Friday! It's good to see you!
Is it me or did this week fly right on by? I busted tail on Monday, cooking and cleaning so that Tuesday we could take advantage of the beautiful day and go out on the boat and swim in the lake. I made us Italian subs, we listened to music, laid out and got sun-kissed and took a dip in the warm yet refreshing water when the sun became too much. It really was a perfect day.
If you follow me on snapchat (laurie.mcnamara) then you know the absolute highlight of my week was taking my two daughters to their first concert. It was Malloree's Christmas gift this past year because it is her most favorite band EVER- 5 Seconds of Summer.  The concert was a lot of fun, even if I only knew a few songs, it didn't matter because seeing the look on her face when they took the stage was priceless. One I will never forget.
Then before I knew it, it was Thursday and I was shoved back into reality with the girls having orthodontist and dentist appointments. Bleh.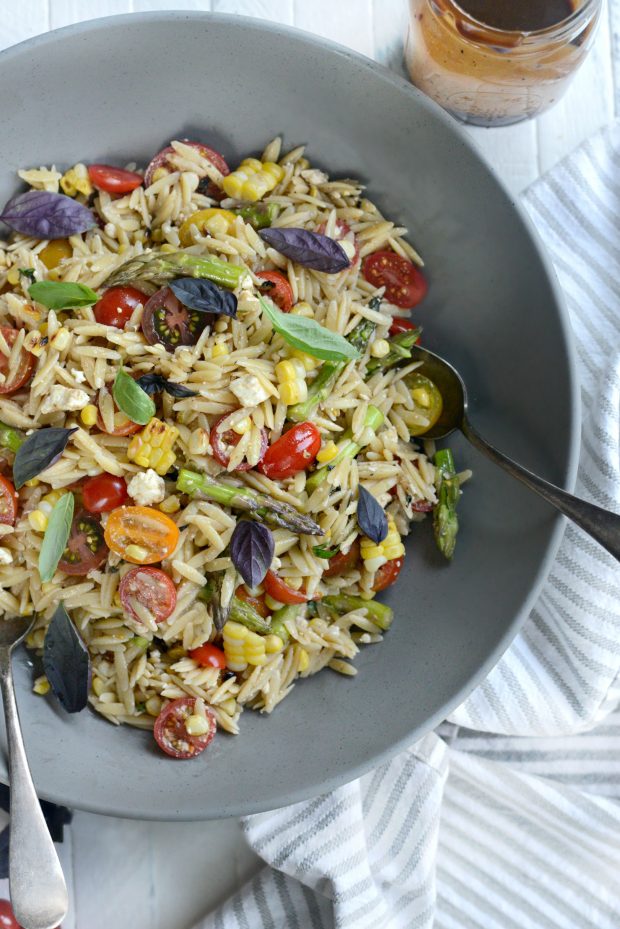 Today, however, I'm SO excited to share this pasta salad recipe with you!!! Early this month we were at a cookout with good friends and had one of the best meals we've ate in a long time. It's true. There's something about when other people cook for you amiright?! There were chicken and steak kebabs, sweet and spicy baked beans (which I'm still working on obtaining the recipe for!) and this amazing orzo pasta salad.
I was standing in the kitchen and watched my friend Melissa (Hi Melissa and Josh!) throw together this simple pasta salad. Her version, which obviously inspired this version (and really isn't much different) had cherry tomatoes, asparagus, crumbled feta cheese and she drizzled the whole thing with a balsamic vinaigrette. It was so simple and so delicious. Together Pat and I put a  major dent in her salad and equally loved it the same.
So when Pat got home from work on Monday and he took one look at the salad and asked if it was "The Salad"… he promptly mounded a third of the pasta bowl onto his plate. I may or may not have done the same. I will never tell.