Is it me or did this week fly by?? I swear yesterday was Monday and then I blinked and here it is Friday.
Fridays are my favorite because Pat doesn't work and we usually do something just the two of us while our girls are at school. Most of the time we go out to breakfast or to Costco. Oh my gosh… we go on dates to Costco. That sounds so lame… but it's SO much fun. It's extra fun when there's free samples of cheese and stuff.
So I guess I'm okay with it being Friday and with the weekend here. Wait. I just remembered we're getting our taxes done Saturday at some crazy early time. That means no sleeping in and a shower is mandatory. Blech. BUT I have leftover pizza so heyyyyy it's not all so bad.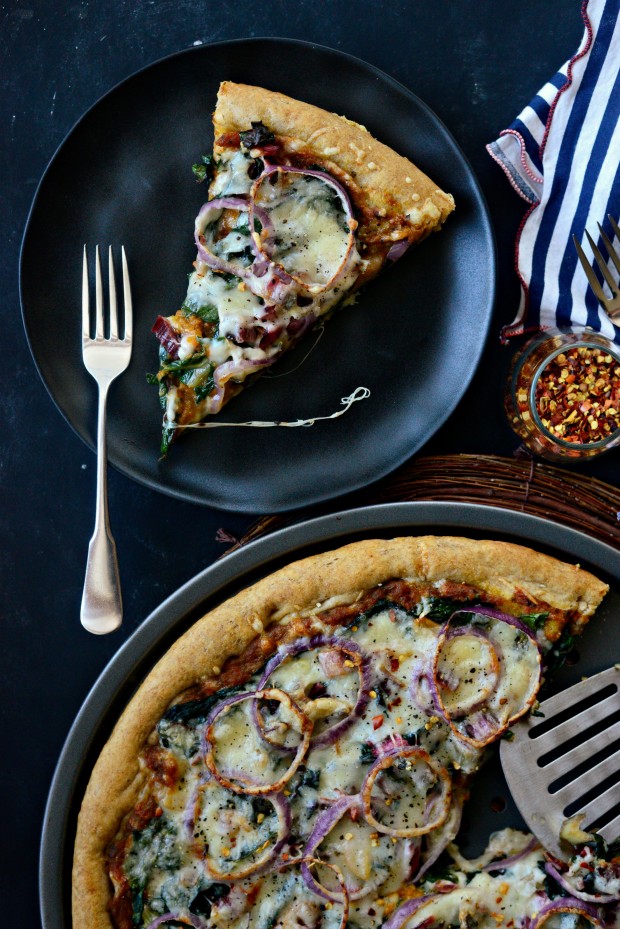 You all remember that sauce I posted Wednesday. The tomato-less sauce that's chocked full of roasted veggies?! Well I slathered it on whole wheat dough and topped it with sauteed swiss chard, toasted garlic, red onions and lots and lots of Gruyere. True story. I didn't miss the tomato sauce and I didn't miss the pepperoni, this pizza is just straight-up vegetarian goodness.
Then I ate a slice (or three) and wrapped the remaining slices in foil and I've been working on this here pizza all week long. There are worse things.