This wine braised lamb salad is deliciously rustic and hearty. Lamb shanks are cooked low and slow in wine, garlic, vegetables and herbs until falling off the bone. Then the tender lamb tops a mixture of lettuces with goat cheese, sundried tomatoes and almonds with a pumpkin vinaigrette.
Last fall I had the most amazing salad of my life.
I had just gotten back from doing a ton of traveling and took my daughters to one of our favorite places for lunch. When the specials were read to me and I heard our waitress say braised lamb salad… goat cheese… an pumpkin vinaigrette, I knew exactly what I was going to order.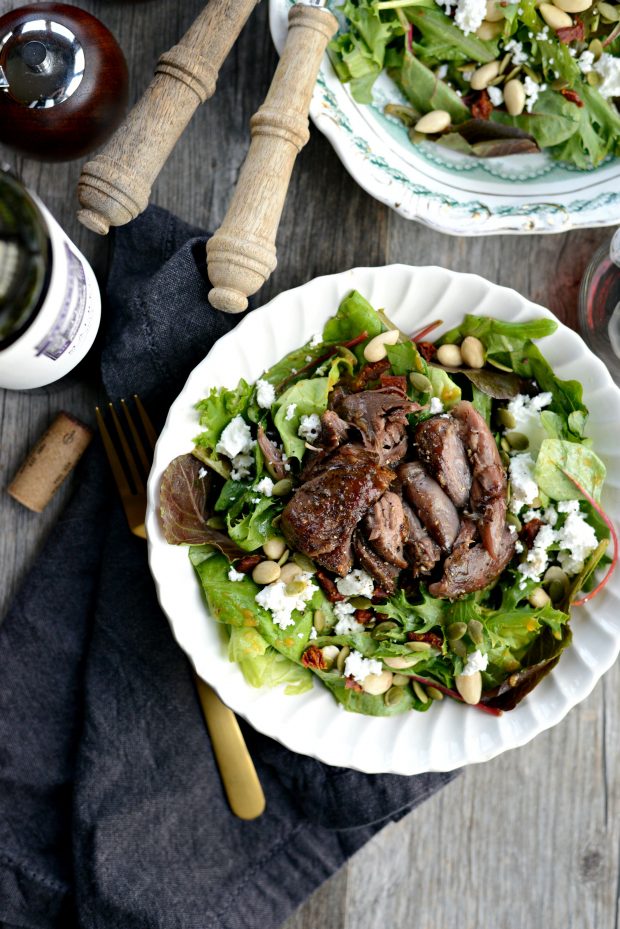 For weeks after I inhaled that salad, I couldn't get it out of my mind. So I did what any normal person would do and recreated it at home.
So here are the delicious details; lamb shanks are cooked low and slow in wine, herbs, vegetables and broth until it is falling of the bone. That gets topped, along with crumbled goat cheese, almonds, pepitas and sundried tomatoes on to lettuces that have been tossed in a pumpkin vinaigrette.
To. Die. For.