…and wheat berry and pecans and cracked black pepper with a honey poppy seed dressing.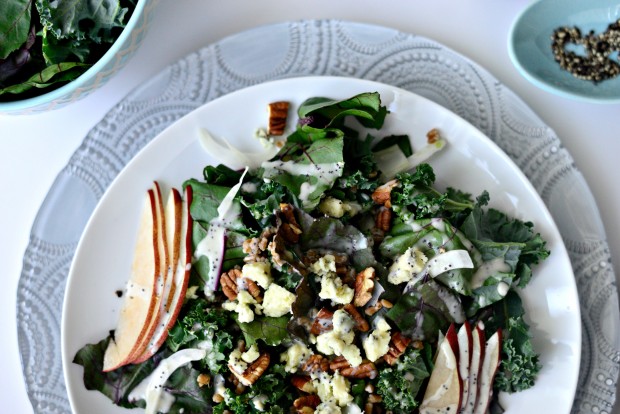 I literally was just at the store and filled my basket 3/4 of the way full with produce only. Sometimes I stroll through the produce area and want to buy it all… and some days I actually do.
On Tuesday it looked like I raided the plant area of the home & garden section. I had beet leafy greens, fennel fronds, dill, cilantro, parsnips (with the parsley still attached) and carrot tops sticking out of my cart. I'm sure my check out gal just loves seeing me roll up in her lane. She probably thinks "oh great. There's that blogger girl. Again." Because I'm one of those people that they have to weigh and manually enter in my 58 dollars worth of produce and that just has to be annoying… even though when I do it at the self checkout I find it to be sort of fun and I bag groceries like it's my j-o-b.
So I had these mental plans to make this glorious winter kale salad loaded with healthy toppings, a little Gorgonzola action and a light drizzle of honey poppy seed dressing. I just couldn't wait to make this salad, it's like my body was craving dark leafy greens (and gorgonzola- as per usual).
I wanted a salad big enough I could eat it as my lunch for days. A salad for me. And for you.
Those are the best kinds of salads.