Looking for one more side dish to complete your holiday meal? I've got the one.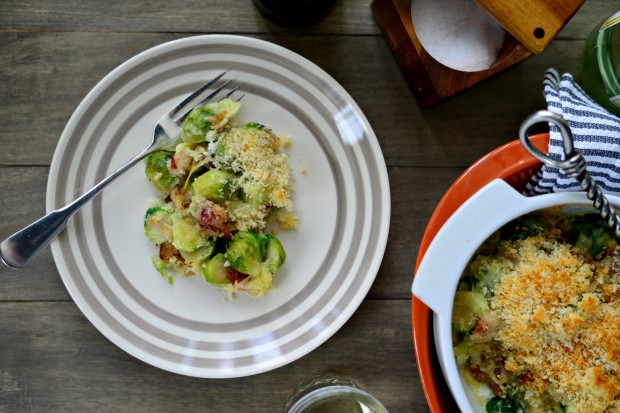 A creamy, cheesy, bacon-y, Brussels sprout-y gratin complete with a crispy buttery breadcrumb topping. Pffffffffffffewwwwwwwwwwww (y).
You can't deny how good that sounds. Unless you don't like brussels sprouts. BUT even still, anything mixed with bacon and cooked in cream and cheese is bound to be a deliriously good thing. Remember this recipe? Remember how it turned my sprout-hating-father into a changed sprout-lover?? It can happen!
Besides a glorious side dish for pretty much anything it also makes an excellent lunch. I am not kidding. I made this on a Wednesday afternoon, it was snowing and I was sitting on the couch with the casserole dish nestled like a baby in my lap and a fork in each my hand. Shameless.
Let's roll.