This bowl of food is the best thing I've made myself for lunch in a long while.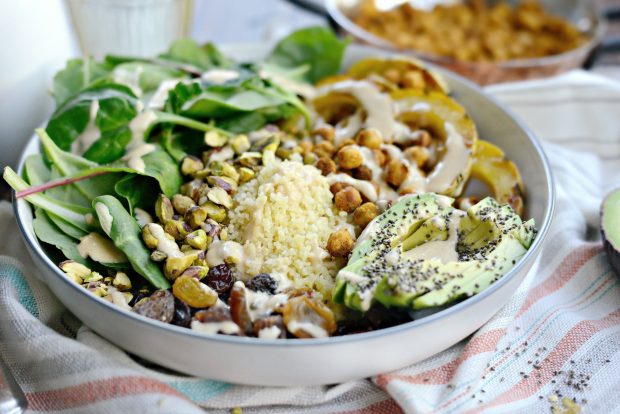 The Buddha Bowl.
What is a Buddha Bowl, you ask? Basically they're just bowls of grains, greens, vegetables (or fruits), nuts and seeds. A plethora of wholesome and healthy goodness in one filling and satisfying bowl.
I have become ridiculously obsessed with these Buddha Bowls. Like it's all I think about. All I crave. I'm already thinking of my next bowl recipe.
In this bowl I decided to put together a few of my favorite things starting with; roasted chickpeas and squash, avocado, raisins and couscous to name a few. Staying in the green and gold tones. Not that I planned that.
This bowl is soul gratifying in not only flavor but also in the textural department. It covers crisp, creamy, crunchy and chewy. It's a party. A pretty darn delicious party.