Goodbye 2018 and hello 2019!
This was literally the fastest year yet. I remember people telling me that as one gets older the years start to fly by. I never found that statement to be more accurate than with this year. With that said, I'm not sad to see it go.
Overall 2018 wasn't a bad year, per se. It just wasn't my favorite year either. We had our fair share of ups and downs, as most do, but on the silver-lining-side fewer things broke, I found a coffee maker that has held up longer than 3 months and believe it or not, it's not the same one I wrote about in my 2017 year in review. But before I drone on about our year, let's talk food!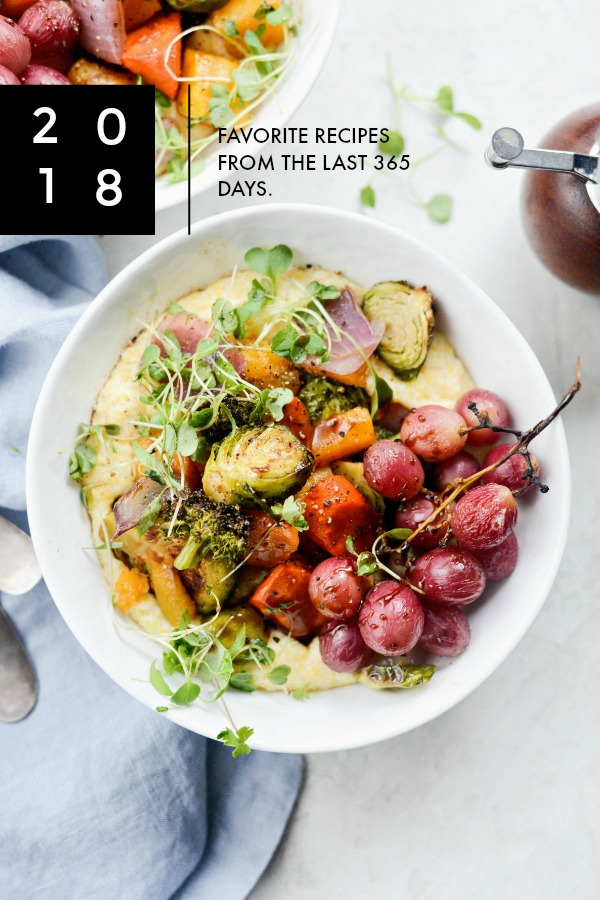 So here we are, another year has come and gone and with it, a lot of food and dirty dishes. I posted 146 new recipes, which was 10 more than last year! And I also updated a dozen or so older recipes with fresh new photography. It's always fun to look back on the recipes I've made throughout the year. Each one takes me back to a time and place or moment in my life of that year. So I scoured the last 365 days and compiled a list of my personal favorites. Recipes that I love. Love a lot. And a few that I know you loved too.
In no particular order whatsoever, here are my top 18 of '18!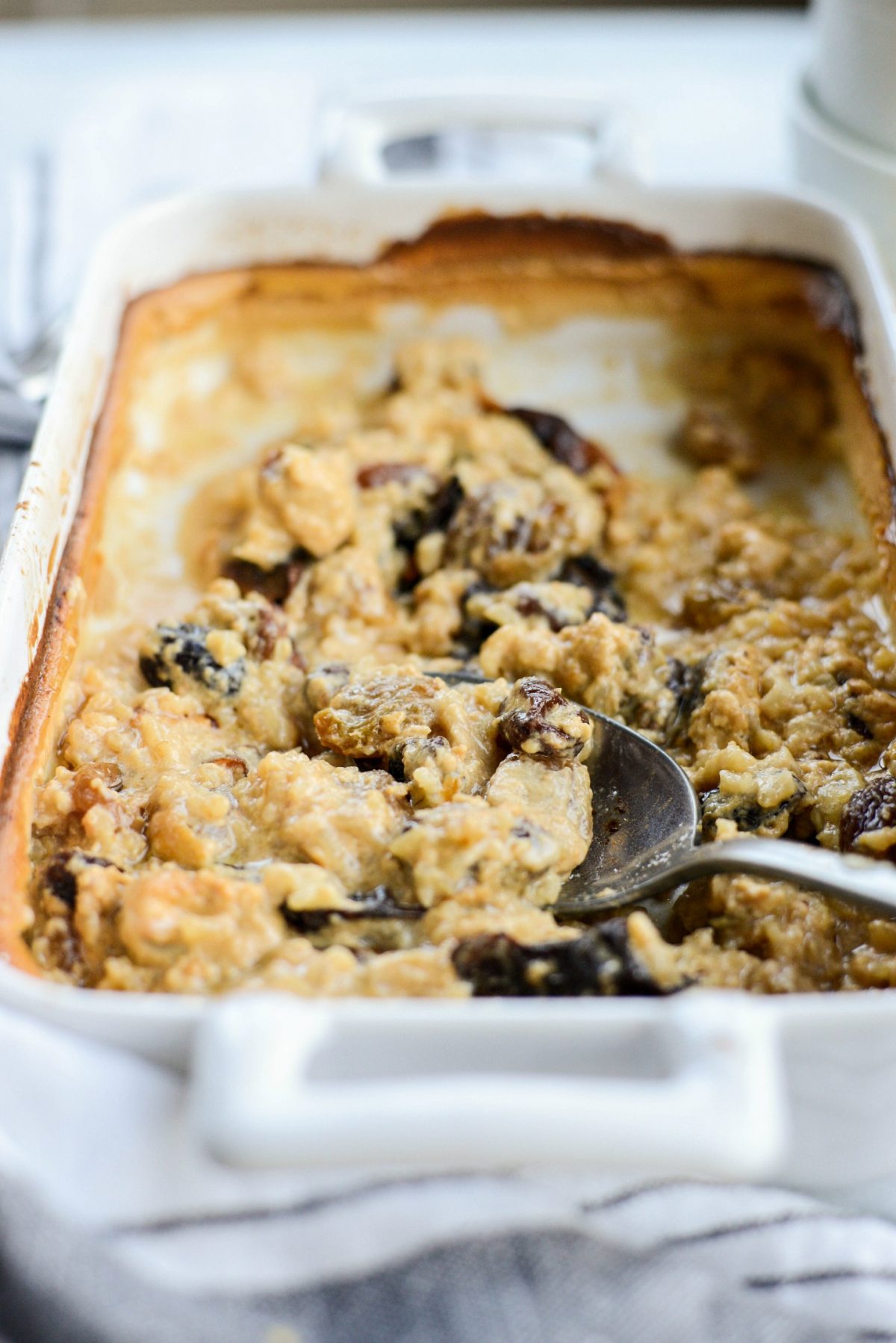 My Grandma's Rice Pudding Recipe – I never knew a love like the love I have for this. It may not win any beauty pageants but it sure is delicious.
Chardonnay Italian Sausage Bites with Spicy Mustard Dip – This recipe comes from my brother-in-law (hi Jeff!) who makes these delectable bites every year for our family Christmas get together. SO simple yet so delicious.
Panfried Morel Mushrooms – These made the list because not only did my husband foraging them just for me, but because they are truly something special.
Greek Chicken Couscous Bowls – The homemade Greek seasoning is what makes these bowls SO delicious. Okay, so that and the feta shards, tzatziki, kalamata olives and peperoncinis.
Cheesy Mexican Beef and Rice Skillet – A dreamy one pan meal!
Homemade Pretzel and Ciabatta Bread – Two totally different breads, how could I possibly choose a favorite? I turned the pretzel boules into soup bowls and the ciabatta into the base for a meat lovers pizza!
Air Fryer Coconut Shrimp with Coconut Pineapple Yogurt Dip – Because this was the first recipe I made in my slow cooker, it holds a special place in my heart. Shrimp dipped in coconut batter and then coated in shredded coconut is air fried in minutes!
Berry Spring Salad – If there's one salad I could eat every day, it's this one. Grilled rosemary balsamic chicken, crispy bacon, fresh berries, goat cheese and pistachios on top of spring greens and drizzled with a homemade raspberry vinaigrette.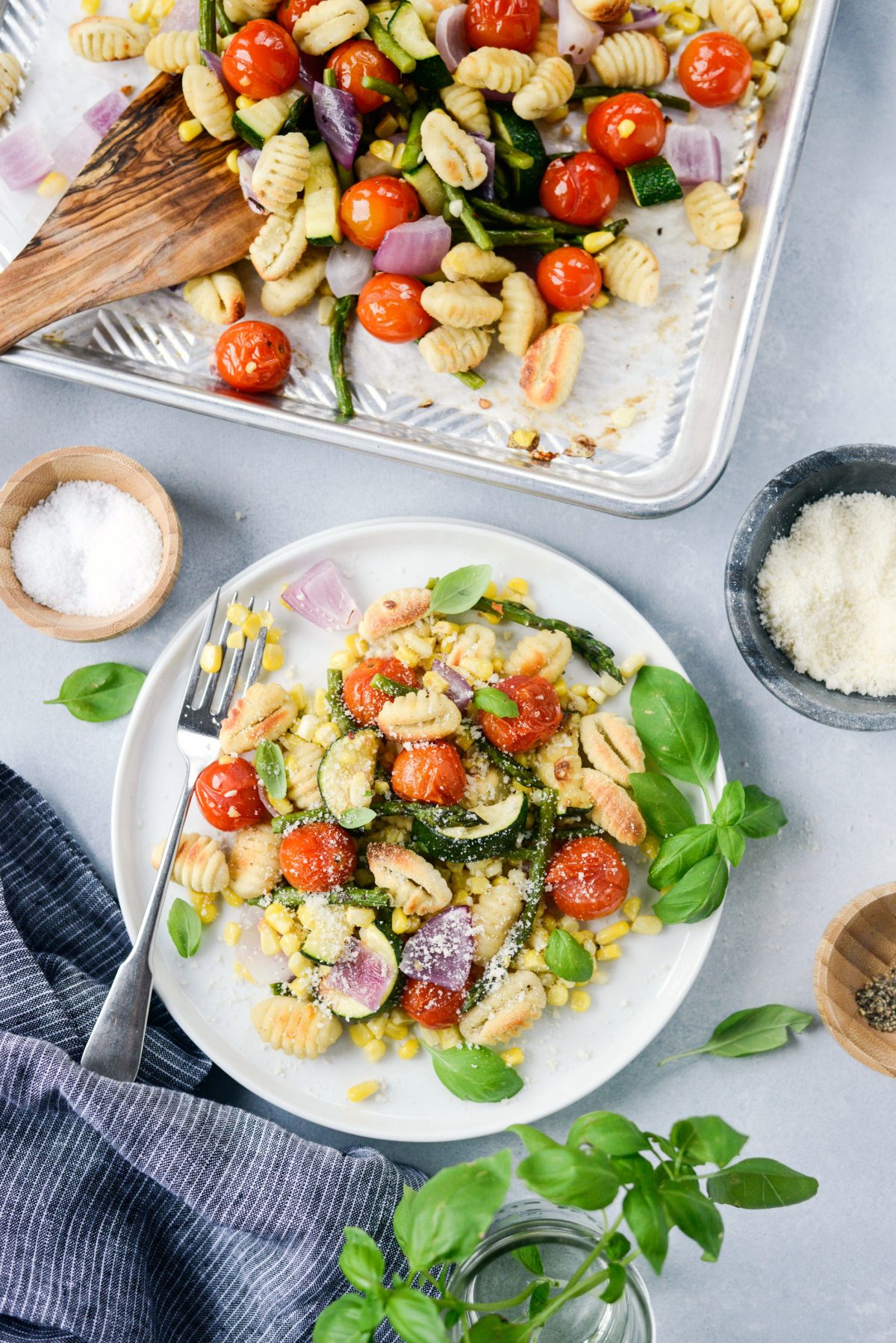 Sheet Pan Gnocchi with Summer Vegetables – So many of you made this recipe! Most likely because it's light, seasonal and super easy.
Grilled Peach, Goat Cheese and Prosciutto Flatbread – To say this is phenomenal is an understatement. Grilled peaches, goat cheese AND honey. Need I say more?
Sea Salt Chocolate Chip Pretzel Cookies – Everything I love in one cookie!
Chorizo Sweet Potato Chilaquiles – Eggs are baked with chorizo, sweet potato tortilla chips in a fire roasted tomato sauce.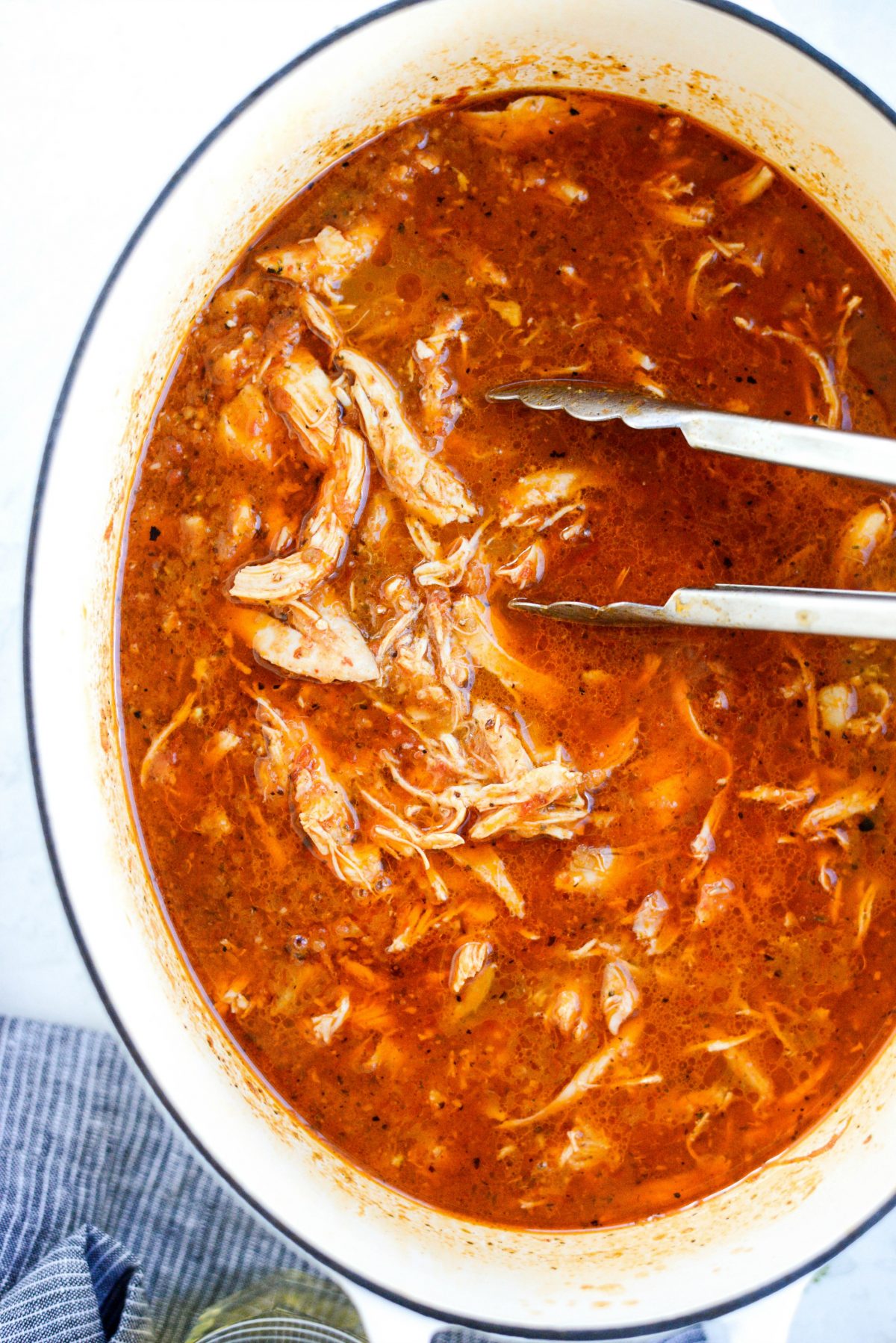 Chicken Tinga – For restaurant quality shredded chicken, this is your jam! Use on nachos, in burritos, tacos or salads. Really the options are endless.
Roasted Honey Balsamic Fall Medley over Goat Cheese Polenta – The combination of roasted grapes and veggies with the goat cheese polenta is out of this world!
Slow Cooker Turkey Broth – So EASY! Just dump in the ingredients and let the slow cooker do its thing. In a few hours, you 12 cups of flavorful turkey broth.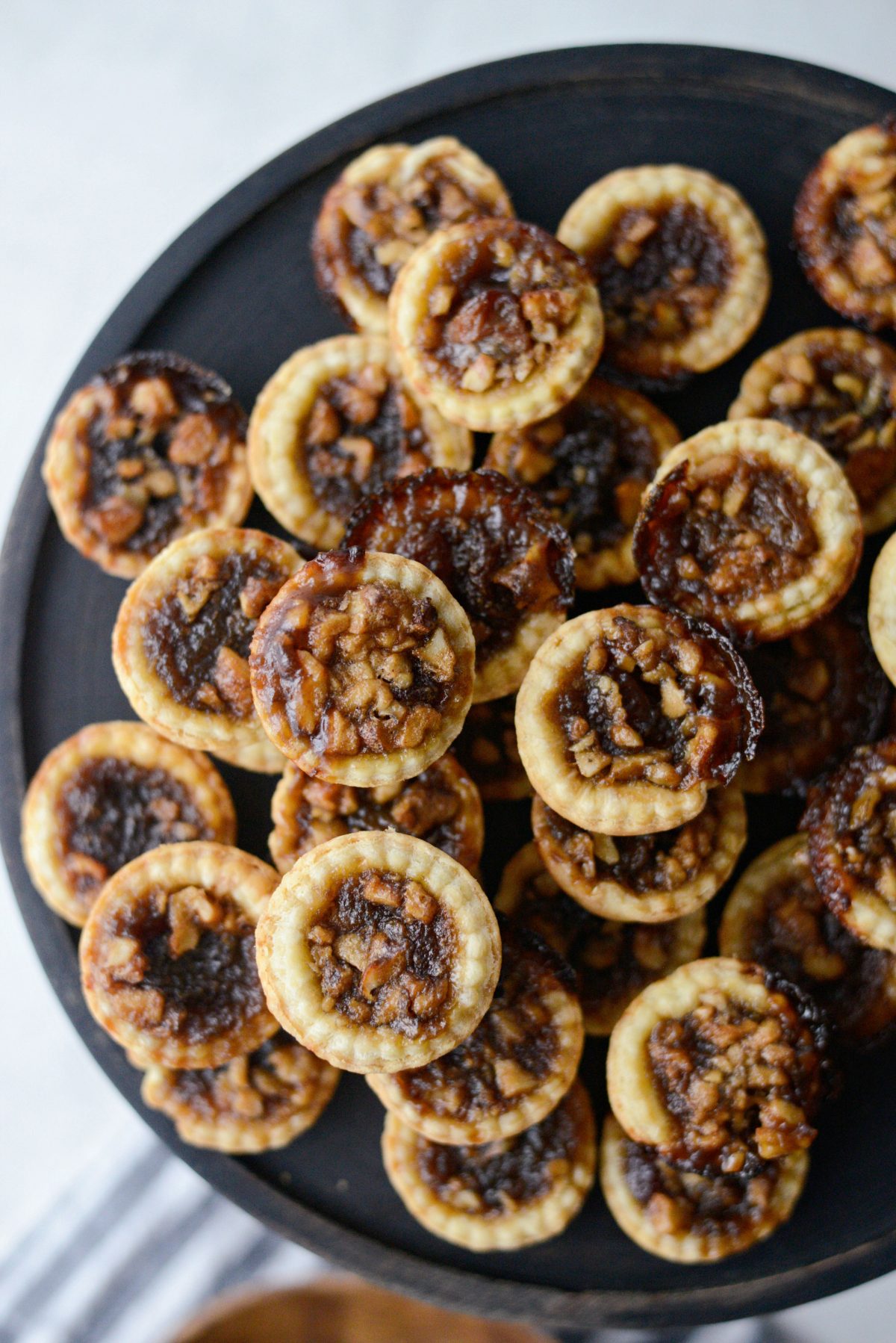 Butter Tarts – A recipe from my great grandmother's collection. One that I will cherish always.
Lobster Mashed Potatoes – It doesn't get more decadent than this! I finally recreated a recipe I fell in love with a few years ago.
Roasted Shrimp with Homemade Cocktail Sauce – Meet the easiest appetizer ever. And the cocktail sauce is amazing!!
On a more personal note, 2018 started out with Malloree getting braces! For those who don't know this, she has only wanted braces since she was old enough to know what they are. When I was a kid, braces were so not cool. However shockingly today, they aren't nerdy at all. Which is a good thing I suppose. So in early February, we went in for a normal orthodontist check up and they suggested putting braces on her that day. Mal and I were so surprised but she has been waiting for forever and Pat and I were prepared, and so in 30 minutes or so she had braces on.
Pat nor I ever had braces. So this was a first for us. It's been crazy watching not only her teeth straighten but also her confidence grow as well. A girl who once hid her smile, now smiles all the time. It's the absolute best.
After her appointment, things went from 100 to 0 in 2.2 seconds. We were so excited about her FINALLY getting braces on that I didn't see a patch of ice and I fell, hard on my left hip. The bruise was hideous and I actually have nerve damage because 10 months later and my hip is still completely numb. However I survived by sleeping on my right side and wearing nothing but leggings for a few months – which really isn't anything new.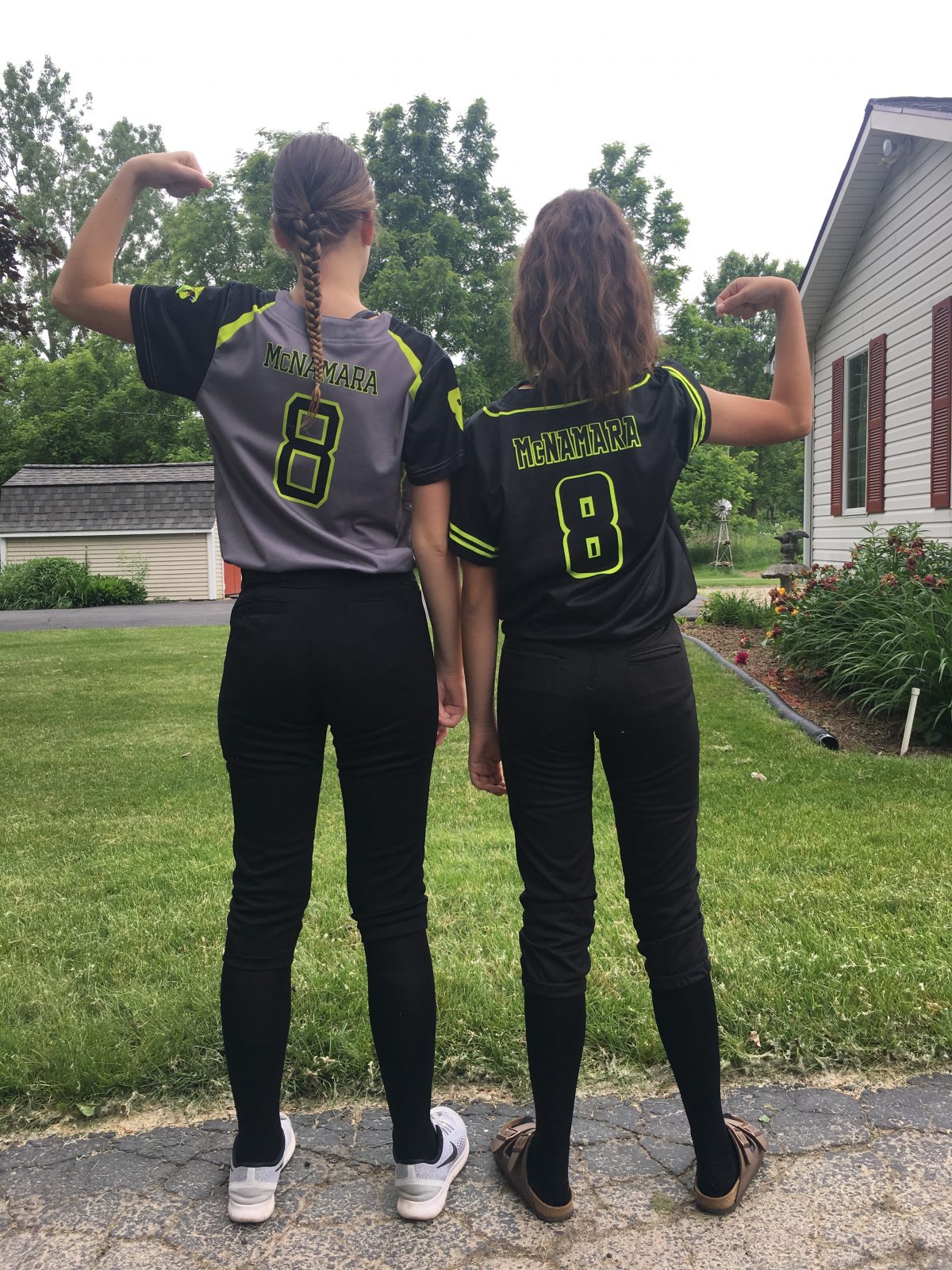 Spring into summer was filled with softball. I know, shocker. This year was bittersweet as we already knew it was Haileigh's last year because she'll be going to college the following year. But Malloree made the decision to end her softball career and pursue something new. But I'll talk more about that a little later. For their last summer season and for the first time, both played for the same softball organization, and each girl sported the same number on their jersey.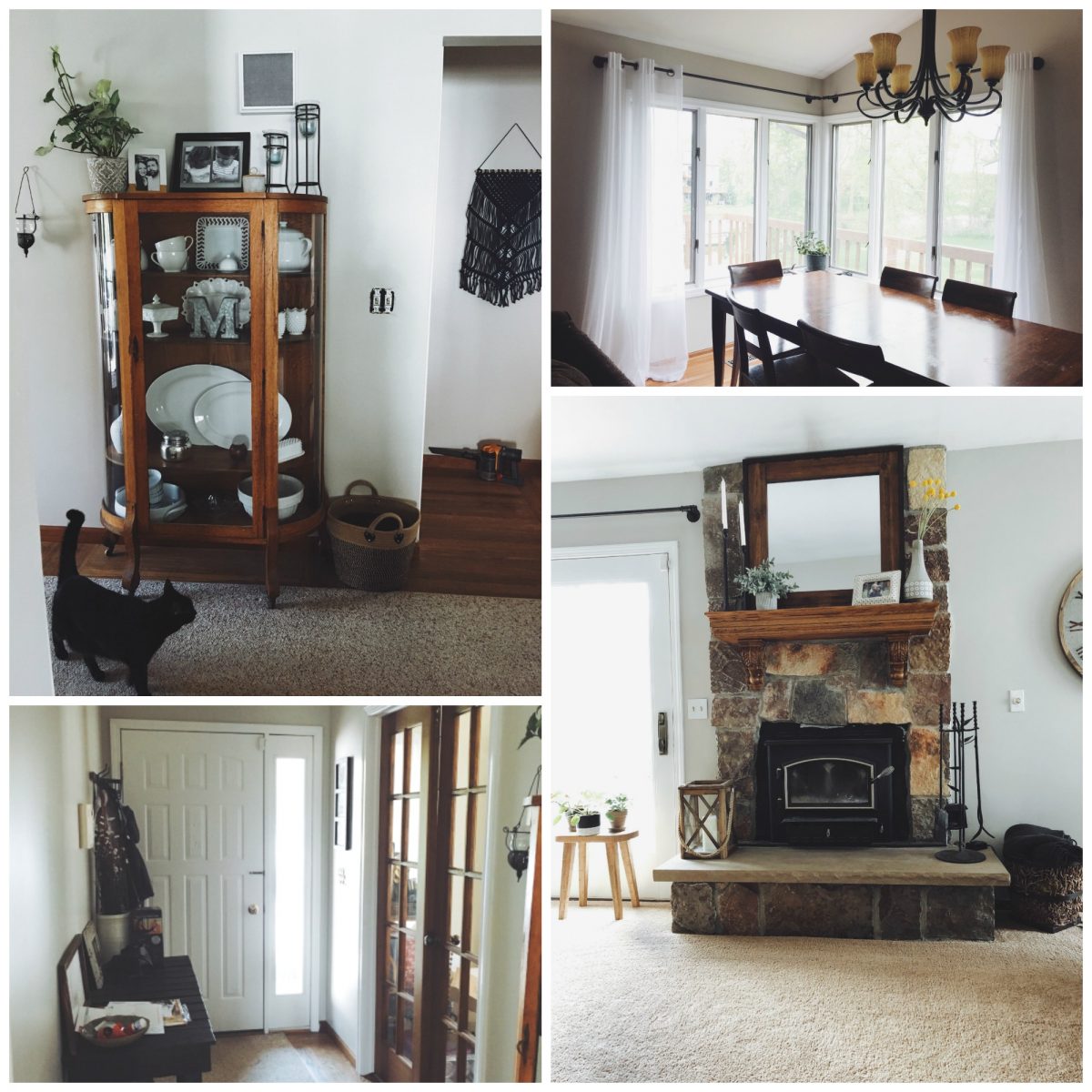 When we weren't at the softball field, we were either on the lake swimming and/or fishing, or working on things around our home. For example, what had started out as a project to replace the existing window treatments ended up with us repainting the entire living room, dining room and front entry. It's funny how these things happen. In these rooms, I wanted a neutral greige (beige + grey). Yet the first color we put up had too much of a blue undertone, so we went back and finally picked the perfect color. I used a Sherwin Williams color in Agreeable Grey mixed in Valspar Signature paint.
FYI this is no way a sponsored post. I'm sure either company would frown upon me using their product with a competitor.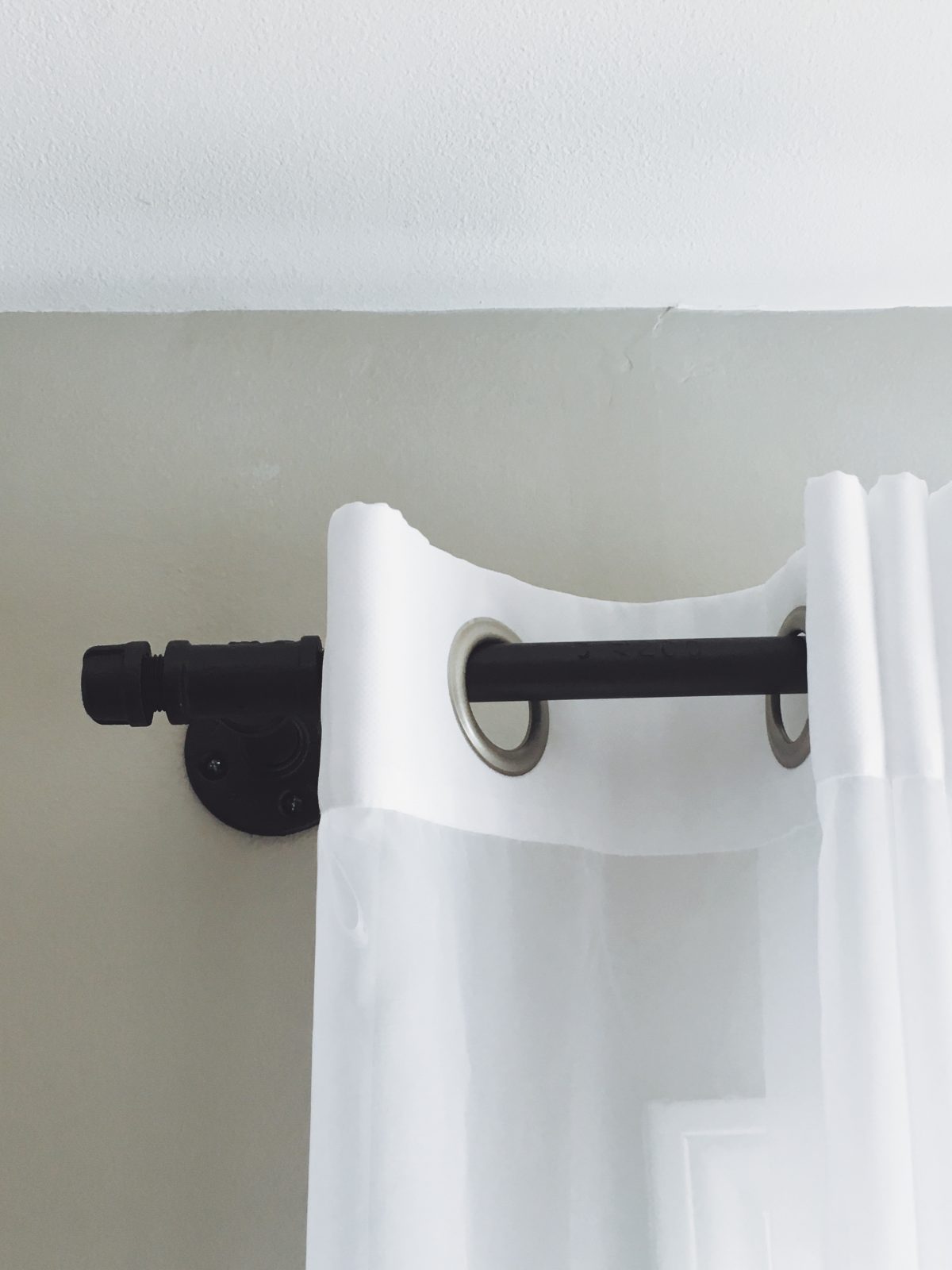 We painted doors, windows and trim and Pat custom built these "curtain rods that started it all" out of galvanized pipe, which we later spray painted to look like an oiled blackish bronze. I absolutely love them!
Later in the summer, we repainted our master bedroom and the adjoining bathroom. The bathroom took the longest because I repainted the vanity to match the trim and the walls needed 3 coats of paint because the previous color was so dark. It's a tiny bathroom, but it feels light and airy now. For this room I chose another Sherwin Williams paint color in Alabaster and again had it mixed into Valspar Signature paint base.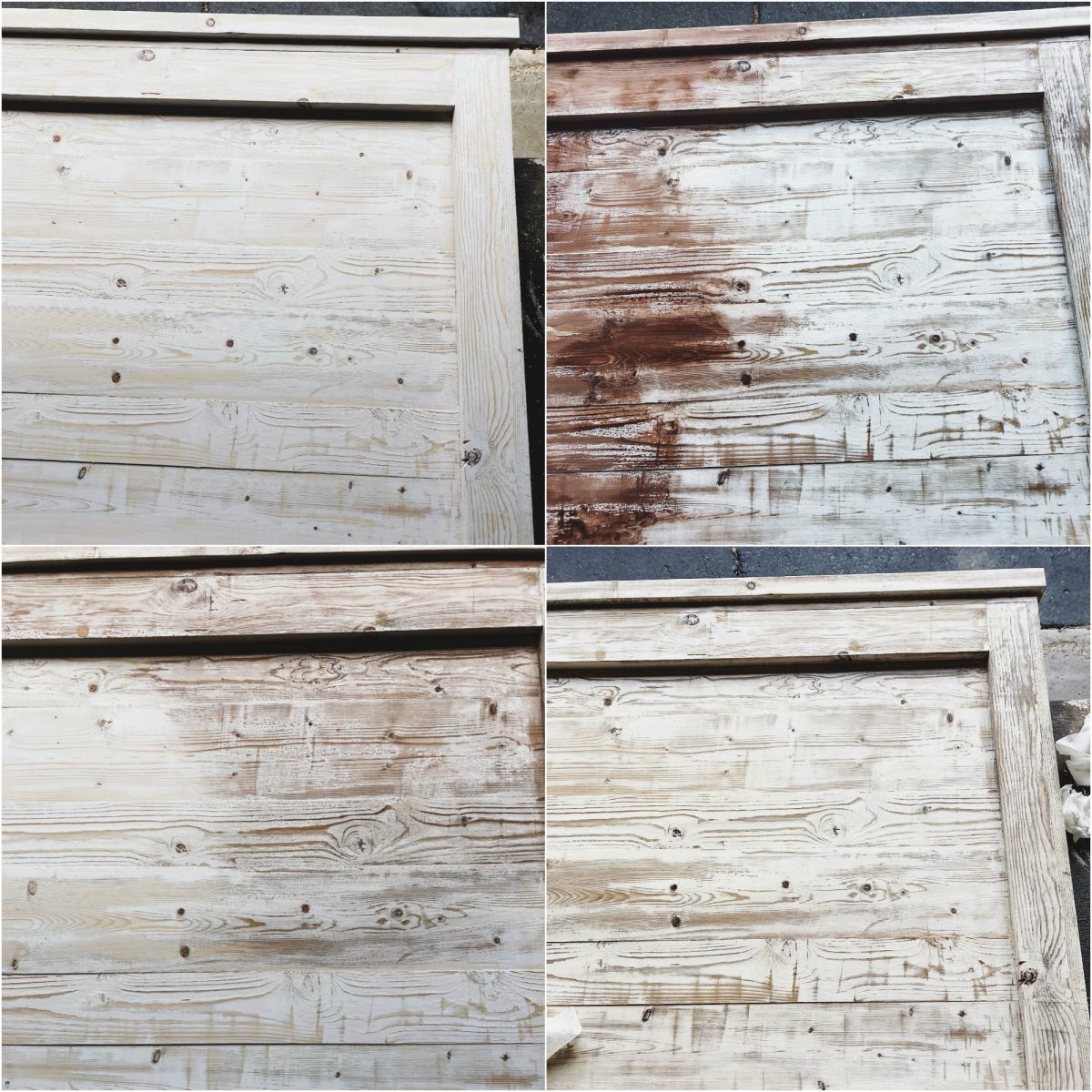 And since we were already on a renovation roll, Pat built me this gorgeous and sturdy new headboard. What only took him a couple hours to build, took me days to finish. I admit I'm not a crafty person, so although fairly easy, it was time consuming. After it was built and lightly sanded, I painted it, then I stripped off the paint, wiped it down with brewed and cooled black tea. After that, I used vinegar/steel wool mixture, rinsed that off and wiped it down. This whole process made it look naturally aged.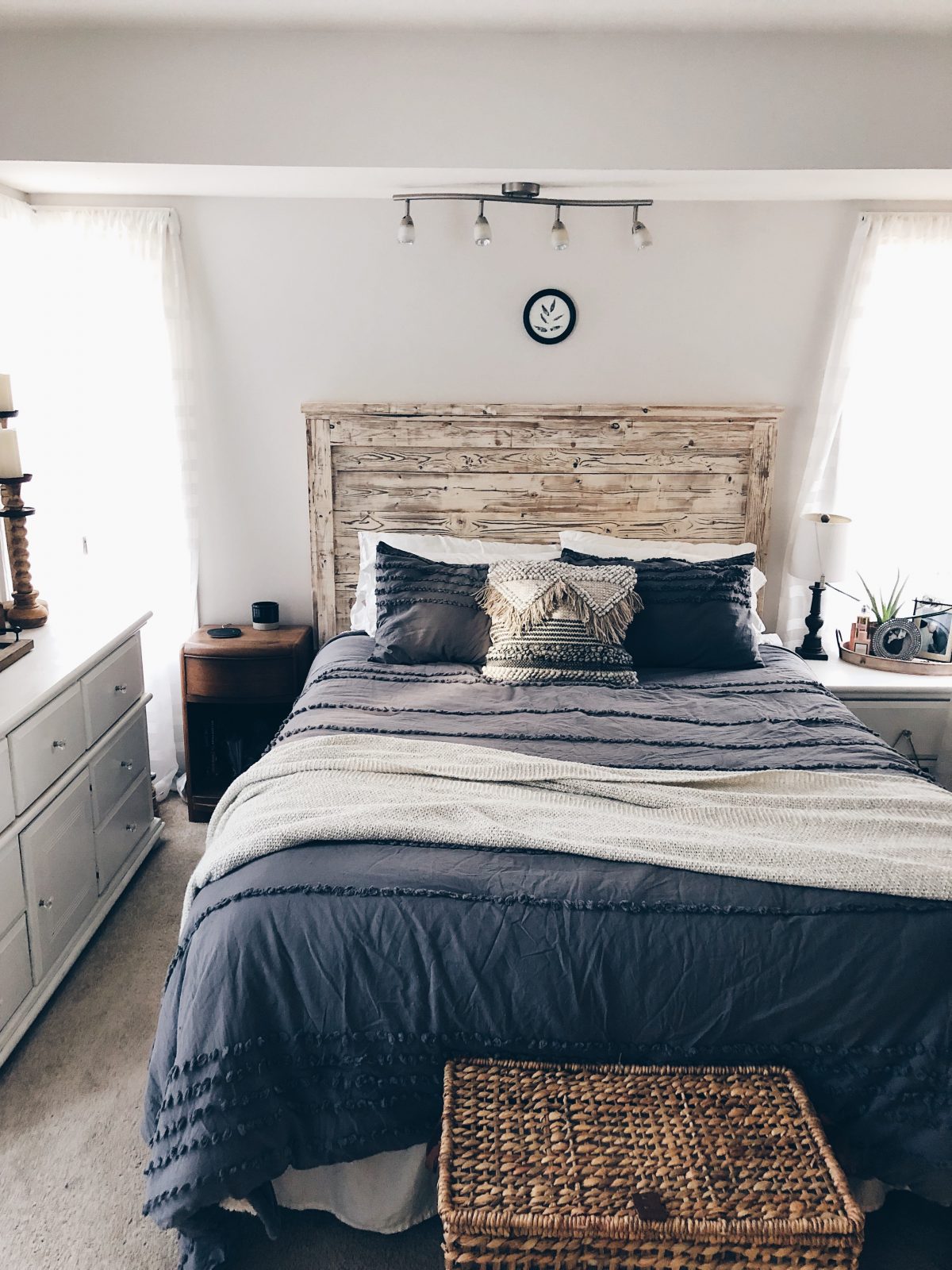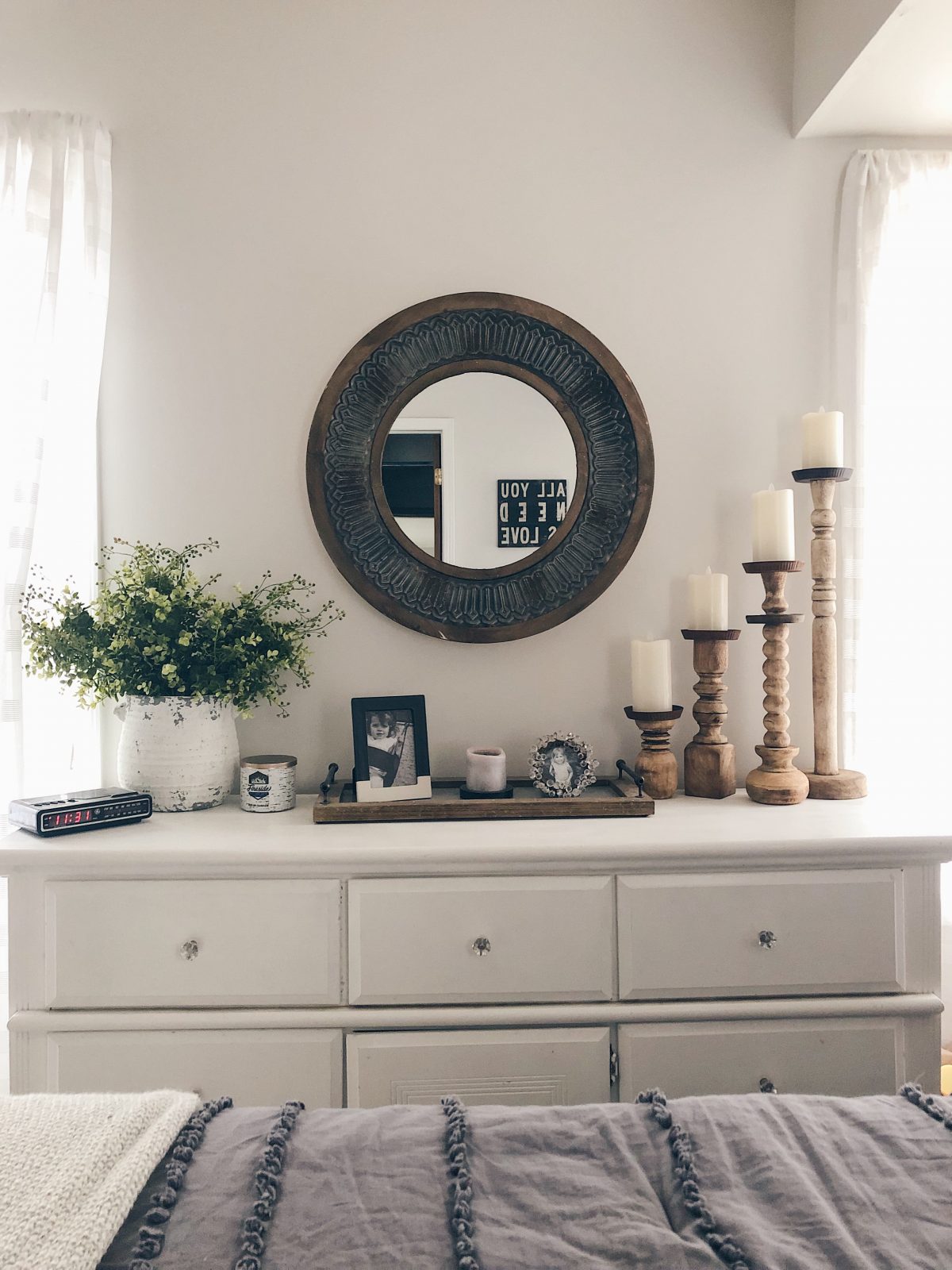 To be honest, at first I wasn't sure how I felt about it. But after adding a few more updated pieces like a mirror from Hobby Lobby, candle holders from Magnolia and new bedding that I picked up at Marshall's, I do love it. Our room still could use new furniture, but I'm unsure if I want to refinish our old stuff or find newish-old furniture and refinish that. And that track lighting needs to go, but for now I love our cozy space. For the walls, I picked out another Sherwin Williams paint color in Elder White and (again) had it mixed into Valspar Signature paint.
For all of the trim, I picked (what I think is the perfect white) the not too warm nor too cool Bistro White, from Valspar.
This year, I have high hopes that Pat will build me a new kitchen table and we will redo the second bath. I'll definitely keep you posted.🤞🏼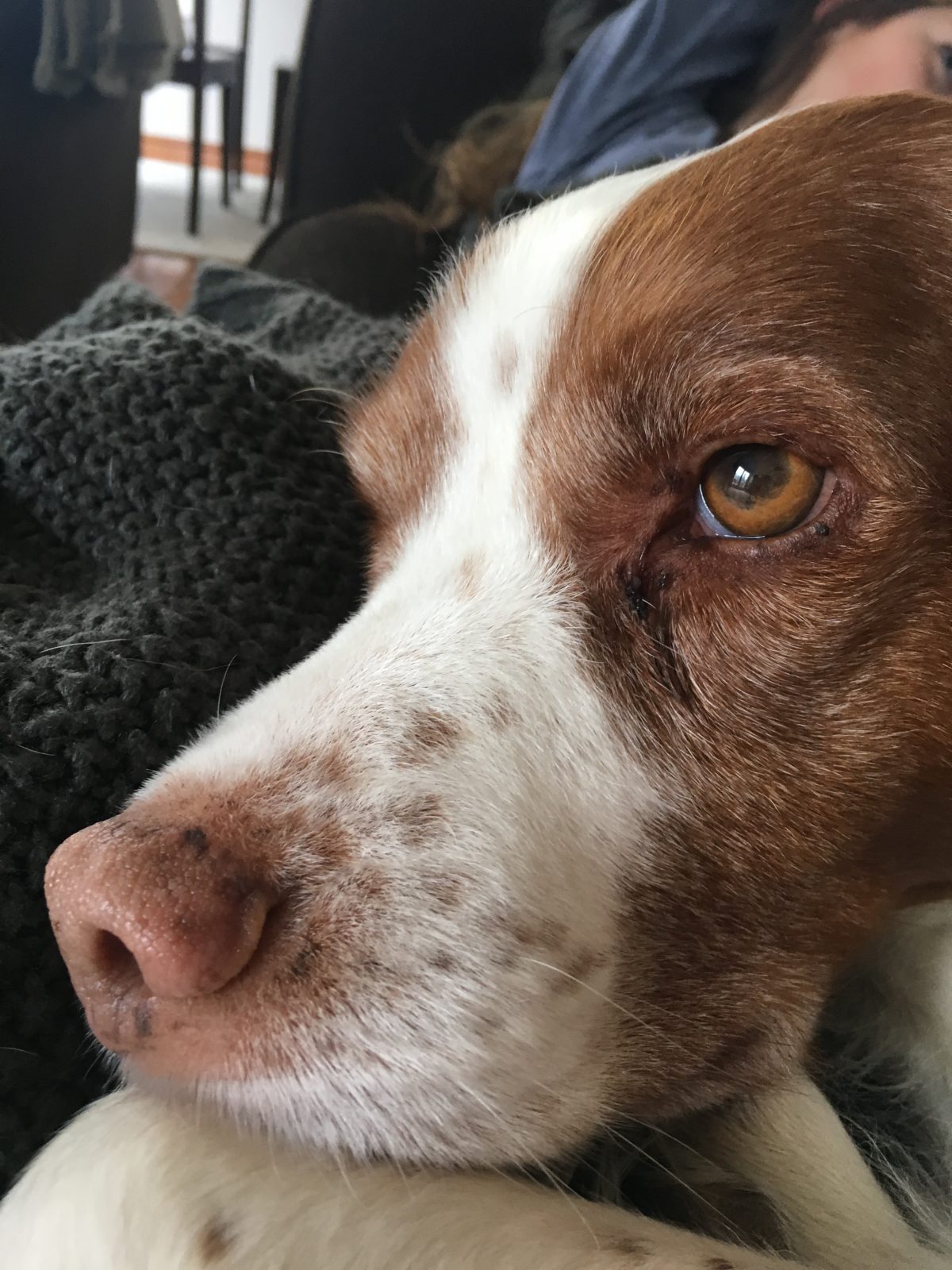 Sadly, on August 6th we said goodbye to the best dog. Although it's been 5 months, we still miss him terribly. I wrote all about him and our loss in this post which many of you were so kind to leave heartfelt messages. ❤️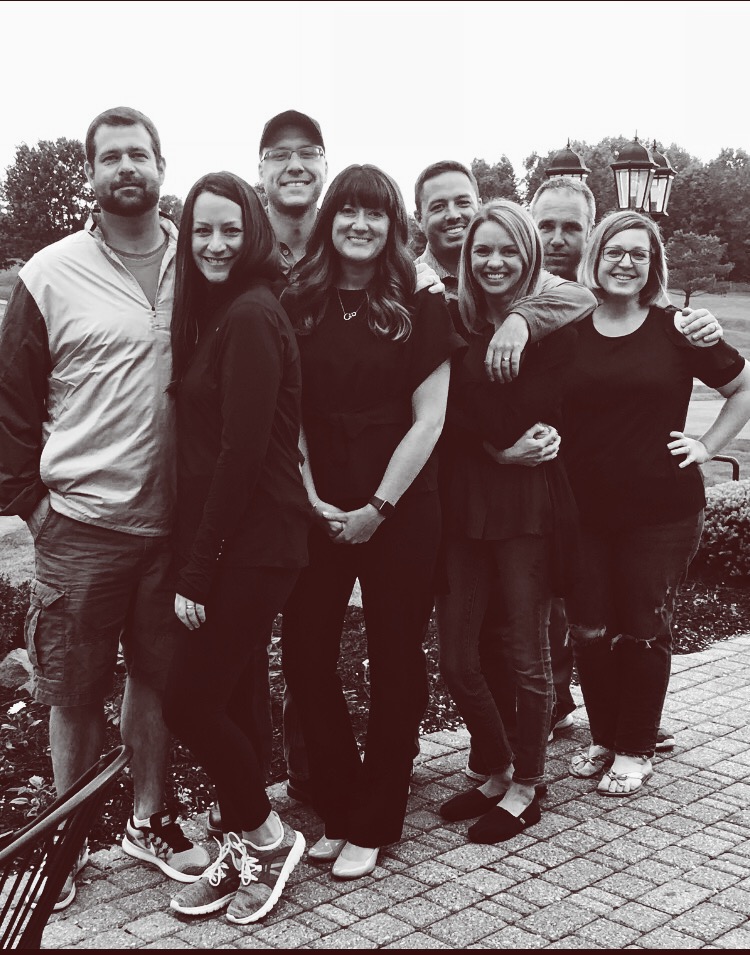 This year a lot of our friends turned the big 4-0. Which is a little crazy because I remember when most of them turned 21 and a few even longer than that, like middle school. So it was a fun year spent with friends. Pat and I are extremely lucky to have such great, life-long friends. Friends who are there for one another and will always help each other out. But most importantly, there is always guaranteed laughter!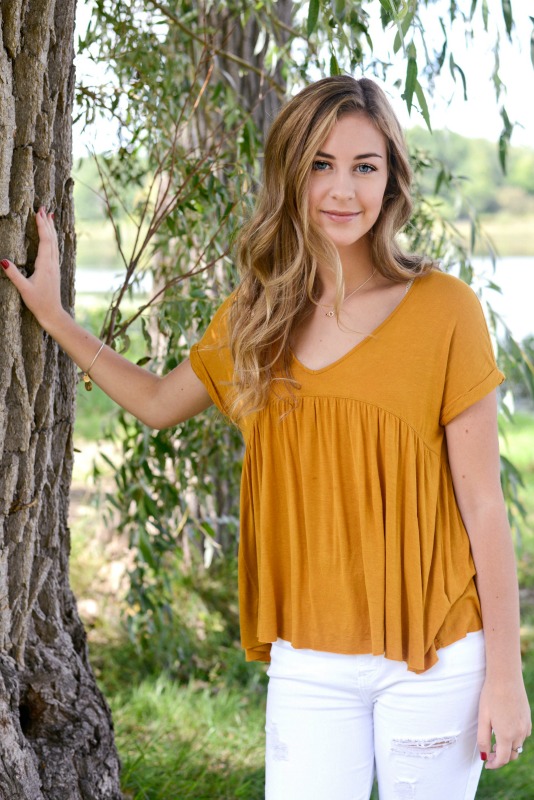 This year, Haileigh started her first job working at a local market as a bagger and was quickly moved up to cashier. She's part time, works 3 days week on top of all her other obligations, so it's safe to say she's getting a small taste of the real world. 😉
For a while now, Haileigh knew that she wanted to get a degree in teaching. In the spring she had applied for a Teacher Cadet course provide by the high school. For this, she had to fill out an application, write an essay and obtain teacher recommendations all of this in order to be considered. She was accepted at the end of her junior year for her upcoming Senior year. This means, for her last hour of the school day she will shadow a different teacher a trimester from the district, getting experience in a classroom. So far, she LOVES it!
Towards the end of summer, we drove 2-1/2 hours and toured a potential college and we all loved it. But then, through her Teacher's Cadet course she was able to tour more colleges and one in particular stood out. Haileigh applied to the only two colleges she wanted to attend and was accepted to both! And only just recently made her decision.
This year, Haileigh was also inducted into her high school National Honor Society and National Technical Honor Society adding to Spanish National Honor Society.
This girls future is SO bright.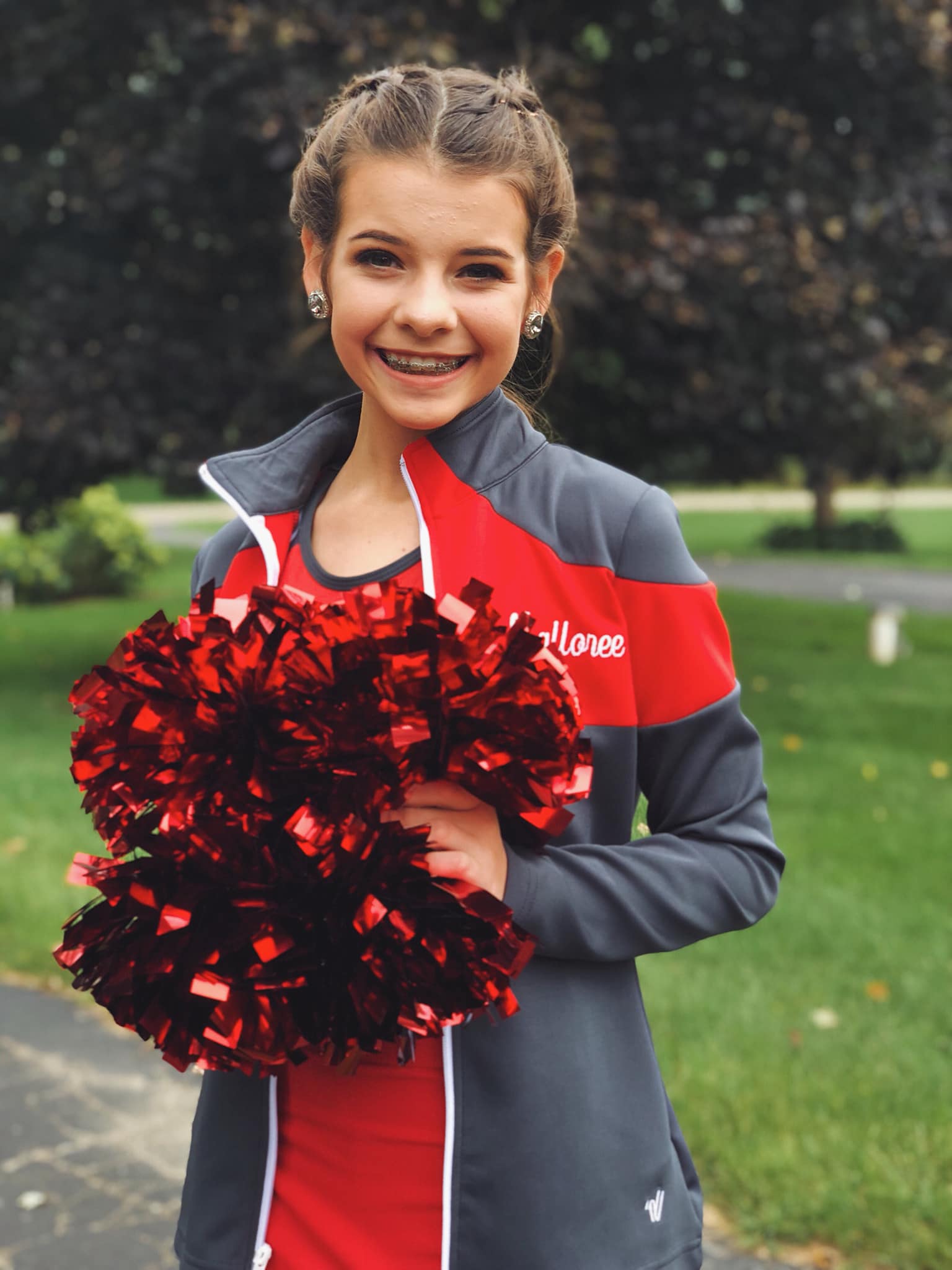 Malloree had a big year as well! Softball made up the majority of the beginning of the year, playing for her 8th grade team and moved directly into summer travel ball. But in March she tried out for and made the varsity dance team. For a few months she was playing softball or had dance practice every night of the week. Now that I think of it, she has always multi-tasked sports. The last two years she would juggle softball with volleyball, and no matter what she never complained. However, she made the decision that this would be her last year playing softball. A little bittersweet, but all 4 of us have given up our summers for the sport and to say we weren't a little excited to have spring and summer weekends back would be a lie.
So Malloree has traded her softball glove for poms! And instead of us sitting at the ball field in those hot 90° weather, we bundled up this fall to watch her and the dance team on the sidelines of football games and currently cramming into bleachers at basketball games.
With little dance experience, Malloree has not missed one single practice in the last 10 months, and on her own (and with the help of a few teammates from time to time) has taught herself and has grown so much. She is determined and has learned so much about work ethic and perseverance.
With Haileigh being busy; working, hanging with friends and living a normal teenager life, Mal and I have more time together just the two of us. She's become my shopping buddy and we often have lunch dates together. With only a few years before she goes off to college (and I know how fast that will go) I cherish this special time together.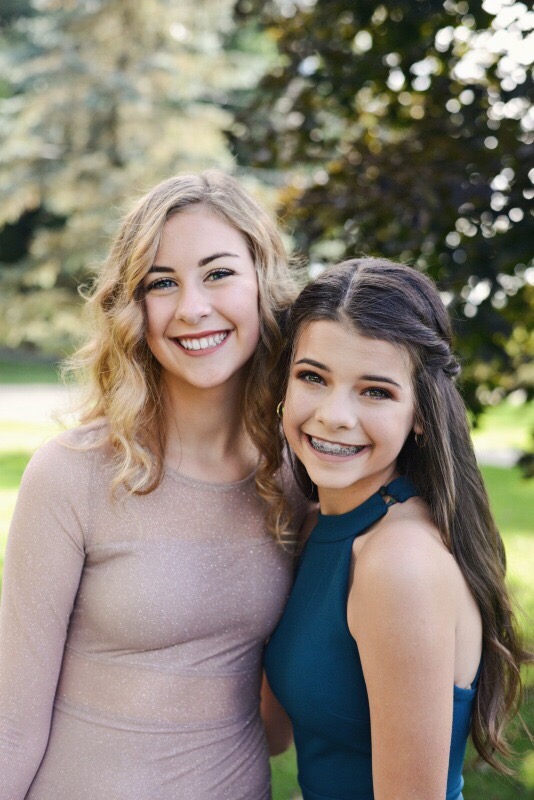 This fall, Malloree went to her first high school homecoming dance and Haileigh, her last. Both girls had a great time and looked absolutely beautiful!
We also had to replace our fridge this fall. Not that I minded! It first broke in late October after a power outage. Miraculously it started working again for a few more weeks (just in time for Best Buy to start their Black Friday sale!) before it broke again. By mid November I had this beauty! It doesn't match a thing in our kitchen, and makes our tiny, 1980-something stove look ridiculous. But until we remodel the entire space, it will have to do. 😉 Please ignore the styrofoam that's everywhere, I took this seconds after the delivery guys left.
The holidays came and went so fast, and because Pat and I just bought a new fridge, we really didn't plan to exchange gifts this year. I told him to go buy a new muzzleloader at some point in 2019 and then he surprised me with hiking boots.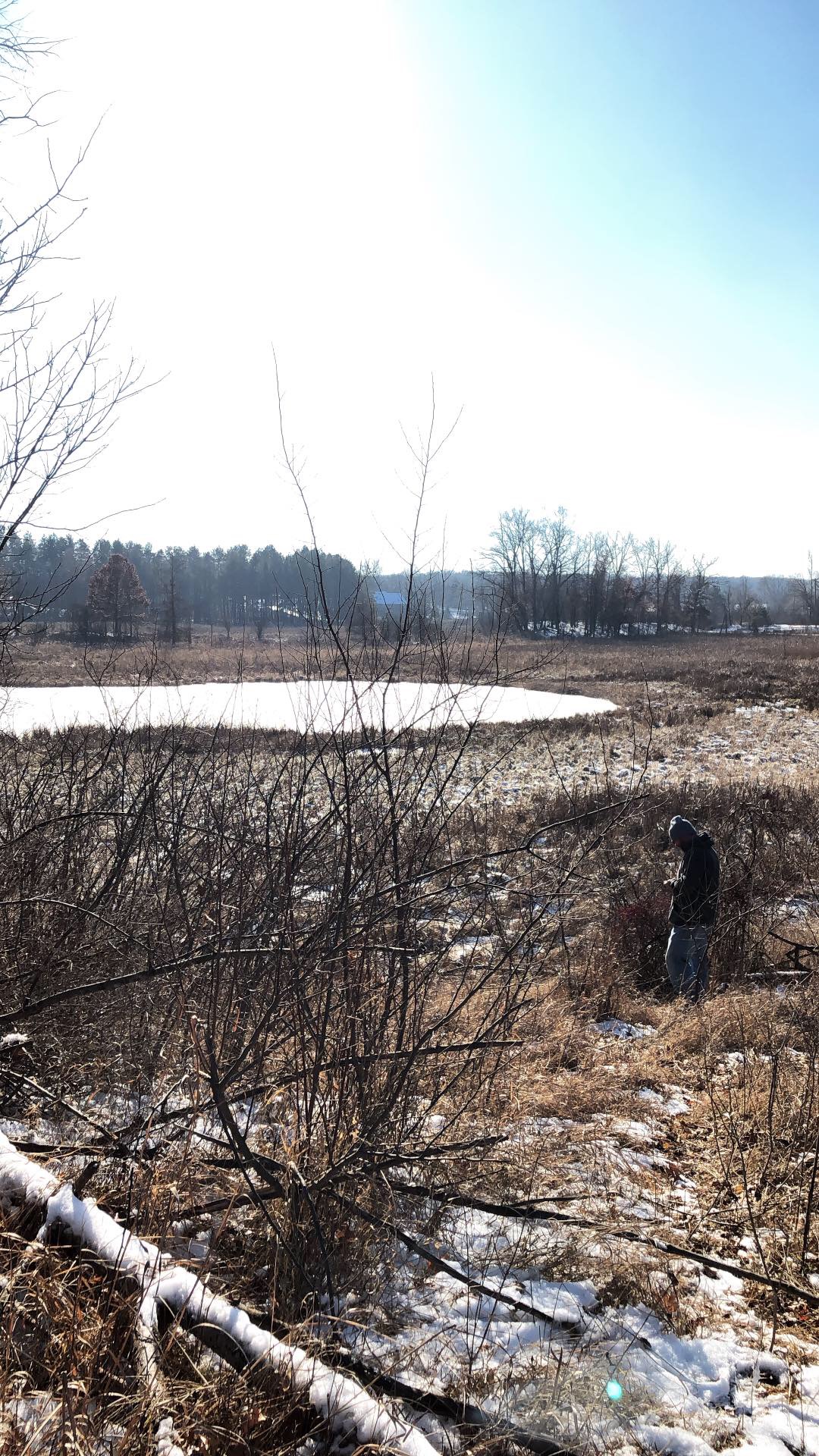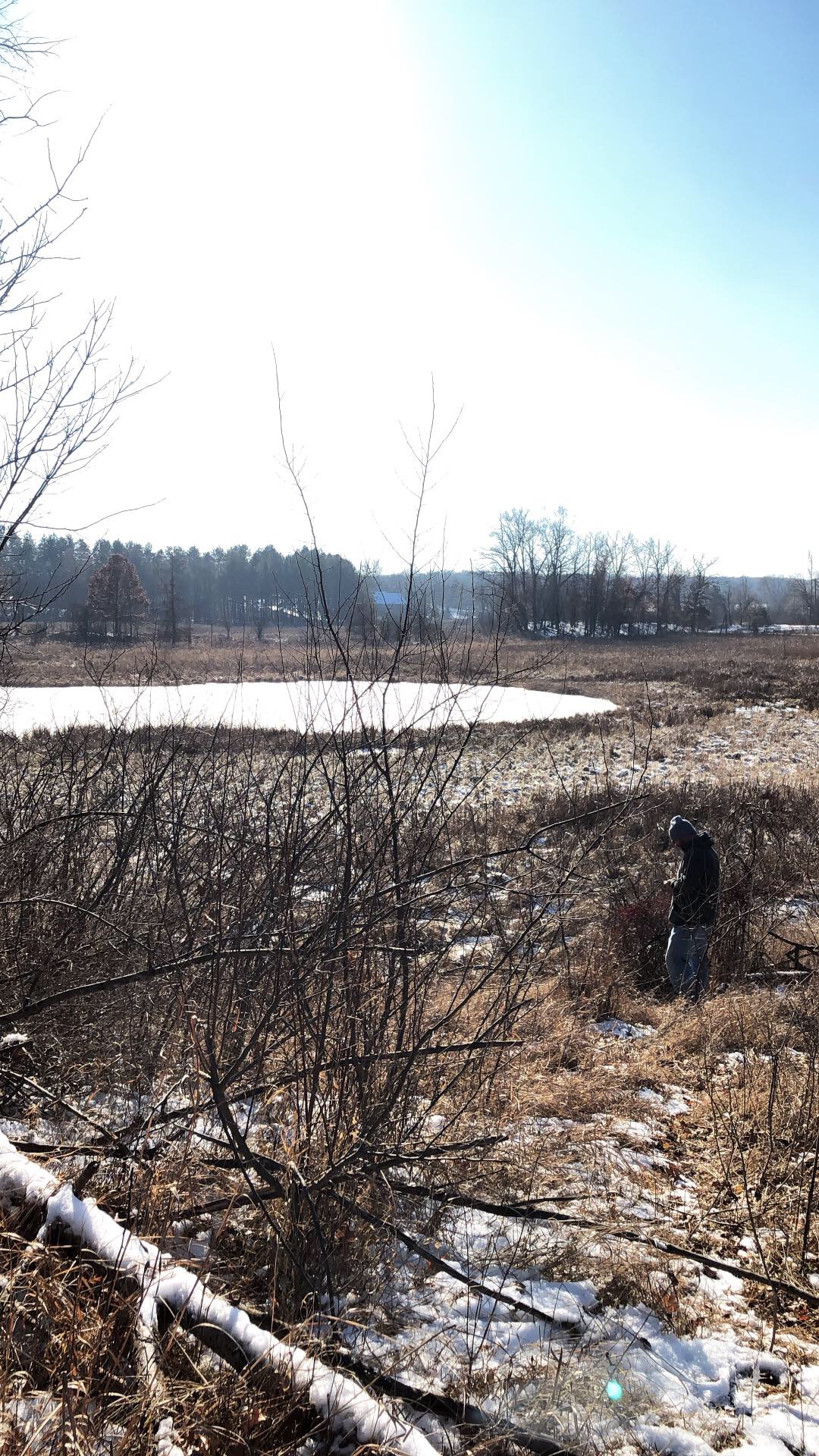 We've talked about going hiking a lot and Pat has gone without me for years now. I've alway been too reluctant; one part was laziness and the other part was that I didn't have adequate footwear. However, I've recently started a healthy diet plan and with that my (our) personal goal for 2019 is to get outside often and be more active. We already went on one 2 mile walk, and then this past Sunday we went out on our first actual hike. We went to a nearby county park that backs up to our lake and hiked 2.7 miles in 33° weather. It was sunny and beautiful and we had so much fun. I'm already looking forward to our next one.
Looking forward: I'm extremely optimistic about 2019. It will for sure be crazy (and emotional year) with Haileigh's graduation and move to college, Malloree's dance schedule and regular things in life. But this was all part of the plan right? To raise our kids and see them on their way through life.
Professionally, I am excited to announce that Simply Scratch will be getting a new look! I know I said this last year, but I'm actually on a waiting list right now as I type. 😂 Besides a fresh, updated look there will be some new features and layout. And with that a better search option as well. Look for that spring of 2019! I literally CANNOT WAIT!
To all of you that visit, cook or bake a recipe and leave a comment or send me an email – I so deeply appreciate you. Over the years some of you have even become friends and to me that is what this is all about. As I start my 9th year of blogging (!!!), I'm still just as passionate and excited to share recipes. I'm proud of my corner of the food blogging world. Without each and every one of you, this blog simply wouldn't be and I appreciate your continued support. I wish for you all to have an amazing 2019 and that it brings you joy, peace, love and laughter.
From my family to yours, Happy New Year!
Want to read my past year in review posts? Here are the last 8 years.
This post may contain affiliate links.
Buy the Cookbook: Simply Scratch : 120 Wholesome Homemade Recipes Made Easy Now available on Amazon »
THANK YOU in advance for your support!