If you love the whole salt-sweet combo, these Sea Salt Chocolate Chip Butterscotch Pretzel Cookies are your dreams come true! filled with chocolate and butterscotch chips, pretzels and topped with sea salt. Makes 3 dozen cookies in about 1 hour and 15 minutes.
Basically these sea salt chocolate chip butterscotch pretzel cookies are the end all be all cookies. I'm not kidding. They're like the chocolate chip cookie's older, cooler and more popular sister. Filled with milk chocolate chips, butterscotch baking chips and salty pretzel pieces and sprinkled with sea salt.
Now it's been awhile since I made cookies, and being that it was a rainy day I decided to make a recipe I remember seeing on Pinterest over the years. I've never made them before this, so I took the base from this cookie recipe and applied it to this one, simply swapping out ingredients.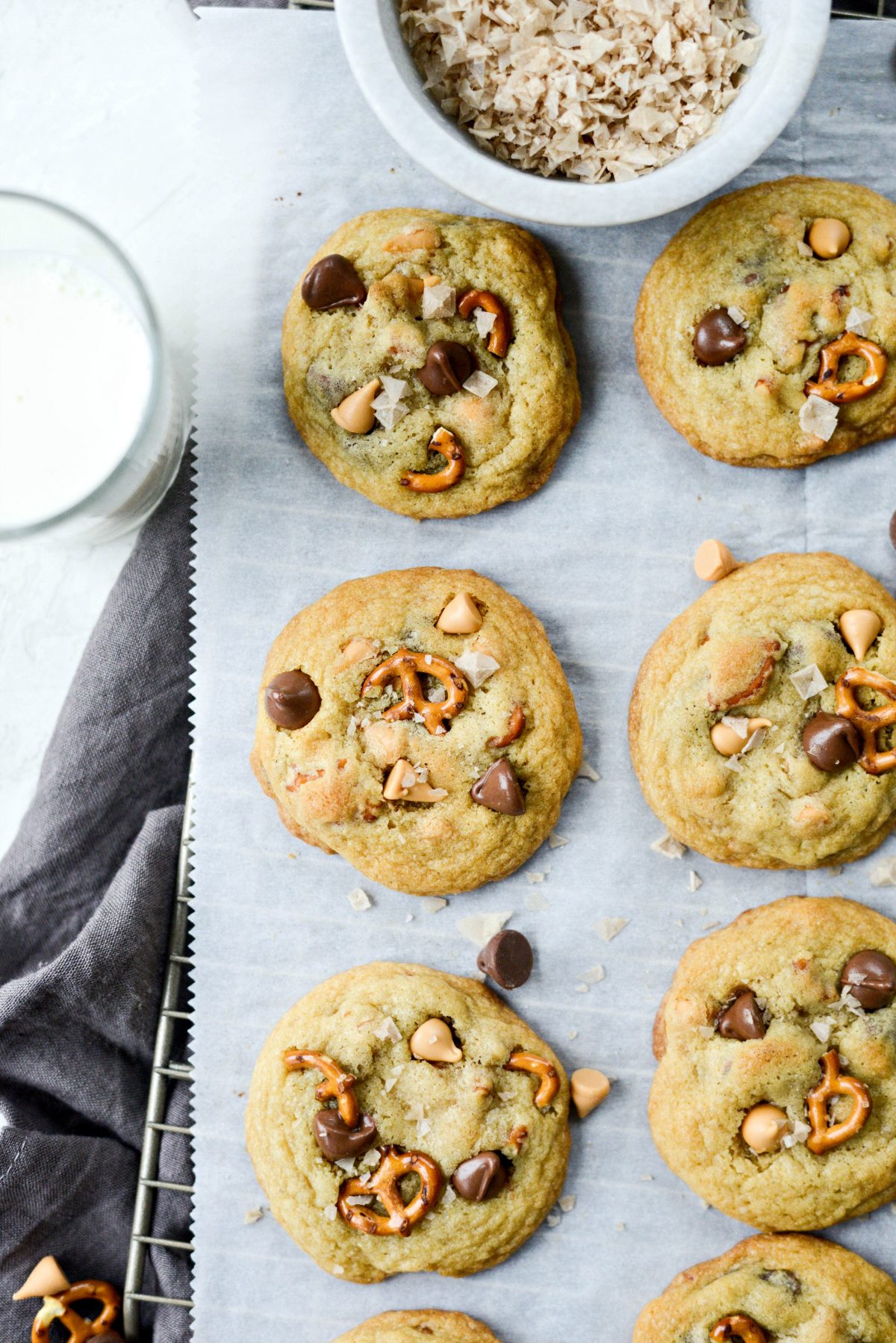 The end result?
Salty and sweet perfection. The butterscotch with the pretzels is heavenly and the flaked sea salt sprinkled over top helps balance the sweetness of the cookies.
To Make These sea salt chocolate chip butterscotch pretzel cookies You will need:
unbleached all-purpose four
baking soda
kosher salt
unsalted (at room temperature) butter
light brown sugar
granulated sugar
pure vanilla extract
eggs (also at room temperature)
milk chocolate chips
butterscotch baking chips
pretzel pieces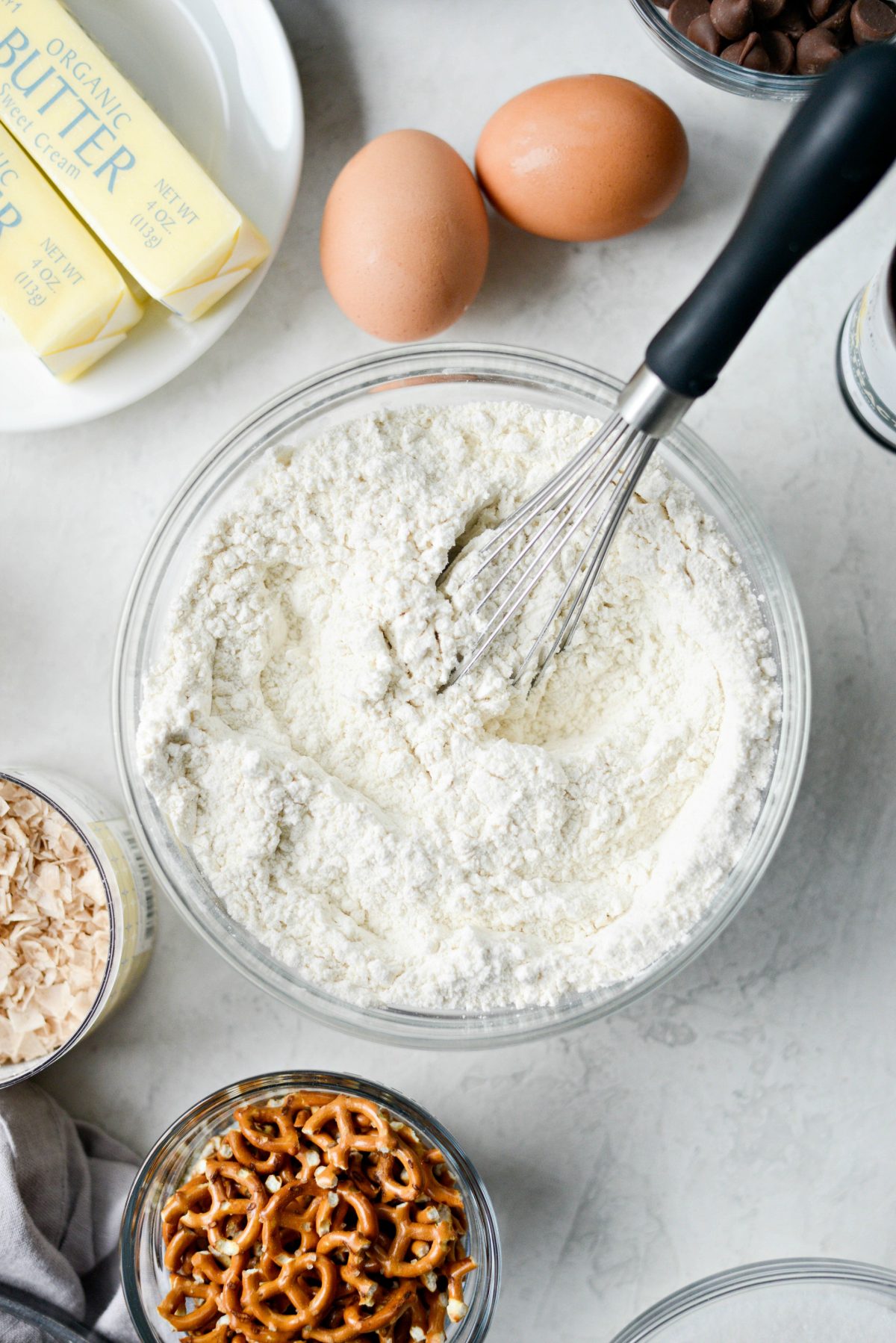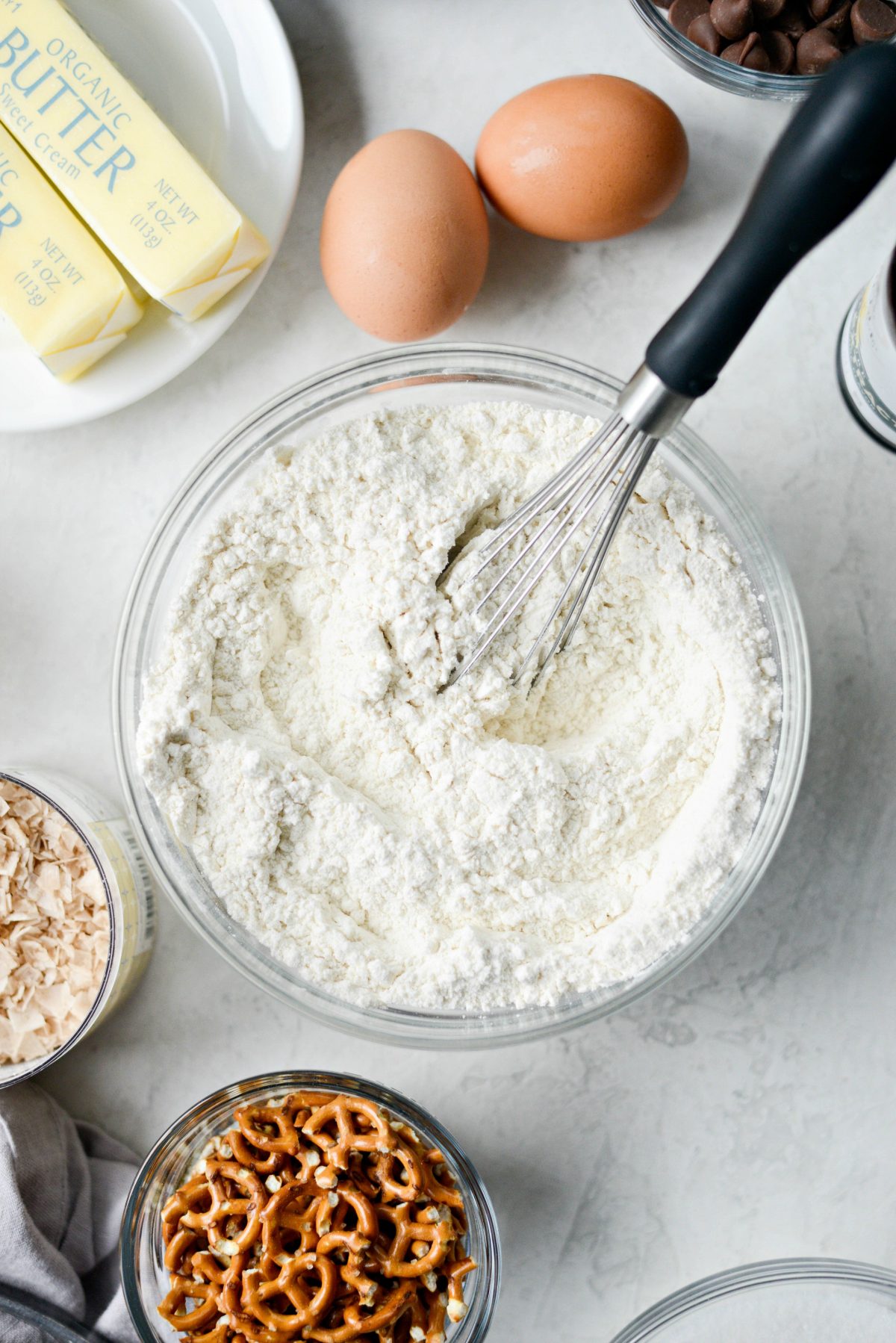 In a medium bowl, whisk together the 2-1/4 cups of flour with 1 teaspoon baking soda and 1 teaspoon kosher salt, then set aside for a minute.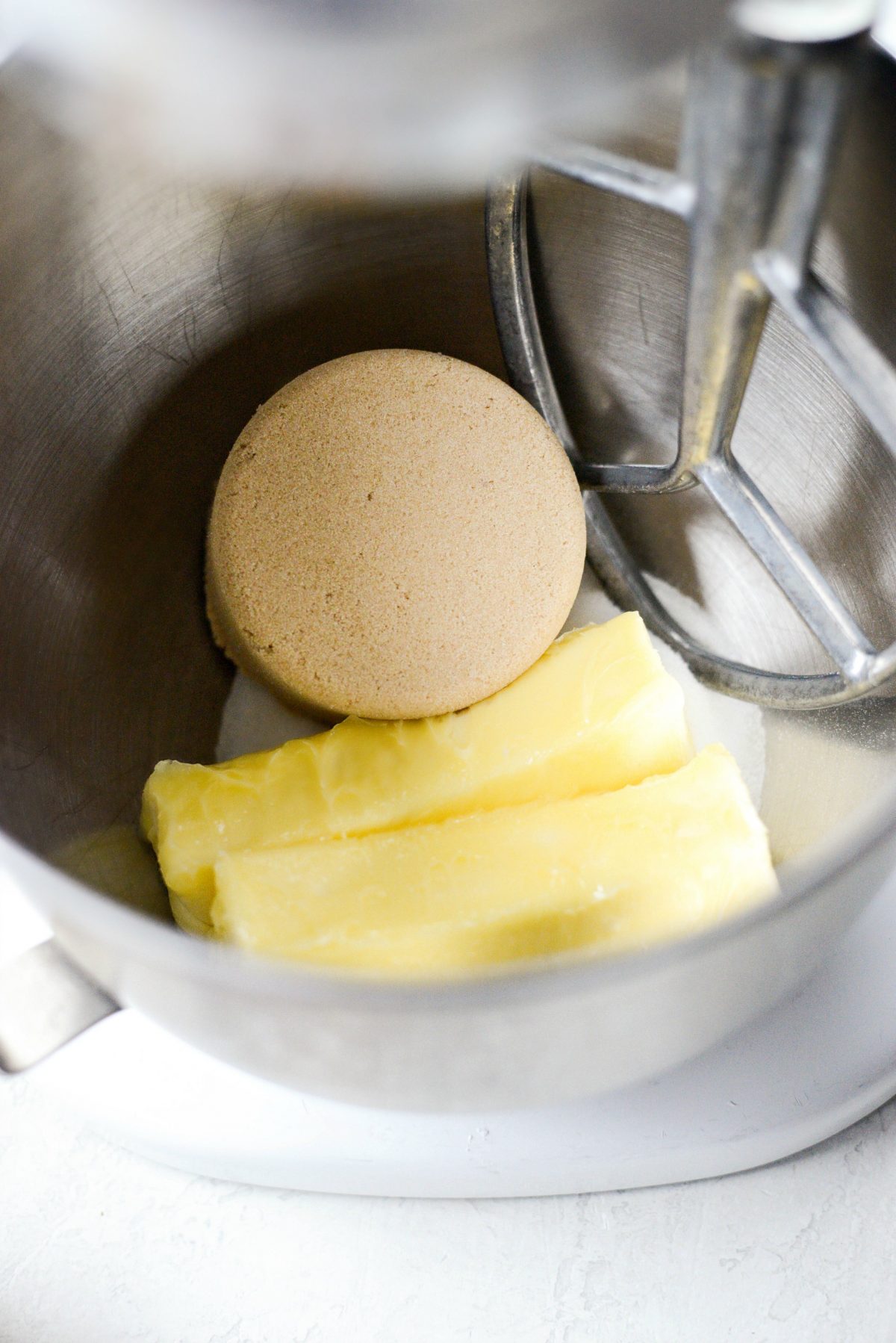 In the bowl of your stand mixer, fitted with the paddle attachment, add the 2 sticks of softened, unsalted butter with 1 cup of light brown sugar and 1/2 cup granulated sugar. Then mix on low speed until the ingredients are incorporated, and light and creamy.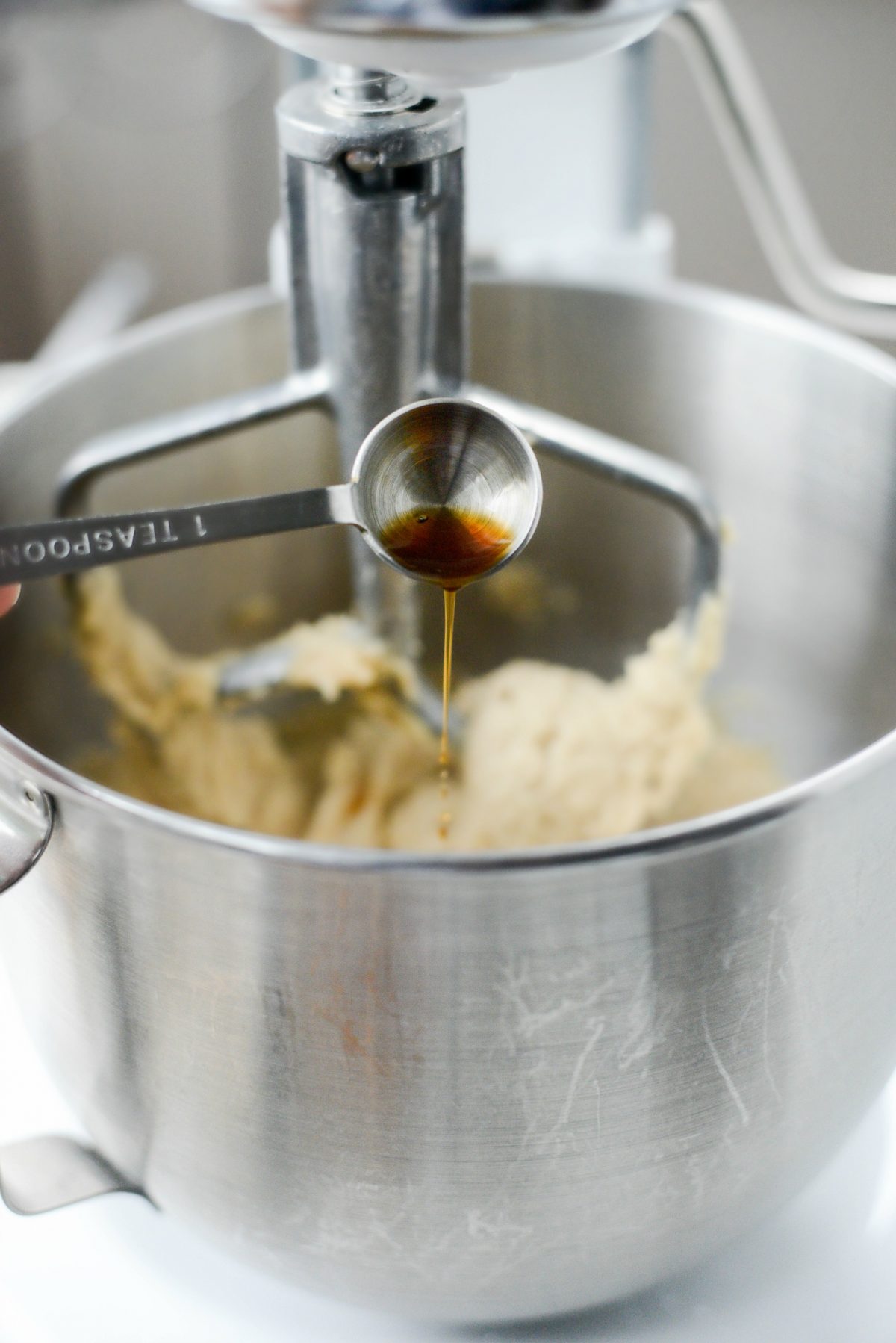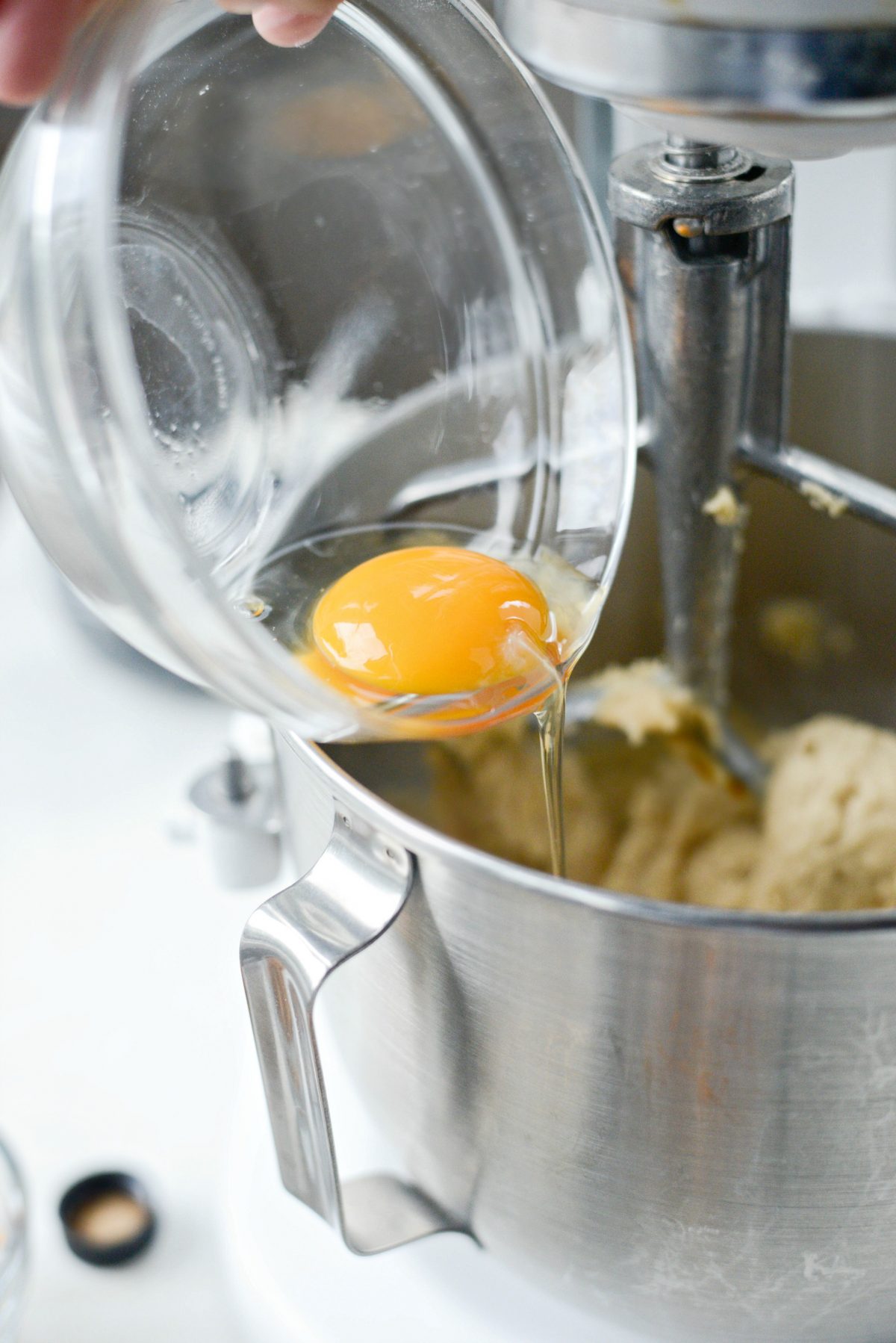 Scrape down the sides and the bottom of the bowl before adding in the 2 teaspoons vanilla and the first egg. Continue to mix on low-speed until the egg is incorporated. Then repeat with the last egg, mixing until incorporated as well.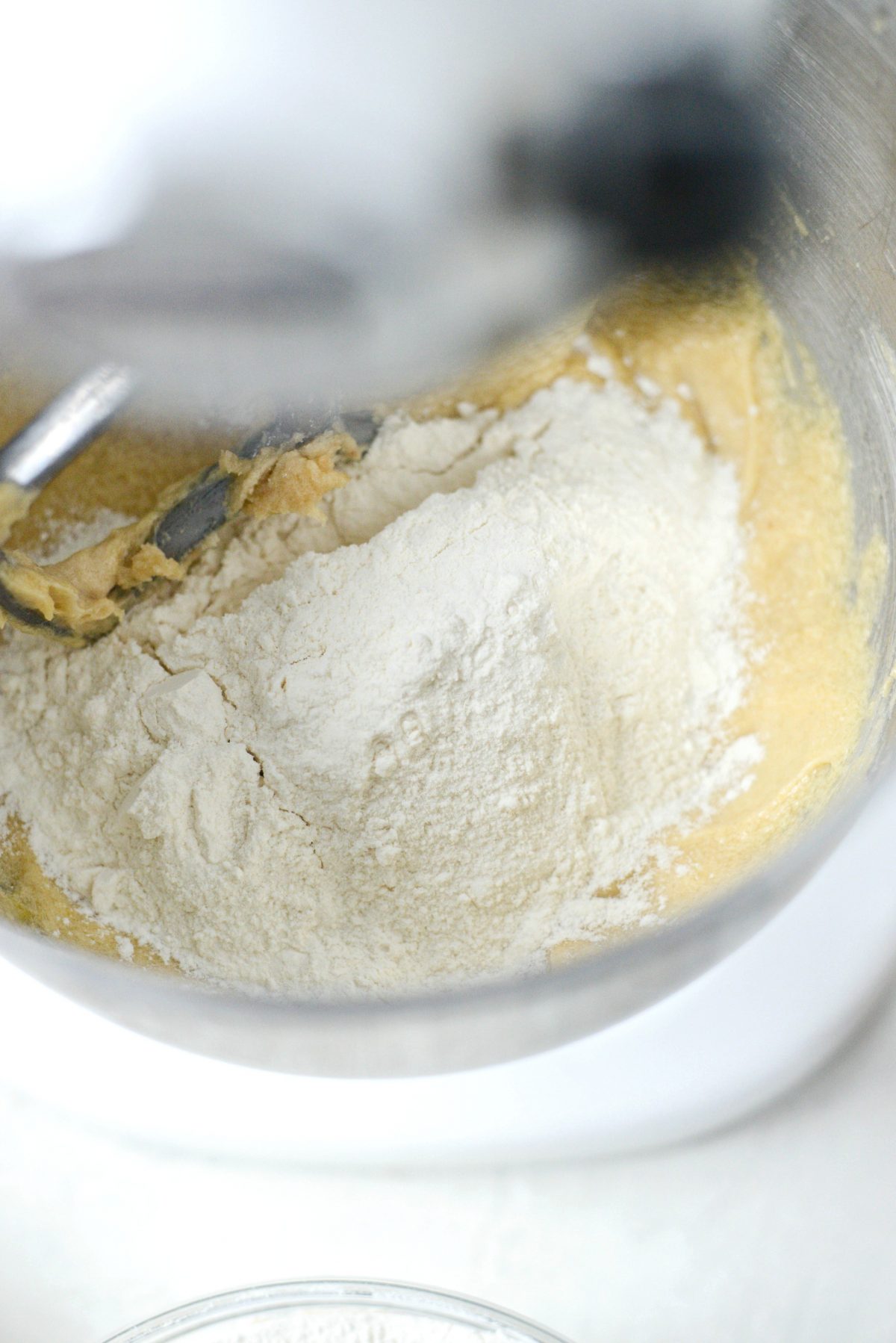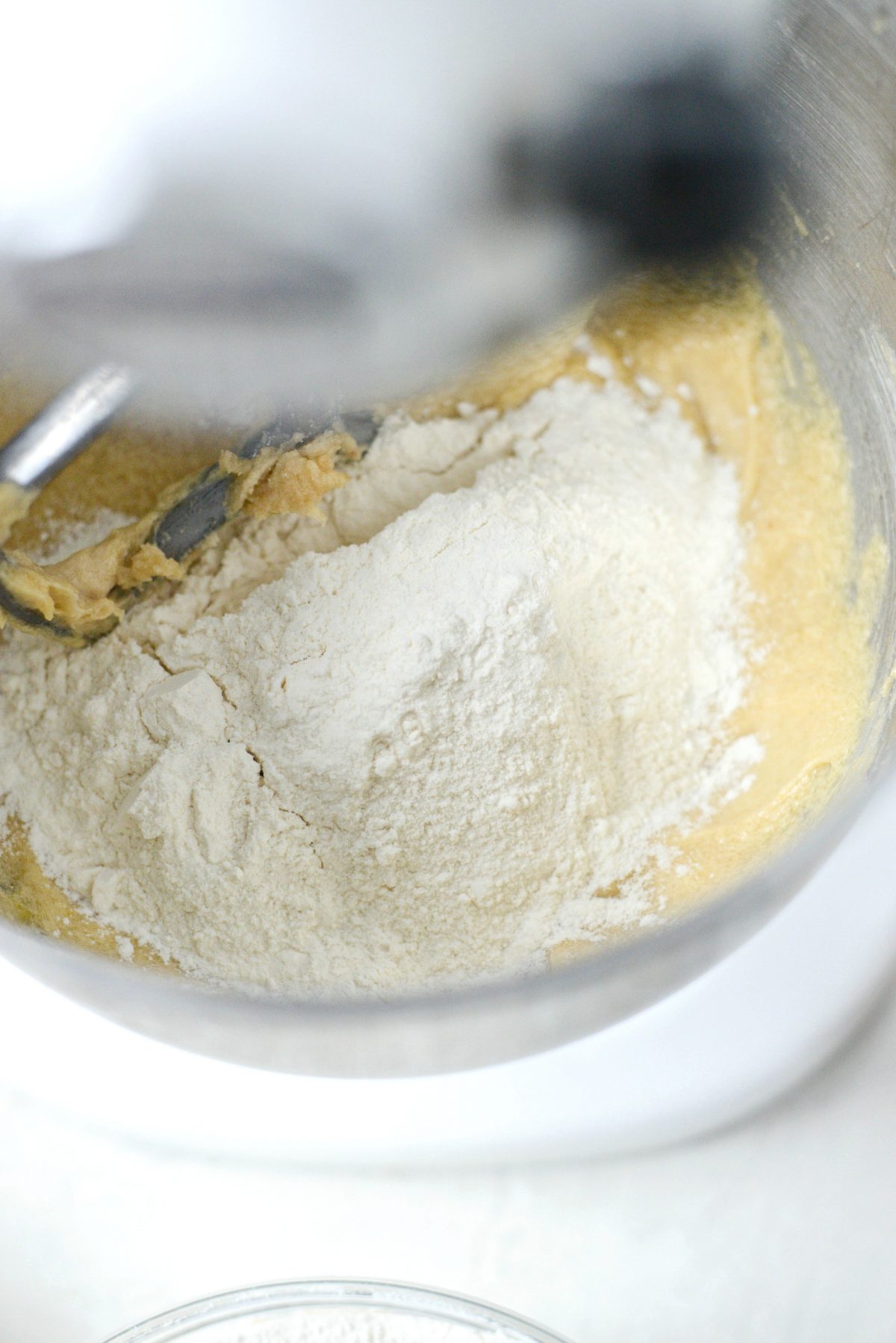 Scrape down the bowl before adding 1/3 of the flour mixture. Mix on low until just combined. Then add in 1/3 more of the flour mixture and repeat until the flour is incorporated.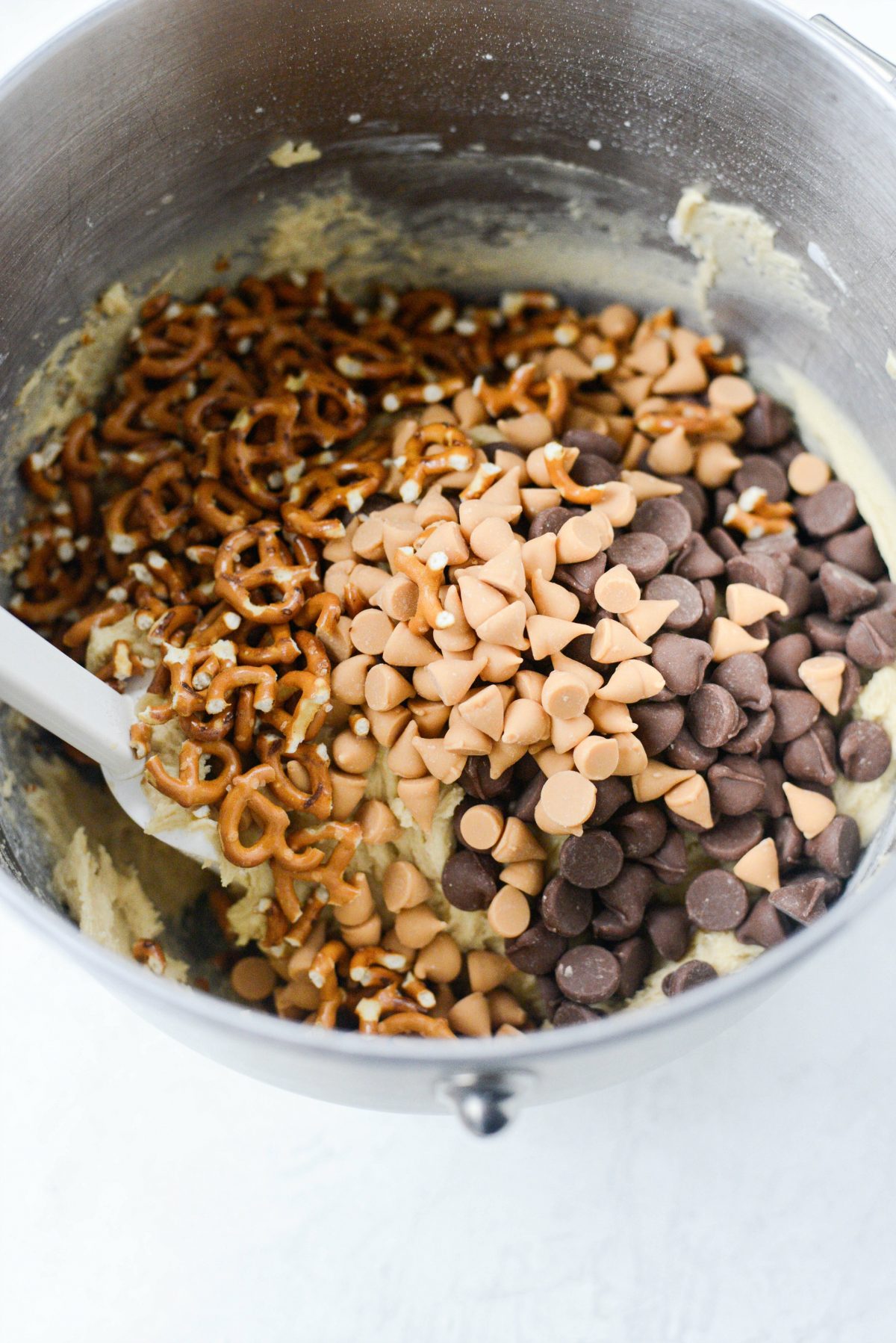 Now comes the fun part! Add in 1 cup milk chocolate chips, 2/3 cup of butterscotch baking chips and 2/3 cup crushed pretzel pieces.
Use a rubber spatula to mix in the baking chips and pretzels until thoroughly combined, then cover tightly with plastic wrap and refrigerate for 30 minutes.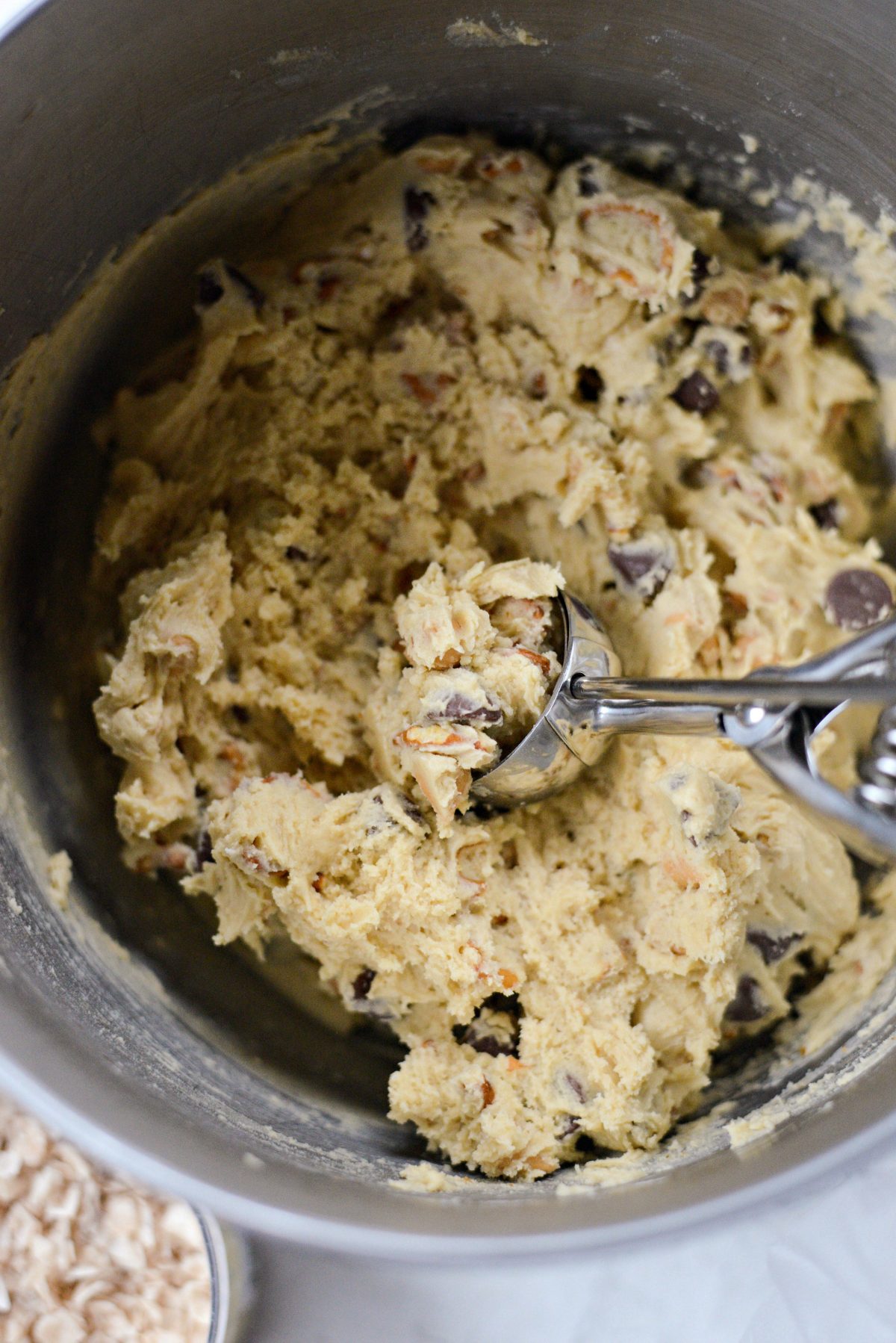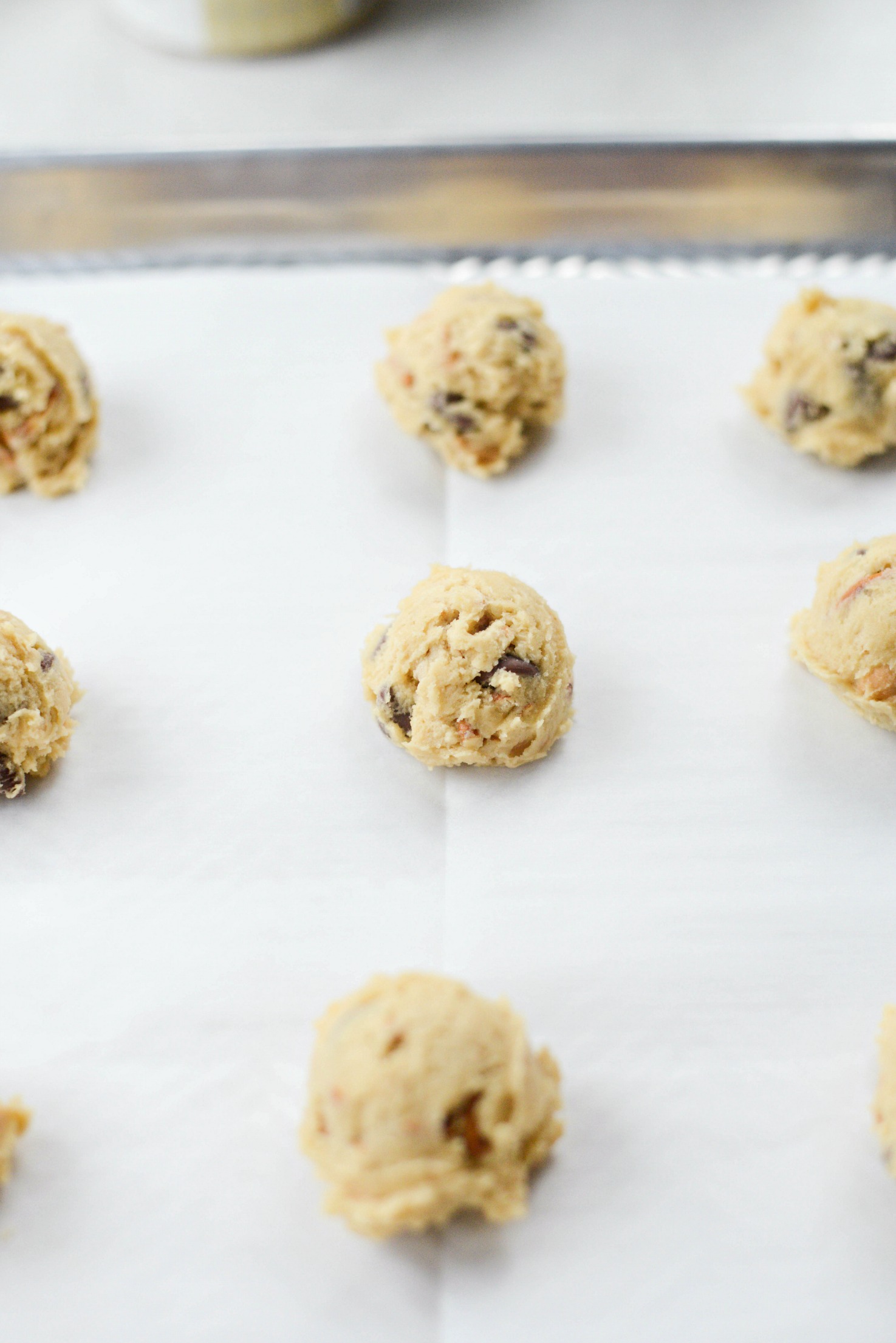 Next preheat your oven to 350° and line a rimmed, metal baking sheet with parchment paper or a silicone baking mat. Then use a 2 tablespoon scoop to measure out the cookie dough and place 12 scoops a few inches apart onto the prepare pan. No need to flatten, the hot oven will make that happen.
Slide the pan onto the middle rack of you preheated oven and bake for 8 to 10 minutes or until the edges are lightly golden brown.
Before you bake all the cookies:
Do me a solid and taste test the cookie dough–only if you like raw cookie dough, of course– it's pretty spectacular. Which is a sure sign that once baked, the cookies will be too.
Once the cookies have baked, sprinkle with flaked sea salt.
I only had smoked flaked sea salt, but plain is just as delicious.
For aesthetic reasons, I like to press extra chocolate chips, butterscotch chips and pretzel pieces into the top. This is totally optional and really only for looks–but I do it anyways!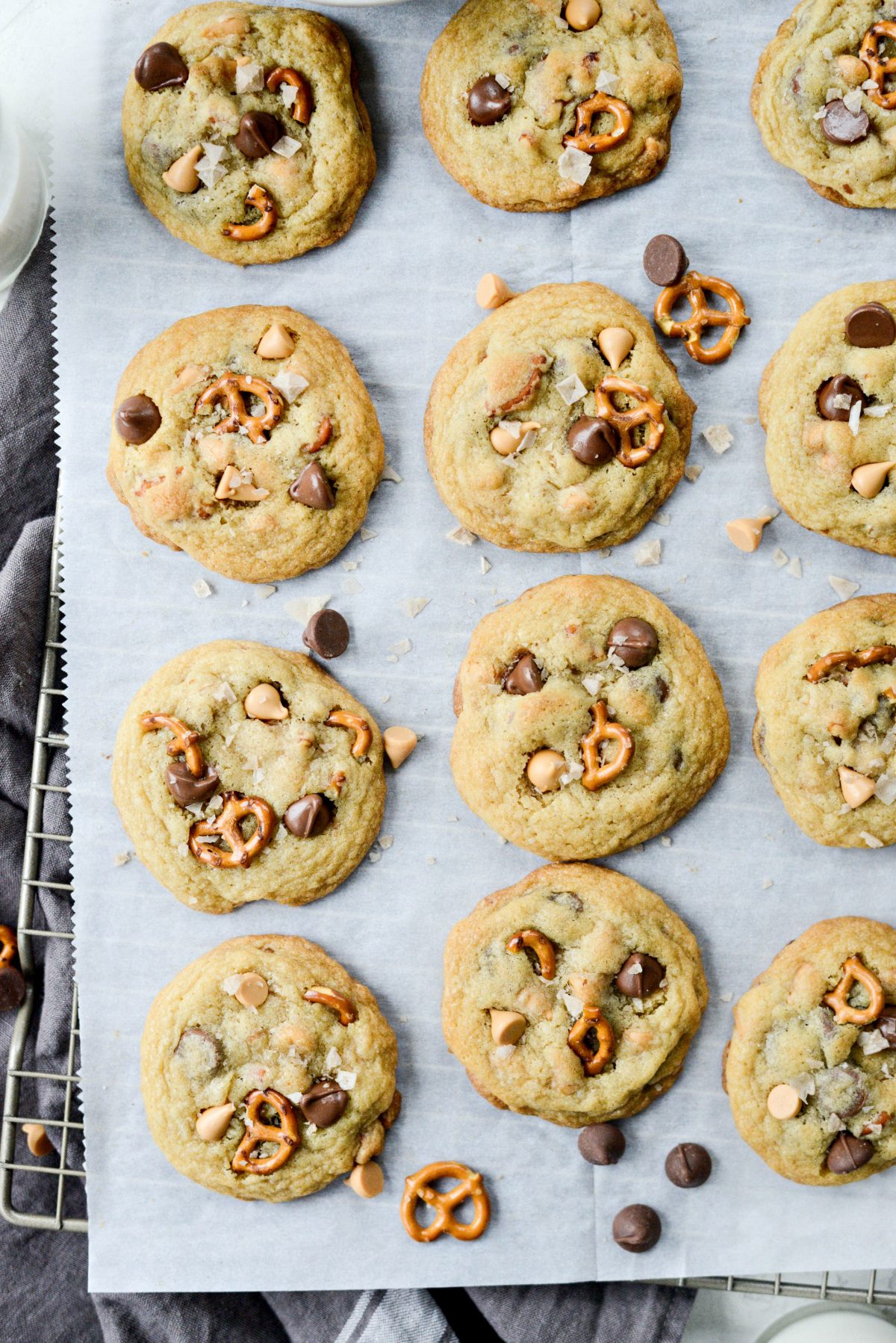 Back to these cookies!
You guys, they are so good! I was especially surprise how much I love the butterscotch with the pretzels and chocolate chips.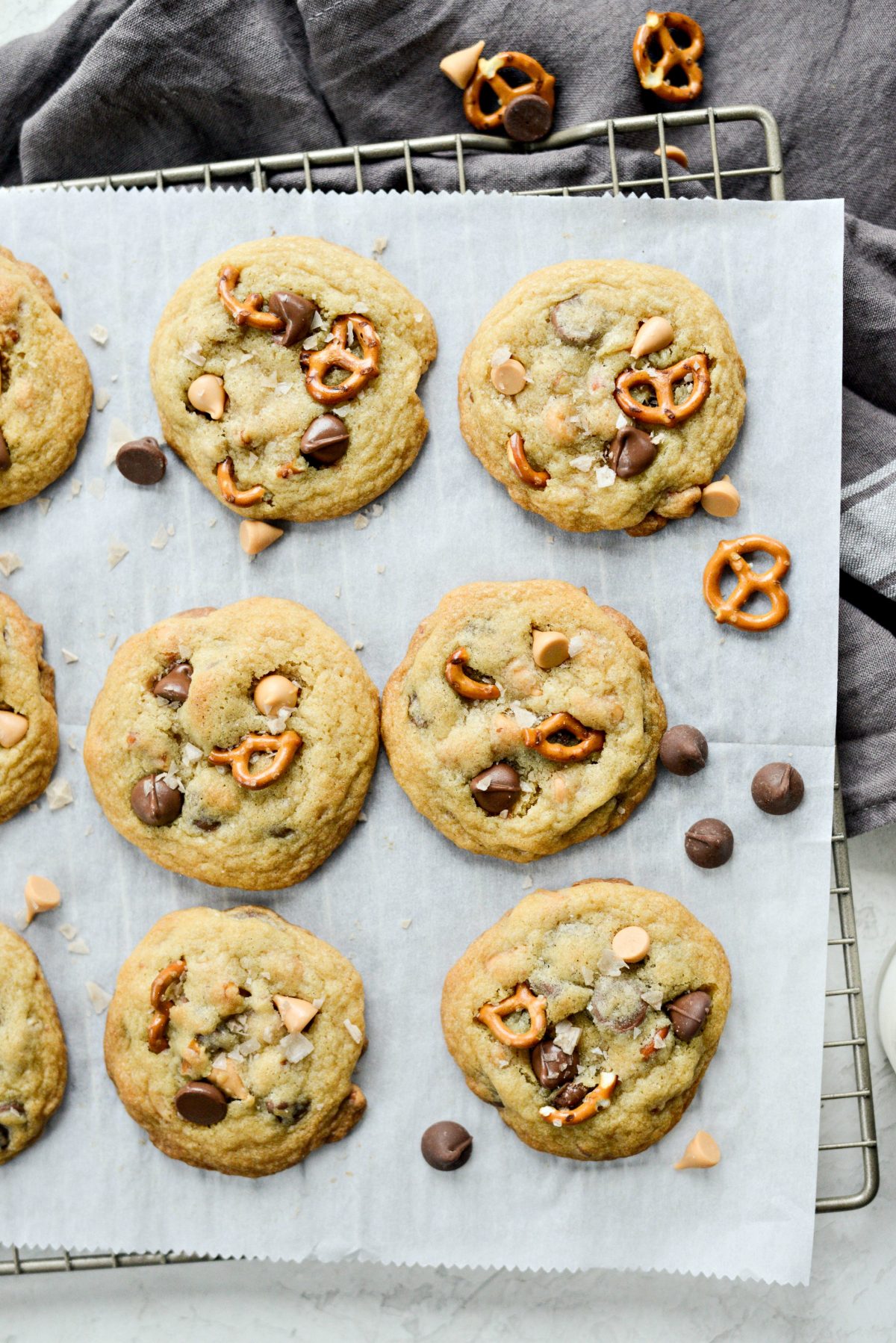 My family ALL love these and I know you will too.
If I was smart, I would have made these next week when my kids are back in school so I didn't have to share.
Next time. Next time.
Enjoy! And if you give these sea salt chocolate chip butterscotch pretzel cookies a try, let me know! Snap a photo and tag me on twitter or instagram!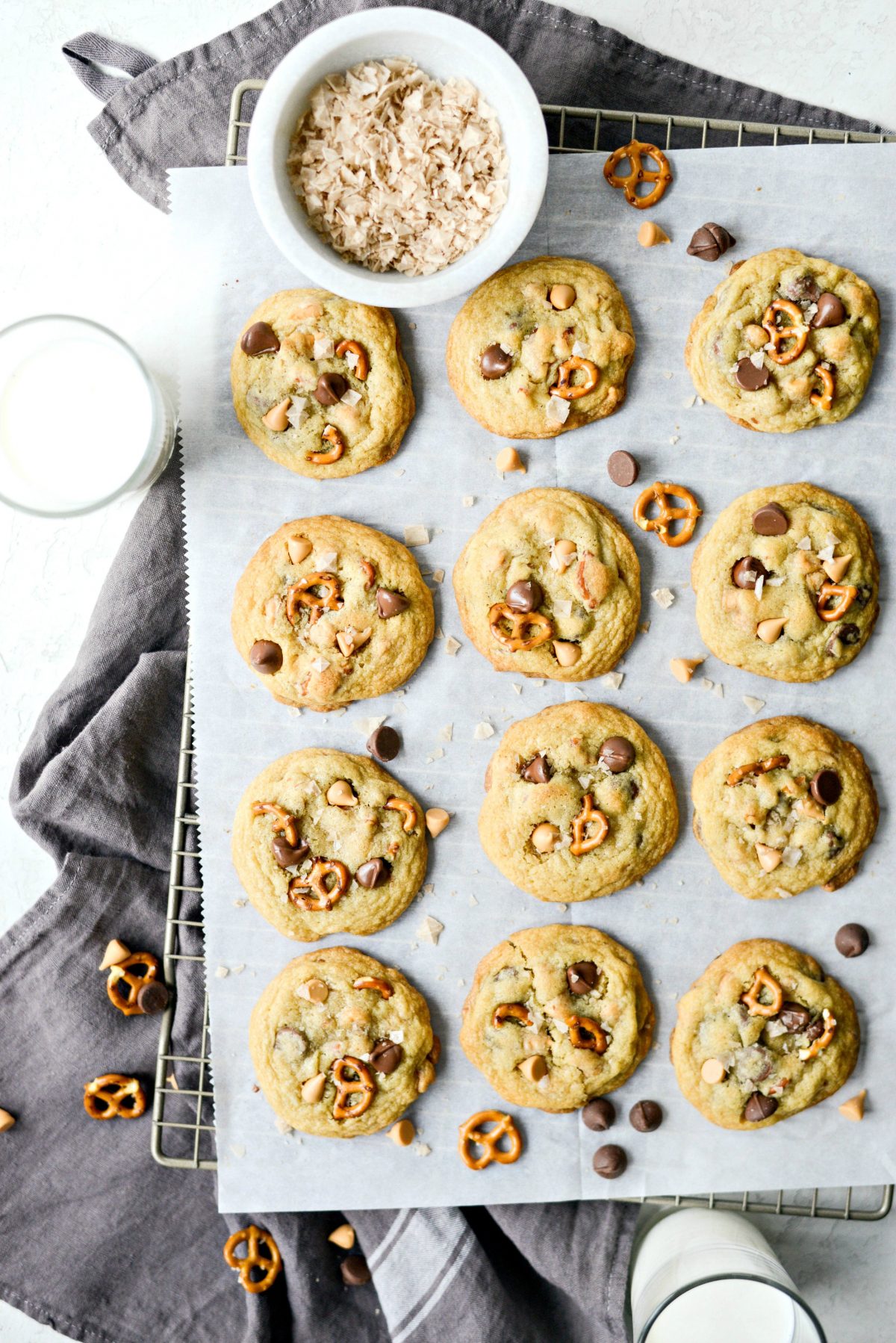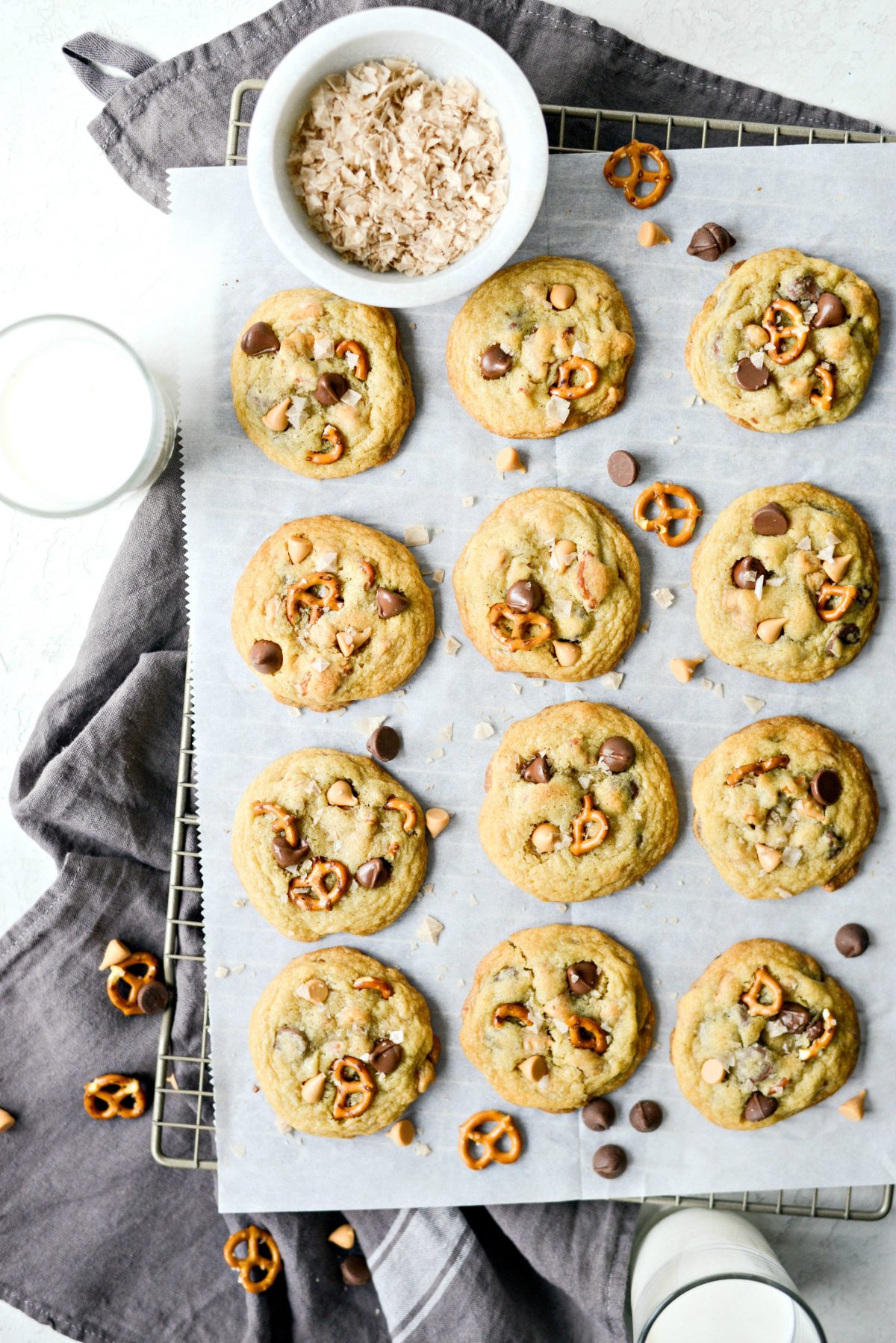 This post may contain affiliate links.
Buy the Cookbook: Simply Scratch : 120 Wholesome Homemade Recipes Made Easy Now available on Amazon »
THANK YOU in advance for your support!