These Classic Butter Tarts always remind me of Christmastime. A sweet pastry dough is filled with soaked raisins, chopped walnuts and a sweet and sticky filling of brown sugar, egg and vanilla filling. This recipe yields 40 sweet and nutty butter tarts.
It wouldn't be Christmas without a platter of these classic butter tarts and I've been waiting all year to share these delicious bite-size treats with you.
This is my maternal Great Grandmother's recipe and has been in our family for forever. What are butter tarts? Only the most delicious treat ever. Butter Tarts are a Canadian sweet tart, consisting of a buttery and flakey, cookie-like crust filled with tender, soaked raisins, chopped walnuts in a gooey brown sugar filling. Although some purists may say that adding raisins is a no-no, my Great Grandmother was Canadian so I'd say these are legit.
Besides, the raisins add delicious texture and flavor that you can't deny.
Here's what you need; 1 egg, 1/2 cup dark brown sugar, 1/3 cup golden syrup, 3 tablespoons melted butter, 1/2 tablespoon both white vinegar and vanilla extract, a pinch or two of kosher salt, 1/2 cup raisins and 1/2 cup chopped walnuts. You will also need 1 recipe for pâte sucrée.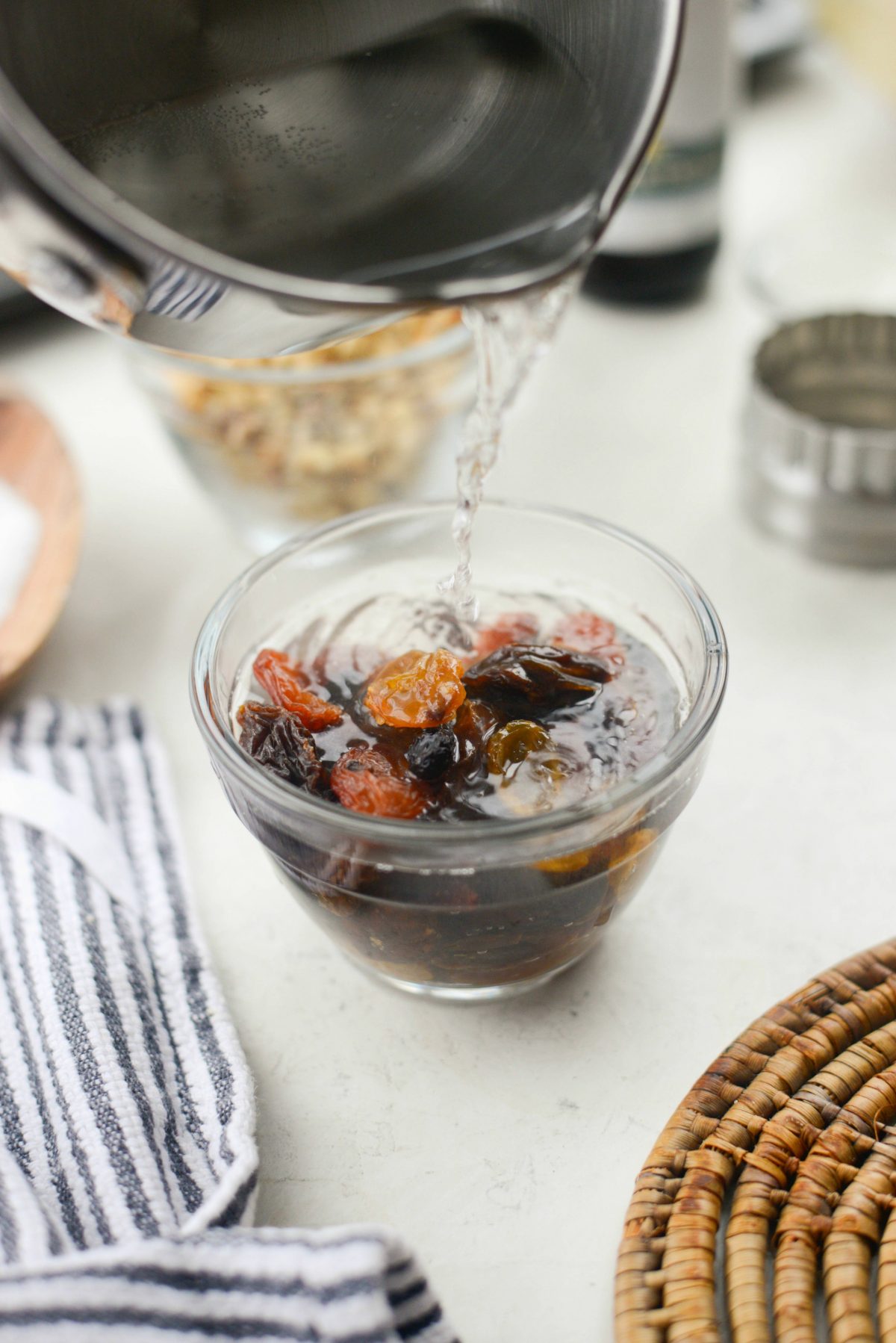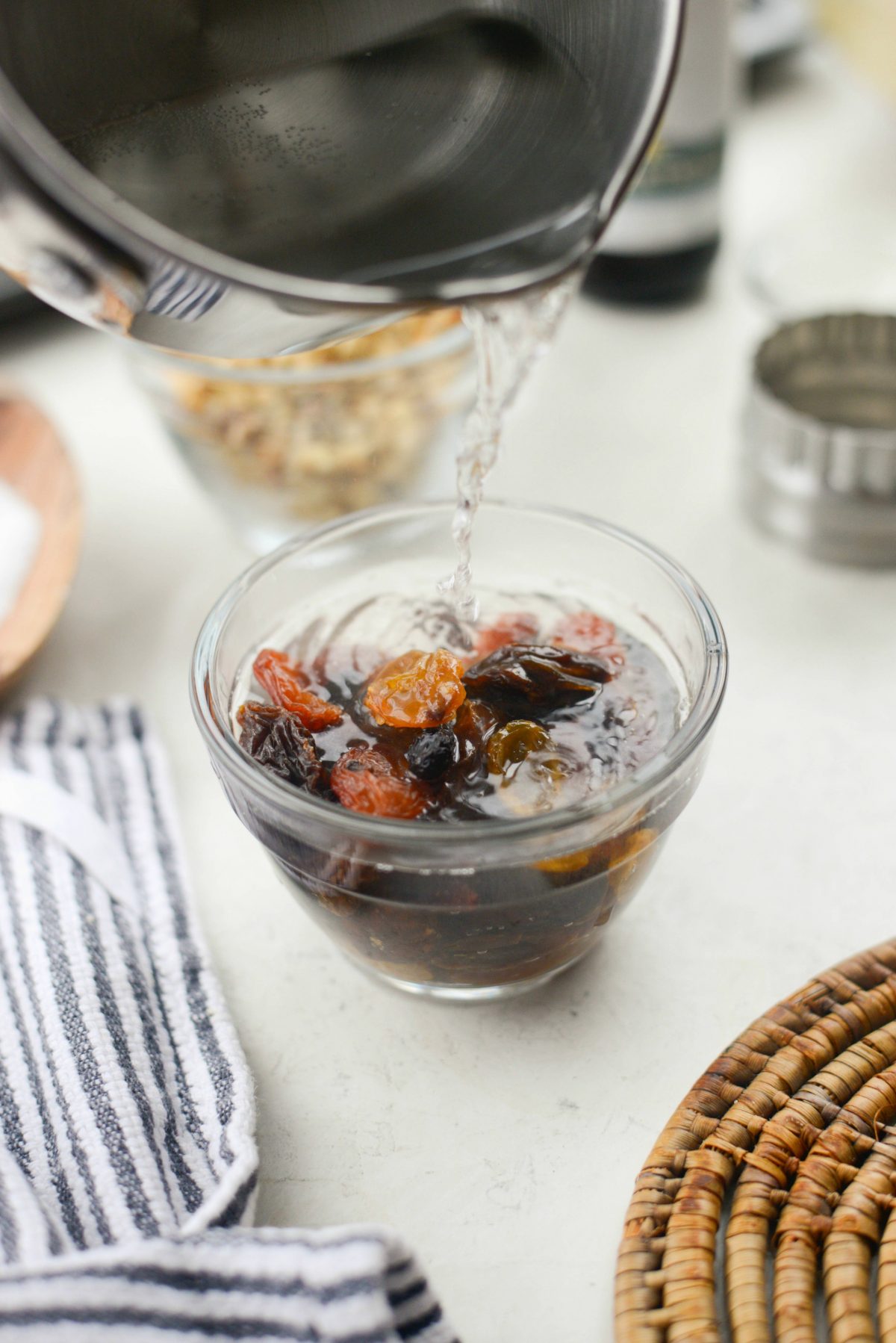 Meanwhile, pour some hot water over the raisins and set off to the side to soak.
Next add the brown sugar and golden syrup into a mixing bowl. In my Great Grandmother's recipe, she used corn syrup but I'm using Lyle's golden syrup instead.
What is golden syrup? It's a thick syrup made from sugar cane. Whereas corn syrup is made from cornstarch. It's a personal preference and either work wonderfully!
Crack in the egg, pour in the melted and cooled butter, vinegar, vanilla and a pinch or two of kosher salt. Whisk to combine.
Next, roll out the dough to 1/8th to 1/4-inch thick. Full disclosure, I never really measure thickness and just eyeball it. Then use a 2-1/2 inch biscuit cutter, bonus points if it has a scalloped edge, and stamp out as many dough rounds as possible up until 24. Lastly, wrap up the leftover scraps and refrigerate. You'll eventually roll them back out and then stamp out more rounds until you have 40 butter tarts total.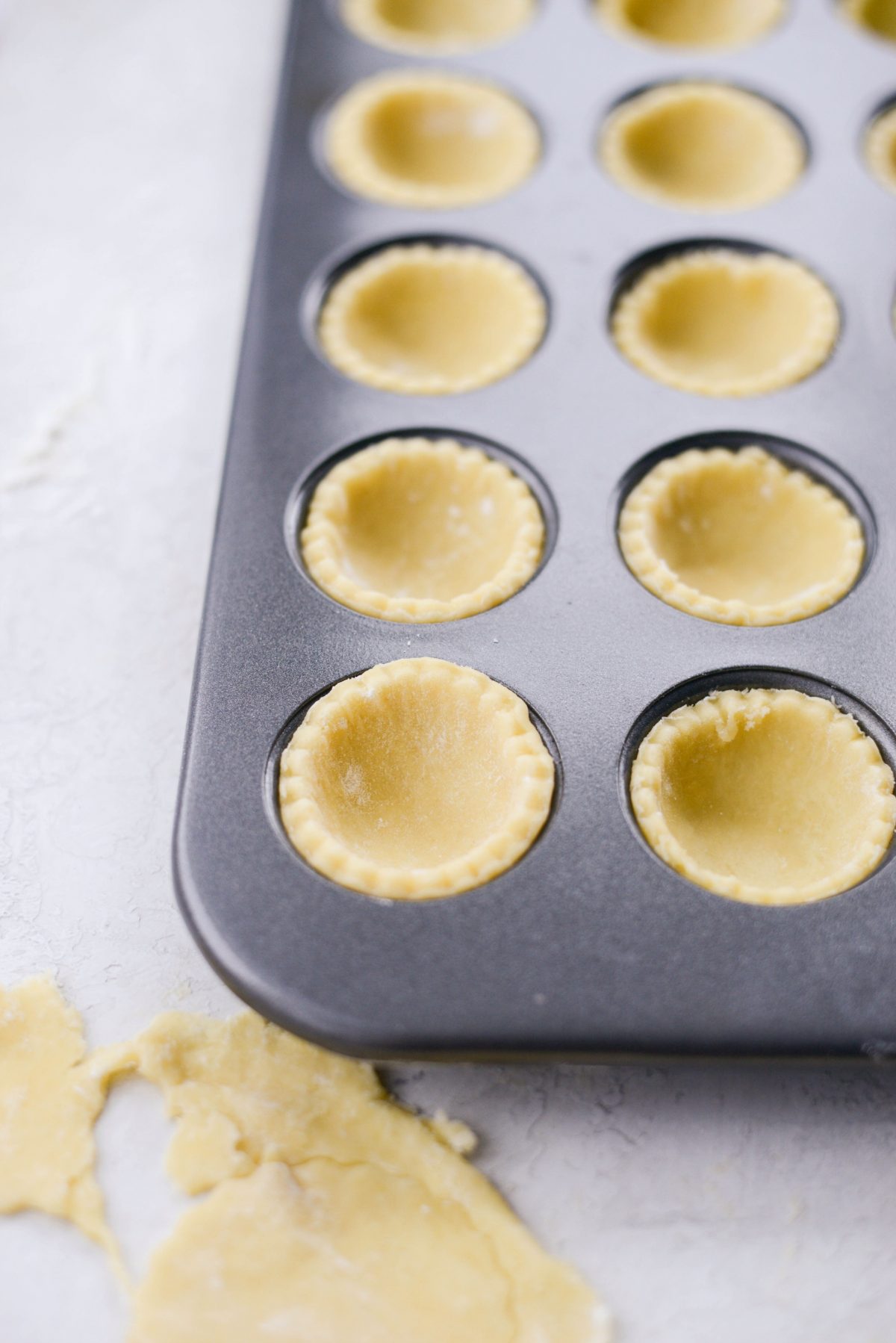 Then gently, press the dough rounds into a nonstick mini-muffin pan. Drain the raisins and grab the chopped walnuts and filling.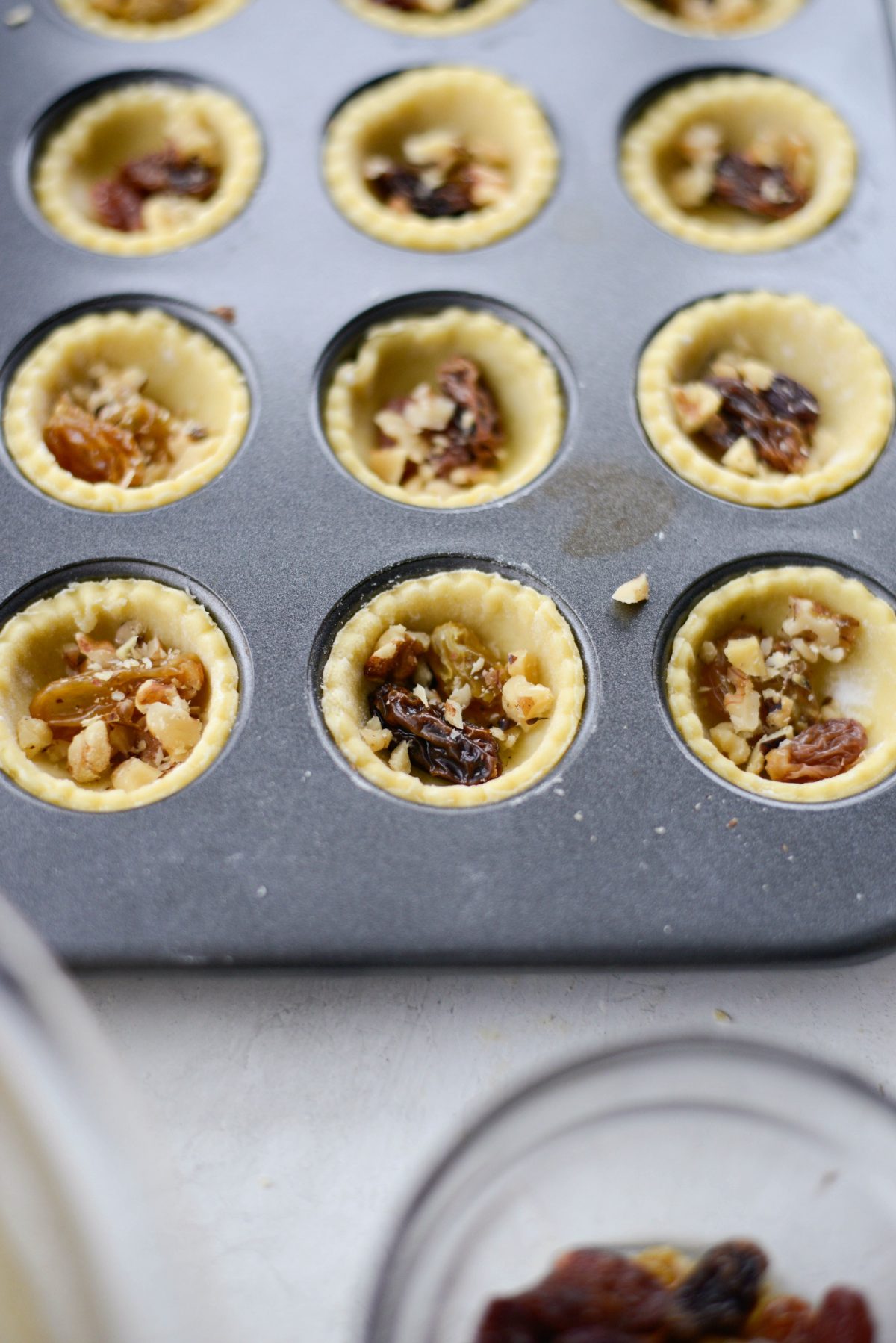 Next, place 1 to 2 raisins and a few chopped walnuts into the center of each min-tart shell.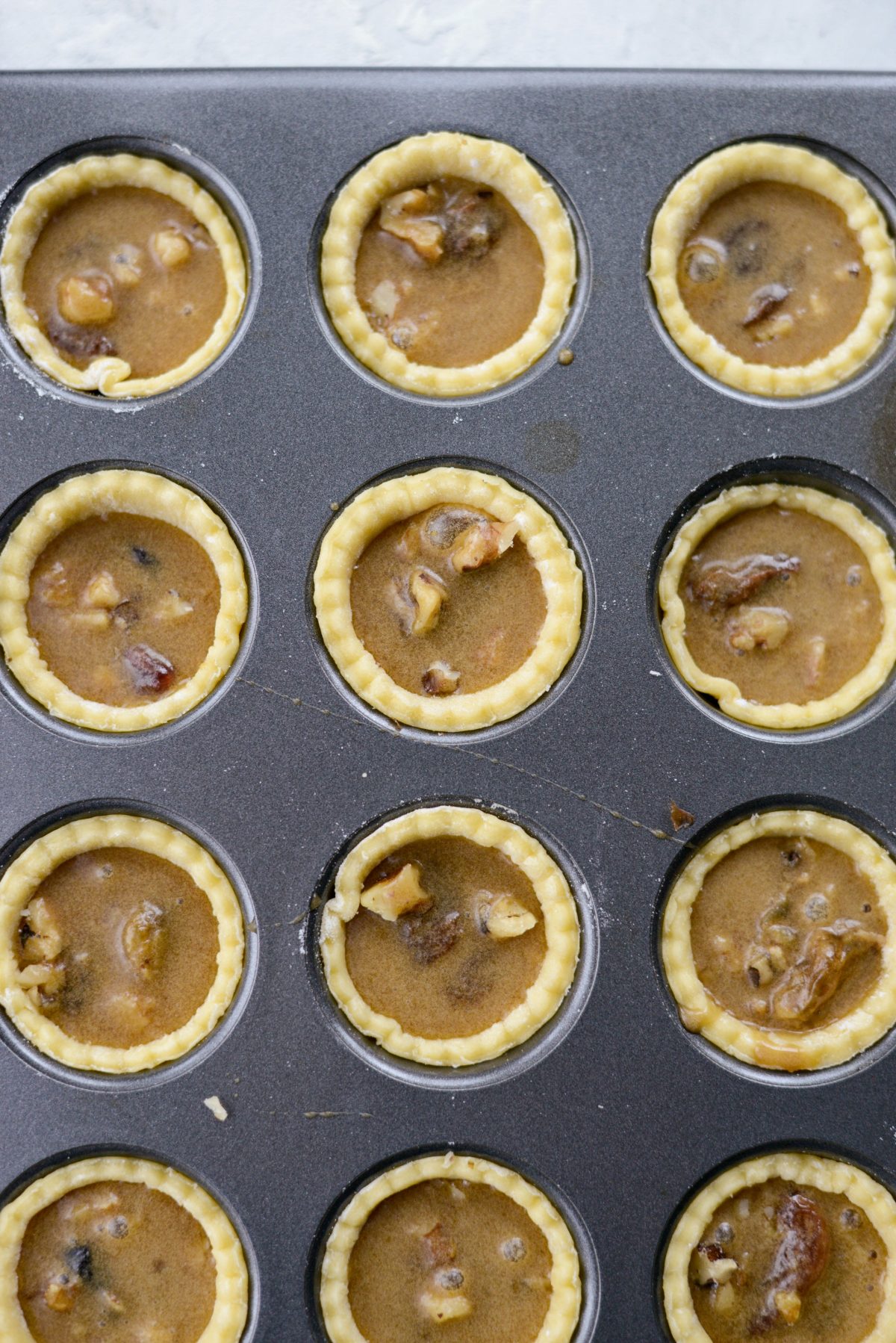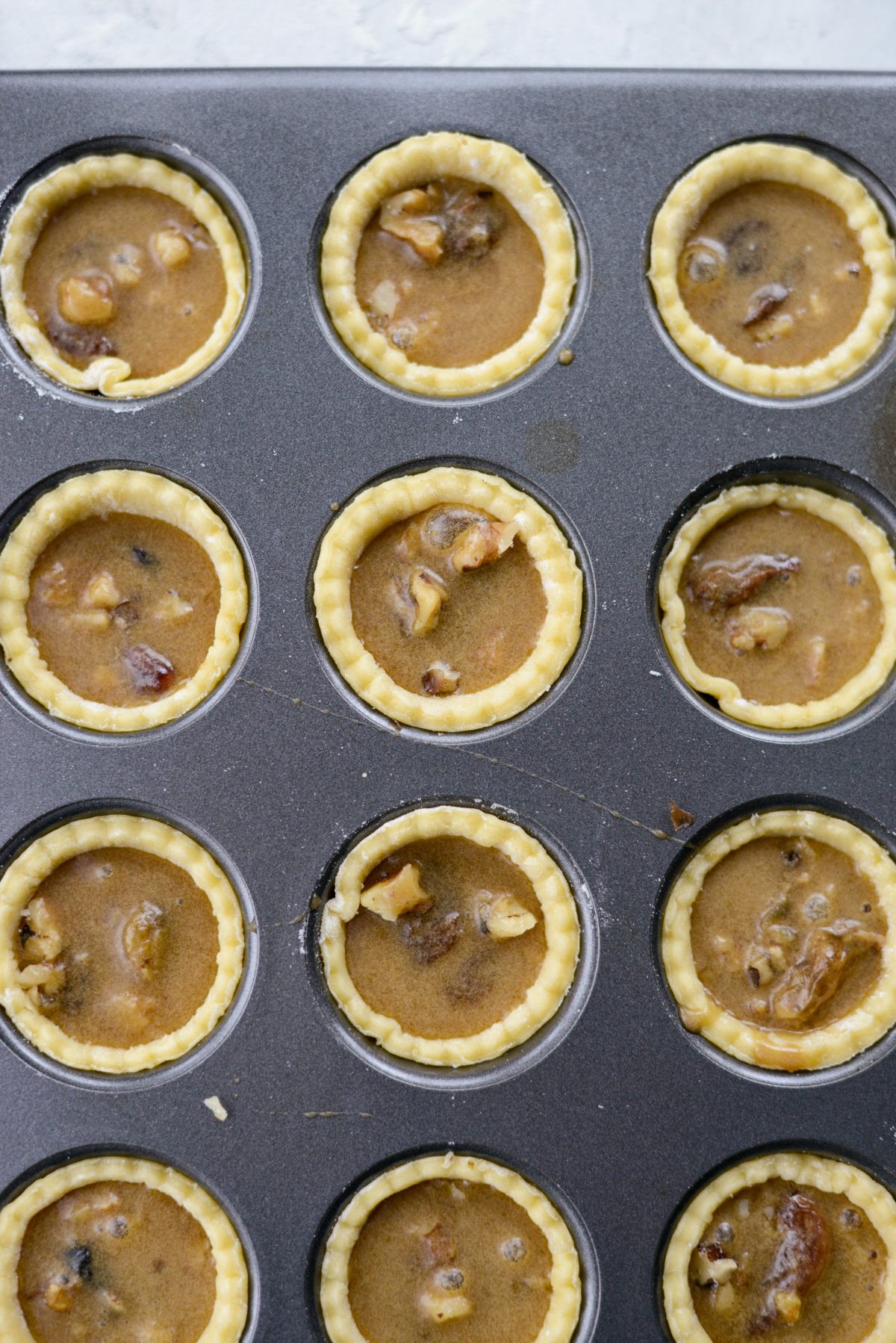 Then measure a teaspoon or so of the filling and drizzle it over top of the walnuts and raisins.
Next, slide the pan onto the middle rack off your preheated 400° and then bake for 10 minutes, rotating the pan halfway through.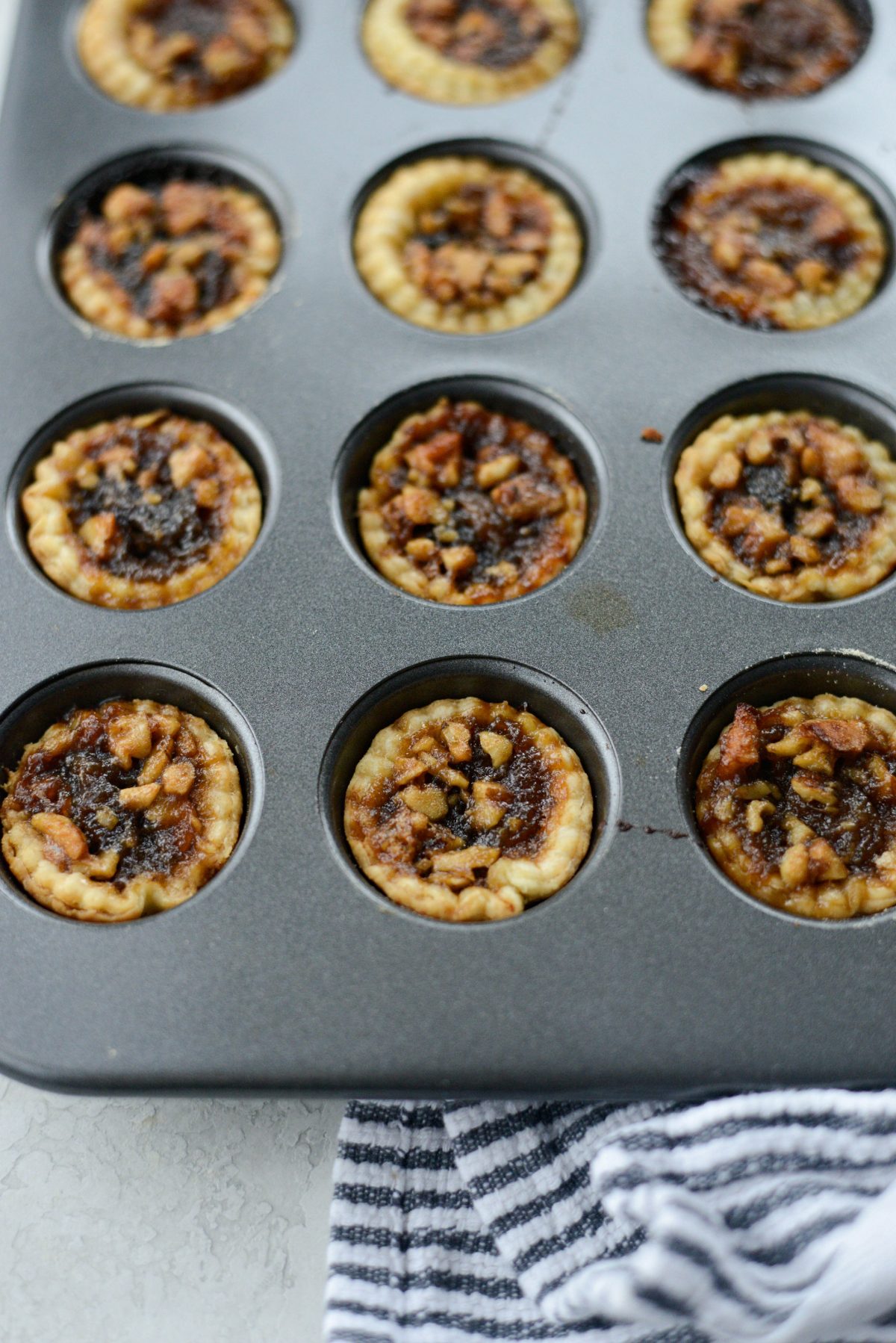 In those 1o magical minutes, the crust puffs and crisps, and will be golden brown, the filling is gooey and luscious hiding the raisins while exposing the crunchy walnuts.
Finally, remove the pan and allow the tarts to cool a few minutes. Then, using an offset spatula to remove each one to a wire rack to cool. If the filling spills over, that's okay! And it's easier to remove the tarts if they're still warm, instead of waiting for the filling to harden and stick to the pan.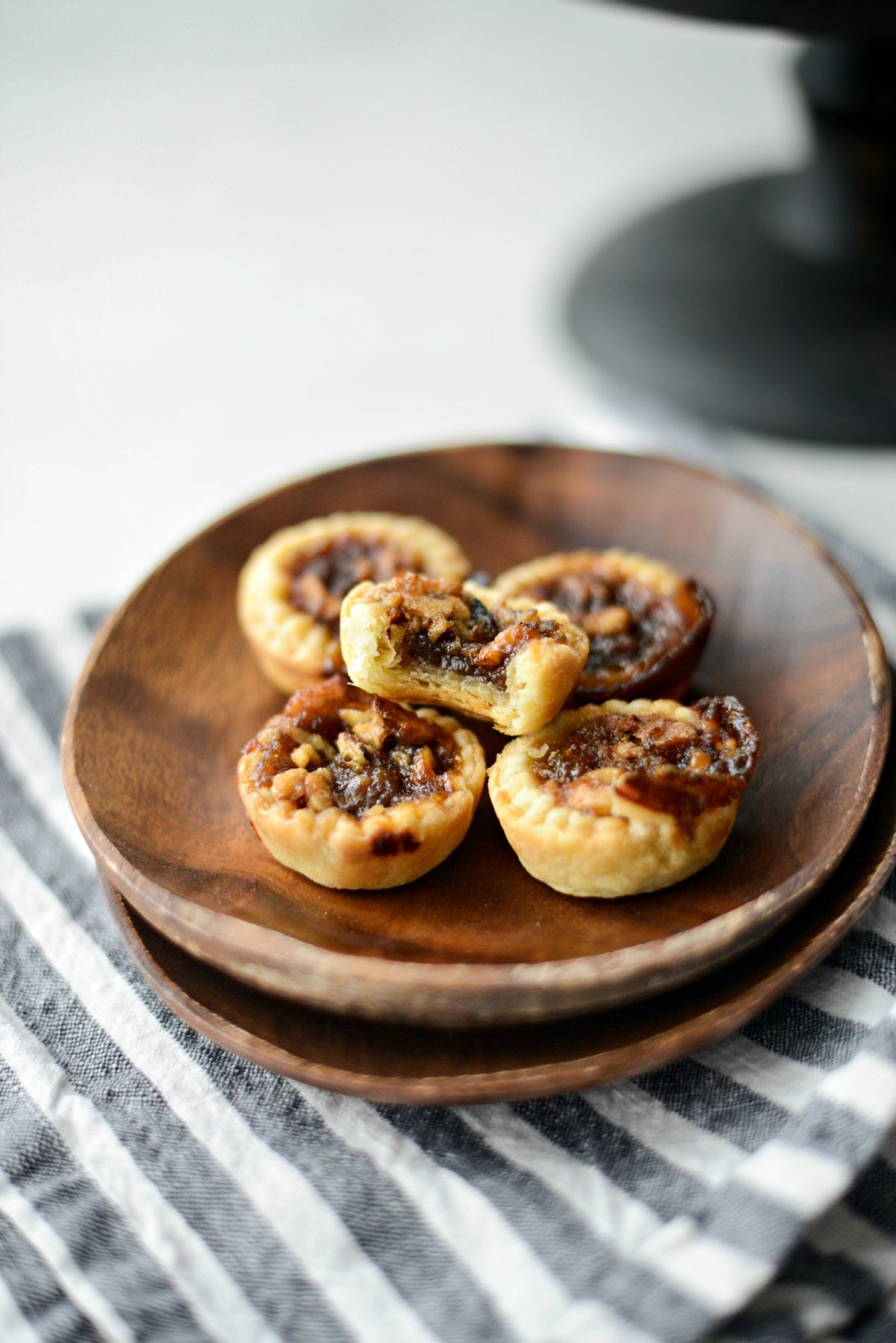 The perfect one-biter.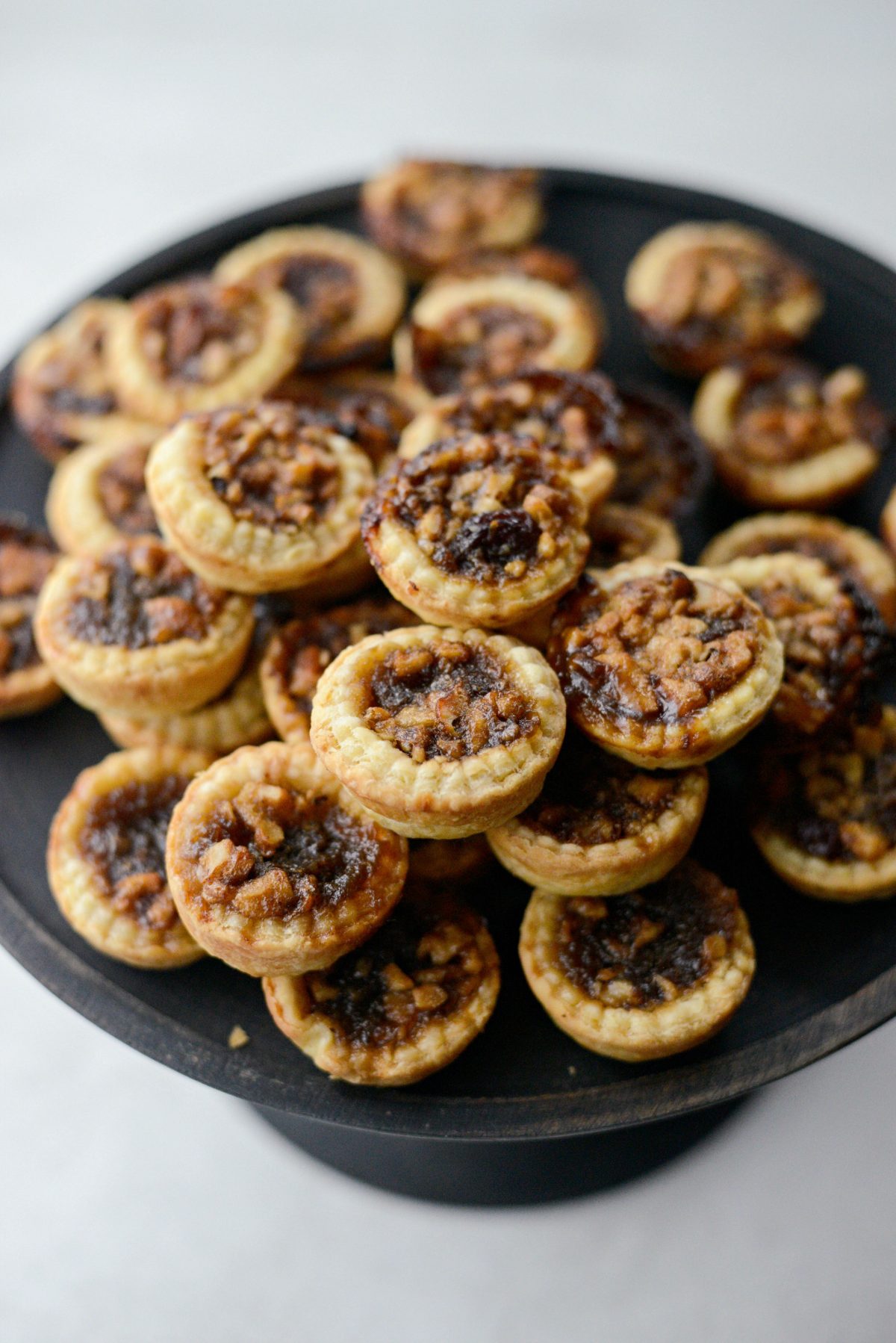 Enjoy! And if you give this Classic Butter Tart recipe a try, let me know! Snap a photo and tag me on twitter or instagram!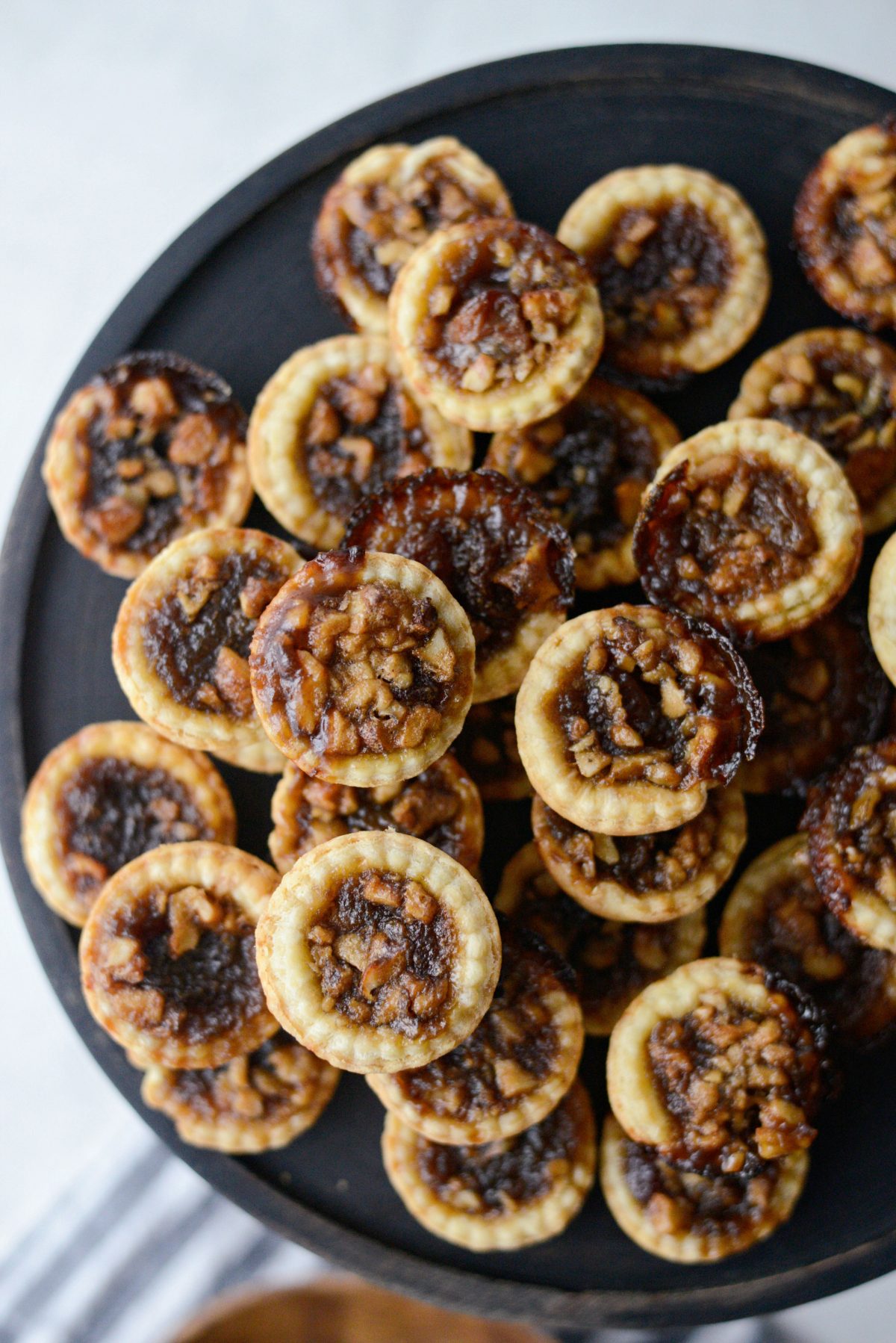 My cookbook Simply Scratch : 120 Wholesome Homemade Recipes Made Easy is now available! CLICK HERE for details and THANK YOU in advance!
[this post contains affiliate links.]
This post may contain affiliate links.
Buy the Cookbook: Simply Scratch : 120 Wholesome Homemade Recipes Made Easy Now available on Amazon »
THANK YOU in advance for your support!