This Grilled Peach, Goat Cheese and Prosciutto Flatbread is a deliciously light appetizer and perfect for your next get together! Thinly rolled out pizza dough is grilled, brushed with garlicky olive oil and topped with mozzarella, goat cheese and grilled peaches. Garnished with peppery arugula, salty prosciutto and a drizzle of honey for sweetness. Serves 2 to 4 in abut 25 minutes.
Hiiiiii! It's been a bit since I've posted. Sorry about that. I took a little unexpected time off over the 4th of July week. We had so much going on; my sister was in town and there were lots of friends and family get togethers. I just needed to put blogging on hold for a smidge, but I'm back!
So now that most of the hustle and bustle of summer life seems to be coming to a slow roll, all I want to do is relax. I don't care if it's an evening fishing with Pat on our boat or relaxing on our back deck with a book and sipping rosé. I just want to do nothing. But the nothing better include nibbling on a little flatbread deliciousness. Ie. this grilled peach, goat cheese and prosciutto ditty.
You may remember when I shared my homemade pizza dough? I might have not-so-subtly mentioned having fun plans for it? Well, I divided the dough into thirds to make a trio of flatbread recipes. This gorgeous beauty is one of the three I'll be sharing over the next few weeks. I have become a fuh-reak about grilled flatbreads, probably because it's like pizza but without pizza sauce and fancied up with fresh toppings.
Also because once the dough is made, they only take a few minutes to pull together. And summertime is when I want to execute all the easy recipes.
TO Make This Grilled Peach Goat Cheese and Prosciutto Flatbread You Will Need:
garlic olive oil
1/3 of homemade pizza dough recipe
freshly shredded mozzarella cheese
goat cheese
prosciutto
arugula
honey
Oh! and rosé
For the peaches, I brushed both of the fleshy sides with light olive oil and grilled them on my grill pan. However next time, I may use my outdoor grill for ease. If using your outdoor grill, I would wipe (either with an old kitchen towel or paper towel that has been dipped in a little olive oil) the grates with oil before preheating it. And I would still brush the peaches to ensure easy release.
To Make The Garlic Olive Oil:
Start by pouring 1/4 cup olive oil into a small sauce pan. Add in two cloves of finely minced garlic and heat on low to medium-low until fragrant and the garlic starts to toast and turn lightly golden. Remove off of the heat and let cool. This one recipe I used for all three flatbreads.
The remaining ingredients for these flatbreads are: 😉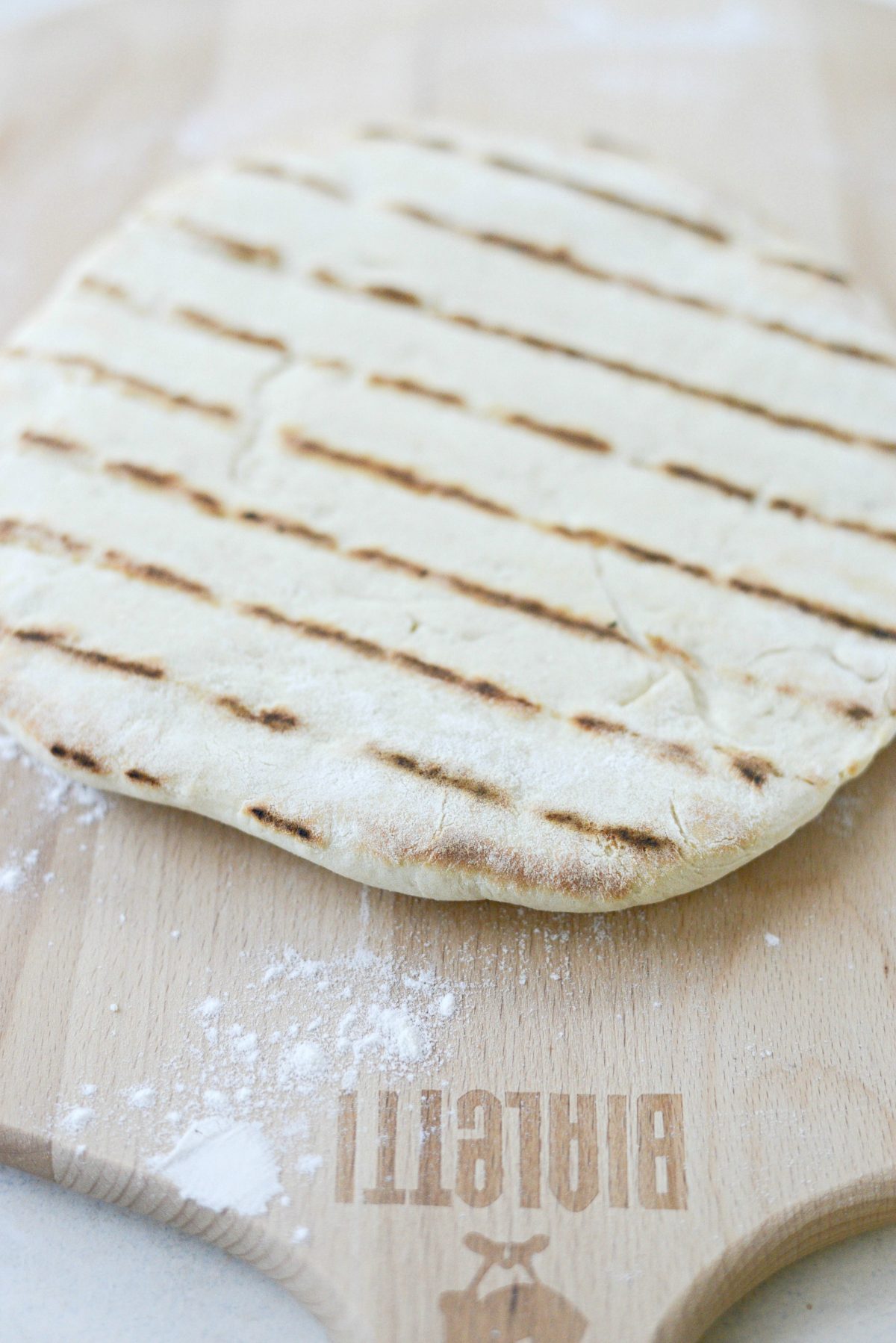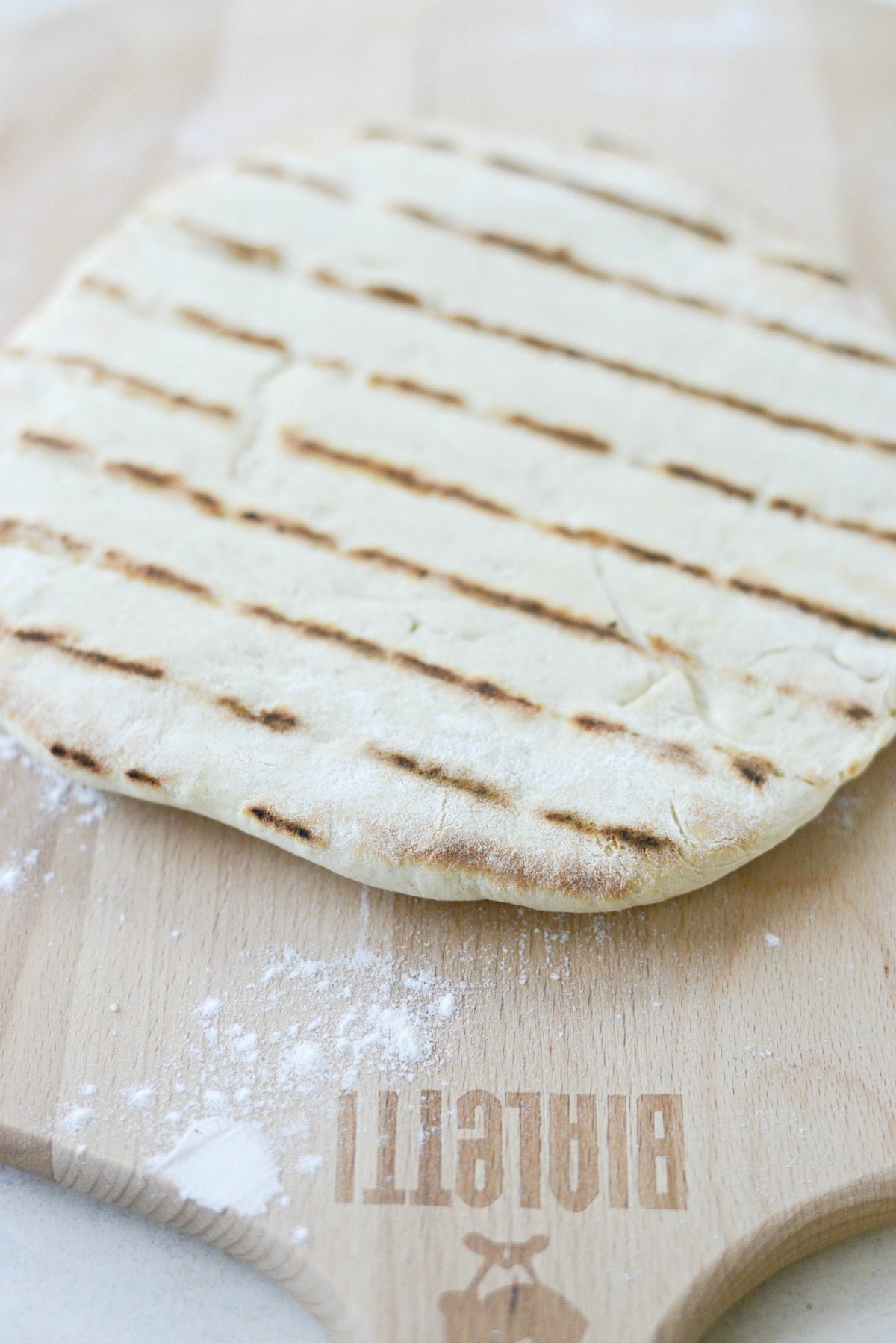 Step one in making the grilled peach, goat cheese and prosciutto flatbread is obviously making the dough. I divided my homemade pizza dough recipe into thirds and let it rise in separate bowls covered lightly with a tea towel. Once risen, I worked with one ball of dough at a time and stretched it as thin as it could. With this said, you can also make one large flatbread or two medium.
Back to the dough. Once I stretched it to the desired shape and thinness and my grill has preheated, I placed the dough onto the lightly oiled grill grates and closed the lid. I let it grill for 2 to 3 maybe even 4 minutes. My grill runs hot, but I recommend checking it and if the underneath is golden and starting to form grill marks, then immediately remove the grilled dough to a wood board or pizza peel, placing the uncooked side facing down.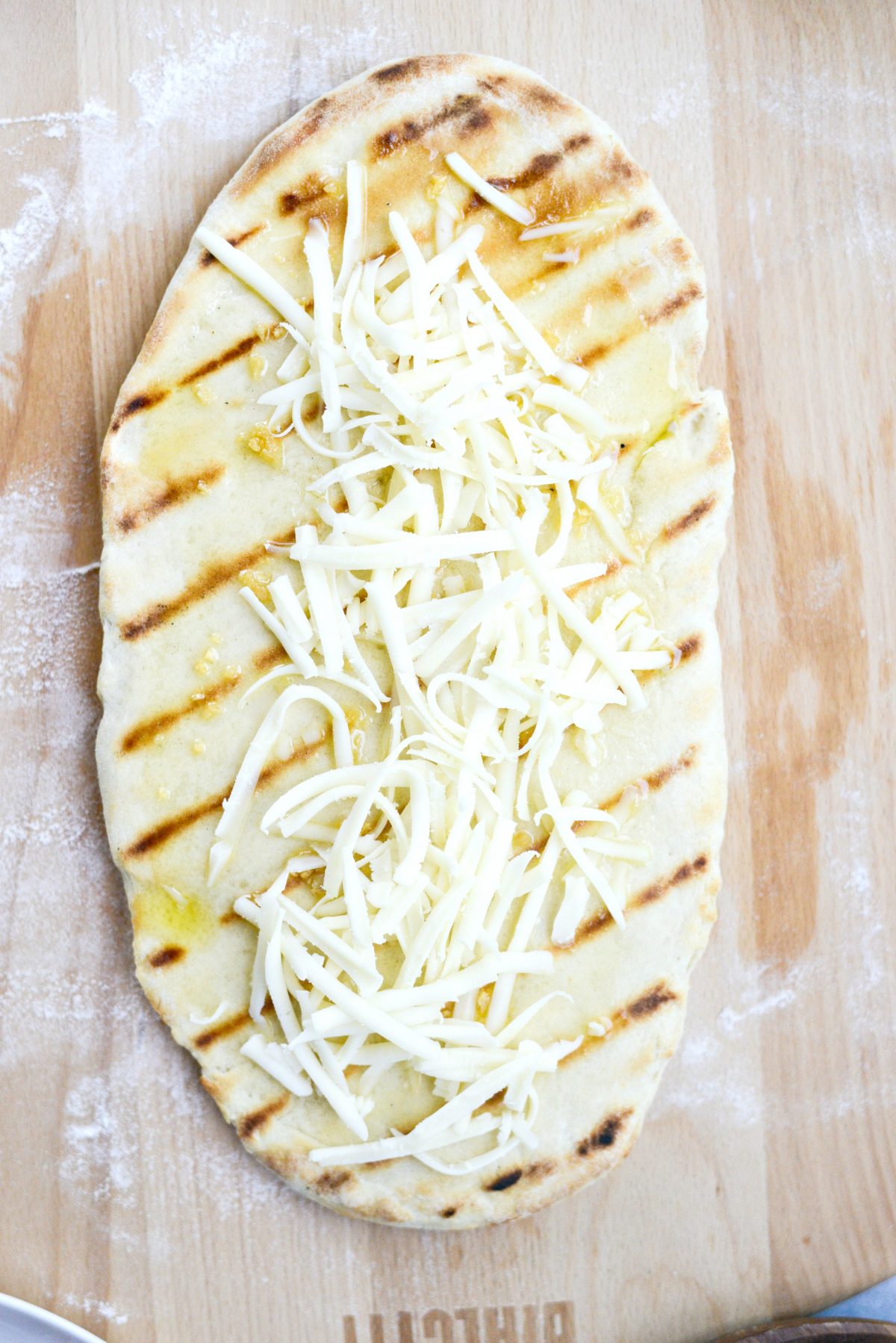 Next, brush the top (grilled side) with the garlicky olive oil and sprinkle with about a cup or so of the mozzarella cheese. Place the grilled peaches on top and dot with fresh crumbles of goat cheese and a little extra mozzarella.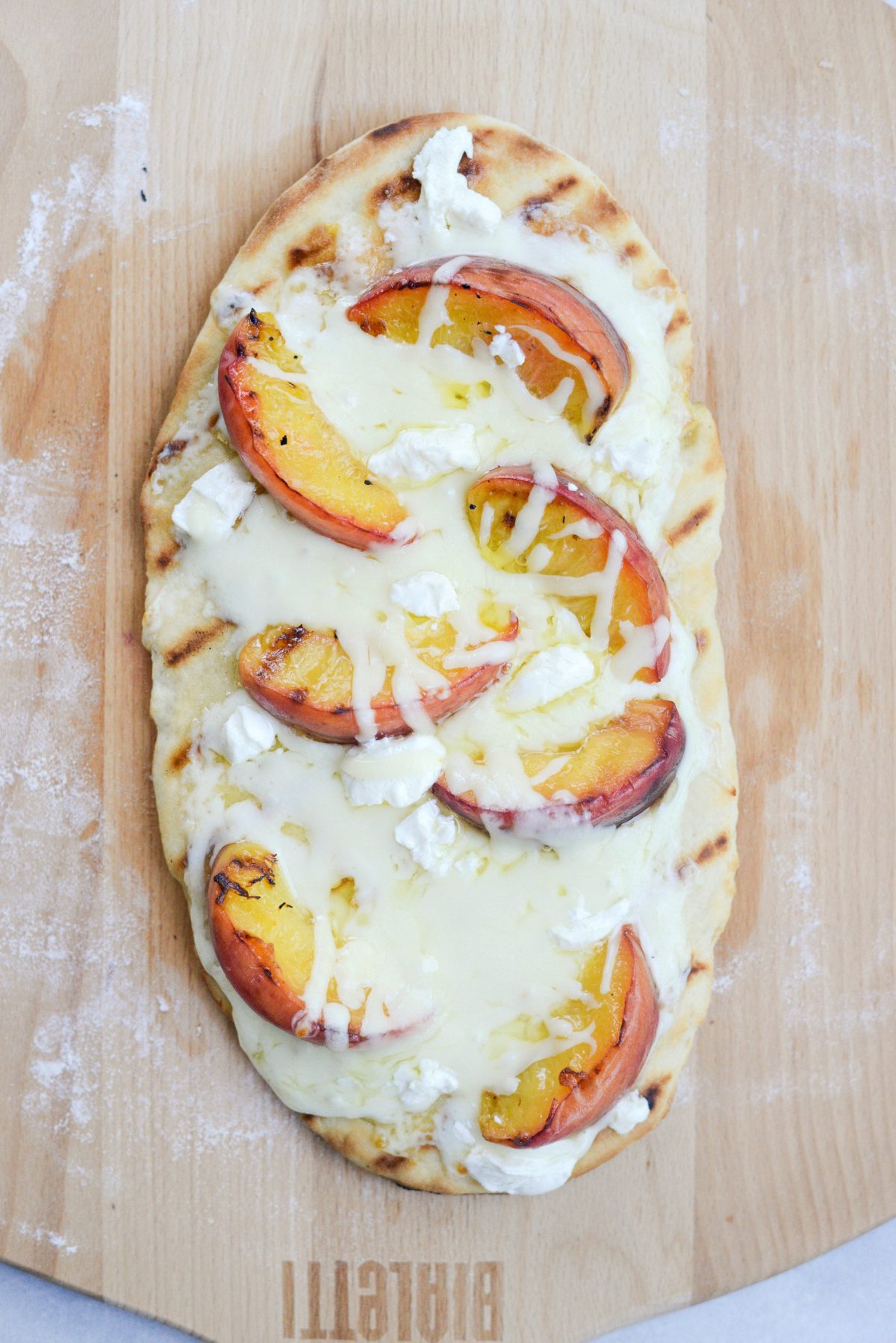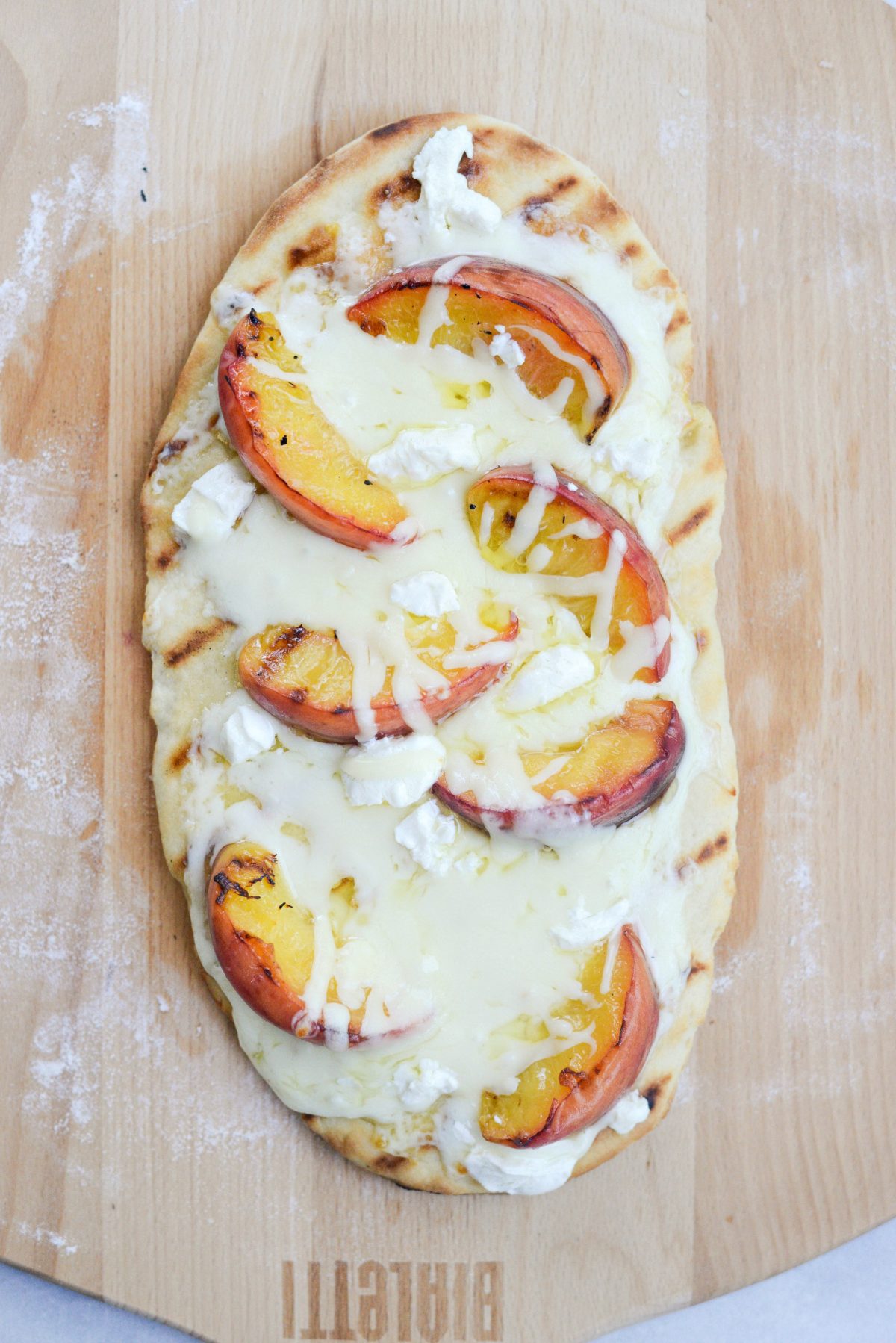 Place the flatbread back onto the grill and close the lid for a few more minutes until he cheese has melted and the dough fully cooked.
And if this wasn't already gorgeous…
All that's left to do is top with fresh baby arugula and few pieces of prosciutto that you tore into ribbons.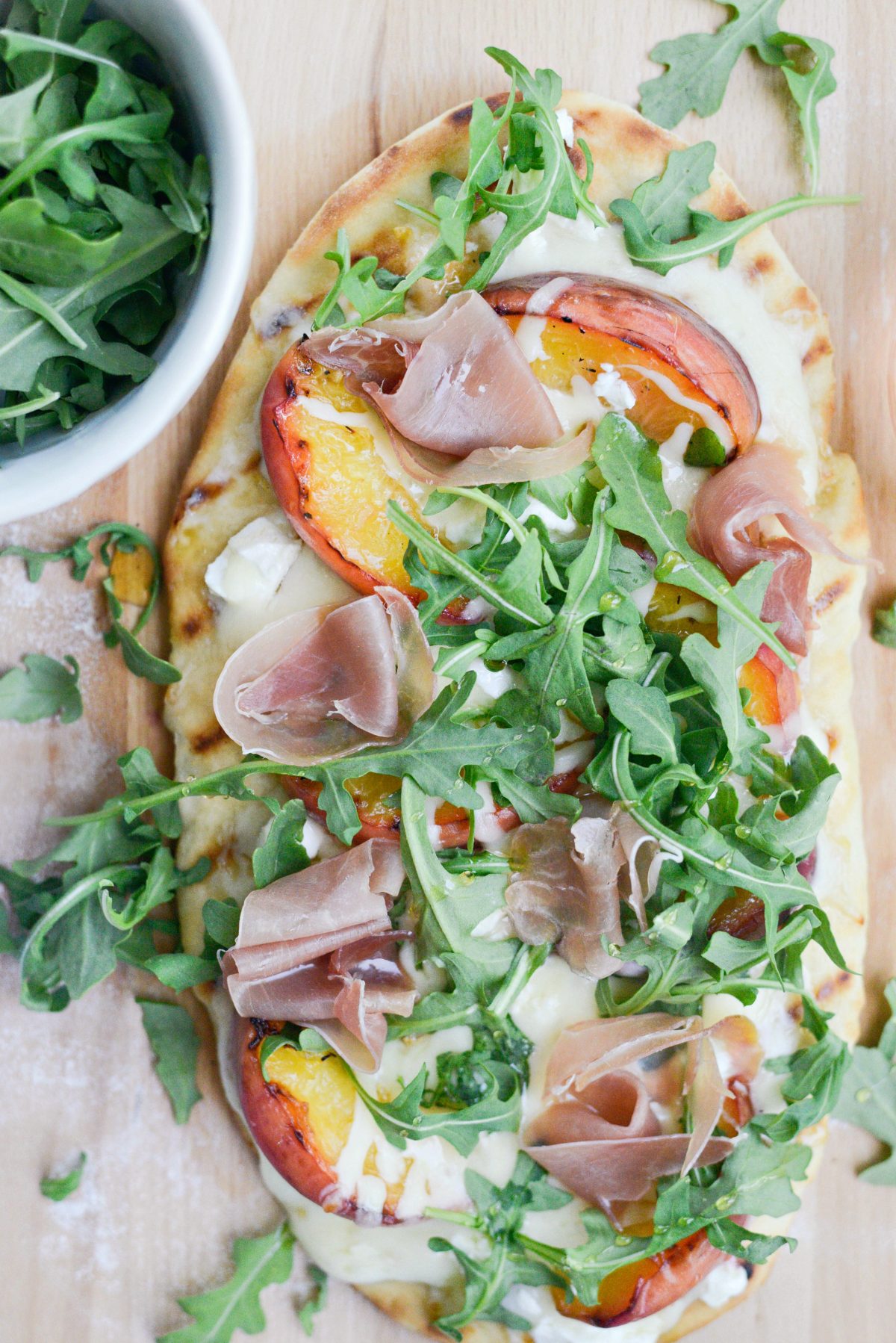 And just when your heart (and stomach) can't handle all the amazing flavors, try drizzling the whole grilled peach, goat cheese and prosciutto flatbread with honey.
Sweet, salty, creamy and tangy. To. Die. For.
Enjoy! And if you give this Grilled Peach Goat Cheese and Prosciutto Flatbread recipe a try, let me know! Snap a photo and tag me on twitter or instagram!
This post may contain affiliate links.
Buy the Cookbook: Simply Scratch : 120 Wholesome Homemade Recipes Made Easy Now available on Amazon »
THANK YOU in advance for your support!