In this Greek Chicken Couscous Bowl, fluffy wheat couscous is topped with Greek roasted chicken, feta shards, fresh tomatoes, cucumbers and olives. A deliciously light and satisfying meal that's perfect for a light lunch or dinner. Serves 4 in about 40 minutes.
I love big bowls of food. Layers and textures and color! They're visually and physically satisfying.
I don't always have time for lunch. Trust me, I wish I did but the reality is that I'm usually either shooting a recipe or up to my eyeballs in dishes. Sometimes I snag a little of whatever I'm making that day for the blog. Most of the time I'll have apples and almond butter. Lame, but it's true.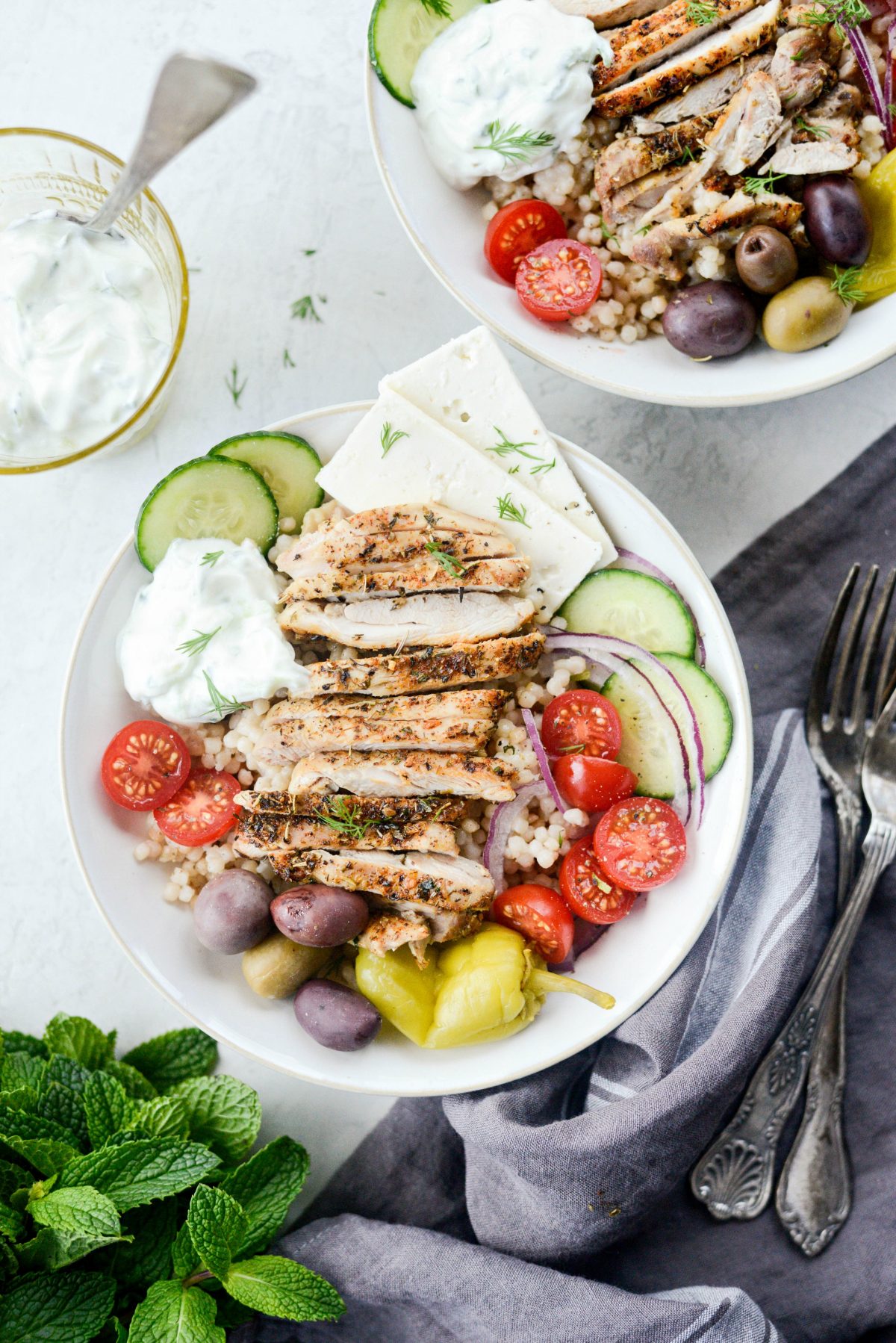 Occasionally on a Sunday I will meal prep. I wish I had the time to do this every week because when I do, I'm so grateful to have an easy throw-together meal like these Greek chicken couscous bowls.
To Make These Greek Chicken Couscous bowls You Will Need:
Greek seasoned roasted chicken thighs
couscous
cucumber
tomatoes
pepperoncinis
red onion
olives
feta
fresh mint
dill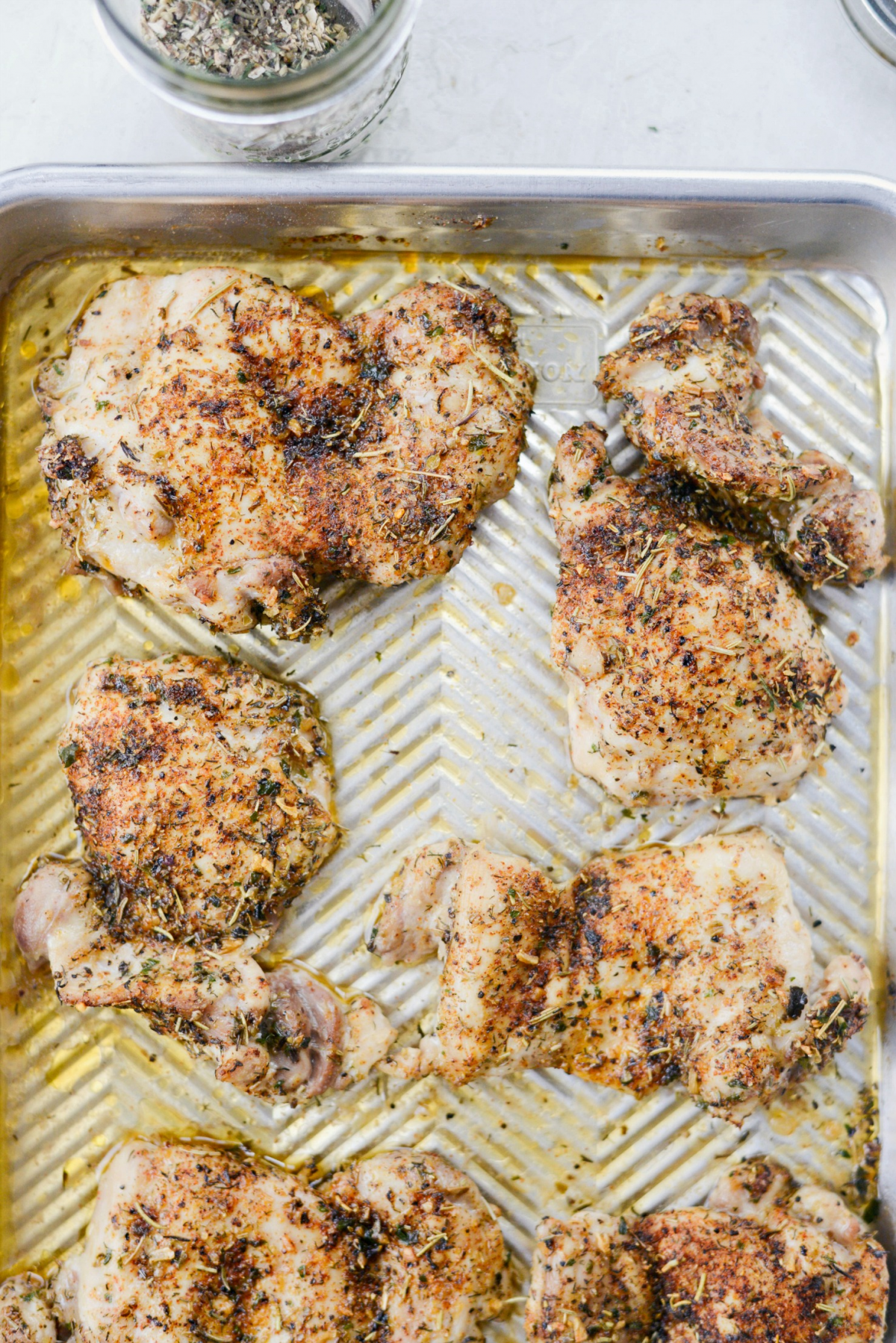 First, place 1-1/4 to 1-1/2 pounds of chicken thighs (or breasts) onto a rimmed metal baking sheet. Then drizzle with 2 tablespoons olive oil, the juice of 1/2 a lemon, 2 tablespoons of homemade Greek seasoning and a pinch of kosher salt. Lastly, toss to combine before roasting in your preheated 400° degrees for 25 minutes or until fully cooked and smelling crazy delicious.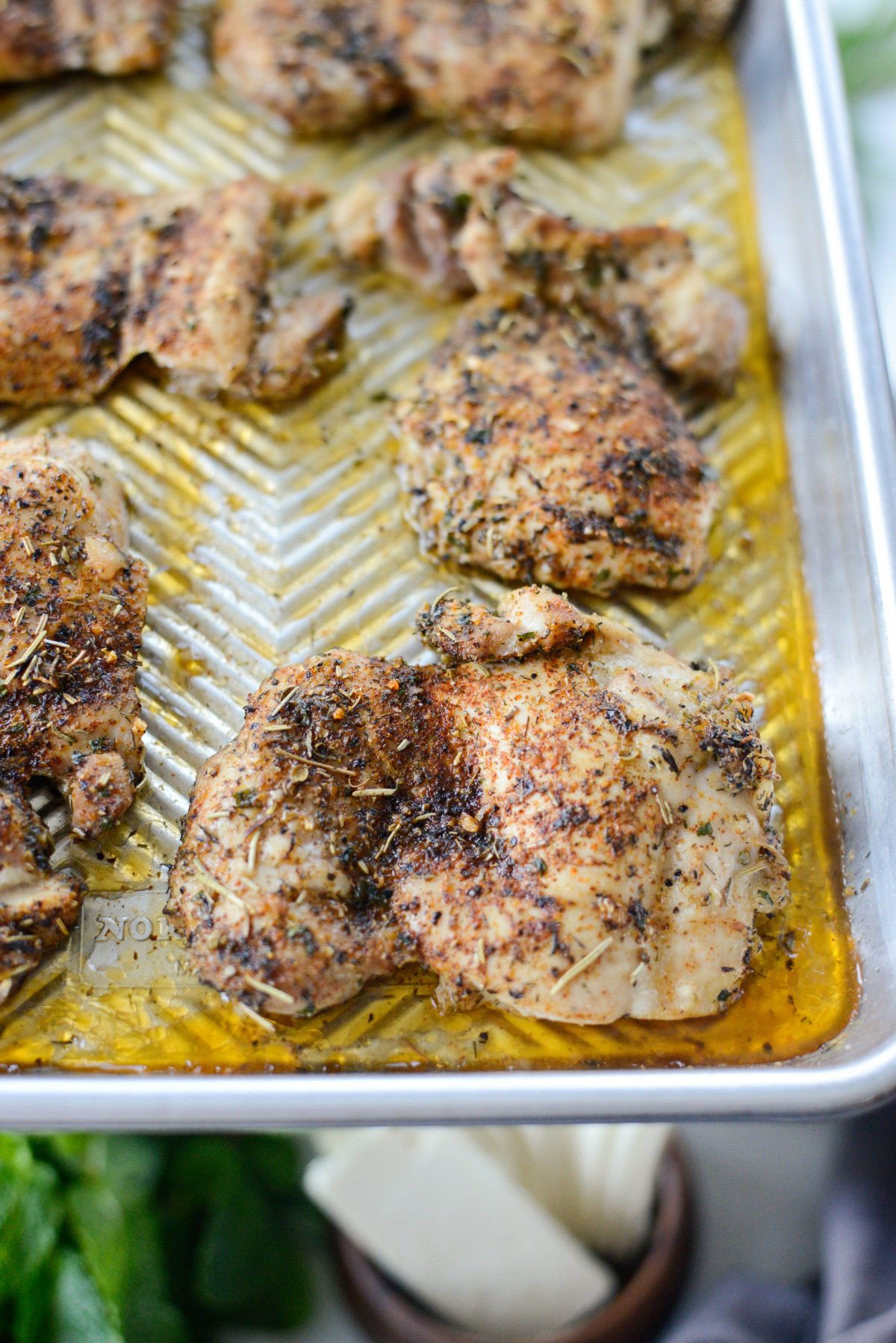 This chicken is so flavorful and moist and delicious! Feel free to follow this same method but instead of roasting, cook the greek chicken on your grill!
Next, bring a pot of water to a boil, stir in the couscous and cook for 8 minutes. Because couscous is so small, it literally takes minutes. Every brand is different, so follow your package's directions.
Next, chop, dice, slice and drain all the remaining ingredients and then layer couscous into bowls, top it with sliced greek chicken, veggies and garnish with dill and tzatziki sauce or Greek dressing.
Side note: I like to bite the end of the pepperoncini and drizzle the juice over my Greek chicken couscous bowl. So so good!
For lunches on the go, you could totally layer all of these ingredients into glass jars.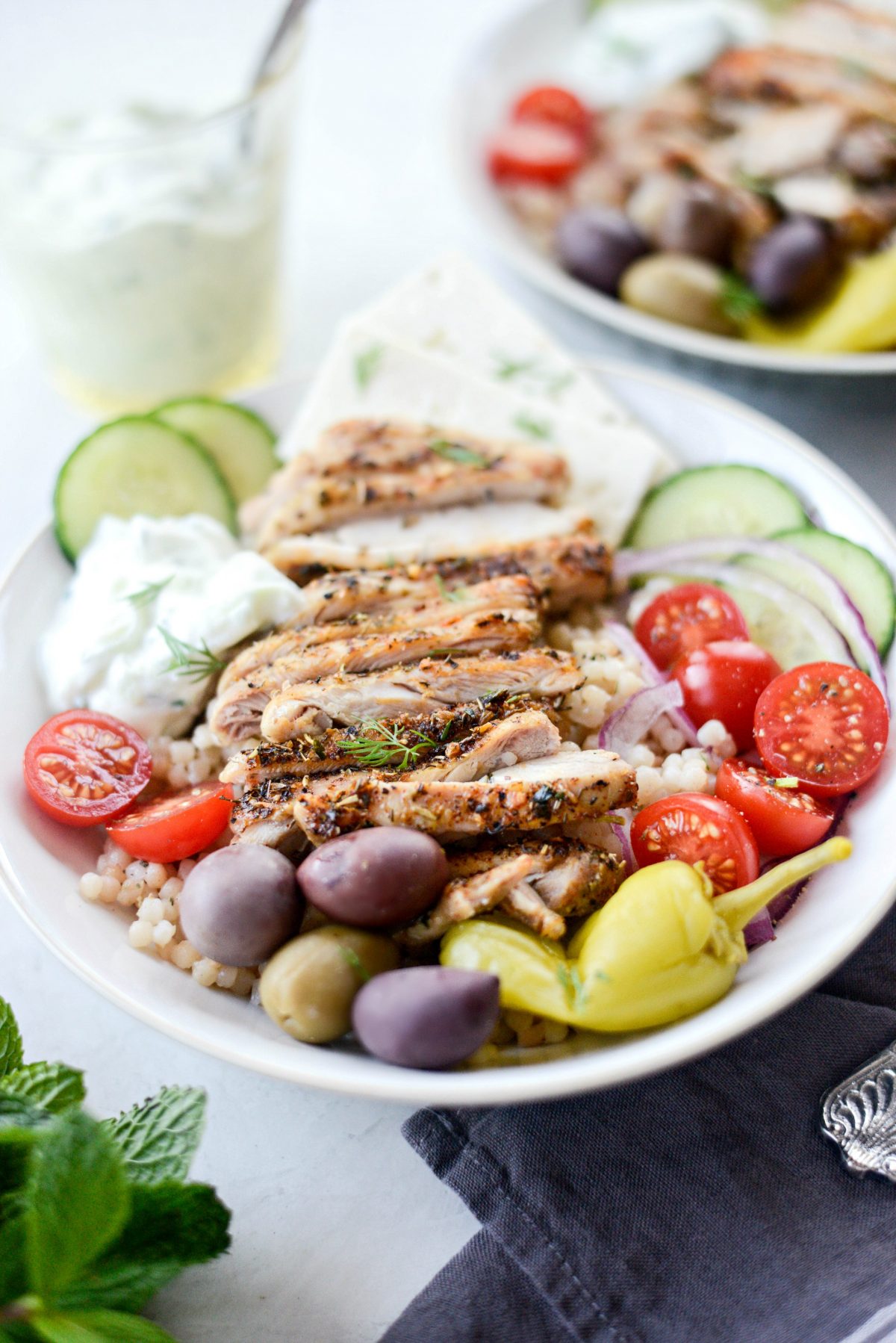 Enjoy! And if you give this Greek Chicken Couscous Bowl recipe a try, let me know! Snap a photo and tag me on twitter or instagram!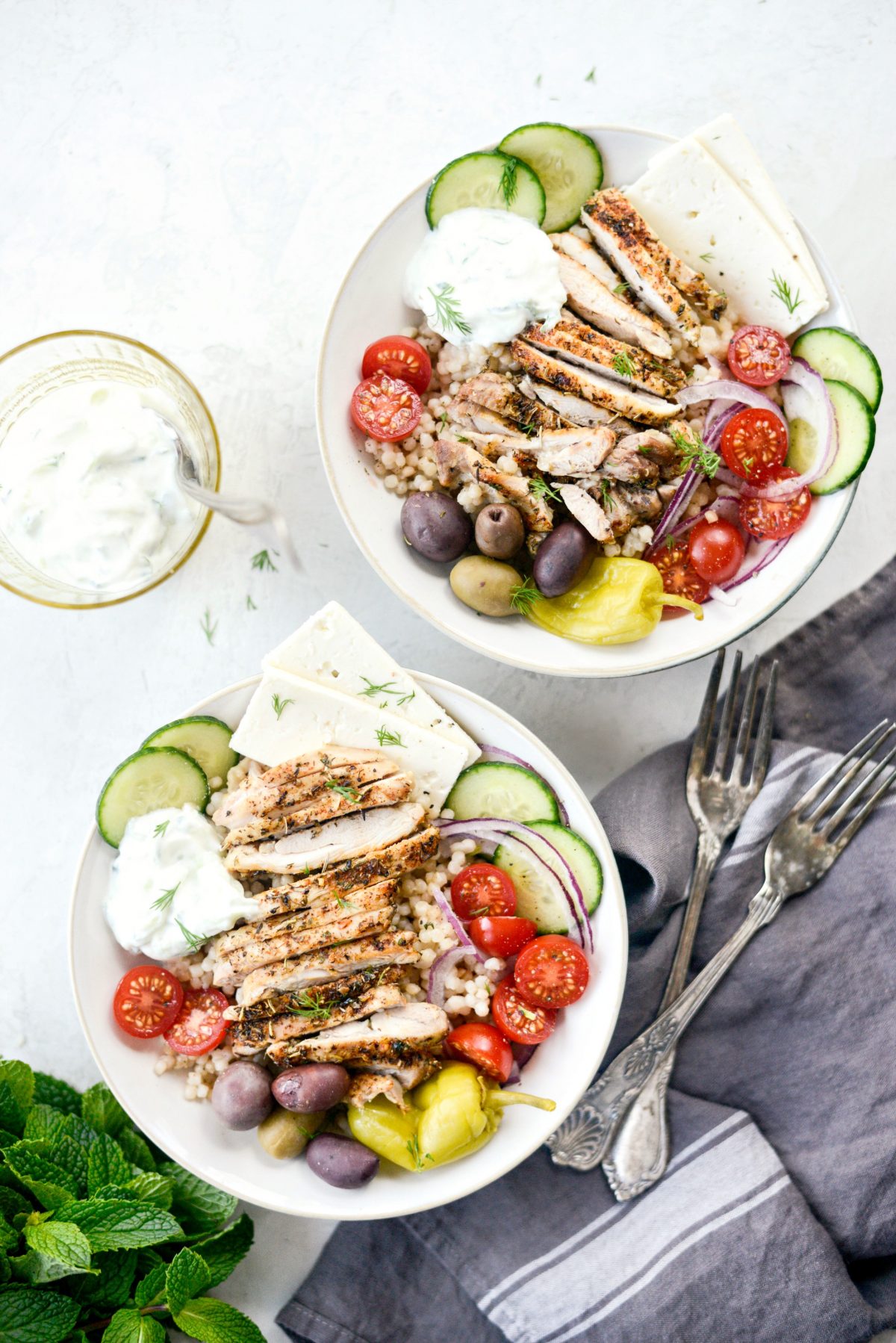 This post may contain affiliate links.
Buy the Cookbook: Simply Scratch : 120 Wholesome Homemade Recipes Made Easy Now available on Amazon »
THANK YOU in advance for your support!