Gnocchi with Summer Vegetables is an easy summer meatless dinner! Gnocchi, cherry tomatoes, sweet corn, asparagus and zucchini is tossed with olive oil and fresh garlic and roasted on one sheet pan until the gnocchi are toasted and the tomatoes start to burst, creating a light sauce. Top with fresh basil and parmesan cheese. Serves 4 in about 30 minutes.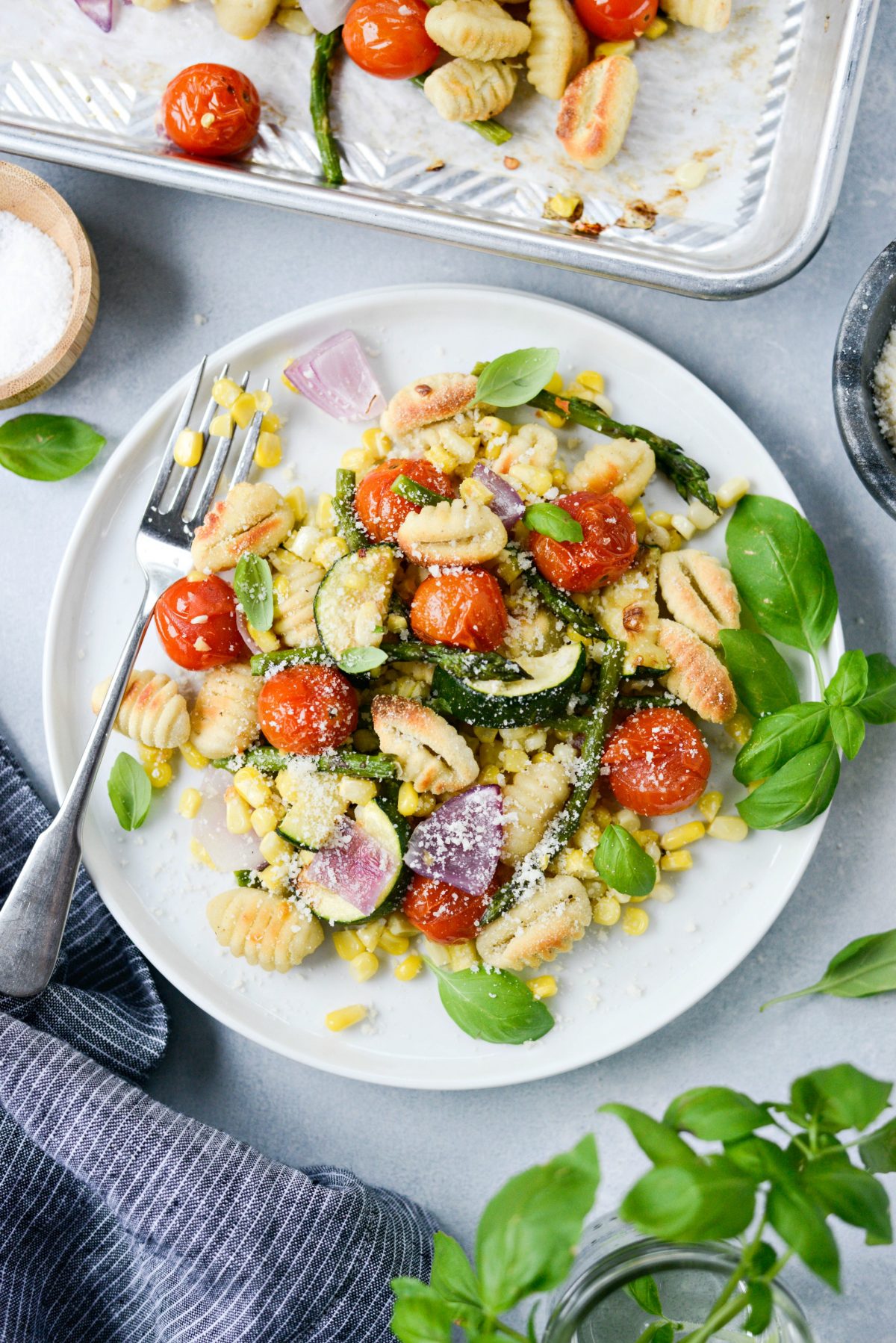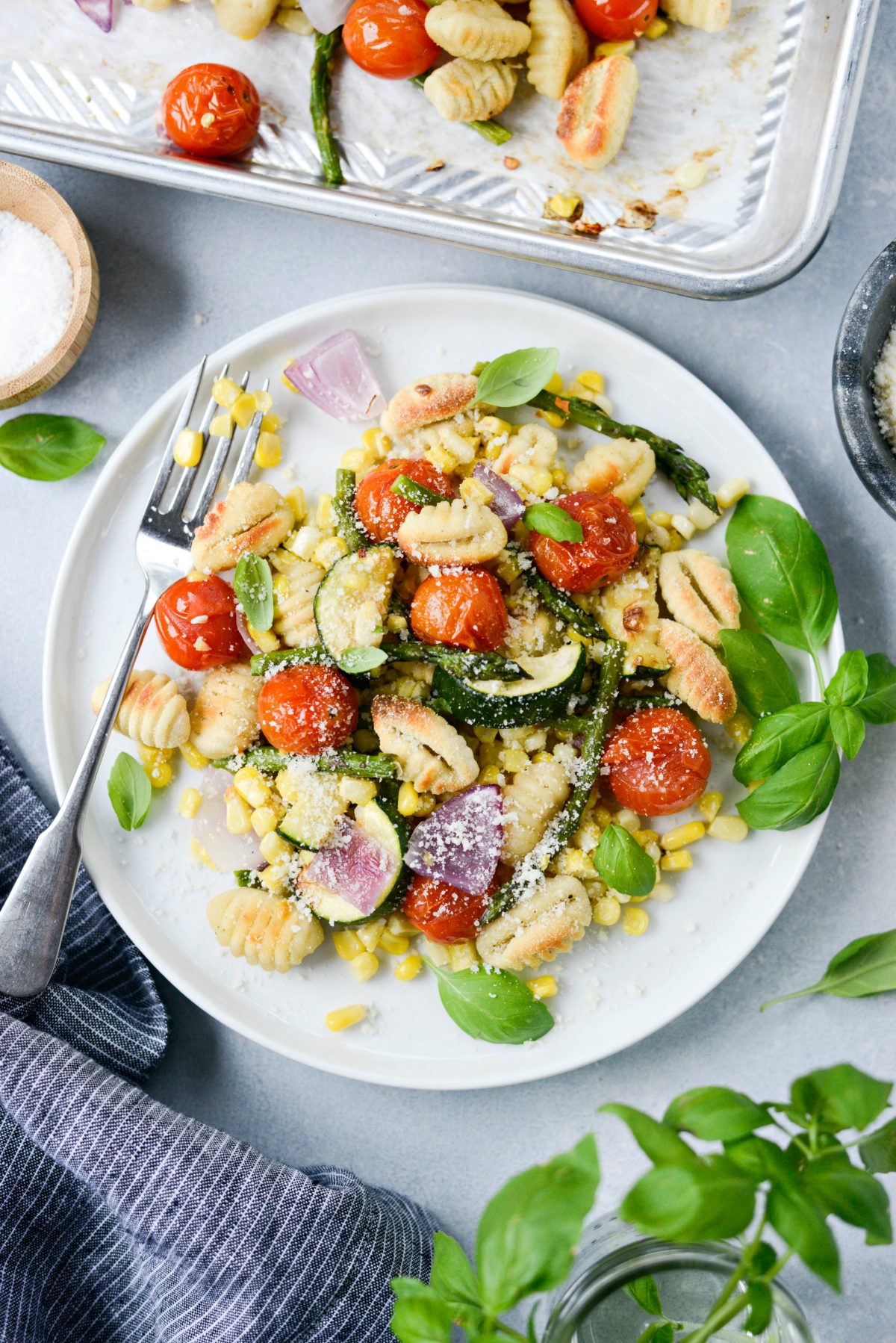 Easy summer dinner alert!! I'm not even kidding you on how easy this is. It's a rinse, chop, toss and pop into the oven situation and I'm not mad about it! The only dishes you dirty while preparing this sheet pan gnocchi with summer vegetables are literally 1 pan, 1 cutting board and a knife. Okay and a few plates and forks. Prep is minimal, cooking takes 20 minutes (or less) and poof! a light, meatless summer meal is on your table.
I know some of you might not be interested in turning on your oven until September, but hopefully I can change your mind! Just because it's hot and humid, doesn't mean that I don't use my oven. shhhright?! Don't get me wrong we do grill, a lot, but when the air is on and I'm not feeling like stepping outside in the blazing heat, I will put my oven to work because I'm still all about these easy sheet pan dinners. Also, one step outside and I have frizzy fuzzy hair.
This type of dinner in particular is what I crave all summer long. Fresh vegetables and plump little gnocchi are tossed in olive oil, lots of fresh garlic and roasted. The tomatoes skin blister and they burst while roasting and with a little extra press from your spatula, they will release those amazing tomato juices. Mix that in with the olive oil and any other juices accumulated from roasting and you've got yourself a light sauce for your gnocchi. Which by the way get crispy while roasting. So dang good I could eat this every day.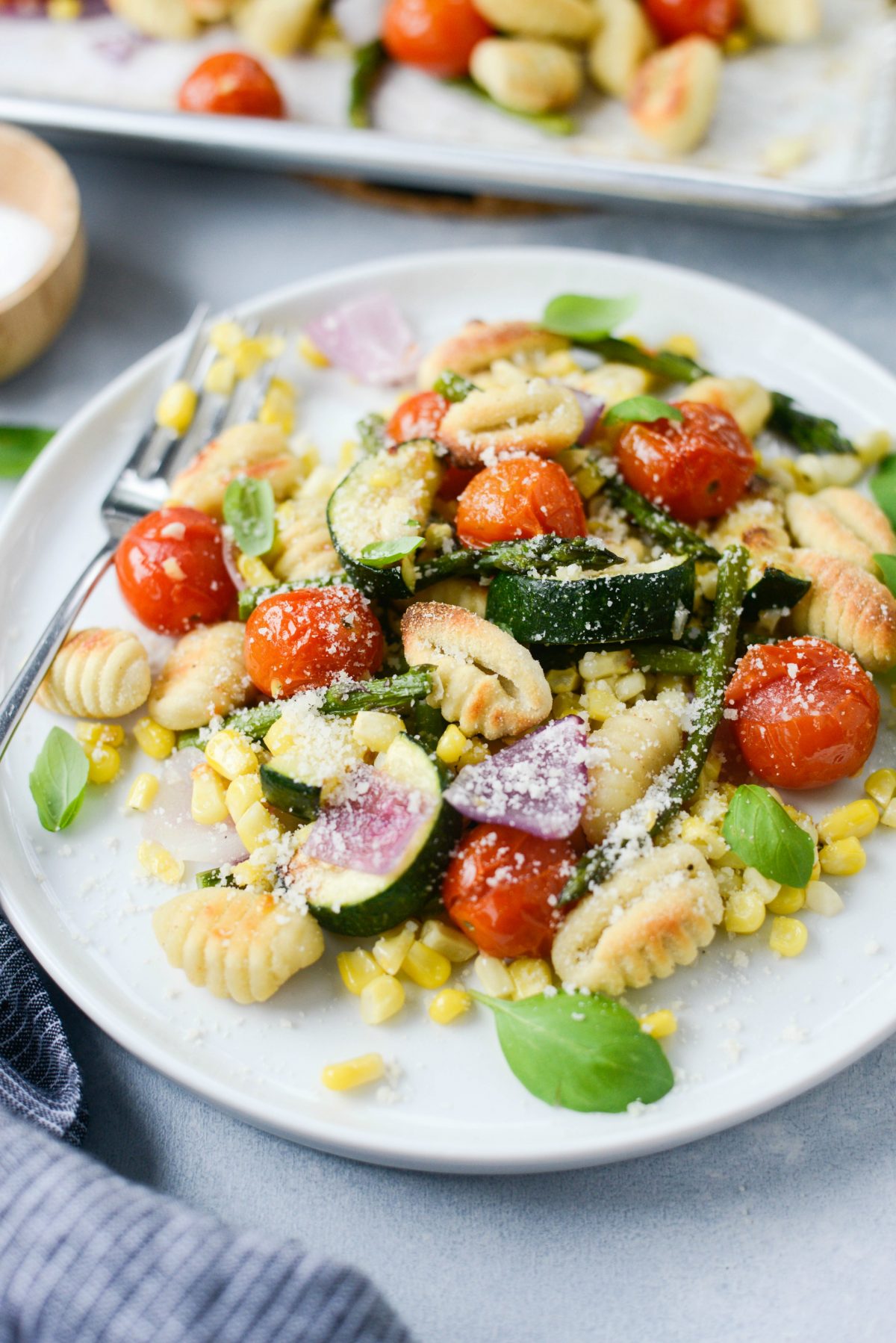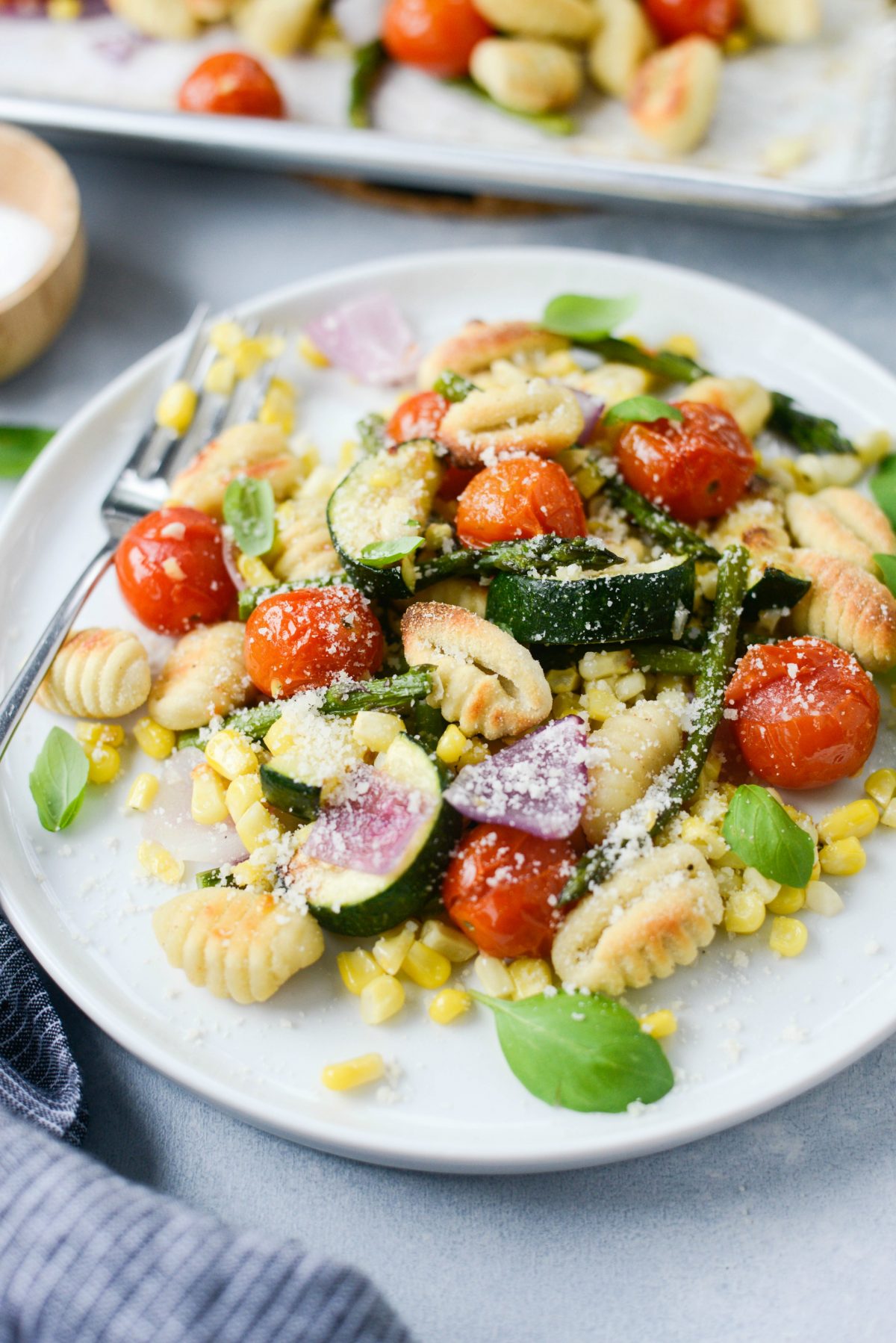 This dinner has my name written all over it. Fresh veggies, crispy gnocchi and garlic. Totally my jam.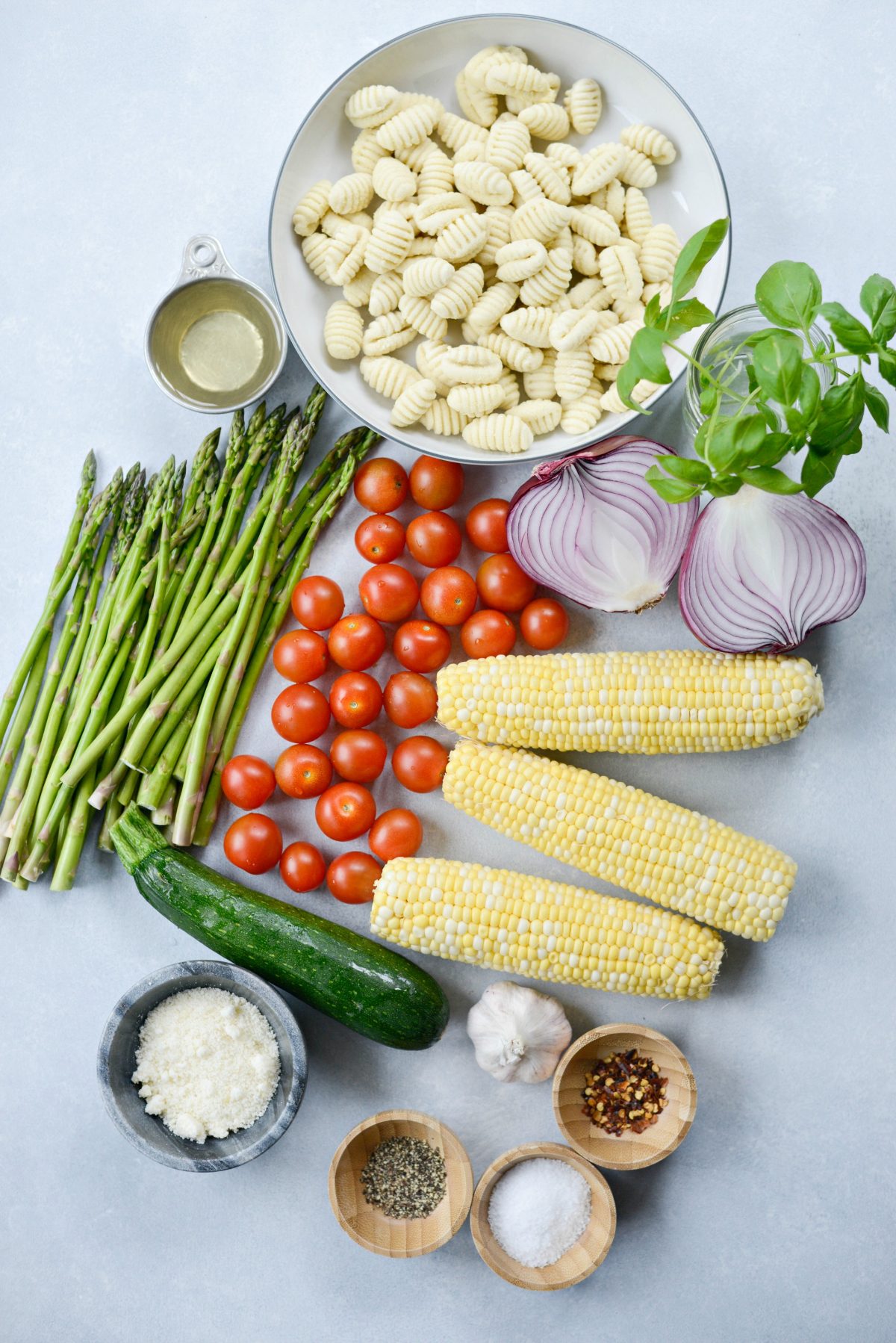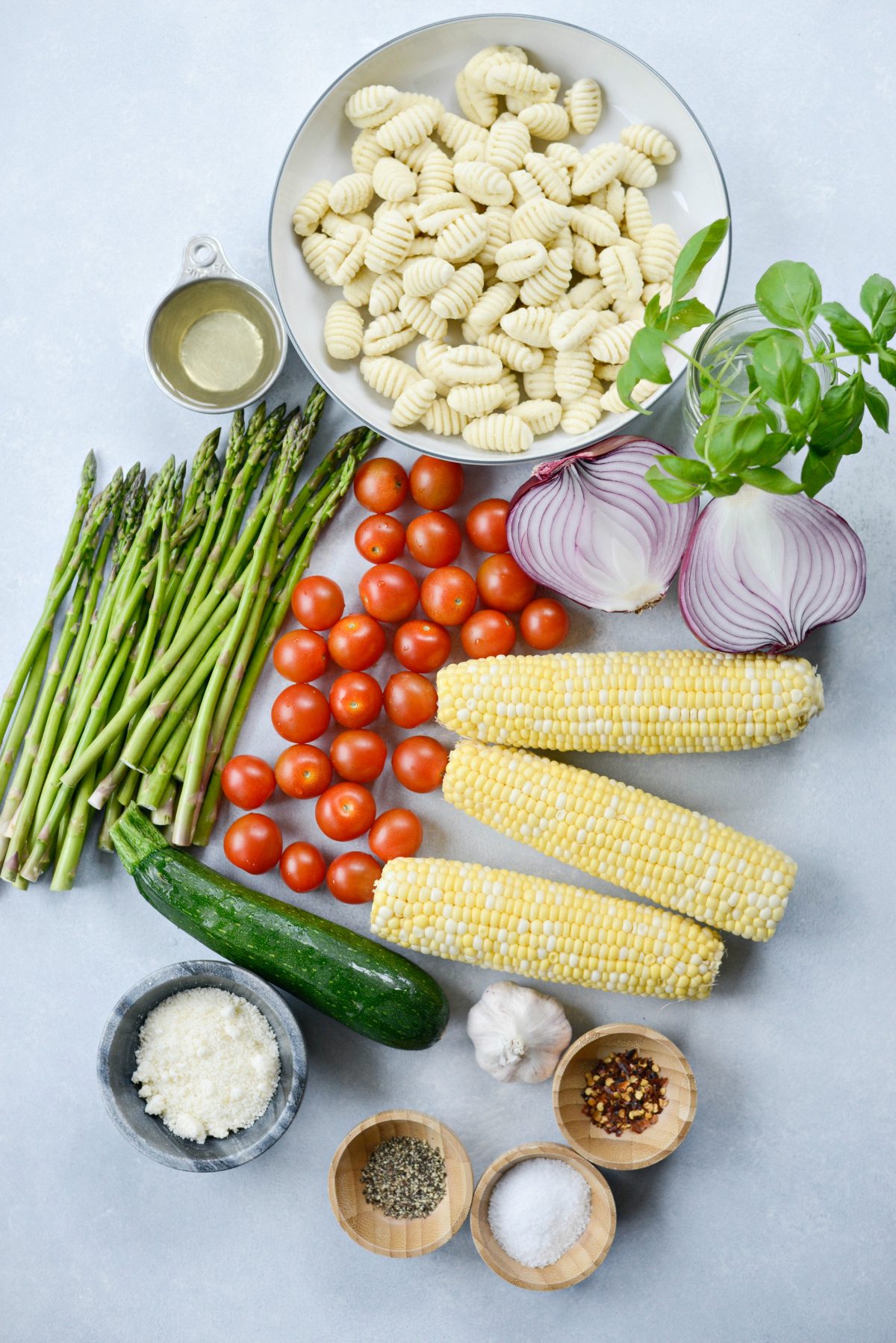 Here is what you need to make this super simple sheet pan gnocchi with summer vegetables: 1 pound gnocchi (more on this in the paragraph below), 1 pint cherry tomatoes, 2 to 3 ears of fresh sweet corn, 1/2 a bunch of asparagus, 1-2 zucchini, 1/3 cup of olive oil, kosher salt, black pepper and lots of fresh garlic. Fresh basil, grated parmesan cheese and red pepper flakes for serving.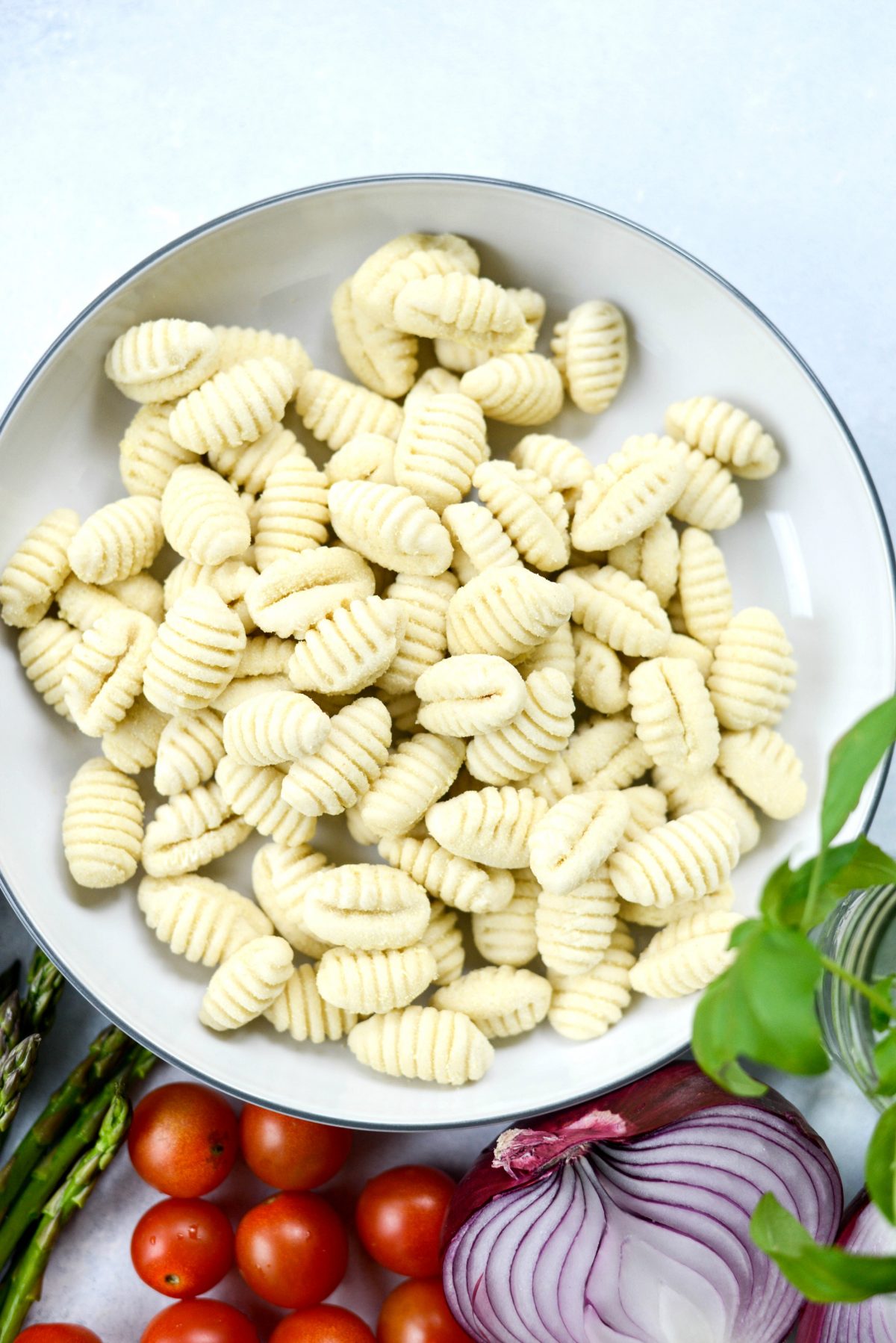 Here's the skinny on the gnocchi. I do not make my own. yet. It's just not convenient for me and changes this meal from simple to difficult. But feel free to do your thing! If you decide to use store bought gnocchi you can either find the shelf stable kind in the international/pasta isle or use the gnocchi you can find in the freezer section. Lately, I've been purchasing the frozen gnocchi because I feel they have more defined ridges which translates to texture! And in my honest opinion, they are prettier to photograph. #justkeepingitreal
Thawing frozen gnocchi only takes 30 to 45 minutes, so I just pull them out ahead of time.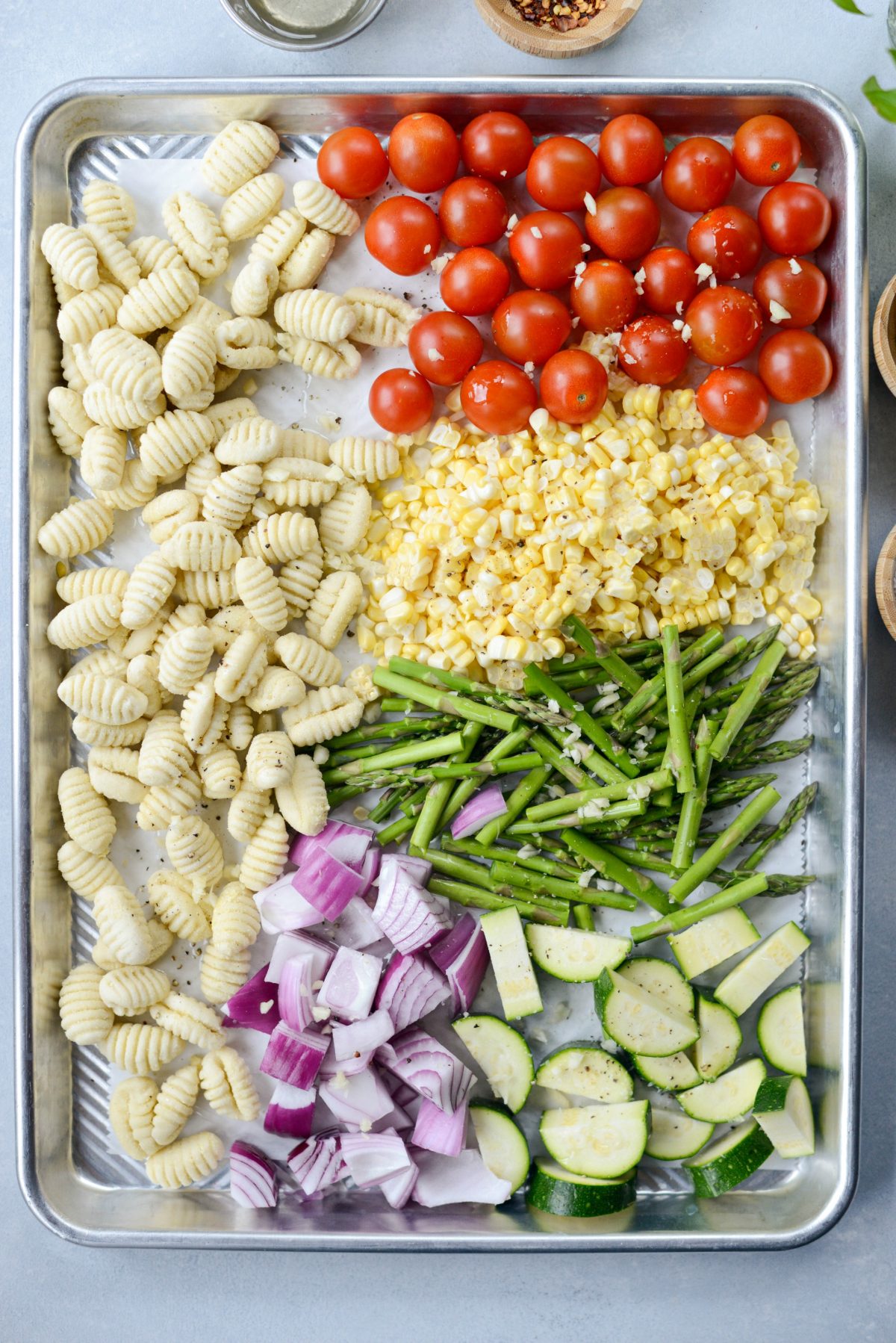 First make sure your oven rack is positioned in the middle of your oven and preheat to 450°.
Then line a rimmed metal baking sheet with parchment paper and arrange the tomatoes corn, asparagus, zucchini, onion around the uncooked gnocchi. Drizzle with 1/2 of the olive oil and sprinkle with a few pinches of kosher salt and freshly ground black pepper. Scatter 4 cloves of finely chopped fresh garlic over top and gently toss each little vegetable to coat and rearrange so they still hold their little spot on the pan.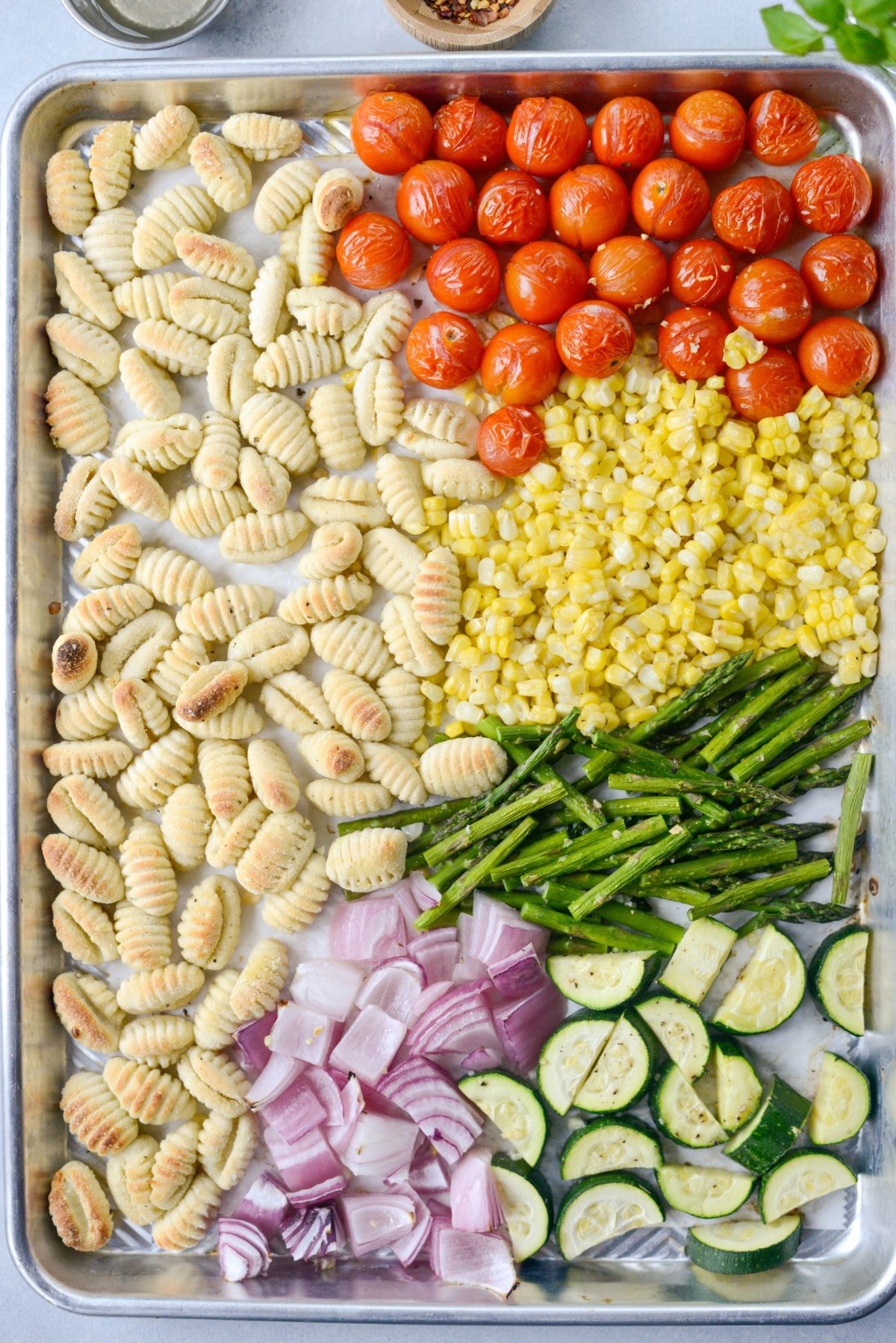 Next just slip the pan into your hot-as-you-know-what oven and roast for 9 minutes. Then rotate the pan so the vegetables in the front in now in the back of your oven and continue to roast for another 9 to 10 minutes.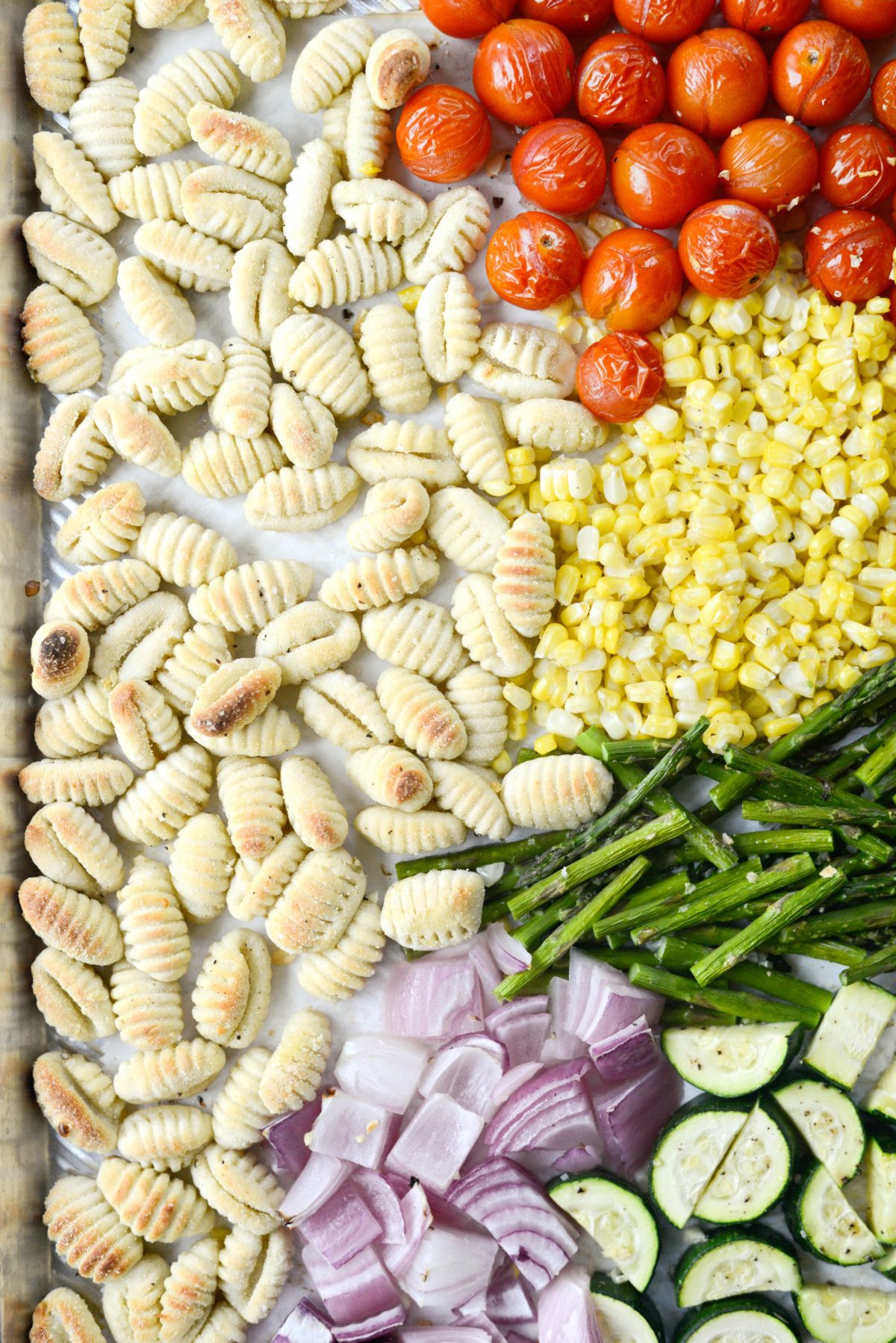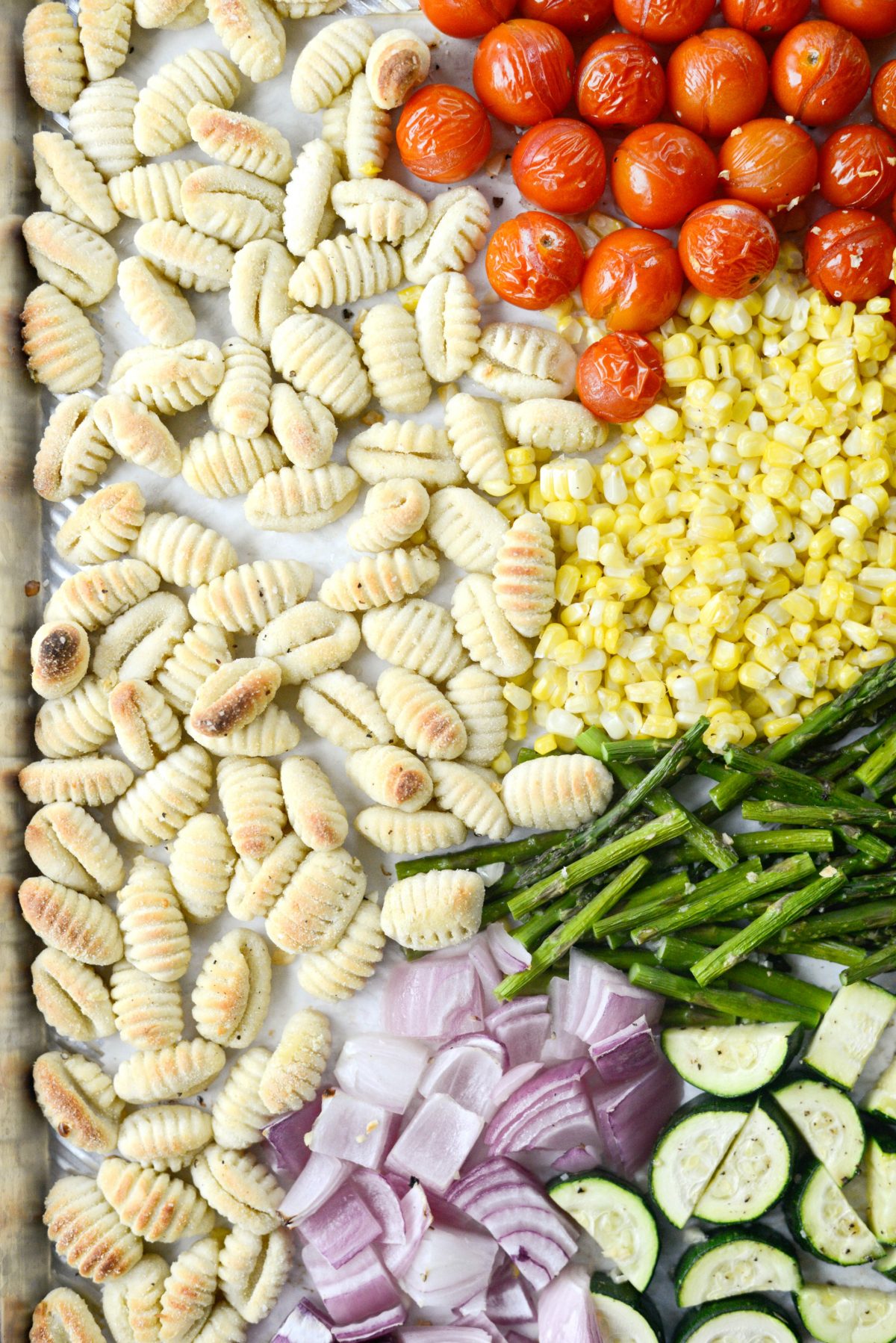 The tomatoes burst, the gnocchi is golden and crispy and the vegetables tender and caramelized underneath. Thanks to garlic, it smells pretty darn amazing too!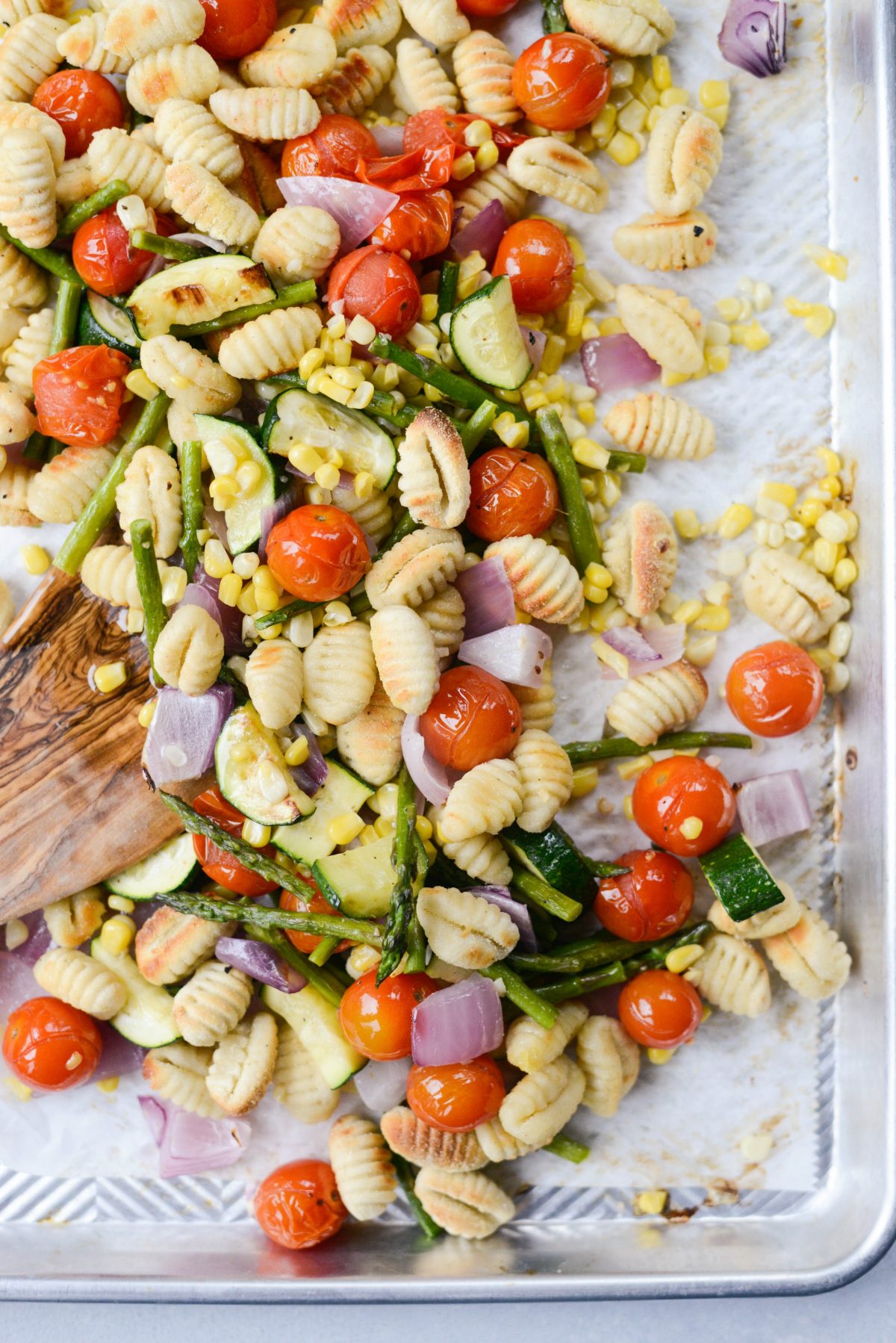 Now all that's left to do is toss together, BUT press on those cherry tomatoes with the back of your spatula to expel some of that juicy goodness. Alternatively, cut the tomatoes in half before roasting.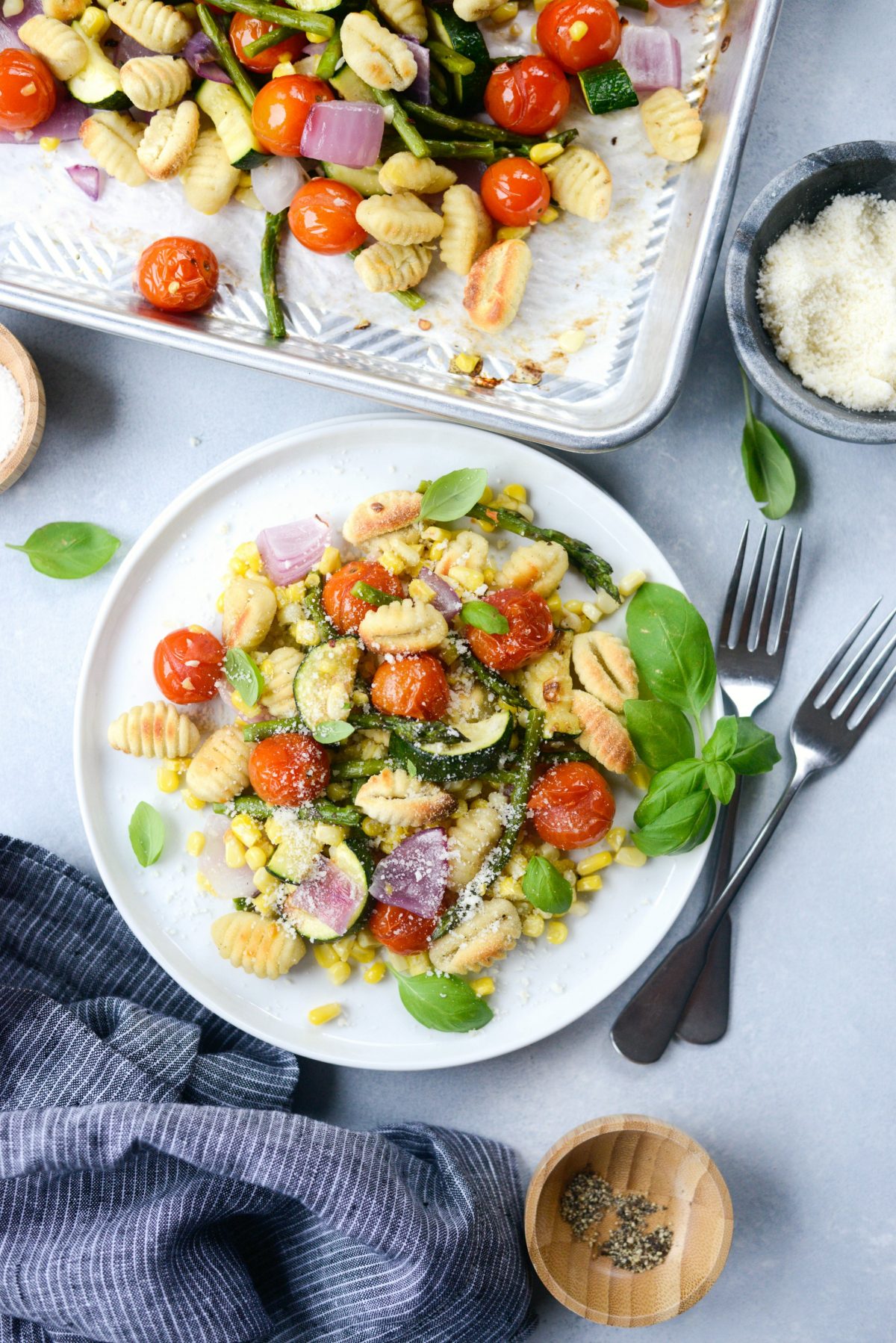 Serve immediately and drizzle each plate or bowl with a little of the remaining olive oil. Then top with fresh torn basil leaves and freshly grated Parmesan cheese.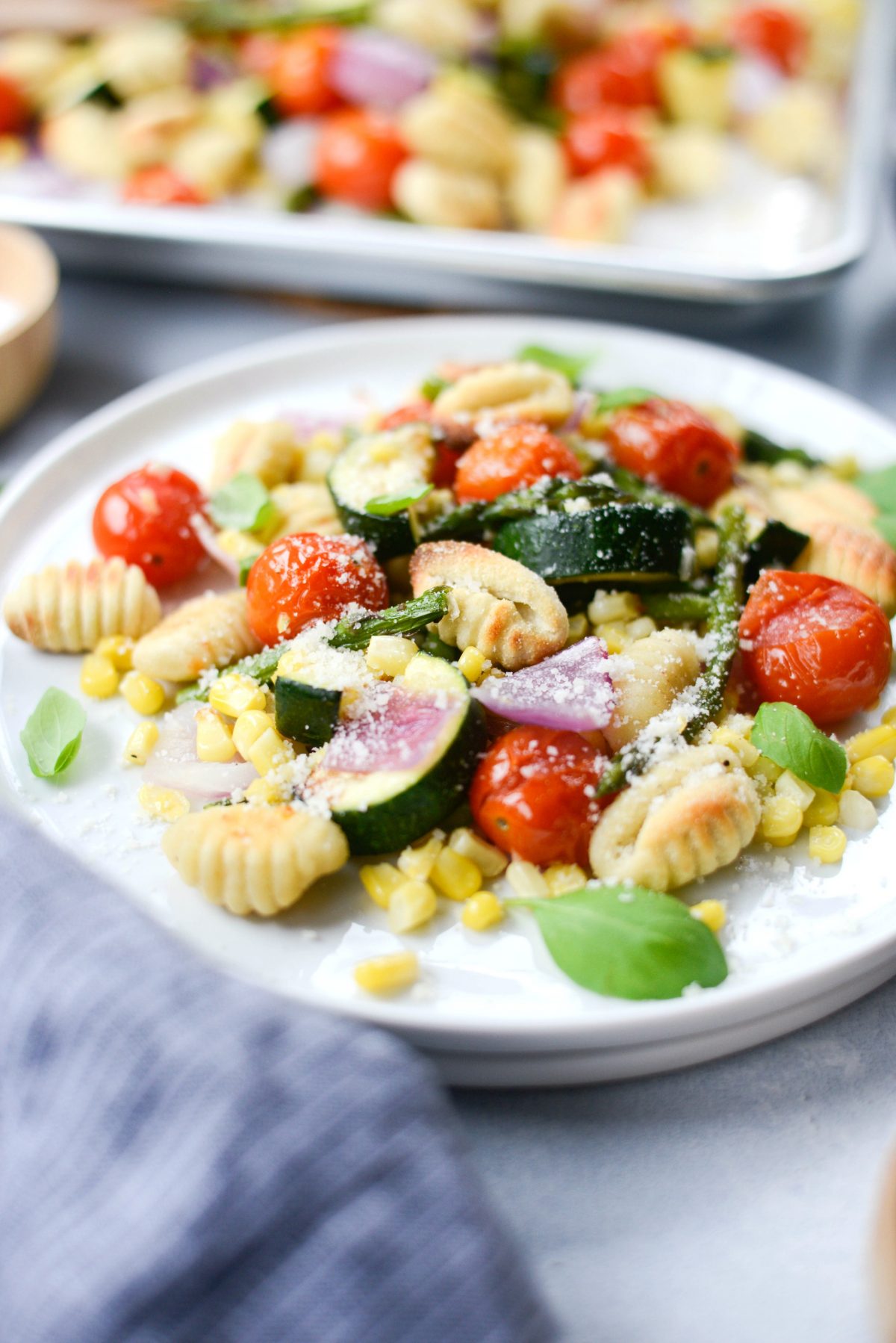 Simple clean flavors with minimal effort. My kind of meal.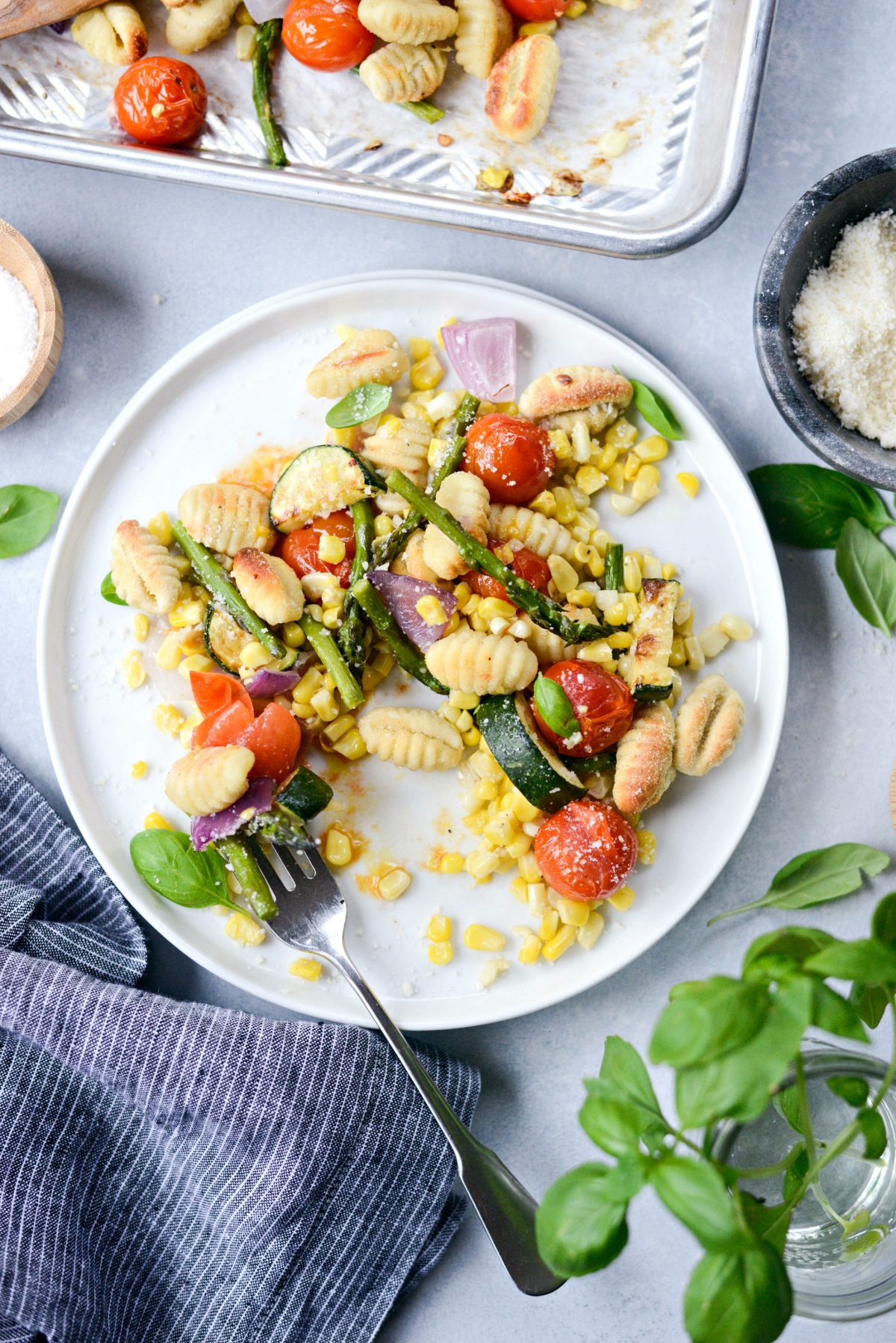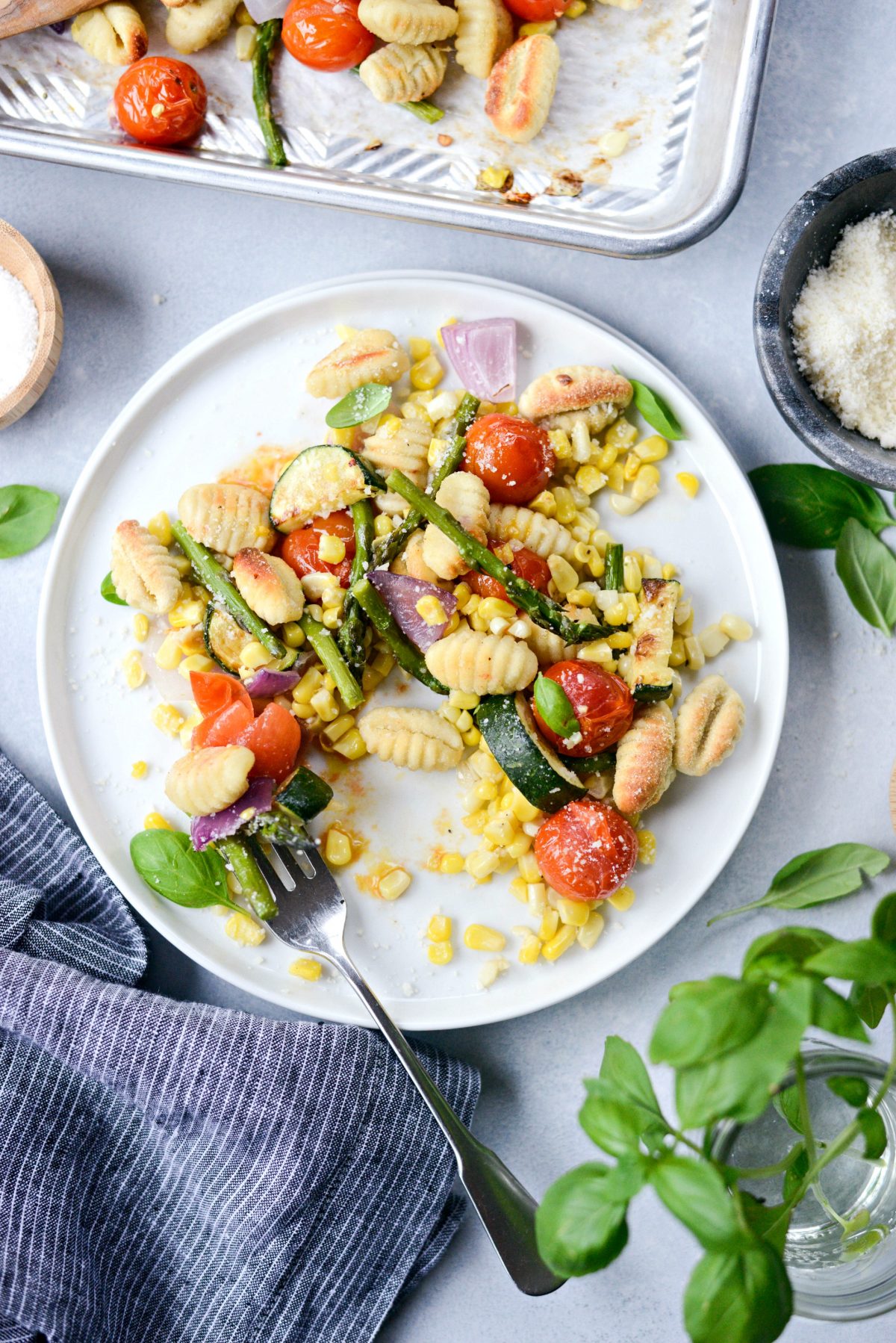 Enjoy! And if you give this Sheet Pan Gnocchi with Summer Vegetables recipe a try, let me know! Snap a photo and tag me on twitter or instagram!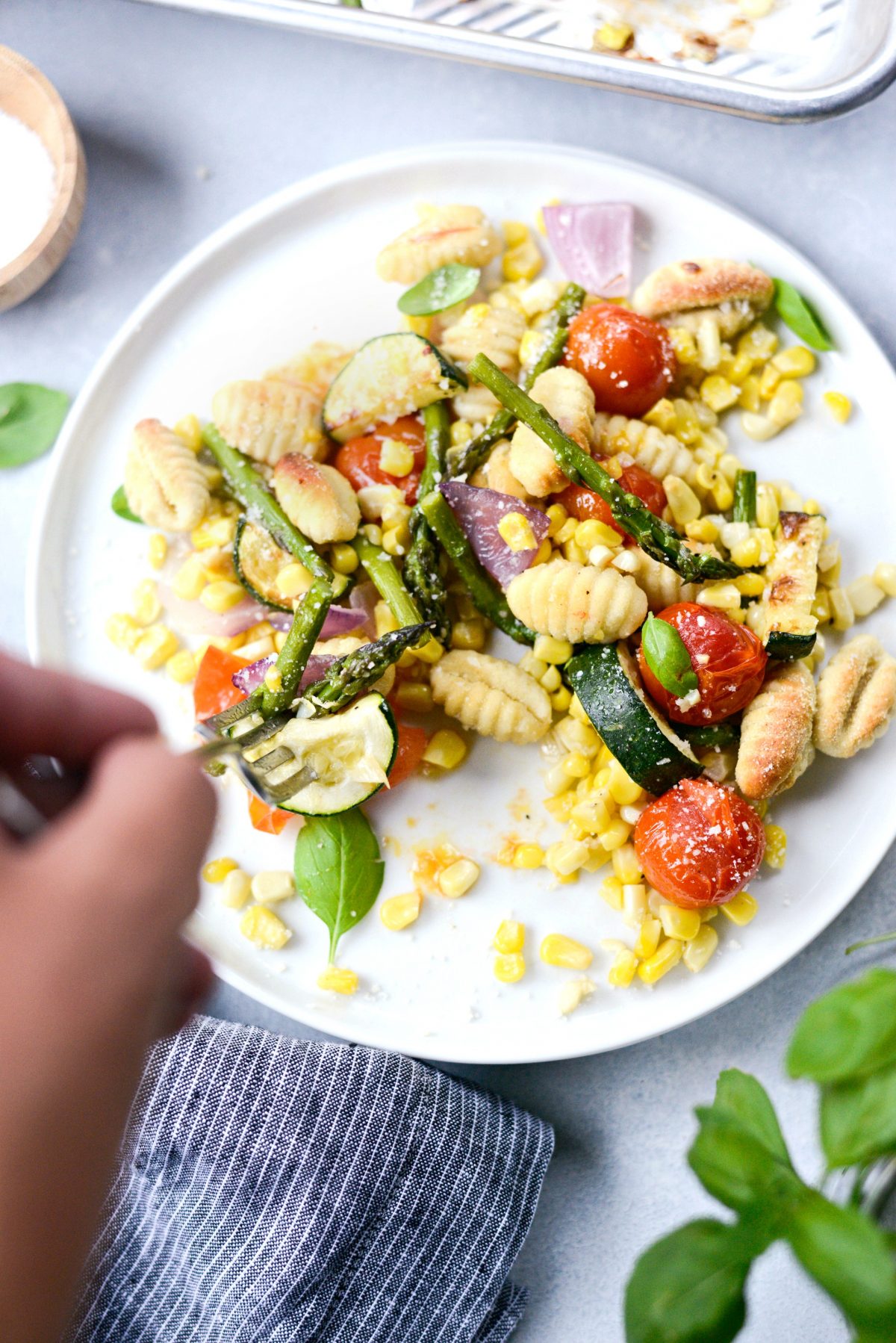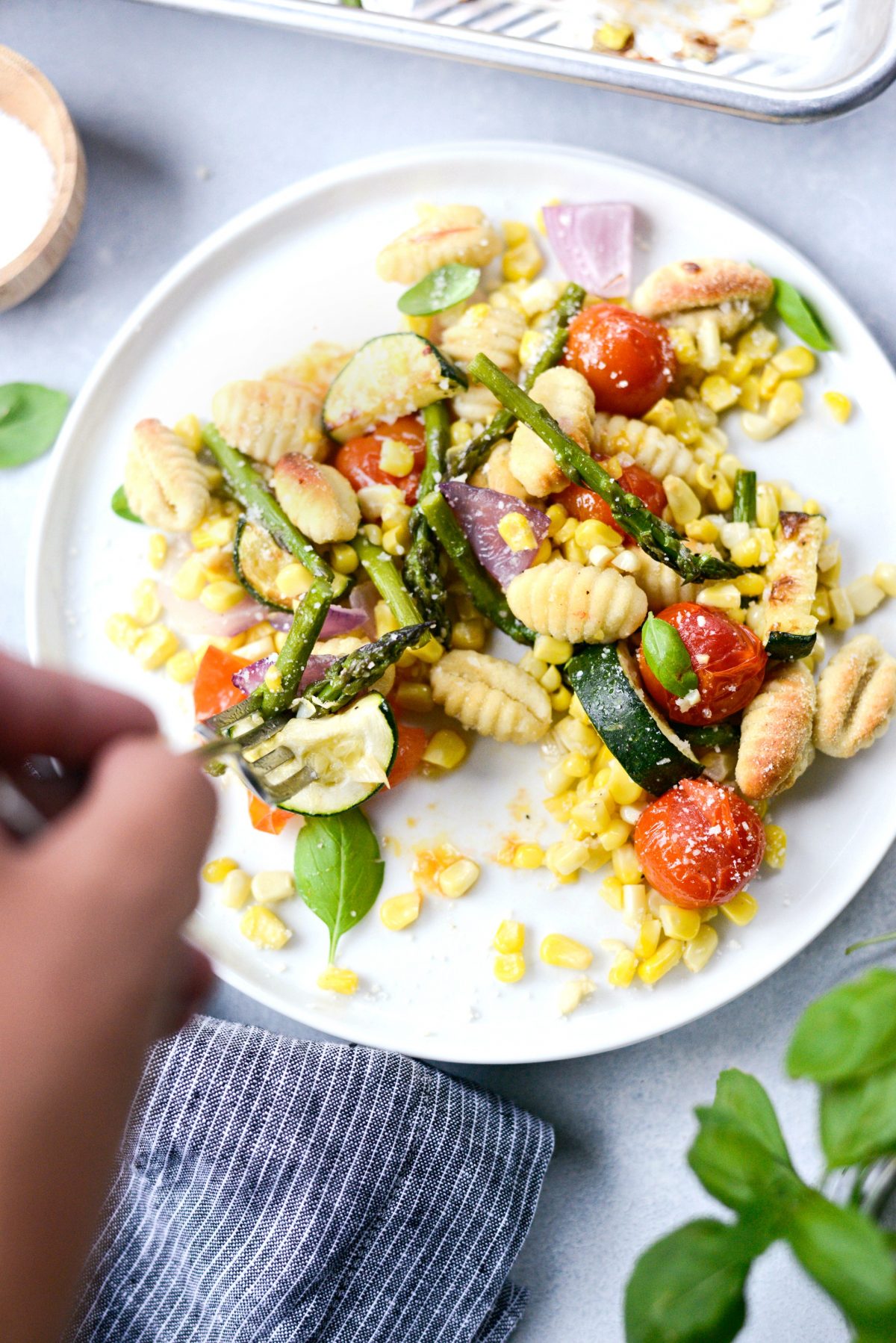 My cookbook Simply Scratch : 120 Wholesome Homemade Recipes Made Easy is now available! CLICK HERE for details and THANK YOU in advance!
[this post contains affiliate links.]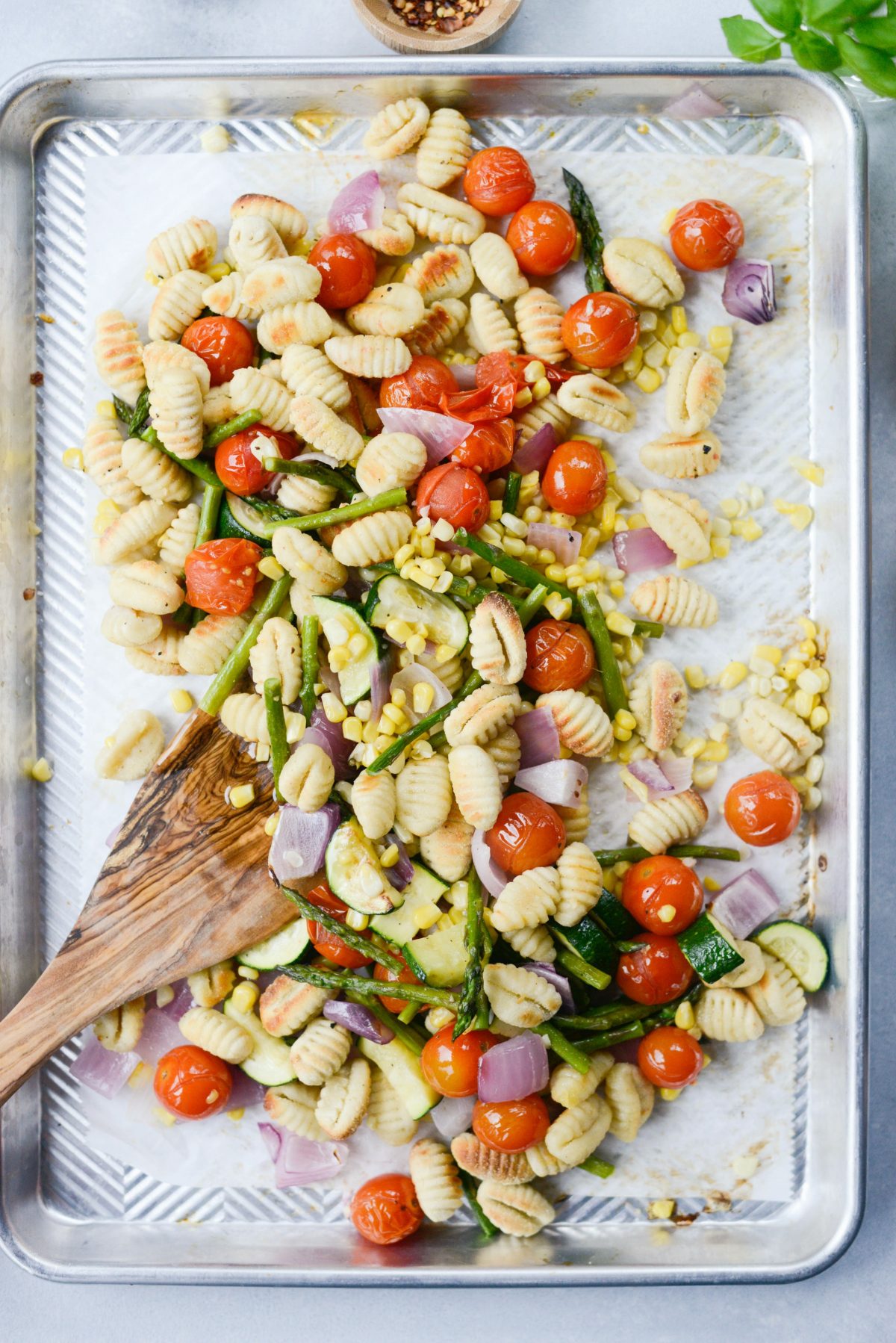 This post may contain affiliate links.
Buy the Cookbook: Simply Scratch : 120 Wholesome Homemade Recipes Made Easy Now available on Amazon »
THANK YOU in advance for your support!