Your Super Bowl party isn't complete without these Chardonnay Italian Sausage Bites and a bowl of this simple spicy mustard dip! Italian sausage is cut into bite-size pieces and simmered in chardonnay, then quickly browned under your broiler until crisp and ready to be plated and served with a spicy mustard dip. Serves a crowd in under 1 hour.
With Super Bowl Sunday just days away, we should probably discuss the most important topic of all. Food.
I mean sure, we could go back and forth about who should win [Eagles]…what? Oh, nothing against the Patriots, but haven't they won enough Super Bowls? Kidding. Honestly, it really doesn't matter to me who actually wins – Eagles or Patriots, I'm really more into the food anyways. Although this year I am looking forward to watching the game…a little. Who even am I?
Back to your Super Bowl menu. Let's talk about these addictively delicious chardonnay Italian sausage bites aka "the sausages". I only have these once a year at my family's Christmas get together. And it's not Christmas unless "the sausages" make an appearance, and every year I eat more than my fair share. I'll throw a couple carrots and sugar snap peas on my plate so it doesn't look so obvious.
The recipe is my sister Julie and her husband (my brother-in-law) Jeff's signature app they make every year and with their blessing, I get to share the recipe with you!
Everyone who's had these Italian sausage bites, loves them. There's not any strong wine flavor (trust me, Pat would know and he loves these too), just sausage deliciousness. I made up a quick spicy mustard for dipping. What's better than a crispy sausage dipped in mustard ? Maybe that ice cold beer you'll drink to wash it all down. 😉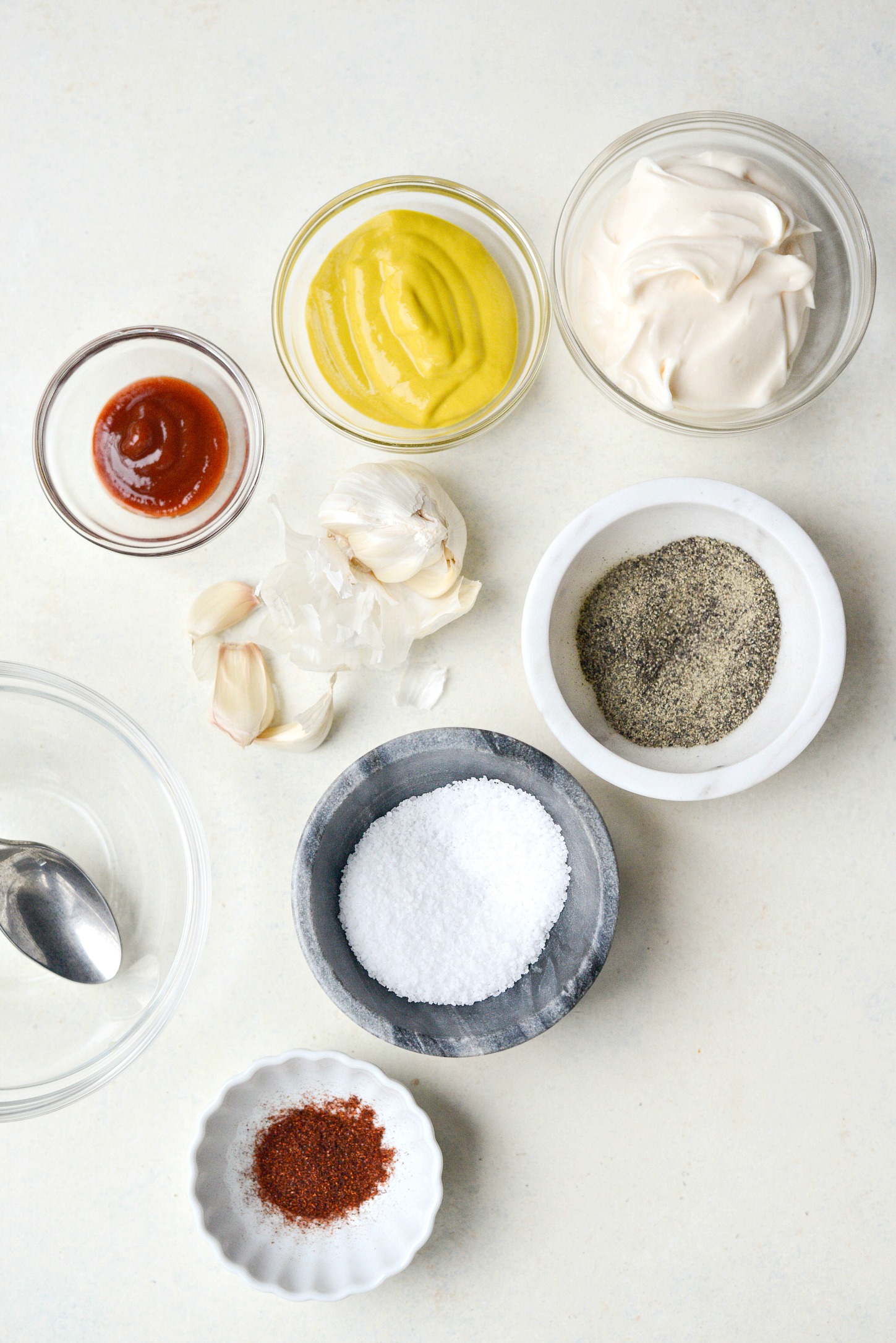 This spicy mustard dip is the perfect thing for dunking these Italian sausage bites. For it you will need; mayo, yellow mustard, sriracha, garlic, paprika, salt and pepper. Easy.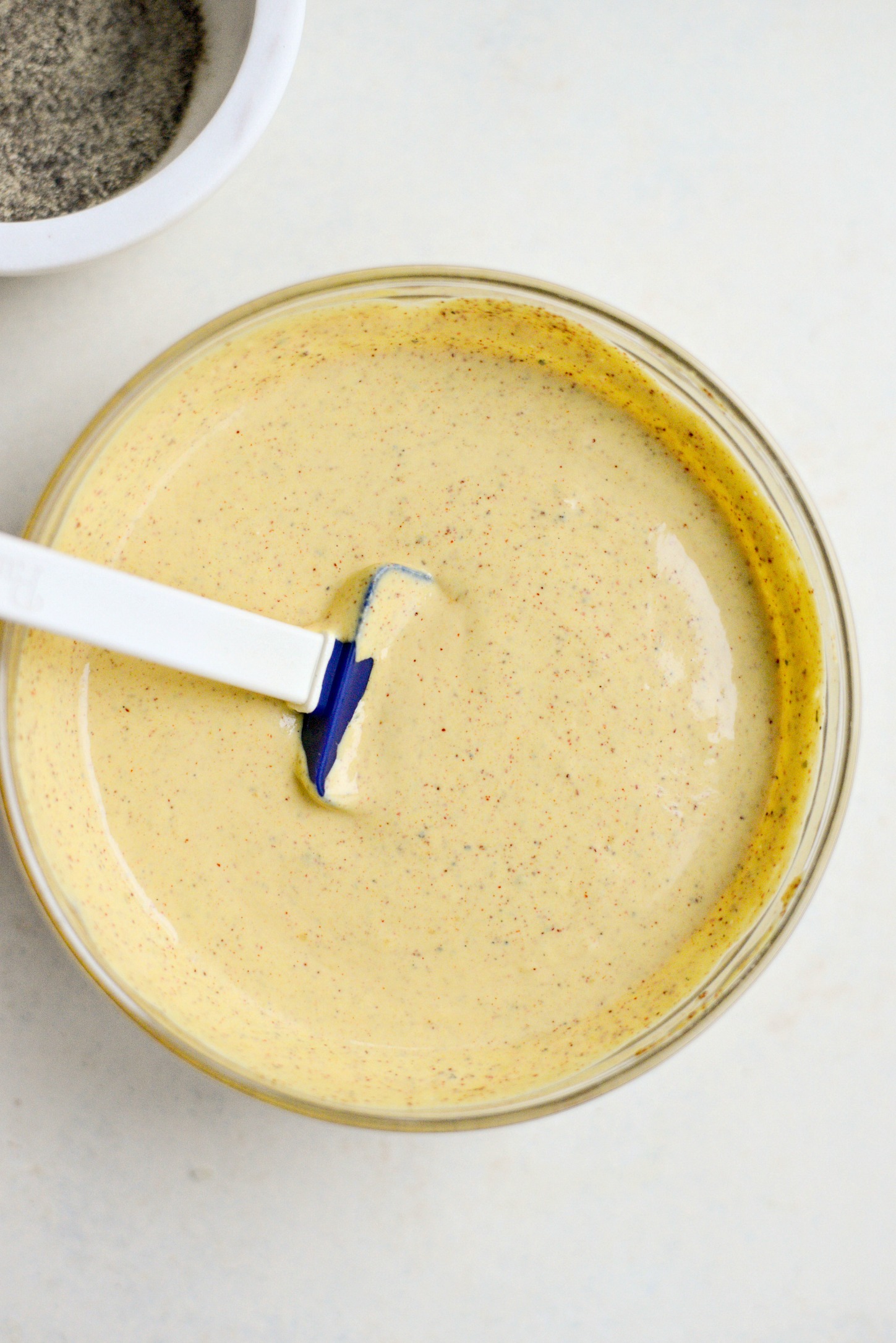 In a medium bowl combine 3/4 cup mayonnaise, 1/4 cup plus to tablespoons yellow mustard, 1 teaspoon to 1 tablespoon [more or less to taste] Sriracha hot sauce, 1 teaspoon paprika and 1/2 teaspoon both kosher salt and black pepper. Mix until combined, cover and refrigerate until ready to serve.
Now let's move onto the sausages. What was recommended to me was Premio brand sausages, which are sold at Costco [hence the 5 lbs!], but any good quality mild, sweet or hot Italian sausages will work.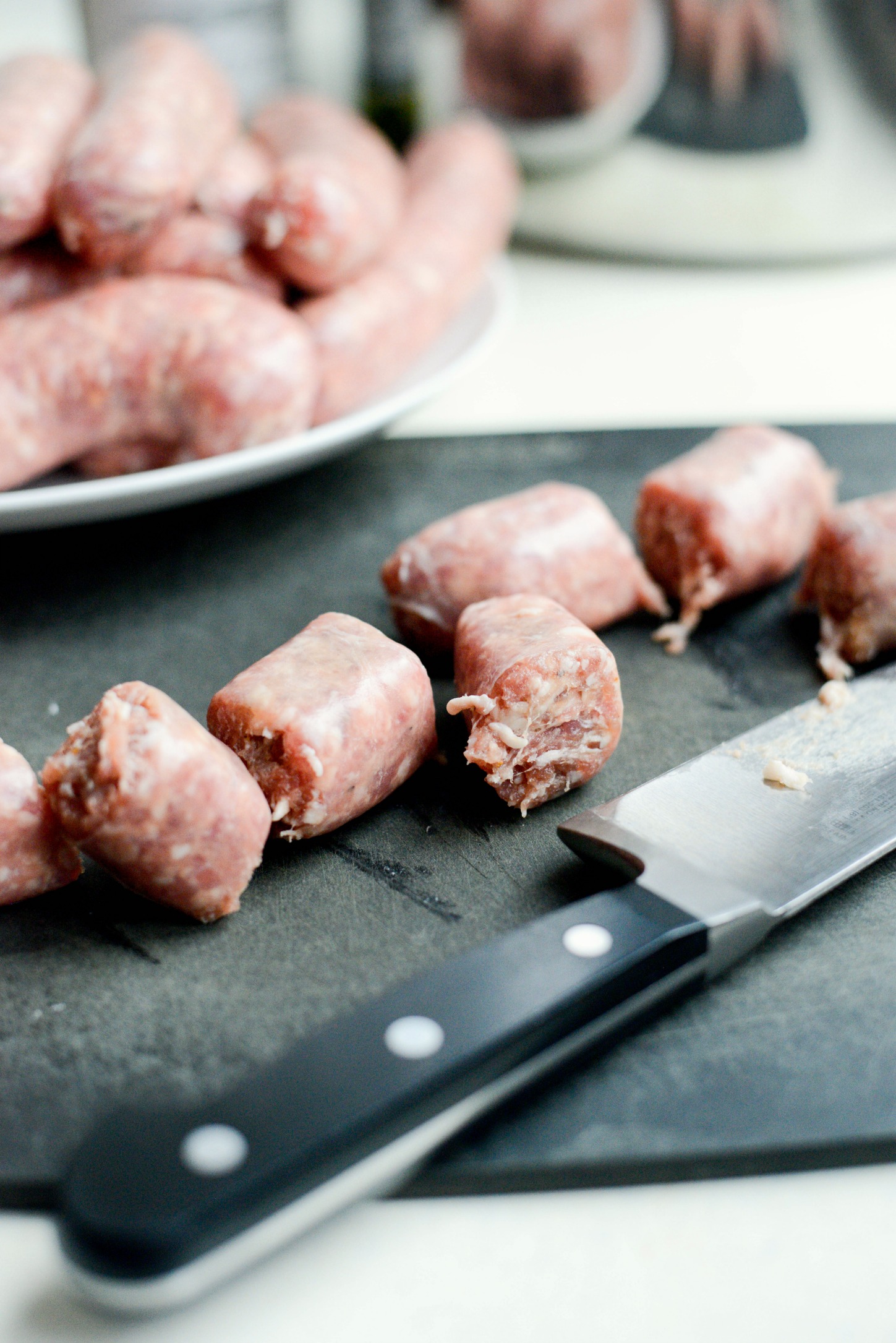 Slice each link into 4 bite-size pieces. 5 pounds of sausages will yield roughly around 80 or so bites. Trust me, 80 is both enough and not enough at the same time 😉 .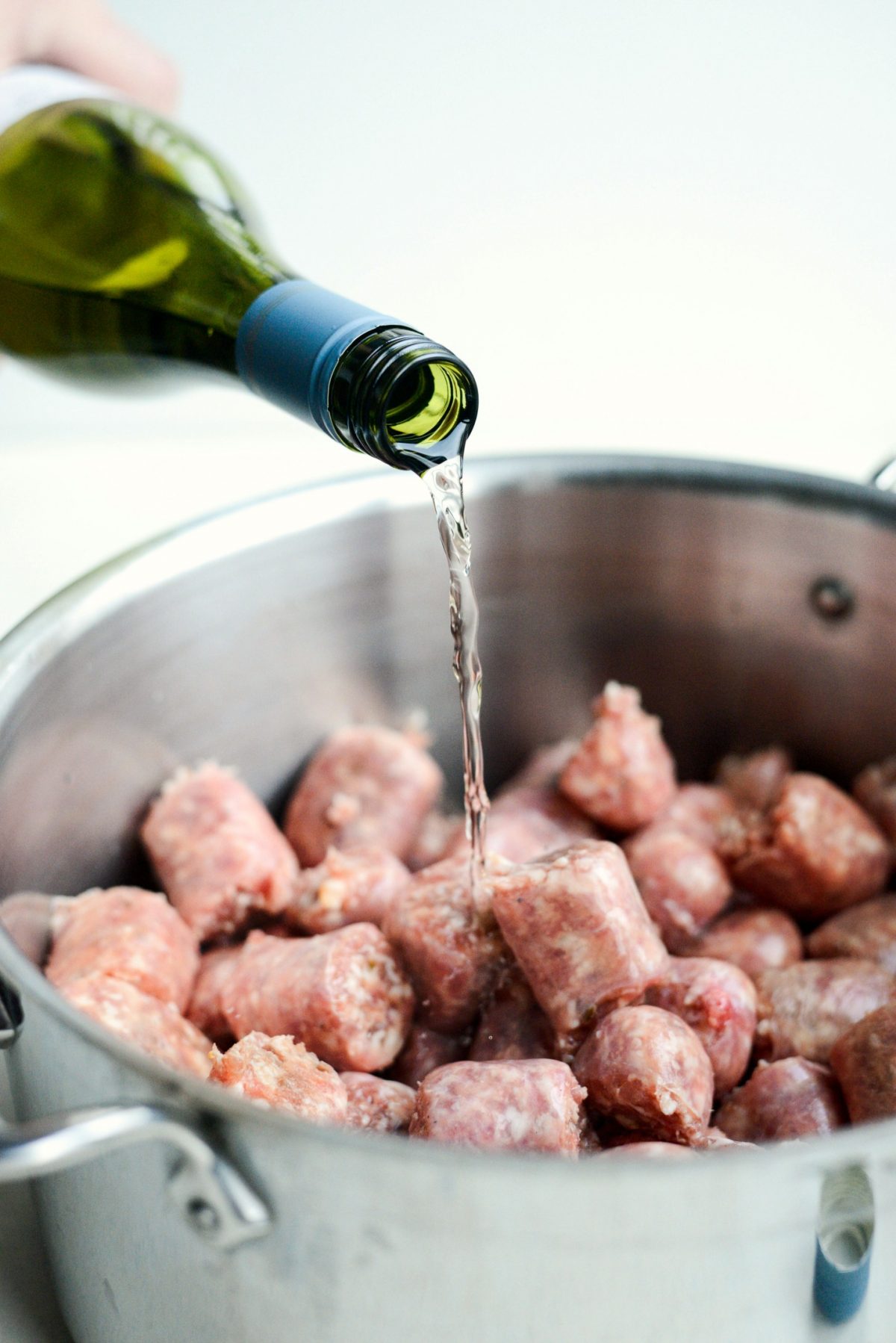 Then add the sausage pieces into a large stockpot and pour in the entire bottle of wine. Cover and bring to a boil on high heat, reduce to medium-low and simmer for 4o minutes.
If your sausage bites aren't totally submerged in the wine, don't worry – they will still get fully cooked as the bubbles rise and the cooked sausages settle.
I'm using Oyster Bay Chardonnay because I love it — all their whites actually (although I haven't tried a red yet). No this is not a sponsored post, they don't even know I exist – I would just recommend using a wine you like to sip.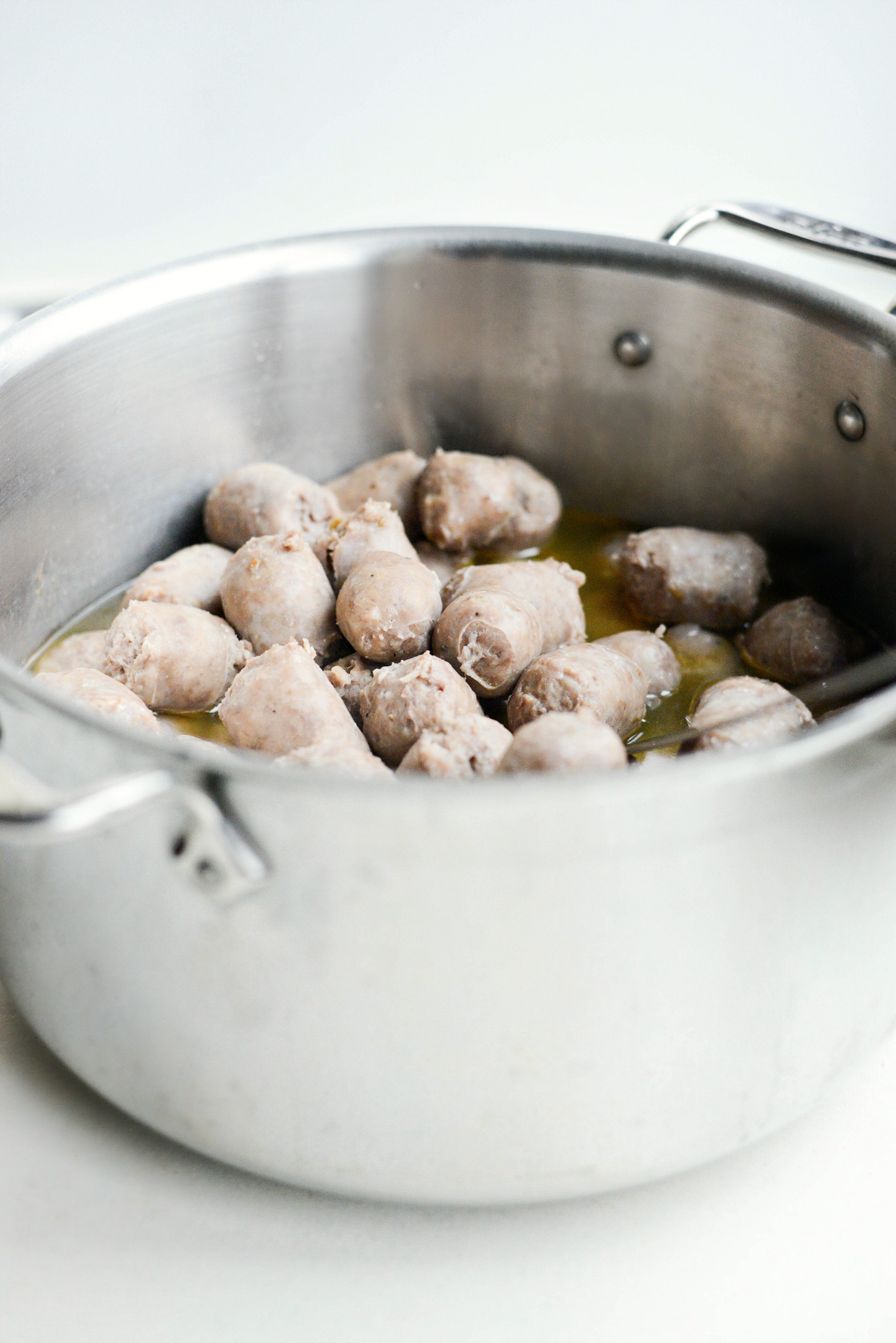 Now your home should smell amazing! Wine and Italian sausage mmmmm!
To give these Italian sausage bites some color, place them onto a metal, rimmed baking sheet lined with aluminum foil. Next, move your oven rack so it sits about 4 inches underneath the heating element and preheat your broiler on high. Once preheated, slide the pan of sausages underneath the broiler for 2 to 3 minutes or until golden brown. Then using tongs, carefully turn the sausages and brown for another 2 to 3 minutes.
Then simply serve on a platter with the spicy mustard dip!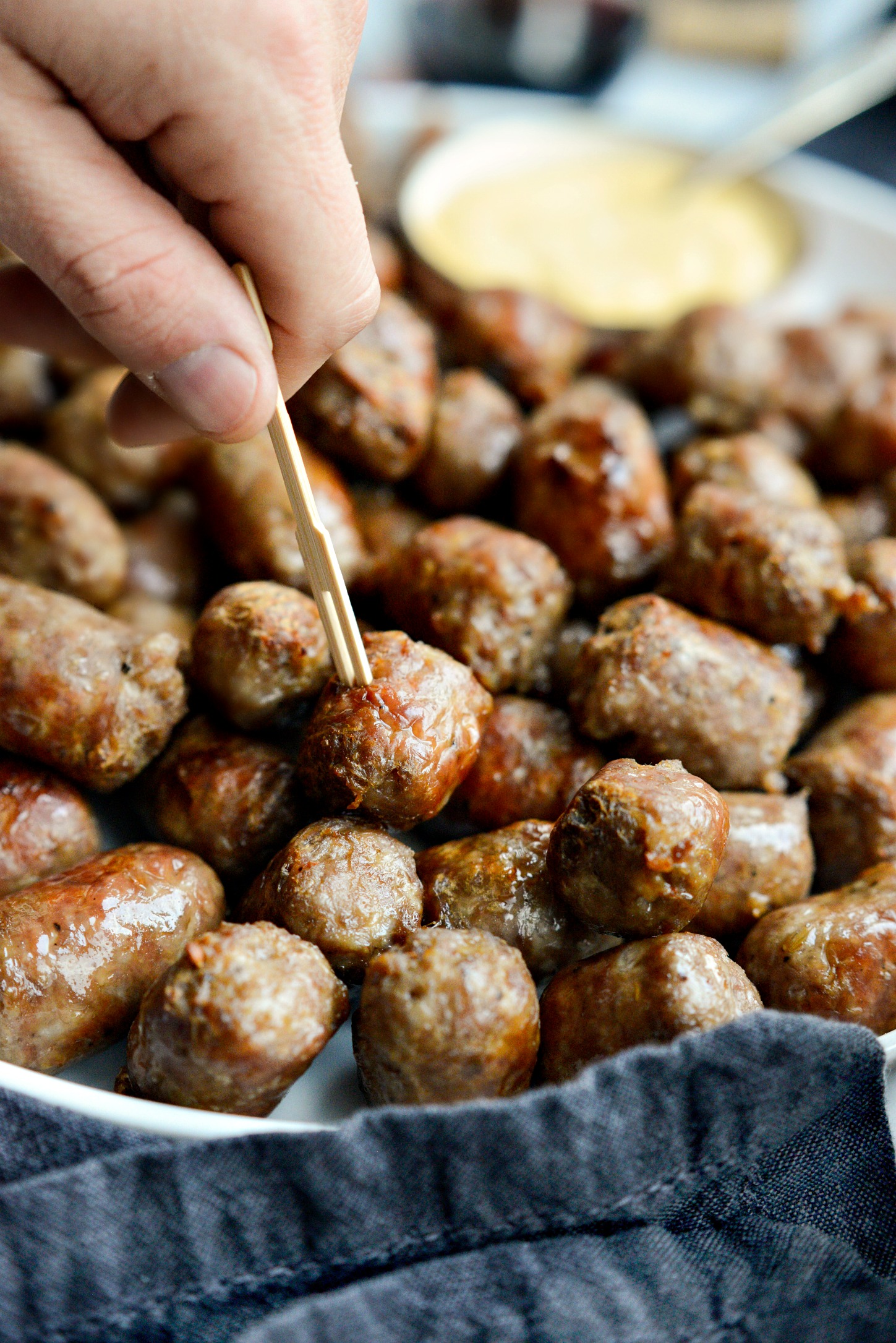 These chardonnay Italian sausage bites are not just good football food, they would be a fantastic appetizer for any gathering when you need to feed a large crew, Super Bowl or no Super Bowl.
For more scrumptious Super Bowl party food check out these recipes:
Mexicali Chicken Sheet Pan Nachos
Ham and Gouda Party Sandwiches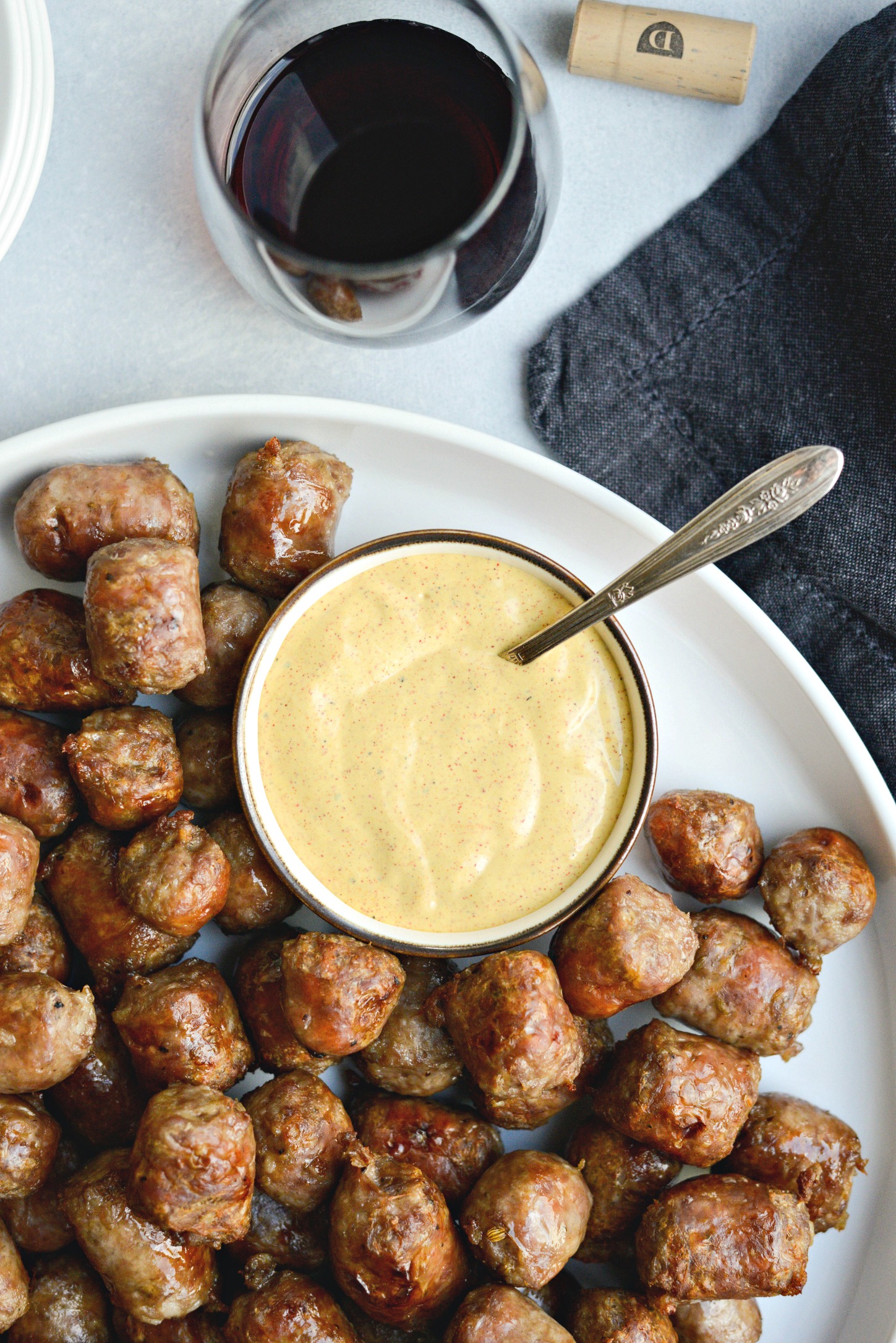 Enjoy! And if you give this Chardonnay Italian Sausage Bites recipe a try, let me know! Snap a photo and tag me on twitter or instagram!
This post may contain affiliate links.
Buy the Cookbook: Simply Scratch : 120 Wholesome Homemade Recipes Made Easy Now available on Amazon »
THANK YOU in advance for your support!