This Homemade No-Knead Ciabatta Bread recipe is as simple as throwing a few staple ingredients together and letting time work its magic. It yields a loaf that has a crispy exterior, soft, spongy and airy interior that's just begging for butter.
I love bread. This is no secret. Remember my dinner roll confession? Things haven't changed much. Ciabatta is right up there with dinner rolls, brioche and focaccia – aka all my favorite breads. When I first found this no-knead ciabatta bread recipe, I thought there's no way it could possibly be that easy? I assumed it would be similar to sour dough and need a starter, to be kneaded for 15 minutes or something. But nope. Myth busted. It can be as simple as flour, salt, yeast, water and time. That's it.
And if the reason for not making homemade bread from scratch is because of the kneading. You're in luck. This recipe requires zero kneading whatsoever. Instead, it rests for a period of time out on your counter.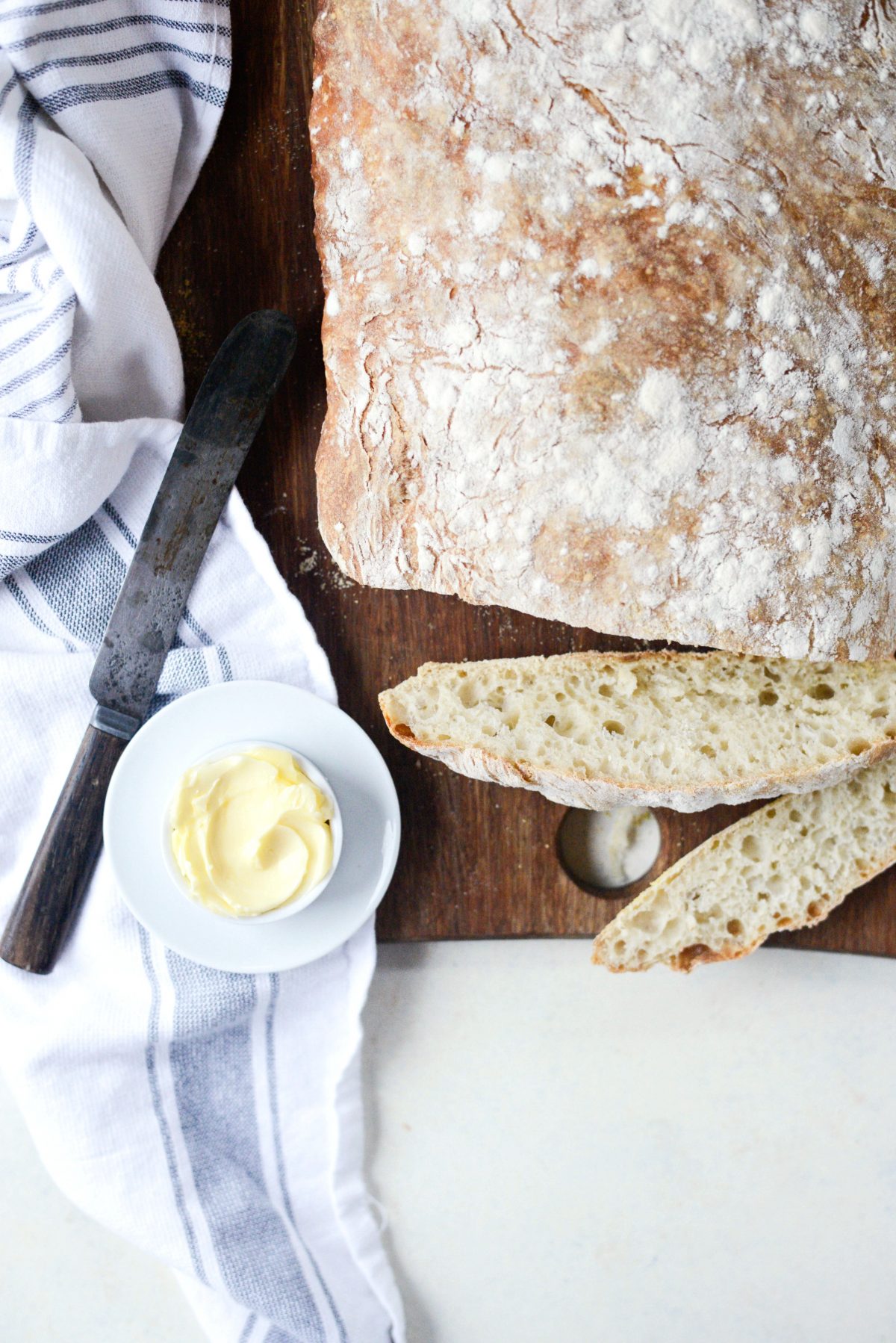 All these years…wasted. When I could've been sitting on my couch, cradling a loaf of ciabatta. 😢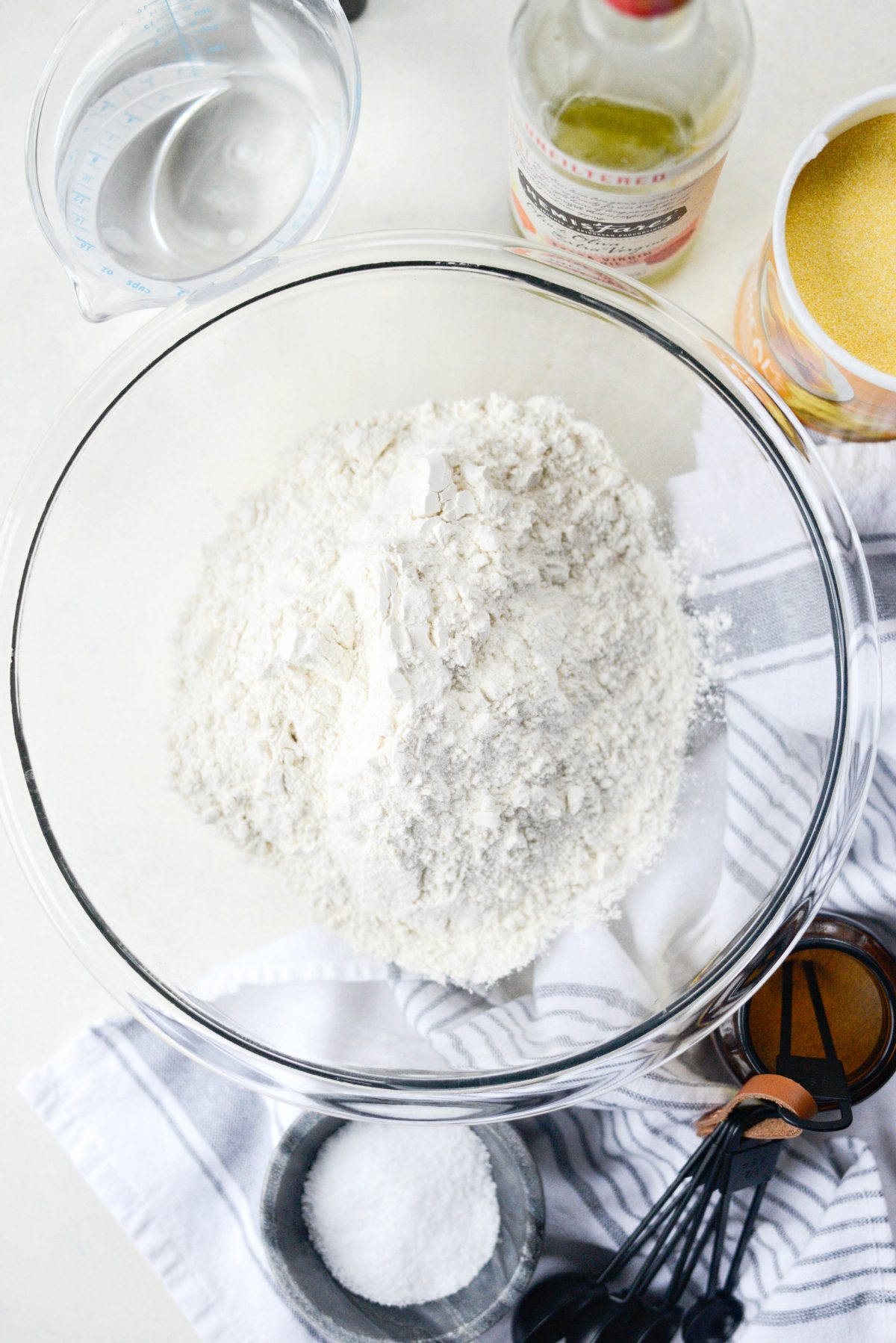 To Make This No-Knead Ciabatta Bread You Will Need:
unbleached all-purpose flour
kosher salt
active dry yeast
water
olive oil
cornmeal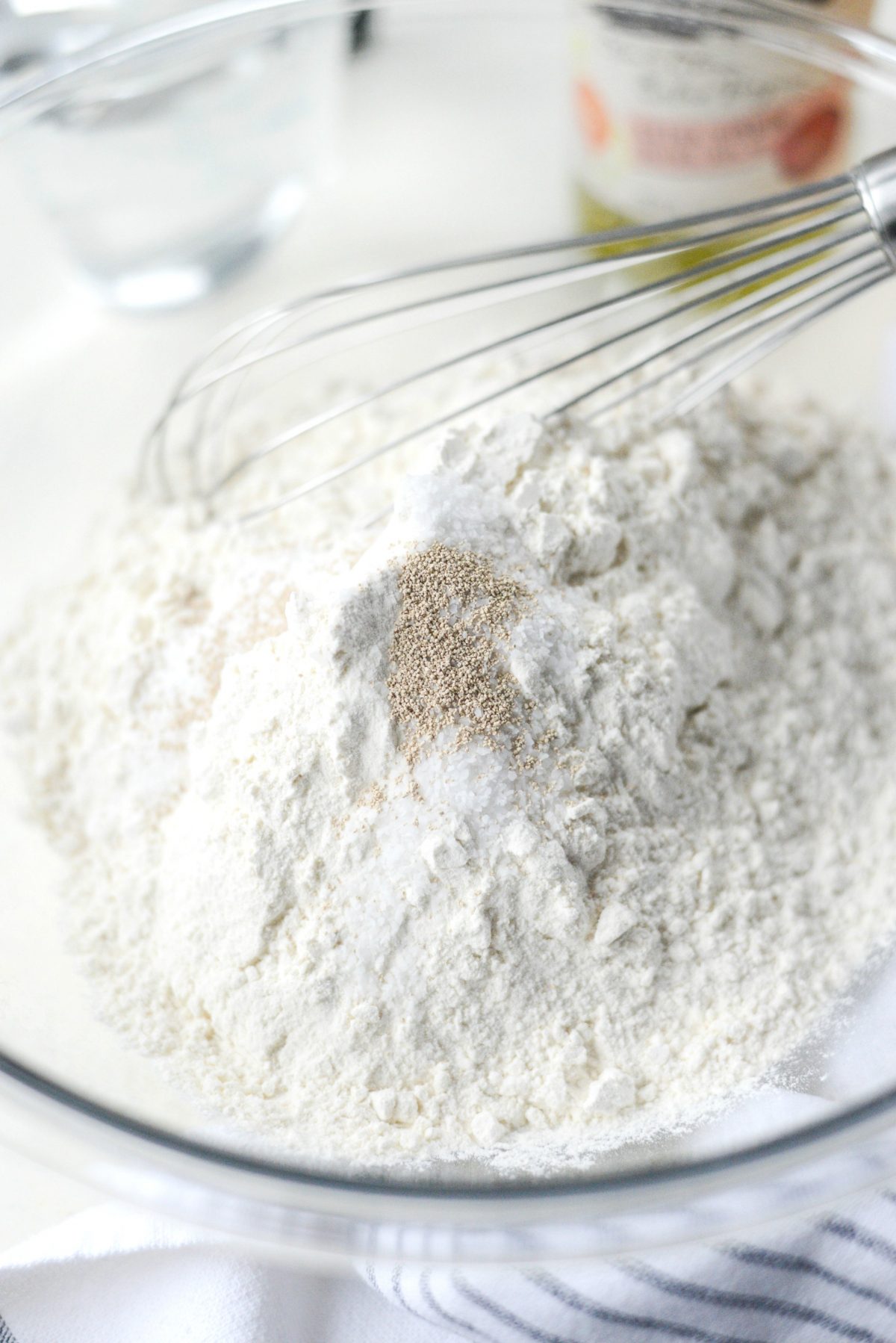 In a large bowl, measure and add 4 cups of unbleached all-purpose flour. No need to sift, just measure and dump it all in.
Then measure in 1-1/2 teaspoons of kosher salt and 1/4 teaspoon active dry yeast. When I first made this, I had to double check if that was indeed the correct measurement. I was skeptical because I use 9 times more yeast in my pizza dough recipe! However it is the correct amount.
Whisk to combine and aerate the flour before pouring in 2 cups of water. No specific temperature or anything. Just use water from your tap.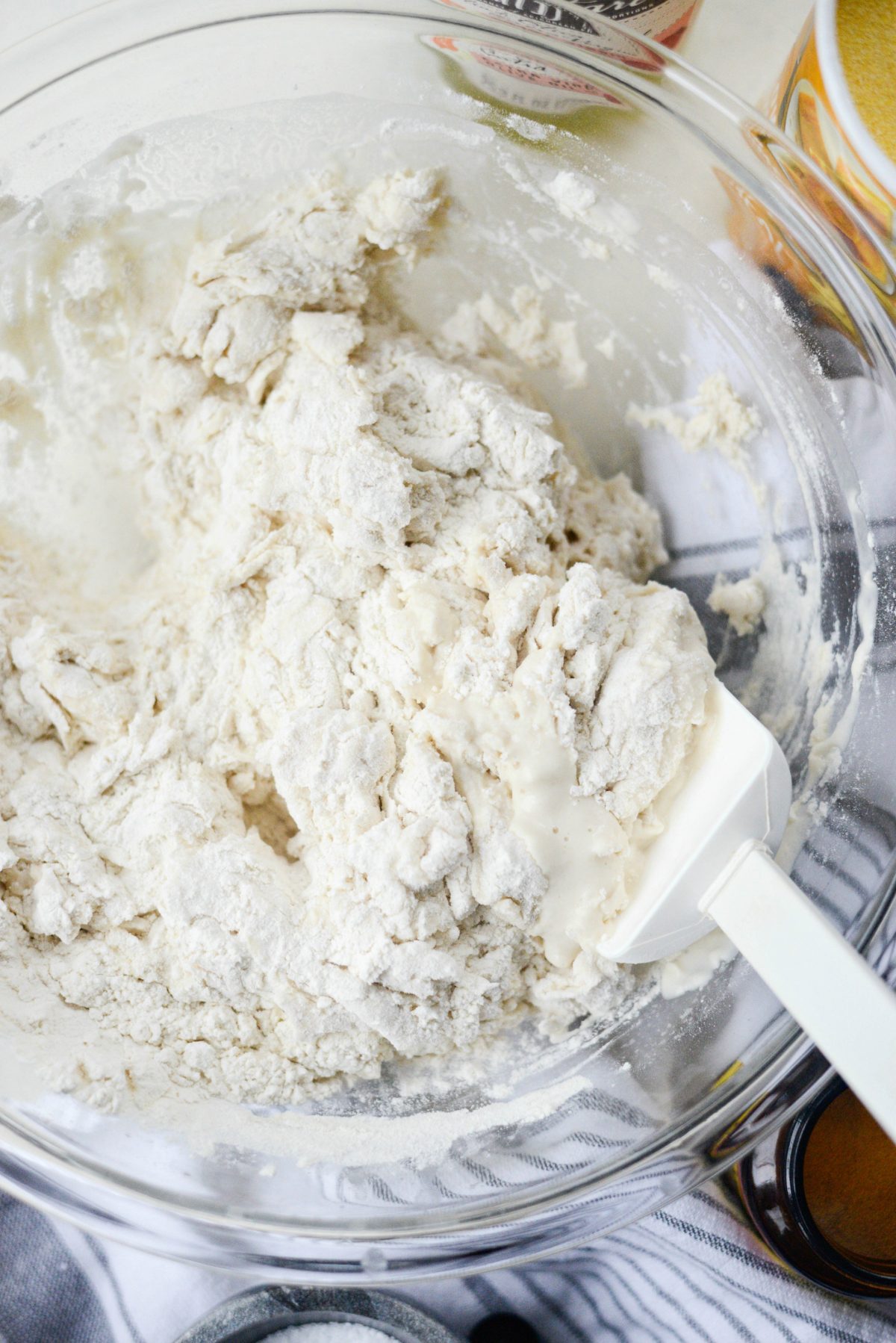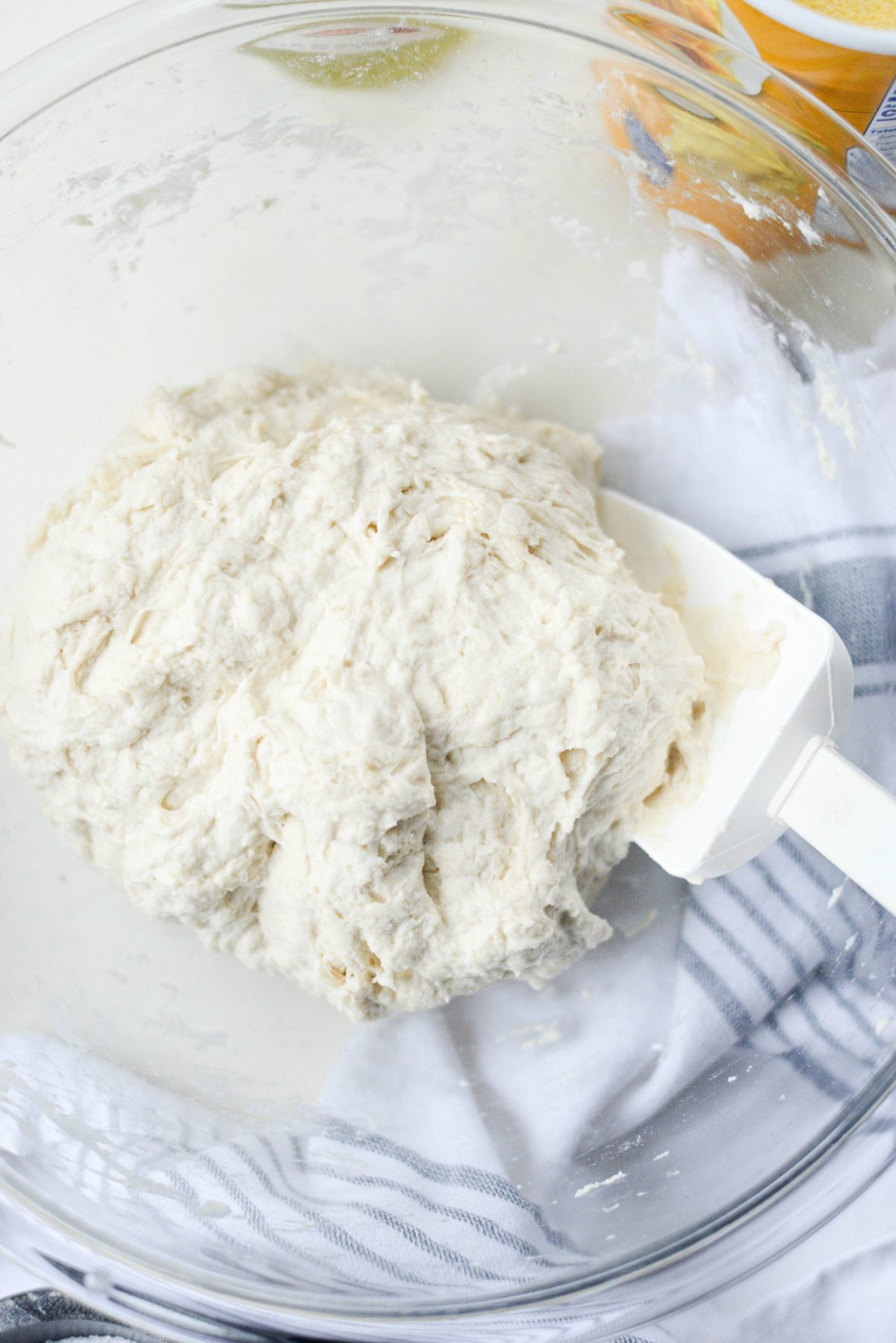 Then switch to a rubber spatula and mix the flour mixture in with the water, until all of the flour is incorporated and the dough is super sticky.
Next cover with foil and let it sit out at room temperature for 18 hours.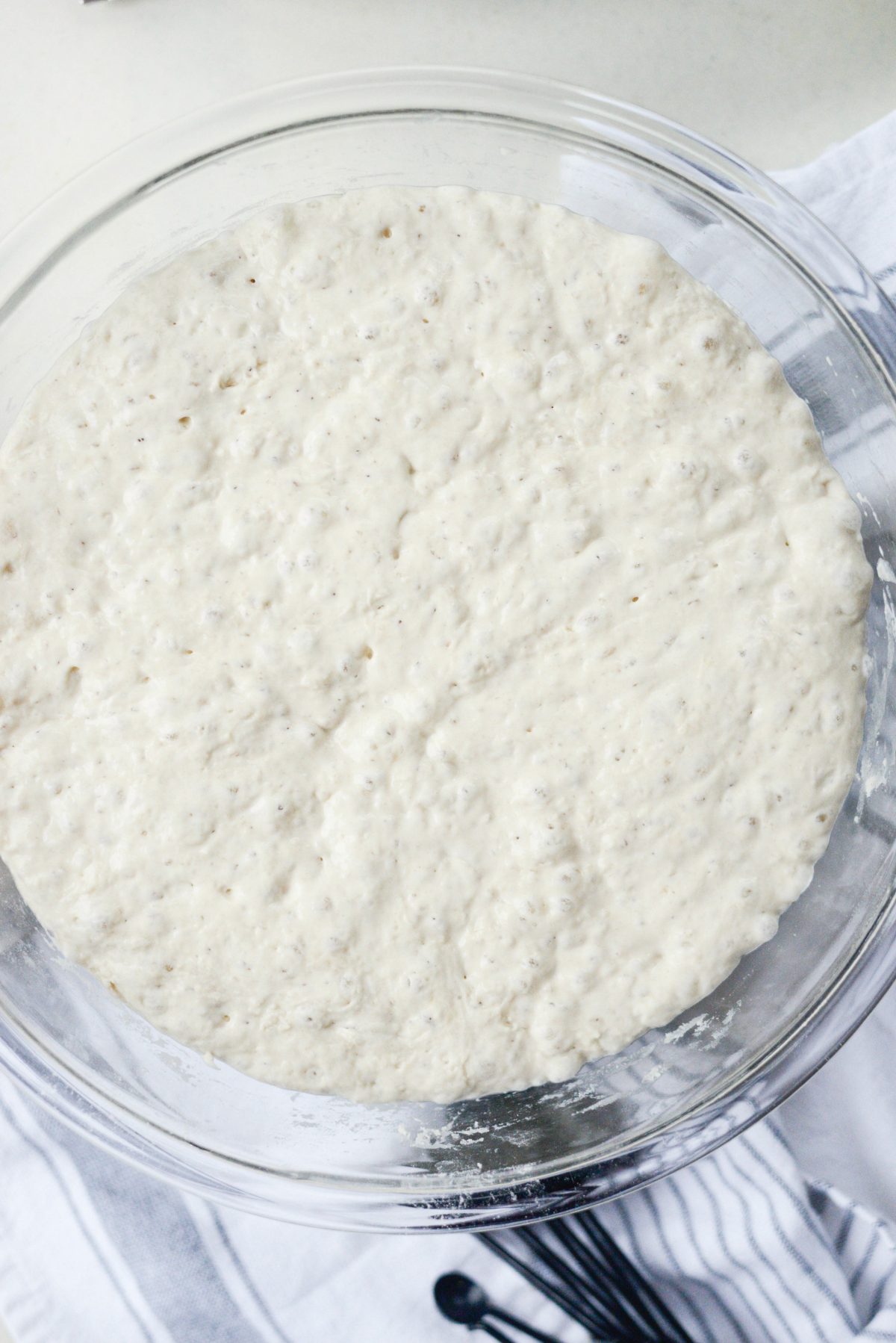 This is the magic I was talking about! Look at those bubbles!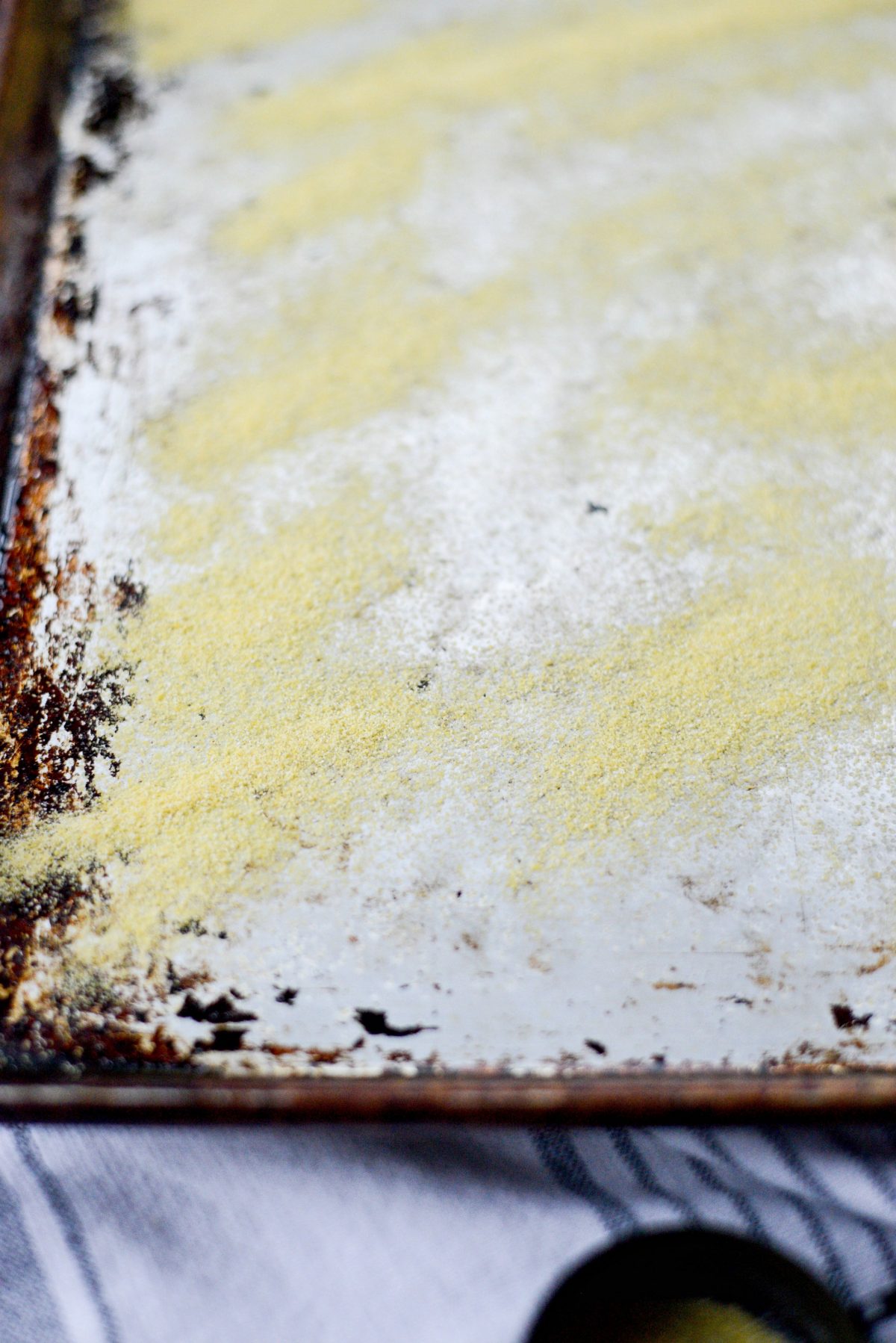 Lightly oil a metal rimmed baking sheet with olive oil and sprinkle with a couple tablespoons of cornmeal. Then set this off to the side for a moment.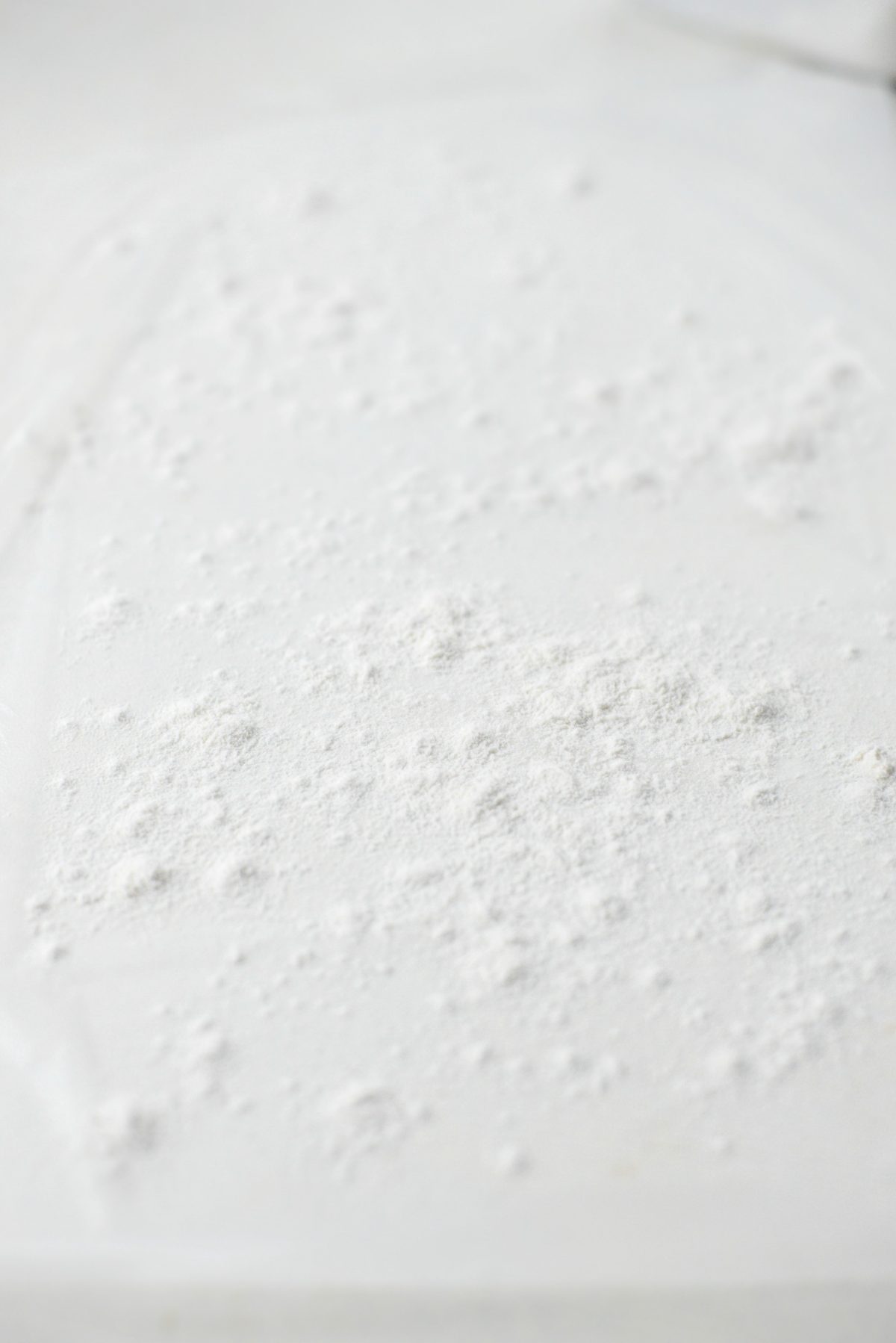 Next spray or wipe your work surface with water before placing a large piece of plastic wrap down. This will help the plastic stick to your counter and not budge while you work with the ciabatta dough. Sprinkle with some flour, be sure that flour is covering the entire surface of the plastic, otherwise the dough will stick.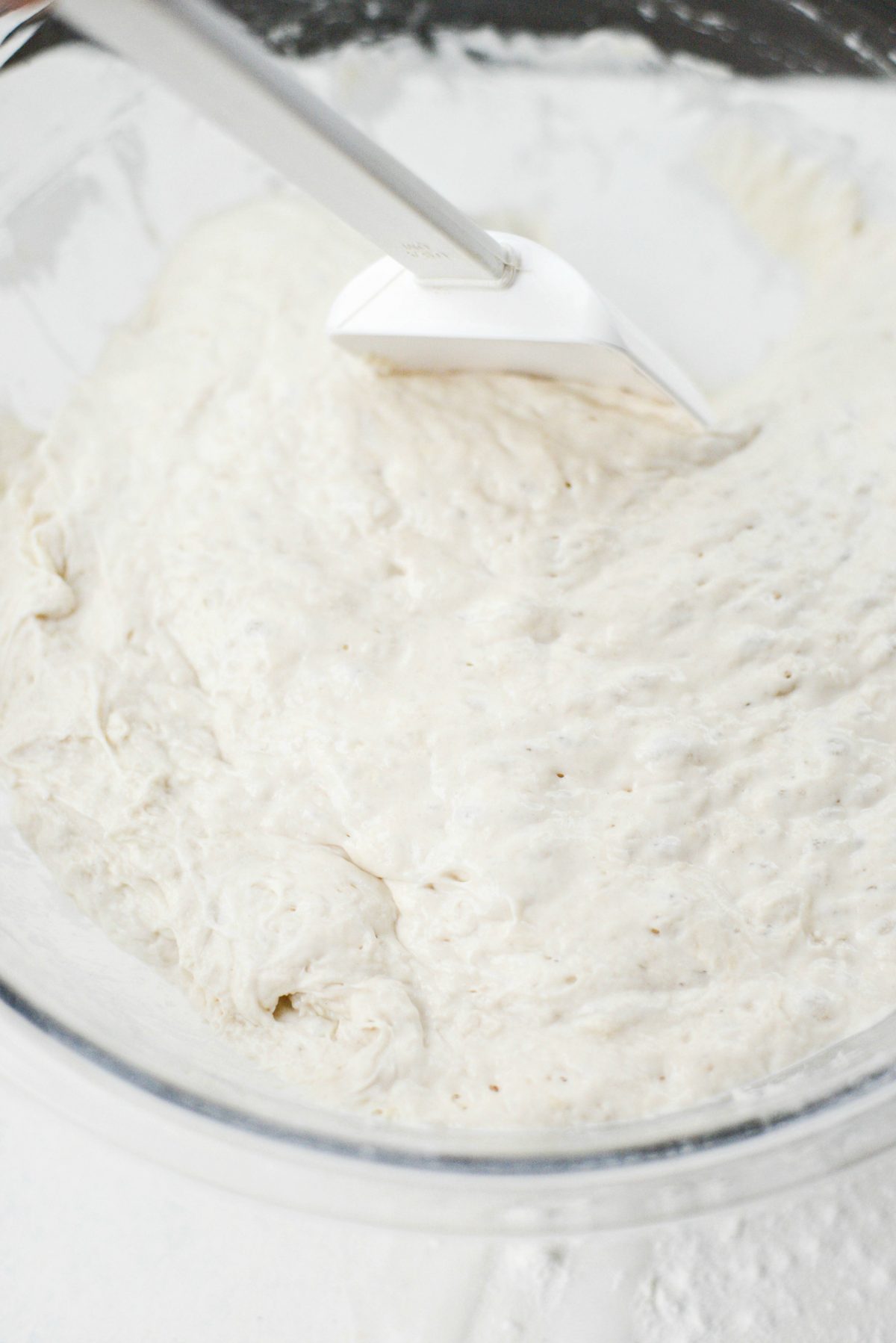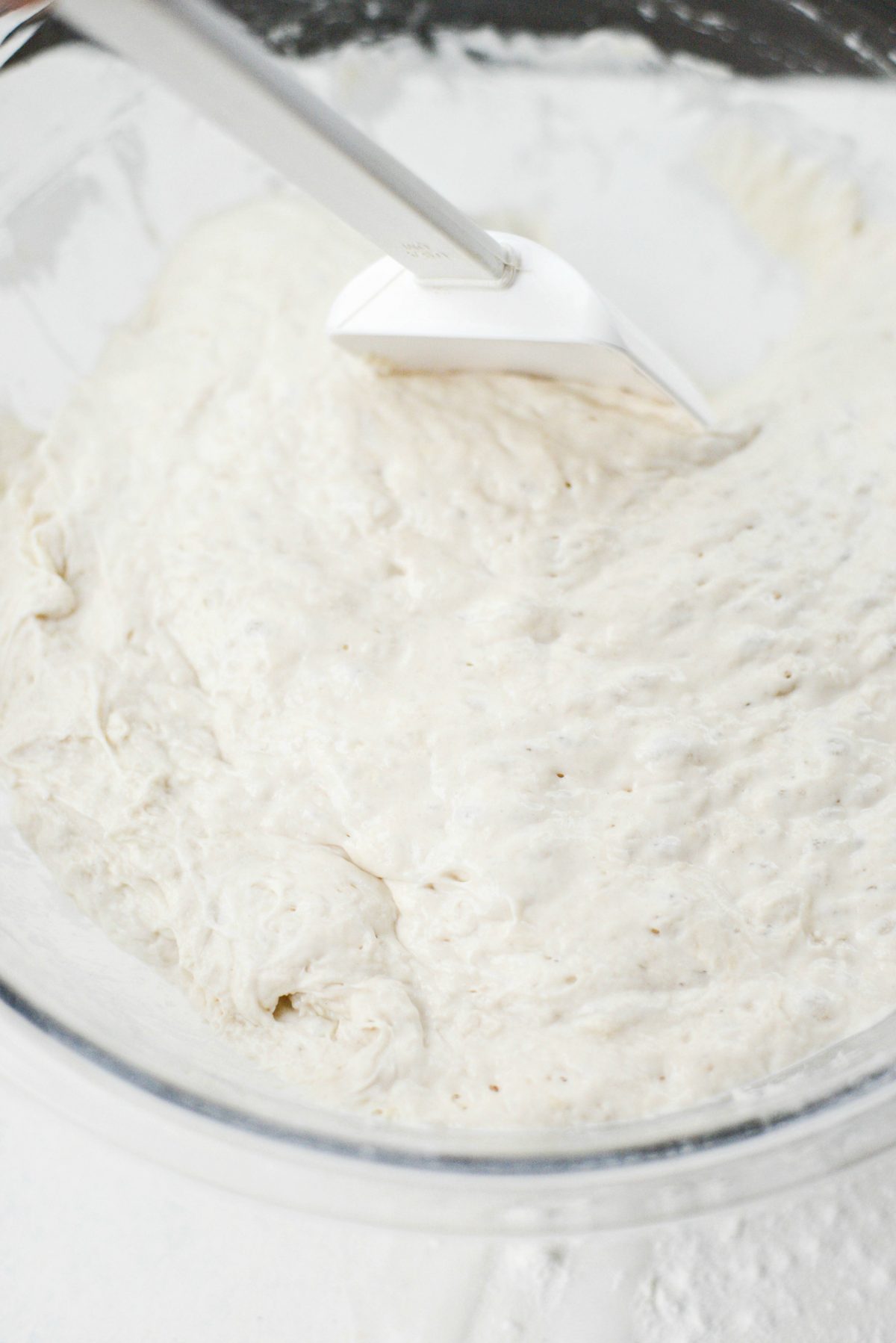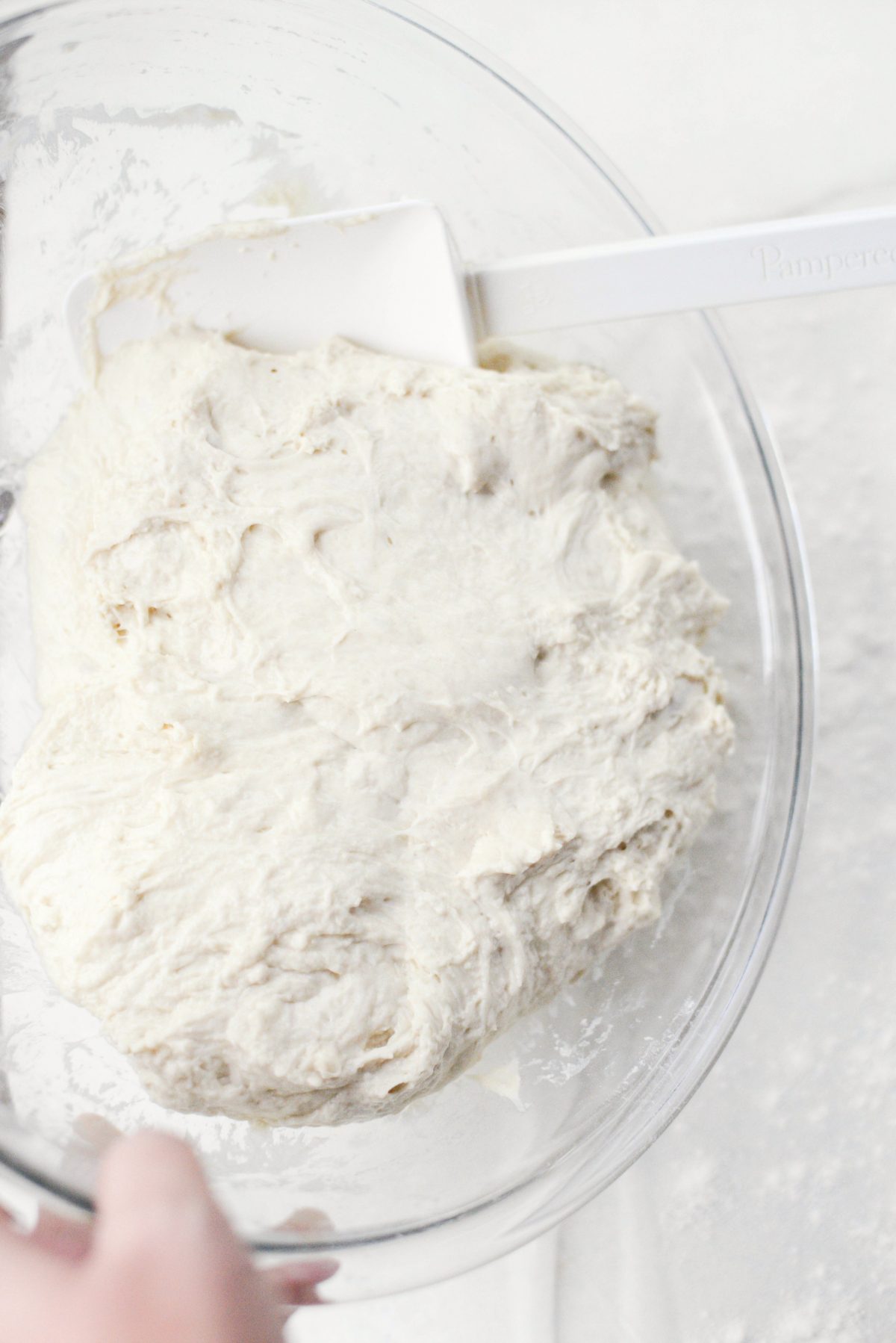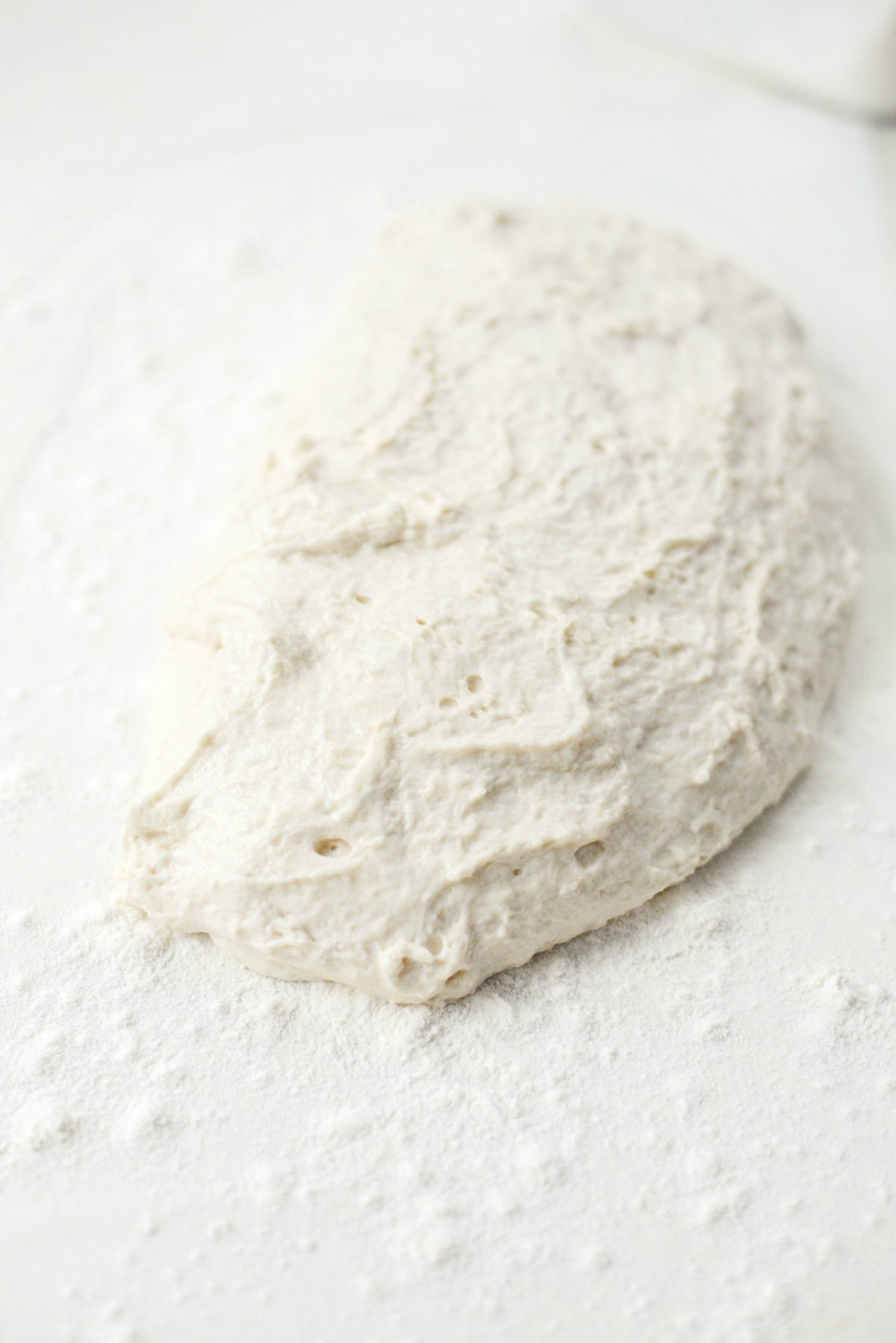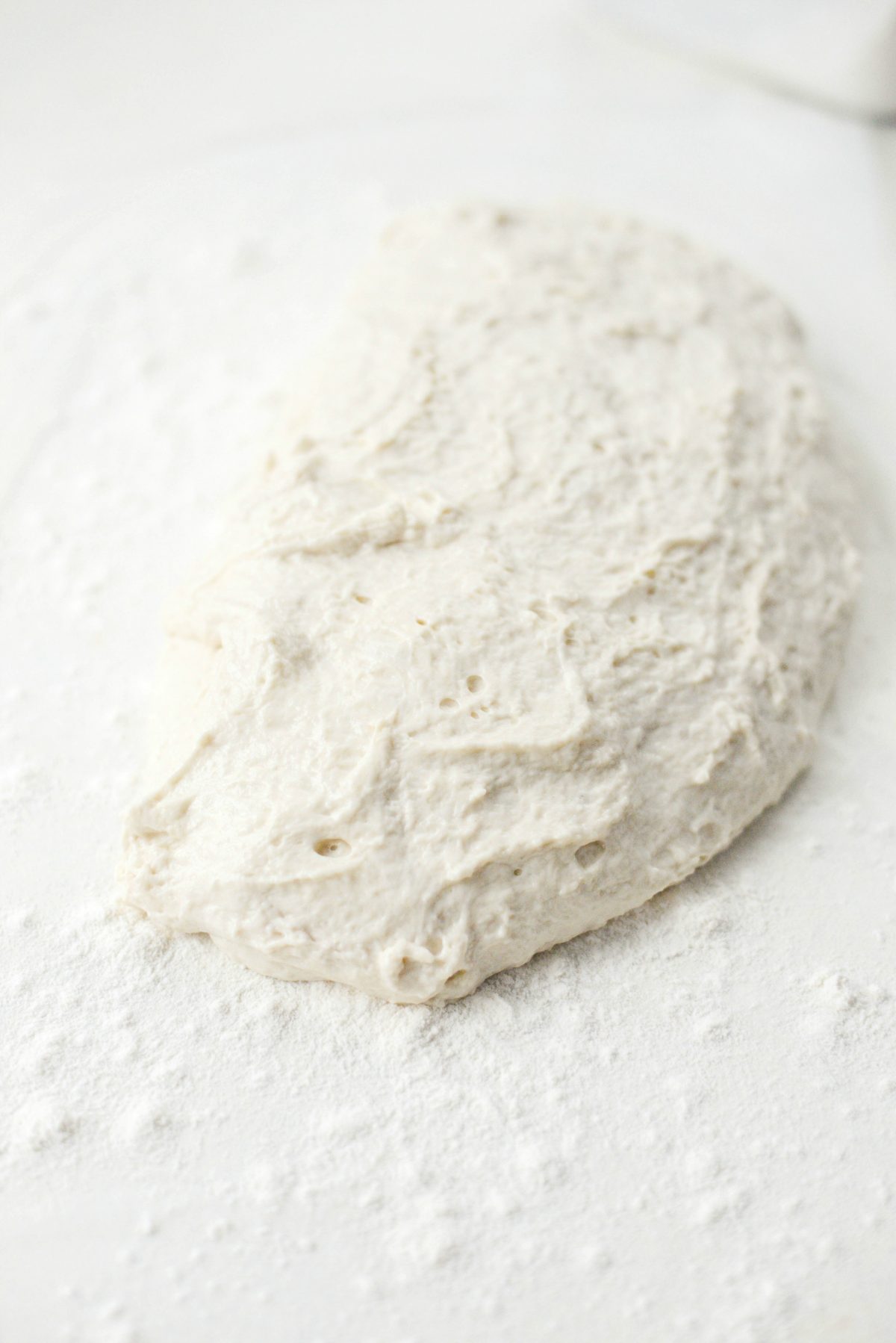 Scrap the dough down along the sides of the bowl and onto the floured plastic wrap.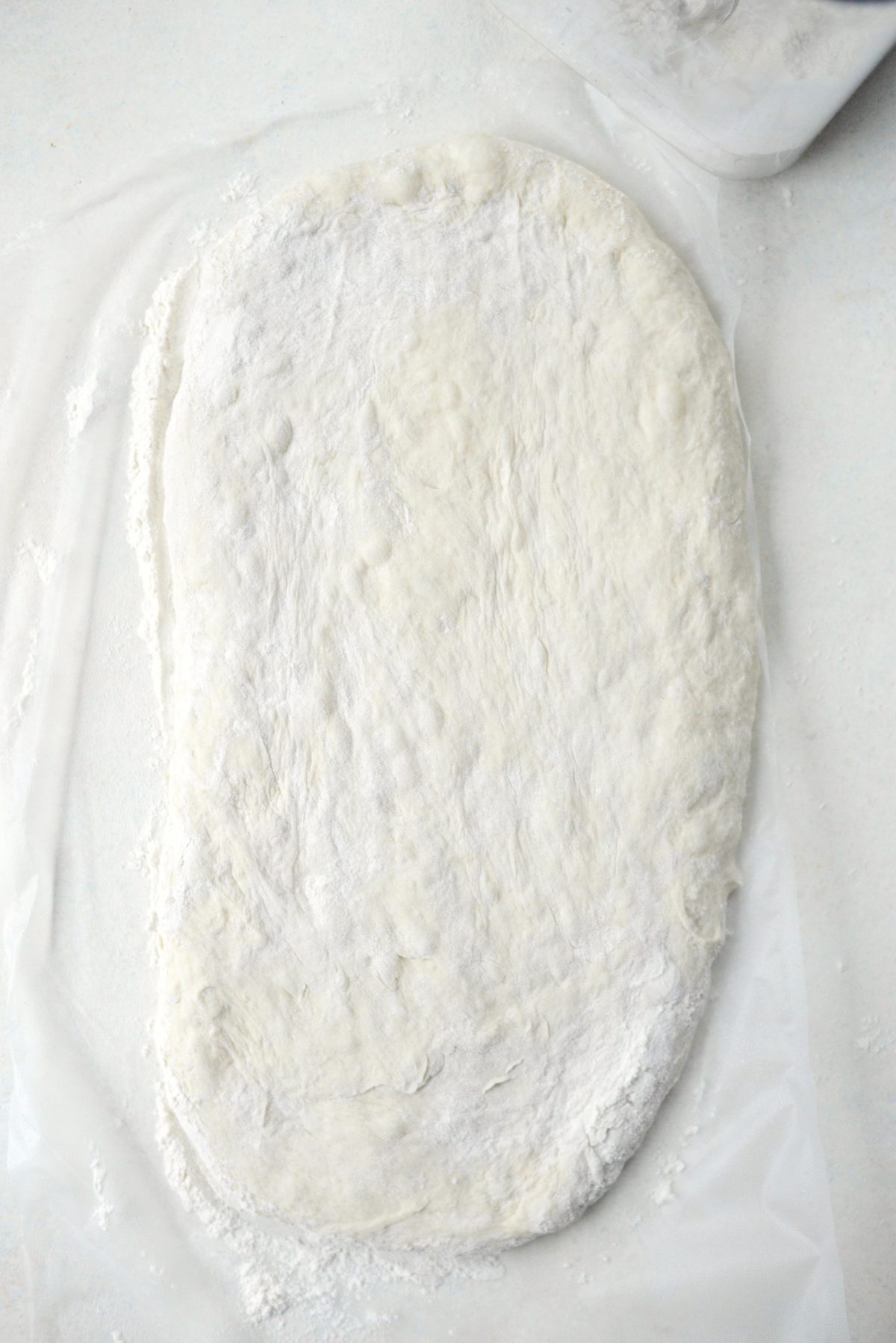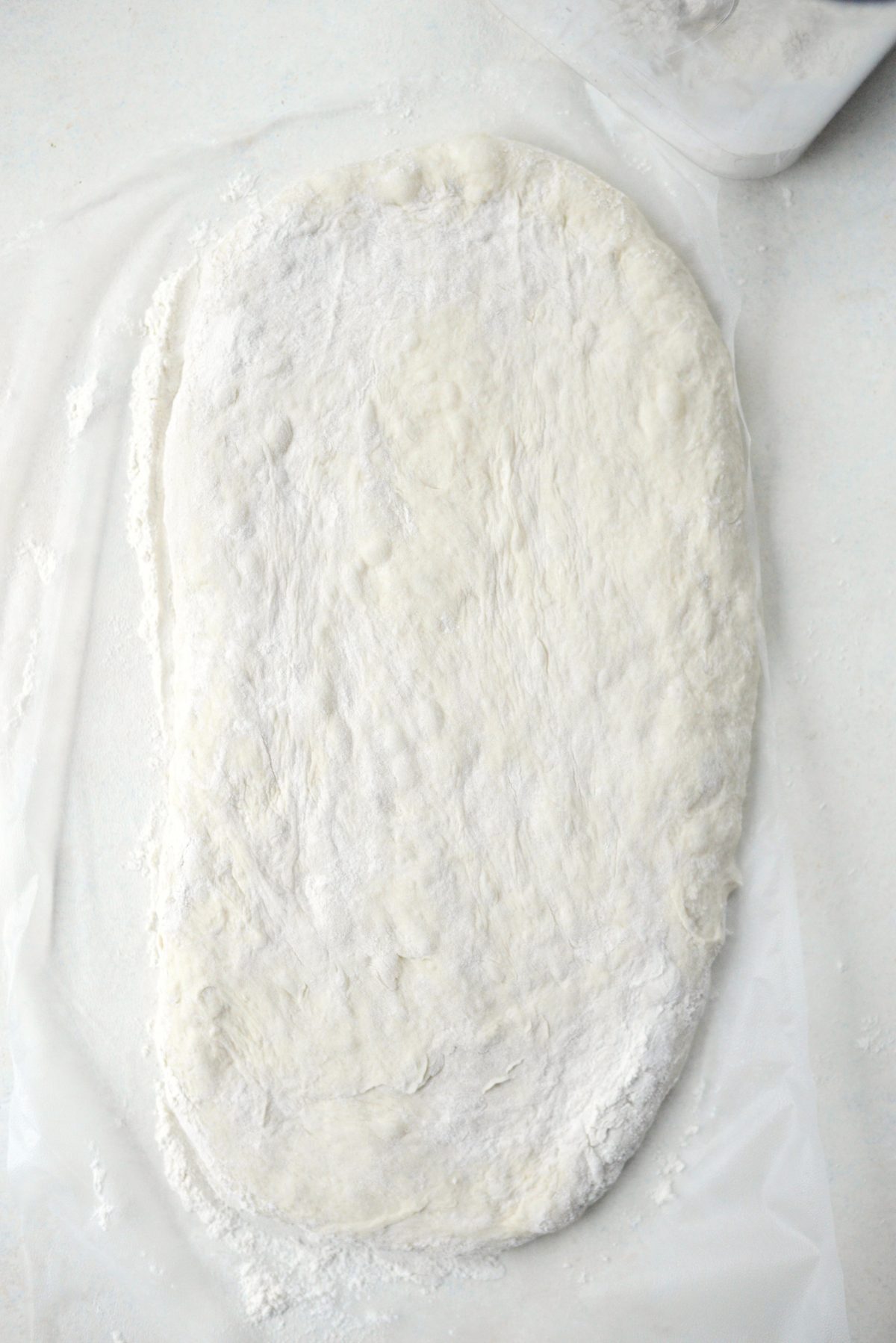 Next, with floured fingers, press and shape the dough into a long flat loaf.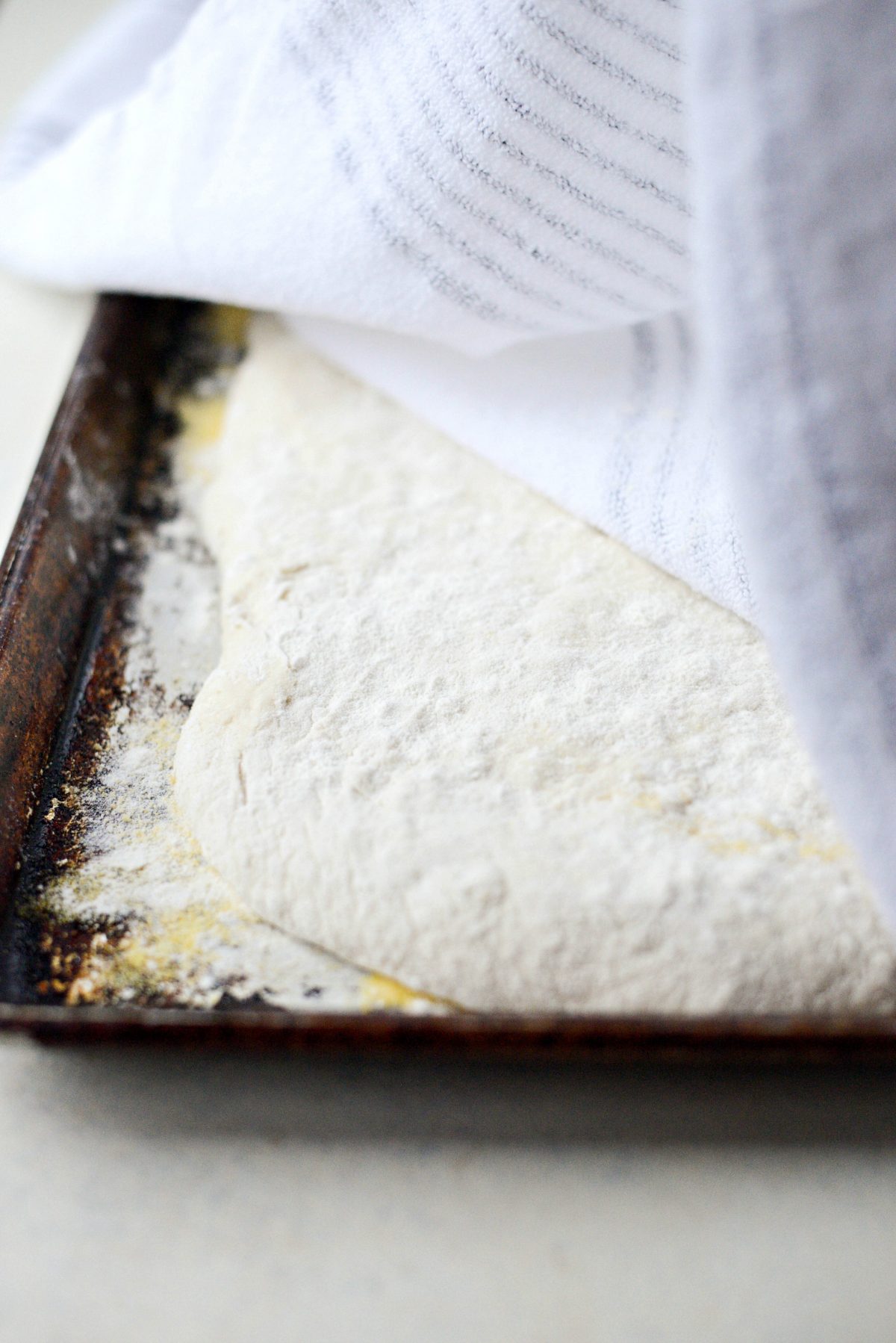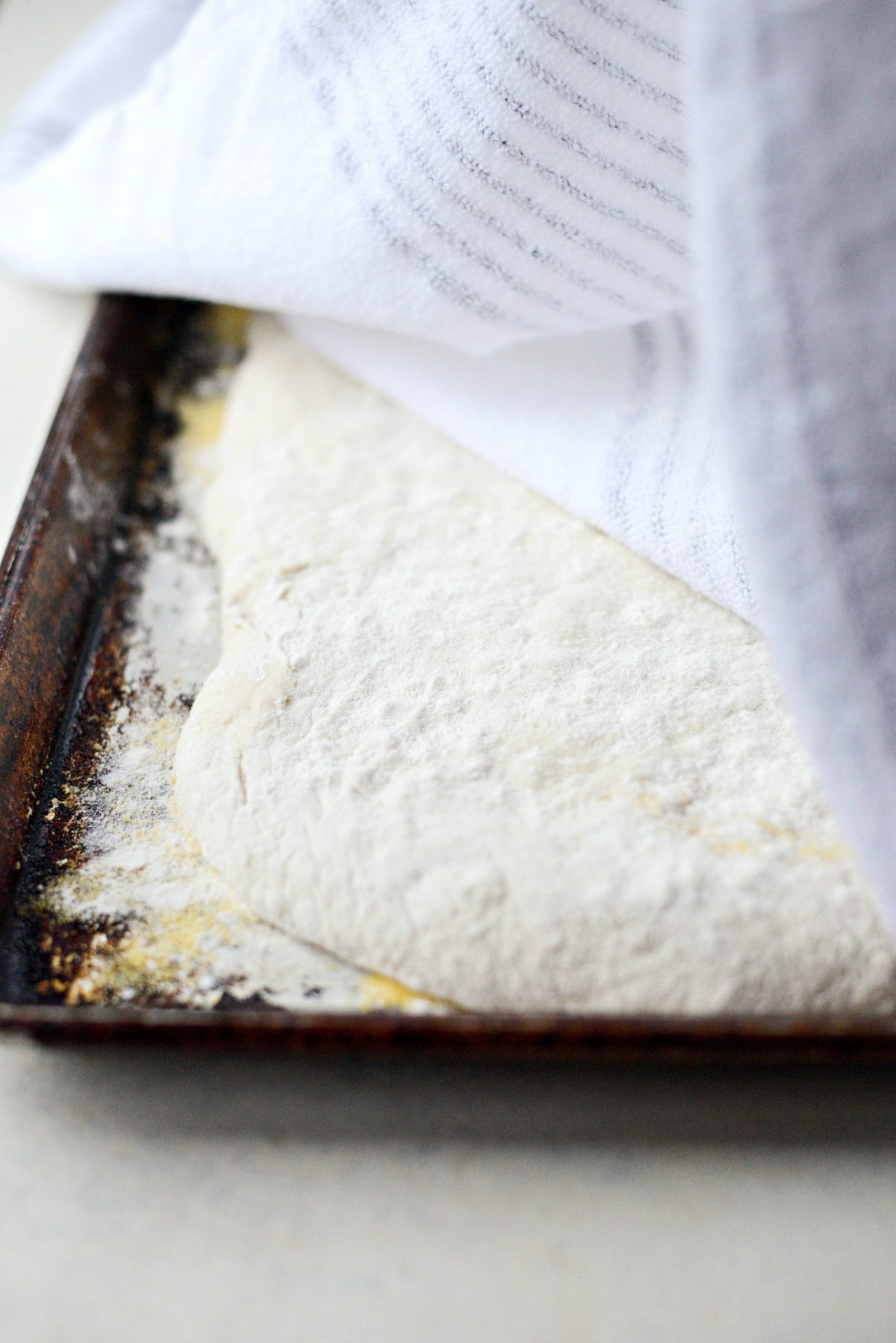 Next, use the plastic wrap and flip the dough over and onto the prepared pan. Then sprinkle a little extra flour over top of the ciabatta loaf and cover with a kitchen towel or flour sack towel for 1-1/2 to 2 hours.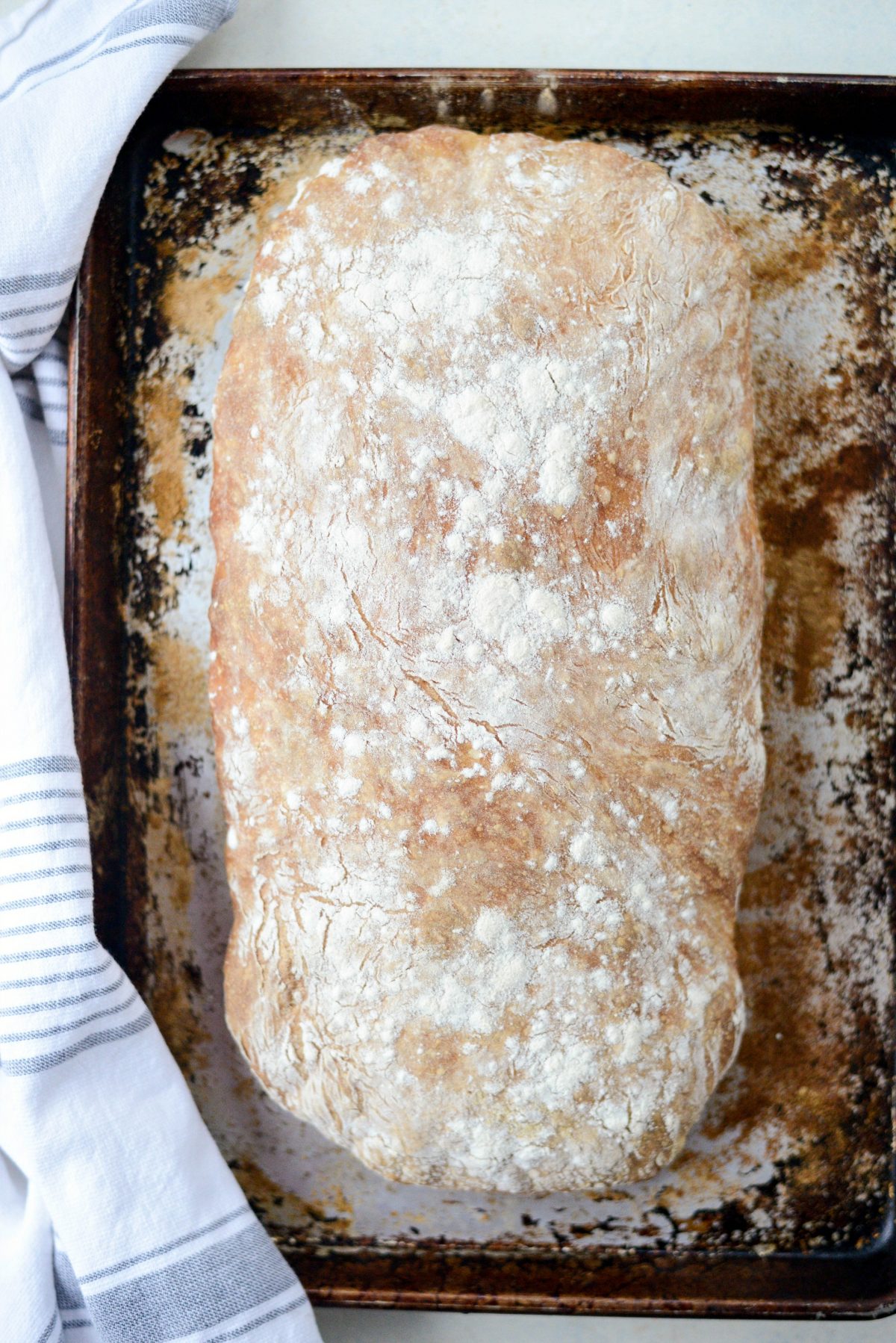 Then, once risen, preheat your oven to 425°.
Move the oven rack to the lower third position. Once preheated, slide the sheet pan into your oven. Next, bake for 25 to 30 minutes or until the crust is a deep golden brown. Also, your home should smell like heaven on earth.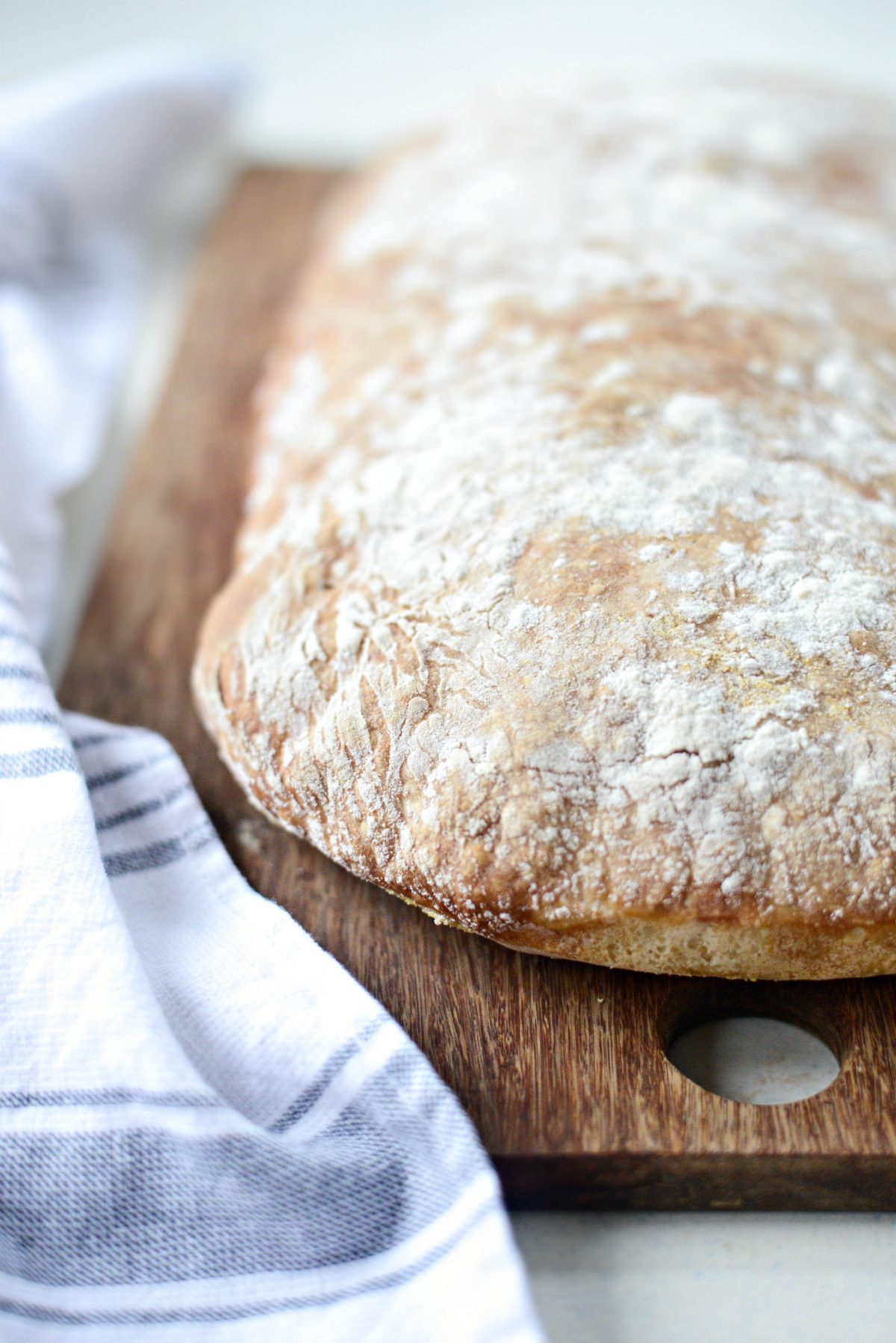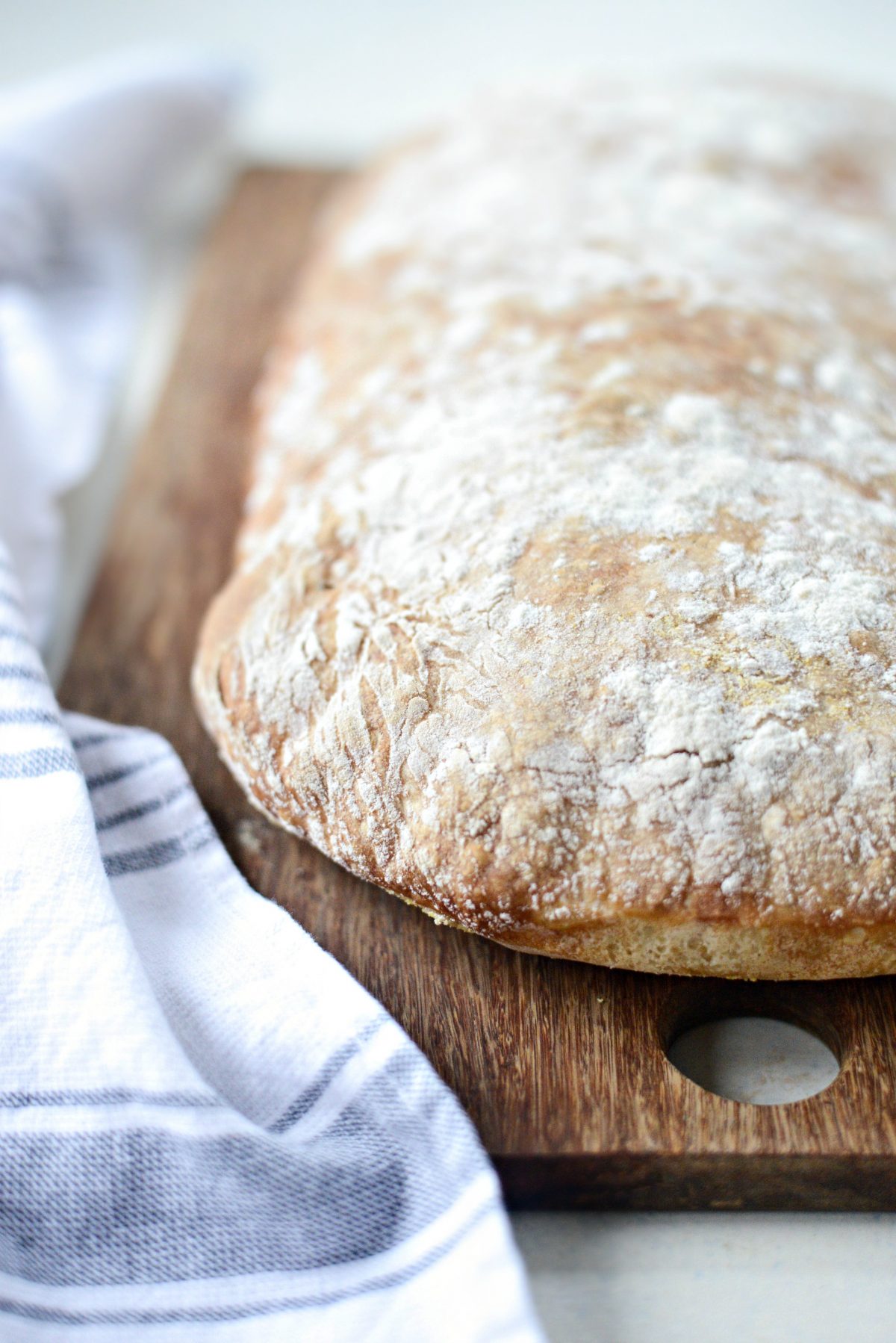 When the loaf has had a chance to cool, transfer the freshly baked bread to a cutting board and cool until safe to handle.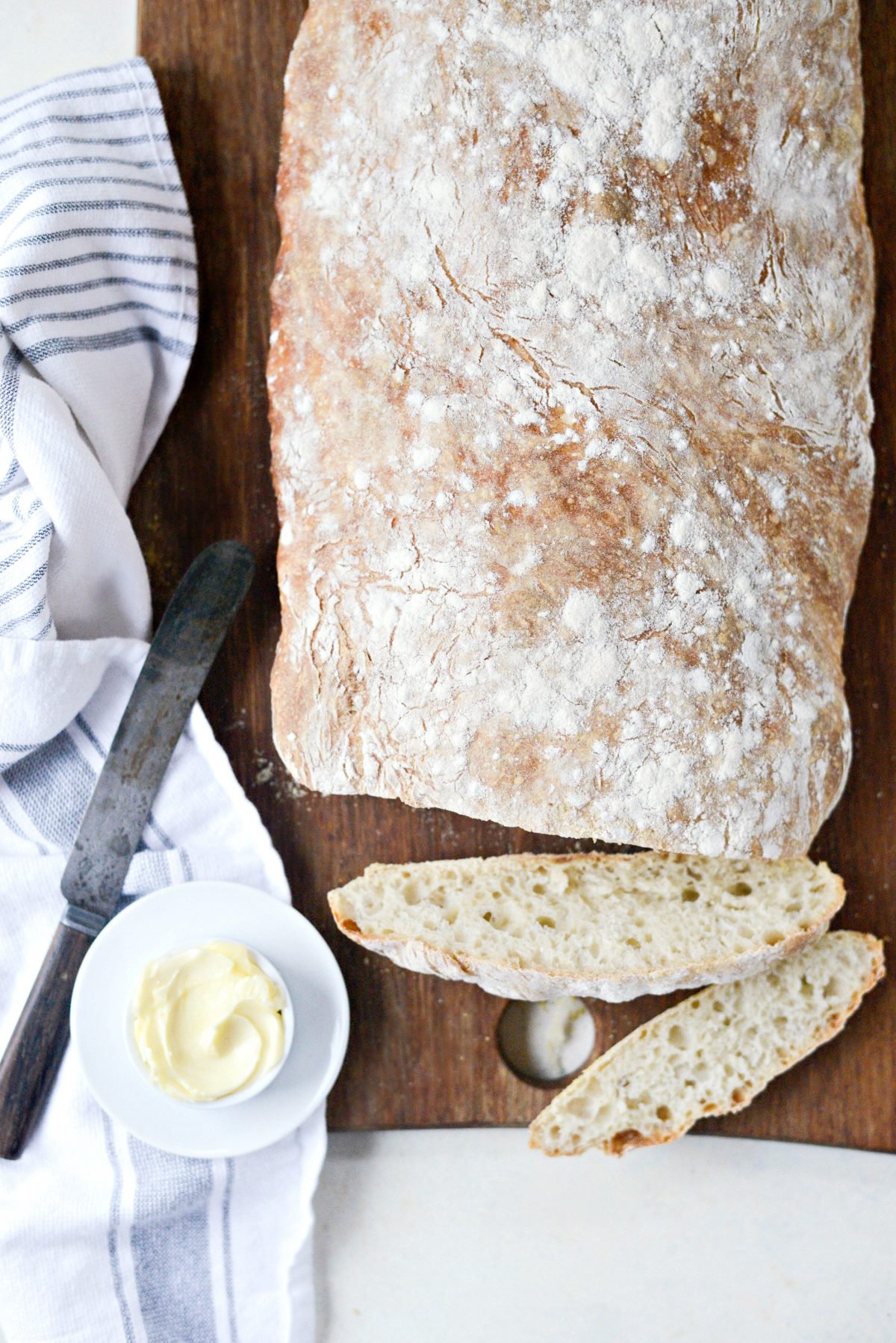 If you're at all nervous about making homemade bread, don't be. This is your gateway recipe! Because it's a no-knead bread, there's literally no need (punny!) to bring out any heavy equipment. That's right, no mixer or bread machine. It's really that easy. With that said, it does take time. Not all of it is actual "hands on time" because most of the time is resting/rising, but you will need to set aside 18+ hours in order to make this homemade no-knead ciabatta bread.
The end result? Crispy outer crust, soft and chewy middle. A total masterpiece.
Because what's better than freshly baked bread? Buttered freshly baked bread. 😉
For more "No-Knead" click here for my growing collection of recipes!
Enjoy! And if you give this Homemade No-Knead Ciabatta Bread recipe a try, let me know! Snap a photo and tag me on twitter or instagram!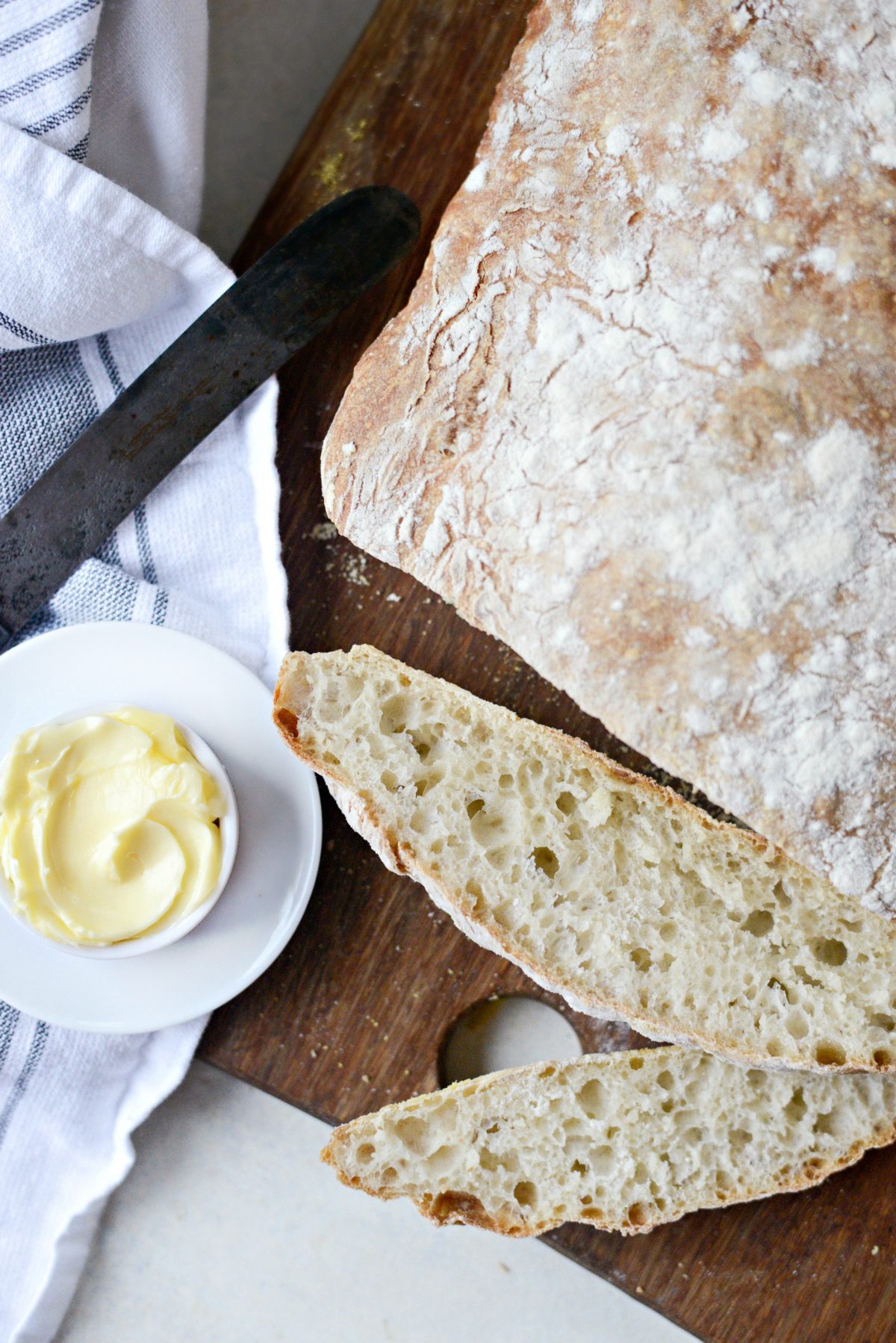 adapted from Allrecipes.com
This post may contain affiliate links.
Buy the Cookbook: Simply Scratch : 120 Wholesome Homemade Recipes Made Easy Now available on Amazon »
THANK YOU in advance for your support!