Oh just a delicious stack of Your Basic Weekend French Toast recipe! Simple, straightforward and no fuss or frills. Sometimes you just can't beat a classic.
Thank goodness the weekend is here! Last Saturday WE GOT A PUPPY! It's actually been months in the works, but he was ready to come home last weekend. He's a 8 week old Brittany spaniel and his name is Finnegan, but we call him Finn or Finny. And boy has it been an adjustment, it basically feels like I have a newborn baby again.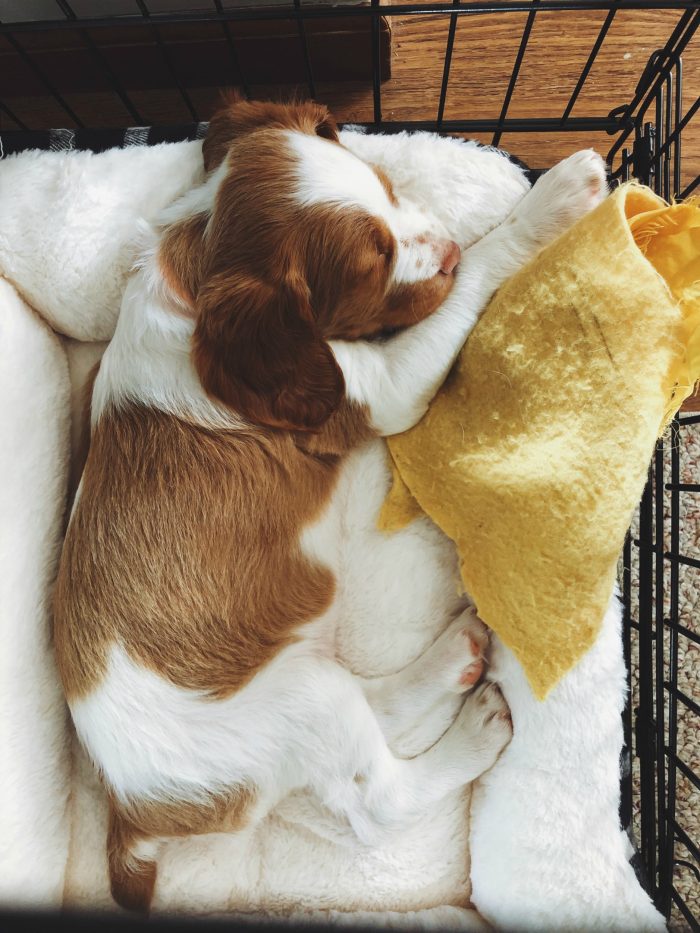 Working around his sleep schedule has been the biggest hurdle. I miss my freedom, but Finnegan is ridiculously adorable and for being so young, he's such a good puppy. Plus he likes to snuggle in my lap while I work at night. He's such a love nugget.
This French toast was the first recipe I made while Finn was napping because it's so easy.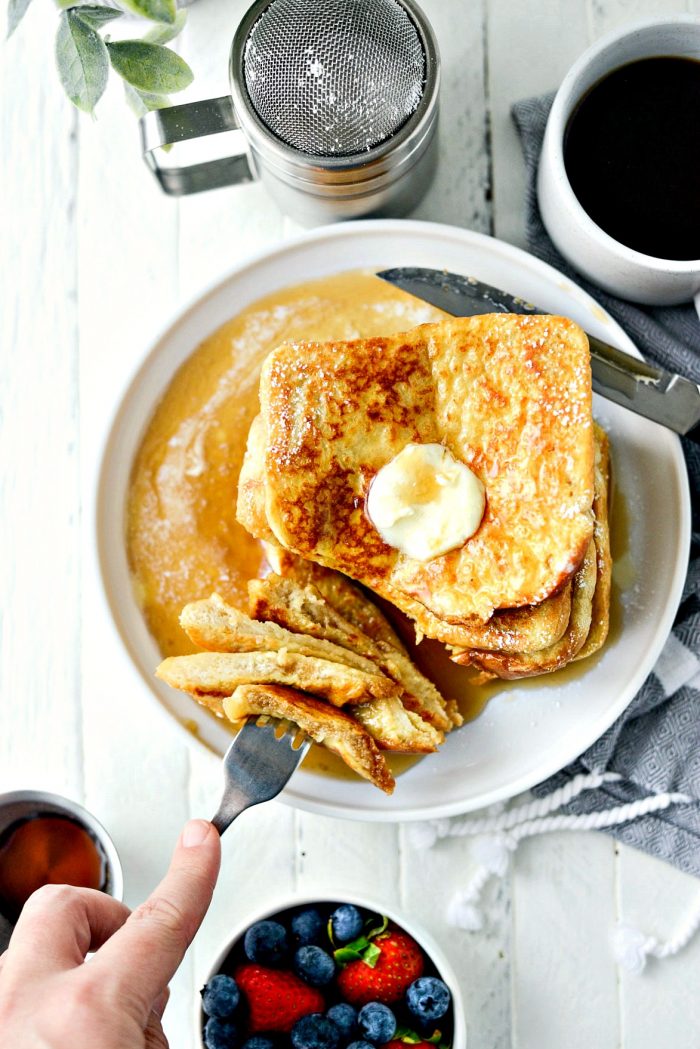 Remember back when I posted Your Basic Weekend Pancakes? Well, now I'm sharing a pillowy French toast version to match. Your Basic Weekend French Toast is an easy, go-to recipe with simple basic ingredients. Nothing fancy or hard to find.
Because everyone's weekend morning needs an easy, go-to French toast recipe.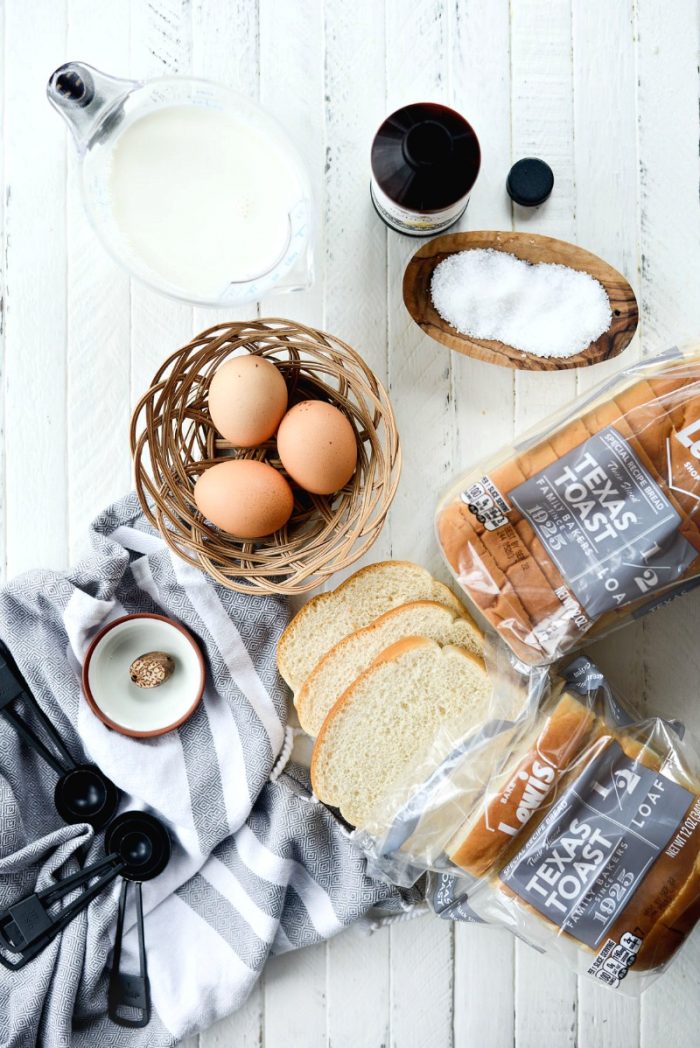 To Make Your Basic Weekend French Toast You Will Need:
eggs
milk
vanilla
nutmeg
kosher salt
texas toast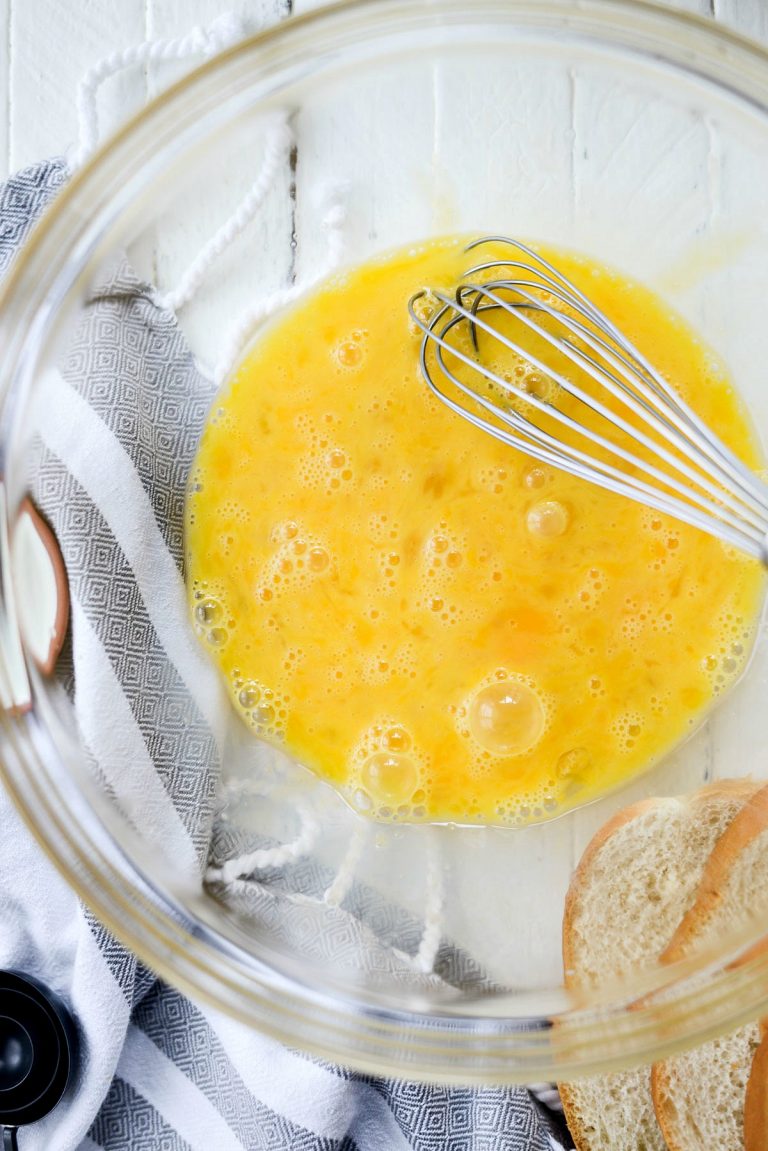 Into a mixing bowl, crack in 3 large eggs. Whisk well until the egg whites are broken up and mixed well with the yolks.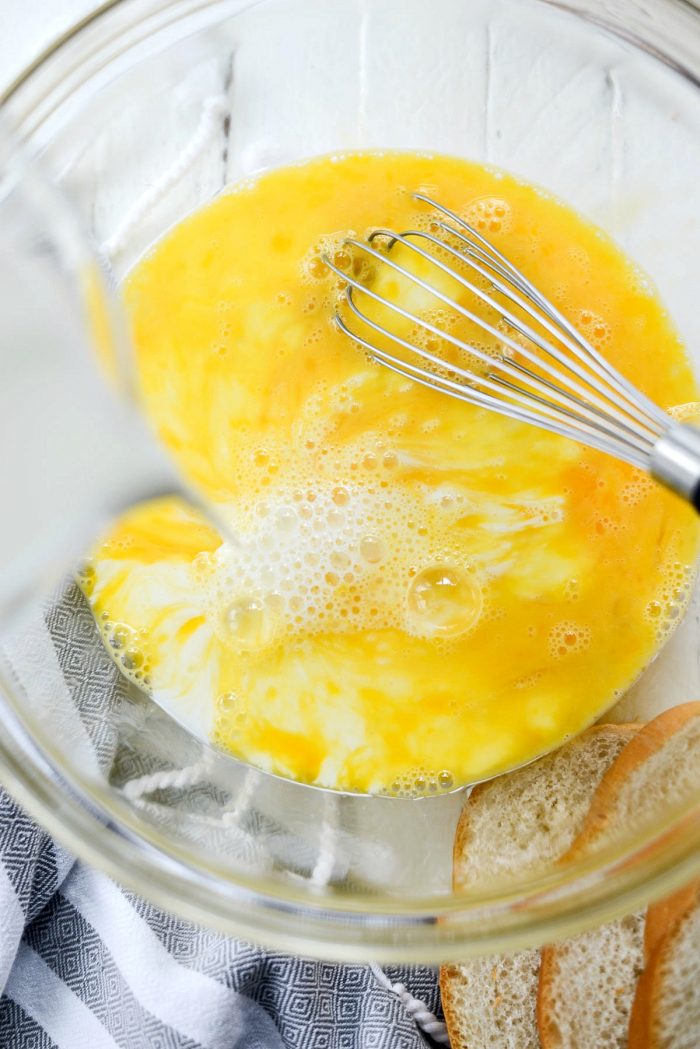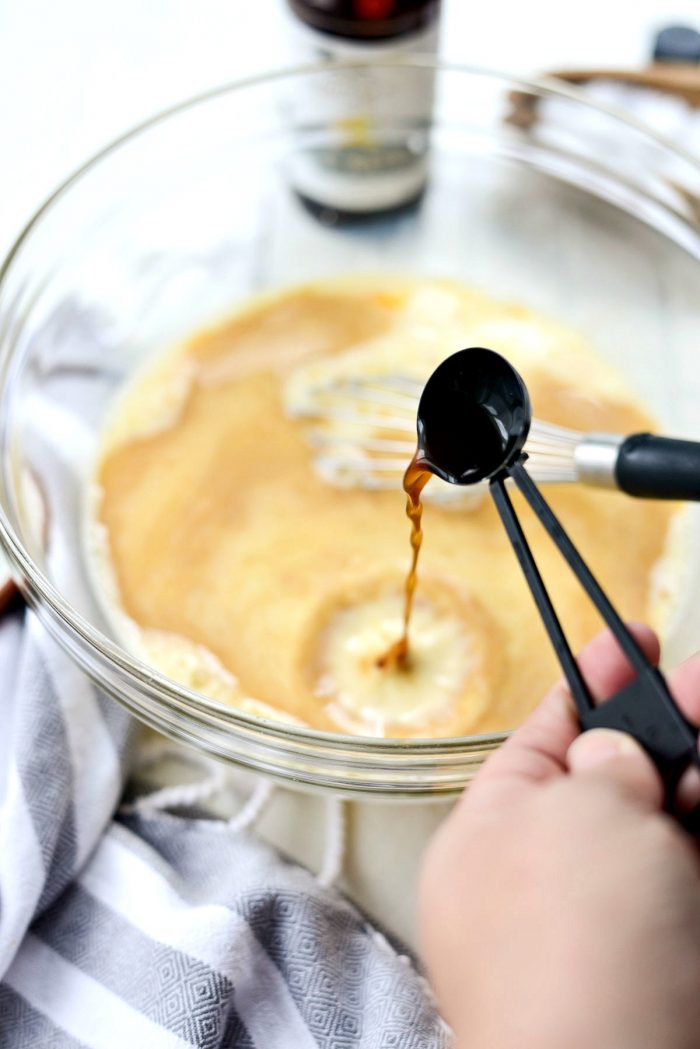 Next, pour in 1-1/2 cups milk and 1-1/2 teaspoons pure vanilla extract.
Lastly, season with a pinch of kosher salt and grate in some fresh nutmeg.
Whisk well one last time to combine!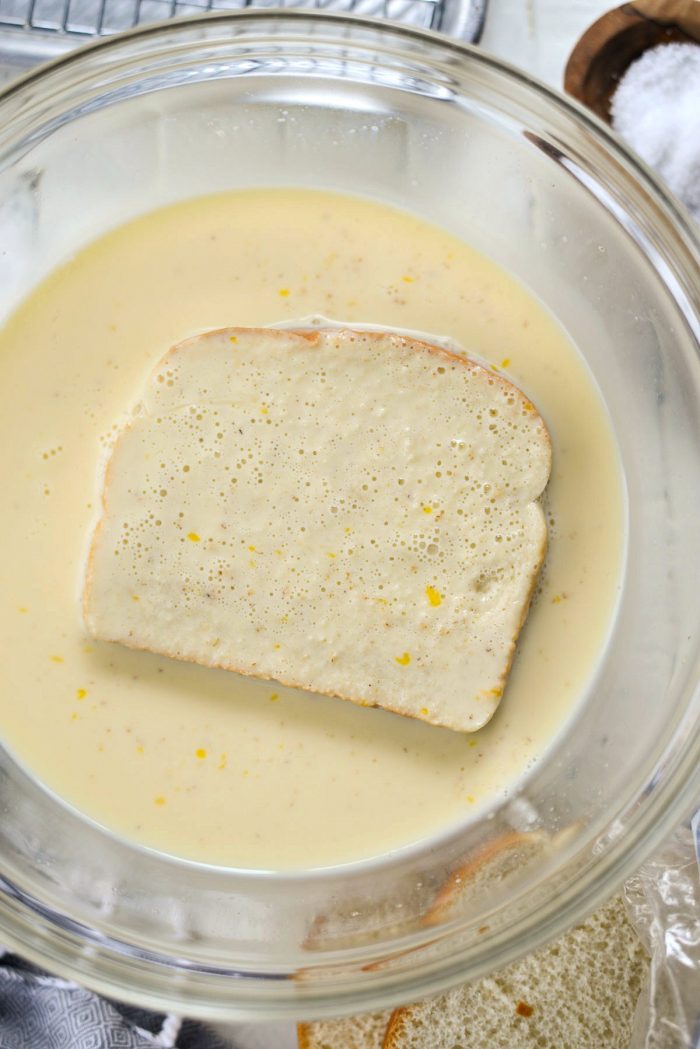 Using one slice of Texas toast at a time, quickly dip each side into the egg custard. I like to dip all of the pieces of bread, placing them onto a rimmed metal rack set into a baking sheet pan before griddling.
Preheat your griddle somewhere between 325°-350℉ (or 160°-180℃).
Spray or spread the coconut with coconut oil or butter. Working in batches, place the dipped bread slices onto your preheated griddle and cook about 3 to 4 minutes a side, flipping when the underneath side is golden brown. Repeat with the remaining slices.
HOW TO KEEP FRENCH TOAST WARM:
As you work in batches, transfer the cooked pumpkin french toast to a clean rimmed baking sheet and keep warm in a low 200℉ (90℃) oven.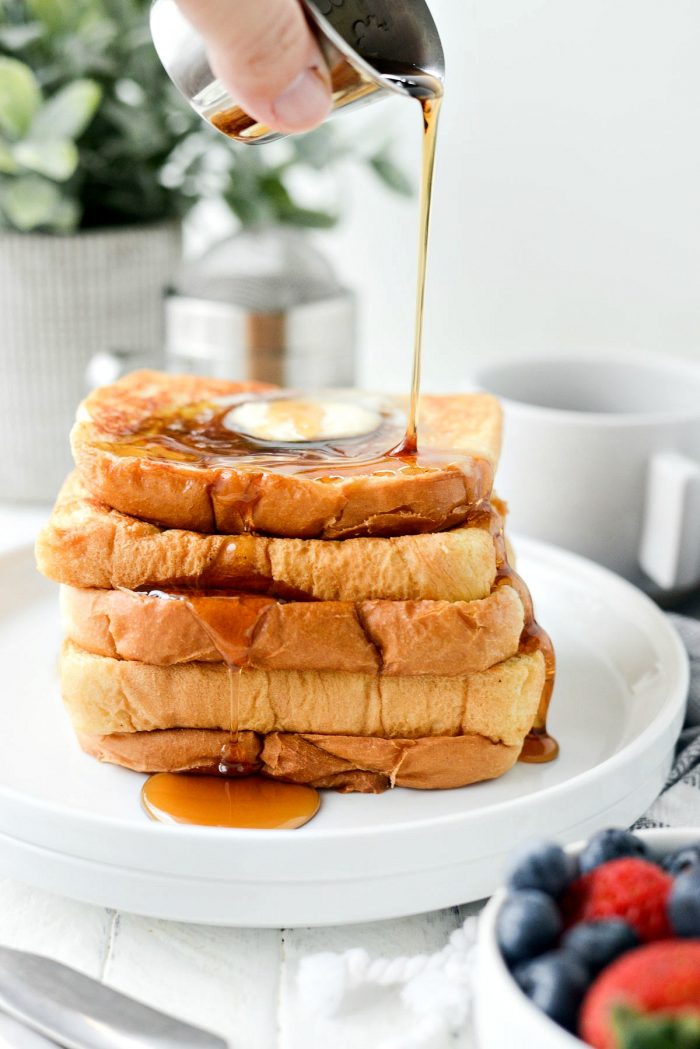 Butter each slice of French toast and stack before drizzling with real maple syrup.
WHAT TO SERVE WITH PUMPKIN FRENCH TOAST:
bacon, regular or maple sausage links or patties
fresh fruit and/or berries
coffee or tea
for brunch, serve with scrambled eggs, fresh fruit, yogurt and hash browns.
HOW LONG WILL FRENCH TOAST LAST IN THE FRIDGE:
Got leftover French toast? Save it and enjoy it later in the week! Store the French toast in an air-tight container or resealable bag/stasher bag (to avoid drying out or absorbing fridge odors) and refrigerate for up to 3 to 5 days!
CAN FRENCH TOAST BE FROZEN?
Absolutely! Flash freeze the French toast first on a rimmed baking sheet for 30 minutes, portion serving amounts into resealable baggies (or stasher bags) and store in the freezer for up to 3 months.
CLICK HERE FOR MORE FRENCH TOAST RECIPES!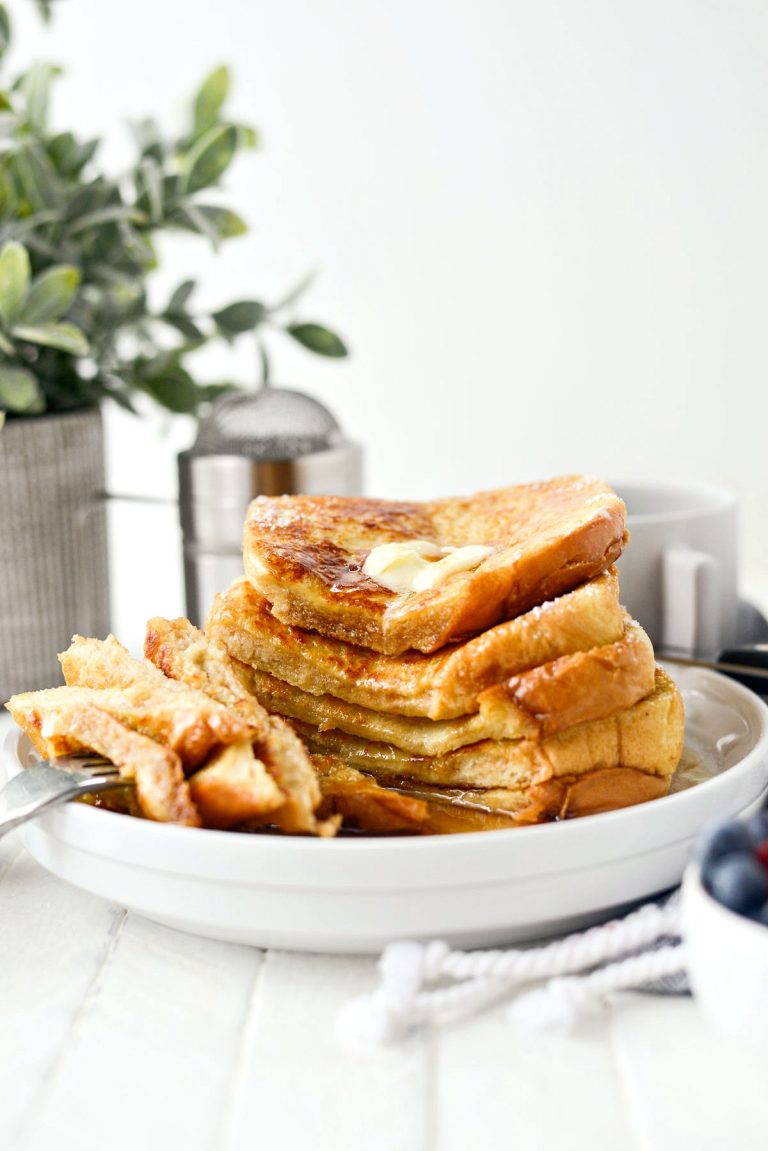 Enjoy! And if you give Your Basic Weekend French Toast recipe a try, let me know! Snap a photo and tag me on twitter or instagram!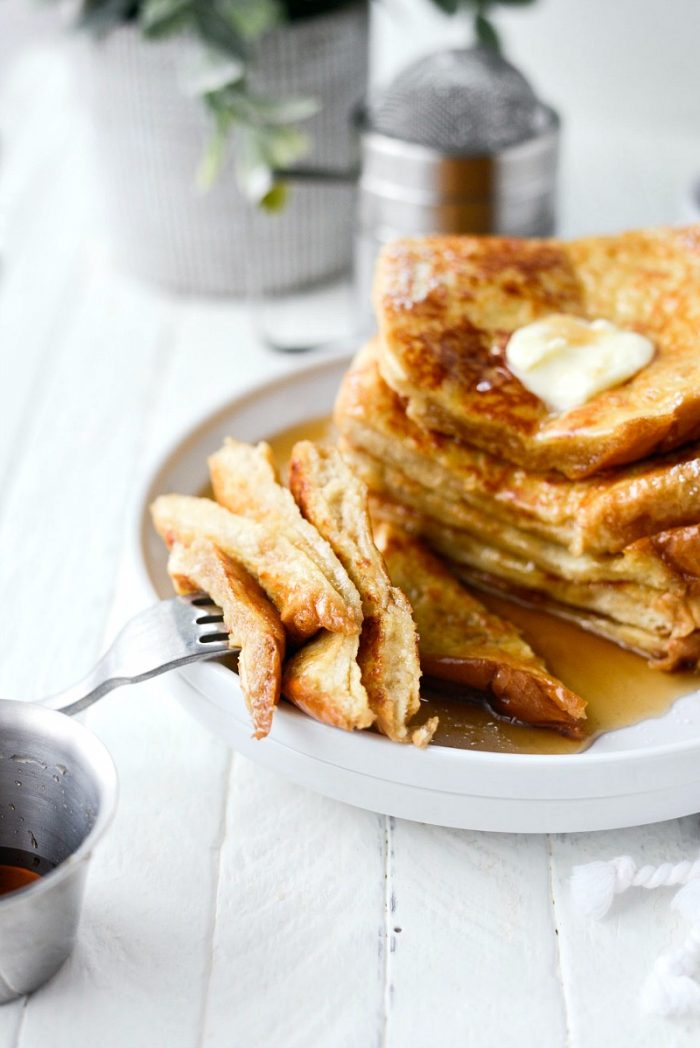 Yield: 6 servings
Your Basic Weekend French Toast
Just Your Basic Weekend French Toast recipe! Simple, straightforward and no fuss or frills. Sometimes you just can't beat a classic. Yields 6 (3 slice) servings.
Ingredients
3 large eggs
1½ cups whole milk
1½ teaspoons pure vanilla extract
nutmeg, freshly grated
1 pinch kosher salt
22 slices texas toast, thick sliced bread
salted butter, for serving
pure maple syrup, for serving
powdered sugar, for dusting
Instructions
In a mixing bowl, add the eggs and whisk to break up the egg.

Next add in the milk, vanilla, nutmeg and salt. Whisk to comibne.

Preheat your griddle to 325°-350℉ (or 160°-180℃) and grease with coconut oil or spread with butter.

Dip both sides of each slice quickly and place on a wire rack set over a rimmed sheet pan, and repeat.

Once the griddle is hot, place the dipped bread onto hot griddle and cook for 3 to 4 minutes a side or until golden brown

Serve with butter, maple syrip and powdered sugar.
Serving: 3slices, Calories: 564kcal, Carbohydrates: 64g, Protein: 15g, Fat: 29g, Saturated Fat: 8g, Polyunsaturated Fat: 1g, Monounsaturated Fat: 1g, Trans Fat: 1g, Cholesterol: 95mg, Sodium: 819mg, Potassium: 62mg, Fiber: 4g, Sugar: 8g, Vitamin A: 168IU, Calcium: 37mg, Iron: 22mg
This post may contain affiliate links.
Buy the Cookbook: Simply Scratch : 120 Wholesome Homemade Recipes Made Easy Now available on Amazon »
THANK YOU in advance for your support!