Cauliflower Breakfast Hash Browns are a lightened up version of the beloved classic. Riced cauliflower is mixed with sharp cheddar and parmesan cheese and griddled until crispy. These make for a delicious breakfast side dish to eggs, bacon and toast.
Last weekend Pat and I spent majority of it by ourselves. Mal was out of town with her dance team and Haileigh was either working or with her friends. I can't remember the last time this has happened. Pat and I made the most of it and went hiking both Saturday and Sunday, and I made us a big breakfast afterwards. On the menu was fried eggs, bacon and cauliflower hash browns.
To keep this recipe on the easy side, I used pre-riced cauliflower pearls. Sometimes I don't want to go through the hassle of lugging out my food processor and doing it myself. Then I just tossed the cauliflower with low-fat sharp cheddar cheese (regular is fine too!), parmesan, a little panko breadcrumbs, a few beaten eggs, salt and pepper.
SO easy and in under just 30 minutes you have crispy and super delicious breakfast hash browns.
Get ready to fall in love.
To Make These cauliflower breakfast hash browns you will need:
1 pound fresh cauliflower pearls
3 to 4 eggs
1-1/2 cups freshly shredded sharp cheddar cheese (I used reduced-fat, but either will do)
3 tablespoon grated parmesan cheese
1/3 cup panko breadcrumbs
a pinch or two of kosher salt
freshly ground black pepper.
Note: I have not tried this recipe with frozen cauliflower (only fresh) so I'm not sure how it would hold up in this recipe.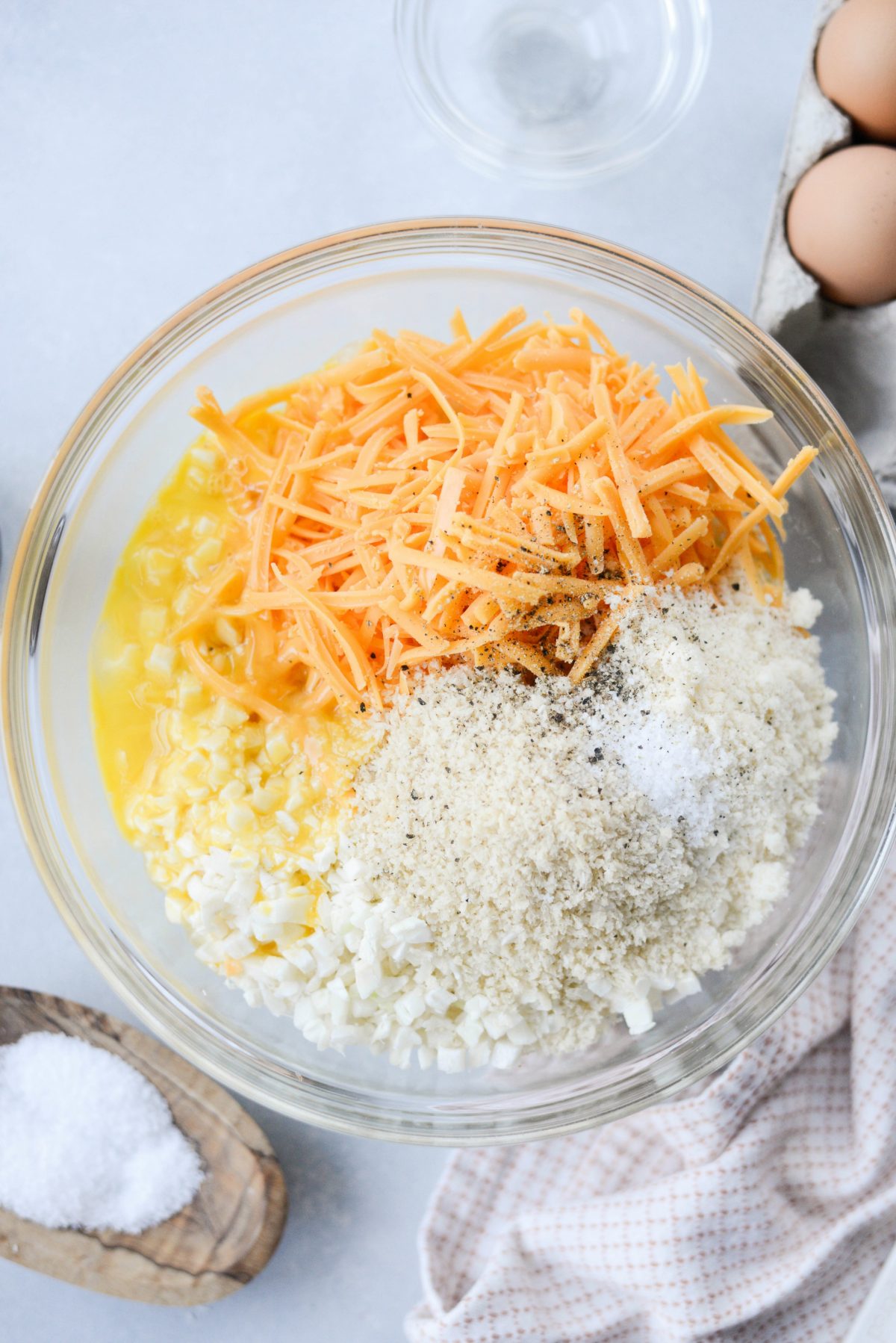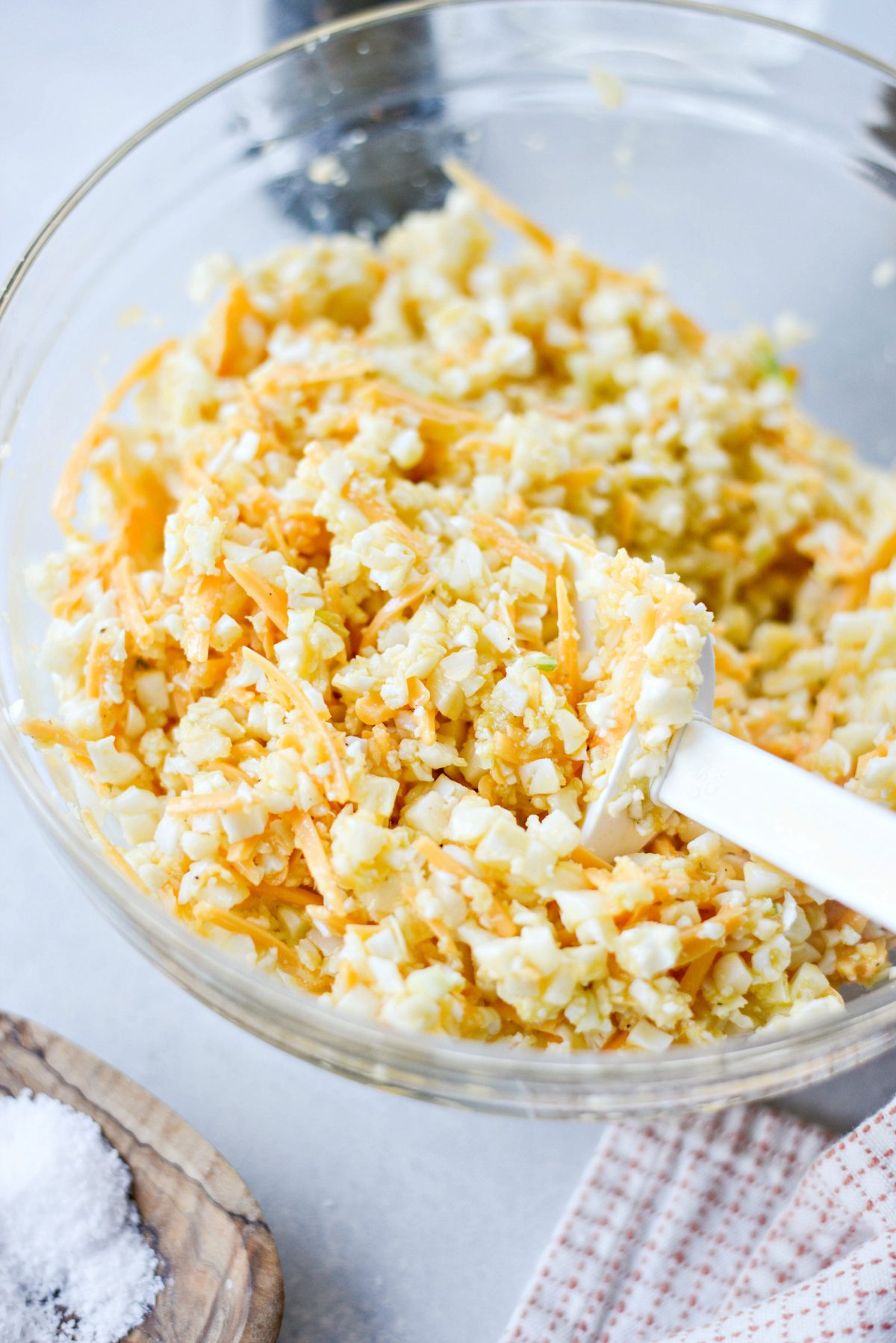 Next, add everything to a large mixing bowl and use a rubber spatula to mix until combined. First I start by adding 3 beaten eggs and then if the mixture is too dry, I will add in a fourth beaten egg. I also season the mixture with a pinch or two of kosher salt and then more after they've cooked.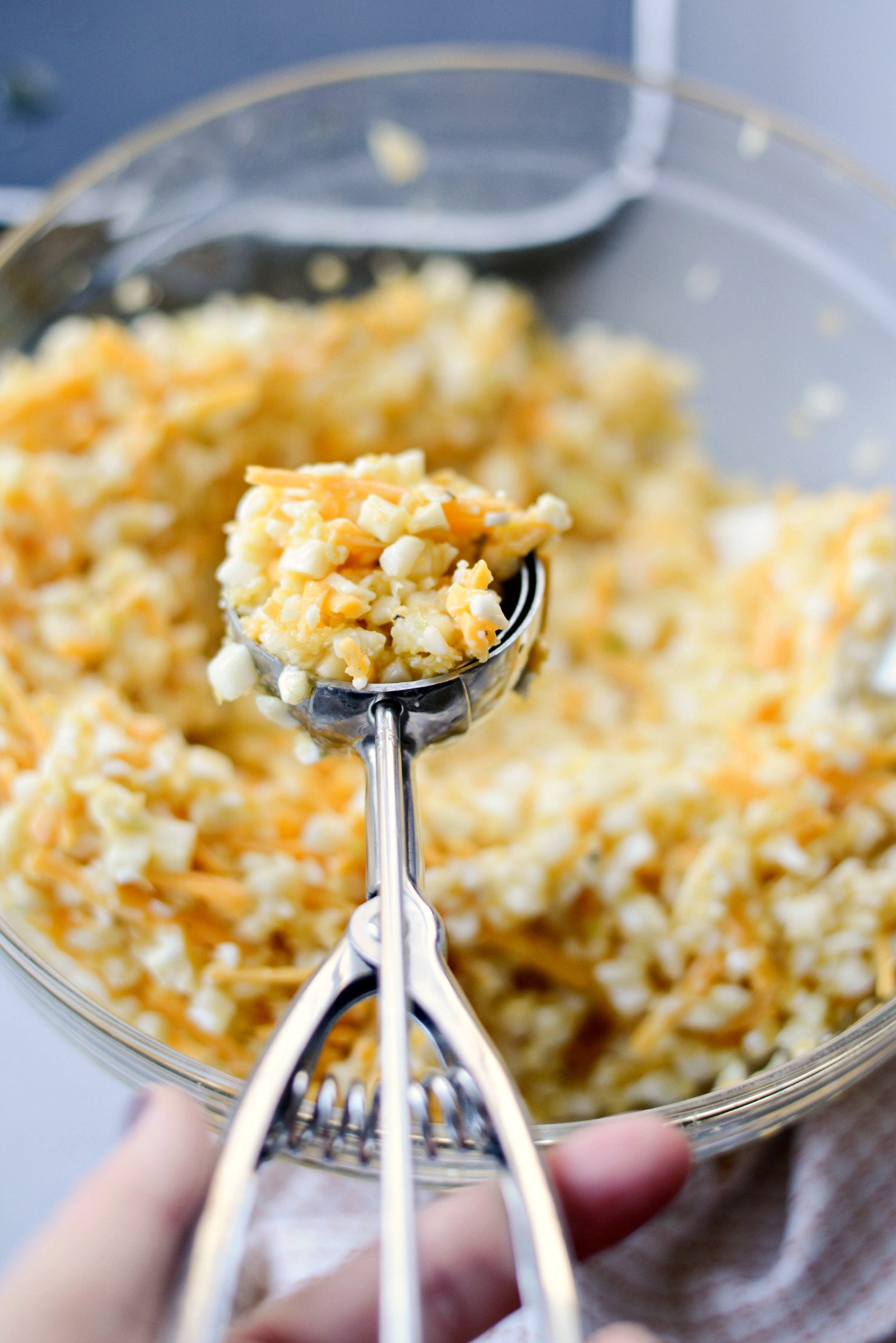 Then, using a 3-tablespoon scoop, measure out the cauliflower hash brown mixture and place on to your preheated 350° griddle that has also been lightly sprayed with olive oil.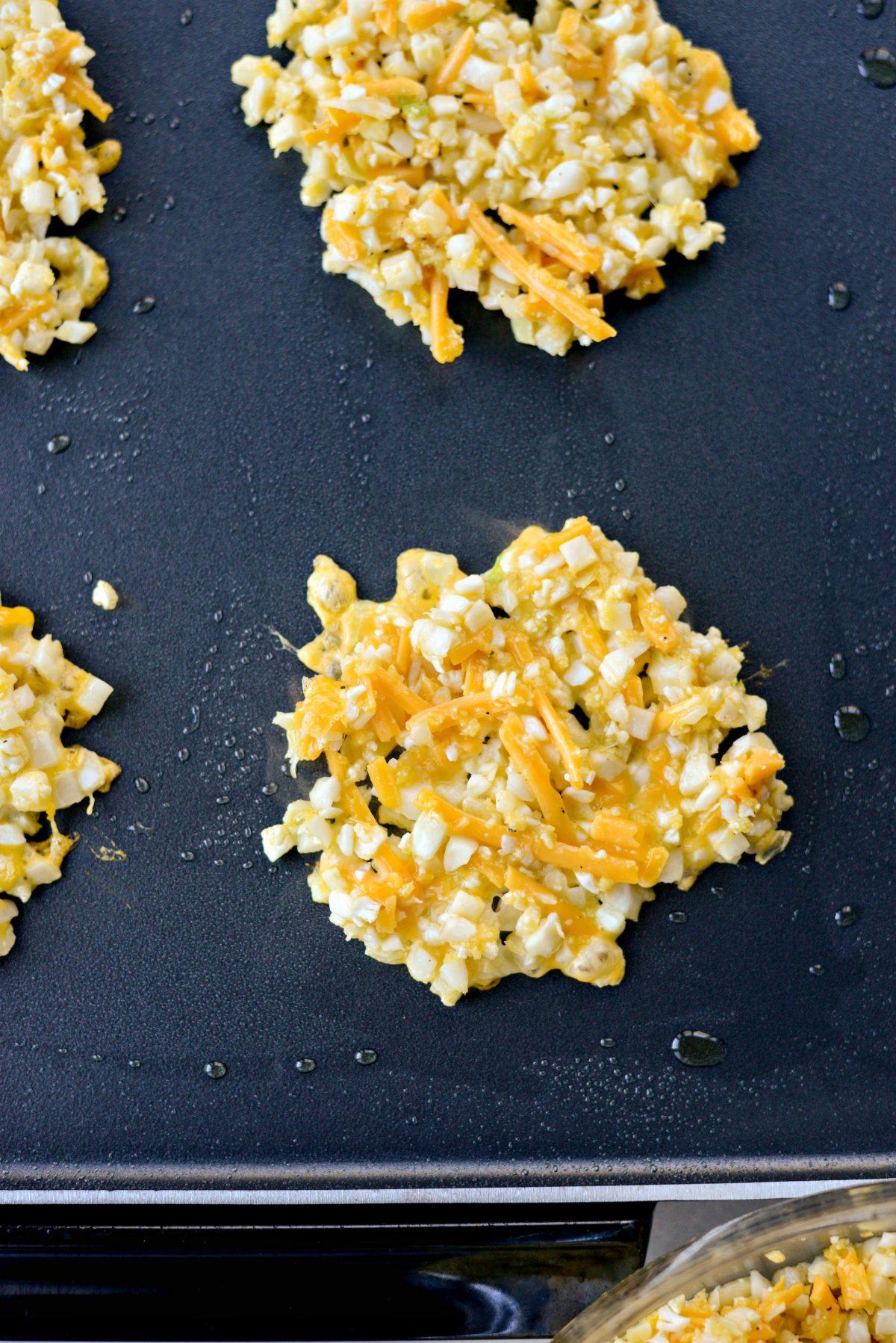 Repeat with the mixture, placing them an inch or so apart. Use the back of your rubber spatula to gently press them flat.
Allow the cauliflower breakfast hash browns to cook for 3 to 4 minutes before carefully flipping and cooking for another 3 to 4 minutes.
These smell heavenly!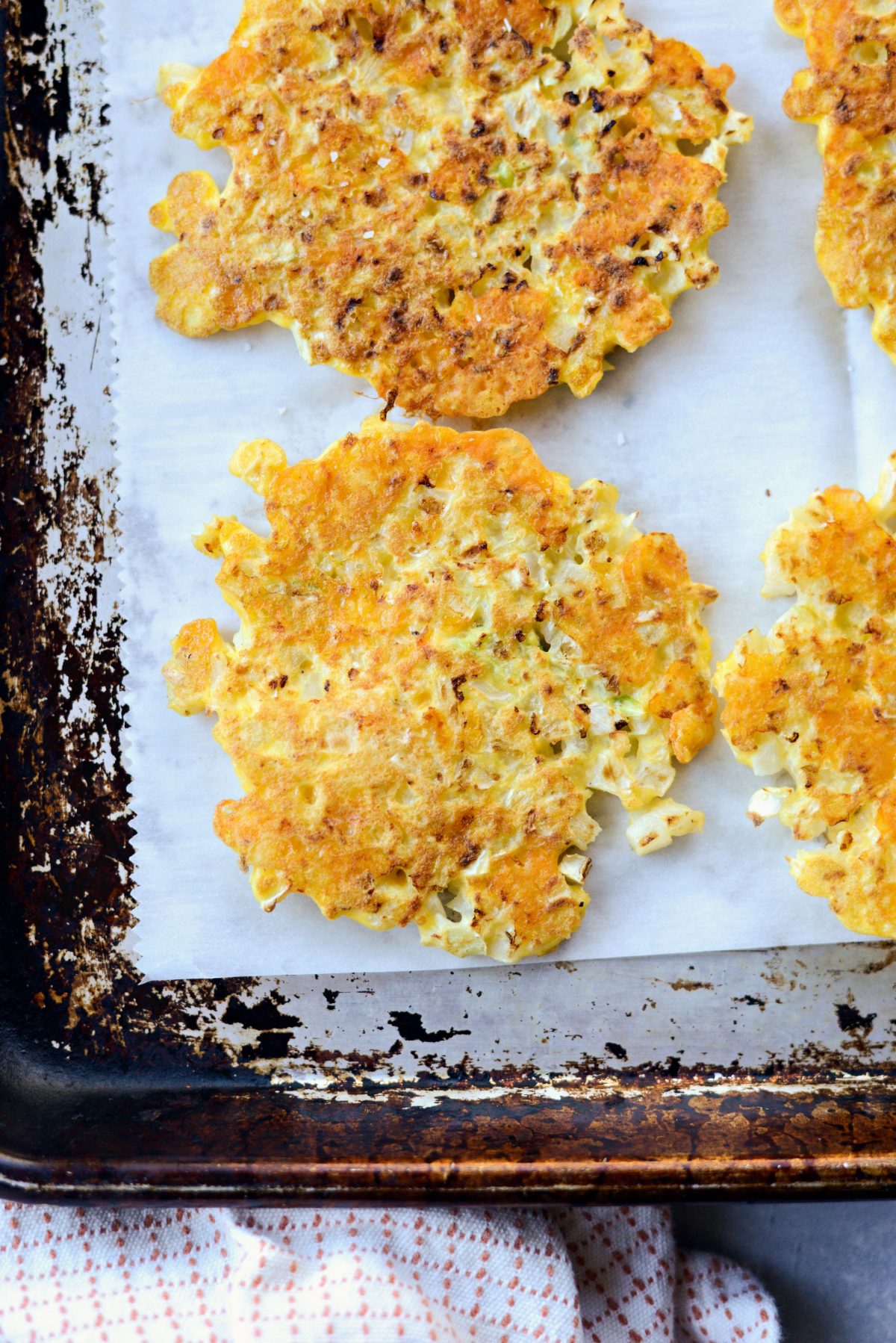 Next, it's best to serve these cauliflower hash browns immediately but you could also transfer the crispy hash browns to a parchment lined baking sheet and keep warm in a 250º oven.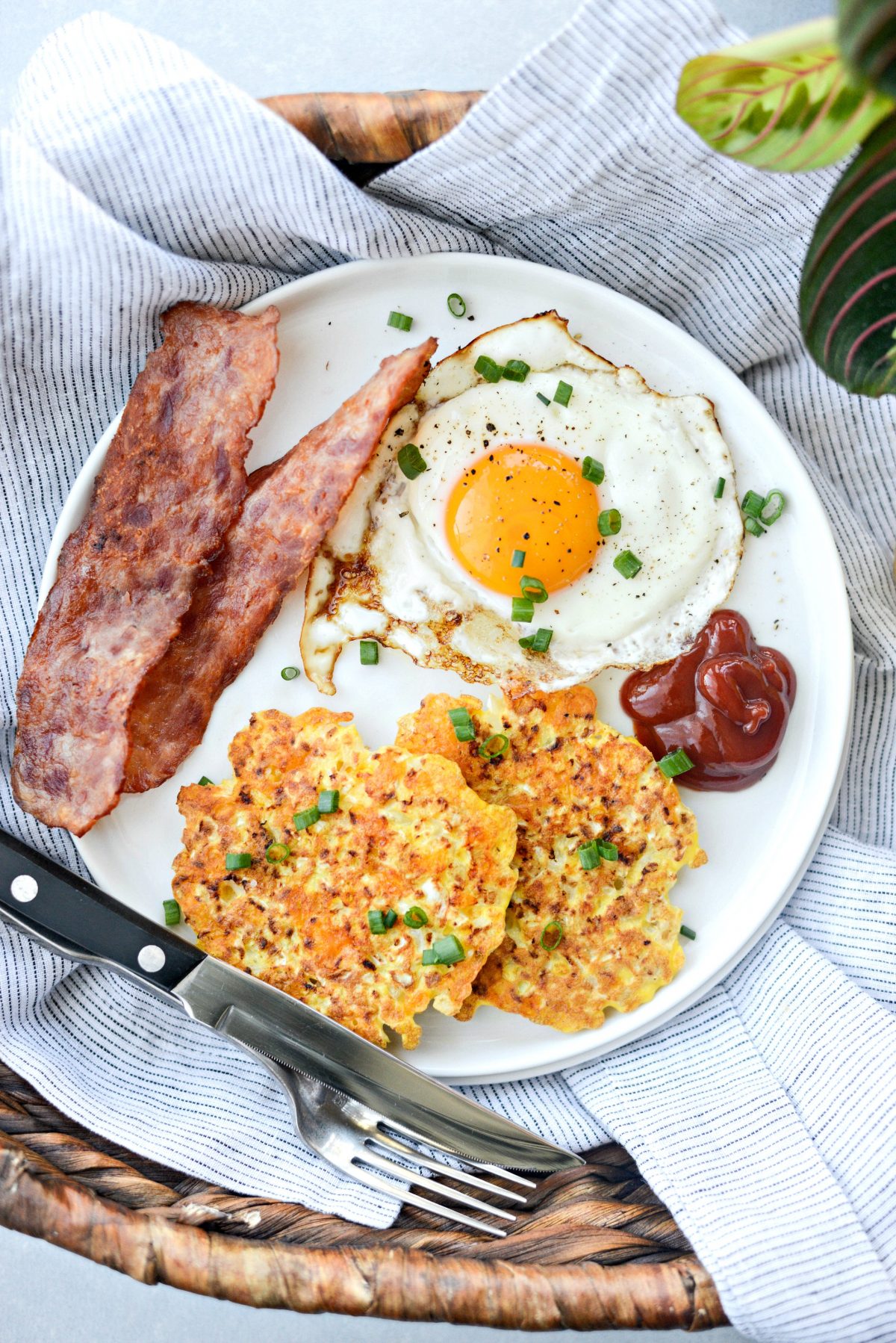 On Saturday I served these up with sunny side up fried egg and bacon. It was the perfect breakfast after our long 3-1/2 mile hike. Crispy and texturally very similar to regular hash browns. I don't pick up any cauliflower taste, in fact these trick my brain into thinking it's potato.
To reheat, I added a few of them at a time to my air-fryer and heated them up just until crispy. These could also be rewarmed in a skillet or microwave.
These are also great for meal prep.
I took the leftovers, chopped them up and add them (1-1/2 hash brown per container) along with scrambled eggs, chopped turkey sausage, a little cheese and green onions for a satisfying egg scramble bowl. Delicious.
Enjoy! And if you give this cauliflower breakfast hash browns recipe a try, let me know! Snap a photo and tag me on twitter or instagram!

Yield: 8 servings
Cauliflower Breakfast Hash Browns
Cauliflower Breakfast Hash Browns are a lightened up version of the beloved classic. Riced cauliflower is mixed with sharp cheddar and parmesan cheese and griddled until crispy. These make for a delicious breakfast side dish to eggs, bacon and toast.
Ingredients
1 pound cauliflower pearls
4 large eggs, beaten
1½ cups sharp cheddar cheese, grated fresh, reduced-fat works well
3 tablespoons parmesan cheese, grated fresh
1/3 cup Panko breadcrumbs, homemade or store-bought
2 pinches kosher salt
black pepper, freshly ground, to taste
Instructions
Preheat a non-stick griddle to 350° and spray lightly with olive oil spray.

In a large mixing bowl, combine the cauliflower, eggs, cheddar, parmesan, breadcrumbs, kosher salt and black pepper. Mix well to combine.

Use a 3 tablespoon scoop to measure out the hash brown mixture and place onto the hot griddle. Press gently with the back of your spatula to flatten. My griddle (linked below) allows for me to make 8 at a time which is half the recipe).

Cook 3 to 4 minutes a side before carefully flipping, continue to cook for an additional 3 to 4 minutes or until golden brown.

Serve immediately or transfer the cauliflower hash browns to a baking sheet lined with parchment. Keep warm in a 250° oven.

Repeat with the remaining hash brown mixture.
Notes
To reheat, add them to an air-fryer or skillet and cook until heated through and the edges crisp.
Serving: 2g, Calories: 153kcal, Carbohydrates: 5g, Protein: 11g, Fat: 10g, Saturated Fat: 6g, Polyunsaturated Fat: 1g, Monounsaturated Fat: 3g, Trans Fat: 1g, Cholesterol: 117mg, Sodium: 329mg, Potassium: 231mg, Fiber: 1g, Sugar: 1g, Vitamin A: 362IU, Vitamin C: 27mg, Calcium: 206mg, Iron: 1mg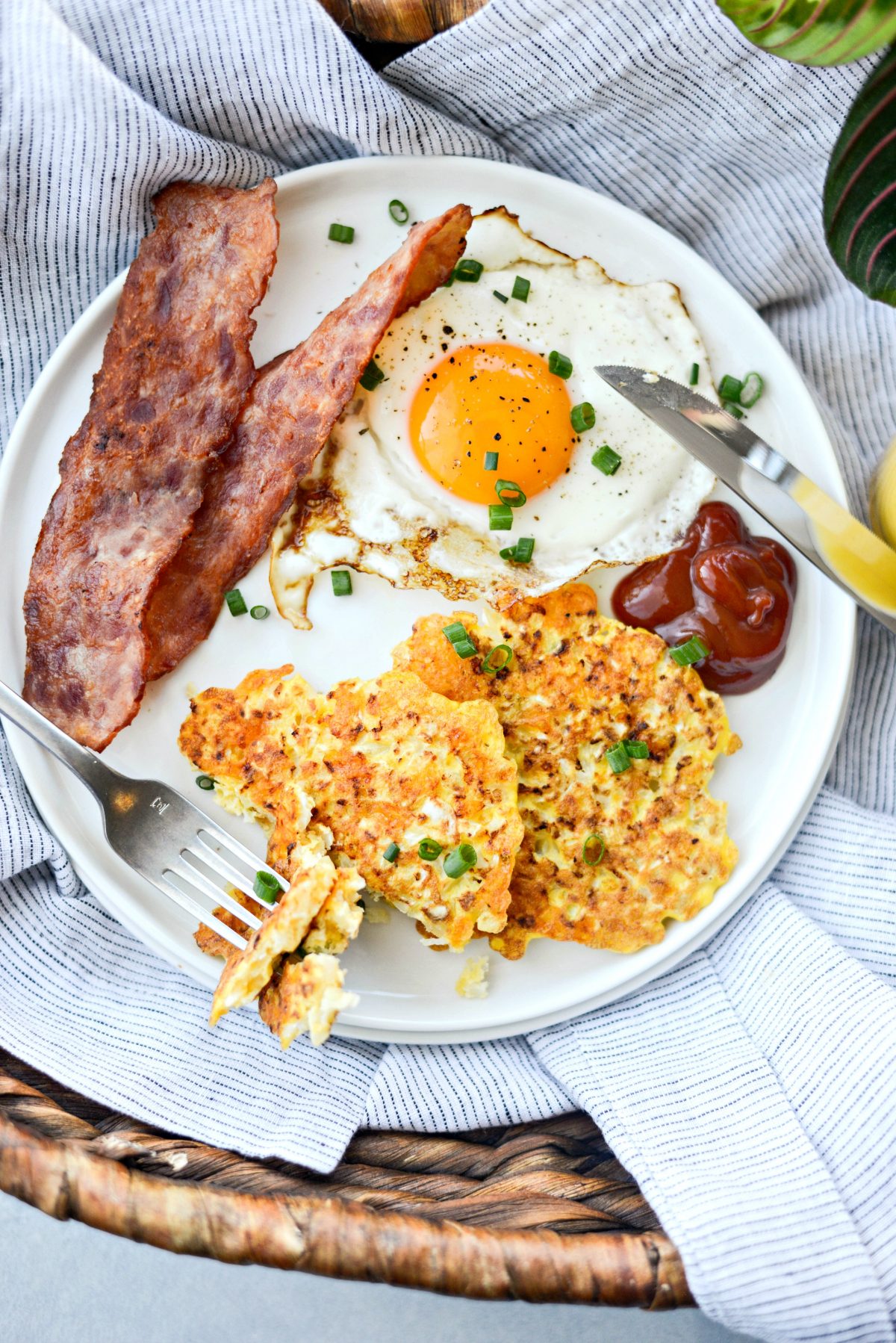 This post may contain affiliate links.
Buy the Cookbook: Simply Scratch : 120 Wholesome Homemade Recipes Made Easy Now available on Amazon »
THANK YOU in advance for your support!