This easy homemade steak sauce is so much better than store bought. Next time you grill steaks, smother your steak in this easy and delicious sauce!
Spring is somewhat upon us and with that comes my favorite other season…
Zee grilling season.
We grill A LOT in this house and Pat and I especially love a good grilled steak. SO while I like mine with this butter slowly melting over top, Pat sometimes likes his with steak sauce. But truth be told; a really good steak shouldn't need any sauce… I dunno… sometimes it just does.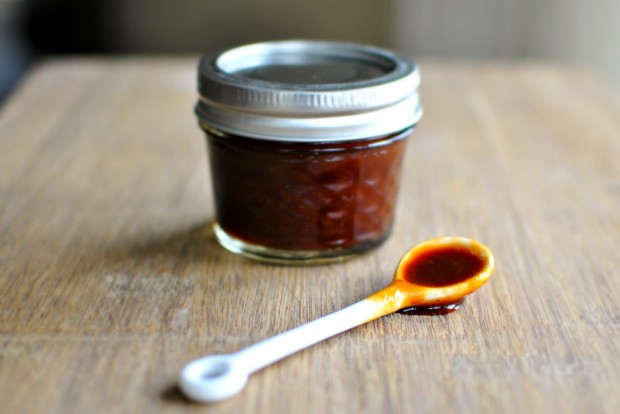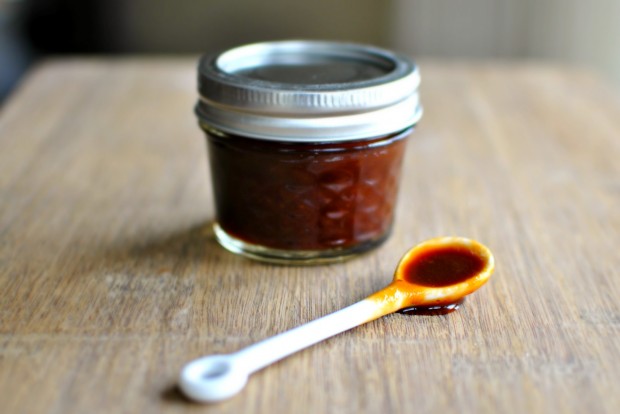 But I also must tell you that steak sauce is really versatile. Throw in some cayenne or a minced chipotle for some heat, or maybe add balsamic instead of white wine vinegar for a little panache. Did I just say that?
Stay tuned… because I have another recipe coming up featuring this sauce like you would never believe. So stay tuned for that, but first you get zee sauce.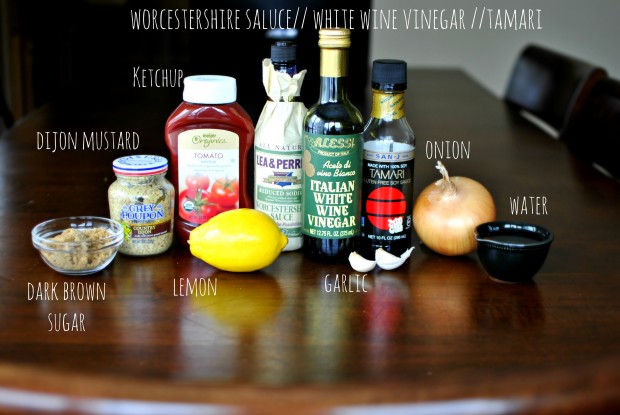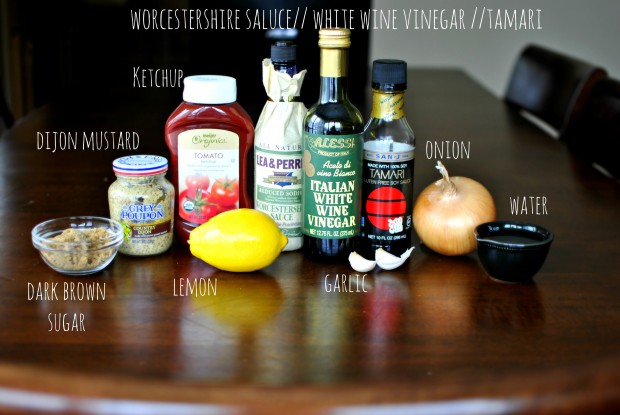 Raise your hand if you have all this in your cupboard.
Start by chopping up an onion… it really doesn't need to be all that perfect because it will be strained later on. It's purely a habit that this onion is chopped this precisely and a little part of the anal-retentive Virgo in me; because really you could totally hack the ish out of this onion and it won't really matter.
Also, roughly chop, mince or hack the ish out of the two cloves of garlic.
Throw all that into a small sauce pan.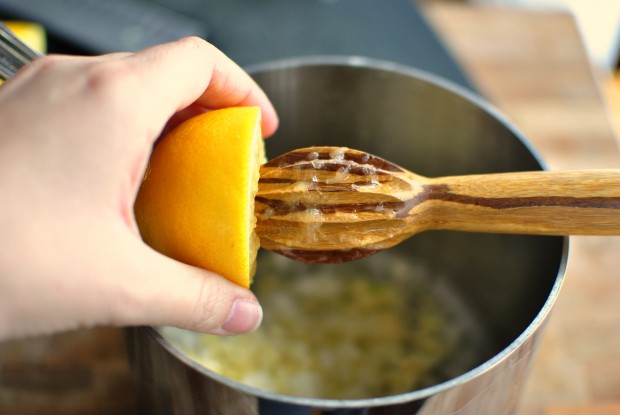 Put the squeeze on an entire lemon… medium sized.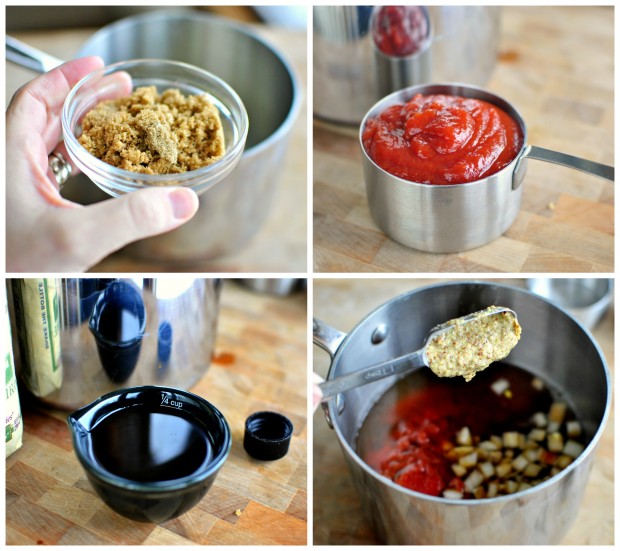 And add in the dark brown sugar, ketchup, vinegar, Worcestershire, tamari, water and mustard right on into that pot. Now if you want to be even MORE scratch-y you could make your own ketchup!
Whisk all those goodies together.
Bring it to a boil, then reduce to medium-high and let it simmer away for 30 or until it's niiiiiice and thiiiiiick.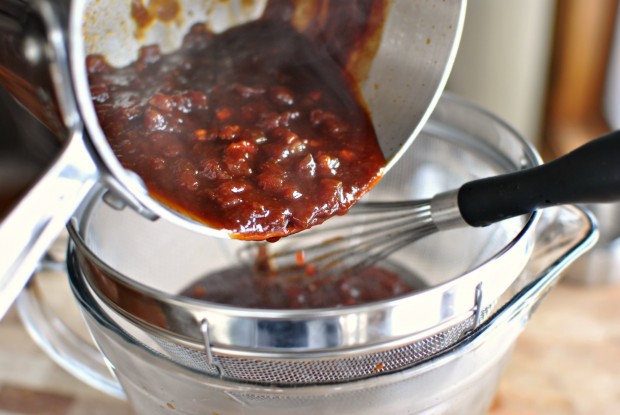 Pour the reduced steak sauce through a mesh strainer…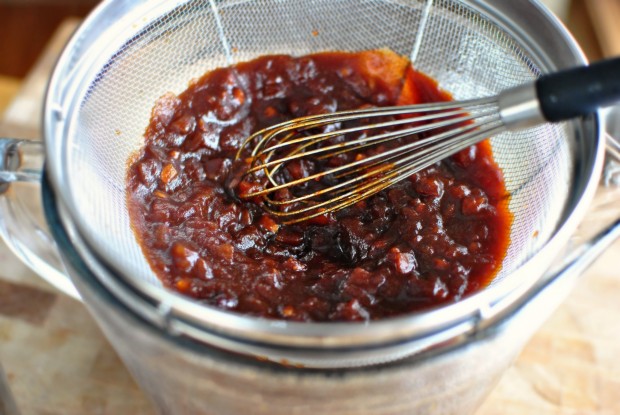 Use a spoon or the whisk to push the homemade steak sauce through so only the onions and garlic remain.
Let the homemade steak sauce cool before storing in the fridge, or serve it warm with a nicely charred rib-eye!
Enjoy! And if you give this Homemade Steak Sauce recipe a try, let me know! Snap a photo and tag me on twitter or instagram!
My cookbook Simply Scratch : 120 Wholesome Homemade Recipes Made Easy is now available! CLICK HERE for details and THANK YOU in advance!
Yield: 20 servings
Homemade Steak Sauce
Skip store bought and smother your steak in this easy and delicious sauce! Recipe yields 1¼ cup or 20 (1 tablespoon) servings.
Ingredients
1 yellow onion, chopped
2 cloves garlic, minced
1 cup ketchup
1 medium lemon, juiced
1/4 cup worcestershire sauce
1/4 cup white wine vinegar
1/4 cup water
2 to 3 tablespoons tamari
2 tablespoons dark brown sugar
1 tablespoon (heaping) dijon mustard
Instructions
In a sauce pan combine the chopped onion, garlic and the rest of the ingredients. Bring to a boil, reduce the heat to medium/medium-high and simmer for 30 minutes stirring occasionally.

Pour the thickened sauce through a mesh strainer that has been placed into a large bowl to catch the onions and garlic, use a spoon or spatula to press the sauce through. Wipe any excess off the bottom of the strainer and into the bowl.

Let the steak sauce cool before transferring to an airtight container and into the fridge.

Can be stored in the fridge for two to four weeks.
Serving: 1g, Calories: 26kcal, Carbohydrates: 6g, Protein: 1g, Fat: 1g, Saturated Fat: 1g, Polyunsaturated Fat: 1g, Monounsaturated Fat: 1g, Sodium: 252mg, Potassium: 84mg, Fiber: 1g, Sugar: 4g, Vitamin A: 65IU, Vitamin C: 2mg, Calcium: 10mg, Iron: 1mg
[this post contains affiliate links.]
This post may contain affiliate links.
Buy the Cookbook: Simply Scratch : 120 Wholesome Homemade Recipes Made Easy Now available on Amazon »
THANK YOU in advance for your support!