In this Easy Chicken Parmesan recipe, crispy cracker crumb coated chicken breasts are smothered with a simple marinara, topped parmesan cheese and melty mozzarella! Serves 4.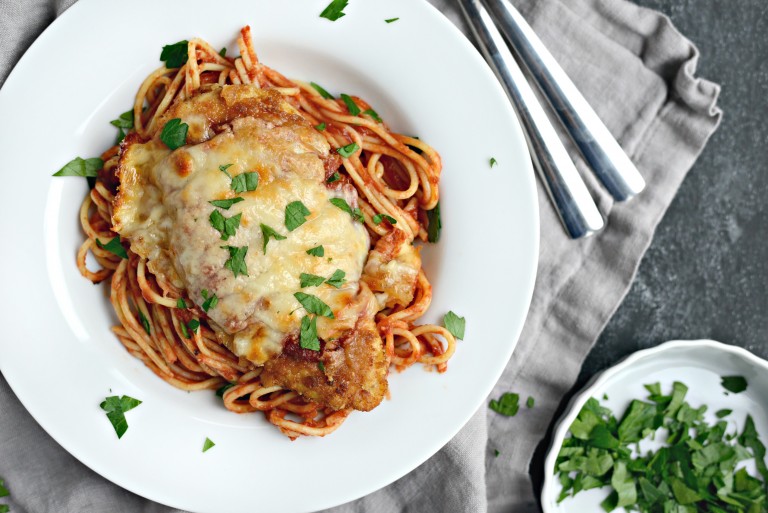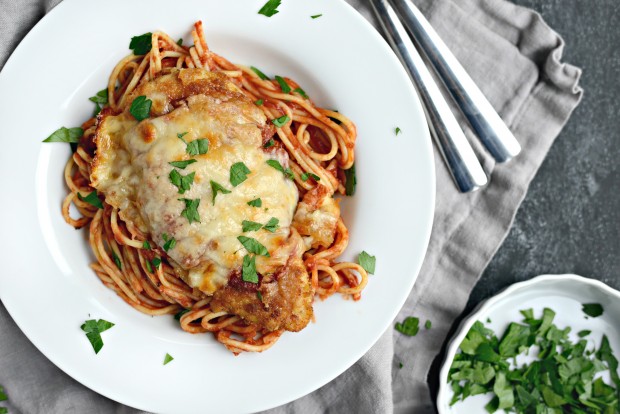 This recipe was the first successful recipe that I can remember making in my kitchen.nI was in my early twenties and I would receive, what seemed like every single day, a stack of recipe cards in the mail. There's a good chance I didn't even sign up for them, but free recipes? OKAY!
But because so many called for canned soup, I didn't make all of them, but I remember this particular recipe catching my eye. It seemed pretty easy enough; chicken breasts, a can of tomato sauce, seasonings. And being that it was in my early cooking days, it was something I knew that I could tackle.
And I remember being AMAZED at how good it tasted and even more amazed that I actually made it.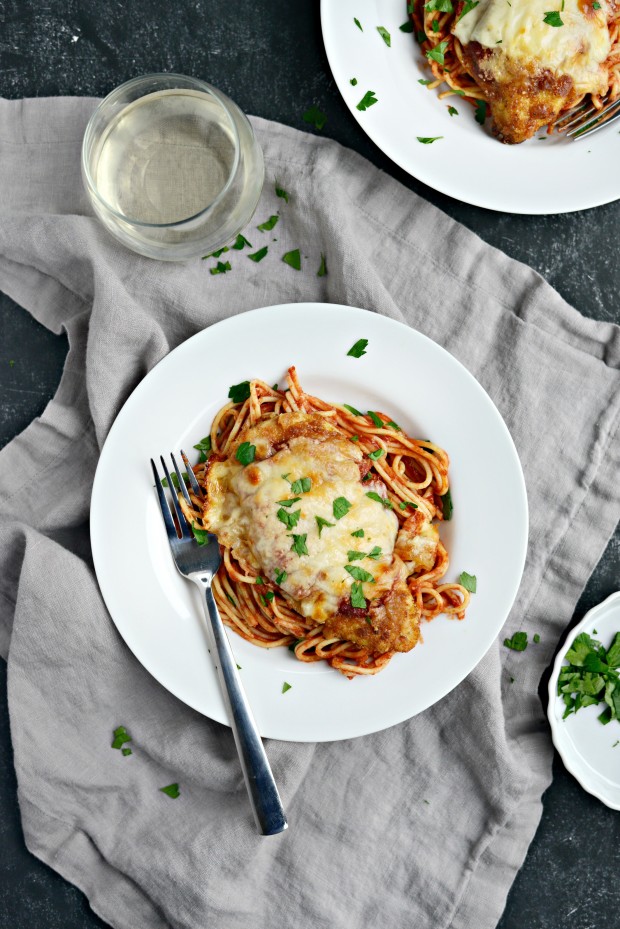 This easy Parmesan chicken recipe has made it through the years, albeit with a few (okay a lot) changes but a classic nonetheless.
And you guys, I'm not joking when I say this recipe is incredible. The smell of chicken, parmesan and garlic fill your home with such an inviting and intoxicating aroma that I promise will get everyone excited for dinner. After school, our girls would bust through the front door and said "MOM! Oh my gosh what smells so good?" <—true test
And when it comes to this easy chicken Parmesan, it never fails that we always, always clean our plates.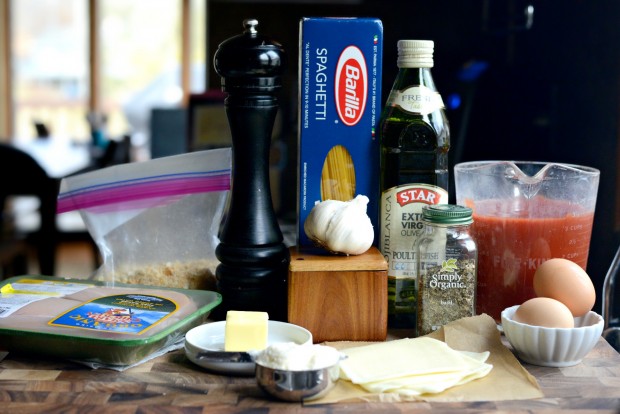 To Make This Easy Chicken Parmesan You Will Need:
boneless skinless chicken breasts
eggs
black pepper
crackers (like Ritz)
kosher salt
olive oil
garlic
tomato sauce
basil
sugar
butter
parmesan cheese
mozzarella
dry pasta like spaghetti or your favorite
fresh parsley and /or fresh basil
In a nutshell, you need some pretty basic ingredients in order to whip up this dish.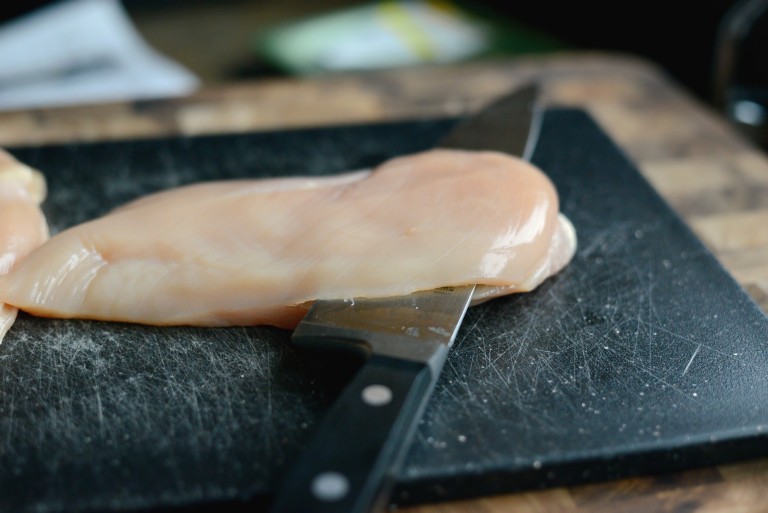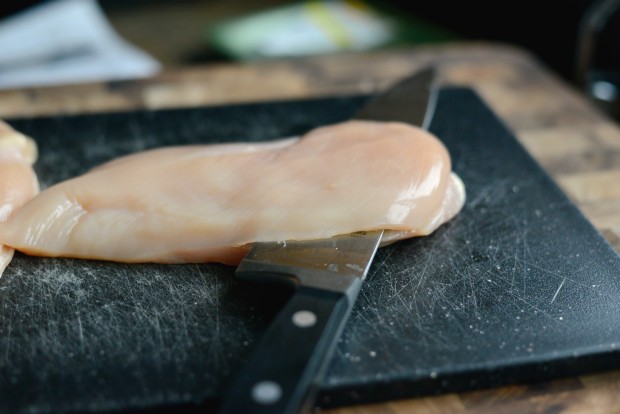 Take two boneless, skinless chicken breasts (that are on the larger side, weighing in at about 1-1/4 to 1-1/2 pounds total weight) and slice them in half horizontally. I did notice that my grocery store sells "thin cut" chicken breasts, but that usually comes with a price mark-up and the breasts are sometimes on the smaller side. If that's all you can find then six smaller chicken breast halves will work in this recipe just fine.
I've butterflied a few chicken breasts in my day and at first I was a hot mess. But with a little practice and a sharp chefs knife you too can master it. Or just buy it pre-sliced. Up to you.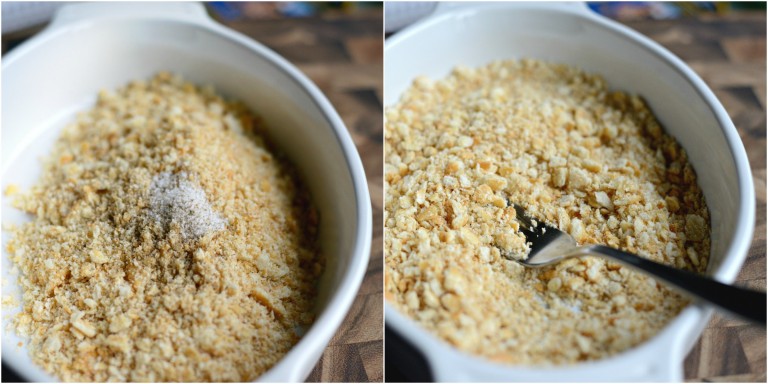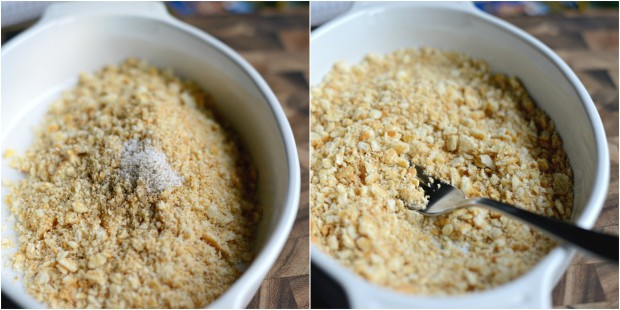 I place an entire sleeve of crackers into a resealable bag and crush them by hand. It takes only a minute or two and is surprisingly therapeutic. Then pour the cracker crumbs into a shallow dish and season with a half teaspoon of kosher salt and a few grinds of fresh black pepper.
I swear it's these buttery crackers (I use Ritz- always have, always will) that give this chicken the crunchy golden layer. Now, these are store bought crackers.
Because I am not willing to make my own crackers just to crush them all up and coat chicken.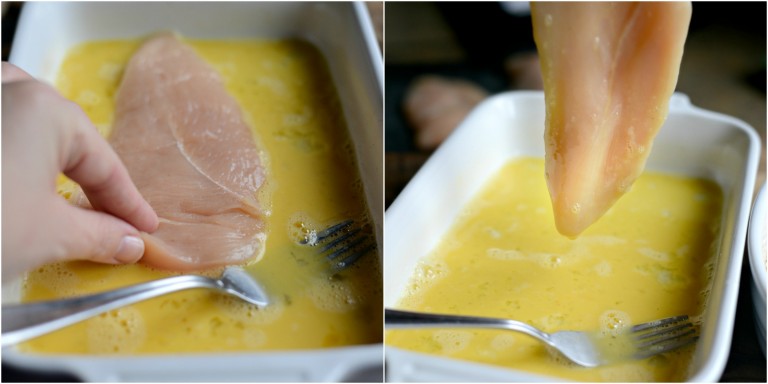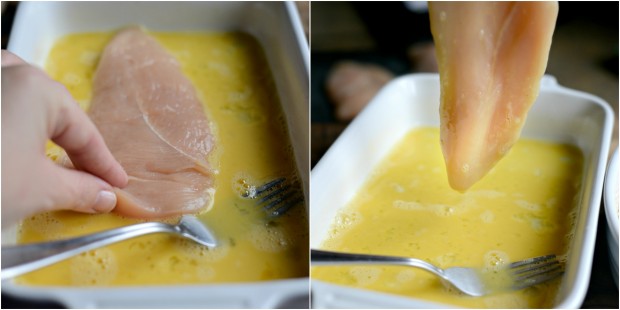 Crack two eggs into a separate shallow dish, season with a couple grinds of black pepper and beat with a fork. Dip the chicken breast halves into the beaten egg, coating both sides and letting any excess egg drip off back into the dish.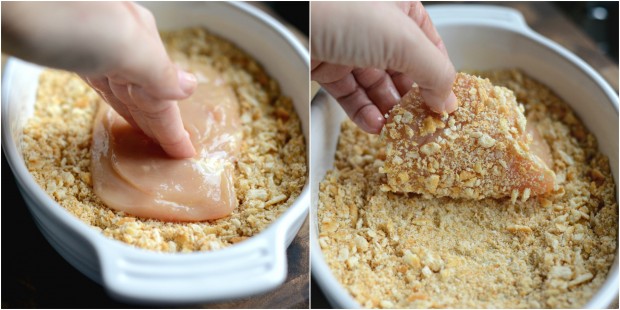 Working with one chicken breast (halve) at a time, press both sides into the cracker crumbs.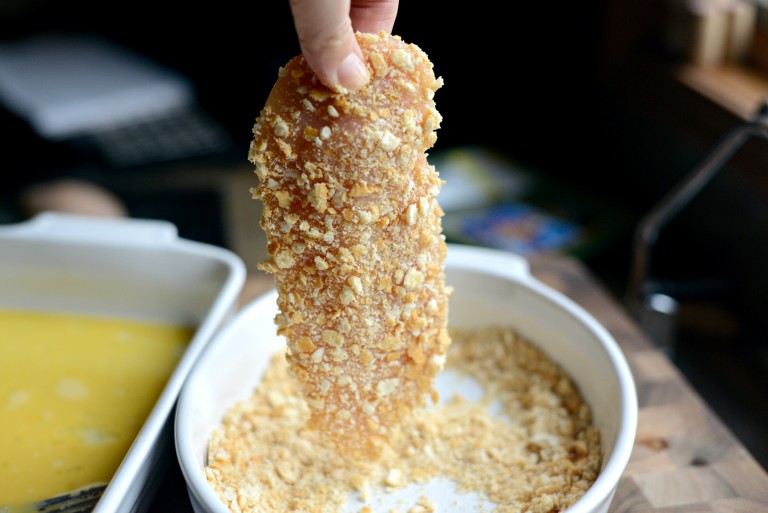 Until both sides are coated well.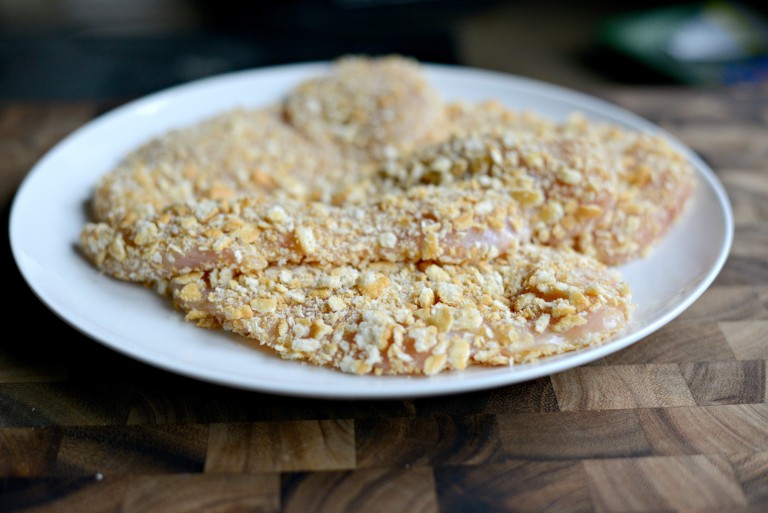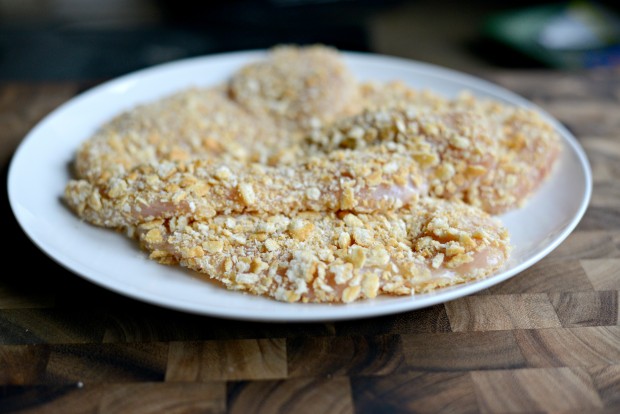 Pile them on to a plate and bring them over to the stove.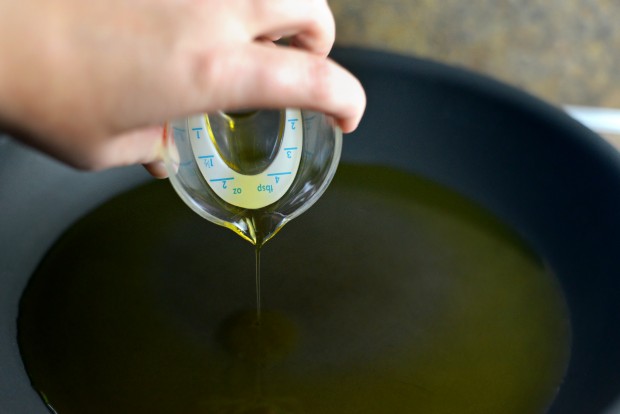 Heat 1/4 cup of olive oil over medium-high heat in a large 10 to 12-inch skillet.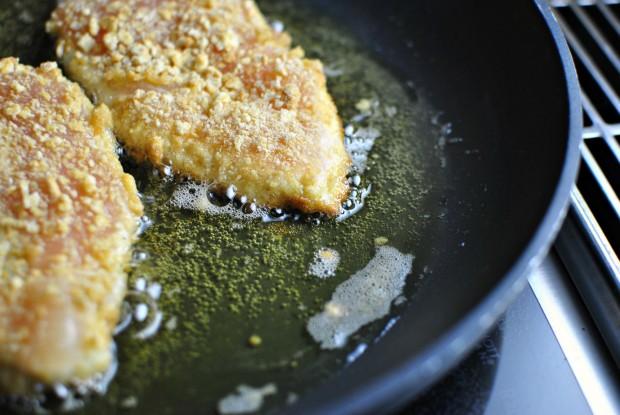 Once the oil is good and hot, work in batches and lay two of the breaded chicken breasts into the hot oil. Cook for 3 to 4 minutes a side. You'll know it's a good time to flip when you see the deep golden crust along the edges of the chicken.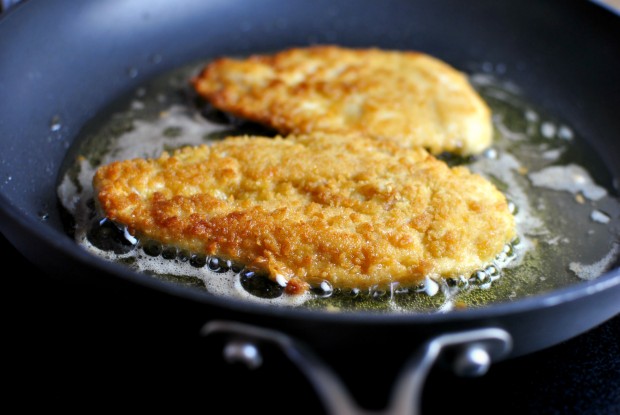 Flip and repeat for another 3-4 minutes.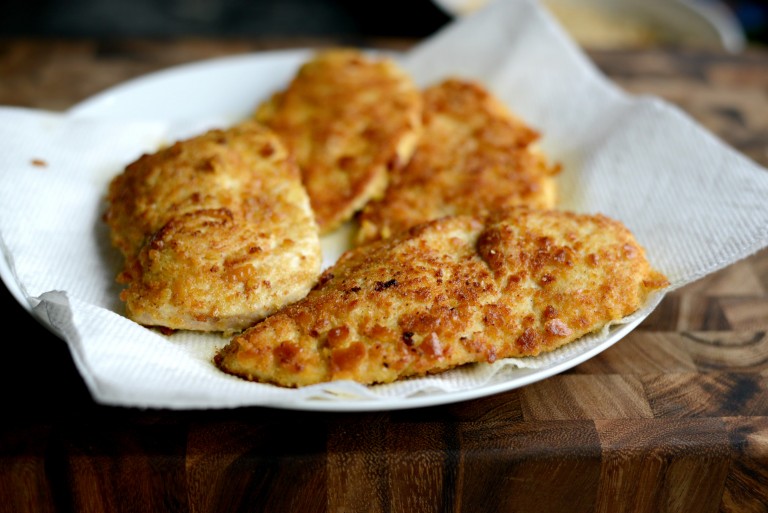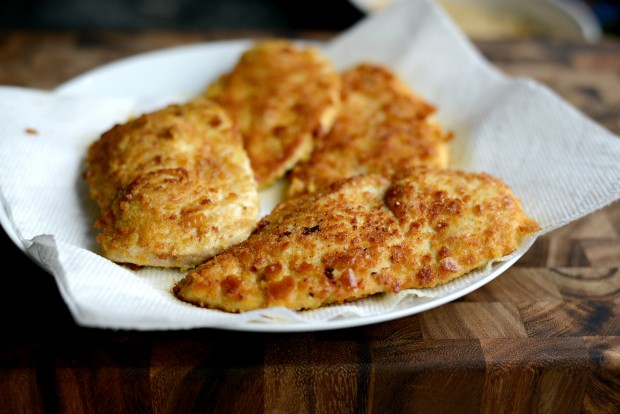 Transfer the browned chicken breasts to a paper towel-lined plate to absorb any extra oil.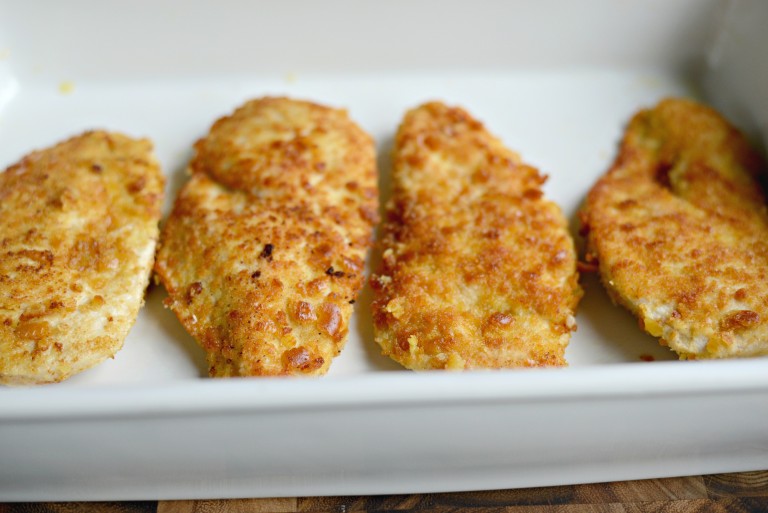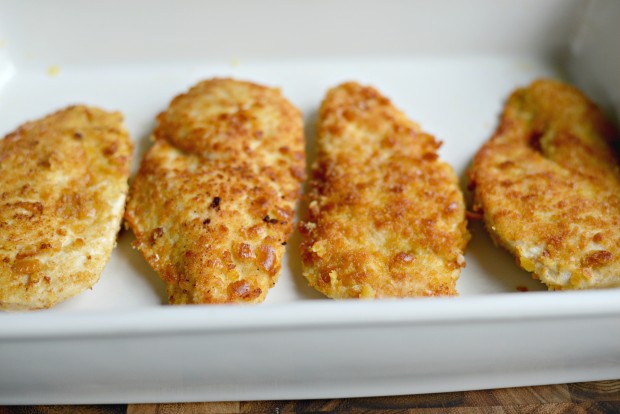 Once all the chicken breasts have been browned, place them in a lightly greased (I use olive oil spray) 9×13 baking dish.
Now check out that crispy golden goodness!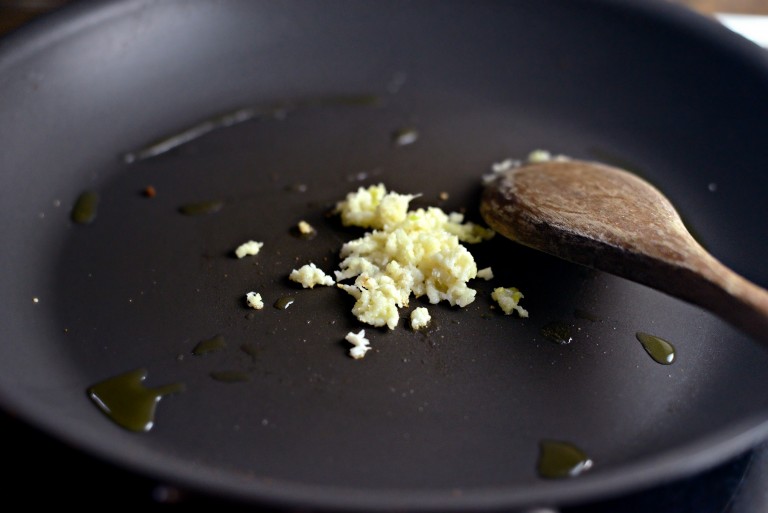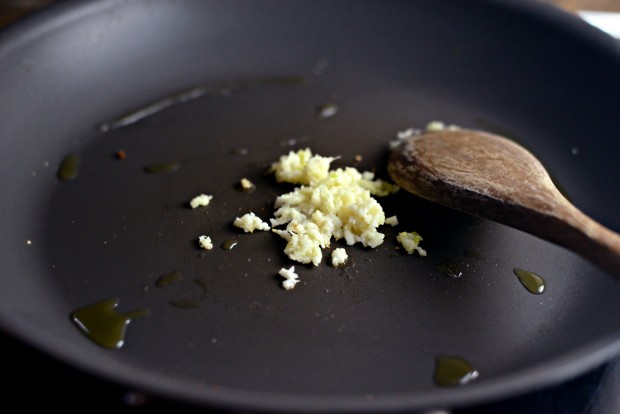 With the chicken now cooked, reduce the temperature to medium. Carefully wipe the excess oil out with paper towel and allow the pan some time to cool down a tad. Then squeeze in two cloves of fresh garlic through my garlic press and into the pan, stir that around for about 30 seconds to a minute.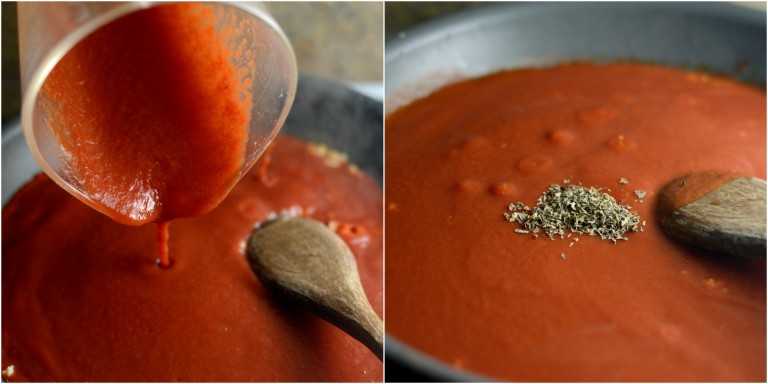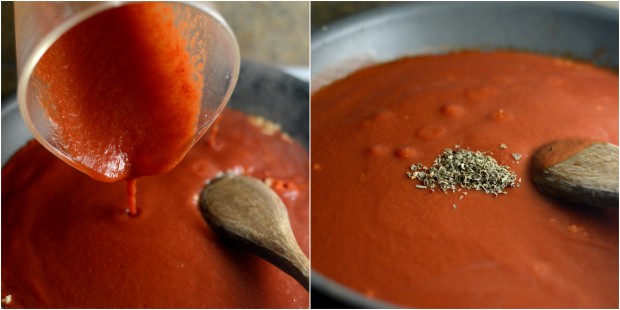 Pour in 30 ounces or bout 3-1/2 cups (or two 15-ounce cans) of tomato sauce and measure in 1 teaspoon kosher salt, a half teaspoon of dried basil. You could totally use fresh basil in this as well, about a tablespoon would do.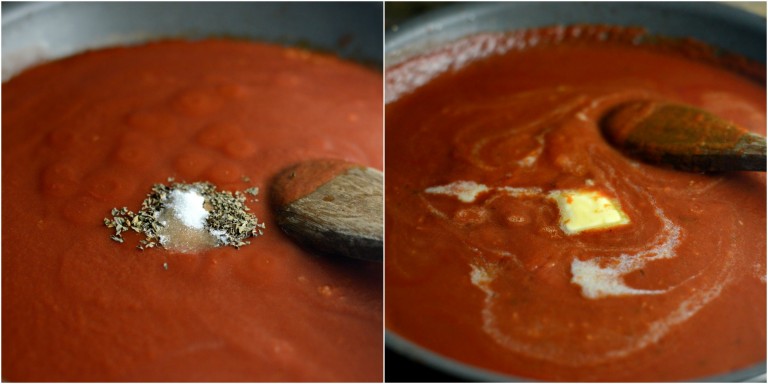 Then add in 1/2 teaspoon sugar and simmer for 8-10 minutes. Once the sauce has simmered and thickened, drop in two tablespoons of unsalted butter and let that melt. The butter not only adds flavor but a nice velvety-ness to the sauce.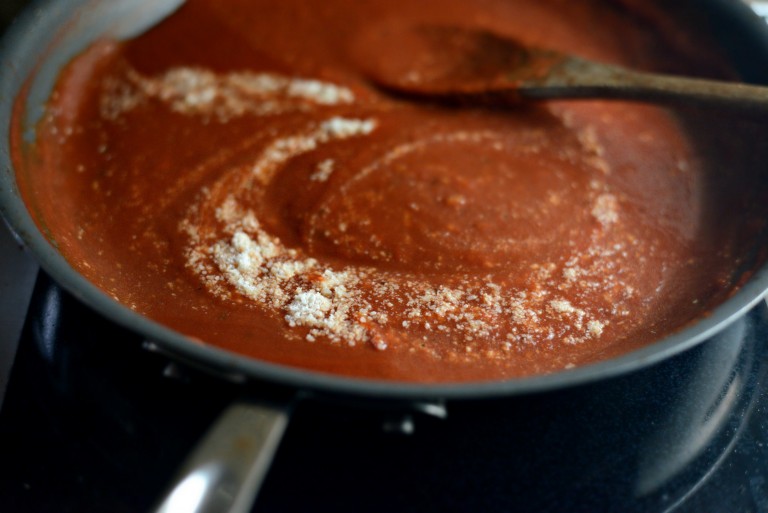 Lastly, stir in a tablespoon of Parmesan cheese.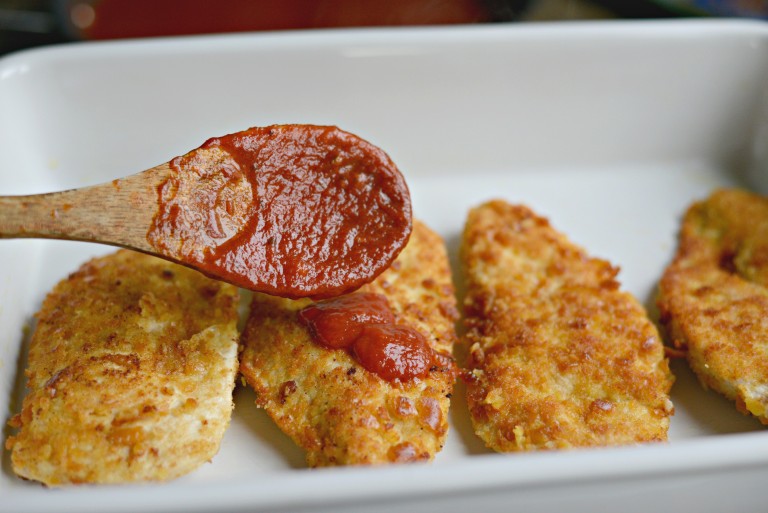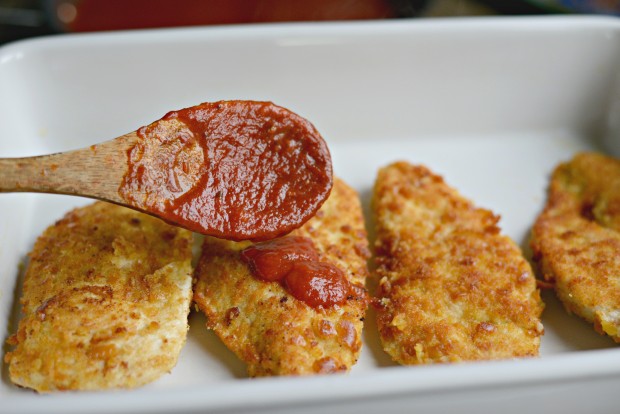 Pour about a third of the sauce over the chicken leaving some of the crispy chicken exposed.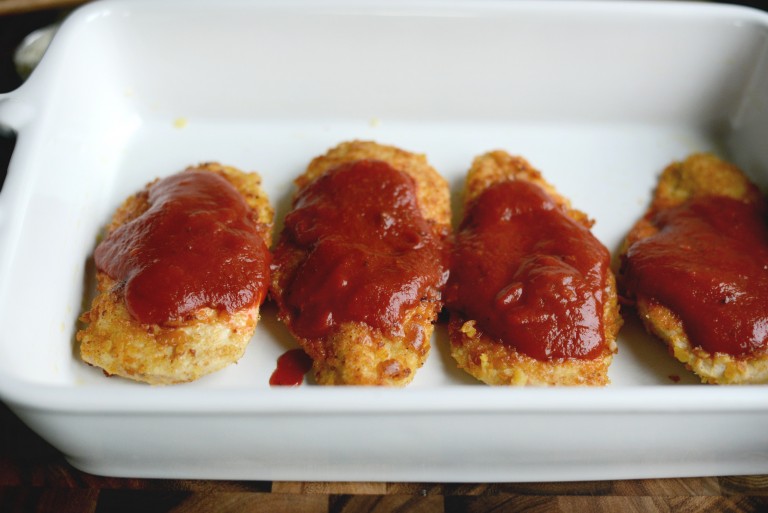 You don't really want to drown the chicken in sauce, but each piece of chicken should have a generous bit of sauce.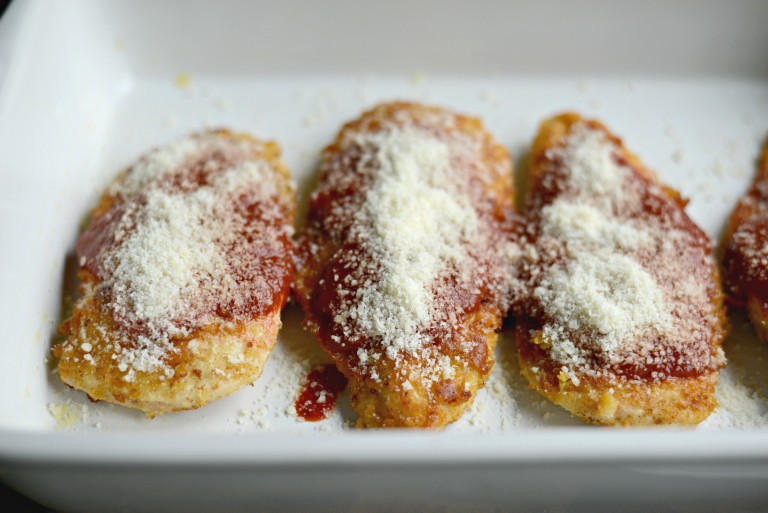 Sprinkle with the remaining 3 tablespoons of grated Parmesan cheese.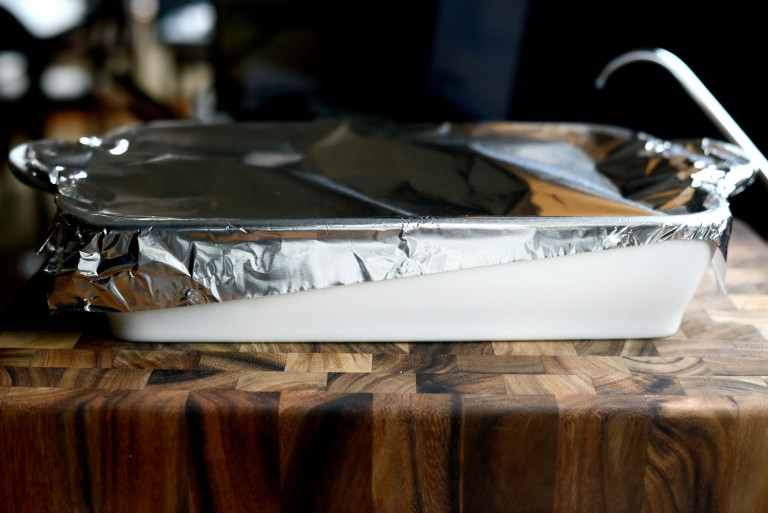 Then cover with foil and bake in a preheated 350° oven for 30 minutes.
While that is going on, bring a pot of water to boil, seasoned it with a generous tablespoon of sea salt. Then drop in about a half a box of spaghetti noodles, cook as directed on the package.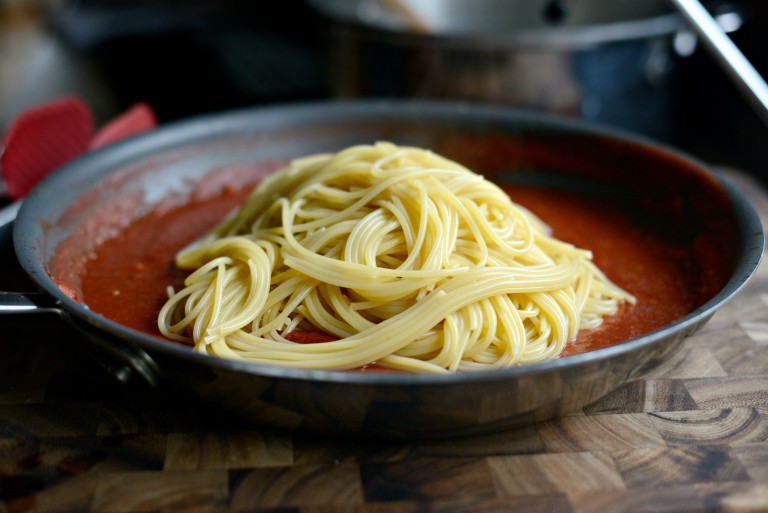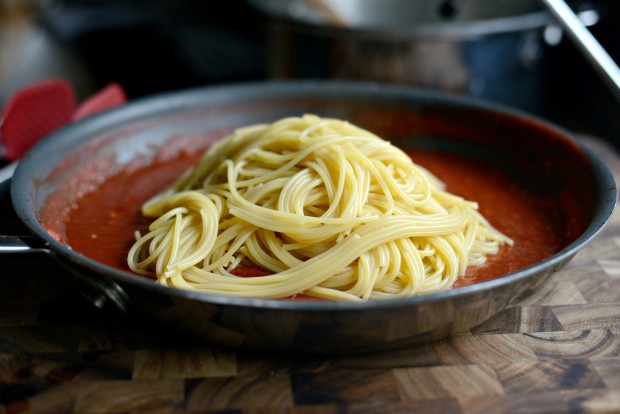 Once the pasta is done, use tongs to transfer into the pan with the remaining sauce.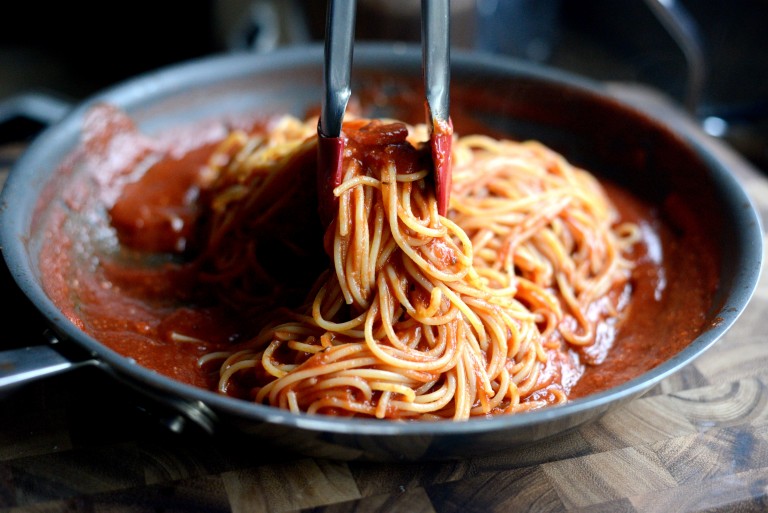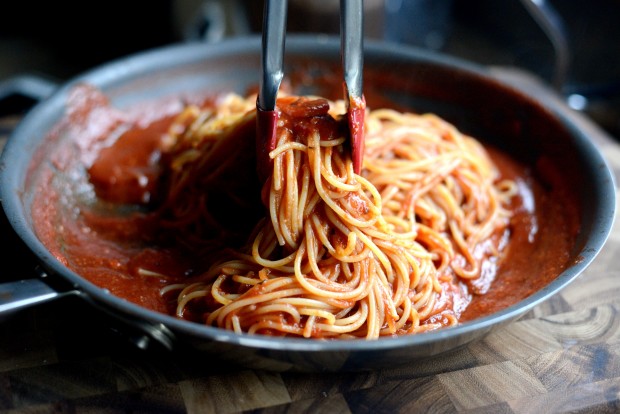 Toss to coat every so often and keep on low-heat so the pasta stays warm.
After the 30 minutes are up remove the foil and breeeeeathe that goodness into your lungs.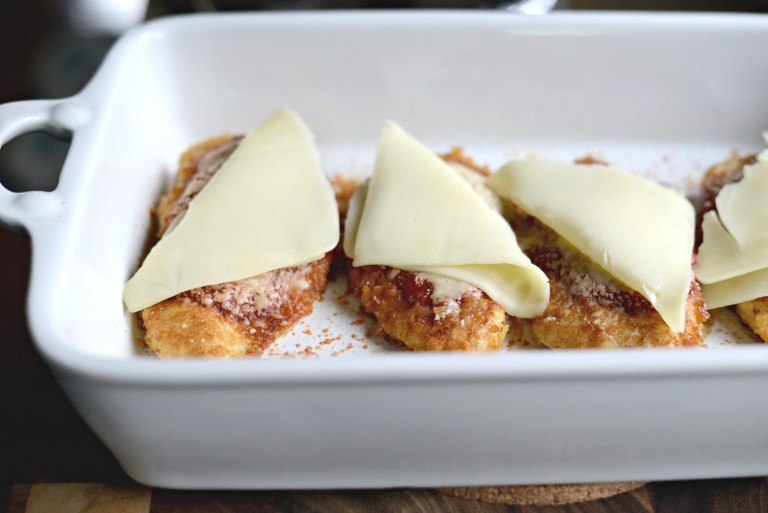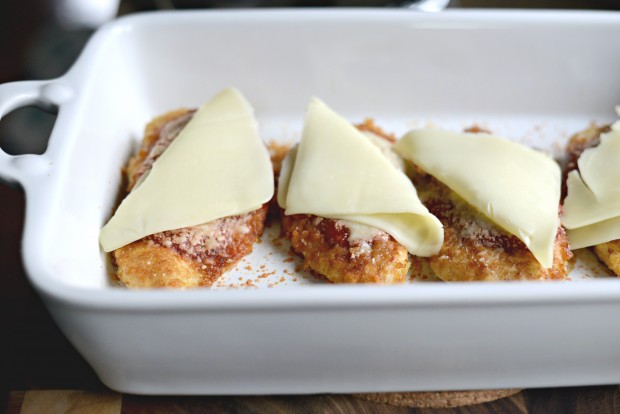 I fold a slice of mozzarella in half and place it on top of each chicken breast. Slide the pan back into the oven for 10 to 15 minutes until melted and slightly golden.
Seriously look at that CHEESE! This Easy Chicken Parmesan seriously smells so darn good and there's only one thing left to do.
Serve this Easy Chicken Parmesan on some of that spaghetti pasta and EAT IT UP!
Feel free to sprinkle some freshly chopped parsley or fresh basil over top for a pop of green! I hope you add this delicious and easy chicken parmesan recipe to your recipe repertoire. My family absolutely LOVES this recipe and I'm so happy to finally share it with all of you!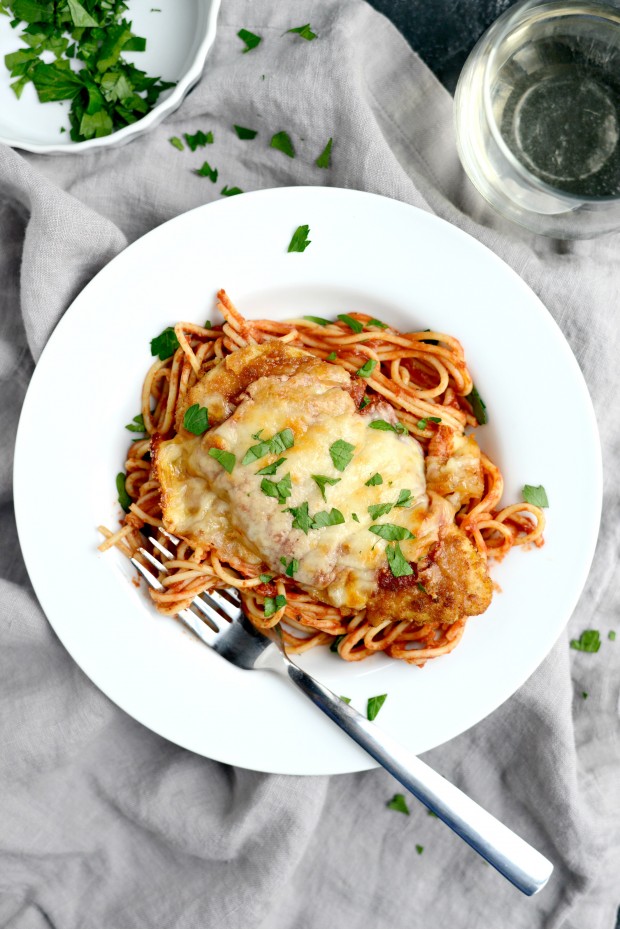 Enjoy! And if you give this Easy Chicken Parmesan recipe a try, let me know! Snap a photo and tag me on twitter or instagram!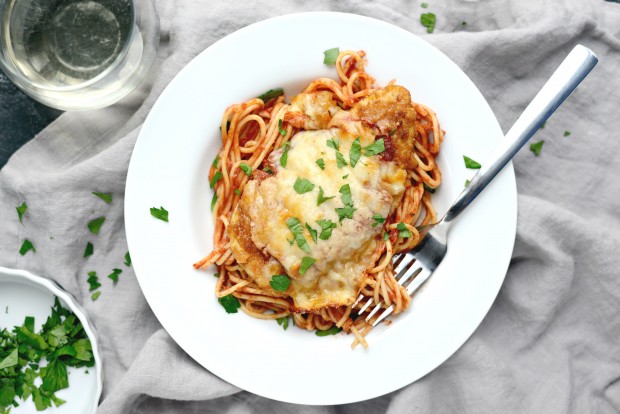 Yield: 4 servings
Easy Chicken Parmesan
In this Easy Chicken Parmesan recipe, crispy cracker crumb coated chicken breasts are smothered with a simple marinara, topped parmesan cheese and melty mozzarella!
Ingredients
4 thin-cut boneless skinless chicken breast halves
2 large eggs
freshly ground black pepper
1 sleeve crackers, about 14 to 18 (I like Ritz)
1/2 teaspoon kosher salt
1/4 cup olive oil, plus more if needed
2 cloves garlic, finely minced or squeezed through a garlic press
2 (15 ounce) cans tomato sauce
1 teaspoon kosher salt
1/2 teaspoon dried basil
1/2 teaspoon sugar
2 tablespoon unsalted butter
1/4 cup Parmesan cheese
6 slices mozzarella cheese
8 ounces spaghetti noodles
parsley, chopped
Instructions
Preheat your oven to 350° and lightly spray a 9x13 baking dish with olive oil.

In a shallow dish crush up the crackers into small pieces and season with the half teaspoon of kosher salt and a few grinds of black pepper.

In a separate shallow dish whisk together the two eggs and some black pepper. Dip the chicken breast halves, one at a time coating both sides, allowing any excess egg to drip back into the dish.

Then press both sides of the chicken into the crushed crackers, then place on a large plate and repeat with the remaining chicken.

In a large 10-inch non-stick skillet, heat the olive oil over medium-high heat. Once hot, work in batches adding two of the chicken breast halves at a time and cook for 3-4 minutes per side. Flip when you notice the edges of the chicken are a deep golden. After each batch, remove to a paper towel lined plate to absorb any excess oil and then arrange in the prepared 9x13 baking dish. Repeat with the remaining chicken.

Once all of the chicken has been cooked, reduce the heat to medium and wipe the pan out with paper towel so only a trace of oil left in the pan. Squeeze in a couple cloves of garlic through a garlic press and cook for a minute or two. Slowly add in the tomato sauce, a half teaspoon of dried basil and sugar. Simmer for 8 to 10 minutes and then drop in the two tablespoons of butter and stir. Spoon 1/3 of the sauce over top of the chicken leaving pieces exposed. Evenly sprinkle with the Parmesan, cover the pan with foil and bake for 30 minutes.

In the meantime, bring a pot of water to boil. Season with a generous pinch of kosher salt and add in the spaghetti noodles and cook as directed on the package. Drain and add to the remaining marinara, toss and heat on low to keep warm.

After the 30 minutes, remove the foil and top with mozzarella slices. Slide the pan back into the oven for 10-15 more minutes more until the cheese is melted and bubbly.

Dish out warm spaghetti into bowls and top with the Parmesan chicken.
Notes
This recipe can be adjusted to make a total of 6 chicken breast halves.
Serving: 1g, Calories: 702kcal, Carbohydrates: 45g, Protein: 46g, Fat: 37g, Saturated Fat: 14g, Polyunsaturated Fat: 3g, Monounsaturated Fat: 16g, Trans Fat: 1g, Cholesterol: 218mg, Sodium: 1415mg, Potassium: 630mg, Fiber: 2g, Sugar: 3g, Vitamin A: 683IU, Vitamin C: 2mg, Calcium: 329mg, Iron: 2mg
This post may contain affiliate links.
Buy the Cookbook: Simply Scratch : 120 Wholesome Homemade Recipes Made Easy Now available on Amazon »
THANK YOU in advance for your support!