In this Italian Sausage, Kale and Blistered Tomato Fettuccine is almost a one skillet pasta dish that's easy and SUPER flavorful! Serve with garlic bread!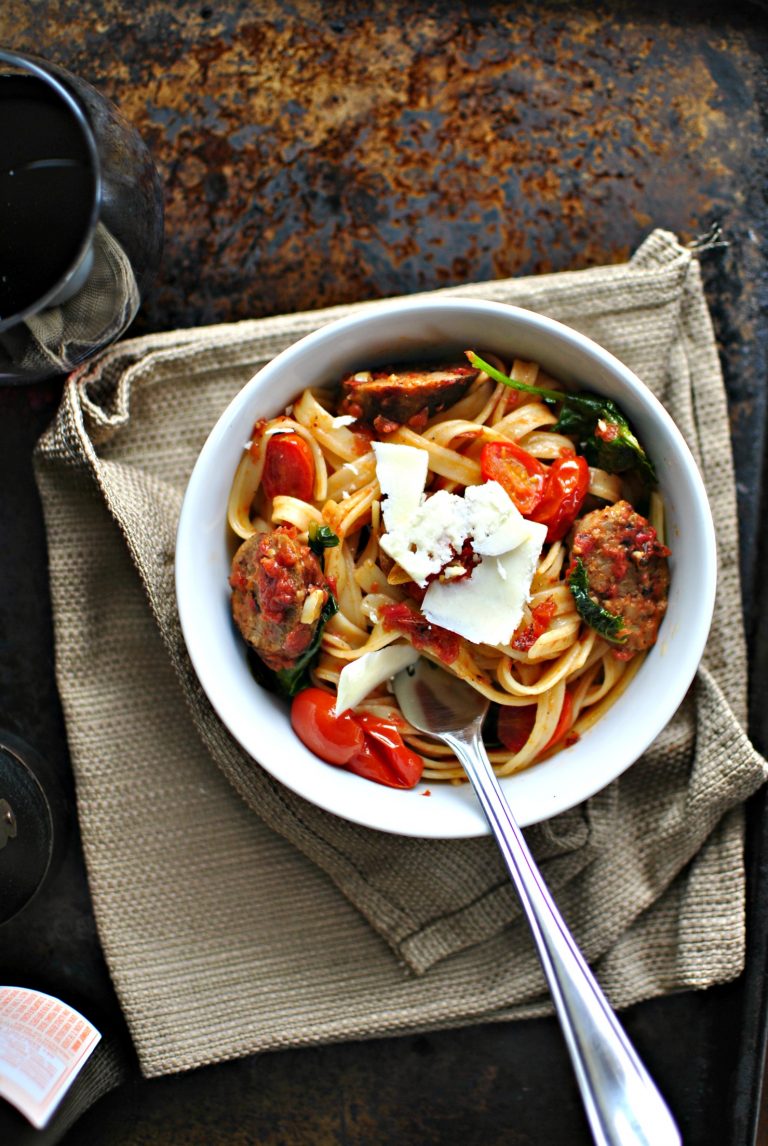 If you haven't noticed, I've been digging the skillet lately. It has been my wing-man many evenings when I wanted to make a deliciously easy meal.
There's been sautéing, searing and so much wilting going on it's not even funny. I especially love that most of these dinners can be called a "one skillet meal". Personally, when I see "One Skillet" or "One Pot" in a recipe title, I'm completely sold on it. This recipe almost falls under that category, except you'll need a pot to boil the fettuccine noodles… other than that, this is so a one skillet dinner.
Sort of.
To Make This Blistered Tomato Fettuccine You Will Need:
8 ounces of dried fettuccine noodles
1/2 tablespoon of sea salt
grape tomatoes
olive oil
mild Italian sausage links
red pepper flakes
garlic
diced or crushed fire-roasted tomatoes
kosher salt
black pepper
baby kale or baby spinach
romano or parmesan cheese shavings, for serving
For this recipe you'll need three to four Italian Sausage links. I prefer the medium or even the hot ones as opposed to the sweet Italian sausages, but you use what you like orrrr don't use any at all because this can easily be converted to a vegetarian dish as well. Speaking of veggies; the funniest thing happened, (okay not really) when I was reaching for the baby spinach, this package of baby kale caught my eye. So I thought I'd give that a whirl instead… and guess what? At dinner, nobody even noticed it wasn't spinach.
Score! Family introduction to kale is a success!
Cover and bring a large pot of salted water to a boil.
Meanwhile rinse off your grape tomatoes. You won't be using the entire container. But having them washed means you can pop them into your mouth as you walk in and out of the kitchen throughout the day, which for me is approximately 167 times.
Slice them in half until you get about a cup.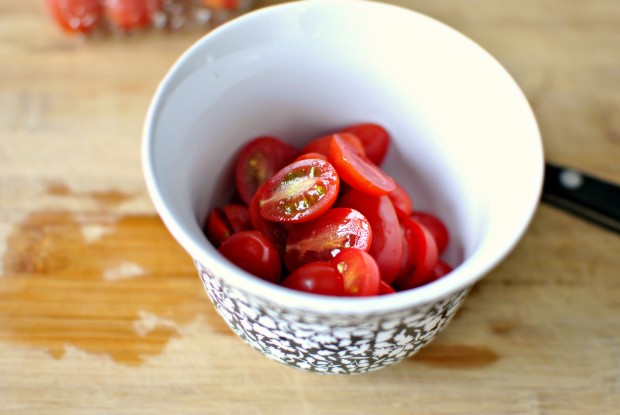 Set them off to the side for just a moment.
Peel and slice 4 to 5 cloves of garlic, depending on their size. And yes, I literally peeled each one by hand. I desperately need one of those thingies you roll the garlic in and magically the peel just comes off. Because, by the third clove it stops being fun and starts to become annoying.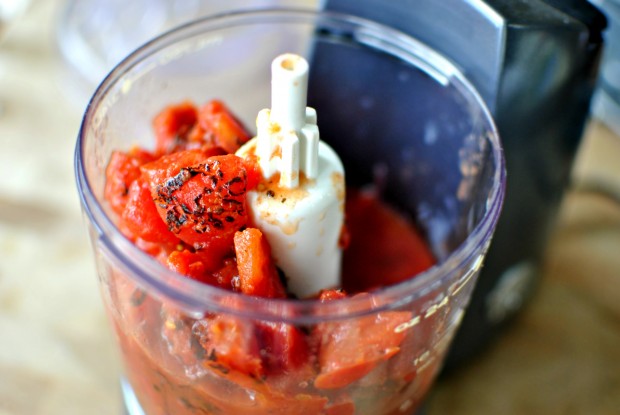 Throw 1 (15 ounce) can of fire roasted tomatoes and any juices into a mini food processor (or a large one, if that's what you have).
Pulse until slightly smooth yet slightly chunky and resembles crushed tomatoes.
Nowadays you can purchase crushed fire roasted tomatoes and can most likely skip this step altogether.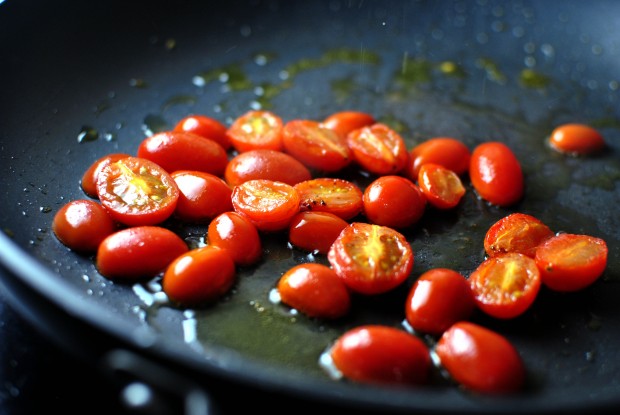 Now that prep is out of the way, heat a large 10 inch skillet over medium high heat. Add 1 tablespoon of olive oil and once hot, throw in the tomato halves. Let those chill for two minutes to blister before flipping and cooking for another two to three minutes. And thanks to a few gazillion games of Cooking Mama, I can do the pan-flip-thing like a professional. Boom.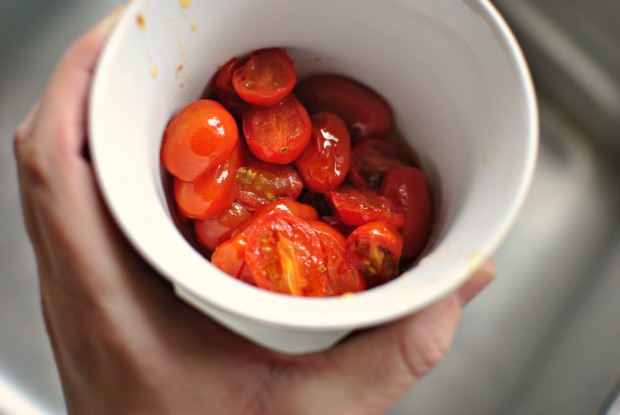 With a slotted spoon, scoop out the blistered tomatoes and place them into a bowl or on a plate for later.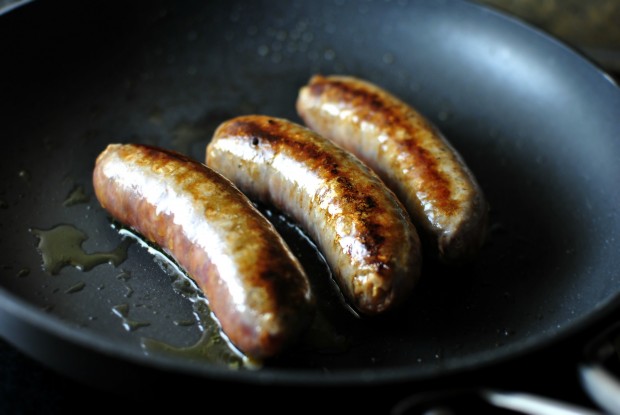 Add a splash more of olive oil and over medium heat sear 3 to 4 Italian sausages on all sides.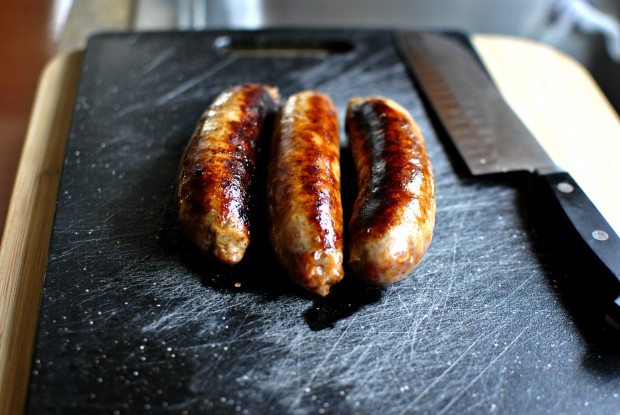 Next just remove them to a cutting board and let them cool for a few.
You don't want to burn your pretty fingers while slicing them do you? Ps. I totally understand that the center of that raw sausage on the left is majorly grody, but don't fret… we'll be putting these back in the pan to finish cooking a little later.
Meanwhile by now your big pot of water should be boiling. To it, add in a palmful of sea salt and the 8 ounces of dried fettuccine pasta. Cook as the package suggests, for mine it was about 8-10 minutes.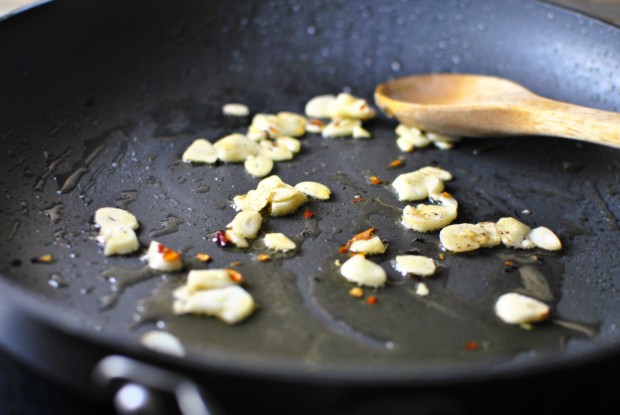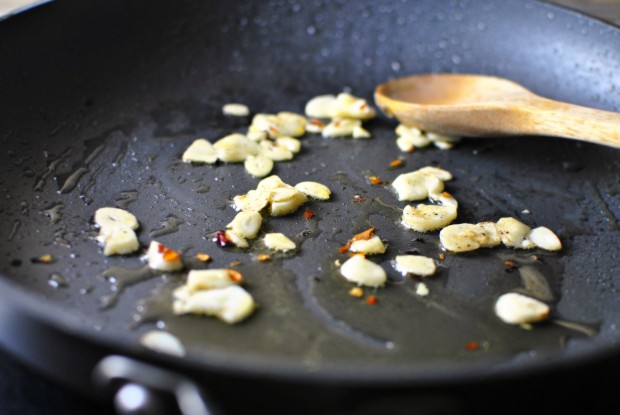 Back to the pan with the flavorful sausage fat, throw in the sliced garlic and a couple pinches of red pepper flakes. Sauté until the garlic starts to soften and is extremely fragrant.
Pour in the pureed fire roasted tomatoes.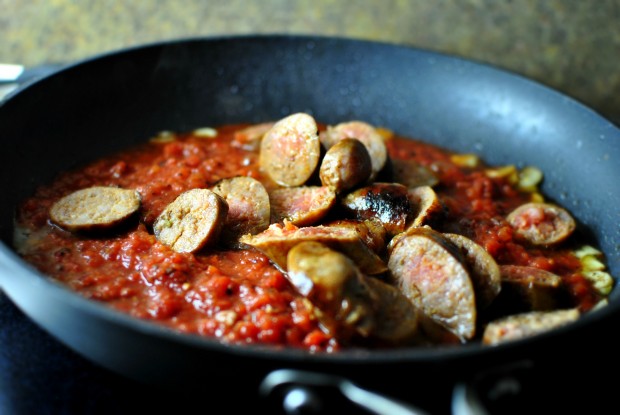 Add the sliced Italian Sausage back in and cook for 10 or so minutes until the sauce has thickened and the sausage is cooked.
Drain the pasta when the time is up. It's always a good idea to save some pasta water whenever you're making a pasta dish like this. It will help loosen the sauce up a bit if need be.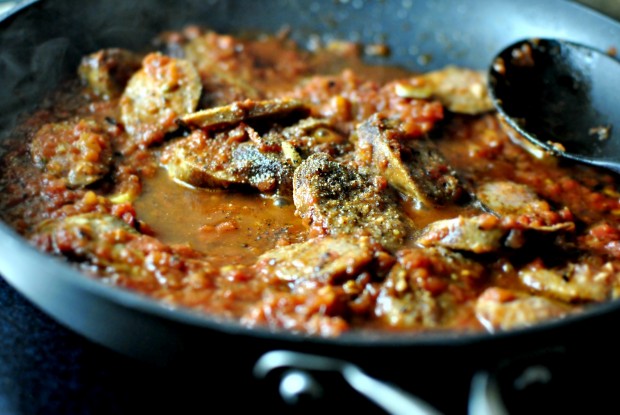 Season it all with kosher salt and ground black pepper.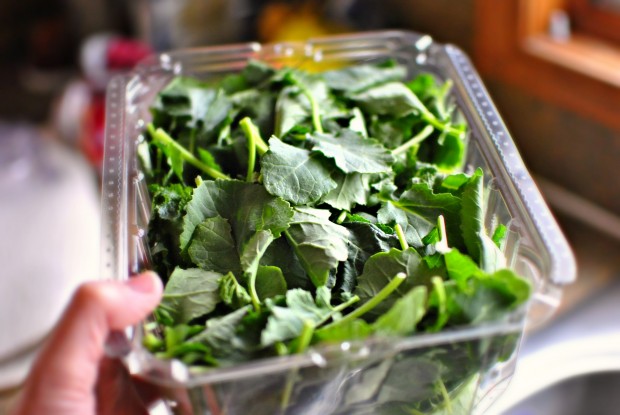 Grab the baby kale.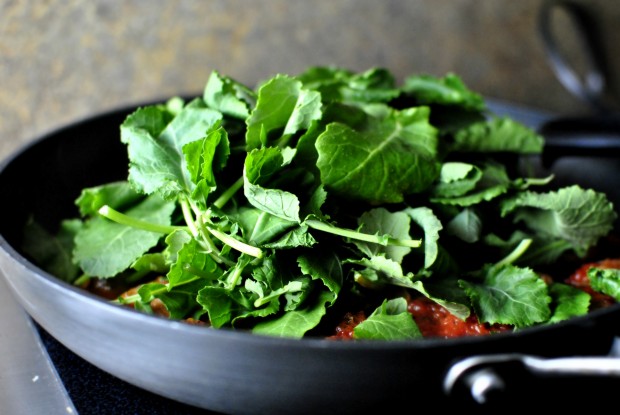 Add about three to four handfuls and pile it on top of the sauce.
Add the cooked and drained pasta over that…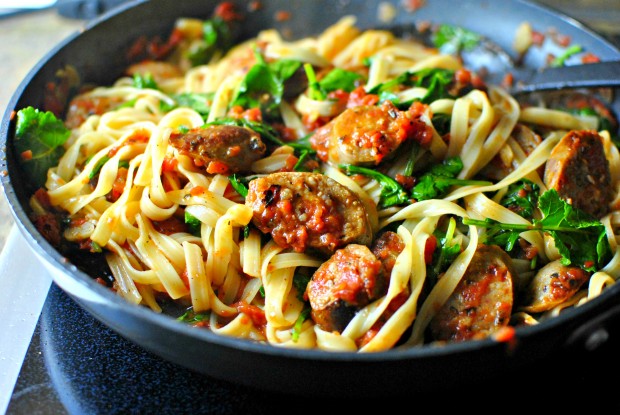 Stir and toss until the baby kale is slightly wilted. If the pasta gets a little dry, just add a little of the pasta water to liven it up.
Lastly, but definitely not least-ly, add the blistered tomatoes back into the pan. Now grab some bowls because you're ready to start dishing it out.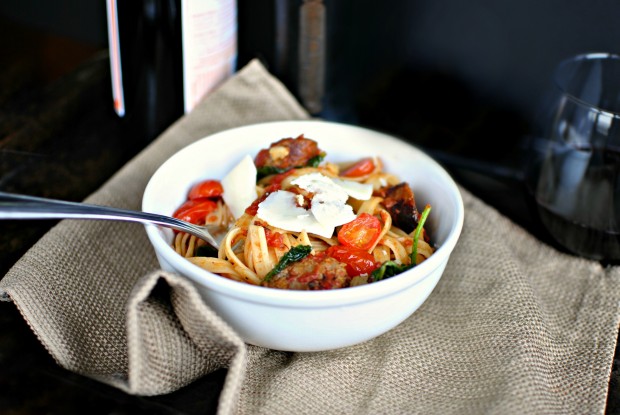 I use my vegetable peeler to peel and hellacious amount of cheese over my bowl of blistered tomato fettuccine. Shavings of Romano or Parmesan will do.
I should also note that I like to enjoy my bowl of pasta with a glass of red wine. Pat would say beer, my oldest would say milk and my youngest would say grape pop, now that's just plain gross.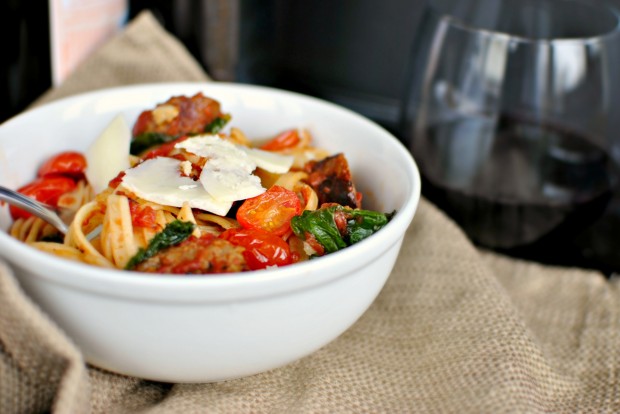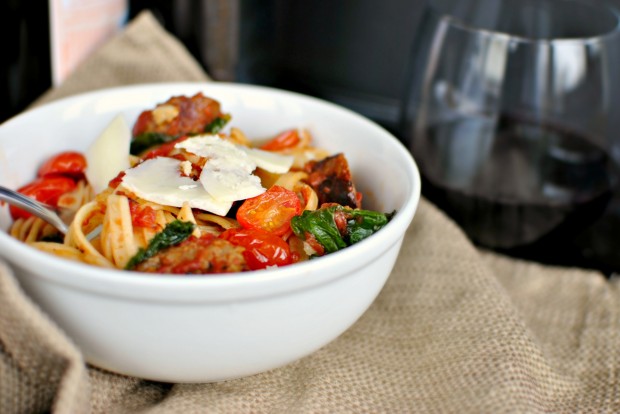 This bowl of Italian Sausage, Kale and Blistered Tomato Fettuccine is simple and rustic pasta dish.
It's filled with so much flavor you won't know what hit you. Like we're talking a Mack truck situation. The sausage gives it its rustic flavor while the blistered tomatoes add a much needed pop of sweetness. And the cheese… well it just makes me all happy on the inside.
Enjoy! And if you give this Blistered Tomato Fettuccine recipe a try, let me know! Snap a photo and tag me on twitter or instagram!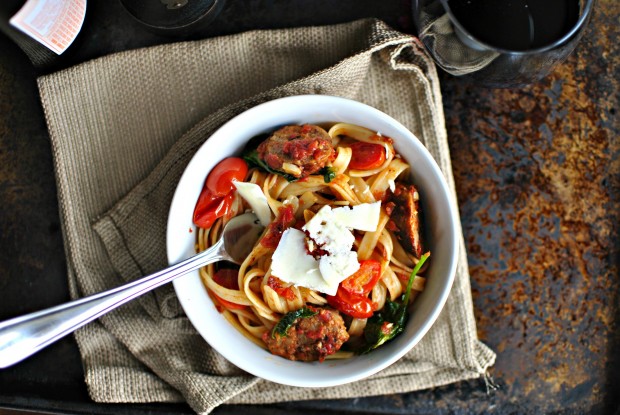 Yield: 4 servings
Italian Sausage, Kale and Blistered Tomato Fettuccine
An almost one skillet pasta dish filled with flavorful Italian sausage, sweet blistered tomatoes and kale.
Ingredients
8 ounces fettuccine noodles
1/2 tablespoon sea salt
1 cup halved grape tomatoes
2 tablespoons olive oil
3 to 4 Italian sausage links, hot or mild
2 pinches red pepper flakes
4 to 5 cloves garlic, peeled and sliced
1 (15 ounce) can diced fire-roasted tomatoes
3/4 teaspoon kosher salt, more or less to taste
1/4 teaspoon freshly ground black pepper, more or less to taste
3 to 4 handfuls baby kale, or baby spinach
1/4 cup parmesan cheese shavings, for serving
Instructions
Bring a large pot of water to boil.

Meanwhile, pulse the can of fire roasted diced tomatoes and its juices in a food processor.

In a large 10 inch skillet add a tablespoon of olive oil, once hot add in the halved grape tomatoes and cook for two minutes. Flip and continue to cook for 2-3 more minutes until blistered and slightly caramelized. Remove to a small plate or bowl and set off to the side.

In the same skillet add another splash of olive oil and sear the Italian Sausage on all sides. Remove and let cool a bit before slicing.

Reduce the heat to medium and add the sliced garlic and a couple pinches of red pepper flakes to the pan and sauté until the garlic is soft and fragrant. Add the pulsed tomatoes and the sliced Italian sausages and cook for 10-15 minutes until the sauce thickens and the sausages are cooked through.

At this time, season the boiling water with a half tablespoon of sea salt and then drop in the 8 ounces of fettuccine noodles, cook as the package directs. Drain the pasta, reserving a cup of pasta water.

Season with tomato sauce with kosher salt and black pepper, add the handfuls of kale and top that with the drained pasta noodles. Toss until the kale is slightly wilted.

Add the blistered tomatoes to the skillet and toss gently.

Serve with shavings of Romano cheese.
Serving: 1g, Calories: 643kcal, Carbohydrates: 51g, Protein: 25g, Fat: 38g, Saturated Fat: 12g, Polyunsaturated Fat: 5g, Monounsaturated Fat: 18g, Trans Fat: 1g, Cholesterol: 116mg, Sodium: 2211mg, Potassium: 581mg, Fiber: 3g, Sugar: 5g, Vitamin A: 3308IU, Vitamin C: 39mg, Calcium: 189mg, Iron: 3mg
This post may contain affiliate links.
Buy the Cookbook: Simply Scratch : 120 Wholesome Homemade Recipes Made Easy Now available on Amazon »
THANK YOU in advance for your support!