This homemade salsa is restaurant quality and so easy to make in your own kitchen. With classic ingredients like tomatoes, onion, jalapeño and cilantro – there's SO much flavor!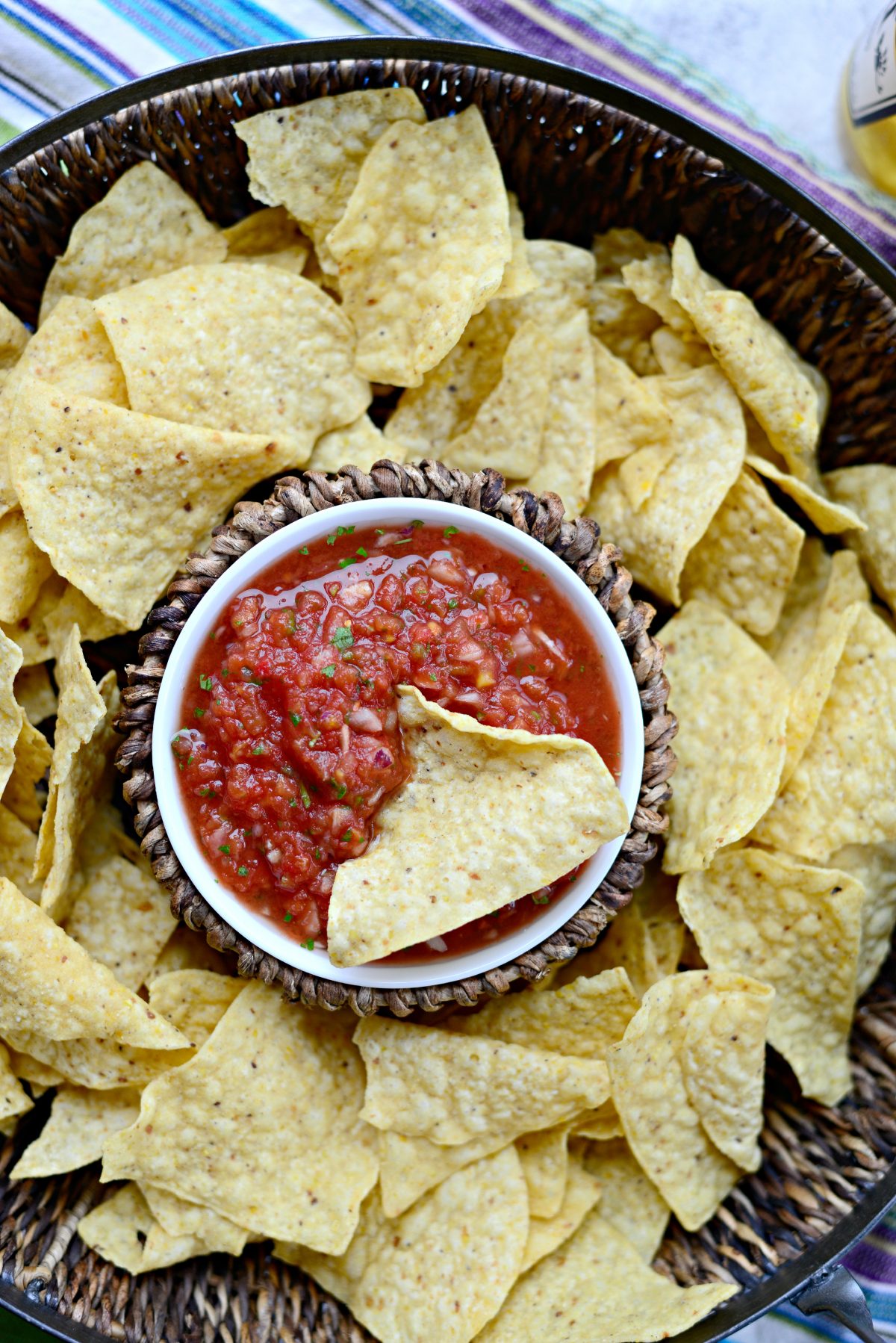 So it's January in Michigan. What can I say? It's my least favorite month of the year. The holidays are over, there is little sunshine, not to mention it's cold and snowy outside which makes me want to curl up on the couch with a box of Oreos and watch dvr'd Lifetime movies. I needed a quick summer fix to make me feel better.
It was either Oreos or the Lifetime movies, so I nixed the cookies, which was a lot harder than you might think, and so I thought about making some baked lime tortilla chips and salsa instead. This is my favorite homemade salsa in the entire world! It's been way too long since the last time I made it and now it was stuck in my head and I was craving salsa in a bad way. Well, that and watching some Nora Roberts books-made-for-TV movies. You know the ones.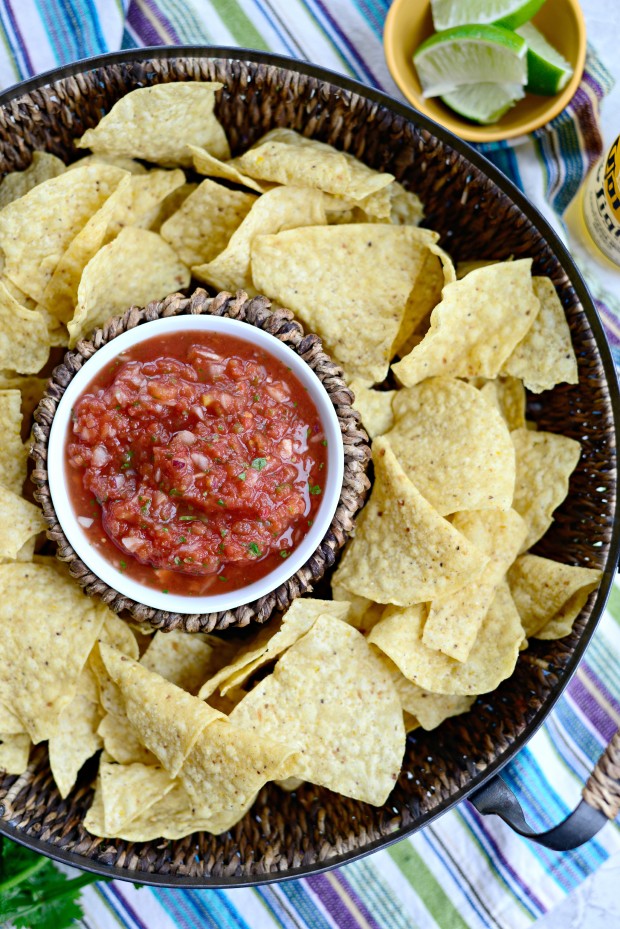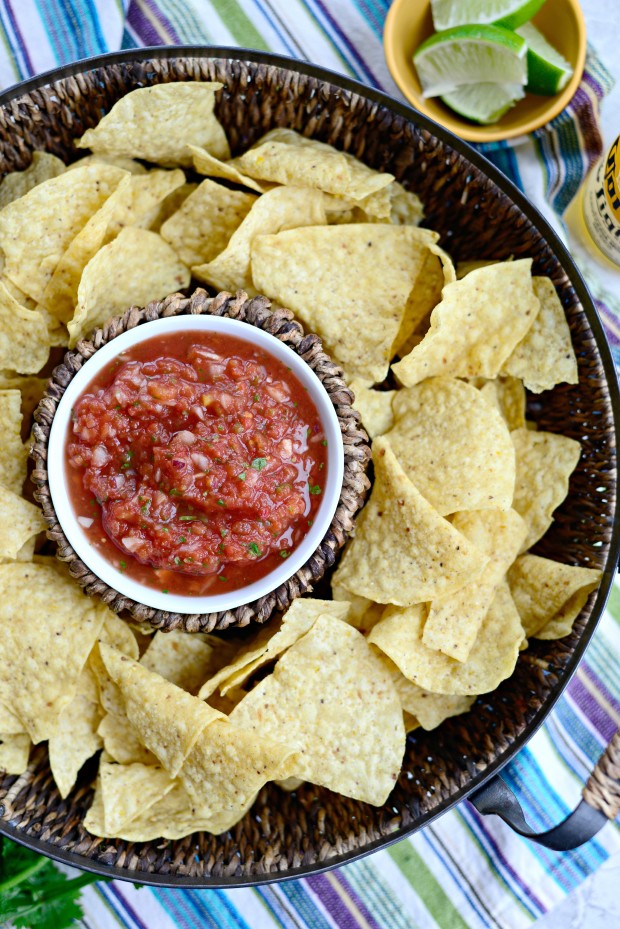 I have to admit I'm sort of a snob when it comes right down to it because I only like fresh salsa. Some of you may not notice or even care even that there is difference, but to me there's as obvious difference. To me, the jarred kind tastes like an overly chunk-defied pasta sauce *ack*. The only way I can control how thin or thick I want it is by making it myself and I prefer it fresh with small pieces. Honestly salsa isn't hard to throw together and it makes a lot so it really is cost effective!
You just need a food processor.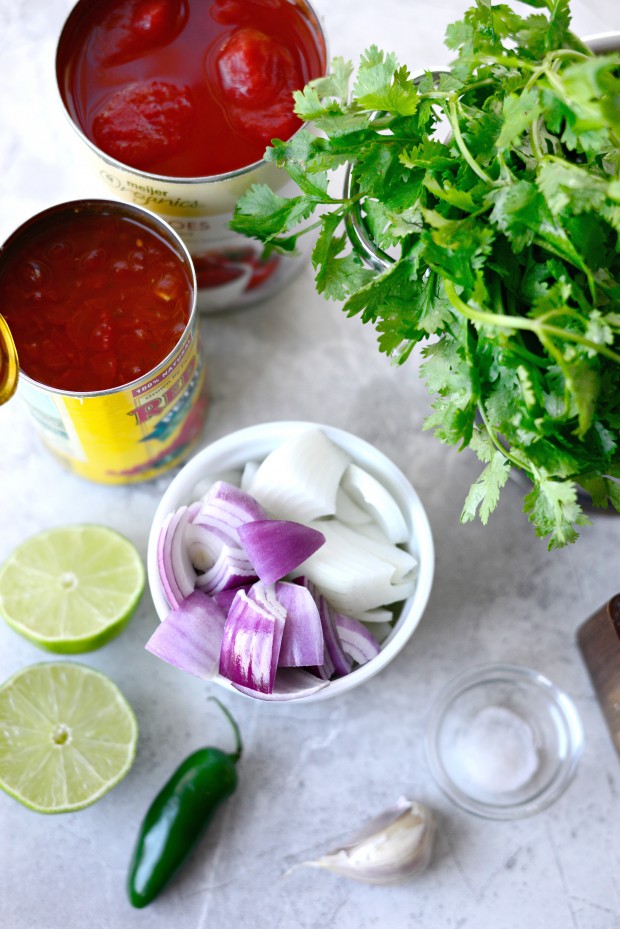 To Make this Homemade Salsa You Will Need:
white onion
red onion
jalapeños
garlic
whole peeled (canned) tomatoes
kosher salt
sugar
cilantro
lime (juice)
diced tomatoes with green chiles (can)
This is as simple as it gets here folks! I know you're eyeing those cans of tomatoes but honestly unless you want pico, then canned whole peeled tomatoes are what.
If you can or jar your own whole peeled tomatoes then you are the bomb and will you ship me some?
But if you're looking for a salsa calling for fresh tomatoes, try my Roasted Tomato Salsa. Yumsville.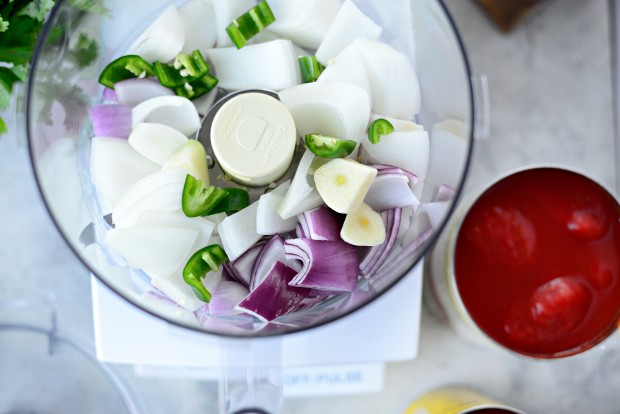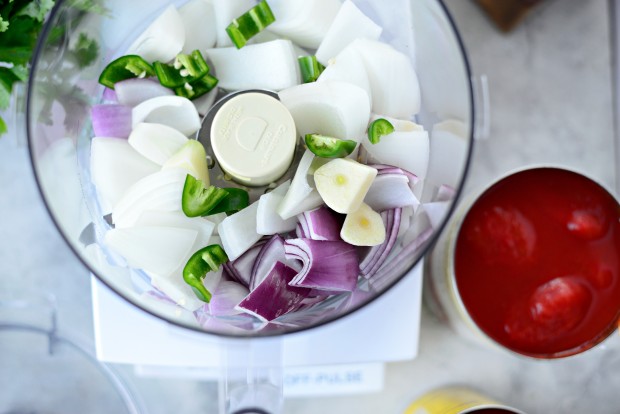 Into a food processor fitted with the blade attachment; add 1/2 of both a coarsely chopped red and white onion, 1 large coarsely chopped garlic clove and 1 to 2 jalapeños, depending on the level of spice you desire. I'm a 1 medium jalapeño girl, I keep half a jalapeño with seeds and ribs intact and remove them from the other half. To me it's the perfect amount of heat. My husband thinks it could be hotter.😒
My husband is a 2 jalapeno kind of guy, all ribs and seeds go in. He always threatens me to add a whole habanero pepper until I threaten him that I will touch his eyes with my jalapeño fingers, which reminds me…
always, aLwAyS, ALWAYS wash your hands after handling a spicy pepper because it could cause great bodily harm to your eyes and skin.
Trust me on this. It could save a life.
If you don't want it crazy spicy then remove the seeds and the white membrane aka: "the ribs" of the jalapeno and discard.
Next, add one large can of whole peeled tomatoes, starting with the juice and then with the tomatoes. I found that this method helped me from ending up with tomato juice speckled clothes which then saved me all from having to pre-treat the white shirt I wore while making salsa.
Which reminds me, never wear a white shirt when cooking with tomato products.
Season with the 1/2 teaspoon kosher salt and 1/4 teaspoon sugar.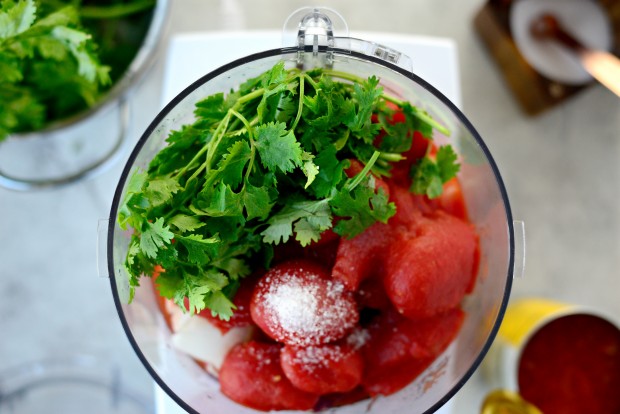 Now add in a generous handful of fresh cilantro.
And squeeze in the juice of half a nice and juicy lime.
Grab the lime.
How TO Pick The best lime at the store:
My sister once told me: when you're at the store, squeeze the lime (or lemon for that matter) and if it is soft -not mushy- then it should yield a good amount of juice. If you squeeze it and it's hard as a rock, just put it back on the produce shelf and keep searching.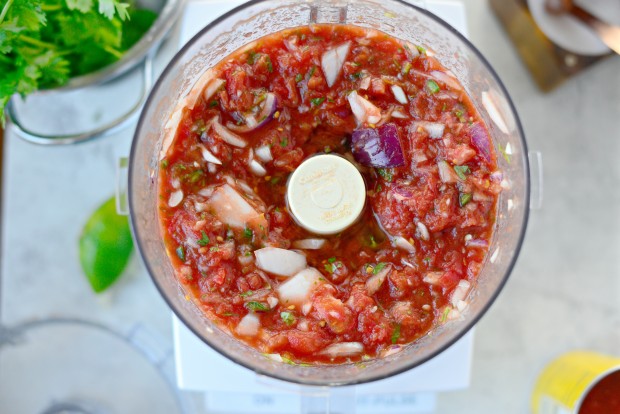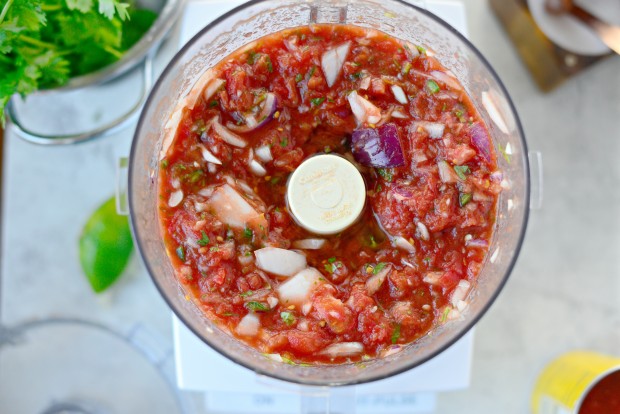 Give it a couple of pulses until the onions aren't in chunks yet everything is still pretty chunky.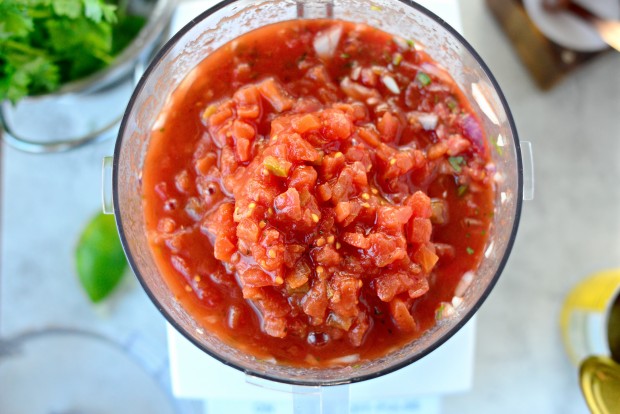 Repeat the technique as directed above when adding the diced tomatoes and green chilies. These can come in three different heat preferences to pick from mild, medium and hot. I like mine hot, but my girls prefer the medium or mild.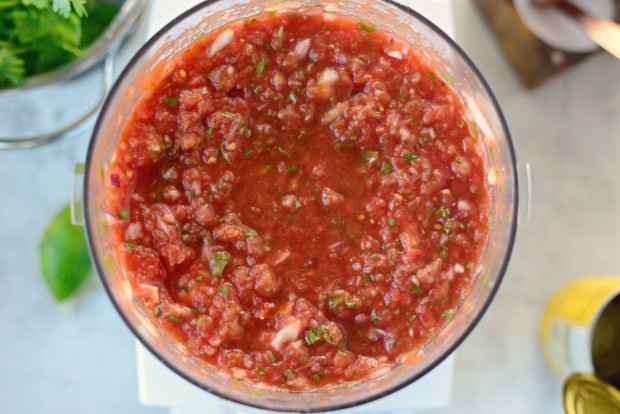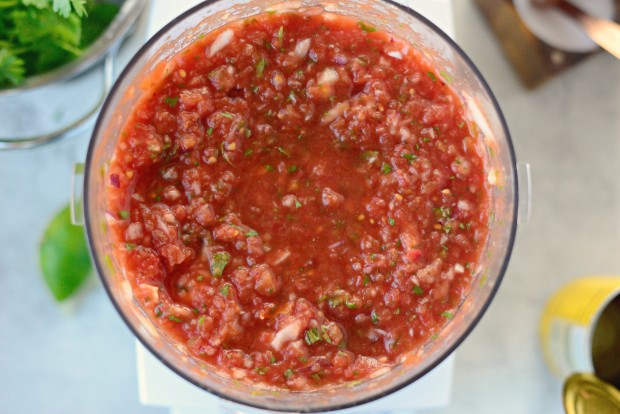 It only takes one to two pulses to get the perfect (in my opinion) homemade salsa texture. Not too runny and not too thick or chunky. Now you can either eat right on the spot or place it in the fridge until you're ready to serve.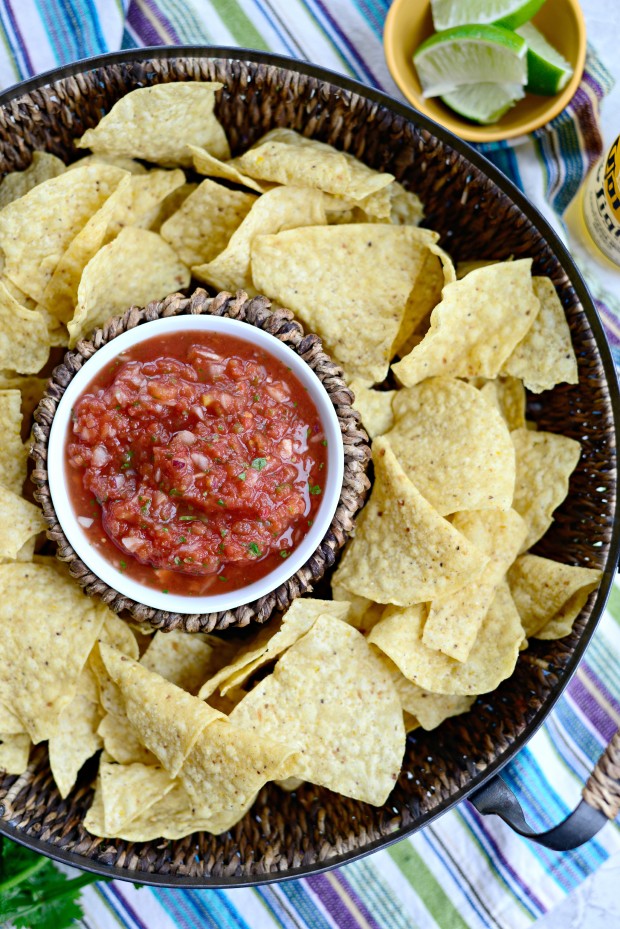 And there you have zee best homemade salsa ever!
Before you know it, you'll be making your very own Baked Lime Tortilla Chips!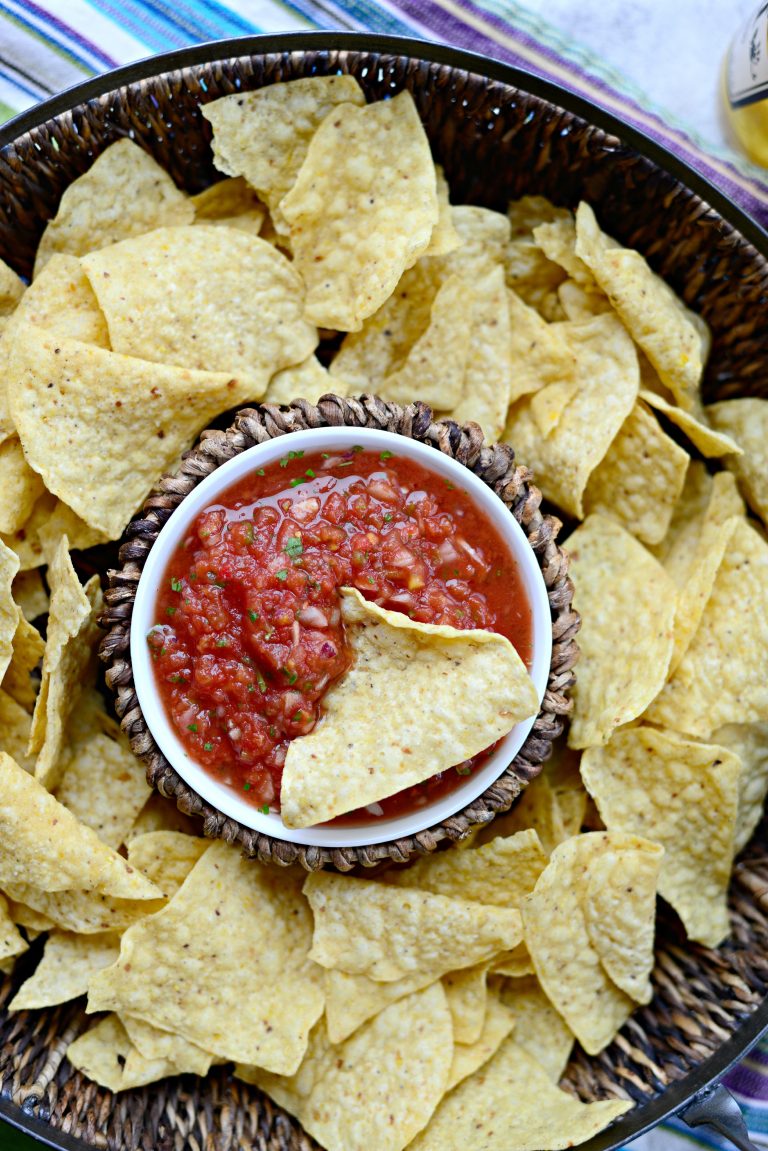 Enjoy! And if you give this Homemade Salsa recipe a try, let me know! Snap a photo and tag me on twitter or instagram!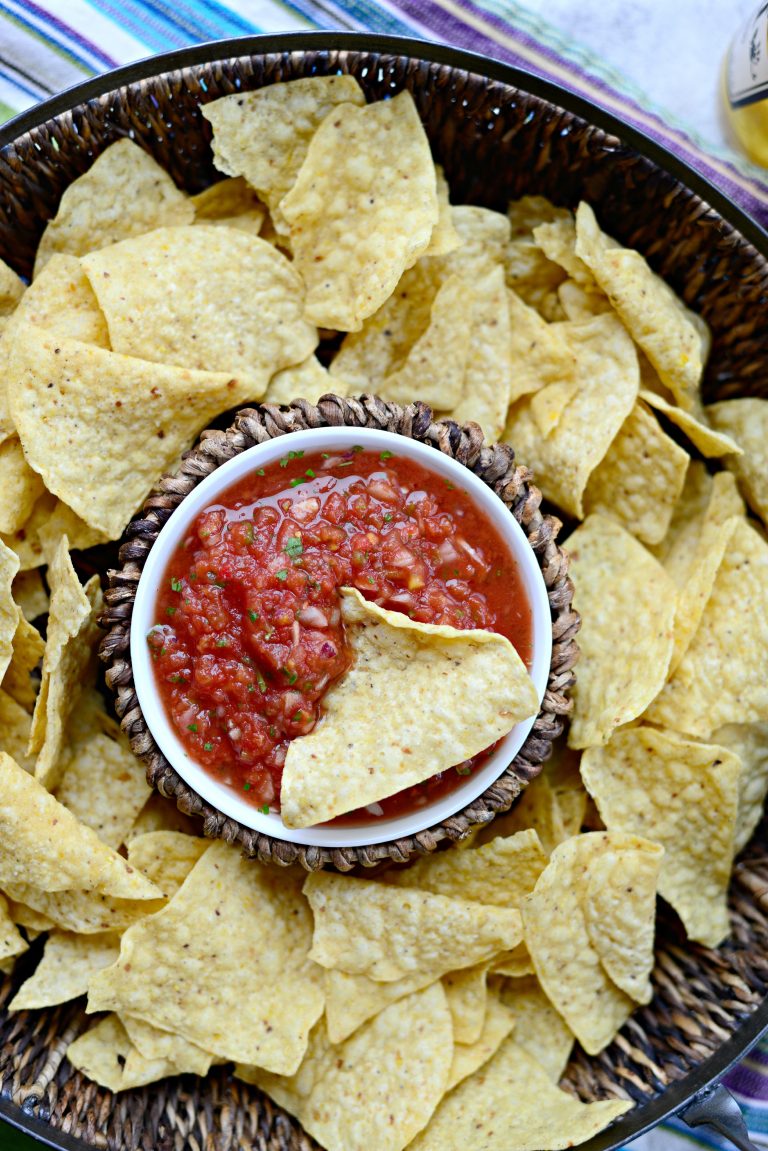 Yield: 24 servings
Homemade Salsa
This homemade salsa is restaurant quality and so easy to make at home! With classic ingredients like tomatoes, onion, jalapeño and cilantro. So much flavor!
Ingredients
1/2 medium white onion, coarsely chopped
1/2 medium red onion, coarsely chopped
1 to 2 jalapeños, chopped (seeds and ribs removed for less heat)
1 clove garlic, smashed and roughly chopped
1 (28 ounce) can whole peeled tomatoes
1/2 teaspoon kosher salt, plus more to taste
1/4 teaspoon sugar
1 handful cilantro leaves
1/2 lime, juice
1 (14.5 ounce) can diced tomatoes with green chilies
Instructions
Add the chopped onion, jalapeno and garlic to a food processor.

Next add the can of whole peeled tomatoes including their juices, cilantro, sugar and salt and the juice of half a lime. Pulse until quite a bit chunky.

Add diced tomatoes with green chilies. Give a few more pulses until desired consistency. Check the salsa and add more salt if desired.

Serve immediately or transfer to a container with a tight fitting lid and refrigerate until ready to serve.
Notes
I prefer my salsa at room temperature so I pull my salsa out of the fridge 30 to 40 minutes prior to serving.
Calories: 3kcal, Carbohydrates: 1g, Protein: 1g, Fat: 1g, Saturated Fat: 1g, Polyunsaturated Fat: 1g, Monounsaturated Fat: 1g, Sodium: 49mg, Potassium: 11mg, Fiber: 1g, Sugar: 1g, Vitamin A: 18IU, Vitamin C: 2mg, Calcium: 2mg, Iron: 1mg
This post may contain affiliate links.
Buy the Cookbook: Simply Scratch : 120 Wholesome Homemade Recipes Made Easy Now available on Amazon »
THANK YOU in advance for your support!