In this Tomatillo Avocado Salsa, avocado and tomatillos are blended with garlic, jalapeno, cilantro and lime juice for a delicious and addicting salsa.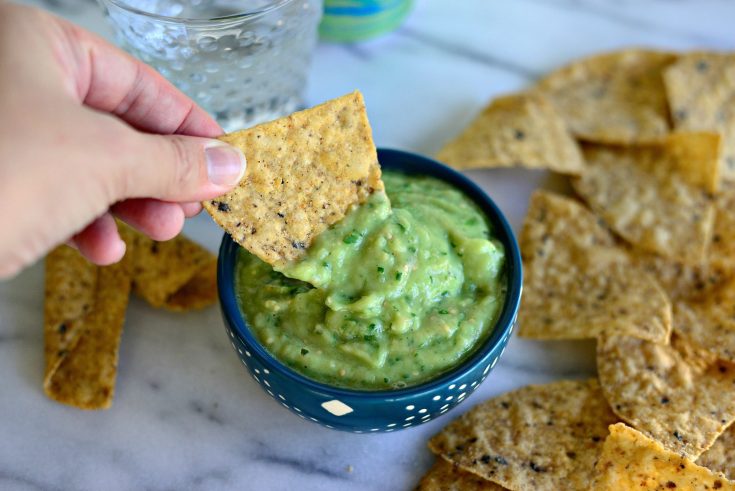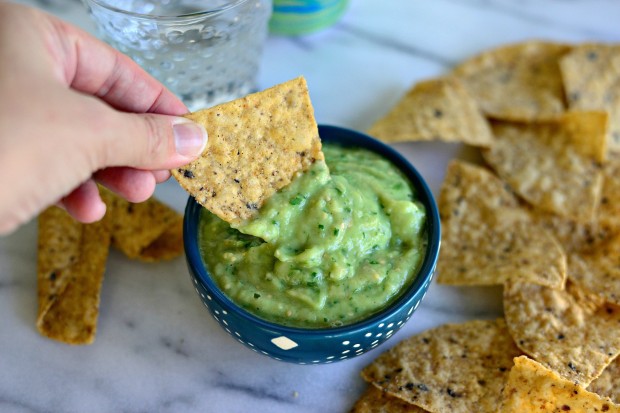 I've found a new addiction, obsession errr snack. Right now it looks like a bowl of green and in all actuality, that's EXACTLY what it is. See below picture.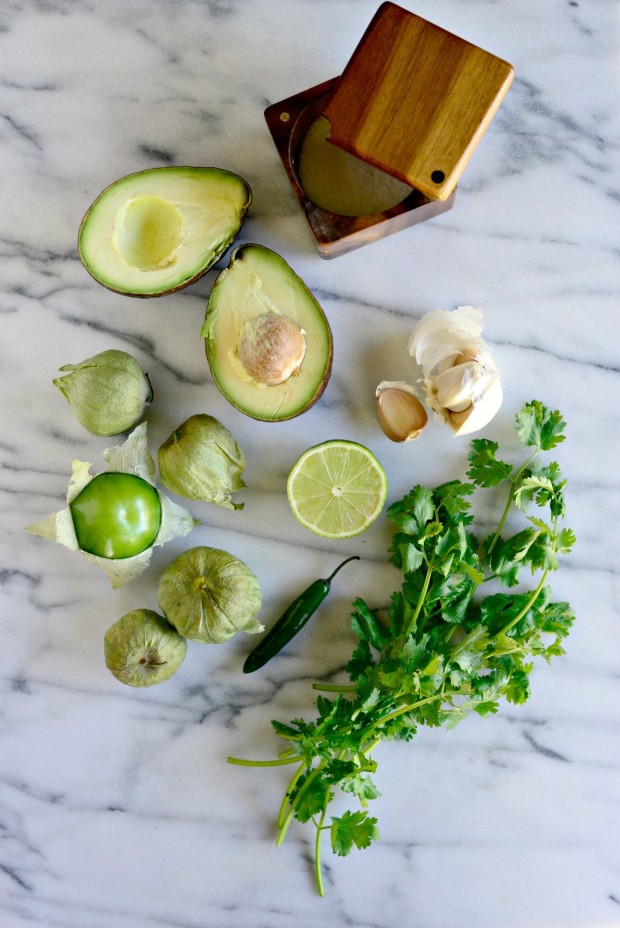 Every ingredient is green! Until recently, I never knew this tomatillo avocado salsa existed. NEVER. Not until last weekend. I mean sure I've heard of tomatillo salsa, but this is something totally different.
Pat and I along with our good friends Mike and Heidi went to a little Mexican restaurant before heading to Oktoberfest. Two cultures, one night. When our chips came out so did three bottles of different house-made salsas. One regular, one fire roasted and this green little number. Heidi said it's her favorite so naturally I tried it. Ohhhh deeeeearrrrr meeeee! It was smooth, creamy and with a subtle kick of spiciness. I was in love. SO in love I woke up Monday morning and jotted down a quick grocery list: Tomatillos, avocados, Serrano and fresh cilantro.
This salsa was going to be my lunch.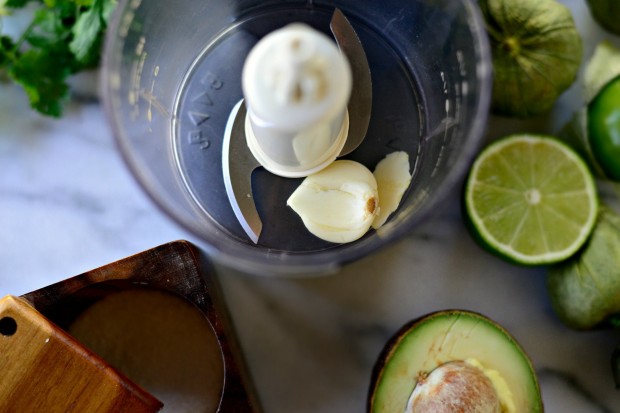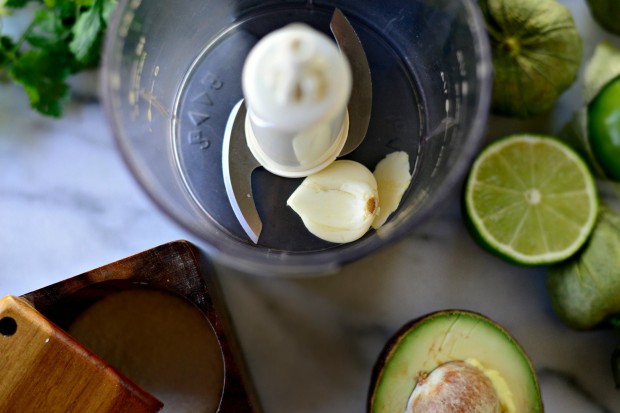 Pop a peeled garlic clove into a mini food processor or blender.
Once you peel off the outer husk you'll find they're a little sticky (kind of grosses me out a tad) so give them a wash. Then roughly dice up 8 ounces of tomatillos or six medium size.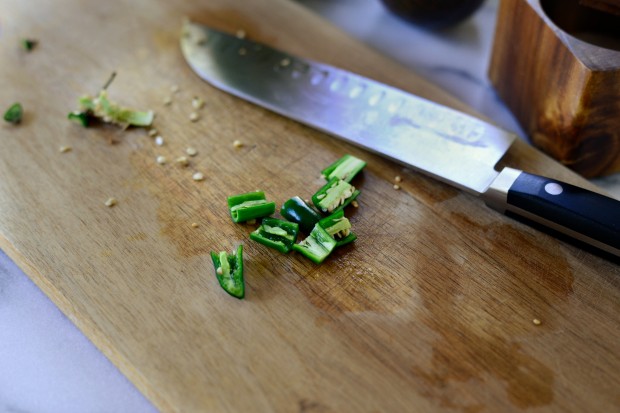 Remove the stem and chop up the chile. Next time I'm leaving in all the seeds for more kick, but you can remove all of them for less heat.
Throw the tomatillos and the chile pepper into the food processor…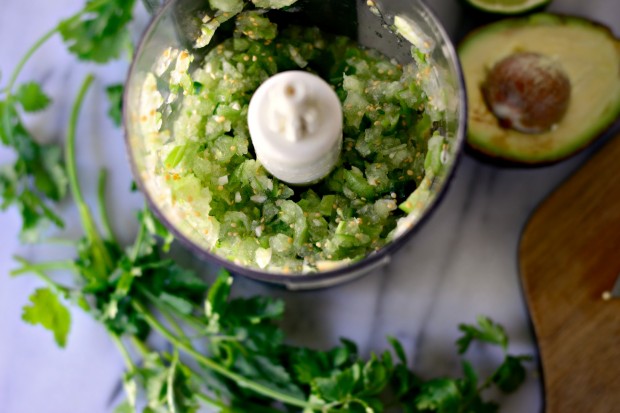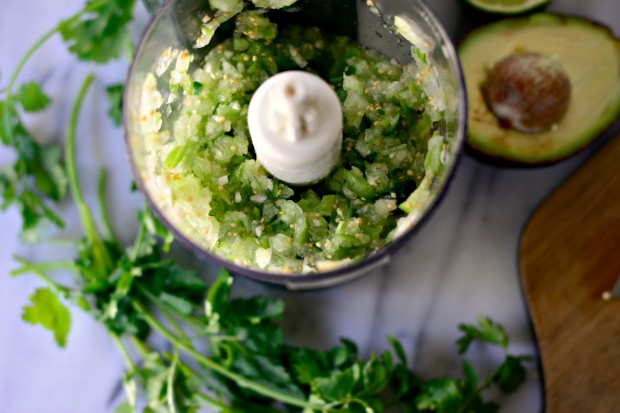 Secure the lid and blitz until coarsely chopped. This only makes more room for the avocado.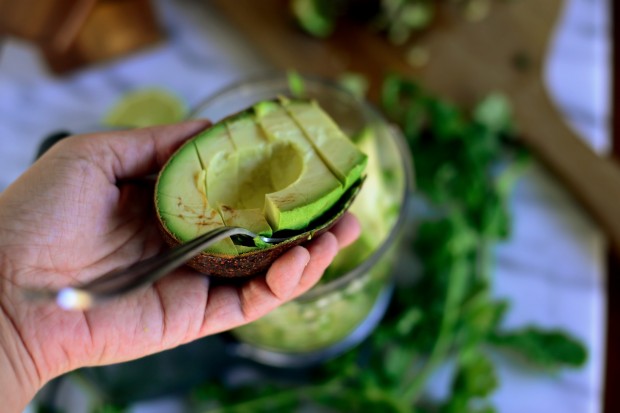 Slice and scoop out the flesh of one large ripe avocado.
How To Get Ripe Avocados To LAST:
The trick to storing ripe avocados so they last is a no-brainer, it's easy and effective and has saved me SO much money. First buy hard to the touch, bright green avocados and allow them to ripen on the counter. Once they are black, soft to the touch (NOT squishy) pop them into the fridge. Because here is where they will last for quite a few days! You guys this has changed my life and I owe this trick to my sisters. No more wasted avocados!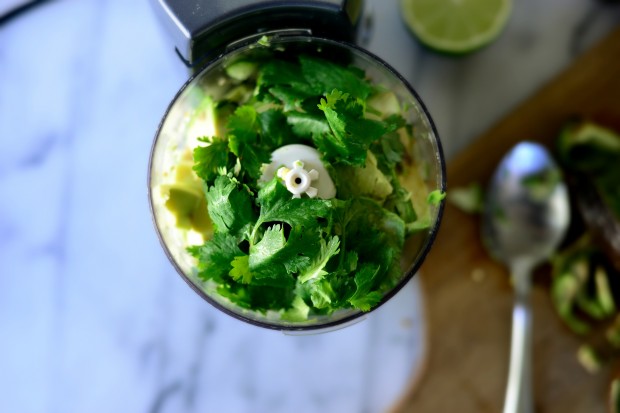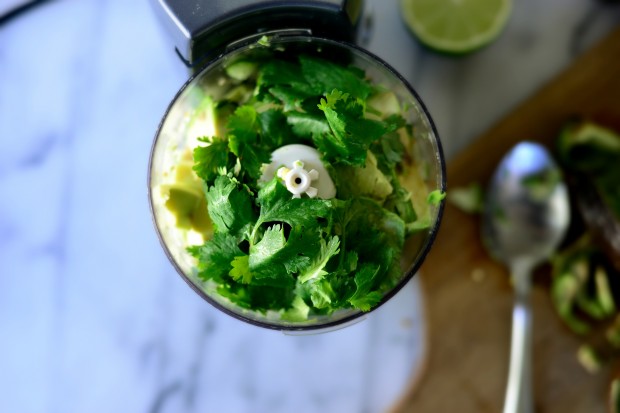 Add in about a quarter cup of fresh cilantro leaves.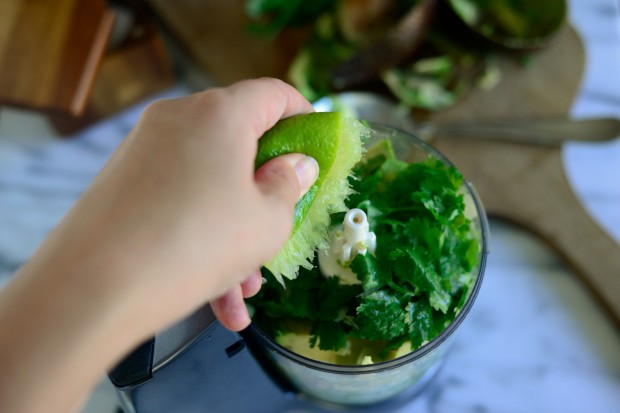 Then squeeze in the juice of 1/4 to half of a lime, depending on how lime-y you like it. Secure the lid once more and blend until smooth yet slightly chunky.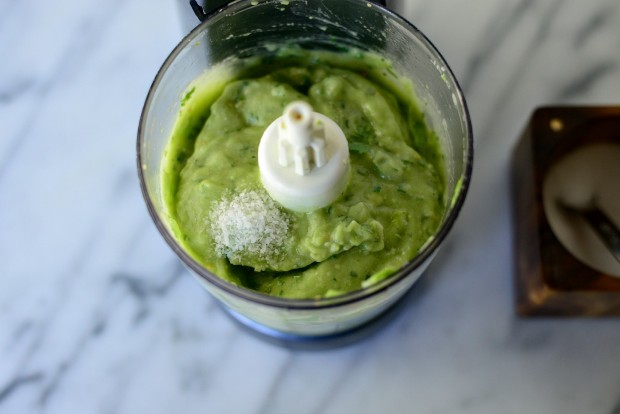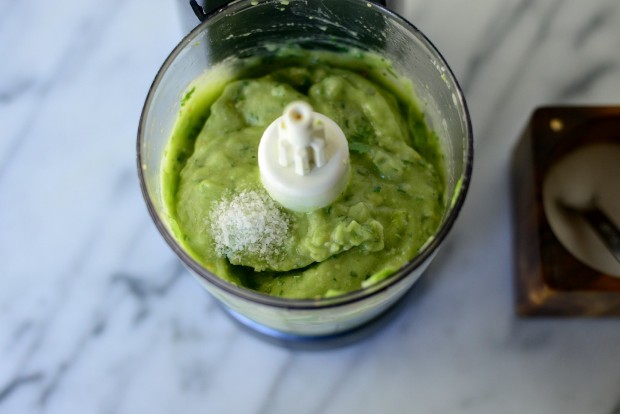 Next just scrape down all the bits on the side, season with 3/4 teaspoon of kosher salt and blend for a few more seconds.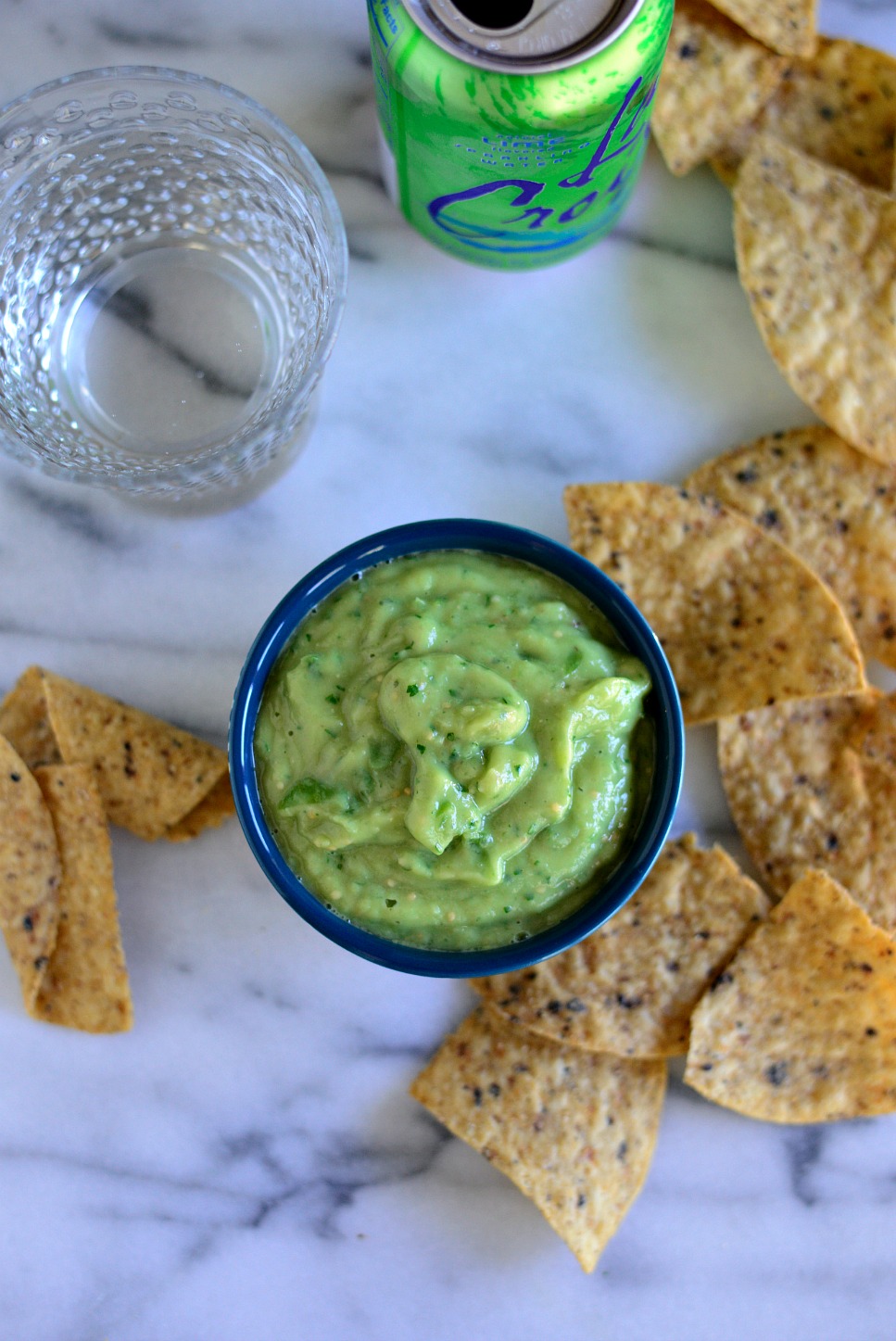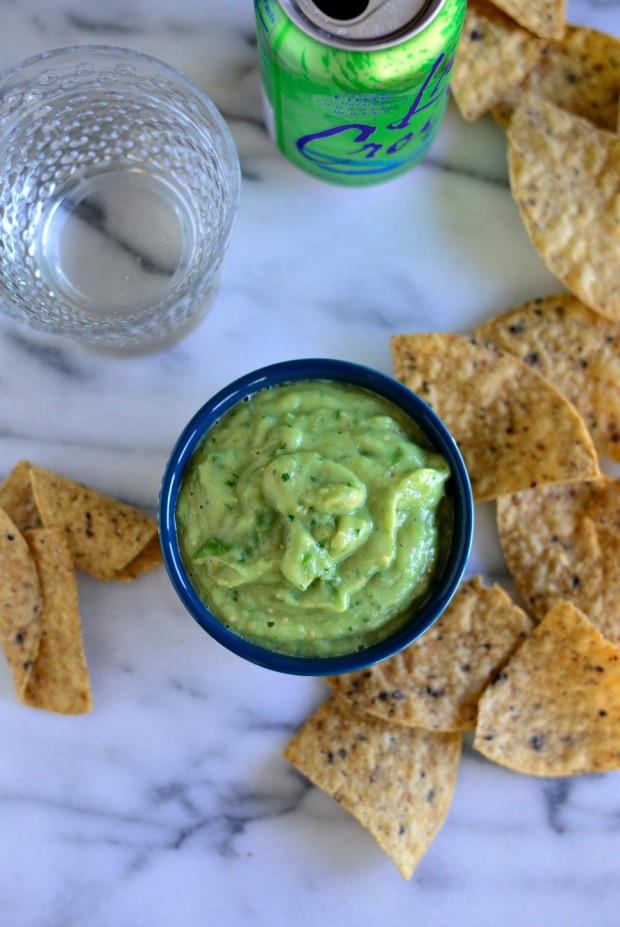 I did have this tomatillo avocado salsa for lunch. But then I made steak fajitas that same night and spooned it over top. It's pretty fantastical stuff and if you've ever wondered what the heck those green things are in the husk and what would you might use them for… this salsa is it!
But I'm also working on another recipe featuring these pups since I stuffed a produce bag with 2 pounds of them. When I get excited, I go overboard.
For more tomatillo recipes, click here.
Enjoy! And if you give this Tomatillo Avocado Salsa recipe a try, let me know! Snap a photo and tag me on twitter or instagram!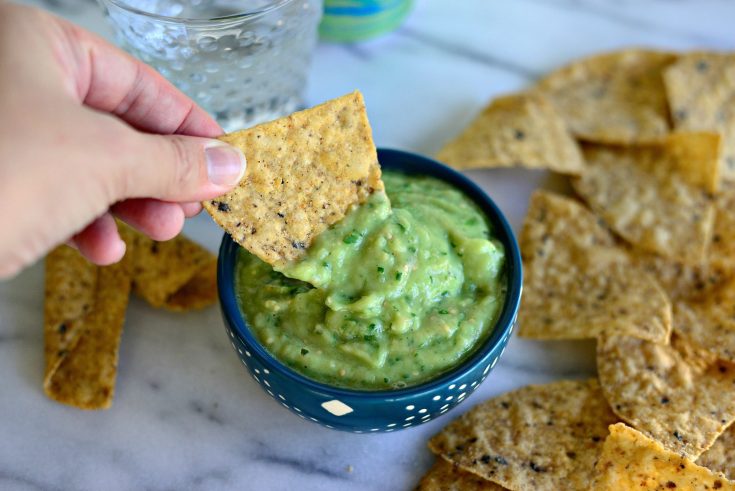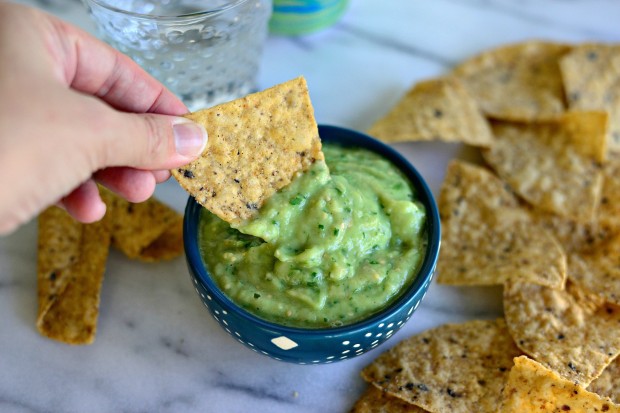 My cookbook Simply Scratch : 120 Wholesome Homemade Recipes Made Easy is now available! CLICK HERE for details and THANK YOU in advance!
Yield: 6 servings
Tomatillo Avocado Salsa
Avocado and tomatillos are blended with fresh garlic, jalapeño and fresh cilantro and lime juice for a creamy, a little spicy and SO super-de-duper delicious salsa. This recipes yields 1½ cups or 6 (1/4 cup) servings.
Ingredients
8 ounces fresh tomatillos, husked and washed (about 6 medium)
1 clove garlic, peeled
1 small jalapeño, or Serrano Chile ,chopped
1 large avocado
1/4 cup fresh cilantro leaves
1/2 lime, juiced
3/4 teaspoon kosher salt
Instructions
In the bowl of a mini food processor add peeled garlic, tomatillos and chile. Pulse until coarsely chopped.

Add in the avocado, cilantro and lime juice and pulse until mostly smooth with a little chunkiness to it. Season with salt and pulse to combine.

Chill until ready to serve.

Use as a dip for chips or drizzle over tacos and fajitas.
Calories: 69kcal, Carbohydrates: 6g, Protein: 1g, Fat: 5g, Saturated Fat: 1g, Polyunsaturated Fat: 1g, Monounsaturated Fat: 3g, Sodium: 294mg, Potassium: 281mg, Fiber: 3g, Sugar: 2g, Vitamin A: 165IU, Vitamin C: 13mg, Calcium: 10mg, Iron: 1mg
[this post contains affiliate links.]
This post may contain affiliate links.
Buy the Cookbook: Simply Scratch : 120 Wholesome Homemade Recipes Made Easy Now available on Amazon »
THANK YOU in advance for your support!