For these baked lime tortilla chips, brush corn tortillas with bacon fat, cut into fourths and brush lightly with a salty lime juice and bake until crispy!
I have a confession. This was the first time I ever made these chips before. I know, I know what a lame confession but… my soul feels better.
Now, have you ever been to a Chipotle Restaurant?? It has to be my favorite "fast food" (if you can even call it that) chain. I go at least once a week if I can help it! Not only do they have the best Chicken Burrito Bowls EVER, but they also have the best salted lime tortilla chips! And everything they use is all natural and organic. HOLLA!
Since I love their chips so much I wanted to try out making my very own. To go with my *plug* Homemade Salsa, naturally. So, I did some research via internet and found a lot of the recipes called for deep frying or brushing on vegetable oil. Well frying scares me (one day I'll get over it) and I don't cook or bake with the stuff so I opted for bacon fat.
Mmm mmmm! Good ol' bacon fat.
To Make These Baked Lime tortilla Chips You will Need:
corn tortillas
bacon fat or olive oil
lime
kosher salt
When I make bacon, which is usually once a week, I always save the fat. I save mine either in a jar or a bowl with a lid. Nine times out of ten when a recipe calls for vegetable oil I either substitute with olive oil or bacon fat, and sometimes even coconut oil. My mother recently introduced me to ghee and I'm looking into that as an option as well. But I think bacon fat helps the corn tortillas crisp up and that is exactly what we want in a chip. Can I get an AMEN?!
Preheat your oven to 350° and go get that lime onto a cutting board.
Cut it in half.
Juice the entire lime. It should yield about a 1/4 cup give or take. I just love limes; whether it's in a marinade, zested in a cake, or in my beer… I love it. Limes are probably my favorite citrus! …next to lemons… and clementines! Oh! And grapefruit, but too bad that gives me heart burn, however that may have resulted from eating a whole one in 5 minutes… but I don't know for sure.
Measure out two teaspoons of kosher salt. Table salt what's that stuff? That table salt should have retired a long time ago. Can I get another AMEN?!
Add the salt to a small bowl.
Pour in the freshly squeezed lime juice.
Set it aside for now.
Start off with white corn tortillas and NOT FLOUR. I haven't made these with yellow corn tortillas and I wonder if they would turn out the same. I think I will test out that theory and get back to you on it.
Armed with bacon fat and a pastry brush… the story of my life.
I get the brush coated with the bacon fat. Bacon fat usually is solidified… so I heated mine up so it was easier to brush on!
…and paint both sides generously. Don't skimp or they will stick to the sheet pan. GOT IT!!!!!
Stack.
Cut in half.
Then into half again… or quarters… or whatever.
Next I dip my brush into the salty-lime juice and brushed both sides of each piece of tortilla in the first batch. I only have one half sheet pan, so I split them into two batches. I thought about brushing them while they were whole, but then I forgot. I'm sure that would work too!
Arrange in a single layer on a sheet pan. This one isn't coated with a non stick surface, so they get crispy and delicious. Because I haven't made these before I haven't tried to bake them on non-stick pans so I'm not sure how that would work. It may work just wonderfully but with this being my first time in my life making homemade baked chips I didn't want to risk it.
Remember DON'T CROWD THE PAN. Bake in preheated oven for 10-12 minutes, rotating the pan half way through baking time, for even cooking of course, until crispy.
Remove from the oven and try not to die over the smell of fresh baked tortilla chips. Then I immediately texted my husband that our house smelt like a Mexican restaurant. I was giddy and HUNGRY!
I made these Baked Lime Tortilla Chips at about 11:00 am and had no problem what-so-ever inhaling about 5… okay… 8 in 2.2 seconds, a record I think!
Serving these Baked Lime Tortilla Chips along side my *shameless plug* Homemade Salsa is the way to do it. It's the perfect snack! Fo shizzles. There wasn't an overwhelming lime flavor. I use fresh juice no zest… but try with some zest if you want a little more lime flavor (and let me know how that worked for ya!).
Also, technically this recipe only makes 36 chips… so keep in mind to double or triple if you are serving for a crowd.
You should be able to store them in an airtight container for a few days. They may get a little chewier in texture but they still are fabulous!
Enjoy! And if you give this Baked Lime Tortilla Chip recipe a try, let me know! Snap a photo and tag me on twitter or instagram!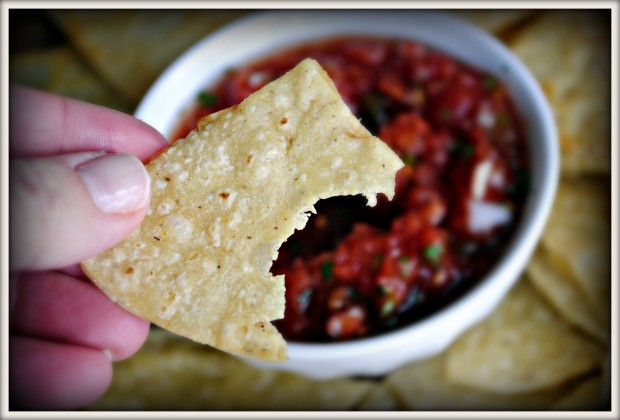 Yield: 36 chips
Baked Lime Tortilla Chips
For these baked lime tortilla chips, brush corn tortillas with bacon fat, cut into fourths and brush lightly with a salty lime juice and bake until crispy!
Ingredients
9 white corn tortilla shells
1 to 2 tablespoons bacon fat, warmed
1 lime
2 teaspoons kosher salt
Instructions
Preheat oven to 350°.

Measure out two teaspoons of kosher salt into a small bowl.

Slice lime in half and juice, yielding approximately 1/4 cup. Add the lime juice to the kosher salt and stir, set aside.

Brush both sides of the tortillas with warm bacon grease. Then cut them into fourths; arrange half of the tortilla pieces on a sheet pan, making sure they don't over lap.

Then dot each triangle with the lime/salt mixture.

Bake in preheated oven for 10-12 minutes or until crispy, rotating the pan half way through baking time.

Repeat with the second batch. Season with more kosher salt to taste and serve with my *plug* Homemade Salsa!!
Serving: 1chip, Calories: 18kcal, Carbohydrates: 3g, Protein: 1g, Fat: 1g, Saturated Fat: 1g, Polyunsaturated Fat: 1g, Monounsaturated Fat: 1g, Cholesterol: 1mg, Sodium: 133mg, Potassium: 14mg, Fiber: 1g, Sugar: 1g, Vitamin A: 1IU, Vitamin C: 1mg, Calcium: 6mg, Iron: 1mg
This post may contain affiliate links.
Buy the Cookbook: Simply Scratch : 120 Wholesome Homemade Recipes Made Easy Now available on Amazon »
THANK YOU in advance for your support!