Jump on this Tik Tok trend and make Air Fryer Pasta Chips! Cooked bowtie pasta is tossed with herbs, spices and pecorino Romano cheese before being air-fried until golden and crispy. Serve with warm marinara and my homemade creamy pesto dip!
I've recently created a "Tik Tok Made Me Make It" section.
I have found a lot of inspiration on that app and since I've shared my take on the feta pasta, spicy vodka pasta, pesto fried eggs and air fryer corn ribs. And after hearing about the pasta chip trend, you know I had to try that too.
Basically, you just cook a small batch of pasta to al dente, toss it in oil, herbs and spices and air fry until golden and crispy. SO easy!
Serve them with this SUPER simple pesto dip and marinara and you have yourself a delicious, fun and crispy snack!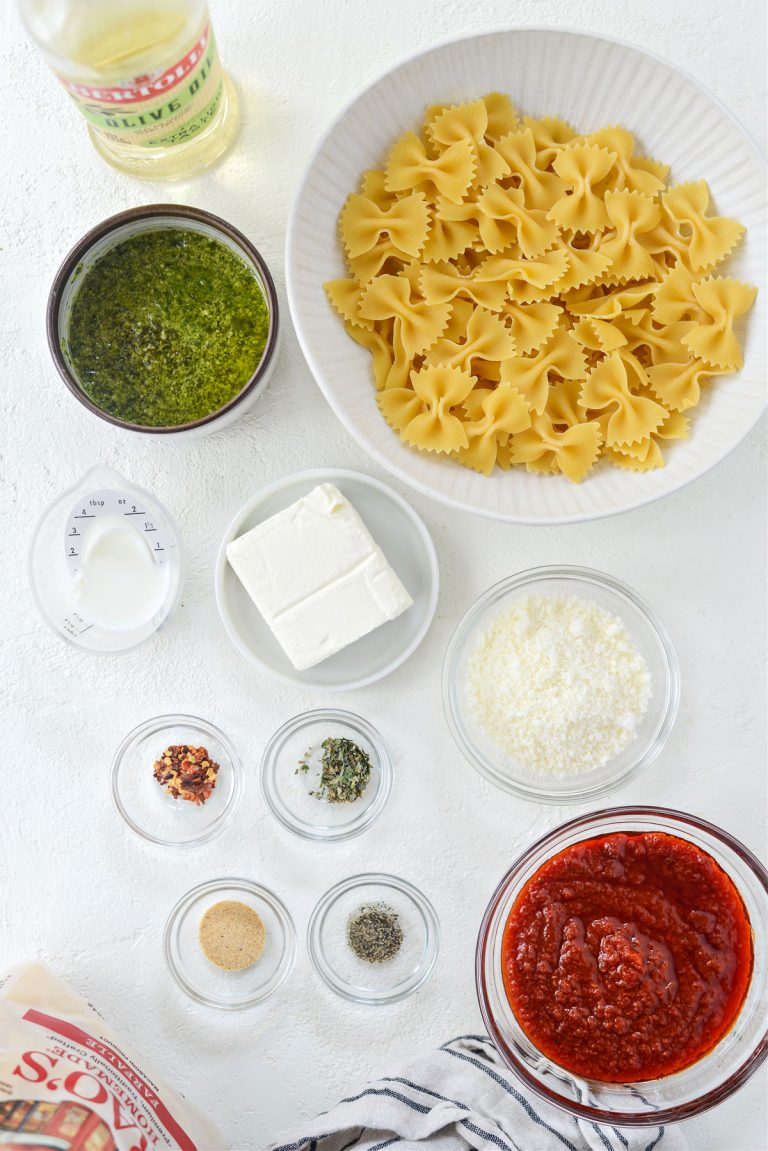 To Make These Air Fryer Pasta Chips with Creamy Pesto Dip You Will Need:
sea salt
bowtie pasta (or use your favorite)
cream cheese
milk
olive oil
garlic powder
kosher salt
black pepper
pecorino Romano cheese (or use parmesan)
marinara – for serving
You could use any medium-size pasta here, however I think farfalle (aka bowtie) pasta is perfect for dipping and a fun shape all around. Either way you will need 6 ounces dried pasta.
To start, bring a pot of water to boil. You don't need a giant pasta pot, a 2.5 quart should work just fine. Once boiling stir in a small palmful (about 1 tablespoon-ish) of fine sea salt and cook the pasta al dente, according the package directions.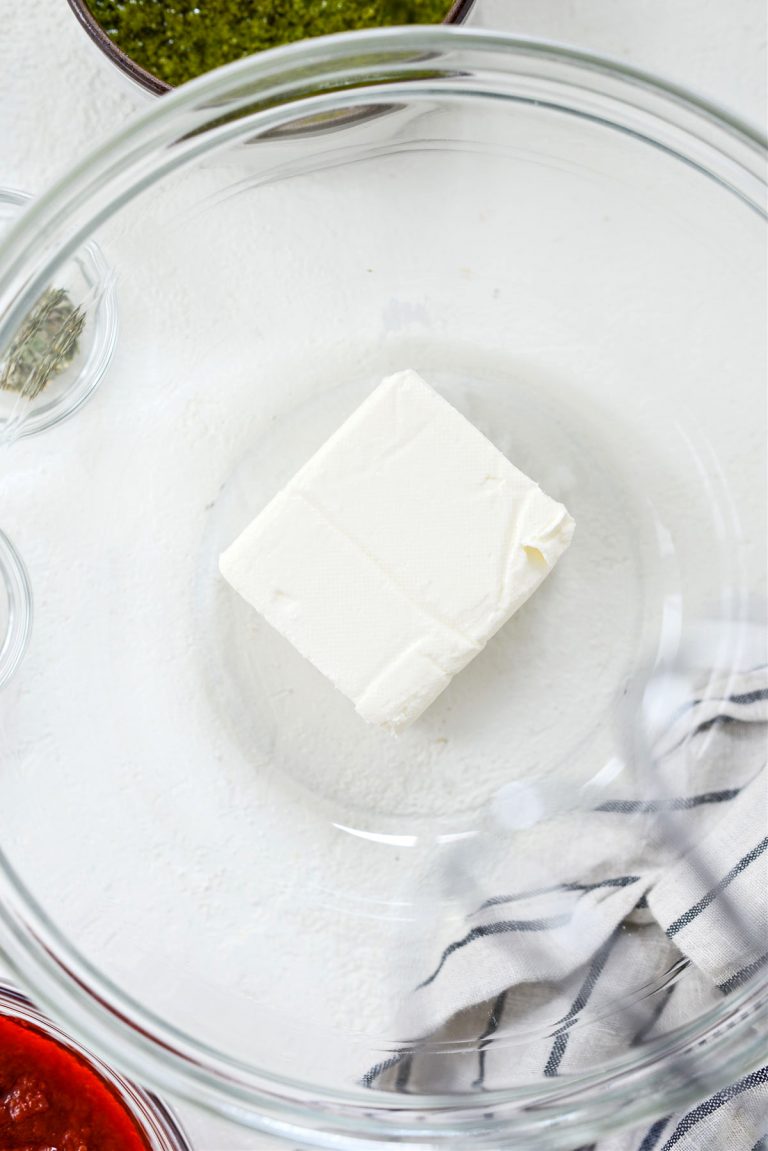 Meanwhile, add 4 ounces room temperature cream cheese into a mixing bowl. Use a hand mixer and blend until it has broken down and no longer is clumped in the beaters.
Pour in 1 tablespoon of milk and mix until smooth and creamy.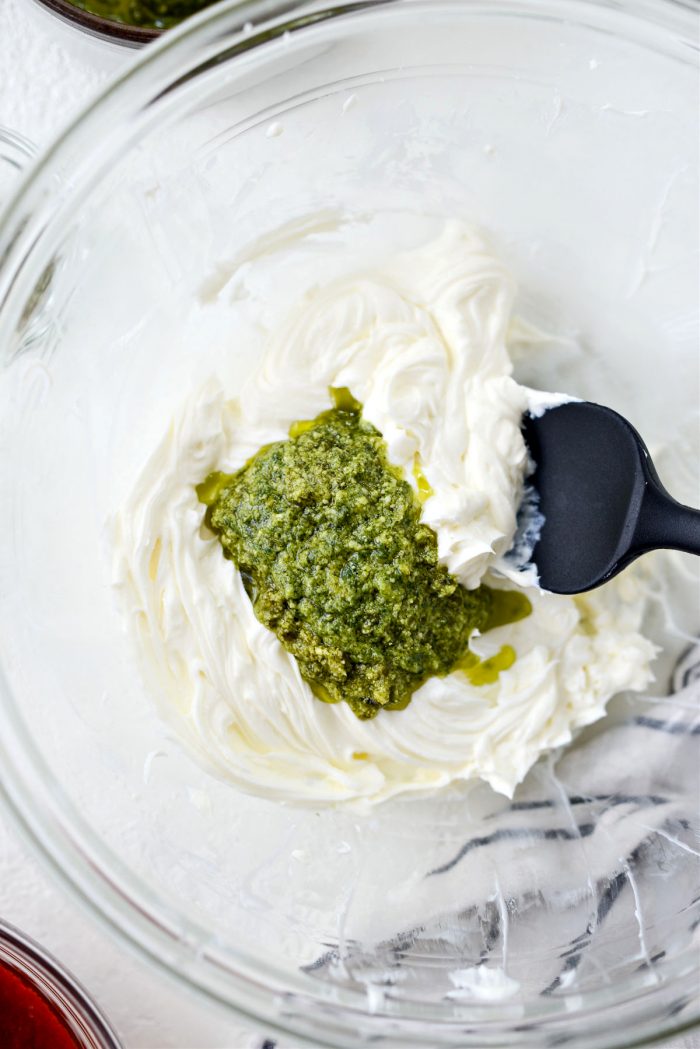 Add 2 tablespoons basil pesto.
Remember I made this pasta salad and froze the leftover pesto? I thawed a 2-tablespoon cube of it and added it into the cream cheese mixture.
Use a rubber spatula to fold the the pesto into the cream cheese mixture. Cover and refrigerate until ready to serve.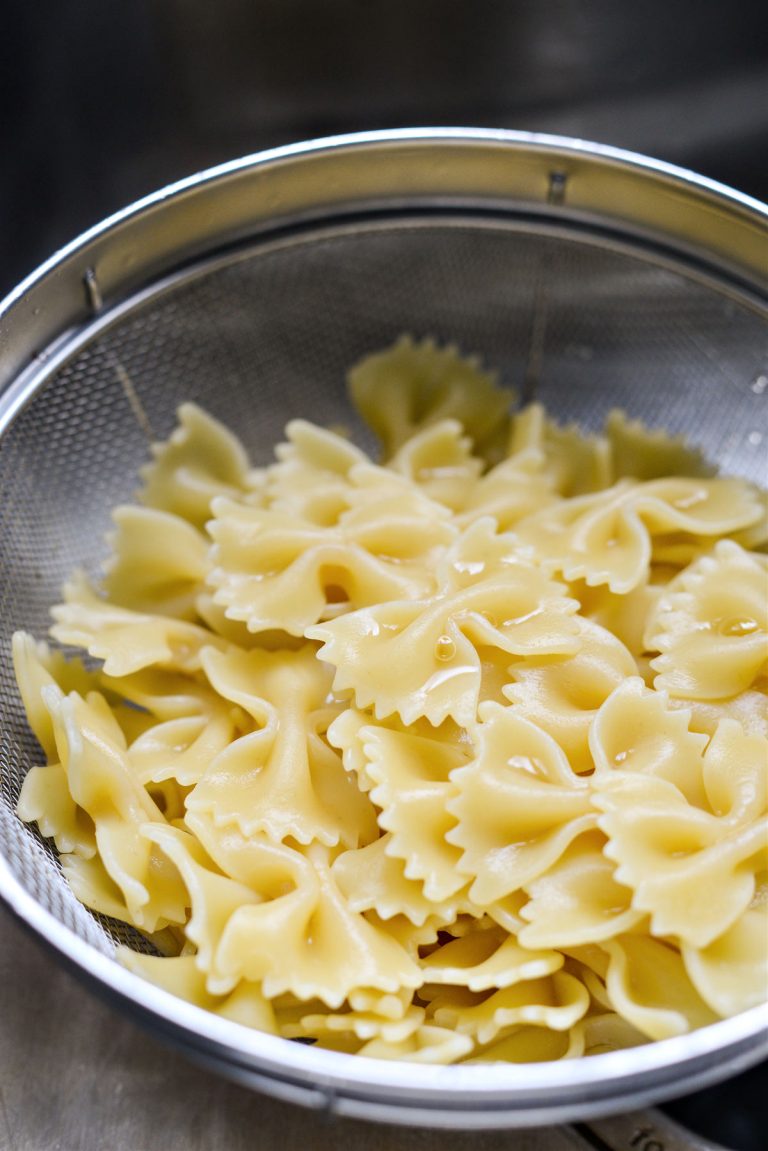 Once the pasta has cooked, drain into a colander set into your sink.
Transfer the cooked pasta to a mixing bowl and add 1 tablespoon olive oil, 1 teaspoon both garlic powder and italian seasoning, a somewhat generous pinch of kosher salt, 1/4 teaspoon black pepper and add 1/4 teaspoon red pepper flakes for some kick.
Mix and coat the pasta in the oil and spices.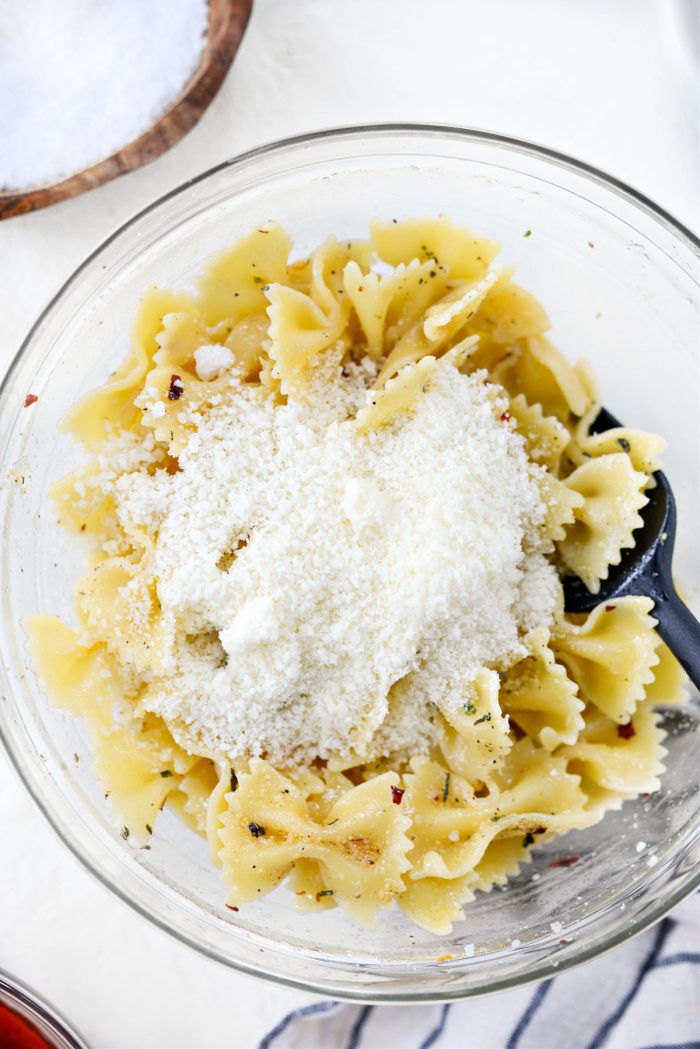 Lastly, measure 1/3 cup freshly grated pecorino Romano cheese (or use parmesan).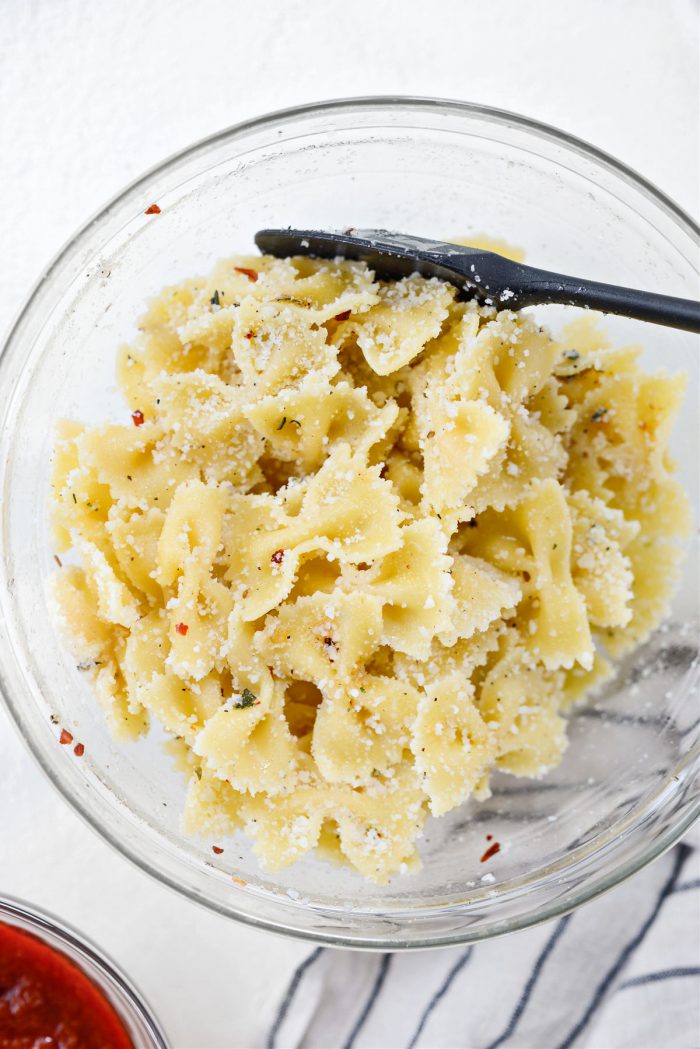 Toss one last time.
Preheat your air fryer to 390° or 400° (depending on your make and model).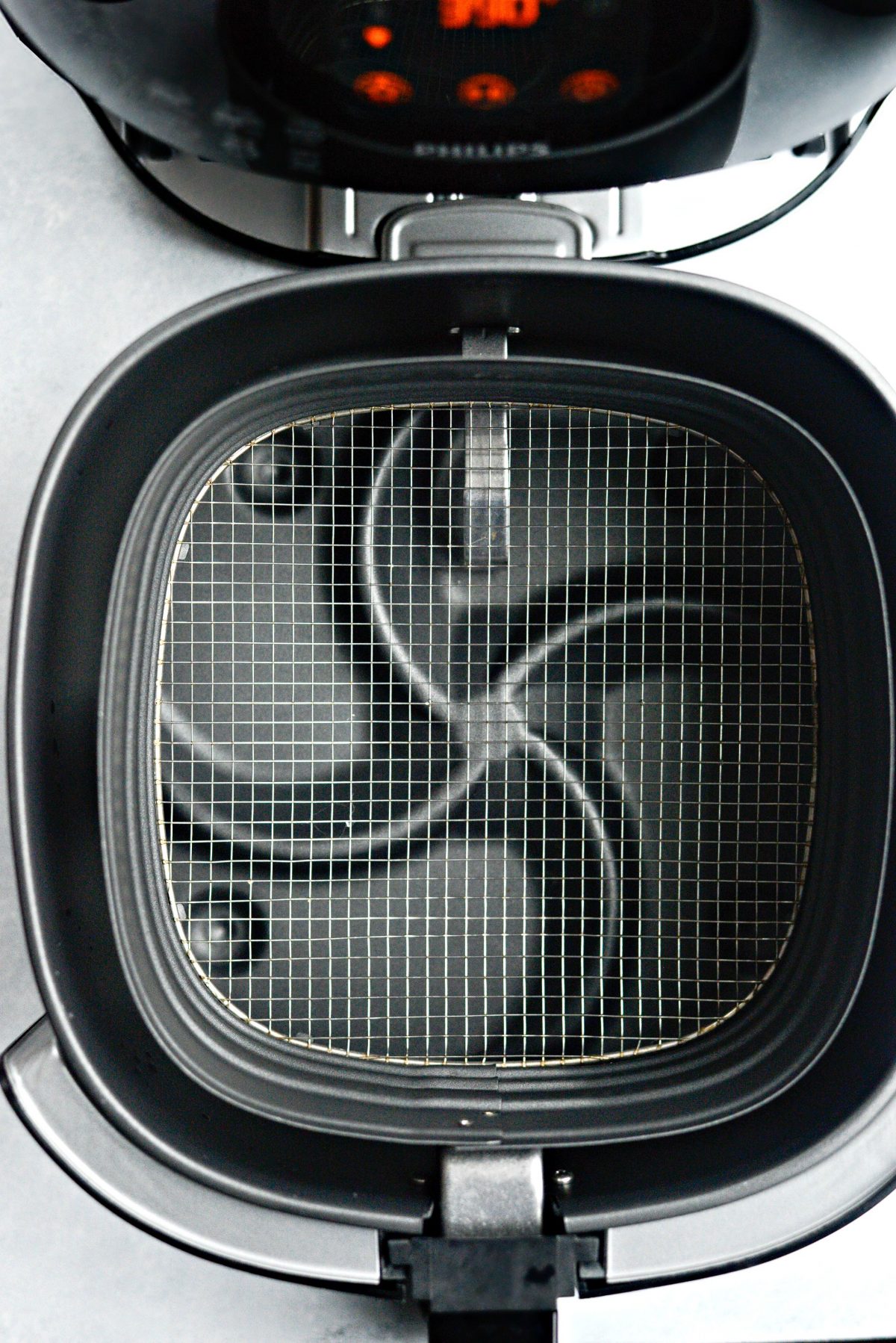 What Is Air Frying?
An air fryer is a counter top appliance that requires less oil (anything from a few spritz to 1 tablespoon) yet produces crispy food that rivals most deep fried foods. By using circulating hot air, it moves at a high speed so the food tends to cook in a fraction of the time.
There are a bunch of different makes and models of air fryers. My husband did the research (as he's known to do) and found this air fryer [affiliate] to be one of the best. But do your research and purchase one that fits your lifestyle.
How is Air Frying Healthier?
Air frying is healthier because only a thin layer of oil coats the food and when the hot air comes in contact it will crisp. Saving you a ton of fat and calories (without sacrificing any flavor!) because food is not being submerged in a vat of hot oil.
Keep in mind, not all air fryers are equal. Some preheat and some do not. Some are smaller than others therefore you may need to work in smaller batches to air fry.
click here for my growing collection of Air Fryer recipes,
When your air fryer has preheated, spray the inside of the basket with nonstick spray and add the pasta. Lightly spray the pasta before air frying for 2 minutes.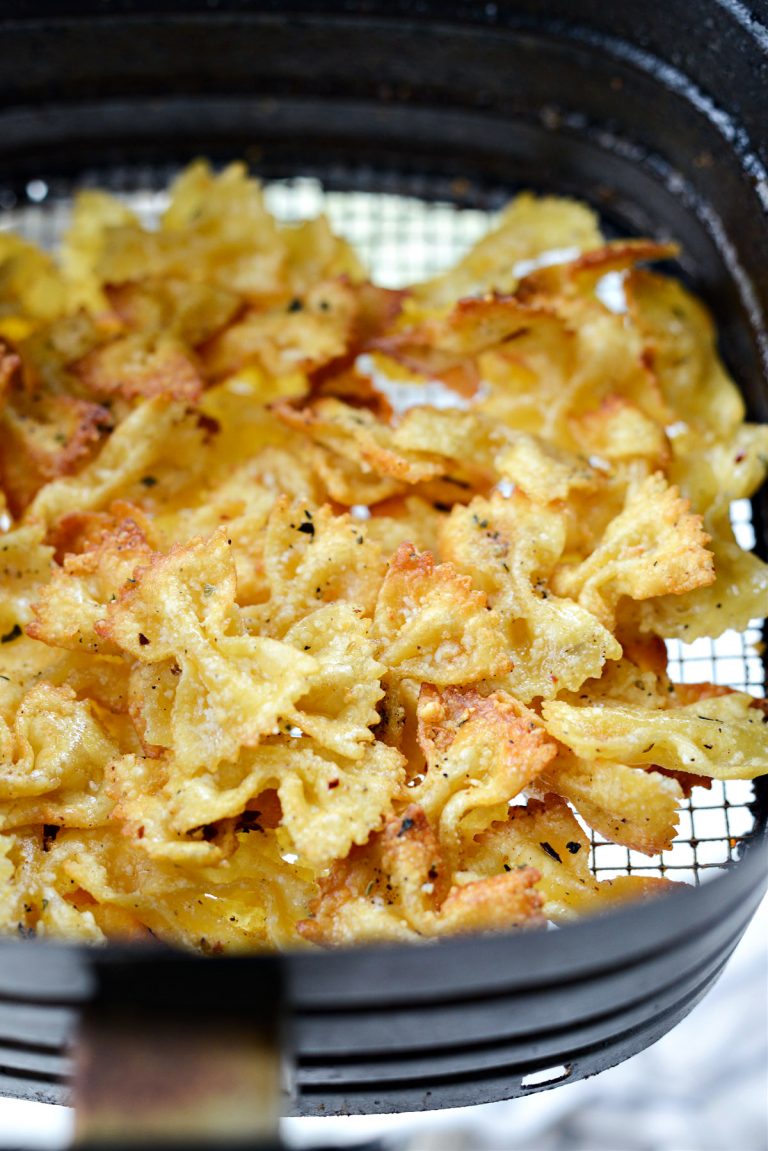 Gently shake and repeat in 2-minute increments until golden and crispy.
For me, it took around 8 minutes. However, every air fryer is different so just keep a watchful eye on them.
After being air-fried, I toss them in a serving bowl alongside the creamy pesto dip and warm marinara.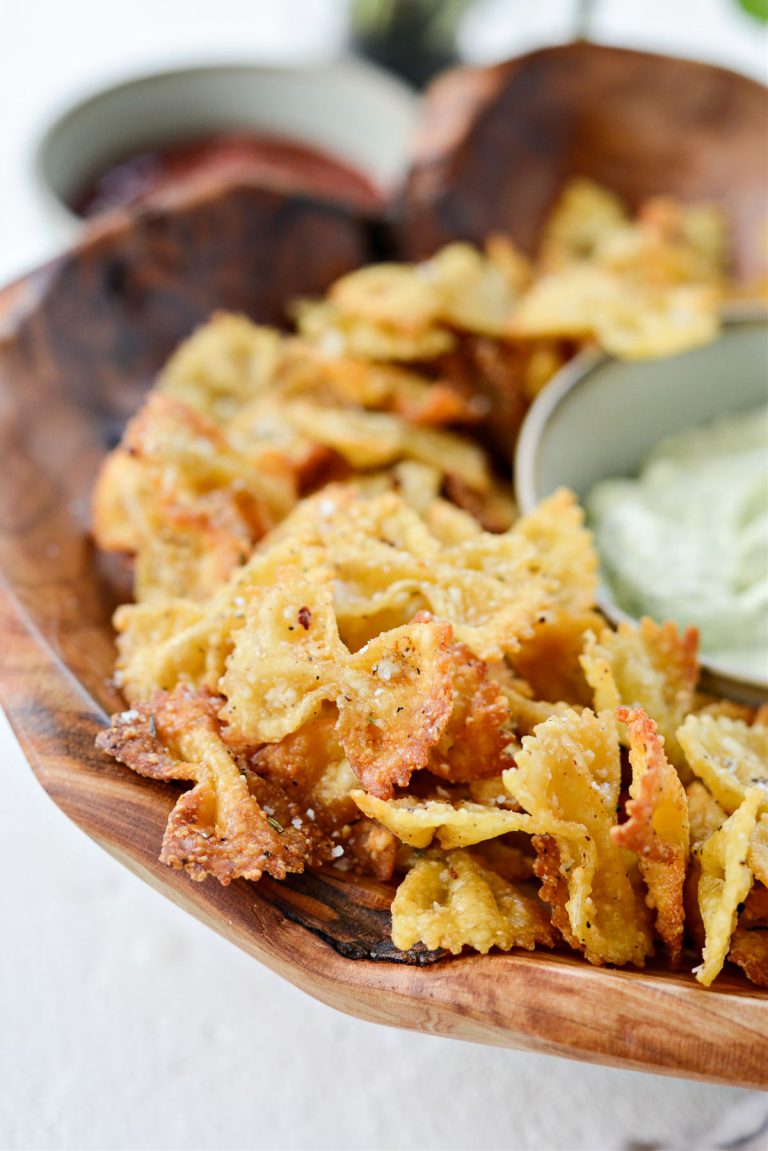 Look how crispy!
Now… Dip. Eat. Repeat.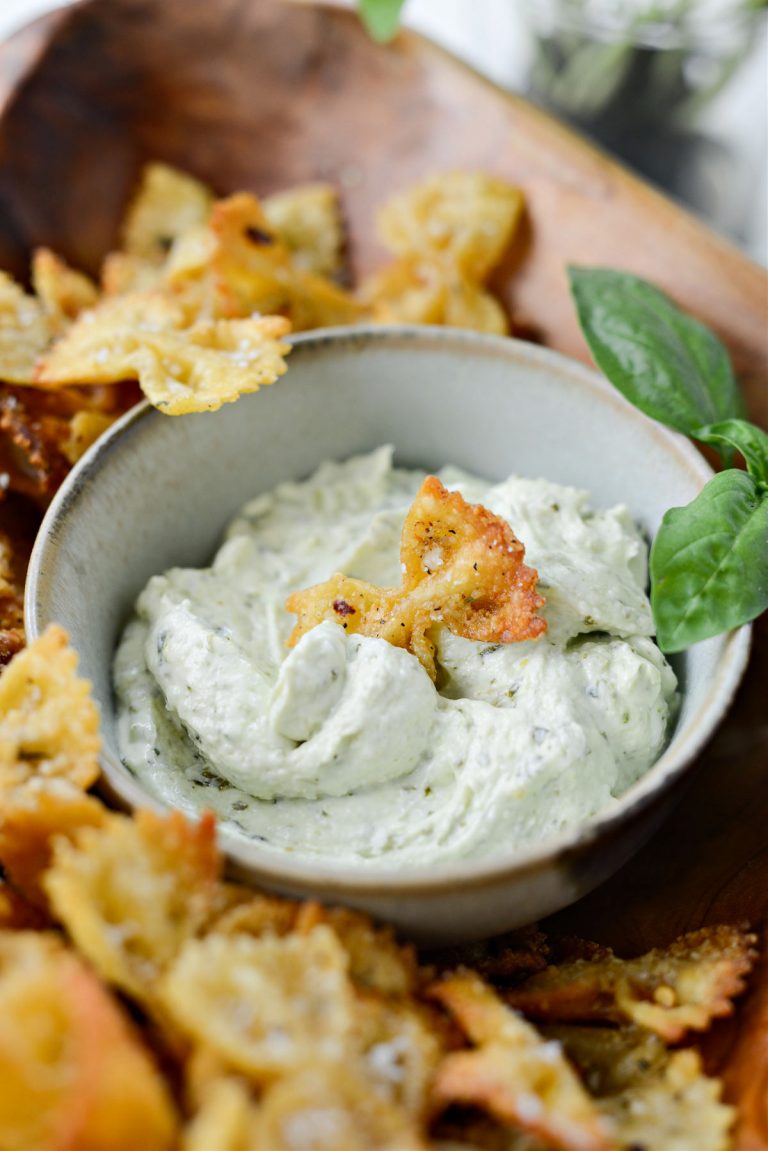 Enjoy! And if you give this Air Fryer Pasta Chips recipe a try, let me know! Snap a photo and tag me on twitter or instagram!
This post may contain affiliate links.
Buy the Cookbook: Simply Scratch : 120 Wholesome Homemade Recipes Made Easy Now available on Amazon »
THANK YOU in advance for your support!