Inspired by the recipe that's so popular it created a feta shortage in Finland! Baked Feta Pasta with Burst Cherry Tomatoes is a simple yet an incredibly delicious meatless pasta dish. In it, Cherry tomatoes and a block of feta cheese are baked and mixed with fresh garlic, hot cooked pasta and fresh basil for a luxurious cream dish. This is a pasta dish anyone can make as it's pretty much effortless and foolproof. Serves 4 to 6 in under an hour.
I usually don't jump into trends, but when I do it's because there's cheese.
It all started when both of my daughters sent me a TikTok (@grilledcheesesocial). Cherry tomatoes, blocked feta plus a little olive oil, salt and pepper roast together and then are mixed with fresh garlic, hot pasta and fresh basil. The feta acts as the creamy sauce bringing this whole dish together. It was love at first sight and felt as if I could taste it through my phone screen.
Naturally, I immediately went out to buy the ingredients so my daughter Malloree and I could make it for lunch. I had to go to 3 different grocery stores just to find blocked feta. I'm not kidding, everyone wants to make this dish because it's SO simple that it is selling out everywhere.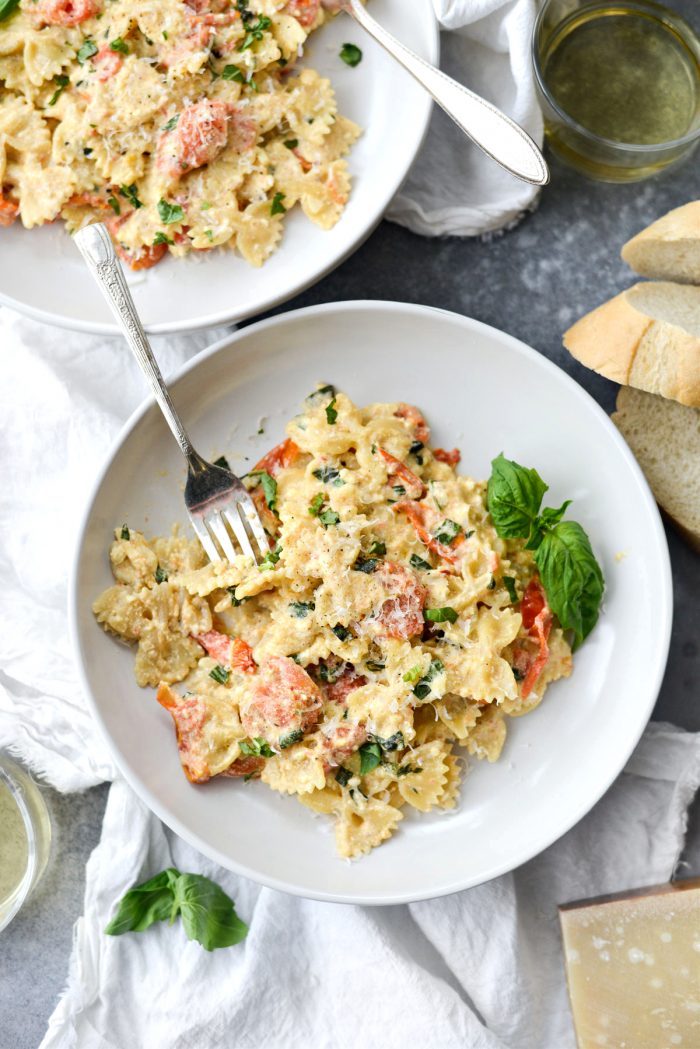 This is my spin on it.
To Make This Baked Feta Pasta with Burst Cherry Tomatoes You Will Need:
cherry tomatoes
olive oil
kosher salt
black pepper
onion powder
red pepper flakes
block feta cheese
garlic
pasta
basil
parmesan cheese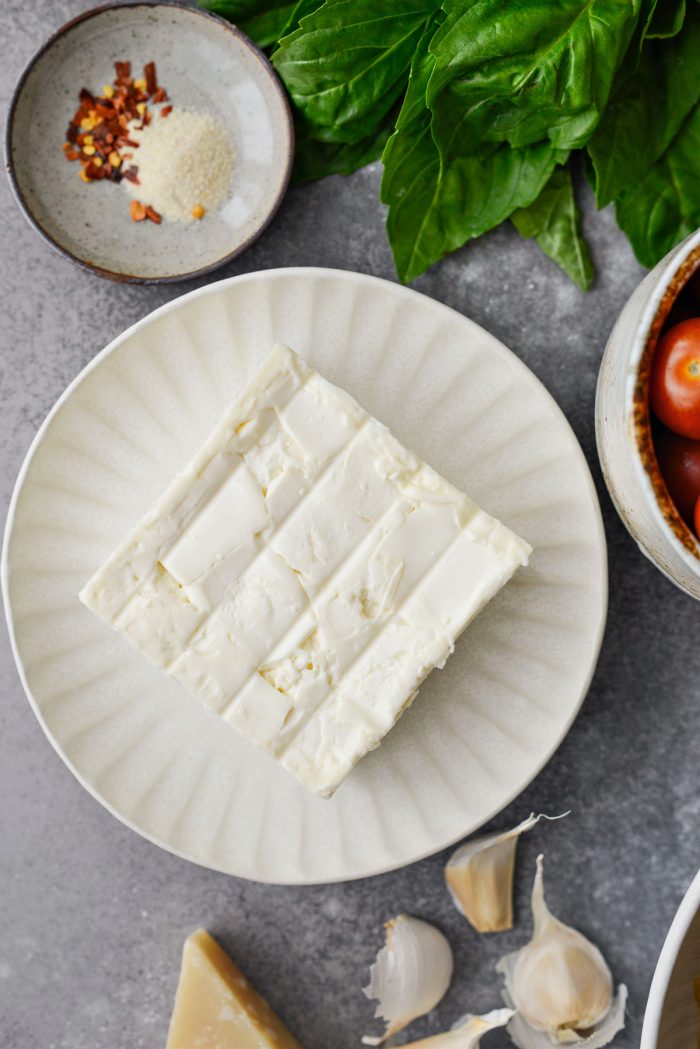 The feta is important. Find block feta, it's usually in little bit of liquid. I have seen people use crumbled feta for this, but I personally wouldn't.
Preheat your oven to 400° and scatter 2 pints of cherry tomatoes into a 9×9 baking dish.
Drizzle with 2 tablespoons olive oil.
Season with 1/2 teaspoon onion powder and a pinch of kosher salt and freshly ground black pepper.
Toss to combine.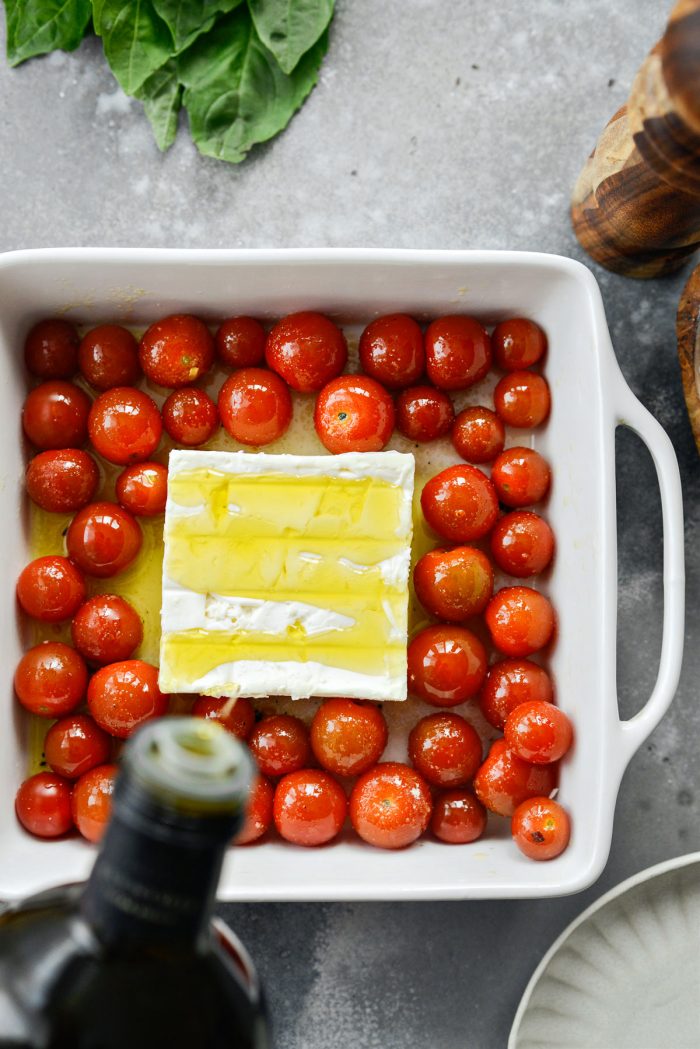 Place the block of feta into the center of the baking dish and drizzle with a little extra olive oil.
Season the feta with kosher salt and freshly ground black pepper. Slip the pan into your preheated oven for 40 minutes.
Meanwhile bring a medium pot of water to boil. When your timer has 10 to 12 minutes on the clock, add in a tablespoon of fine sea salt and 8 ounces pasta. Stir and cook following the package directions until al dente.
Once roasted, the tomatoes should have burst and be caramelized in spots. The blocked fetas edges should also be golden and it all should smell amazing!
Sprinkle with 3 cloves minced fresh garlic.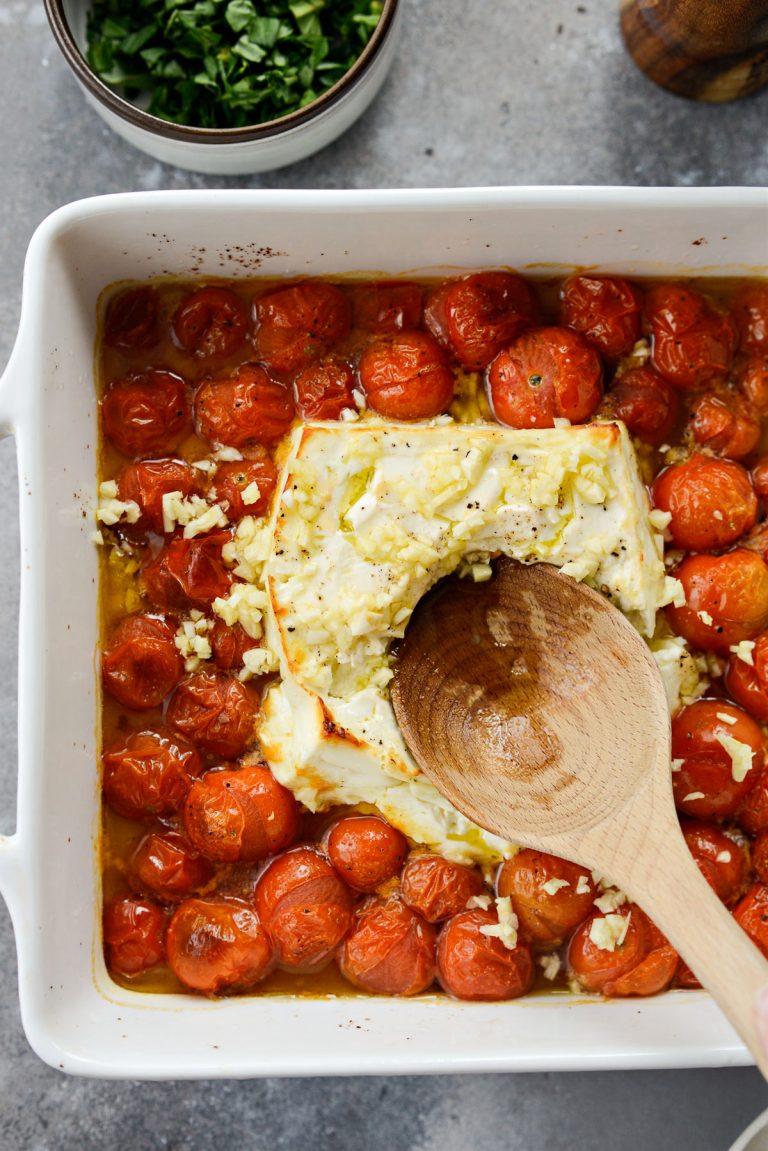 And then mix to combine.
Press on the tomatoes as you go, incorporating their juiced with the olive oil, garlic and creamy feta.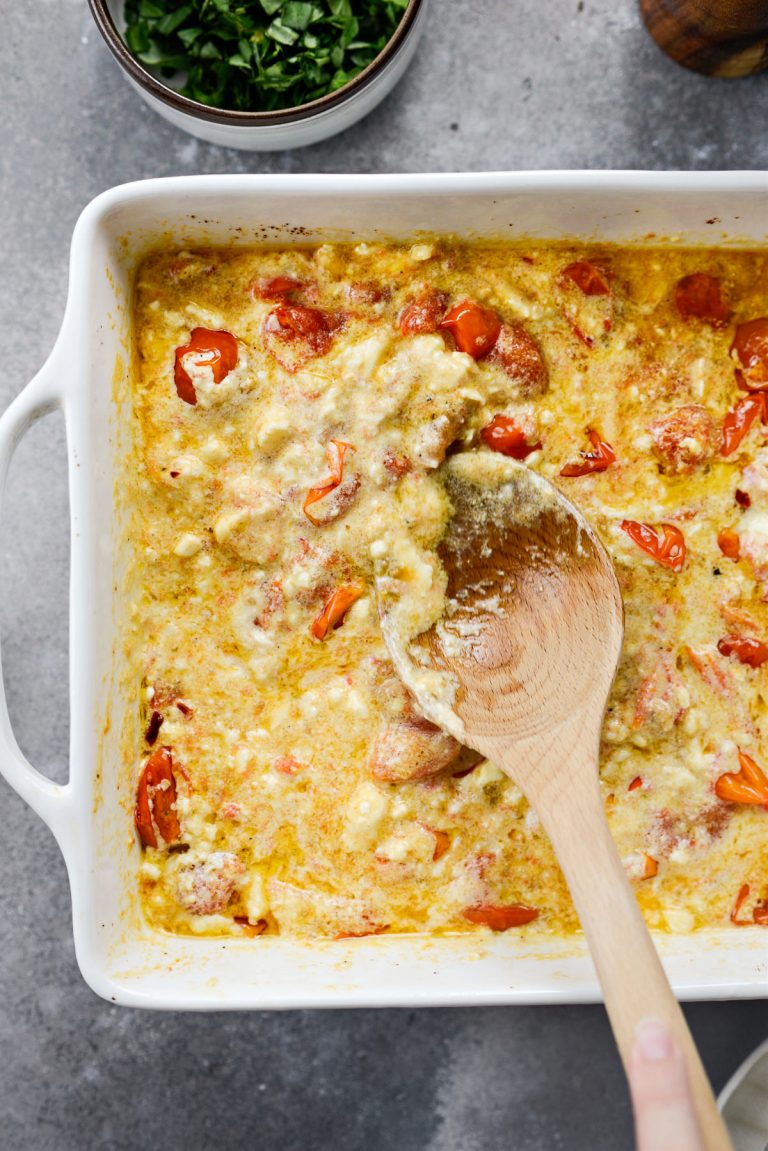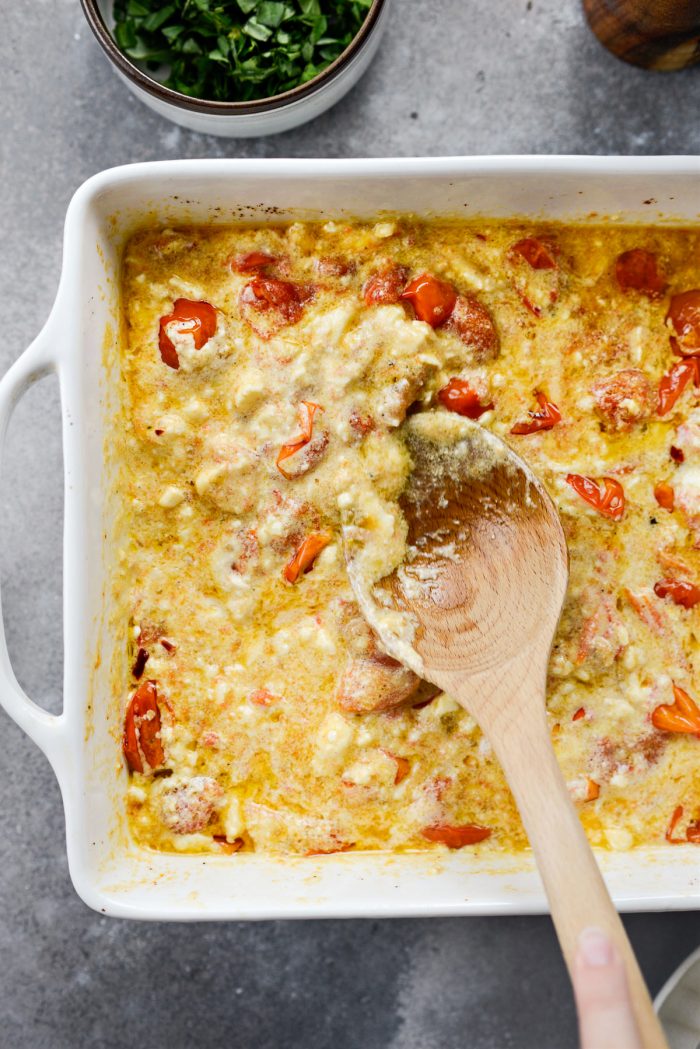 Stir, stir, stir.
Next add in the hot cooked pasta and lots of chopped fresh basil.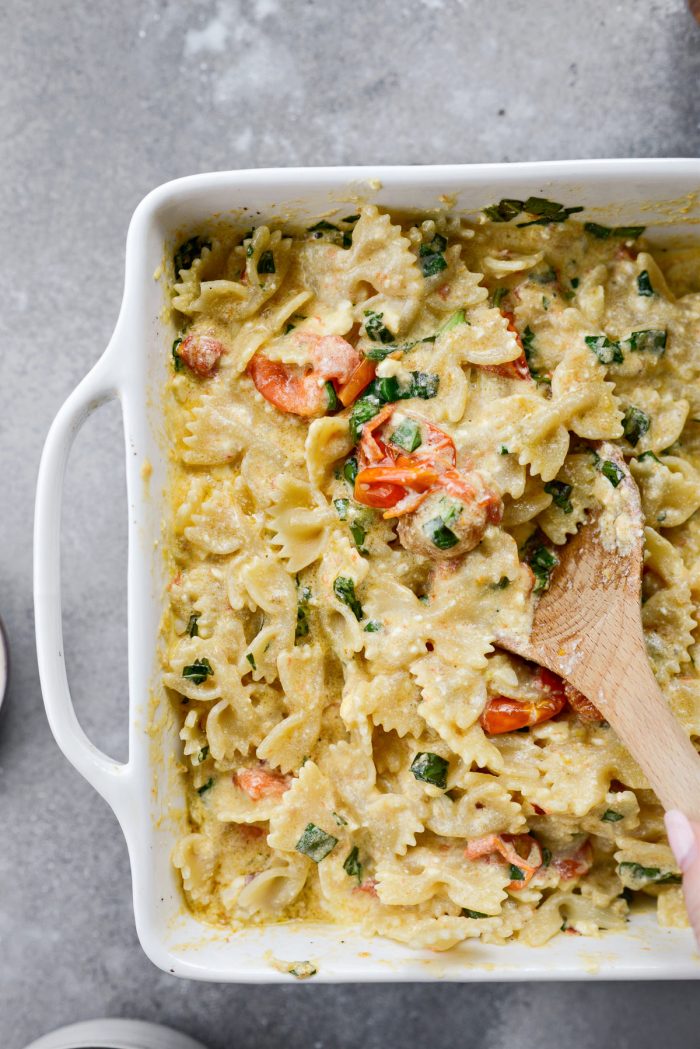 Stir until incorporated.
Serve in a bowl topped with grated fresh parmesan cheese and crusty bread.
And wine. Always wine.
Click Here For More Meatless Recipes!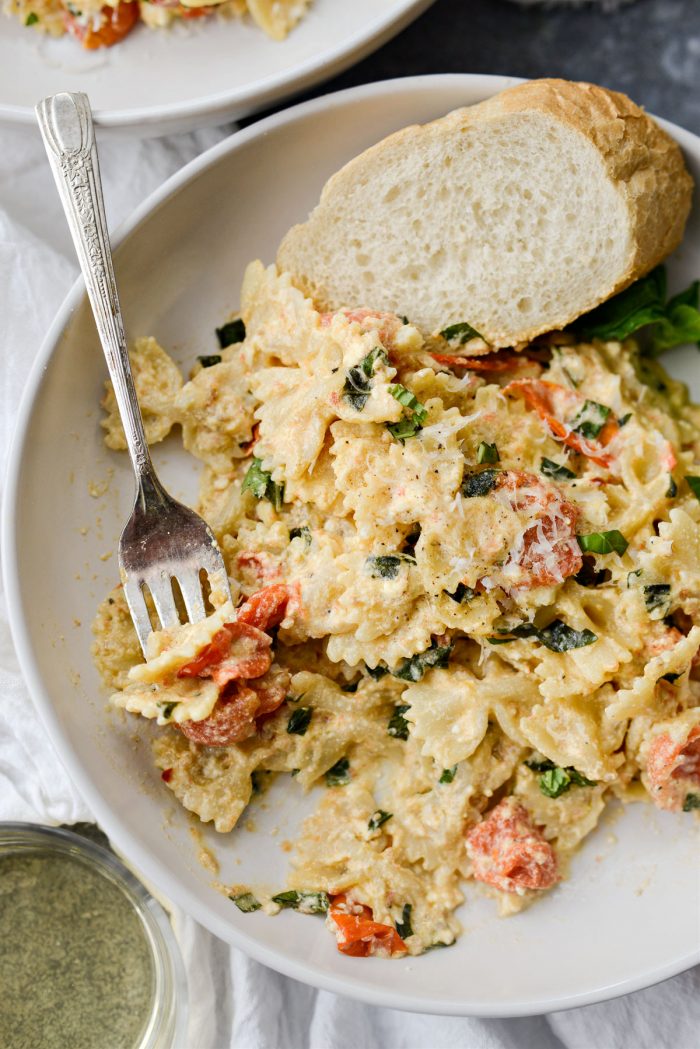 Enjoy! And if you give this Baked Feta Pasta recipe a try, let me know! Snap a photo and tag me on twitter or instagram!
This post may contain affiliate links.
Buy the Cookbook: Simply Scratch : 120 Wholesome Homemade Recipes Made Easy Now available on Amazon »
THANK YOU in advance for your support!