Making homemade basil pesto couldn't be any easier! Fresh basil, lemon zest, Parmesan cheese, lemon and toasted pine nuts.
Liz already shared this recipe on her blog a couple of weeks ago and I swore to myself I was going to put my basil plant to use and make her recipe ASAP. I knew it was going to be amazing, everything Liz makes is. I love that it's straight forward and calls for the basics; basil, lemon zest and juice, garlic, toasted pine nuts, Parmesan cheese and of course salt, pepper and olive oil. So simple… sooo good.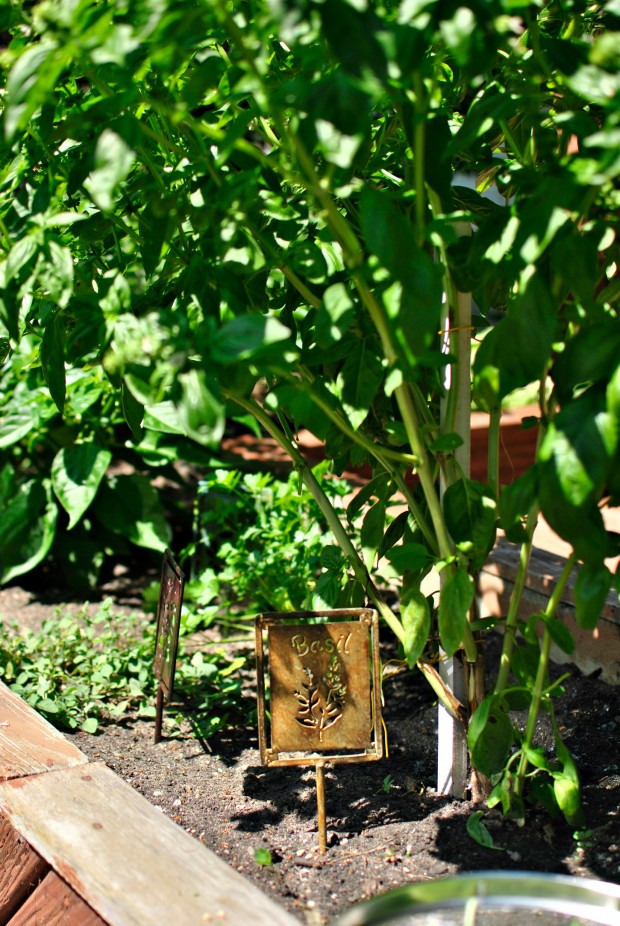 I've already told you about my basil plant so I'll spare you the deets. Other then it's huge thanks to two huge bees. I swear it's the same two bumble bees that every time I go to pick from my basil plant they would swoop down and buzz right by my ear and scared the you-know-what out of me. I'm not terribly scared of bees. More so wasps. Did I tell you about the time I was on our back deck enjoying a lovely pancake breakfast with my girls and I thought one landed in my hair? I know right? SO SCARRRRY! So in front of all the houses on our canal I was screeching and throwing my head up and down trying to shake it out. I could literally feel it in there and the wasp was stuck. In my hair. Oh. My. Lord.
Only it wasn't a wasp… it was my bobby pin. Yeaaah. I probably didn't tell you that story… because it's totally embarrassing and who would be so stupid to confuse a bobby pin with a wasp. Pshhht I mean come on.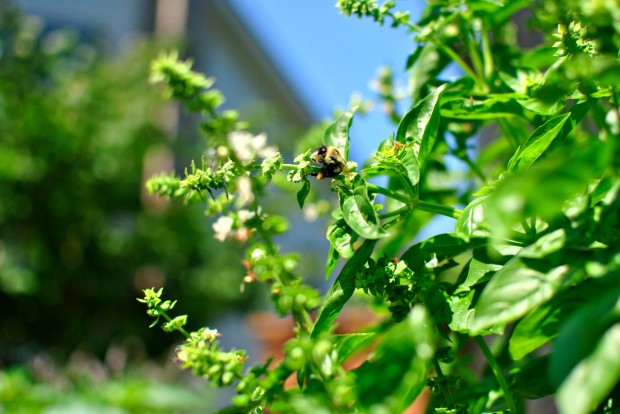 So anyways. The bees won't keep me away from my basil plant. Those pollinators are doing their thang keeping my plant growing. And I still have a lot of basil to use before the summer months end and fall claims it. So I'm thinking since this pesto was SOOOO amazing… I'll be making another batch soon. One can't have too much basil pesto in the freezer.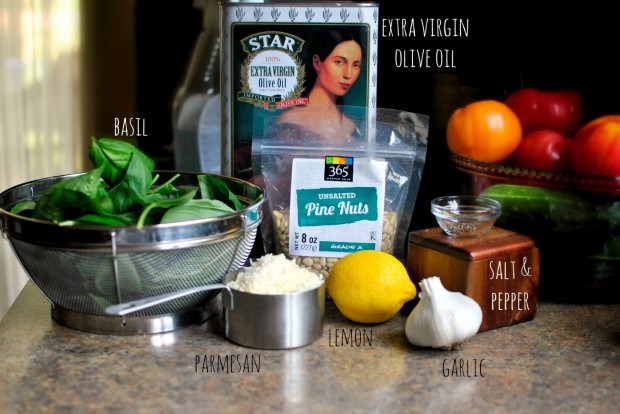 Grab the goods and GO!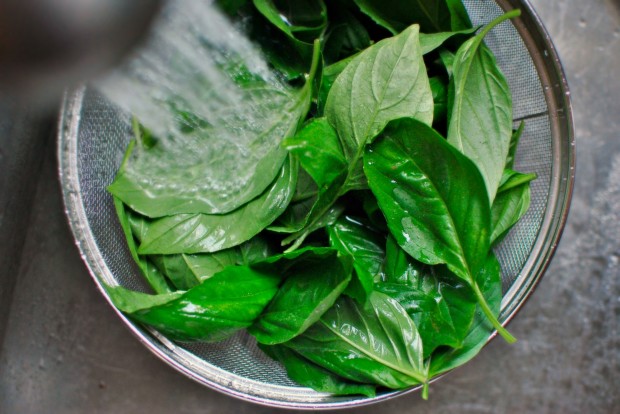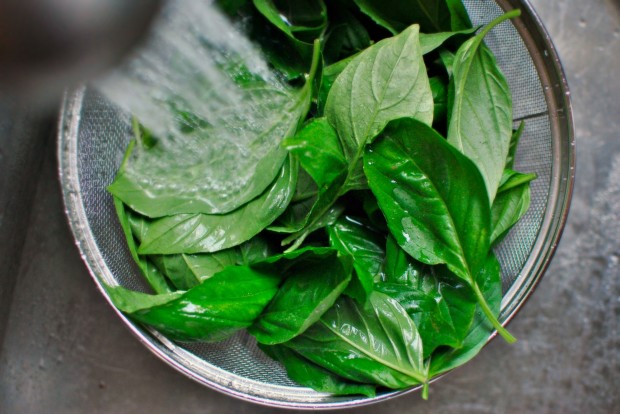 First rinse any dirt off of 4 cups of fresh basil leaves.
I picked through mine just to make sure I didn't miss any stems or soil particles, which of course I found.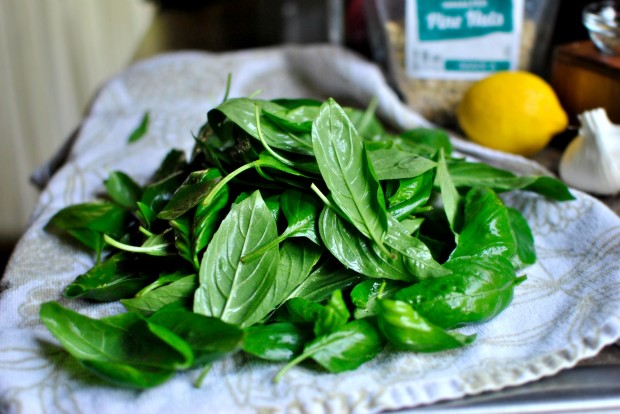 Yes, that's four cups of basil from my plant.I'm so proud! *sniff*
Next, pat it dry.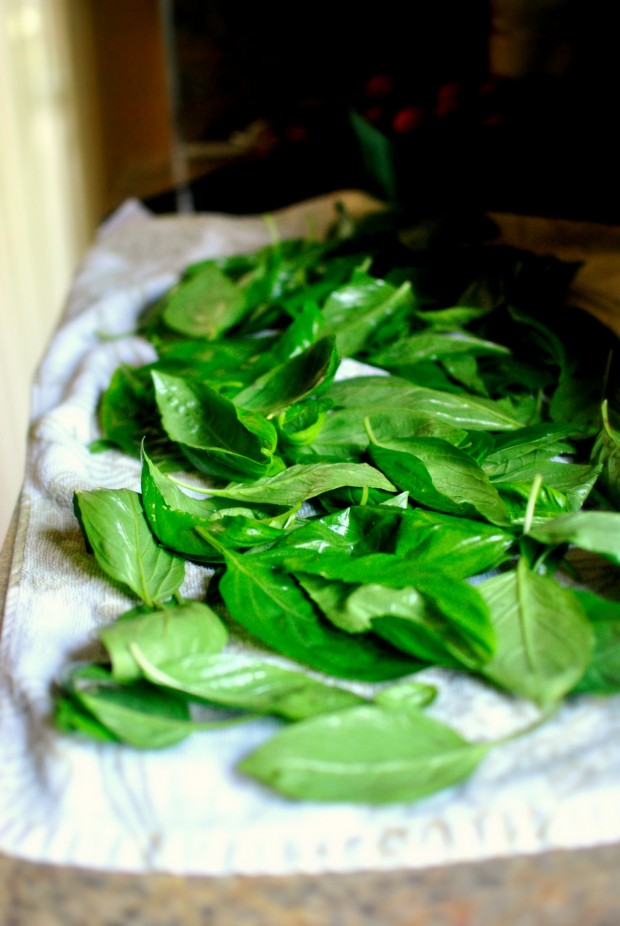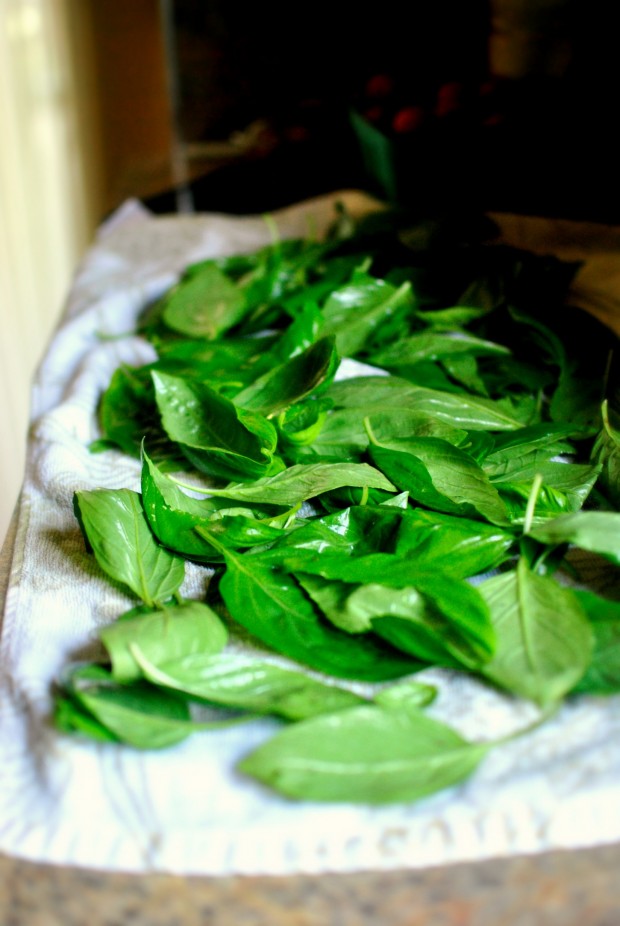 And then let the air dry it the rest as you start prepping…
Next, measure out a half cup of pine nuts. Love these little buggers.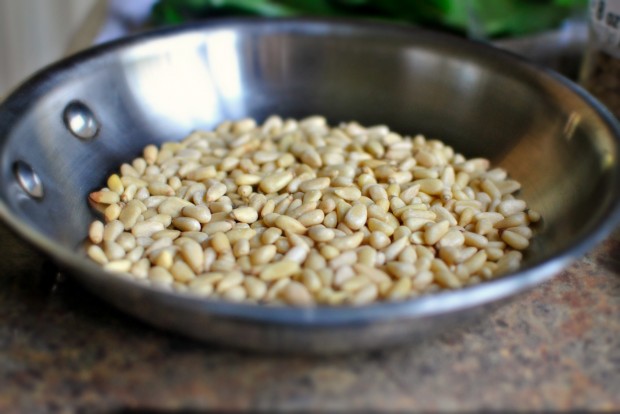 And then throw them into a small skillet and set the pan on your stove to toast over medium heat. Or do what Liz does and toast them on a rimmed baking pan at 350 degrees for 6-7 minutes. Either way… toast'em.
Next, remove after the pine nuts start getting golden and smell all nutty like. Pull them off of the heat to cool.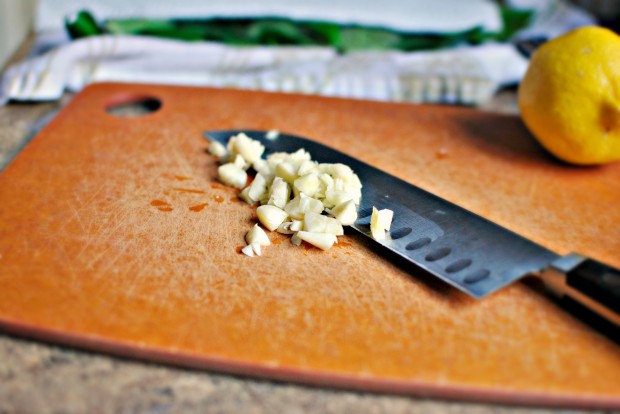 Then roughly chop three cloves of garlic. This is probably not necessary when you plan to use your food processor… but what the heck.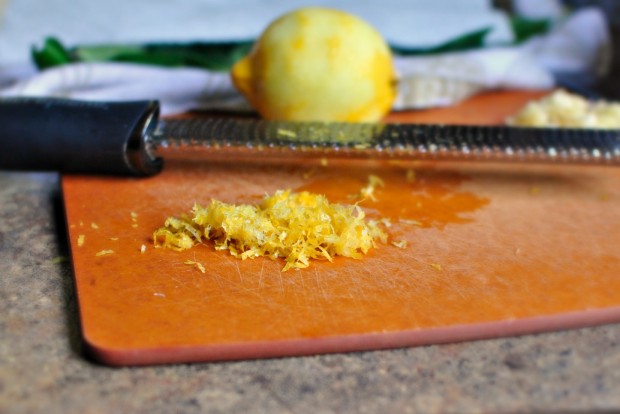 Next zest a small lemon.
And then throw the clean basil leaves into the bowl of your food processor…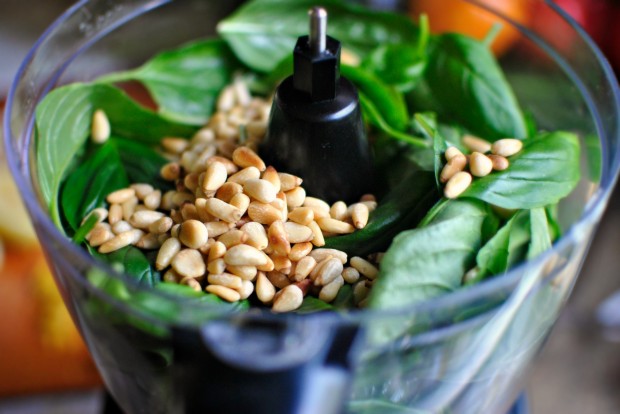 Next add the toasted pine nuts.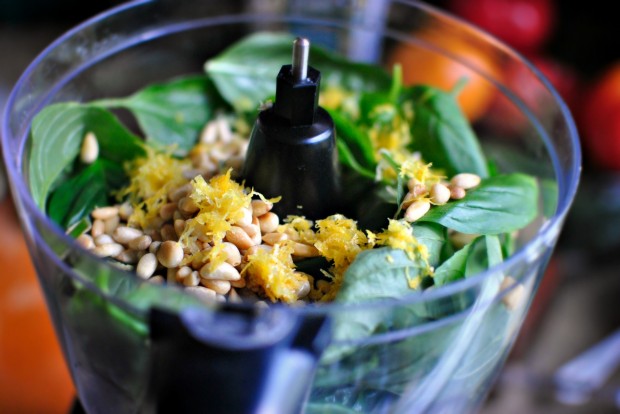 Add then the lemon zest. Smells amazing!
Lastly a cup of grated Parmesan cheese, garlic, juice from the entire lemon, 1/4 teaspoon of coarse black pepper and 3/4 teaspoon kosher salt.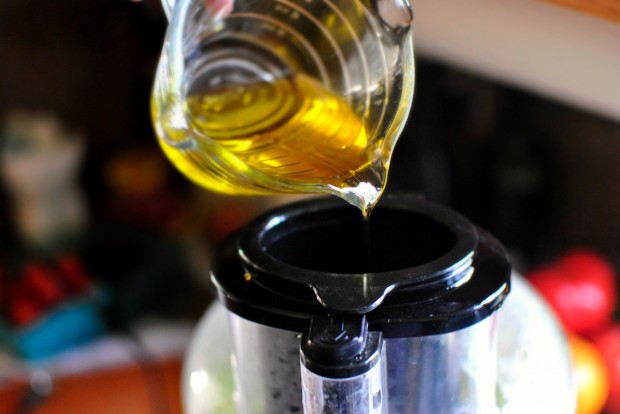 Next secure the lid, let'er rip and star drizzling in a cup of extra virgin olive oil.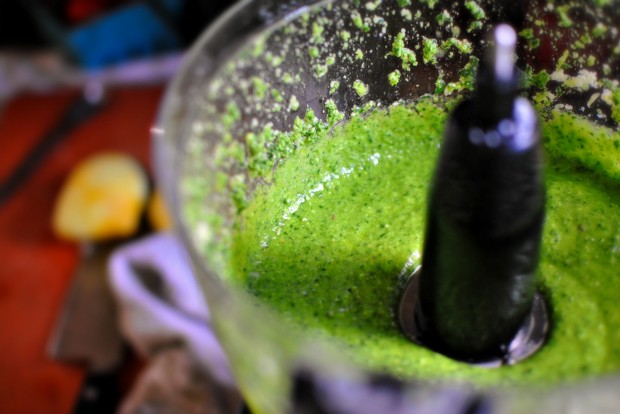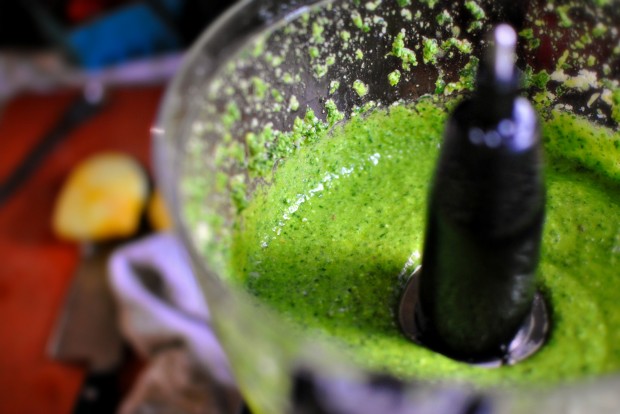 Then stop when smooth.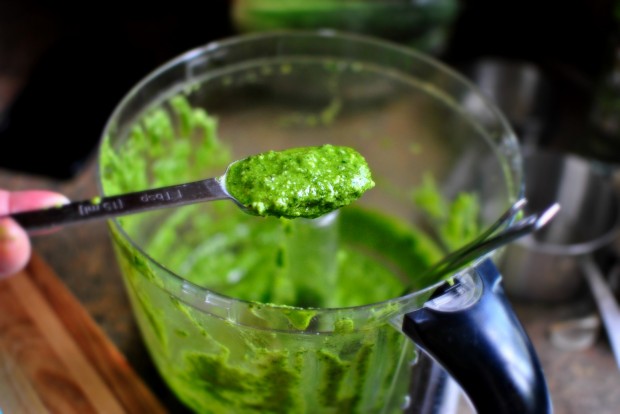 Lastly, to freeze this homemade basil pesto into cubes is just as easy. Scoop…
Fill…
Then cover with plastic wrap and freeze. I let mine freeze over night. But at least 2-3 hours should work.
Now just pop…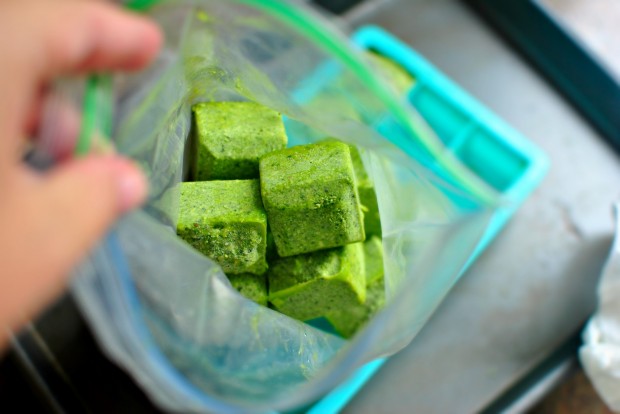 … and store. Liz says these homemade basil pesto cubes will last for up to 3 months in the freezer, but I doubt it'll last that long. 😉
I kept a little jar of the pesto in the fridge to make our favorite grilled cheese… I added an heirloom. OMG. The pesto steals the show for sure!
Enjoy! And if you give this homemade basil pesto recipe a try, let me know! Snap a photo and tag me on twitter or instagram!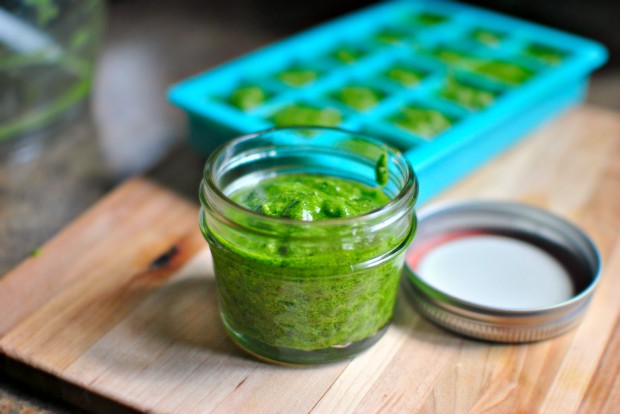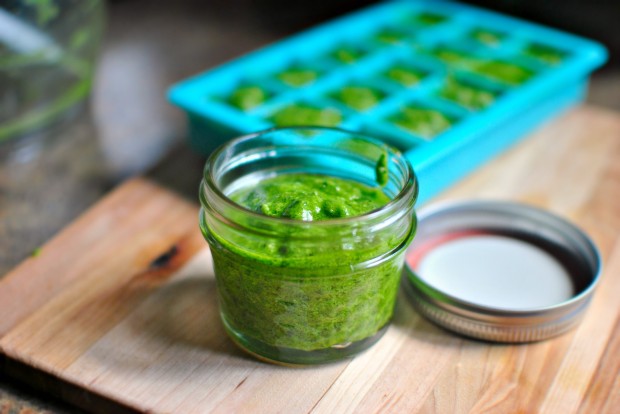 My cookbook Simply Scratch : 120 Wholesome Homemade Recipes Made Easy is now available! CLICK HERE for details and THANK YOU in advance!
[this post contains affiliate links.]
This post may contain affiliate links.
Buy the Cookbook: Simply Scratch : 120 Wholesome Homemade Recipes Made Easy Now available on Amazon »
THANK YOU in advance for your support!