Colorful veggies are tossed with bowtie pasta, Genoa salami, Parmesan cheese and a super simple Italian dressing for the ultimate Italian Bowtie Pasta Salad! This pasta salad calls for simple ingredients, takes little time to whip up and absolutely delicious!
This past weekend I spent from sun up to almost sun down at Malloree's softball tournament. It's an all day affair of watching games of softball intermingled with sometimes lengthy breaks in-between. All of us parents sign up to bring something and contribute to lunch for the group. One of the parents brings his charcoal grill and will cook something fantastic. There's something about the smell of a charcoal grill that puts a gas grill to shame. On Saturday he grilled marinated pork chops and there was also biscuits, a green salad and one giant bowl of colorful pasta salad. Needless to say, this bowl of carb-heaven got my wheels turning and inspired the recipe for this post.
I have always been and will forever be a pasta salad fan. How can anyone not be? If you're gluten sensitive, there's lots of gluten-free pasta that can be used instead. Hallelujah!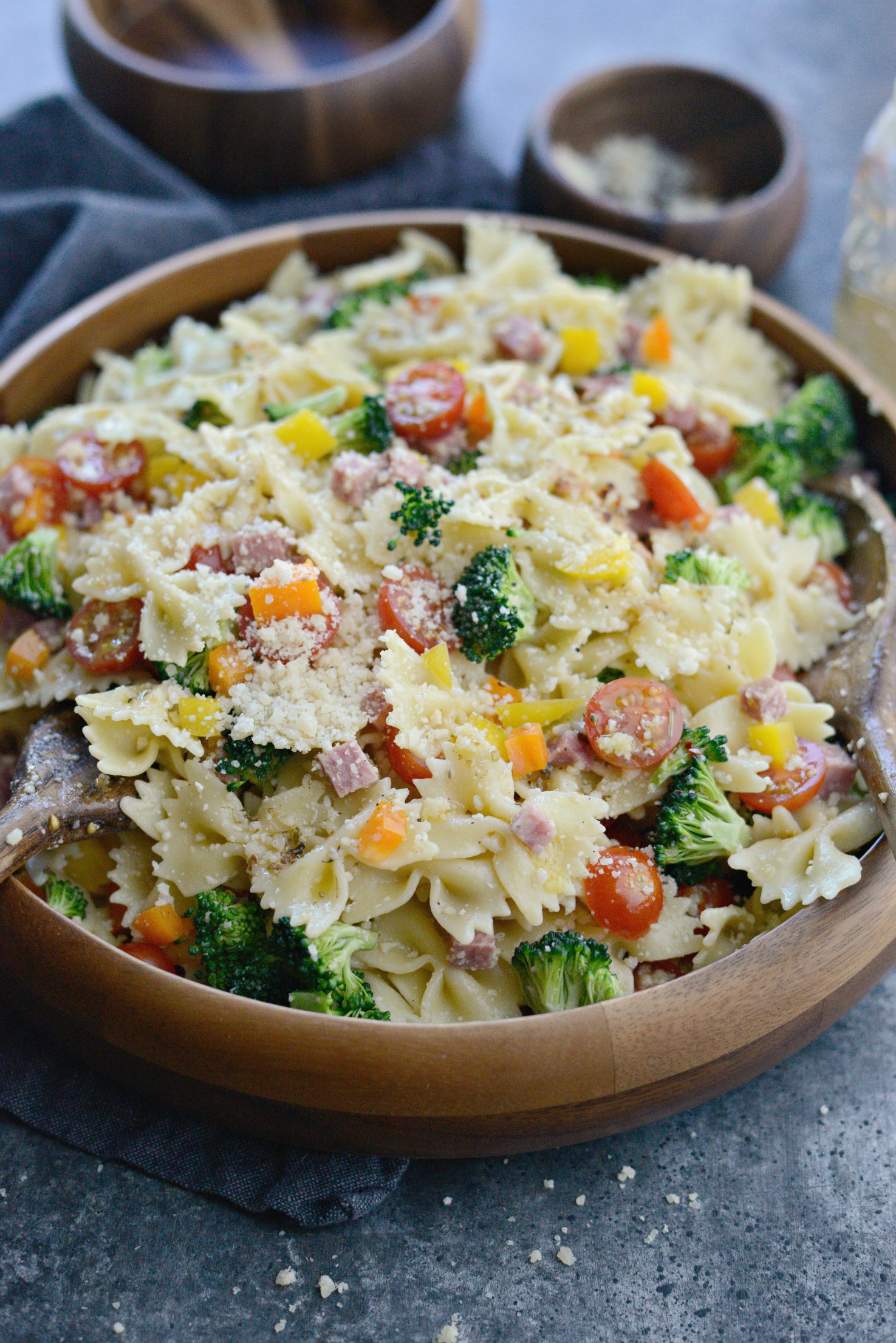 Since this Saturday, I couldn't stop thinking about pasta salad. Colorful veggies, Genoa salami and a quick and simple homemade Italian dressing stalked my waking thoughts until I could get home and make it and eat obscene amounts without any judging eyes. If it was up to me, I SO would've grabbed the bowl and ate.it.all.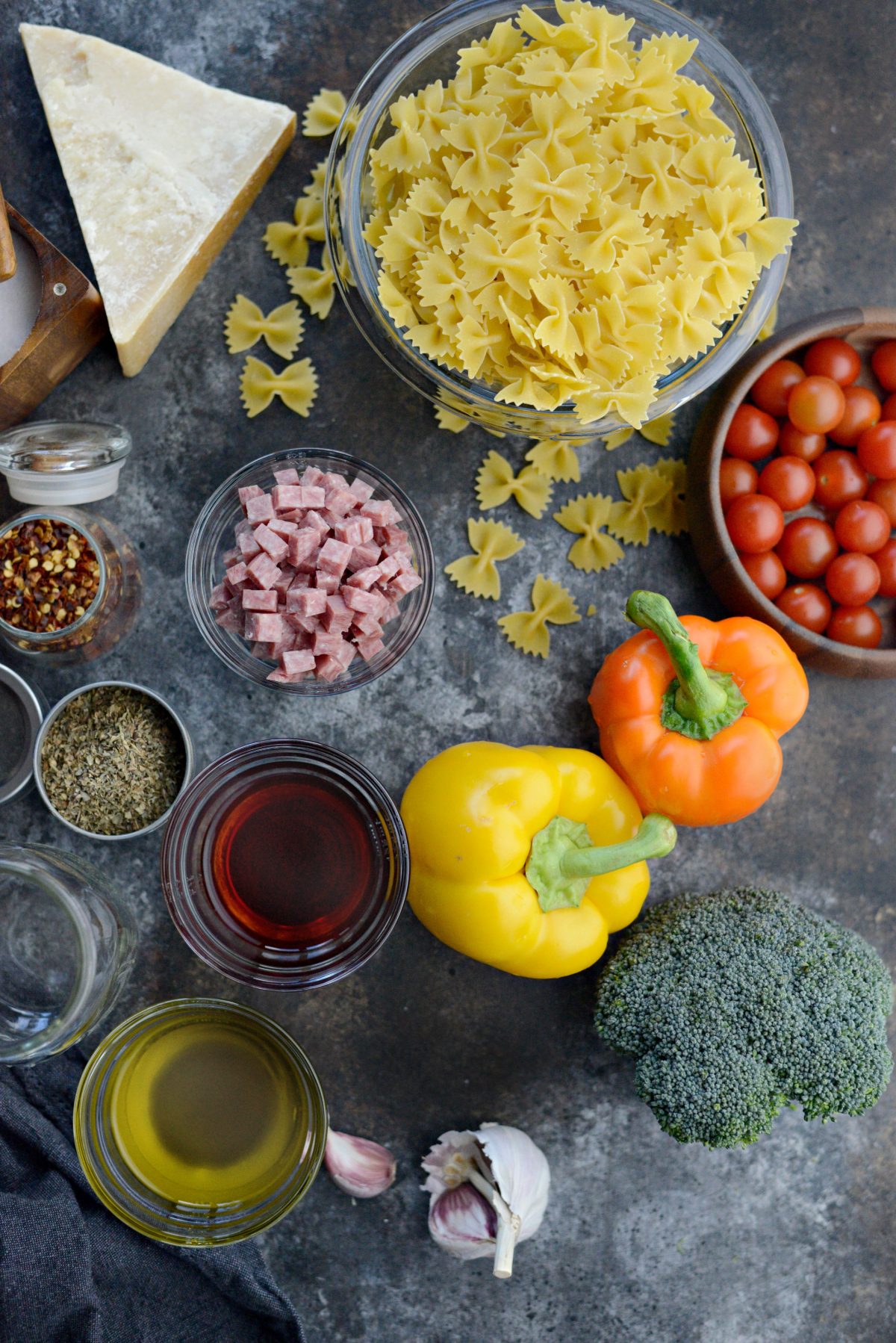 To Make This Italian Bowtie Pasta Salad You Will Need:
cherry tomatoes – I personally like these so much better than grape tomatoes, but feel free to use those too)
yellow and orange bell peppers
small broccoli crown
Genoa salami
parmesan
garlic
red pepper flakes
kosher salt
black pepper
olive oil
red wine vinegar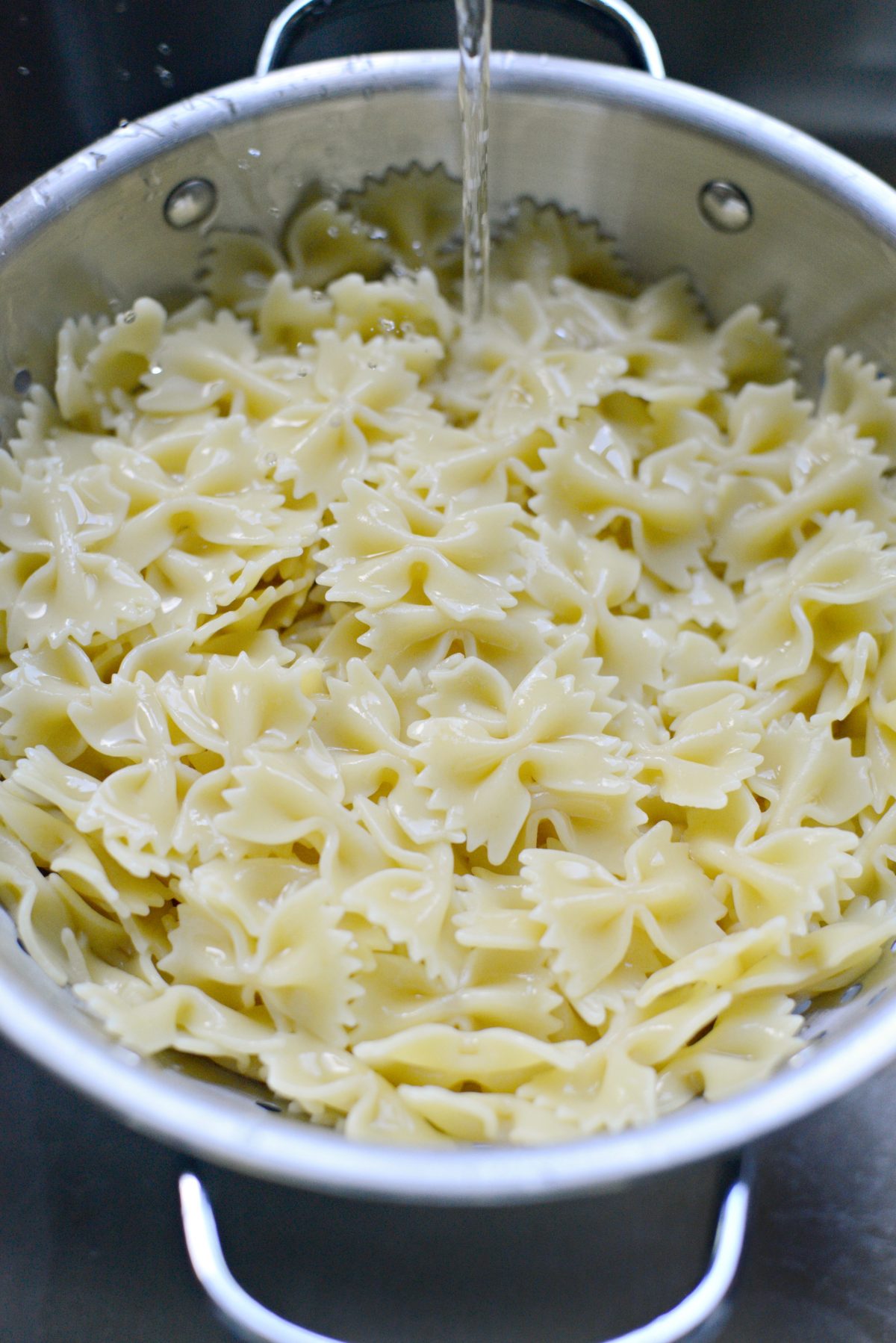 First things first bring a large pot of water to a boil. Once at a rolling boil, add in a good heaping tablespoon and give it a stir before adding in 12 ounces of bowtie pasta. Follow the instructions on the package cooking the pasta until al dente. Then pour the cooked pasta into a colander thats set into you sink and drain the pasta. Rinse with cold water to stop the cooking and cool down the bowties, toss every once and again with a spatula to drain properly.
Now Make the Dressing.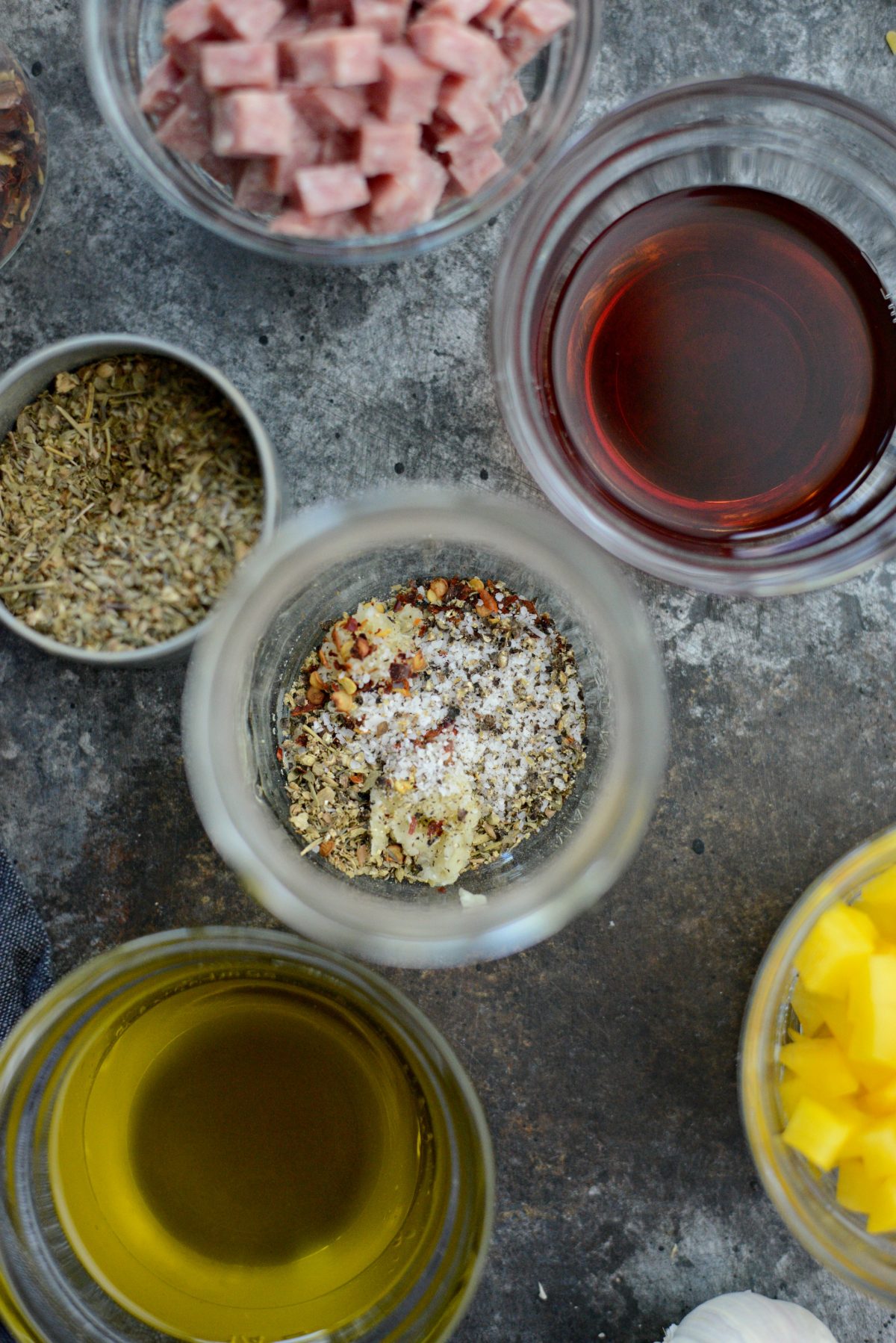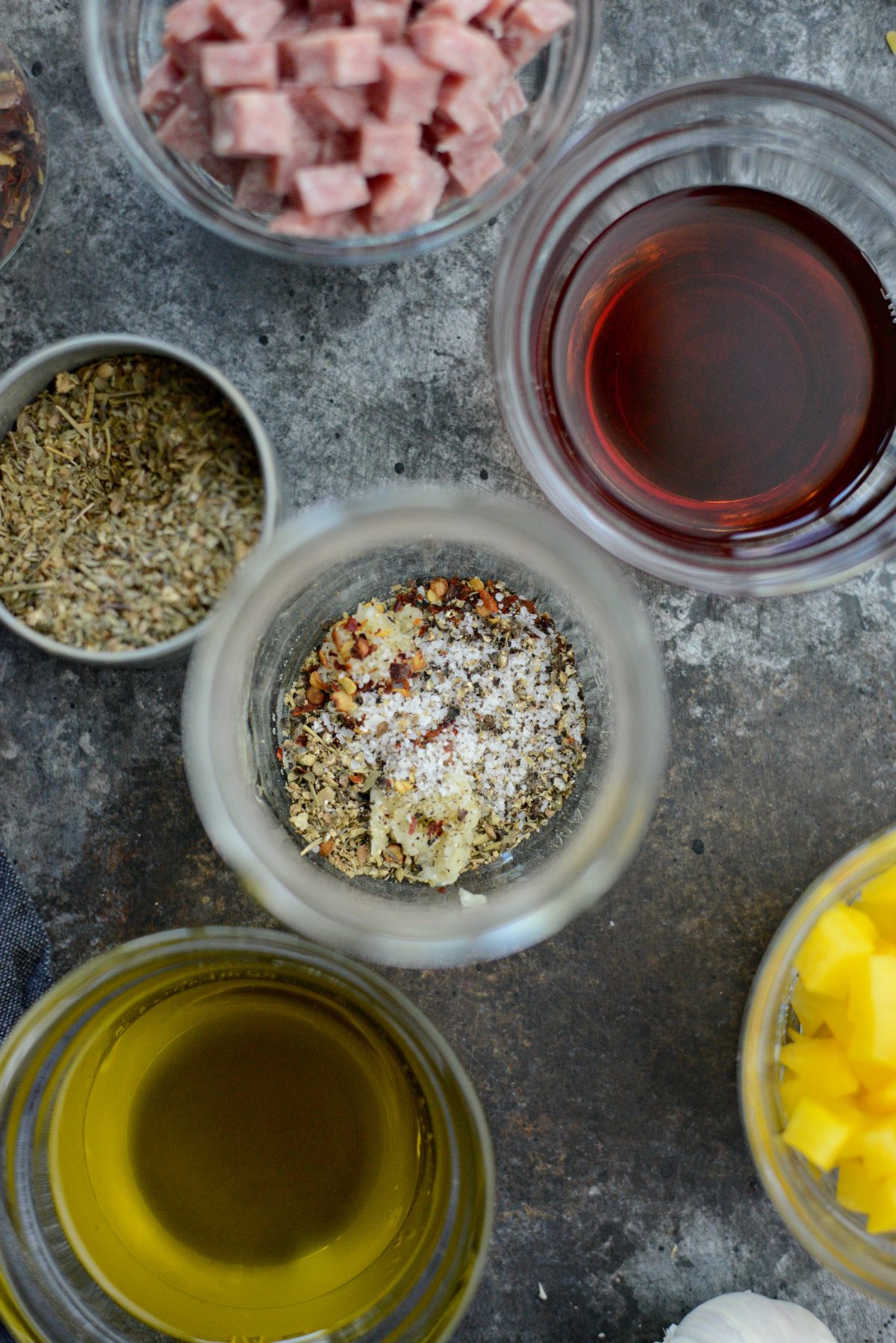 In a glass jar or container with a tight-fitting lid, grate in a clove of garlic. Measure and add in 1 teaspoon of Italian Seasoning, 1/2 teaspoon of red pepper flakes and I add about 1/2 to 3/4 teaspoon kosher salt and 1/4 teaspoon freshly ground black pepper. However, taste and season to your preference.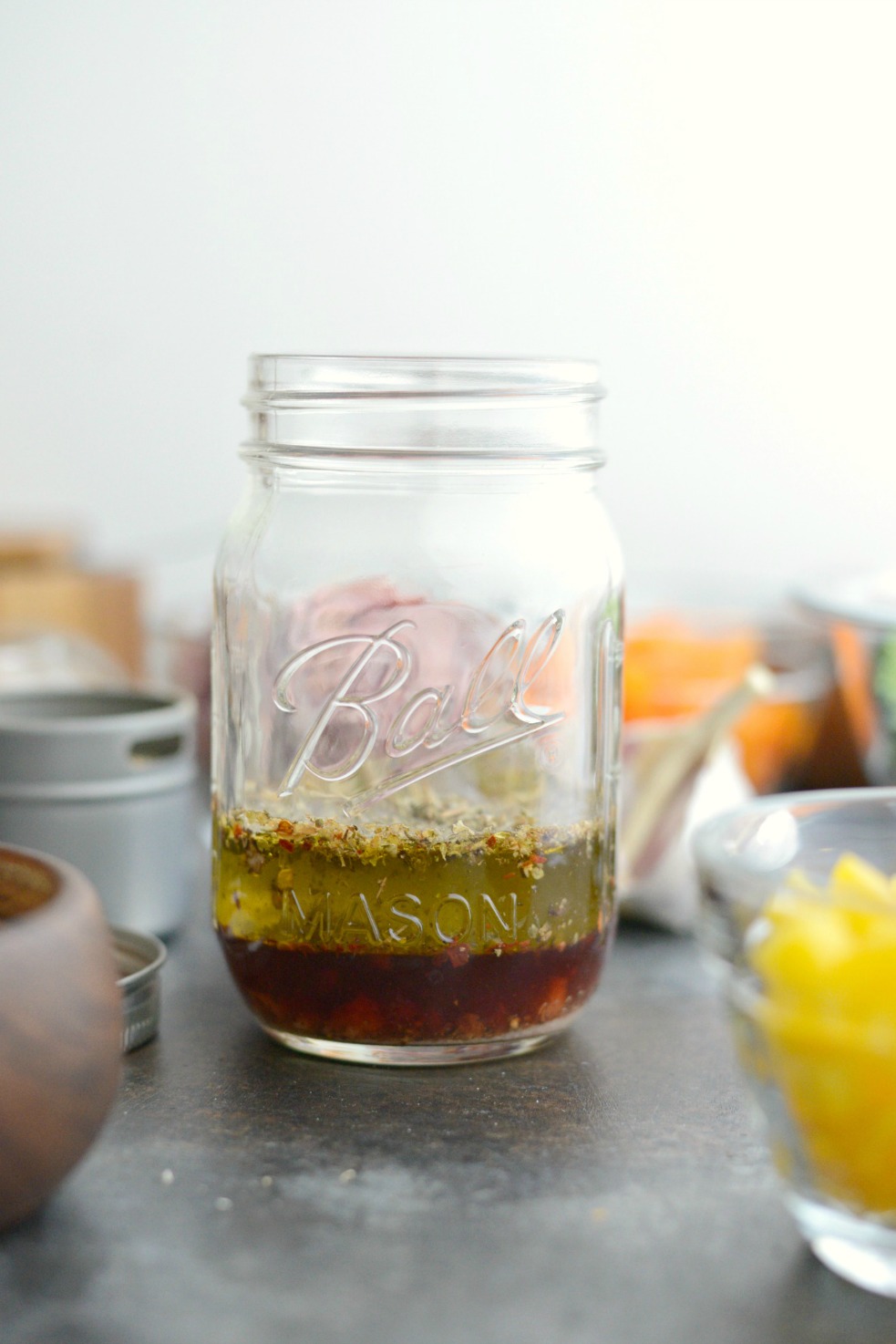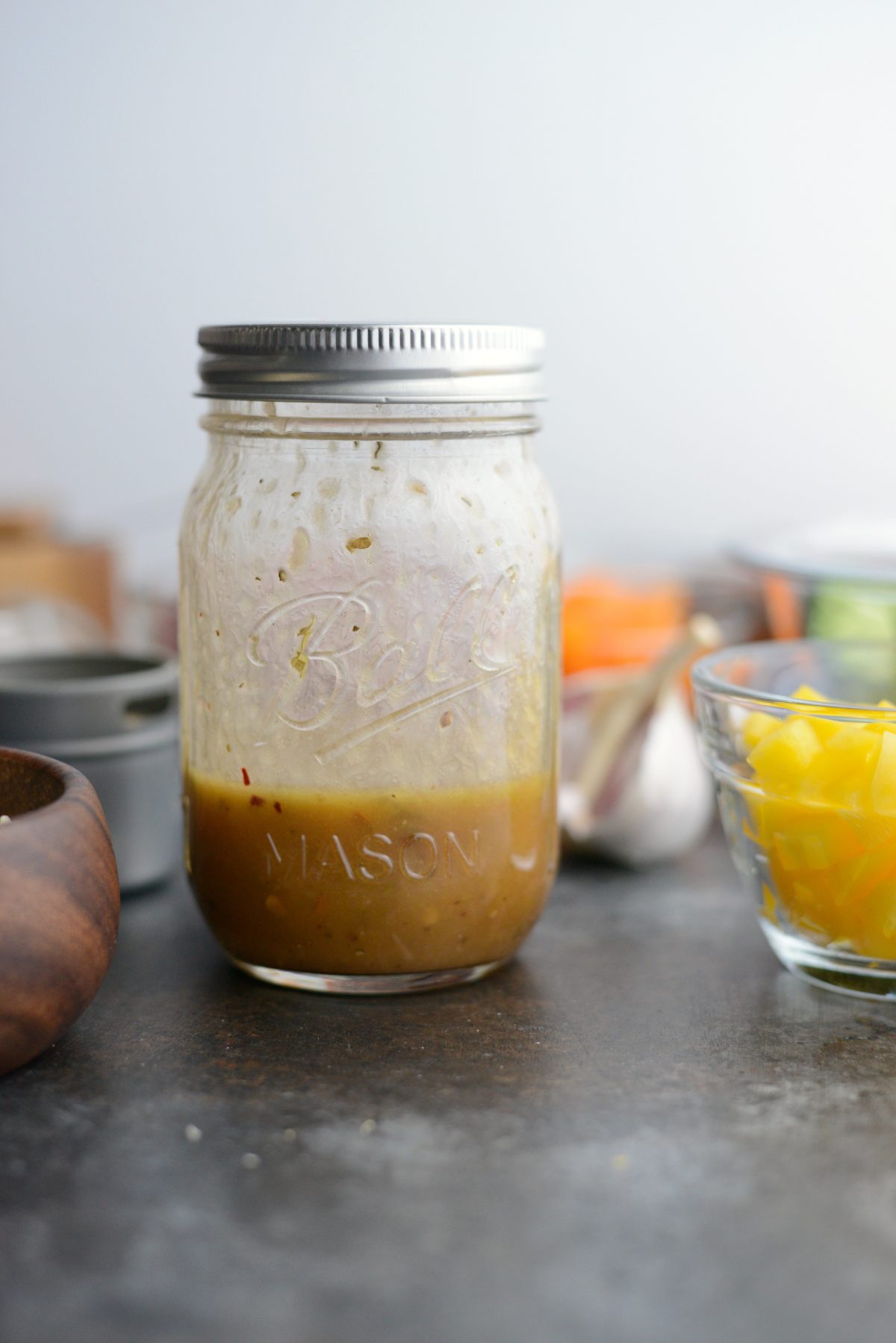 Next, pour in 1/4 cup of red wine vinegar and 6 tablespoons of good quality olive oil. Secure the lid tightly and shake until combined.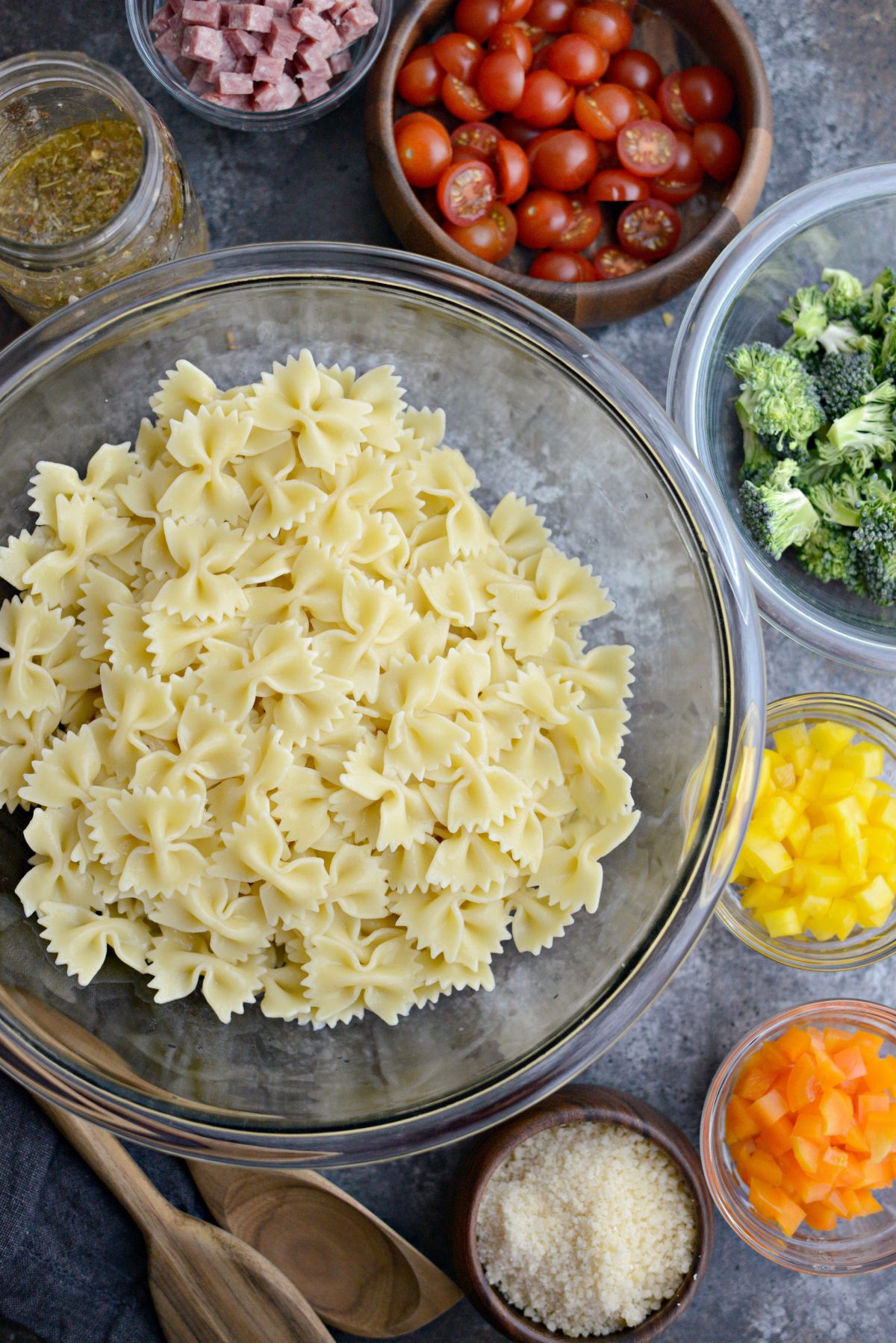 While the pasta is cooking and then draining, dice 1/4 of a pound of Genoa salami into small pieces. Then dice the peppers, section the broccoli into small bite-size florets (removing most of the stem if you want) and slice the cherry tomatoes in half.
Add all those colorful veggies into the bowl of cooked and cooled bowtie pasta, giving it a quick toss.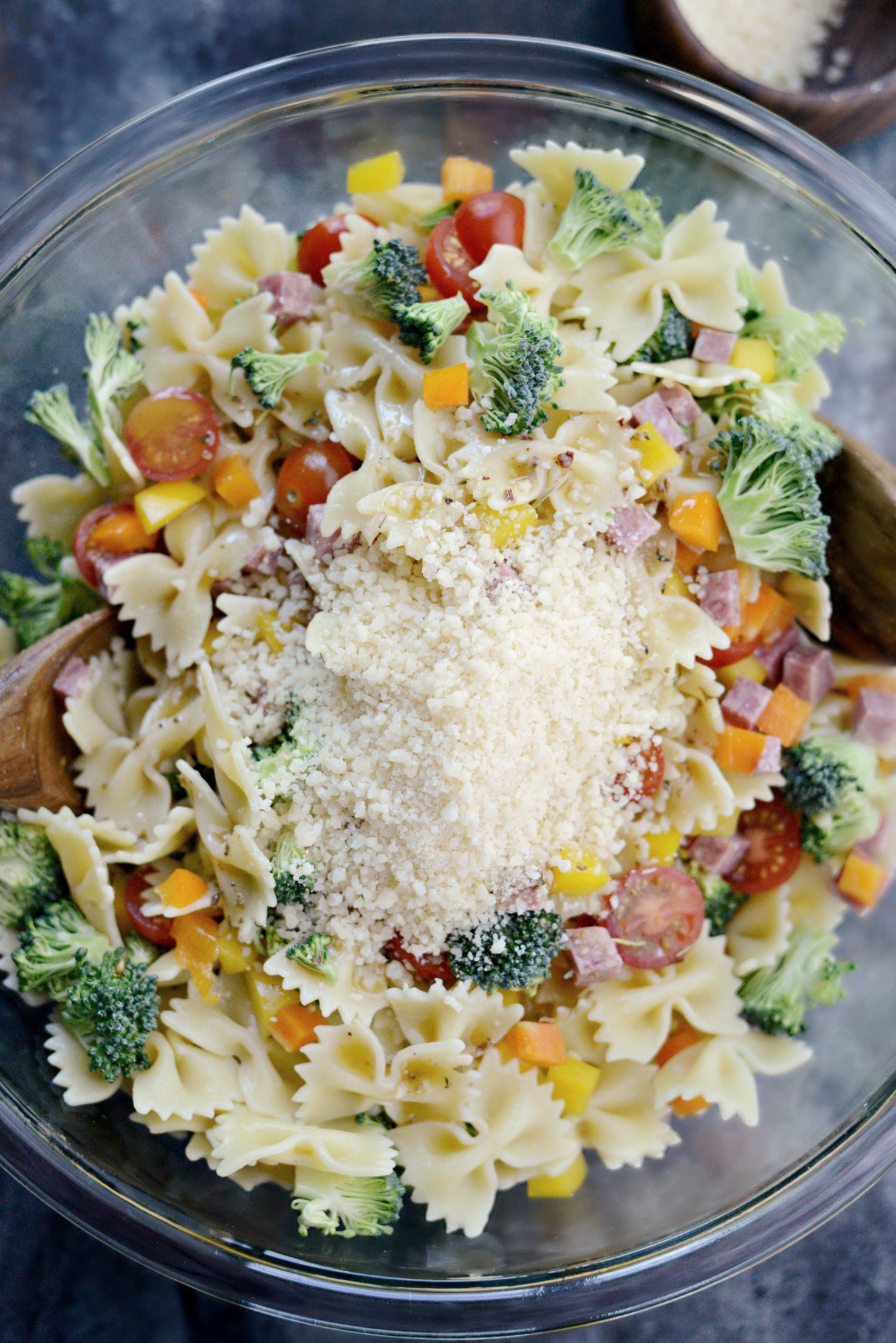 Pour in half of the dressing, toss and give it a quick taste to check for seasoning, adding a pinch or two of mores salt as neeeded. Then cover tightly and refrigerate until ready to serve.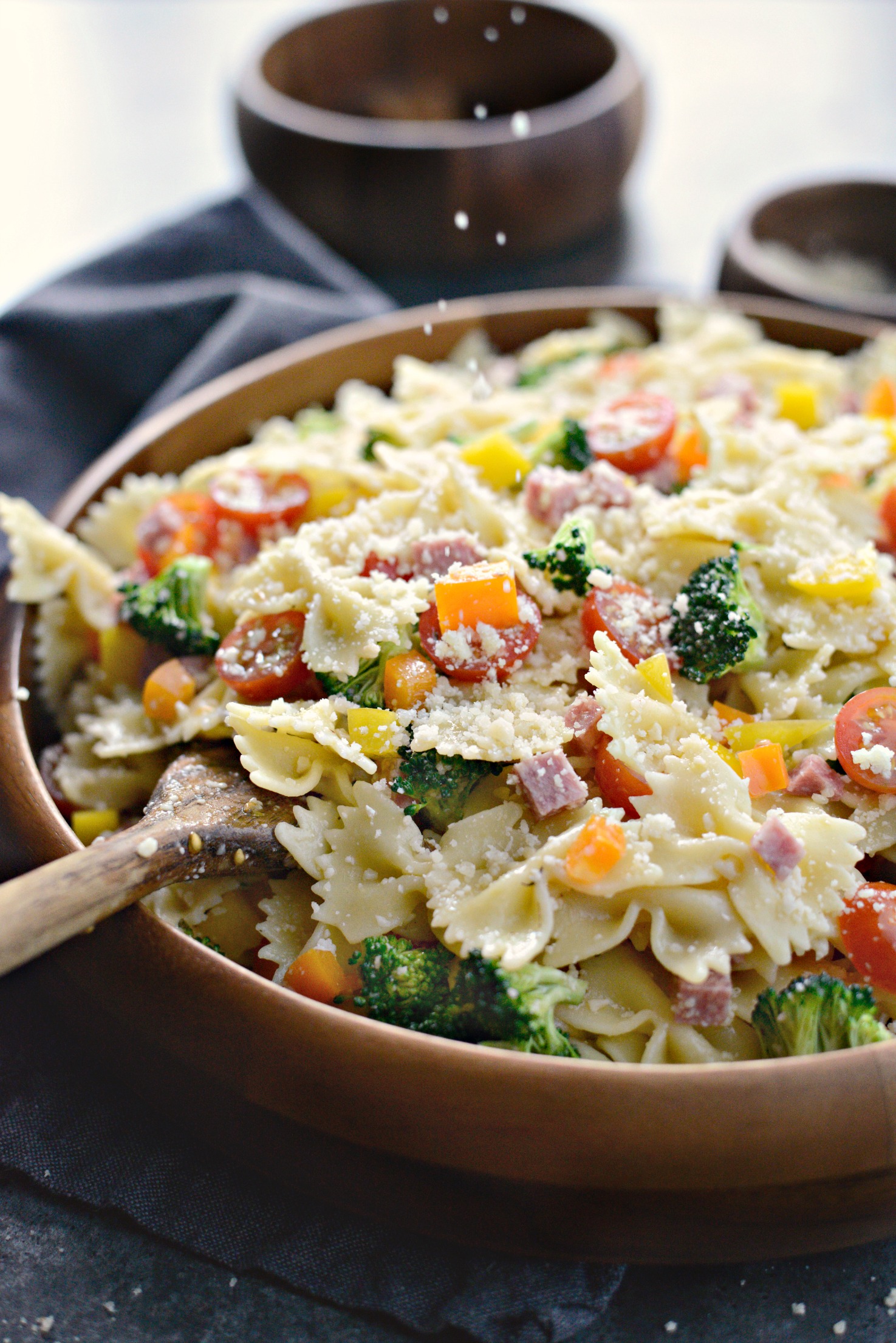 Right before serving, I toss it with the remaining dressing, a few grinds of black pepper and a sprinkle or seven of extra crumbled Parmesan cheese.
This is the absolute BEST Italian Bowtie Pasta Salad!
This Italian bowtie pasta salad is excellent and loved by every single soul in my household. Even though both my kids pick out the tomatoes — which happen to be my favorite part– I forgive them and then make them add their tomatoes to my plate.
This pasta salad is colorful, delicious, homemade with love and easy. If serving a large party, consider doubling it otherwise this salad feeds about 8. I make it for us four and we have it with grilled chicken.
It's light and bursting with fresh flavors!
Enjoy! And if you give this Italian Bowtie Pasta Salad recipe a try, let me know! Snap a photo and tag me on twitter or instagram!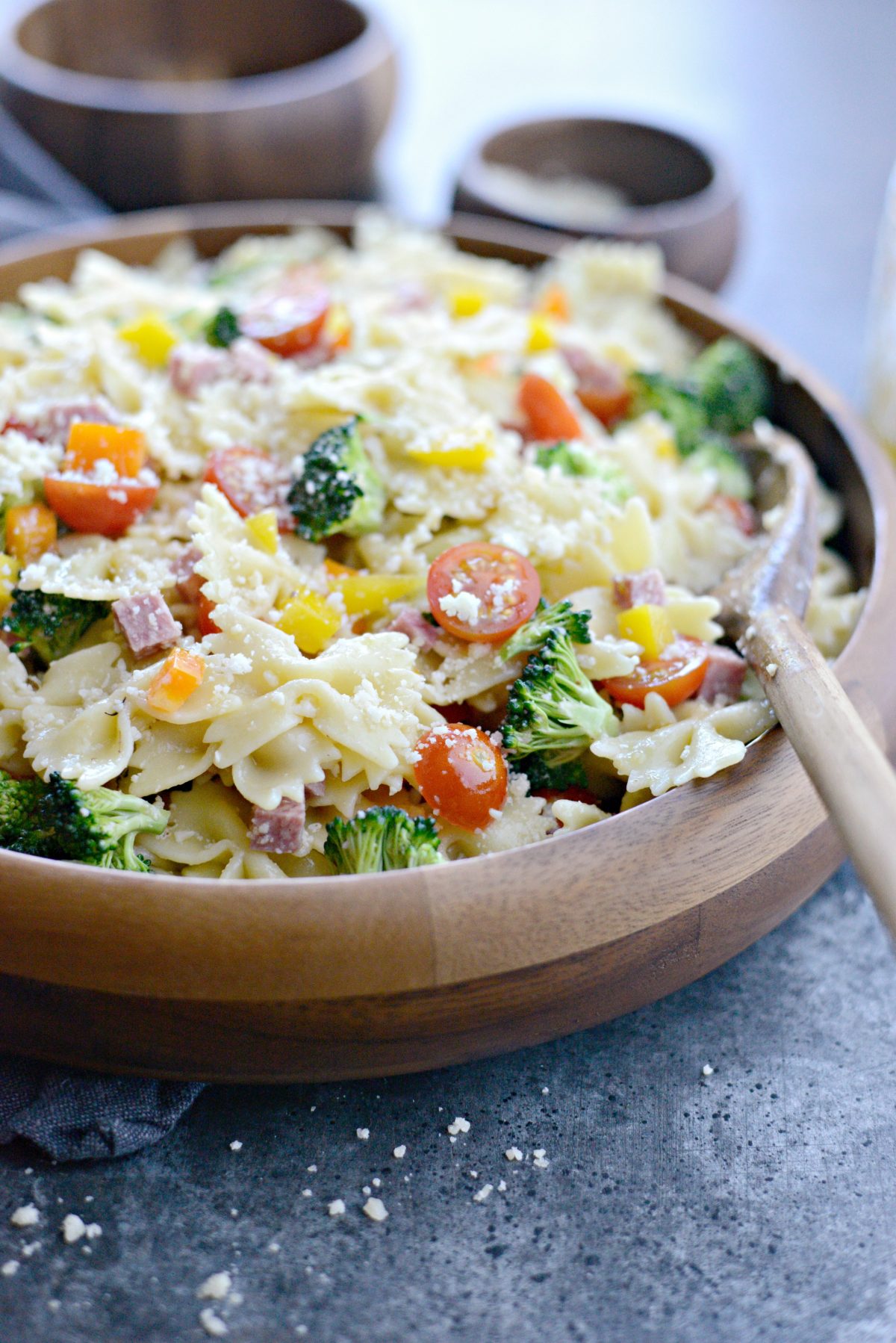 This post may contain affiliate links.
Buy the Cookbook: Simply Scratch : 120 Wholesome Homemade Recipes Made Easy Now available on Amazon »
THANK YOU in advance for your support!