This Grilled Ramps Recipe is simple and one of the best way to prepare wild foraged ramps. In this post learn how to harvest, clean, store and grill one of the first crops of the spring season. Serves 6.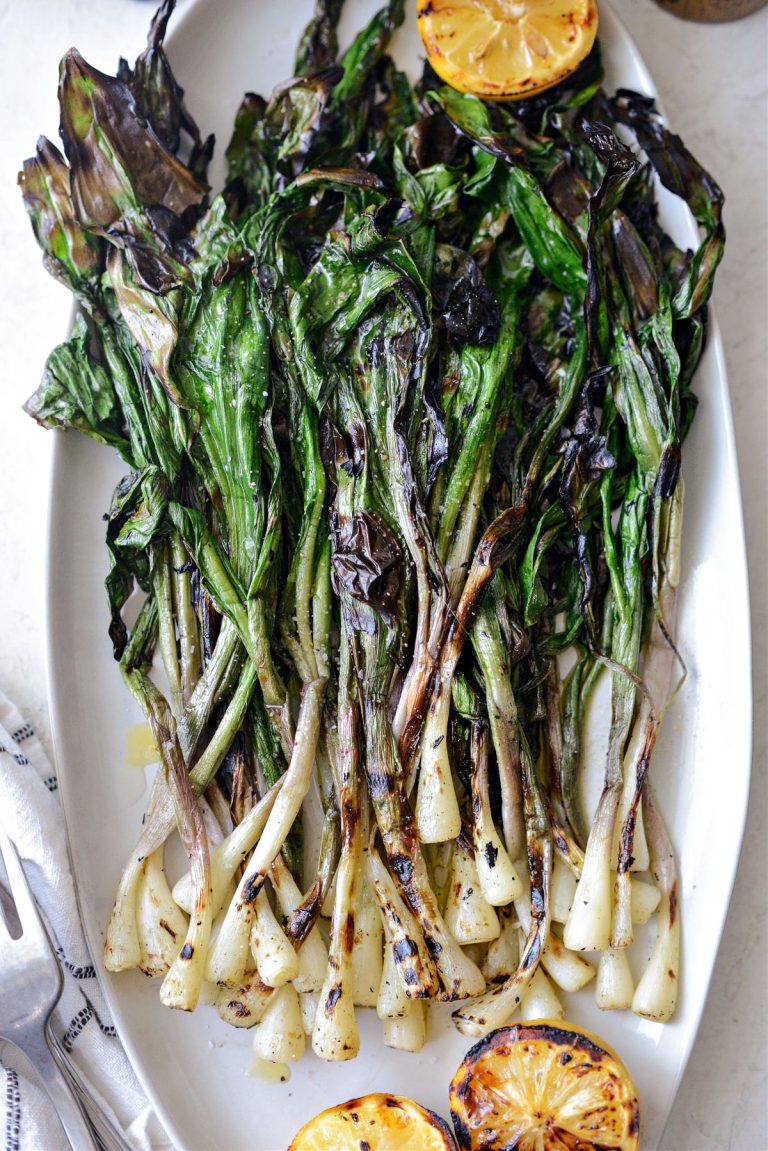 It's ramp season!
Every Mother's Day weekend for the last 4 years Pat and I meet up with our close friends foraging Michigan's woods for morels and ramps. Well to be honest, the guys grab a shovel and go out to get the ramps. After a day spent in hunched over and scouring the woods for mushrooms, we sit down and have grilled steaks with morels, Linda's potatoes with ramps – and I swear to you, it's the best meal of the year.
This year was a little different, as it was just Pat and I. But we kept the tradition going, we found 27 morels (exactly😉) and Pat foraged 2 pounds of ramps for me.
Although missing our friends, it was still a successful weekend!
To Make Grilled Ramps You Will Need:
ramps
avocado oil (or other oil with a high smoke point)
kosher salt
ground black pepper
lemon
extra virgin olive oil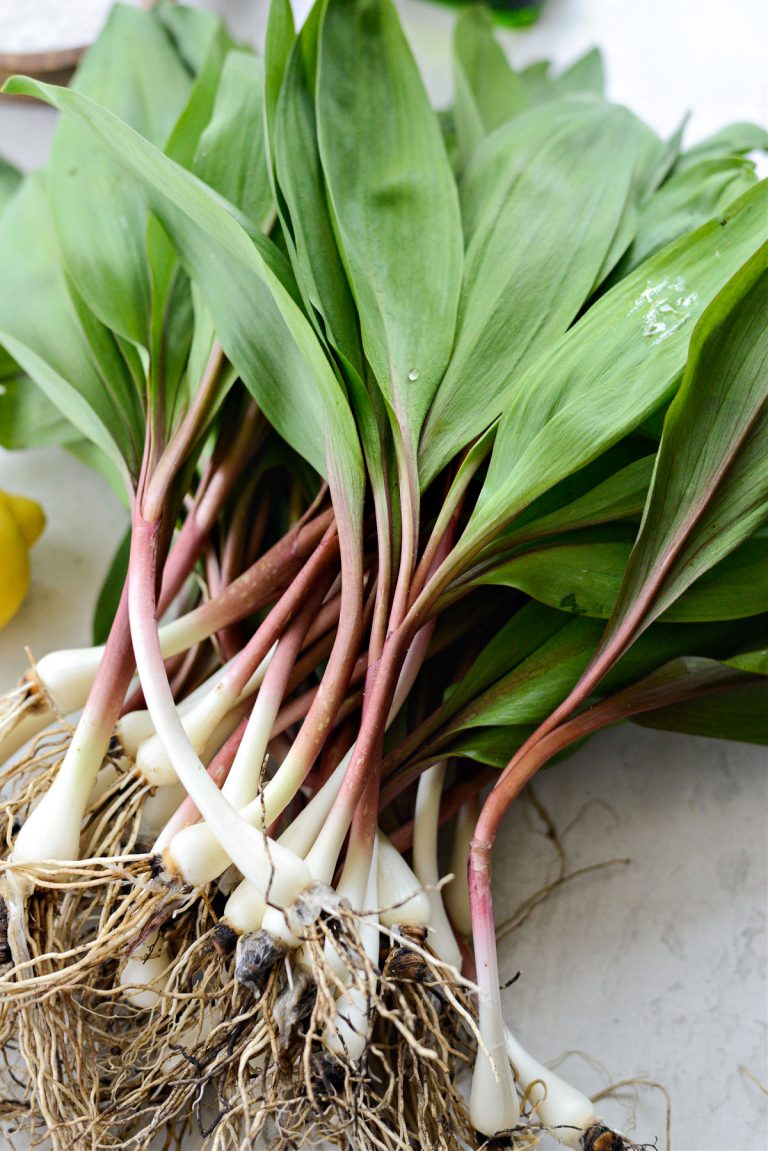 What are Ramps?
Ramps are wild leeks. They are part of the allium family (allium tricoccum) – related to green onions, shallots and leeks. They are native to North America and are found and foraged in the woods under the shady canopy of trees in the spring.
The entire plant is edible from the bulb to the leaves (excluding the roots😉). Although pungent, they are extremely versatile and taste like the combination of garlic and onion. There are lots of ways to enjoy ramps; raw, roasted, sautéed, grilled and you can also pickle the stem and bulb too.
Where can you Find Ramps?
If not the woods, you might want to check specialty grocery stores and farmer markets. They are only available for a short time period and are quick to sell. Also, from what I've read, they can be pretty pricy as well.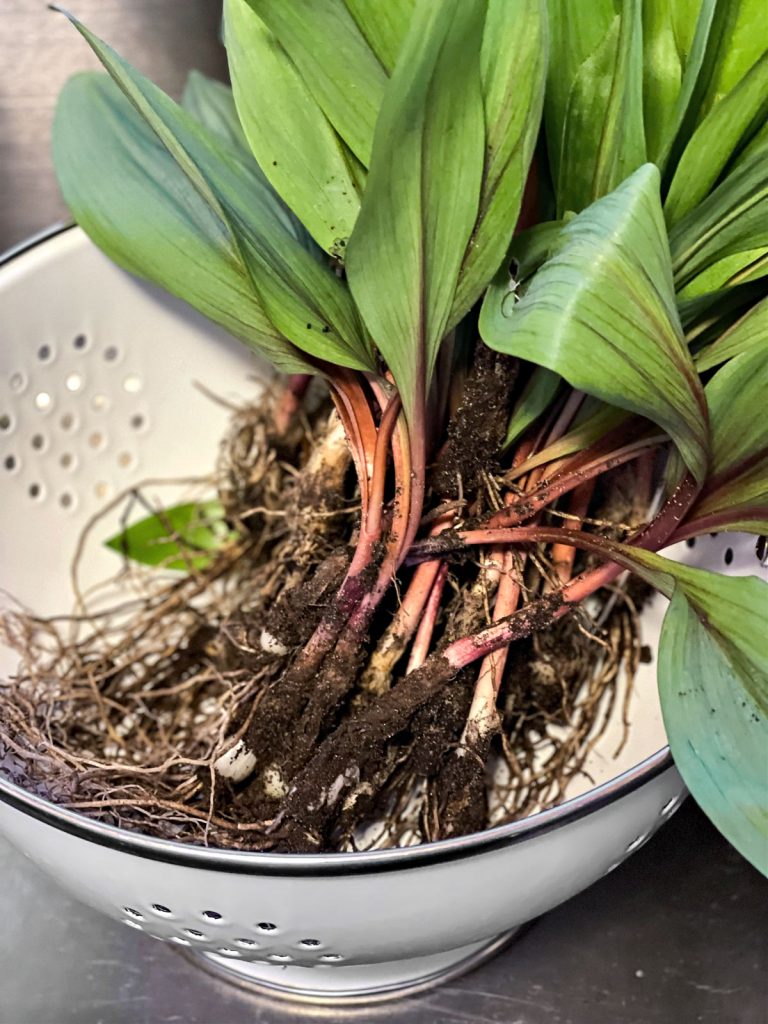 How To Harvest Ramps:
Use a shovel to dig 3 to 5 inches deep. We transferred small clumps of them to a cooler for transporting home, but a paper bag or large bucket will do. Be careful to keep the ramps and the leaves from getting bruised, bent or crumpled. Make sure to check the DNR website for your state and read about what's permitted for harvest, what is not and any rules and regulations for properly foraging wild foods.
Also, it's important to note: You never want to remove all the leeks from a certain area. Ramps have fine roots, but they are also connected by a thicker root system or offshoots from a bulb. It's always best practice in conserving the crop, to always leave a few behind (still in the ground) so that they can come back the next season. Otherwise you will wipe out the ramp crop in that particular area.
How To Clean Ramps:
Just like regular leeks, you will need to thoroughly clean ramps as soil and mud hid in all their crevices. Even if you find ramps at the farmers market and they look like they've been cleaned or you're told they are clean – it's still recommended to give them a thorough wash before using them.
With that said, there's really no wrong way to do it. I start by Gently loosen the leeks from the soil, then (still being gentle!) shake off any excess soil/mud. Rinse the root and peel back and discard any thin loose or slimy layers. I was washing 2 pounds of ramps, so I wore gloves to avoid water soaked hands.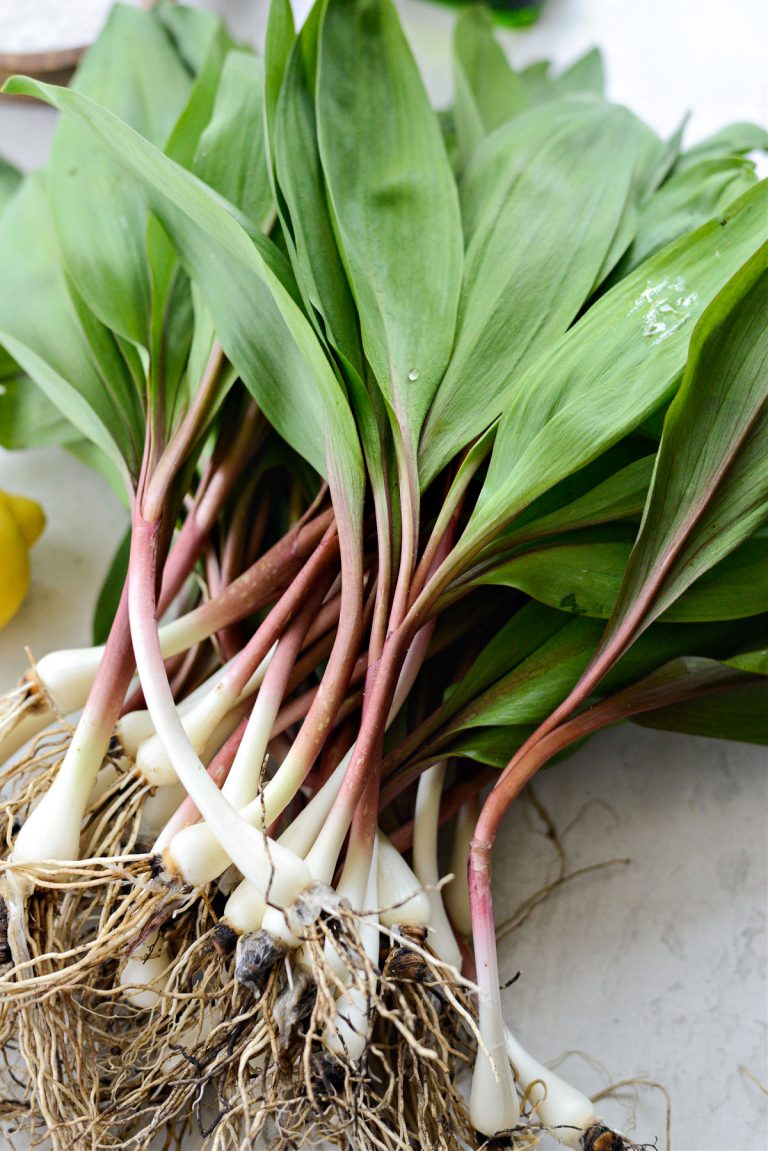 Give the roots a final rinse. These ramps are not completely cleaned yet. I personally stop here, leaving the roots attached before storing. I finish cleaning them the day I'm preparing them (which I'll show below). With that said, I'm sure you can trim, soak, rinse, pat dry and store these without running into any issues. I just like to play it safe I suppose.
How To Store Ramps:
After cleaning and rinsing the ramp roots, I wrapped the root end with a few layers of paper towel (like a bouquet of flowers) the water from the ramps will dampen the paper towel. Then carefully placed the "bouquet" (root-side down) into an unsealed plastic bag. Lay down flat in your refrigerator shelf or crisper drawer. Be mindful to not crush the plant or its delicate leaves. I used these the next day, but I'm pretty positive they would last a 3 to 4 days at least this way.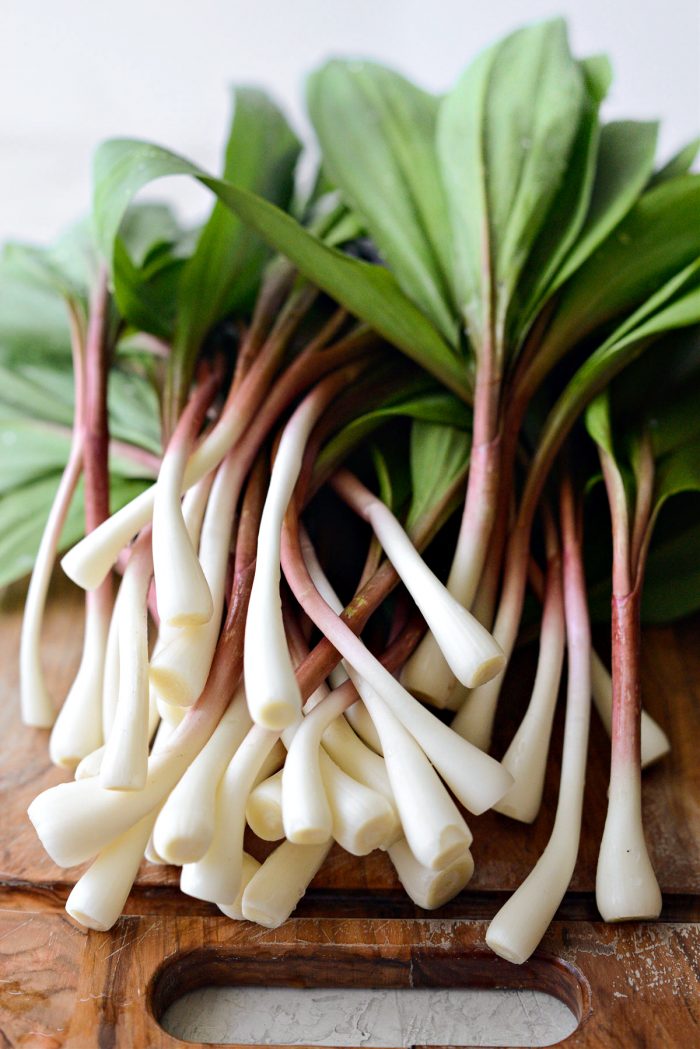 How To Grill Ramps:
Trim and discard the root end.
I finished cleaning the ramps right before using – that's just a personal preference. Fill a large bucket or bowl with cold water. I'm using our brining bucket but you could work in batches using a bowl or even a deep roasting pan.
Submerge the ramps into the cold water. Gently swish them around.
Remove and turn the ramps before plunging them leaf side first into the water.
Continue to do this a few times.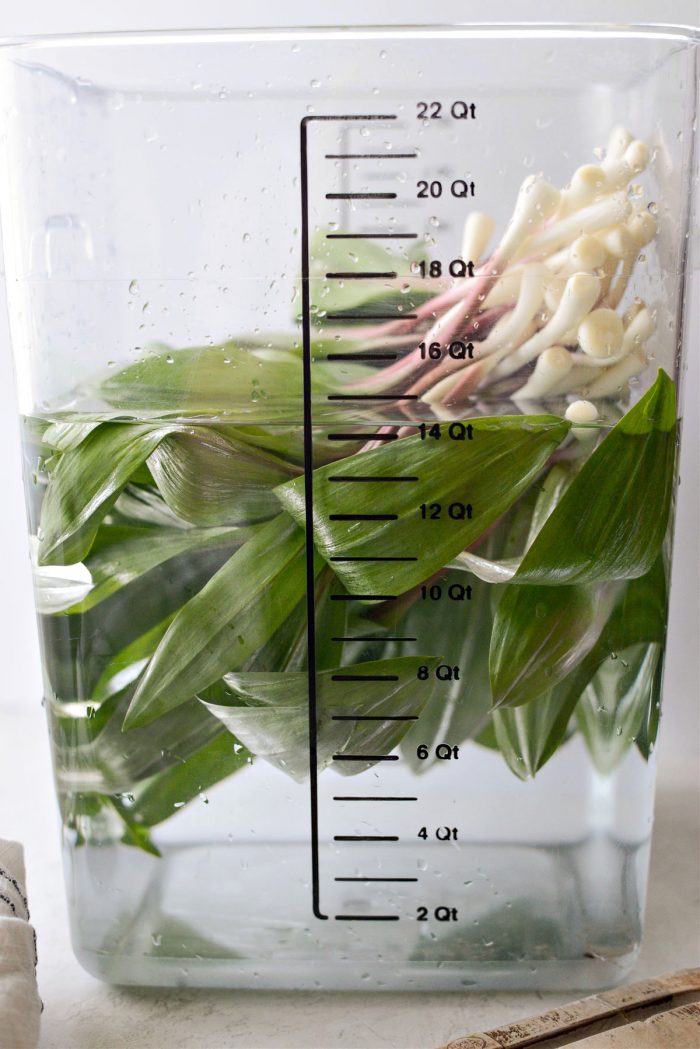 Lastly fully submerge the ramps and let them sit for about 15 minutes or so.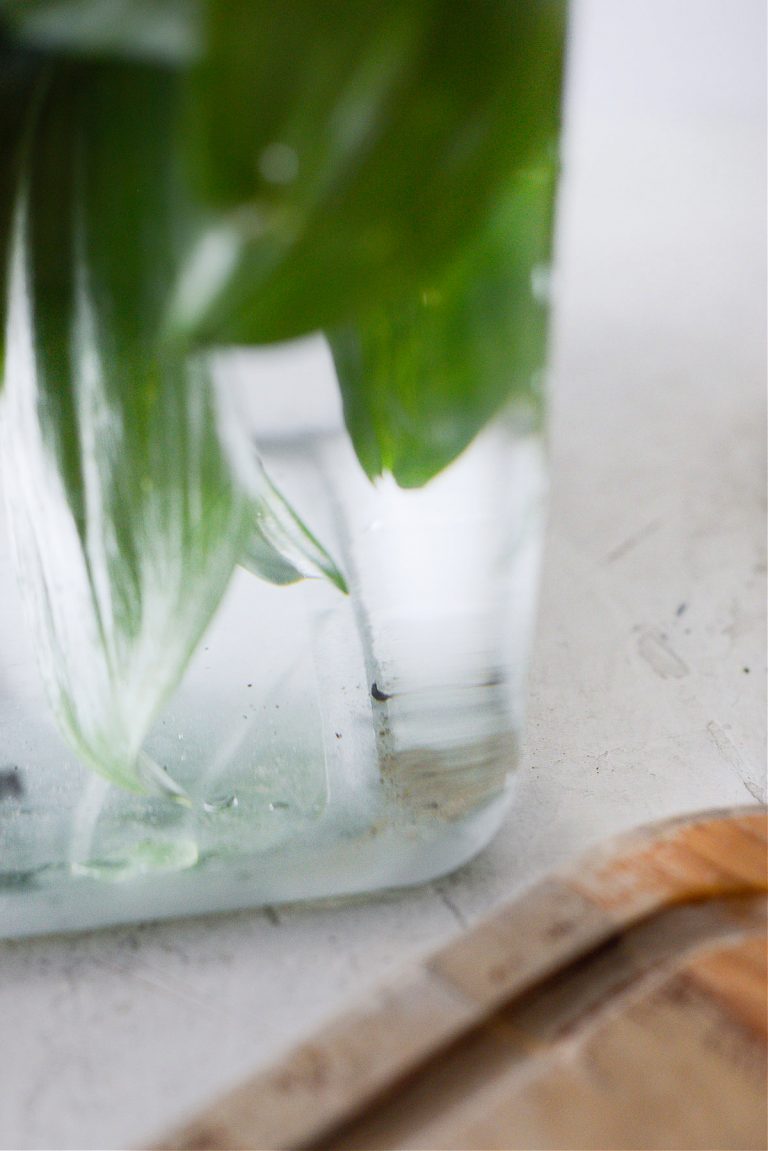 The dirt will sink to the bottom of the bucket.
Remove the ramps, shaking off the excess water over a sink. Transfer them to a clean kitchen towel and pat dry with a separate clean kitchen towel.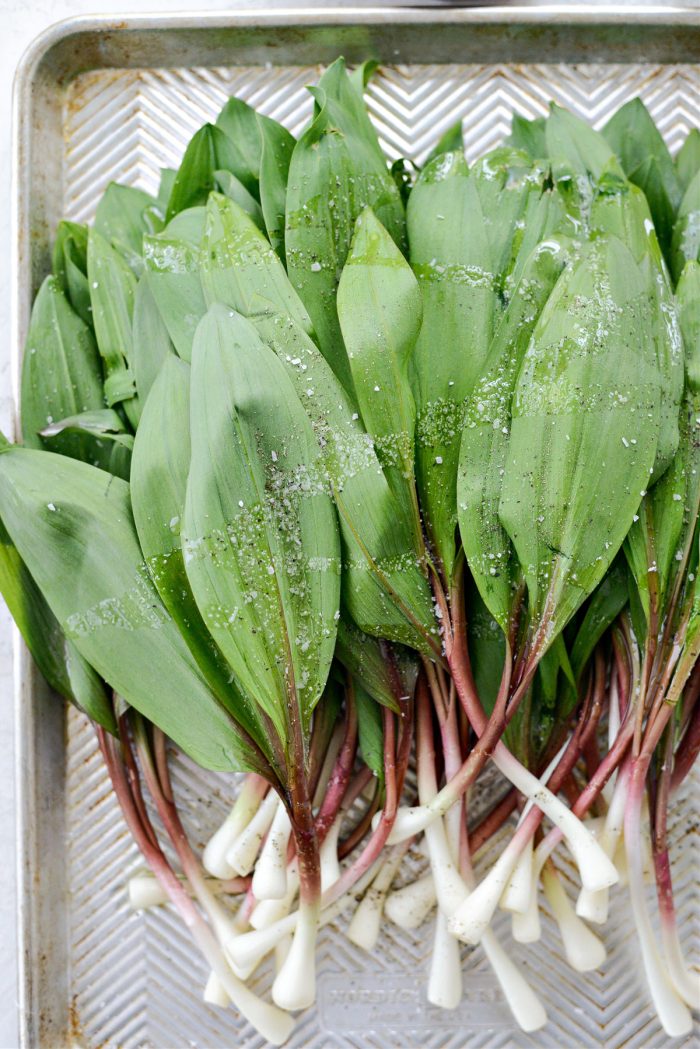 Once dry, transfer the ramps to a rimmed metal baking sheet. Drizzle with about 2 tablespoons avocado oil and season with a few pinches of kosher salt and some freshly ground black pepper.
Using your hands, gently toss the ramps well to coat evenly in the oil and seasoning. Brush 2 to 4 lemon halves with oil as well.
Preheat you grill to 500°
Once hot, lay the ramps down on the hot grill grates.
On the hottest part of the grill, place the lemon halves cut side down so they can develop good char quickly. You only really need 1/2 a grilled lemon for this recipe, but I grill 4 halves to have grilled lemons as garnish.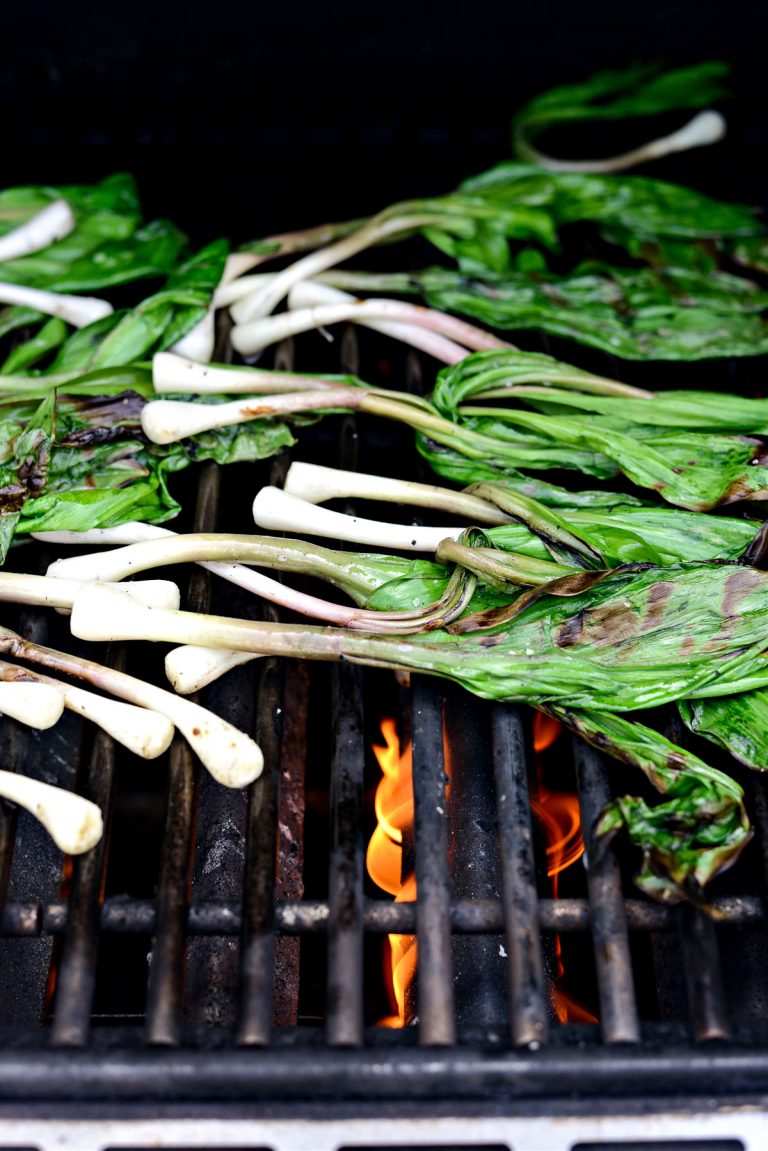 Grill for a few minutes a side.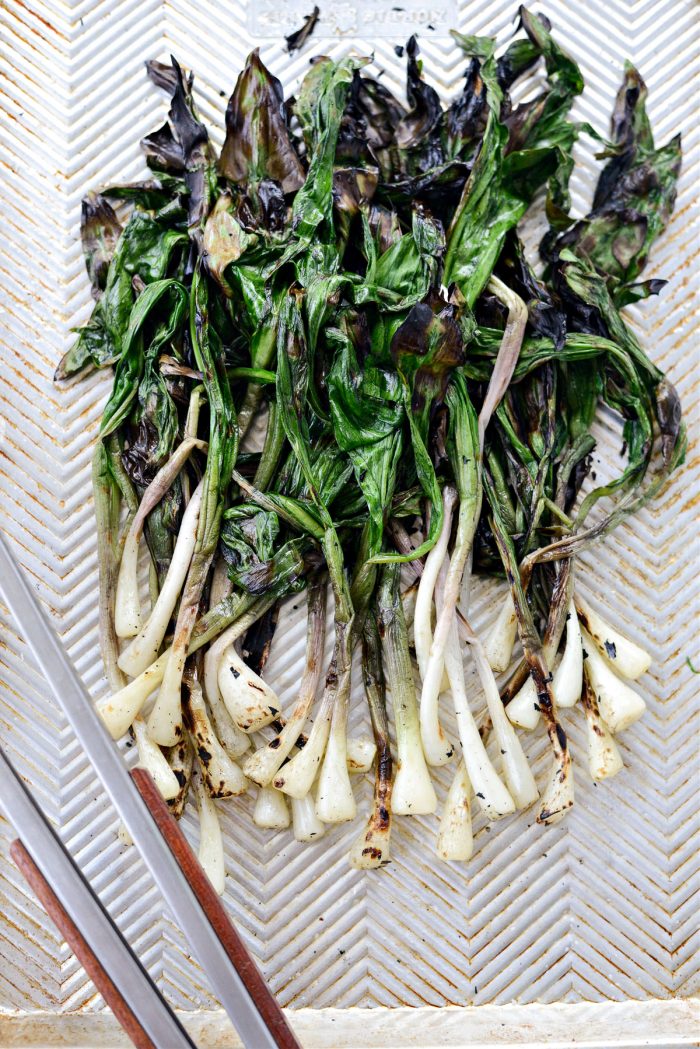 Remove and transfer the ramps and grilled lemon to the rimmed baking sheet and bring inside.
Transfer grilled ramps to a serving platter along with the grilled lemons. Drizzle the ramps with a little extra virgin olive oil.
And squeeze the juice of 1/2 a grilled lemon.
Grilled lemons are so ridiculously juicy!
Serve immediately!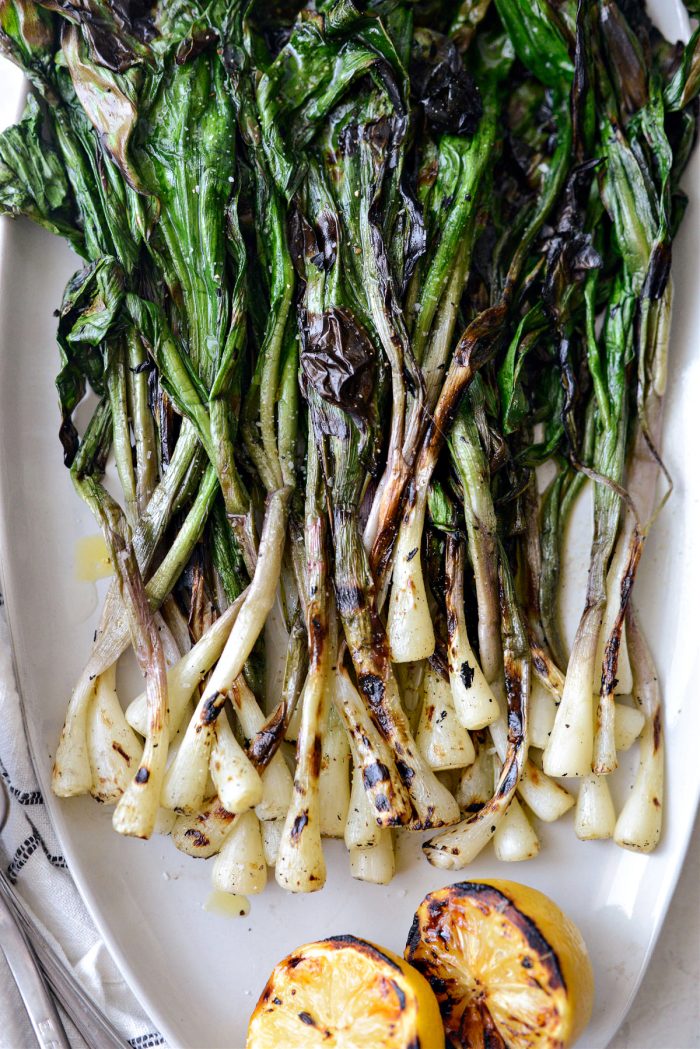 Grilled ramps are extremely flavorful and tender. I suggest serving them with any grilled protein; chicken, beef, seafood or even plant based proteins – these grilled ramps will go with just about anything!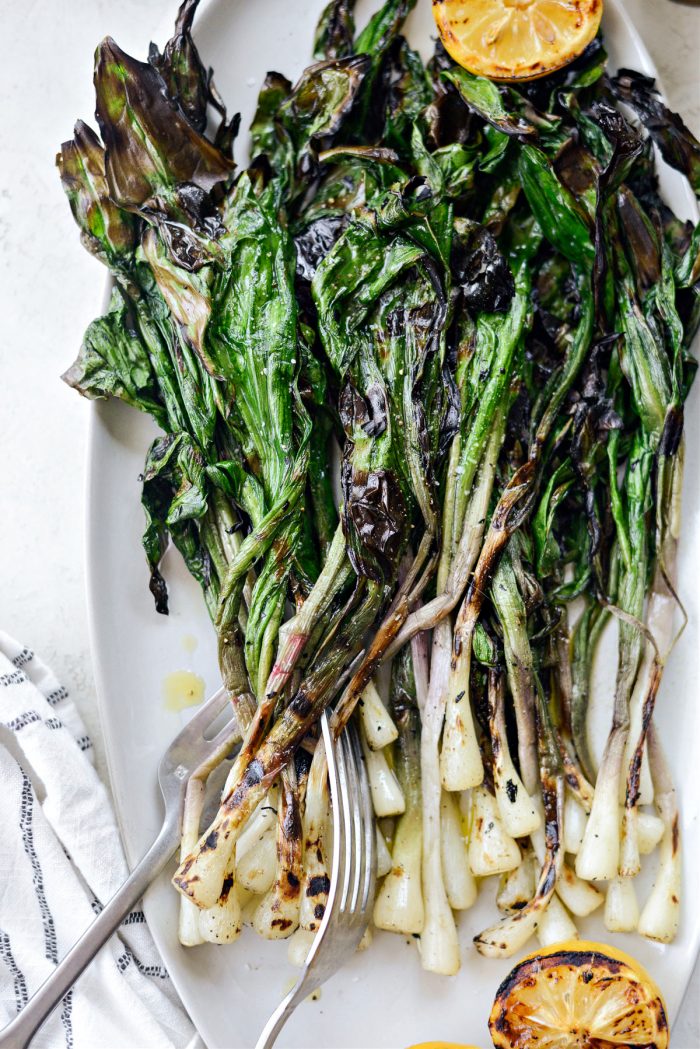 Enjoy! And if you give this Grilled Ramps Recipe a try, let me know! Snap a photo and tag me on twitter or instagram!
Yield: 6
Grilled Ramps Recipe
This Grilled Ramps Recipe is simple and one of the best way to prepare wild foraged ramps. In this post learn how to harvest, clean, store and grill one of the first crops of the spring season.
Ingredients
1 pound ramps
2 tablespoons avocado oil
kosher salt
freshly ground black pepper
1 to 2 lemons, halved, brushed with oil
drizzle extra virgin olive oil
Instructions
Read the body of the post for foraging, cleaning and storing ramps.

Once your ramps are trimmed cleaned. Shake off any excess water (into the sink) and spread them out onto a clean kitchen towel. Use another clean towel to pat them dry. Flip the ramps and repeat.

Preheat your grill to 500°.

While your grill is preheating; place the dried ramps on a rimmed metal baking sheet. Drizzle 2 tablespoons avocado oil (or other oil with a hight smoke point) over the ramps and season with a few pinches of kosher salt and freshly ground black pepper.

Use your hands to gently toss and evenly coat the ramps including the leaves. Brush a little oil on the cut side of the lemon halves as well.

Once your grill is hot, use tongs to transfer the ramps to the hot grill grates. And place the lemon halves cut side down on the hottest part of your grill. Cook the ramps only a minute or two before flipping and repeating. Leave the lemon until it has good grill marks.

When the ramps are tender, transfer them back to the baking sheet and bring inside along with the charred lemon.

Transfer the grilled ramps to a platter. Drizzle with a little olive oil and squeeze the juice from 1/2 a grilled lemon. Season with a little extra salt and pepper before serving.
Calories: 94kcal, Carbohydrates: 13g, Protein: 1g, Fat: 5g, Saturated Fat: 1g, Polyunsaturated Fat: 1g, Monounsaturated Fat: 3g, Sodium: 1mg, Potassium: 25mg, Fiber: 2g, Sugar: 3g, Vitamin A: 1289IU, Vitamin C: 19mg, Calcium: 50mg, Iron: 2mg
This post may contain affiliate links.
Buy the Cookbook: Simply Scratch : 120 Wholesome Homemade Recipes Made Easy Now available on Amazon »
THANK YOU in advance for your support!