Vanilla Bean French Toast! Thick slices of challah or brioche dipped in a fragrant vanilla bean custard are then griddled until golden. Top with fresh juicy nectarines and syrup!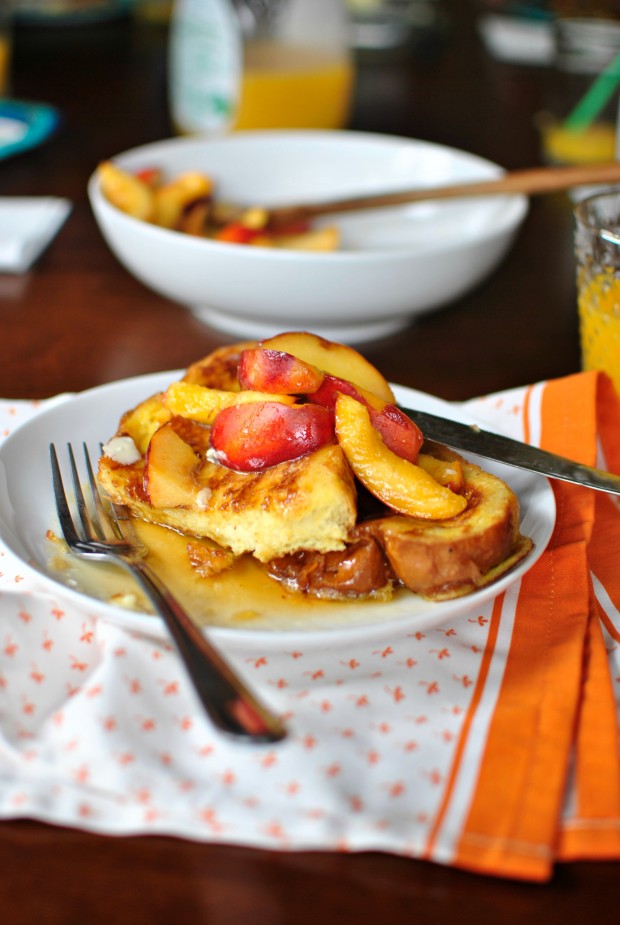 French toast is serious business. But first you must know I realize I should be posting a bunch of festive red, white and blue recipes… but to be honest from BlogHer, to softball, to work and to blogging the holiday kind of snuck up on me. So my sincere apologies on that bit. I promise to make it up to you next week with a plethora of new recipes! Deal?
Okay so back to business.
From the bread to the egg mixture to the endless toppings, French toast could just be my favorite breakfast-y thing to make. I say that just about everything, but go with it. I've made lots of French toast in the past, but if you're looking for a simple, easy and pretty basic French toast recipe… then this is it.
I have this thing with nectarines. I love them so much this is my third recipe up on this here bloggy-blog. I've posted this cardamom nectarine recipe, this parfait recipe recipe and now I put them on my French toast… which was fab by the way!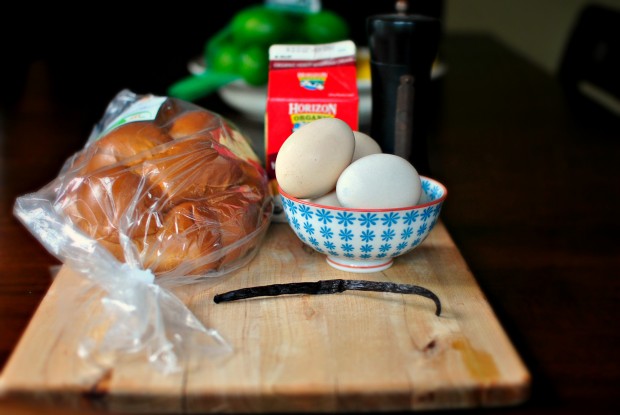 To Make Vanilla Bean French Toast You Will Need:
eggs
vanilla bean
heavy cream
challah or brioche
nectarines
sugar or vanilla sugar
ground cardamom
Crack and add the eggs into a dish.
Moving on, so you see I had this here lonely vanilla bean that was destined to be something great. All you do is split the length of the entire bean with a sharp knife.
With the back of the knife, scrape up that glorious vanilla bean caviar. Truth: so many times I just want to pop that vanilla caviar strait into my mouth… of course I'm scared it'll taste dis-GUS-ting and I'll hate it… but it doesn't stop the urge from happening.
Add that goodness to the eggs.
I had my cute-as-pie almost nine-year-old pour the heavy cream (a cup-ish) into the dish with the vanilla and eggs.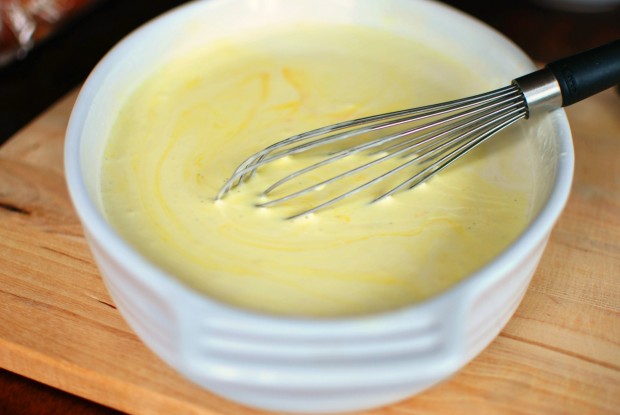 Add a pinch of kosher salt and whisk it up… make sure to break up that vanilla bean so it gets evenly distributed.
Challah!
Slice the loaf into slices about a half to a full inch thick.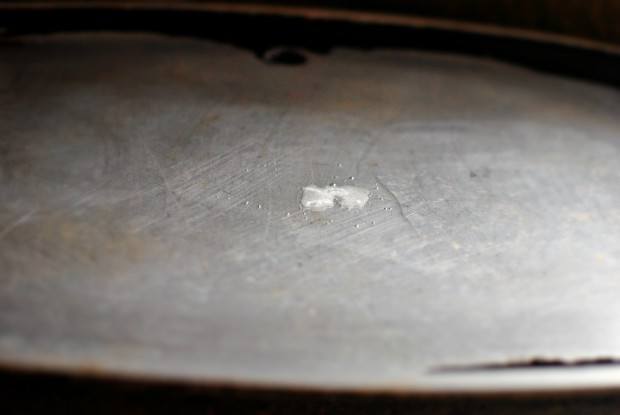 Preheat 325°-350℉ (or 160°-180℃).
Melt and spread a little coconut oil (or butter) on a preheated griddle or skillet. BTW this is my childhood griddle made by Farberware, it's as old as I am (if not older), it's stainless and it still works like a champ! I love this thing!
Dunk both sides…
And place on a hot griddle.
Once a dark golden crust forms on the bottom… flip.
HOW TO KEEP FRENCH TOAST WARM:
As you work in batches, transfer the cooked pumpkin french toast to a clean rimmed baking sheet and keep warm in a low 200℉ (90℃) oven.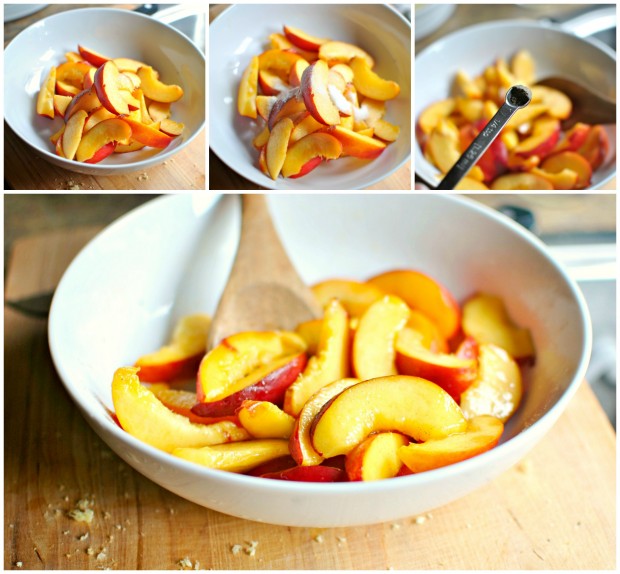 To make the nectarines I just sliced up three nectarines, sprinkled them with three teaspoons of vanilla sugar, 1/8 of a teaspoon of ground cardamom and tossed. Just let them sit there for a while so the sugar can bring out those juices.
WHAT TO SERVE WITH PUMPKIN FRENCH TOAST:
bacon, regular or maple sausage links or patties
fresh fruit and/or berries
coffee or tea
for brunch, serve with scrambled eggs, fresh fruit, yogurt and hash browns.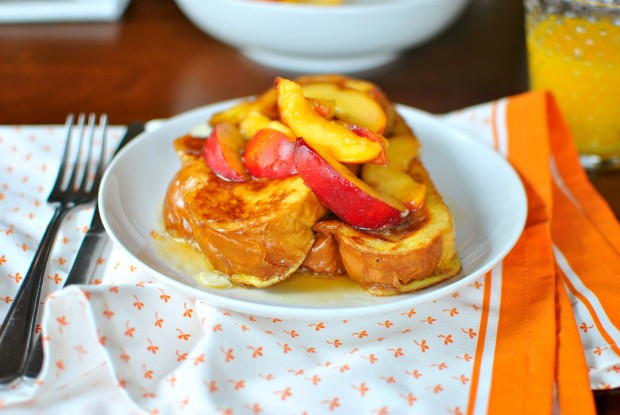 HOW LONG WILL FRENCH TOAST LAST IN THE FRIDGE:
Got leftover French toast? Save it and enjoy it later in the week! Store the French toast in an air-tight container or resealable bag/stasher bag (to avoid drying out or absorbing fridge odors) and refrigerate for up to 3 to 5 days!
CAN FRENCH TOAST BE FROZEN?
Absolutely! Flash freeze the French toast first on a rimmed baking sheet for 30 minutes, portion serving amounts into resealable baggies (or stasher bags) and store in the freezer for up to 3 months.
CLICK HERE FOR MORE FRENCH TOAST RECIPES!
Enjoy! And if you give this Vanilla Bean French Toast recipe a try, let me know! Snap a photo and tag me on twitter or instagram!
Yield: 6 servings
Vanilla Bean French Toast with Nectarines
Vanilla bean french toast: Vanilla bean is whisked into eggs and heavy cream. I like to dip thick slices of challah bread and griddle in coconut oil.
Ingredients
FOR THE FRENCH TOAST:
1 loaf challah, sliced 1/2 to 1-inch thick (or about 12 slices)
4 eggs
1 cup heavy cream
1 vanilla bean, split and vanilla caviar scraped out
1 pinch of kosher salt
coconut oil, or butter, for griddle
FOR THE NECTARINES:
3 nectarines, pit discarded and sliced
1 tablespoon vanilla sugar, or 1 tablespoon regular sugar plus 1/4 teaspoon vanilla extract
1/4 teaspoon ground cardamom
Instructions
MAKE THE FRENCH TOAST:
Preheat 325°-350℉ (or 160°-180℃).

Whisk together the eggs, vanilla caviar, heavy cream and salt.

Dunk both sides of the slice Challah and place on hot, preheated griddle that has been oiled with coconut oil or butter.

Flip once a dark golden crust forms on the bottom and repeat.

As you work in batches, transfer the cooked pumpkin french toast to a clean rimmed baking sheet and keep warm in a low 200℉ (90℃) oven.
MAKE THE NECTARINES:
In a medium bowl, toss the nectarine slices with vanilla sugar and cardamom. Let sit for 5 minutes so the sugar can bring out the nectarine juices.

Spread softened butter over the warm French toast slices, top with nectarines and a drizzle of real maple syrup.
Serving: 2pieces, Calories: 219kcal, Carbohydrates: 11g, Protein: 5g, Fat: 18g, Saturated Fat: 10g, Polyunsaturated Fat: 1g, Monounsaturated Fat: 5g, Trans Fat: 1g, Cholesterol: 164mg, Sodium: 64mg, Potassium: 214mg, Fiber: 1g, Sugar: 8g, Vitamin A: 978IU, Vitamin C: 4mg, Calcium: 47mg, Iron: 1mg
This post may contain affiliate links.
Buy the Cookbook: Simply Scratch : 120 Wholesome Homemade Recipes Made Easy Now available on Amazon »
THANK YOU in advance for your support!