In this Spicy Italian Sausage Baked Ziti, sausage and lean ground beef cook with onions before simmering in a flavorful tomato sauce. This gets layered with ziti pasta noodles, pesto and topped with creamy ricotta and mozzarella cheese.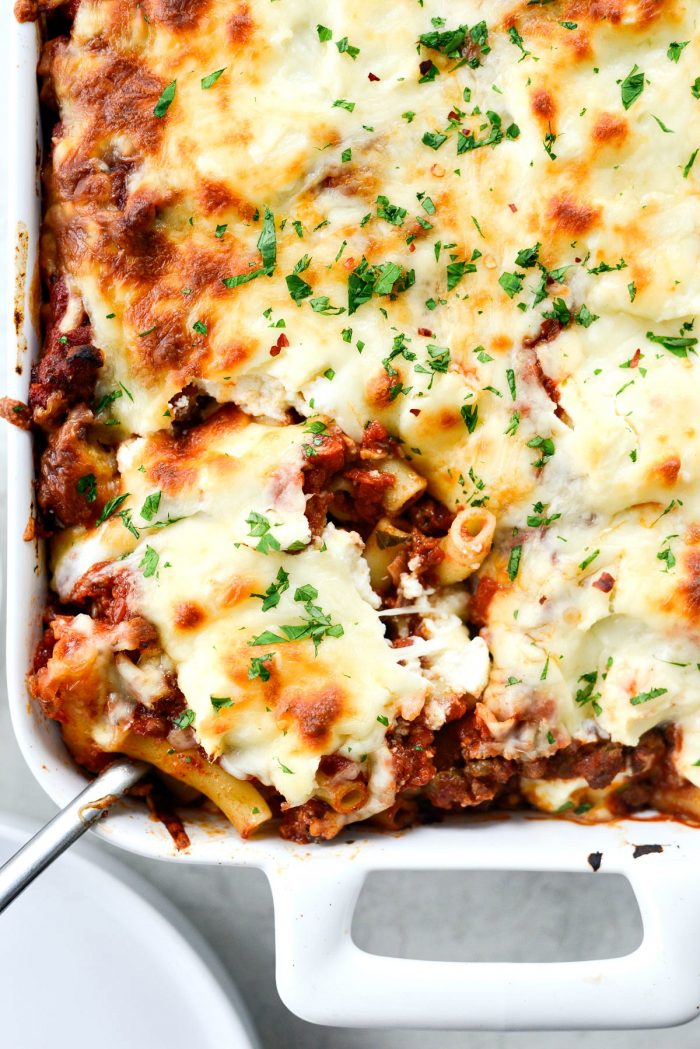 It's like I blinked and suddenly we're only a few weeks away from Christmas. I feel so rushed and not prepared and throw this puppy in the mix and I'm wondering if I'll pull it off. One thing for sure is my holiday menu. I always have my dad over and I make a prime rib and twice baked potatoes.
Ham is the usual suspect on Christmas, but I know some of you don't go the typical ham route and make Italian instead. This classic lasagna has been made by so many of you on Christmas and it means so much to me. So every year I try to share some sort of baked pasta recipe. Remember this Three Meat Bolognese Lasagna?
Today I'm sharing baked ziti I made on a whim one night when I had no real plan and only a few ingredients on hand. This spicy italian sausage baked ziti is so delicious, pretty darn easy and yet tastes fancy enough for a holiday meal.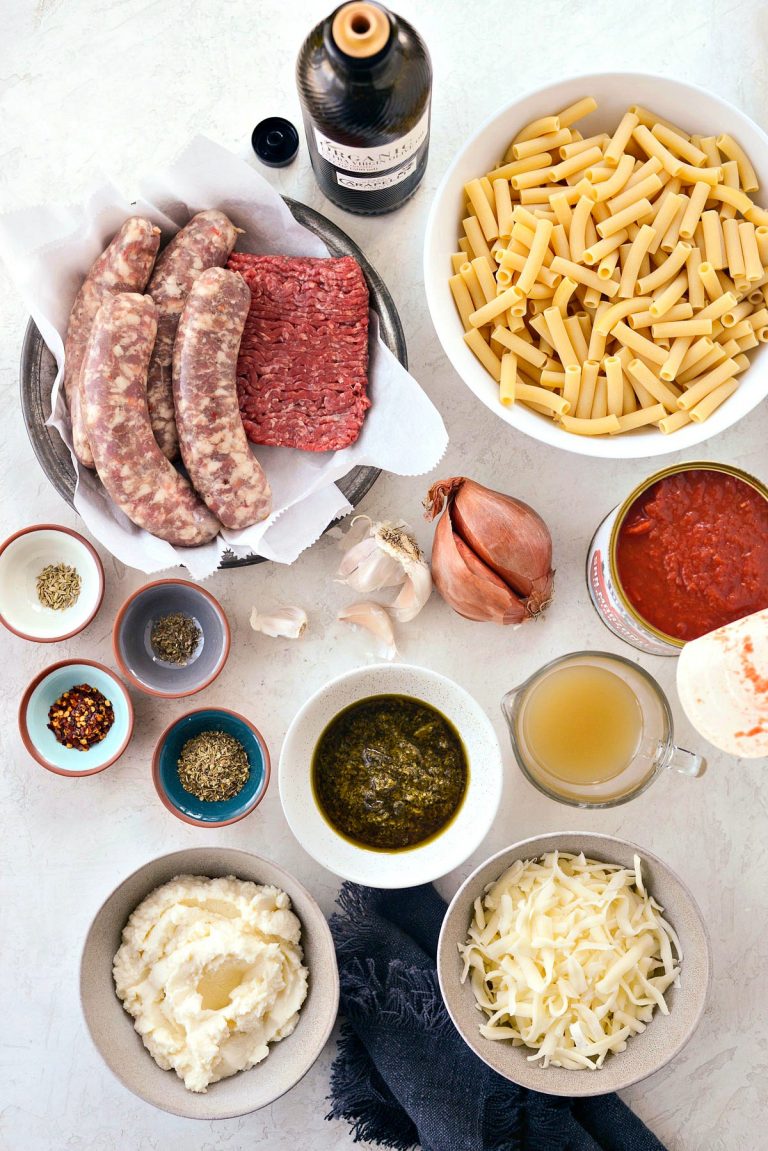 To Make This Spicy Italian Sausage Bake Ziti You Will Need:
olive oil
shallot
kosher salt
garlic
dried basil
fennel seed (crushed)
crushed red pepper flakes
spicy or hot italian sausage
lean ground beef
low-sodium chicken broth or red wine
crushed San Marzano tomatoes
ziti dried pasta
ricotta (whole milk or low fat)
mozzarella
parlsey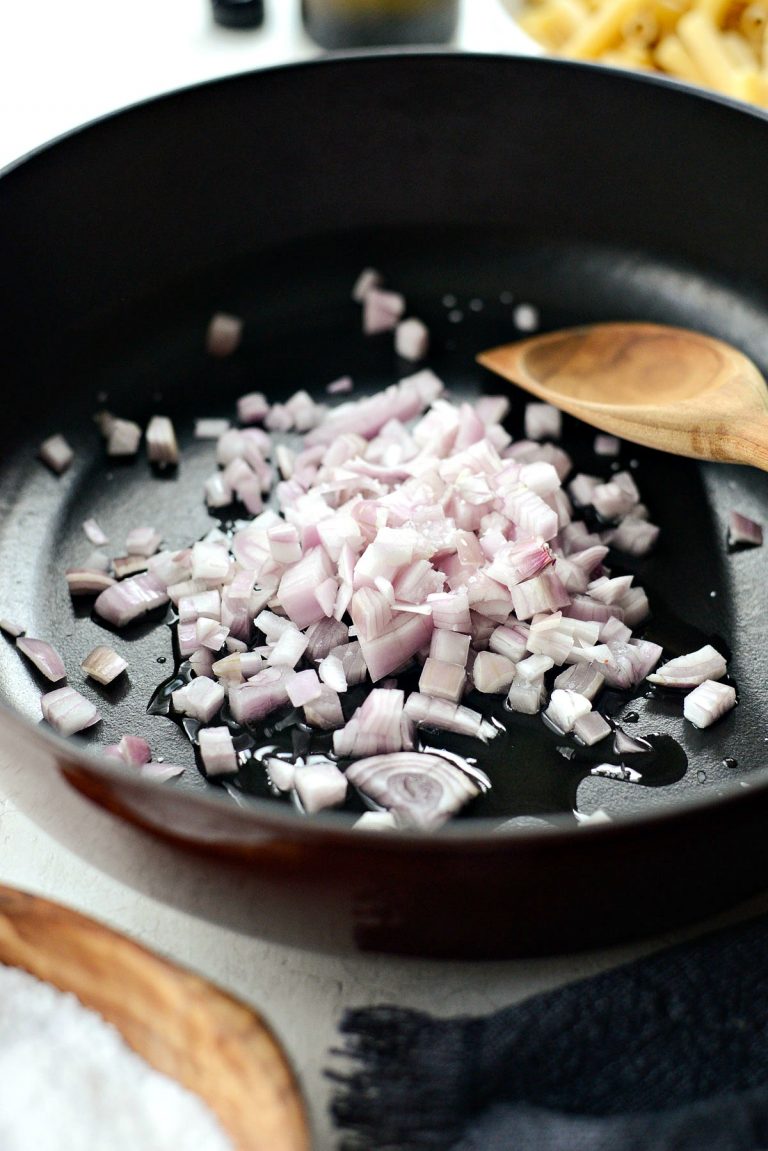 Start by adding 2 teaspoons light olive oil into a deep-sided skillet. To that, add 2 medium diced shallots with a pinch of kosher salt and heat on medium low. Sauté until the shallots are soft and translucent.
When soft, add in 4 cloves minced fresh garlic, 2 teaspoons italian seasoning, 1/4 teaspoon dried basil and a heaping 1/4 teaspoon of crushed fennel, 1/2 to 3/4 teaspoon crushed pepper flakes, or to taste.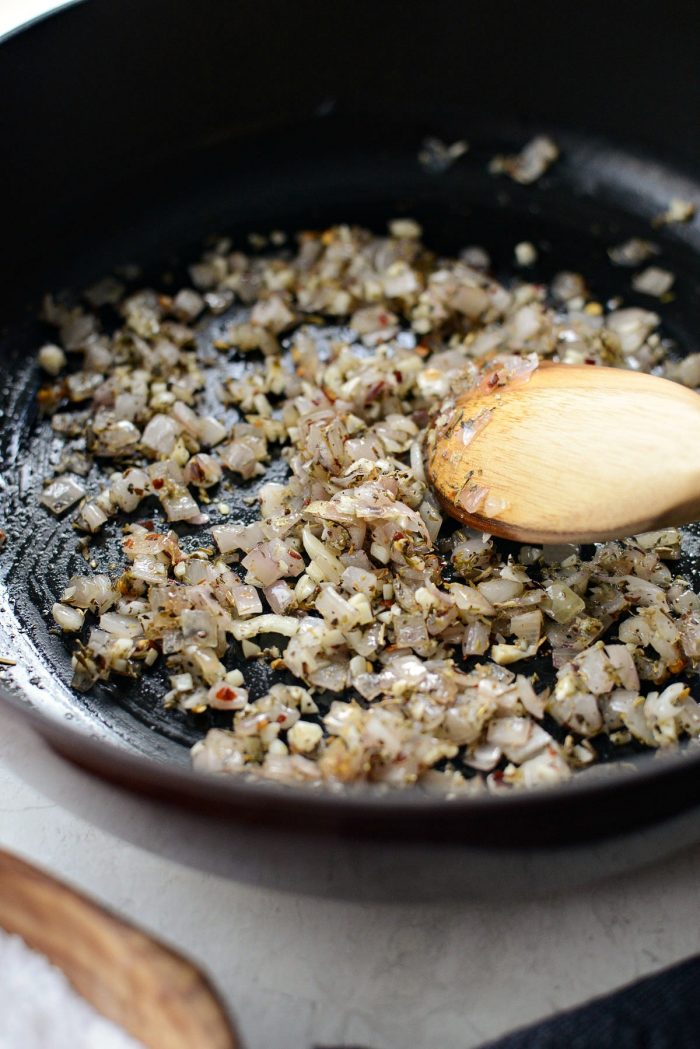 Stir and cook for 1 minute.
Smells incredible already!
Next remove the casing and add in 1-1/4 pound (or about 4 links) spicy or hot italian sausage. The butcher shop by me makes the BEST rustic italian sausage. It's only a smidgen spicy, so I add more to up the heat. Also, I like to break up the sausage with a 1/2 pound lean ground beef.
Use a wooden spoon to break it up into small crumbles. Stir occasionally until no longer pink. Increase the heat to medium-high and cook until browned and crispy bits form on the bottom of the pan.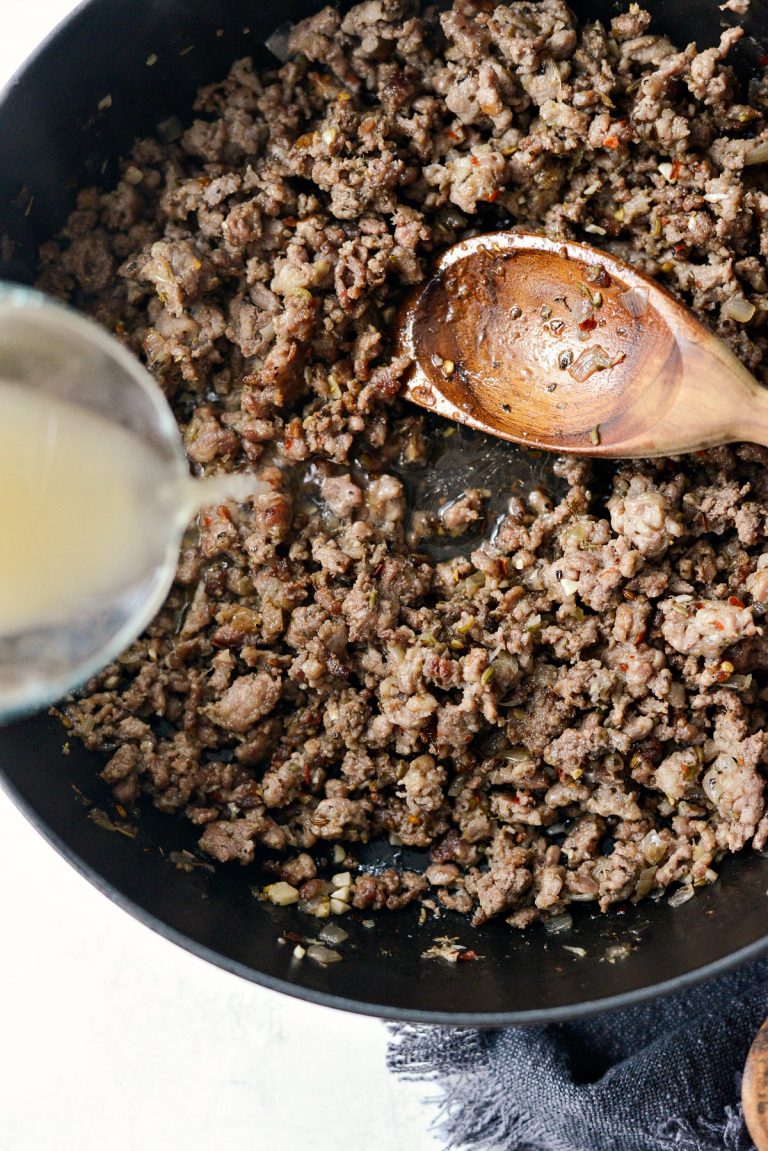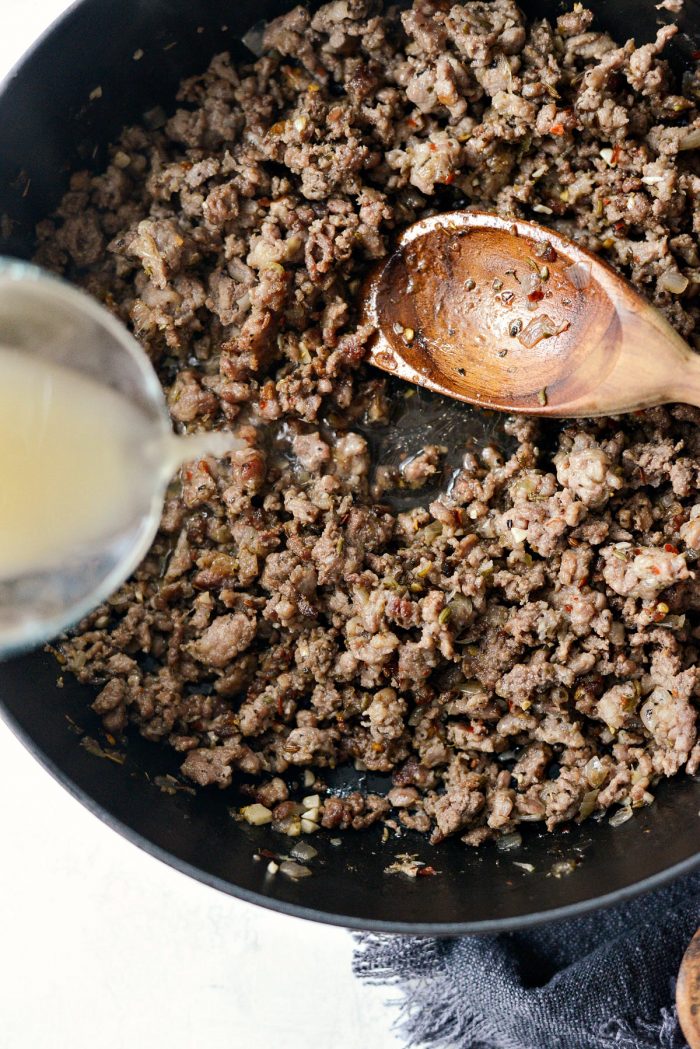 Pour in 1/3 cup low-sodium chicken broth use the spoon to scrape up the bits stuck to the bottom of the pot.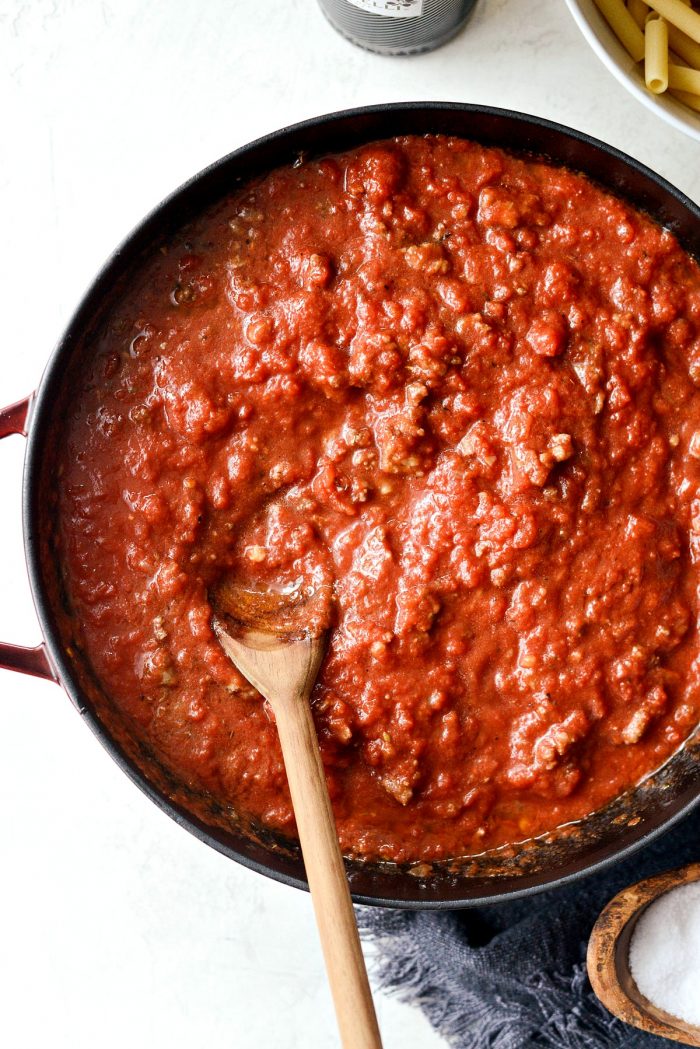 Add in 2 (28 ounce) cans of crushed San Marzano tomatoes. Stir and bring to a simmer, reduce to low and simmer for 20 minutes. Then season with kosher salt and freshly ground black pepper to taste.
Meanwhile, bring a large pot of water to boil. Once boiling, add in a couple tablespoons sea salt and 1 pound of dried ziti pasta, stir and bring back to a boil. Uncover and reduce heat to medium-high and cook the pasta 2 minutes shy of what is listed on the package for al dente.
A good rule of thumb is to never have the pasta done and waiting for the sauce. Always have the sauce finished before the pasta is cooked.
Now to build the baked ziti.
Grab the meat sauce, noodles, pesto, ricotta and mozzarella.
Start by adding 1/3 of the sauce tot he bottom of a large baking dish.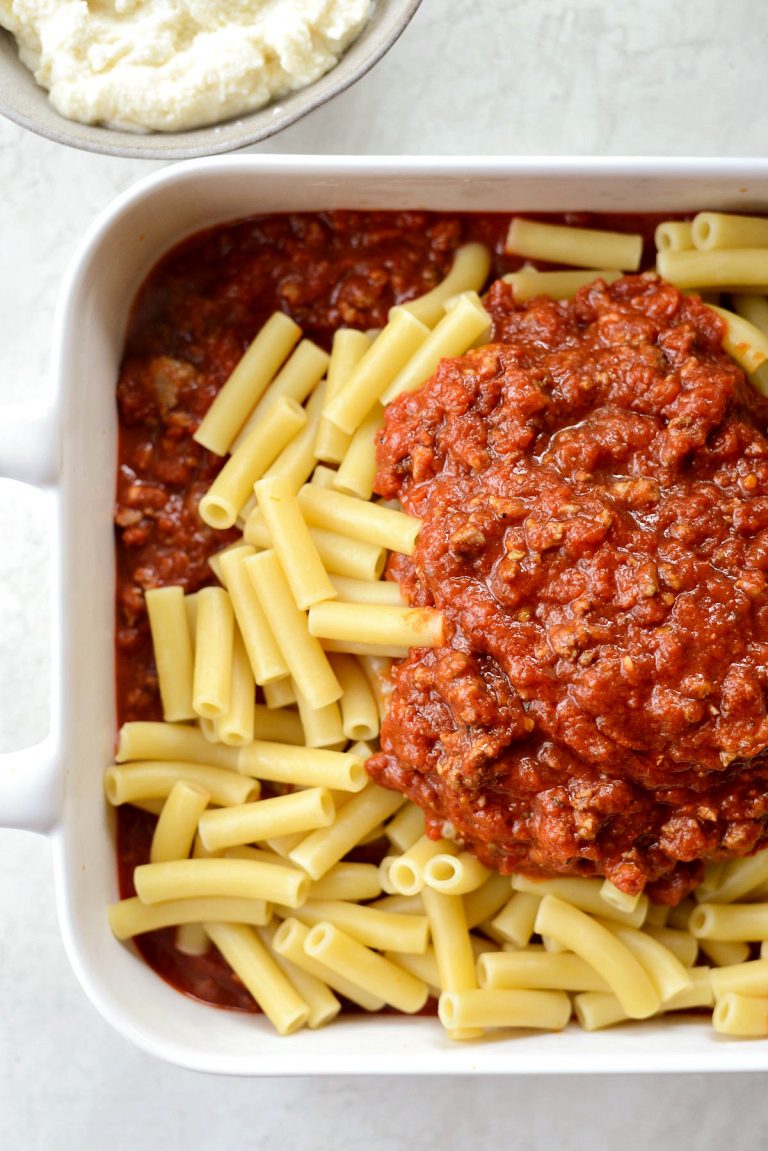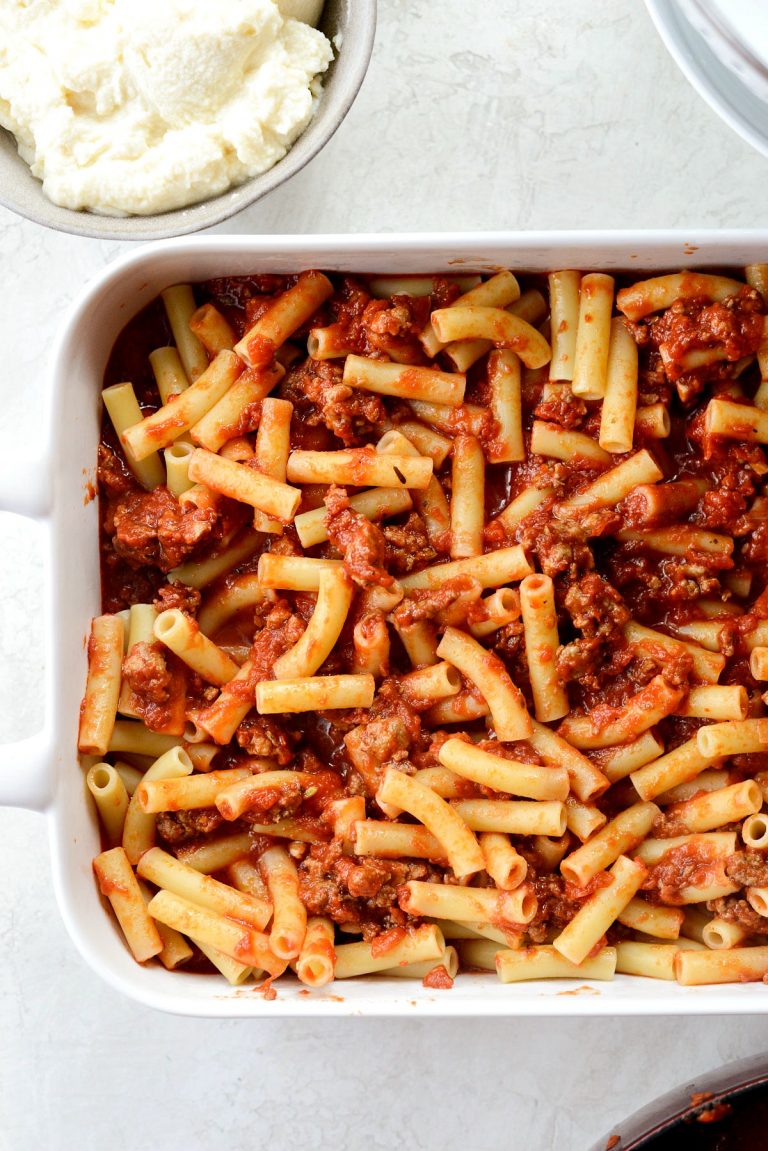 Top with pasta and another 1/3 of the sauce and toss the pasta with the top layer of sauce.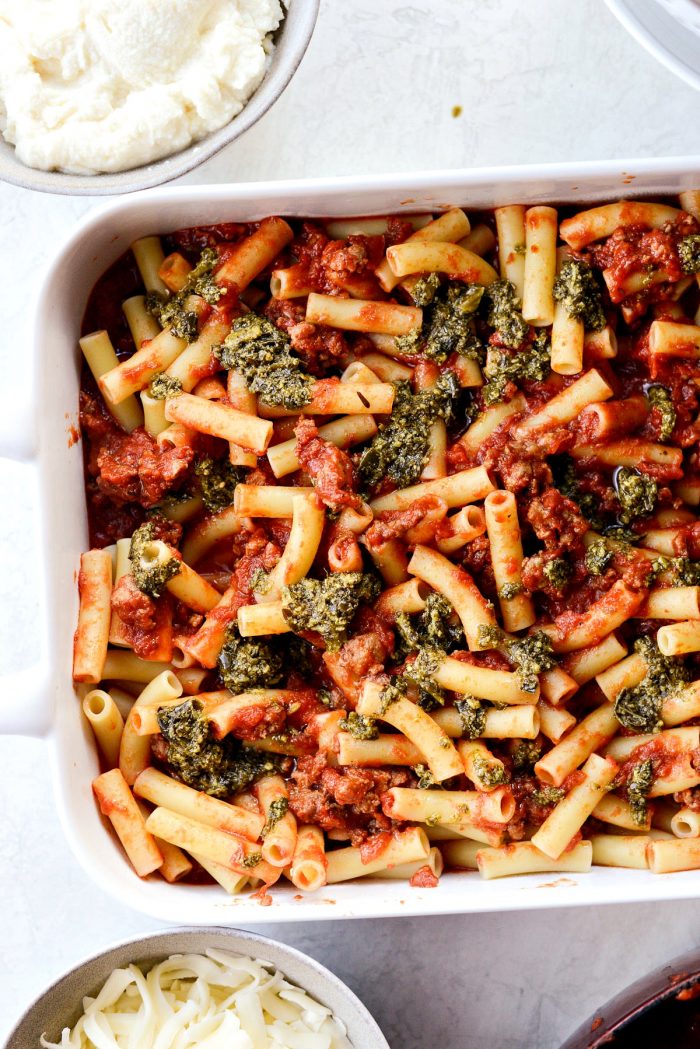 Drizzle a few spoonfuls of pesto over top of the pasta.
Pour the remaining 1/3 meat sauce over top and top with spoonfuls of ricotta cheese.
Lastly sprinkle with 2 cups shredded mozzarella and bake on the middle rack of your preheated 350°. During this time the pasta will plump and cook fully in the meat sauce.
Until the sauce is bubbling and the mozzarella has melted and is golden brown in spots.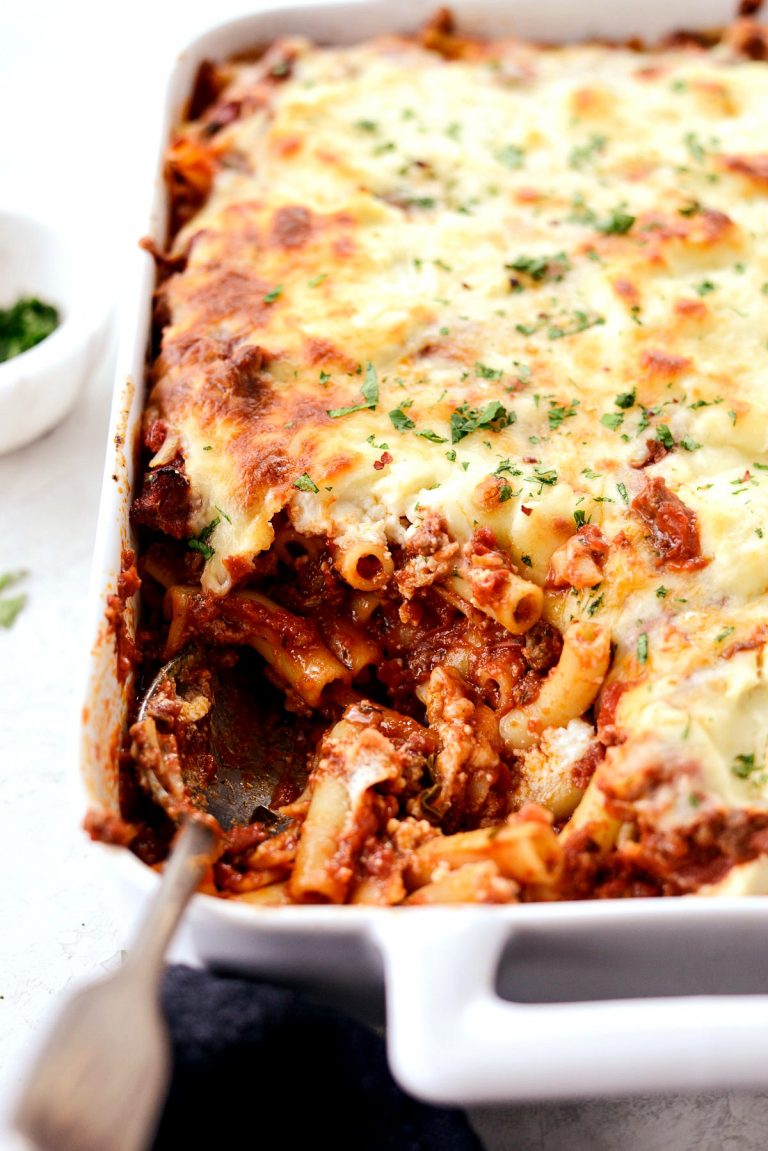 Scoop and serve! I like serve this baked ziti with a simple green salad.
I love the spicy sausage with the creamy ricotta. And don't even get me started on the crispy cheesy edges. To. Die. For.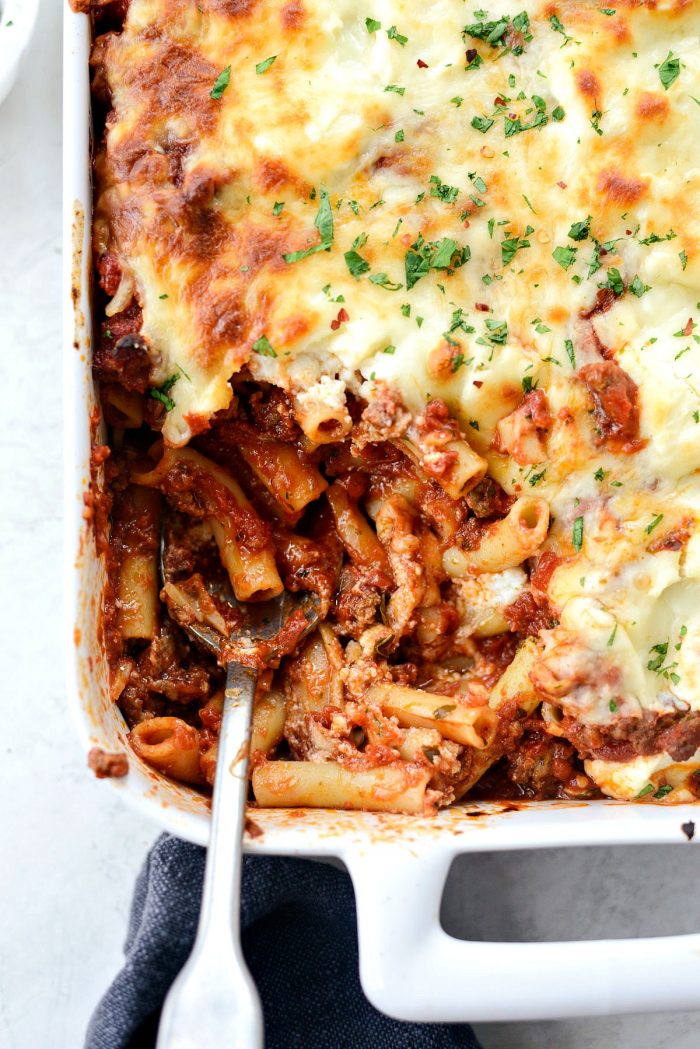 Enjoy! And if you give this Spicy Italian Sausage Baked Ziti recipe a try, let me know! Snap a photo and tag me on twitter or instagram!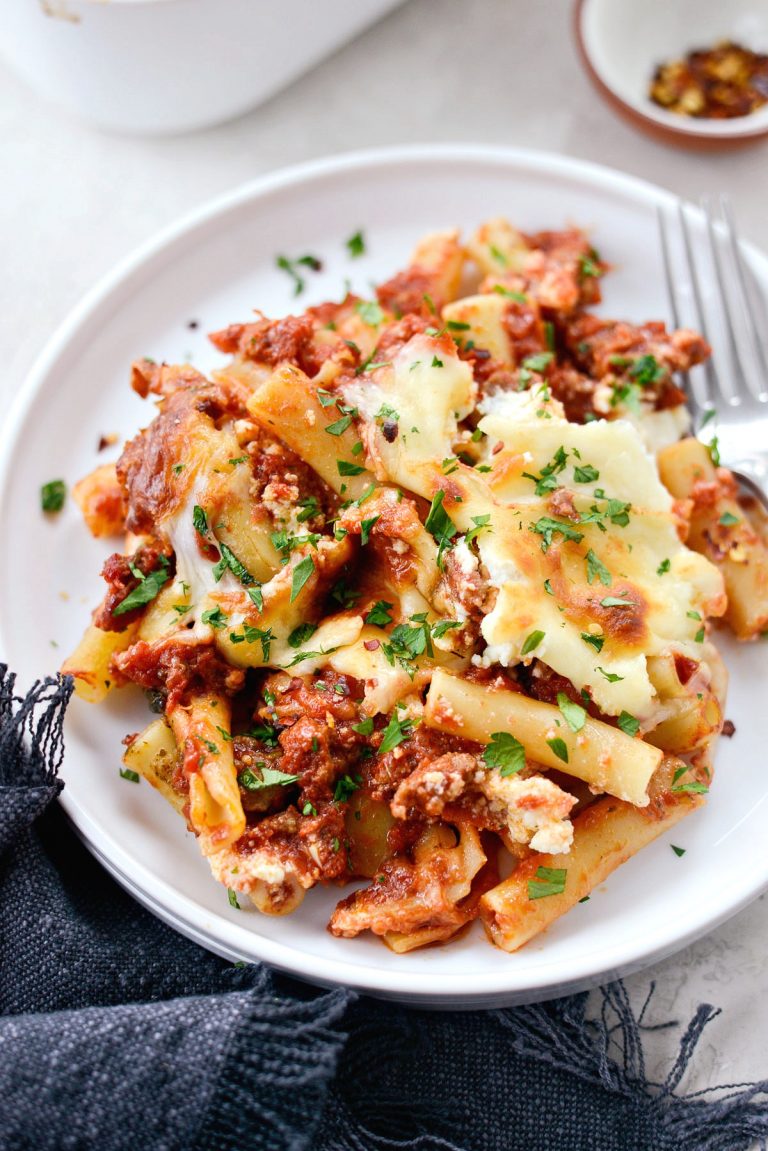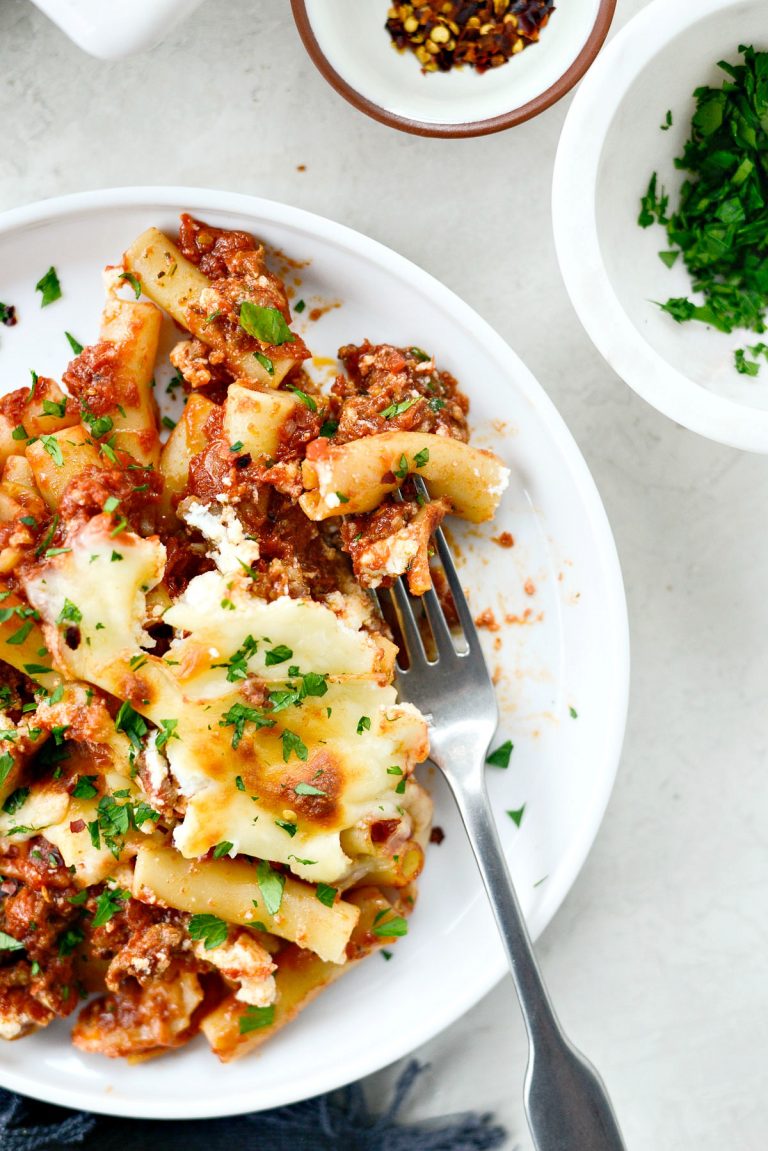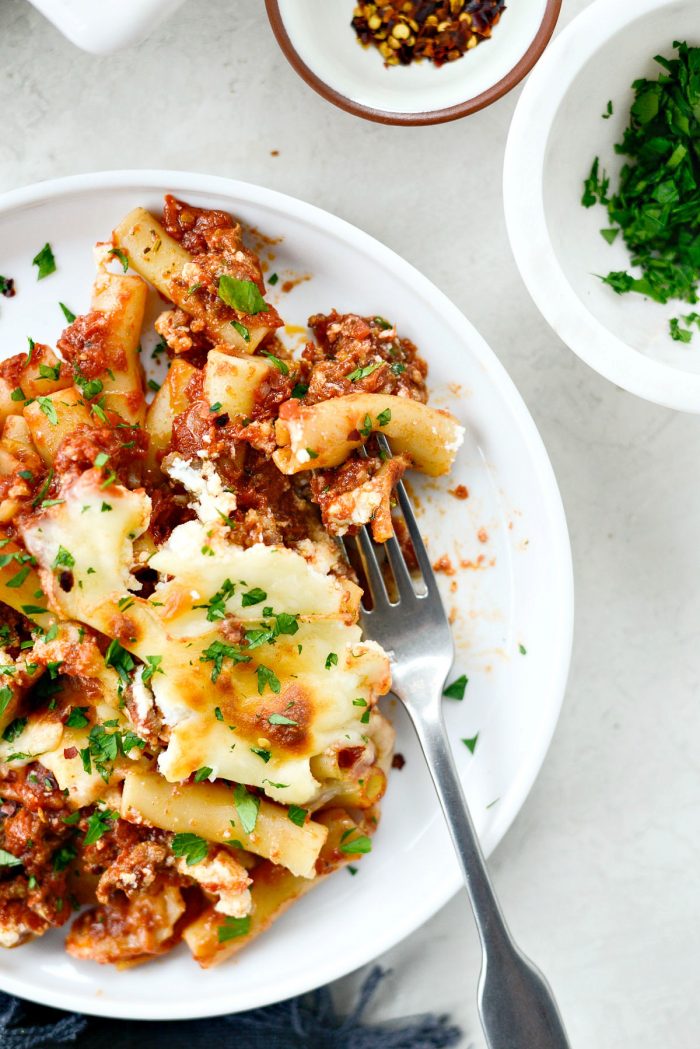 This post may contain affiliate links.
Buy the Cookbook: Simply Scratch : 120 Wholesome Homemade Recipes Made Easy Now available on Amazon »
THANK YOU in advance for your support!