In this Homemade Three Meat Bolognese Lasagna, a rich and flavorful, homemade bolognese sauce consisting of ground beef, pork and veal along with vegetables, herbs, wine and cream, slowly simmered over a couple of hours. This robust bolognese sauce is the backbone to this lasagna. Spoonfuls are layered between noodles, mozzarella cheese and a creamy mascarpone and ricotta mixture.
You may remember, last year Pat and I took our first trip just the two of us, to Las Vegas for our honeymoon/anniversary. Why we waited 16 years, I have no clue.
First of all, Las Vegas has some of the best restaurants I've ever ate at.
We ate tremendously in the 4 days we were there. On our last night in Vegas, we went to FiAmma Trattoria & Bar which is an upscale Italian restaurant located in our hotel, at the MGM Grand. I immediately ordered a glass of Malbec and skimmed the specials while Pat perused the main menu.
I'm a sucker for ordering from the specials. Most likely because I'm guaranteed to find something I've never had before and nine times out of 10 it tastes amazing– they don't call it today's "specials" for nothing, amiright. In the end, Pat ordered his usual Italian go-to of chicken fettuccine and Caesar salad and I ordered the three meat bolognese lasagna [from the specials] and a pear and walnut salad.
After the first forkful, it was clear to me that this lasagna would be one of the best lasagnas my taste buds will ever have the pleasure to experience.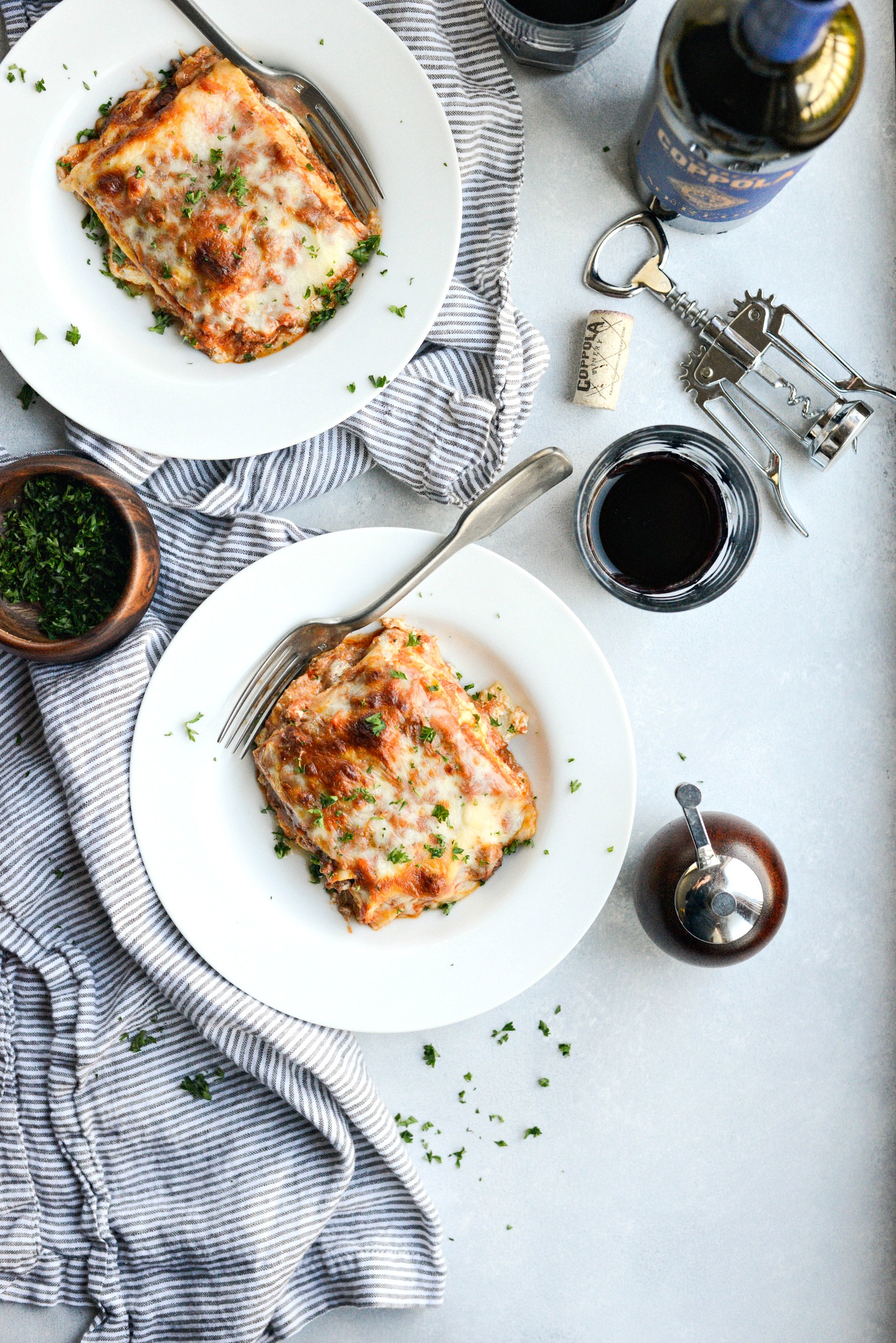 Well. Until this one, of course.
This is not a carbon copy of FiAmma. For that, you need to go to Vegas. I was simply inspired to make my own three meat bolognese and layer it with noodles and a simple mascarpone ricotta cheese filling. Baked until golden and bubbly and perfect.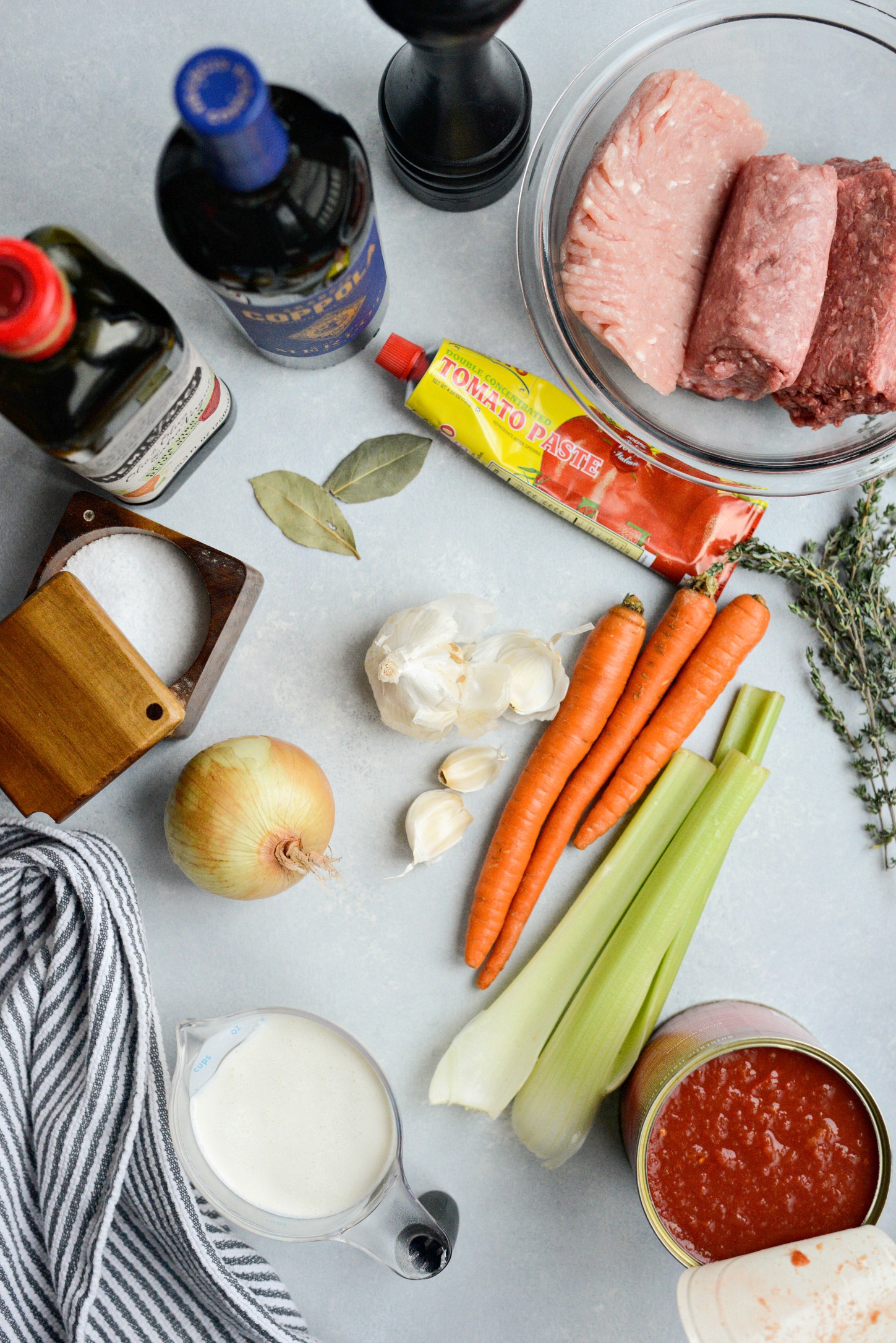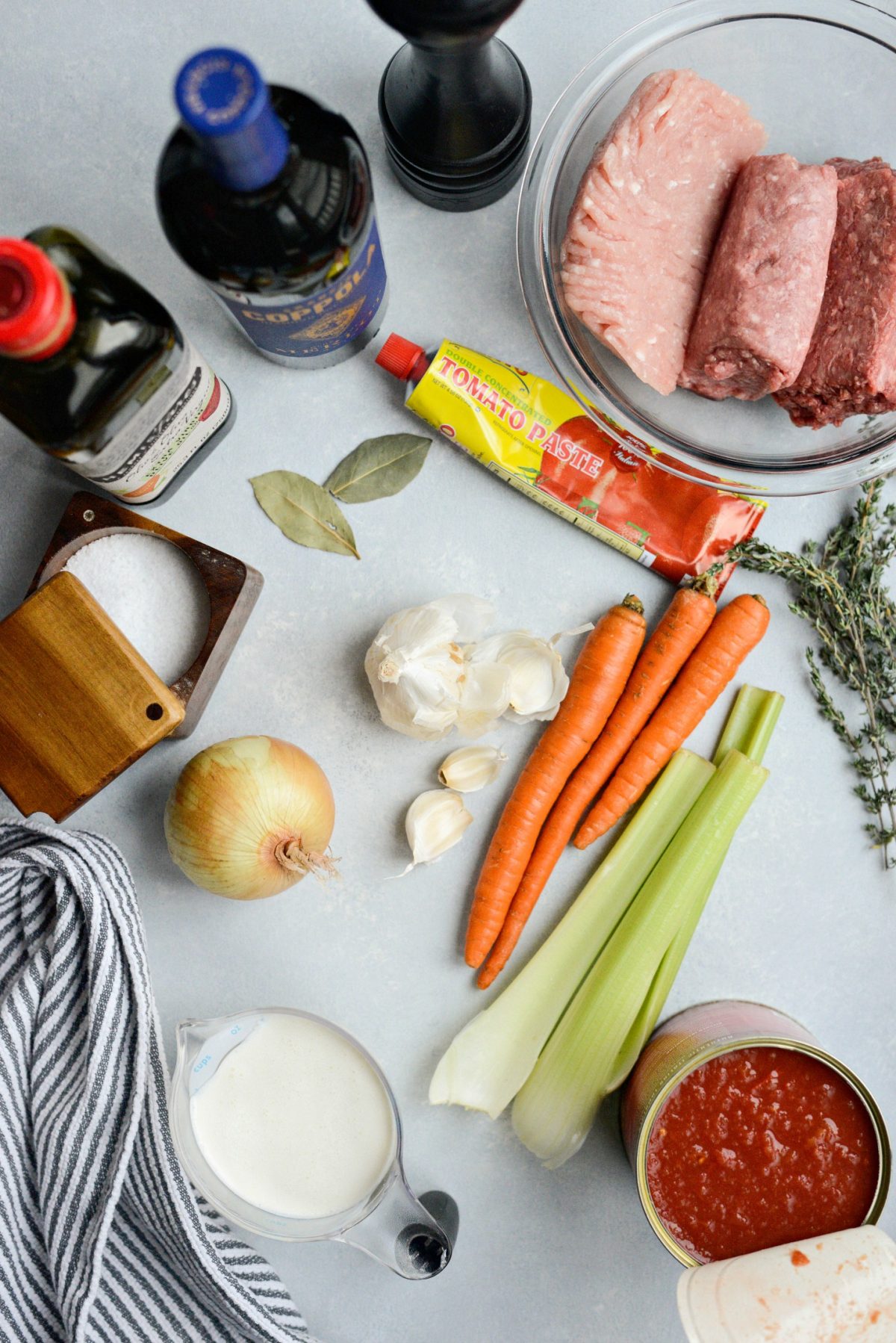 For the Three Meat Bolognese Lasagna Sauce You Will Need:
olive oil
yellow onion
carrot
celery
garlic
fresh thyme
bay leaves
ground beef chuck
pork
veal
bay leaves
tomato paste
heavy cream
dry red wine [like merlot or pinot noir]
crushed San Marzano tomatoes
kosher salt
black pepper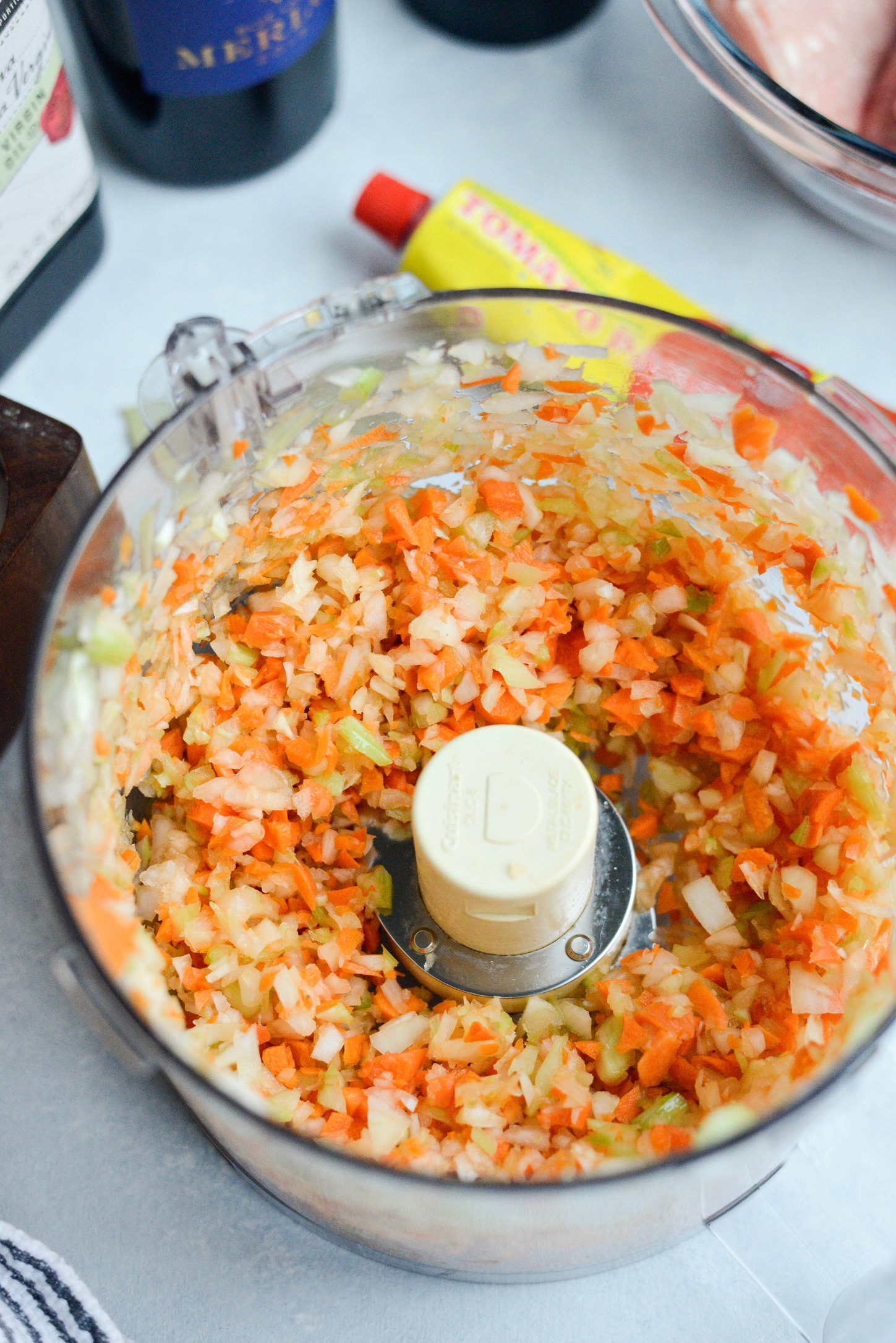 Instead of spending most of my time finely chopping all those vegetables, I gave my onion, celery and carrots a [very] rough chop an threw them into my food processor and pulsed it until finely chopped. This whole step took 5 seconds.
SO EASY.
Into your large dutch oven, add 2 tablespoon of olive oil and all of the chopped veggies and 1/2 teaspoon of kosher salt.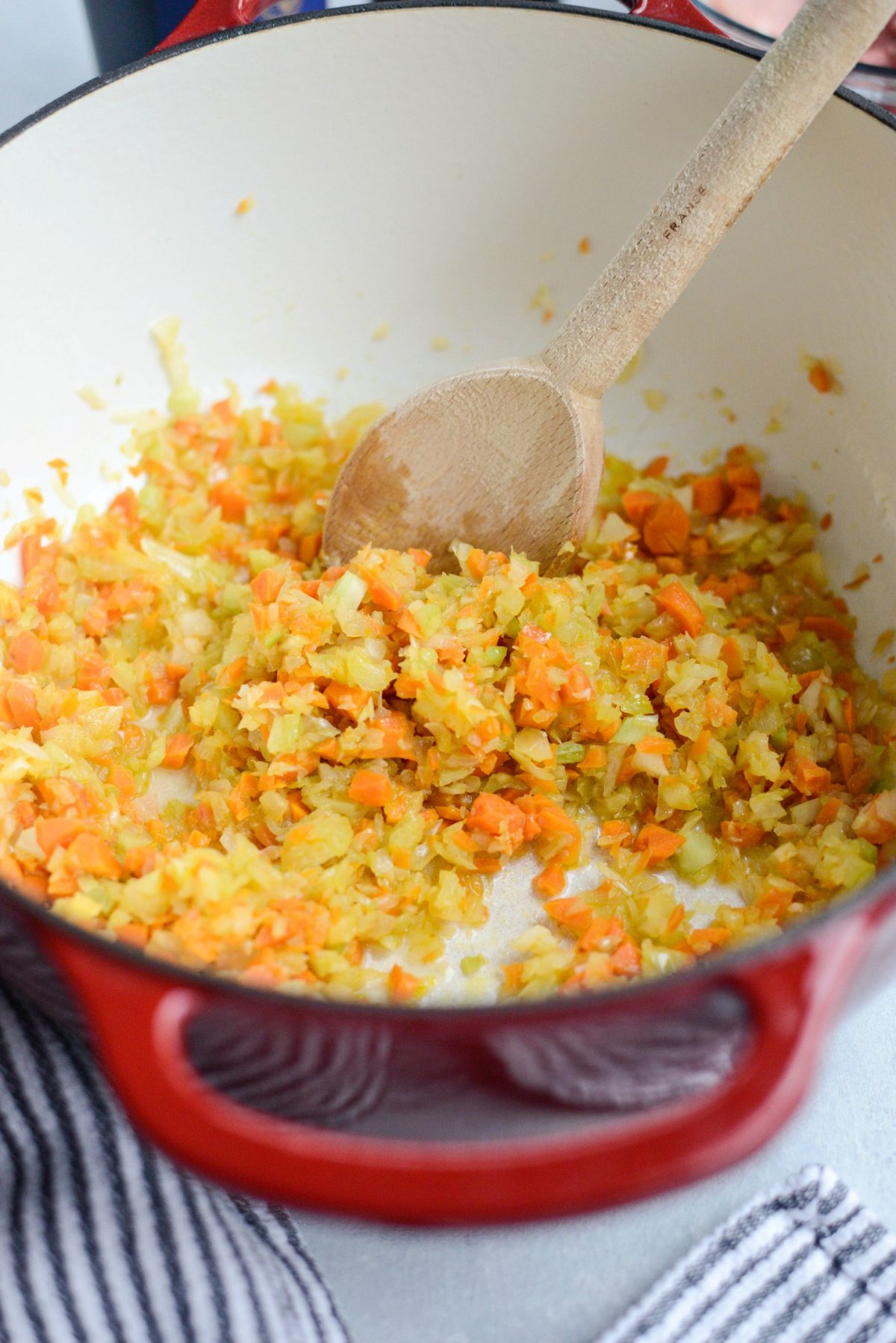 Stir, cover and cook until the onions are translucent and vegetables are tender. About 5 to 8 minutes or so.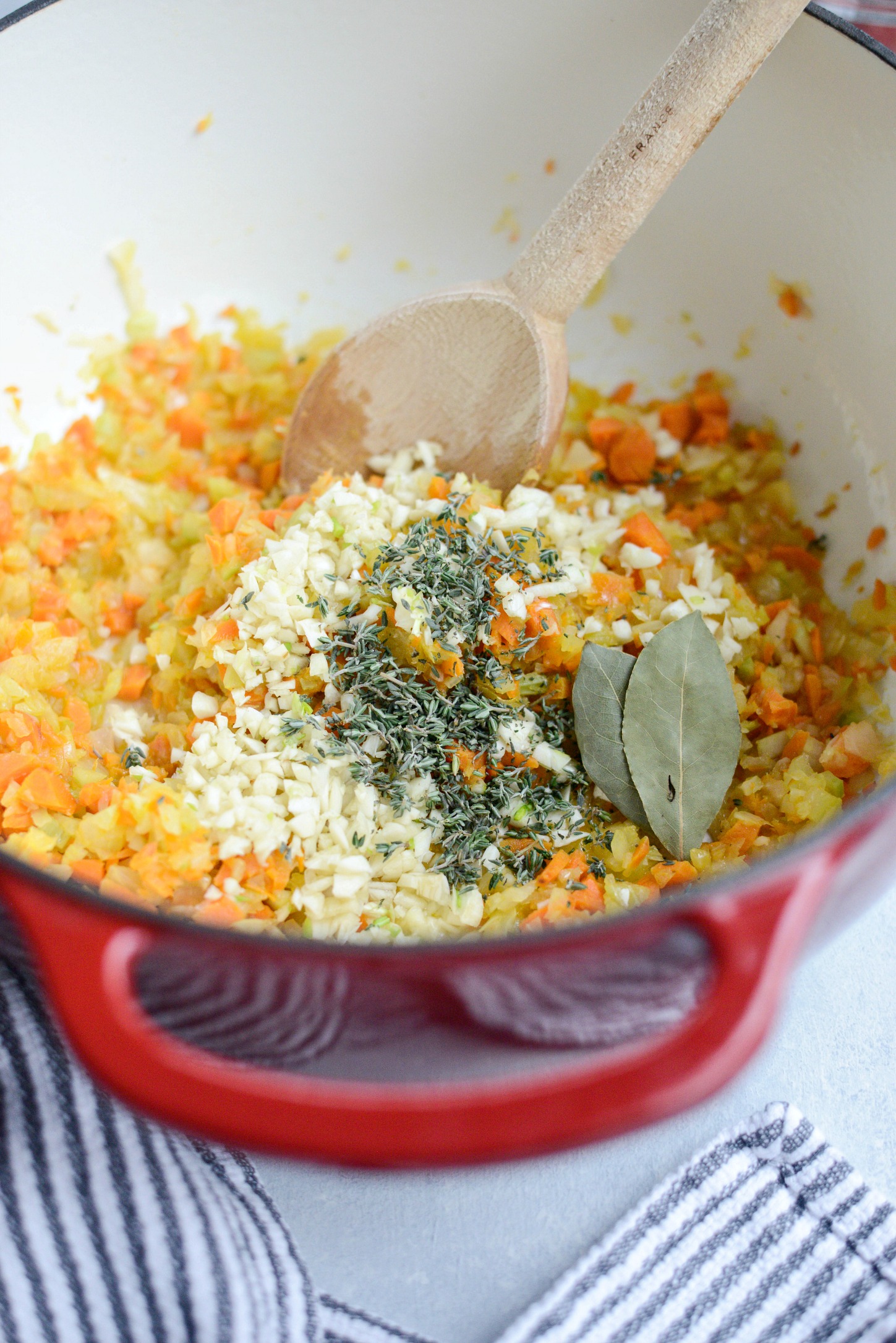 Once the vegetables are tender, add in the garlic, thyme and bay leaves. Stir and cook for 2 minutes.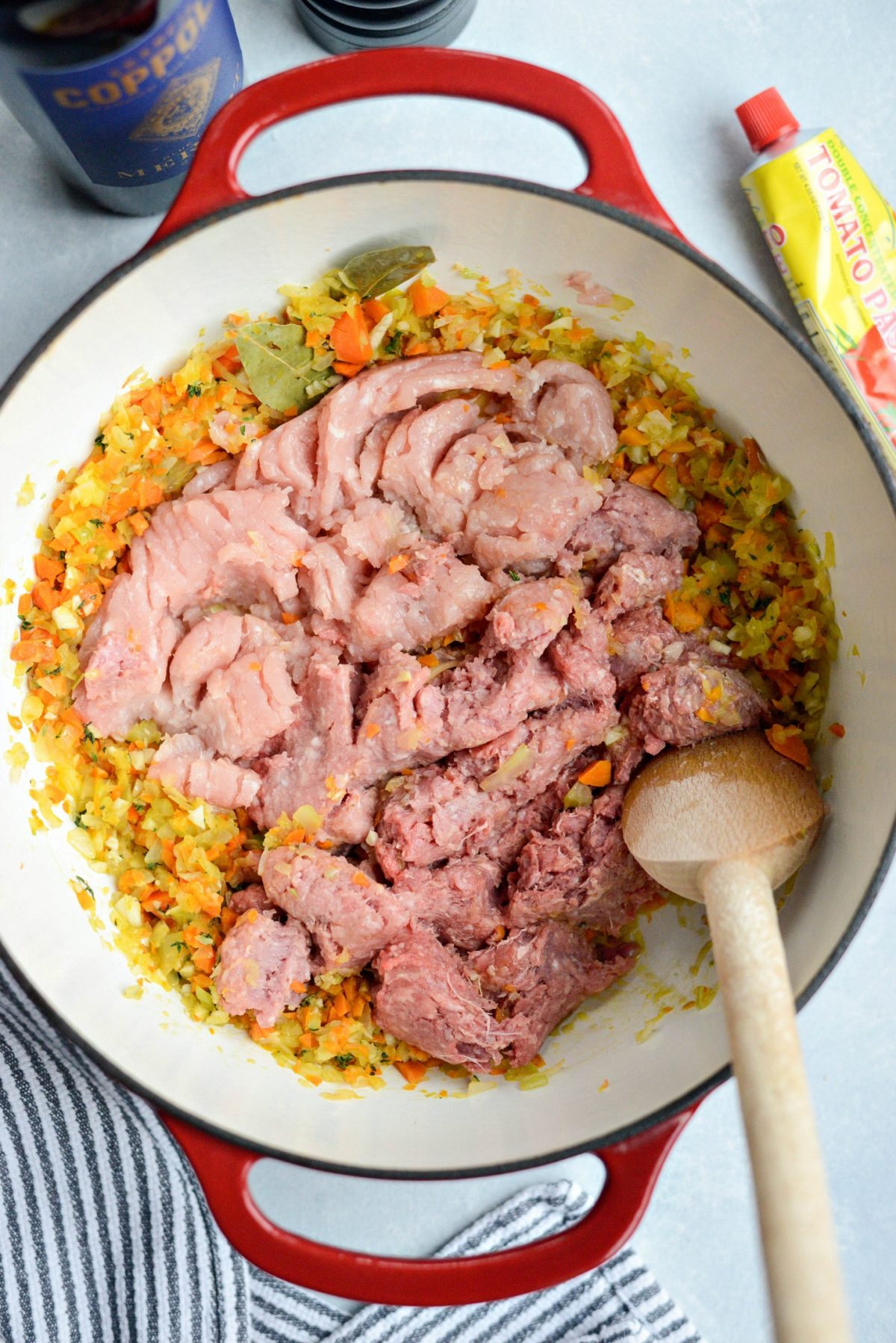 Next, add in 1/2 pound each of ground beef chuck, pork and veal. Using a wooden spoon, break up the meat into crumbles and cook until not longer pink.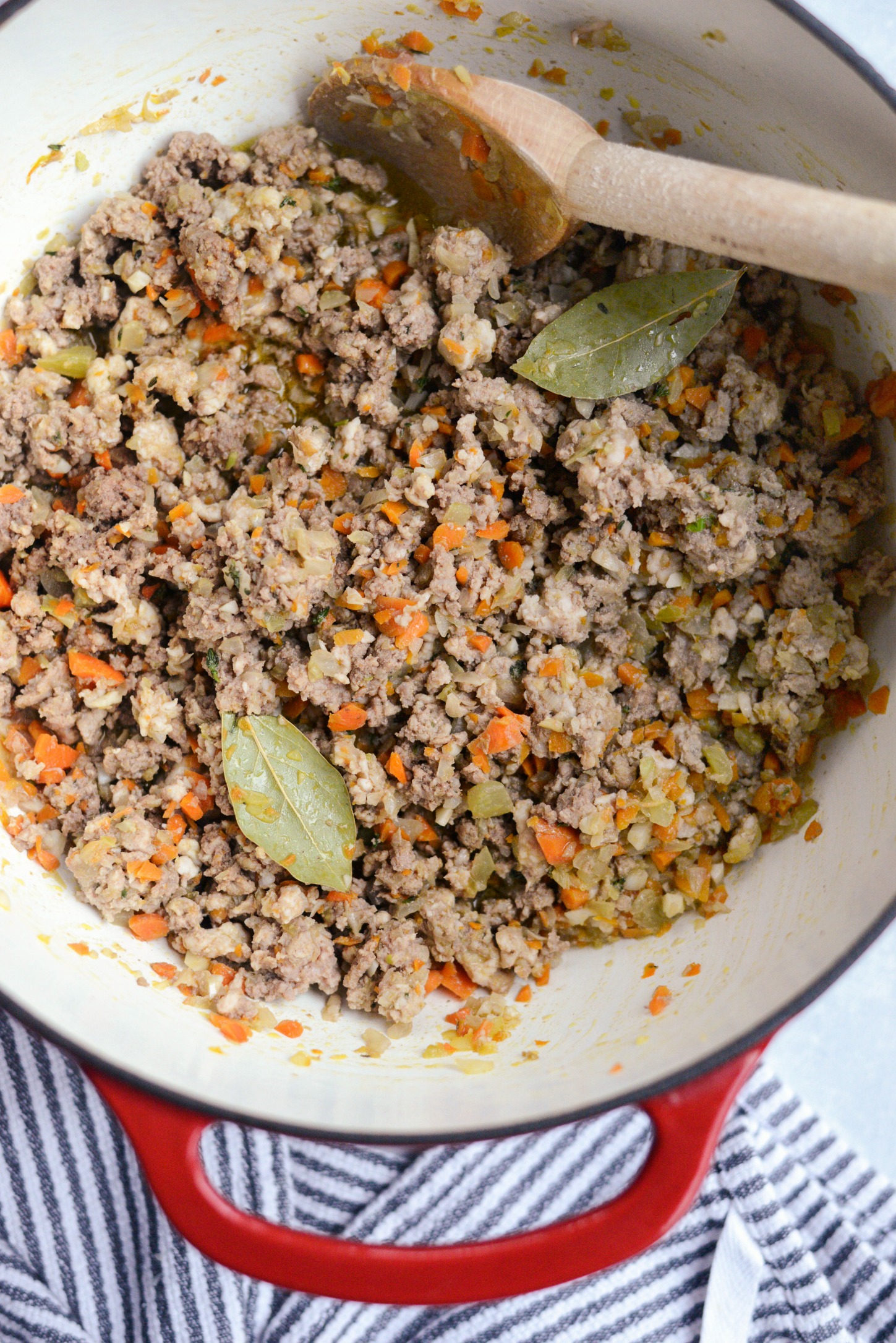 Be careful not to crush the bay leaves.
Once the meat is cooked, add in 2 tablespoons of tomato paste, stir and cook for 2 minutes. If you notice that the meat mixture is swimming in fat, use a spoon to remove no more than half. Don't fear the fat! Fat = flavor and we don't want to lose too much flavor or the sauce will be dull. I personally removed zero fat and this yielded a glorious bolognese sauce.
Increase the heat to medium/medium-high and pour in the cup of heavy cream. Bring to a simmer, stirring occasionally until most of the heavy cream evaporates and the meat mixture is only a little bit creamy, about 10 to 15 minutes.
Then pour in the wine and continue to simmer, about 10-15 minutes until the wine evaporates.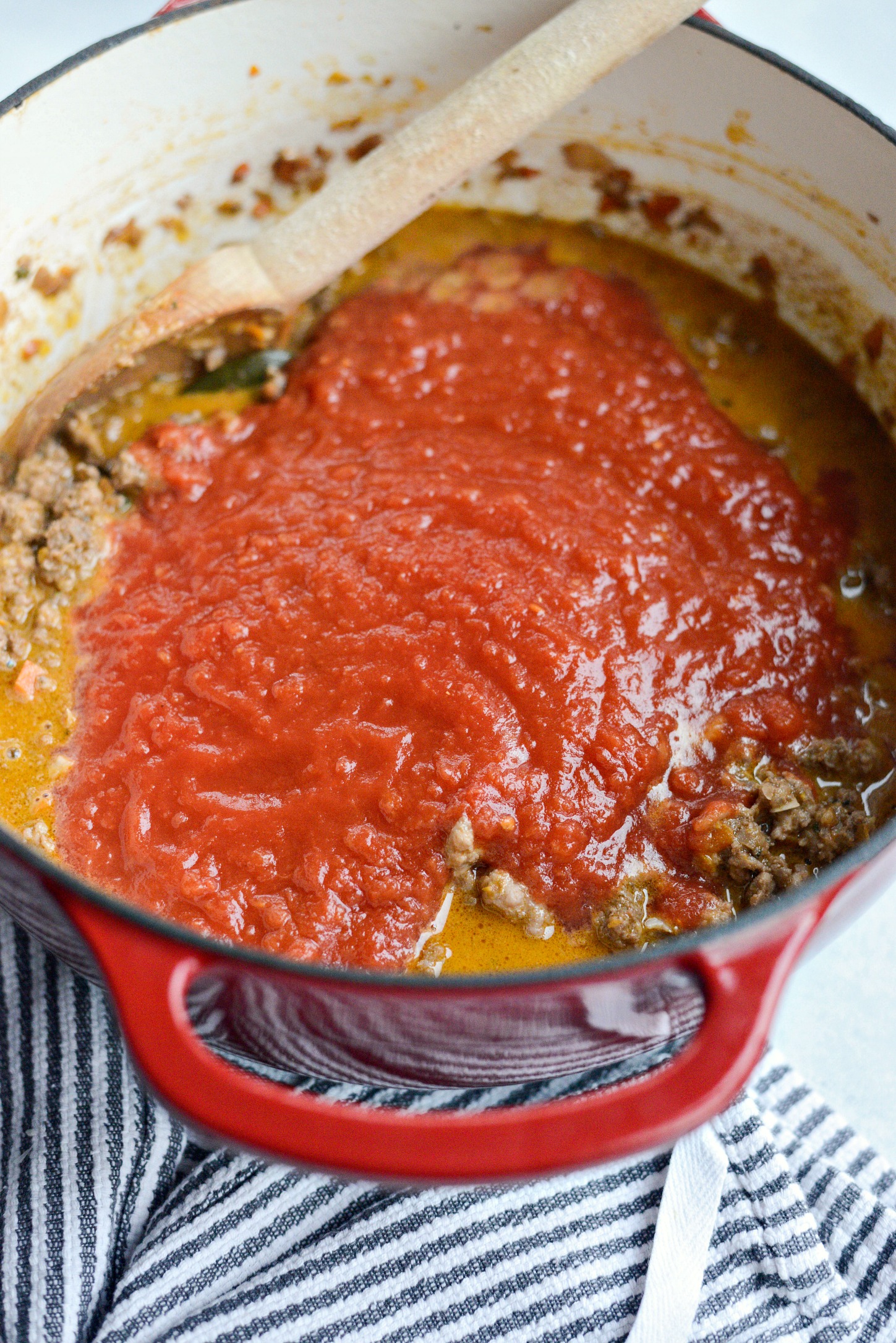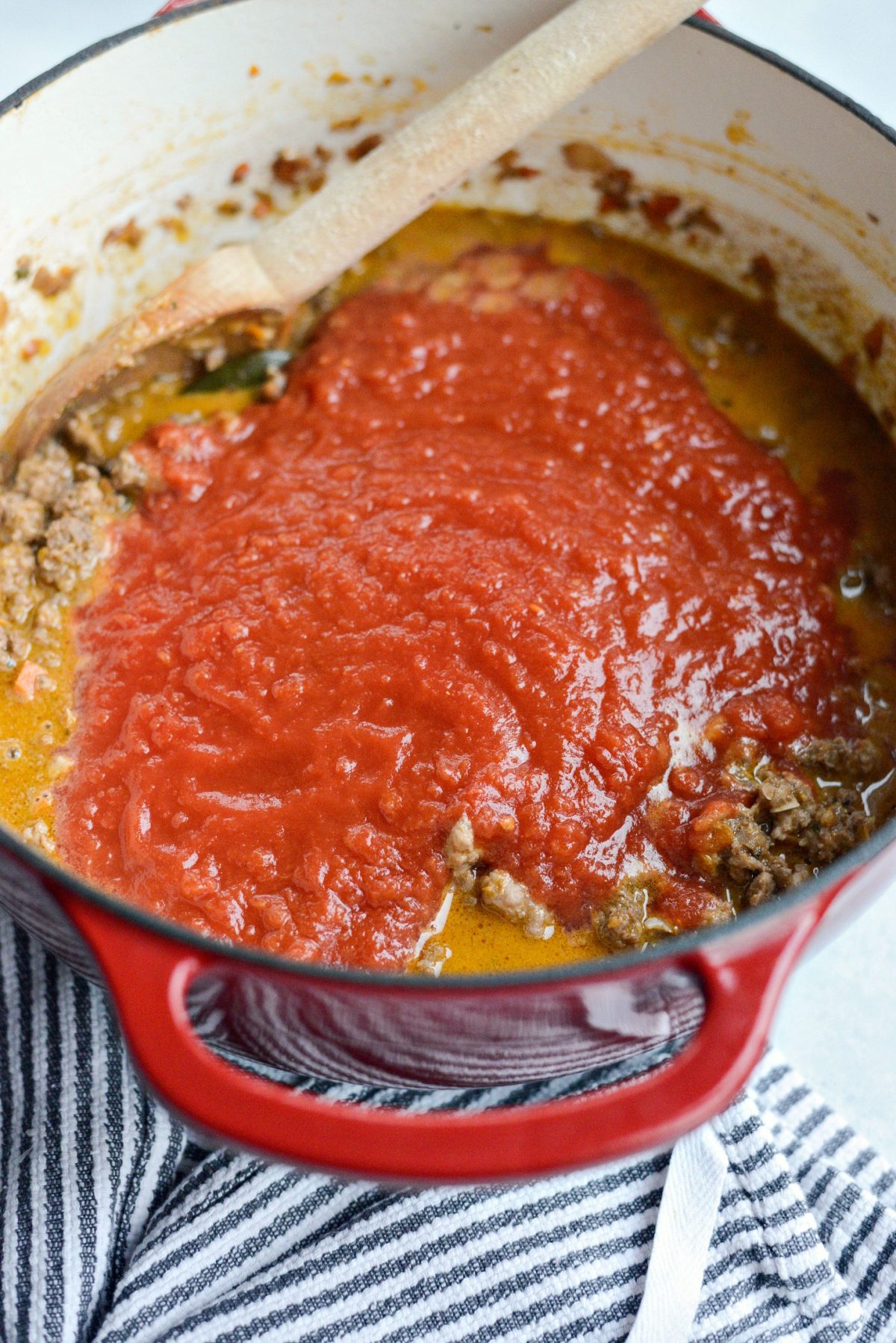 Stir in the crushed san Marzano tomatoes.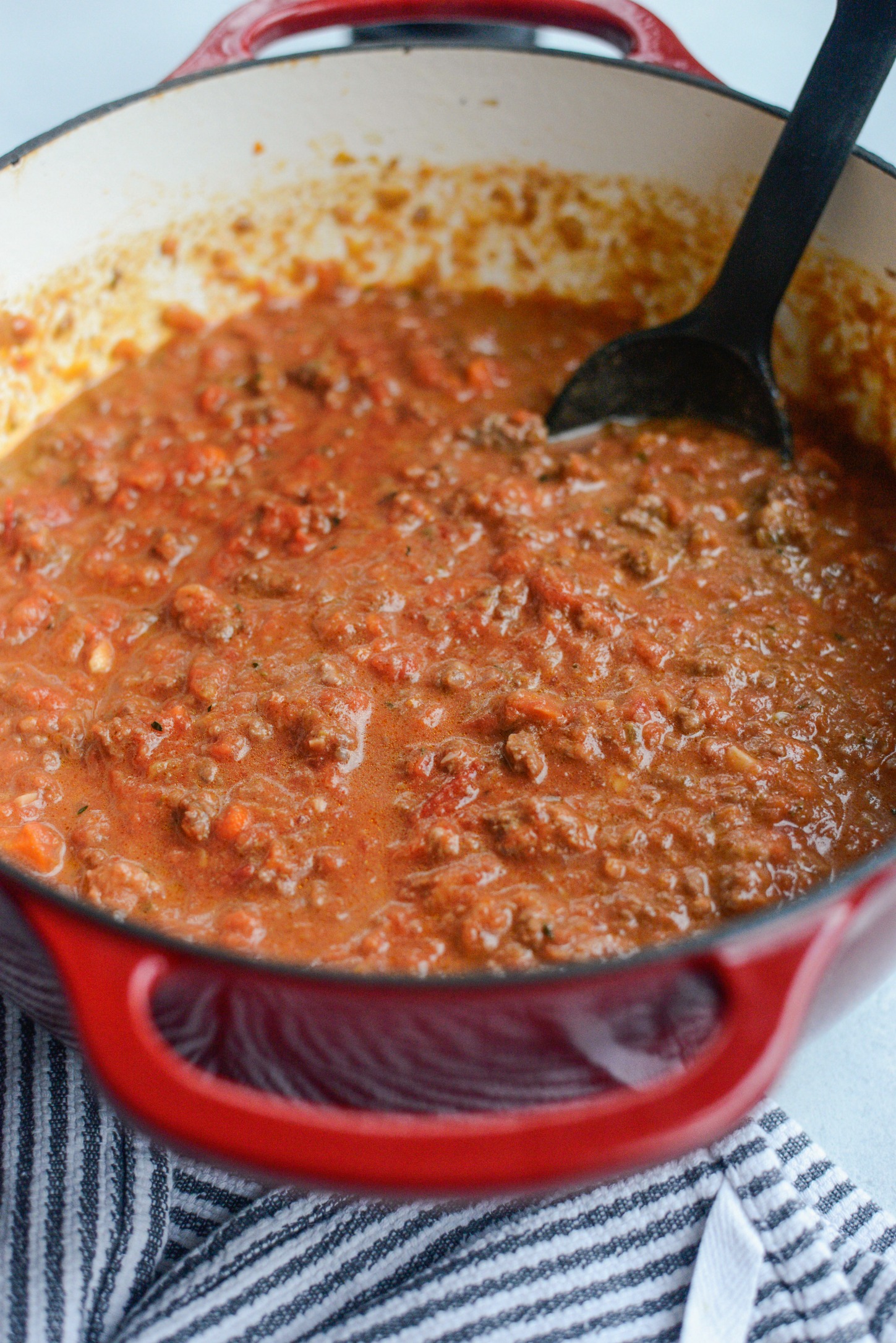 Cover and bring to a boil, then reduce to low and simmer for 1 hour, stirring every 20-25 minutes. Remove the lid and continue to simmer for another 1 hour, still stirring every 2o minutes or until the sauce is thick and rich.
Season with a teaspoon of kosher salt and 1/2 teaspoon freshly ground black pepper, or to taste. Allow the bolognese sauce to cool down a bit before assembling the three meat bolognese lasagna.
To assemble the Three Meat Bolognese Lasagna you'll need:
a full recipe of the three meat bolognese sauce
16 [1 box] oven-ready lasagna noodles
freshly shredded mozzarella cheese
16 ounces whole milk ricotta
8 ounces mascarpone cheese
2 eggs
black pepper
In a medium bowl stir together the ricotta, mascarpone, 1/2 cup finely grated fresh Parmesan, 1/2 cup mozzarella and two eggs. Keep mixture refrigerated until ready to use.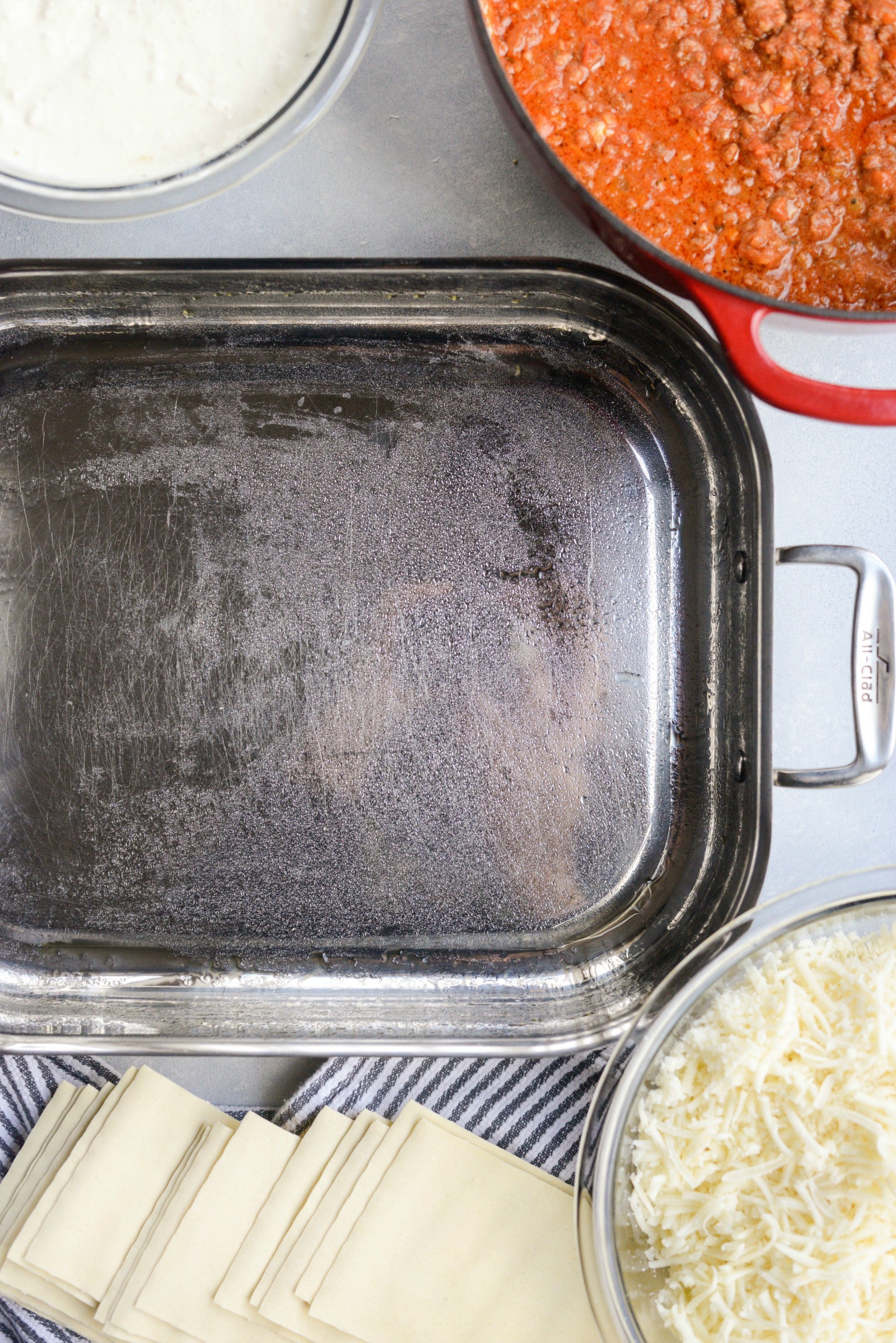 Lightly spray a lasagna pan with olive oil spray.
To assemble:
Layer 1: Measure 1-1/4 cups of sauce and spread it out even onto the bottom of your pan. Top with 4 lasagna noodles, 1/3 of the [chilled] ricotta mixture, then top the ricotta with 1 cup of the sauce and 3/4 to 1 cup of the shredded mozzarella.
Then Layer 2: Top the mozzarella with 4 more lasagna noodles, 1/3 of the ricotta mixture, 1 cup of sauce and then 3/4 to 1 cup of the mozzarella.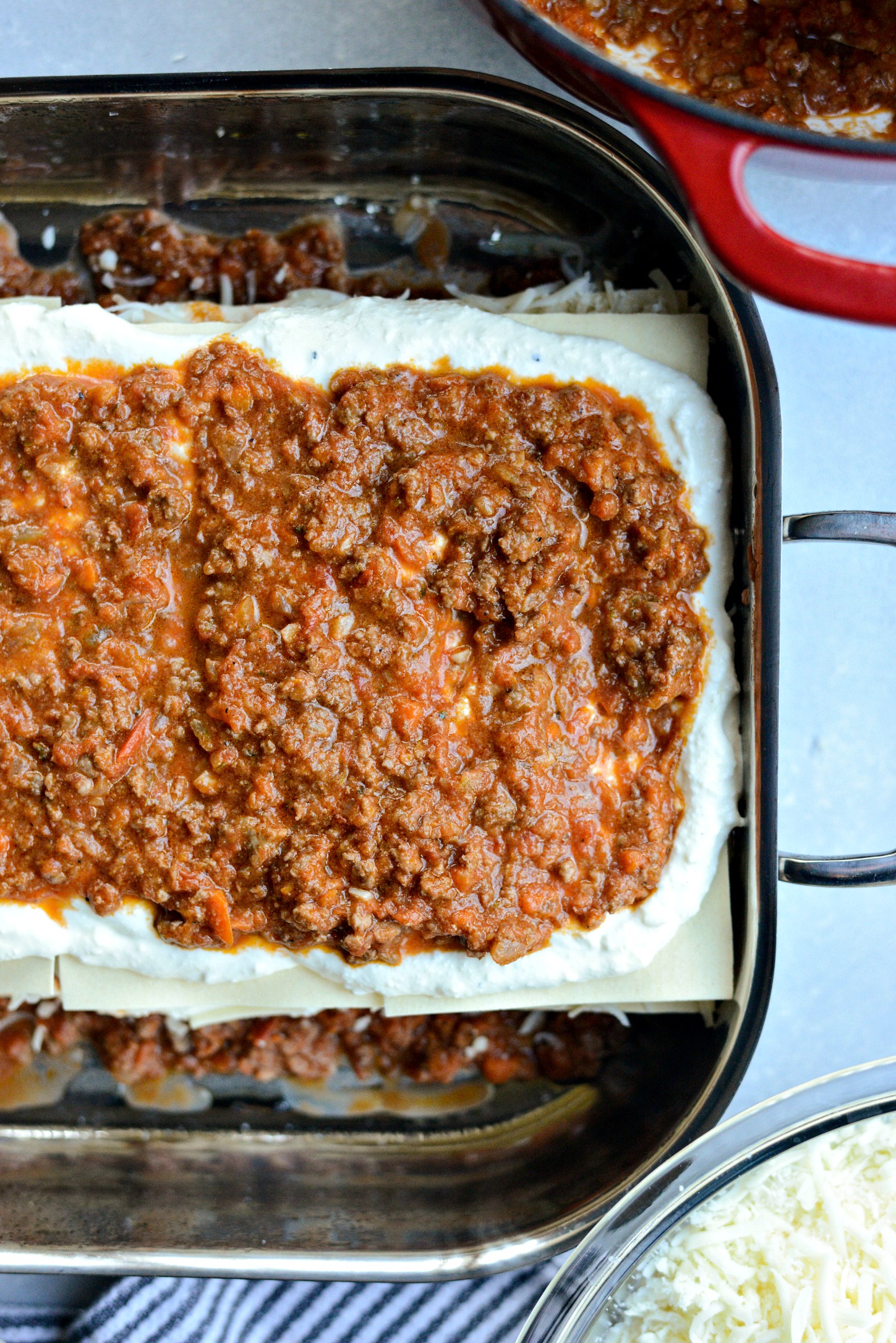 And Layer 3: Place 4 more noodles, the remaining ricotta, and 1 cup of sauce [ NO cheese].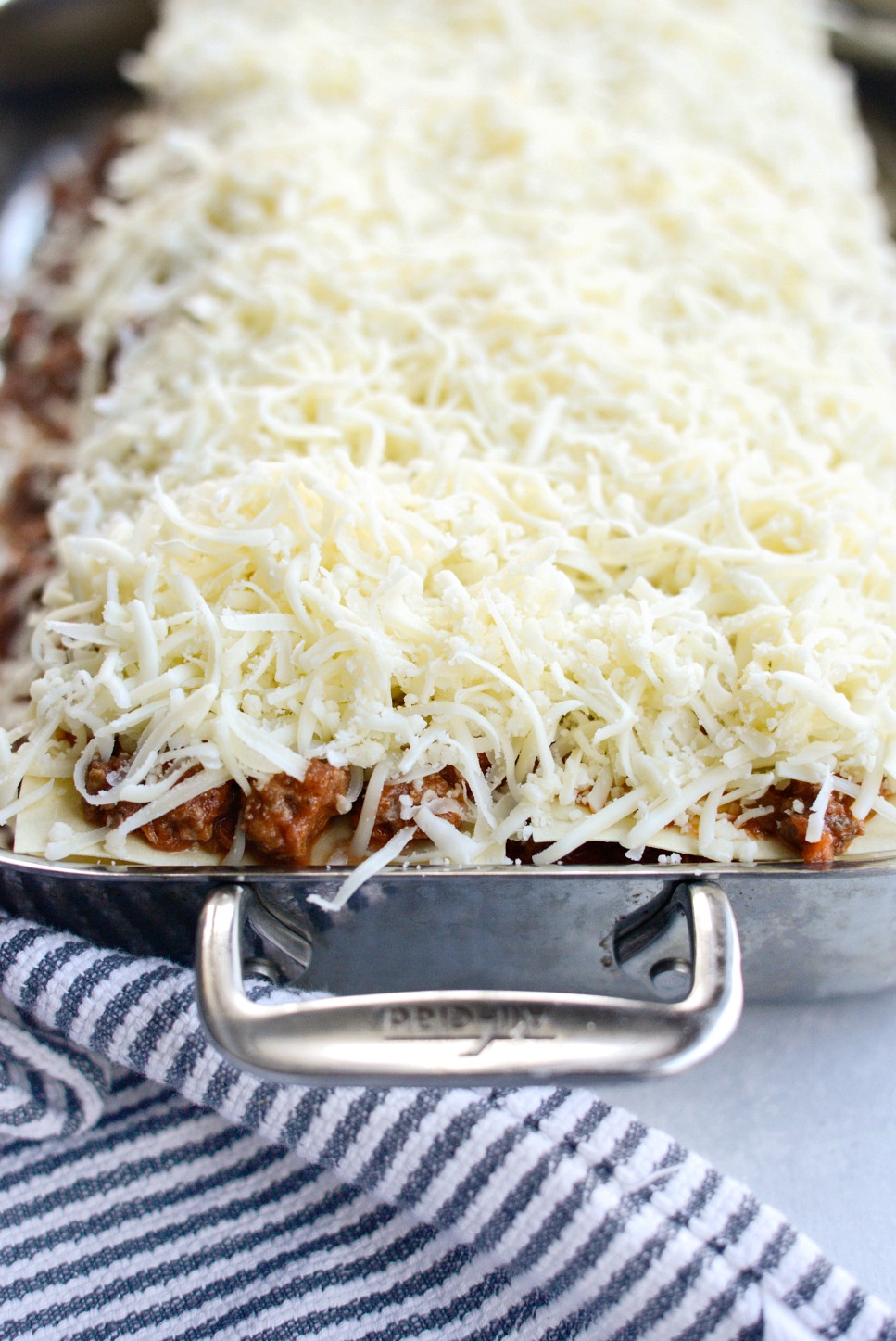 Lastly layer 4: Place the last 4 noodles on top of the sauce, spoon the remaining sauce over top and sprinkle with the 2 cups Mozzarella cheese.
Bake this homemade three meat bolognese lasagna on the middle rack of your preheated 375° oven for 20 minutes.
Rotate the pan halfway and continue to bake for an additional 20 to 30 minutes, or until the cheese is golden brown and the the whole pan is bubbly.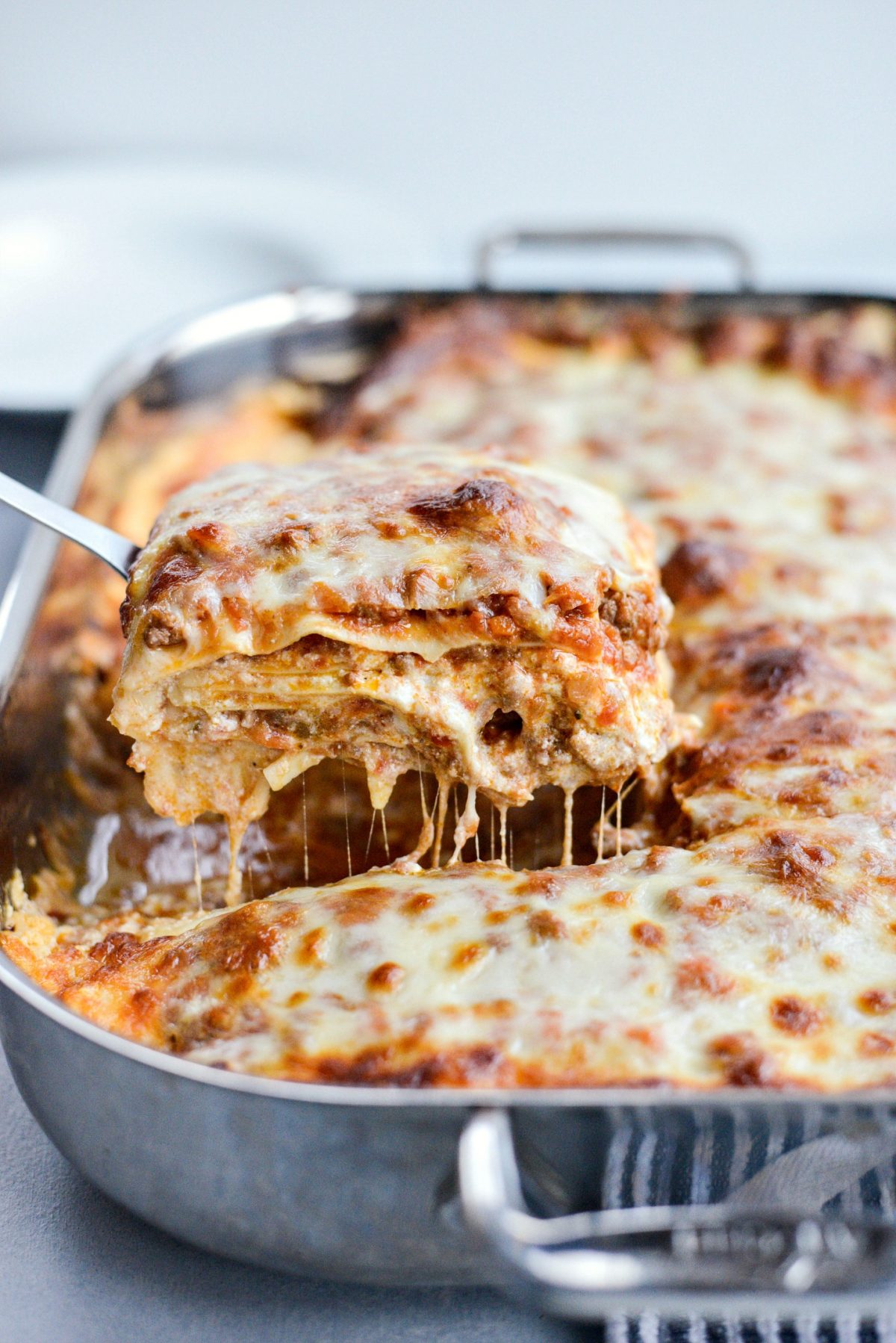 Once baked, remove and let the lasagna cool for 10 minutes before serving.
Delicious saucy layers and cheese pulls. I die.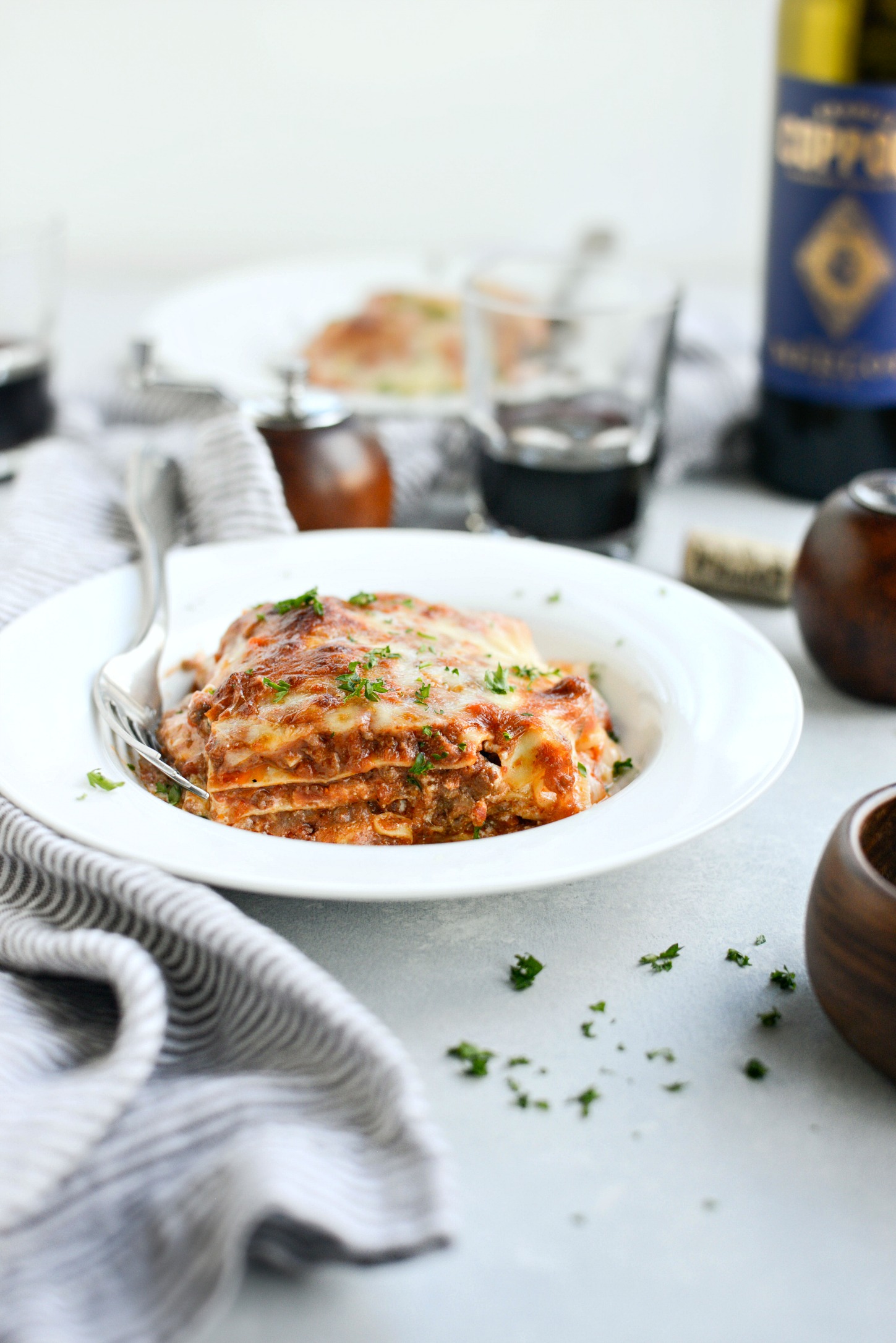 Lasagna is something that I don't typically make during the week, instead saving it for a Sunday or special occasions. Around the holidays I know many of you make my classic lasagna for your Christmas dinner. It's such an honor to know that lasagna recipe has become a tradition in some of your homes. Hopefully, you'll find this one equally as special and just as delicious.
I serve this three meat bolognese lasagna with a Caesar or simple green salad and wine.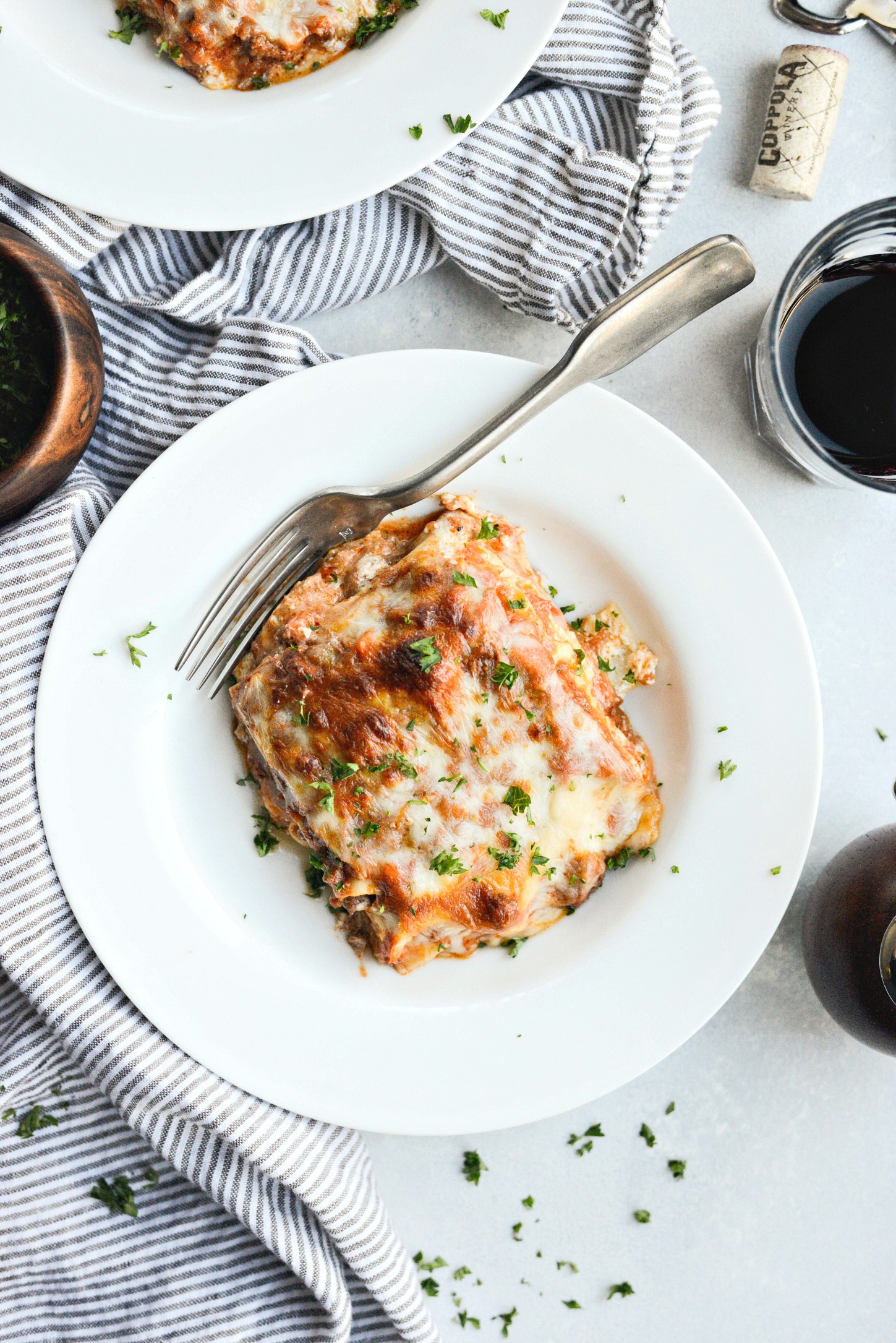 Enjoy! And if you give this Three Meat Bolognese Lasagna recipe a try, let me know! Snap a photo and tag me on twitter or instagram!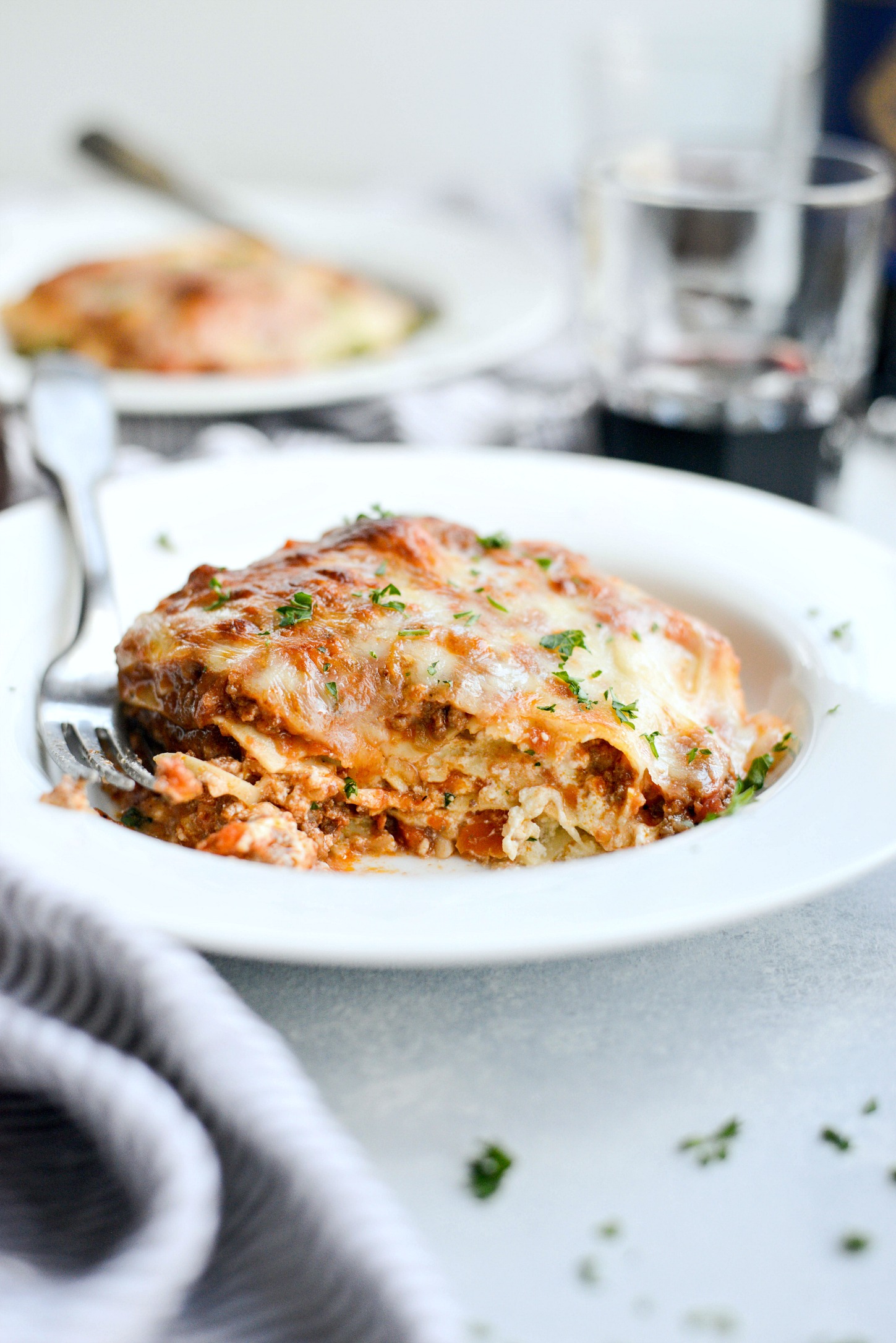 This post may contain affiliate links.
Buy the Cookbook: Simply Scratch : 120 Wholesome Homemade Recipes Made Easy Now available on Amazon »
THANK YOU in advance for your support!