This Dijon Rosemary Crusted Prime Rib Roast is perfect for a cozy family meal or holiday dinner. A standing rib roast is coated in a simple rosemary and dijon mixture before roasting away in the oven. The pan dripping are combined with pinot noir for a delicious Au jus.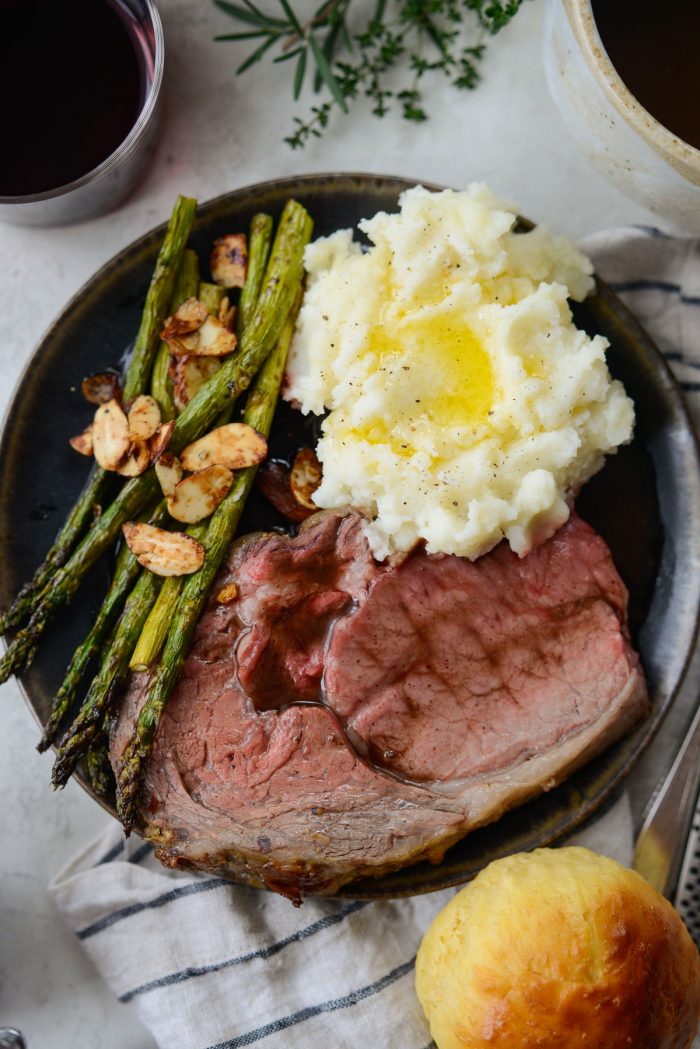 It's 3 days post holiday and I'm still up to my eyeballs in prime rib.
I mean, life could be worse. Like, I could be up to my eyeballs in cookies. Wait, that wouldn't be bad either.
To say I love this prime rib recipe is an understatement. It's so easy (true!) and turns out incredibly delicious every single time. Back in 2011, I found this recipe in a Cooking Light Magazine. It looked simple enough and so I made it for Christmas Eve dinner. Everyone loved it.
It's been 9 years and I've made it every Christmas Ever since.
To Make This Dijon Rosemary Crusted Prime Rib Roast You Will Need:
standing rib roast
garlic
thyme
rosemary
dijon mustard
olive oil
kosher salt
coarse ground black pepper
olive oil spray
low-sodium beef broth
pinot noir (make sure it is one you like to drink!)
This is what 8 pounds of prime rib looks like. I took this out of the fridge and let it sit out on my counter for 1 to 1-1/2 hours to take some of the chill off.
What is a standing rib roast?
A standing rib roast is a bone-in prime rib roast. However I've made this with a boneless prime rib roast and it was still excellent. Time will vary depending on which one you use.
While the roast is on the counter, start making the dijon rosemary mixture. Throw 6 cloves smashed and peeled garlic into your mini food processor.
Pulse until finely minced.
Next throw in 2 tablespoons chopped thyme leaves and 1-1/2 tablespoons chopped fresh rosemary.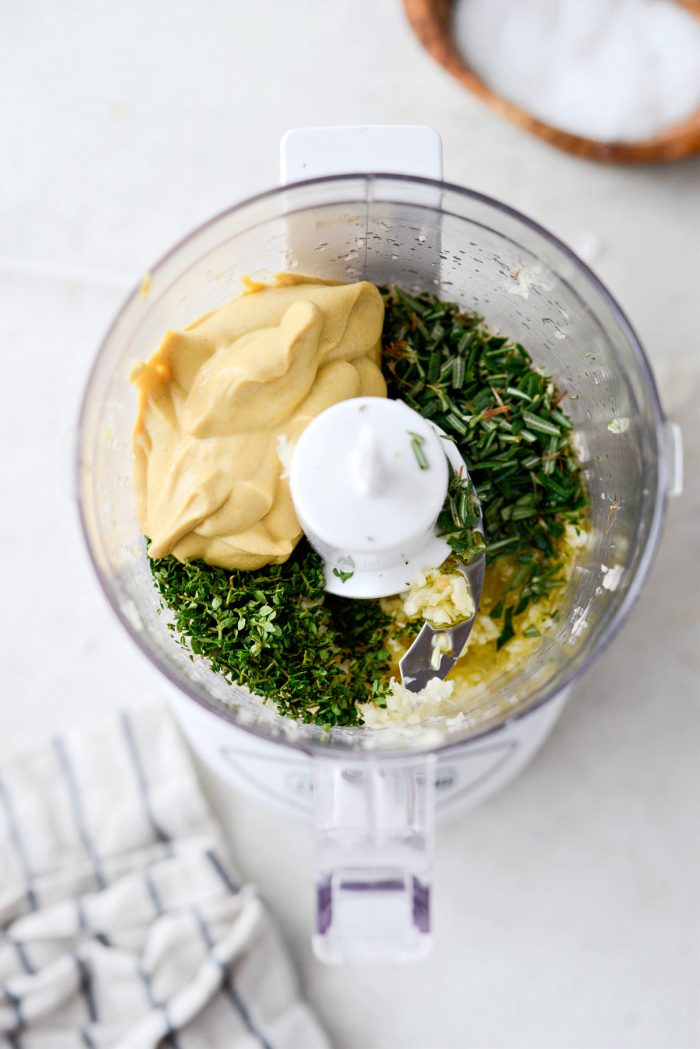 Next add in 1/3 cup dijon mustard and 1-1/2 tablespoons of olive oil.
Secure the lid and pulse until all the ingredients are combined.
This can be made a day in advance which will save you some time.
Which is better, Bone-in or a boneless prime rib roast?
I've done both. Boneless will take less time roasting while bone-in will take longer. However, if using a bone in standing rib roast make sure to ask your butcher to remove the bones and then tie them back up. The bones add flavor, especially to the drippings which you use for the au jus. Because I picked up my prime rib late Sunday evening, the butcher was gone for the day. So I removed and tied my own. It's nothing a sharp knife and kitchen twine can't handle.
If needed, trim off any thick pieces of fat and season it generously with kosher salt and fresh black pepper.
Using your impeccably clean hands, cover the entire roast with the Dijon rosemary rub.
Smells SO good!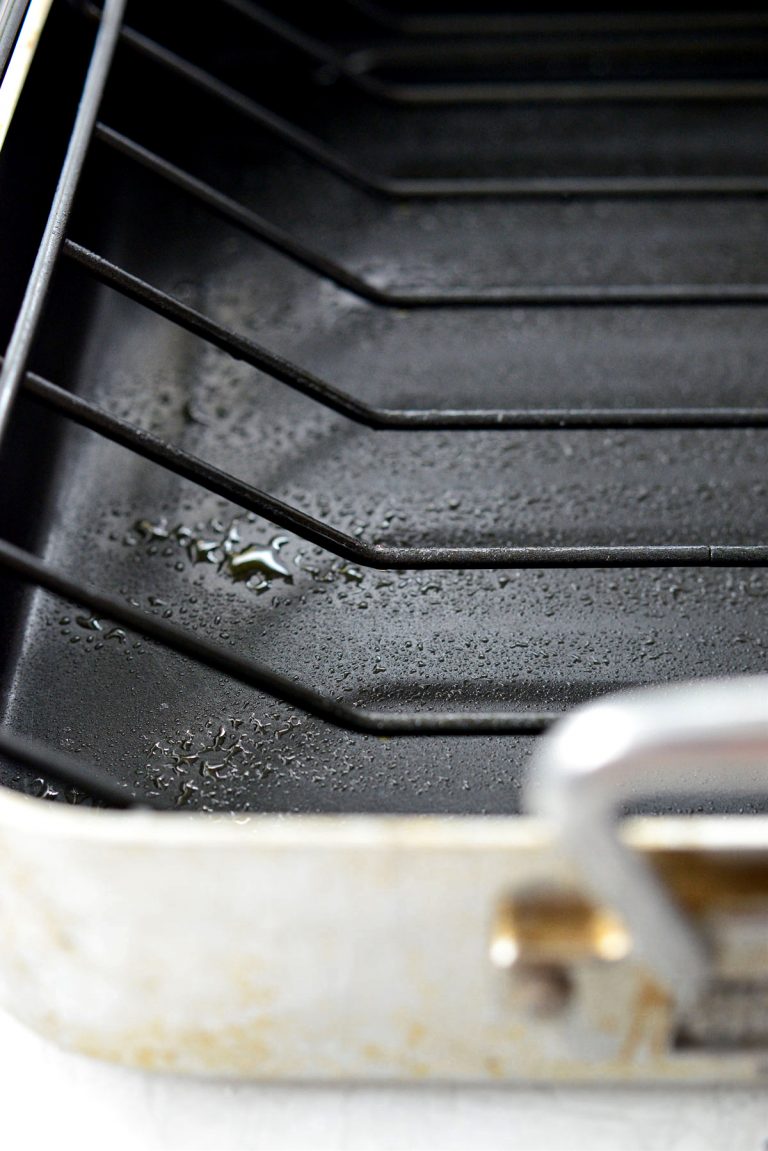 Preheat your oven to 400°. My wall oven is small so I have to remove a rack so the roast will fit. Spray your roasting rack with olive oil, this will insure the roast will release easily from the rack after roasting.
Place the roast (fat side up) onto the roasting rack that is set into your roasting pan.
Insert an oven-safe digital thermometer in the center of the thickest part. If using a bone in roast, keep in mind the bones should be considered part of the roast.
Important!
If the thermometer is too shallow you will not get an accurate read, which could result in an undercooked prime rib. Which is no bueno. So Make sure it's in inserted correctly before roasting.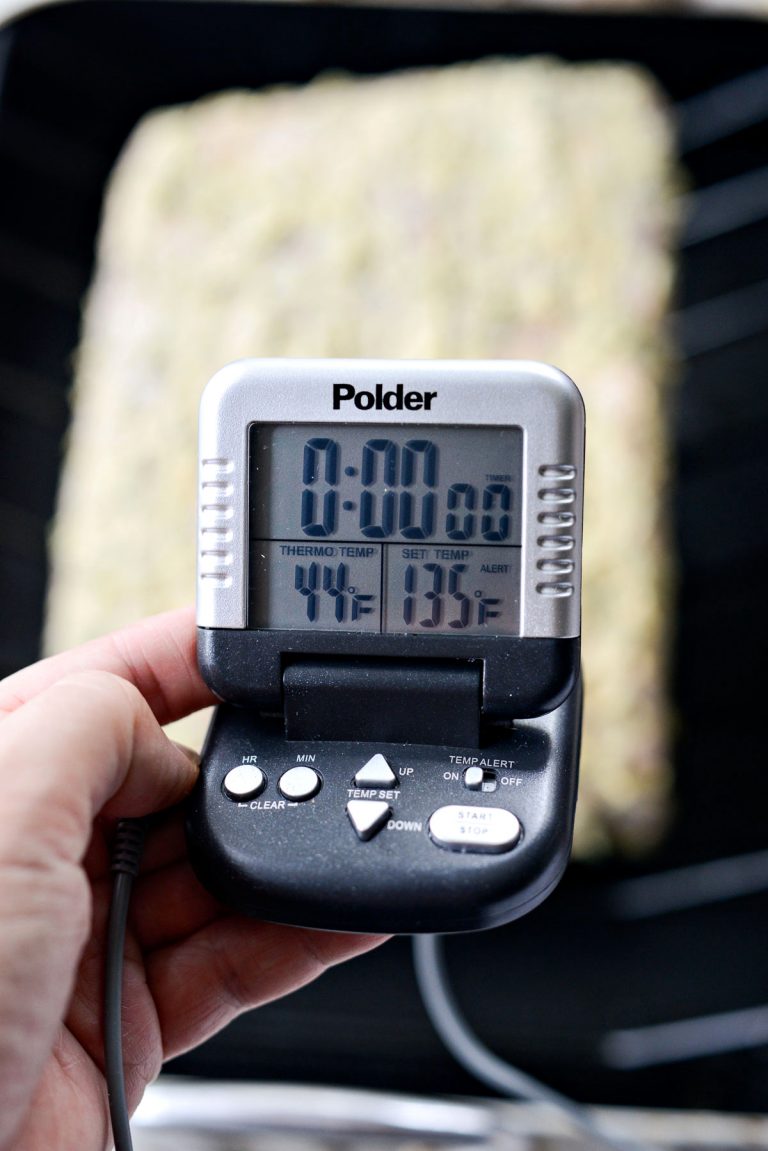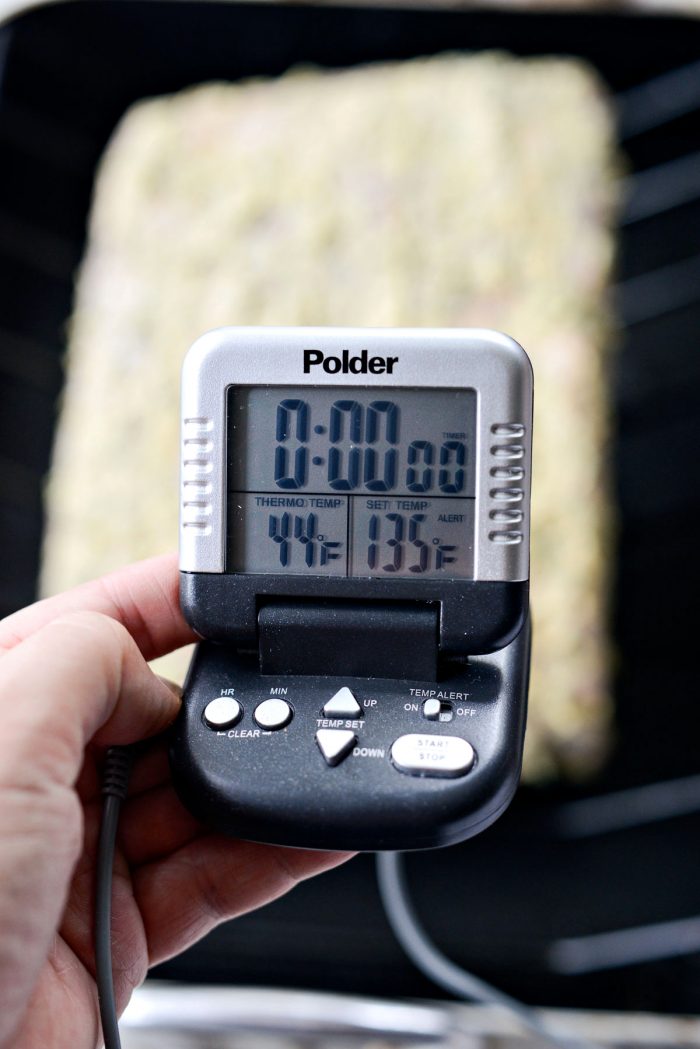 Set the thermometer to alert you when the internal food temp of the prime rib is 135°. I love this thermometer because of this feature! I have linked it in the recipe printable.
Slide the roast onto the bottom rack of your preheated oven. Roast for 30 minutes at 400°. Then reduce the oven temp to 350° and continue roasting for 30 minute. DO NOT OPEN THE OVEN you need that precious heat to form the crust on the outside of the prime rib.
After the first hour is up, remove the roast and pour 2 cups of beef broth into the pan. Slip it back into the oven and roast until the internal temp and digital thermometer reads 135°.
By now your house should smell amazing and a delicious crust has formed on outside of the prime rib. If you notice a darker crust in spots on yours, don't fret. This is normal and usually comes off when removing the string or when slicing. Like I mentioned earlier, my oven is tiny, so this could be only my issue.
Remove the prime rib roast from the roasting rack and place onto a carving board. Loosely cover with foil and let it rest for 15 to 20 minutes, so the juices can redistribute. The roast's internal temperature should raise a few degrees as it rests.
In the meantime, make the pinot noir au jus.
Scrape the pan drippings into a saucepan. Bring to a simmer before pouring in 2/3 cup Pinot Noir. Use a pinot you like to drink.
Alternatively, this could be done directly in the roasting pan, over two burners. However, I find the saucepan method easier.
Continue whisking until the au jus reduces to roughly 3/4 cup. I just eye ball it.
Slice up the prime rib roast roughly 1/2-inches thick per person.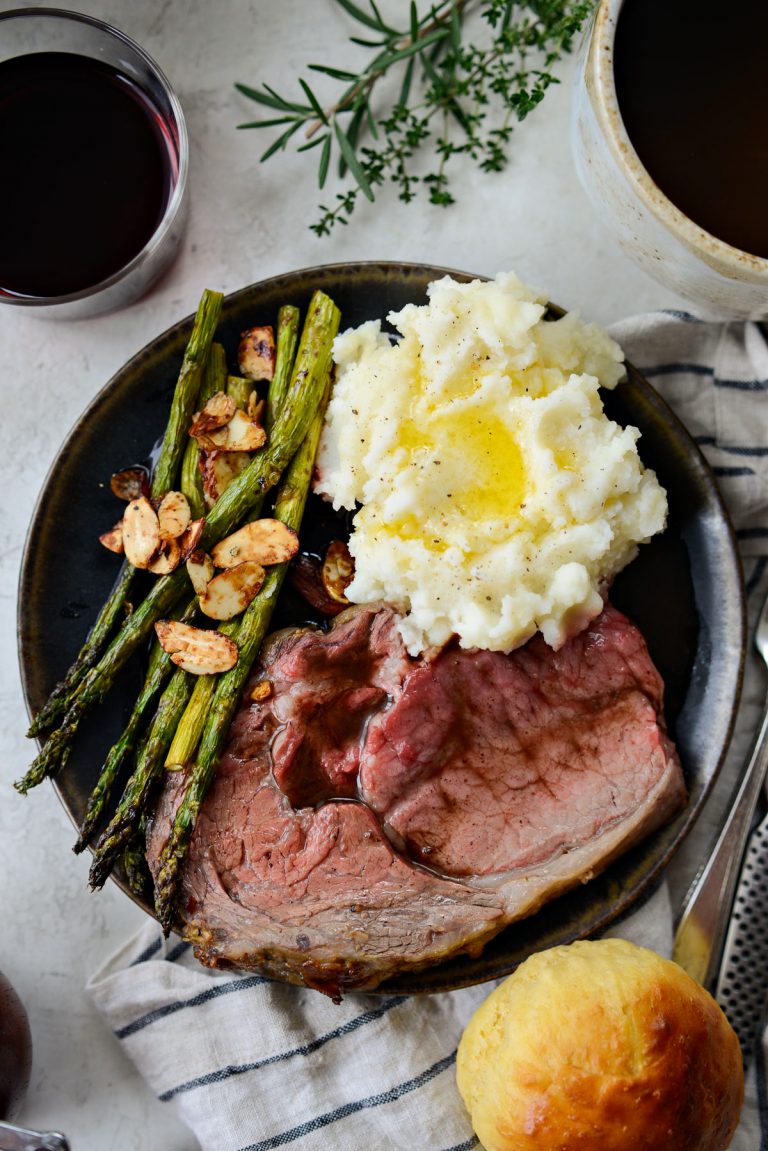 Serve and pour a few spoonfuls of the Pinot Noir au jus over top. To. Die. For.
What side dishes go with Prime rib?
sea salt rosemary dinner rolls
Enjoy! And if you give this Dijon Rosemary Crusted Prime Rib Roast recipe a try, let me know! Snap a photo and tag me on twitter or instagram!
This post may contain affiliate links.
Buy the Cookbook: Simply Scratch : 120 Wholesome Homemade Recipes Made Easy Now available on Amazon »
THANK YOU in advance for your support!