These pumpkin dark chocolate chip muffins are moist and delicious. A perfect fall flavor combination in a handy handheld package.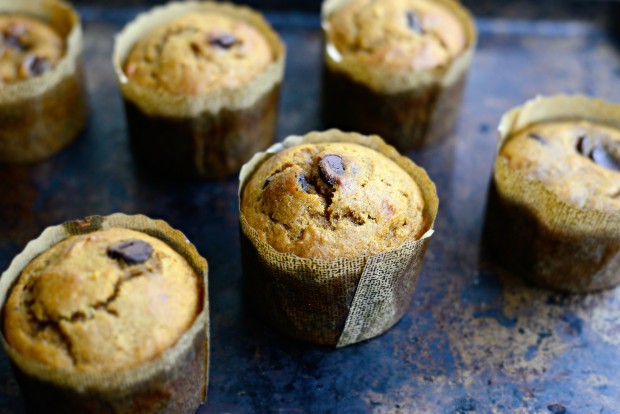 I woke up craving something pumpkin-y.
Okay, so it had to be pumpkin-y and chocolaty. Look, it has been one heck of a week and so I wanted something I could sink my teeth into and come away with a face covered in melty chocolate. And then go pick up my girls from the bus stop with it still on my face.
I try to embarrass them whenever possible.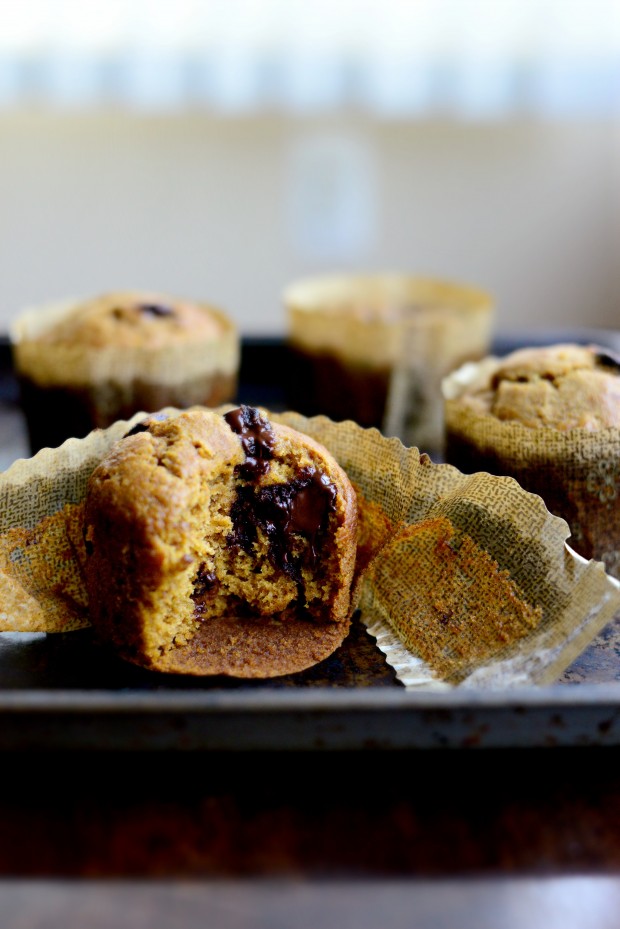 I shot this right before I left to get them and that top chip is the one that exploded on my face covering from my nose down. So totally worth it. I mean, would you just look at that cluster of chocolate.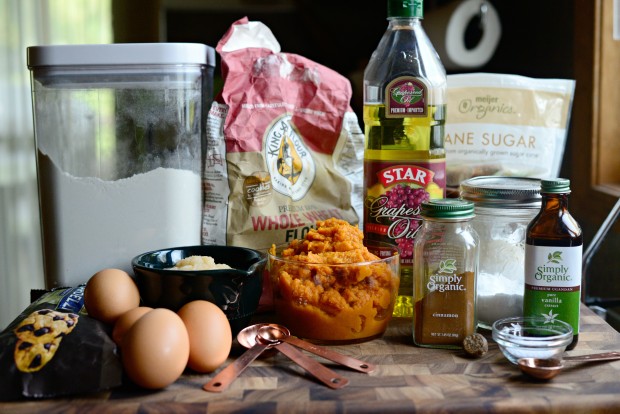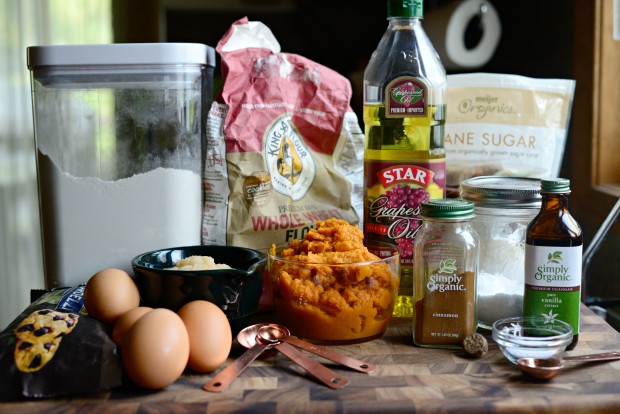 To Make These Pumpkin Dark Chocolate Chip Muffins You Will Need:
unbleached all-purpose flour
whole wheat flour
ground cinnamon
freshly grated nutmeg
baking soda
kosher salt
eggs
granulated sugar
unsweetened applesauce
grapeseed oil or other mild/tasteless oil
vanilla extract
dark chocolate chips (I use 60% cacao)
So before the melty chocolate chip to the face happened, I raided my kitchen. I found dark chocolate chips, pumpkin and the rest sort of just fell into place.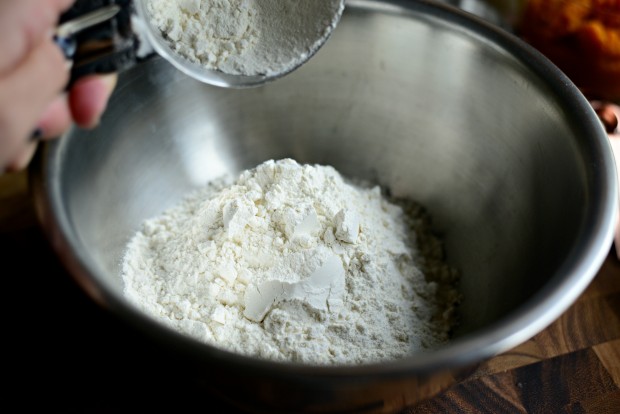 Dump 2 cups of all-purpose flour into a medium bowl.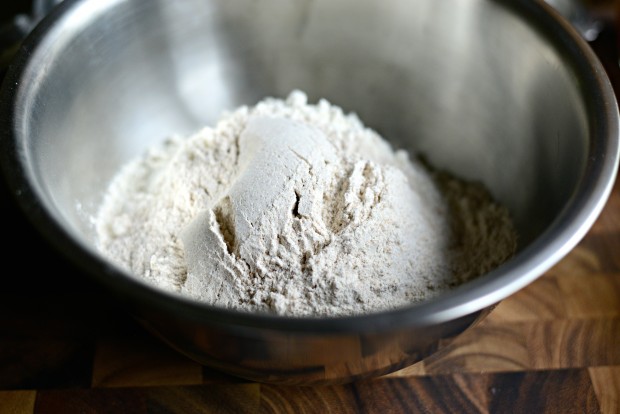 To that add 1 cup whole wheat flour.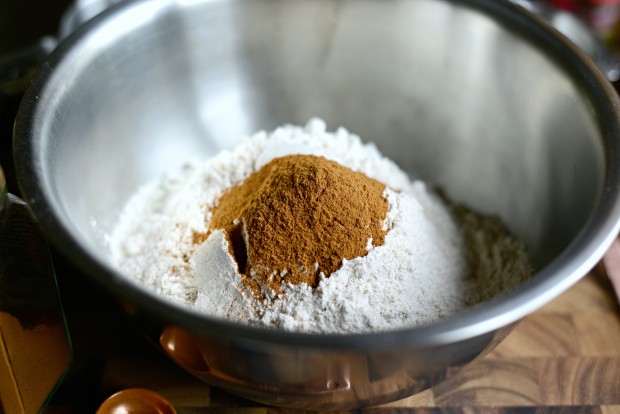 2 teaspoons cinnamon.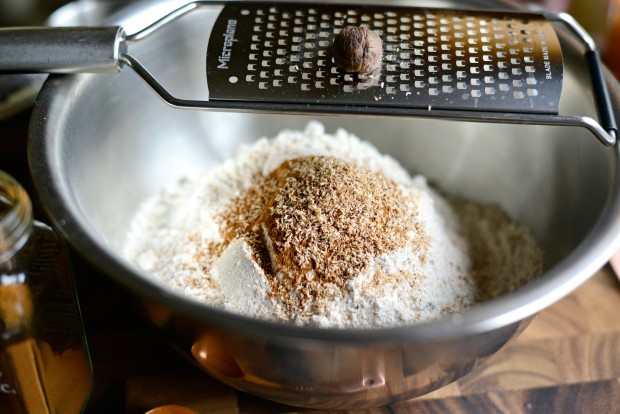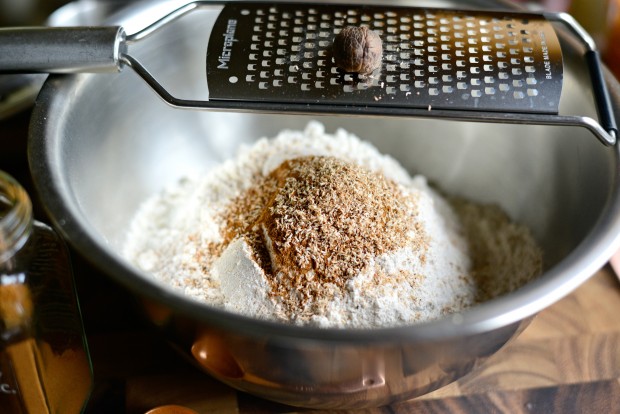 3/4 teaspoon freshly grated nutmeg
2 teaspoons baking soda and 1 teaspoon kosher salt.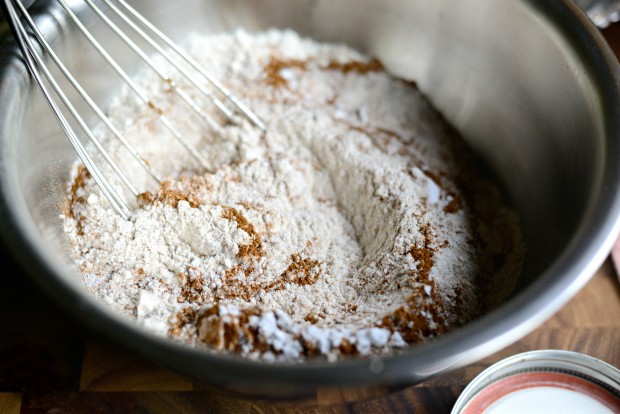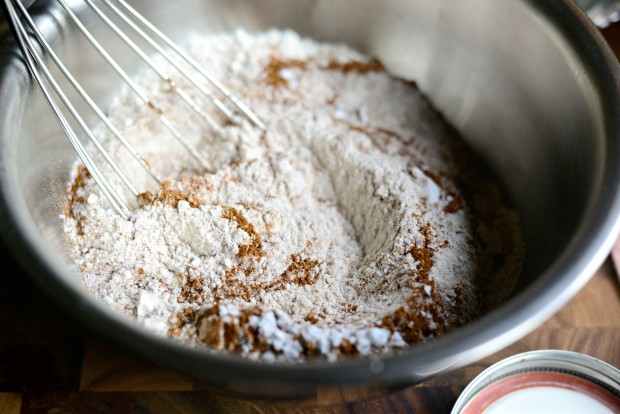 That's it for the dry ingredients, so give it a stir and set it off to the side for a sec.
Crack 4 large eggs into a large bowl.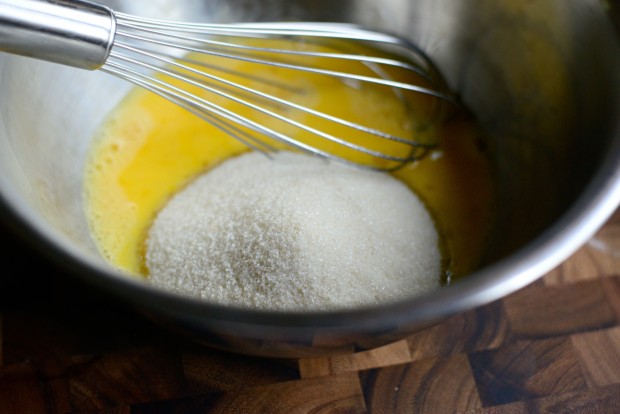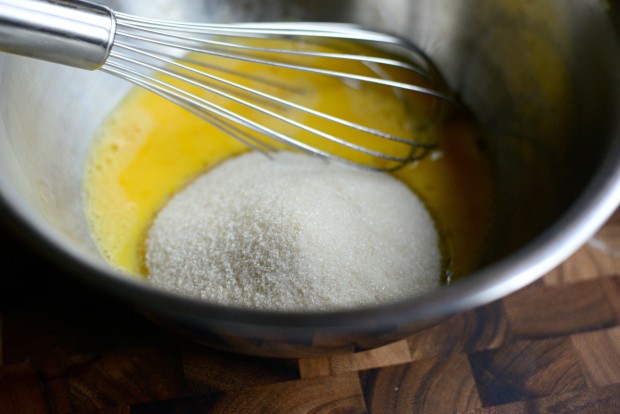 Lightly whisked the eggs before adding in 1-1/2 cups granulated sugar.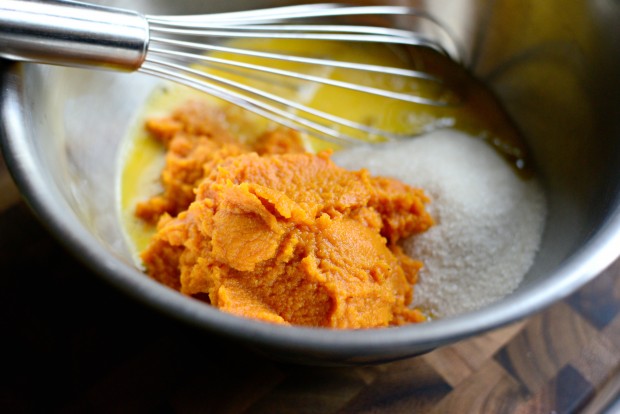 1 and 3/4 cup pumpkin puree.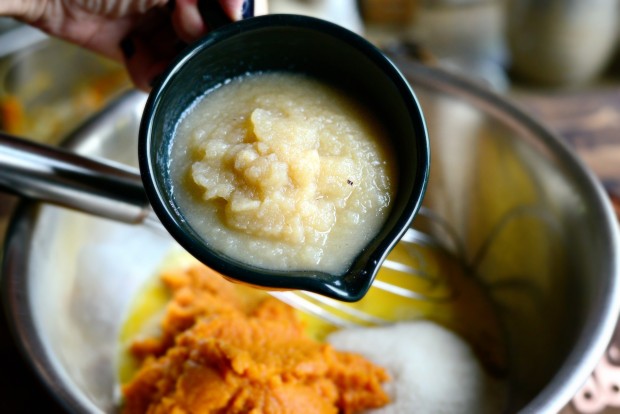 1 cup unsweetened applesauce.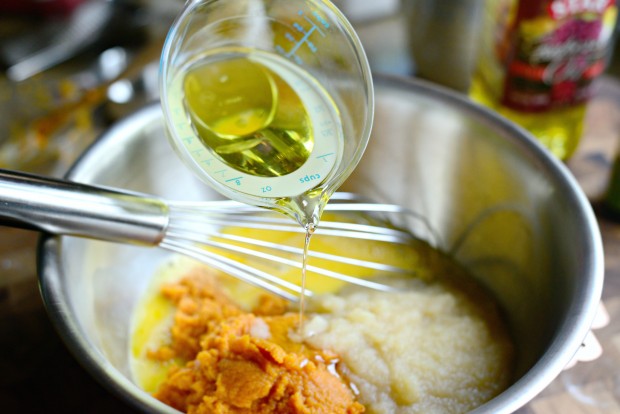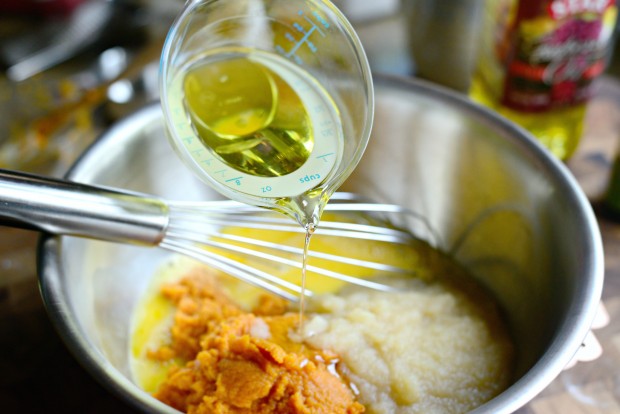 Pour in 1/2 cup grapeseed oil.
Lastly measure in 1 teaspoon pure vanilla.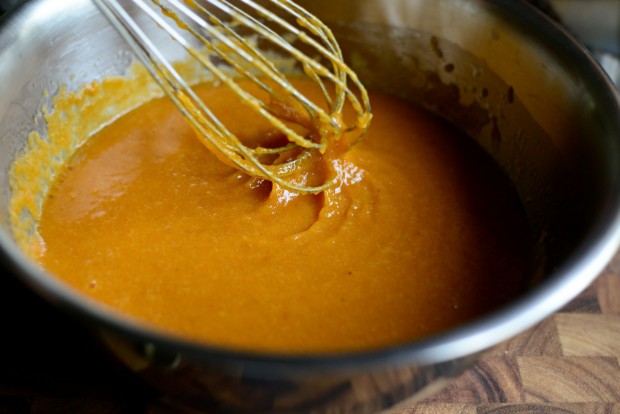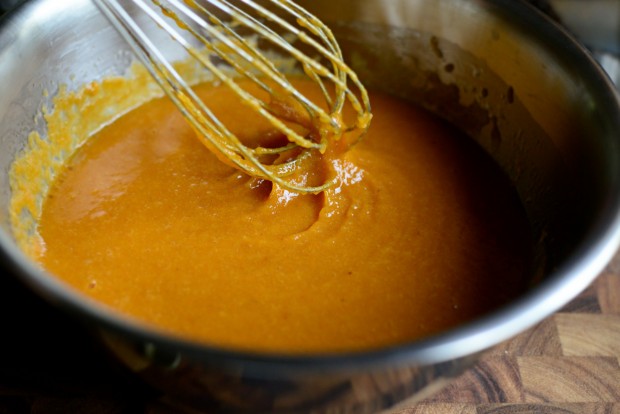 Whisk until all combined and smooth.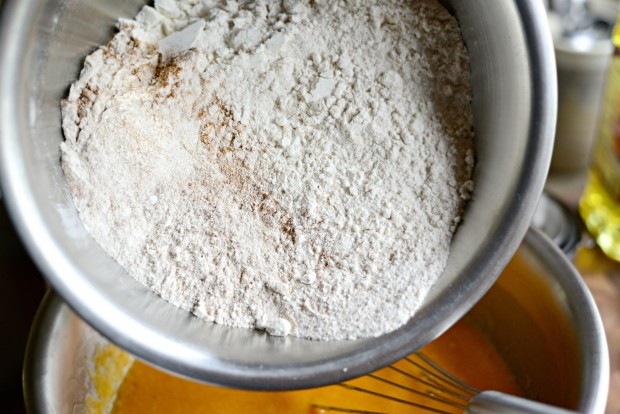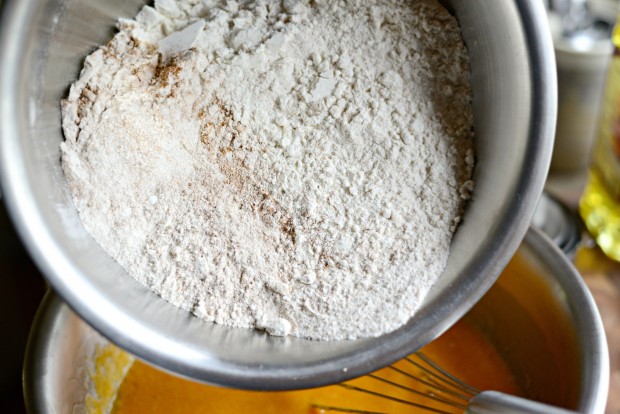 Grab the dry ingredients.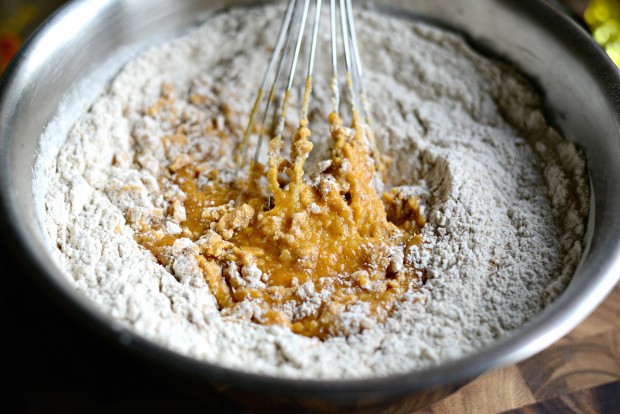 …and add them into the pumpkin mixture.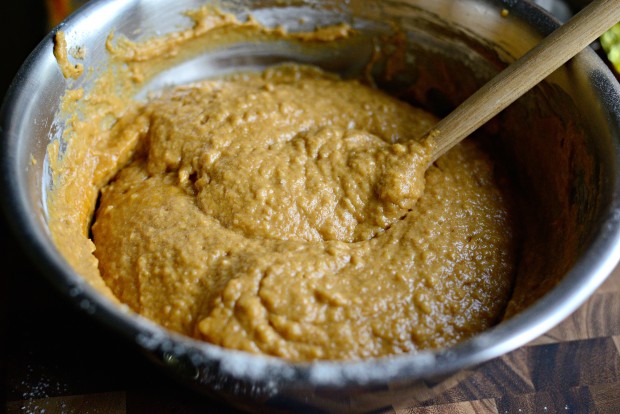 Switch over to wooden spoon and mix completely.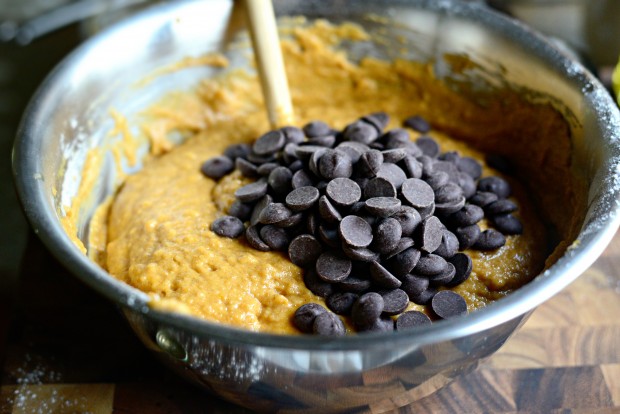 Add in 1 generous cup of dark chocolate chips.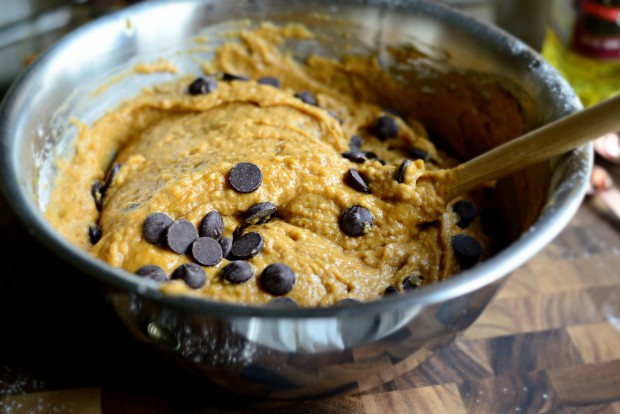 One quick stir to get those mixed in and that's it.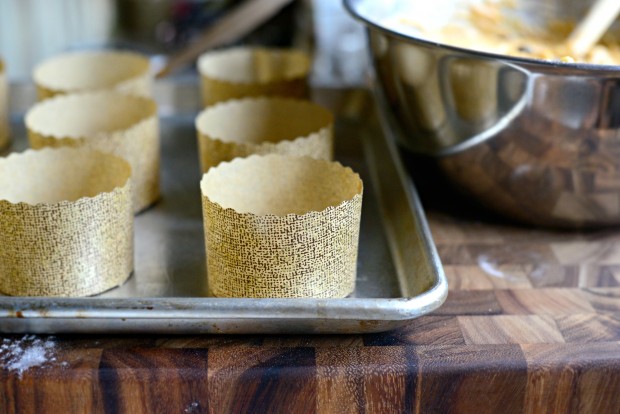 I'm using these free standing muffin cups. They're slightly larger than regular muffin liners and I found them at Sur la Table. If you're using regular muffin liners you will want to decrease the baking time.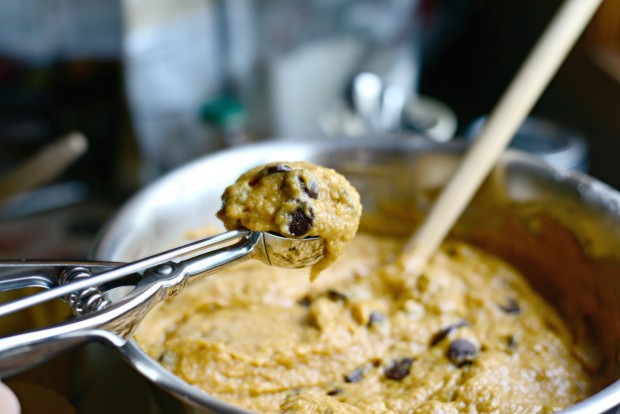 Scoop.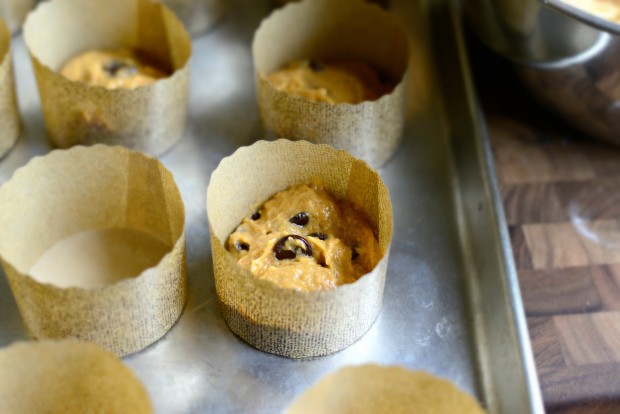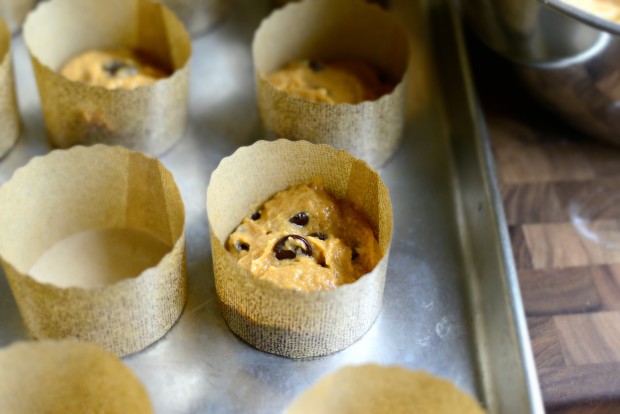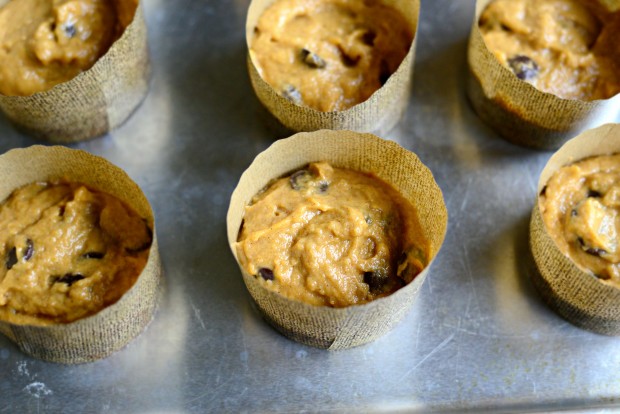 Fill the liners two-thirds of the way full.
I only bake 4 to 6 at a time in a preheated 350 degree oven for 25 minutes or until a toothpick inserted comes out clean- because I've found that if I crowd the sheet pan some were fully cooked and some were not. Four muffins, six tops worked like a champ.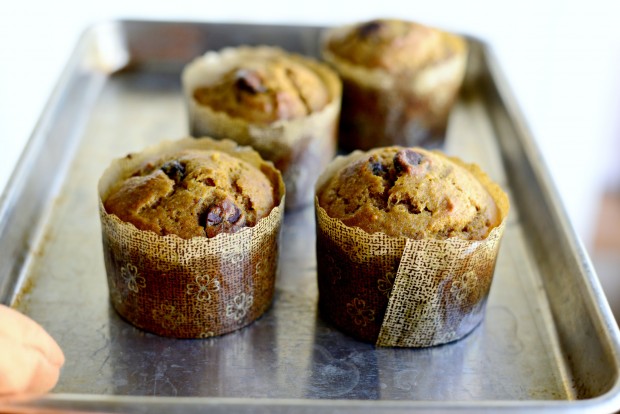 GORGEOUS!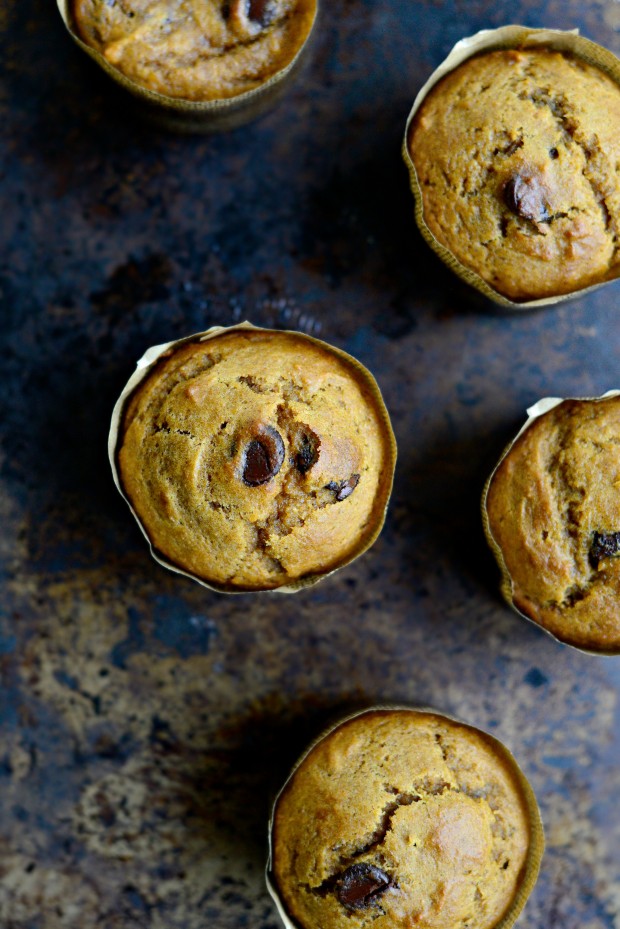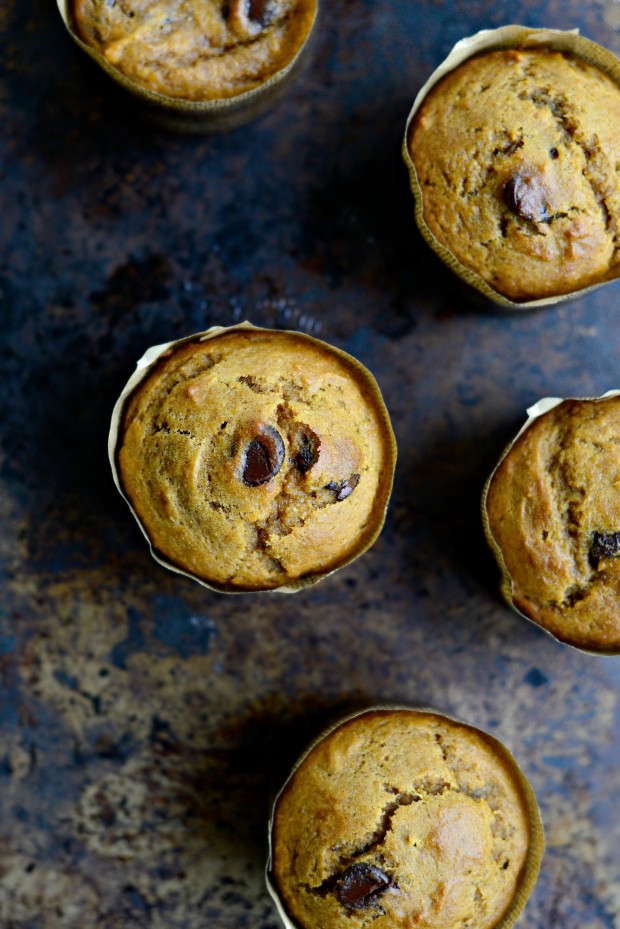 I think these are best still slightly warm.
It's kinda hard to wait. Really hard. But I did a little laundry, grabbed the mail and washed up the dirty dishes.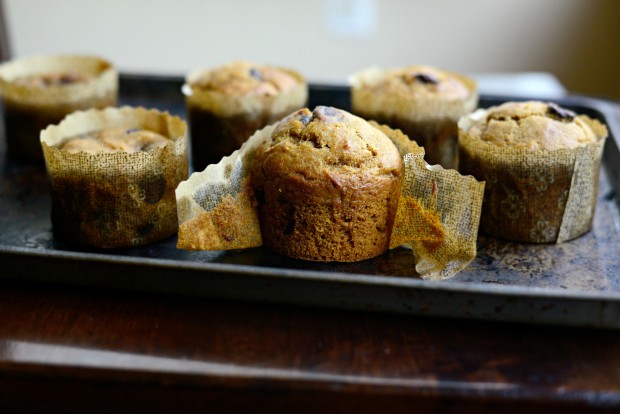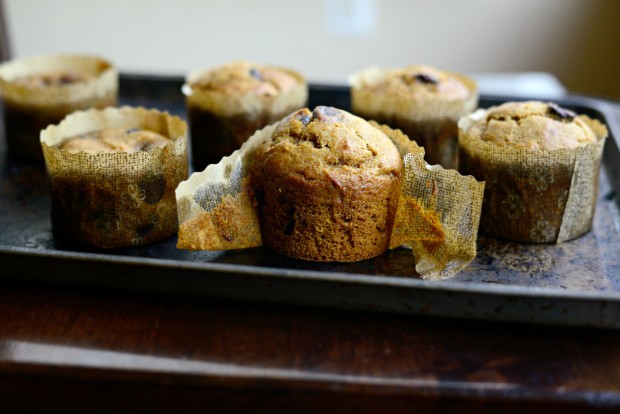 Hey look! My muffin's flashing you!
Naughty muffin.
All kidding aside, these muffins are seriously good!! Moist, not too sweet and the warm dark chocolate is…
everywhere.
(side note: Malloree just turned 11 on Tuesday *cries* remember when she looked like this or this or this? And THIS was last year! [see below]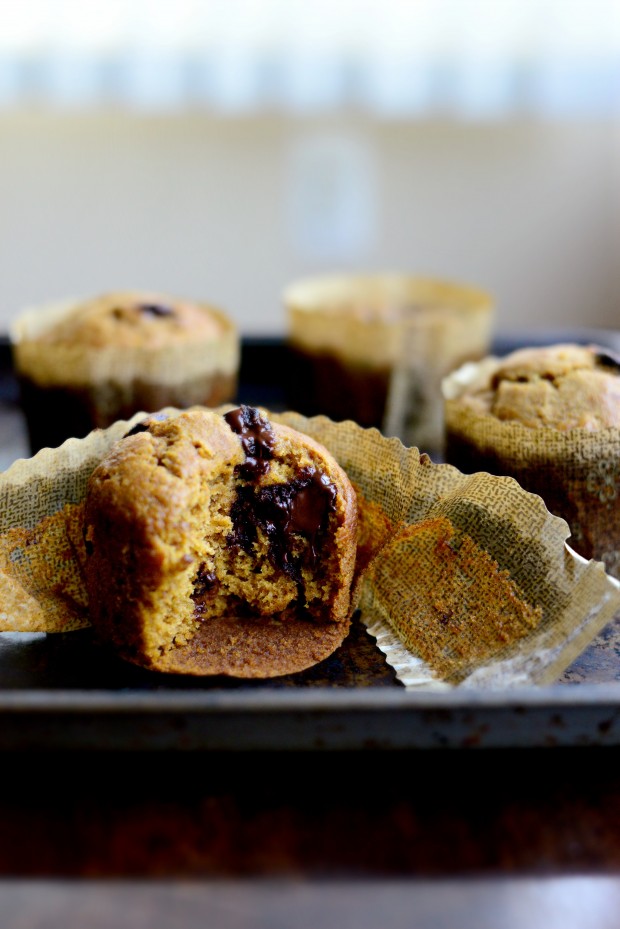 Seriously though my friends you must make these pumpkin dark chocolate chip asap! …and serve with a side of red wine.
Laurie's orders. 😉
Enjoy! And if you give this Pumpkin Dark Chocolate Chip Muffins recipe a try, let me know! Snap a photo and tag me on twitter or instagram!
Yield: 12 servings
Pumpkin Dark Chocolate Muffins
These pumpkin dark chocolate chip muffins are moist and delicious. A perfect fall flavor combination in a handy handheld package. Yields 12 to 14 muffins.
Ingredients
2 cups unbleached all-purpose flour
1 cup whole wheat flour
2 teaspoons ground cinnamon
3/4 teaspoon freshly grated nutmeg
2 teaspoons baking soda
1 teaspoon kosher salt
4 large eggs
1½ cups sugar
1¾ cup pumpkin puree
1 cup unsweetened applesauce
1/2 cup grapeseed oil
1 teaspoon pure vanilla extract
1 cups dark chocolate chips, I use a heaping cup of 60% cacao chocolate chips
Instructions
Preheat your oven to 350°. Place 12 to 14 free standing liners onto a flat surface.

In a medium bowl whisk to combine the flours, cinnamon, nutmeg, baking soda and salt. Set aside.

In a large bowl lightly beat eggs. Then add in the sugar, pumpkin, applesauce, oil and vanilla. Stir until combined.

Add the dry ingredients into the wet, switch over to a wooden spoon and stir until incorporated. Stir in chocolate chips

Fill liners 2/3 of the way full and smooth with a spoon. Place 4 batter filled liners onto a small baking sheet, slide into your preheated oven and bake for 24 minutes or until a toothpick comes out clean.

Allow the muffins to cool slightly before eating.
Notes
Depending on what freestanding liners you use will depend on the bake time and muffins yielded.
Serving: 1g, Calories: 412kcal, Carbohydrates: 62g, Protein: 7g, Fat: 16g, Saturated Fat: 6g, Polyunsaturated Fat: 7g, Monounsaturated Fat: 2g, Trans Fat: 1g, Cholesterol: 55mg, Sodium: 416mg, Potassium: 265mg, Fiber: 4g, Sugar: 33g, Vitamin A: 5650IU, Vitamin C: 2mg, Calcium: 74mg, Iron: 2mg
This post may contain affiliate links.
Buy the Cookbook: Simply Scratch : 120 Wholesome Homemade Recipes Made Easy Now available on Amazon »
THANK YOU in advance for your support!