I have a thing for apple hand pies. Little portable personal pies that requires no forks and only your fingers.
I think it stems from when my mom would take us to the bread outlet store when I was little. This place may have been my favorite store to go to as a kid because a.) it smelled of bread. HELLO!? And b.) the store sold these AMAZING Hostess mini hand pies. Now if you know anything about my childhood,  you know that my mom didn't buy these sort of things. Heck, I had my first twinkie EVER sometime in my late twenties and in my pre-teens I was a grape kool-aid lush when I'd spend the week at my cousins. But every once and a while my mom would treat us to one of these Hostess pies and I was in heaven. I'd choose apple every. single. time. and I ate it ever so slowly, savoring each gooey, flaky and store-bought bite.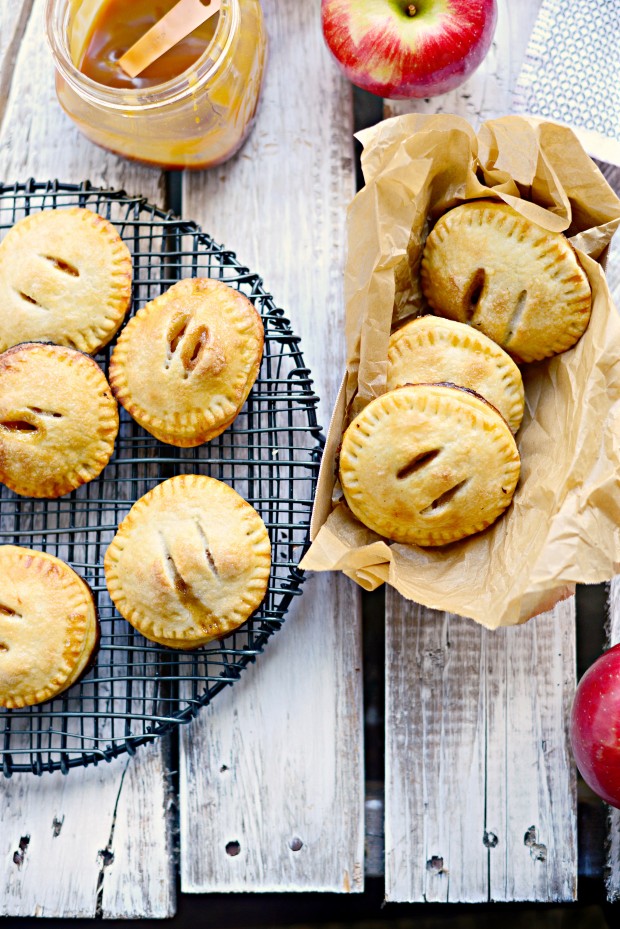 These cutie hand pies take me back to those days. They take a smidgen more time then a regular pie but totally worth it when you see these little things come out of the oven and you taste your first bite.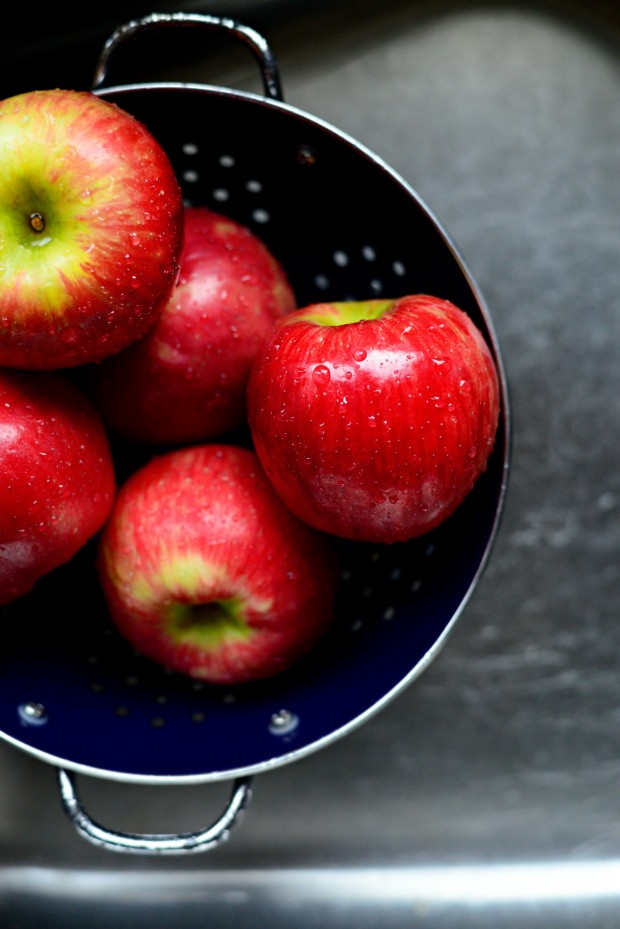 I'm using honeycrisp, shocker I know- but I really like them baked in pies, crisps and as a snack with almond butter. But for this recipe you only need two smallish ones you won't need to take out a loan to buy a bunch of honeycrisps. You think I'm kidding…
First things first: peel, core, slice and dice the apples into small pea-size pieces. Keep in mind, for the apples to cook in the short amount time, they need to be small.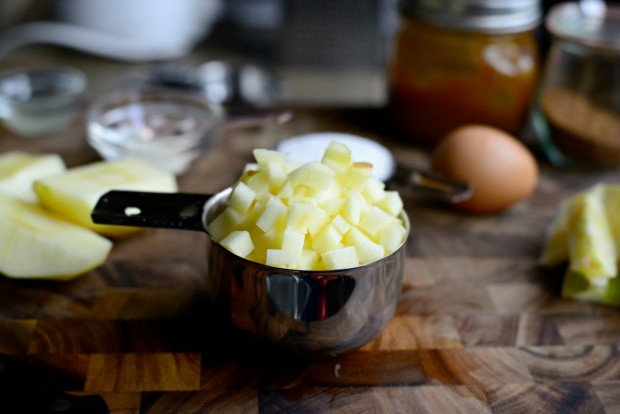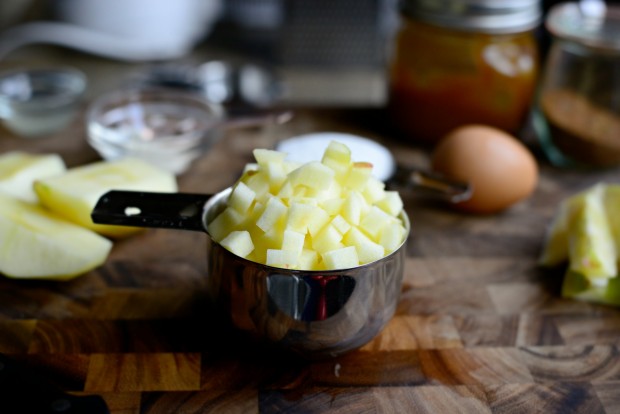 You need a heaping cup.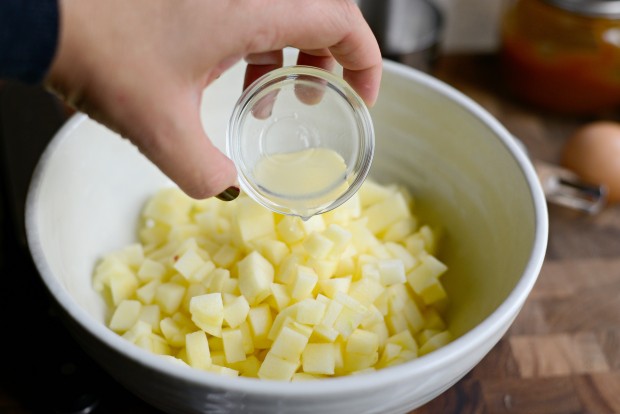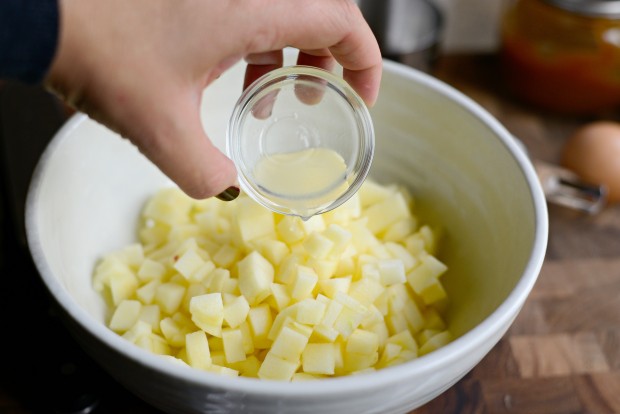 Add the apples to a medium bowl with 2 teaspoons of lemon juice. Orrrr lime juice if that's all you have on hand.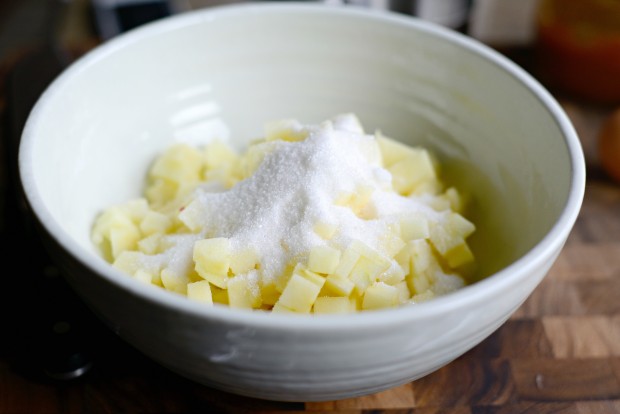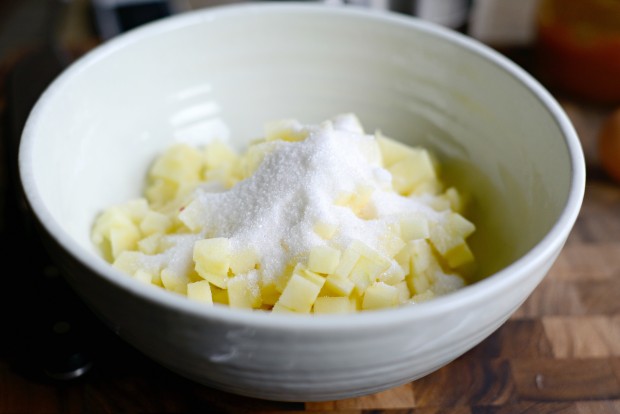 Add in 3 tablespoons of sugar…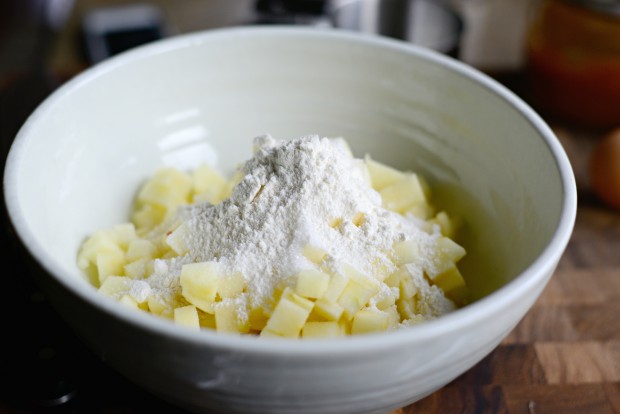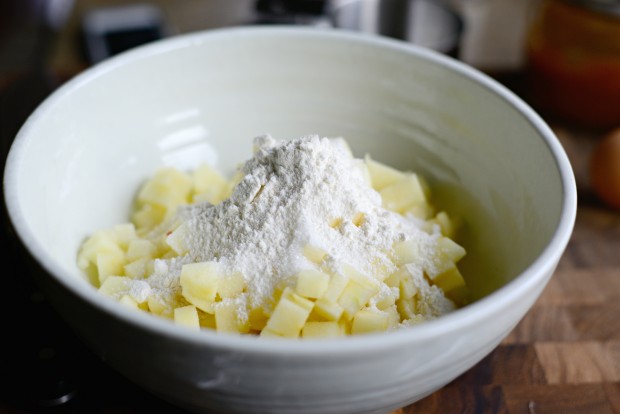 1 tablespoon all purpose flour…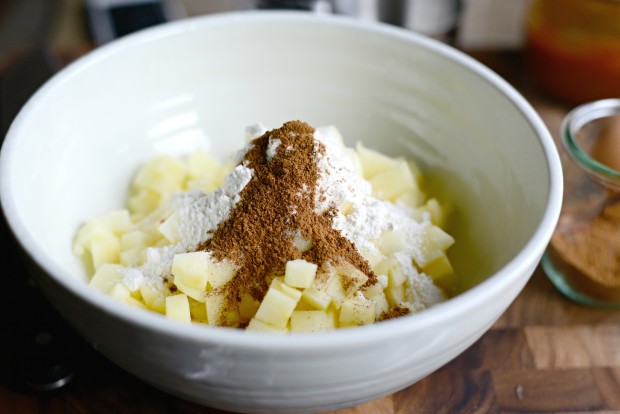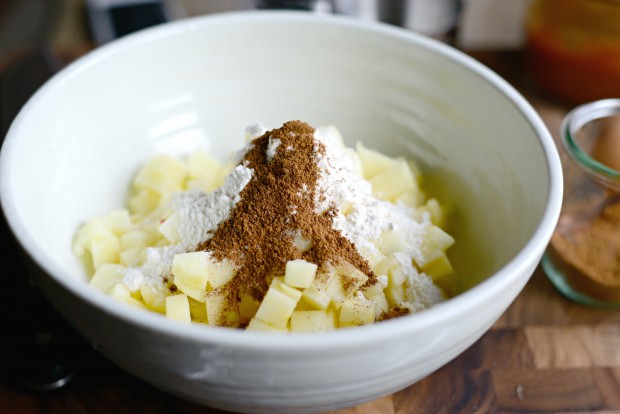 1/2 teaspoon homemade apple pie spice…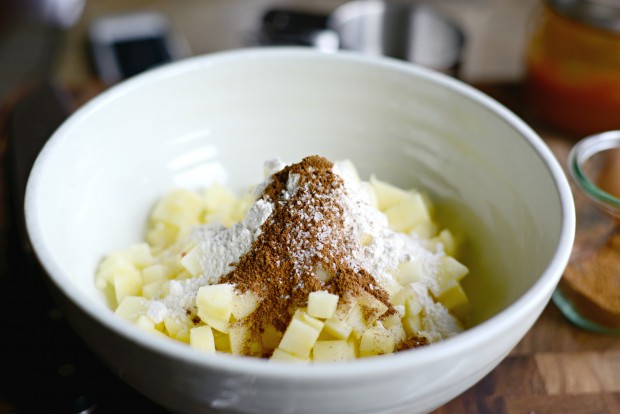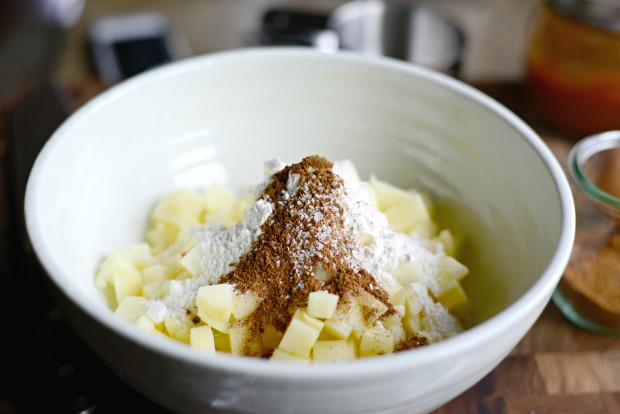 …and a pinch of salt.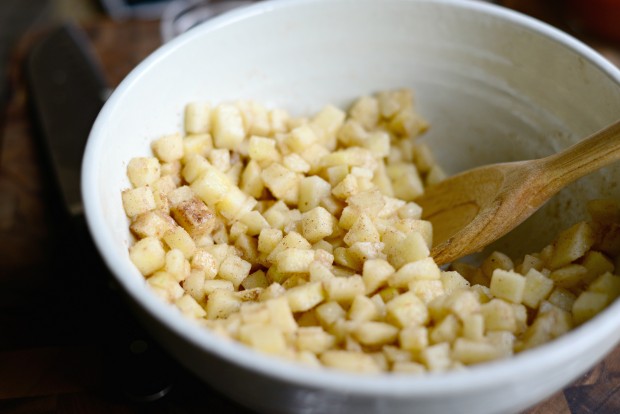 Toss and stir all of those together and scoot off to the side.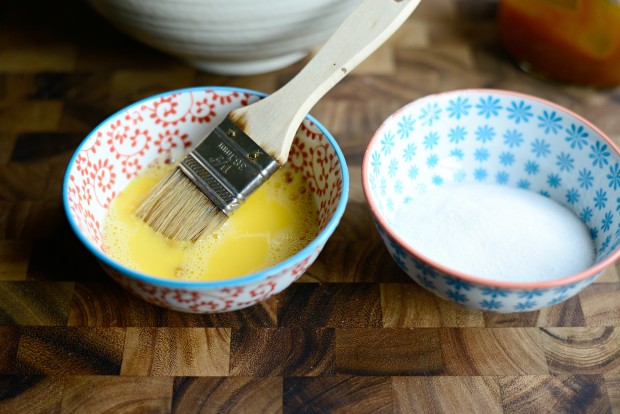 Before you roll out the dough, crack and egg into a small bowl with a tablespoon of water and beat together with a fork. Stick a pastry brush in it and grab another dish for adding a little ultra fine sugar into it (regular or turbinado sugars are fine to use too!) and set those off to the side for a moment.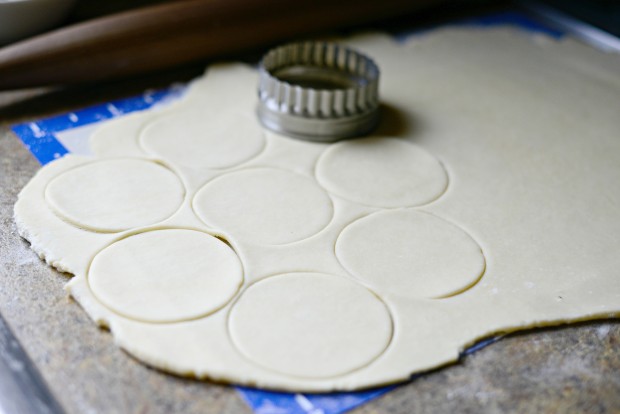 Roll out the pie dough and stamp out, using a 3-inch bisquit or cookie cutter, an even amount of rounds. I get around 16 or so the first time around.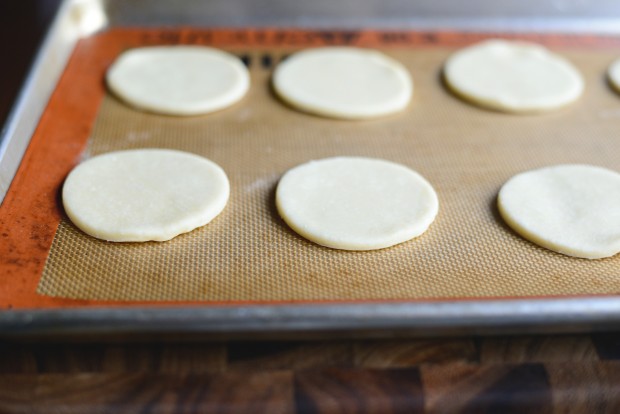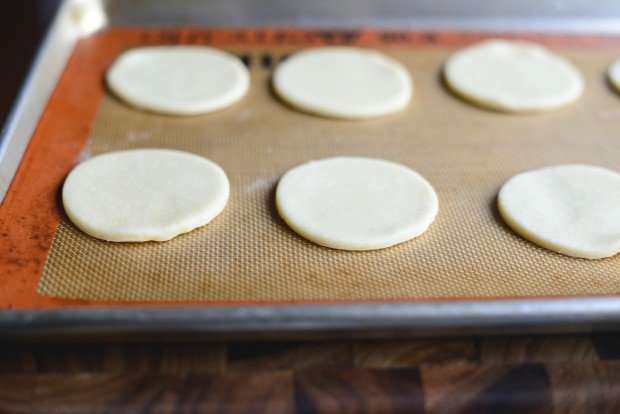 Place half of them on a lined baking sheet…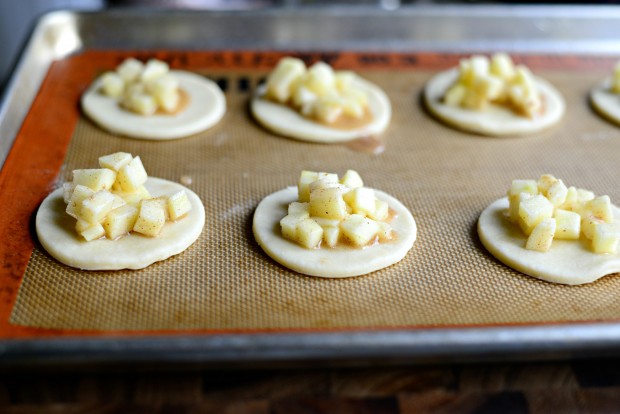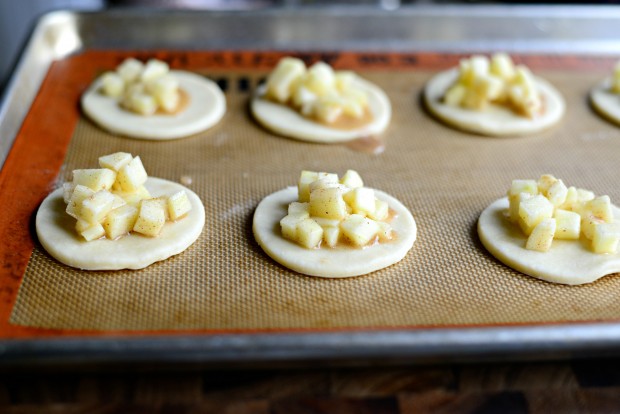 Scoop out a heaping tablespoon of the apples and place it in the center of the rounds-o-pie dough.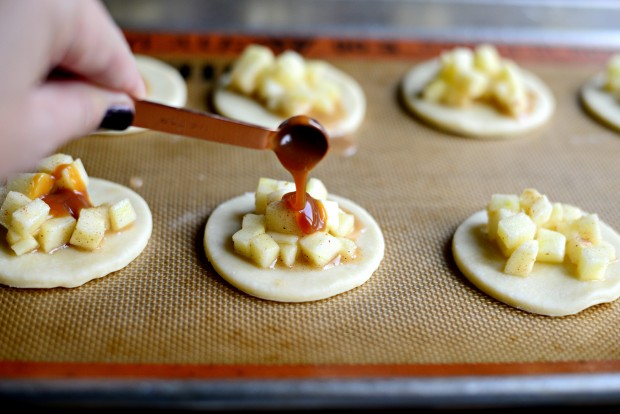 Drizzle a 1/4 to 1/2 teaspoon homemade caramel sauce, cold or room temp but not warm as it will be too thin.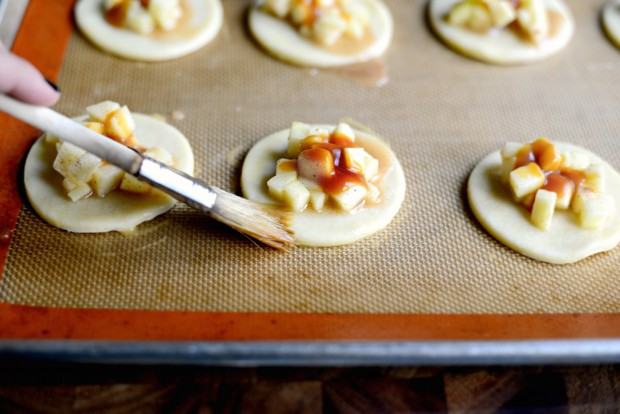 Brush the edges of the pie dough with the egg wash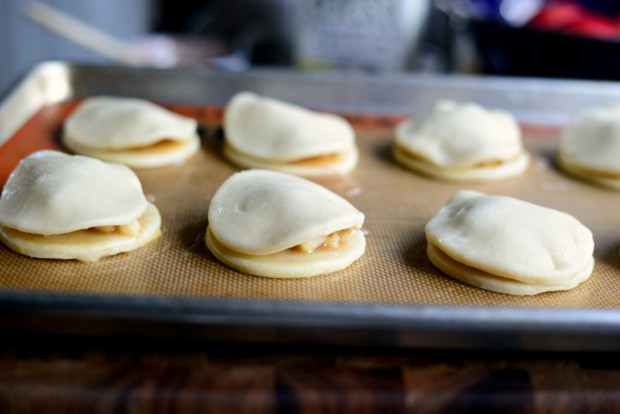 Ever so gently stretch the top pie dough rounds and drape them over the filling.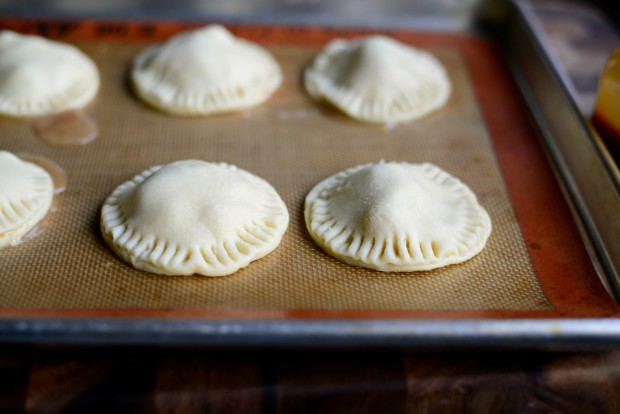 Use a fork to crimp the edges…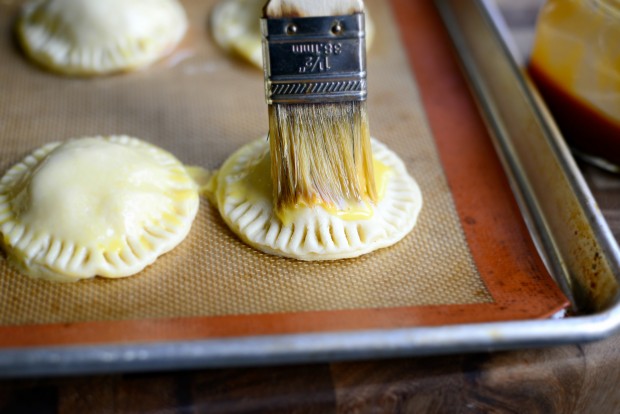 Brush the tops and sides with more egg wash…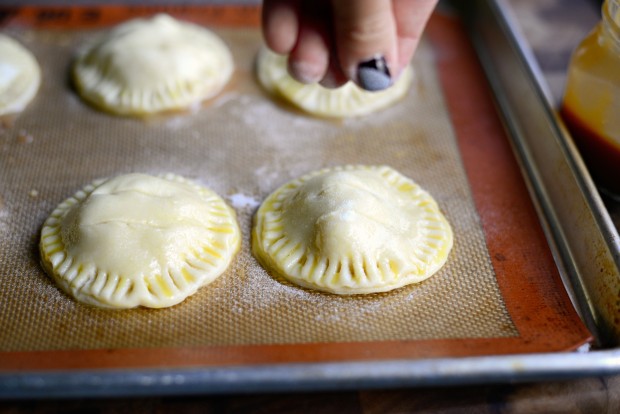 …use a sharp knife and make two slips on the top and then sprinkle with a good amount of sugar over top. Then slide into your preheated 425 degree oven and bake for 15 to 17 minutes or until golden (rotating the pan halfway through baking) and you can see the filling bubbling through the air slits.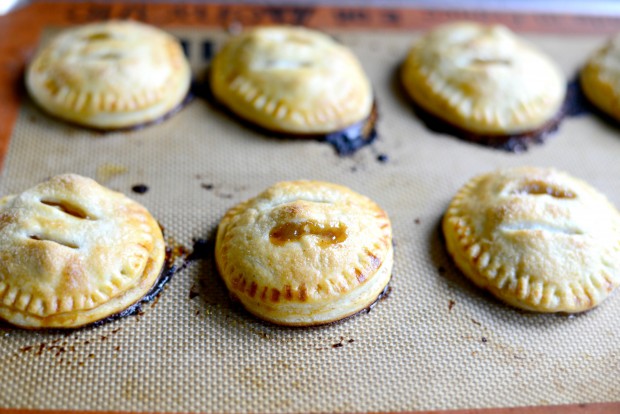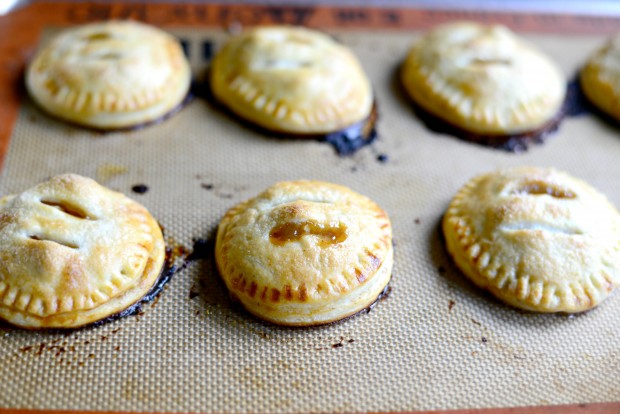 Like so…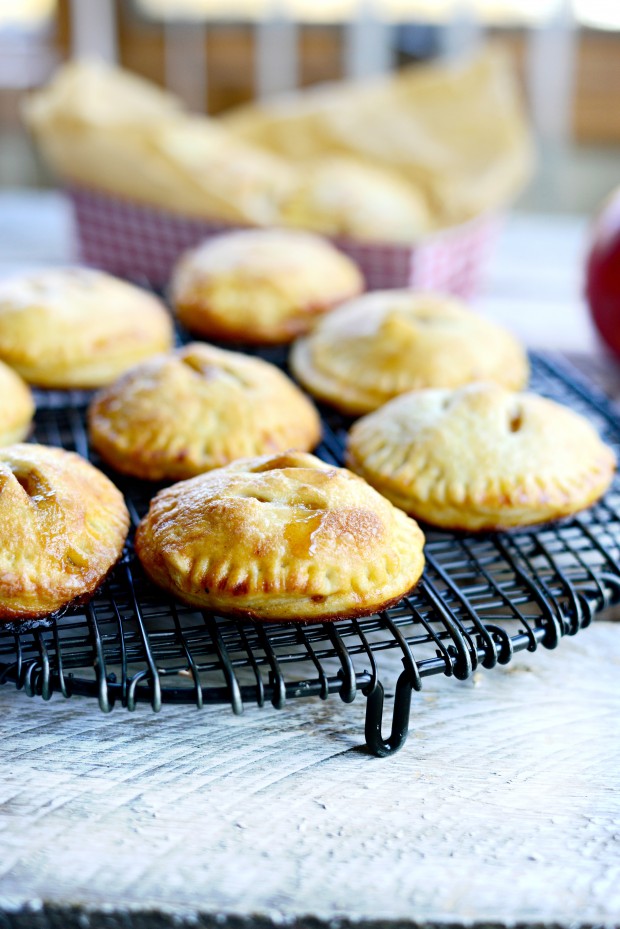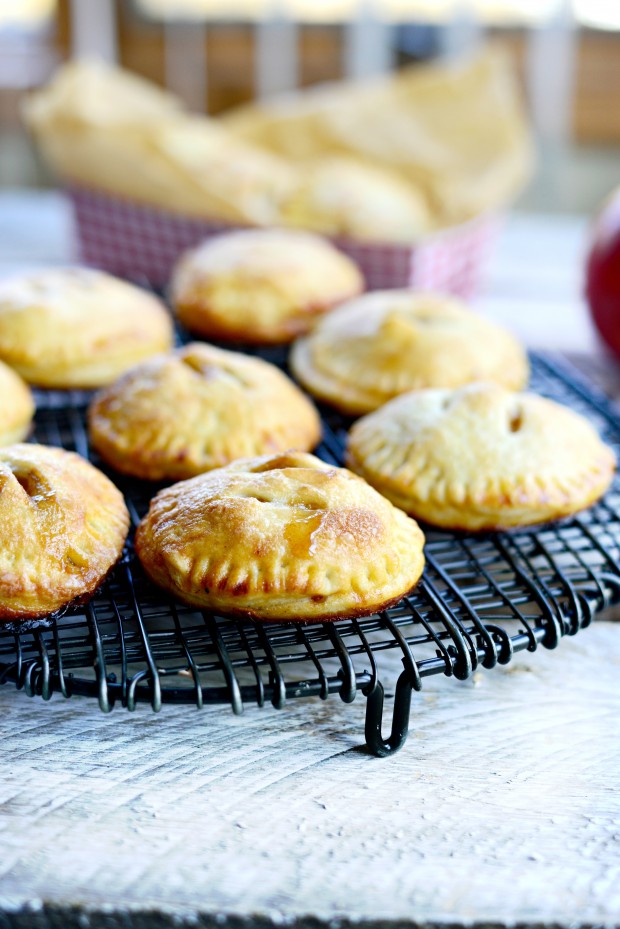 Transfer those steamy pockets of apple caramel bliss to a wire rack to cool a smidge. Because let's face it, I will not be waiting long to sink my teeth into these flaky, gooey, apple-y pies.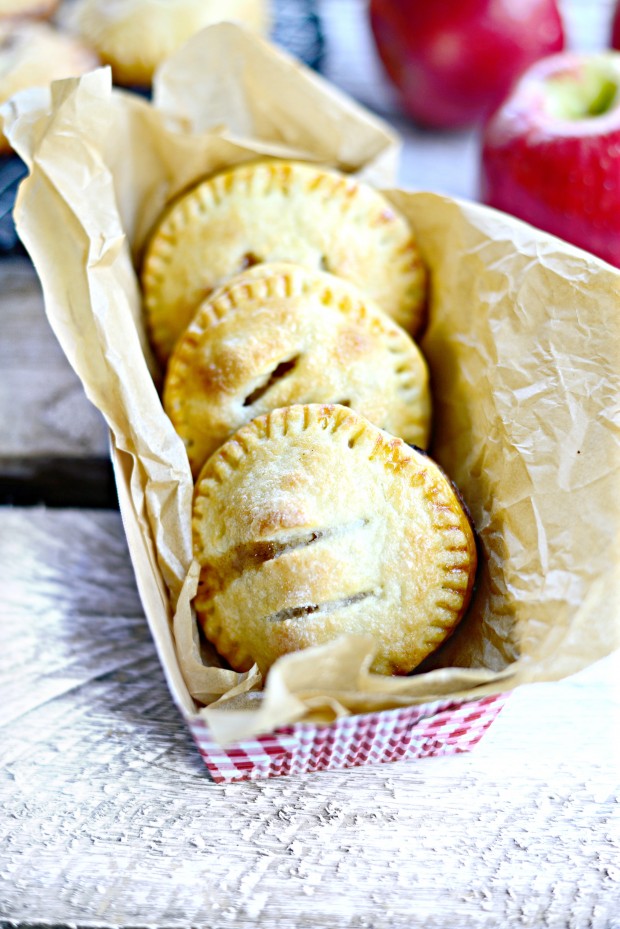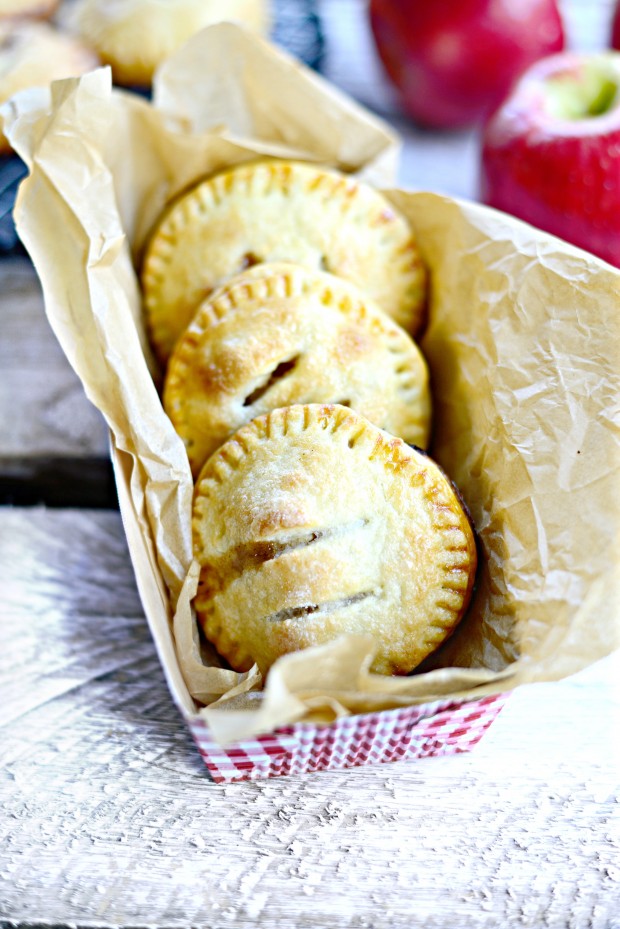 And besides all those things I just listed, I love that these can be placed into cute containers and packed into lunches.
Enjoy!
Yield: 15 servings
Caramel Apple Hand Pies
Homemade and handheld caramel apple pies!
Ingredients
Filling:
1½ to 2 cups peeled and diced small apples, golden delicious, granny smith or honeycrisp
2 teaspoons lemon juice
3 tablespoons sugar
1 tablespoon unbleached all-purpose flour
1/2 teaspoon apple pie spice
1 pinch kosher salt
1 homemade pie crust
Caramel Sauce
1 large egg , beaten with 1 tablespoon water for egg wash
Instructions
Preheat your oven to 425 degrees and line two baking sheets with parchment paper or a silpat.

In a medium bowl combine the apples, lemon juice, sugar, flour, apple pie spice and a pinch of kosher salt.

Roll the pie dough out into a large rectangle about 1/8 of an inch thick. I eyeball it. Using a 3-inch biscuit or cookie cutter, stamp out an even amount of dough rounds. For me it is about 14 to 16. Gather the extra dough scraps into a ball, wrap in plastic wrap and place back into the fridge.

Place half of the rounds on one of the prepared baking sheets, spoon a heaping tablespoon of the pie filling onto the center of each. Leaving any liquids from the apples in the bowl. Measure 1/4 to 1/2 teaspoon of homemade caramel sauce onto the apples before brushing the edges of the of the pie dough with the egg wash.

Drape the remaining dough rounds over the filling and crimp the edges with a fork. Brush egg wash over the entire tops and sides of each pie. Use a sharp knife to make two air vents in the top of each pie before sprinkling with sugar.

Bake the pies for 15 to 17 minutes.

Repeat with the remaining dough and filling, making up to 6 or 8 more pies.
Serving: 1pie, Calories: 158kcal, Carbohydrates: 8g, Protein: 1g, Fat: 14g, Saturated Fat: 9g, Polyunsaturated Fat: 1g, Monounsaturated Fat: 3g, Trans Fat: 1g, Cholesterol: 49mg, Sodium: 172mg, Potassium: 16mg, Fiber: 1g, Sugar: 5g, Vitamin A: 438IU, Vitamin C: 1mg, Calcium: 9mg, Iron: 1mg
This post may contain affiliate links.
Buy the Cookbook: Simply Scratch : 120 Wholesome Homemade Recipes Made Easy Now available on Amazon »
THANK YOU in advance for your support!