If you would have told me nearly 6 years ago when I started Simply Scratch that I'd be cooking on live TV, I would have laughed in your face. Because: me + being on camera = no bueno.
You see, back during my senior year of high school, I thought it was a great idea to do the morning announcements with my friends. These were done via camera, broadcasted live on all TVs in all classrooms. I'm pretty sure I thought that I could do it because I was a top-dog-senior so obviously it would be in the bag. Yeah, it was SO not in the bag. I had a hard time looking at the camera, so I focused on either the paper in my hands or myself on the monitor to the far left of the camera so I was always giving the camera the side of my face. THEN there was that time I showed up late and my friends had already typed up the announcements for the day, sticking me with reading the lunch menu (we all dreaded reciting the cafeteria menu, saying things like beef sticks or fiestada in front of the whole school- cringe) and for funsies they wrote "smashed" potatoes instead of mashed potatoes. So I said it all wrong… ha ha ha, so funny. Not. I was mortified.
Since then I have always had this uncomfortable experience being infront of the camera. Granted I was 17 and insecure and shy… but sometimes I still feel that way. Kind of.
So when it was mentioned that I may do some TV appearances to promote my book it never did sink in that I would seriously have to do it. Until I got the email from Anne (one of my fab-o PR gals) telling me my local news station, Fox2 Detroit was interested having me on. WHAAAAT?! I was instantly bombarded with the combination of fear and excitement. I sort of new I would have to do this sooner or later, but this was so very real.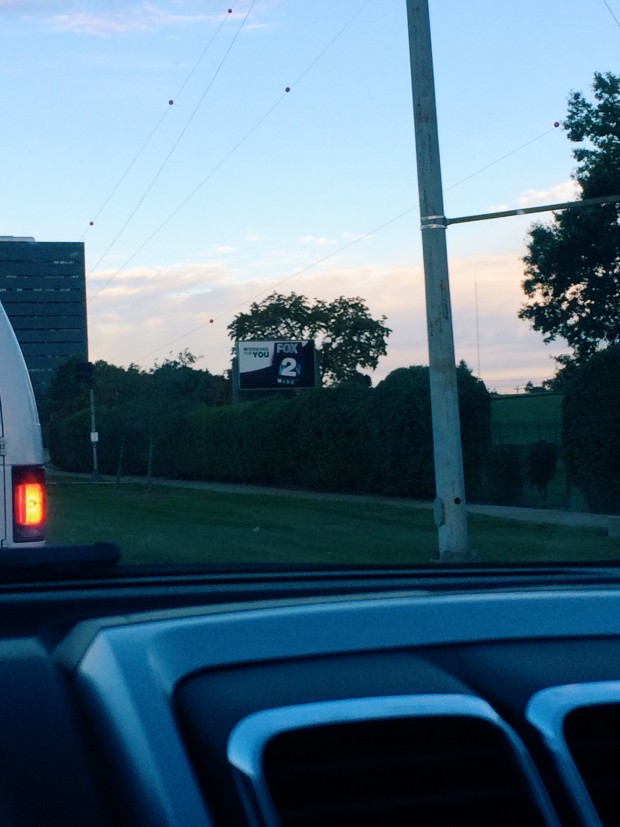 The theme was football food. Okay, cool… I can do that! Anne suggested this Game Day sloppy joe recipe… and I was like; "that's actually perfect!" So it was set. I was to be on the morning show, October 2nd. Holy crap.
As two weeks dwindled down to one, I lost my appetite. It was replaced by this ball of anxiety, I had even lost 6 pounds. I was just SO nervous! What if I do that horrific nervous-laugh thing I do when I'm uncomfortable. What if I fling sloppy joe sauce on the counter? What if I have verbal diarrhea or worse, I lock up and just stand there looking lost and scared. Most importantly, what am I going to wear?!?! These things took over my thoughts, sometimes even waking me up in the middle of the night. It was so frustrating, because I did not want to be this nervous.
So with the advice of my PR girls (Anne and Ally) I made my daughters pretend to interview me while I cooked and talked my way through the recipe. It was hilarious when I said bee-ce instead of beef and when Malloree started dancing when I wasn't looking. But when it finally came to the night before, I was in worse shape than ever.
Somehow I managed to get 3 somewhat decent hours of sleep and come Friday, my alarm went off at 4:30. I showered, loaded on the make-up, curled my hair and put on my fancy clothes because joggers and a hoodie is so not what you wear on TV, right? I was out the door with hugs and several good lucks from Pat and the girls with an hour and a fifteen minute drive ahead of me. I blared music, singing and trying not to think to much about it. Impossible.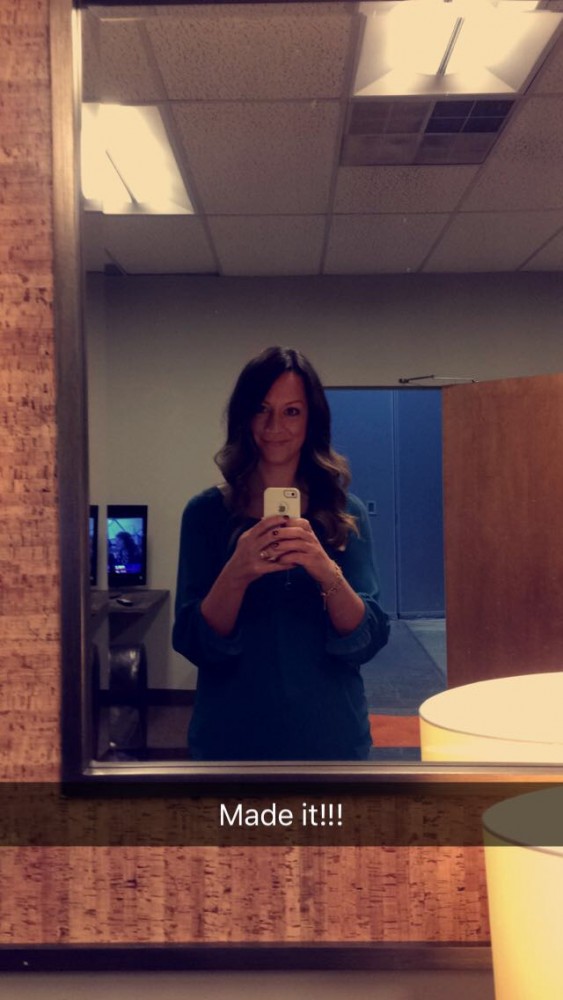 After meeting and chatting with, quite possibly the NICEST security guard and Al the planning editor at Fox 2, I was walked back to the green room. It was in that room when I decided to take my mind of things and share my morning on snapchat (laurie.mcnamara). It was also in this room that I discovered that my anti-persperant failed me. Embarrassing!!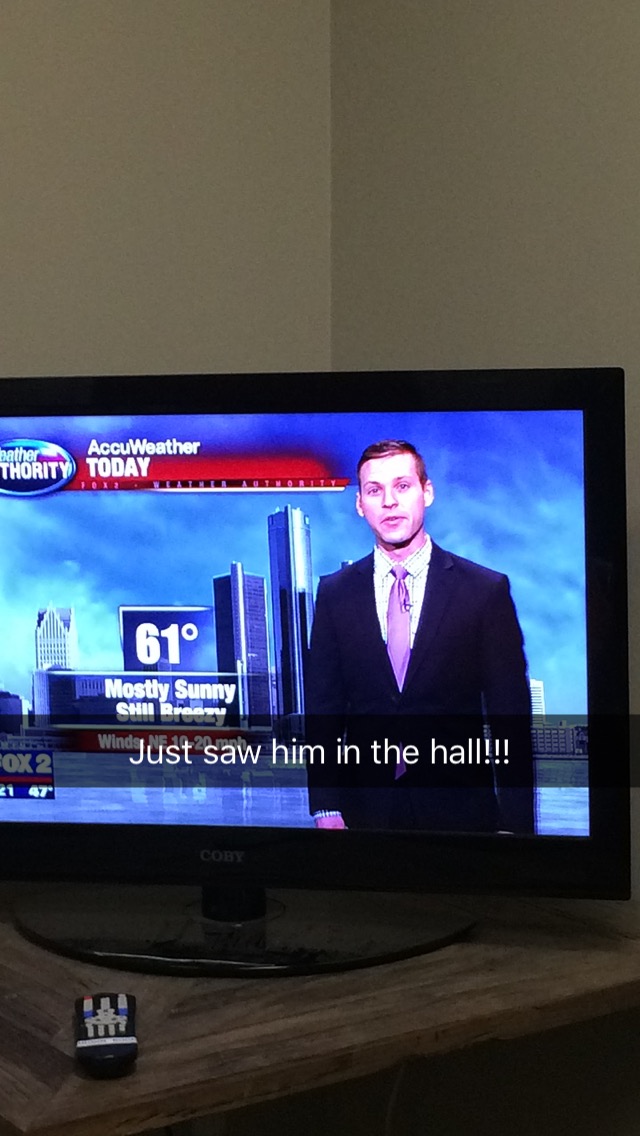 I snapped Pat telling him I saw this guy in the hall. So corny… but they're kinda like mini-celebrities to me.
After 30 minutes or so I was escorted to the kitchen where I could set up. Scotty (the no-nonsense stagehand) was extremely helpful arranging the food just so and did a exceptional job with the garnishes (you'll see it all in the segment).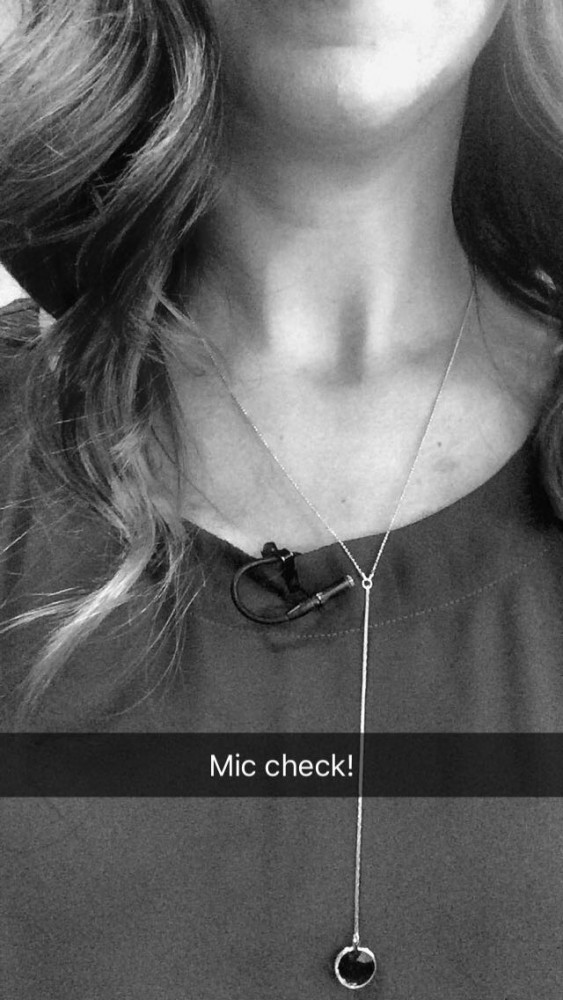 Then the mic guy (sorry, I didn't catch his name!) came in and helped me clip on the mic and battery pack. I joked with him asking about the mic picking up my empty stomach sounds. It was still so surreal at this point.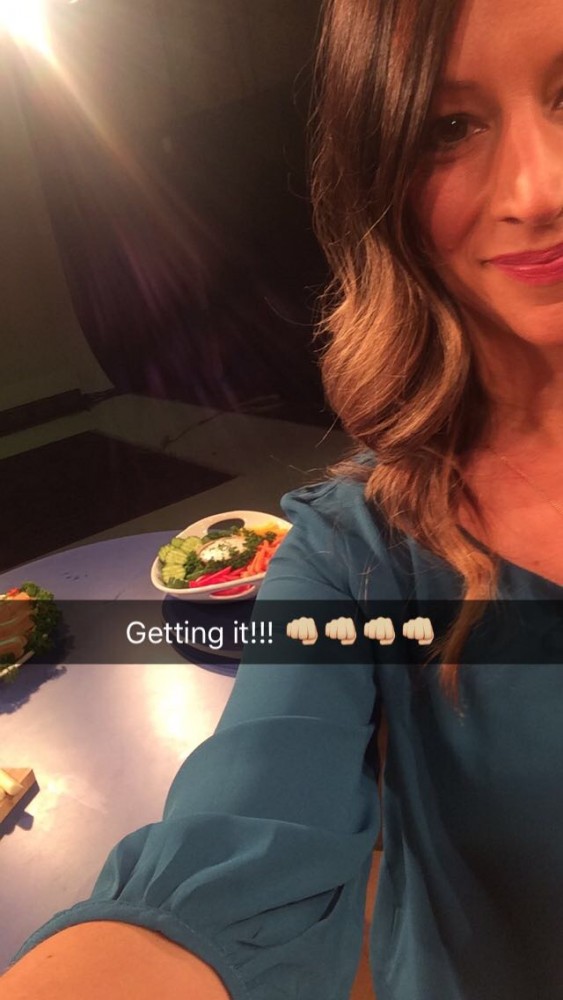 So now the food was ready, I've met the beautiful Amy Andrews who will be talking with me and all the nerves vanished, replaced with adrenaline. I was so ready, BRING IT ON! The only way I could get comfortable was to chat with everyone that passed by. Encouraging them to come back after it was over and that I brought extras just to feed them.
And at 9:45 I was live on channel 2 talking about and making my lunch lady sloppy joes. It was SO much fun! The camera dissolved into the background and I just did my thing! Totally forgetting that I was on TV. It was the fastest 5 or so minutes of my life and I honestly loved every minute of it.
Afterwards news anchors, stagehands and other personel of the station swung buy grabbing plates of sloppy joes telling me that I did a great job. Al even asked me to come back! I gave him an instantaneous OKAY!! Everyone I met was so nice and friendly making this whole thing a blast.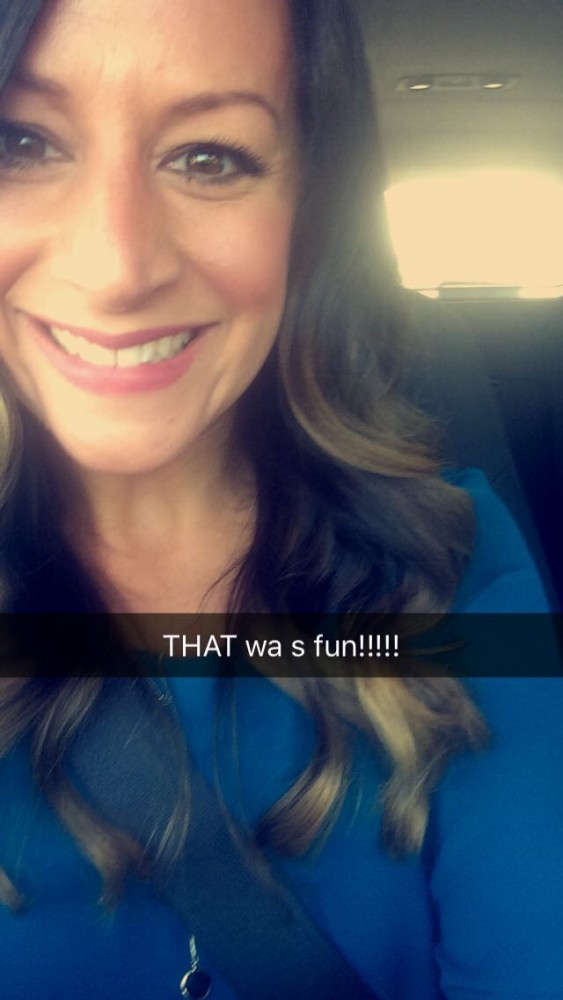 Afterwards I was on this strange sort of high. Partially because um, hello? I was on TV! But also because I felt comfortable, conquered a fear and was even asked back! My phone was going nuts with texts from the few family and friends that new about it and even some who just so happened to be watching. It meant so much to me, so THANK Y OU to those who tuned in to watch (you know who you are!)- I'm such a lucky girl. The whole thing was an incredible experience, one that I'll never forget. As you can see, I was so excited I put a space in was. Goodness.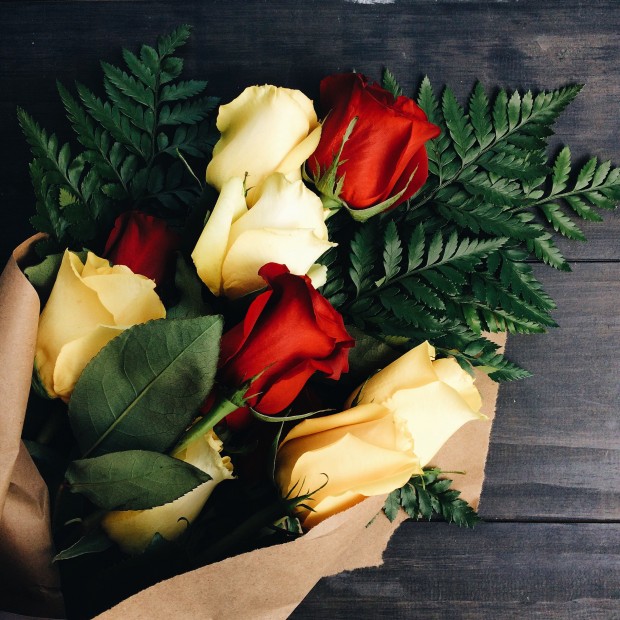 After I got home, I let our dog Seamus outside, changed into jeans and a comfy thermal top and went to make myself something to eat. Then I spotted the most beautiful bunch of roses and a note from Pat on our kitchen table. He had stayed home to watch me and then headed up north for opening weekend of bow season. This was totally fine with me, we discussed it and it just meant so much that he would stay home, get the girls on the bus and give up a morning hunt to watch me… I honestly didn't care that he wouldn't be home when I got home. We're good like that. I however did not expect roses, so naturally I bawled my eyes out.
I snapped my girls letting them know I did it… and survived. They came home, we watched it together and they hugged me. I'm so used to being proud of them that it felt amazing seeing them proud of me. It was pretty darn cool. They are pretty darn cool.
Then life as I know it resumed… I took Haileigh to meet up with her friends at a fall festival, Malloree and I ran to Target- witnessing one of the most beautiful sunsets I've ever seen (I took the above short video in the parking lot!)…
My longtime friend Nichole came over, we celebrated and chatted it up and before I knew it the day caught up with me around midnight. She left and I was out of gas and somehow Mal and I crashed on the couch like this. Thank you to my oldest, Haileigh, for capturing this cuteness.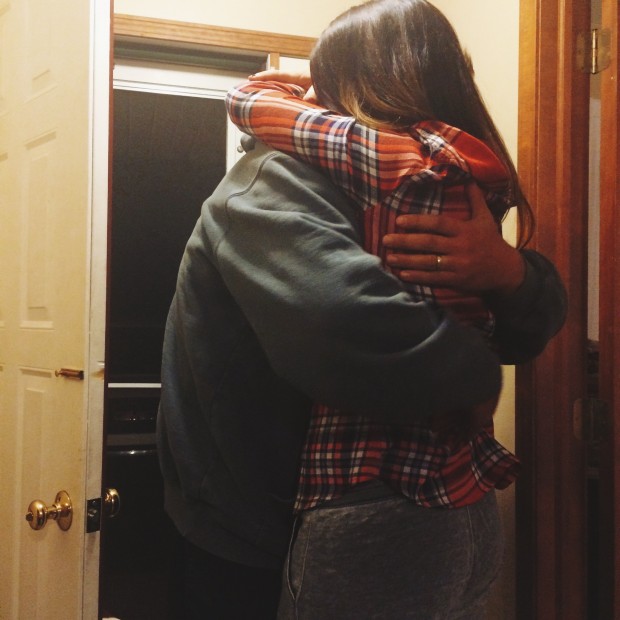 Saturday the girls and I laid low, ordered pizza for dinner (<—sometimes it happens), I cleaned out my closet and felt this overwhelming sadness for some reason. I believe it had to do with all the stress, adrenaline and excitement that I just encountered and plus I was missing my guy. He came home late Saturday night and my daughter Malloree snapped this photo of us hugging hello. We stood like this for a looooong time. What you don't see is me bawling my eyes out… again. And yes, those are my well-worn, well-loved joggers. 😉
At the end of it all I'm left feeling proud, exhilarated and pumped for what's instore. Live TV wasn't as scary as I thought and I definitely will be doing it again, this I am certain of. And I promise to keep you posted on that! For now here's the video! And the link to the recipe, should you want to make these extra sloppy j's for football Sunday!
As always, thanks for stopping by and reading!
xo-
Laurie
This post may contain affiliate links.
Buy the Cookbook: Simply Scratch : 120 Wholesome Homemade Recipes Made Easy Now available on Amazon »
THANK YOU in advance for your support!