Meet my favorite chopped taco salad with homemade catalina dressing. Homemade taco seasoned meat tossed with all the chopped veggies, lettuce and cheese.
Can I ask you a favor?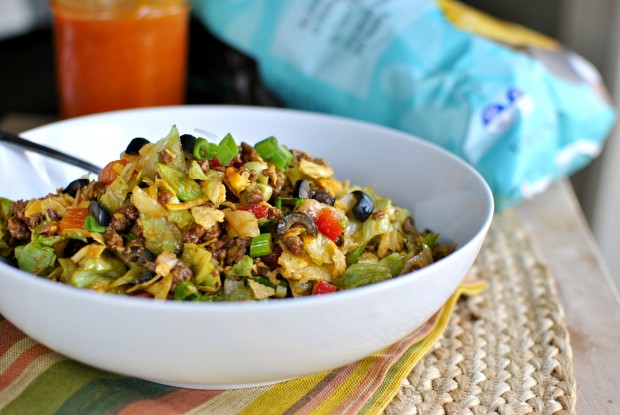 Can we tap into the 80's for a little taco salad love? I'm only saying the 1980's because that's what Catalina dressing reminds me of… my childhood. Actually it reminds me of my sister Julie… it's her favorite dressing. Which turns out she shares that love with my oldest daughter, both blond, blue-eyed and Catalina dressing fans! In fact my daughter loves it so much she always pours a good half cup of it over her salad. It's more of a soup than a salad. Bless her calories-don't-matter-I-have-a-high-metabolism-because-I'm-eleven heart.
Kidding aside… this is the perfect summertime salad. It's a quick, easy if you want a light weeknight dinner or you could make a big batch and take it to the beach or a barbecue. What we like to do is make our own individual ones. I like mine loaded with olives, peppers, onions and sometimes jalapenos. While my girls would just go for cheese and maybe peppers. But the sky is the limit here.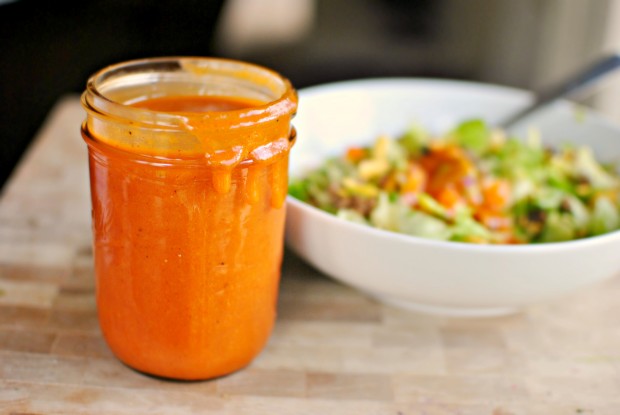 I'm not sure if your mom ever put Catalina dressing on your taco salad… but it's a total must. It's slightly sweet and tangy and for some reason… it just works.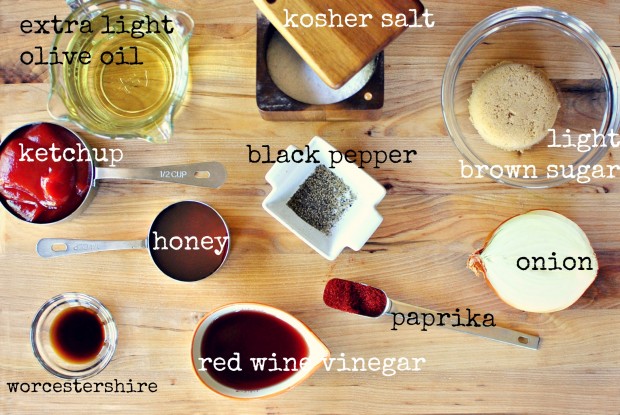 My mom's been making taco salad since I can remember, like before they started putting high-fructose corn syrup in salad dressings. And to my knowledge she never made her own Catalina… but I could be wrong. It's just so simple why wouldn't you just make it yourself? I mean sure you could easily just whip up a taco salad and pour a bottle of store-bought dressing over top. But I just can't bring myself to do it… so naturally I didn't.
*NOTE: My mom just texted me to tell me she DID make her own Catalina dressing and has been making it for years and supposedly it's in "Our Families Treasured Recipes" binder she gave us for Christmas one year… oh-snap!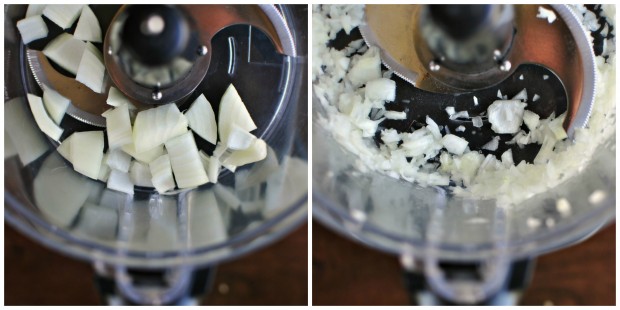 Start by throwing in half of a medium-sized yellow onion that's been roughly chopped into the bowl of your food processor.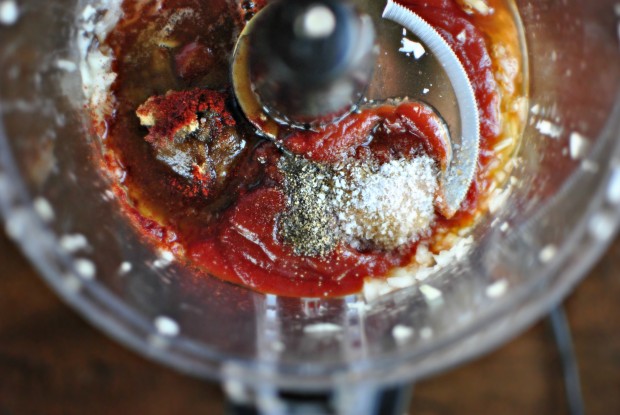 Then throw in everything else except the olive oil. The ketchup, honey, light brown sugar, vinegar, Worcestershire sauce, paprika, salt and black pepper. Am I forgetting anything?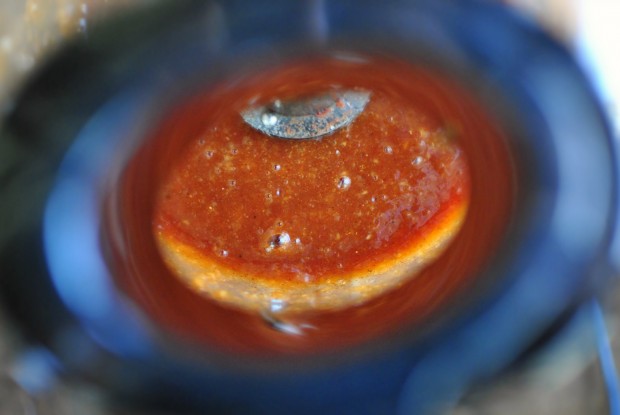 Give it a couple, 5 or 6 pulses to get everything blended.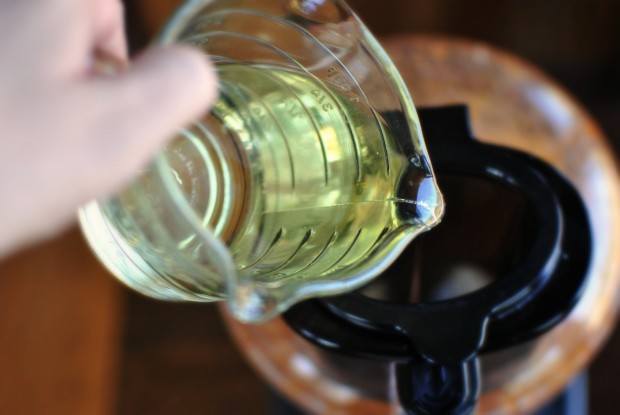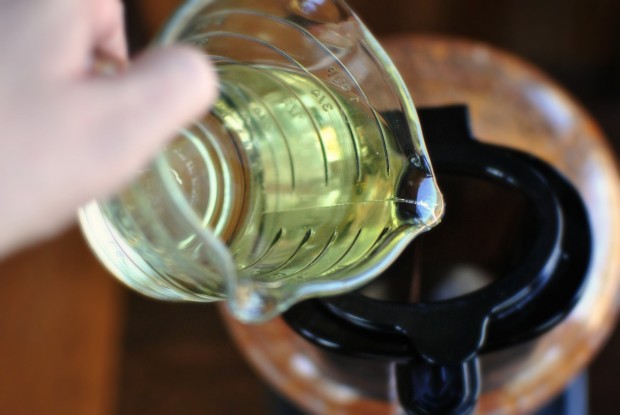 Then slowly drizzle in the extra-light olive oil in a thin, S-L-O-W stream while the food processor is running.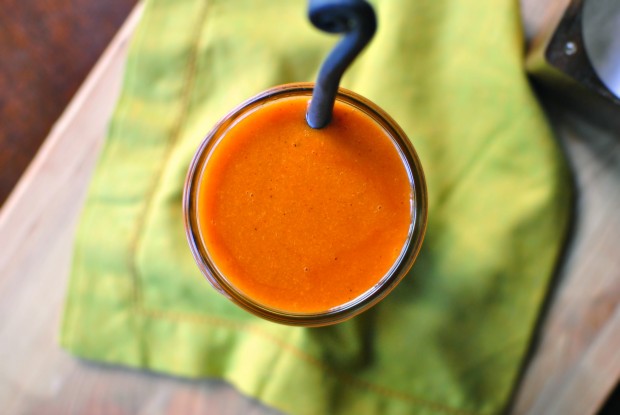 And lookie-lookie… you've just made yourself a big fat jar of homemade Catalina dressing. And that color is amazing is it not?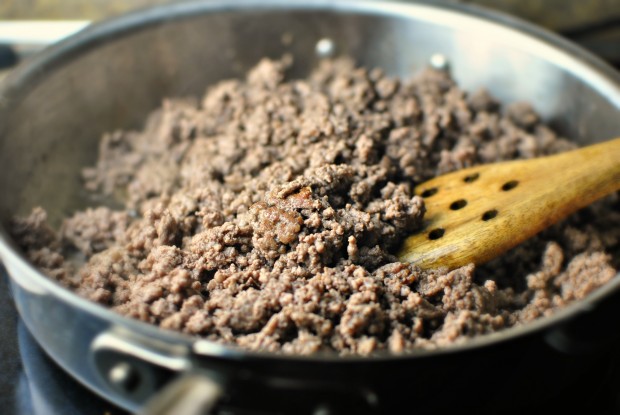 Brown up a couple pounds of ground beef in a little olive oil until fully cooked. Drain off all but two tablespoons of the grease.
Add in the taco seasoning, I of course am using this recipe… because it's the bees knees. Did I just say that?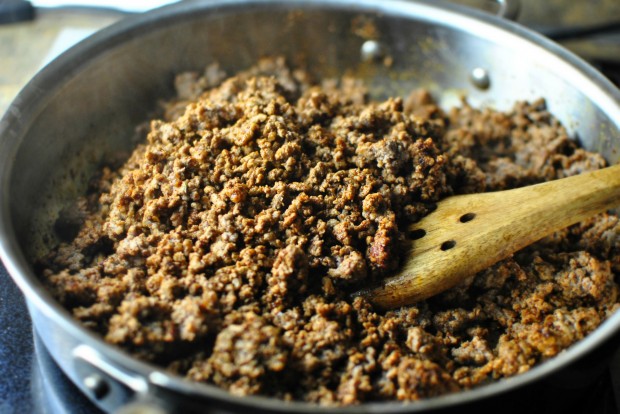 Stir in the seasoning until it's evenly distributed through out the meat. Smells HEAVENLY!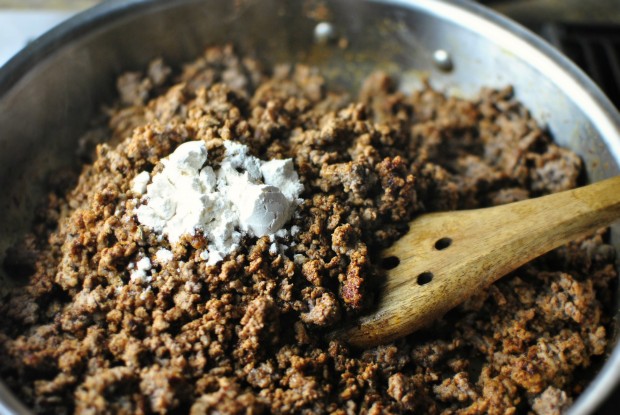 Then sprinkle in a heaping tablespoon of flour over top of the meat, stir until all of the flour is absorbed.
Then pour in a half cup of water.
Stir it all around until it's nice and saucy.
Now I'm going to share a little trick with you. Earlier I popped a large bowl into the freezer to get all chilled and frosty. SO when I dump in the ground beef it instantly starts bringing the temperature down of the meat. Stir it around every once in a while so any trapped heat can escape and cool down completely.
So I still have a few picky eaters in the household. I have NO idea where they get it from… I mean when I was little I ate everything *wink* and never turned my nose up at anything. You could say I was a perfect child… right Mom?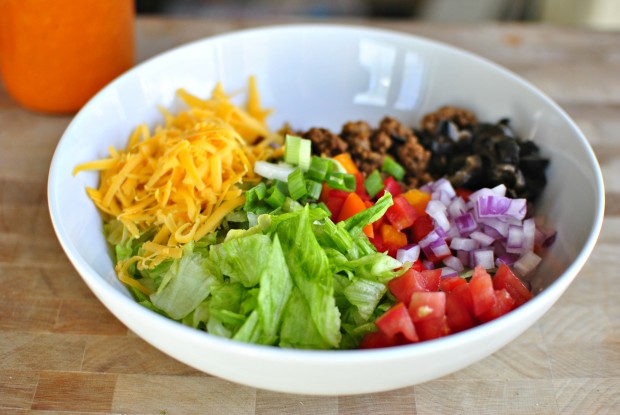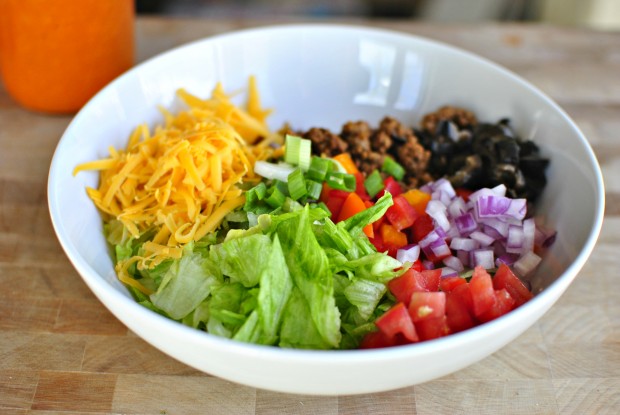 So this is my chopped taco salad bowl. I like it all… so in. it. goes!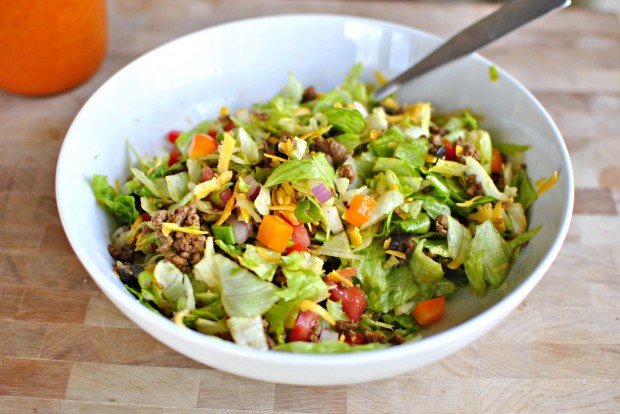 Toss.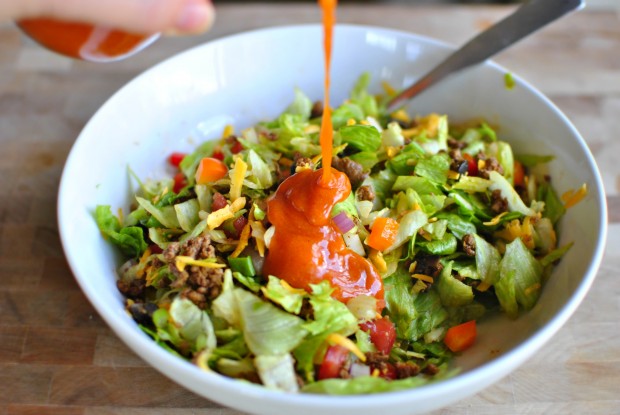 Pour in a little or in my case… A LOT of homemade dressing.
And DO NOT forget the crushed tortilla chips.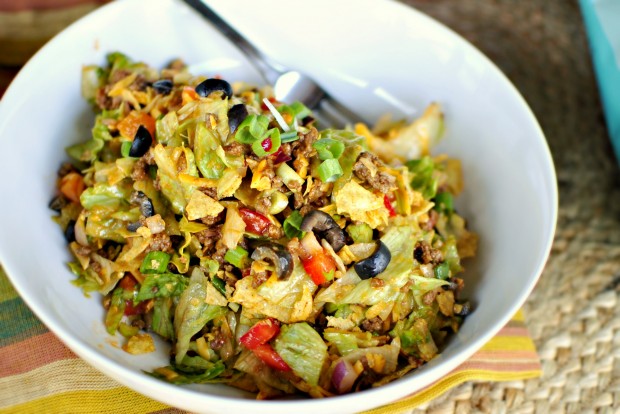 Toss this glorious mess together one last time before you start shoveling it in.
This chopped taco salad makes enough to feed a family of 6.. maybe even 8 depending on how much everyone can consume. I had enough for lunch the next day. However, I just kept the chips and salad dressing off to the side and just added it in before eating.
I love this chopped taco salad! It's so simple, so flavorful and so 1980's. Just minus the big hair, leg warmers and all that.
Enjoy! And if you give this Chopped Taco Salad recipe a try, let me know! Snap a photo and tag me on twitter or instagram!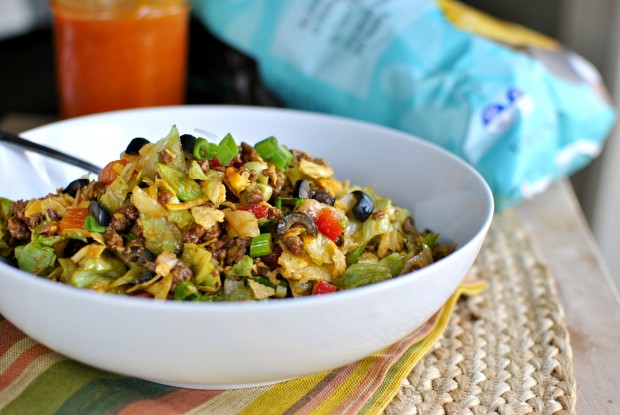 Yield: 16
Homemade Catalina Dressing
A homemade, from scratch Catalina dressing.
Ingredients
FOR THE HOMEMADE CATALINA DRESSING:
1/2 yellow onion, roughly chopped
1/2 cup ketchup
1/4 cup red wine vinegar
1/4 cup honey
1/4 cup light brown sugar
1/2 tablespoon Worcestershire sauce
1 teaspoon paprika
3/4 teaspoon kosher salt, or more to taste
1/4 teaspoon freshly ground black pepper
1 cup extra light olive oil
Instructions
Throw the roughly chopped onion into the bowl of your food processor. Pulse until finely chopped.

Next add in everything stopping at the olive oil.

Turn the food processor on to blend and then slowly drizzle in the extra light olive oil.

Once blended, pour the dressing into a jar with a tight fitting lid and store in the fridge until ready to use.
Serving: 2tablespoons, Calories: 160kcal, Carbohydrates: 10g, Protein: 1g, Fat: 14g, Saturated Fat: 2g, Polyunsaturated Fat: 1g, Monounsaturated Fat: 10g, Sodium: 184mg, Potassium: 43mg, Fiber: 1g, Sugar: 10g, Vitamin A: 49IU, Vitamin C: 1mg, Calcium: 6mg, Iron: 1mg
Yield: 8 servings
Chopped Taco Salad
A classic chopped salad tossed in a homemade catalina dressing.
Ingredients
2 pounds ground beef
1 recipe taco seasoning
1 (heaping) tablespoon unbleached all-purpose flour
1/2 cup water
1 head iceberg lettuce, chopped
1/2 orange bell pepper, chopped
1/2 red bell pepper, chopped
1/2 red onion, chopped
3 green onions, chopped
2 ounces sliced black olives, chopped
1 roma tomato, seeded and chopped
1 cup cheddar cheese, grated fresh
2 cups tortilla chips, crushed (give or take)
Instructions
In a large skillet cook the ground beef until browned. Remove all but two tablespoons of grease. Add in the taco seasoning and stir. Next, sprinkle on a heaping tablespoon of flour and stir until absorbed. Pour in a half cup of water and stir.

Remove and place the cooked taco meat into a bowl that has been in the freezer chilling. Stir every so often until the meat is completely cooled.

Once the taco meat has cooled, toss some into a bowl with your favorite toppings along with the chopped lettuce, shredded cheddar cheese, crushed tortilla chips and drizzle with the homemade dressing.

You could make a huge batch, but our family like to personalize it with the toppings we like and it's kind of fun!
Serving: 1g, Calories: 516kcal, Carbohydrates: 24g, Protein: 26g, Fat: 35g, Saturated Fat: 13g, Polyunsaturated Fat: 4g, Monounsaturated Fat: 14g, Trans Fat: 1g, Cholesterol: 95mg, Sodium: 415mg, Potassium: 552mg, Fiber: 3g, Sugar: 3g, Vitamin A: 1095IU, Vitamin C: 23mg, Calcium: 195mg, Iron: 3mg
This post may contain affiliate links.
Buy the Cookbook: Simply Scratch : 120 Wholesome Homemade Recipes Made Easy Now available on Amazon »
THANK YOU in advance for your support!