These Naturally Fermented Dilly Carrots are crisp, garlicky and delicious! Not only good for you and bursting with probiotics, these also make for a great snack or served as a side at your next get together. Simple ingredients and nature does all the work.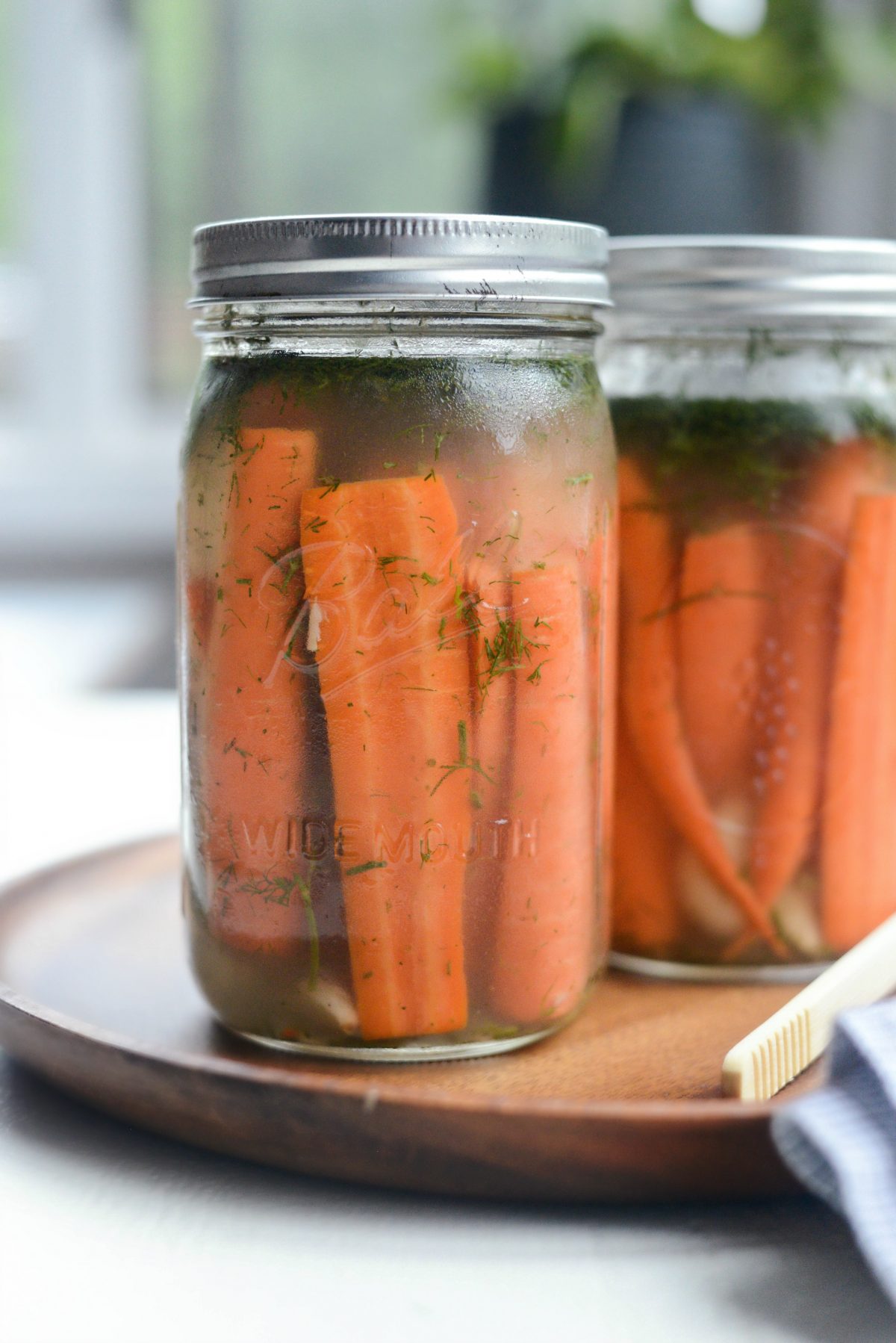 I love carrots that still have their green tops. The kind you get at the farmers market or better yet, ones that come from a garden and still tastes like the earth. They remind me of when it was summer as a kid, and my sister Julie and I would pick a carrot out of our family's garden and run it under the hose to wash away the dirt. We would plop down on our back deck and enjoy our snack.
Life was so much fun growing up on a farm. And when I say farm, what I mean is we had horses and chickens and a considerably large garden consisting of rows of corn, tomatoes, potatoes, green beans, cucumbers, strawberries and even a raspberry bush. We lived right down the road from a dairy farm which is where we got our milk and ice cream, it's also where my sister Julie got sick after smelling the pigs (sorry Jul). Nowadays I take my family there to get our pumpkins and sometimes just for ice cream cones. I will forever love the smell of a farm, the smell of horses and corn feed still take me back.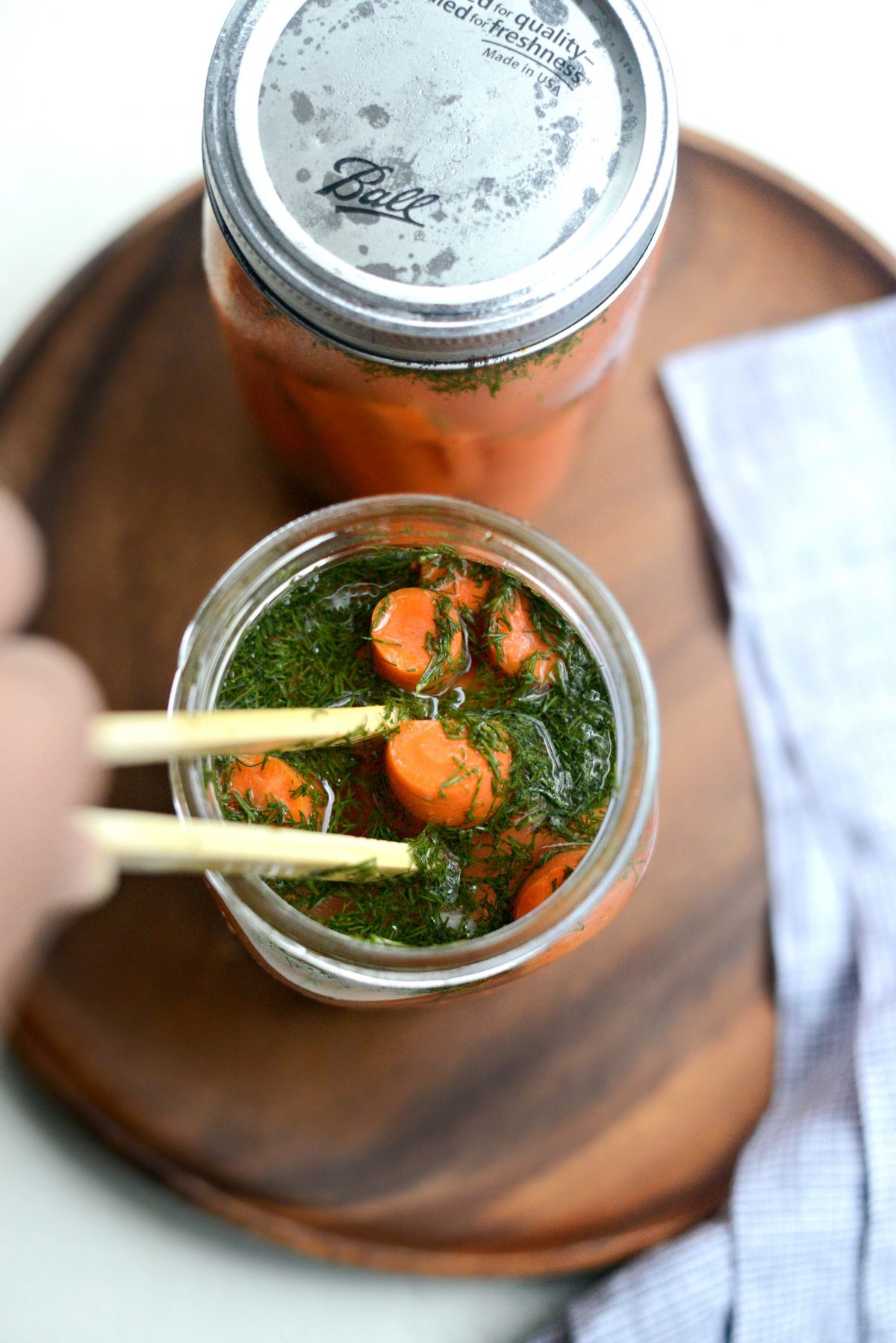 One of my favorite ways to preserve carrots is by making these naturally fermented dilly carrots. You may think that they must taste like dill pickles, right? But they don't. Think crunchy carrots with a burst of fresh dill and garlic.
Naturally fermented dilly carrots are addictively good, so as the saying goes, don't knock'em until you try'em.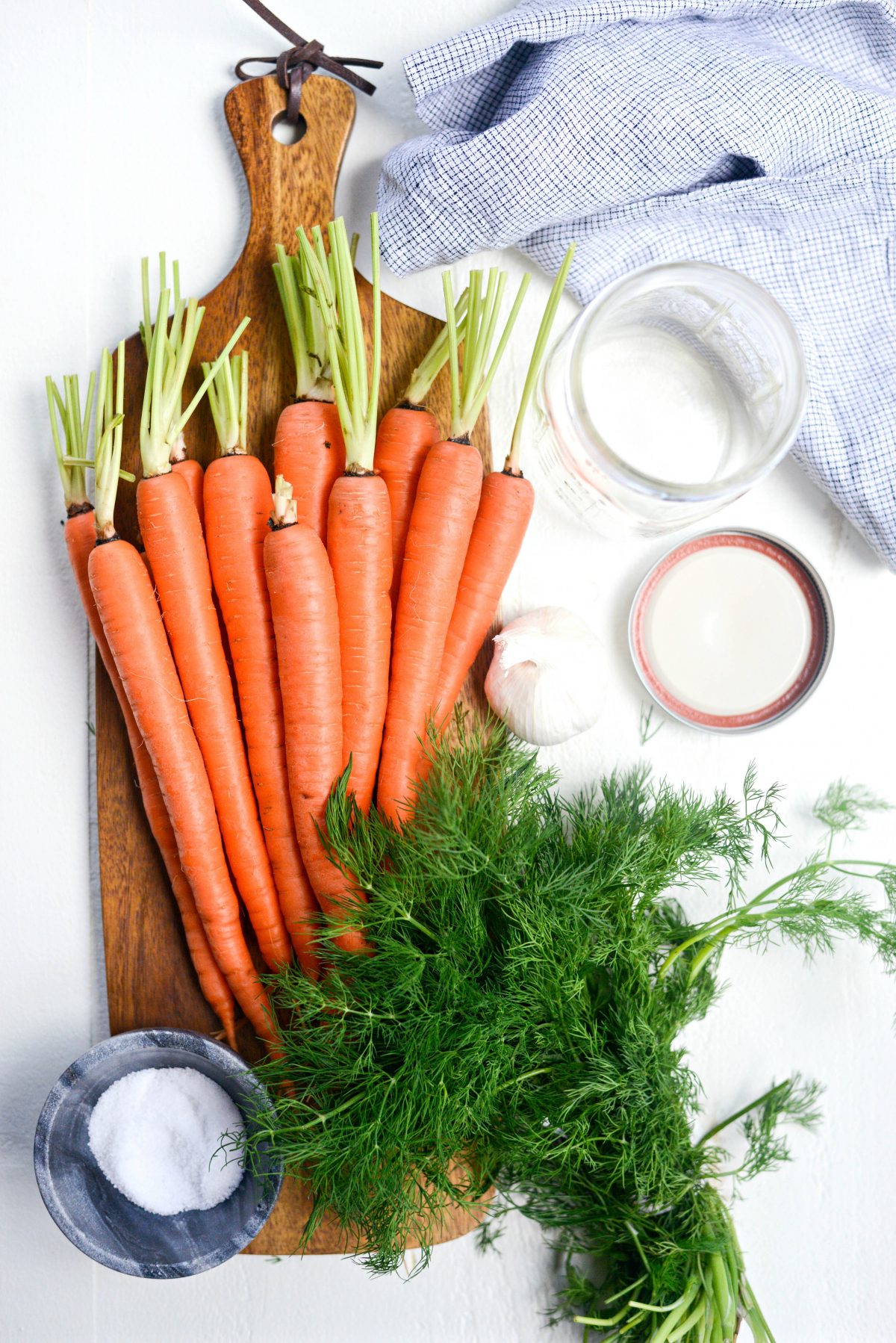 To make these naturally fermented dilly carrots You will need:
1 (32 ounce) wide-mouth jar with a tight fitting lid
carrots
fresh dill
garlic
sea salt
filtered water
Today, I'm making a double batch because one jar will go quickly around here. Just note that the recipe below is for one batch, so just double it to make two jars.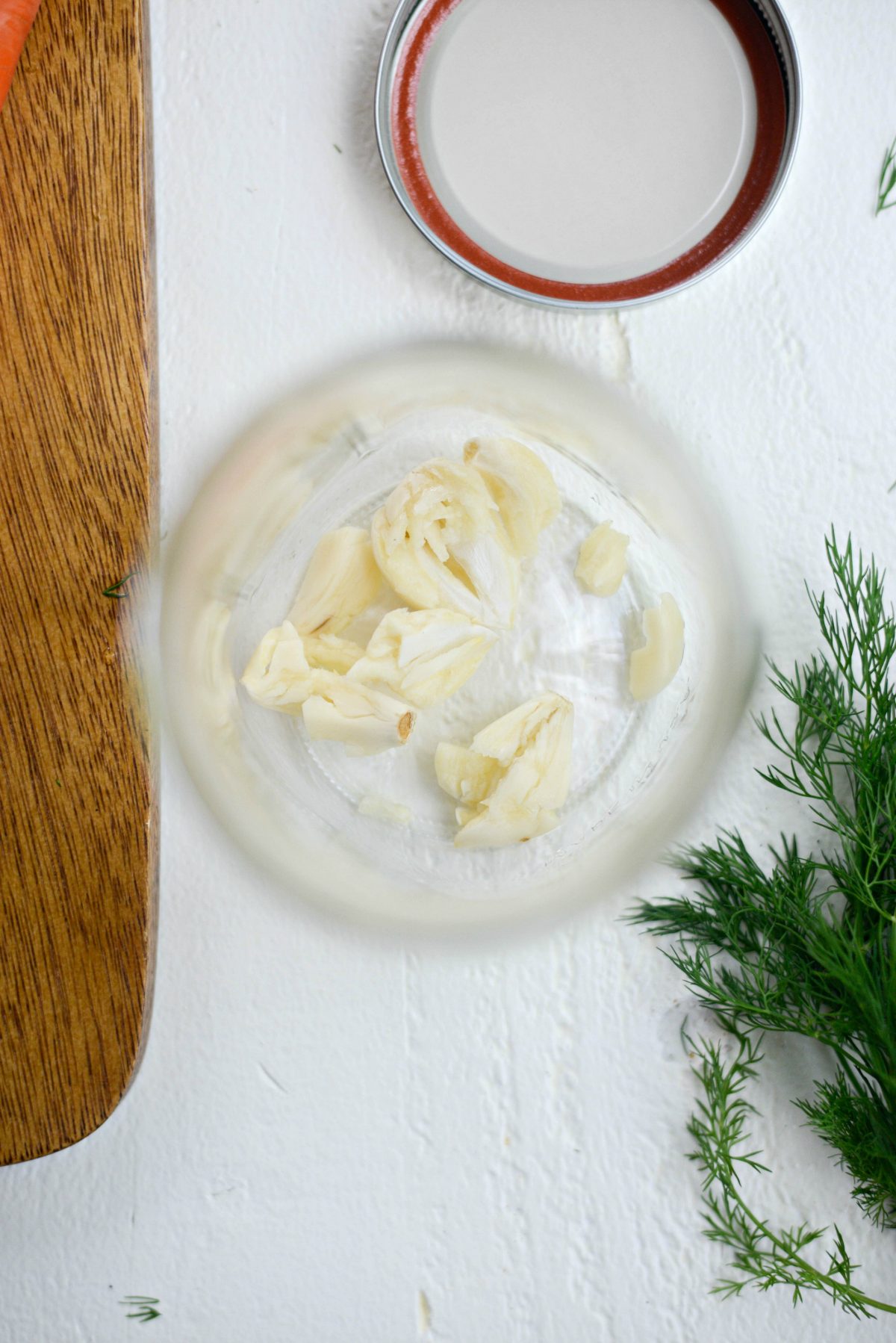 Start by giving a good smash to 2 to 3 cloves of garlic. Next peel and drop the smashed garlic cloves into a clean 32 ounce wide mouth jar. The wide mouth is important, so you can fit the carrots in easily and because it's more convenient when it comes to serving.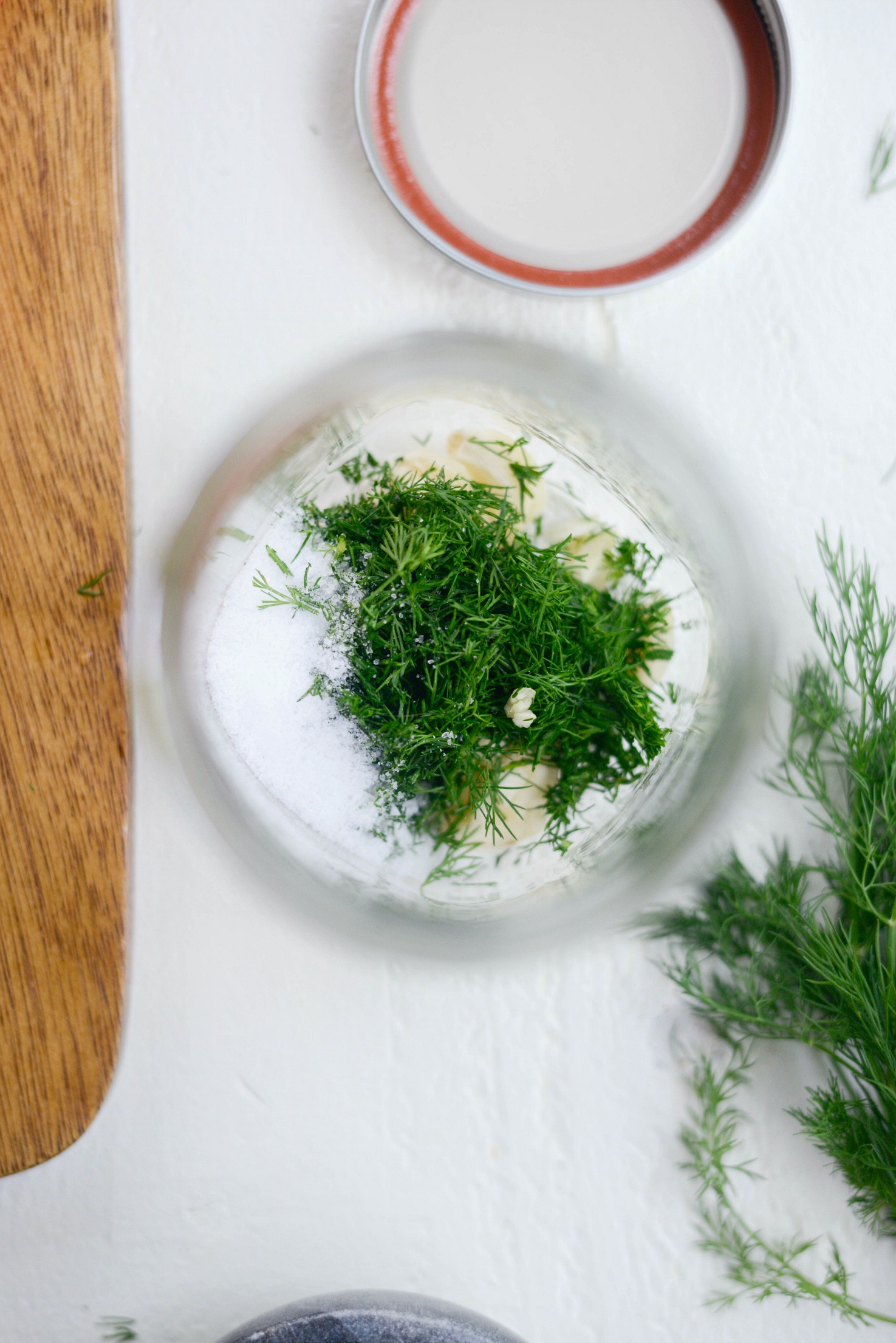 Then measure and add in 1 to 2 tablespoons chopped fresh dill and 2 tablespoons sea salt.
Next, depending on the sized of the carrots, I first remove the green tops off and cut in half, so each carrot is in two shorter pieces. Then I cut thicker ends in half lengthwise. Tilt the jar a little on its side and slide in the cut carrots.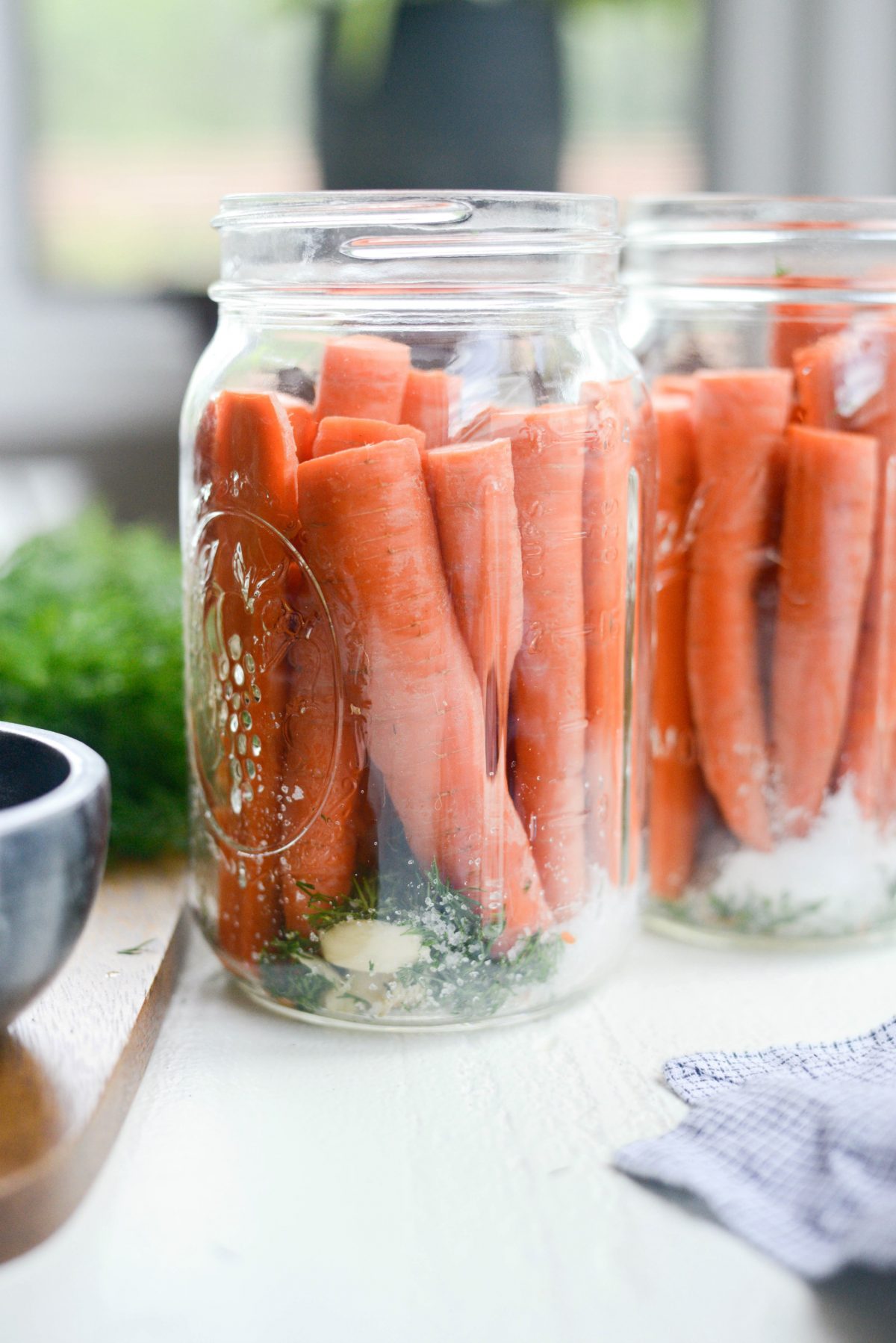 Note that peeling the carrots is totally up to you. I did not, rarely do I ever peel carrots. I just give them a good scrub and I'm good to go.
I'm a rebel like that. Or I'm lazy. Hard to say.
Lastly pour in enough filtered water (about 2 cups or so) until there is an inch between the water and the top of the jar.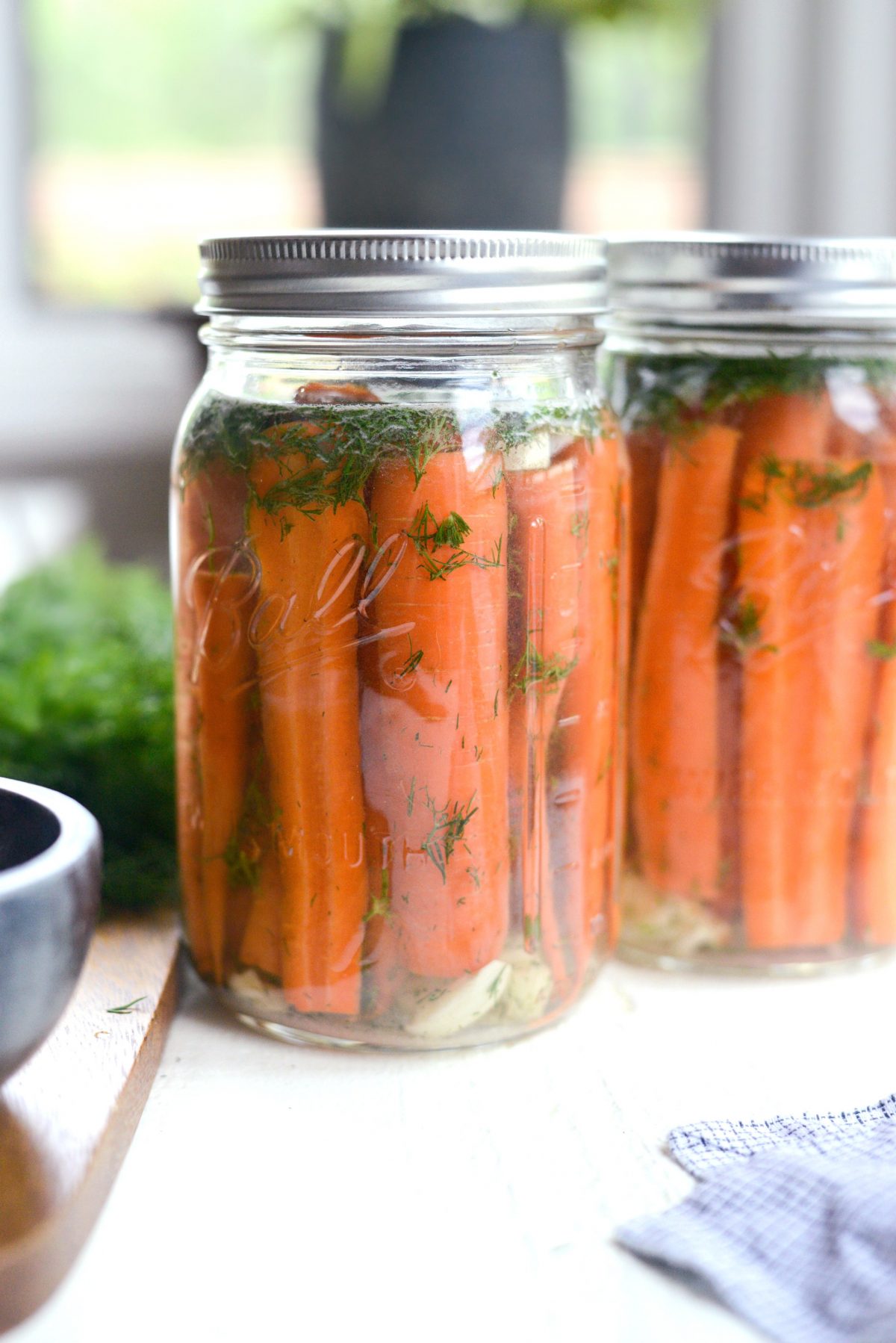 Then secure the lids tightly and give it a shake to dissolve the salt. Next, loosen the lids a bit and set the jar (or jars) out on your countertop at room temperature for 4 to 5 days. If at any point you hear a hissing coming from your jar you may want to loosen the lid a smidgen.
After day 4 the water should be cloudy and you may see gassy looking bubbles floating from the bottom to the top of the water. This is fermentation in the works!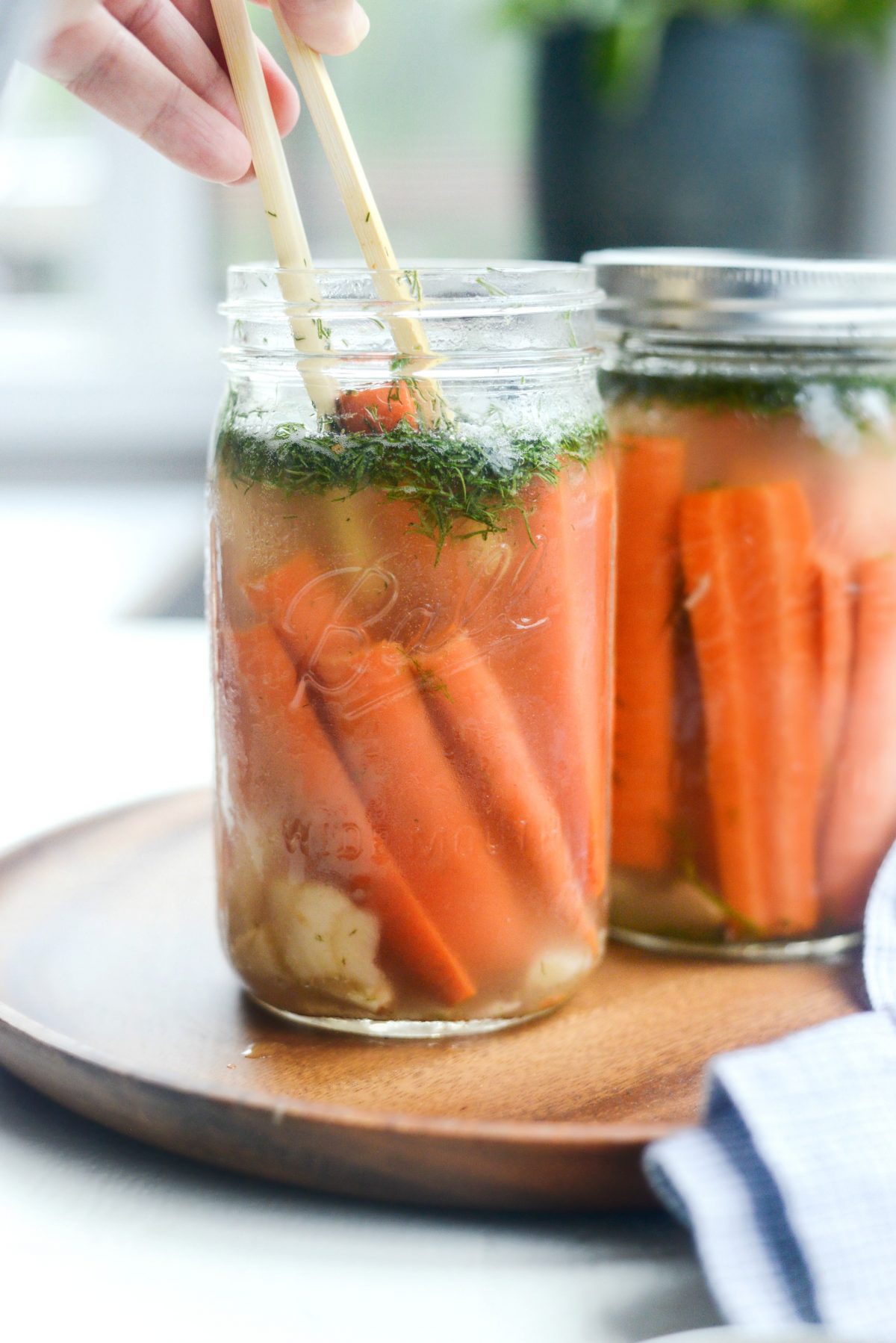 Now that you've waited 4 (very long and impatient) days, give the naturally fermented dilly carrots a try! They should be crispy, crunchy, garlicky and delicious! You might even notice that when you open the jar, you'll hear a small pop like you would if you opened a "canned" jar of let's say, pickles. After the 4 or 5 days on the counter, I keep my fermented carrots sealed tightly in the fridge because I love these chilled!
The first time I was introduced to fermented carrots, I almost passed on them because, not going to lie, they scared me. But I'm so glad I got over it and gave them a try. Because besides being amazing tasty, these naturally fermented dilly carrots are also full of good probiotics that aid in digestion which means they are good for your gut!
Lastly, incase you were wondering, I use these bamboo tongs which make snagging a carrot easy (and it's sanitary!)🤣 The tongs are also helpful getting toast or a bagel out of the toaster!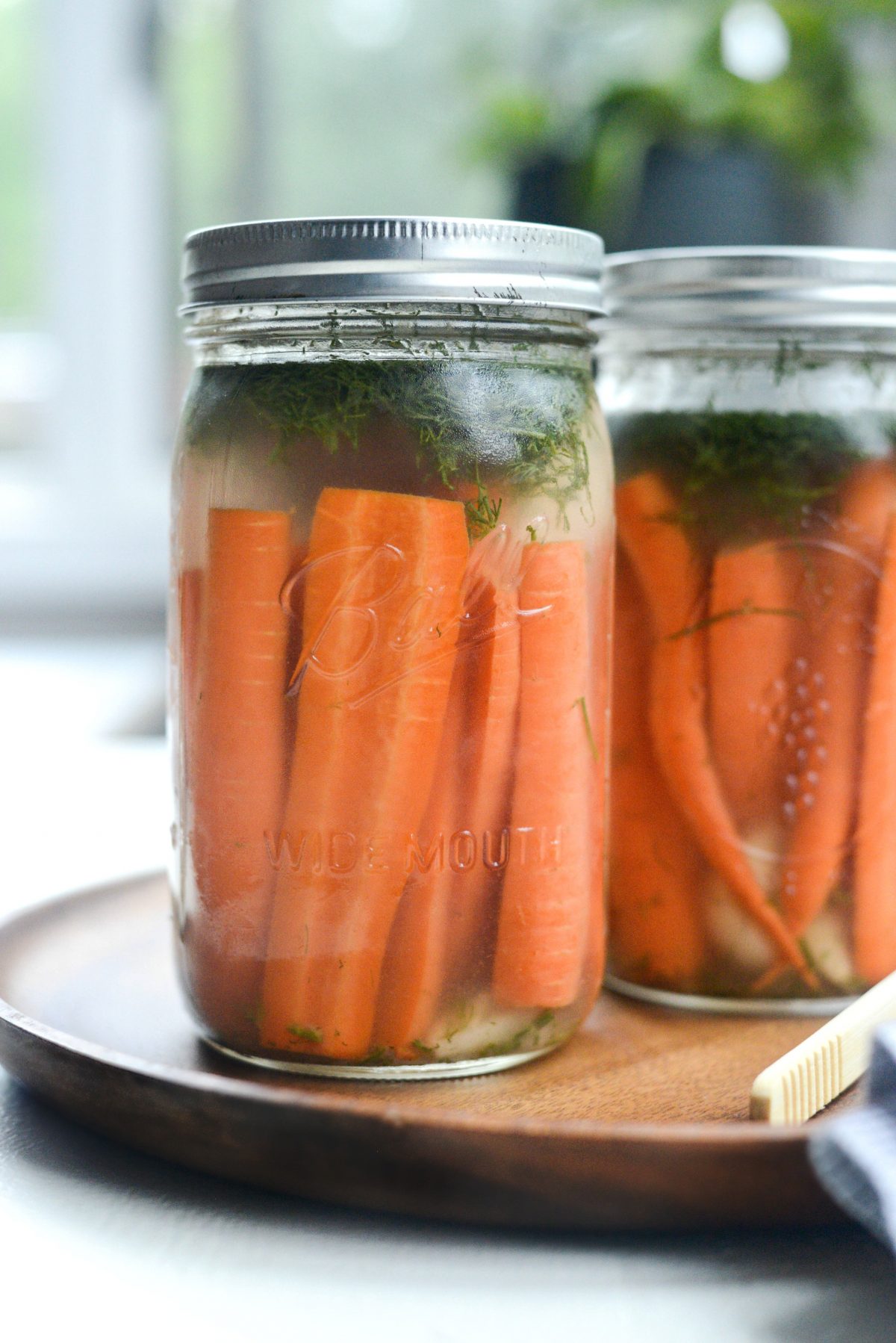 WHAT IS LACTO-FERMENTING?
Lacto-fermenting is method in which fruits and vegetables, dairy and bread doughs are preserved through a process of fermentation. Different foods require different bacterias, but generally lacto-fermented veggies uses lactobacillus.
You don't need any special equipment to lacto-ferment. Just large wide-mouth jars, ingredients like fresh garlic, vegetables or fruit, salt, spices etc. Some recipes call for whey, but I have not used it. Another perk about LF is that you don't need to sterilize jars and lids or pressure can the fruits or vegetables! The salt in the recipe will kill any bad bacteria allowing the good bacteria (hello, probiotics!) to thrive, turning the lactose and any other sugars into lactic acid, which gives the LF food their distinct tangy flavor. Lactic acid also creates a acidic environment which will preserve the food. This was common practice before the modern day canning methods were the norm.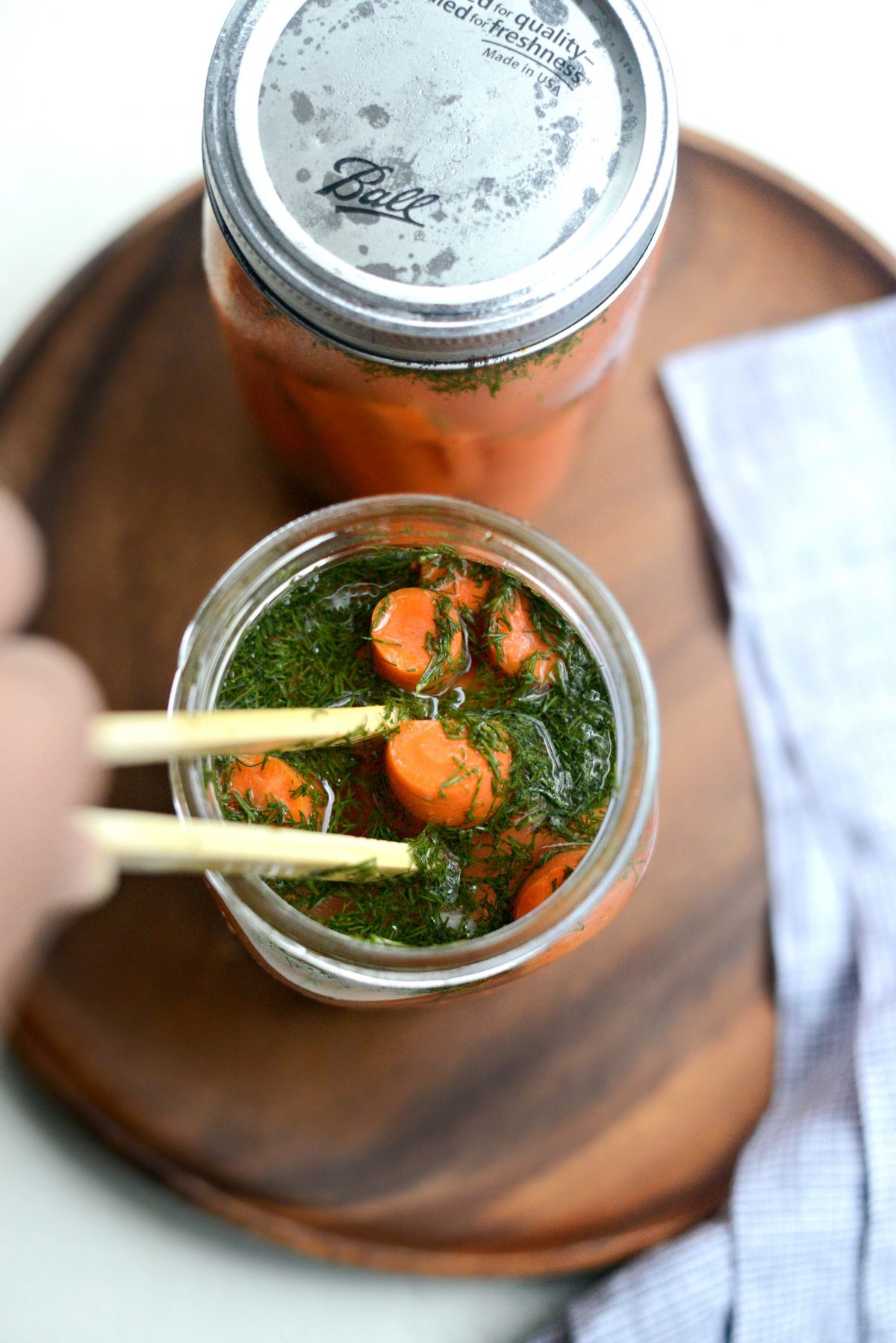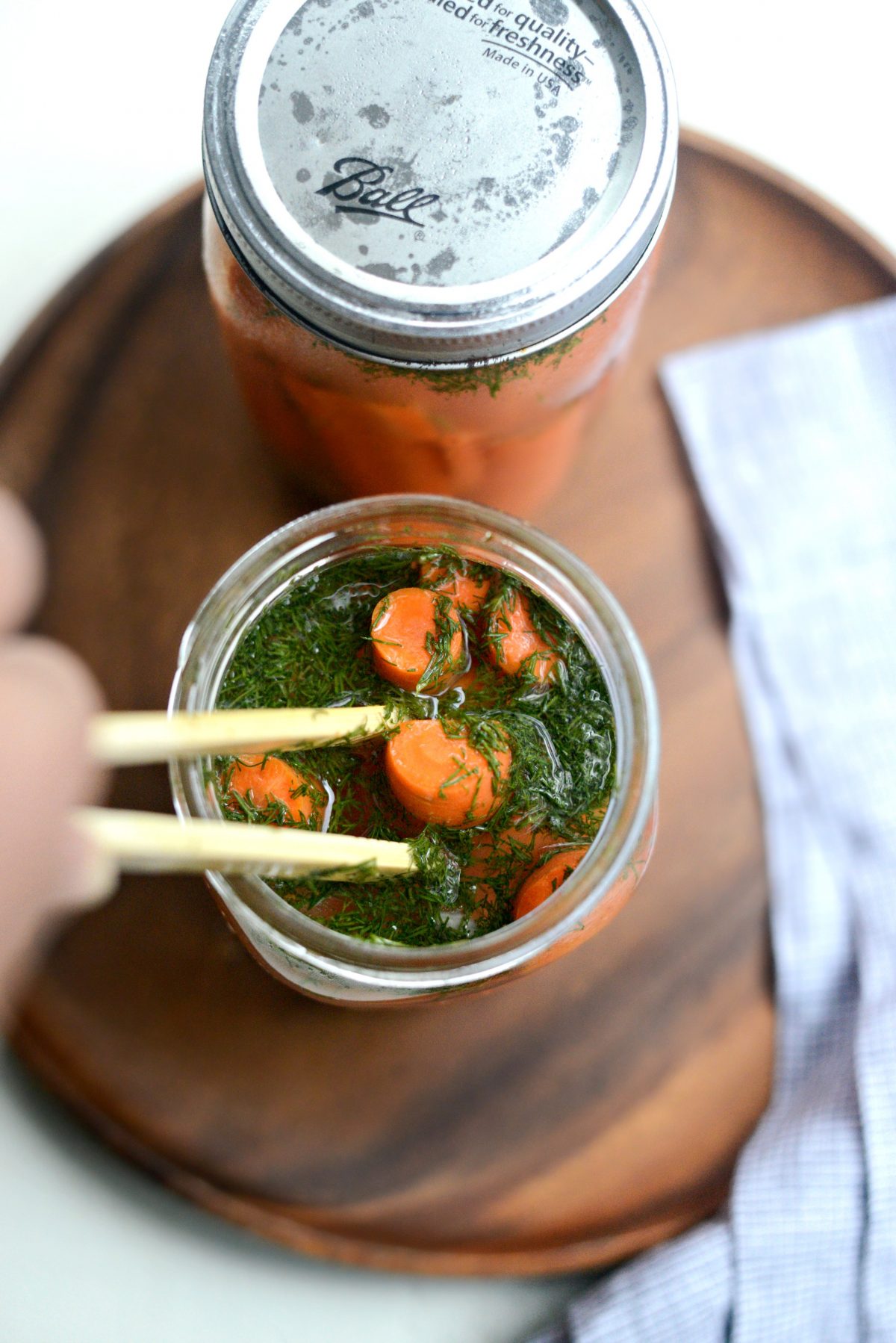 Enjoy! And if you give this Naturally Fermented Dilly Carrots recipe a try, let me know! Snap a photo and tag me on twitter or instagram!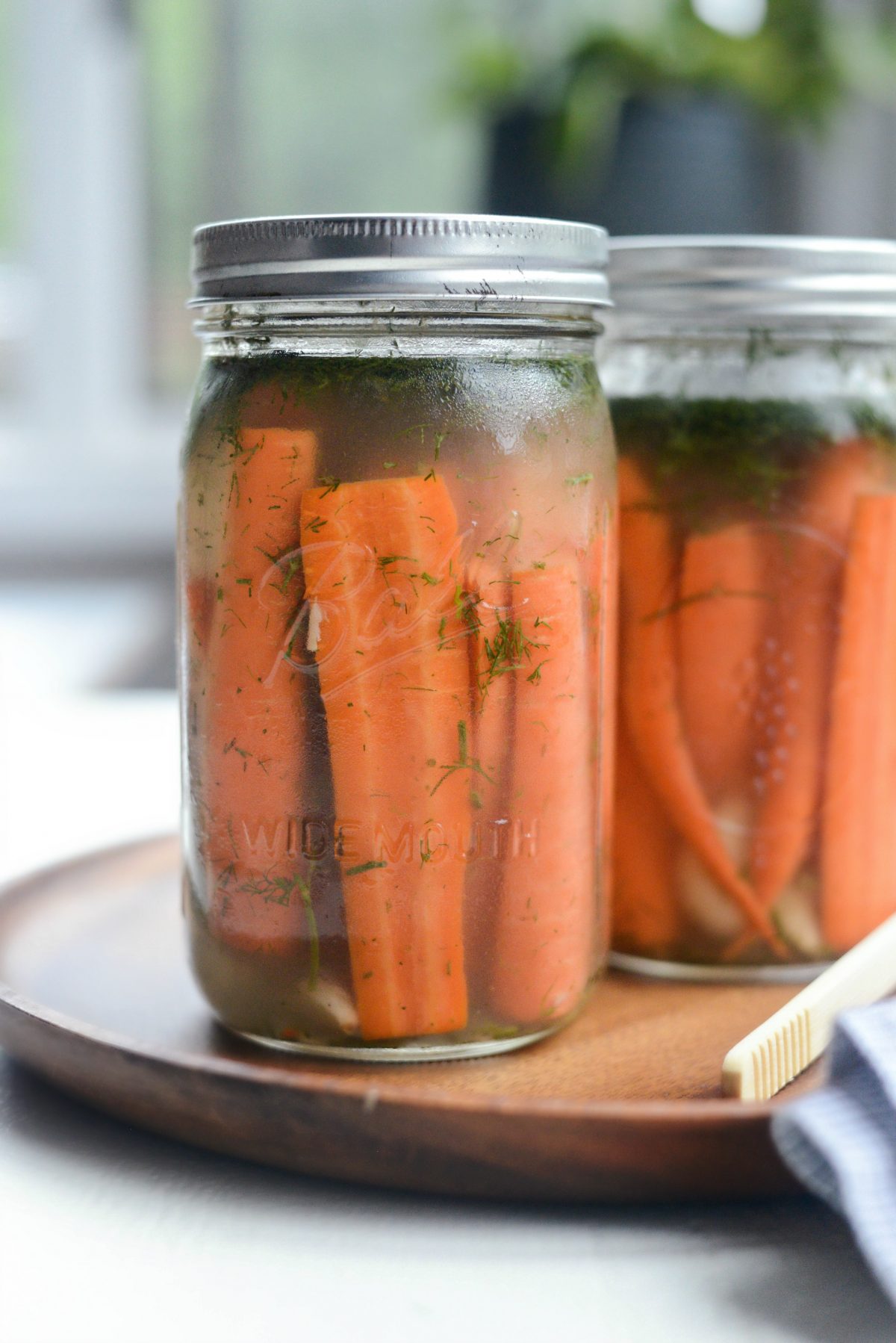 Yield: 12 servings
Naturally Fermented Dilly Carrots
These Naturally Fermented Dilly Carrots are crisp, garlicky and delicious! Not only good for you, these also make for a  great snack or served next to pickles at your next get together. Simple ingredients and nature does all the work.
Ingredients
1 clean 32 ounce glass, wide-mouth jar with tight fitting lid
1 bunch carrots with leafy green tops, unpeeled (about 6)
2 to 3 cloves garlic, smashed and peeled
2 tablespoon chopped fresh dill
2 tablespoons sea salt
filtered water
Instructions
Trim off the leafy tops of the carrots and cut in half so you have 2 shorter carrots. Cut the thicker ends, in half lengthwise.

Place the smashed and peeled garlic cloves, fresh dill, sea salt and carrots into the jar. Fill to within one inch of the top with filtered water.

Cover loosely and allow to sit at room temperature for 4-7 days; you can try them at 4 days and see if you want them to be more sour or not, to get them more sour/soft leave them out at room temperature longer. Because the carrots are more dense, they take longer to ferment than other lactoferments like sauerkraut or pickles. They also stay crunchier, which we like!

After fermenting at room temperature, tighten the lid and keep in your fridge and they last for up to 6 months!
Notes
This recipe is for 1 jar. For 2 jars, simply double this recipe.
Serving: 1g, Calories: 12kcal, Carbohydrates: 3g, Protein: 1g, Fat: 1g, Saturated Fat: 1g, Polyunsaturated Fat: 1g, Monounsaturated Fat: 1g, Sodium: 1182mg, Potassium: 93mg, Fiber: 1g, Sugar: 1g, Vitamin A: 4739IU, Vitamin C: 2mg, Calcium: 11mg, Iron: 1mg
This post may contain affiliate links.
Buy the Cookbook: Simply Scratch : 120 Wholesome Homemade Recipes Made Easy Now available on Amazon »
THANK YOU in advance for your support!