Irish Soda Bread is a quick bread consisting of traditional ingredients like flour, baking soda, salt, butter and buttermilk. The flavor is mild with texture similar to the inside of a biscuit. Delicious served warm, spread with salted butter and jam or toasted and served with eggs and corned beef hash. One loaf yields 8 to 10 slices.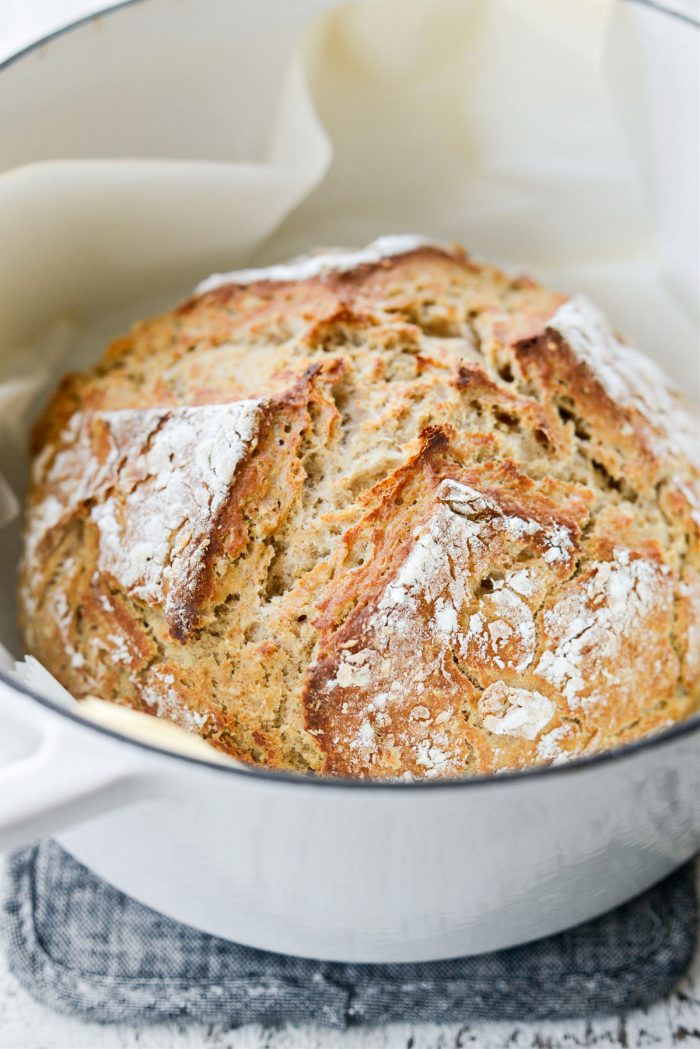 Nothing beats the smell of bread baking.
Have I said this before? Because I feel like I have. Whether you're baking a crusty loaf of French bread, Italian ciabatta or Irish soda bread – the aroma as it bakes induces a mouthwatering reaction. At least for me it does. With that said, since St. Patrick's Day is right around the corner, I thought I would start off my two weeks of Irish themed recipes with a favorite of ours. You guessed it! Irish Soda Bread. It's a simple quick bread recipe that doesn't require any yeast, but instead uses baking soda (hence the name) as leavening agent.
This bread looks impressive but actually comes together rather quickly and bakes in under an hour.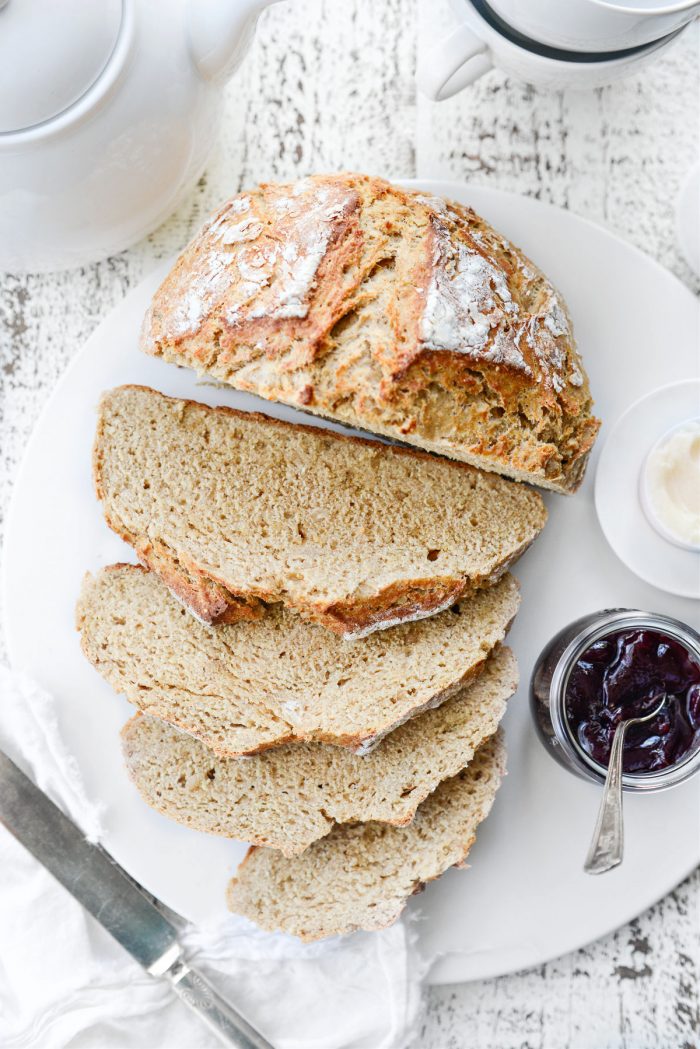 You can toast it and serve it with corned beef hash. Or it can be enjoyed warm with a smear of salted butter and jam.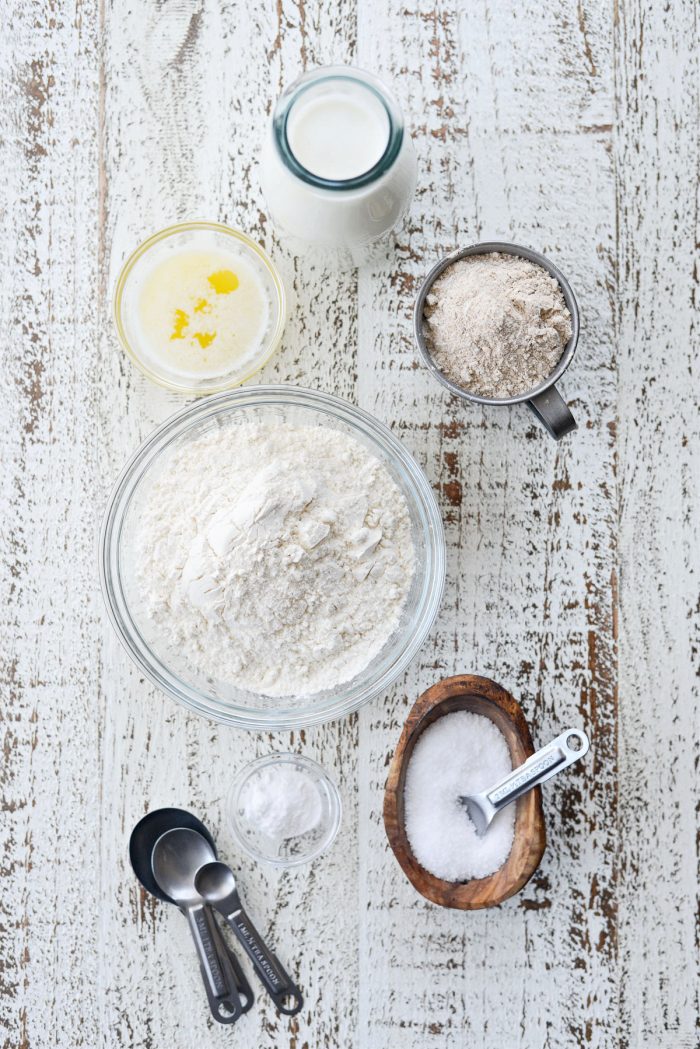 To Make Irish Soda Bread You Will Need:
unbleached all-purpose flour
whole wheat flour
baking soda
kosher salt
unsalted butter
low-fat buttermilk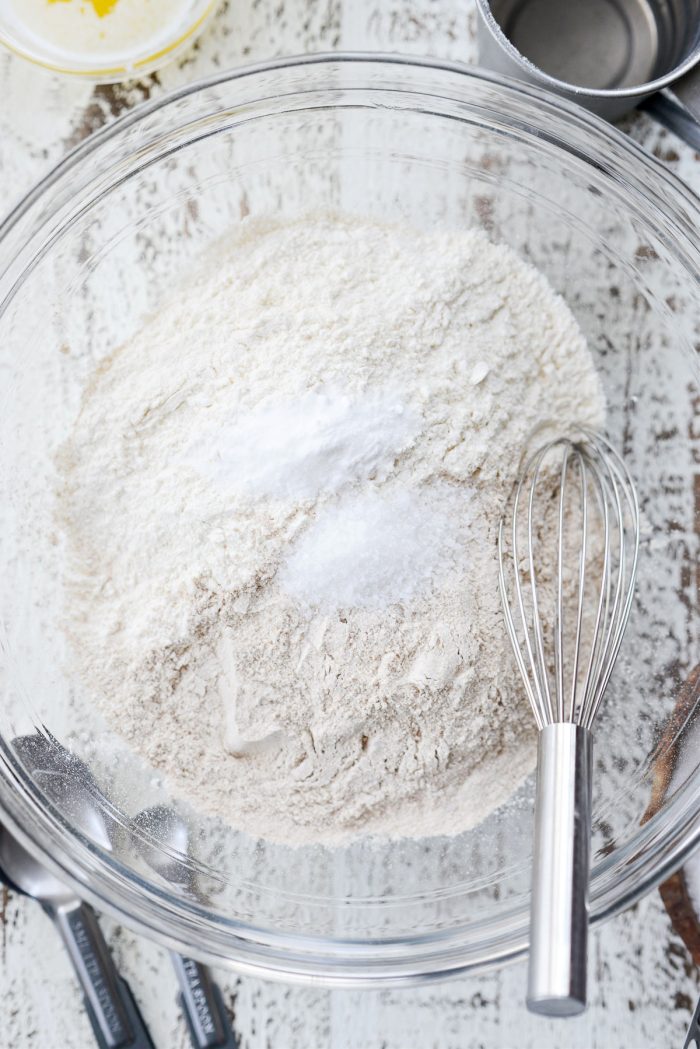 In a large mixing bowl, measure and add 3 cups unbleached all-purpose flour, 1 cup whole wheat flour, 1 teaspoon baking soda and 1-1/2 teaspoons kosher salt.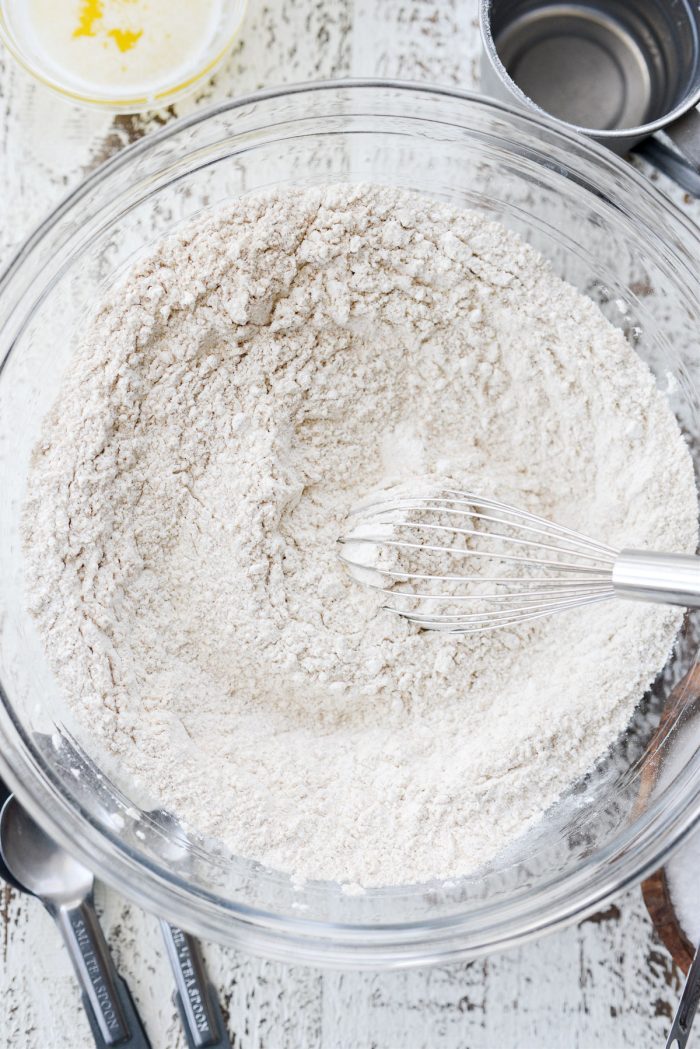 Whisk well to combine.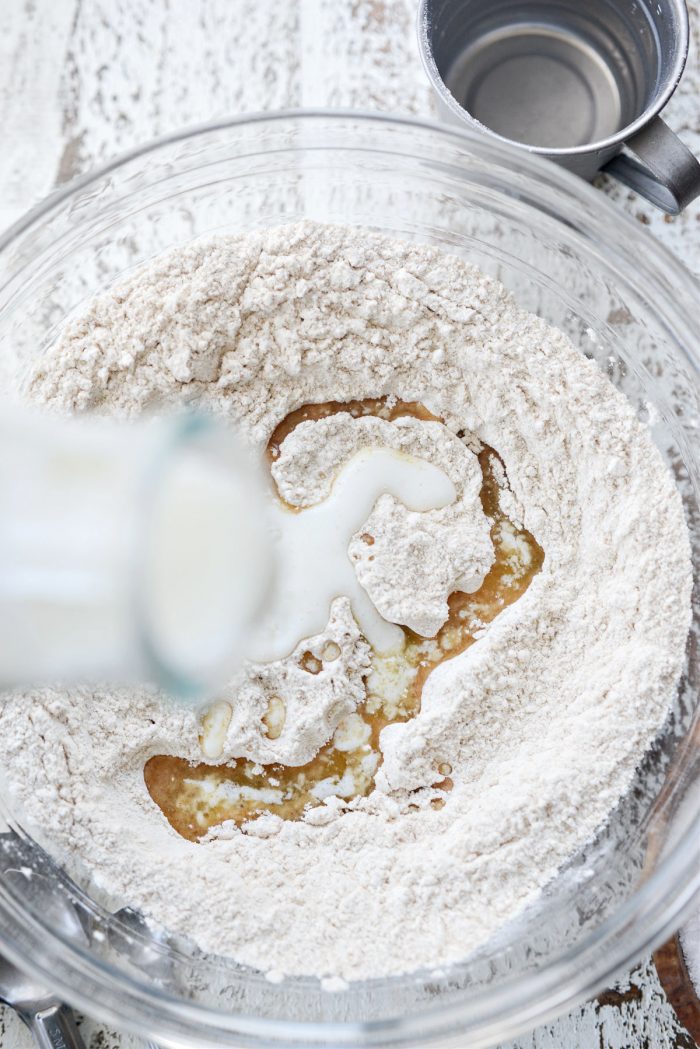 Next, pour in 2 tablespoons (melted and cooled slightly) unsalted butter and 1-3/4 cups low-fat buttermilk.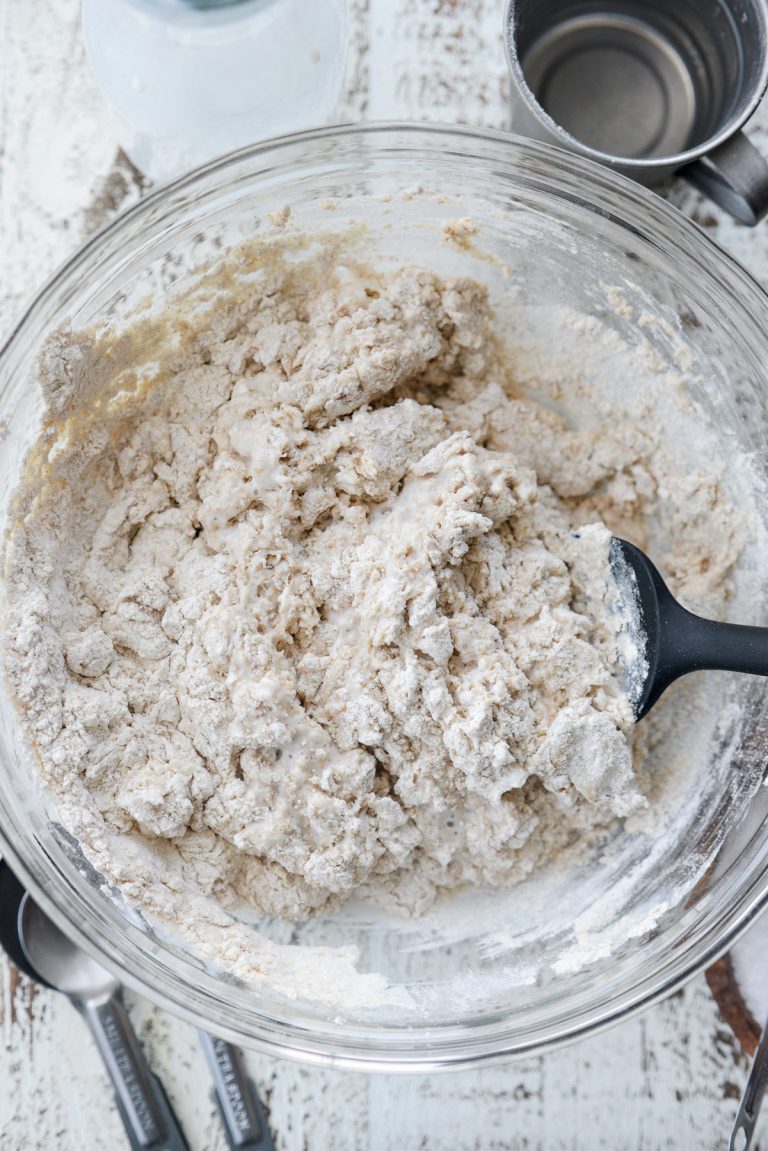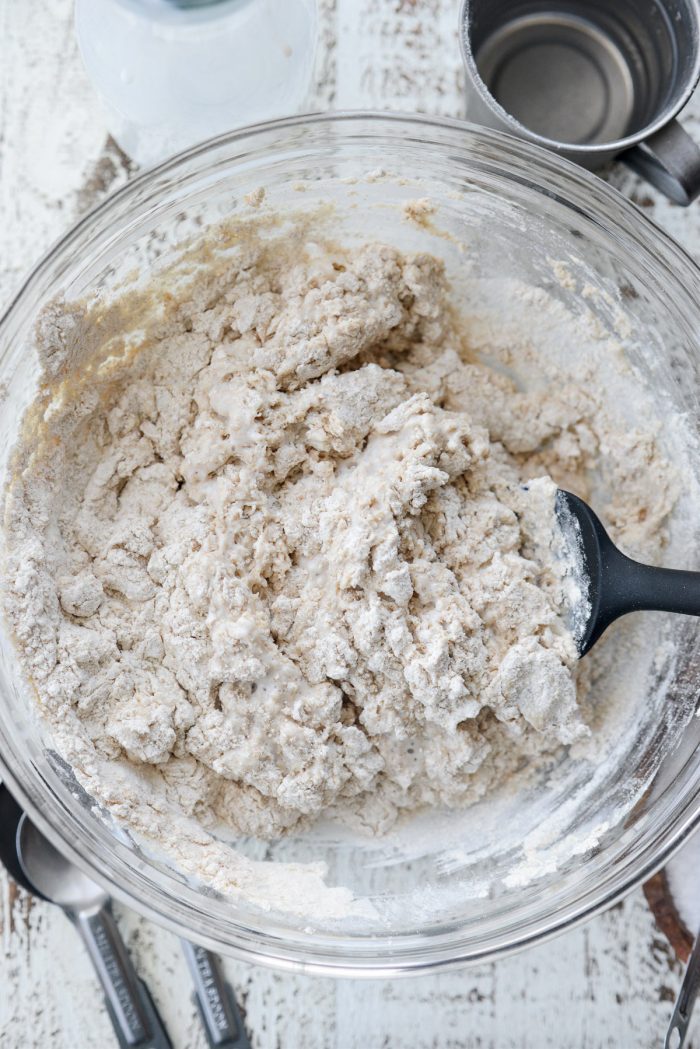 Use a rubber spatula to incorporate the wet into the dry ingredients.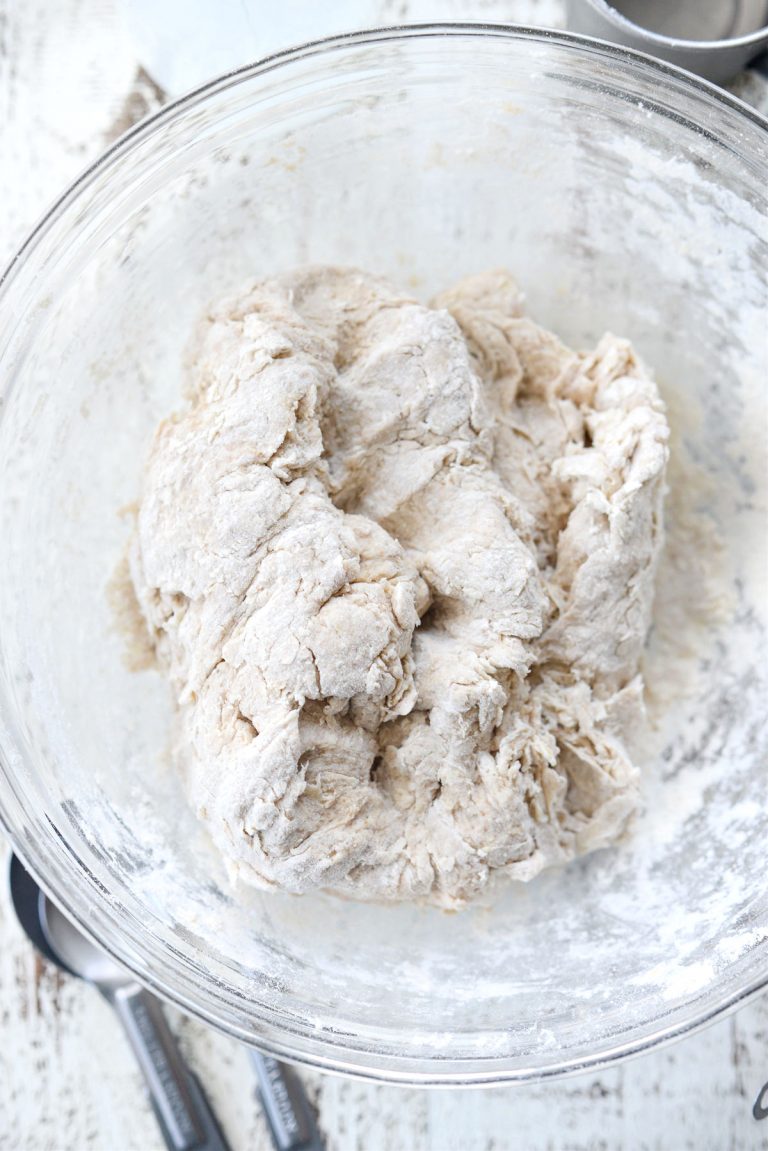 Once combined, use your hands to knead the dough for 1 minute. I do this directly in the bowl.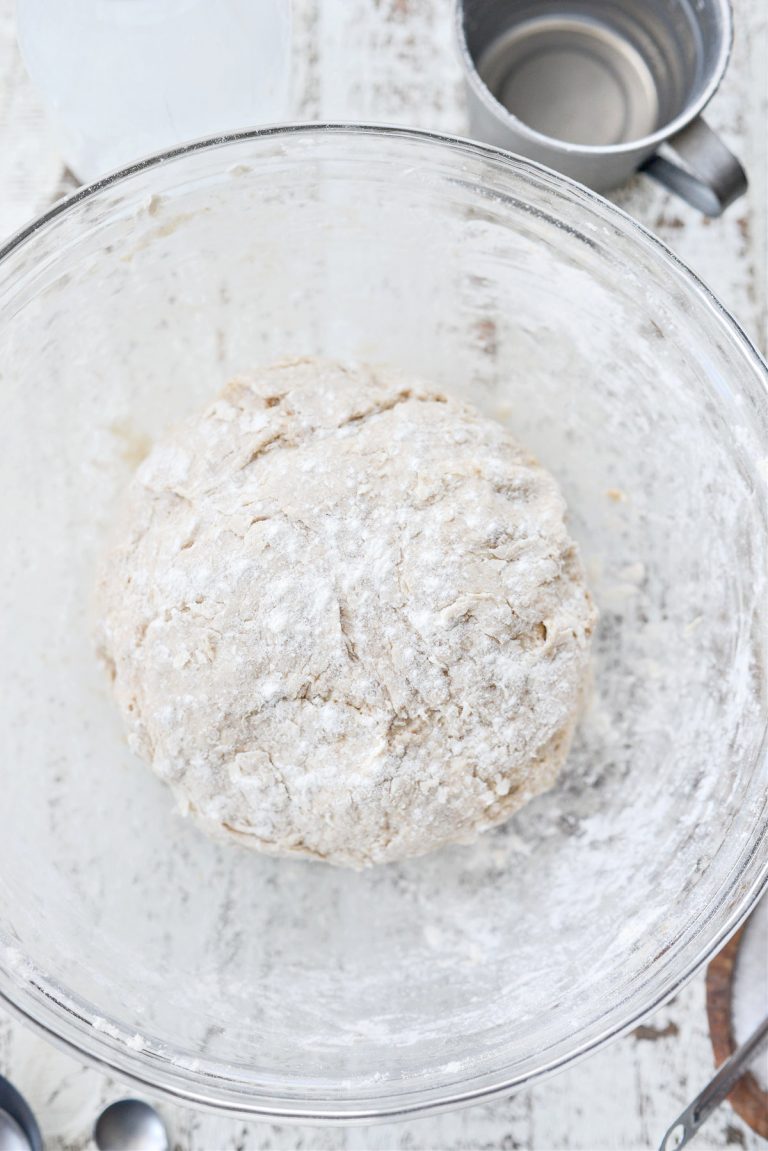 Shape the dough into a ball and lightly dust with a little flour.
Place the dough onto a piece of parchment paper. Use a sharp knife to score the top with an "X" before using the parchment to lower the dough into a round dutch oven.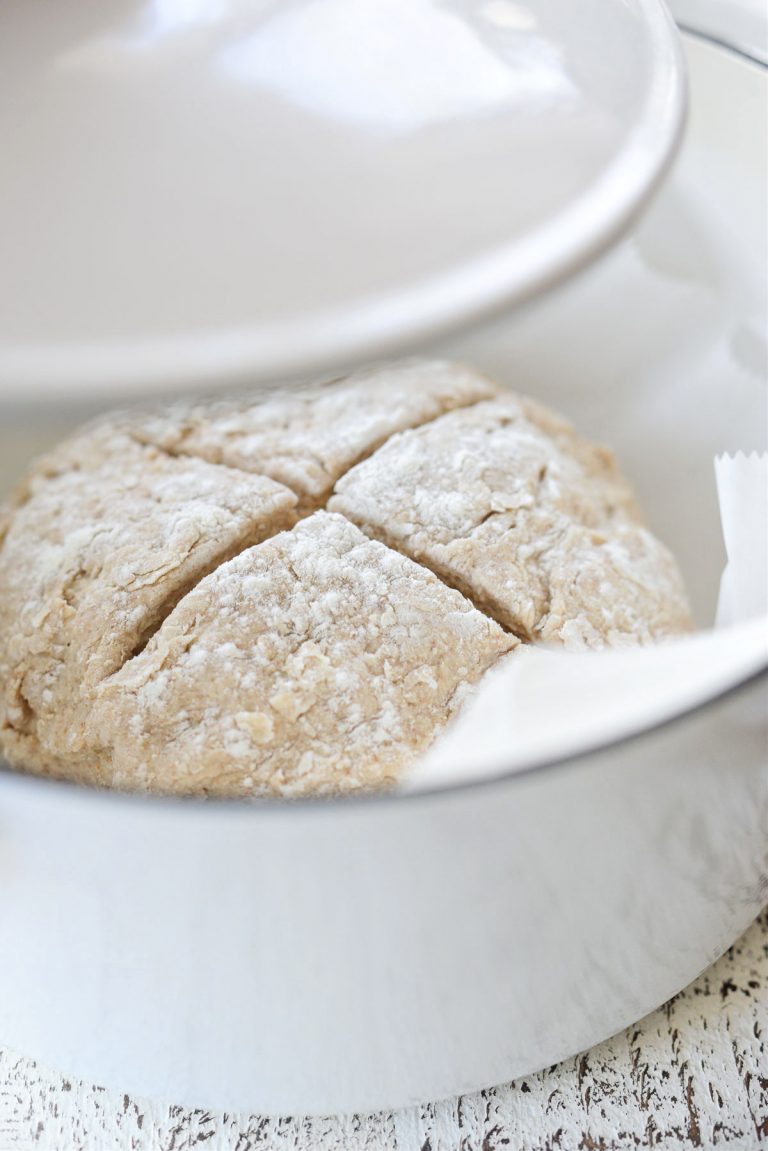 Replace the lid and bake in the lower third of your oven for 40 minutes.
Then uncover, oooh and ahh over it and then continue baking uncovered for 10 or more minutes.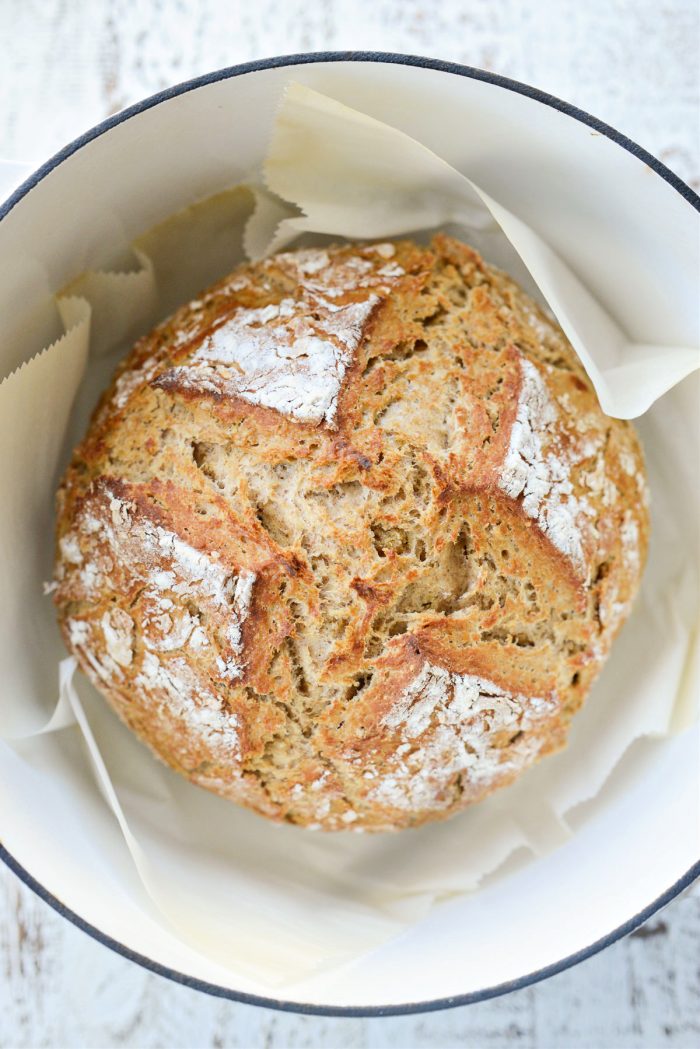 Until the bread is golden brown. In my oven 10 minutes is perfect, however it may take a few minutes extra in yours. Just keep an eye on it.
Once safe to handle, use the parchment paper to lift the soda bread out of the pot and place onto a wire rack to cool slightly.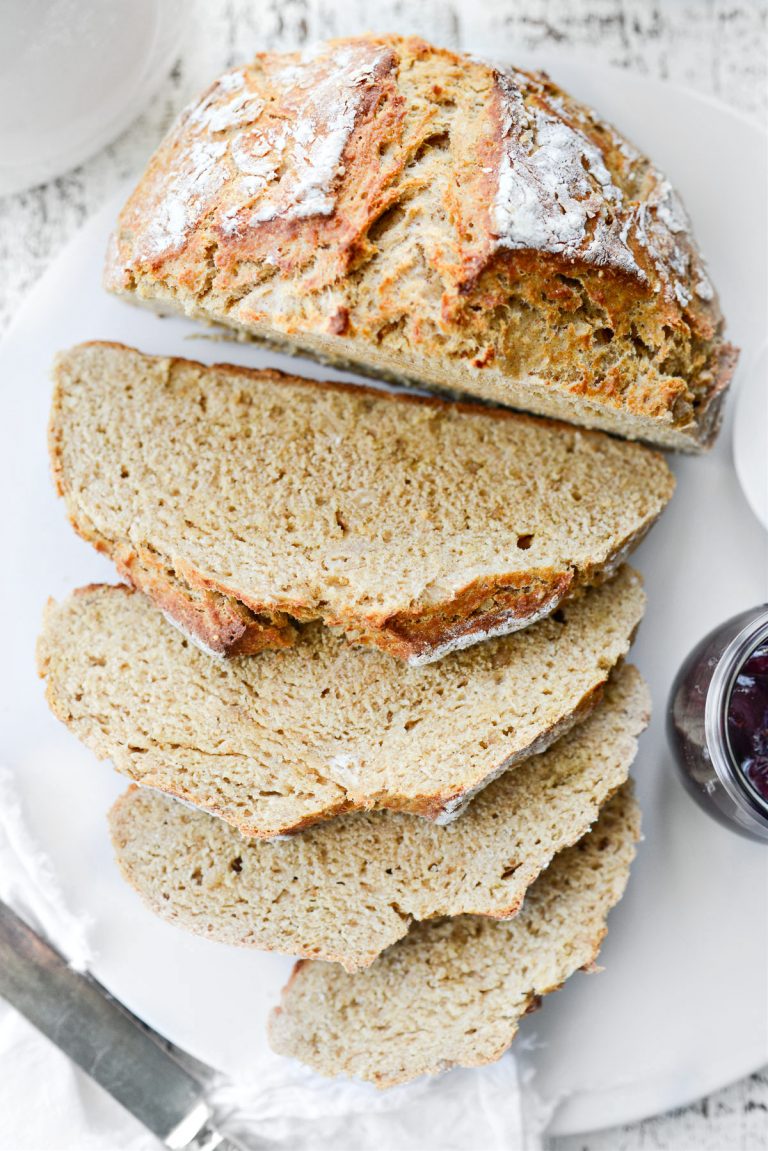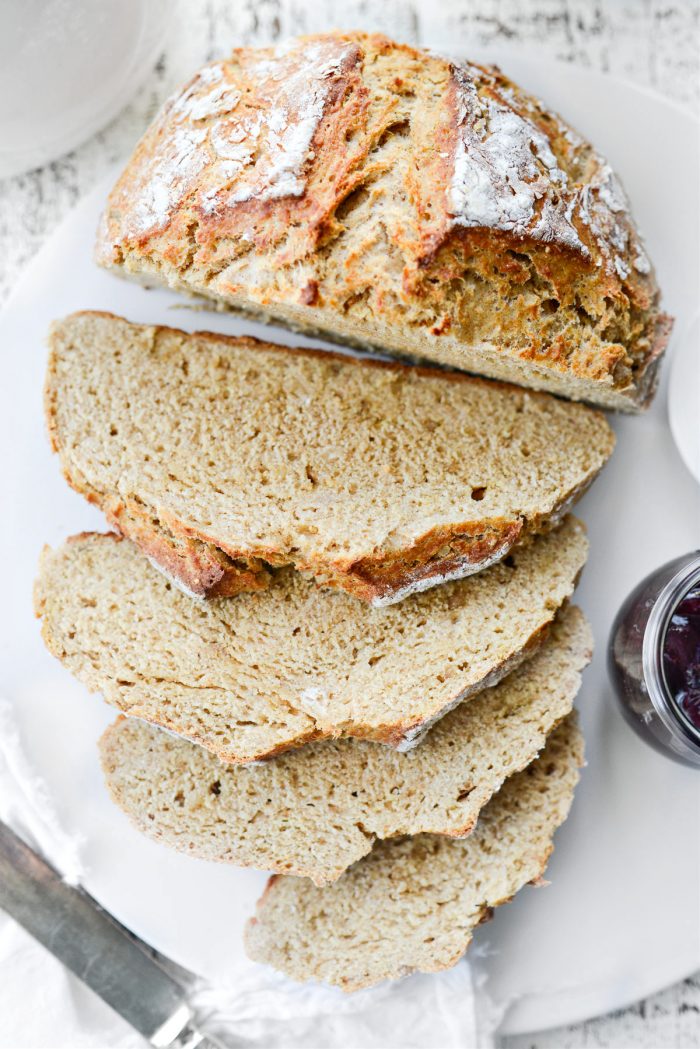 Transfer to a cutting board and use a bread knife to slice roughly ten 3/4 inch slices.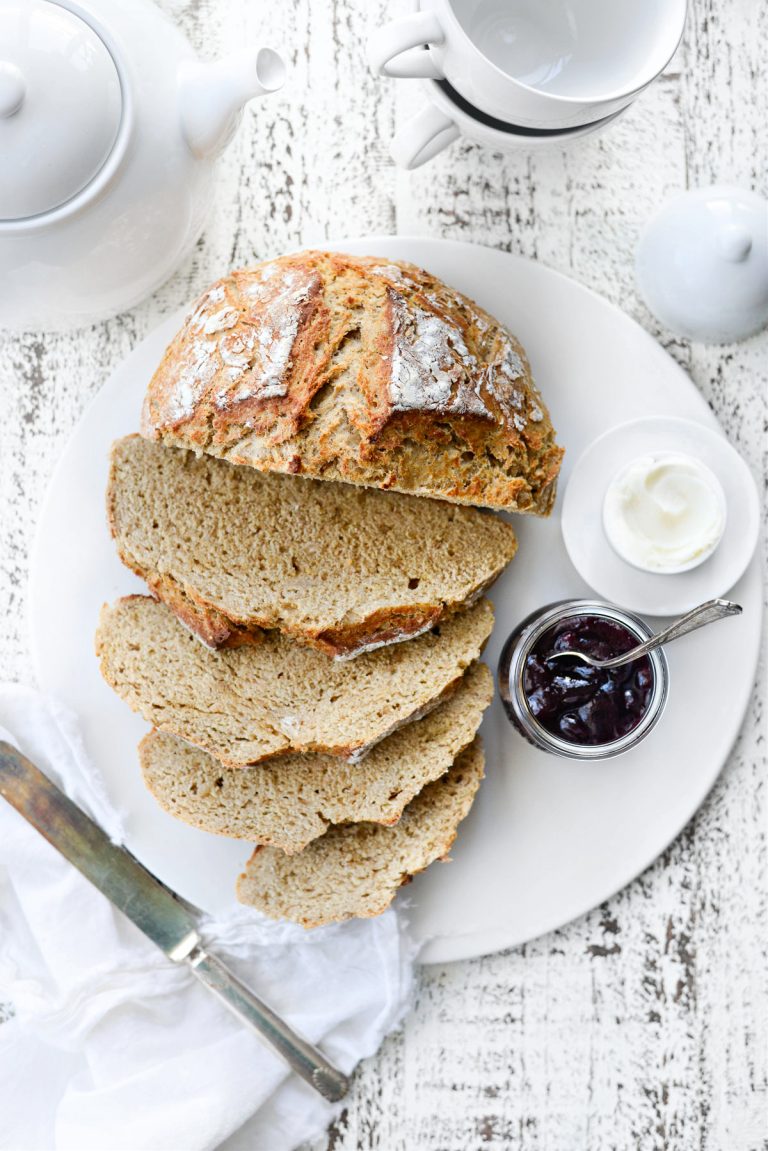 Slice and serve with salted butter and with or without jam.
Enjoy! And if you give this Irish Soda Bread recipe a try, let me know! Snap a photo and tag me on twitter or instagram!
This post may contain affiliate links.
Buy the Cookbook: Simply Scratch : 120 Wholesome Homemade Recipes Made Easy Now available on Amazon »
THANK YOU in advance for your support!