Irish stout beef stew is a hearty beef stew chocked-full of beef, beer and root vegetables! Serve with a good, seedy and crusty buttered bread.
St. Paddy's Day is in less than a week and with a last name like McNamara you best know we celebrate this holiday every single year.
Traditionally we make corned beef and cabbage, but this year I wanted to do something a little different. I wanted to make an Irish stew with a little stout added to the mix. Besides the glorious and robust flavor stout brings to this already amazing stew, you'll also find carrots, parsnips and turnips… oh and raisins too. The raisins absorb all the amazing flavors and plump up and add a delicious sweetness.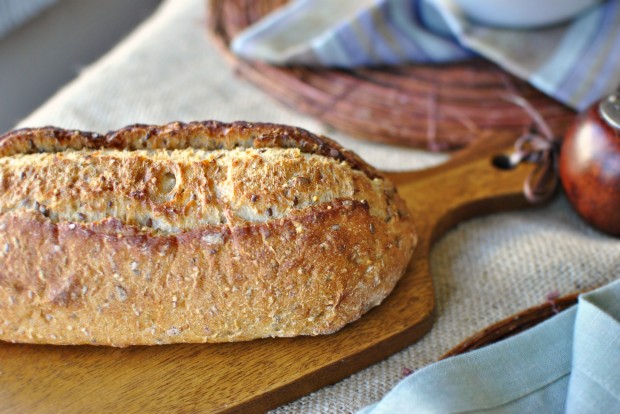 I'm not kidding you when I say I LOVE THIS STEW! It's incredibly hearty, flavorful and the meat just melts in your mouth. Besides a spoon to get the stew from the bowl and into your mouth, I must highly suggest a hearty bread to mop up that stew-y gravy left in the bottom of the bowl. Your St. Patrick's Day won't be complete without this stew in your life.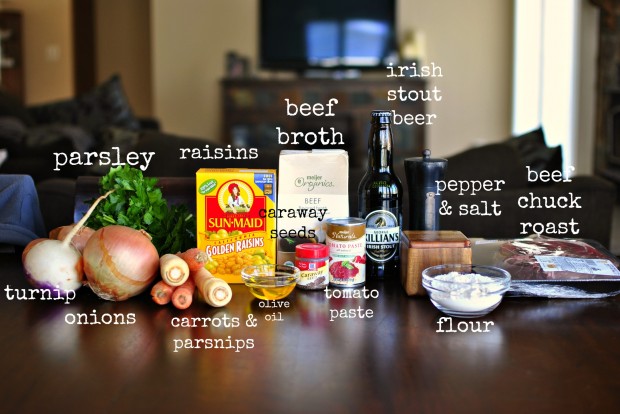 To Make This Irish Stout Beef Stew You Will Need:
olive oil
unbleached all-purpose flour
beef chuck roast, cut into 1-1/2 inch cubes
kosher salt, divided
diced yellow onion
tomato paste
a bottle of Irish stout beer [like Killian's or Guinness]
beef broth
golden raisins
caraway seeds
ground black pepper
carrots
parsnips
turnip
parsley, for garnish
Instead of purchasing ready-cubed stew meat, I like to buy a big-o chuck roast and cube it myself. This way I can select a piece of beef without a lot of gristle and can cube it up as big as I like.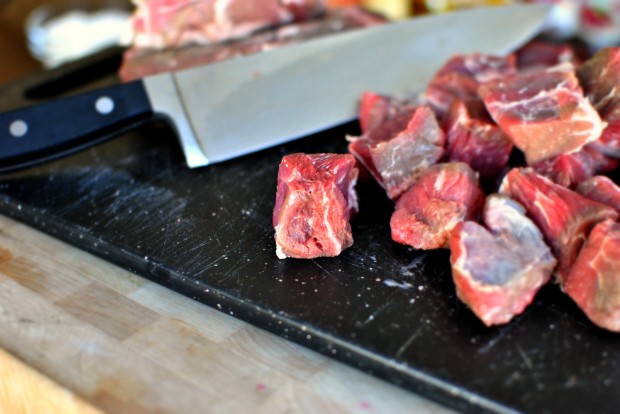 My chuck roast was a little over two pounds, but as long as the roast is 2lbs to 2-1/2 pounds you're golden. Now, cutting up the roast is easy. I cut the roast into strips about 1-1/2 inches and cubed it into bite size pieces, and when I say bite-size I mean big bites. Go big or go home, ya know?
Next, add the cubed meat into a bowl and sprinkle it with 3/4 teaspoon of kosher salt.
Then sprinkle that with a 1/4 cup of all-purpose flour and toss to coat.
Each piece of beef should be perfectly coated, not to heavy and not to light.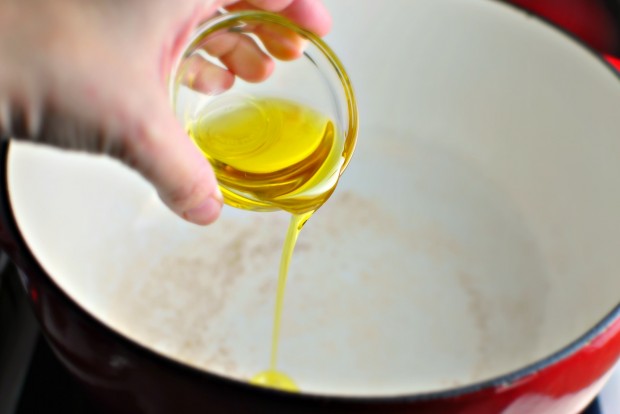 Then, in your Dutch oven, add a tablespoon of the oil and heat over medium high.
Next, work in batches and sear each piece so a nice dark crust forms.
Smells incredible!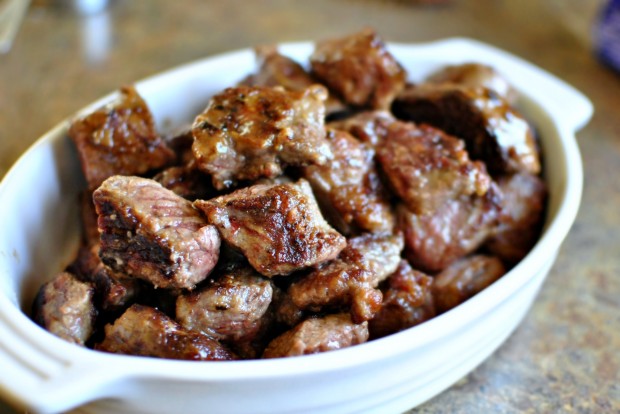 Then transfer it to a plate or any dish for that matter and move on to the next batch. It takes me 3 batches to cook all the meat, I like to work in batches so the meat doesn't crowd the pan and steam instead of sear.
Next, reduce the temp of the pot and maybe scoot it off the burner so the brown bits don't burn. Quickly dice up 1 yellow onion, if you haven't already. I seriously cry tears of pain with each and every slice and chop made, there really needs to be a cure for this!
See all that dark brown goodness? Don't scrape it out and throw it away… trust me on this.
Next throw in the diced onions.
Stir it up and cook the onions for 5-8 minutes until soft and translucent.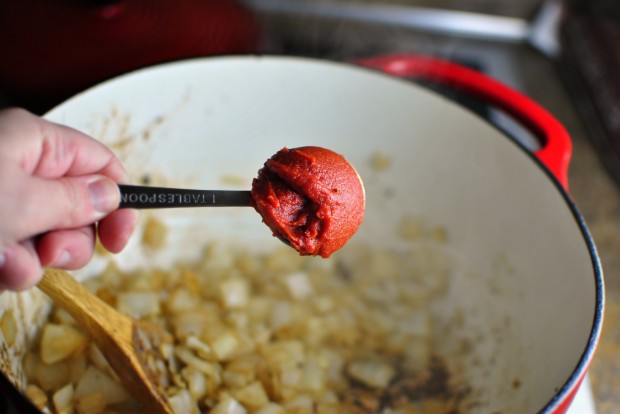 Next, measure a heaping tablespoon of tomato paste, so it's more like a tablespoon and a half.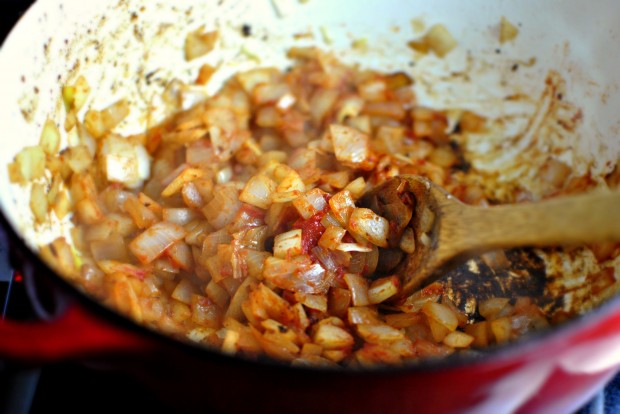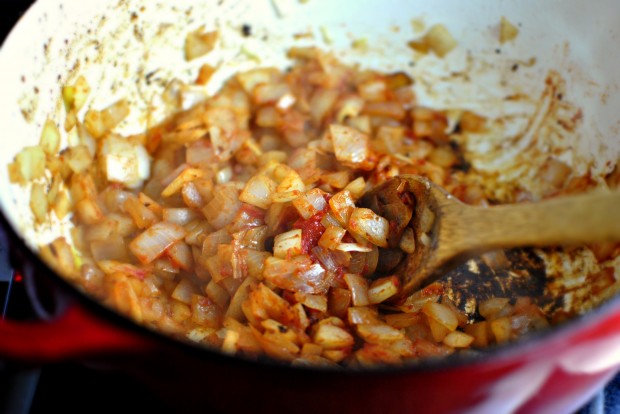 Then give it all a good stir and cook for one minute.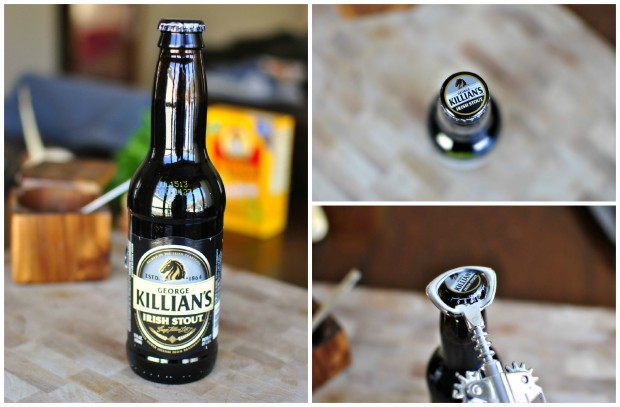 Now comes the fun part. Crack open an Irish stout beer. I used Killian's… but Guinness would work too!
Next pour in the entire bottle and use a wooden spoon to scrape up those brown bits on the bottom of the pan.
Then pour in 1 quart or 32 ounces (4 cups) beef broth.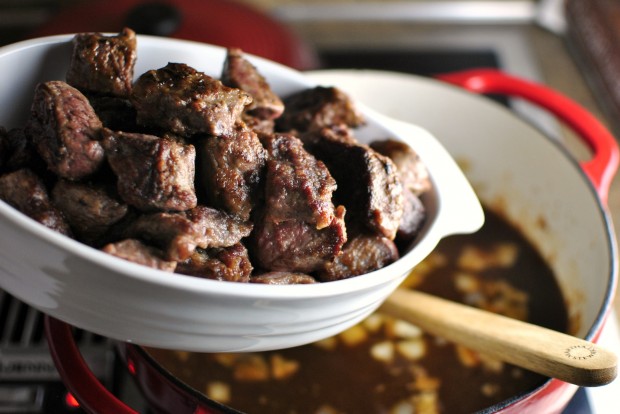 Next add the browned beef back in…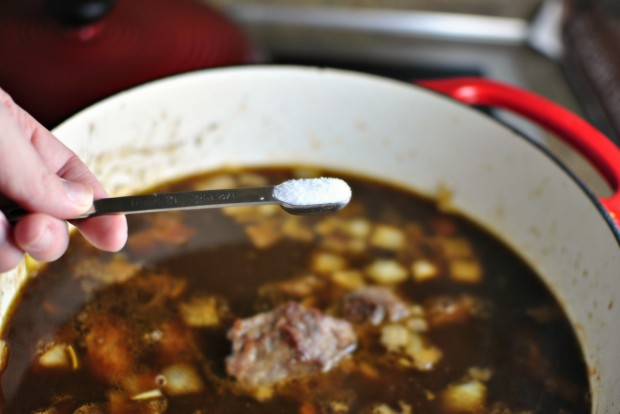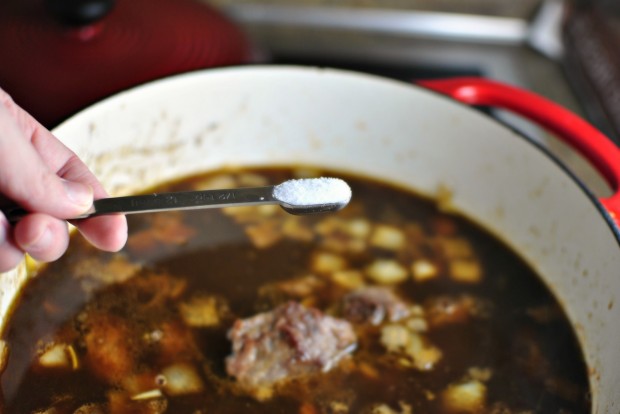 And then season it with kosher salt to taste. About 1/2 teaspoon or so.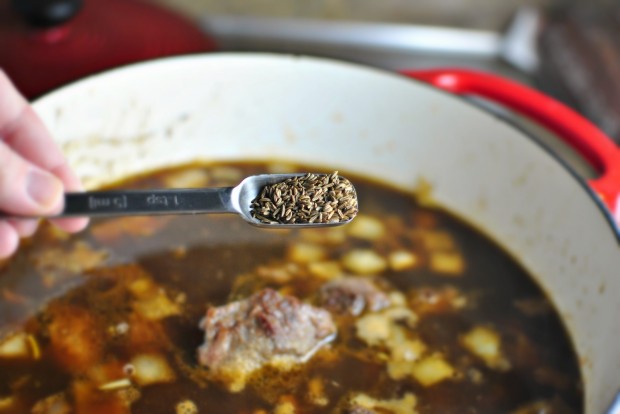 Along with 3/4 teaspoon of caraway seed.
Then add in a palm-full or two tablespoons golden raisins.
For a subtle touch of sweetness.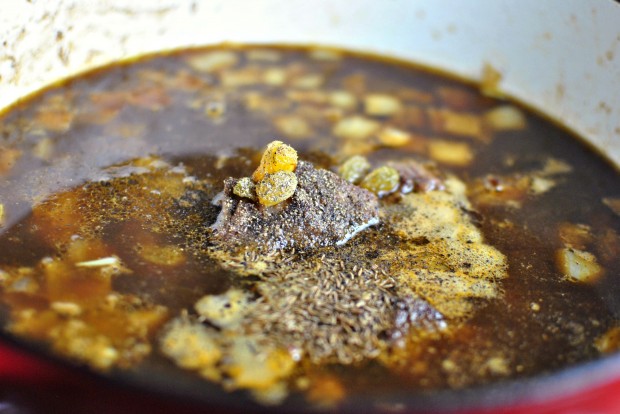 Lastly, add in a good amount of black pepper.
Give a good stir and bring to a boil.
Reduce the heat to a simmer, put a lid on it and let it simmer away for 50 minutes.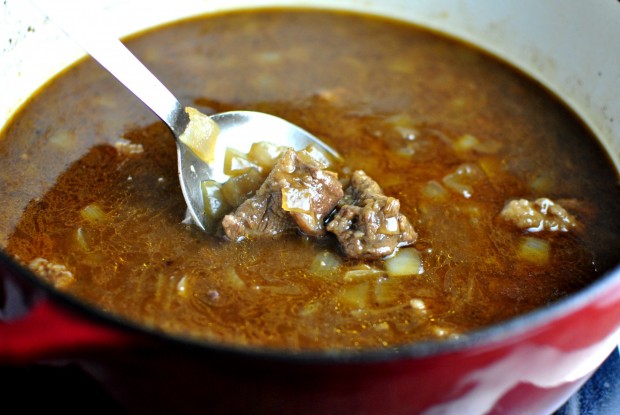 After the time is up, remove the lid and give it another stir. Now increase the heat to medium-high and let it bubble away with the lid off for 45 minutes.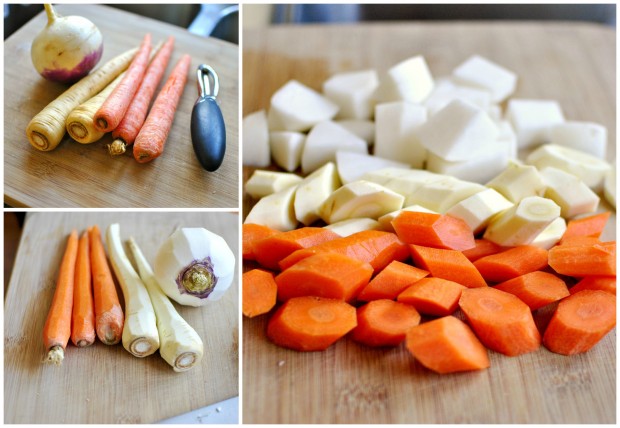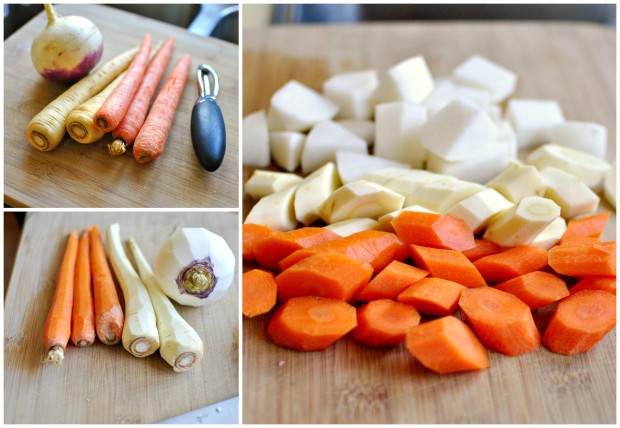 While all that's going on, prep the veggies. I peeled and roughly chopped 3 carrots, 2 parsnips and 1 turnip into bite size pieces.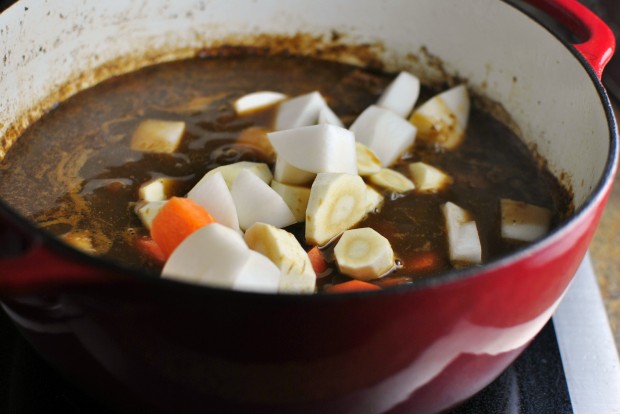 When the 45 minutes were up I threw those in until they were fork tender… about 25 minutes. In the meantime the veggies soften and the beer/broth mixture thickens into the most scrumptious gravy. Total comfort food fo sho.
LOOOOOOK! Oh gosh…I'm just… utterly… speechless. You really don't believe that do you? Psshht that's like totally impossible.
This Irish stout beef stew is amazing. The stout is subtle, the beef is all melty and I lurve the switch up of root vegetables in this stew. I brought the leftovers to work and it could be possible that this stew was even better the next day!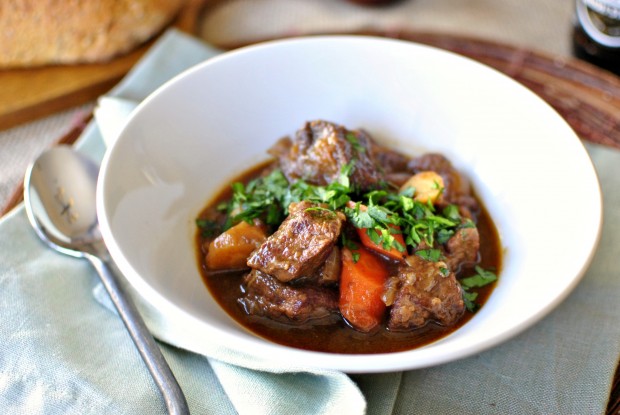 Now go on and get your Irish stout beef stew on!
Enjoy! And if you give this recipe a try, let me know! Snap a photo and tag me on twitter or instagram!
This post may contain affiliate links.
Buy the Cookbook: Simply Scratch : 120 Wholesome Homemade Recipes Made Easy Now available on Amazon »
THANK YOU in advance for your support!