This No Knead French Bread is crusty, tender and delicious! Combine the ingredients the day or evening before and the next day, shape and bake! The key to delicious French bread is all in quality artisan flour. This recipe yields 2 baguettes.
There's nothing like smell of bread baking.
Once a fearful bread baker, I'm now more comfortable and confident because of recipes like this. No knead breads are simple, just combine ingredients in a bowl and let it do its thing overnight. Originally I found this recipe via Pinterest and make it a handful of times, slightly adapting it each time.
However one thing remains the same: the flour you use is indeed important. Over one weekend, I tested this recipe multiple times using different flours (oven temps and times, salt measurements too) and each time I got different results. What I realized is that bread flour, specifically good quality artisan flour, is key to getting the crust and texture you see below. The flavor is also much better with the artisan flour.
This recipe is fun and a somewhat easy way to make quality homemade French bread at home. The smell of it baking will fill your home with the most mouthwatering BAKED BREAD aroma.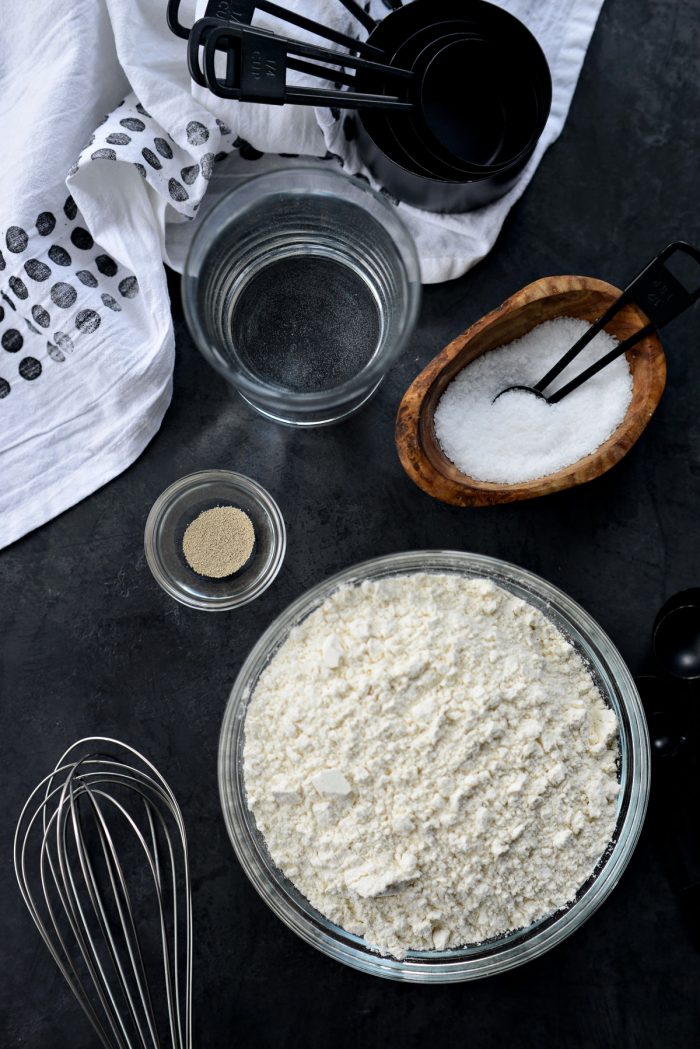 To Make This No-Knead French Bread You Will Need:
artisan bread flour
kosher salt
active dry yeast
water
Tools that I suggest you having is a bench scraper and patience. Yes this dough is sticky but it yields delicious bread, I promise you.
All-purpose vs. Bread Flour?
It all boils down to high protein. Protein content will affect many aspects of the flour and doughs/batters such as water absorption, cohesiveness, viscoelasticity, dough strength, texture, loaf volume, and crumb grain. <—I learned that from the bakerpedia.com. Typically (not always) if a recipe is yeast leavened (i.e breads) you should use bread flour. If a recipe is chemically leavened (baking powder and/or baking soda) it will need less protein and all-purpose flour is usually called for. Like in biscuits, cakes and cookies, for example.
Why Artisan Bread Flour?
After testing this recipe with traditional bread flour, unbleached all-purpose and the aformentioned artisan bread flour, there was distinct differences between all three. The artisan flour produced a better tasting bread with unbelievable crumb and texture. Dare I say artisan?? Traditional grocery store bread flour was good and could easily pass in this French bread, however the flavor and chew of the bread was a little lacking in my opinion. And I personally wouldn't waste my time making this bread using unbleached all-purpose flour. The inside of the dough was almost wet and more dense compared to the other breads. The flavor was not there whatsoever and I ended up throwing the two loaves away.
The only thing is that good quality artisan bread flour is not stocked at grocery stores. At least no stores by me. So I ordered it straight from Bob's Red Mill website. Shipping took a bit and it was a little pricy (especially for flour) but it was SO worth it in the end. There are other brands of artisan bread flour out there.
This is not a sponsored post, I have always trusted the quality of Bob's Red Mill Products.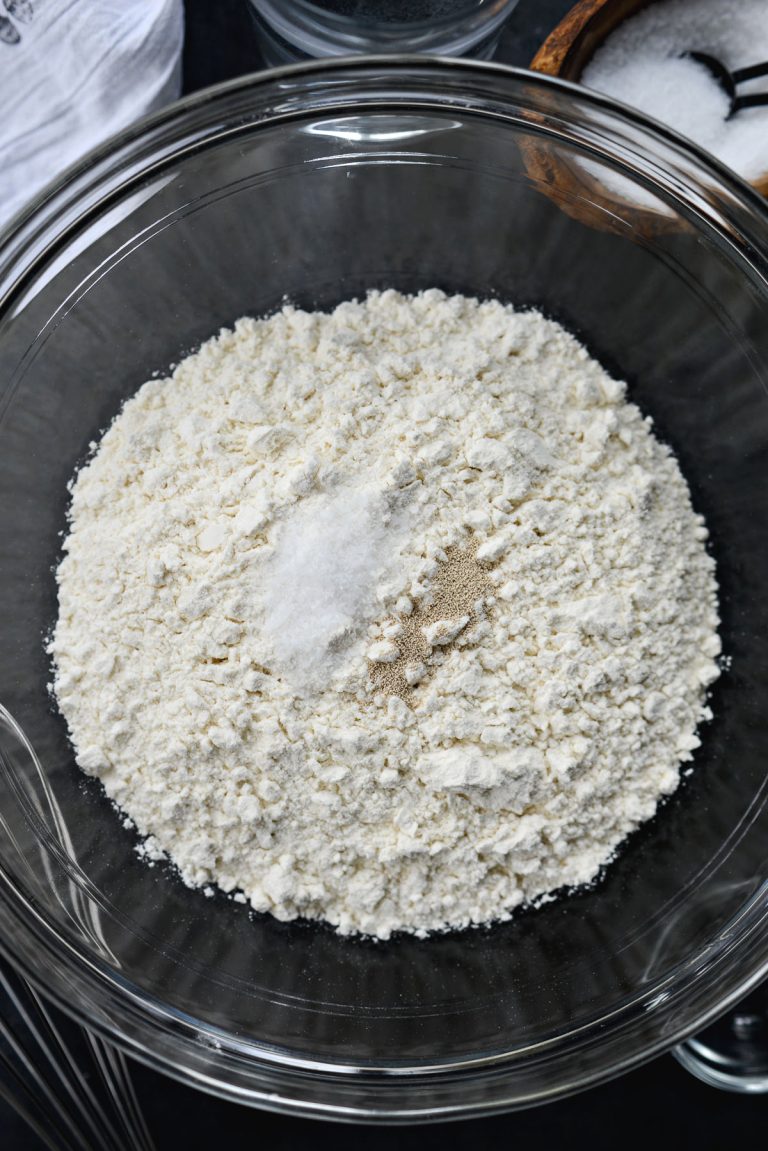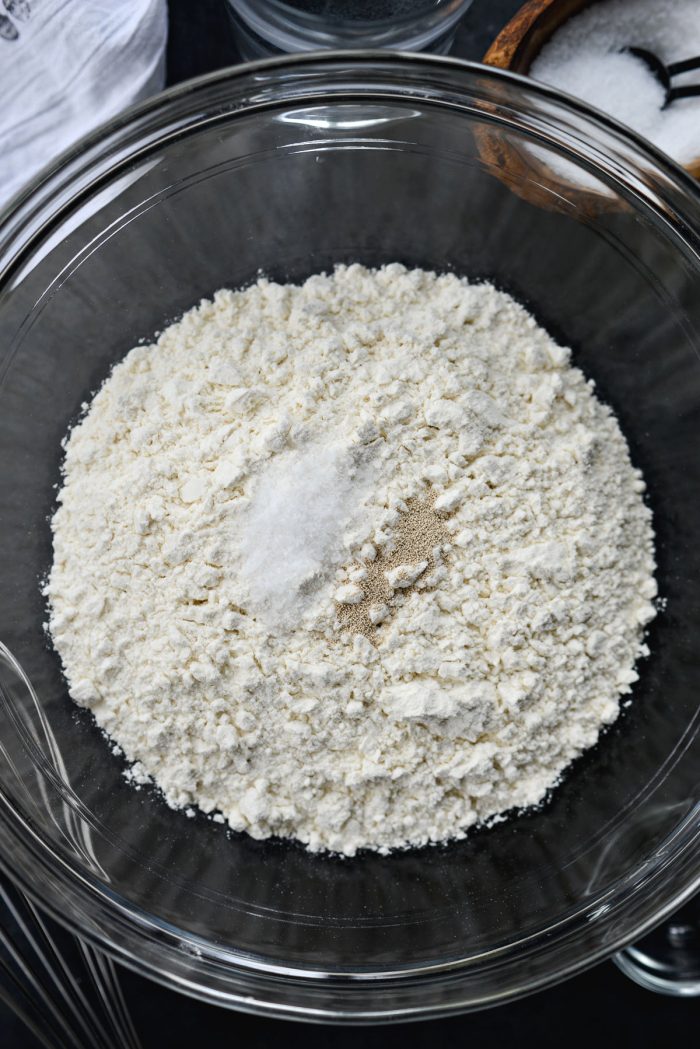 In a large mixing bowl, measure and add 3 cups artisan bread flour (or regular bread flour will work in a pinch), 1/2 teaspoon kosher salt and 1/4 teaspoon active dry yeast.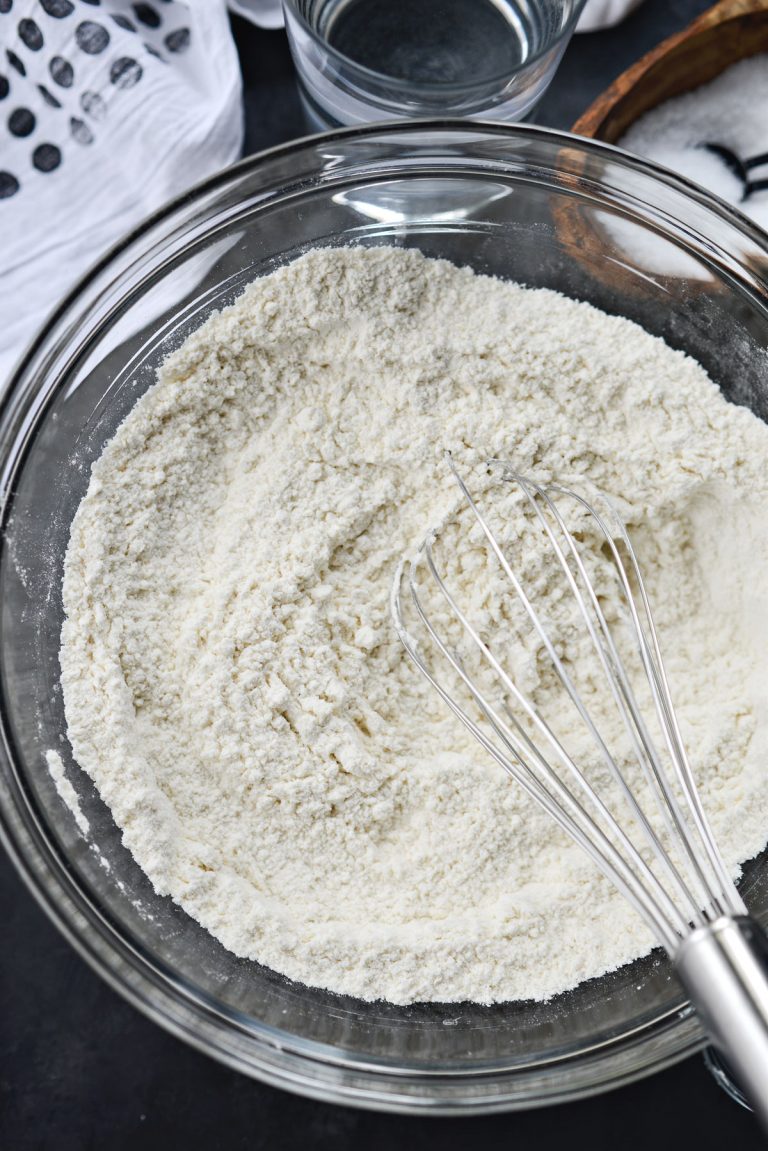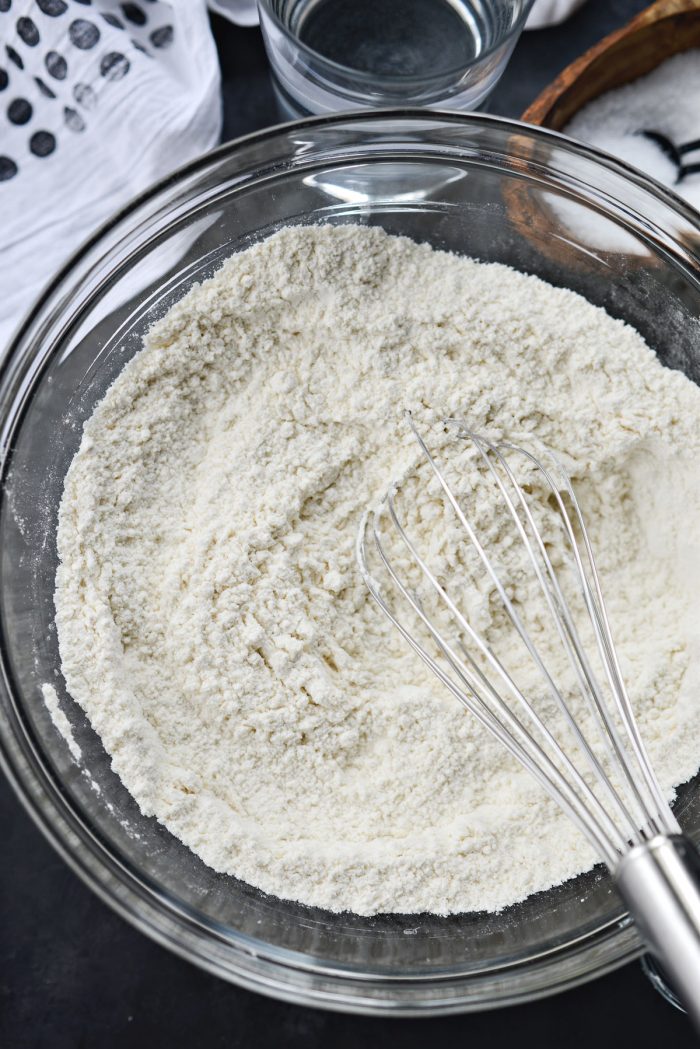 Whisk to combine.
Pour in 1 -5/8 cup water. This measures out to be 1 cup plus 10 tablespoons.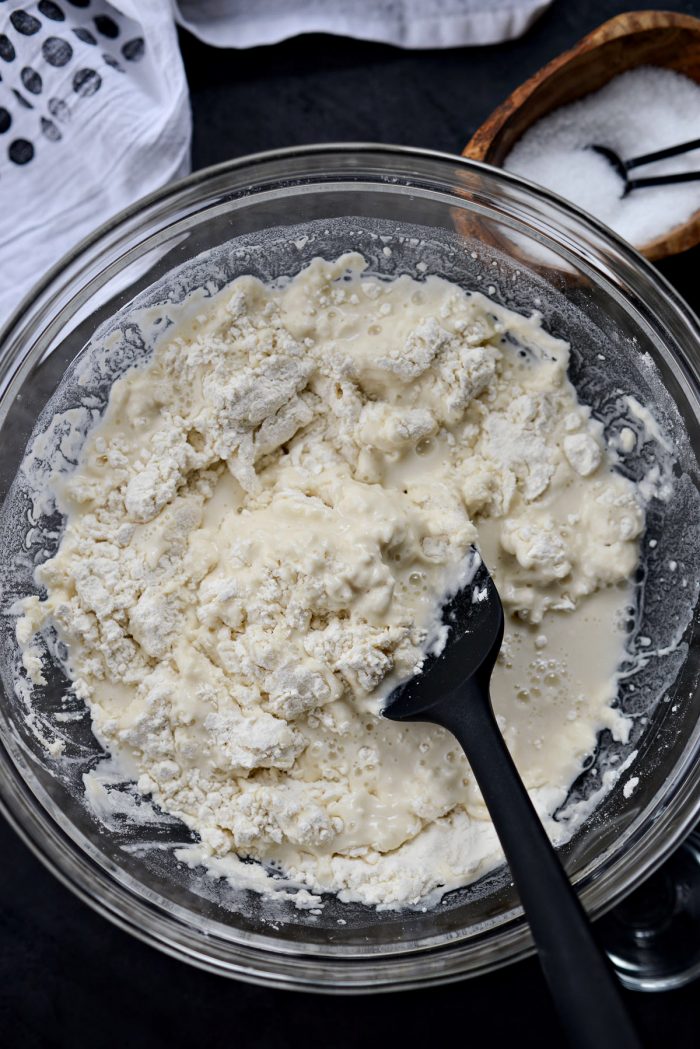 Stir to combine.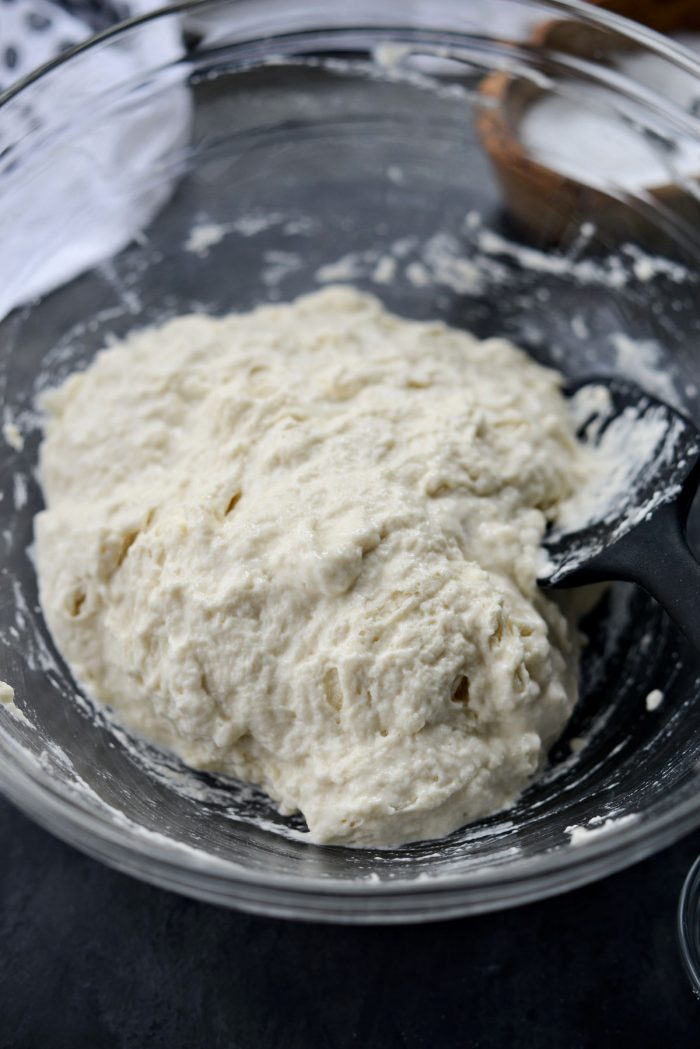 This is a wet dough and will be sticky.
Cover with plastic wrap and place on your counter over night – this can be anywhere between 10 to 24 hours.
Uncover. The dough should have doubled and have lots of bubbles.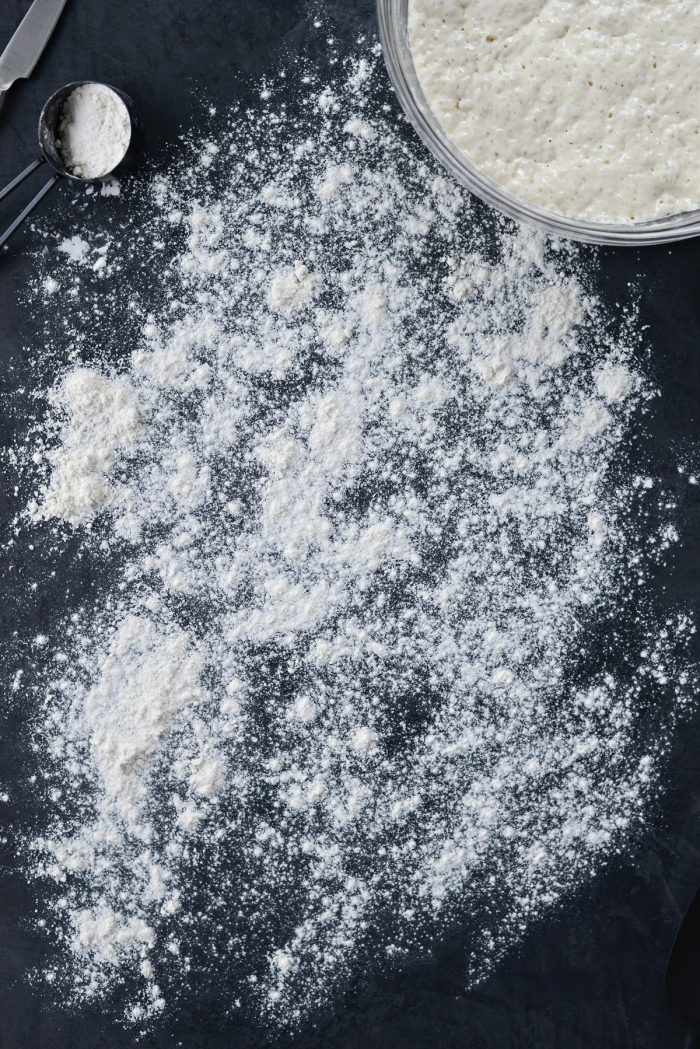 Generously flour a clean work surface – don't be shy here, this dough is extremely sticky.
Use a rubber spatula to scrape the dough out of the bowl and onto the floored surface.
Divide in half and shape (without kneading) into a baguette shape.
With floured fingers, grab from underneath, pull up and pinch. Work your way down the loaf. I do this 3 to 4 times.
Like this!
Here comes the hardest part. Using a bench scraper to turn the dough over onto parchment paper or a greased baking sheet. Slide the parchment paper (if using) onto a rimmed metal baking sheet. Then, use your fingers to reshape and tuck the sides to make a firm loaf.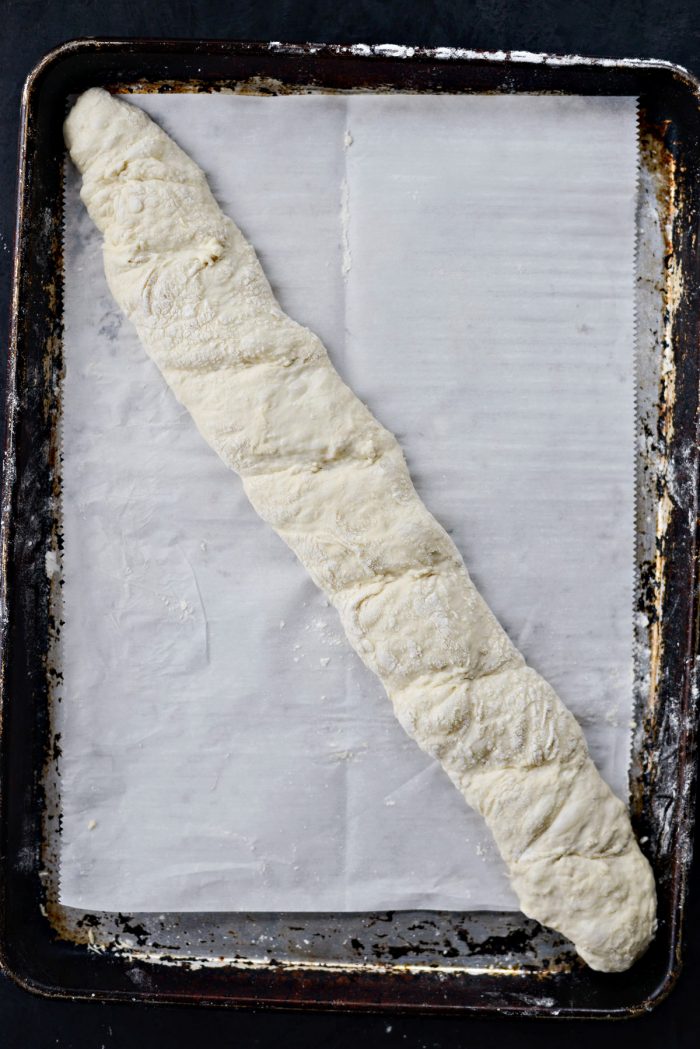 Repeat with the second loaf. Make slits in the top if you choose. I've tried with a serrated and straight-edge knife and the results are meh. Next time I will try with a razor blade or purchase a bread lame (scorer). However I personally feel this particular dough is too sticky to get sharp lines.
Next preheat your oven to 425°
Place a stainless pan, like a skillet, onto the bottom rack of your oven. Measure 2 cups of ice. Once the oven is hot, add the ice to the skillet and slip one pan of bread into the oven. Bake for 18 to 22 minutes or until deeply golden brown. Try not to open the oven door or you will loose the steam and heat. Once baked, repeat with the second loaf and more ice. I allow the oven to come back up in temperature before adding the ice and sliding in the second loaf.
Not perfect in shape but they sure do taste amazing.
I especially love all the bubbles on the crust. So rustic!
And just look at the inside?! Incredible, right?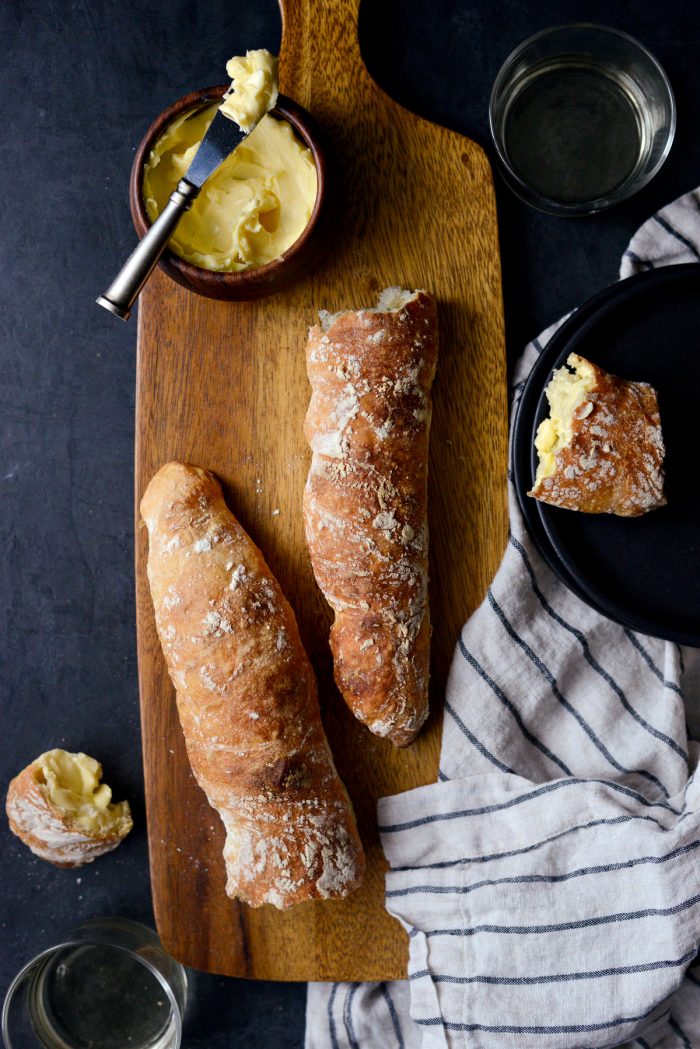 Served warm, torn and swiped with salted butter is my preferred way to enjoy this bread!
Click Here For More No Knead bread recipes!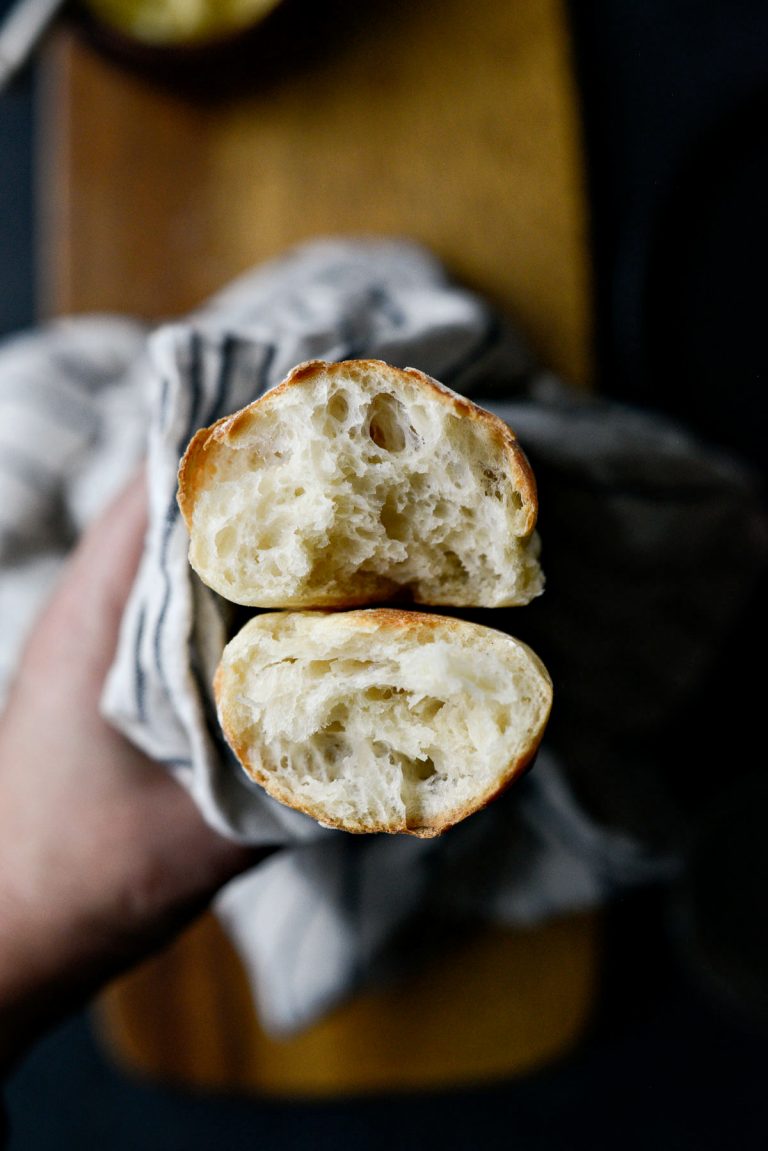 Enjoy! And if you give this No Knead French Bread recipe a try, let me know! Snap a photo and tag me on twitter or instagram!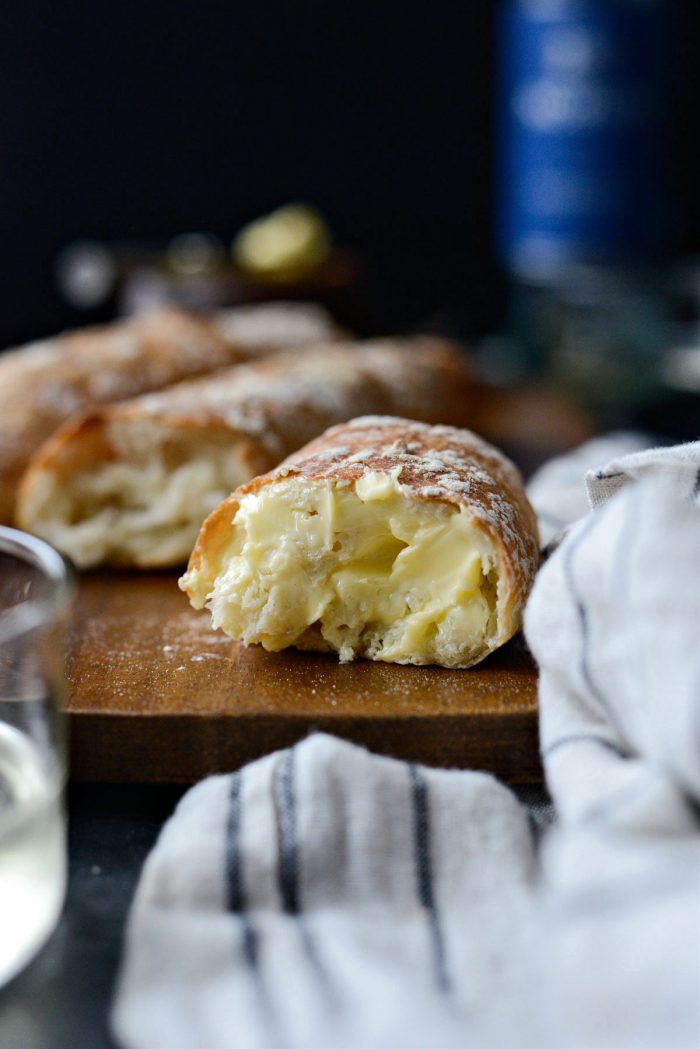 This post may contain affiliate links.
Buy the Cookbook: Simply Scratch : 120 Wholesome Homemade Recipes Made Easy Now available on Amazon »
THANK YOU in advance for your support!