These fiestadas are a scratch version of a school lunch favorite. Crispy crust, Mexican inspired sauce and taco meat topped with cheese! Easy and delicious!
Please tell me you've experienced the deliciousness that is- the fiestada.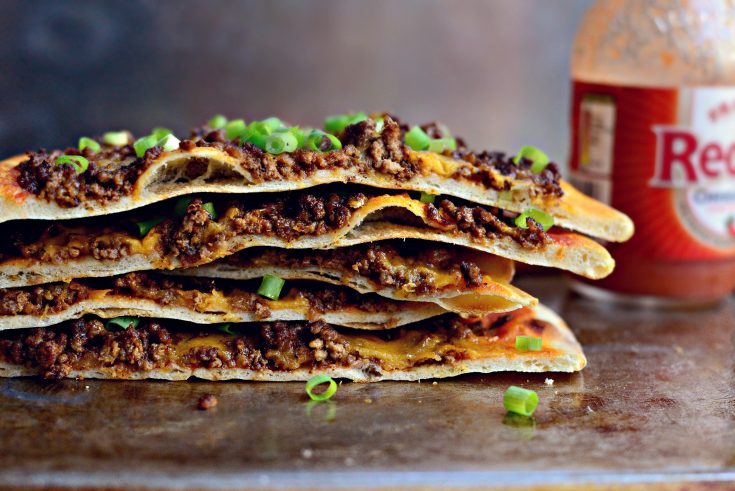 Essentially it's a taco pizza and it was one of only a few delicious and edible items served at my high school cafeteria, next to turkey slop and beef sticks. My mother-in-law, Brenda buying fiestadas by the case for my brother-in-law, Paul who was a football player and ate like 12 of them at a time. I may be exaggerating a smidge on the number.
I really enjoy trying to make a scratch version of my favorite school hot lunch items. Just this past weekend I used leftover turkey and make my turkey slop and it was so SO good. These fiestadas are pretty dang close to the original too and are extremely easy to whip up making it a fun weeknight dinner option. They were a hit with my kids who were completely clueless of what a fiestada was, but the real test was with my husband. When Pat took a bite he said to me "Wow, Laur! These taste just like I remember them."
Win-Win.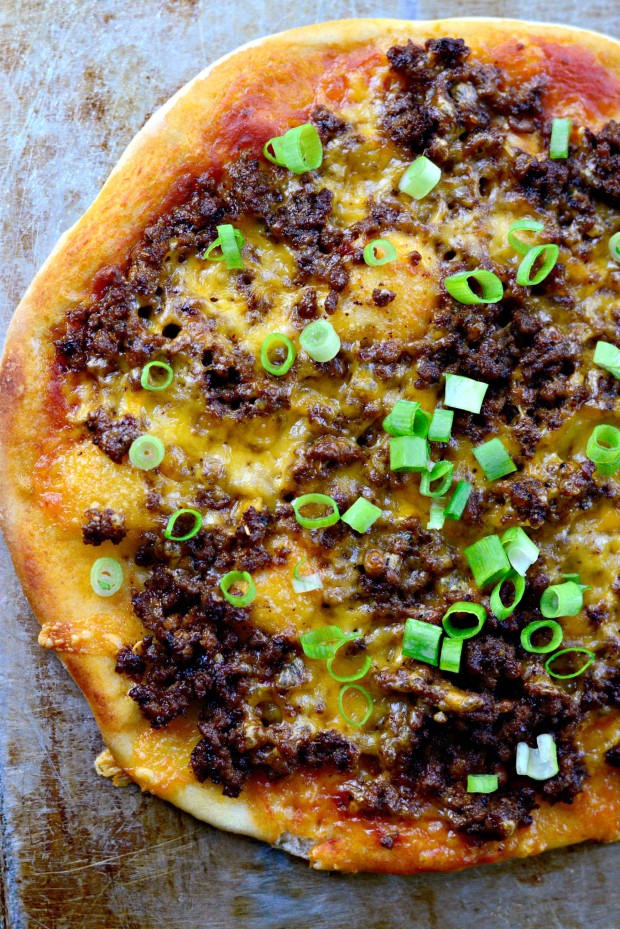 Now I just need to figure out how to make the beef sticks, which look just as unappealing as they sound but from what I remember taste pretty darn delicious.
Earlier in the day I made a batch of my pizza dough and let it rise before gathering the rest of the ingredients.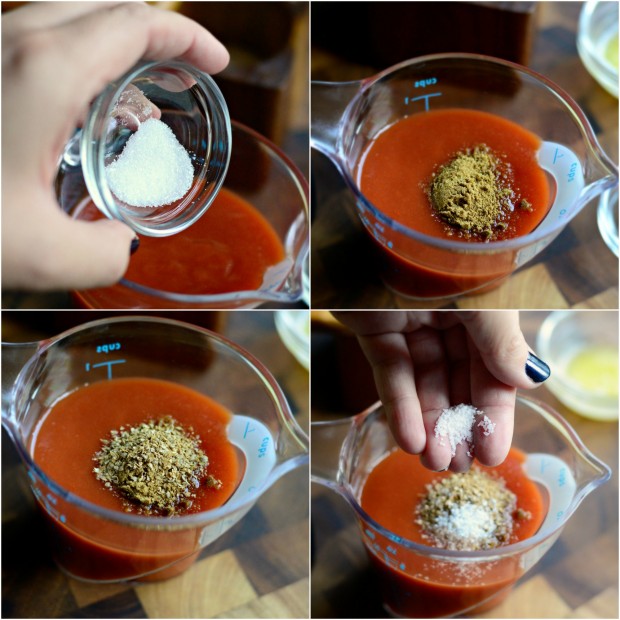 The sauce takes minutes to prep. Add 1/4 teaspoon sugar, 1/2 teaspoon cumin, 1/4 teaspoon coriander and a pinch of salt to 8 ounces of tomato sauce.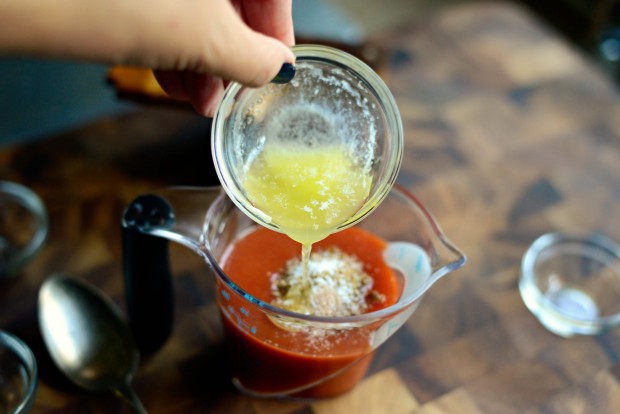 Pour in a tablespoon of melted butter…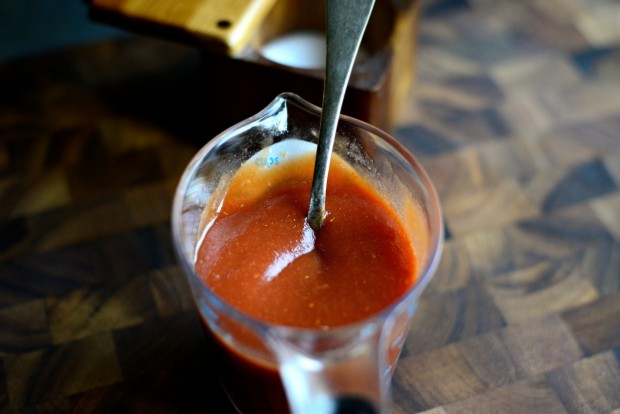 …stir and set off to the side.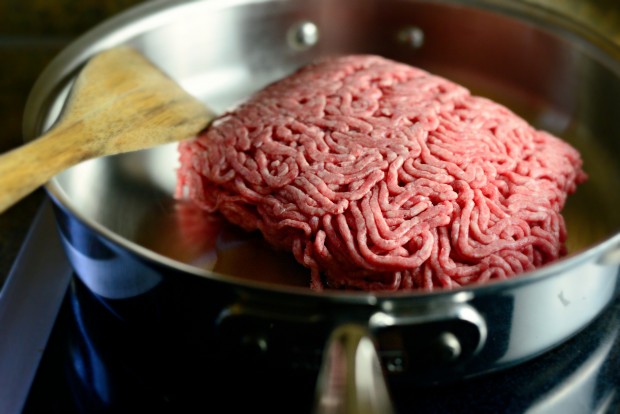 Add the ground beef to a pan and cook over medium heat.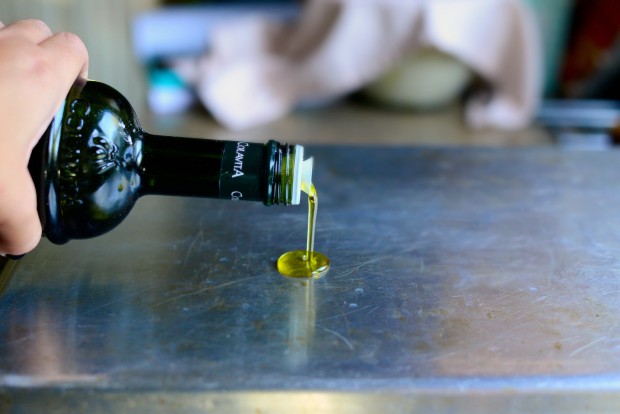 Meanwhile, drizzle a little bit of olive oil onto an inverted metal baking sheet.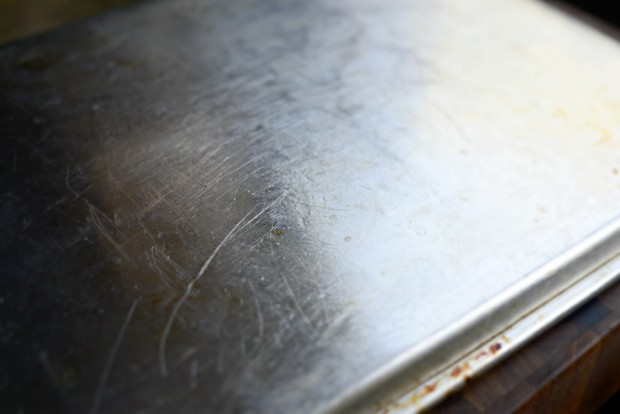 Use your fingertips to spread it all around until a thin layer covers the pan.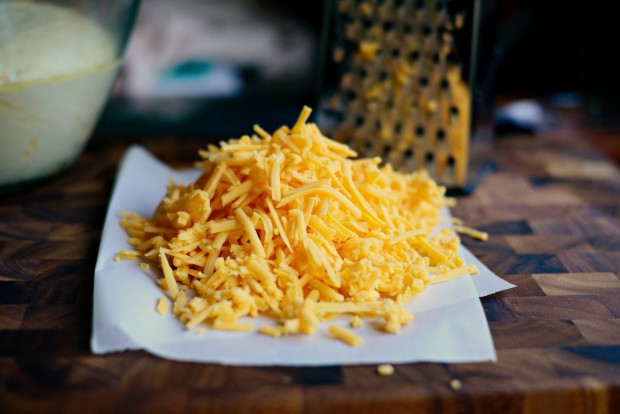 Grate 2 cups of cheddar cheese…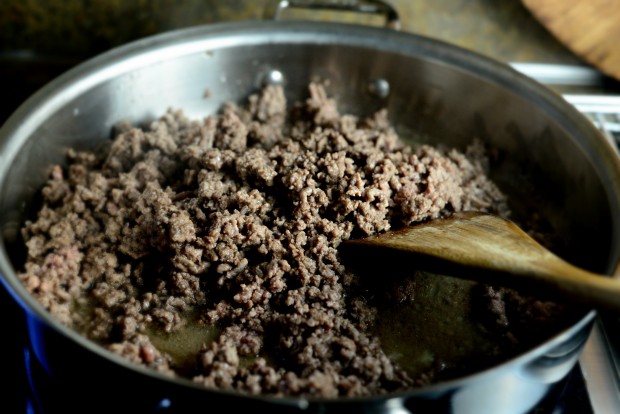 Once the ground beef is fully cooked, drain majority of the fat from the pan…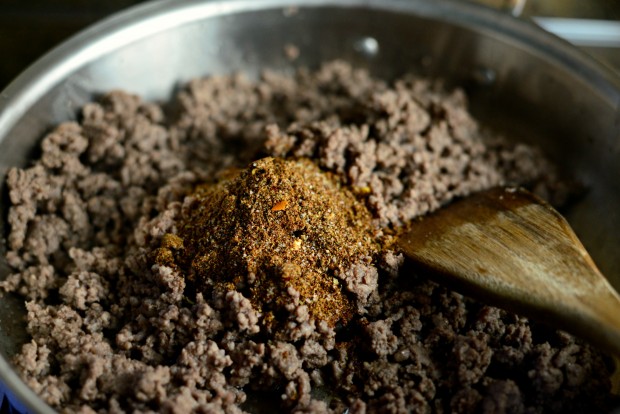 Add in the taco seasoning…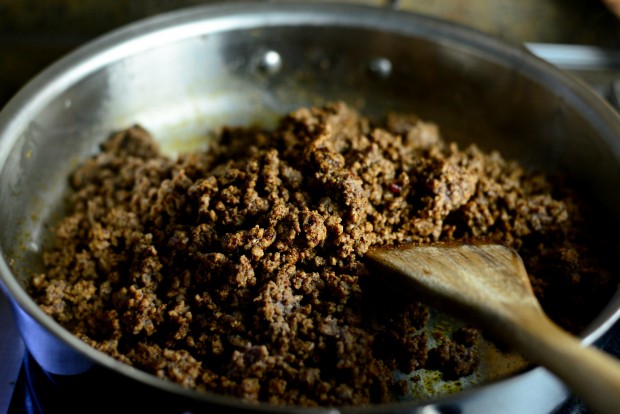 Stir until mixed throughout, breaking the meat up into smaller crumbles.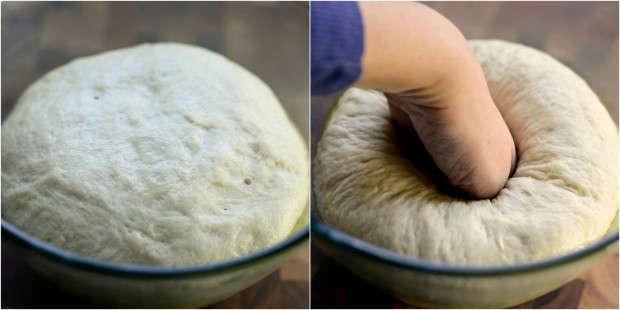 Next, punch down the pizza dough…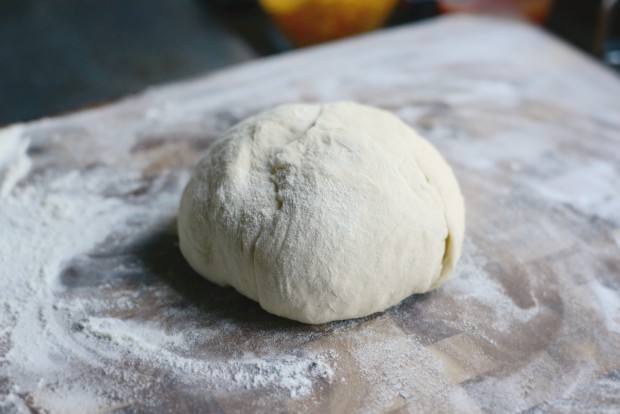 Then, on a lightly floured surface…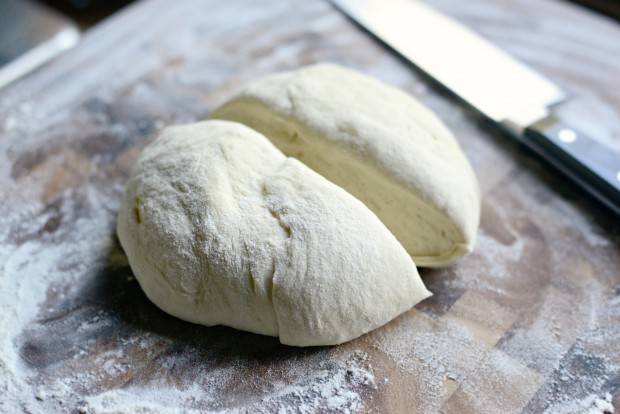 Divide the dough in half…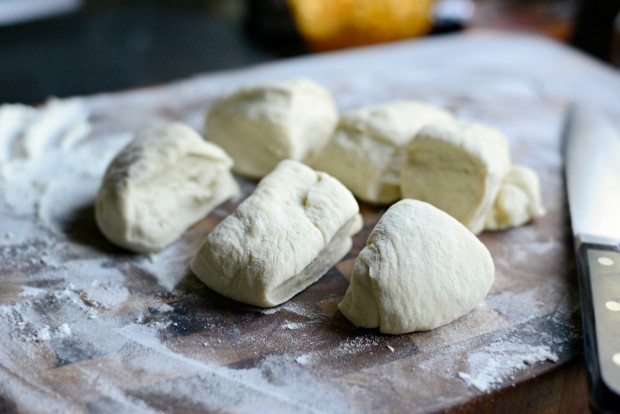 And then each half into 3 to 4 smaller pieces each, so you'll end up with 6 to 8- depending on how big or small you want your fiestadas.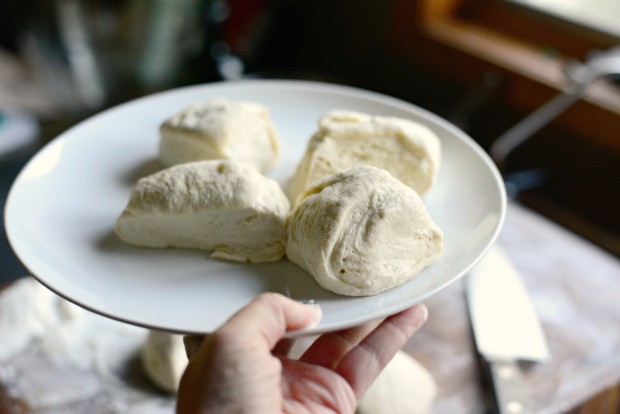 Keep two dough balls on the floured surface and transfer the others to a plate and cover with paper towel.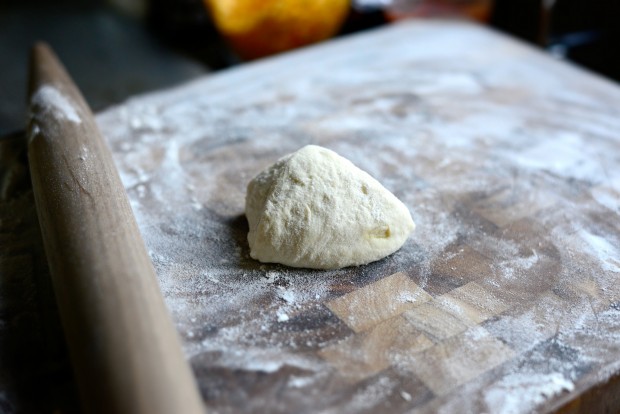 Working with the first dough ball…
Roll out into a thin pizza round. Traditionally fiestadas are hexagonal shaped. But I don't have that technique down yet nor the patience.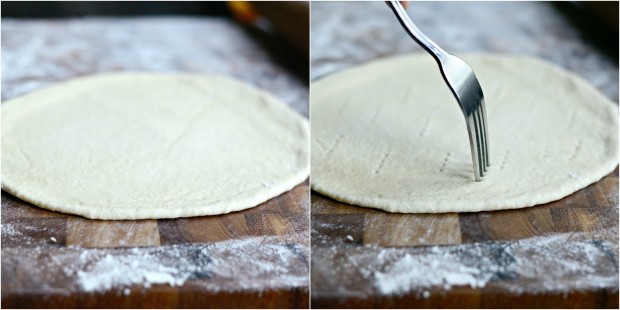 I then prick it with a fork to minimize air bubbles while it bakes. But this is totally optional.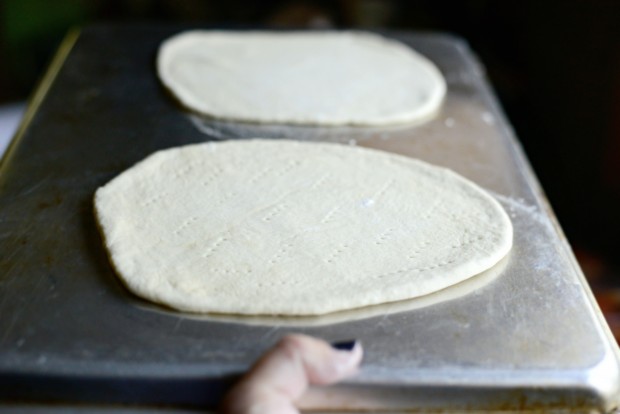 I actually forgot to do it on a batch and it was fine, some bubbles but in the end it all tastes the same.
Smear with a few spoonfuls of the sauce, spreading it to the edges.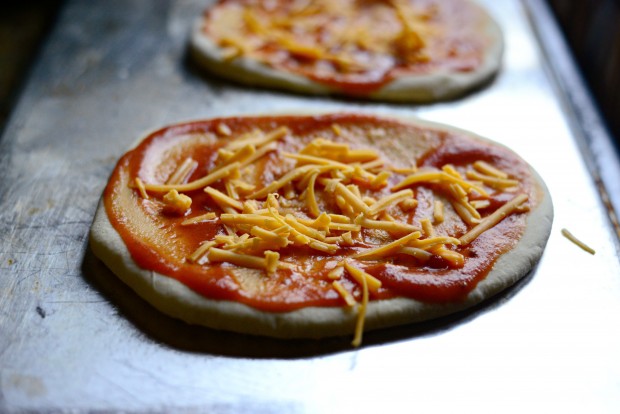 Top with a little cheese…
… a little taco meat…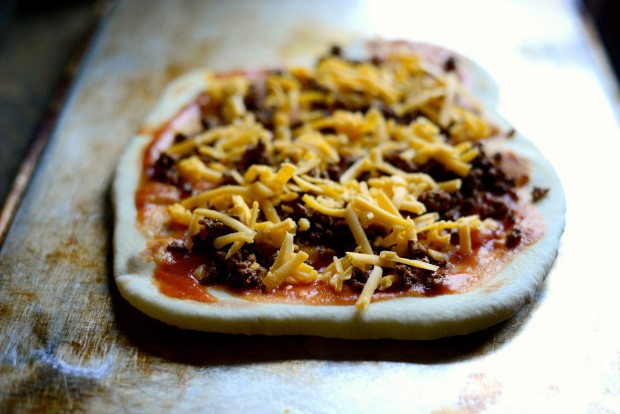 … more cheese and then bake for around 10 minutes.
I'll admit, it doesn't really look like much but OH MUH LORD it's good.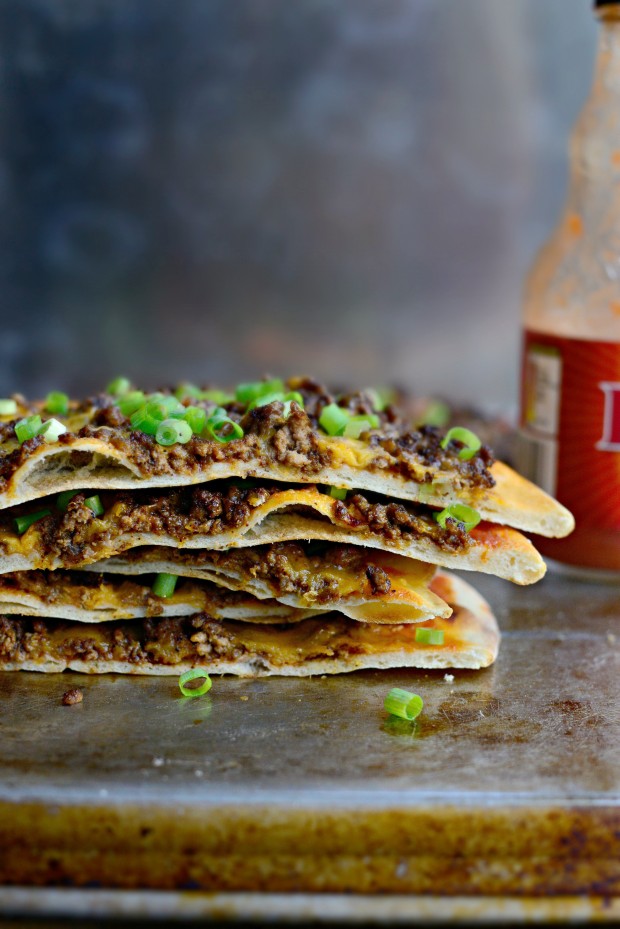 In high school they served this as is, but a sprinkle of green onion, a dash or seven of Frank's Red Hot and it's a done deal and with one bite it takes me back to high school, wearing my dad's baggy jeans (whyyyy?), cropped tee and a flannel. Oh boy.
Enjoy!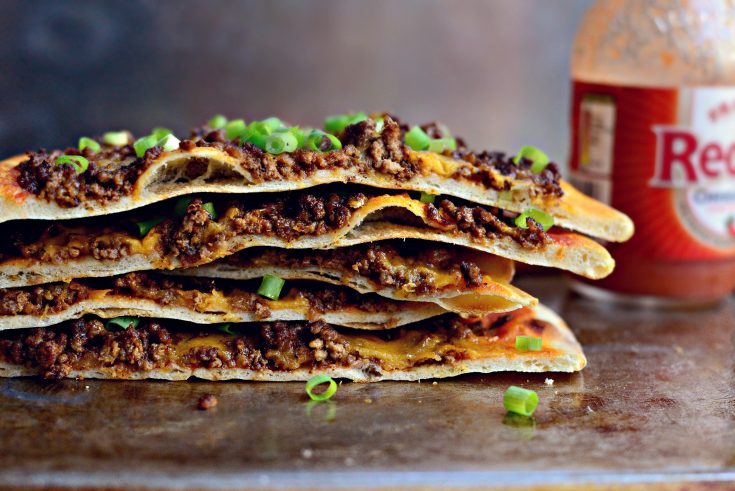 Yield: 6 to 8 fiestadas
Fiestadas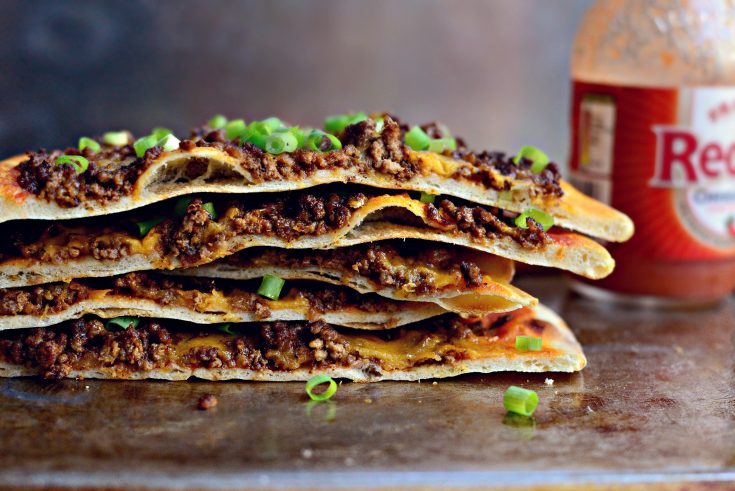 A from scratch version of a high school lunch favorite.
Additional Time
20 minutes
Ingredients
1 (8 ounce) cup tomato sauce
1/4 teaspoon sugar
1/2 teaspoon cumin
1/4 teaspoon ground coriander
a pinch of salt
1 tablespoon of melted butter
1-1/2 pounds ground beef
1 recipe taco seasoning
2 cups shredded cheddar cheese
1 recipe for pizza dough
Instructions
Combine the tomato sauce, sugar, cumin, coriander, salt and butter in a small dish and set off to the side.
Cook the ground beef in a large skillet over medium heat until fully cooked, then use a spoon to remove the fat from the pan.
Add the taco seasoning, stir until mixed throughout and break the meat up into small crumbles before removing the pan off of the heat.
Once the pizza dough has risen, use your hand too punch it down. On a lightly floured surface, form the dough into a ball, divide in half and then each half into 3 to 4 smaller pieces, for 6 to 8 fiestadas.
Invert a metal baking sheet upside down and lightly oil.
Roll two pieces of dough out until thin, transfer onto the greased baking sheet and prick with a fork. Spread a few spoonfuls of the sauce (spreading it all the way to the edges), sprinkle with a little cheese, top with a few spoonfuls of the taco meat, more cheese and then bake for 10 minutes or until the cheese is melted and bubbly and the crust is golden.
Top with green onions or shredded lettuce, chopped tomato, black olives, sour cream and hot sauce. Or eat as is! These are delicious either way.