In this spinach Parmesan acorn squash recipe, acorn squash is twice baked and filled with smoked paprika, spinach and grated Parmesan cheese!
This Thursday, I am hosting my very first Thanksgiving.
My in-laws are having their kitchen remodeled and after 20 years of going to their house on Thanksgiving Day, we are having my husbands side over to our home for turkey dinner. I'm not nervous about it or anything, I just never really roasted a turkey before but whatevs?! Okay, so once- a long, long time ago I did, but it was small and I barely remember it. However I've roasted a whole chicken so how hard can it be right? My mother-in-law is still in charge of the gravy, which is probably a good thing since everyone loves her gravy, but I'm making everything else because I'm an overachiever like that.
These will not be gracing our Thanksgiving table, because I'm pretty sure the guys in our family wouldn't go for it. BUT I honestly could make a meal out of these. In fact I did last week when I made them. I had two. But if you have acorn squash lovers in your house then this is the recipe for you! It can even be prepped the day before and then baked the next day. Win-win.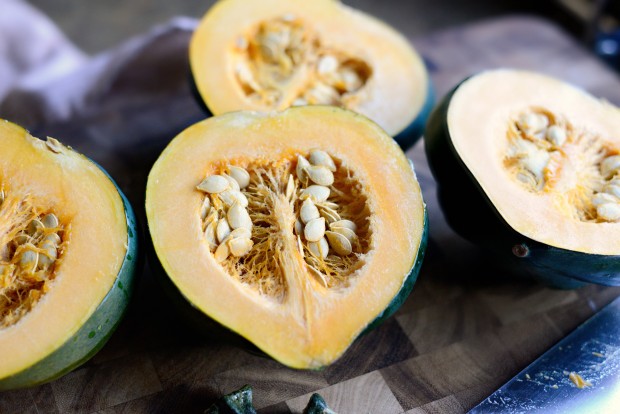 With a sharp chefs knife, halve 2 small acorn squash from root to tip.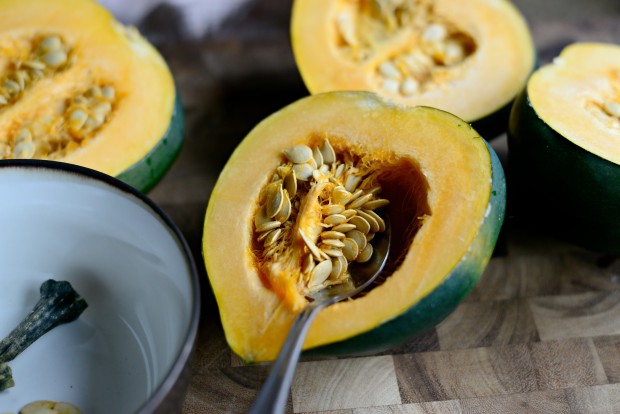 Use a spoon to scrape out the seeds and fibers and discard.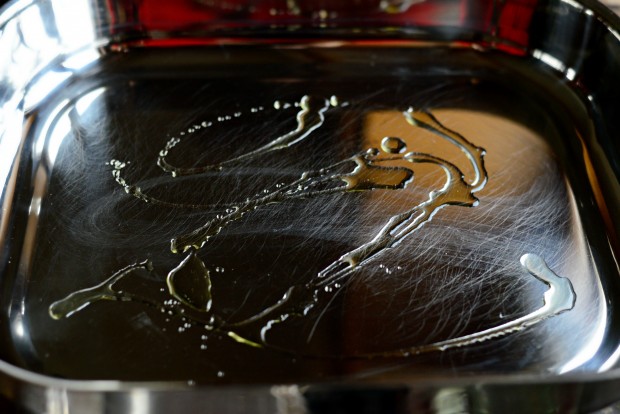 Drizzle a medium roasting pan with olive oil and use your fingers to spread it around.
Place the halved squash, cut-side down into the roasting pan and slide on to the middle rack of your preheated 350° oven.
Bake for 50 to 60 minutes or until fork tender. Allow to cool until safe to handle, then
… invert them and transfer to a platter to cool a bit.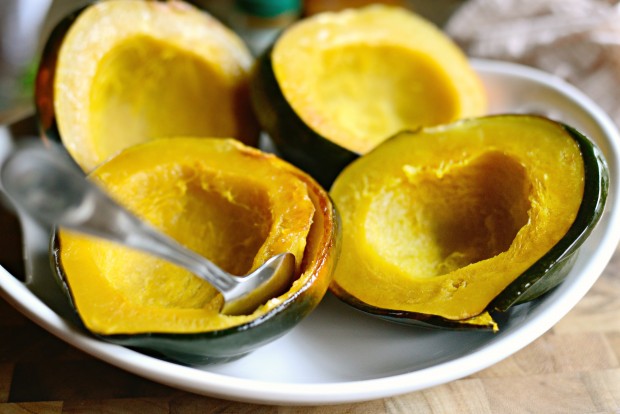 Use a spoon to scrape as much of the flesh out of each squash half.
Be careful not to tear the skin.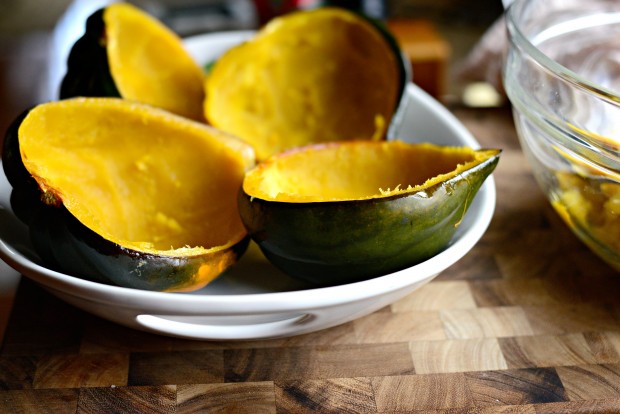 I want to point out that because of we discard the seeds, it leaves a little more room to add in fun mix-ins. So I'm obviously adding spinach and Paremsan, but crispy bacon or pancetta would be SO good too.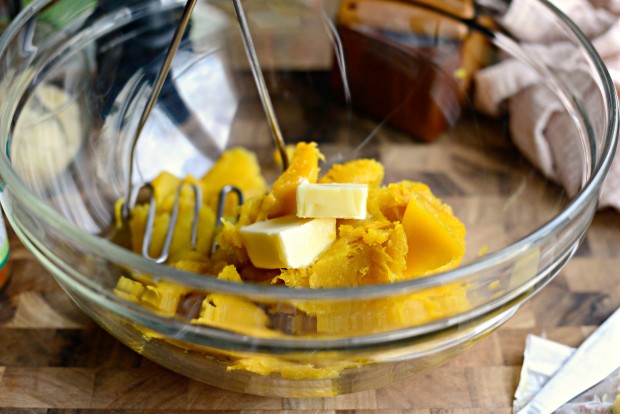 To the squash flesh, add 2 tablespoons of butter and give it a quick mash to incorporate the butter.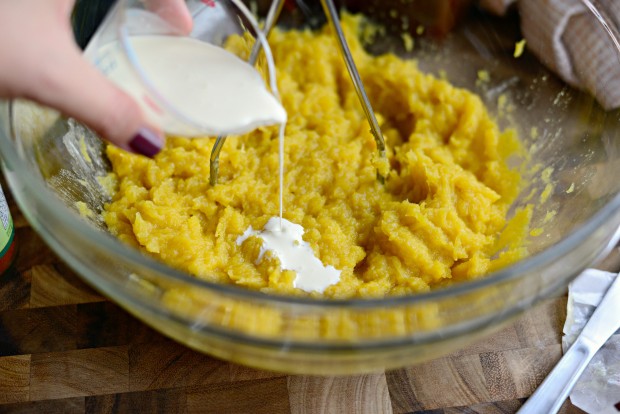 Pour in 2 tablespoons heavy cream…
…1/4 cup freshly grated or crumbled Parmesan cheese, 3/4 teaspoon smoked paprika, 1/2 teaspoon kosher salt and 1/4 teaspoon freshly ground black pepper.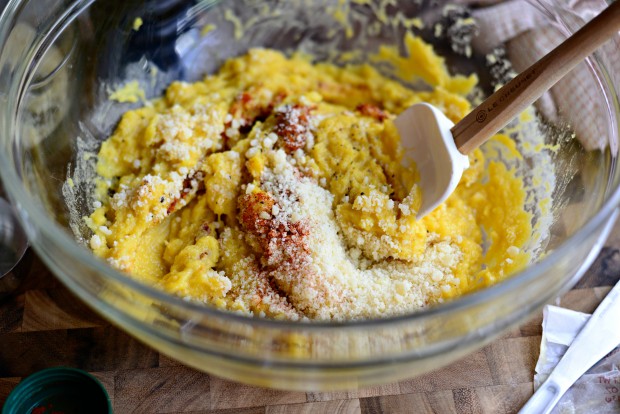 Stir to combine.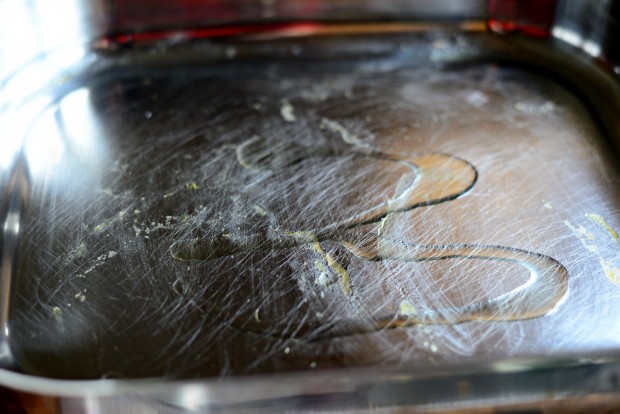 I wipe out any liquids leftover from roasting with a towel and drizzle a little bit more olive oil into the pan so the skins do not stick during their second baking.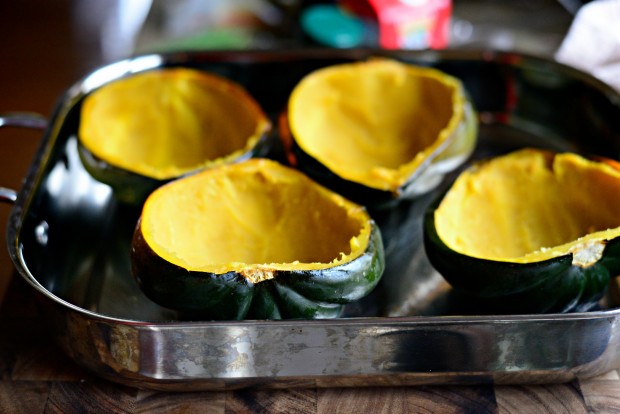 Place the skins, cut-side up in the roasting pan [affiliate] and set off to the side.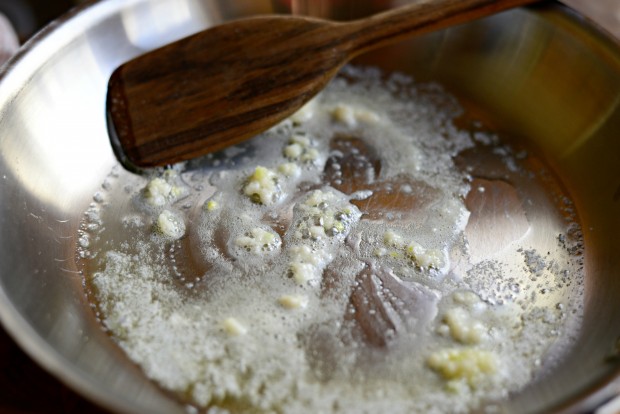 Melt a tablespoon of butter in a 10-inch skillet, add 1 clove of finely minced garlic and cook for 1 minute. (I squeezed mine through my garlic press.)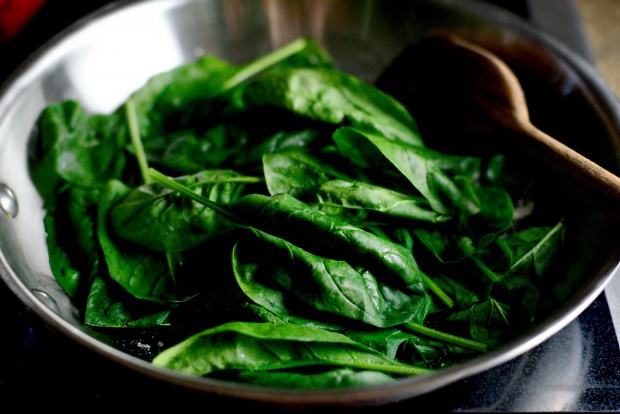 Add two loose cups of (washed and dried) spinach leaves. I did not chop mine, but you can if you choose!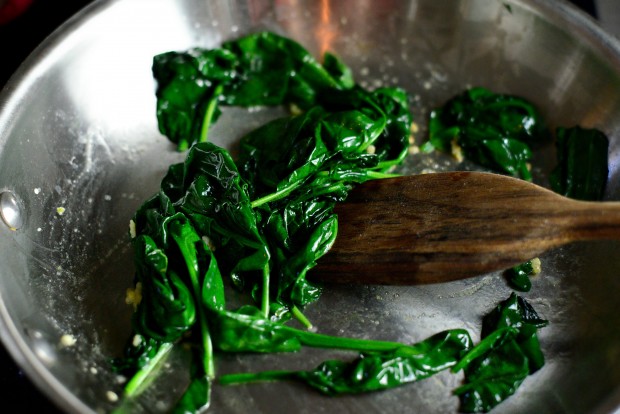 Cook, stirring often for 3 to 4 minutes or until tender and wilted.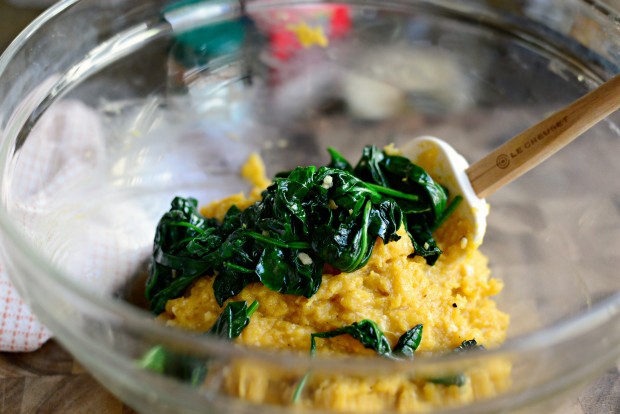 Add the spinach…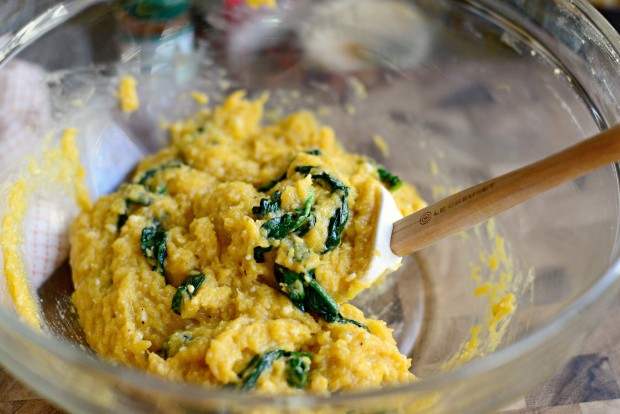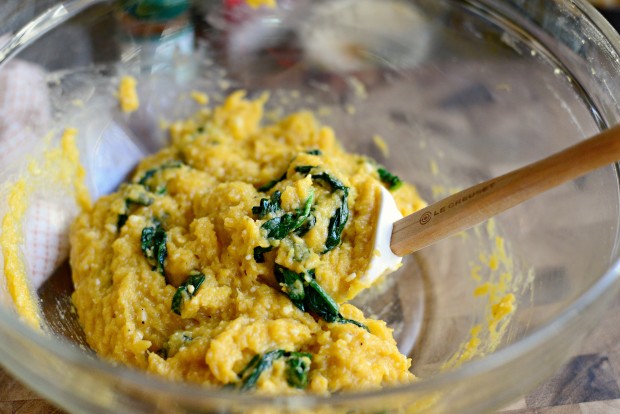 …and stir it into the squash.
Divide the filling among the four squash skins and sprinkle with a teaspoon or more of Parmesan.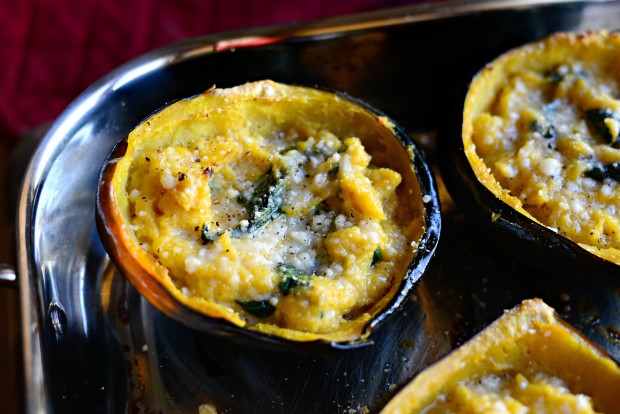 Bake in the over (at 350 degrees) for 30 minutes. Or until cheese has melted and squash filling is warmed throughout. I like to add more black pepper over mine.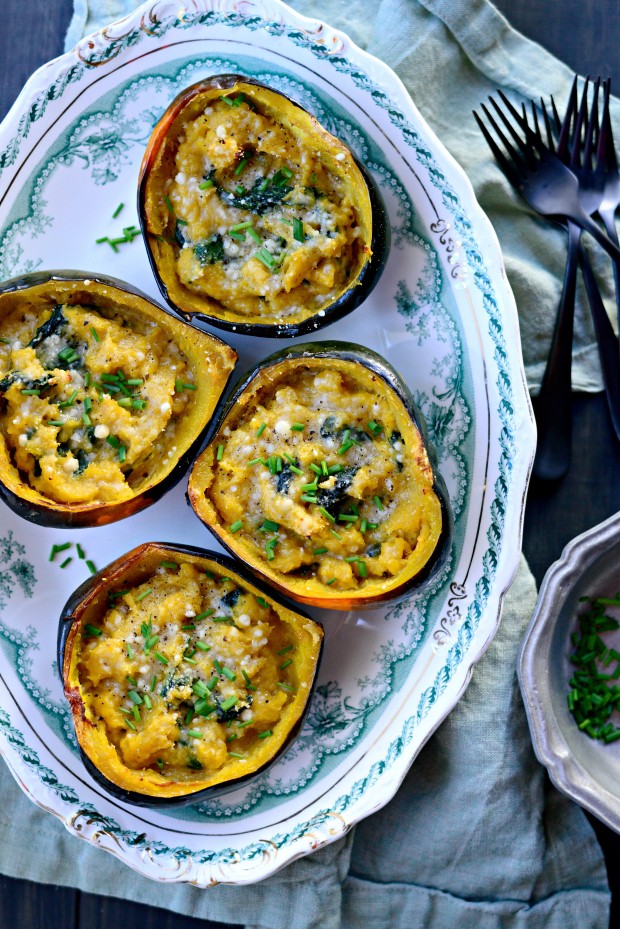 And because I had chives on hand, I snipped some and sprinkled it over top. Green onions would work, parsley too!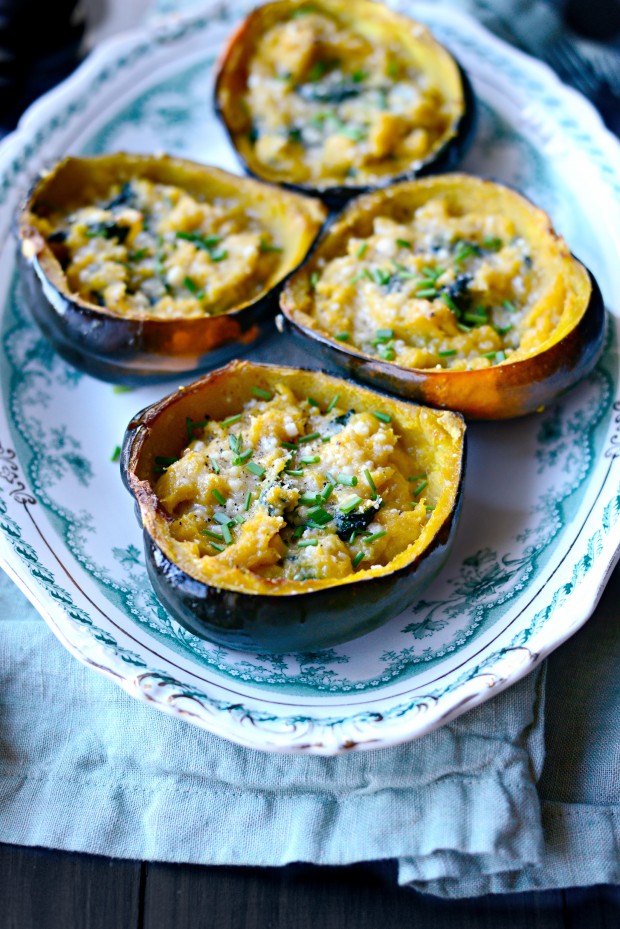 I'm a huge fan of smoked paprika in pureed sweet potatoes and squash. It's a subtle smokiness that is absolutely mouthwatering. The spinach helps big time to bulk up the mash, but next time I'm totally adding pancetta or bacon or both.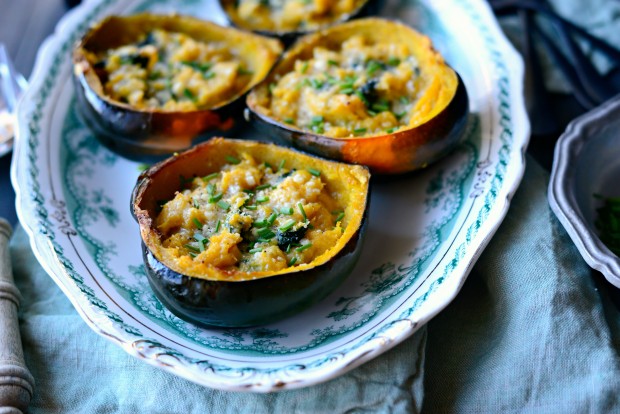 And of course there's the Parm.
Enjoy and Happy Thanksgiving!
Enjoy! And if you give this spinach parmesan acorn squash recipe a try, let me know! Snap a photo and tag me on twitter or instagram!
Yield: 4 servings
Twice Baked Spinach and Parmesan Acorn Squash
Acorn squash is roasted and mashed with butter, cream, Parmesan, smoked paprika and spinach in a warm and comforting side dish. Can be prepped up the day before and baked the next day.
Ingredients
2 small acorn squash
olive oil
3 tablespoons butter, divided
2 cups spinach leaves, loosely packed (not baby spinach
1 clove garlic
2 tablespoons heavy cream
1/2 cup freshly grated Parmesan cheese, divided
1/2 teaspoon kosher salt
1/4 teaspoon freshly ground black pepper
3/4 teaspoon smoked paprika
Instructions
Preheat your oven to 350 degrees and lightly oil a small roasting pan.

Cut the squash in half from root to tip. Use a spoon to scrape out the seeds. Place the squash halves, cut-side down into the greased pan. Roast on the middle rack of your oven for 50-60 minutes or until fork tender. Once roasted, allow to cool slightly until safe to handle.

While the squash is roasting, melt 1 tablespoon of butter in a 10-inch skillet over medium to medium-low heat. Squeeze the clove of garlic through a garlic press and into the pan. Stir and cook 1 minutes before adding the spinach. Cook for a few minutes, stirring often until wilted. Set off to the side.

Scrape the flesh of the squash into a large bowl. Add the butter and heavy cream and mash until smooth. Use a spatula to stir in 1/4 cup of the Parmesan, salt, pepper, paprika and cooked spinach. Divide and fill each squash with the filling and sprinkle with remaining cheese.

Slide back into the oven to bake for 25 to 30 minutes more until hot, cheese is melted and slightly browned.
Serving: 1g, Calories: 179kcal, Carbohydrates: 25g, Protein: 8g, Fat: 7g, Saturated Fat: 4g, Polyunsaturated Fat: 1g, Monounsaturated Fat: 2g, Cholesterol: 23mg, Sodium: 515mg, Potassium: 881mg, Fiber: 4g, Sugar: 1g, Vitamin A: 2620IU, Vitamin C: 28mg, Calcium: 245mg, Iron: 2mg
This post may contain affiliate links.
Buy the Cookbook: Simply Scratch : 120 Wholesome Homemade Recipes Made Easy Now available on Amazon »
THANK YOU in advance for your support!