Turkey Slop is shredded turkey in a homemade pan gravy ladled over creamy mashed potatoes. A lunchroom favorite turned into a cozy comfort food. This is a delicious way to use leftover Thanksgiving turkey!
If you went to junior or high school where I did you are keenly aware of what turkey slop is.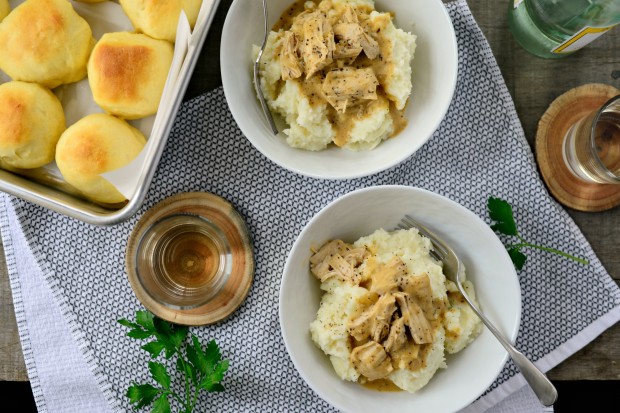 It was this freakishly delicious lunch item on our schools cafeteria menu. It was the BEST… next to beef sticks, tostadas and French toast sticks. Essentially it's shredded turkey in a savory gravy over mashed potatoes and was my husband's FAVORITE hot lunch at school. On those days Pat would get triple lunch (yes, that's a thing) where he would get 3 serving of turkey slop, taking up 95% of his styrofoam lunch tray.
Being the good wife I am (toot-toot!) I've tried over the decade plus some years we've been out of high school to make him turkey slop at home. Back-in-the-day I used cream of chicken soup (GROSS!) and then as the years went on and I discovered how to make a lusciously creamy pan gravy by using butter and flour and broth and milk and even though it's not an exact replica of our cafeteria fave but it's a fancy-not-so-fancy version. And we love it.
I admit that it doesn't look like much but it's a scrumptious way to use up leftover turkey and if you have gravy go ahead and just use that, but in my family there is never leftover gravy… at least not enough to serve a family of four the next day. So making my own out of butter, onions and turkey stock is the way to go.
Shredded turkey gravy over creamy mashed potatoes with homemade dinner rolls to swipe the bowl clean with is the coziest, comfort food in all the world.
Obviously I made this before Thanksgiving and didn't have any leftover turkey… but the good thing is that you can make this anytime of the year, by using turkey breasts or tenderloins and just poach, grill or pan cook them and simply shred it up. Although leftovers from Thanksgiving are best. You'll need about 4 cups.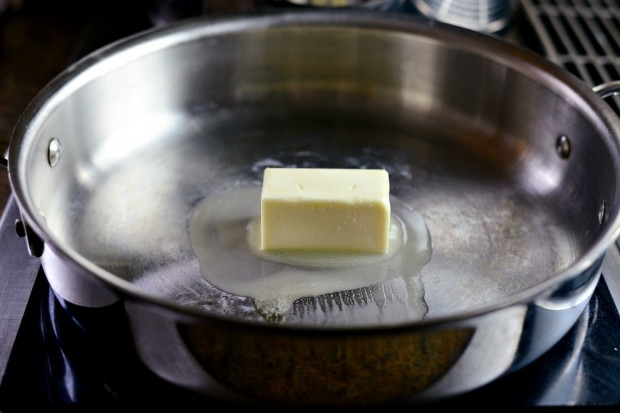 Start by melting 4 tablespoons of unsalted butter in a 10-inch skillet over medium-low heat.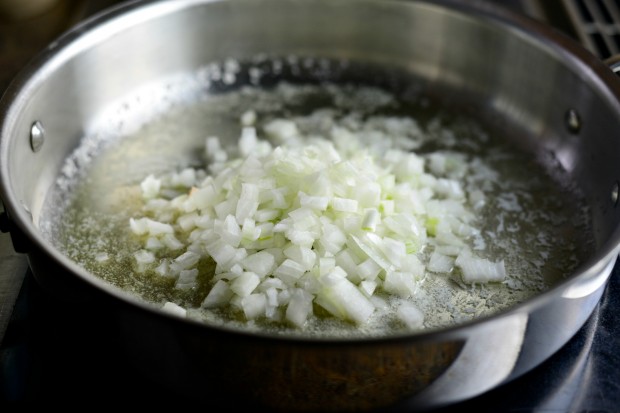 Once melted and the pan is heated, throw in a cup or so of finely diced yellow onion.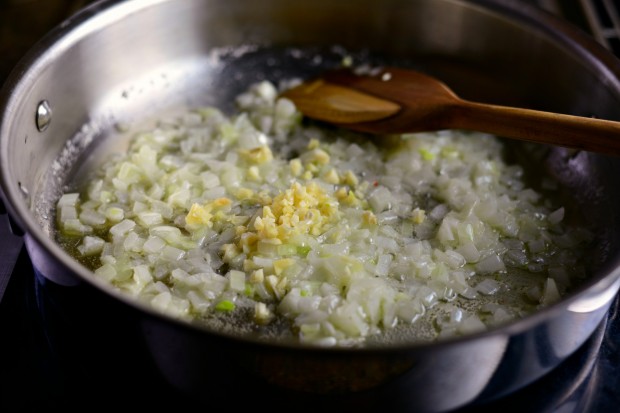 After about 8 to 10 minutes the onions should be tender, go on and add in 2 cloves minced fresh garlic and cook for 1 to 2 minutes.
Add in 1-1/2 teaspoons of a good quality poultry seasoning. You can find my homemade version in my cookbook [affiliate]!
Saute for about 2 minutes to soften the herbs and bring out their delicious herbness.
Sprinkle in 2 tablespoons of flour…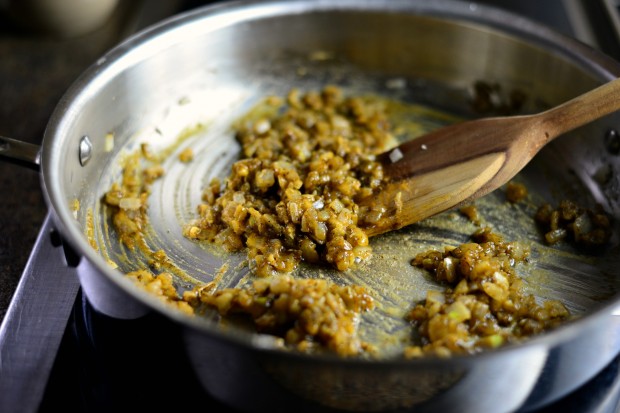 …stir and cook the flour for 2 minutes.
Pour in 2 cups of turkey stock (or both).
…and one cup whole milk.
Bring to a bubble and simmer until thickened.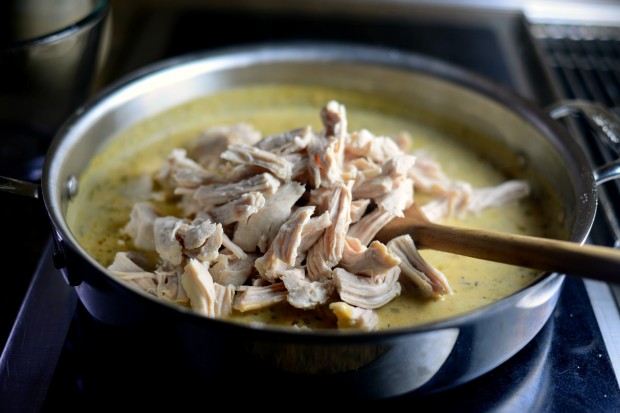 Add in the leftover turkey…
Season with salt and black pepper to taste. Annnnnnnd that tis it!
Spoon the turkey and gravy over top of creamy mashed potatoes…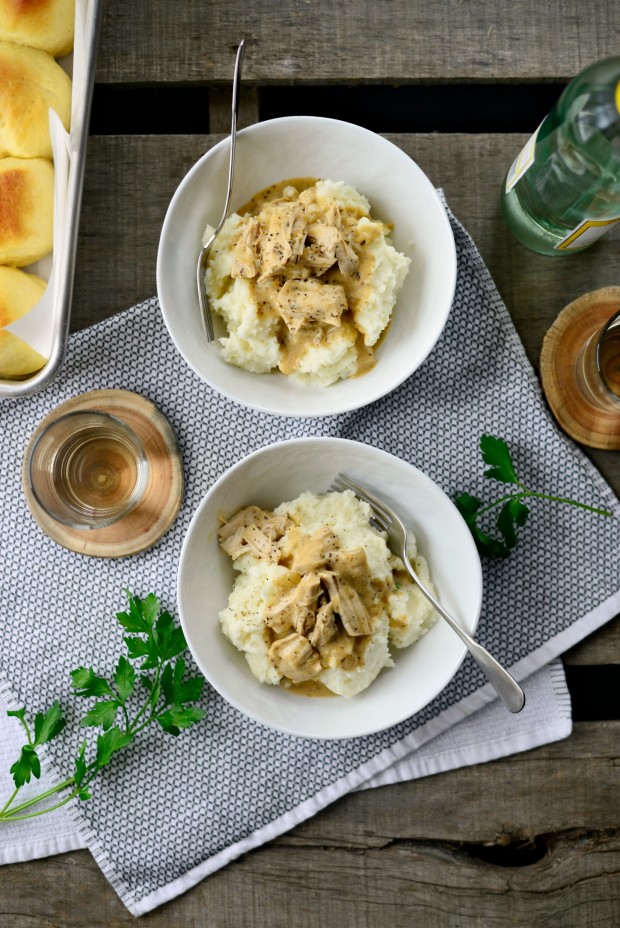 Serve with buttery corn, leftover green bean casserole and homemade dinner rolls. Lots of them.
Happy Day After Thanksgiving!
Enjoy!
And if you give this Turkey Slop recipe a try, let me know! Snap a photo and tag me on

twitter

or

instagram!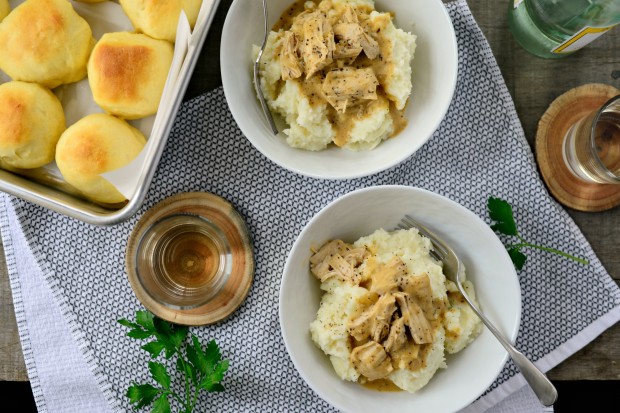 My cookbook Simply Scratch : 120 Wholesome Homemade Recipes Made Easy is now available!

CLICK HERE fo

r details and THANK YOU in advance!
Turkey Slop
Shredded turkey in a homemade pan gravy ladled over creamy mashed potatoes. A delicious way to use leftover Thanksgiving turkey!
Yield: 4 to 6 servings
Prep Time: 10 minutes
Cook Time: 20 minutes
Total Time: 30 minutes
Ingredients:
4 tablespoons unsalted butter
1 cup finely diced yellow onion
2 cloves fresh garlic, minced
1-1/2 teaspoons good quality poultry season
2 tablespoons all-purpose flour
2 cups turkey stock (or broth)
1 cup whole milk
4 cups leftover shredded turkey
kosher salt and black pepper
Leftover Creamy Mashed Potatoes
Directions:
Melt butter in a 10-inch deep sided skillet over medium low. Once melted add in onions and saute until softened, about 10 minutes. Add in garlic and cook 2 minutes.
Next add in the seasoning and cook for another 2 minutes. Sprinkle in flour and cook for a minute or two before pouring in the turkey stock and whole milk. Bring to a bubble over medium heat until thickened.
Add in turkey, season with salt and pepper to taste and spoon over warm, creamy mashed potatoes.
[this post contains affiliate links.]