Grilled green beans are totally a thing.
They're like the new French Fry. Okay so not quite, buy almost. Can we pretend?
I've been getting a lot of use out of my steamer basket lately. Grilled zucchini, summer squash and asparagus are the usual suspects, but last week I grilled some beans.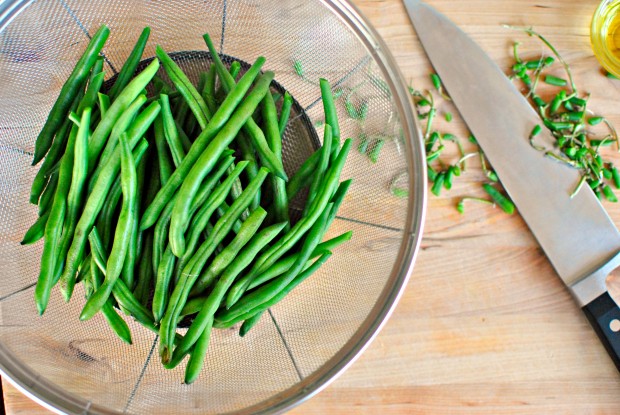 I've always loved fresh green beans. I can eat them uncooked, plain Jane… not a problem. But these grilled beans are so easy and delicious I just had to share. Three ingredients and a grill, baby.
Now scroll on down and feast your eyes on some green.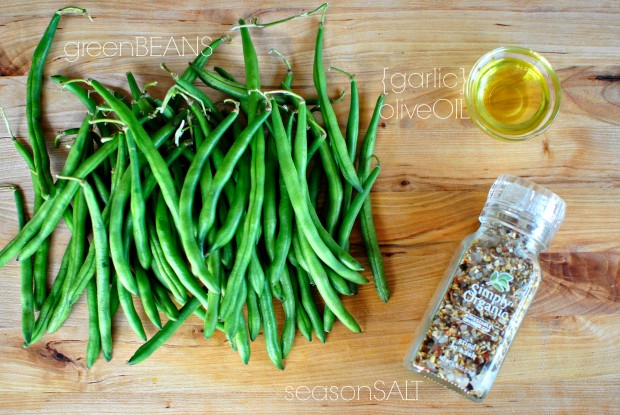 Three ingredients are all you'll need. Beans, olive oil and a good season salt. Aren't these some pretty beans? And Pat wonders why I spend 15 minutes hand selecting each and every one. Seriously 15 minutes!
First, I preheated my grill and grill basket [affiliate] to the hottest it can go before I prepped the beans.
Next, trim and rinse under cold water.
Then towel dry those beans.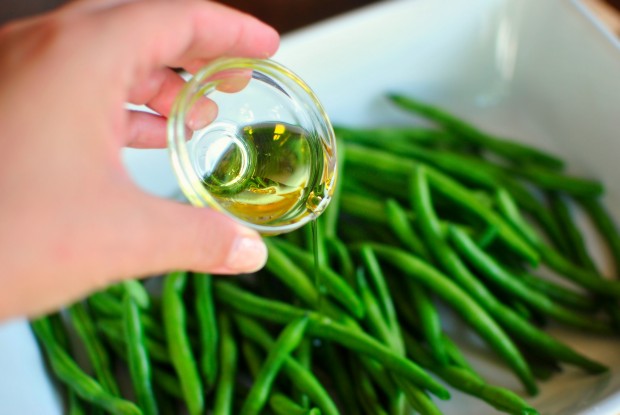 Next, throw the beans into a shallow bowl and drizzle with a tablespoon of olive oil. I'm using garlic because garlic makes everything better. Except maybe cupcakes. And date nights.
Then sprinkle with a good amount of that season salt and then toss those babies all around until coated.
Lastly, throw them directly into the hot grill basket and reduce the temp down to medium/ medium-high. Then close the lid for a few, but don't stray too far because these will brown and cook quickly. Toss them around every few minutes until the bean-skin forms a delicious char.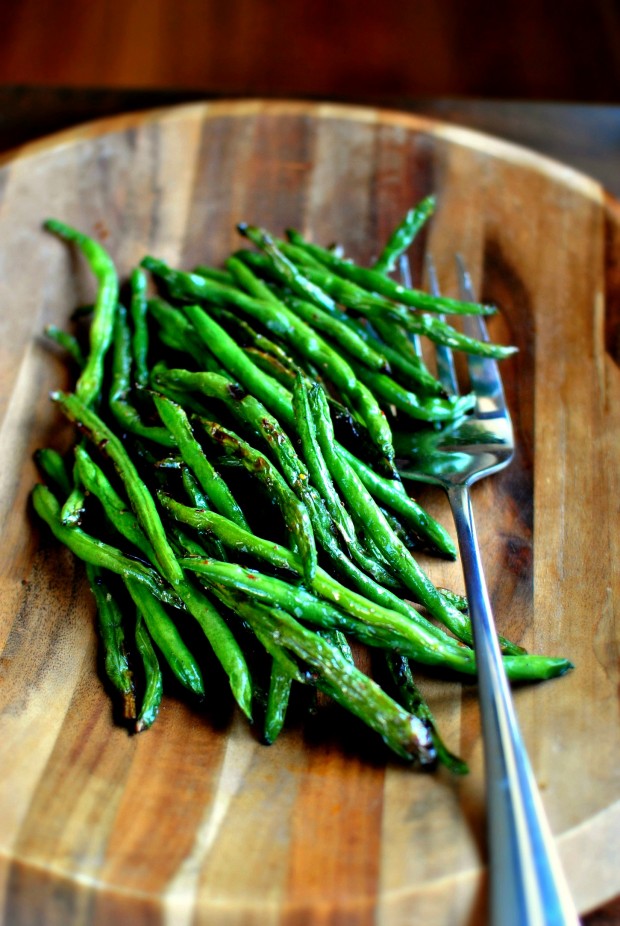 So simple!
The moment I was done shooting 75 million pictures of these beans grilling these here beans, my oldest daughter and I sat down and chowed down, like these were the last green beans on earth.
Sometimes it's the simple recipes in life that can be the most delicious.
Enjoy! And if you give this Grilled Green Beans recipe a try, let me know! Snap a photo and tag me on twitter or instagram!

My cookbook Simply Scratch : 120 Wholesome Homemade Recipes Made Easy is now available! CLICK HERE for details and THANK YOU in advance!
Yield: 4-6 servings
Grilled Fresh Green Beans
Beans seasoned and grilled to perfection. A simple summer side dish!

Prep Time 5 minutes

Cook Time 12 minutes

Additional Time 3 minutes

Total Time 20 minutes
Ingredients
1 pound green beans, trimmed
1 tablespoon olive oil (garlic infused is great too!)
a few grinds of a good quality seasoning salt (like all-purpose, garlic and herb etc.)
a grilling basket (if grilling outdoors)
Instructions
Preheat the grill basket and grill on the hottest setting.
Trim off the stem-end on the green beans. Place them in a colander, rinse under cold water and then pat dry.
Toss the trimmed green beans in a tablespoon of olive oil and the seasoning salt.
Place the green beans into the hot grill basket and immediately reduce the temperature to medium/medium-high heat.
Close the lid, but keep a watchful eye on them and toss them every couple of minutes until the skin starts to blister and char. Remove and serve immediately.
Nutrition Information:
Yield:
6
Serving Size:
1

Amount Per Serving:

Calories: 48 Total Fat: 2g Saturated Fat: 0g Trans Fat: 0g Unsaturated Fat: 2g Cholesterol: 0mg Sodium: 65mg Carbohydrates: 6g Fiber: 3g Sugar: 3g Protein: 2g

Nutrition information may not always be accurate.

[this post contains affiliate links.]