Wanting to make The Best Homemade Chocolate Brownies? Look no further than these decadent frosted brownies. Simple ingredients and the perfect brownie to frosting ratio, plus sprinkles. What more could you ask for?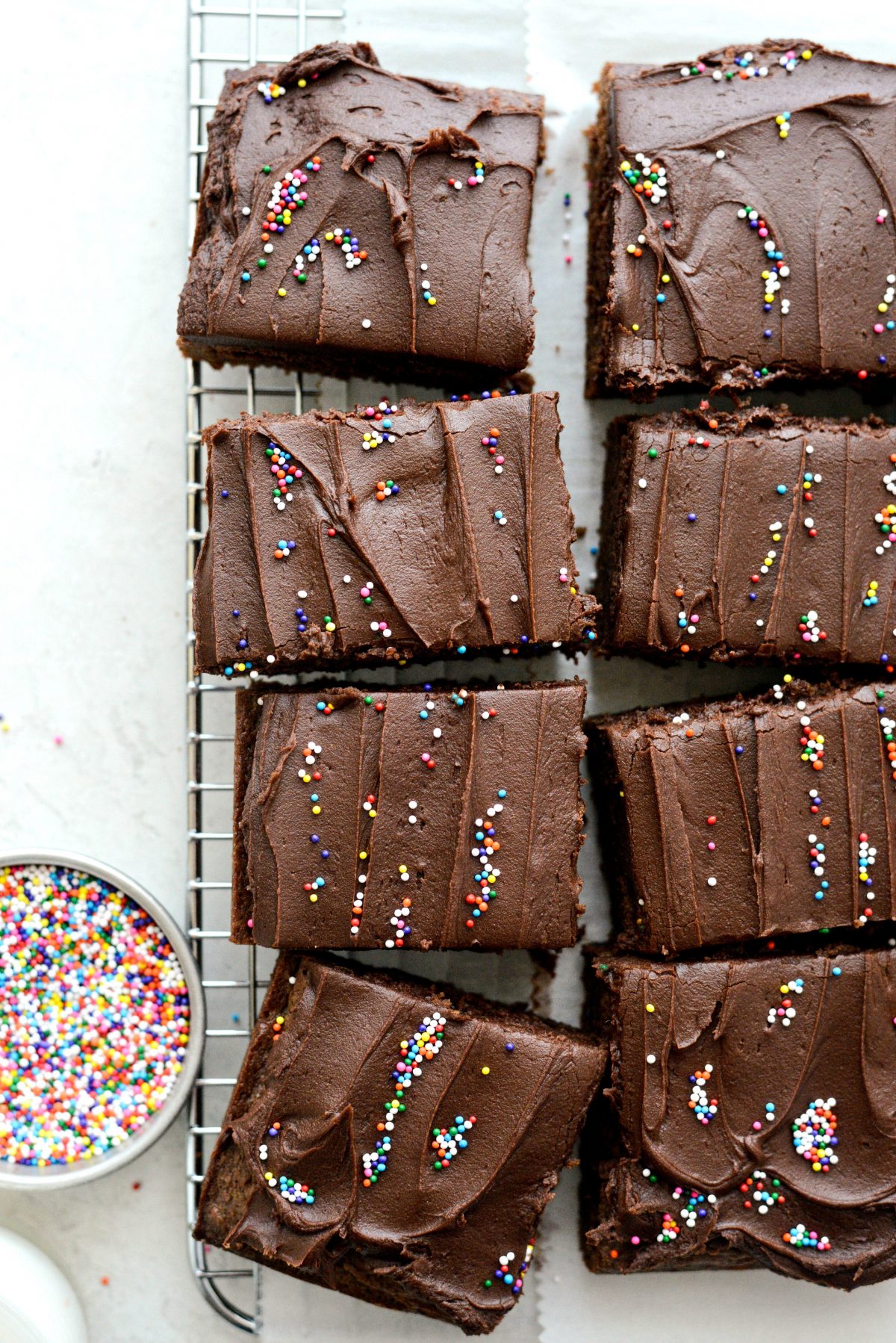 Meet the BEST homemade chocolate brownies. I call them "The Best" because, I'm super picky about brownies. And if I'm being honest, I'm simply not a brownie fanatic. Brownies tend to be either overly sweet or too rich and it's just not the dessert I crave. But if I do make homemade brownies, this is my go-to recipe, along with the recipe from my cookbook. It's simple, straightforward and yields ridiculously delicious brownies.
This brownie was adapted from a recipe that a former coworker gave to me. Back when I worked in the ER, Jan (a pediatric nurse) would bring in the most fantastic frosted brownies from time to time. It felt like winning the lottery if I just so happened to be working the same night that she brought them in. And I loved how her brownies always had these little round sprinkles on top. Everyone and I mean everyone loved Jan's Brownies and to this day, I still do and so does my family. I originally posted a similar version of this recipe 9 years ago. In 2001 I really had no clue what I was doing with this blog, how to use camera or write a coherent recipe instructions.
The latter is still questionable.
Recently I decided to make them with updated fresh new photography and recipe instructions. And I remembered just how incredible they truly are. The only change I made to Jan's winner of a recipe was swapping in butter for shortening, because I never have or use shortening, even if it is organic. However unsalted butter is an excellent substitution. In fact, I think it lends a better flavor and helps with a more tender crumb texture. Then I topped the brownies with my FAVORITE homemade chocolate frosting recipe and of course, all the sprinkles.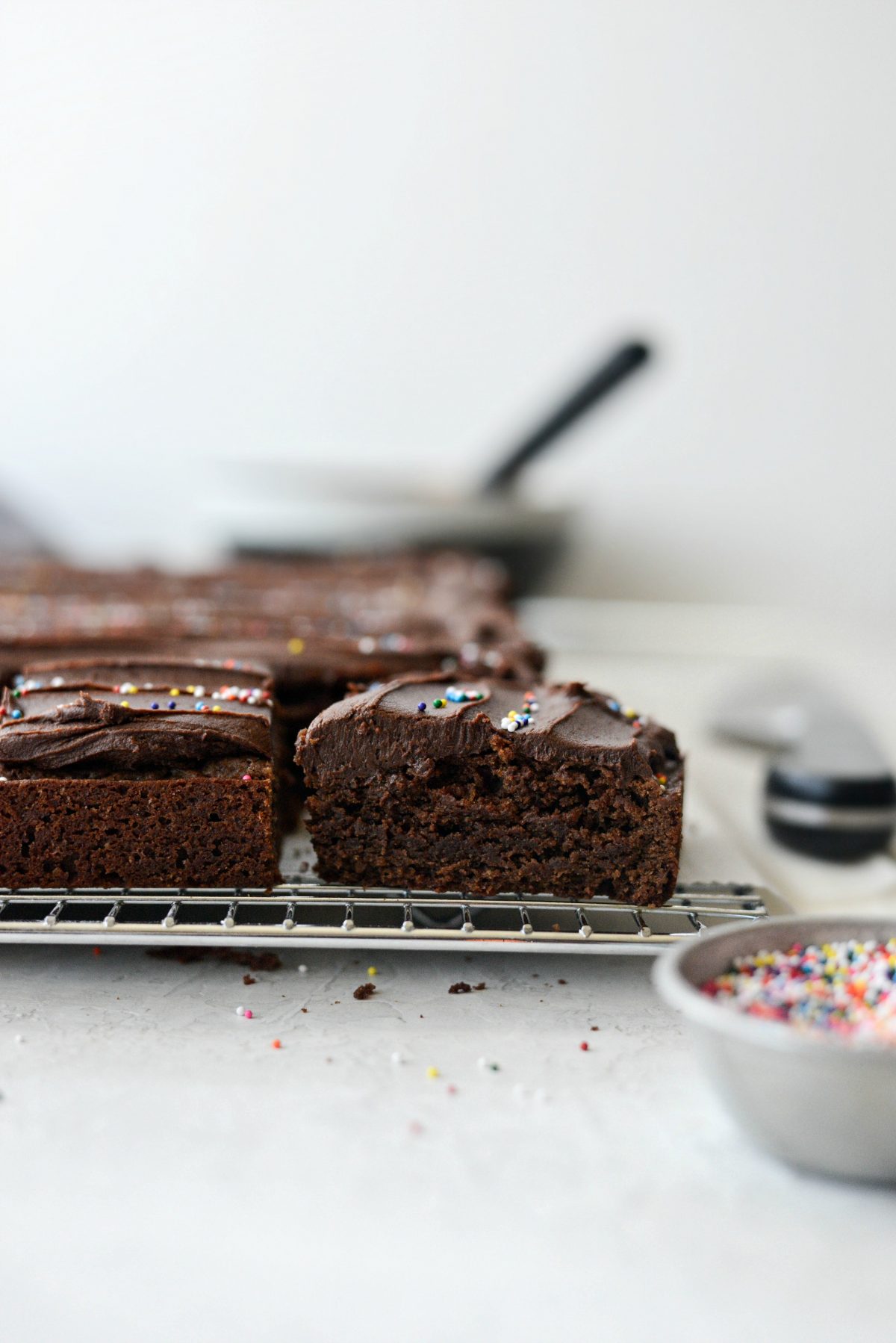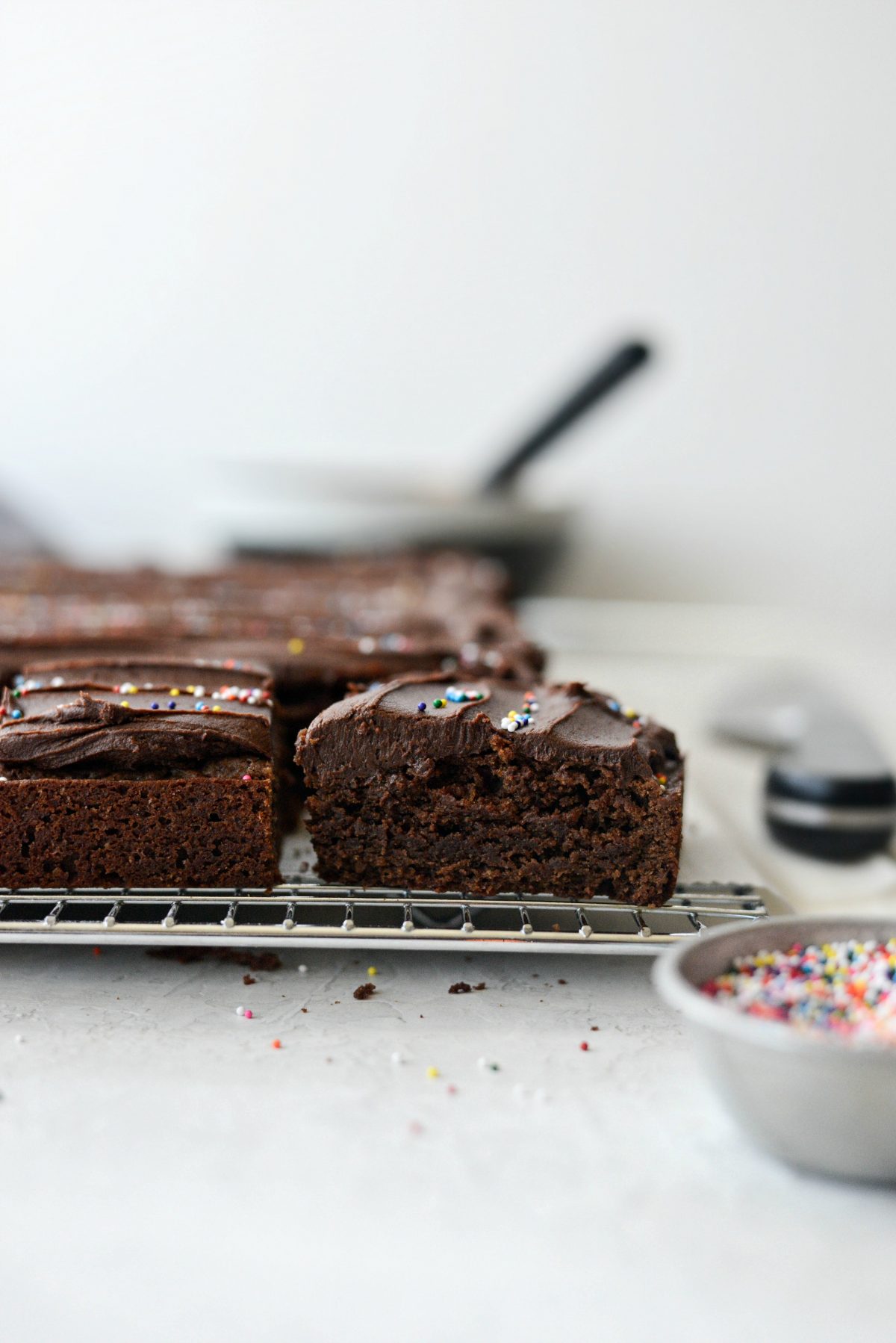 The end result is a moist, slightly fudgy and cake-y chocolate brownie. And a frosted brownie is the best kind of brownie. You won't want to share these. I promise.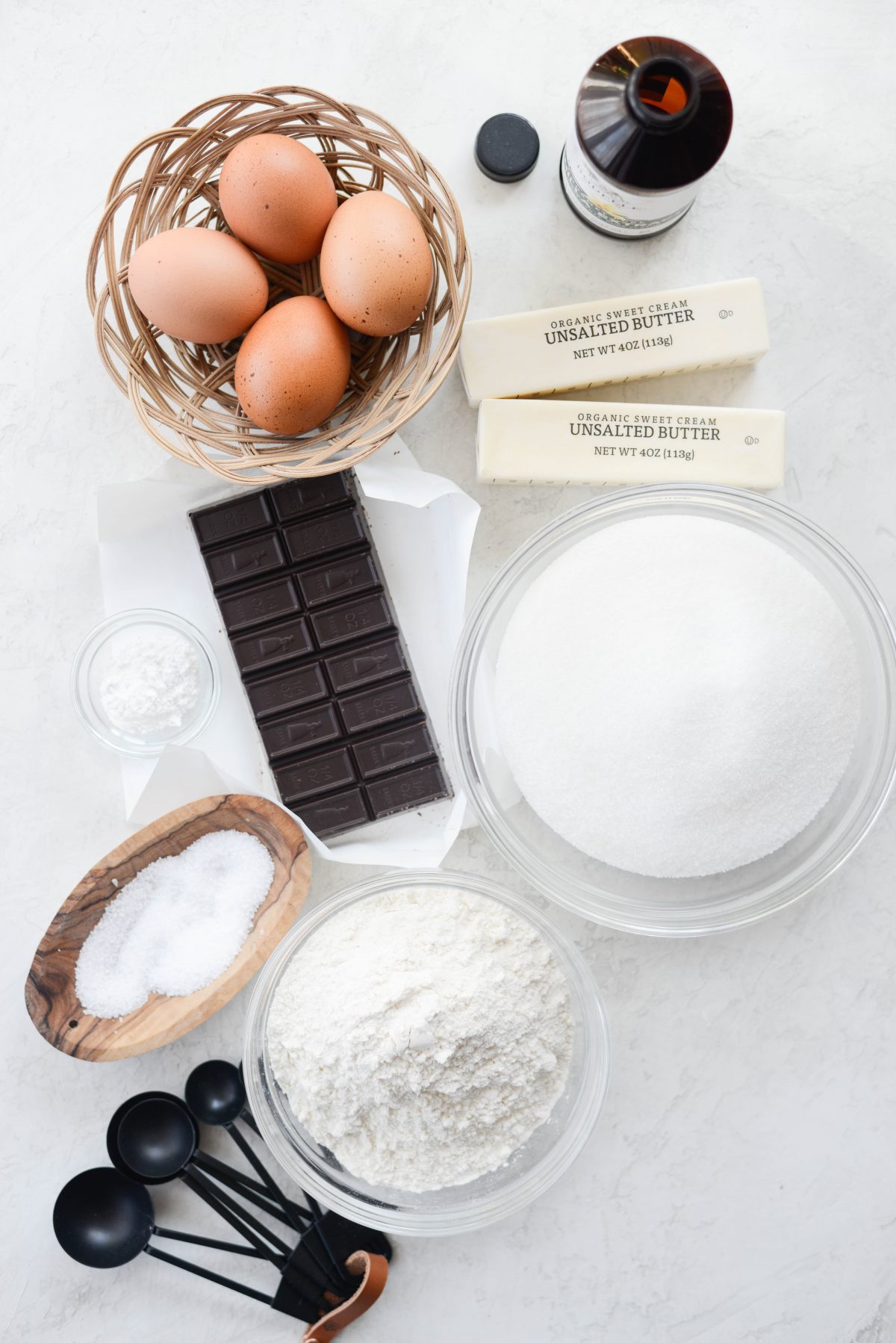 To make these Homemade Chocolate Brownies you will need:
1-1/2 cups unbleached all-purpose flour
1 teaspoon baking powder
1 teaspoon kosher salt
1 cup (2 sticks) unsalted butter
4 ounces unsweetened chocolate
2 cups granulated sugar
4 large eggs
2 teaspoons pure vanilla extract
I frosted these brownies with my homemade chocolate frosting.
In a mixing bowl, combine the flour, baking powder and salt. Set aside.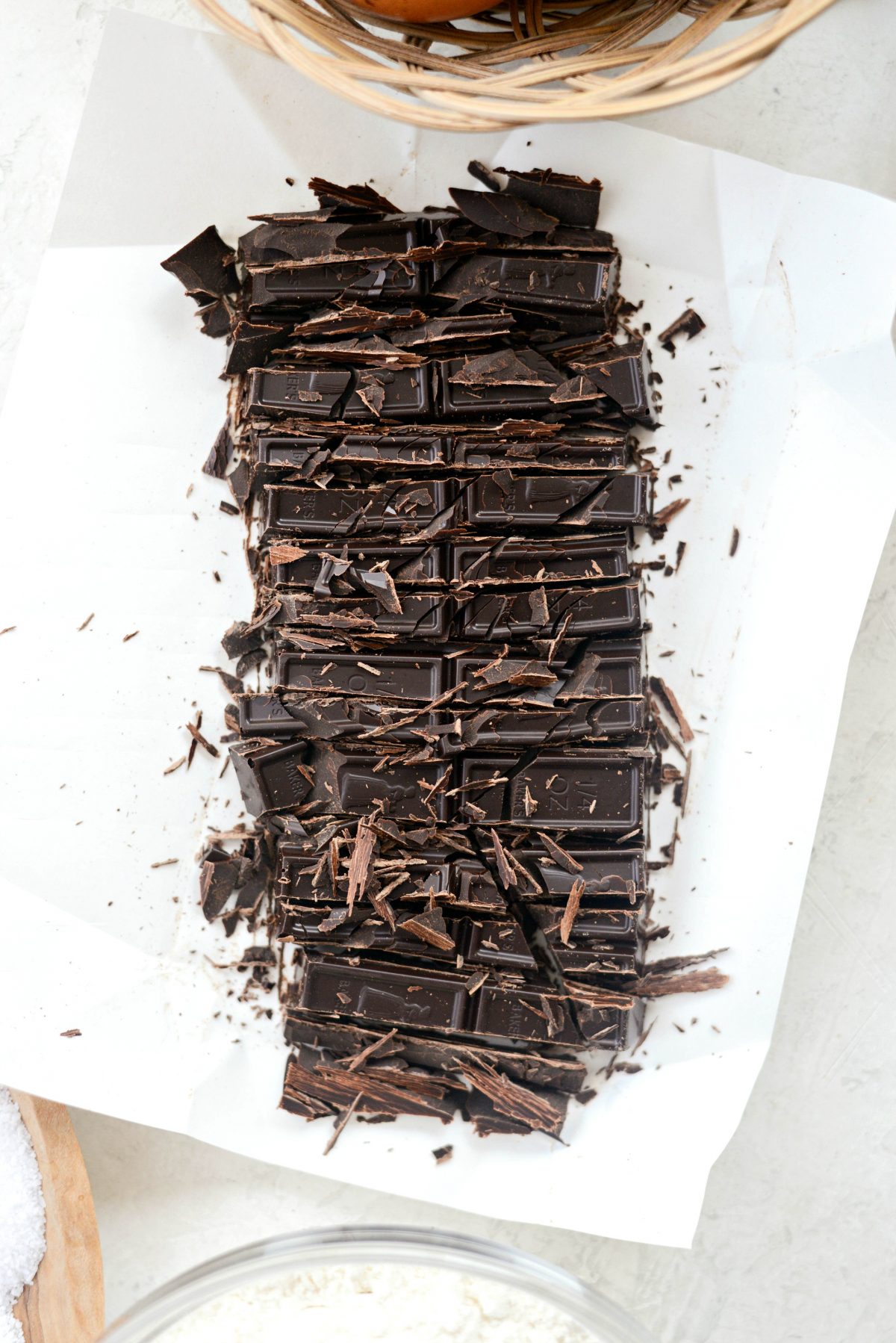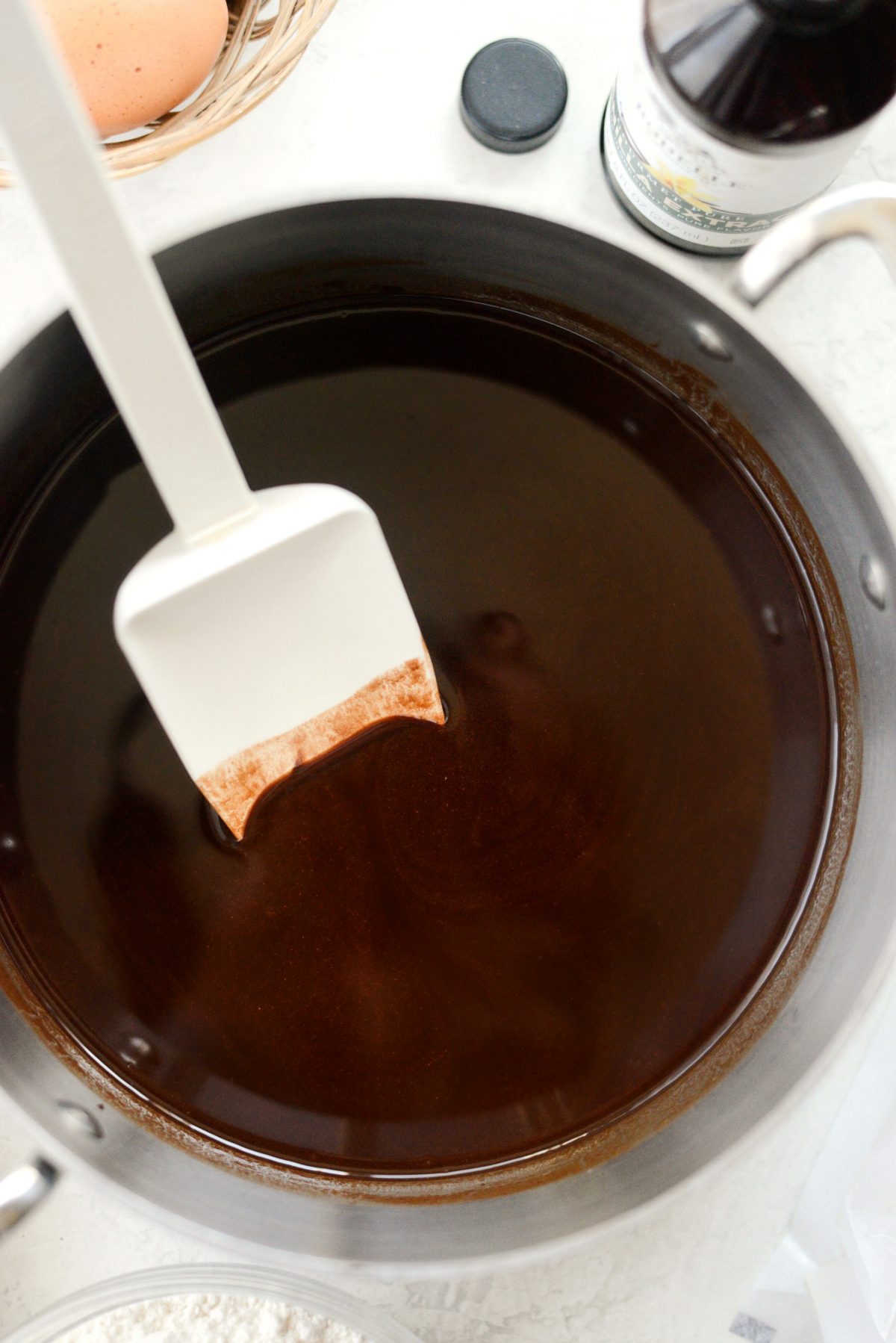 Next, roughly chop the 4 ounces of unsweetened chocolate. Then add it to a medium saucepan along with the butter. Heat on low, stirring occasionally until melted. Remove off of the heat to cool for a minute.
To this day, chocolate is my favorite thing to chop with a knife.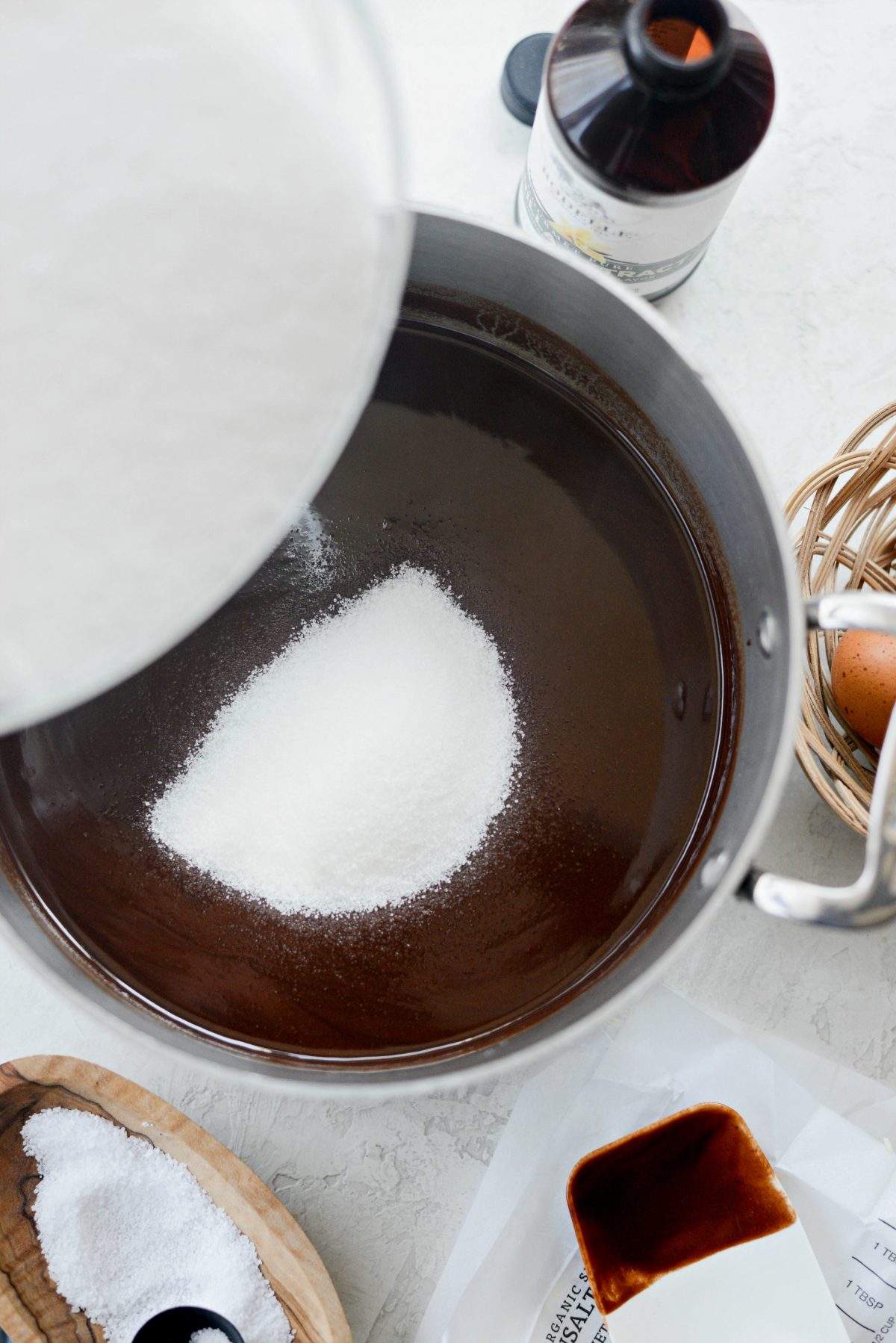 Then add the 2 cups of sugar to the chocolate mixture and whisk until combined.
Next, crack and add in one egg at a time, whisking after each additional egg.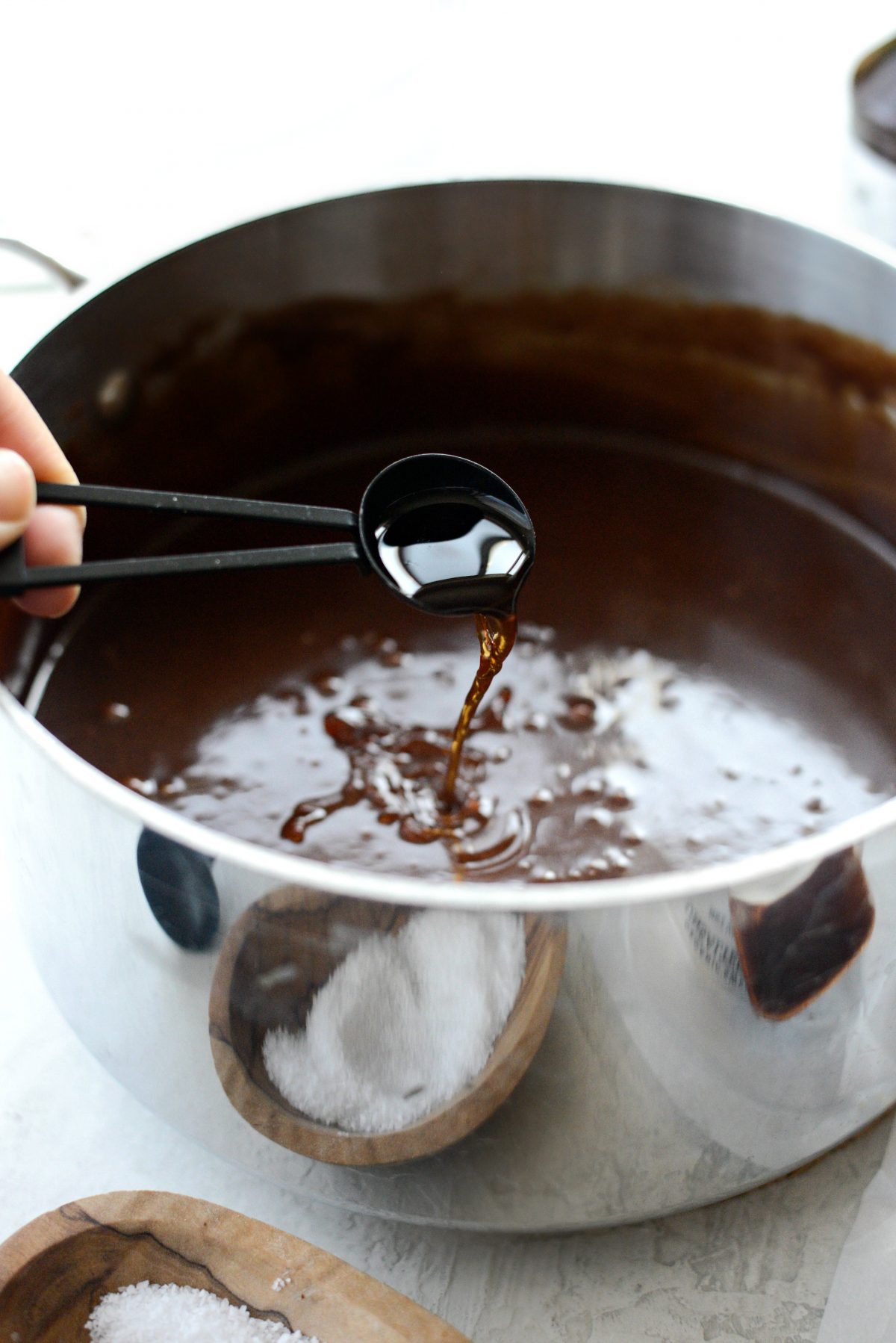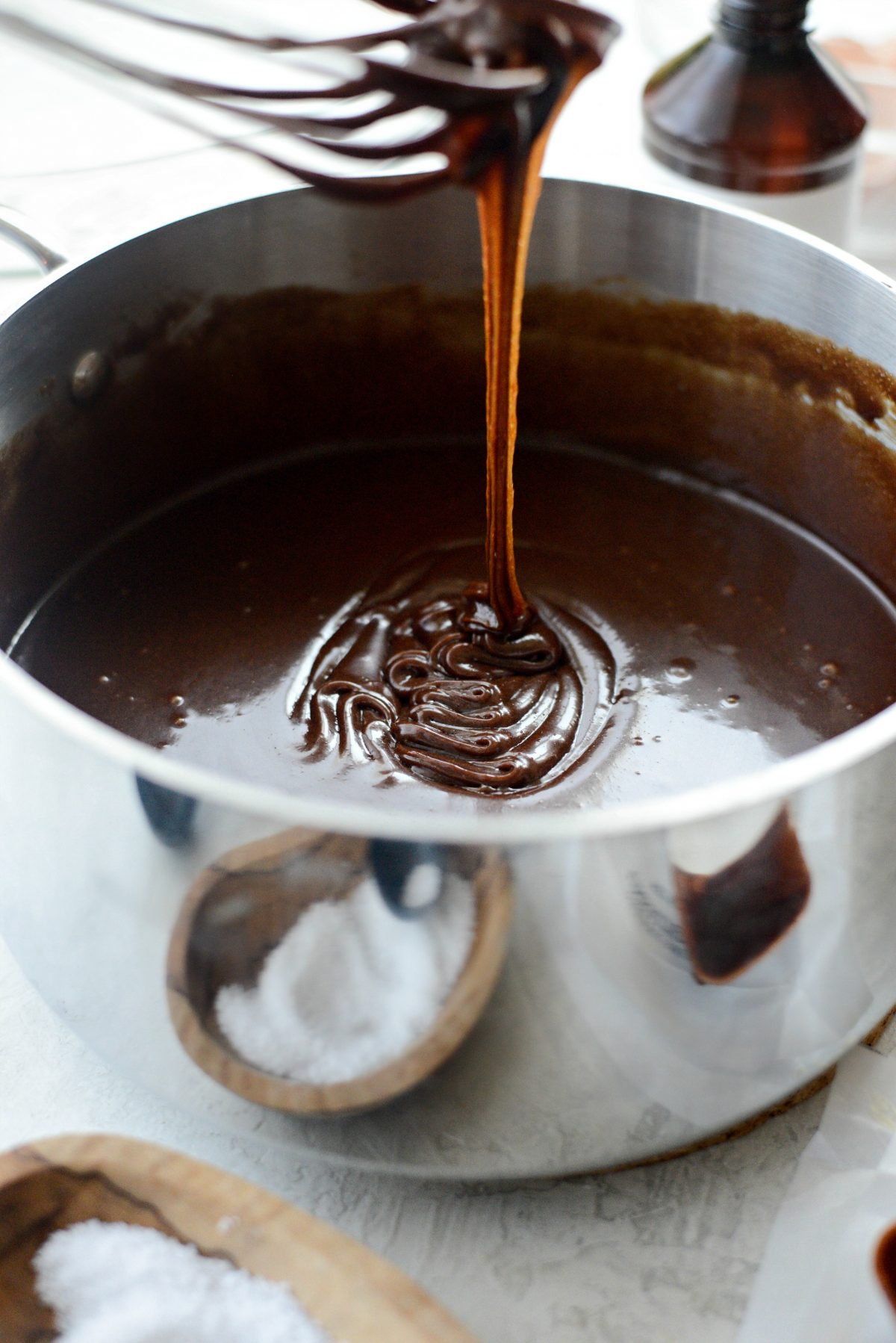 Lastly, measure and add in 2 teaspoons vanilla extract. The batter should be thick and glossy and smell heavenly.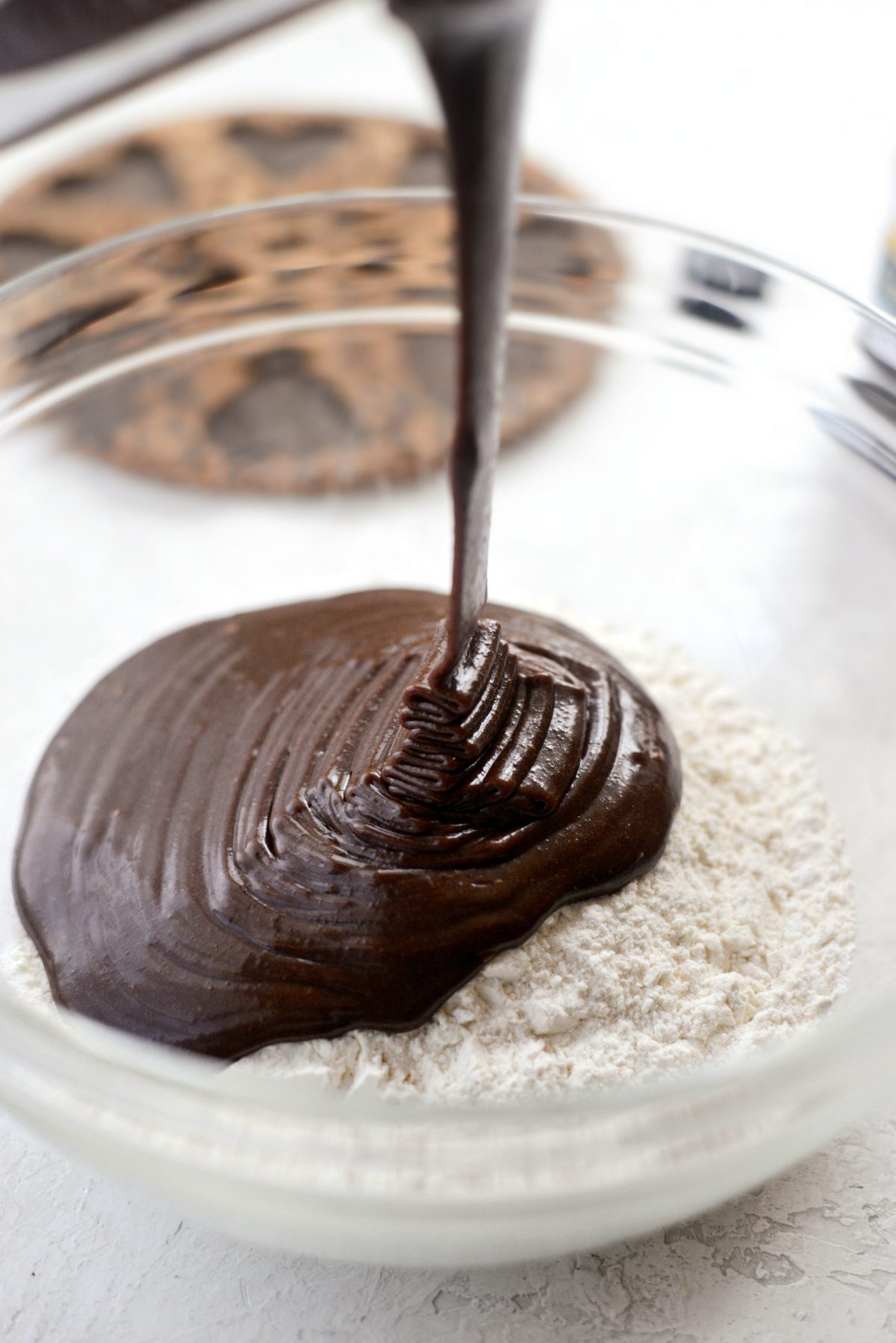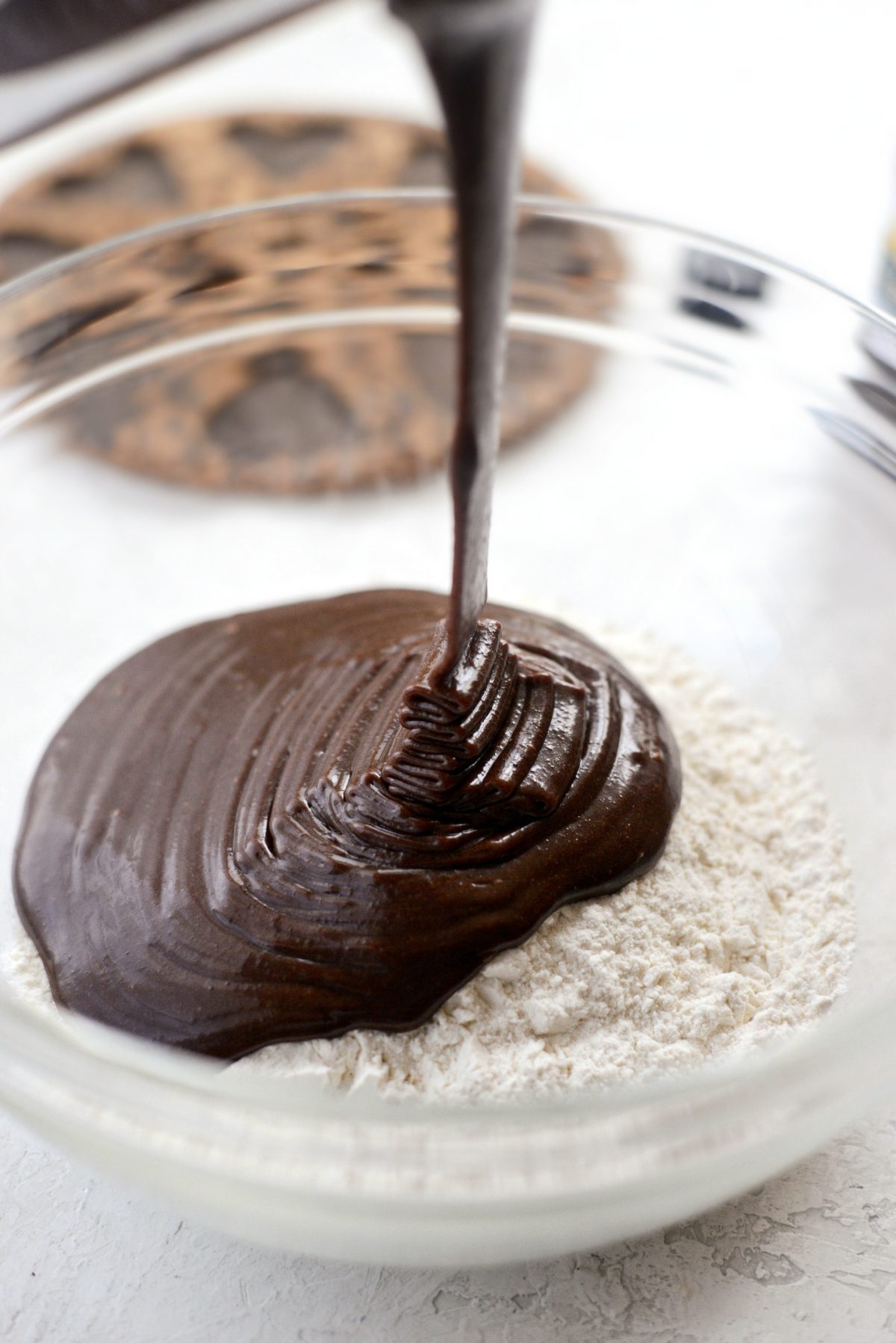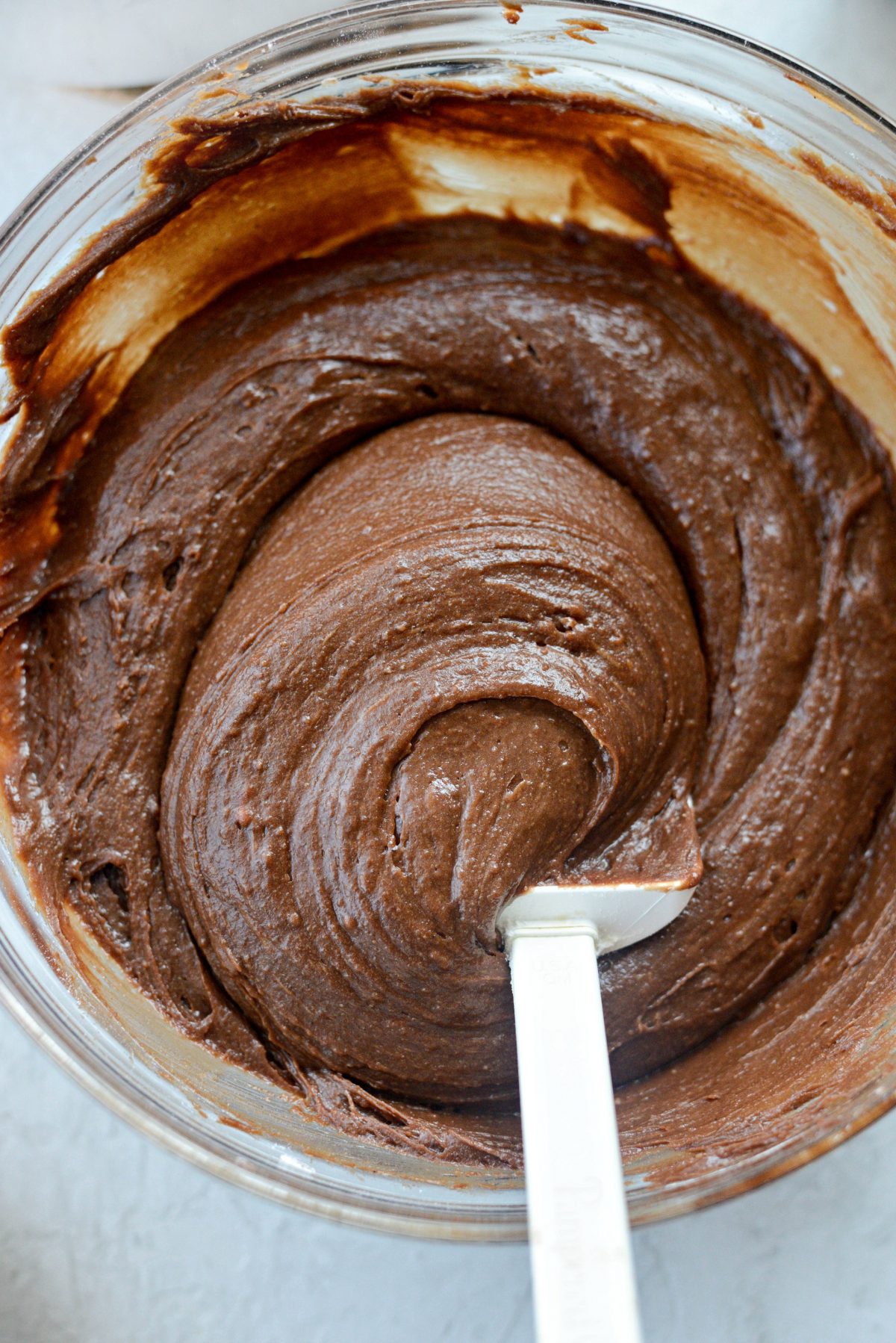 Then pour the brownie batter into the mixing bowl with the flour. Switch over to a rubber spatula, folding and mixing until the flour is incorporated.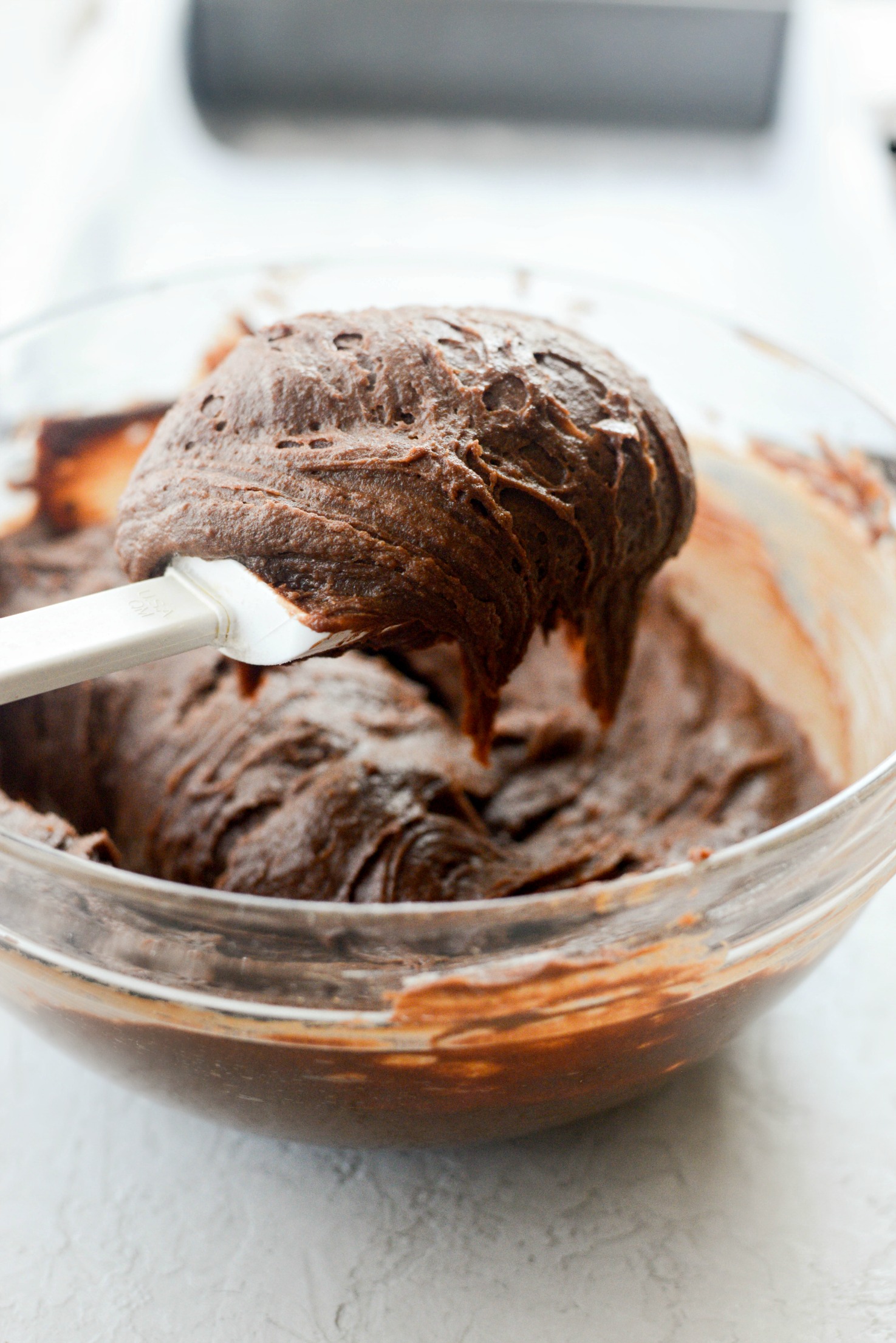 Next, spoon the brownie batter into your prepared pan. Earlier, I sprayed and lined a 9×13 baking pan with parchment paper. The paper keeps the brownies from sticking and also helps ease the brownies out of the pan in one fell swoop.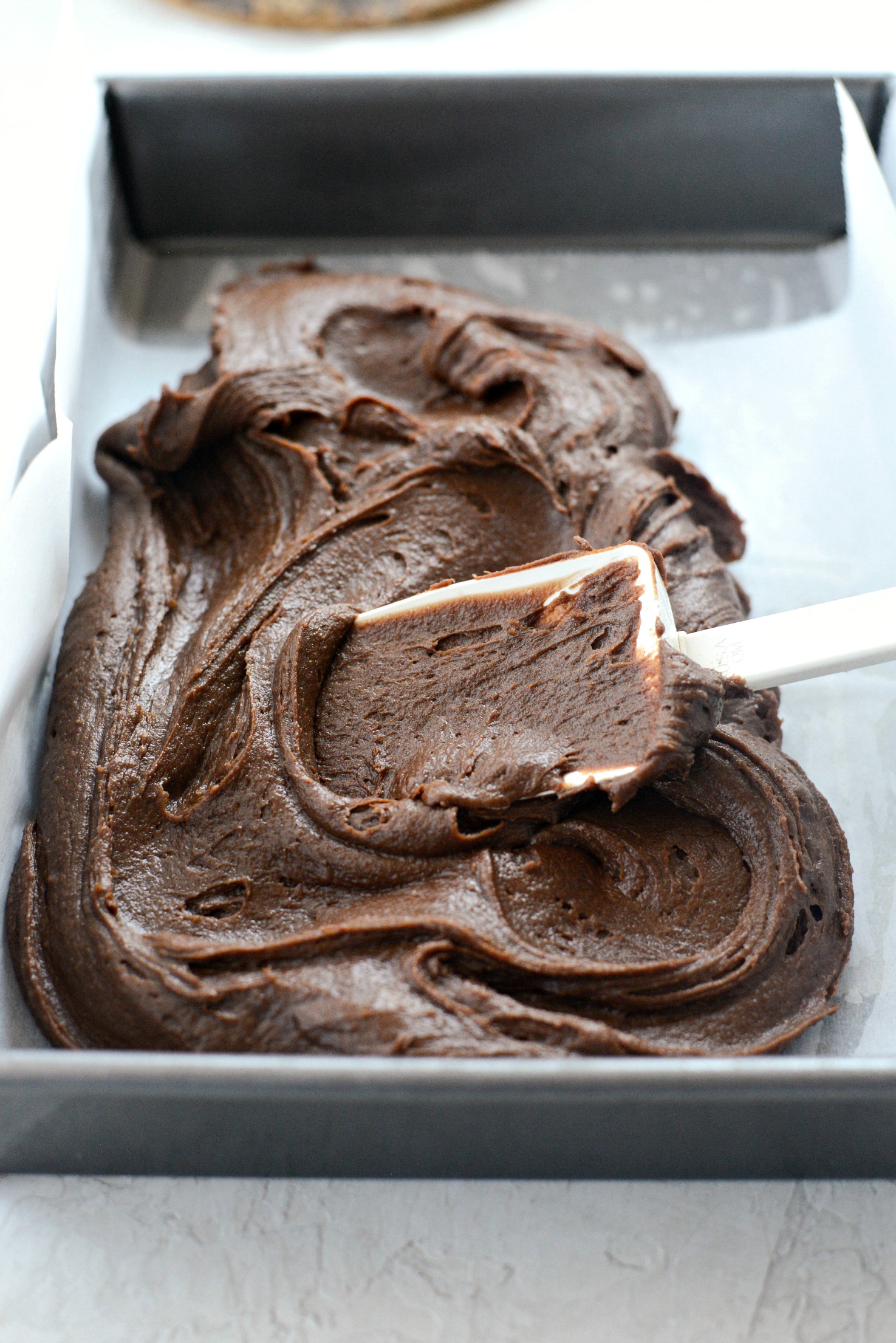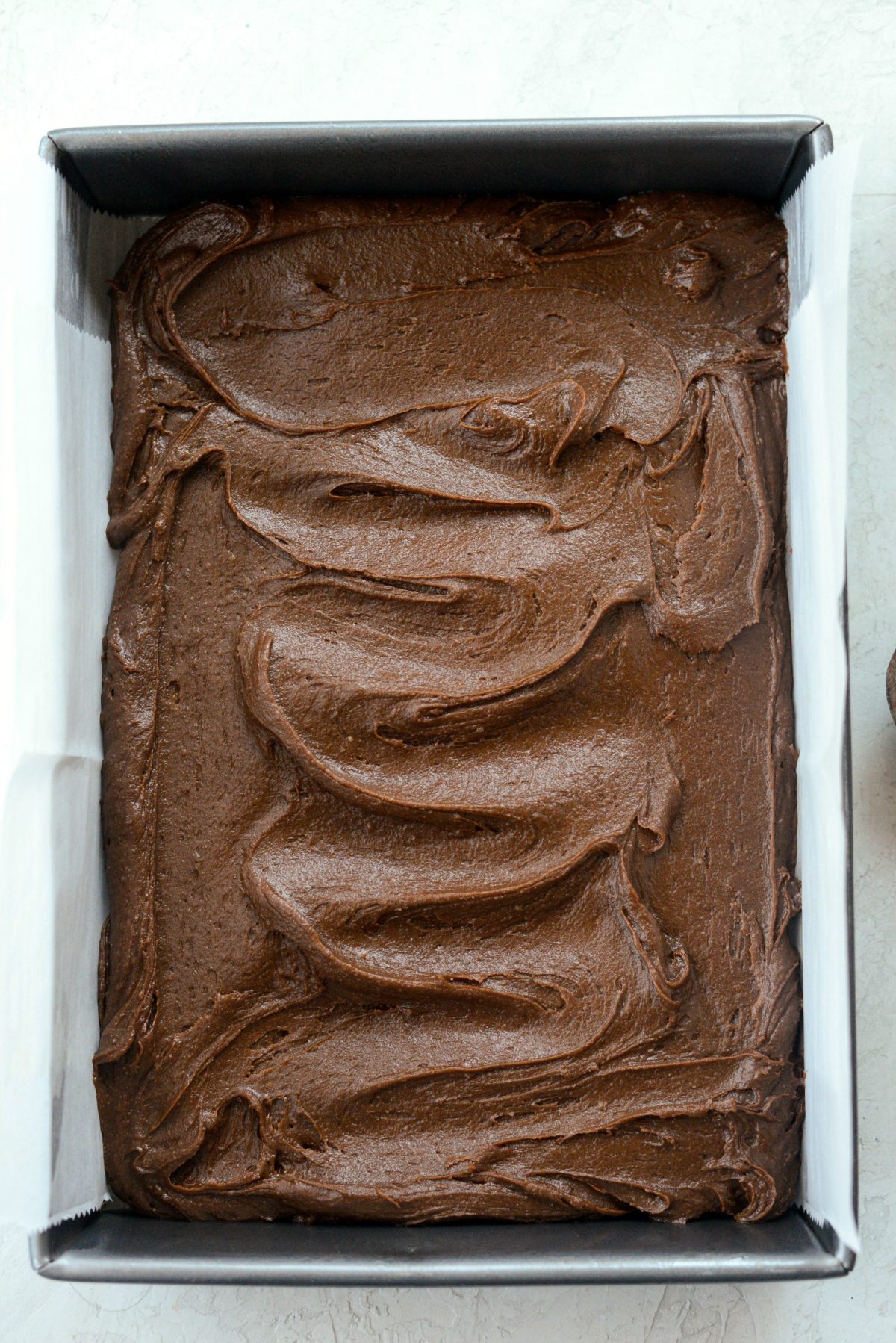 Next, with an offset spatula, spread the batter out evenly and maybe even tap the pan on the counter to get it to settle into the pan. Finally, bake on the middle rack of your preheated oven for 18 to 20 minutes. Rotating the pan halfway through baking.
For a more fudge-y brownie, slightly under bake by a minute or two.
Once baked, allow the brownies to cool for 20 minutes. Use an offset spatula or butter knife and run it around the edge of the brownies. Using the parchment "handles" remove the brownies to a wire rack to finish cooling.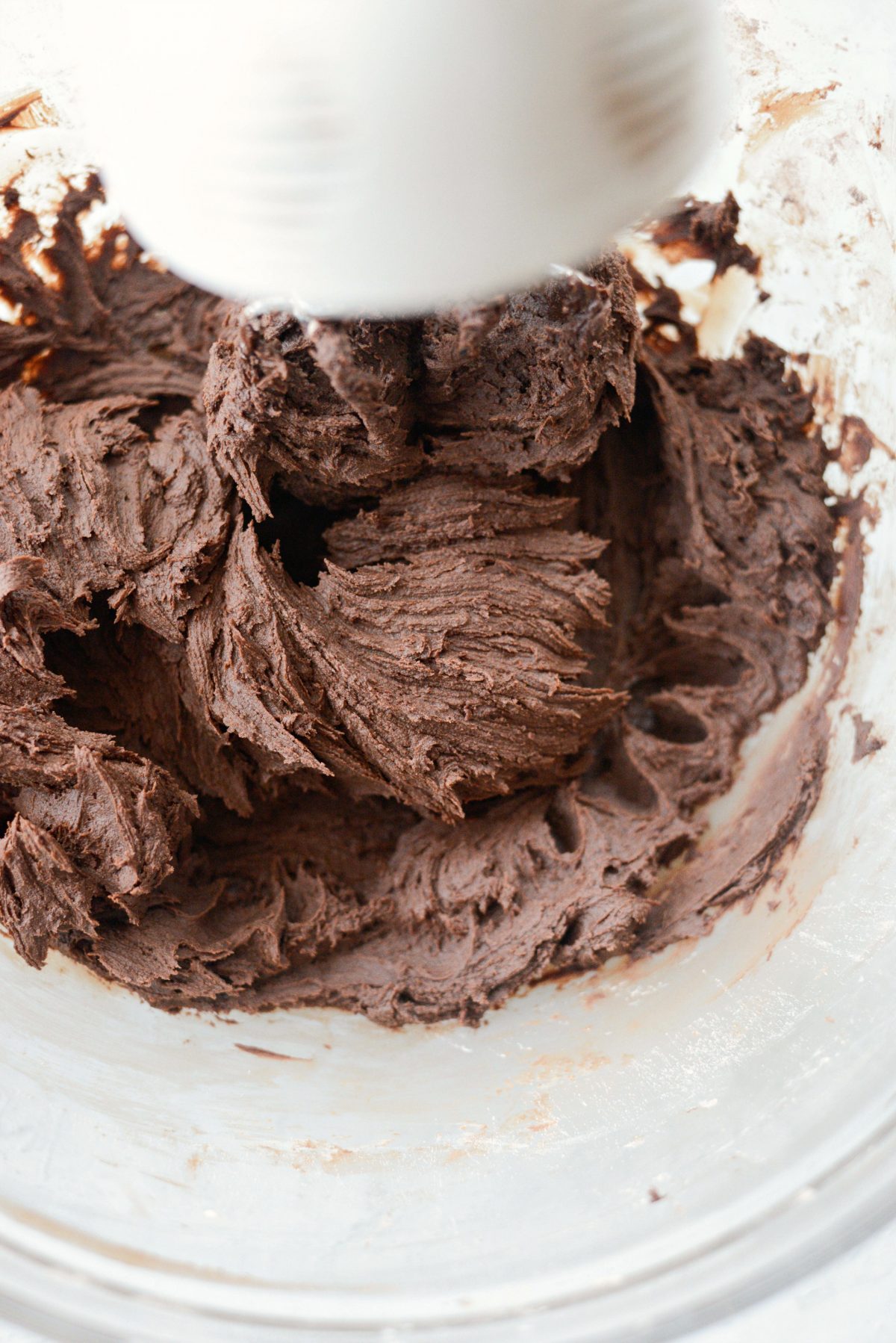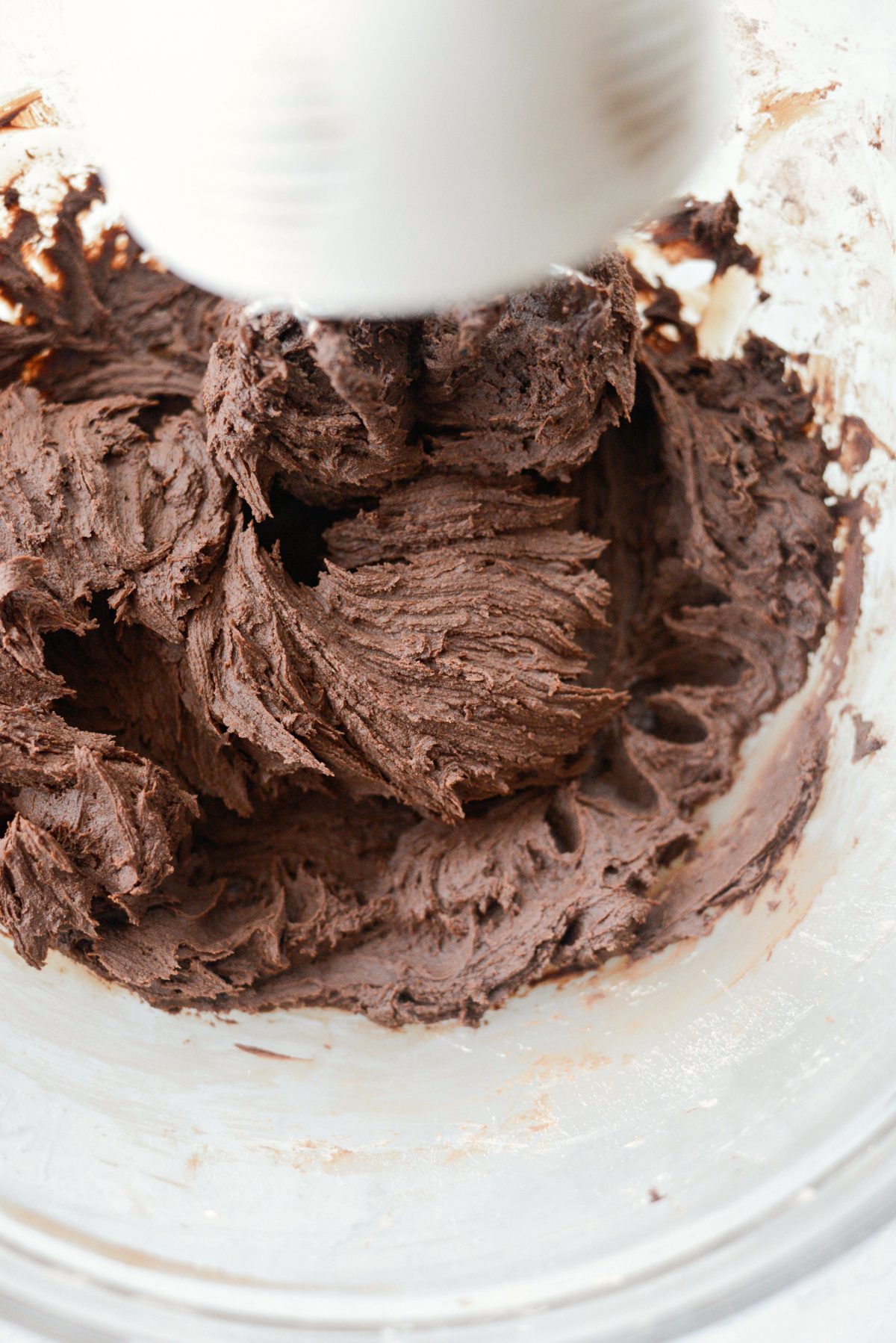 In the meantime, make the homemade chocolate frosting.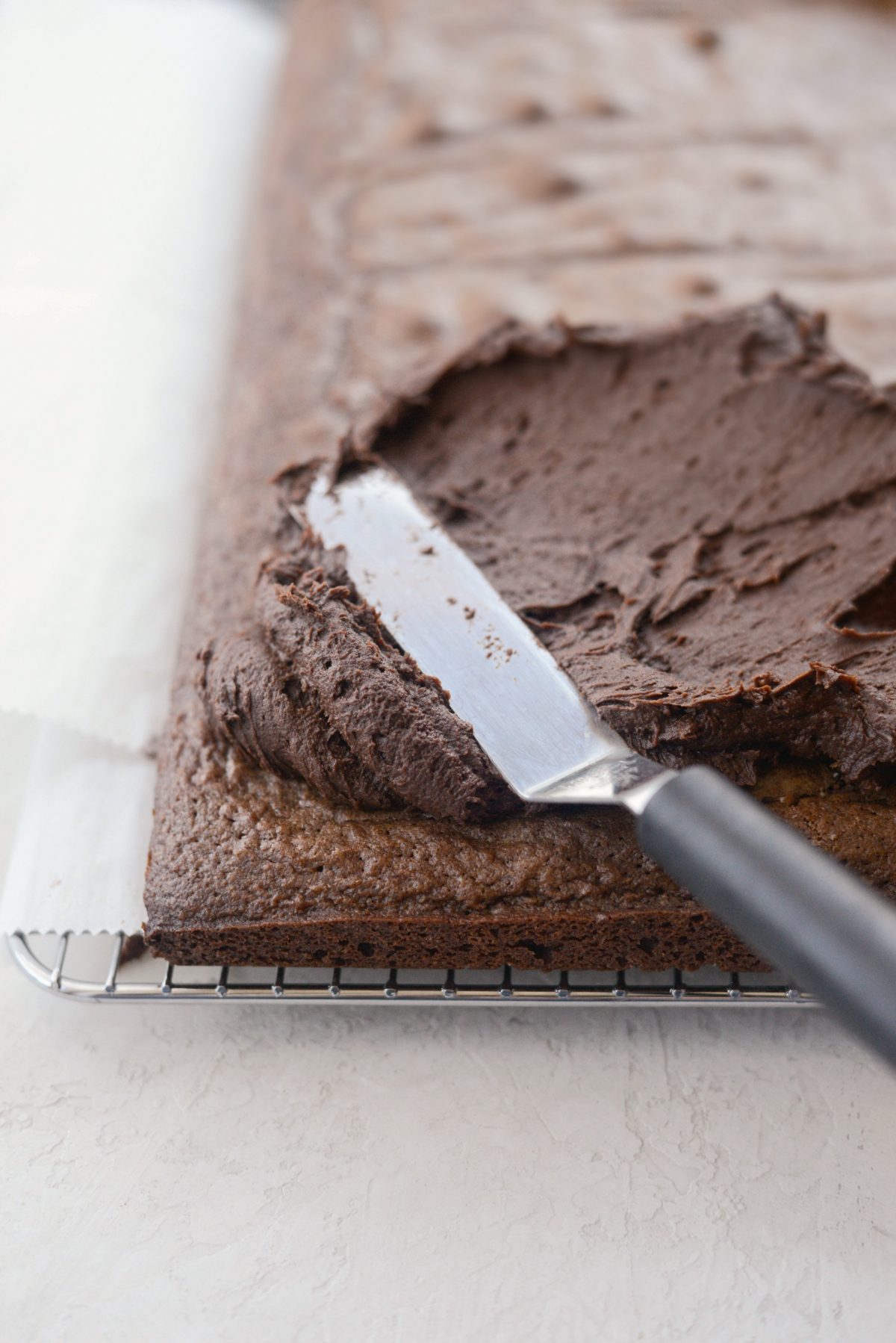 Once the brownies are cooled, spread the frosting the the edges of the brownie in an even layer.
Lastly, sprinkle with fun colorful sprinkles.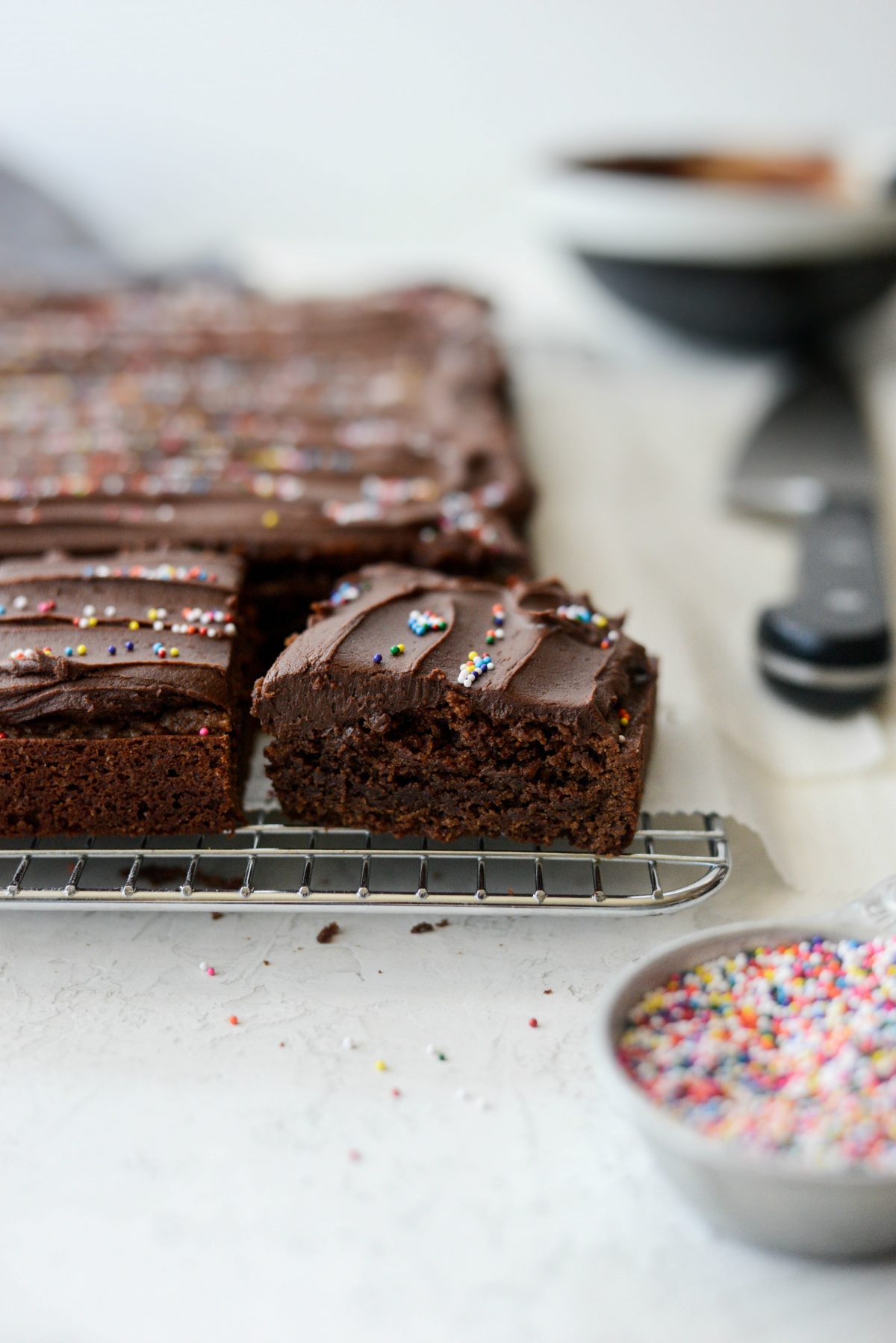 Slice. Serve. And devour.
I call dibs on a corner piece!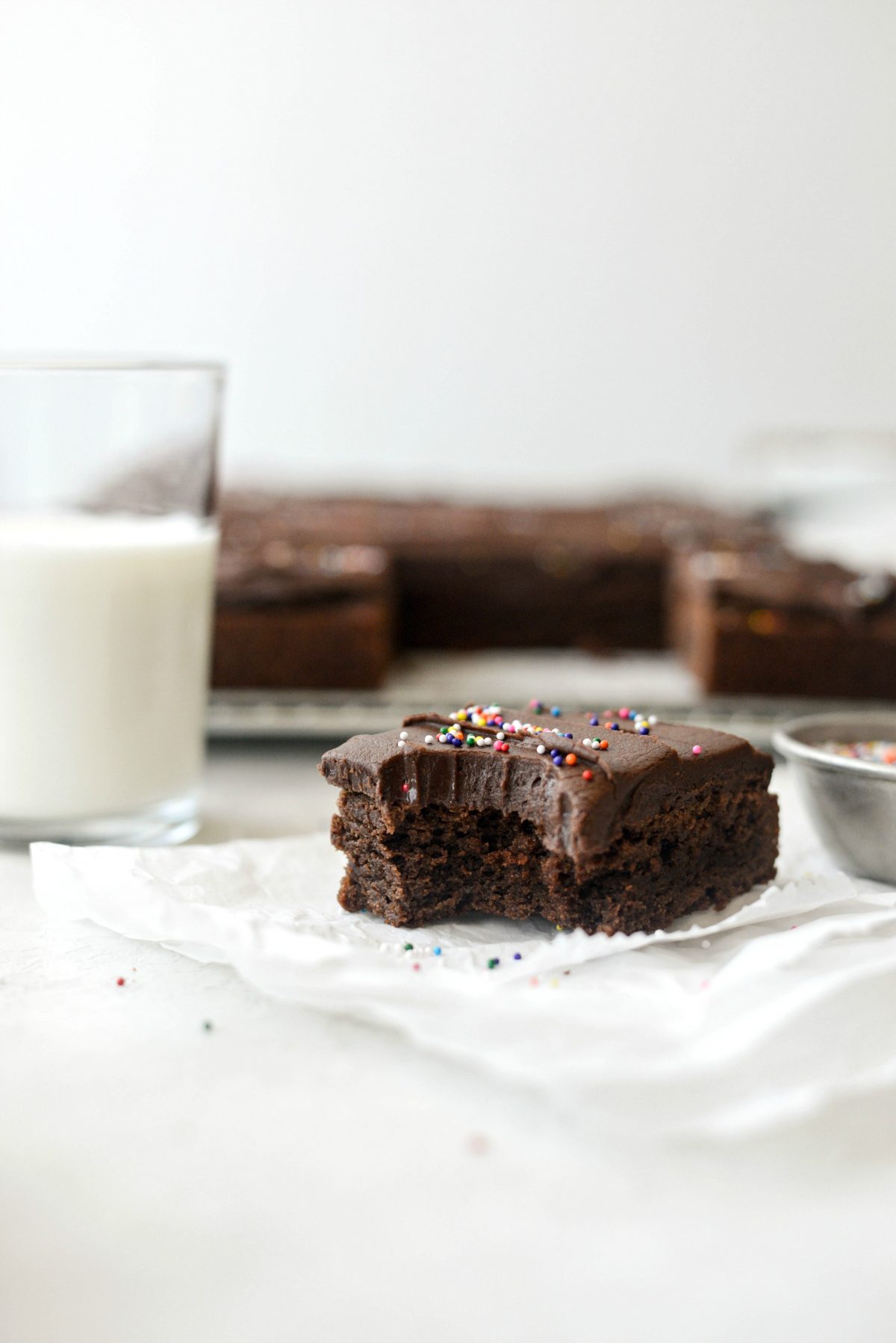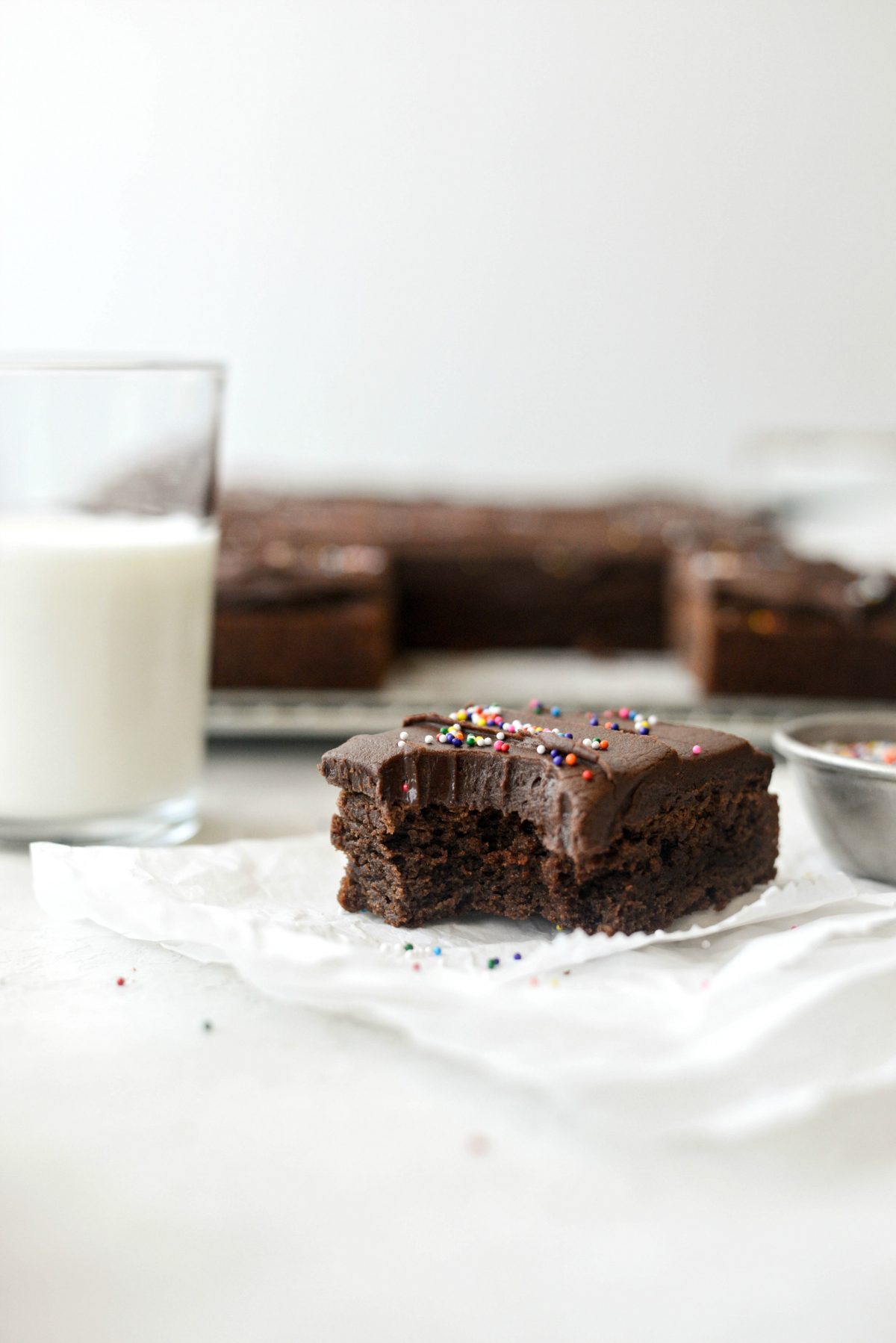 Enjoy! And if you give these Homemade Chocolate Brownies recipe a try, let me know! Snap a photo and tag me on twitter or instagram!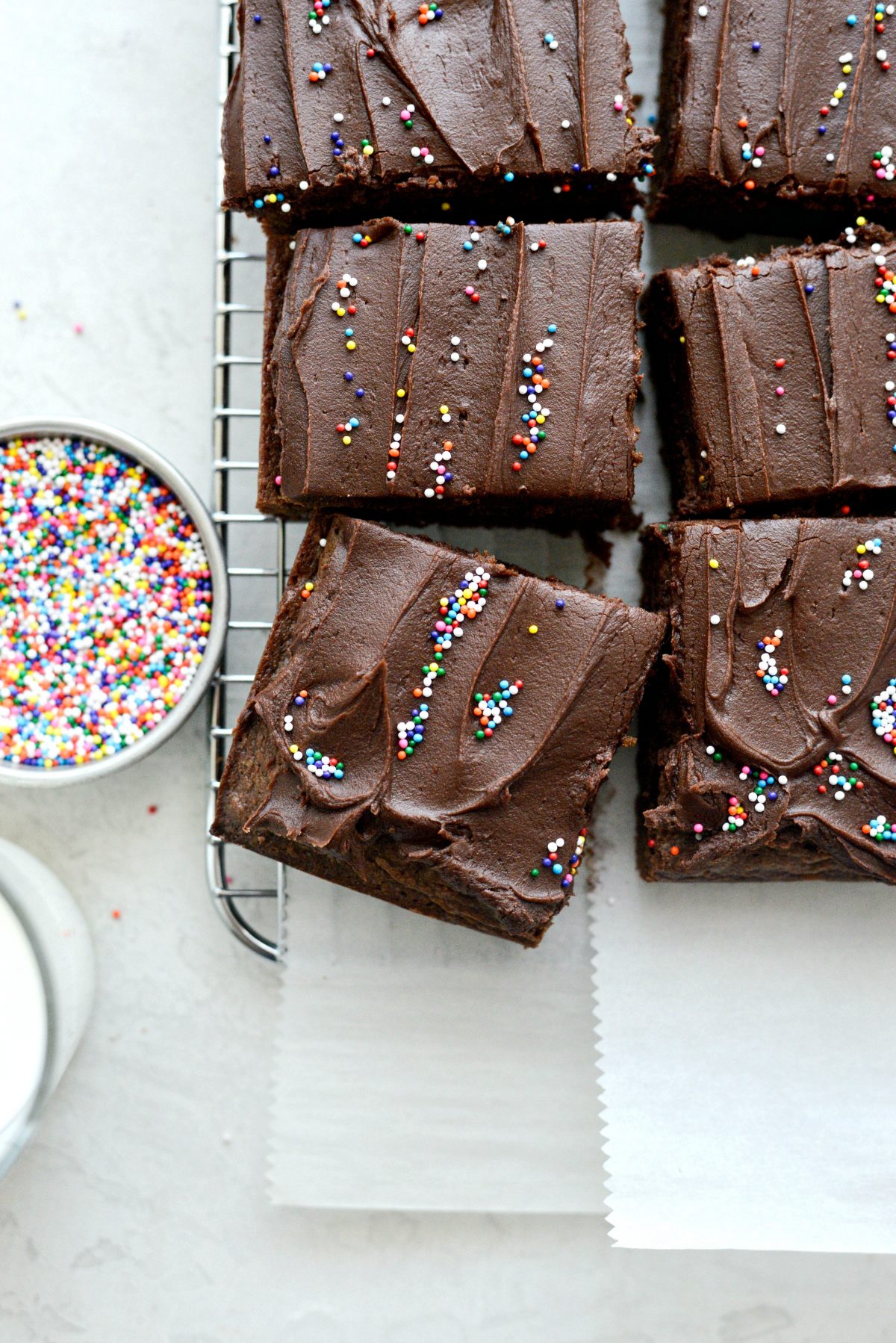 This post may contain affiliate links.
Buy the Cookbook: Simply Scratch : 120 Wholesome Homemade Recipes Made Easy Now available on Amazon »
THANK YOU in advance for your support!