An easy classic bourbon chicken recipe that your family will love. Serve over rice and top with green onions and sesame seeds.
I'm desperately trying to get back into the swing of things after our mini-vacation. Right before I left I tested two recipes that flopped leaving me with nothing to share while I was gone and zilch when I came back. Wah-wah-wahhhh. So today I thought I would dig deep and share this scrumptious recipe from way back when. I first posted this recipe in April of 2010, 6 years ago….what? How in the world has it been 6 years already? Anyhoo it's SOOOO good and can be easily made any night of the week. Thank you for being so patient with me as I get my head out of the clouds, fight the gambling withdrawal and stock my fridge and wash piles of laundry.
I love this recipe.
My family loves this recipe.
And in turn, I think you'll love this recipe.
My first taste of bourbon chicken was, you guessed it, at the mall. Briefly in my teens, I worked at a Dippin' Dots (the ice cream of the future!;)) stand right near our food court, aptly named 'The Picnic". That mall has since closed and locked its doors but when I worked there, the smell coming from this certain restaurant (what was it called??) would always waft its way right on into my nostrils. It happened so often that one day I caved in and finally ordered it. A little sweet, a smidgen spicy… it really was love at first bite.
Fast forward a few years when one can use the internet to Google search "bourbon chicken" and make it at home. Over the past few years I've made some alterations; cutting certain ingredients out, scaling down the sugar-turning it into a more family friendly meal. The smell of this cooking and that glossy amber sauce kills me (the good kind!) every single time and is always a winner in my house.
In a medium bowl add the teaspoon of grated ginger, 3 cloves of garlic and 1/2 teaspoon red pepper flakes. You could totally add more for a bigger kick. But I think a 1/2 teaspoon is perfect amount of spice without it being too hot.
Next throw in the dark brown sugar and ketchup.
Then pour in apple juice, soy sauce and apple cider vinegar.
Whisk well then just set aside.

Dice 2 pounds of thin-cut, boneless, skinless chicken breasts into large bite-size pieces.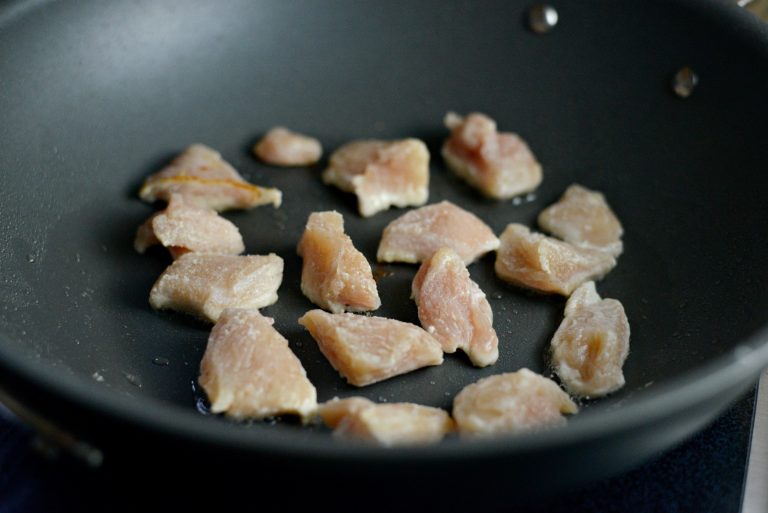 Add a teaspoon of oil and then pre-heat over medium-high heat until hot, remember you wanna hear a sizzle when you chicken hits the pan.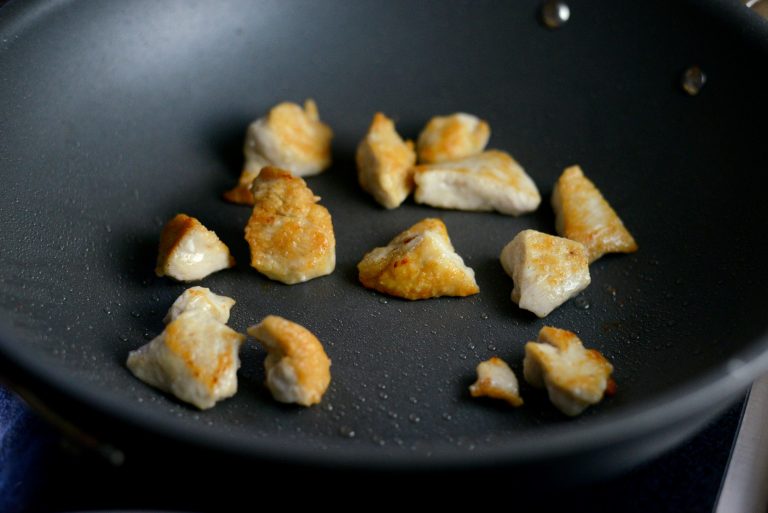 When hot and working in batches; add the chicken and cook thoroughly until golden brown.
Transfer the chicken to a bowl and repeat, adding a teaspoon more oil to the pan as needed.
Once all of the chicken is golden brown, place all of it back to the hot pan and pour in the sauce.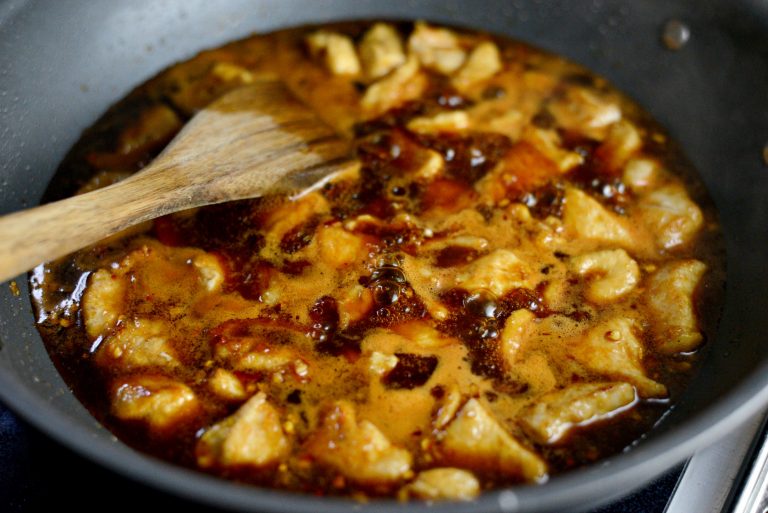 Increase the heat to high and bring the sauce to a boil…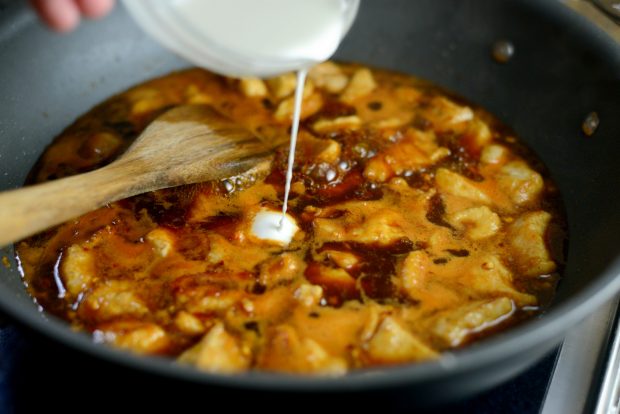 …before pouring in the cornstarch slurry.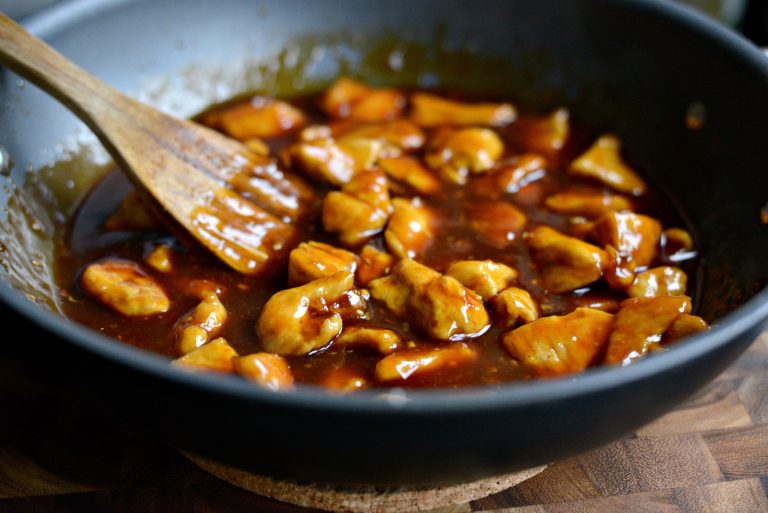 Let the sauce bubble until it has thickened and is glossy.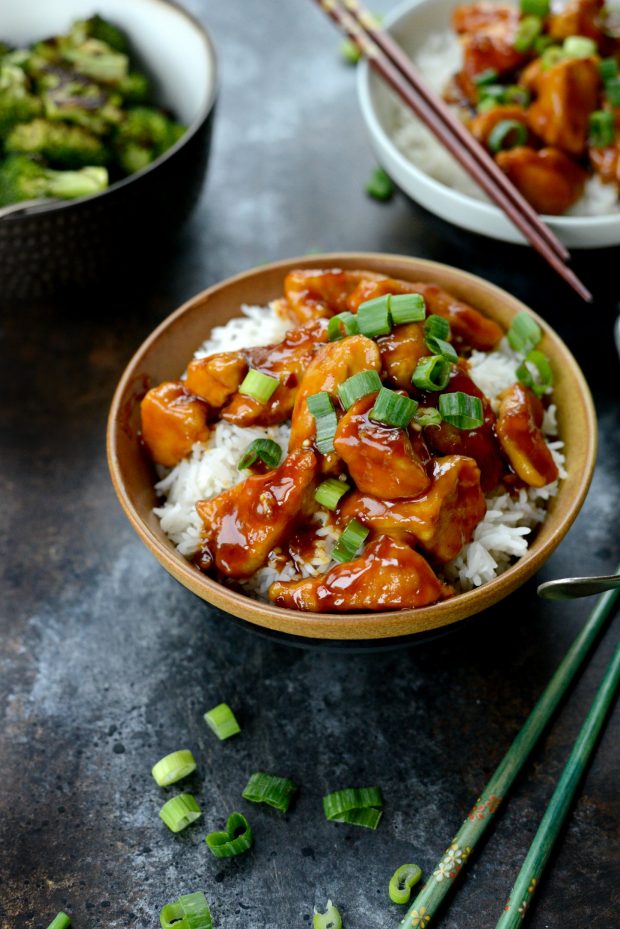 I always serve this saucy bourbon chicken over top of basmati or jasmine rice with roasted broccoli and top it with sliced green onions… and sometimes I scatter toasted sesame seeds over top for some crunch.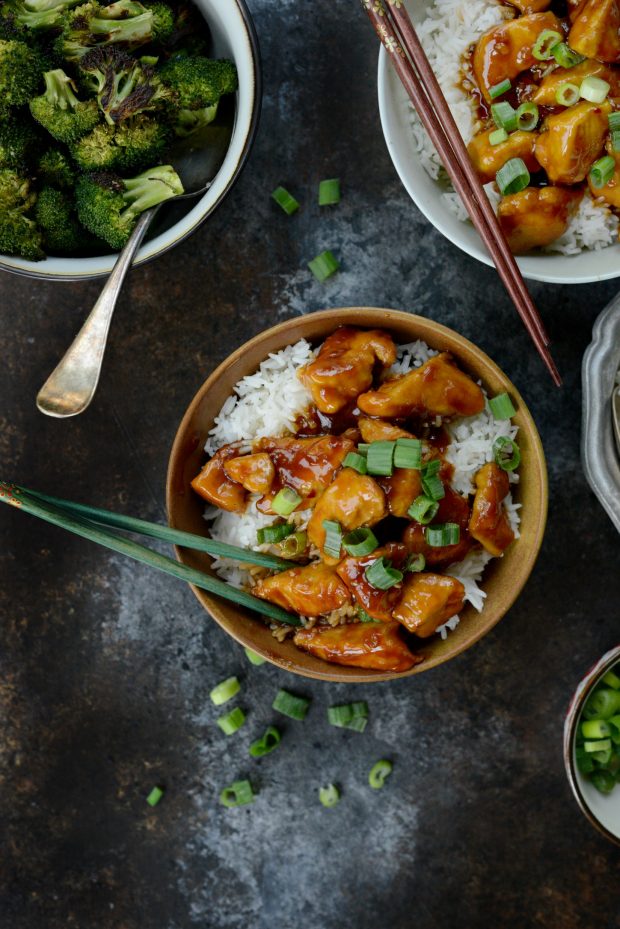 So good and a million times better than the mall food.
Enjoy!
Yield: 4 servings
Bourbon Chicken
My family loves this slightly spicy "bourbon" chicken (minus the bourbon). I serve it over basmati or jasmine rice with roasted broccoli. It's a quick and delicious meal!
Ingredients
3 cloves garlic, squeezed through a garlic press or minced
1 teaspoon grated fresh ginger
1/2 teaspoon red pepper flakes
1/3 cup dark brown sugar
2 tablespoons ketchup
1/2 cup low sodium chicken broth
1/2 cup apple juice, good quality
1/3 cup low sodium tamari, or low sodium soy sauce
1 tablespoon apple cider vinegar
2 pounds boneless skinless chicken breast halves, cut into bite-size pieces
kosher salt
white pepper
2 tablespoons cornstarch, plus 2 tablespoons water for cornstarch slurry
1 tablespoon olive oil
2 cups cooked white rice, for serving
2 green onions, sliced, for serving
Instructions
In a medium bowl, combine the garlic, ginger, red pepper flakes, brown sugar, ketchup, chicken broth, apple juice, apple cider and tamari. Whisk to combine and set aside.

In a medium bowl toss chicken with a generous pinch of kosher salt, white pepper and 2 tablespoons of cornstarch.

Heat a teaspoon of oil large pan over medium-high heat. Once hot, work in batches cooking the chicken until golden browned on all sides. Transfer cooked chicken to a bowl and repeat, adding a teaspoon more oil as needed.

Once all the chicken has been cooked, add it all back to the pan and pour the sauce into the pan.Bring to a boil and then pour in the cornstarch slurry.

Stir and cook for a few minutes until the sauce is thick and glossy.

Serve over hot rice and garnish with sliced green onions.
Serving: 1g, Calories: 524kcal, Carbohydrates: 52g, Protein: 53g, Fat: 10g, Saturated Fat: 2g, Polyunsaturated Fat: 1g, Monounsaturated Fat: 4g, Trans Fat: 1g, Cholesterol: 145mg, Sodium: 1434mg, Potassium: 1046mg, Fiber: 1g, Sugar: 23g, Vitamin A: 241IU, Vitamin C: 5mg, Calcium: 53mg, Iron: 2mg
This post may contain affiliate links.
Buy the Cookbook: Simply Scratch : 120 Wholesome Homemade Recipes Made Easy Now available on Amazon »
THANK YOU in advance for your support!