Enjoy Smoked Pork Shoulder at home! In this post you'll get our favorite way to brine, rub, smoke and serve this incredibly tender and deliciously smoky pulled pork.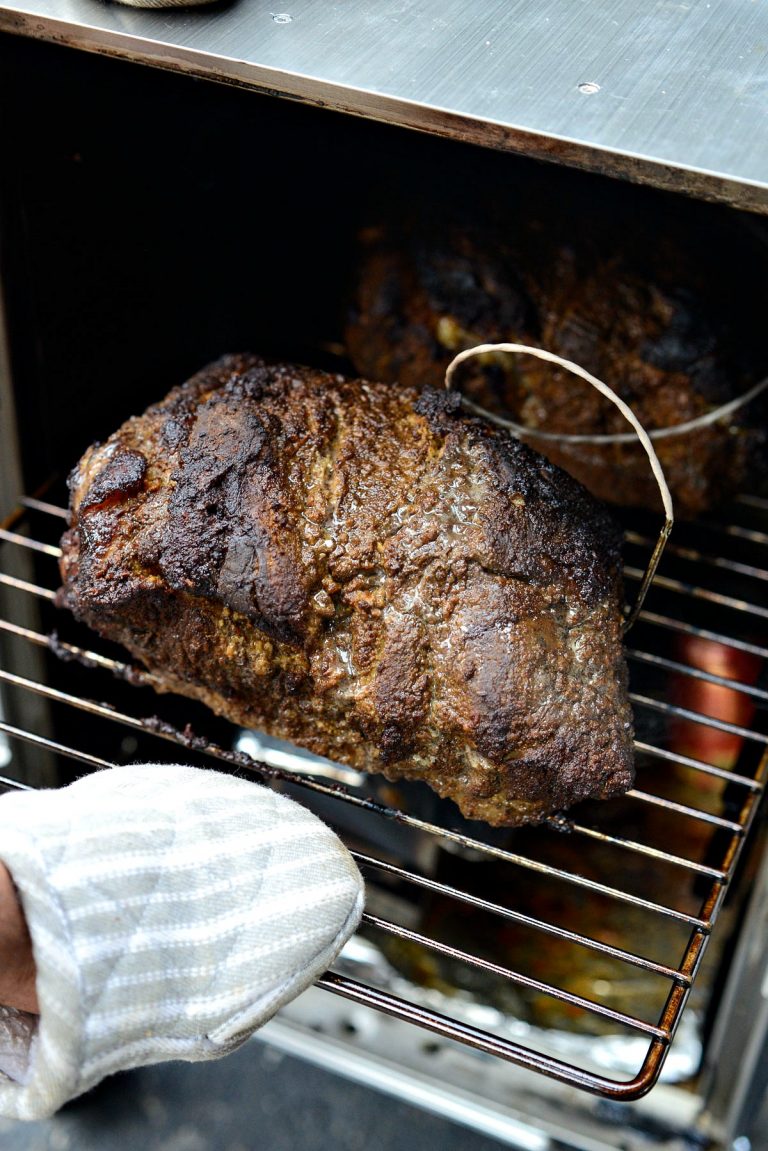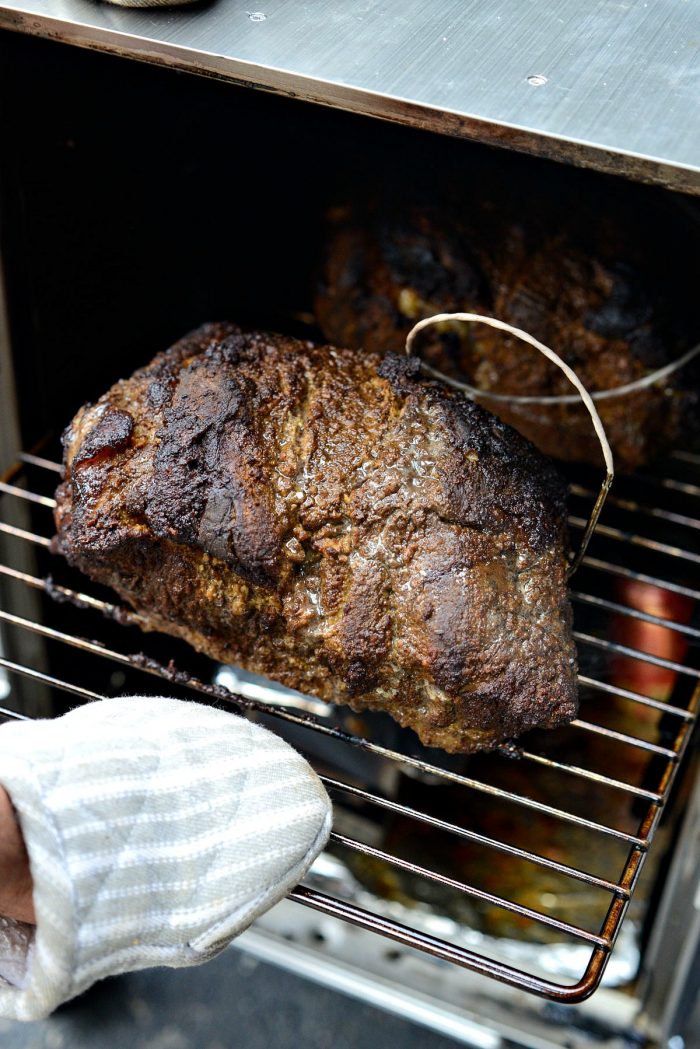 Early April we bought a smoker.
Pat's been wanting one for a while and with a recommendation from his close friend Craig, we went with an electric smoker made by a local Michigan and family-owned business, Smokin-It. This is the smoker we have and we absolutely love it. (not sponsored)
Besides a smoker, you will need a few other things like; a brining bucket, fridge space for the brining bucket, quality hardwood, heavy duty aluminum foil, a cooler and old towels. It's also a good idea to keep a notebook. We have one and jot down not just the recipes but leave notes on weights, times and temperatures. This helps us remember what we did previous times. Also, our smoker has a digital thermometer and comes with 2 probes which makes knowing the internal smoker and food temp so easy and efficient it even has wifi built in it!
There's A LOT of information in this post.
I'm going to do my best to break it down for you in detailed sections. Please keep in mind, we are pretty novice smokers. Although we feel pretty badass about it, we did not get here on our own. Pat consulted close friends and the Smokin-It forum and did lots of research. This method and the recipes has been adapted by other who've nailed the smoking game long before us and have been properly linked at the end of this post.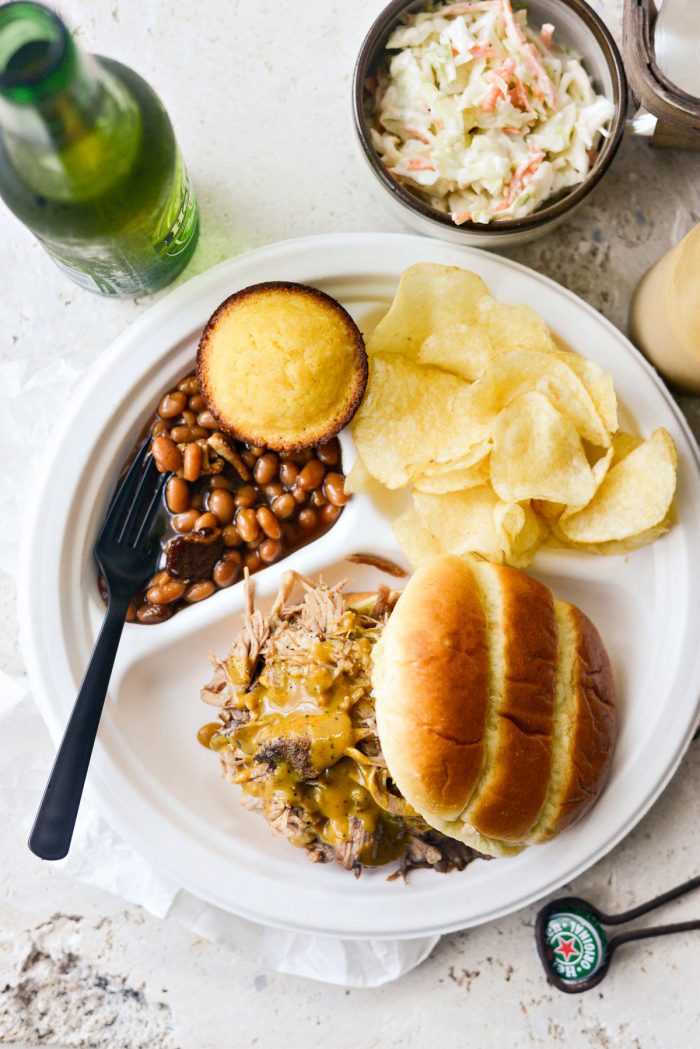 This hobby has quickly become a passion. It was after tasting our first pulled pork months ago, that I knew immediately I had to share it here with you all. I couldn't believe how delicious it was and how it easily rivals (if not surpasses) any bbq joint I've been too, whether I was at Stubb's in Austin, Texas or local joints surrounding Detroit. Smoking meat ourselves has ruined (or blessed – depending on how you want to look at it) us from any future bbq restaurants.
1. Prep your Smoker: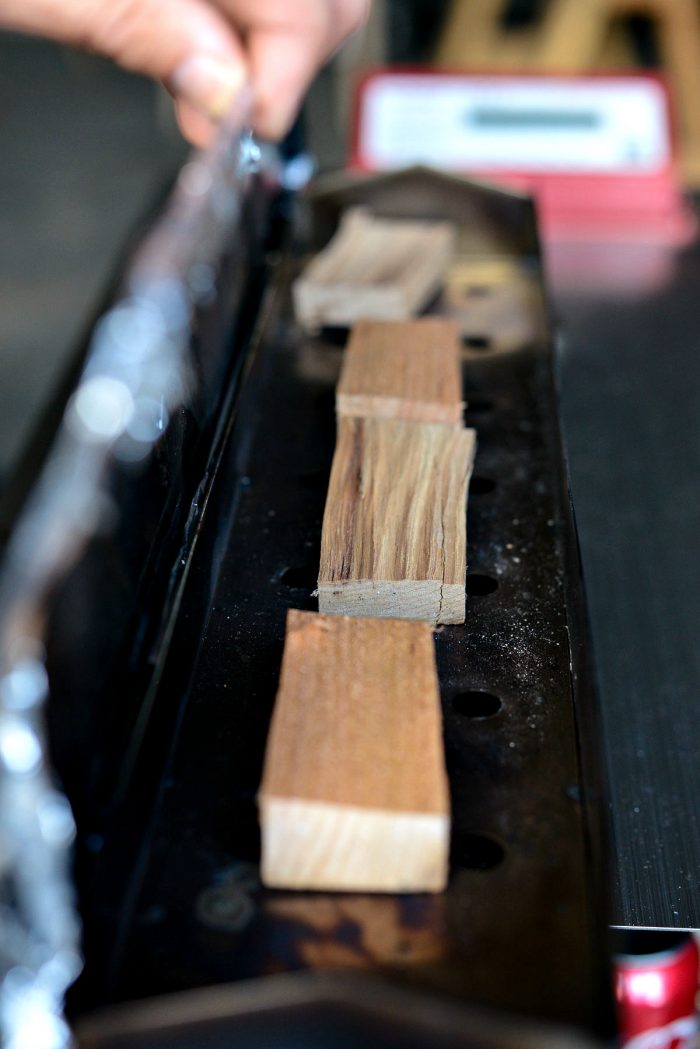 There are so many different smokers out there. We have an electric smoker that uses hardwood chunks (not pellets) for large pieces of meat or long smokes (i.e pork shoulder or brisket) and wood chips for quick smoke.
The usual routine is this; while I make the brine, Pat is prepping his smoker. He starts by lining the bottom of the smoker with heavy duty foil, along with the top of the smoke box. This mainly helps with clean up as lots of drippings accumulate here. Pat also measures out the hardwood. For a pork shoulder(s) we use 6 ounces total – 3 ounces cherry and 3 ounces hickory. Lastly, he fills a can (the top was removed using a can opener) and fills it with water. This adds moisture to the inside of the smoker.
2. Make The Brine: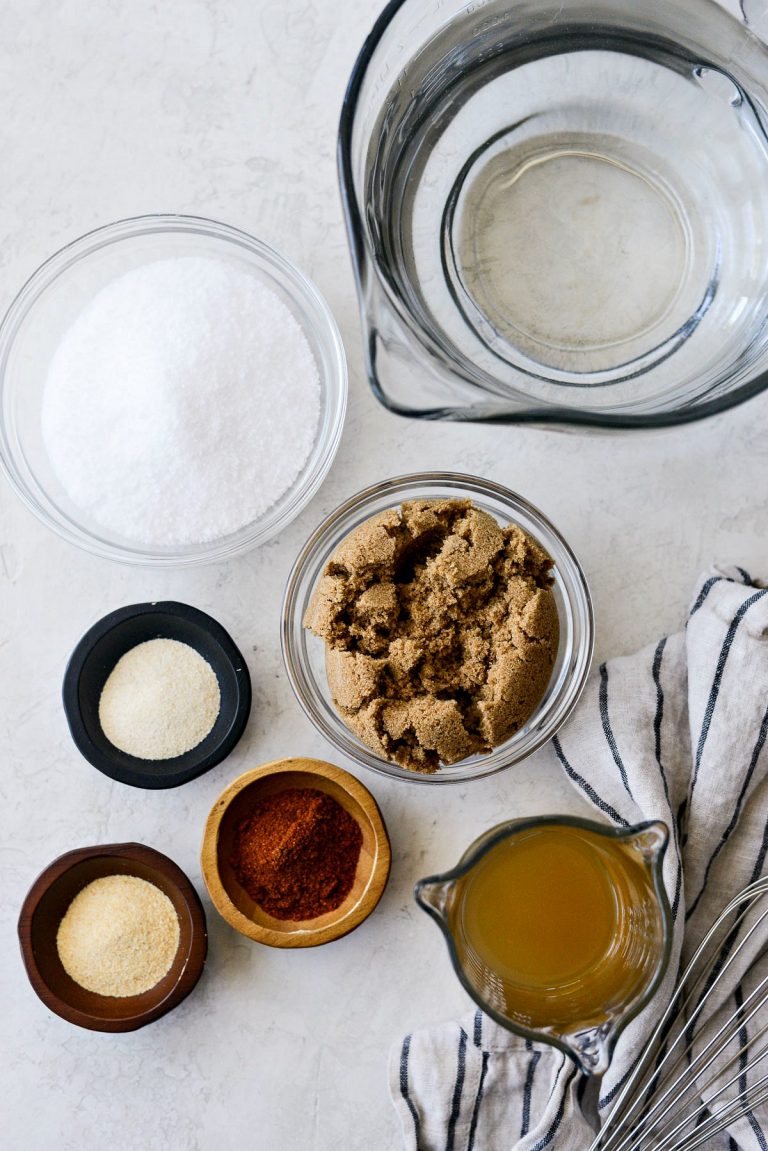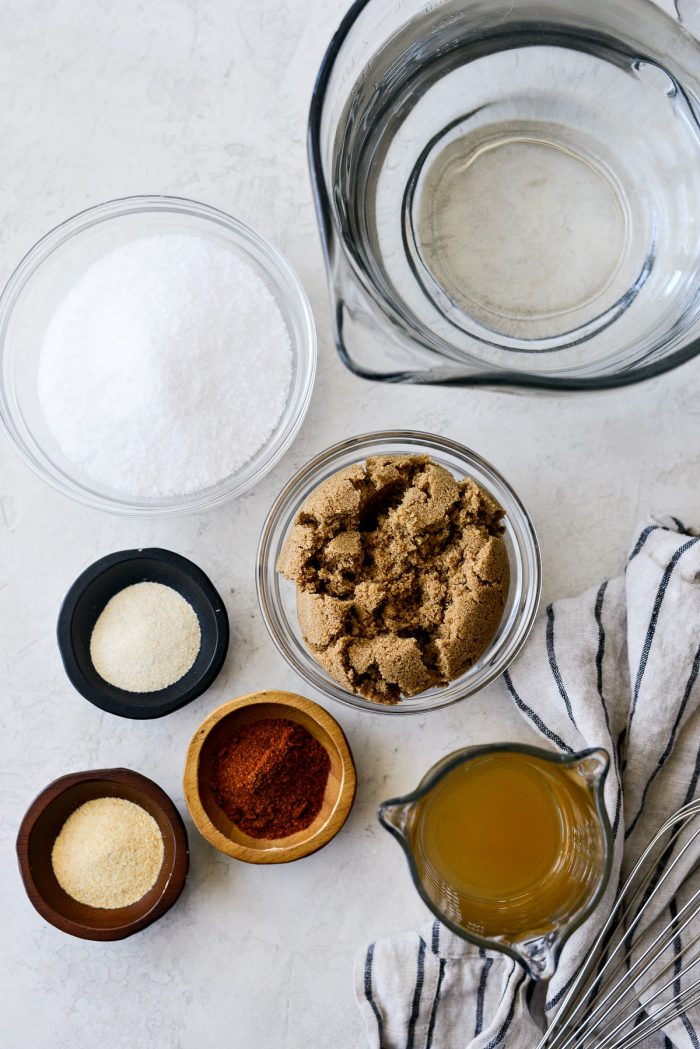 To Make the Brine You Will Need:
 kosher salt
dark brown sugar
apple cider vinegar
garlic powder
onion powder
cayenne pepper
water
ice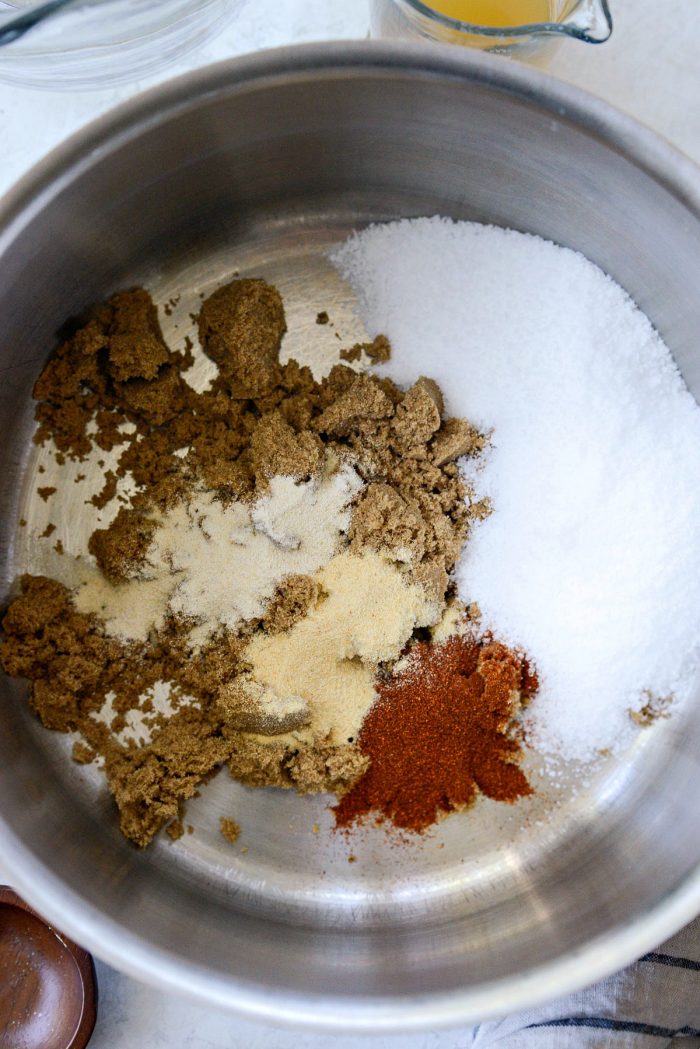 Keep in mind, the you always start the brine the day before you plan on smoking. I make the brine in the morning and start brining the meat 12 to 14 hours before we plan to put the meat in the smoker.
In a large stock pot, measure and add; 1 cup plus 2 tablespoons kosher salt, 1 cup dark brown sugar, 1/2 cup apple cider vinegar, 1 tablespoon garlic powder, 1 tablespoon onion powder and 1 tablespoon cayenne pepper.
Pour in 8 cups cool water and whisk to combine.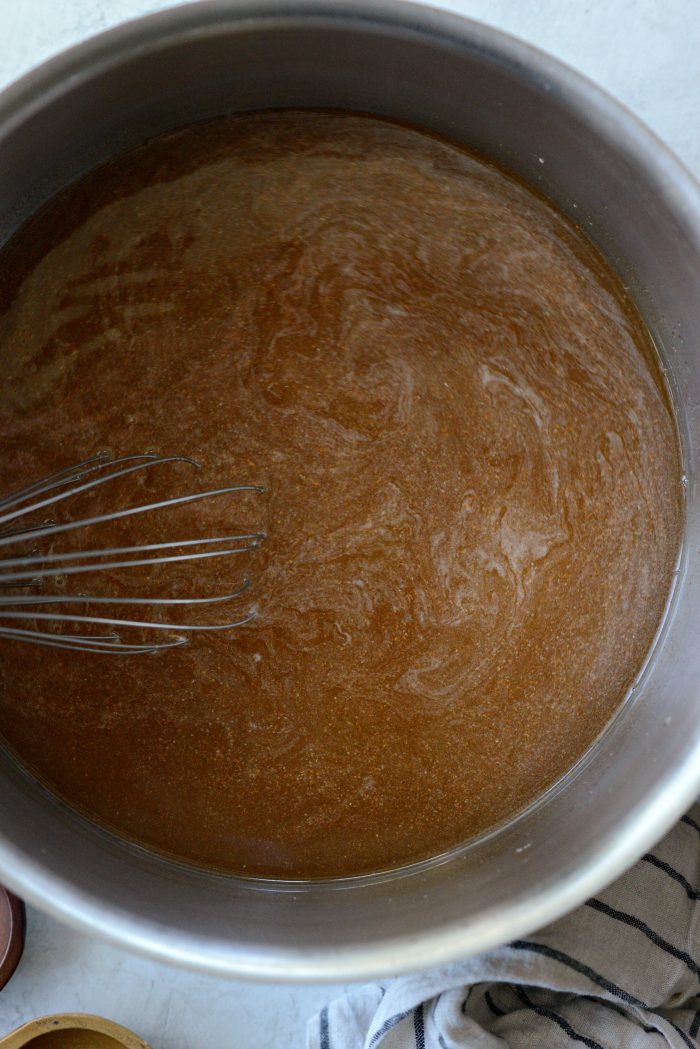 Heat over medium, stirring occasionally until the sugar and salt have dissolved.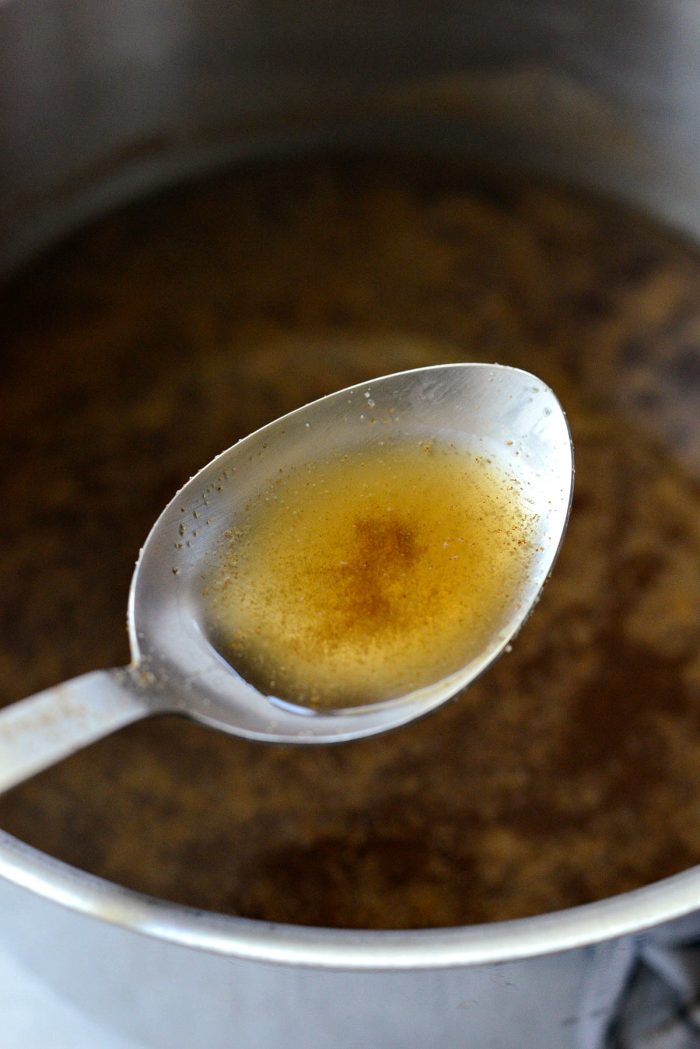 I grab a large spoon and scrape around the bottom and sides of the pot. I do this a few times until I'm certain all the sugar and salt have dissolved.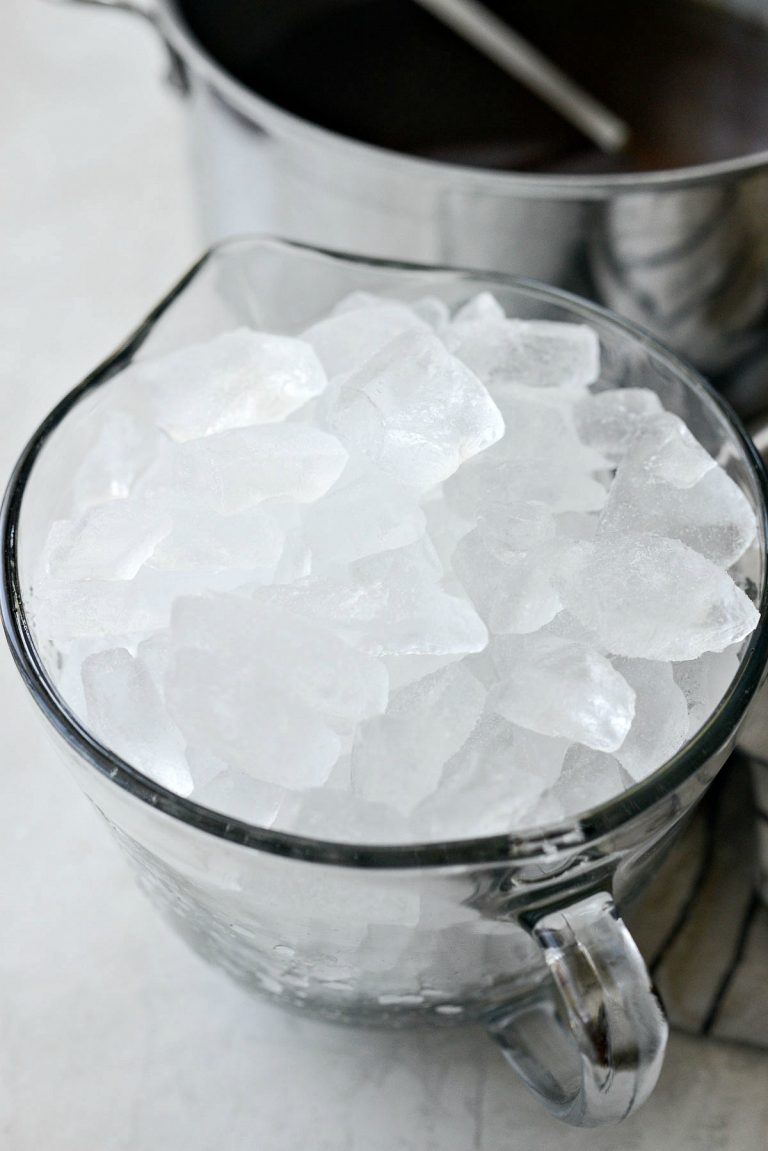 Measure out 9 to 10 cups of ice. I just grab my 8-cup liquid measuring cup and over fill it with ice.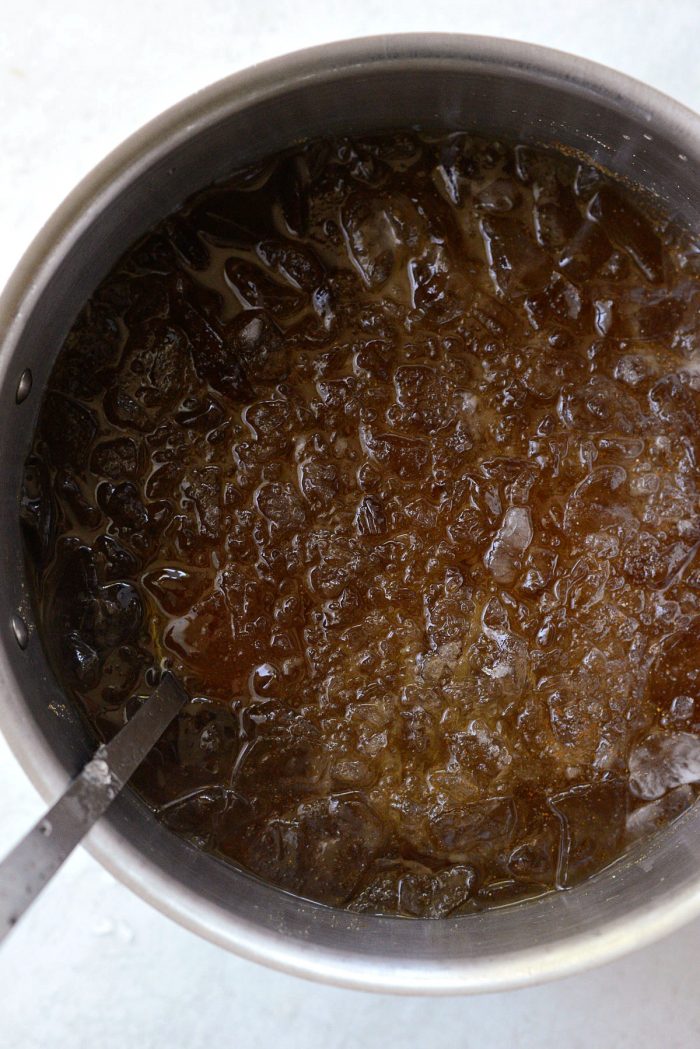 Carefully add the ice to the warm liquids and stir until melted.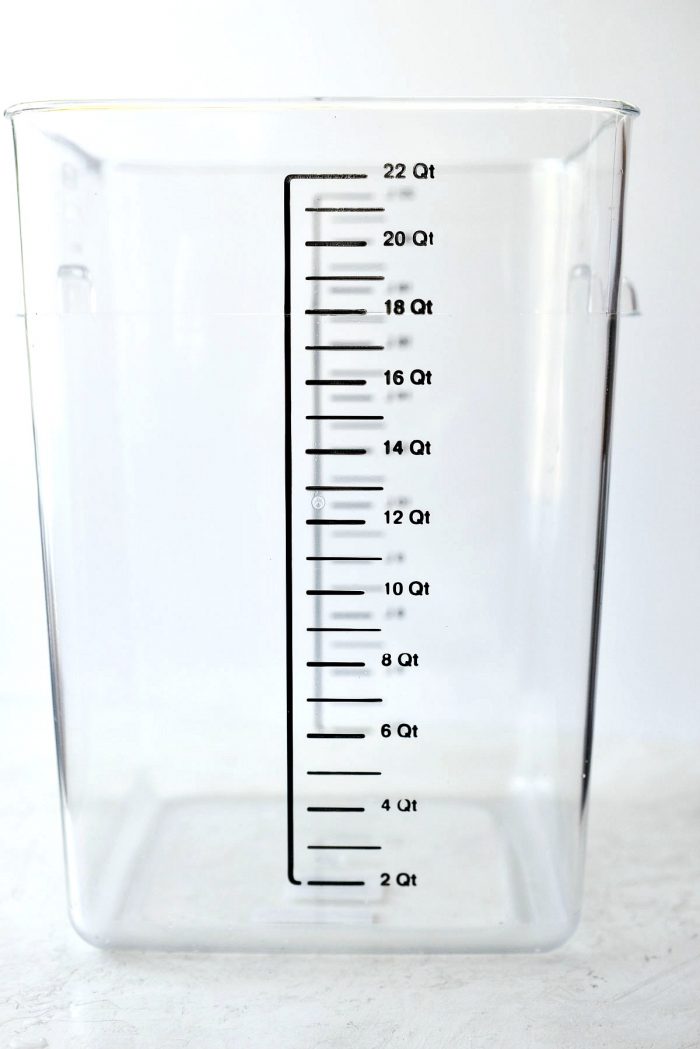 Do yourself a favor and get a brining bucket.
When we first brined/smoked a pork shoulder, we didn't have a brining bucket because the package was lost in transit. We ended up submerging the pork shoulder in the stock pot, but it was just about overflowing and hard to transport to the fridge. I can't stress enough how much easier it is to brine with this large bucket. Especially if brining more than one pork shoulder or a large beef brisket (recipe coming soon!). With that said, the bucket is huge, so make sure you have space for it in your fridge. We have a second fridge in our basement so we just shuffle things around, remove a shelf and it fits just fine.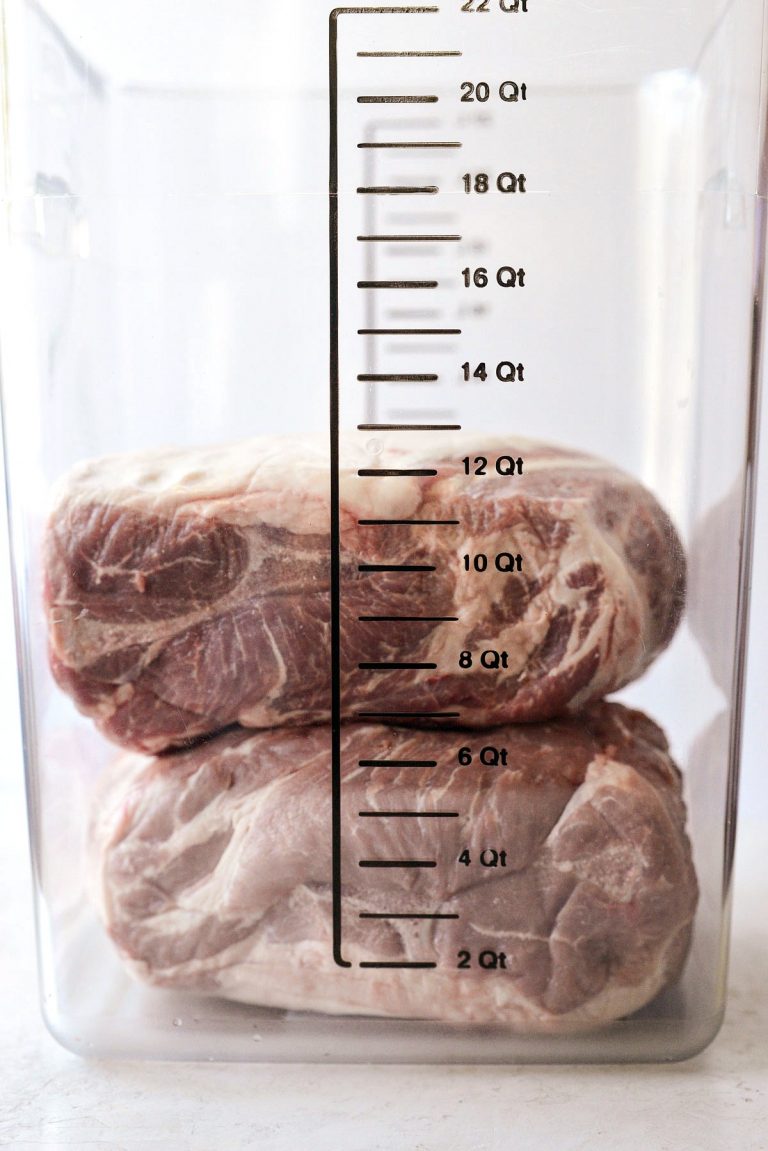 Place the pork shoulder(s) into a brining bucket.
Labor Day weekend we had a group of friends coming over and decided to smoke 2 (7 pound) pork shoulders. Since 12 people would be eating we wanted to make sure we had plenty plus leftovers! Note : I did NOT double the brine for this.
Why 2 and not 1 large pork shoulder?
We have smoked a 7-pound pork shoulder before and had the timing down on that, plus we were testing 2 rubs against each other to see which is better.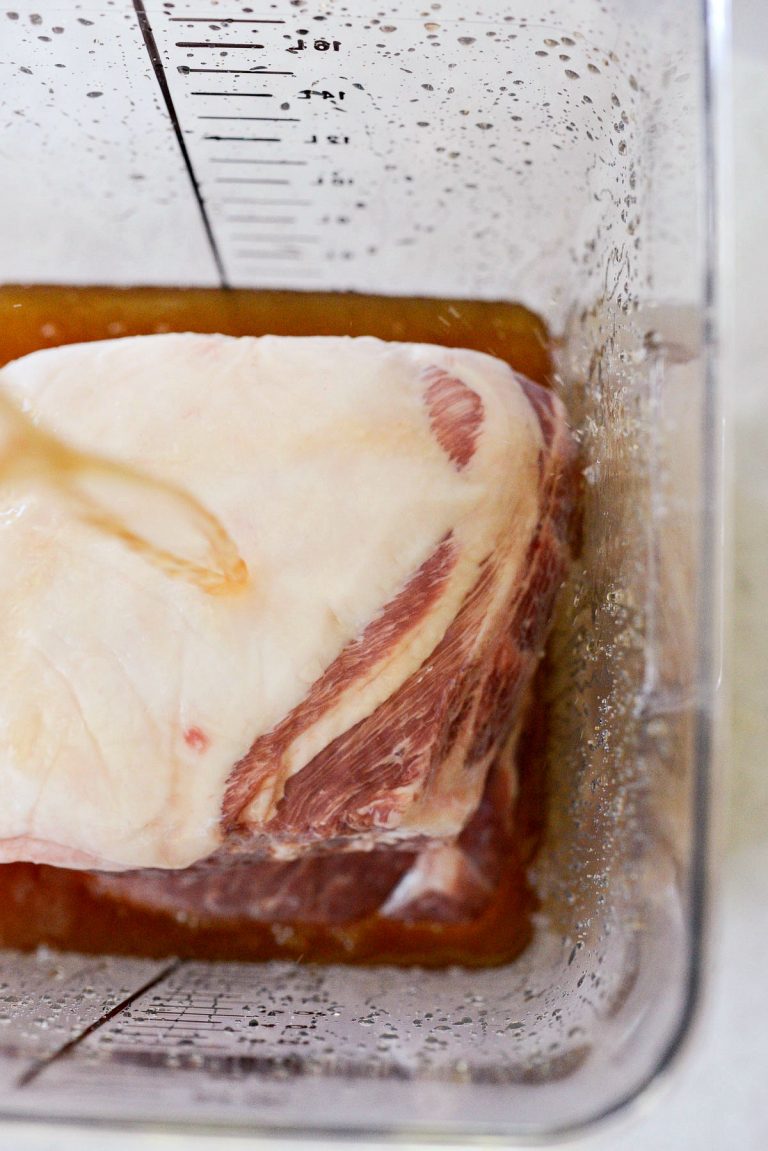 Carefully pour the cooled brine over top.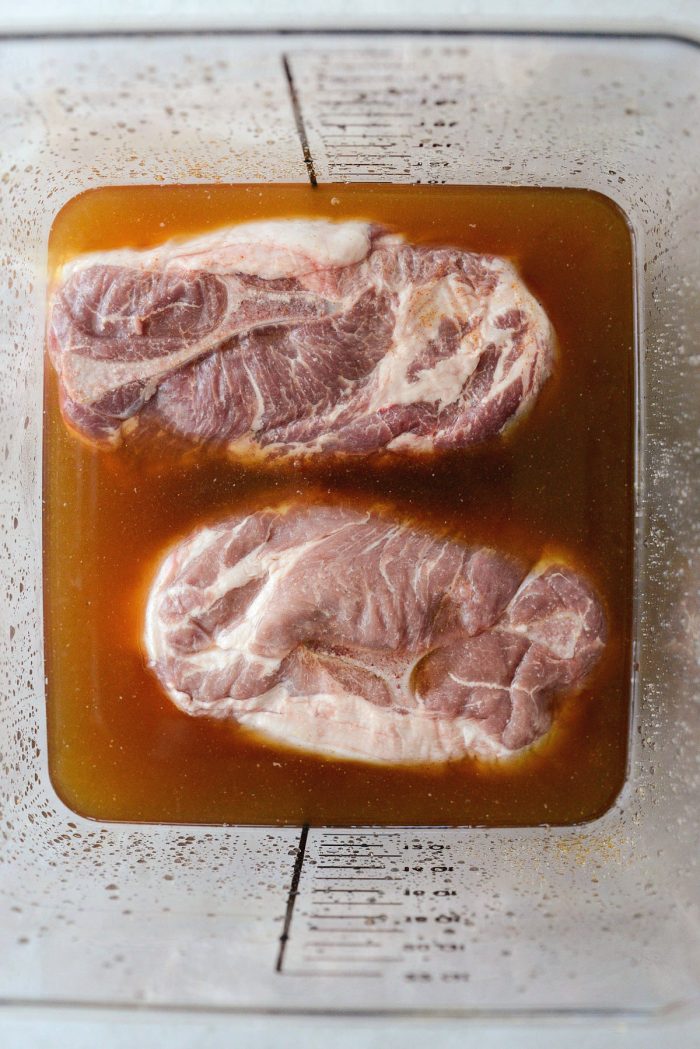 And adjust the shoulders to fit if need be. We brine for a total of 12 to 14 hours and I flip the pork shoulders halfway through.
3. Rub:
Smoking anything is an event.
That's what makes it so fun! We stay up late to do this because you need to make time for slowly smoking the pork, any stalls in cooking and then time for the meat to rest. So at 1:30 am (hence the cell phone photos) we pulled the pork shoulders out of the brine, rinse under cool water and patted them dry with paper towel. We then let them hang out on the counter for about 30 to 40 minutes before starting the rub process.
When ready, we rub the pork with yellow mustard, making sure to get in all the nooks and crannies.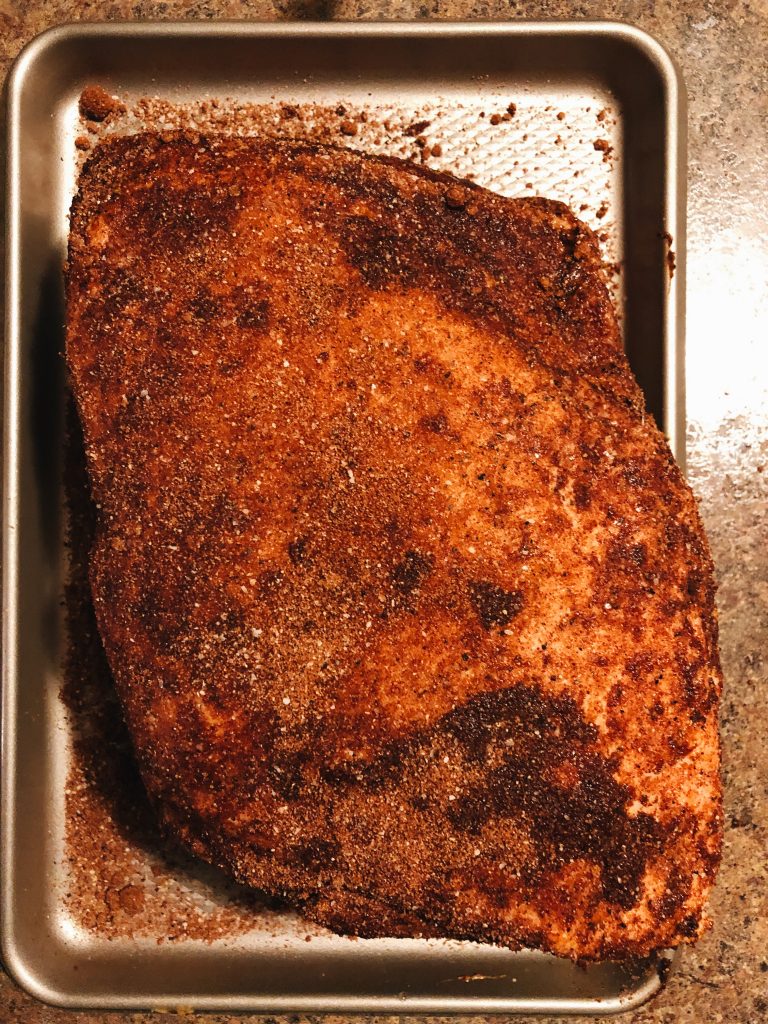 Then we massage the entire pork shoulder with a rub. Or in this case, two different rubs. Unfortunately, I don't have a rub recipe to give you (yet?). One we use often is Famous Dave's Rib Rub and then tested it against a super secret homemade rub our friend gave to us.
4. Start Smoking:

Now comes the fun part. Roughly around 3 am we place the rubbed pork shoulders (fat cap side down) onto the rack in the smoker and inserted 2 of the probes in the middle of one side (reaching the center of the meat) of each pork shoulder. This will help us manage the internal temperatures of both pieces of meat. After we closed the door, Pat set the smoker temp to 225° and the probes (food temp) to 195°.
We then watch for the first plumes of smoke to come out of the top of the smoker and then hit the hay for a few hours.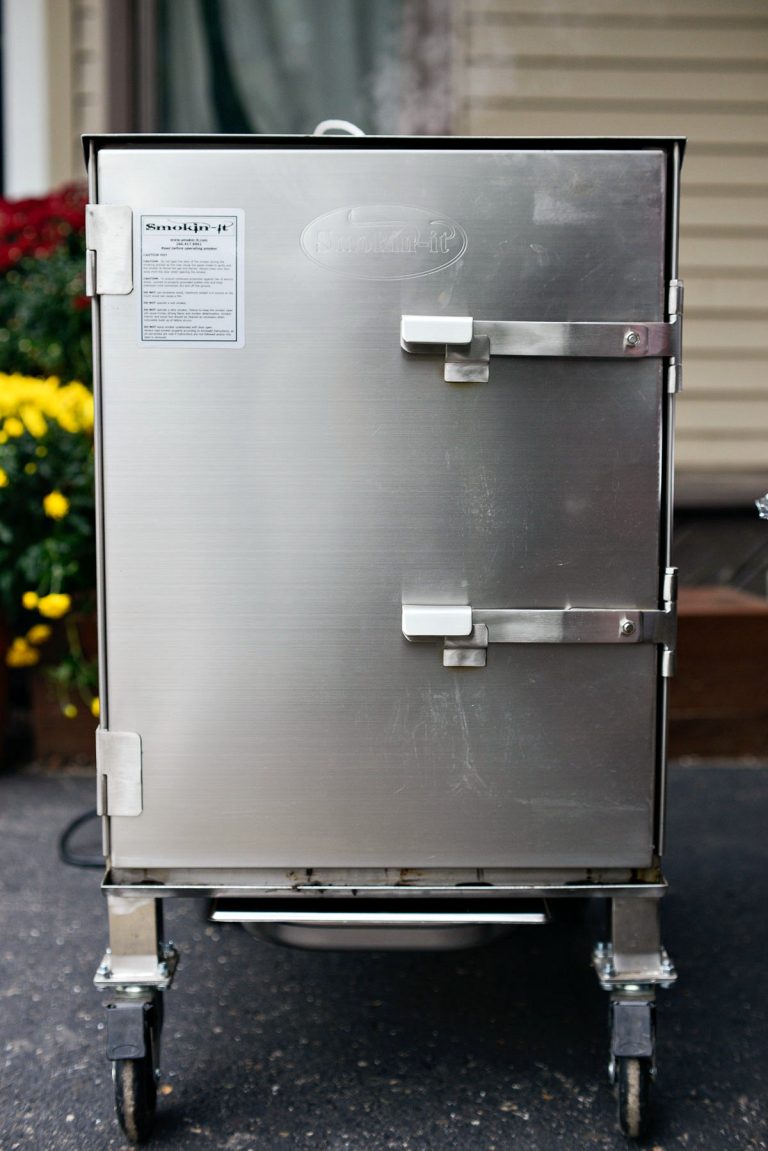 For the record, waking up to the smell of wood smoke is the best thing ever.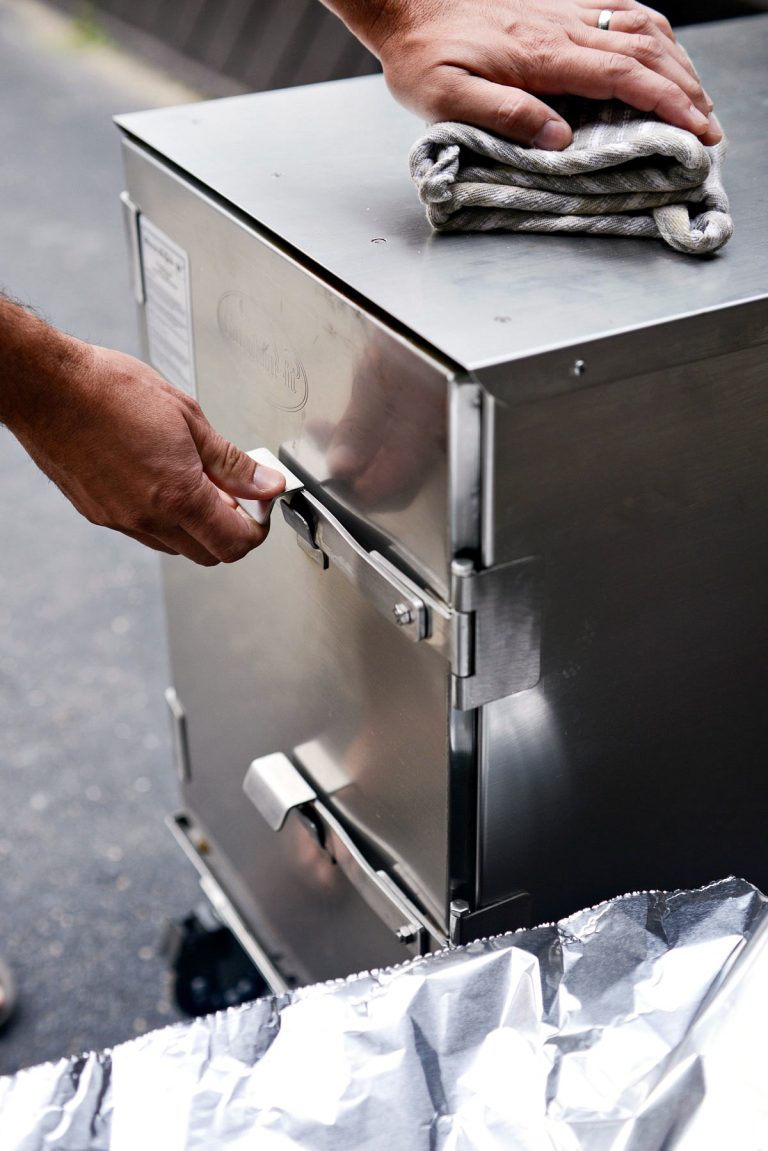 Once the food temp has reached 160° it's time to remove and wrap the pork in heavy duty foil to stop the amount of smoke that penetrates the meat. With that said, we have a station set up nearby with a rimmed baking sheet and a roll of heavy duty foil ready to go.
Now comes the exciting part!
Pat opens…
the smoker.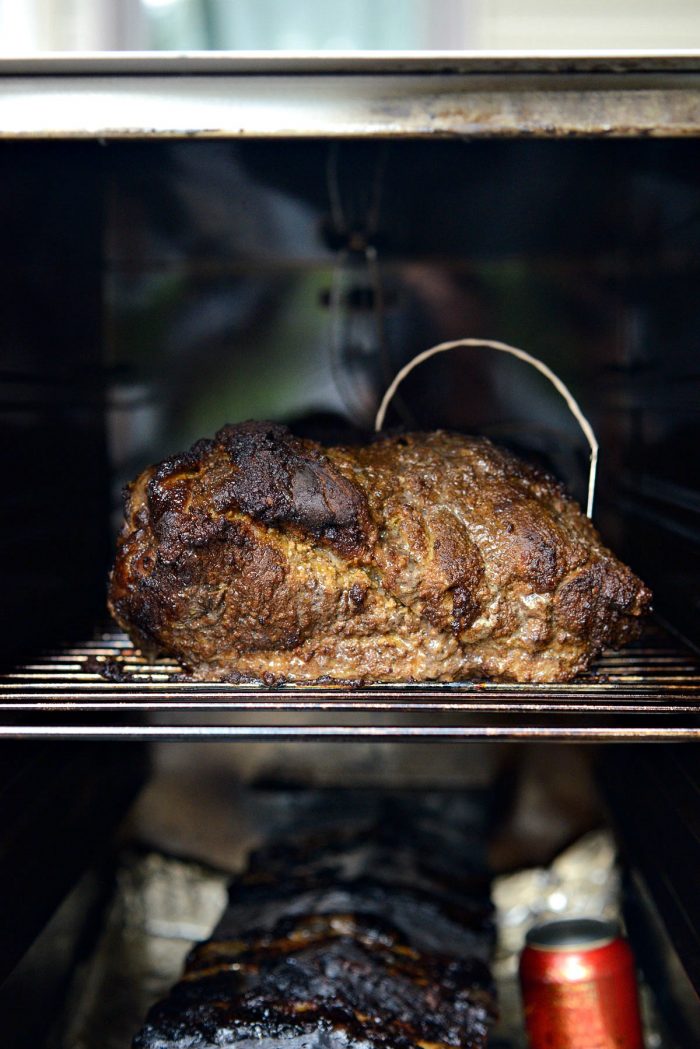 And we get the first peek at the pork shoulder!
Look at that beauty!! Now if you look below it, you can see why he lines the smoke box with foil – it gets messy ;).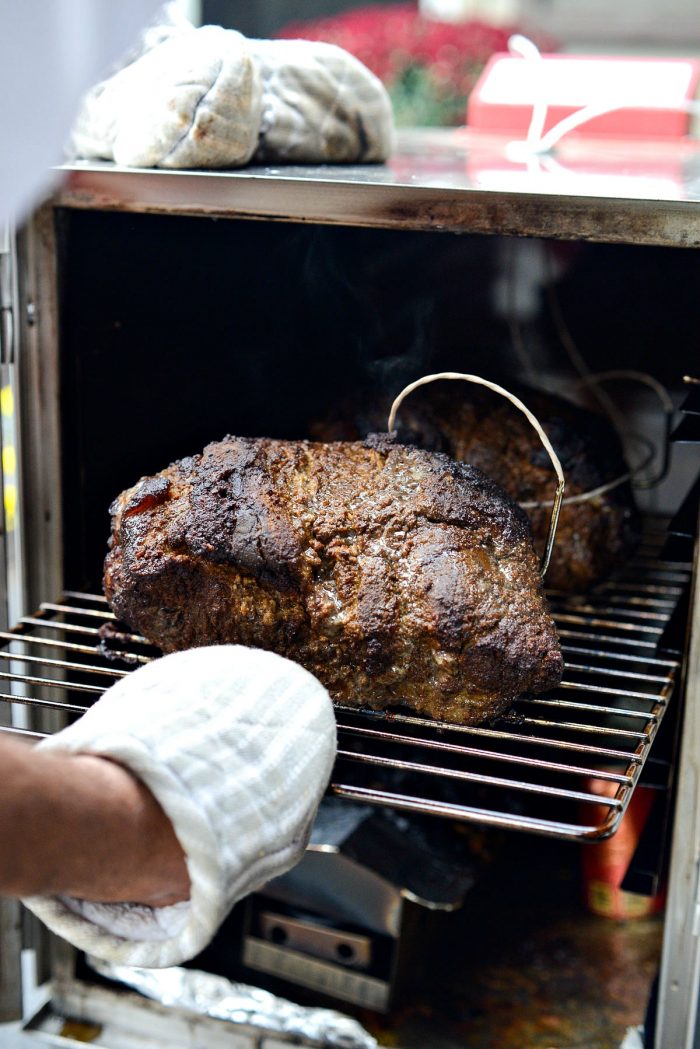 Carefully pull out the pork shoulder.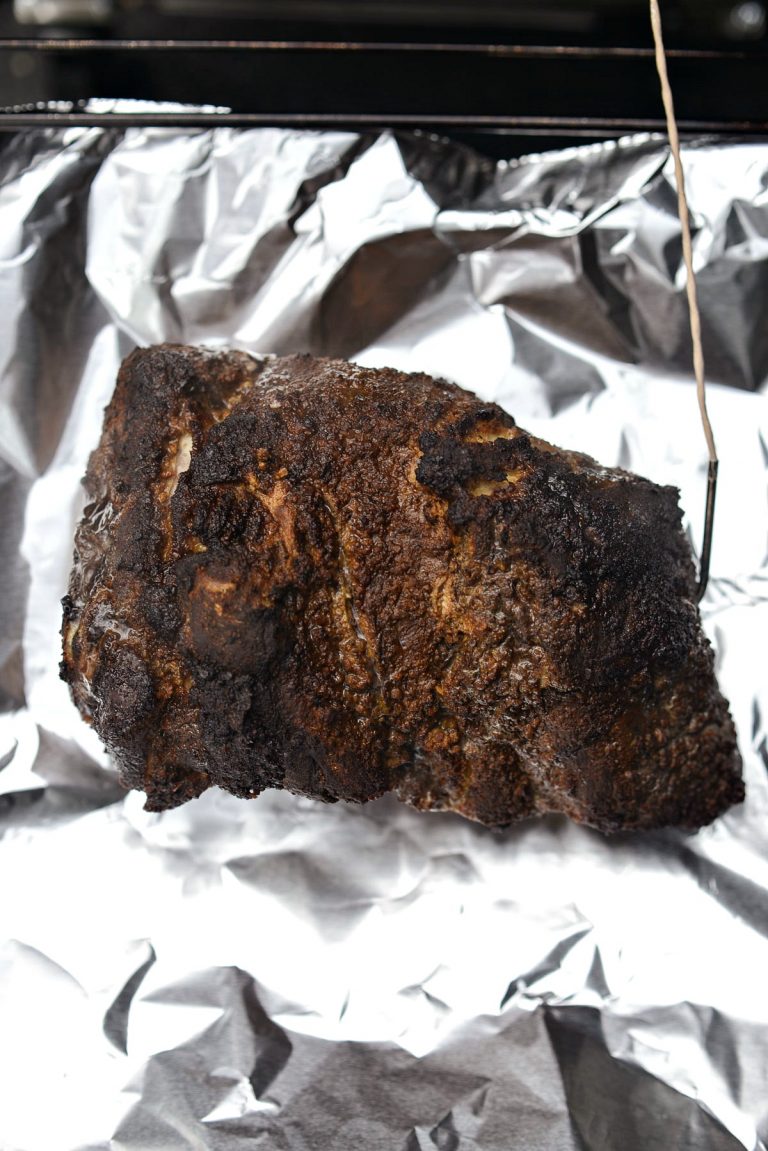 And transfer the pork shoulder to a piece of ready and waiting heavy duty foil. It has to be heavy duty otherwise you risk the foil tearing and the meat taking on more smoke or losing some precious juices.
Position the pork so the probe is near the short end of the foil so that you can wrap around it.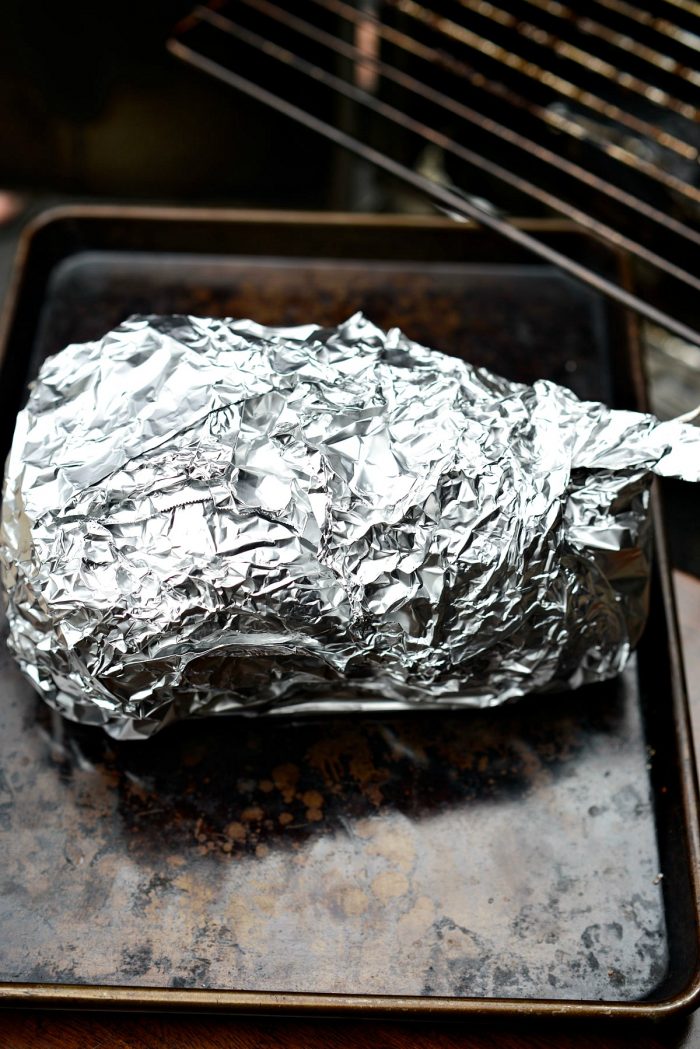 DOUBLE WRAP! Wrap the pork a second time in the heavy duty foil to ensure the pork from taking on any more smoke.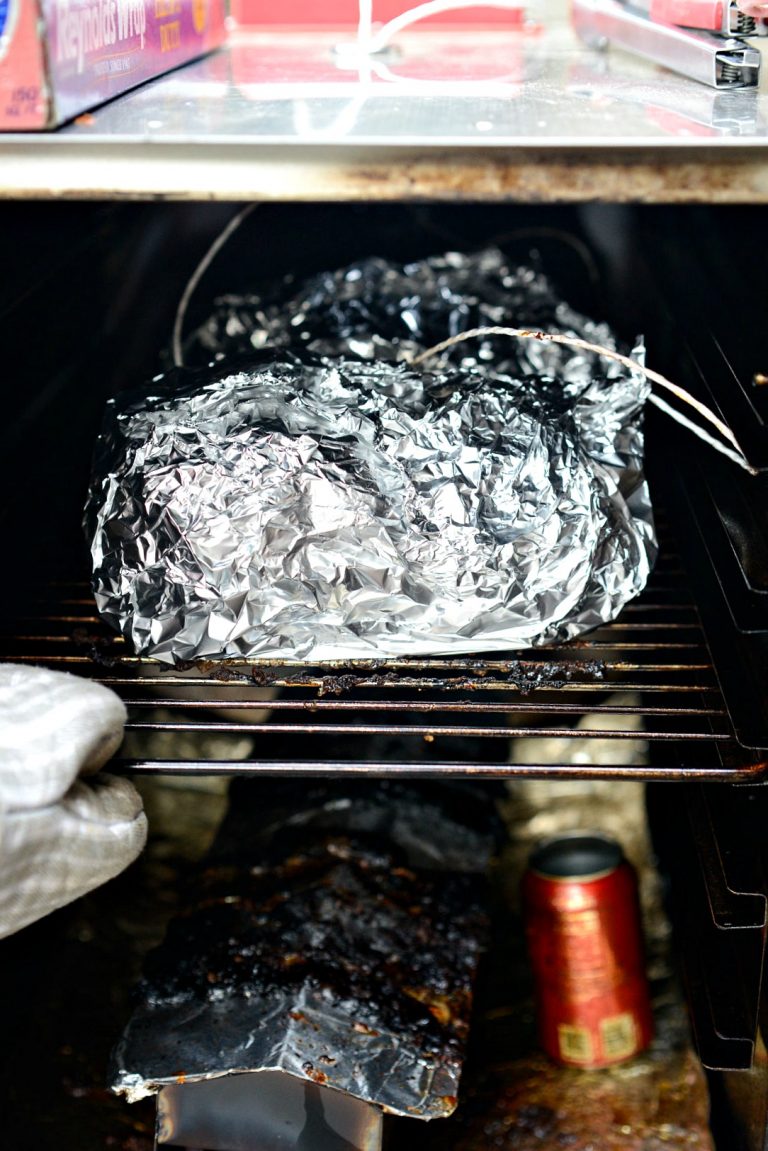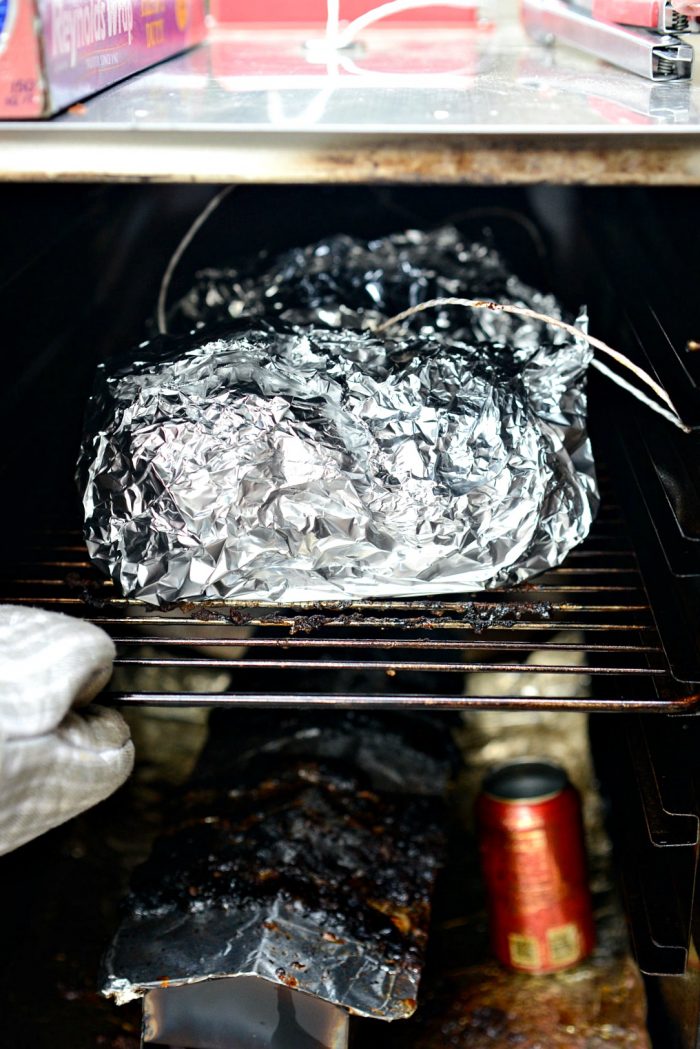 Return the wrapped pork shoulder and slip it back into the smoker until the probe (food temp) reaches 195°. This can take anywhere between 2 to 4+ hours. There are times where the meat temp stalls out and doesn't increase in temperature. So don't be alarmed if the food temp is stuck at, let's say 170° or something. That is normal. You just have to be patient.
4. Resting your smoked pork shoulder: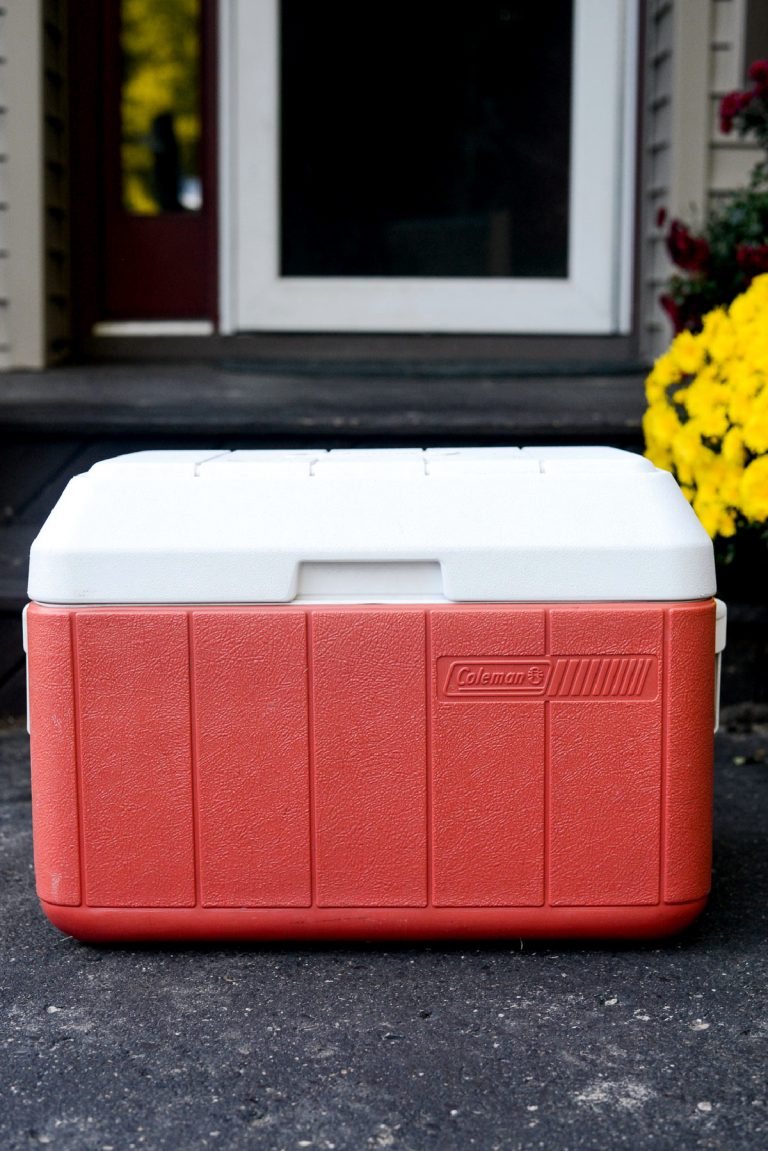 Resting the meat is just as important as the brining, rubbing and smoking.
Resting allows the meat to relax, juices to distribute to keep the pork tender and juicy.
Once the food temp has reached 195°, carefully remove the probes (they'll be hot!) and place the foil-wrapped meat into a cooler lined and packed with clean towels. Towels act as double insulation in the cooler. Also, any towels used should be for the sole purpose of insulating the smoked meat. Because no matter if you wash them, they will always have a tinge of smoke smell. We also have a couple of coolers, in different sizes, dedicated to the smoked meat – fyi they retain the smell too. Which cooler we use depends on what or how much meat we're smoking.
5. Pull:
After the meat rests for 2 to 4 hours in the cooler, it's time to remove and unwrap your masterpiece, pull/shred and serve.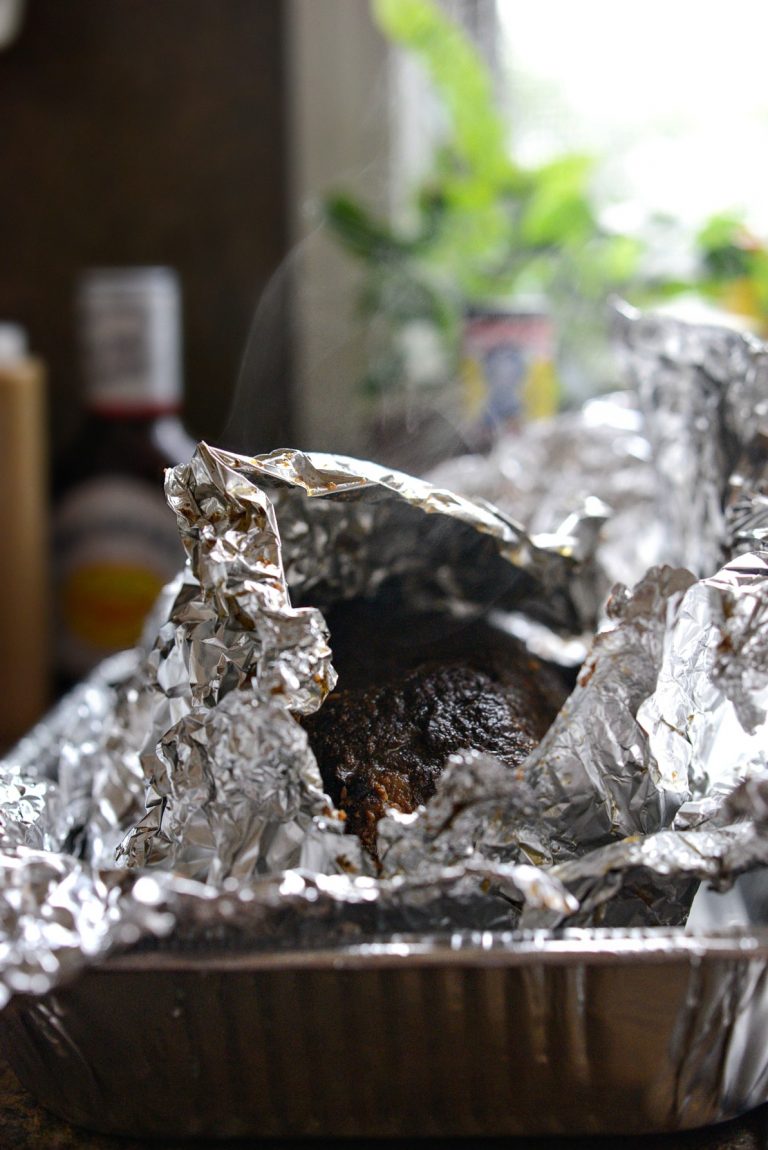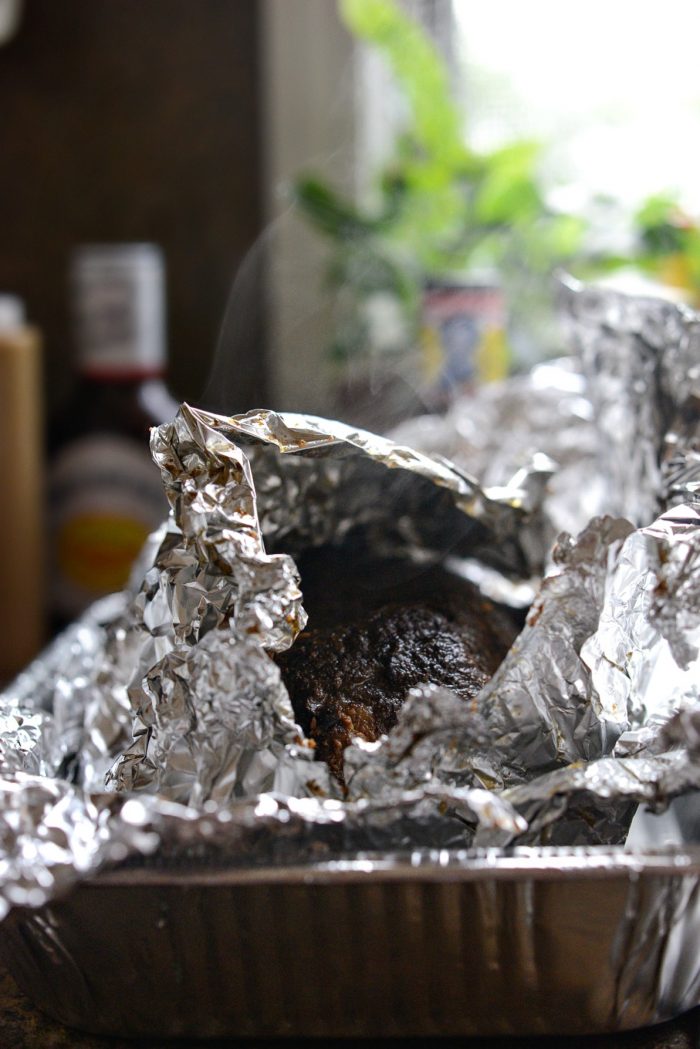 This is after 4 hours resting.
As you can see, it's still piping hot.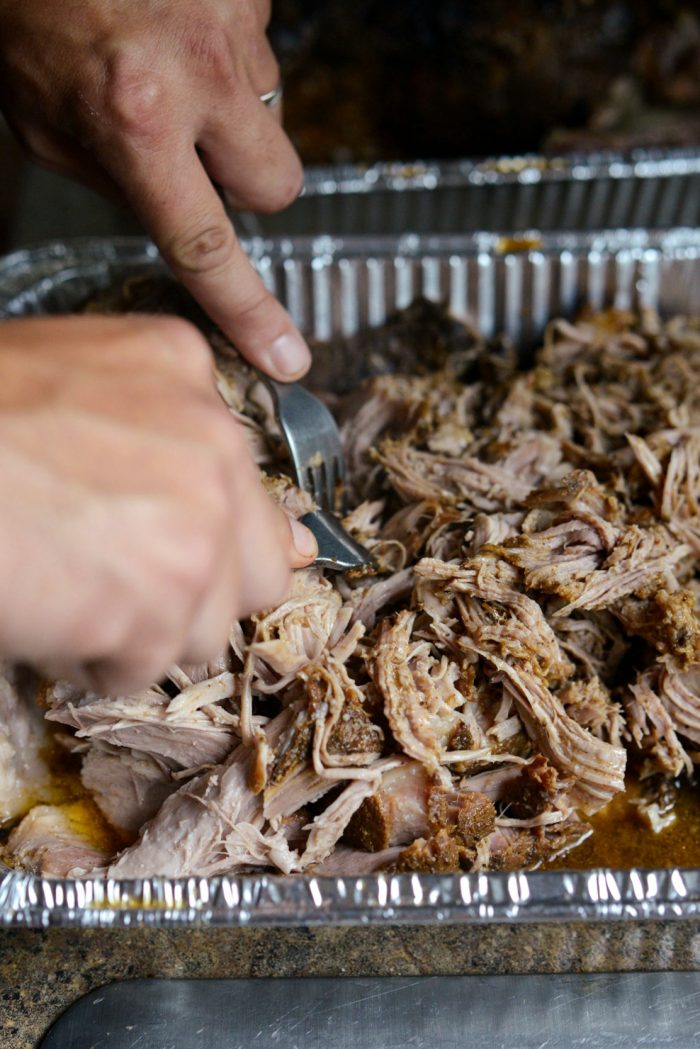 We transfer the meat from the foil and into disposable aluminum pans. The high sides of these pans makes this task easier than a sheet tray. And then of course, we can cover the pans and store the meat in there afterwards.
Use forks or shredding claws and pull the tender meat apart.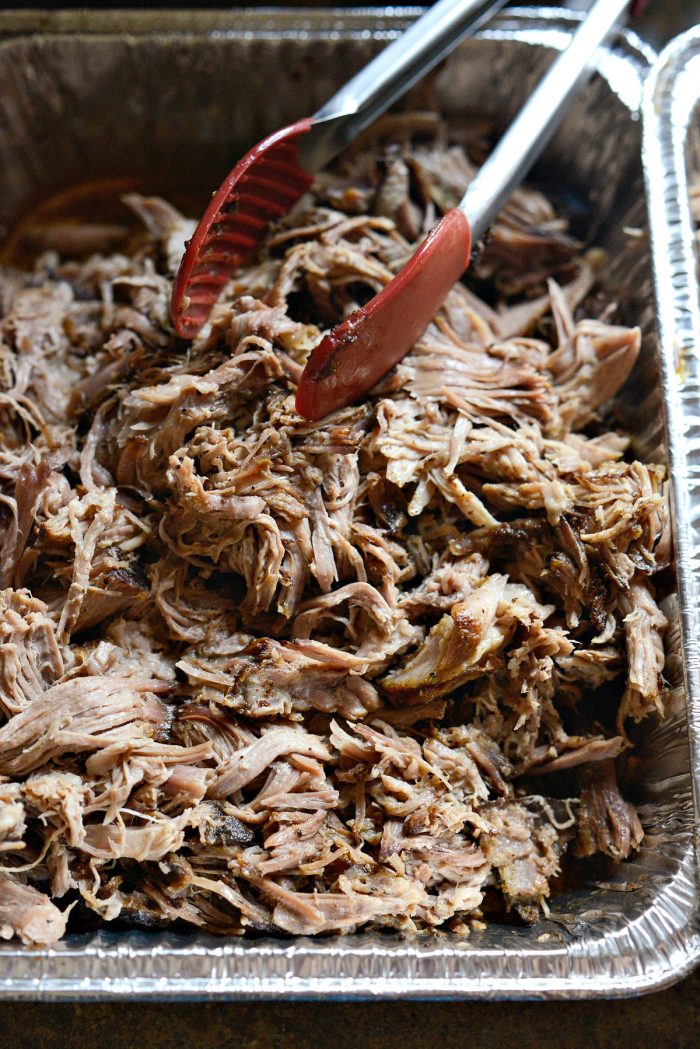 Heaven.
6. Serving: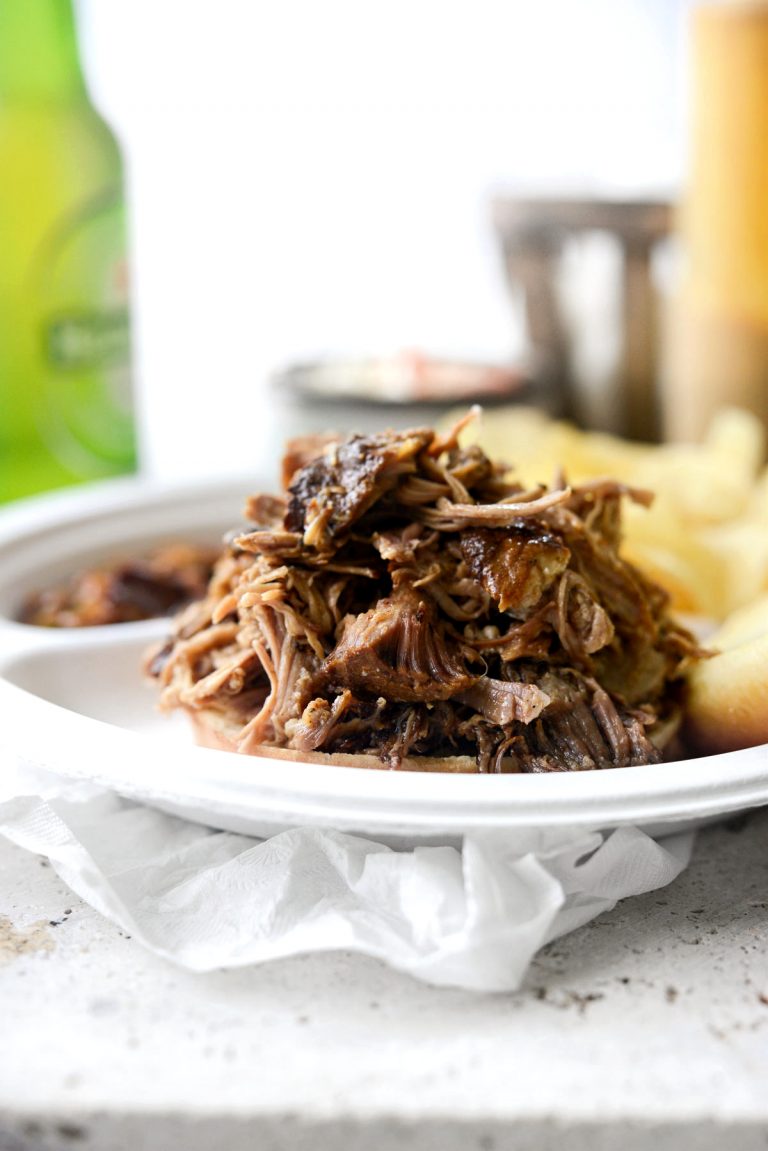 Pile the pulled smoked pork shoulder onto the bottom portion of a bun. Usually we have either pretzel buns or brioche, sometimes both.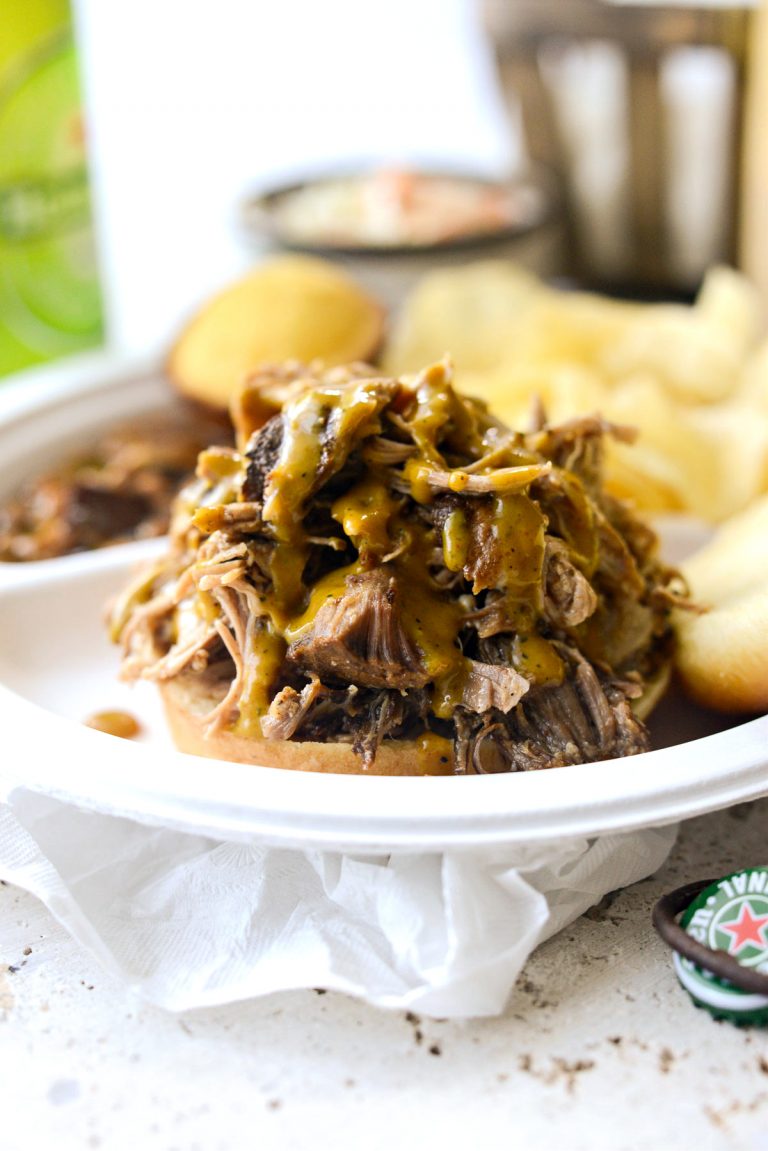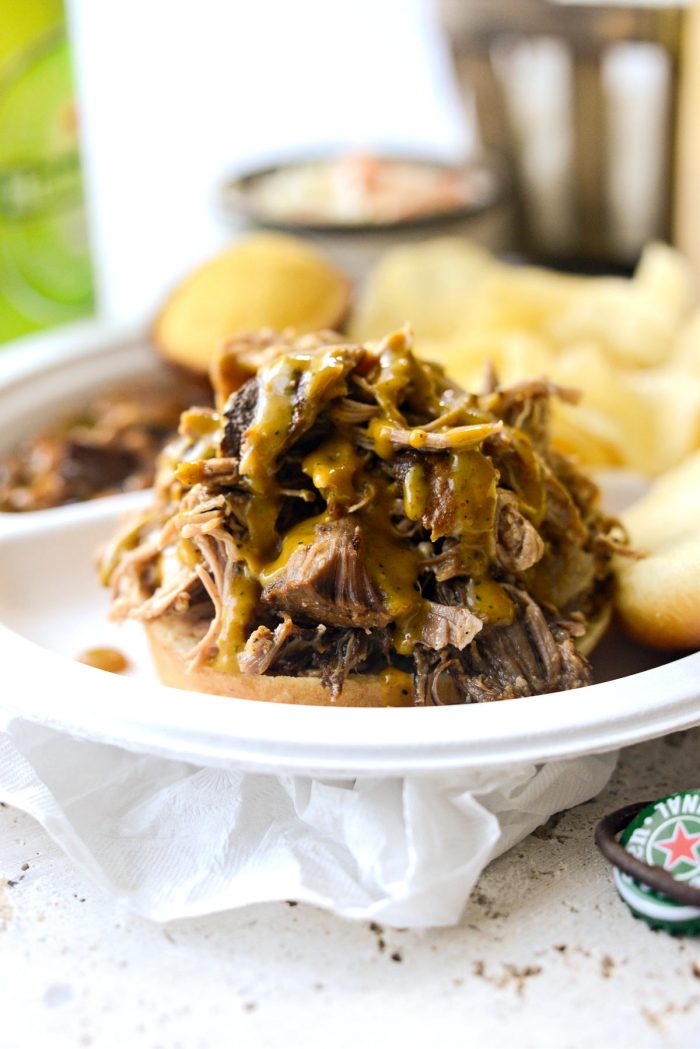 Pick your bbq sauce and squeeze it over top.
If this was my plate, after the Carolina mustard bbq sauce, I would then top it with coleslaw. But I'll leave that up to you and your preference.
7. Sauces: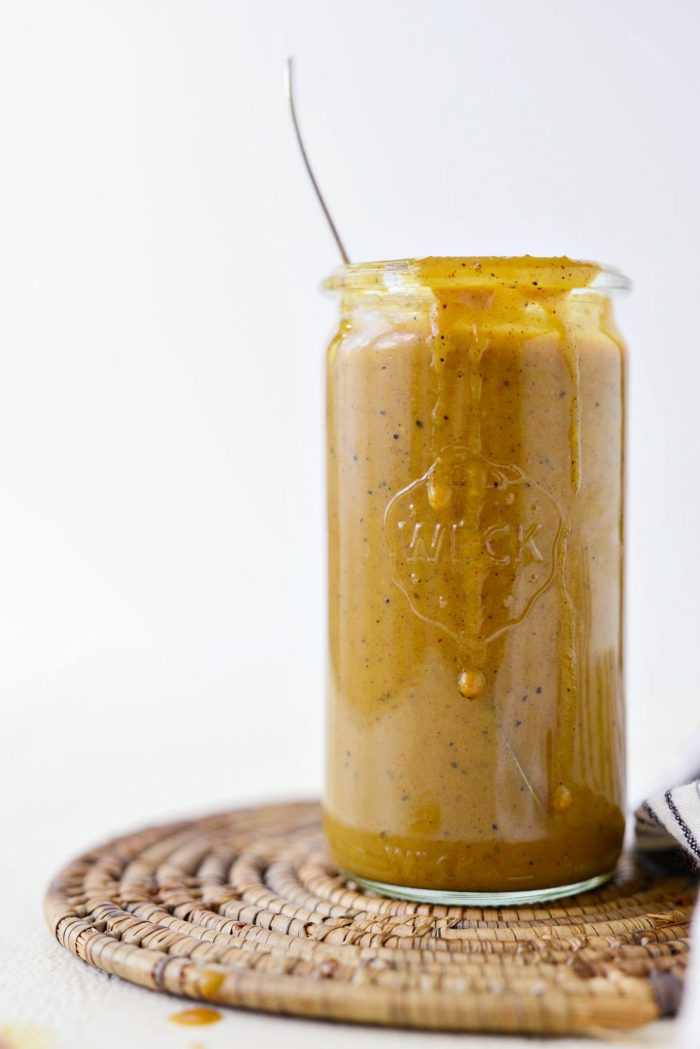 Carolina Mustard BBQ Sauce – It's tangy and not overly mustardy (which was surprising the first time I had it) nor is it too hot or sweet. And I love how easy it is to prepare. It's SO good, we even have it with grilled chicken or smoked turkey sausage. By far my favorite with pulled smoked pork.
Coca-Cola Habanero BBQ Sauce – If you love a thick sweet and tangy sauce this is for you. Don't let the habanero in the title fool you, because you can easily control the heat by adding a little or a lot of habanero seeds to the recipe.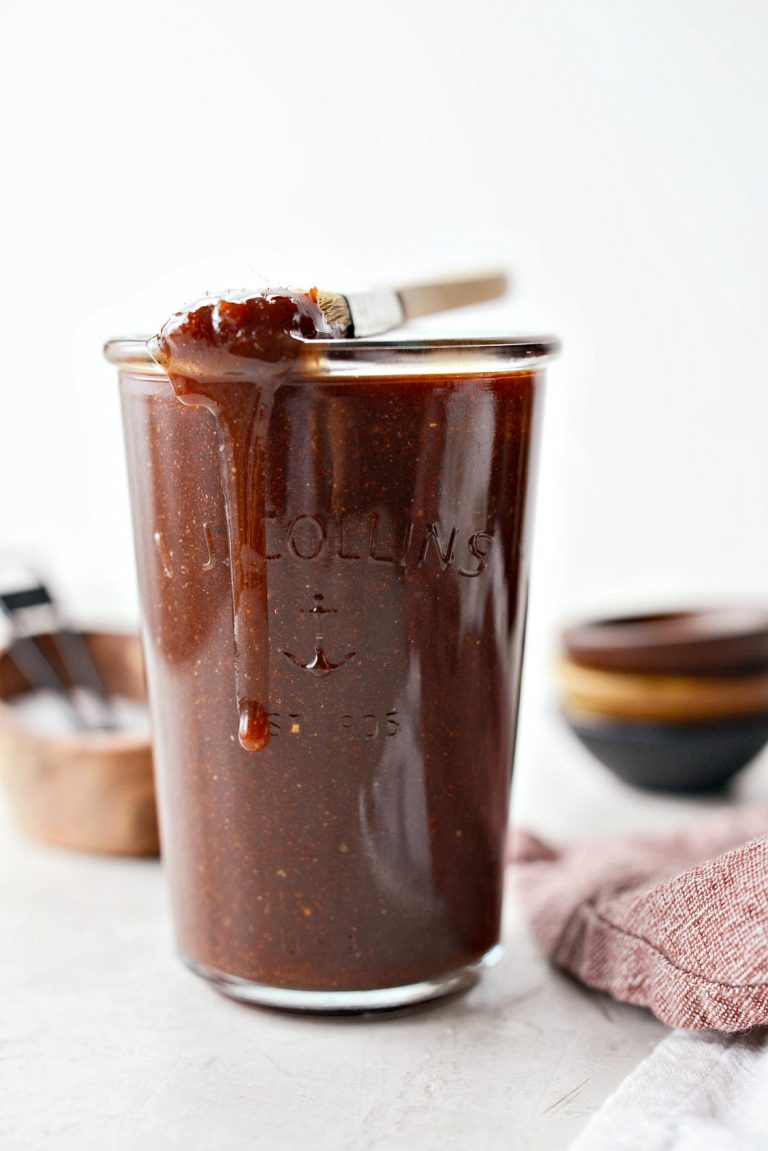 Homemade Sweet Barbecue Sauce – Love Sweet Baby Ray's? Sweet, savory and delicious! This is my go-to copycat.
8. Leftovers:
Smoking a pork shoulder (or two!) usually, if you're lucky, leaves you with lots of leftovers. After smoking 14 pounds of pork, and feeding our friends we were leftover with roughly 4 pounds. A few sandwiches later, I had around 2 pounds left to use in a couple recipes I wrote. So far I have 2 recipes to share using leftover smoked pork and man, are they delicious.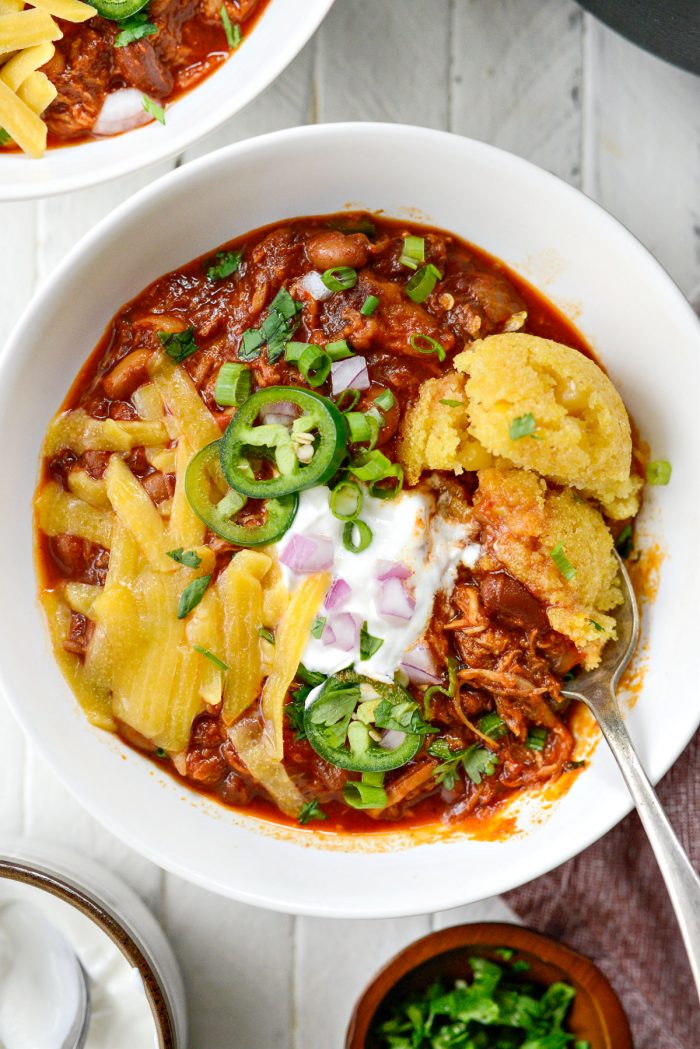 Smoky Pulled Pork Chili: Have leftover smoked pulled pork? Turn it into this incredible delicious Smoky Pulled Pork Chili! Leftover smoked pulled pork, pinto and kidney beans and in a spicy bbq chili. Delicious served with sweet corn cake, cheddar and allthetoppings.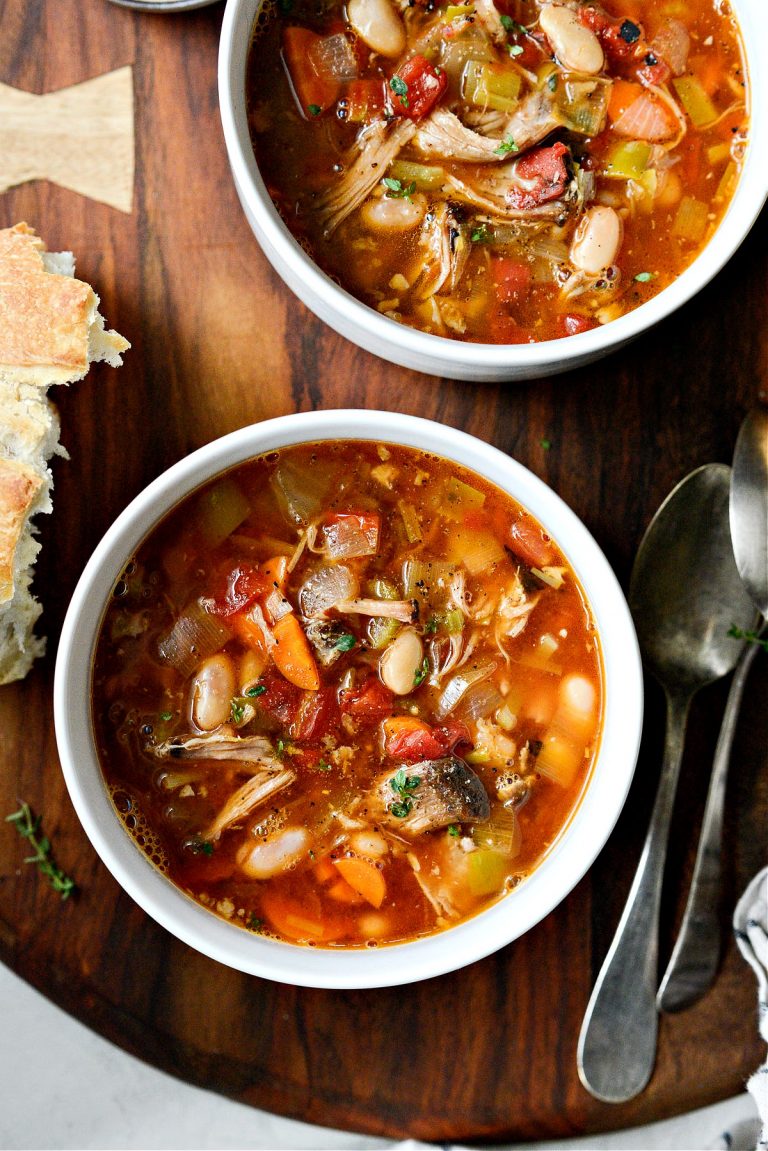 White Bean and Smoked Pork Soup: This White Bean and Smoked Pork Soup great way to use up leftover pulled smoked pork. A simple yet cozy soup of vegetables and smoky pork in a light tomato broth. Best served with a hunk of crusty bread.
Enjoy! And if you give this Smoked Pork Shoulder recipe a try, let me know! Snap a photo and tag me on twitter or instagram!
Yield: 12 servings (or more)
Smoked Pork Shoulder
Enjoy Smoked Pork Shoulder at home! In this post you'll get our favorite way to brine, rub, smoke and serve this incredibly tender and deliciously smoky pulled pork. 
Ingredients
FOR THE BRINE:
1 cup kosher salt, plus 2 tablespoons
1 cup dark brown sugar
1/2 cup apple cider vinegar
1 tablespoon garlic powder
1 tablespoon onion powder
1 tablespoon cayenne pepper
1 (7 pound) bone-in pork shoulder (or butt)
FOR THE RUB:
yellow mustard
Famous Dave's Rib Rub, or use your favorite
FOR SERVING:
sandwich buns - pretzel or brioche
pickle slices
slice jalapeños
potato chips
Instructions
TO MAKE THE BRINE:
Add salt, sugar, vinegar, garlic and onion powder and cayenne into a large stock pot.

Pour in 8 cups of water and whisk to combine. Heat on medium, stirring ocassionally until the salt and sugar have dissolved.

Remove off of the heat and carefully add 9 to 10 cups of ice. Stir until all the ice has melted and brine is cool.

Place pork shoulder (do not trim off the fat) in brining buckets and carefully pour the brine over top. Secure the lid and refrigerate for 12 hours.

Meanwhile prep your smoker by lining the bottom and the top of the smoke box with foil. Fill an can (top portion removed with can opener) with water. Measure out 6 ounce of hardwood (hickory, cherry or apple for example).
FOR THE RUB:
After 12 hours, remove the pork from the brine and rinse with water. Pat well with paper towel. Set the pork out on your counter for 30 to 40 minutes to take the chill off.

Then rub the pork generously with yellow mustard (no precise measurement).

And with a heavy hand, massage the rub all over the pork. Be sure to get all the sides completely covered and even in the nooks and crannies. Just when you think you've put on enough rub, add more. (this is my husband's rule)
TO SMOKE THE PORK SHOULDER:
Place the rubbed pork shoulder fat cap side down. Insert the probe through the middle on the side of the pork shoulder (avoiding the bone), until it reaches the center of the meat.

Set the smoker temp to 225° and the probe (food temp) to 195°.

Once the probe temperature reads 160°, open the smoker and carefully remove the pork shoulder and place on a baking sheet with 2 pieces of heavy duty aluminum foil.

Double wrap the pork shoulder to avoid any additional smoke to get to the meat. Be sure to wrap the foil around the probe. Place the pork back into the smoker until the probe (food temp) reads 195°.

When the pork reaches temperature, remove and place into a cooler and pack with towels (do not use your best towels or cooler here!). Allow the pork to rest for 2 to 4 hours before removing and pulling/shredding.

Serve on buns with bbq sauce and sides of your choice.
Serving: 1g, Calories: 138kcal, Carbohydrates: 23g, Protein: 4g, Fat: 4g, Saturated Fat: 1g, Polyunsaturated Fat: 2g, Cholesterol: 13mg, Sodium: 1174mg, Sugar: 21g
Brine recipes, rub and smoke tips were gratefully borrowed and adapted from DivotMaker from the Smokin' it forum and recipes for Carolina Mustard BBQ Sauce and Coca-Cola Habanero BBQ Sauce are slightly adapted from theblackpeppercorn.com
This post may contain affiliate links.
Buy the Cookbook: Simply Scratch : 120 Wholesome Homemade Recipes Made Easy Now available on Amazon »
THANK YOU in advance for your support!